Donut ice-cream from Coney Donut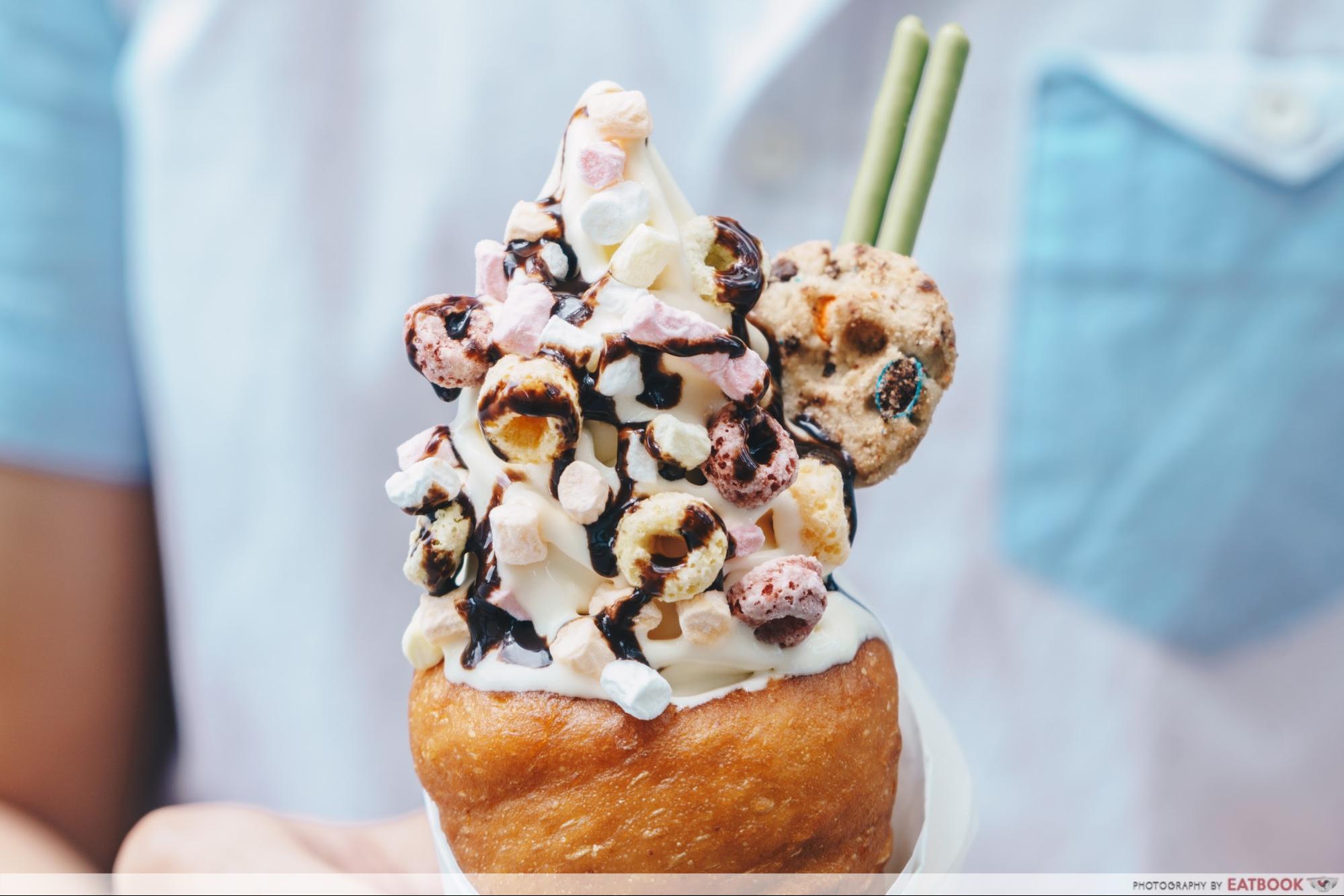 Gone are the days where we are satisfied with a simple bowl of ice kacang. Instead, what we minimally expect is an aesthetic bowl of bingsu (Korean shaved ice) – and possibly a dope boomerang shot.
Hopping onto this 'worthy for the 'gram' bandwagon is Coney Donut. Recently opened in TripleOne Somerset, this dessert store is one of the few stalls in Singapore that offer donut cones with soft serve ice-cream!
Food at Coney Donut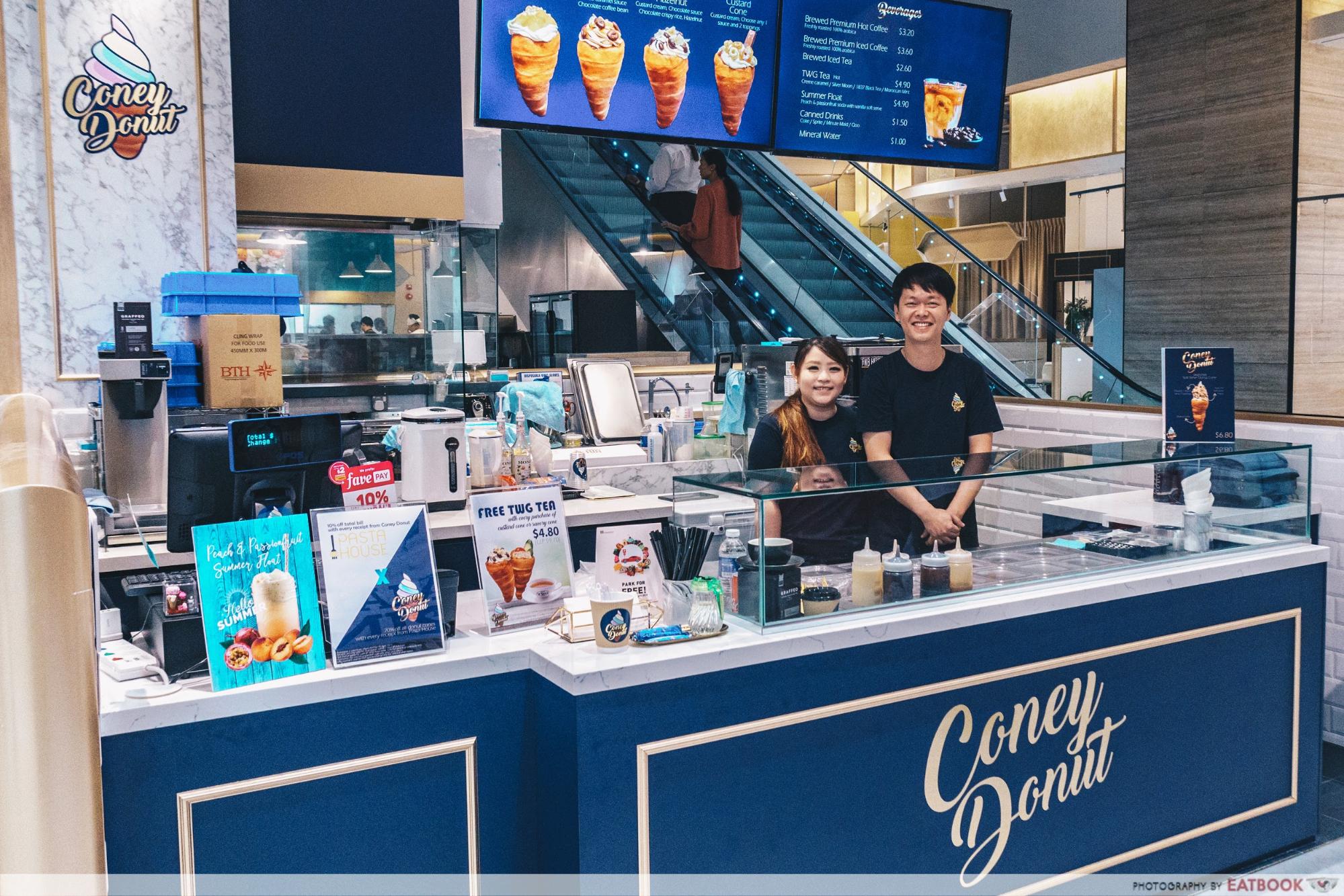 While donut ice-cream cones are the new kids on our dessert block, they've been steadily gaining popularity around the world for the past few years. Popularised by Good Food Coffee and Bakery in Prague, they've since popped up in cities such as Melbourne and New York.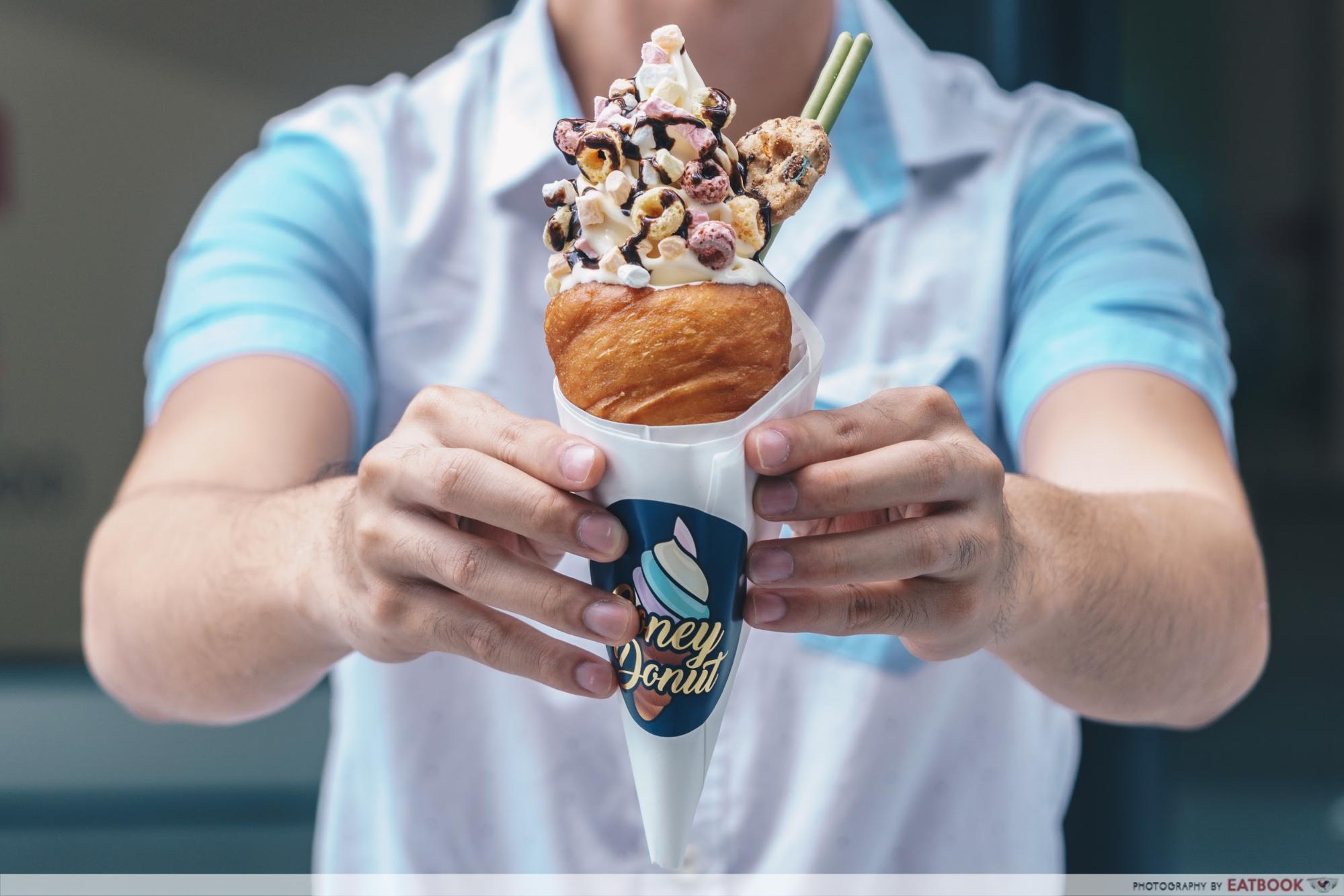 Enamoured by these treats during their trip to New York, co-owners Esther and Ken were inspired to introduce their Soft Serve Donut Cone ($6.80) to the local crowd.
However, replicating the dessert was an uphill battle. Lacking any prior knowledge, Ken tweaked the recipe for months to refine the texture of these confectioneries.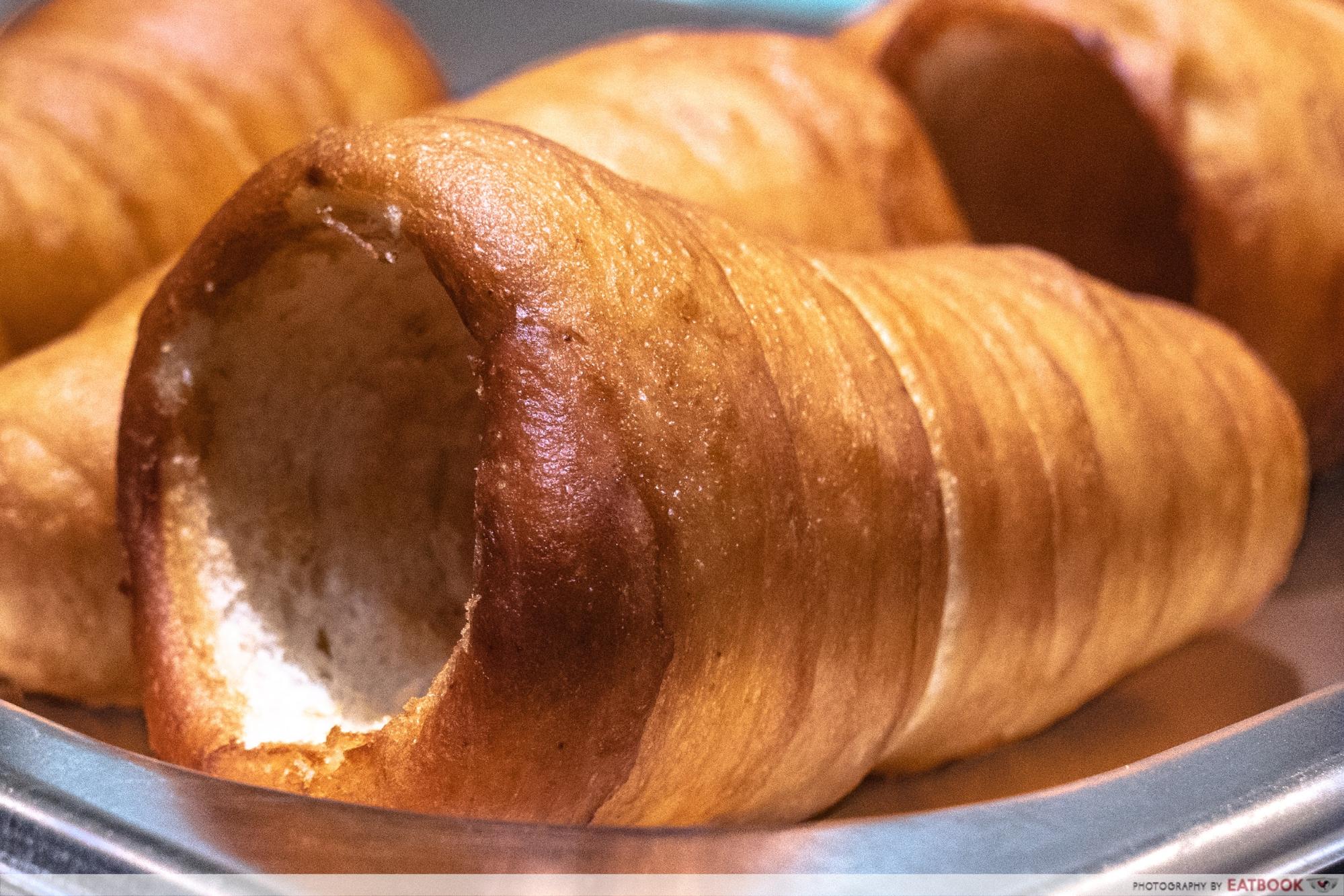 One aspect he has focused on is the resting of the batter. The dough is rested thrice: before and after it's kneaded, and after it's fried. This heightened the fluffiness of the donuts, allowing them to sponge up the soft serve without collapsing into a soggy clump.
As such, biting into the cone was like chomping through a bread bowl, with the bread bolstered by the candied notes of the ice-cream.
The absence of condiments, such as sugar and cinnamon, on the donut was a blessing in disguise. The cone paired nicely with the soft serve and delivered a well-balanced sweetness that soothed my taste buds.
Here's something to cheer about. Each Soft Serve Donut Cone comes with two complimentary toppings!
If you are spoilt for choice, we recommend either their Matcha Pocky or Marshmallow.  Otherwise, you can always top up $0.50 for each additional condiment.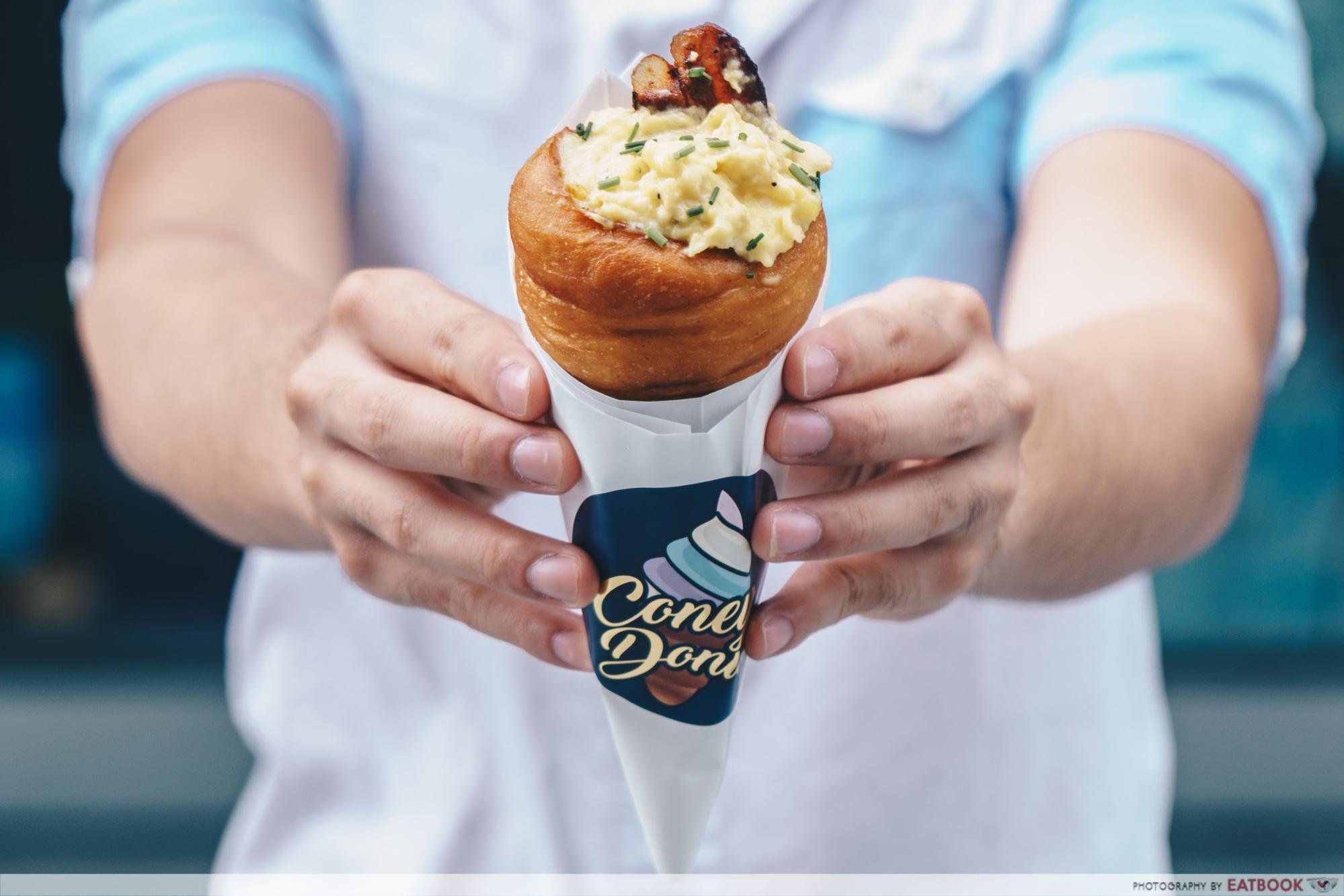 On top of their donut ice-cream cones, Coney Donuts thrilled us with their English Breakfast ($4.80) as well. In preparing this filling treat, their signature cone was crammed with scrambled eggs and topped with rashers of bacon. A light sprinkle of chives completed the dish.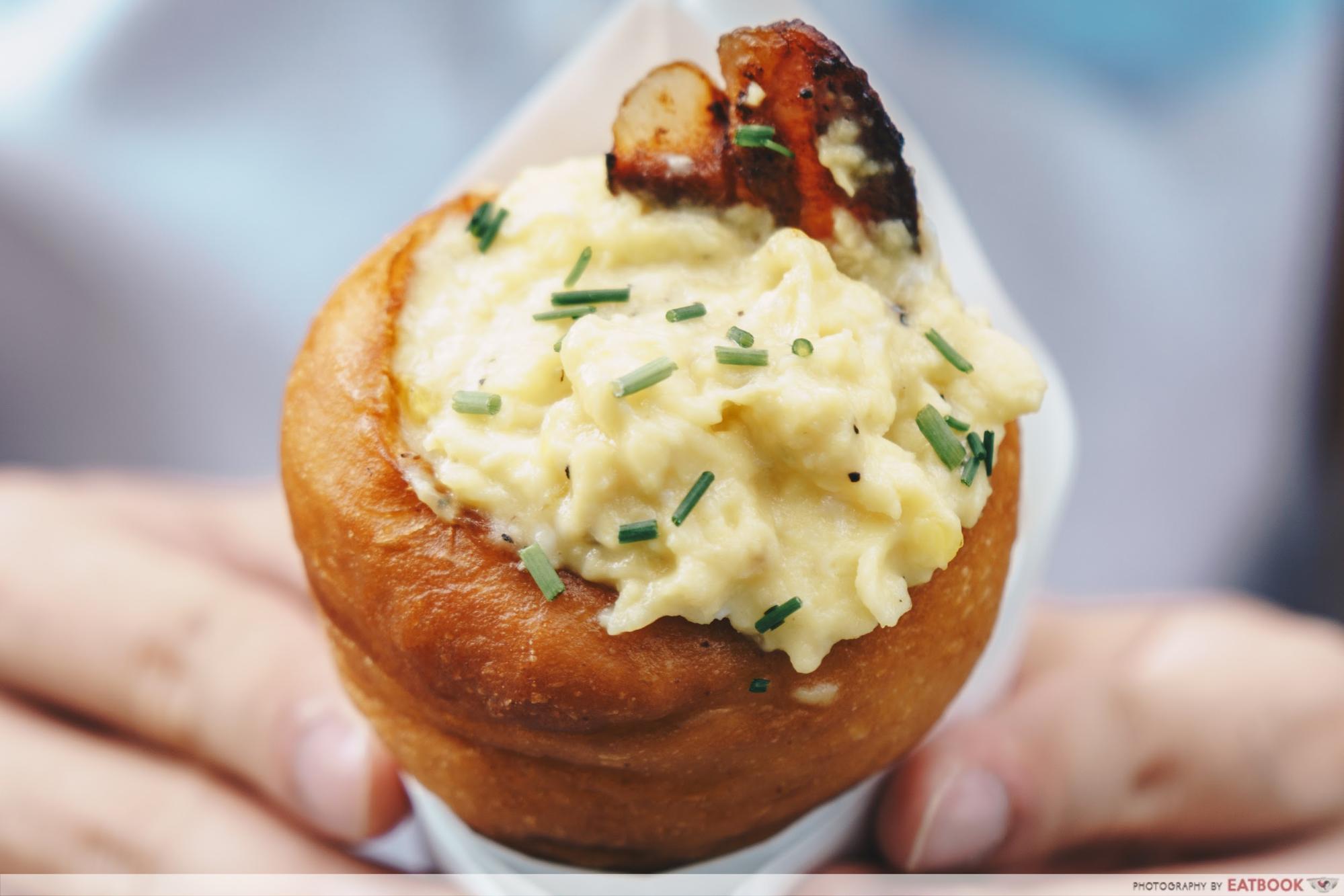 The MVP of this trio was their silky scrambled eggs, which amped up the pillowy touch of the bread. Lightly seasoned with salt and pepper, these eggs zhng-ed up the donut with their rich yolkiness. Punctuating this savoury medley were bursts of saltiness, courtesy of the pan-fried bacon.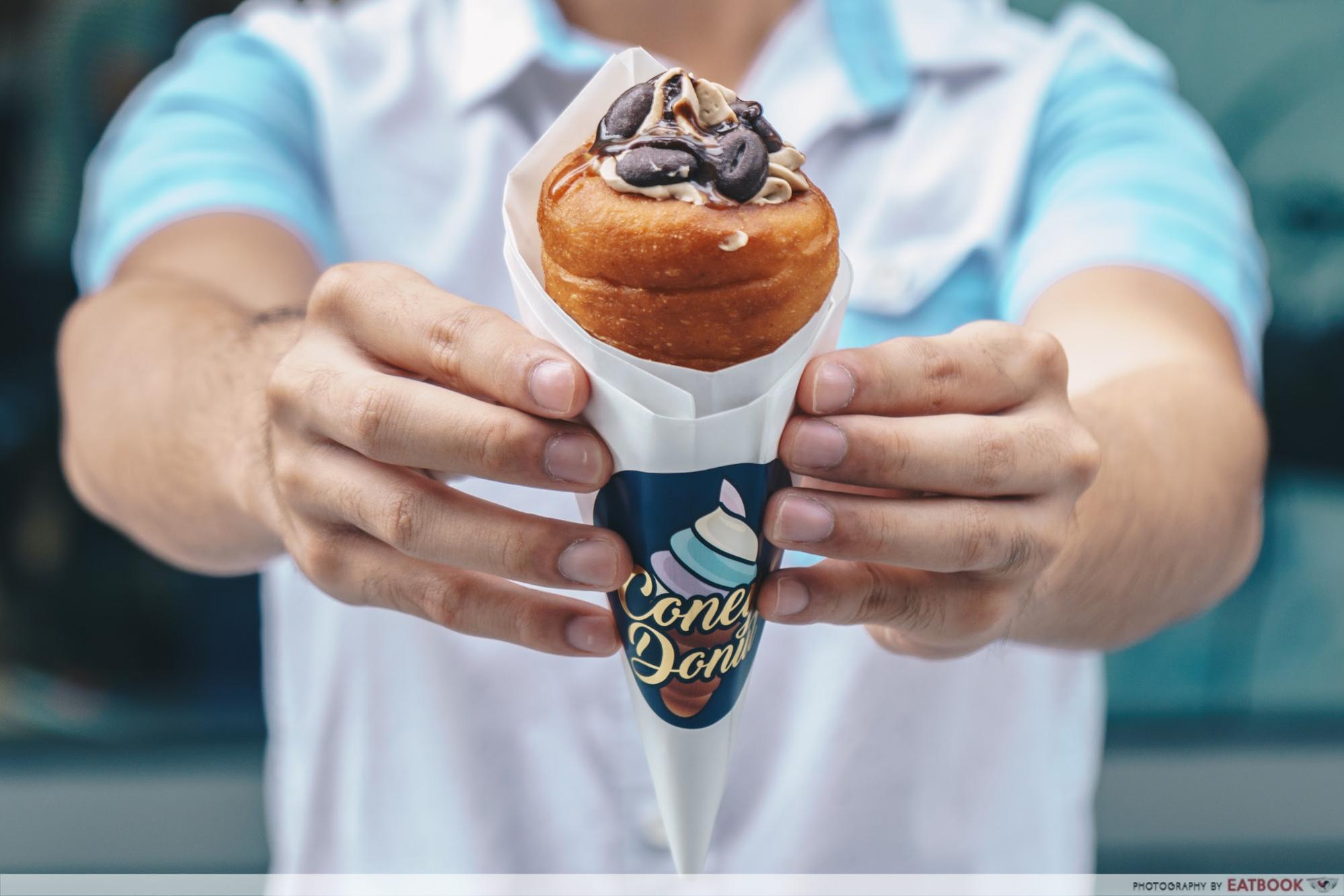 Another novel concoction worth returning for was their Salted Caramel Macchiato ($4.80). The cone was filled with house-made coffee custard and liberally drizzled with salted caramel sauce. And with mocha beans adorning the cone, this gorgeous treat was sheer coffee bliss.
While I usually find salted caramel overpoweringly sweet, I was surprised by the cohesive jumble of flavours in their Salted Caramel Macchiato. The honeyed accents of salted caramel were met by an equally robust bitterness of the coffee custard and left a pleasing aftertaste on the tongue.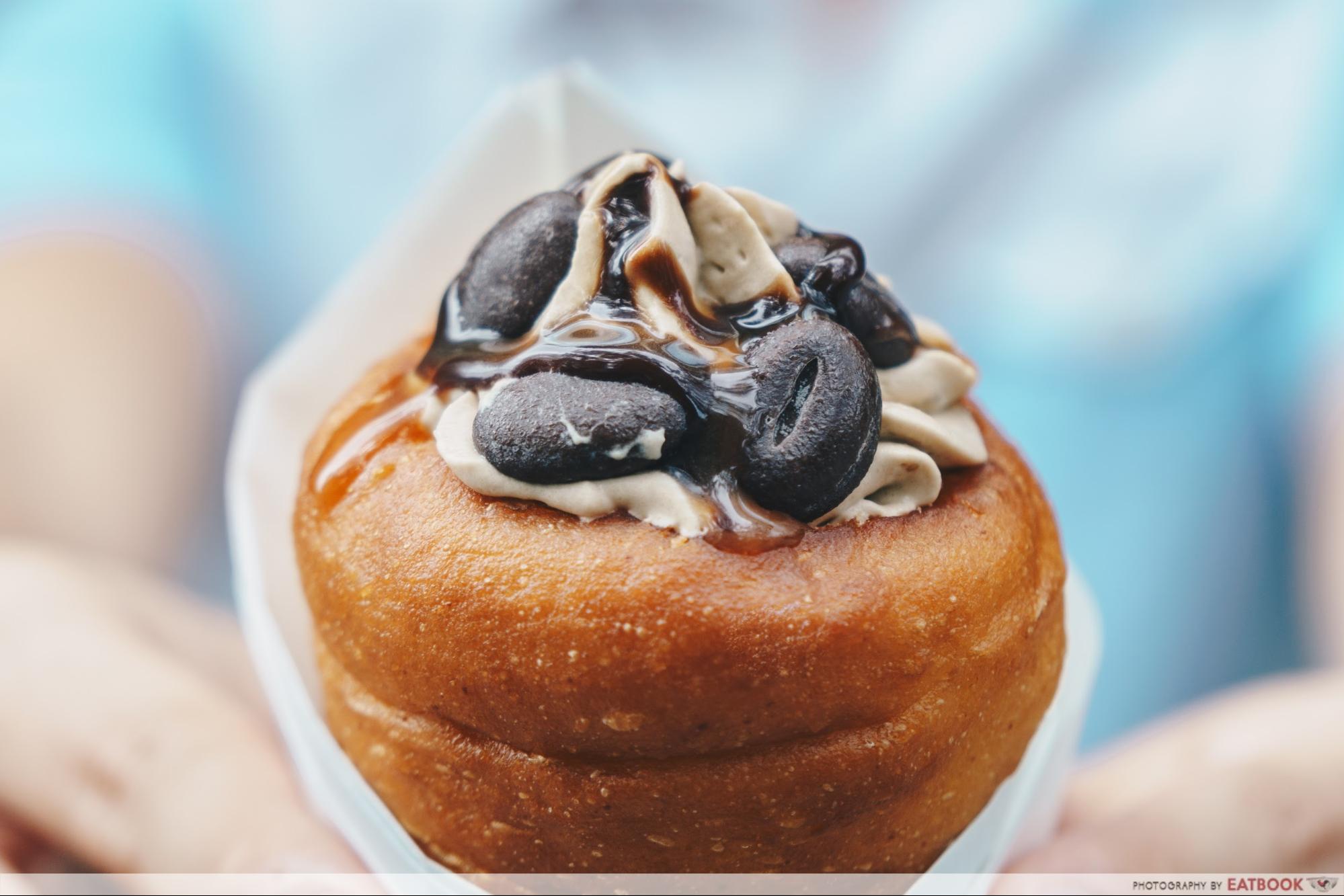 My only dissatisfaction was with their mocha beans, which played a purely aesthetic role. Their tough crunch was a jarring switch from the velvety cream and created an incompatible combination of textures.
Ambience at Coney Donut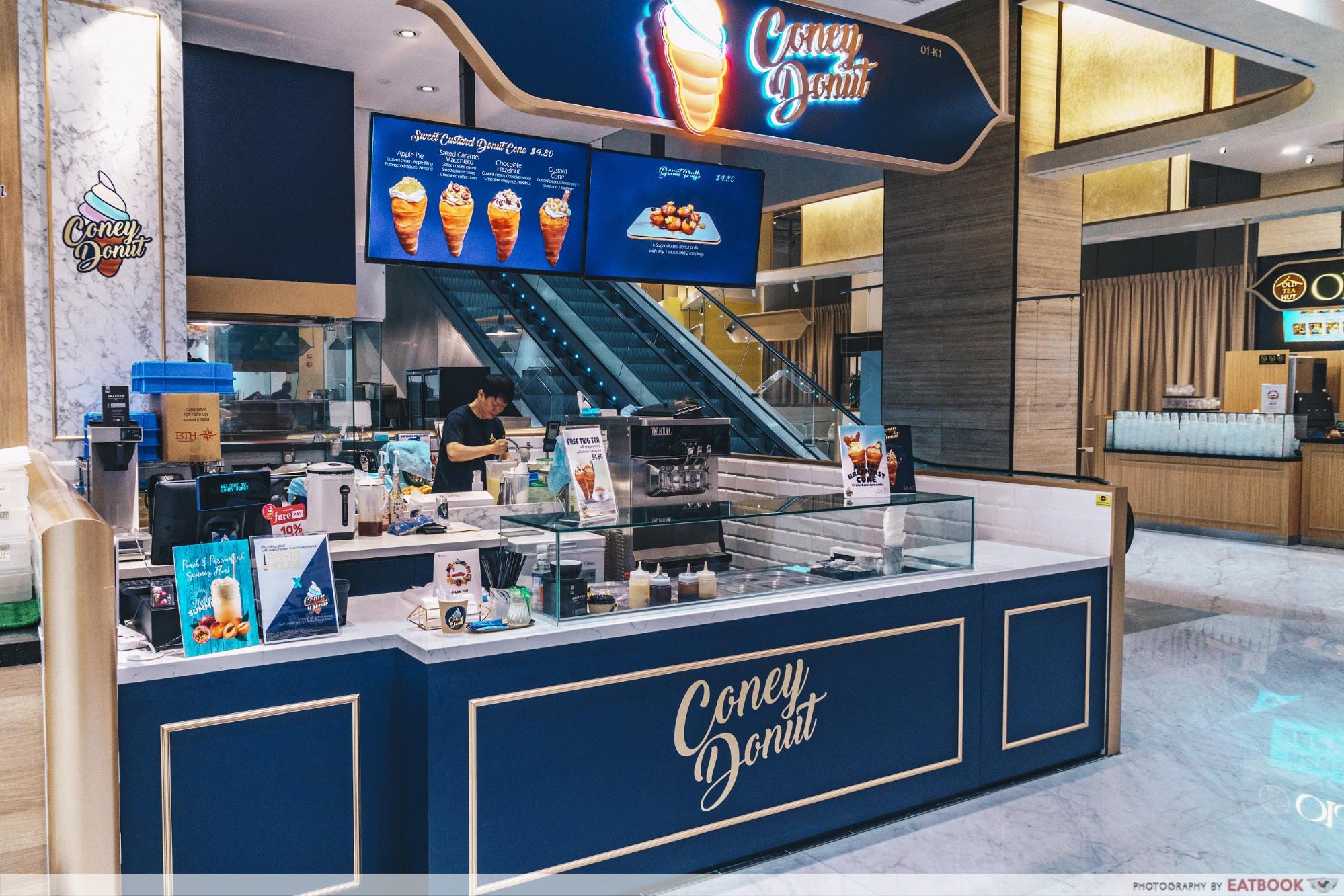 Step through the doors of TripleOne Somerset and Coney Donut will be one of the first stores to greet you. It's a strategic position – ideal for snapping up office workers craving a quick breakfast before work begins.
It also helps that the aroma of freshly made donuts smacks you in the nose as you walk past the eatery.
Unfortunately, Coney Donut operates solely as a takeaway kiosk so you'll have to enjoy your cones on-the-go.
While you are TripleOne Somerset, be sure to check out Glyph Supply Co – an all-white cafe that will suit any minimalism lover.
Glyph Supply Co: New All White Cafe Found At Somerset For Minimalism Lovers
The verdict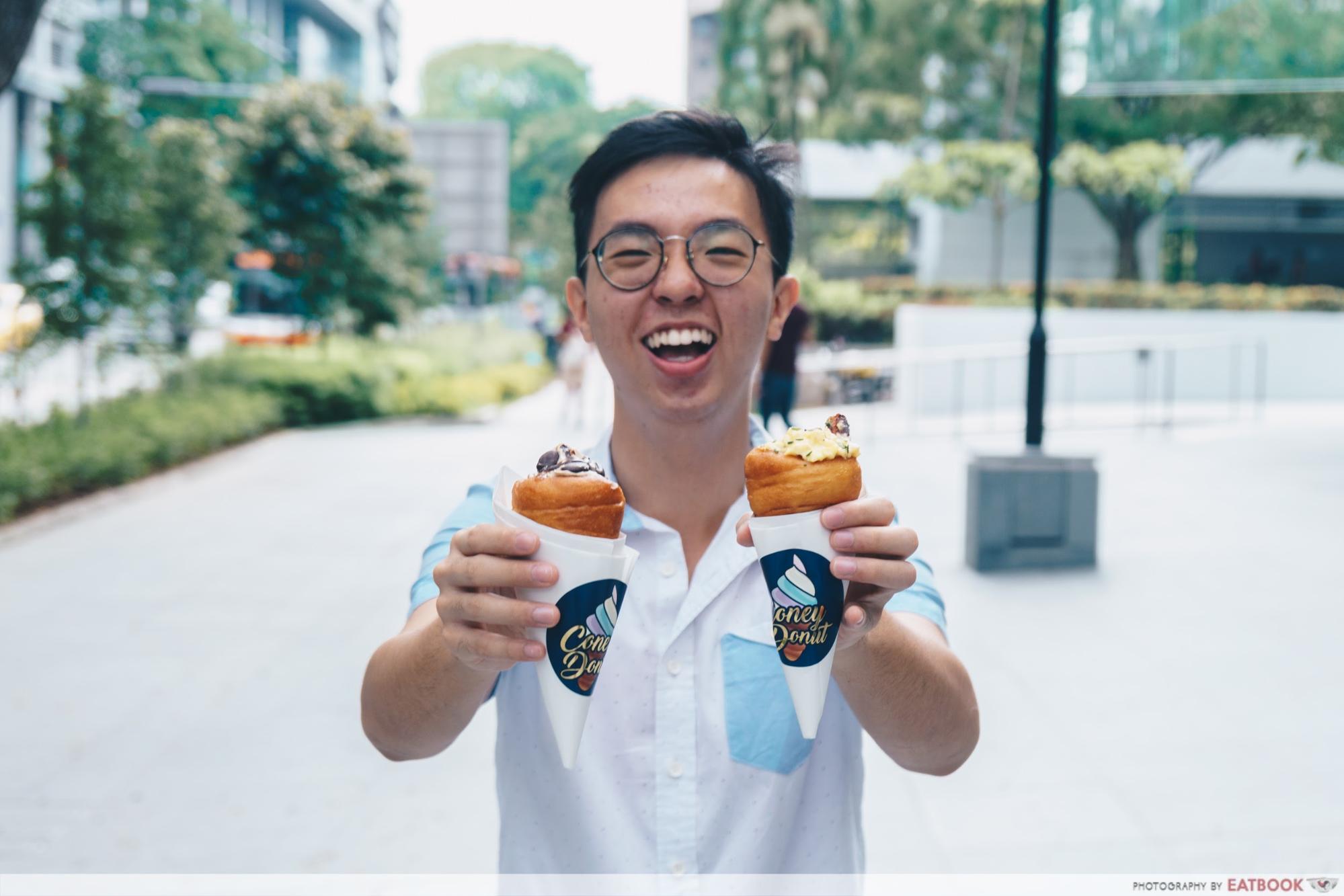 Coney Donuts doesn't offer your typical donuts. Unlike the decadent medley of sweet and greasy flavours we are accustomed to, these cones offer a well-balanced combination of flavours.
And that I believe will be Coney Donuts key to success – transforming a traditional dessert and making the taste their own. And with new flavours such as salted egg yolk chicken in the horizon, I definitely see myself returning in the future.
For more affordable food in Somerset, check out our review of Sora Boru. Recently opening at 313@Somerset, this sleek restaurant offers Japanese dishes for as low as $3.90!
Sora Boru Review: Affordable Japanese Rice Bowls And Soba From $3.90 Nett At Orchard
Address: 111 Somerset Road, #01-K1, TripleOne Somerset, Singapore 238164
Opening hours: Daily 10am to 9pm
Website
Coney Donut is not a halal-certified eatery.
Photos taken by Crystal Tan.
This is an independent review by Eatbook.sg.
Summary
Pros
– Located in town
– Filling portions
– Delicious Soft Serve Donut Cone
Cons
– Disappointing Salted Caramel Macchiato
– Eaten on the go
Recommended Dishes: Soft Serve Donut Cone ($6.80), English Breakfast Donut Cone ($4.80)
Opening hours: Daily 10am to 9pm
Address: 111 Somerset Road, #01-K1, TripleOne Somerset, Singapore 238164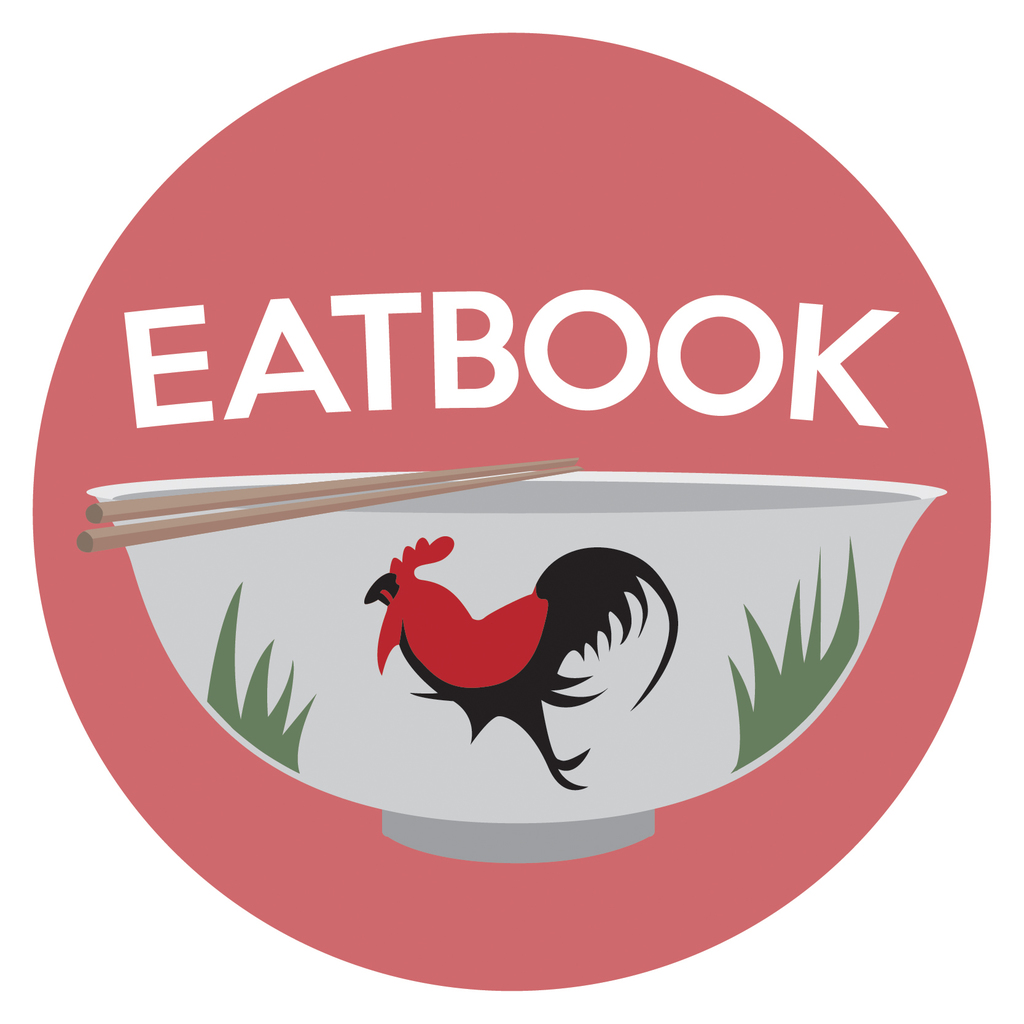 Drop us your email so you won't miss the latest news.