Crossroads
Buffet
at Singapore Marriott Tang Plaza Hotel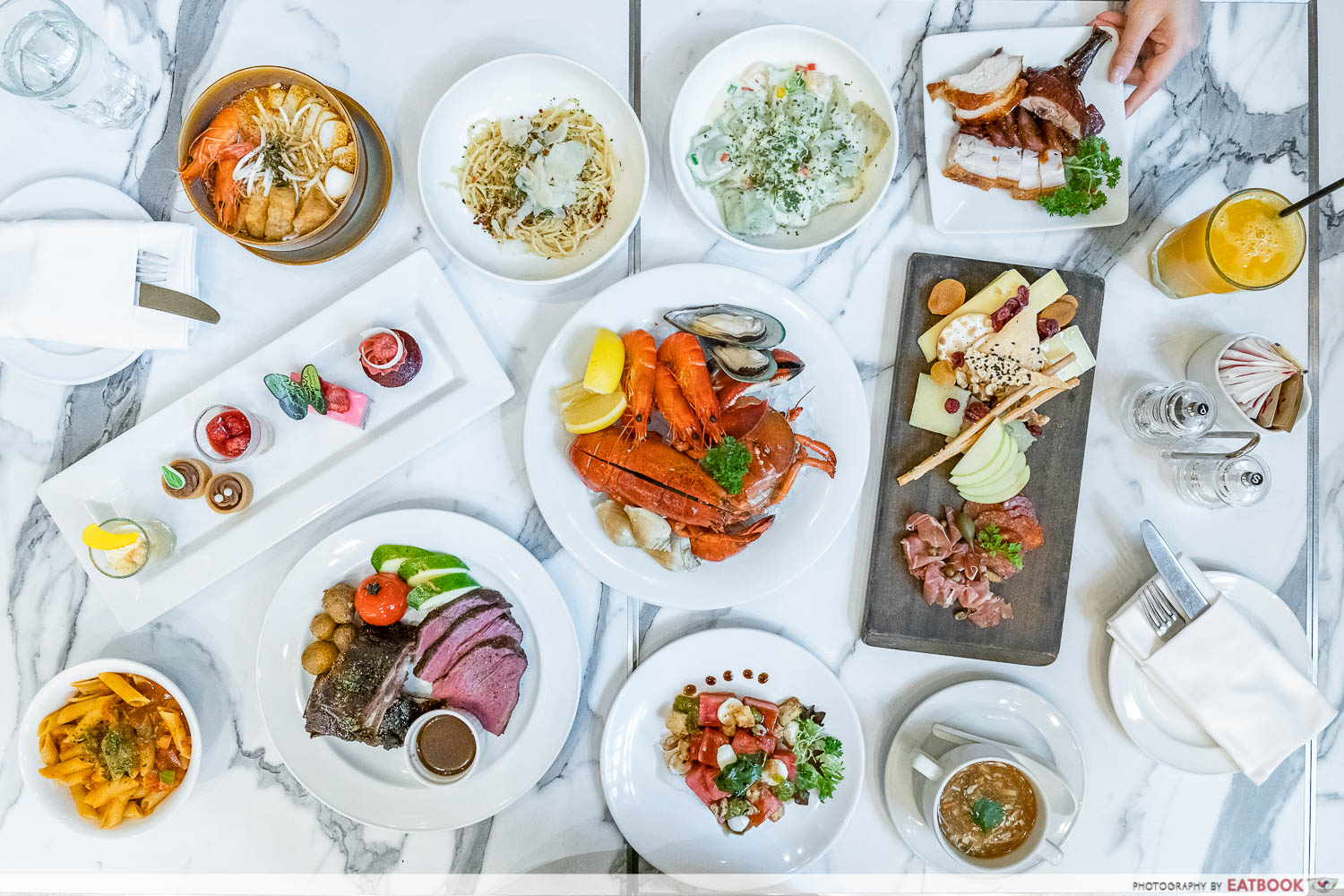 If you've got fond memories of the lunchtime buffet at Singapore Marriott Tang Plaza Hotel, this one's for you to relive those happy times at Crossroads Buffet.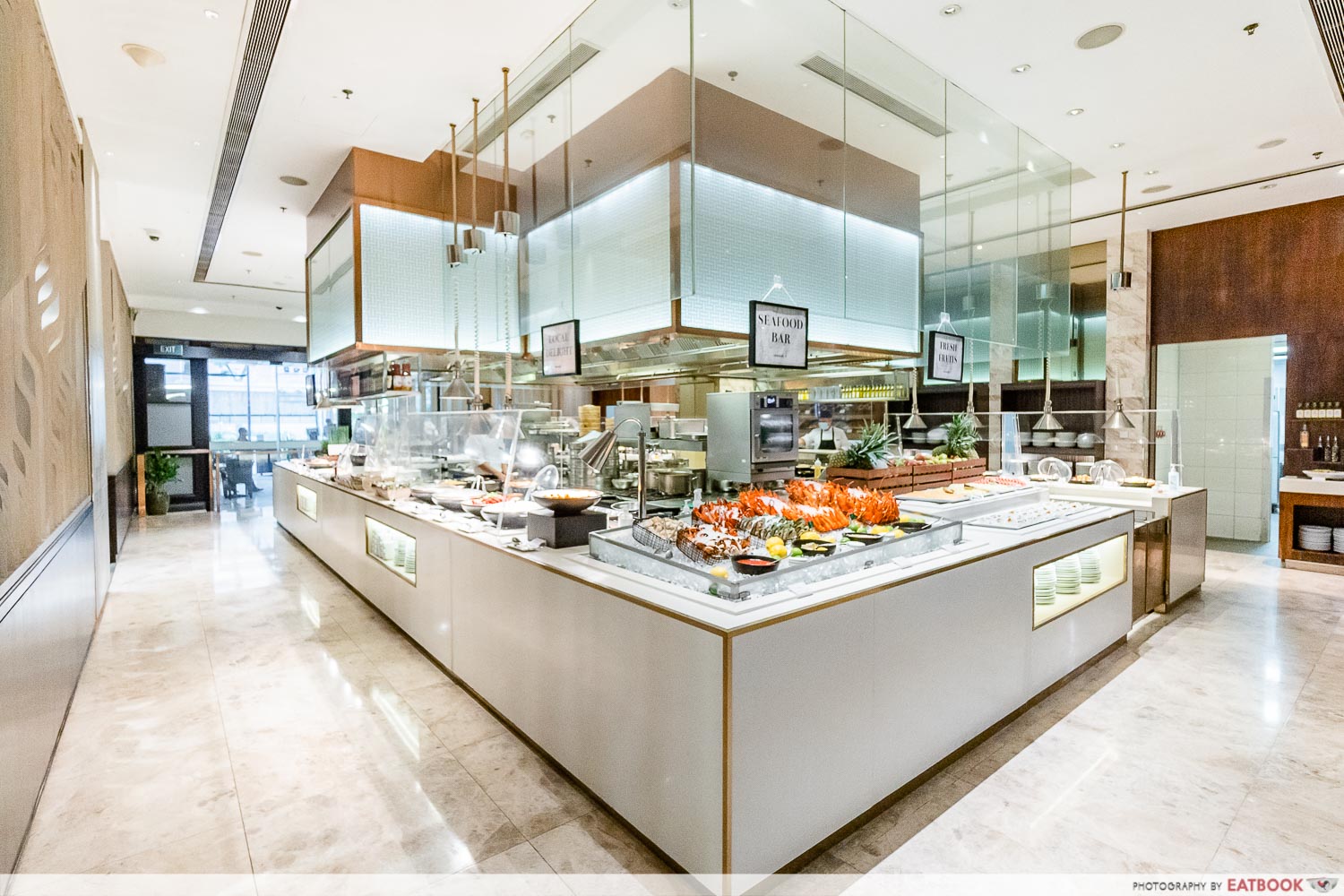 Just off the main lobby of Singapore Marriott Tang Plaza Hotel, Crossroads Buffet presents a spread of more than 40 dishes across 12 stations. From premium meats at the carving station, to pasta and noodles cooked to order, Chinese-style roast meats, vegetarian-friendly options, and desserts galore, you'll be spoiled for choice.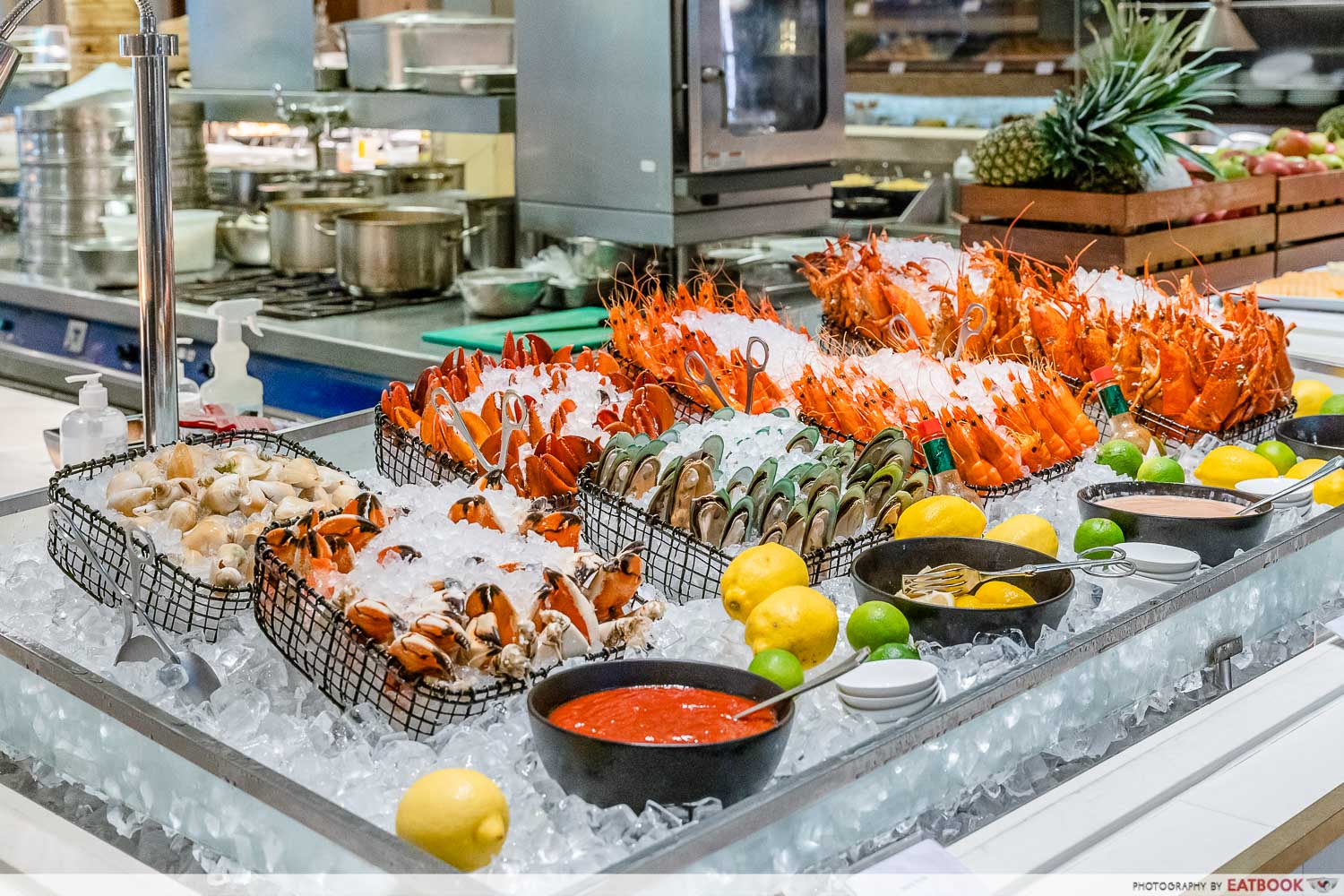 The mark of a truly good buffet, some say, is the selection of seafood on ice. At this buffet, expect up to six different sorts of super fresh shellfish, including Poached Crayfish, Stone Crab Claw, River Prawns, New Zealand Green Lipped Mussels, and more.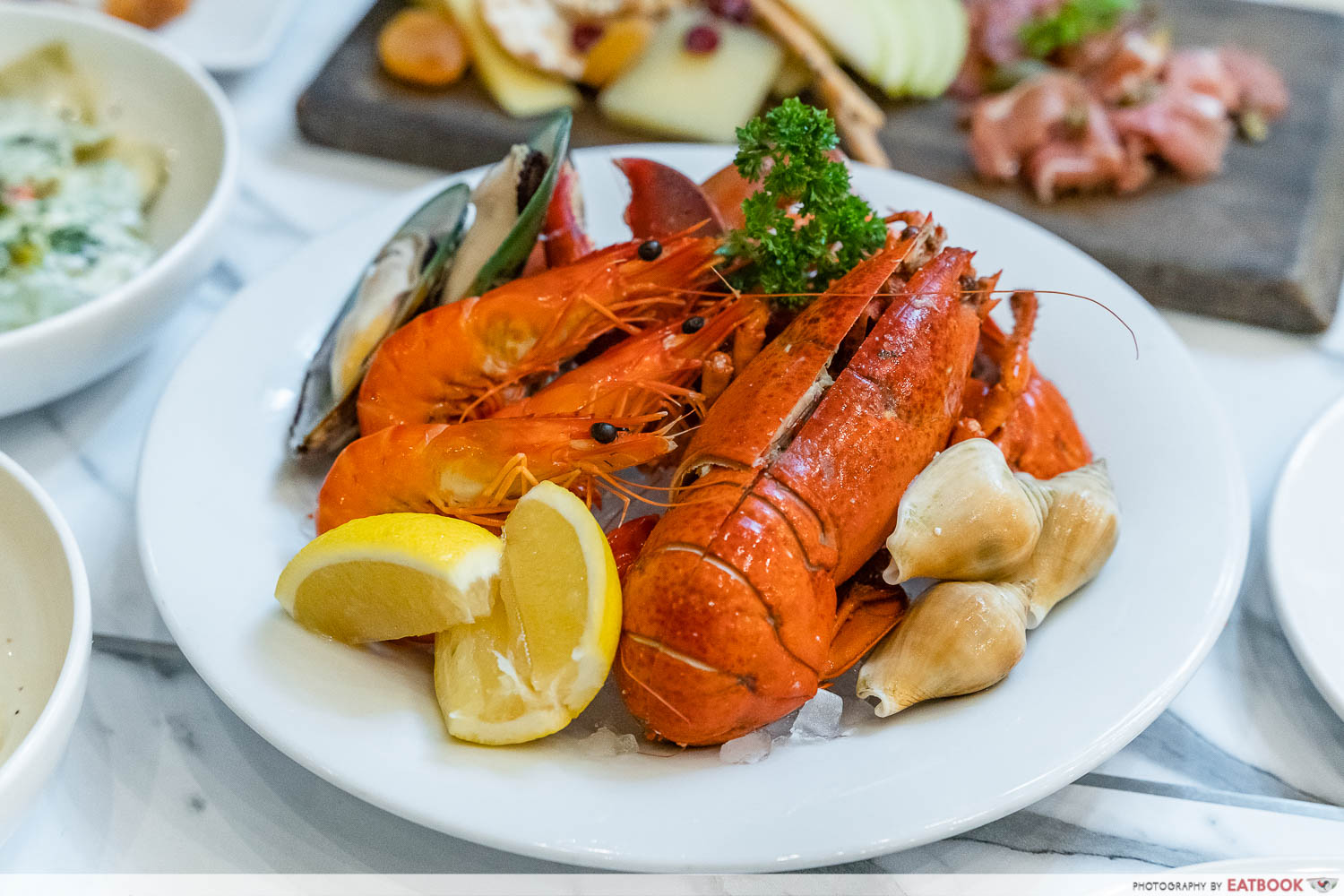 Then, on weekends, you can look forward to Poached Boston Lobster, which you should have along with Shallot Mignonette to bring out the fresh sweetness of the seafood.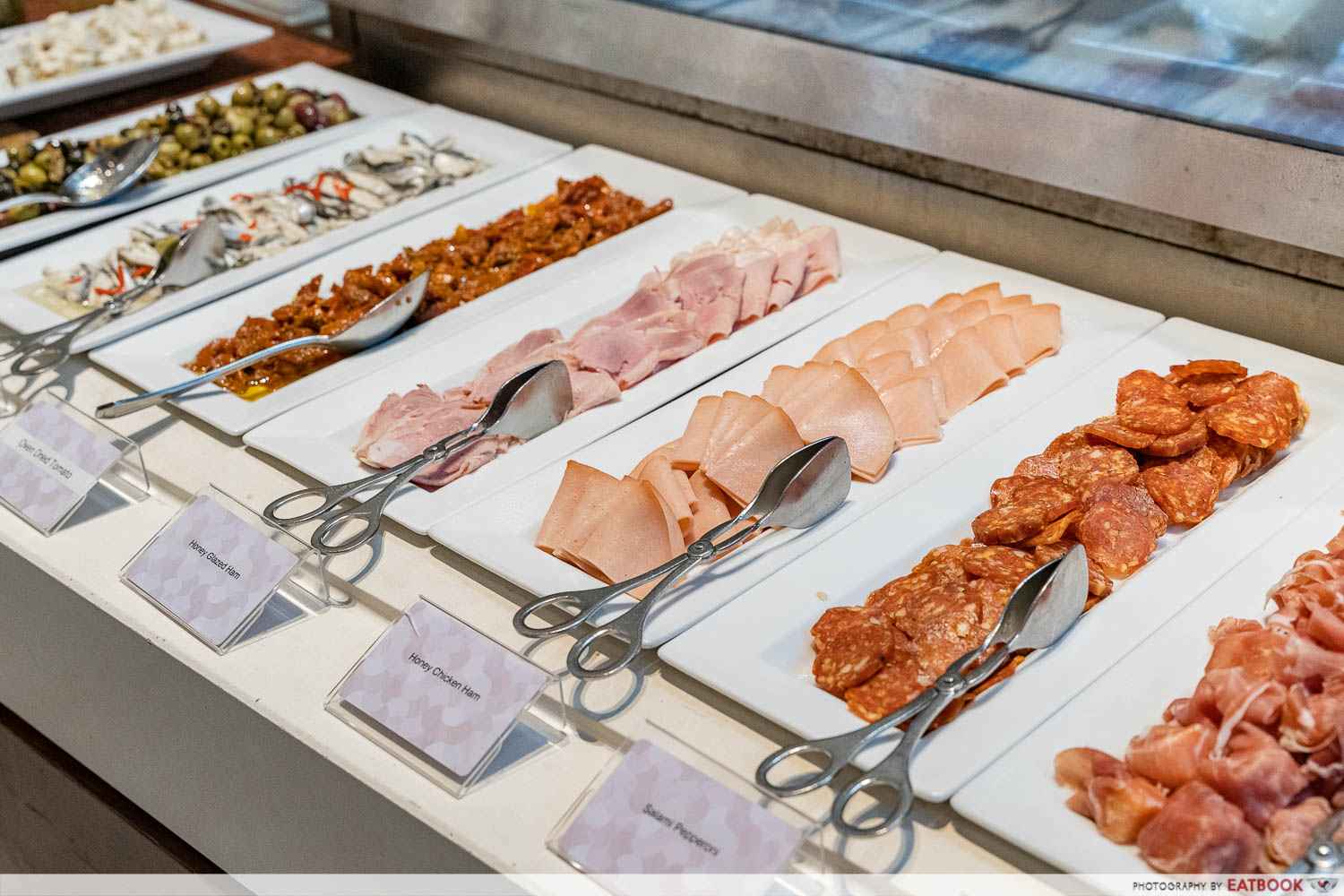 Accompany your afternoon catch-up sesh with a selection of cold cuts and cheese━DIY a charcuterie plate with marinated olives, then get a free flow of house pour wines with a top-up of $28++ per person!
Don't come at me for this, but the Compressed Watermelon Salad with Bocconccini is one of the must-try dishes at Crossroads Buffet. It's not a fancy name for watermelon salad, but rather an actual process, involving vacuum pressure, that intensifies the flavours of the fruit.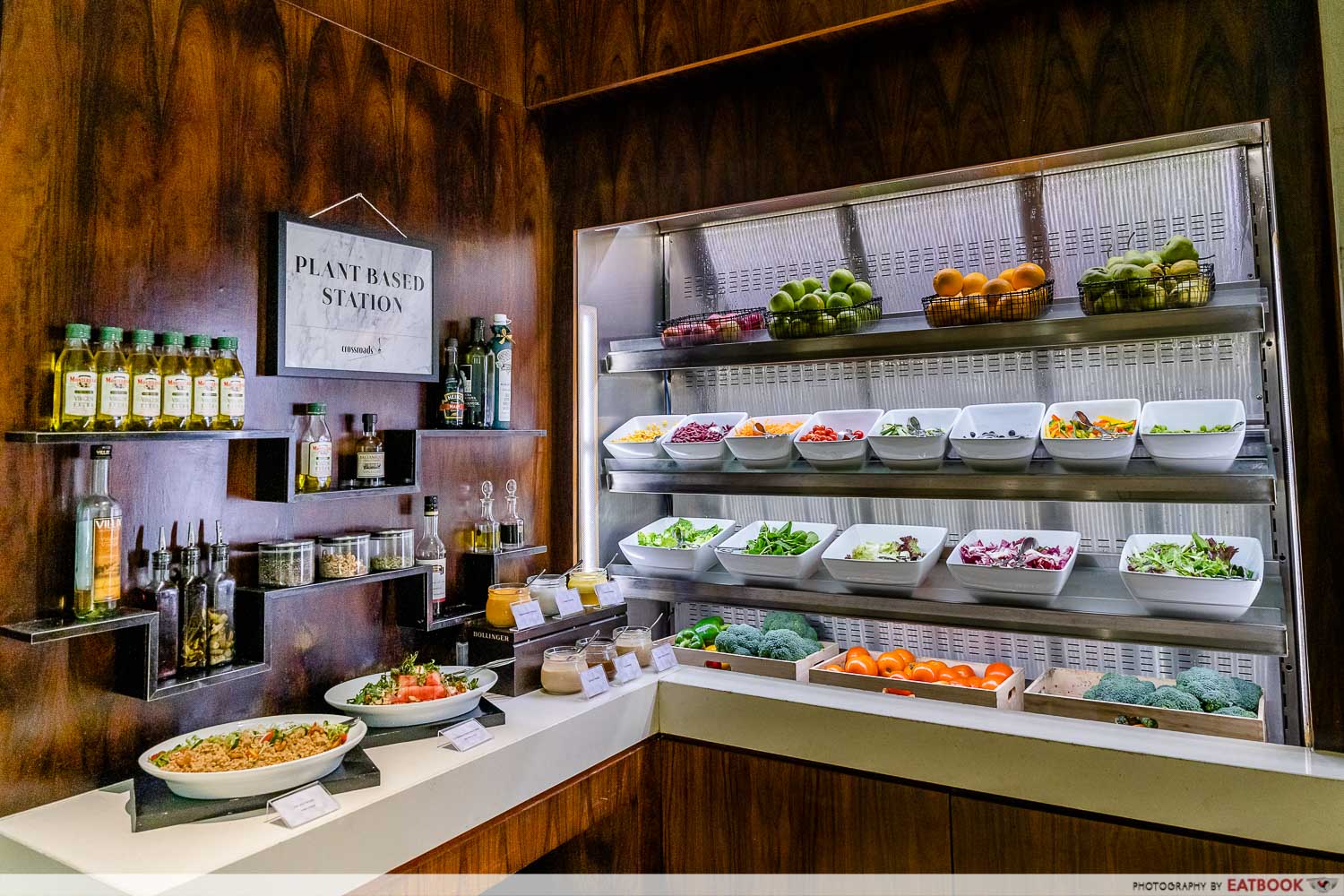 In fact, it's one of two premixed salads at the Plant-Based Station━dedicated to those of us on alternative diets, and for anyone else who wishes to join in the fun.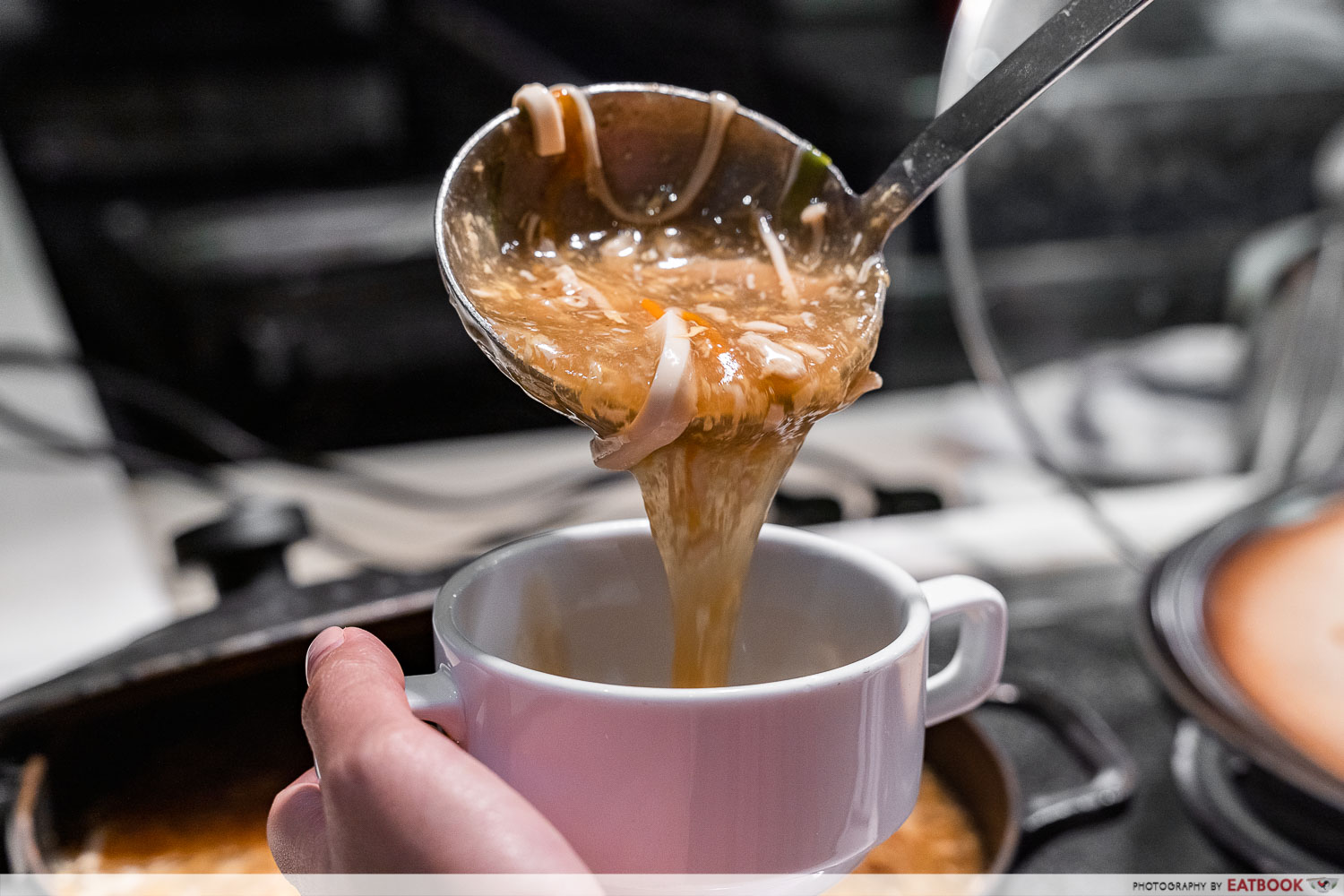 With the recent cooler days, a warm bowl of soup is just the thing. On rotation, there's the likes of Crabmeat Conpoy, Truffle Mushroom Cream, Potato and Leek, Pumpkin, and even Wintermelon Pork Rib Soup!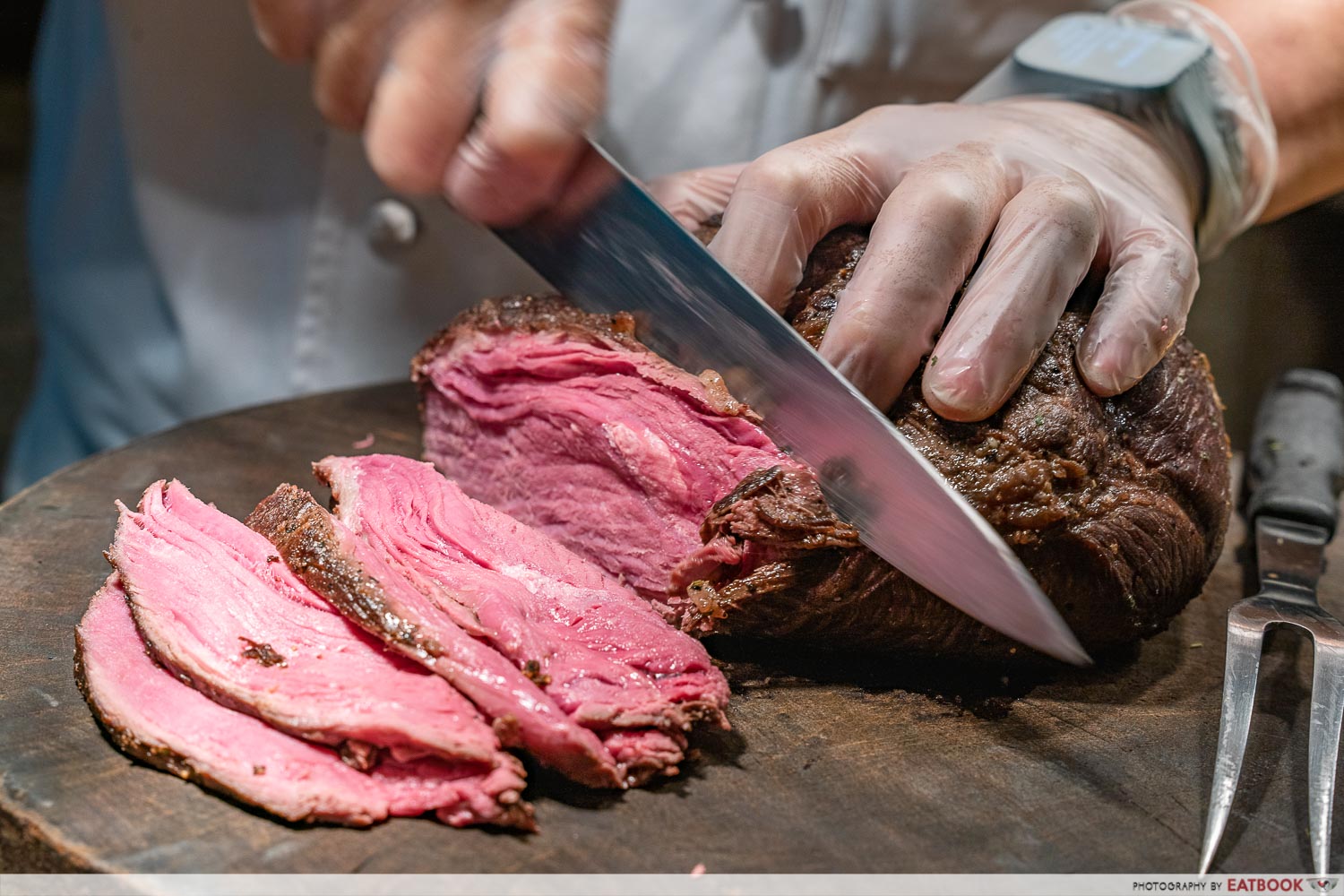 Save space, though, for the Carving Station; there are usually two meats each day. On the beef front, there's Mustard Crusted Wagyu Rump, which you can accompany with the house-made brown sauce and chimichurri.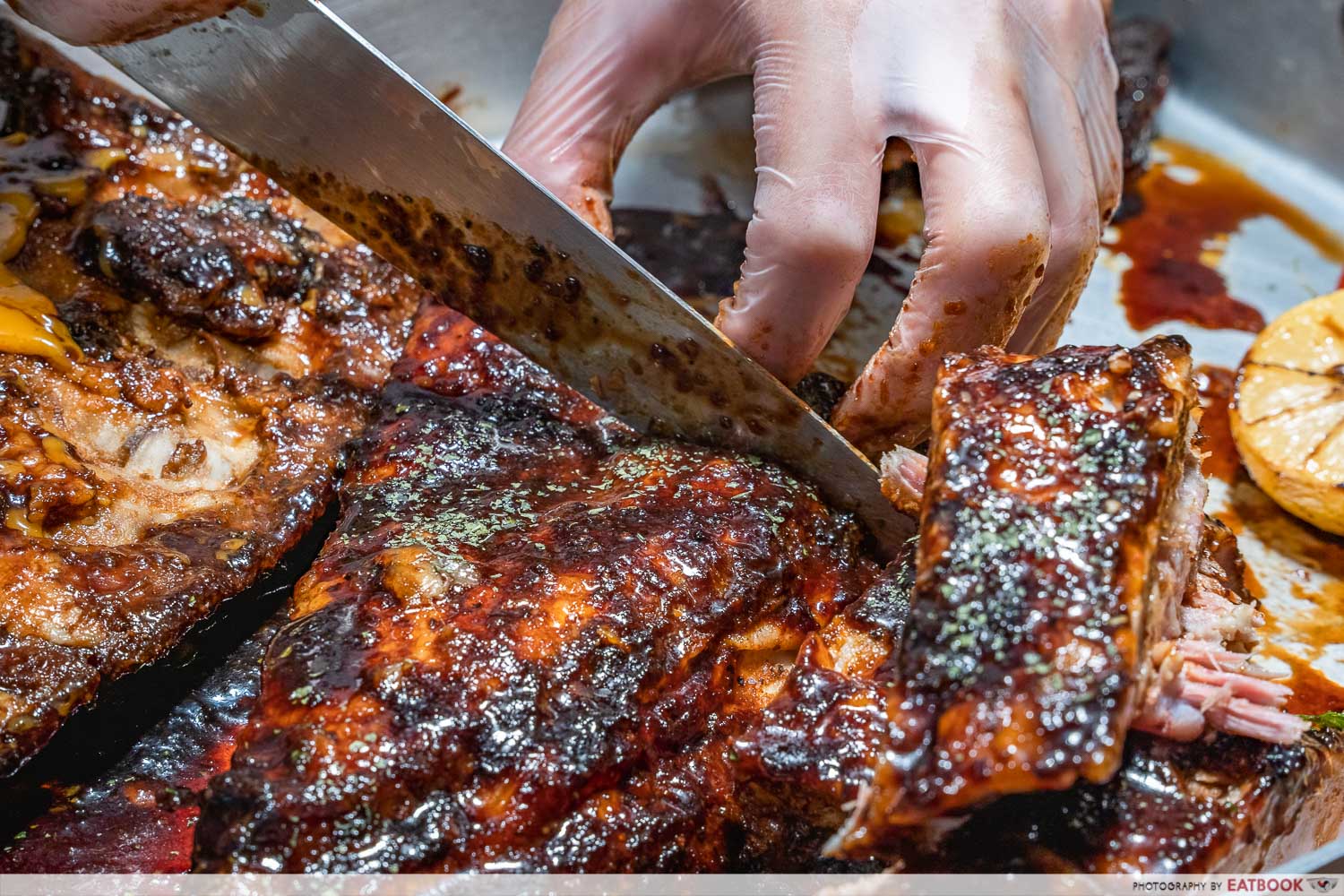 There's also Sticky BBQ St. Louis-Style Pork Rib, which is hands-down worth every calorie.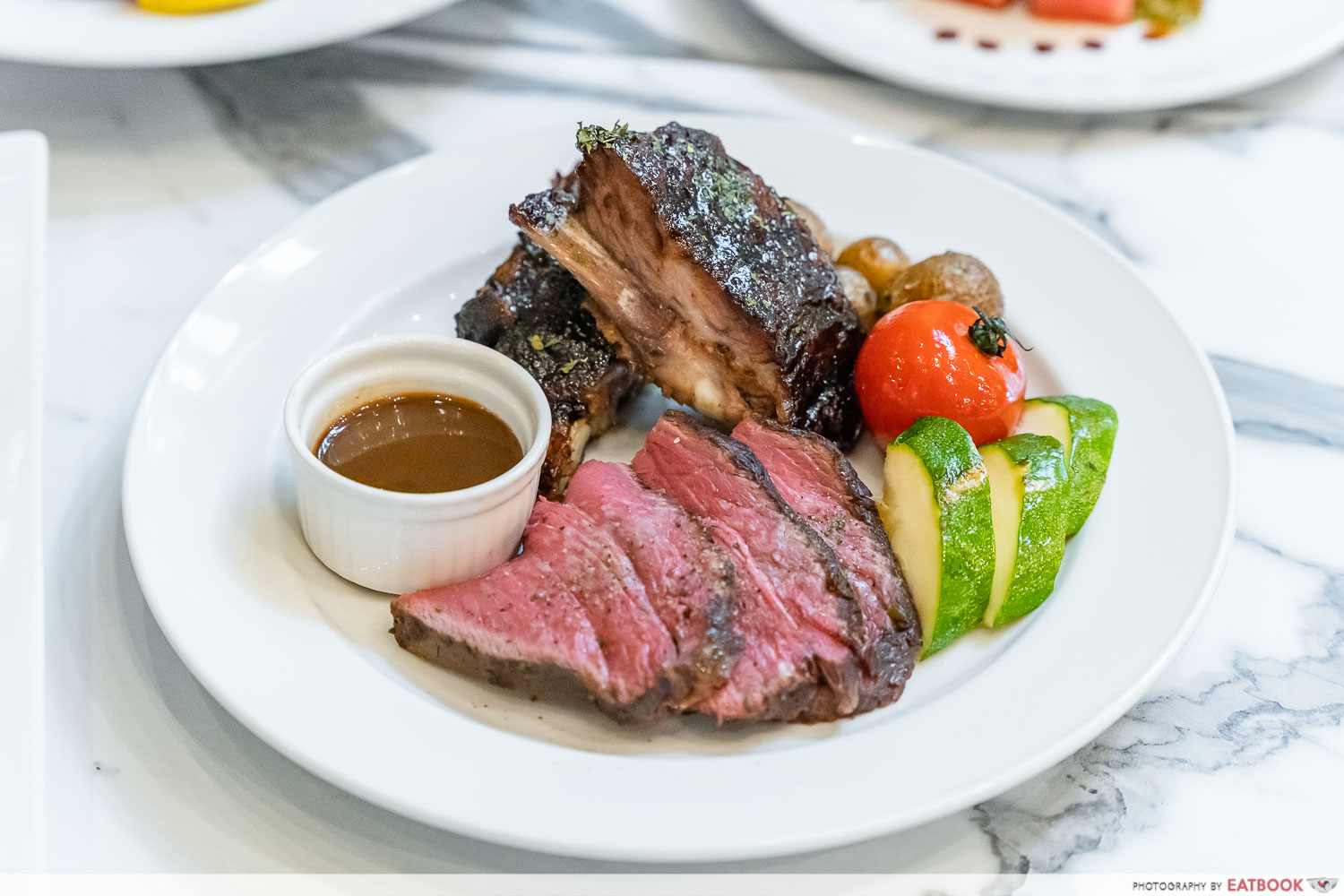 Think fork-tender Wagyu, and succulent, fall-off-the-bone pork that comes on huge, meaty ribs. Other premium meats on rotation include Rolled Pork Saddle and Moroccan Spiced Lamb Shoulder, or Oven-Baked Pesto Salmon.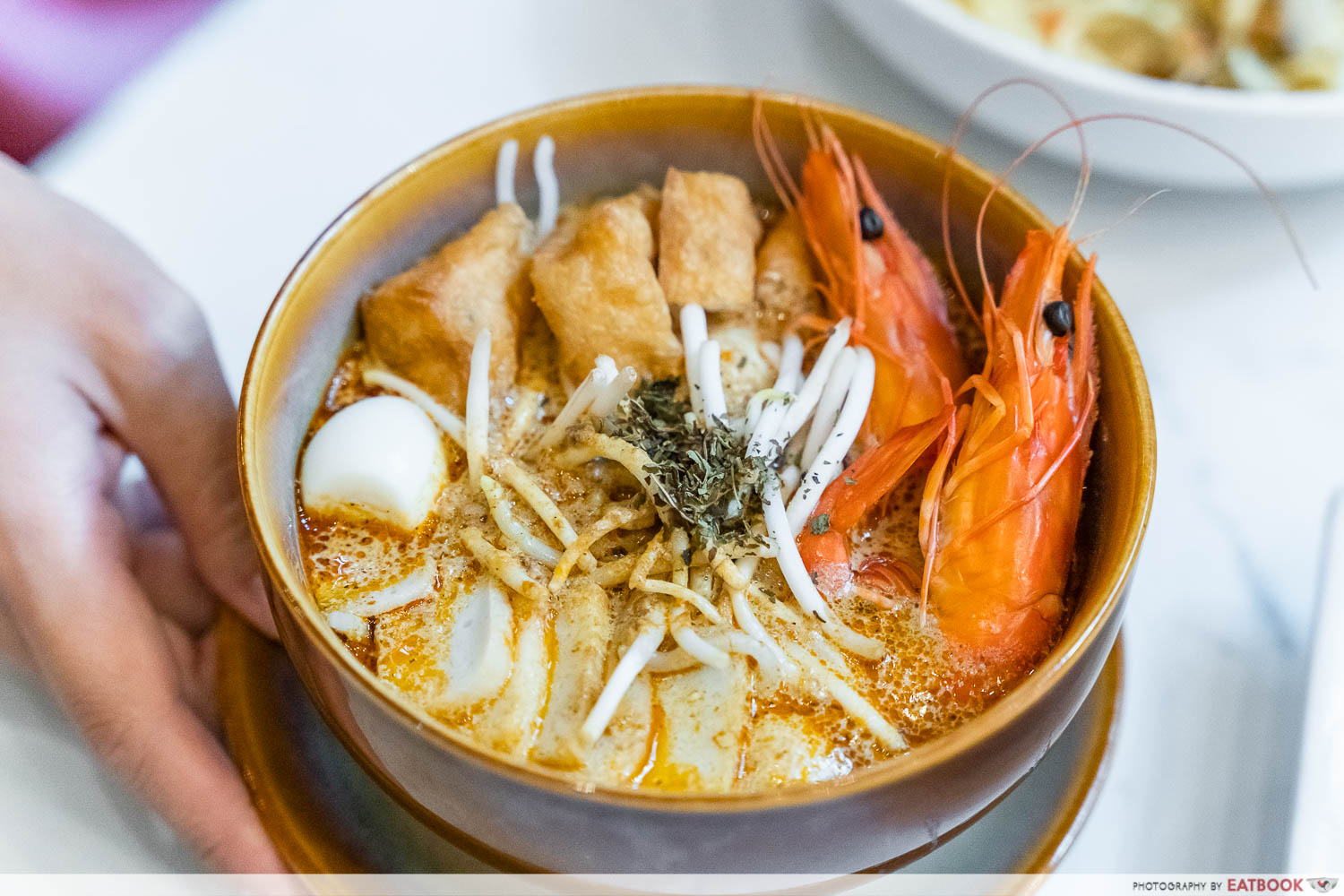 Moving on to the Asian side of the buffet, look forward to a Noodle Bar offering familiar favourites such as laksa, prawn mee, or wonton noodles━all cooked to order.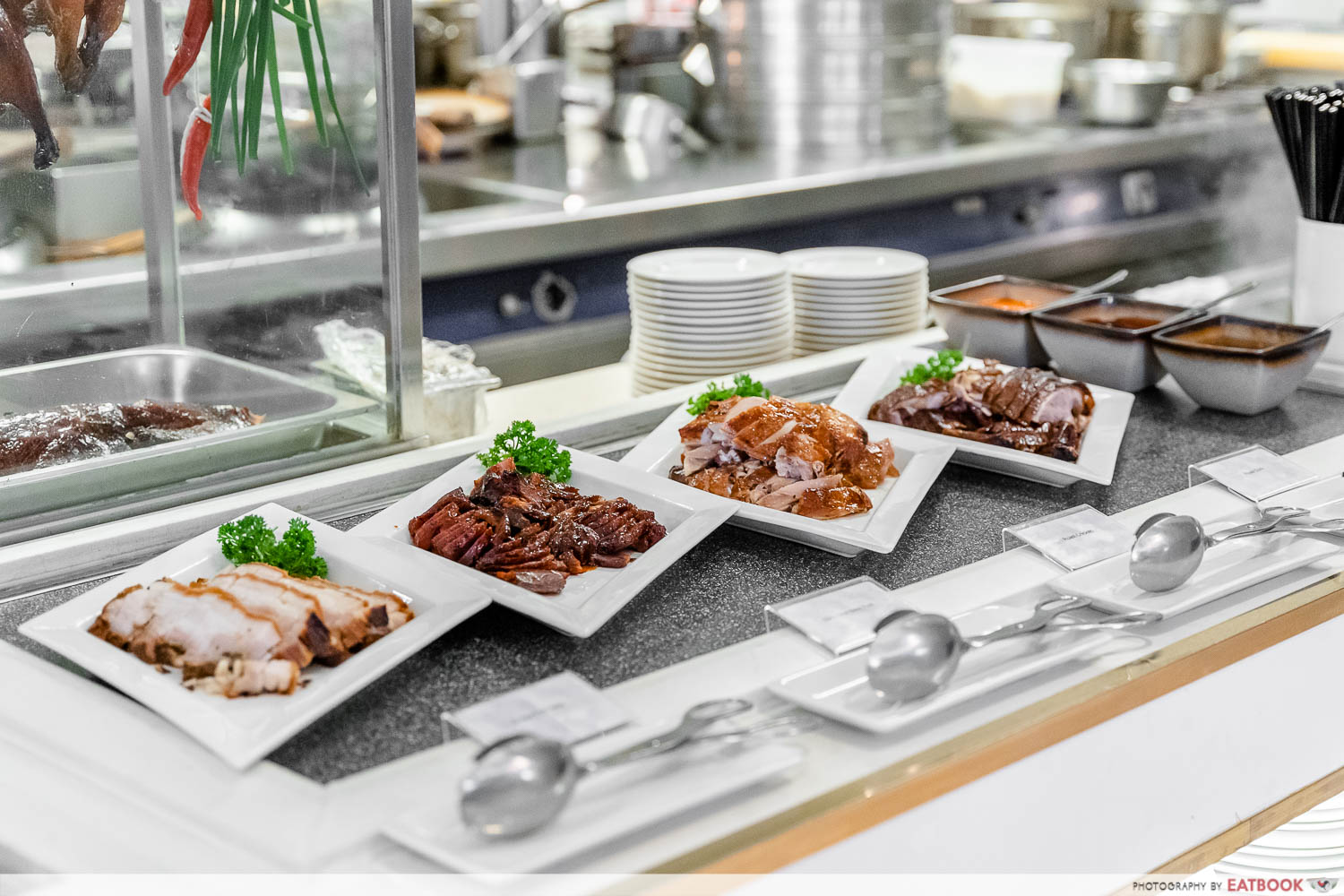 If you're getting wonton mee, fancy it up with as much roast meat as you like.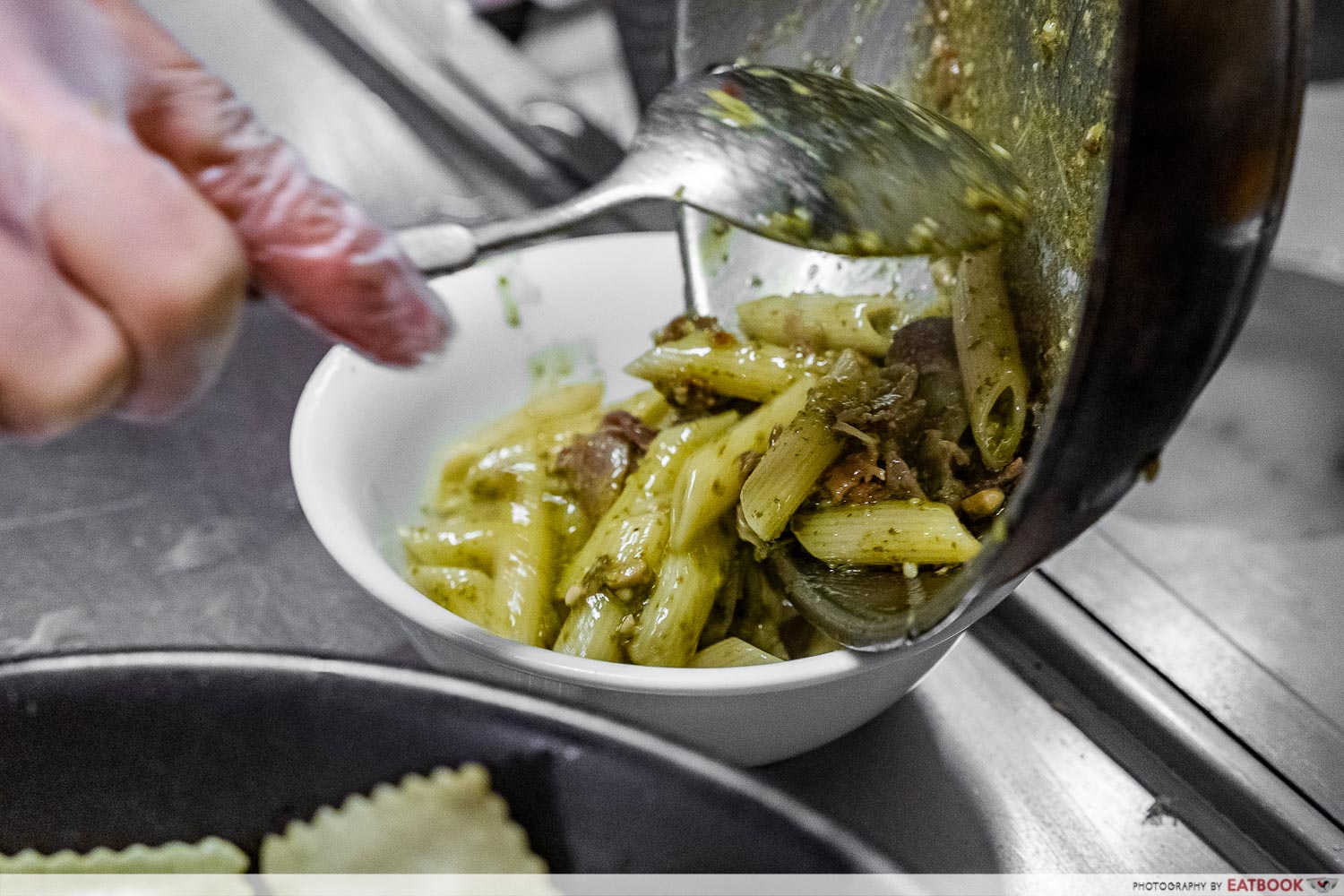 Another live station that's sure to find many fast fans is the Pasta Station, which offers three pastas━spaghetti, penne, and ravioli━four sauces, think Basil Tomato, White Wine Bacon Cream, Roast Garlic and Chilli Oil, or Pesto, and 14 different toppings!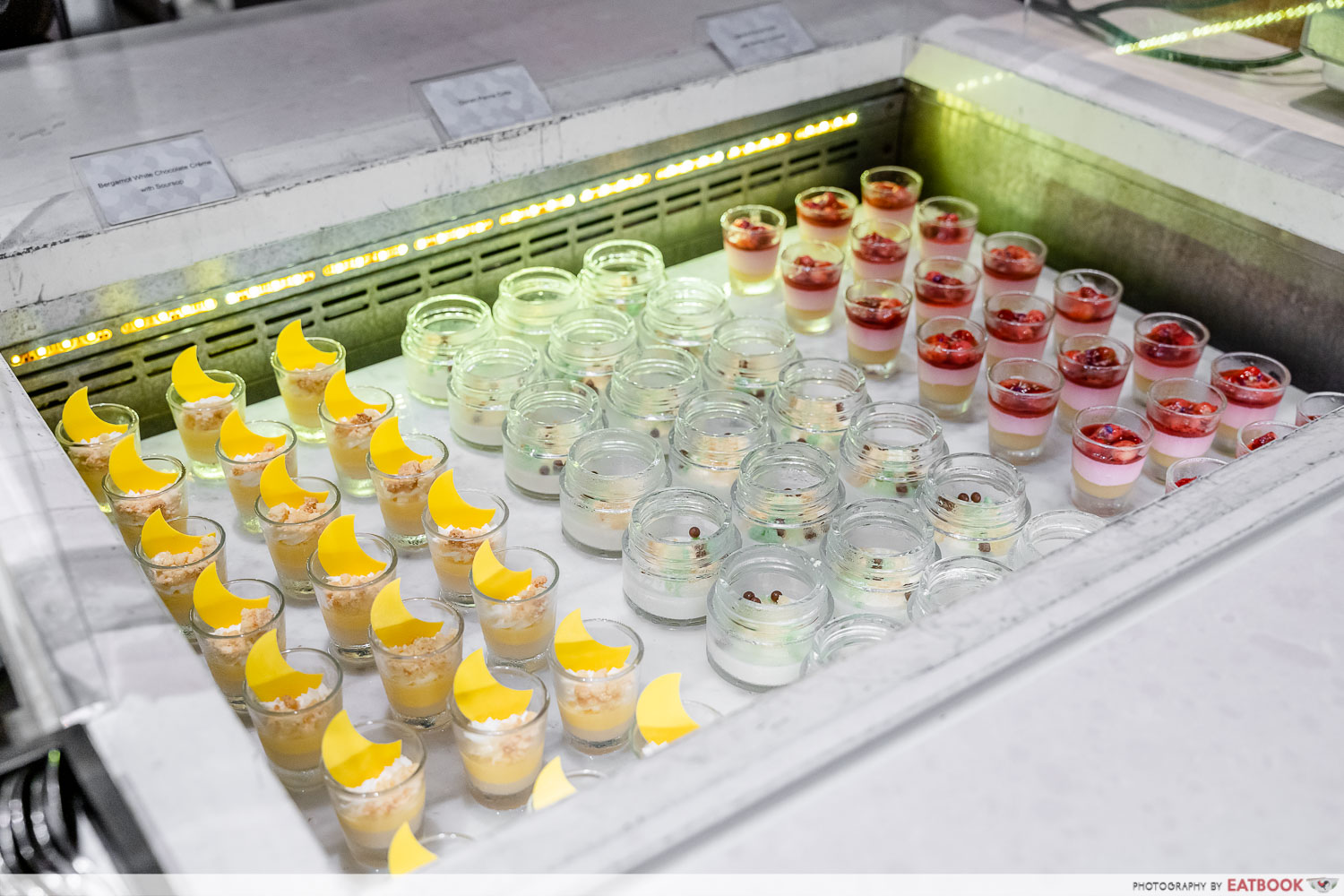 You have to save space for dessert, too, because there's lots of it, in fun-sized individual serves and whole cakes to choose from. You'll find little cups including Mint White Chocolate with Apple, Rose Panna Cotta with Lychee Chutney, Hazelnut Praline Chantilly with Passionfruit Banana Compote, and mini Vanilla Crème Brulee.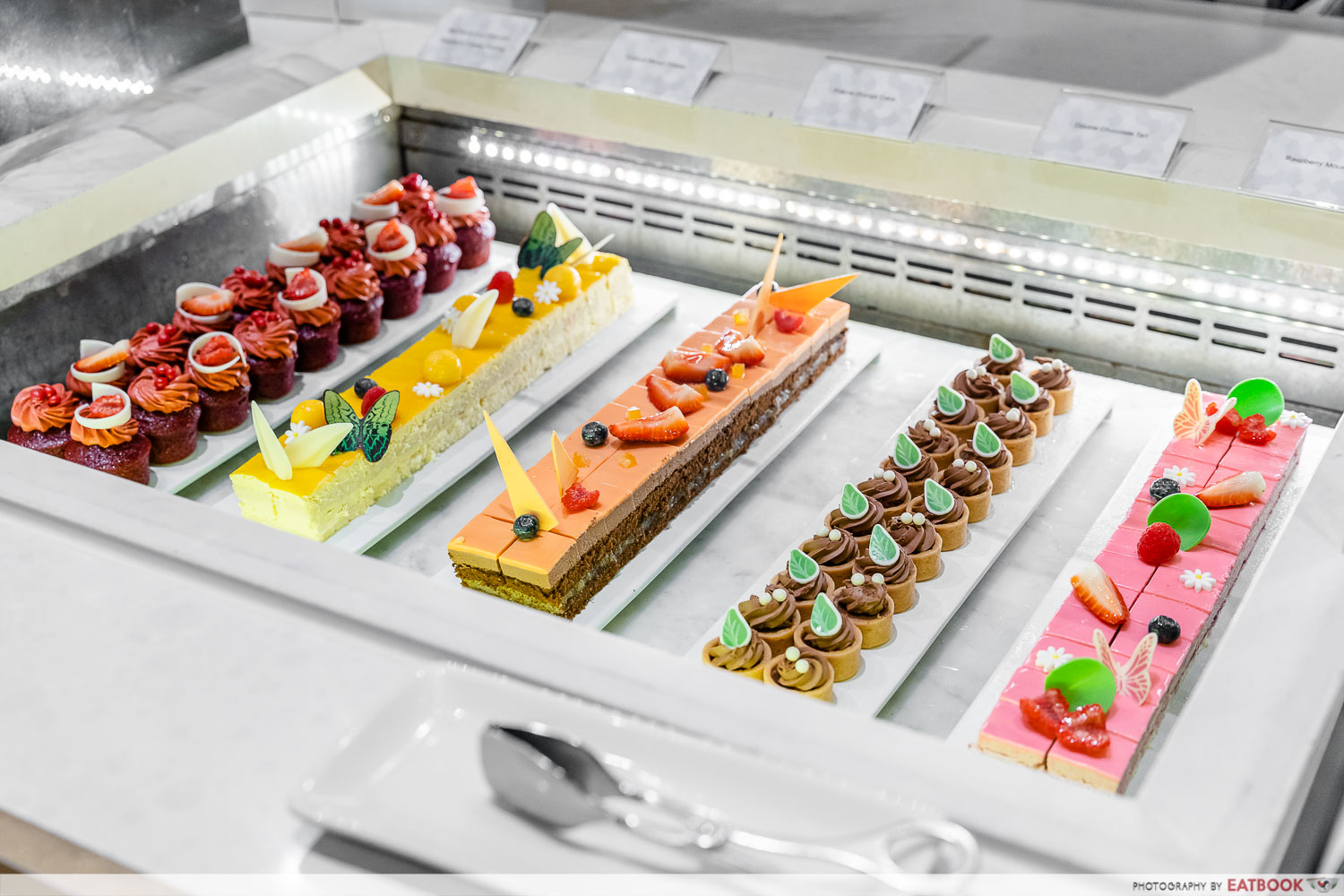 There's more, think: Double Chocolate Tart, Orange Crumble Tart, New York Cheese Cake, Passionfruit Mango Gateaux, Barley Beancurd Skin and Gingko, Bubur Cha Cha, Peach Gum with White Fungus and Lotus Seed, and five different ice creams at the dessert station!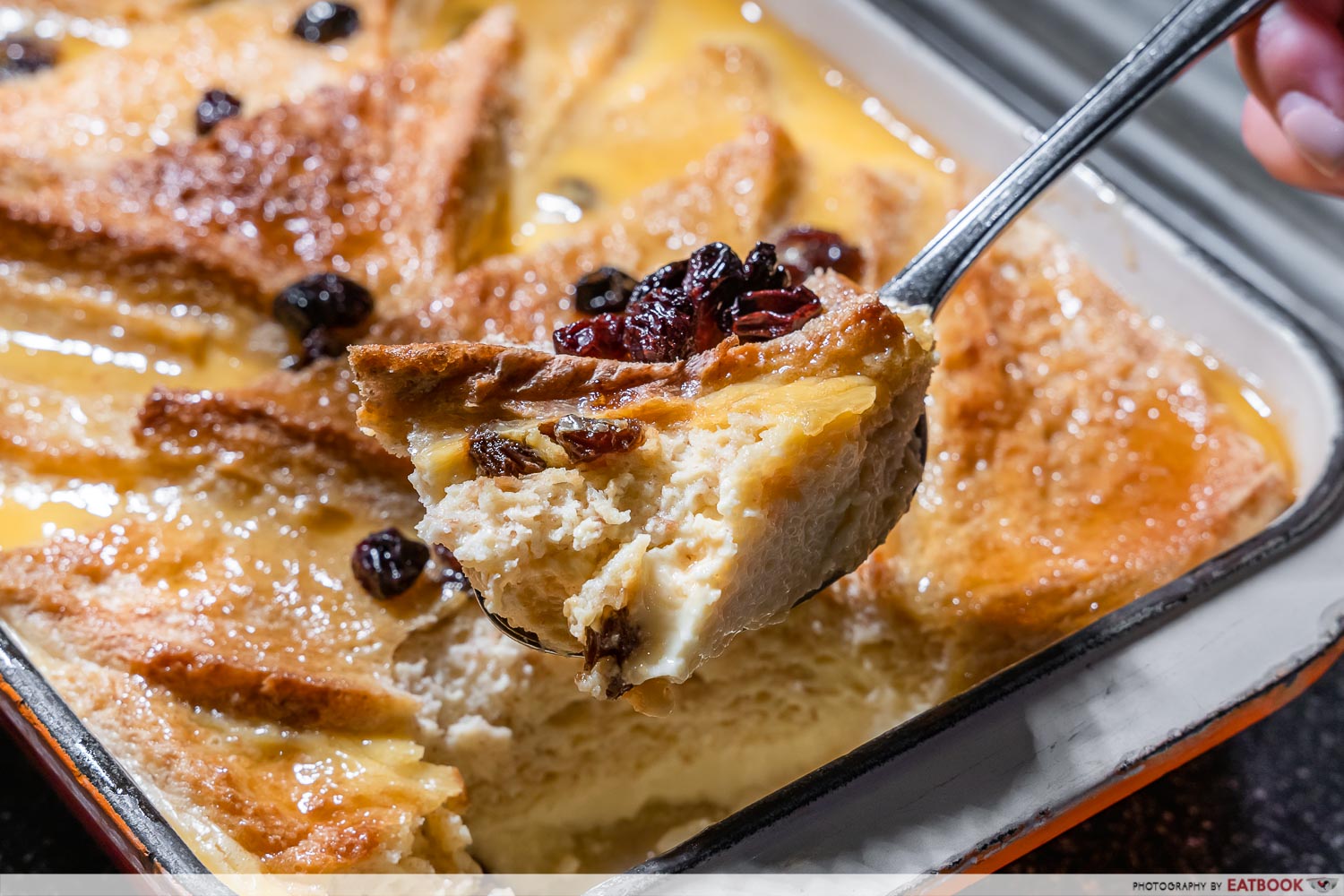 If you could only pick one, and for nostalgia's sake, go with Bread and Butter Pudding. It's the cornerstone of all my memories dining here back in the day, and I'm sure I'm not the only one who recalls it fondly. Ladle some vanilla sauce over for maximum indulgence; there's chocolate too if you like.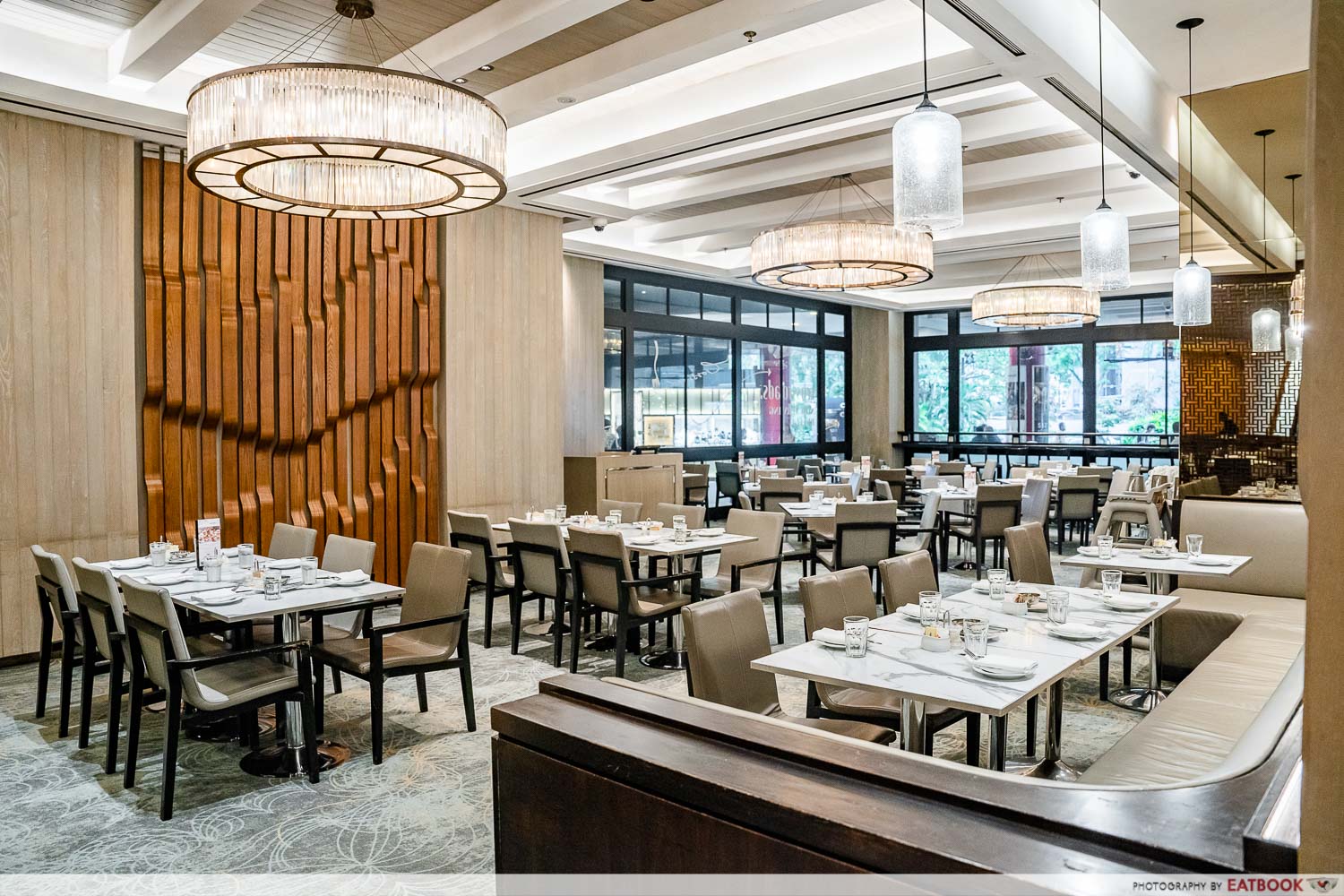 From now until 30 November 2022, enjoy 20% off at Crossroads Buffet when you book online! This means you'll only be paying $58.50+ for adults and $35.10+ for children under 12 years old from Monday through Friday, or $70.20+ and $43.20+ respectively come weekends!
Address: 320 Orchard Road, Lobby Level, Singapore Marriott Tang Plaza Hotel, Singapore 238865
Buffet hours: Daily 12pm to 2:30pm
Tel: 6831 4605
Website
Crossroads Buffet is not a halal-certified eatery
Photos taken by John Lery Villanueva.
This post was brought to you by Crossroads Buffet.