Parents' Day menus at Crystal Jade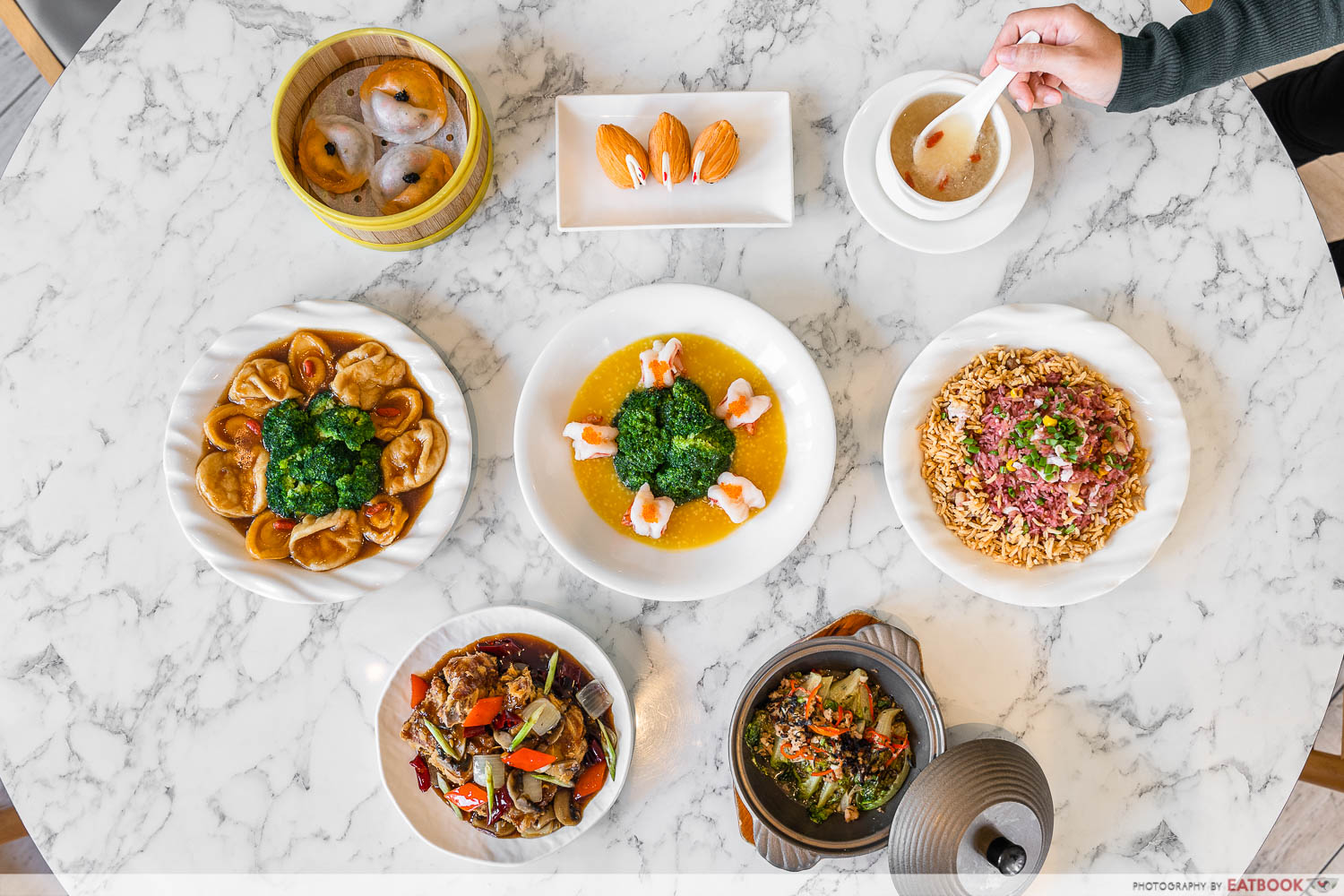 Every day should be Parents' Day, but come the second Sunday of May, and third Sunday of June each year, we specially honour our mothers and fathers for everything they've given to us. This year, celebrate your mama and papa with Crystal Jade, who've got a slew of Parents' Day dining promos and set menus from just $38.80++ a person!
These deals are available from 27 April to 30 June 2022 across the whole Crystal Jade Group of restaurants. We've sussed out the best dishes you'll get on the set menus at Crystal Jade Jiang Nan, Crystal Jade Hong Kong Kitchen and Crystal Jade La Mian Xiao Long Bao.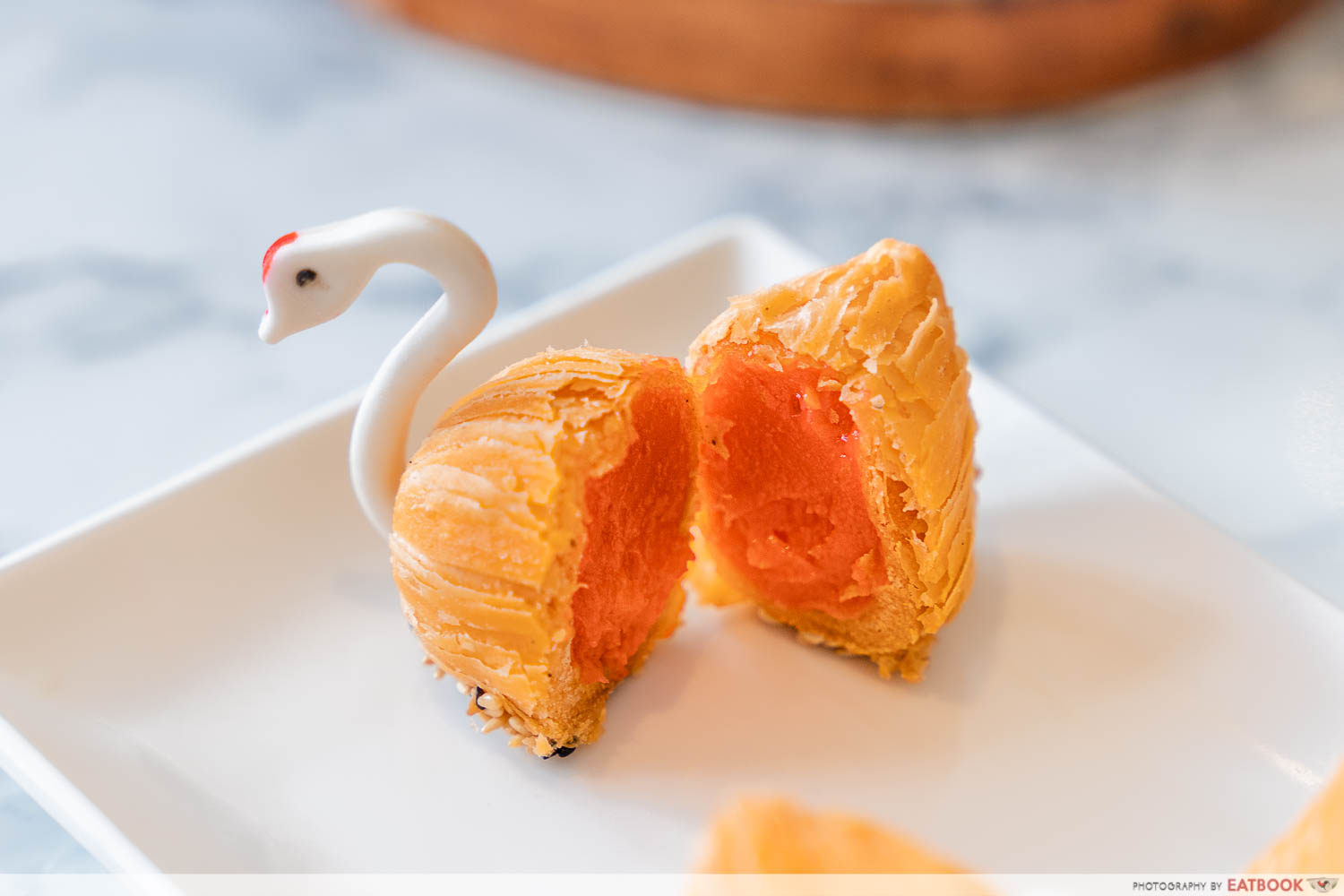 First up, head to Crystal Jade Jiang Nan or La Mian Xiao Long Bao for the Mini Swan Pastry with Salted Egg Yolk Custard ($8.80++ for three). This delicate flaky pastry cuts open to reveal an ultra smooth salted egg yolk custard.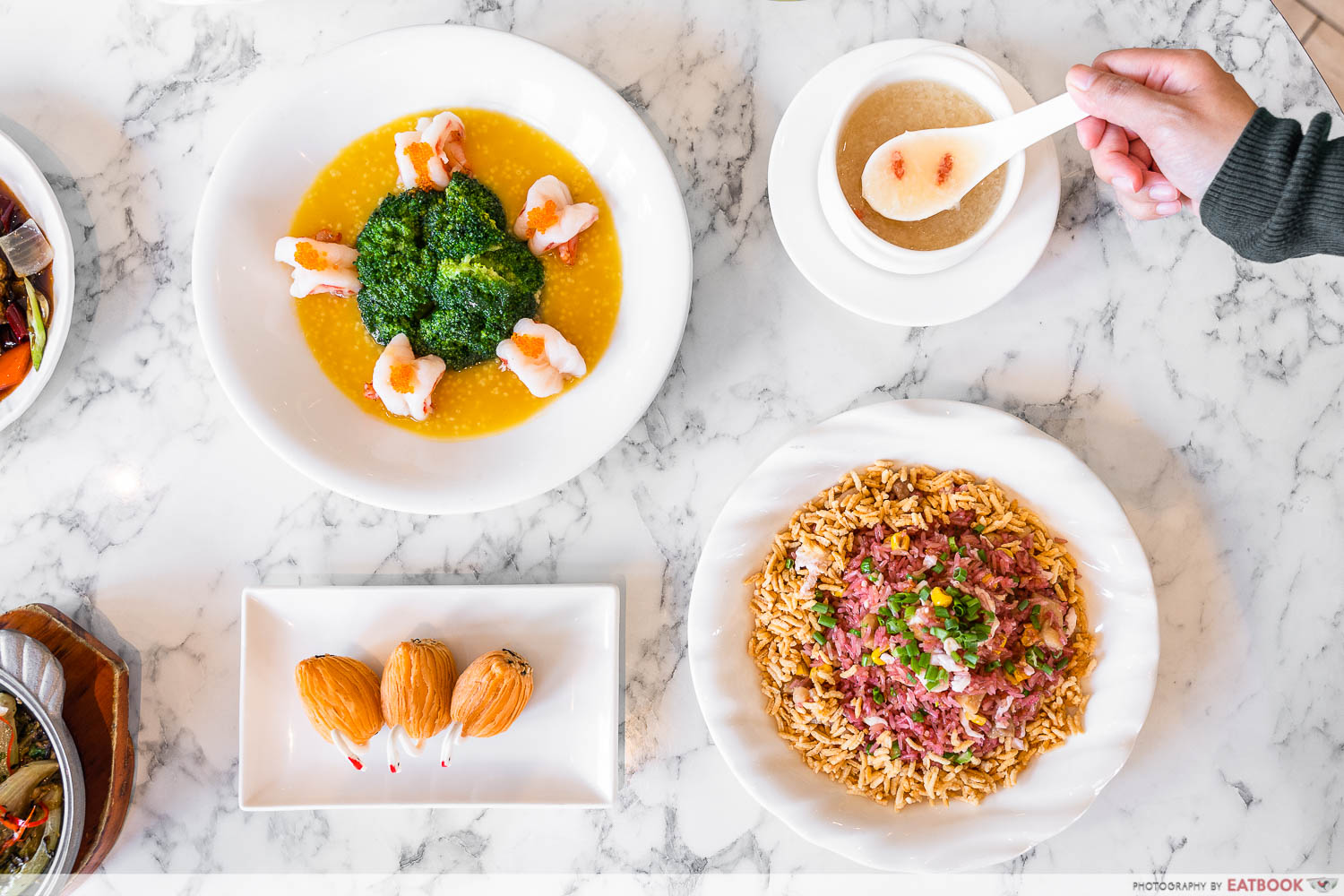 We eat prawns at Chinese New Year for tidings of happiness, since it reads 'ha' in Cantonese. It's not CNY, but we wish for nothing but everlasting happiness to our parents nonetheless.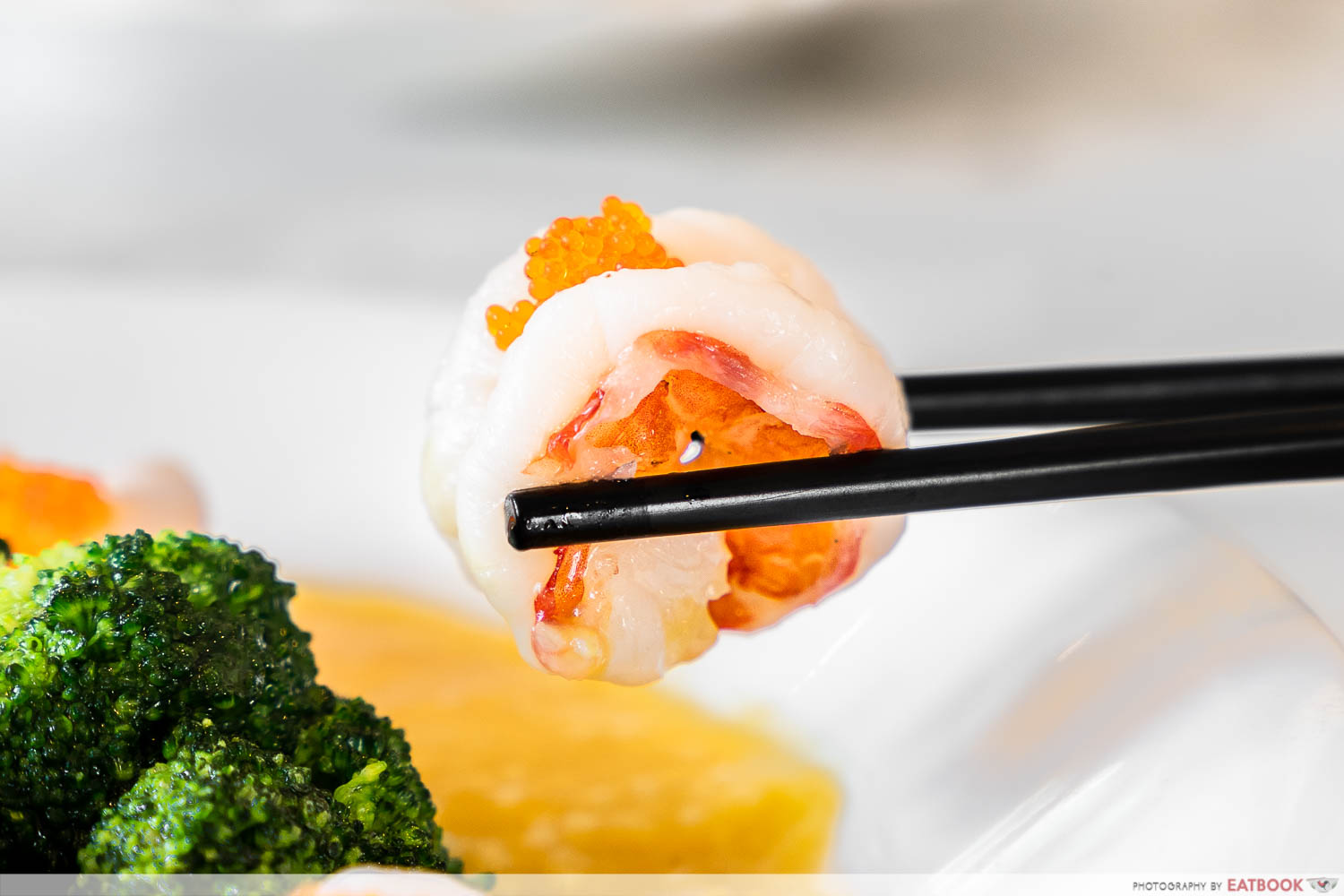 Get that sorted with the Braised Prawn with Healthy Millet Sauce ($26.80++), where succulent, deshelled prawns topped with tobiko rest in a savoury, thick gravy with actual millet grains. 
If you didn't know, millet grains are protein- and fibre-rich, and support your digestive system! Apart from being a healthy addition to this tasty dish, they also provide textural contrast to the other elements here.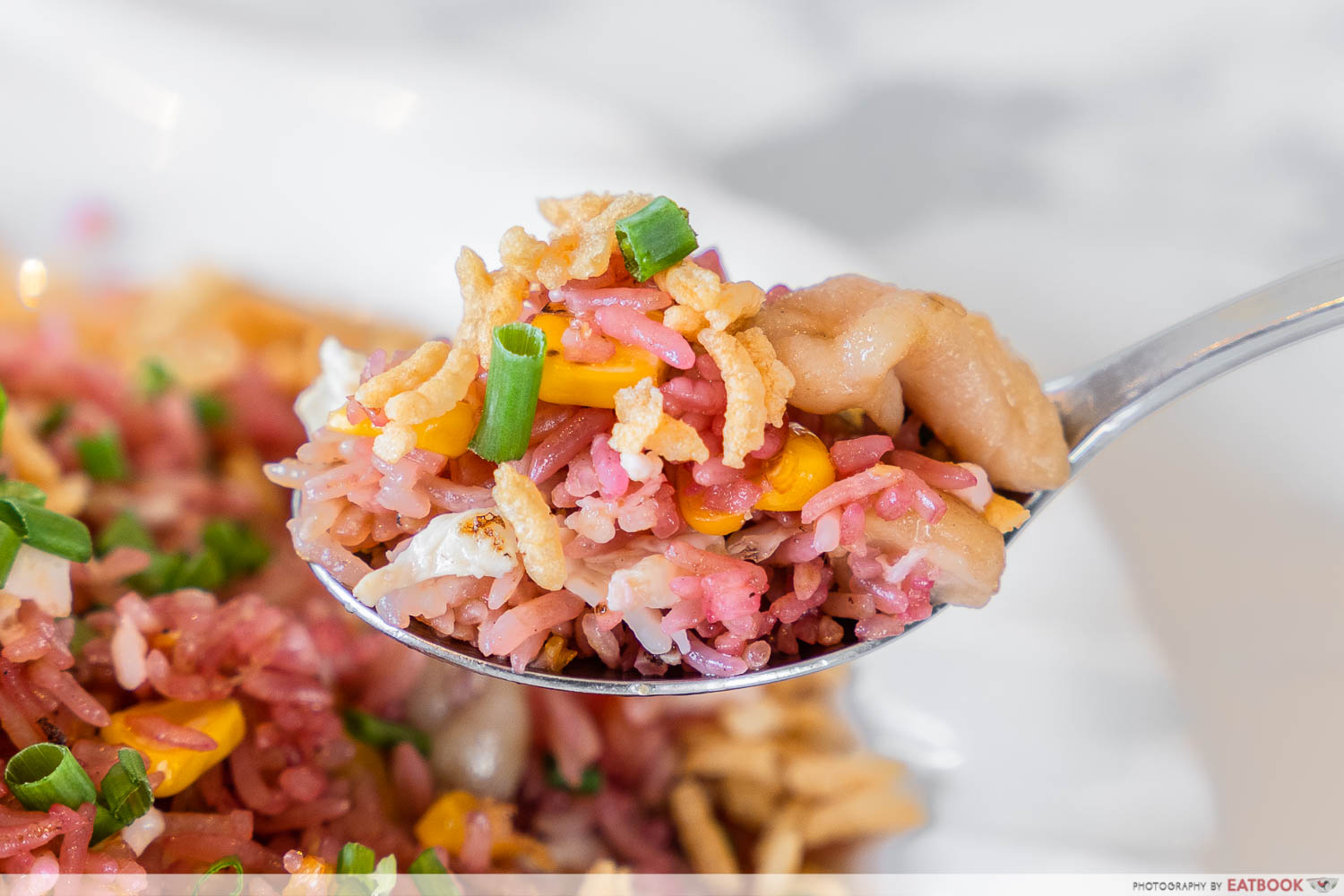 Chase that with the Fried Rice with Beetroot, Diced Chicken, Corn and Egg White ($18.80++), an especially pretty dish if Momma likes pink. Here, the rice is dyed fuschia with the use of natural beetroot juice, and finished with pops of crispy rice.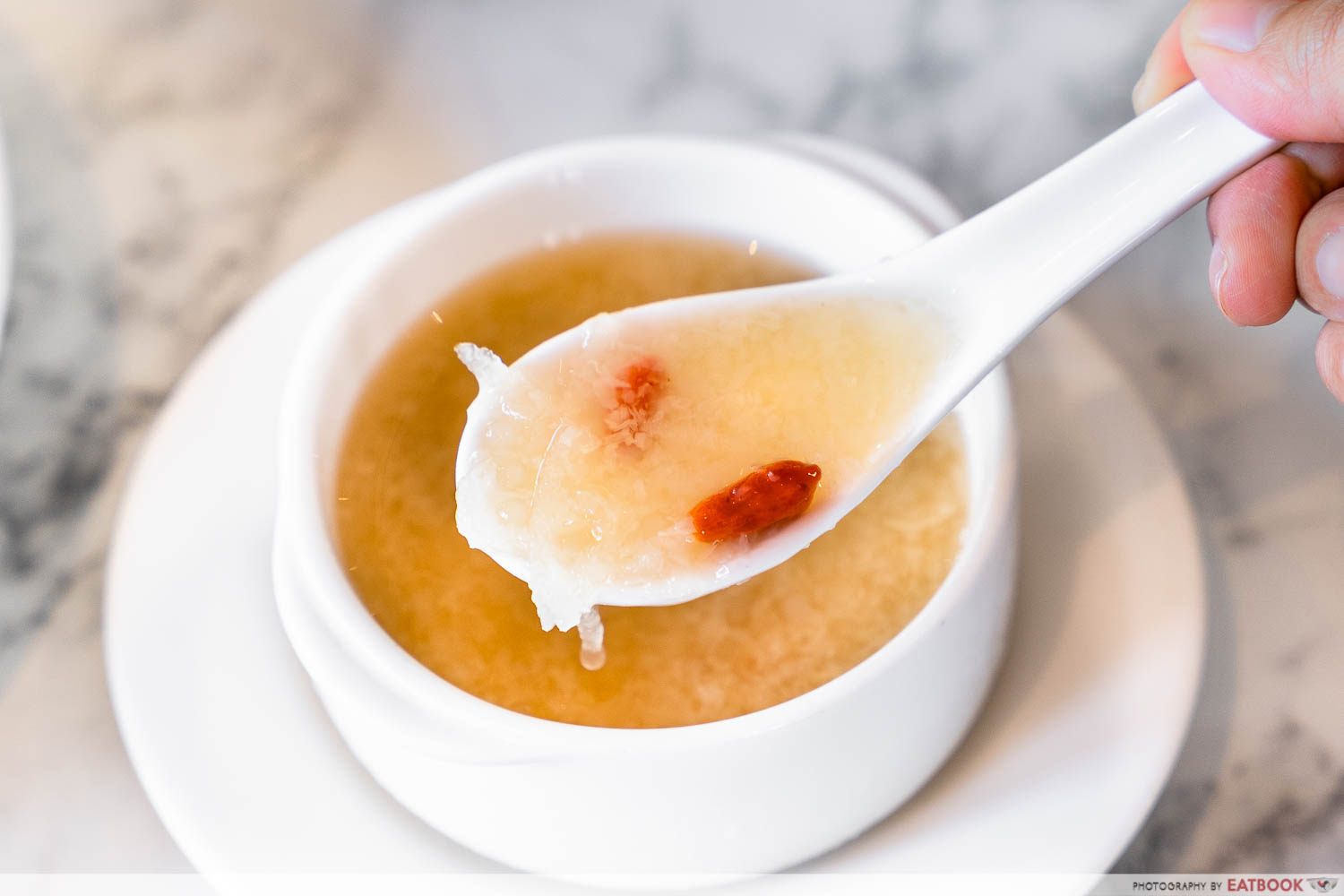 Finish the meal with Chilled White Fungus & Snow Pear Sago ($5.80++)━a refreshing and nourishing treat to undo some of the stress we've given our parents over the years.
Otherwise, Crystal Jade Hong Kong Kitchen has a slightly different spread, with more Cantonese-style favourites.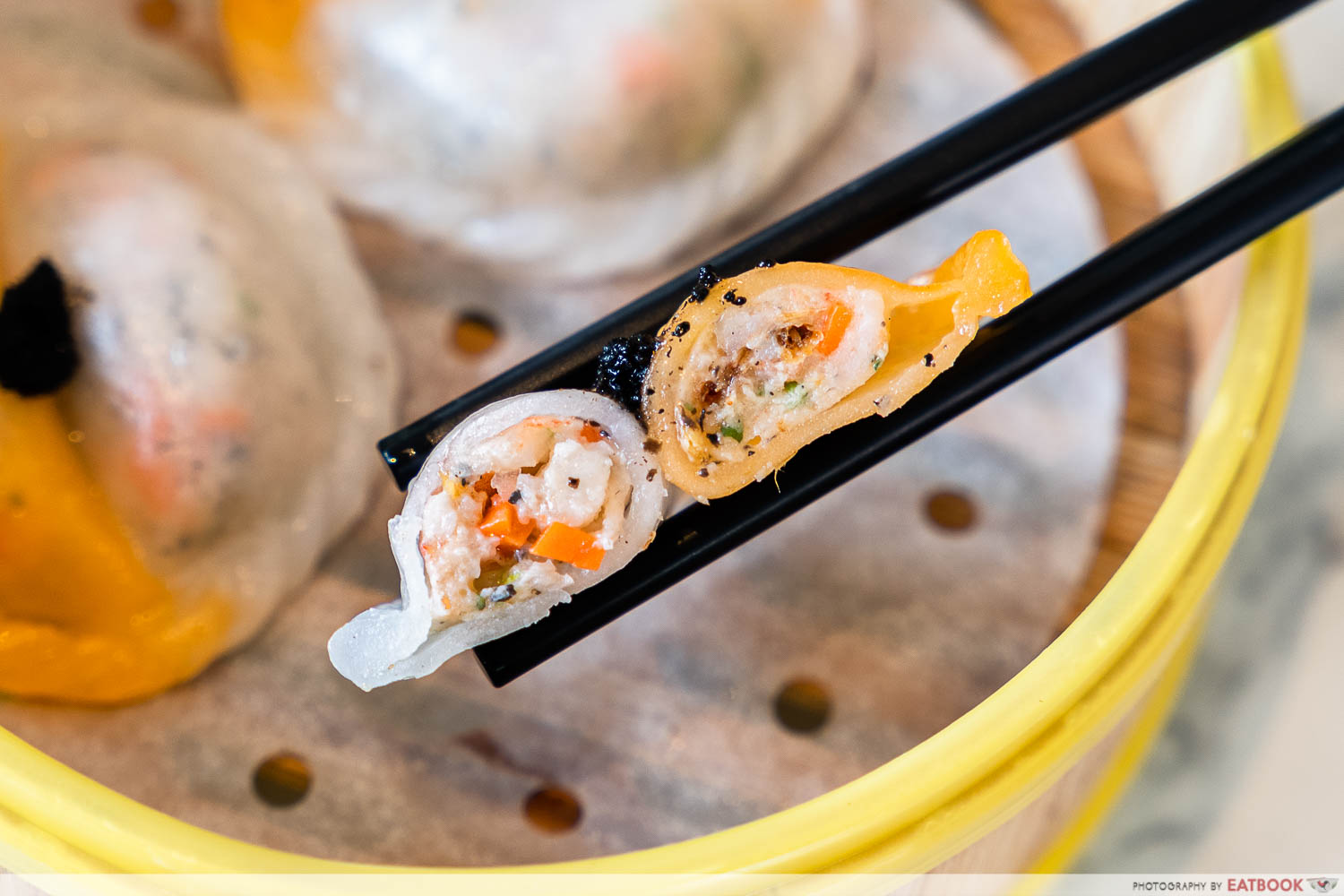 The Steamed Duo-flavoured Dumpling ($6.80++ for three) is a yin and yang disc, filled with sakura ebi, spinach, and minced meat, and luxed up with a dash of black truffle paste on top.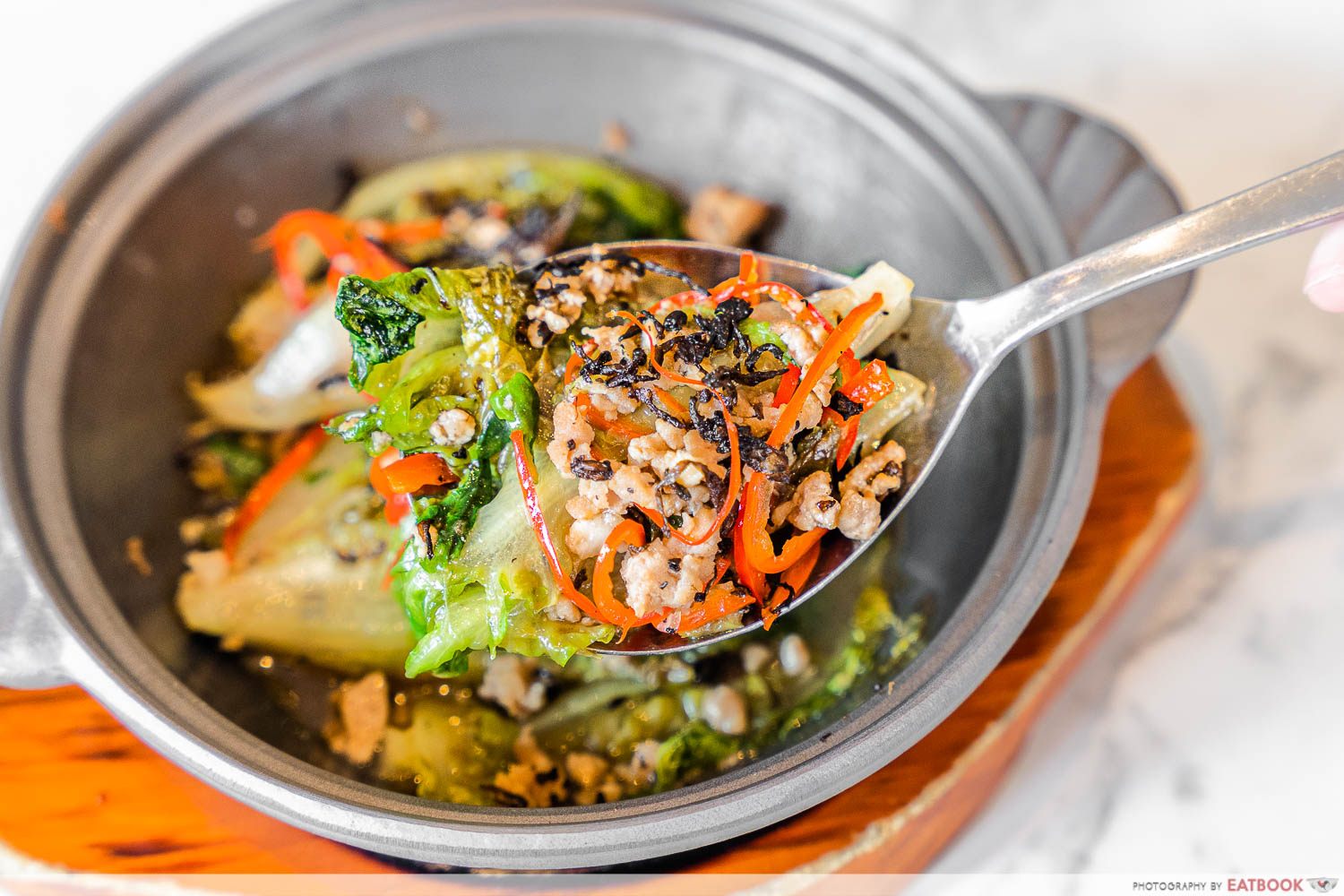 Get in a dose of greens with the Sizzling Chinese Lettuce with Minced Pork and Preserved Olive Vegetable served in Claypot ($14.80++), where tender vegetables get the high-heat treatment, giving them a touch of caramel–ly charredness.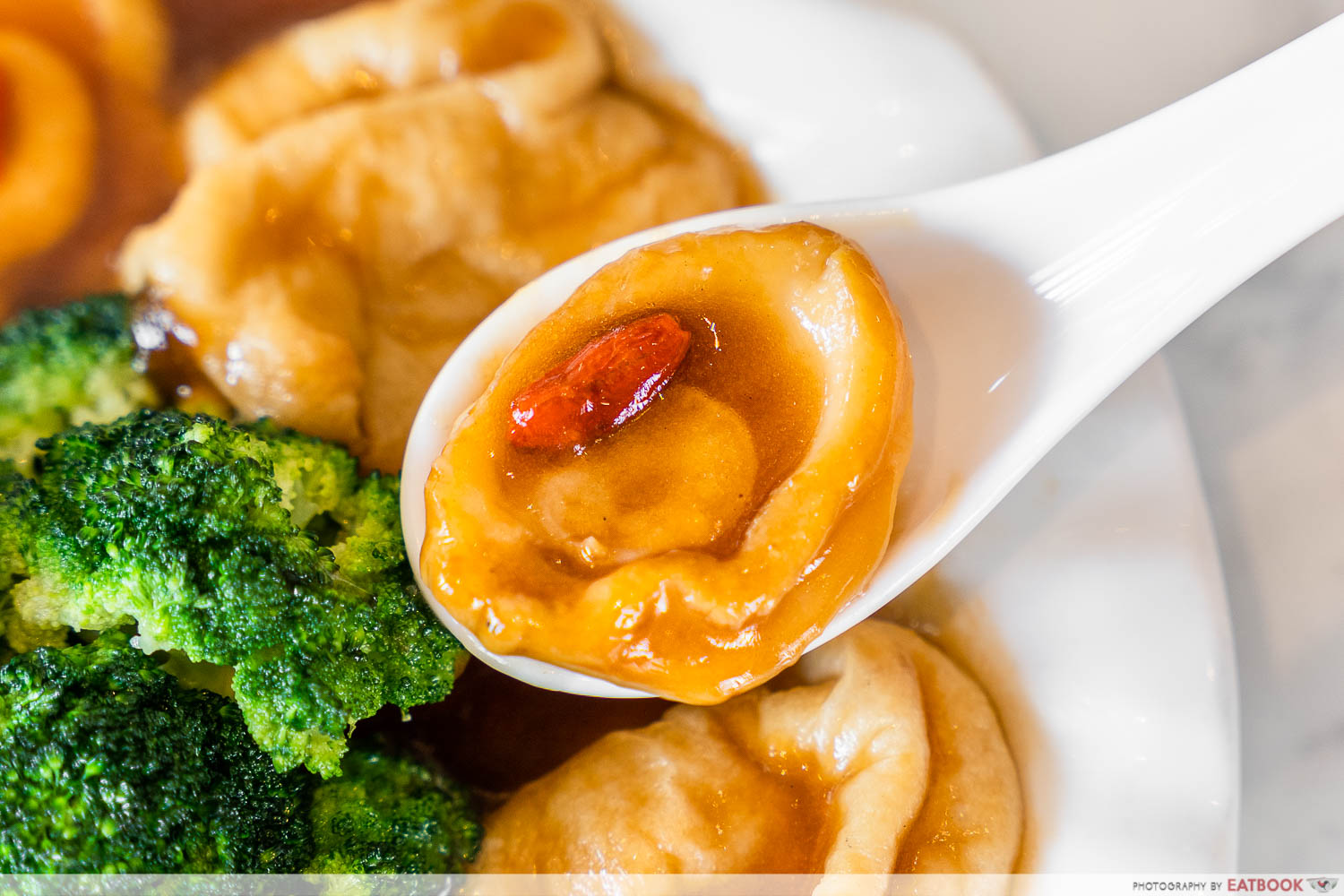 A classic, your parents will love the Braised Abalone with Fish Curd & Broccoli in Oyster Sauce ($33.80++), where mini rounds of succulent abalone are served in a thickened gravy that would be divine with rice.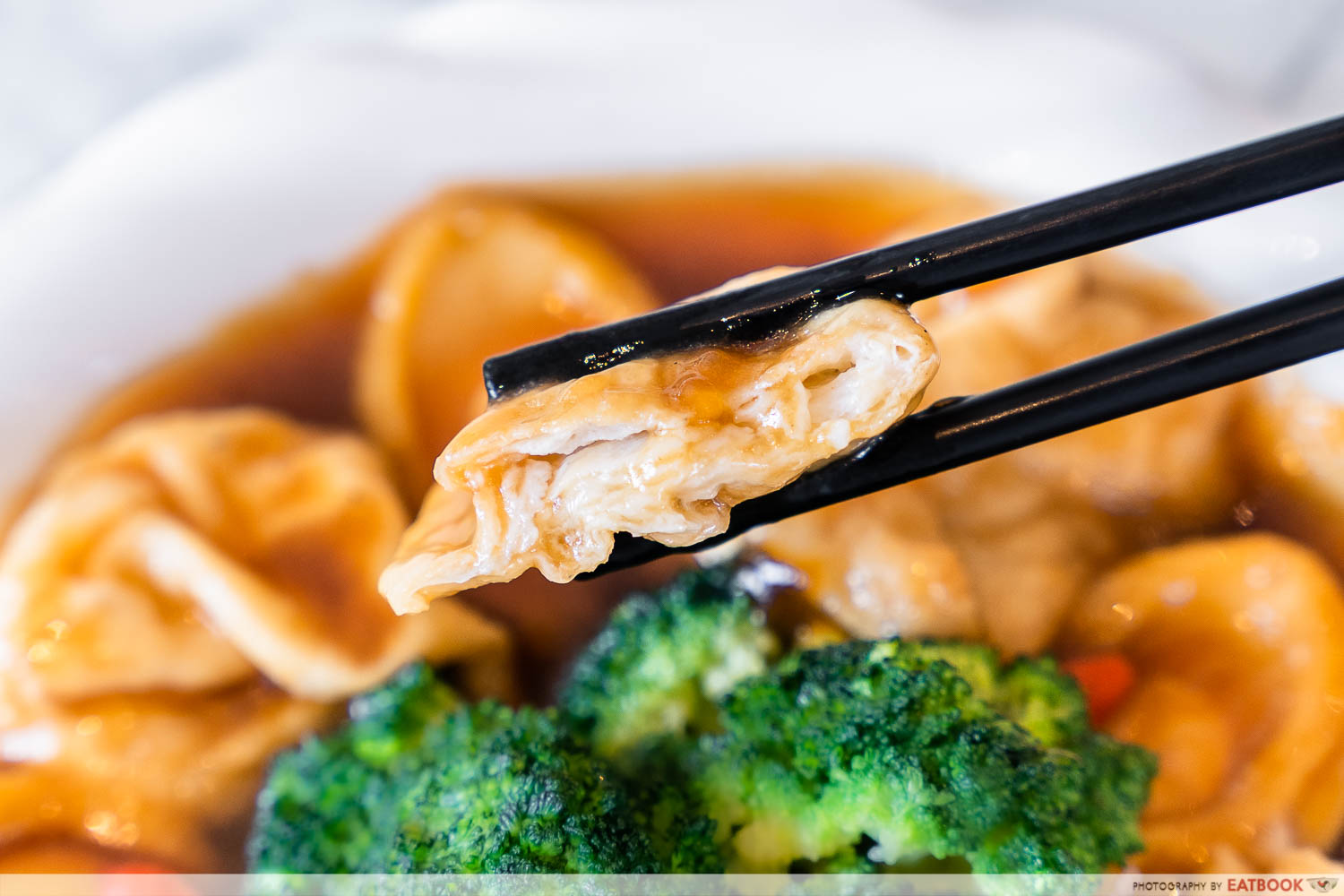 Not your average tofu accompaniment, the fish curds are the happy middle ground between tau kee and fish cake.
Another dish you can expect here is Crispy Braised Duck Leg with Chef's Special Sauce ($16.80++)━a departure from the usual roast chicken or duck dish. In this rendition, a whole braised duck leg is fried to a crisp, then doused in a moreish, slightly spicy gravy. 
If you're a Jadeite member, or hold either a Citi or UOB Card, you'll be able to enjoy the set menus at Crystal Jade Jiang Nan, Crystal Jade Hong Kong Kitchen and Crystal Jade La Mian Xiao Long Bao at the special prices of $38.80++ and $58.80++ for two to five diners. 
For larger groups, since we can dine in parties up to 10 now, you have menus for six, eight and 10━ranging from discounted prices of $228++ to $688++. Do note that you'll have to make a reservation at least three days in advance if you'd like to enjoy these promotional fares.
Alternatively, get a Take-Home Set for five at $188+ instead of $238+, or head to one of their finer-dining concepts for more atas Crystal Jade Parents' Day menus, which you can also get discounts on if you're a Jadeite, Citi, or UOB Card holder! 
Photos taken by Zi Hui Tan.
This post was brought to you by Crystal Jade Singapore.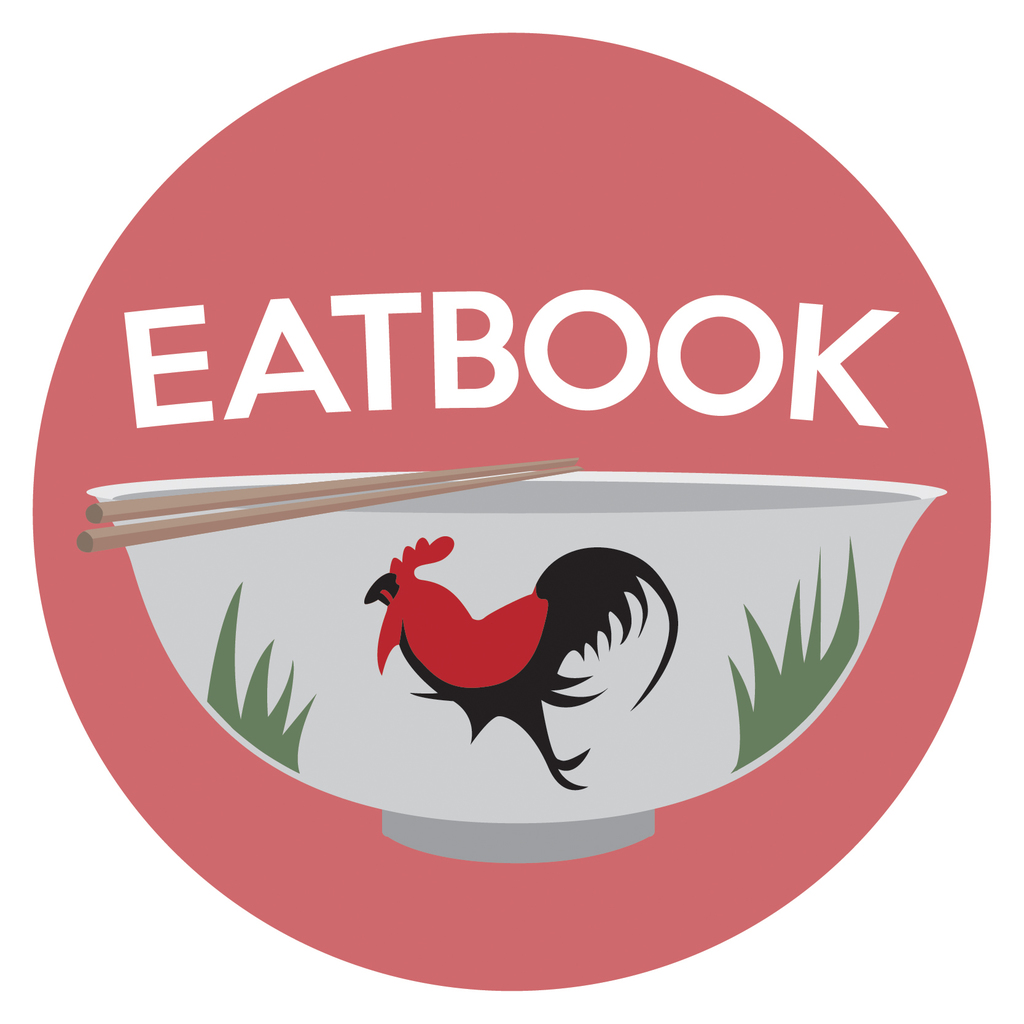 Drop us your email so you won't miss the latest news.