Head to Daburu for cheap and good Western food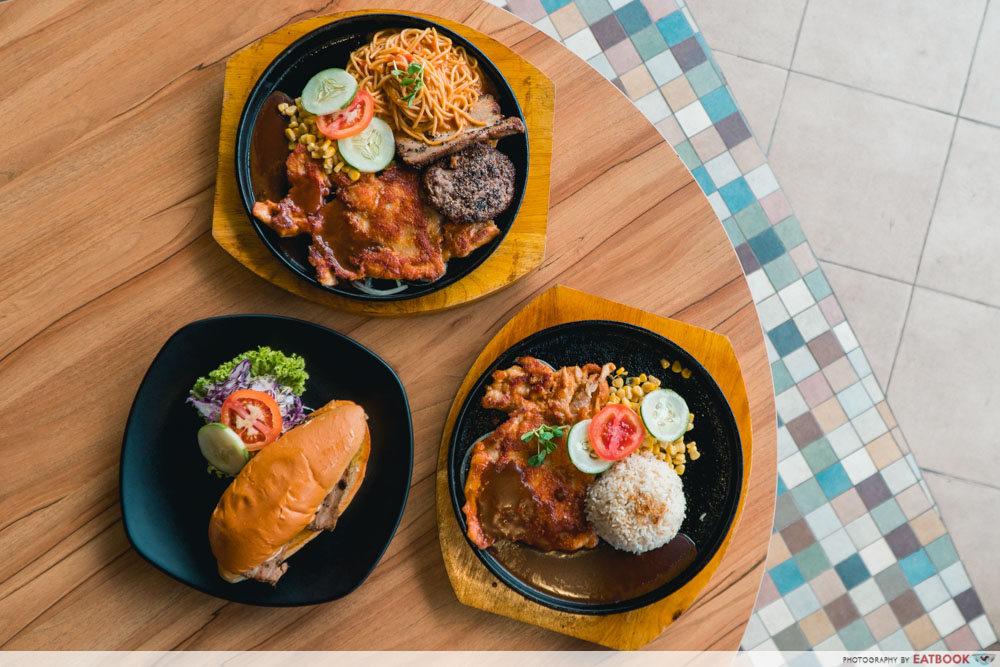 Fact: most self-proclaimed XXL chicken chops aren't actually XXL. I know this because I've had my share of ego-inflated chicken. Thankfully, Daburu was set on defying my expectations with their ambitious tagline, "Bigger, Better & Sizzling hot."
Co-owners Leslie and Sherwin even casually mentioned that the hot plates used here were "custom ordered to be big enough to fit the chicken chops." I was sceptical about his humble-brag but intrigued nonetheless.
Food at Daburu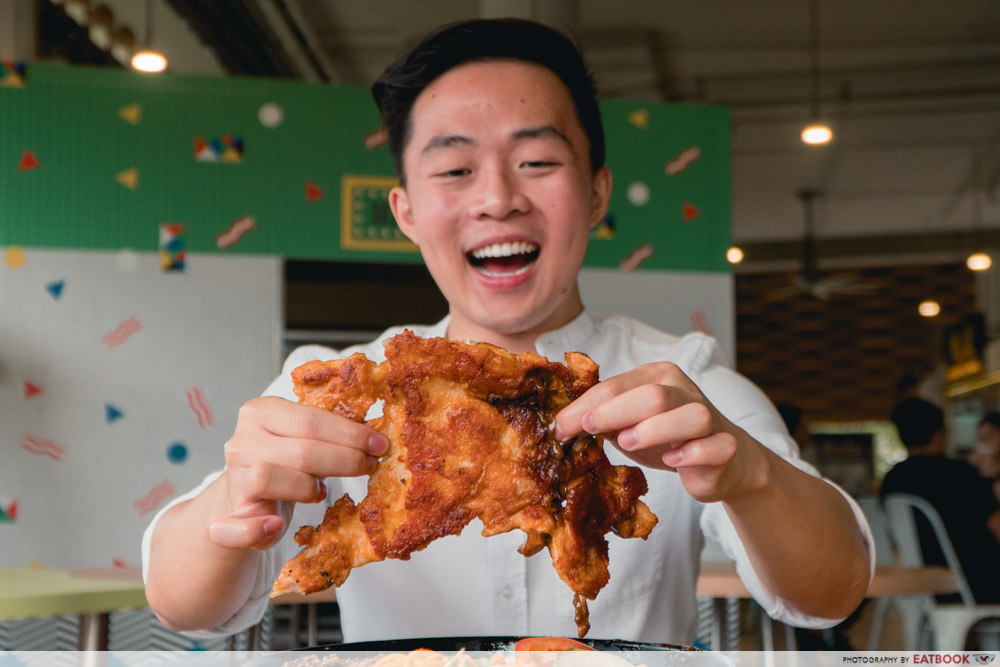 With the hot plate still bubbling, I lifted that huge slab of Chicken Chop ($7.90) towards the camera to emphasise the chicken's size. 
It was indeed larger than norm – spanning across my face.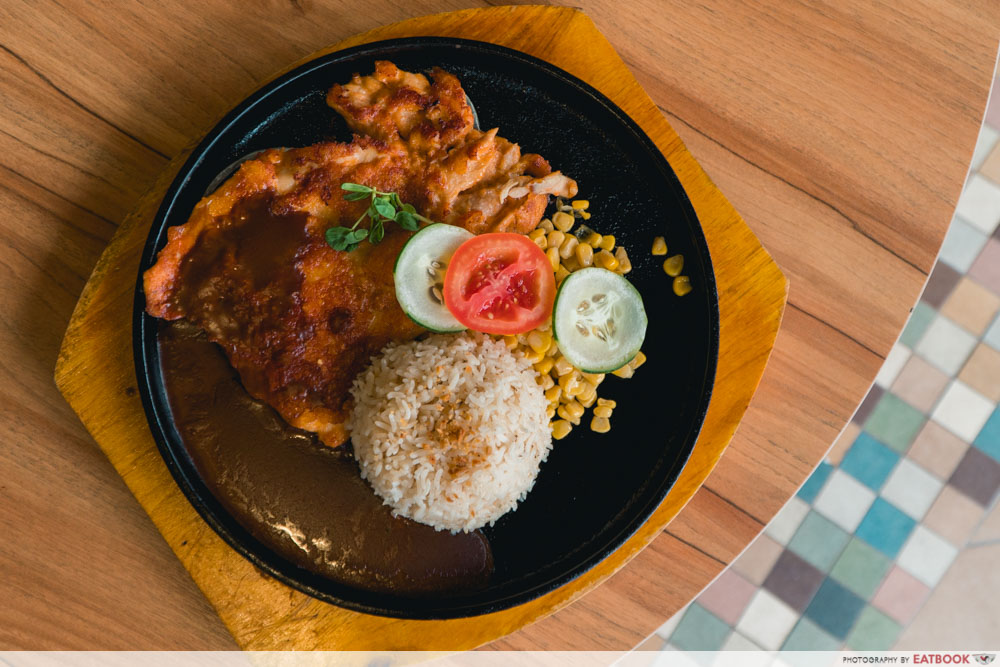 Keeping in mind how it was only pan-seared, I was amazed at how crispy the chicken's skin was. It was thin and unbattered, shattering in my mouth like it were Peking duck.
Cutting it opened sent chicken juices flowing onto the searing hot plate, followed by a violent bubbling of oil. I knew at once the chicken was juicy.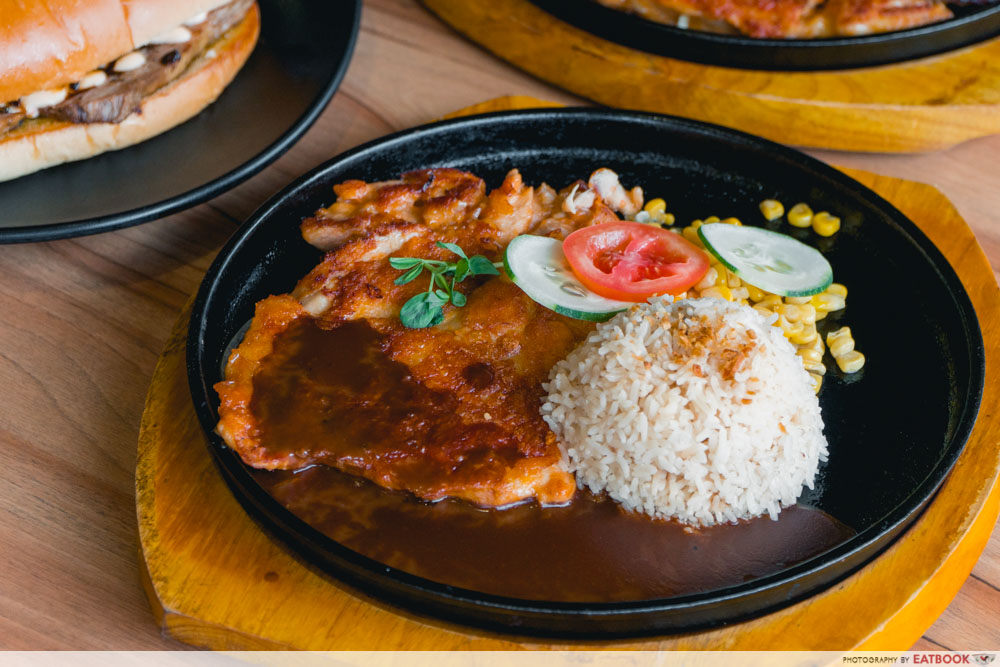 The chicken was umami-packed and spiked with tons of spices. I could make out paprika, pepper and probably some garlic powder—it tasted like an Asian take on a Cajun rub.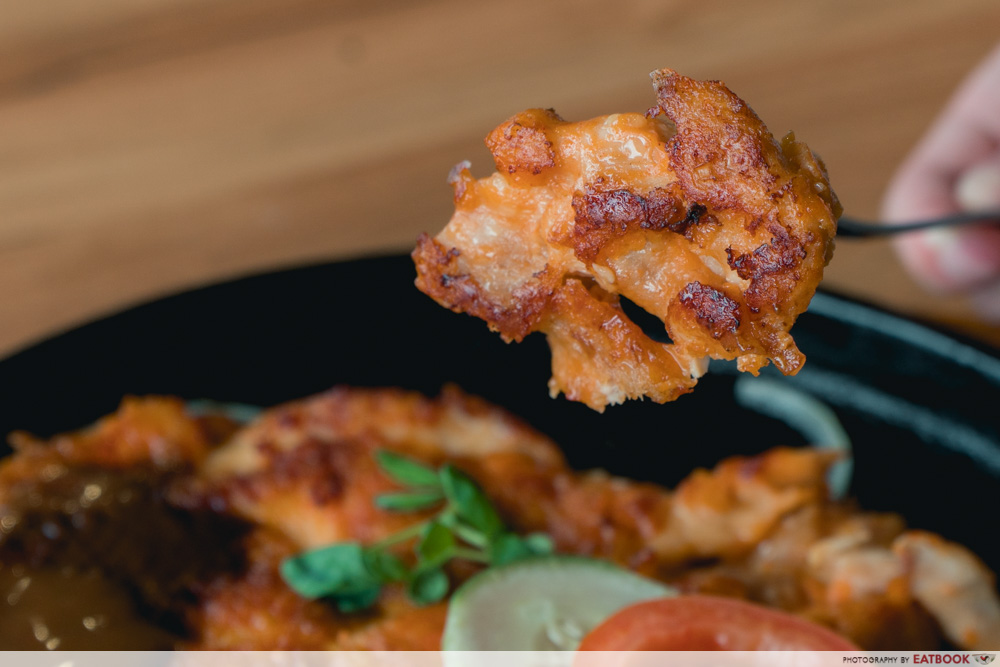 I was so impressed with the seasoning, I had to ask for the recipe. Leslie sheepishly replied, "sorry, secret man".
As disappointed as I was, I realised how intentional the owners were with everything. The rub for one was carefully blended to complement the chicken flavours.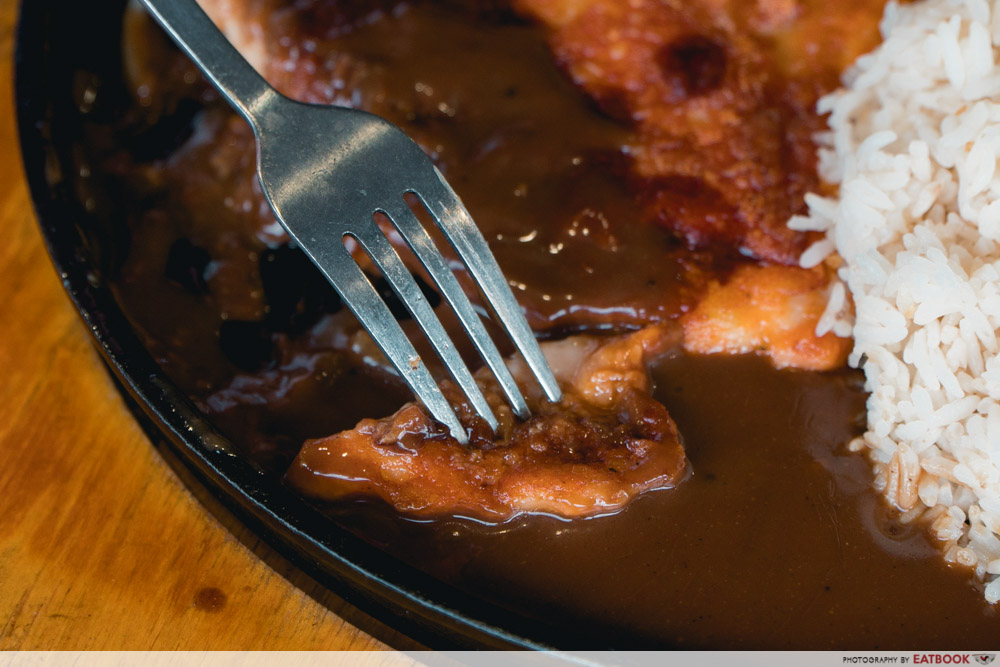 Mopping up the brown sauce, I was surprised by how cohesive it went with the chicken.
The sauce's earthy tones were able to bolster all that meaty, chicken flavours well.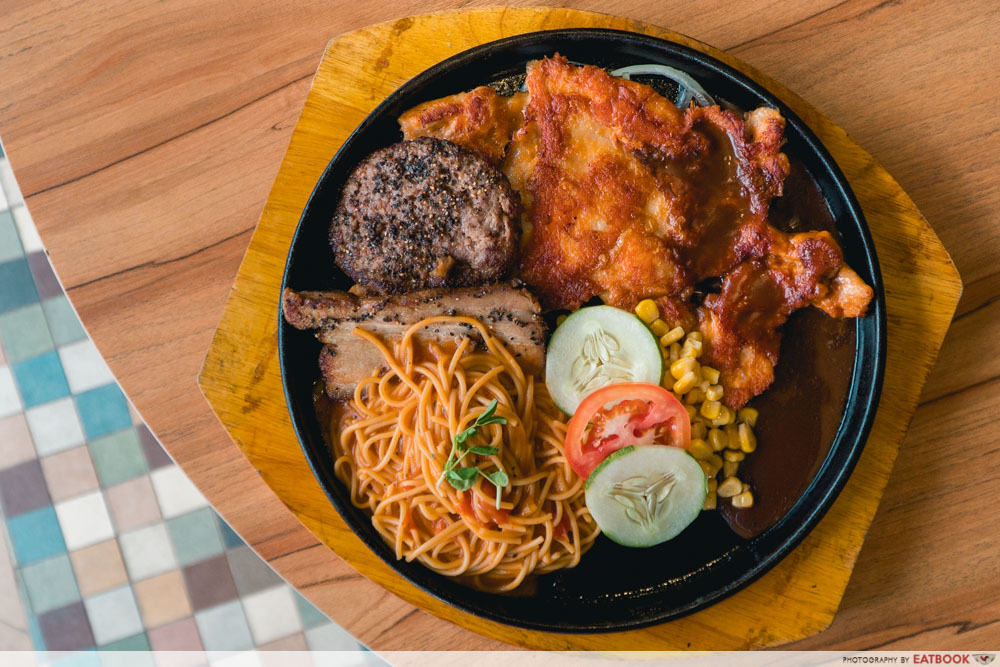 The Meat Lovers Platter ($13.50) had the same chicken chop, but came with pork belly and a Japanese-style hamburg.
I loved the hamburg. It was full of fatty, beefy goodness—the kind with an intrusive amount of oil that leaves you feeling queasy, but undeniably happy.
It didn't hurt that slicing through it was like gliding through butter either. In the mouth, the ground meat was soft and melty, yet firm enough to provide some semblance of a beefy texture.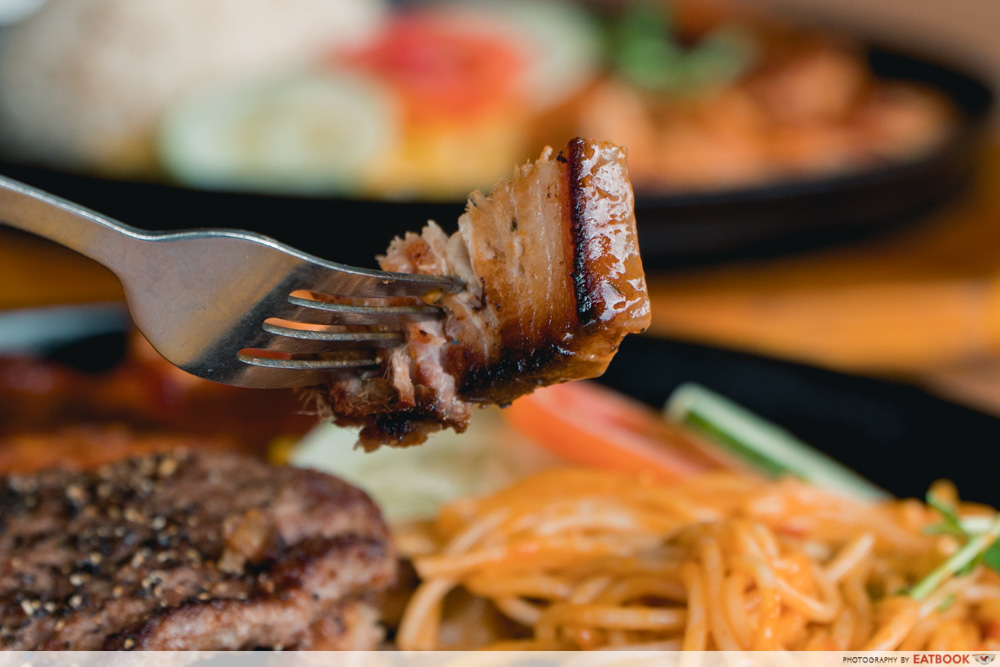 The star that afternoon was the pork belly. Much work went into that divine piece of meat.
That fatty slab was first brined for days to absorb a carefully prepared marinade, then sous-vide for an even and fork-tender texture. The last step was a quick sear to give a gorgeous, caramelised crust.
Its taste was somewhat magical. It had the tender melt-in-your-mouth qualities of chashu yet encompassed the smoky charred characteristics of bak kwa.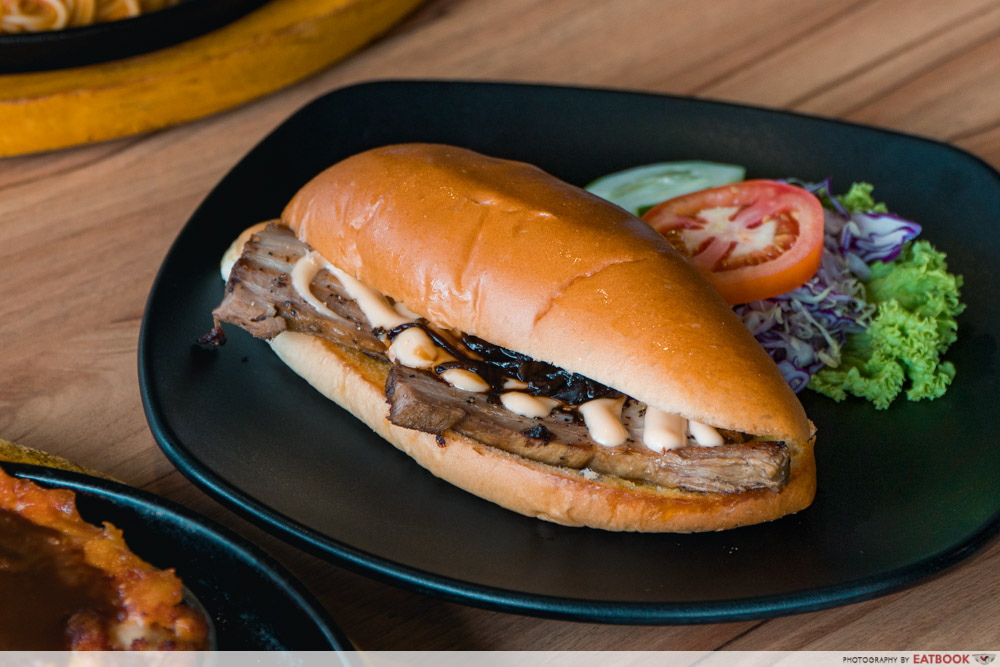 This same fatty goodness was used in the Double Pork Belly Hot Bun ($7.90) to lesser success.
A house-made mayo and caramelised onions were blanketed onto two pieces of pork, then sandwiched between custom-ordered buns.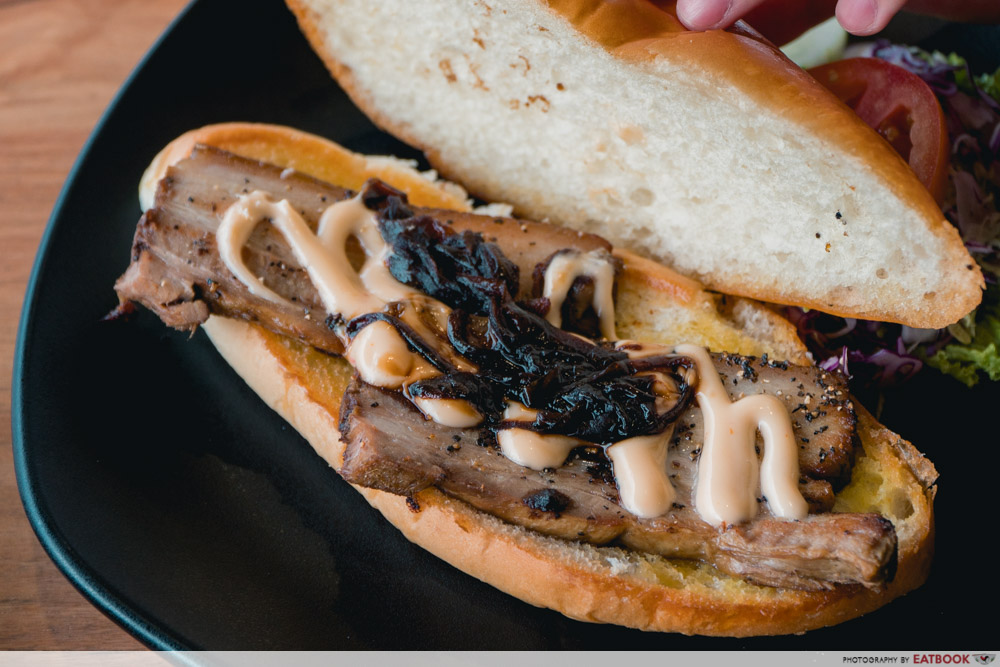 It's my opinion that the sandwich could have used a lighter dressing; something that would highlight the pork's natural meatiness. Currently, it's too heavy and eclipses the beautiful porky flavours.
Otherwise, the buns were soft and fluffy—a great complement to the gooey piece of caramelised meat.
Ambience at Daburu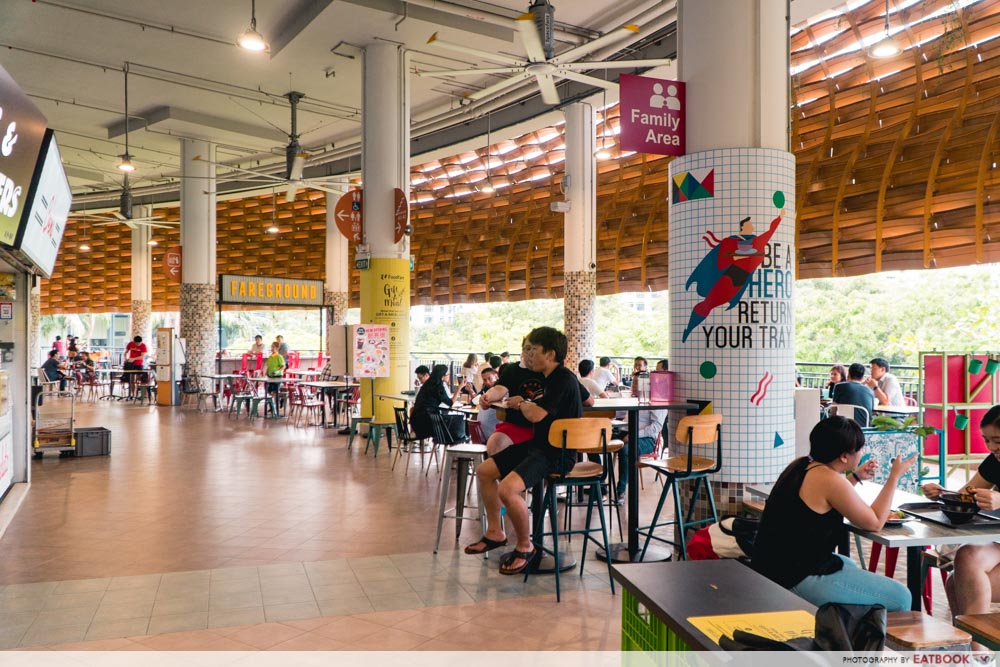 Pasir Ris Central isn't your typical hawker centre. It's hip and new. The whole concept reeks of whimsical unconventionality with its bright colours and quirky furniture. Yet, it still teems with a sense of sophistication from the carefully thought out furnishings and layout.
It was also surprisingly quiet when we dropped by for a weekday lunch.
The verdict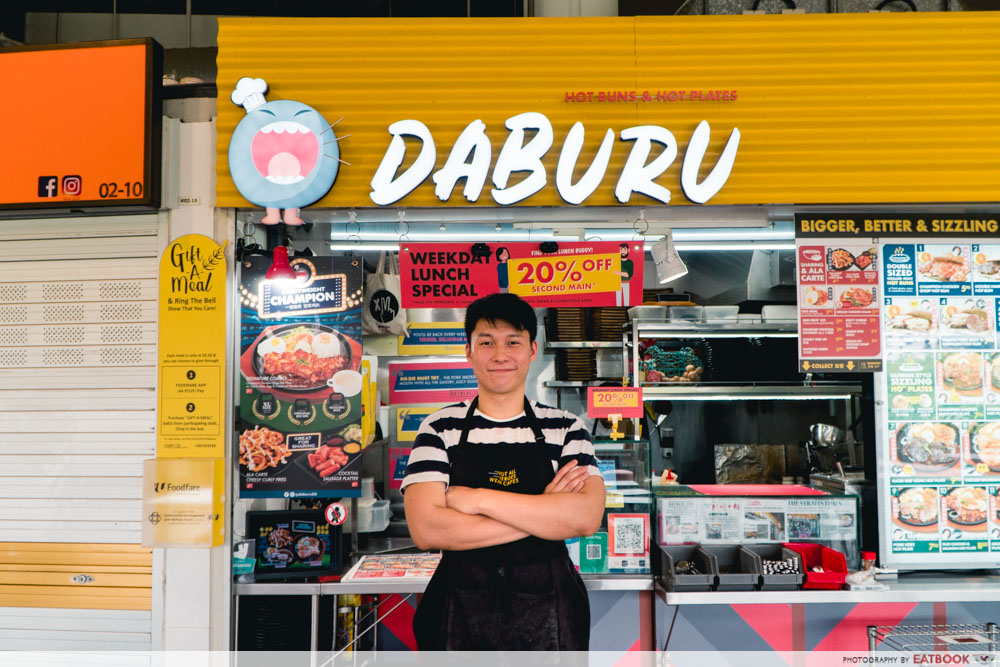 From the short duration spent talking to Leslie, I had sensed his passion for food. I'd never expected a hawker to sous vide their meats or custom make their hot plates—but Daburu has.
They seem to reject mundanity and seek out ways to be great. And that's probably why this excellence was reflected in the food. I'd be coming here again.
Address: 110 Pasir Ris Central, #02-11, Pasir Ris Central Hawker Centre, Singapore 519641
Opening hours: Wed-Mon 11:30am to 3pm, 5pm to 9pm
Website
Photos taken by Nadia Loewito.
This is an independent review by Eatbook.sg.
Daburu Review: Huge Hot Plate With Crispy Chicken Chop, Hamburg And Pork Belly At Pasir Ris
Summary
Pros
– Large portions
– Affordable prices
– Good taste
Cons
– Inaccessible location
– Pork Belly Hot Bun can be improved
Recommended dishes: Meat Lovers Platter ($13.50)
Opening hours: Wed-Mon 11:30am to 3pm, 5pm to 9pm
Address: 110 Pasir Ris Central, #02-11, Pasir Ris Central Hawker Centre, Singapore 519641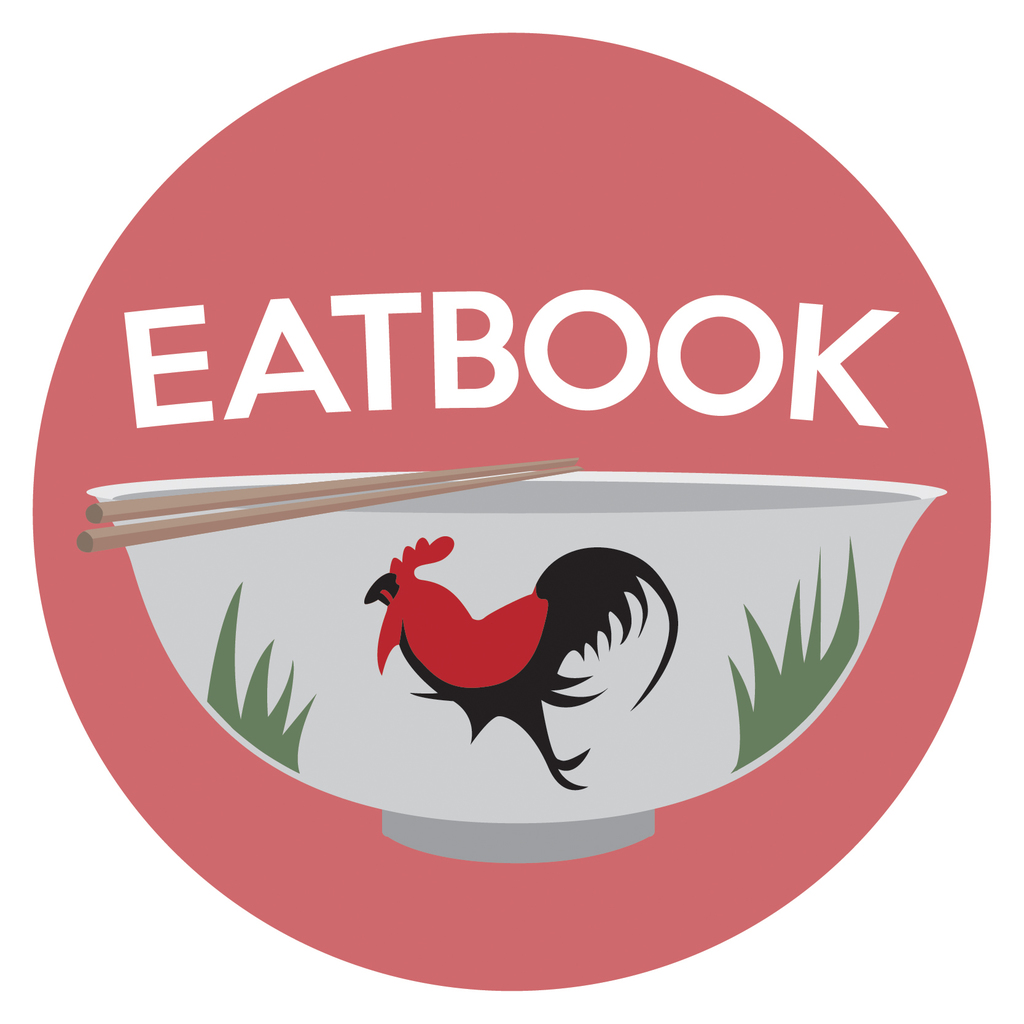 Drop us your email so you won't miss the latest news.