DDSD has black sesame tau huay in Chinatown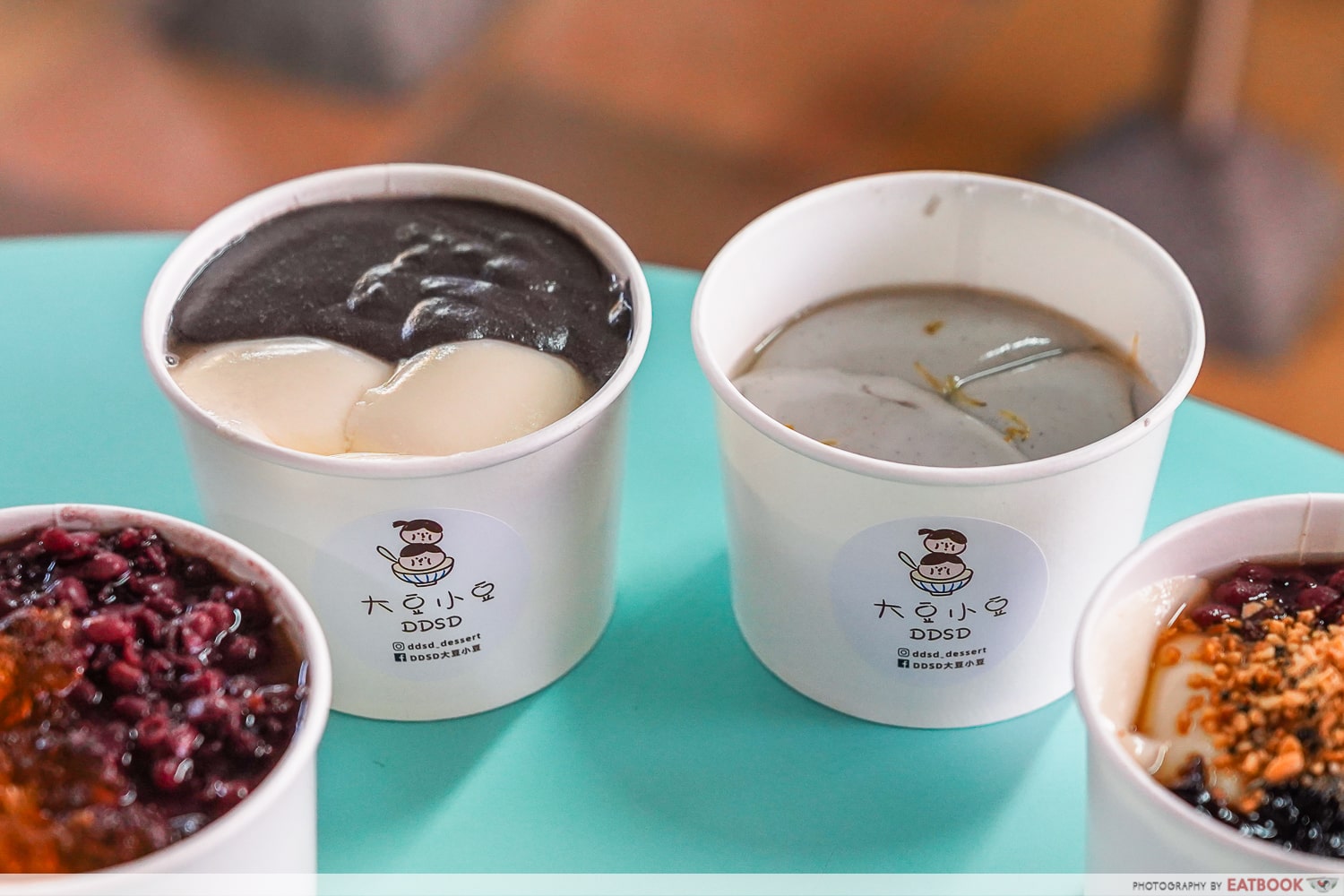 Hong Lim Complex is full of great stalls selling a variety of good food at affordable prices. Recently, a new stall has joined their ranks. DDSD has only been around for a month, but their fresh tau huay and soya milk is definitely worth stopping by the next time you stop by the food centre.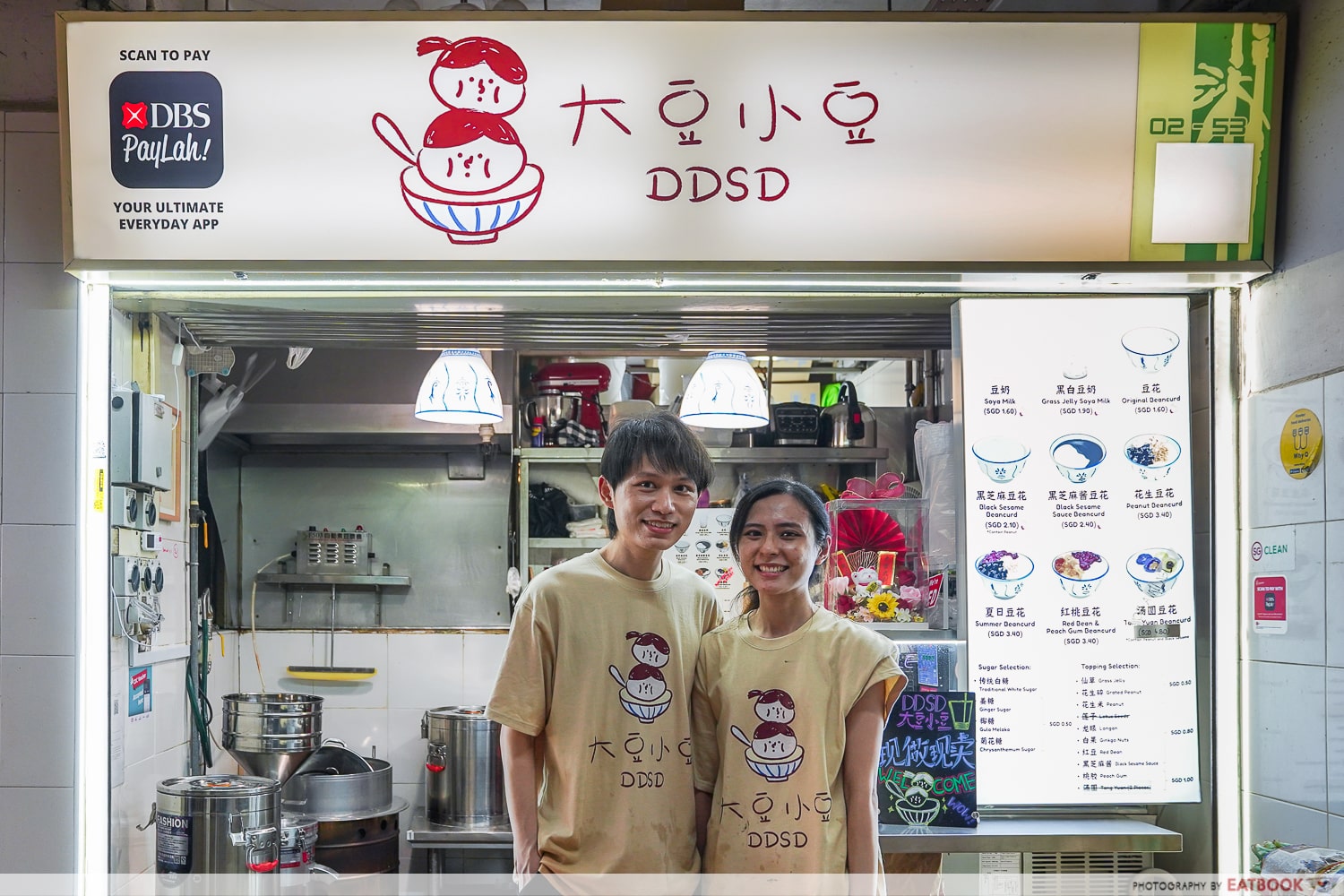 Tucked away in a corner of the second floor, the stall is run by a young, friendly couple who love beancurd and call themselves 'Da Dou' and 'Xiao Dou'. Interestingly, they came up with the menu themselves, including the more unique items such as the peach gum beancurd and tang yuan beancurd!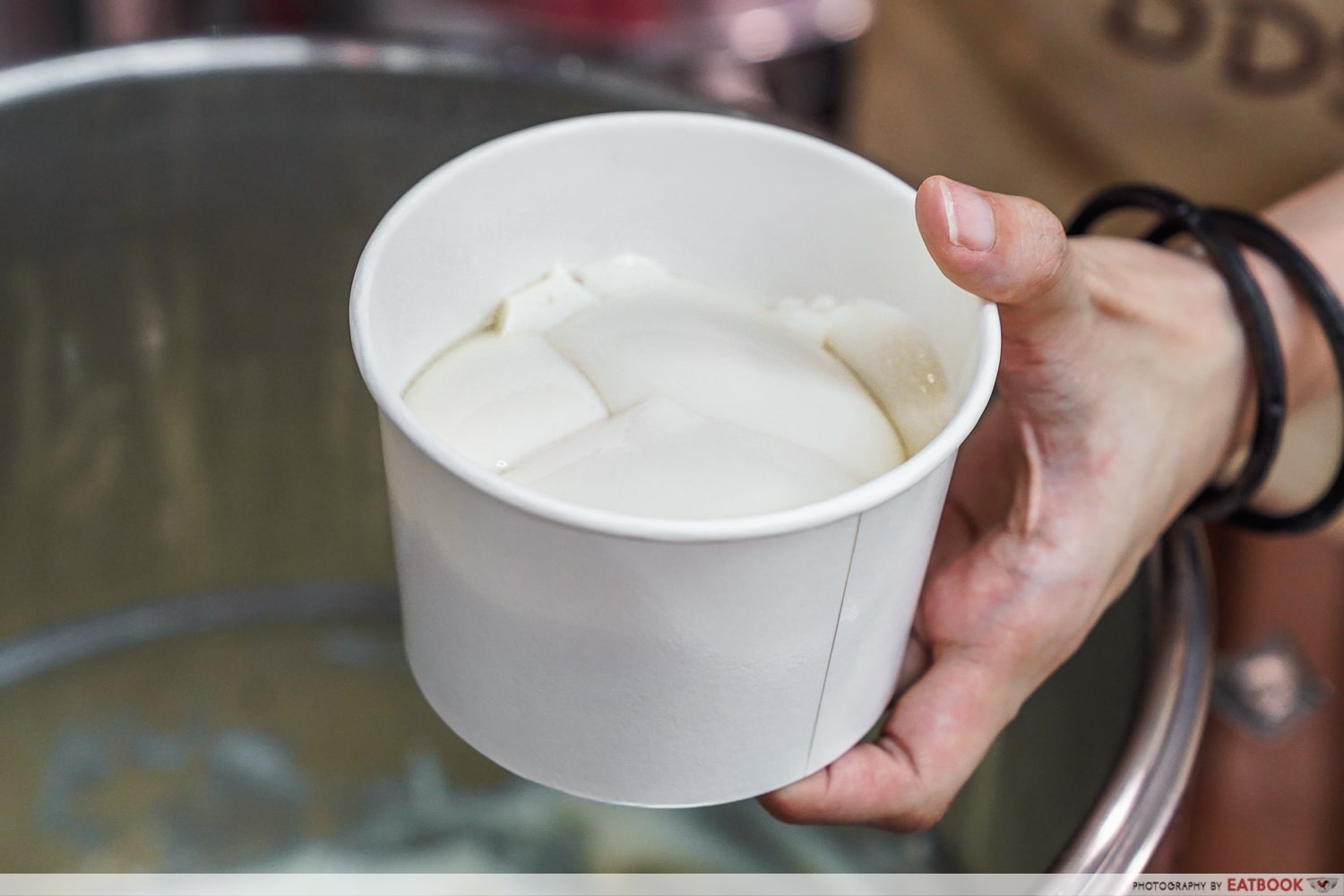 If you drop by, you might notice huge bags of Canadian GMO-free soybeans under the counter and shiny equipment in the stall itself. DDSD makes their own tau huay and soya milk from scratch, down to grinding the soybeans themselves, which guarantees that anything you get here is as fresh as can be.  
14 Best Hong Lim Food Centre Stalls For Michelin-Approved Curry Mee, Cheap Min Jiang Kueh And More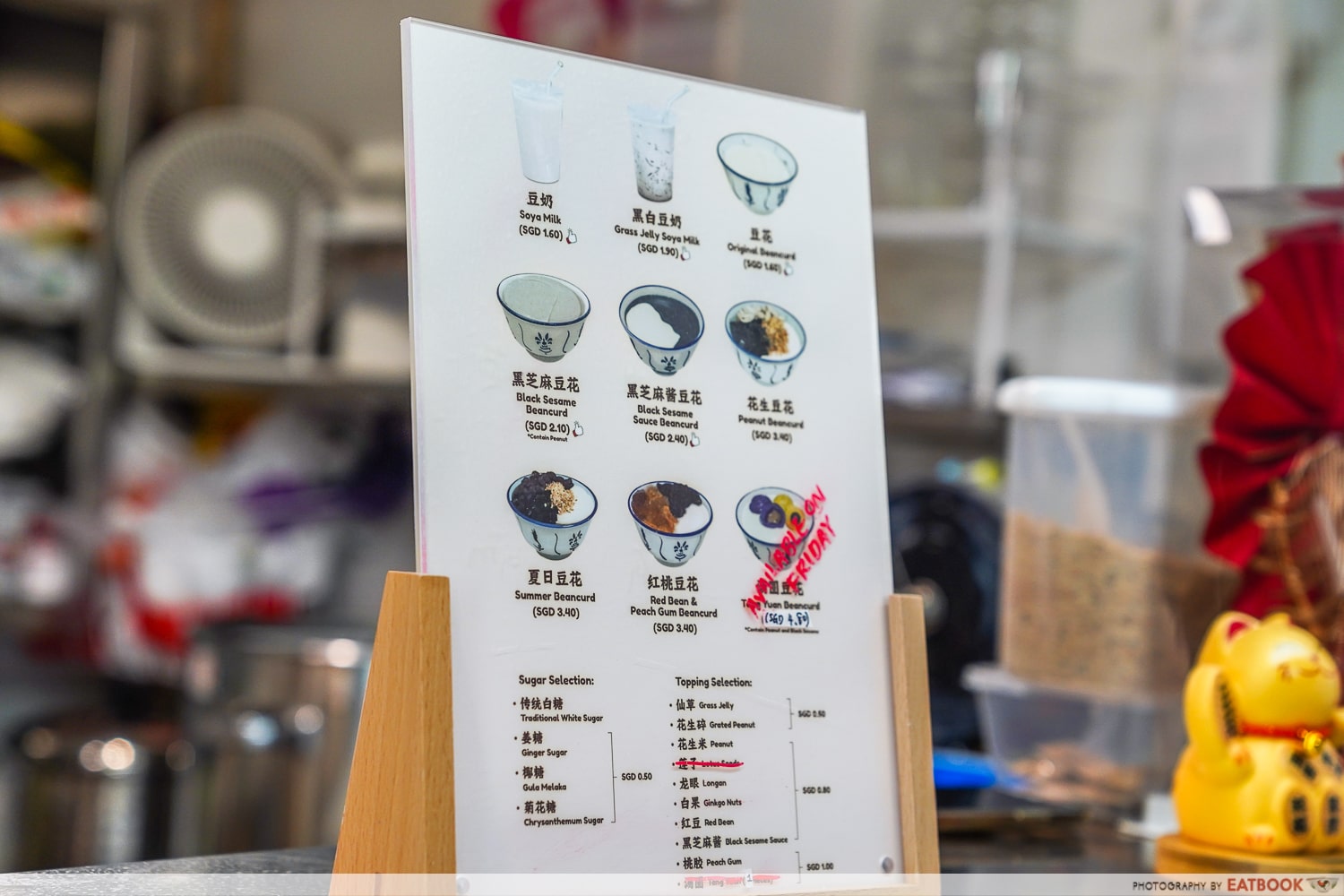 While their menu only consists of nine items, the amount of customisation available for the tau huay's sugar syrups and toppings means that you have endless combinations to try and find a dessert that really hits the spot. Overwhelmed by choice as we were, we decided to go with the hawkers' four recommendations for tau huay and sugar combinations.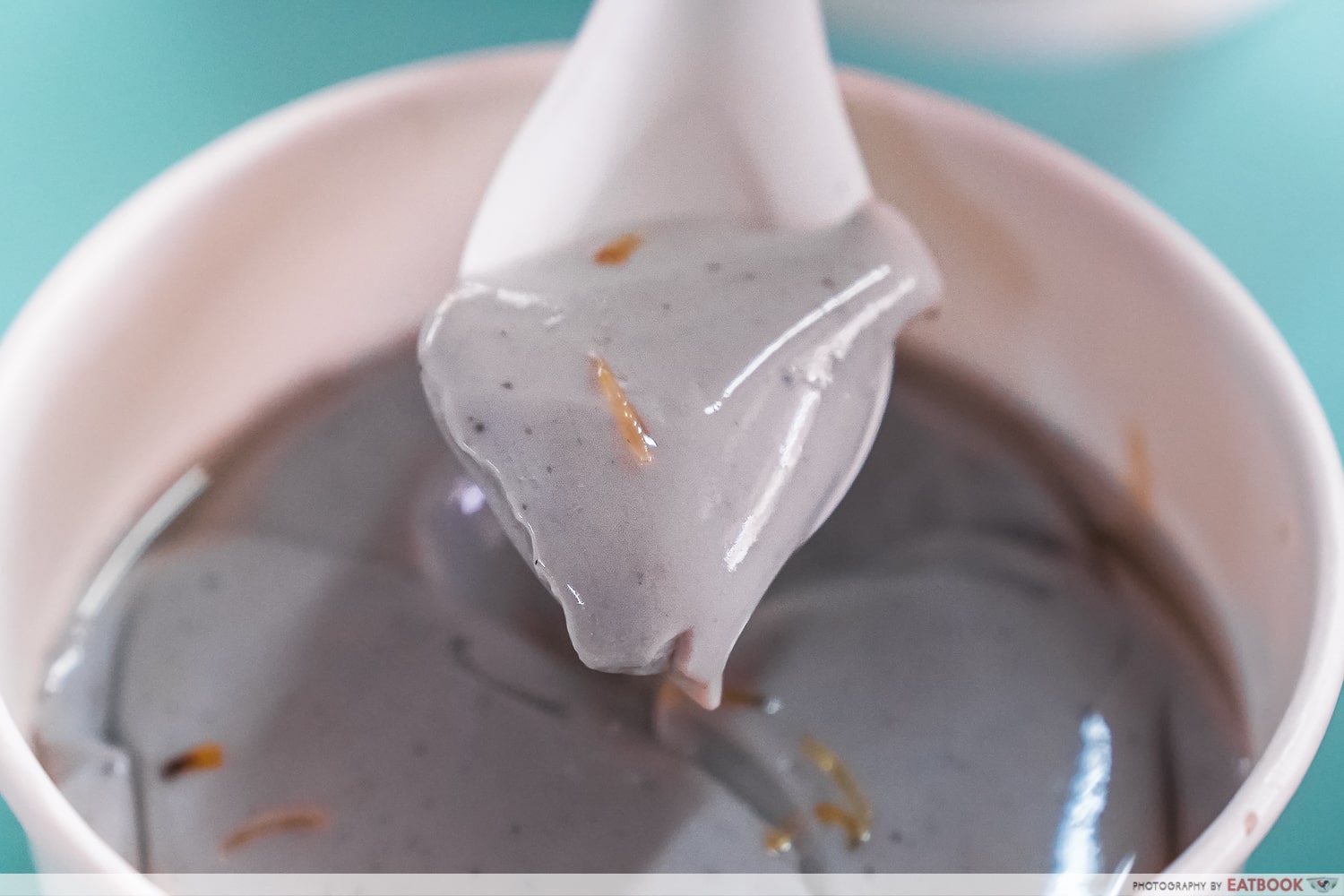 While we were told that the Black Sesame Beancurd ($2.10) which we got with Chrysanthemum Sugar ($0.50) was designed to cater to older tastes, the subtle flavours of this soft grey tau huay mixed with the floral sweetness of the syrup was an amazing pairing even us younger people loved.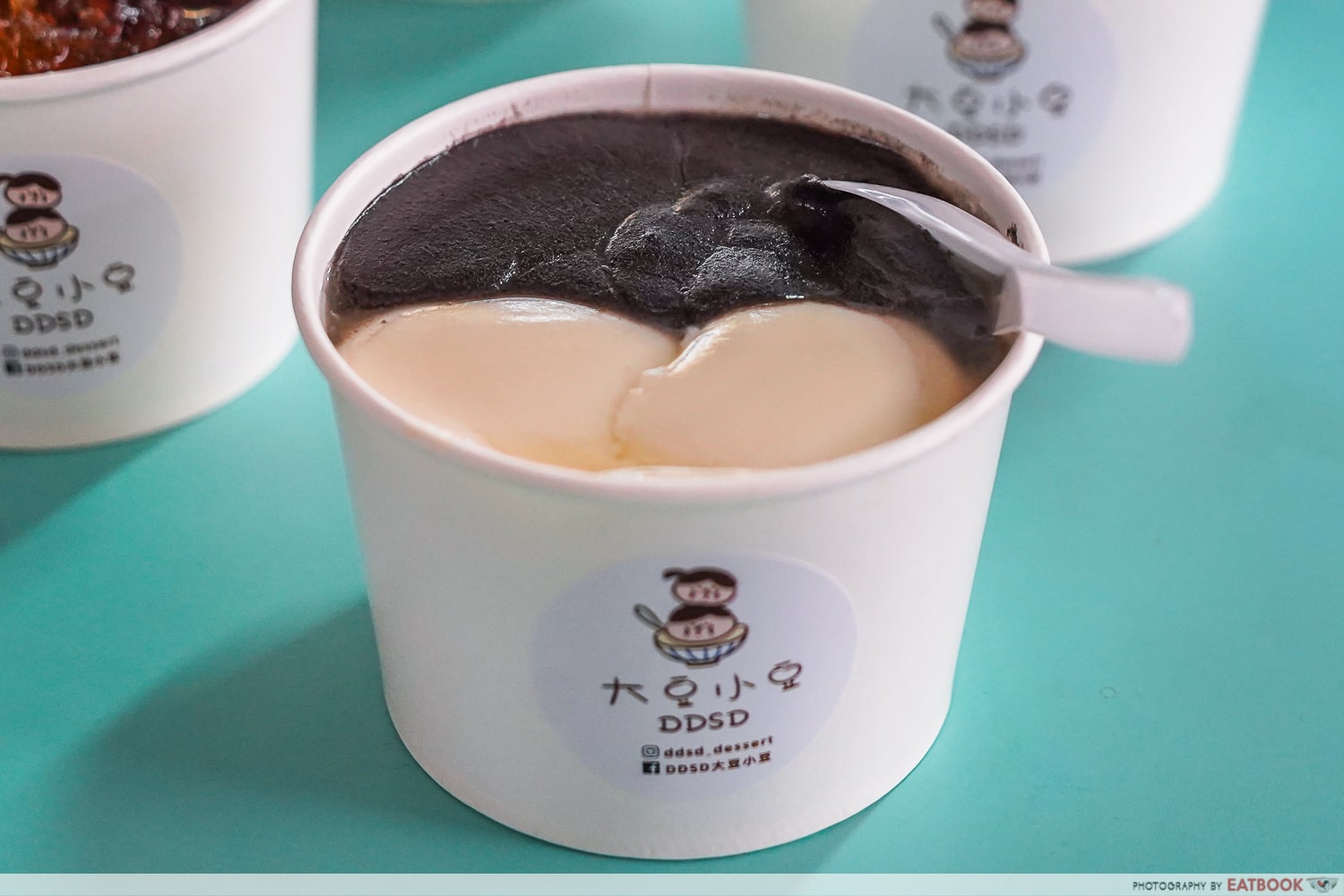 We also tried the stall's popular Black Sesame Sauce Beancurd ($2.40), which we added on Traditional White Sugar at no cost. Unlike the black sesame beancurd where the black sesame was directly infused into the beancurd, this was a plain tau huay with a generous amount of thick black sesame paste poured over the top.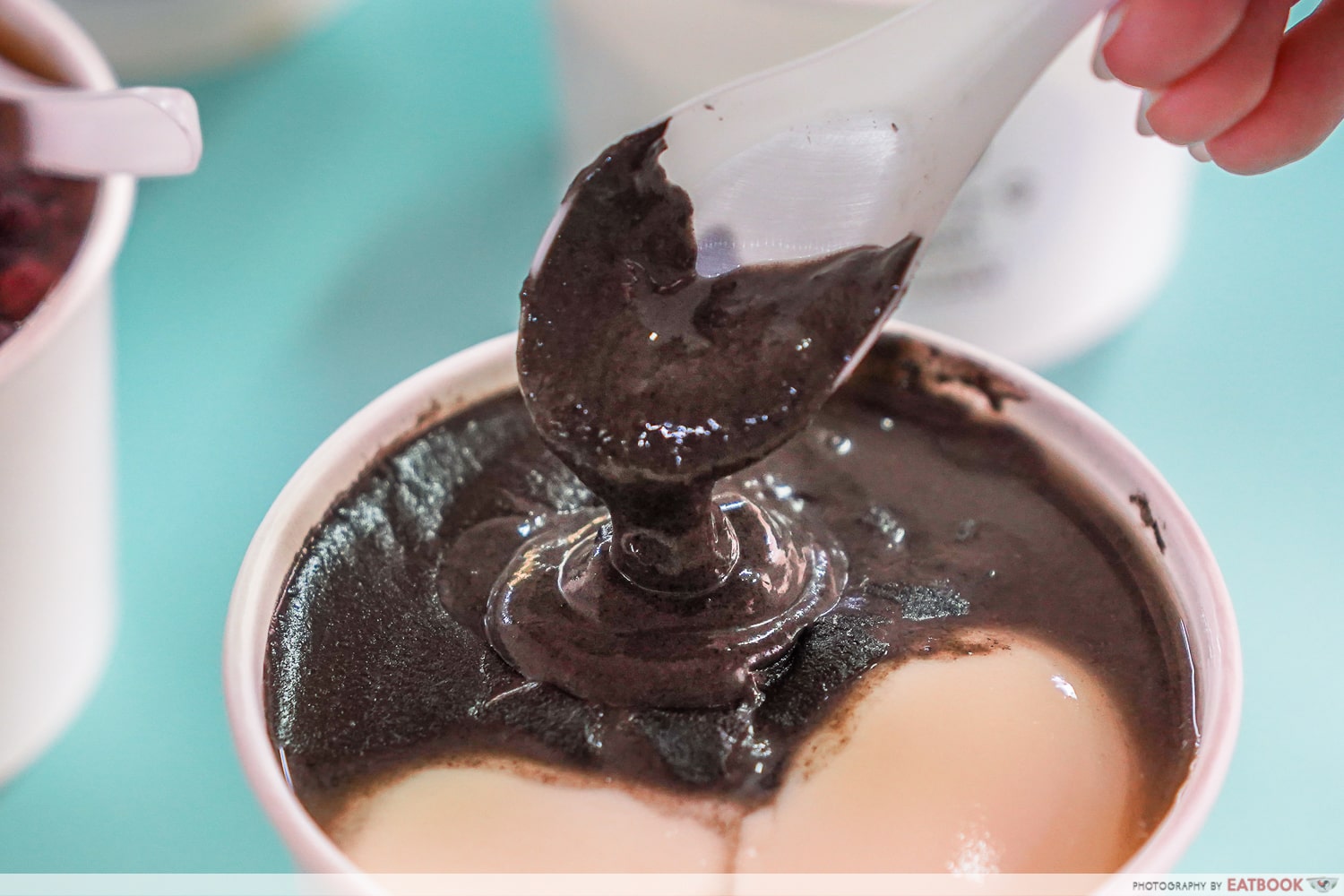 The glossy black sesame sauce was quite gao, though mixing it into the beancurd watered it down somewhat. With each bite, the earthy, nutty grittiness of the black sesame provided a great contrast to the silky smooth and mildly sweet fresh tau huay.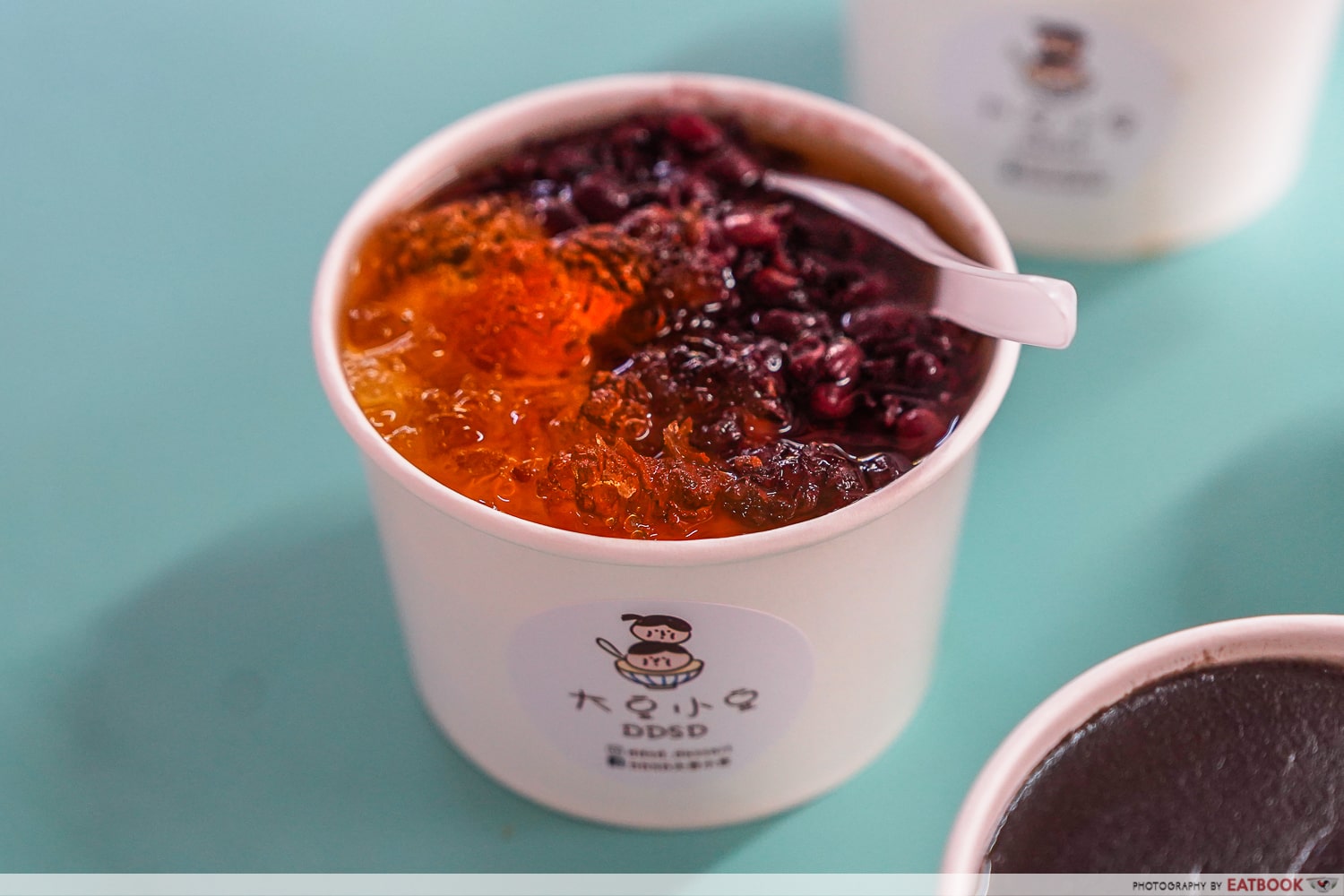 Next, the bright colours of the Red Bean & Peach Gum Beancurd ($3.40) made this tau huay extremely eye-catching.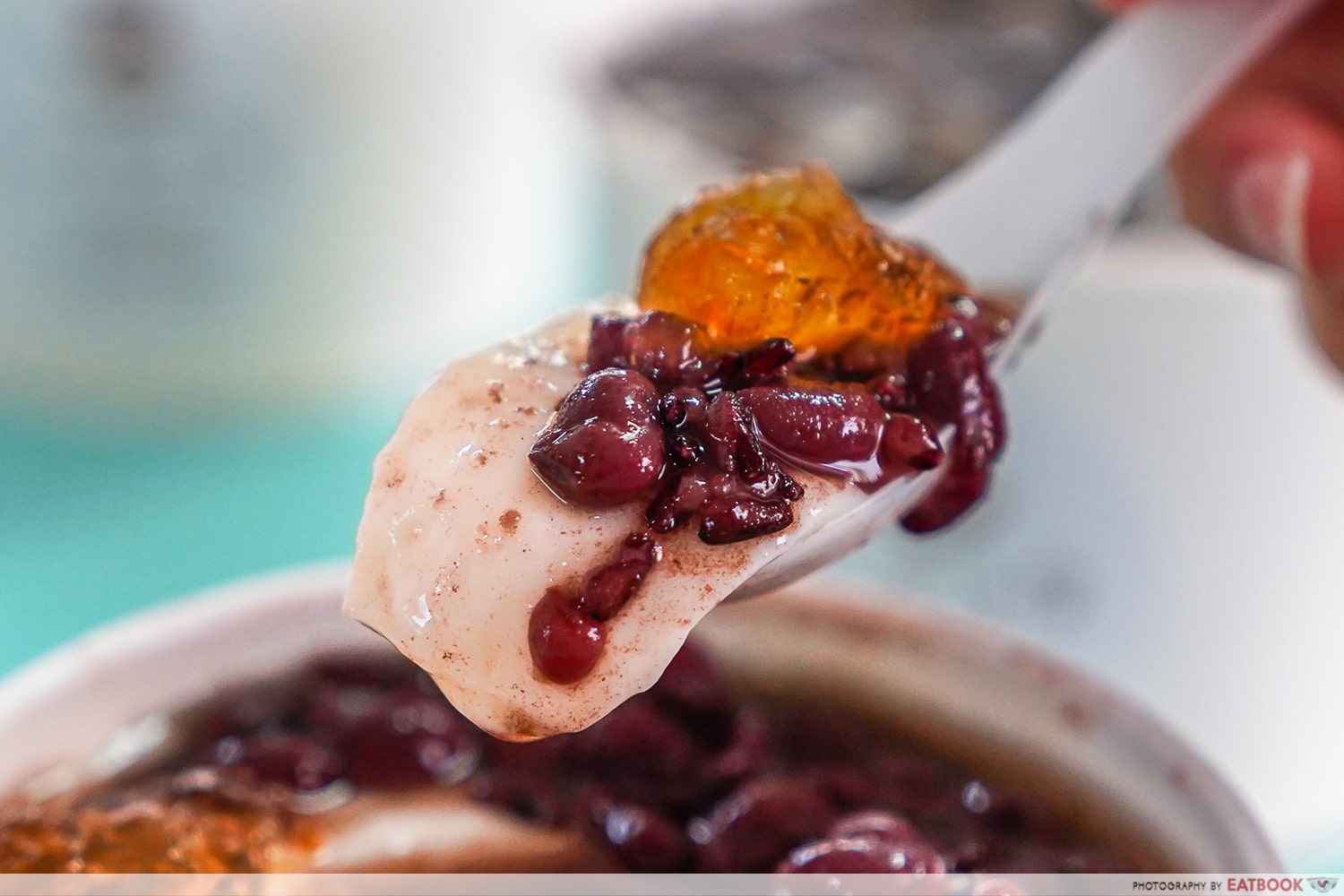 The added Ginger Sugar ($0.50) was a noticeable, refreshing taste added a unique element on top of the delicate, soft peach gum and red bean. It's probably not as healthy as the combination of ginger and peach gum would have you believe, but it was delicious anyway.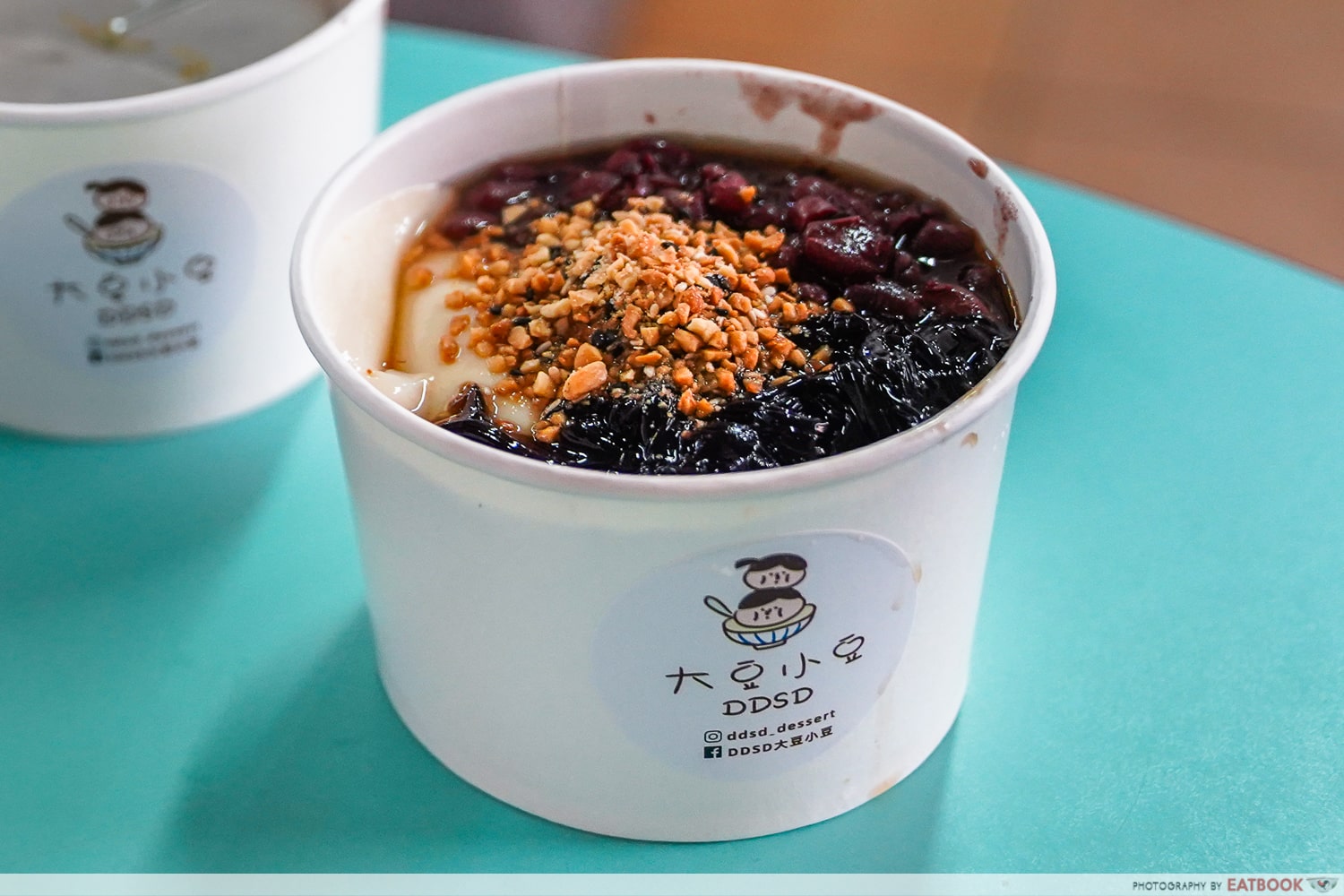 We also got the Summer Beancurd ($3.40) with Gula Melaka ($0.50), named after the combination of toppings that reminded Da Dou of summer: black glass jelly, ground peanuts, and red bean. If you are someone who likes lots of different textures in their food, this one is definitely for you.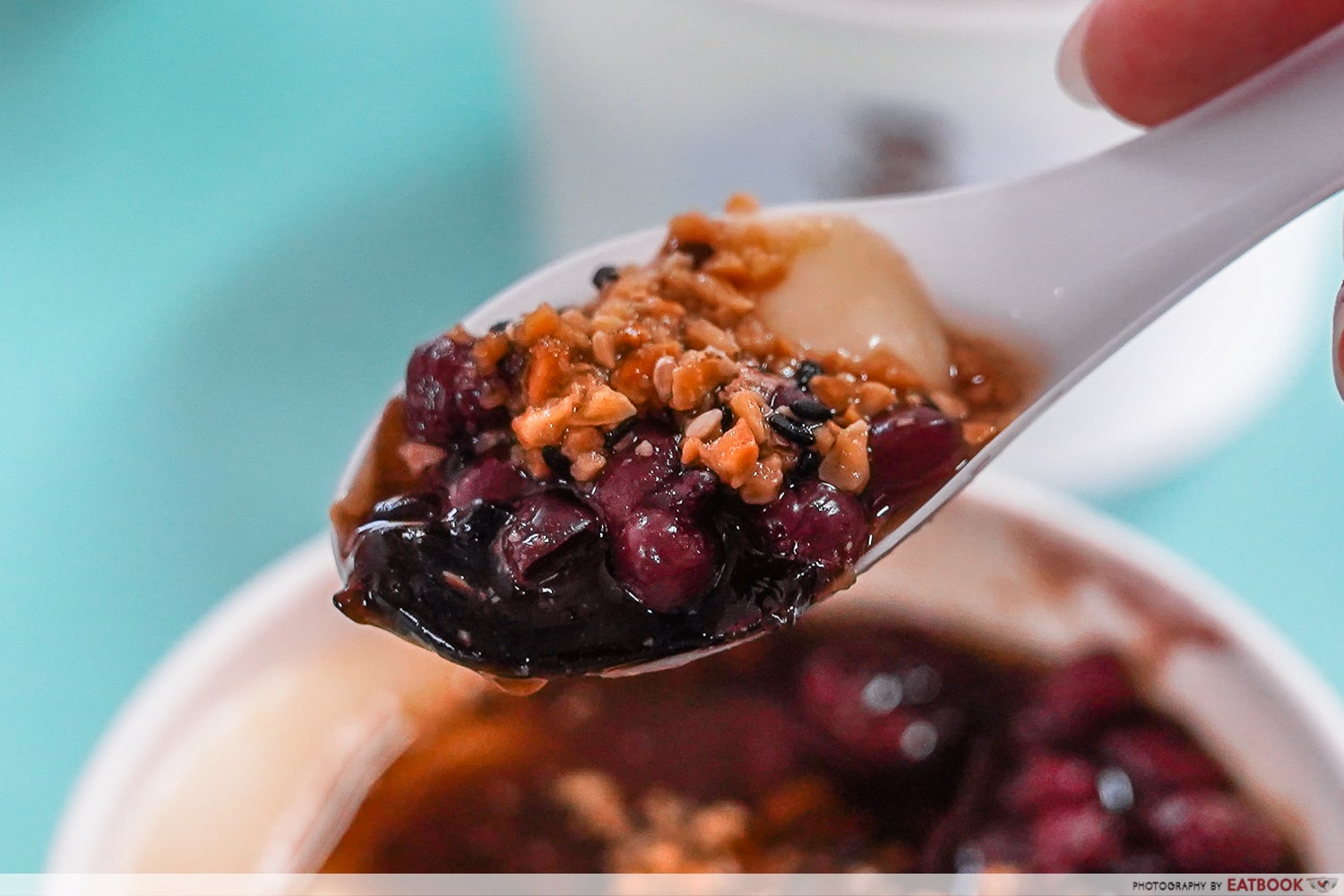 Taste-wise, the gula melaka syrup, sweet red bean, and glass jelly made this a sweeter tau huay than the others, though it was still tempered somewhat by the beancurd and nutty peanuts. 
Aside from their tau huay options, DDSD also sells drinks! While my colleague enjoyed their fresh, creamy Soya Milk ($1.60), I preferred the sweeter Glass Jelly Soya Milk ($1.90) that provided some sweet relief from the hot weather we're having. 
For more good eats in the hawker centre, check out our Hong Lim Food Guide. Otherwise, check out Whampoa Soya Bean, a famous stall in the nearby Chinatown Complex!
Address: 531A Upper Cross Street, #02-53, Hong Lim Complex, Singapore 051531
Opening hours: Mon-Fri 8am to 2:30pm, Sat 9:30am to 2:30pm
Website
DDSD is not a halal-certified eatery. 
This Famous Beancurd Stall Sells Taro Ball And Orh Nee Tau Huey Under $2.50 In Chinatown
Photos taken by Lynette Goh and edited by Zi Hui Tan.
This was an independent visit by Eatbook.sg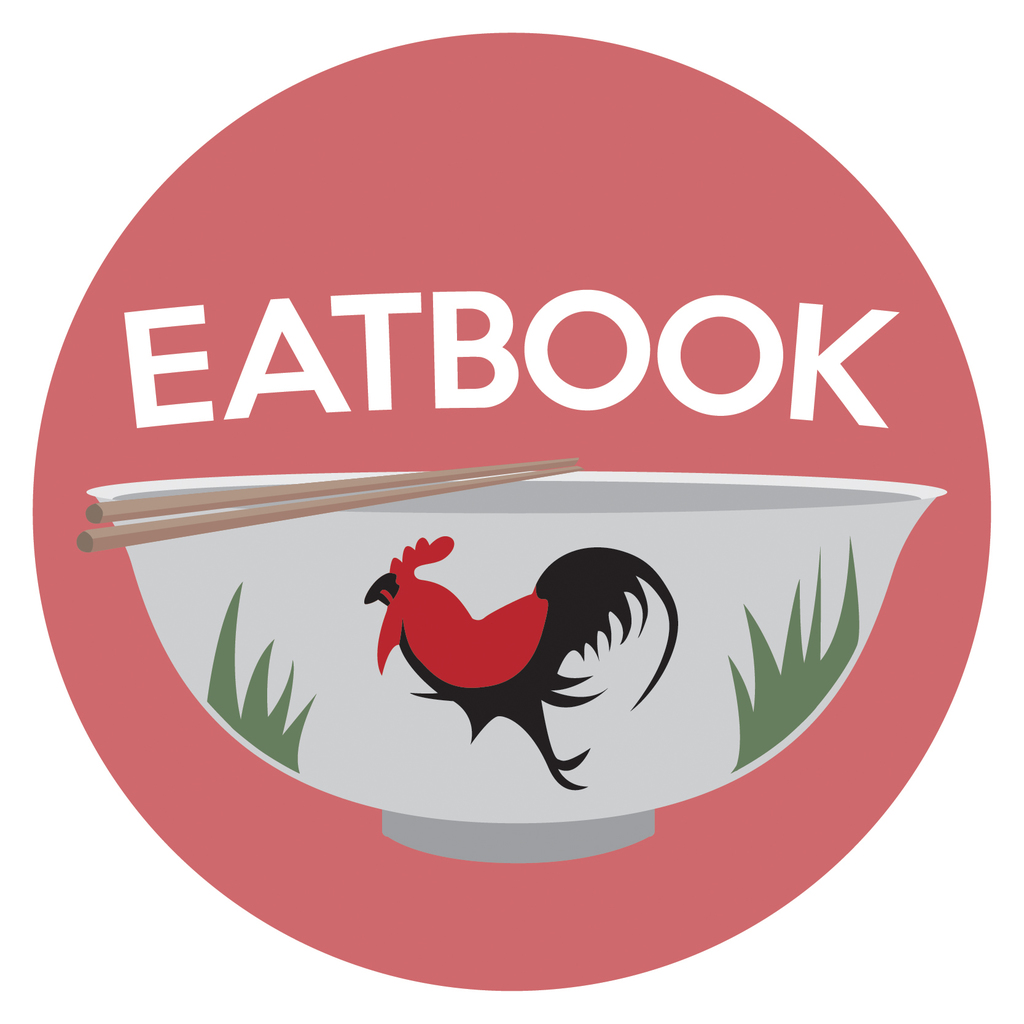 Drop us your email so you won't miss the latest news.