---
Food at Digital Shilin Night Market 2020
---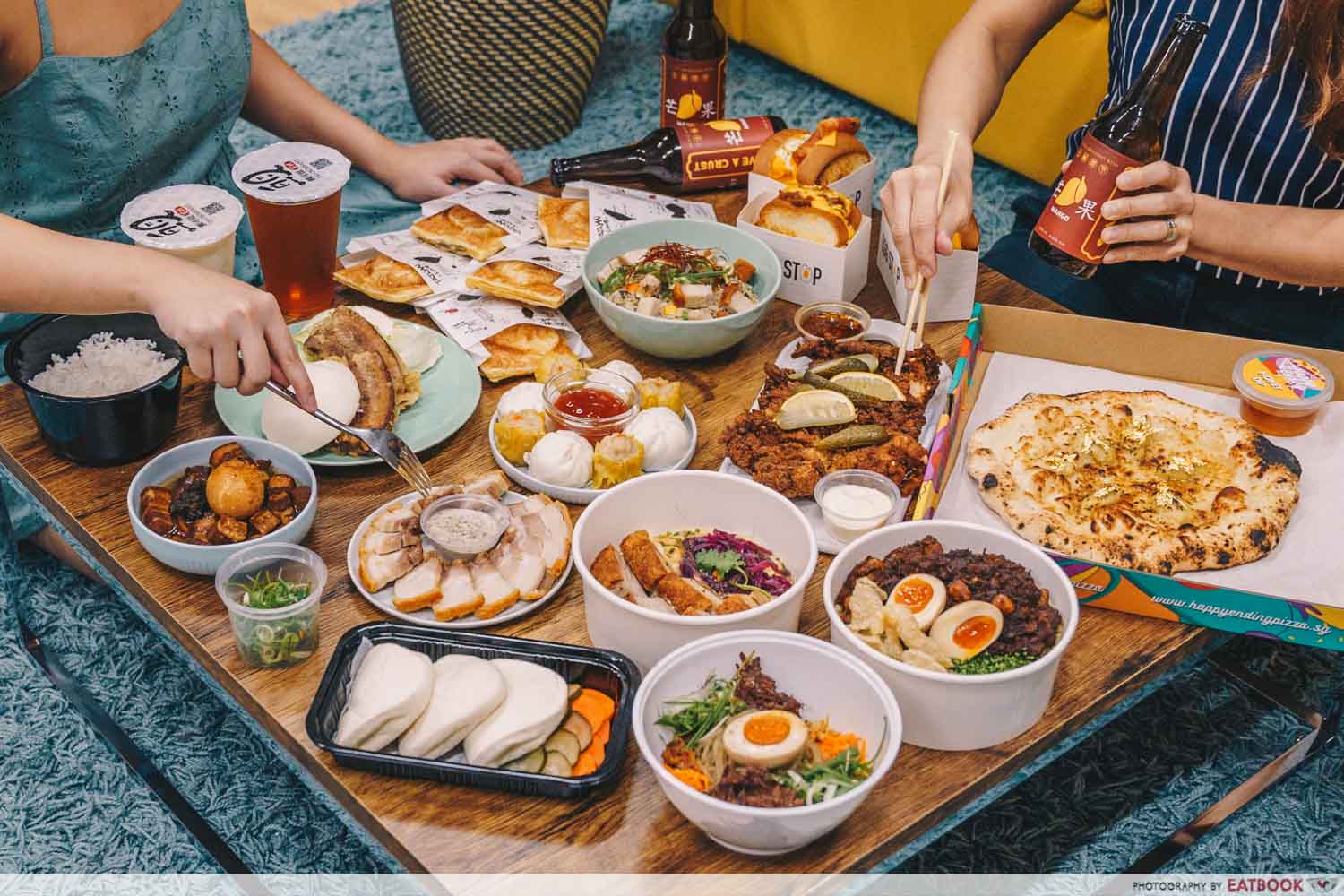 I never would have thought that I would experience cabin fever in winter-free Singapore but thanks to the Circuit Breaker, I'm sure we all did. Curb any symptoms with this year's Digital Shilin Singapore that is happening entirely online—which is also good news as you can experience it from the comfort of your home. 
Create an account on Pickupp, the event's official delivery partner, and check out this list of islandwide-delivered, event-exclusive food and drinks, all while in the comfort of your soft pyjamas and makeup-free get up.
---
1. D'bun
---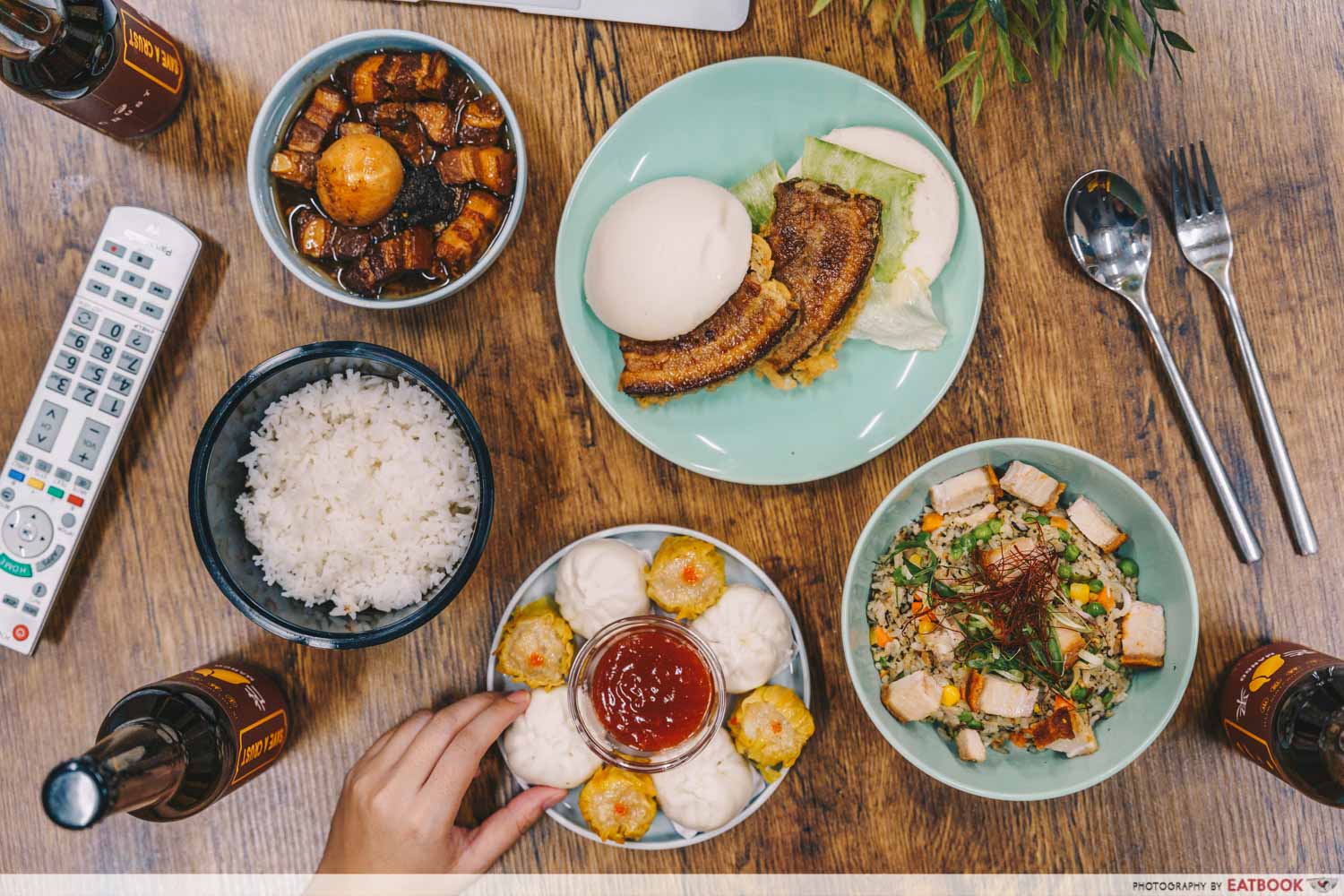 A returning vendor from last year's Shilin Night Market, D'bun is back for the right reasons. Their impressive Truffle Braised Pork Belly Rice ($9.50) is now a mainstay on the menu, with the new Crispy Braised Pork Belly Burger with Truffle Mayo ($7.80) added to keep fans of truffle back for more. Expect a combination of sweet and savoury flavours, as well as crunchy and melt-in-your-mouth textures at every bite.
---
2. Egg Stop
---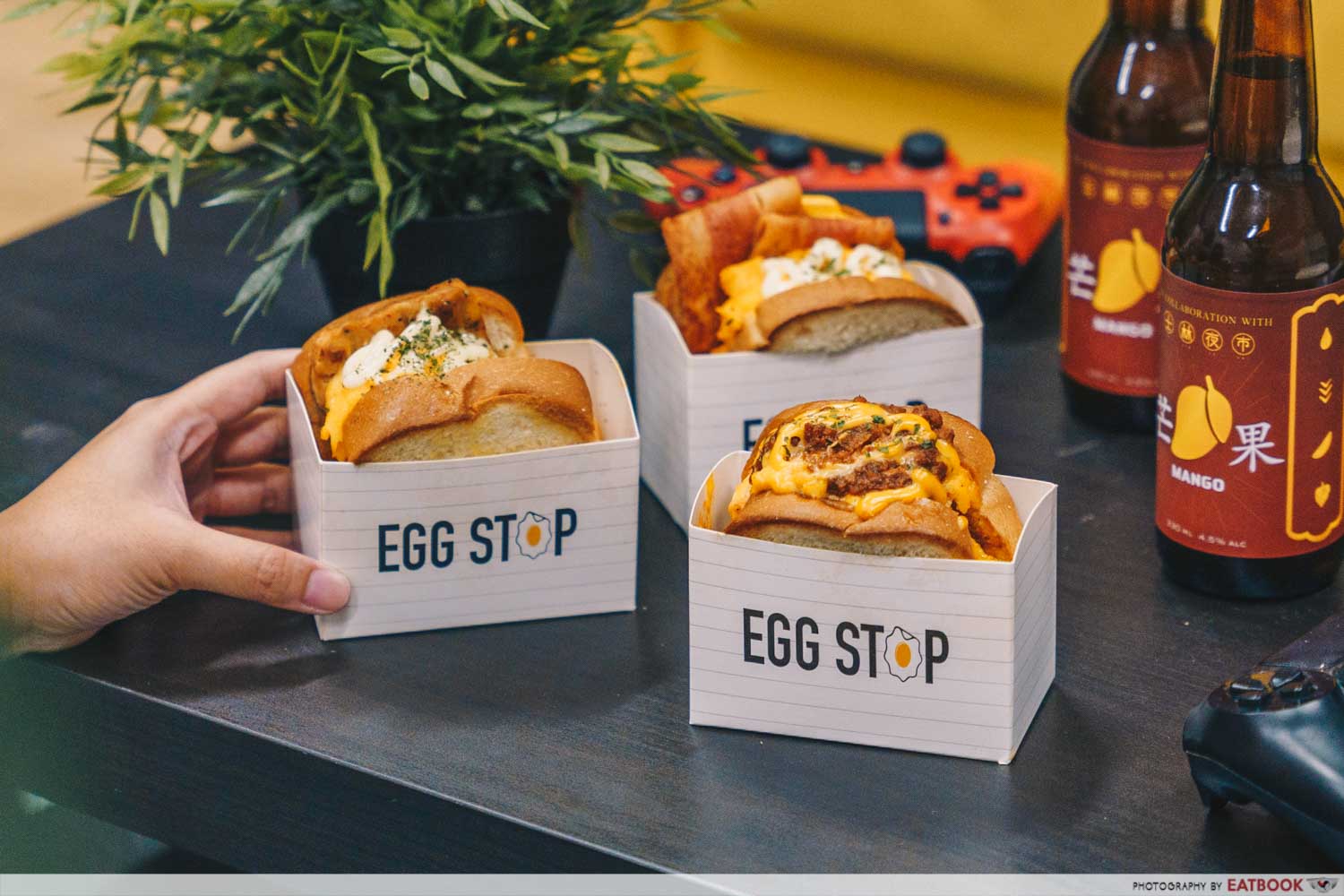 At the height of the Korean street toast trend, Egg Stop offered value-for-money versions which were served thick and bursting with ingredients. The newest addition on the menu is the Mala Chicken ($6) toast. It features a chicken patty spiked with aromatic mala spices, as well as their signature creamy scrambled eggs to bring the heat down a notch. 
Popular flavours such as the Beef Chilli Cheese ($6) and Turkey Bacon & Cheese ($5) toasts will still be available during this Digital Shilin Singapore event.
Egg Stop Review: Korean Street Toast Shop With Scrambled Eggs In Singapore
---
3. The Masses
---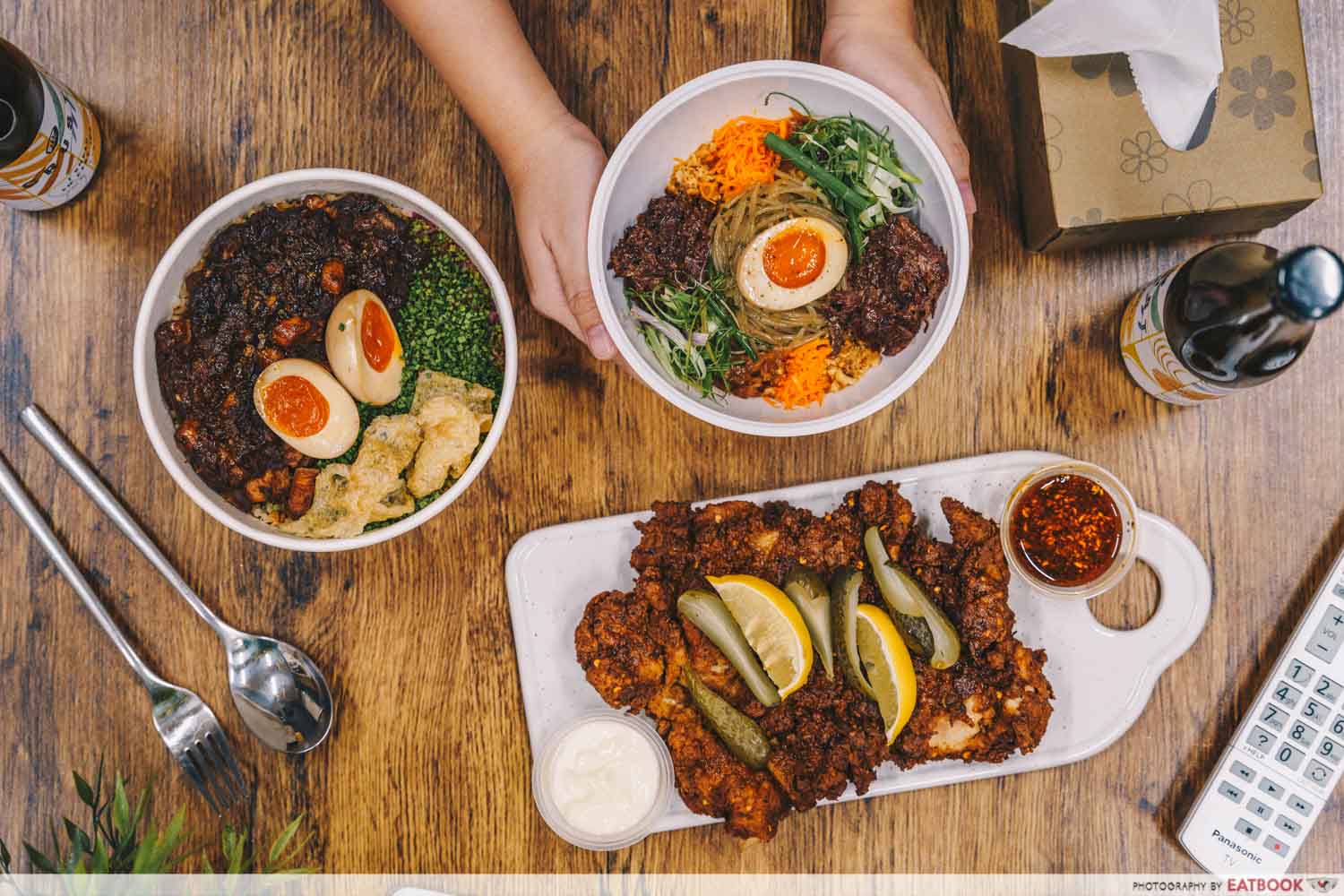 For those who miss having an atas meal out, ordering from The Masses might be a good idea. Dishes specially created for the Digital Shilin Singapore event are reminiscent of what is served at their restaurant in Bugis. Take the Iberico Pork Lu Rou Fan ($16.90) and 18-hour Braised Angus Beef Cheek Zha Jiang Mian ($17.90) as examples. Each dish features a fusion of cuisine and cooking techniques. The former is flavoured by Chinese spices and Japanese kombu, while the latter is seasoned with Wagyu fat and herbs. 
If you're hankering for something satisfyingly spicy, there's also an extra-large Mala Butter Milk Fried Chicken ($14.90) that is good for sharing.
---
4. Direct to Masses
---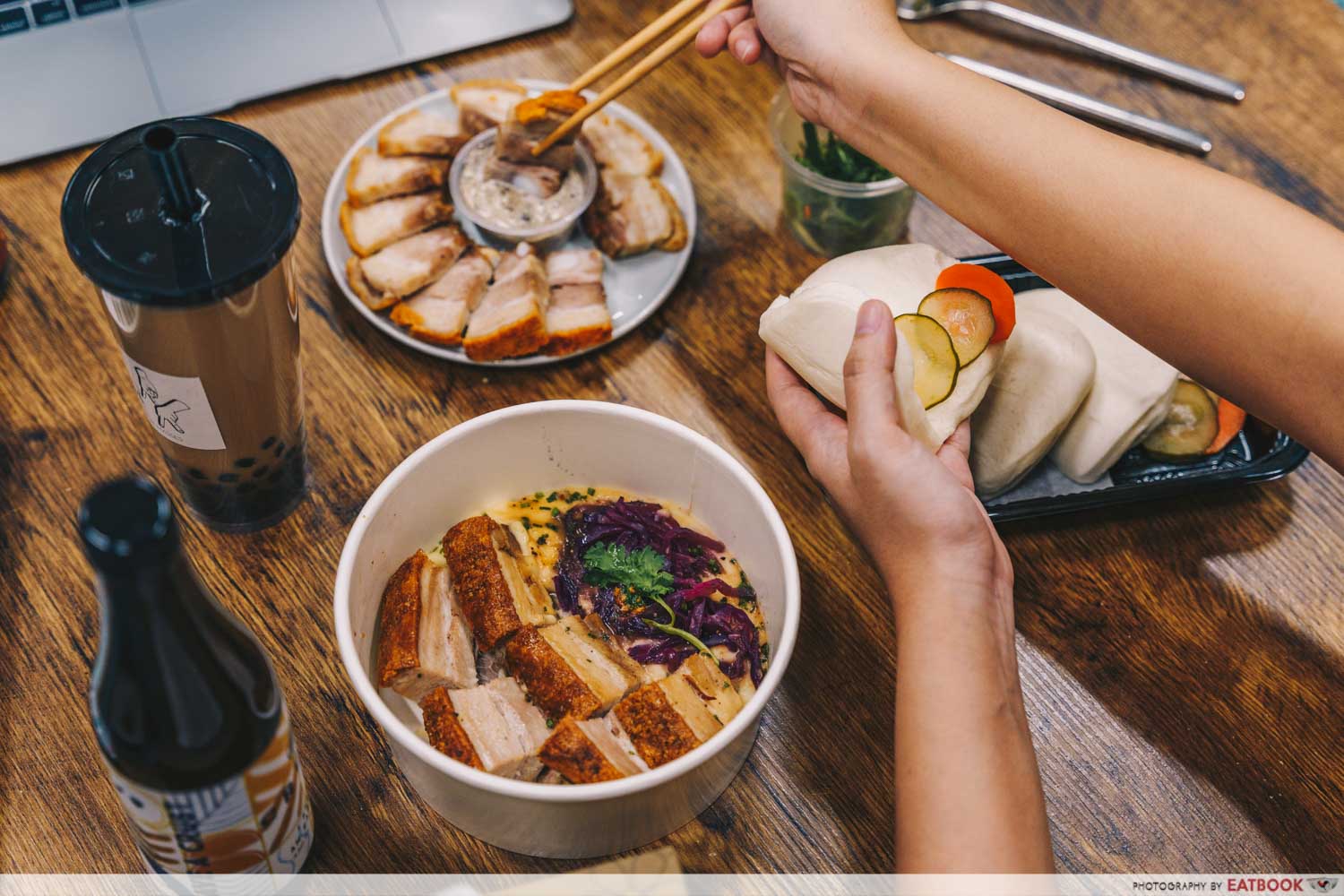 As a fan of local flavours and fusion food, I find Direct to Masses to be right up my alley. These folks put the fun in food with their DIY Sio Bak Truffle Kong Ba Bao ($13.90) set. Construct it yourself by adorning slices of crispy sio bak with a truffle-infused mayo and house-pickled carrots and cucumber slices. Alternatively, try the SG Banger and Mash ($15.90) if you prefer having the roasted pork belly with creamy mashed potatoes instead.
End off the meal with Singapore's favourite drink: brown sugar milk tea. Direct to Masses makes a mean version with their Lavender Infused Milk Tea with Okinawan Black Sugar ($6).
---
5. Tai Croissant
---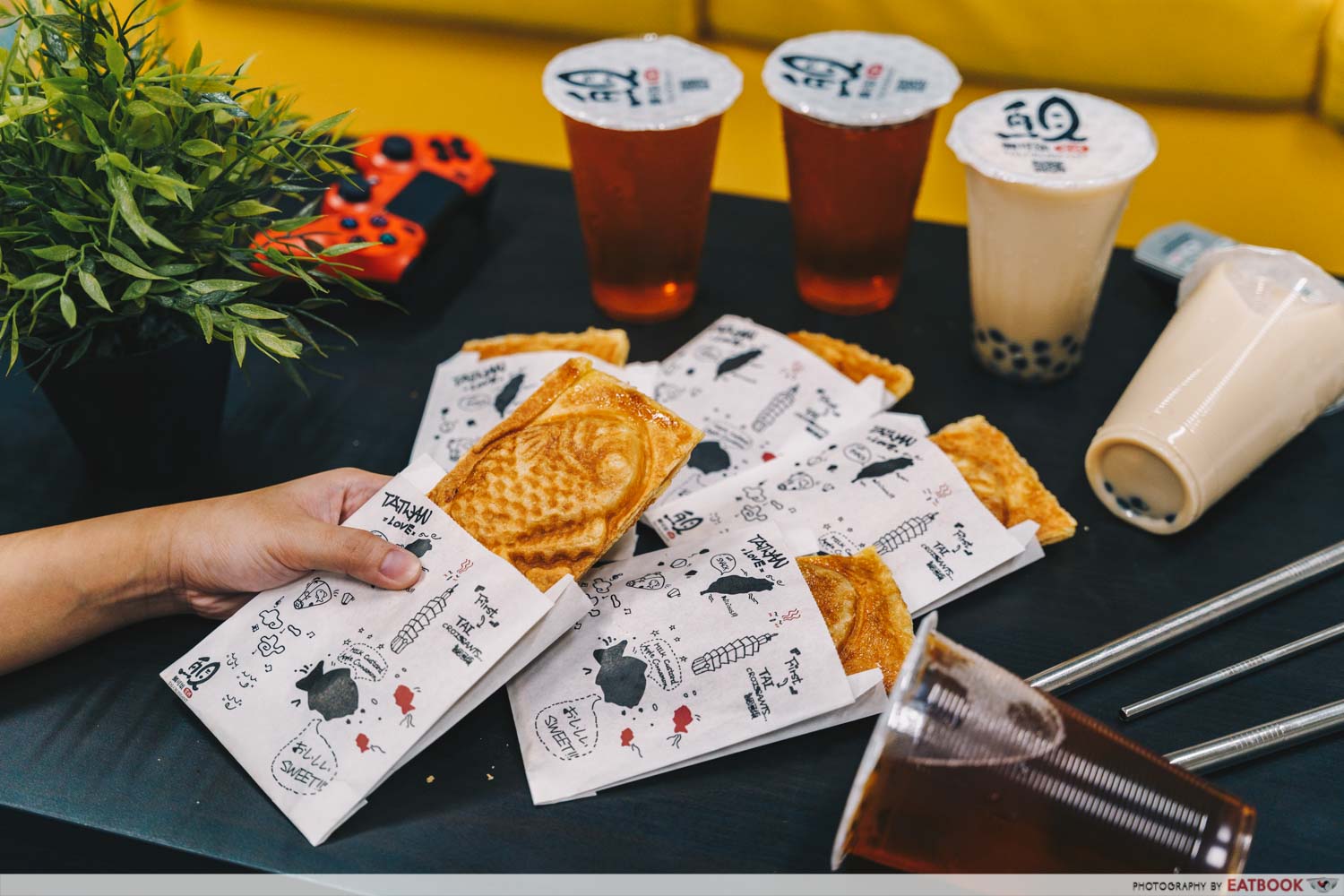 Have a full-fledged food festival-themed party at home with Tai Croissant's special set bundles. This Taiwan-based eatery cleverly uses caramelised and buttery croissant layers to encase a variety of fillings such as Hokkaido Custard, Cheesy Smoked Chicken, Cheesy Potato and more. 
For the most bang for your buck, get the Mixed Bundle ($30) for a jumble of five sweet and savoury taiyaki-croissants as well as five cups of drinks. Alternatively, there is a Sweet Bundle and a Savoury Bundle, also at $30 each.
---
6. Happy Ending Pizza Parlour
---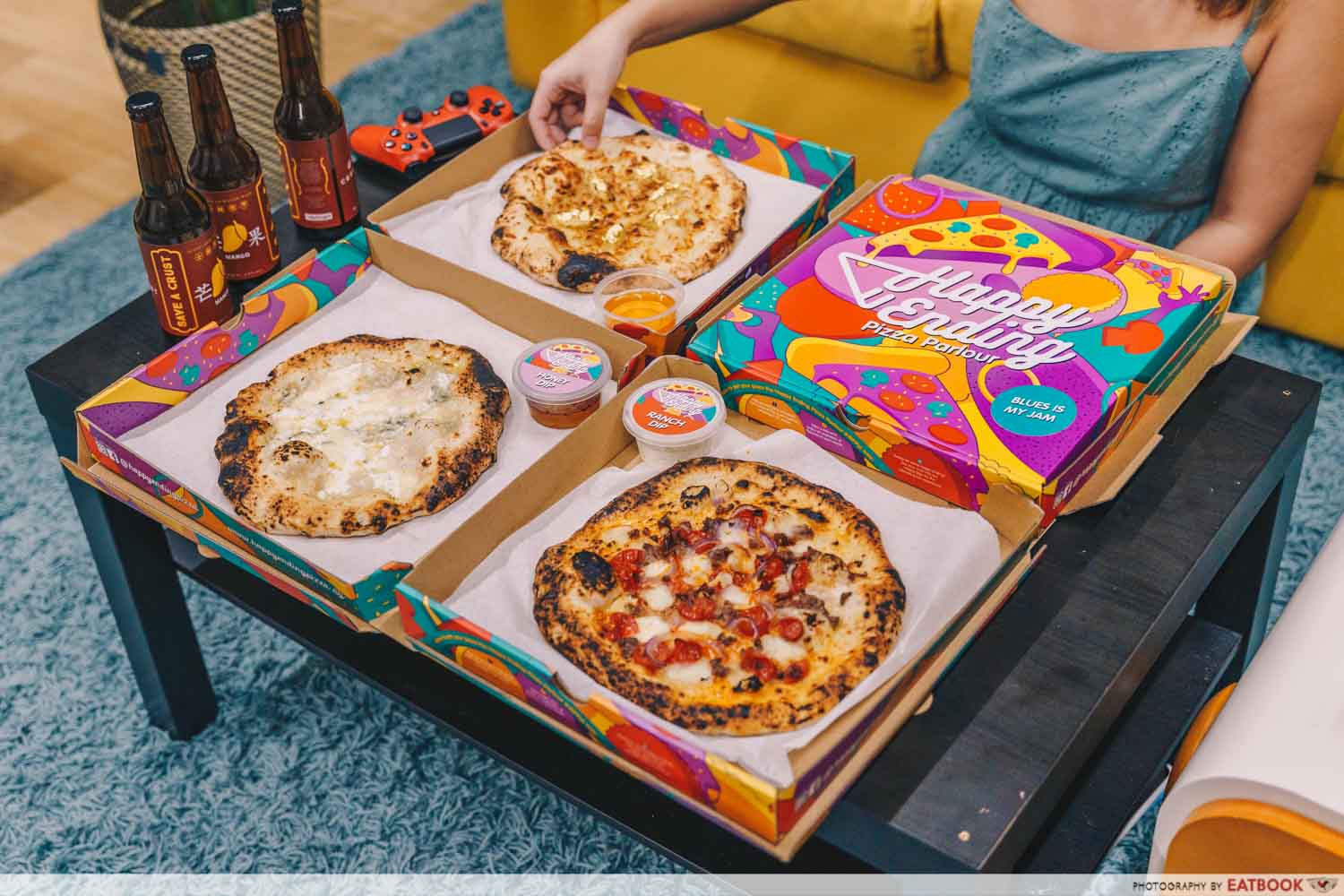 With a tongue-in-cheek name like Happy Ending Pizza Parlour, one would only expect one-of-a-kind creations from on its menu. Surprise the fambam with their Taboo Durian Pizza ($28). It is topped with creamy Mao Shan Wang durian puree, which is rounded off by the sweet drizzle of honey and salty touch of cheese. 
The Spicy Babe Pizza ($28) is a blissful affair for those who walk on the spicer side. Drugged with mala spices, the base is aromatically spicy. When paired with cheese and bits of beef, it became too addictive for me!
Here's a hack to finish each slice from tip to crust: dip the excess chewy pizza crust into their unique sauces such as bacon jam and spiced honey. 
---
7. CRUST
---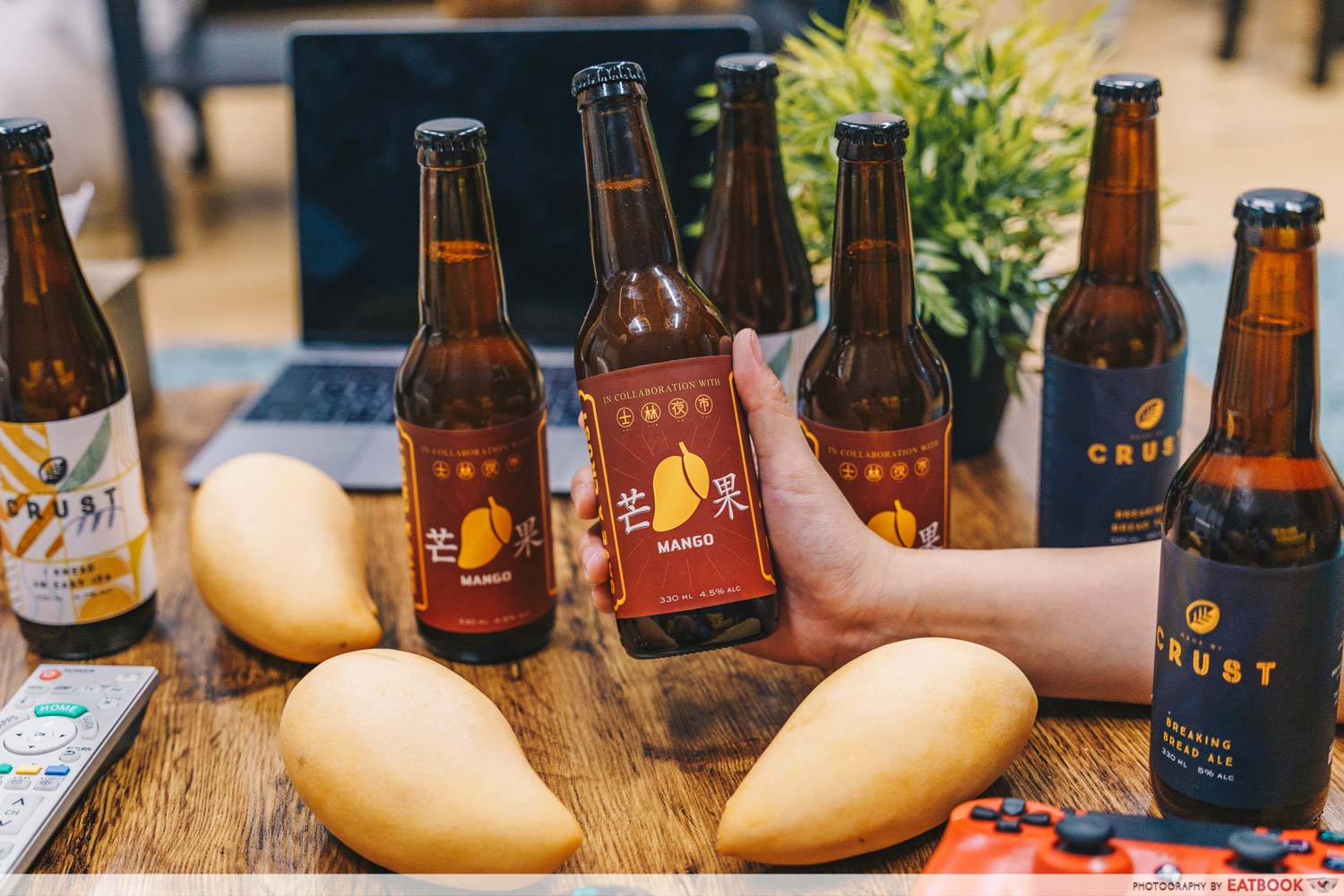 If you can't party without booze, we recommend ordering the Digital Shilin Singapore-exclusive Mango Beer ($8.50) from CRUST. Making beer with a difference, this local brewery is known for turning surplus bread into craft beer. Sold in 330ml bottles, this Mango Beer is made from excess Redmart bread which would have otherwise become food waste.
---
Digital Shilin Night Market is a unique online festival experience
---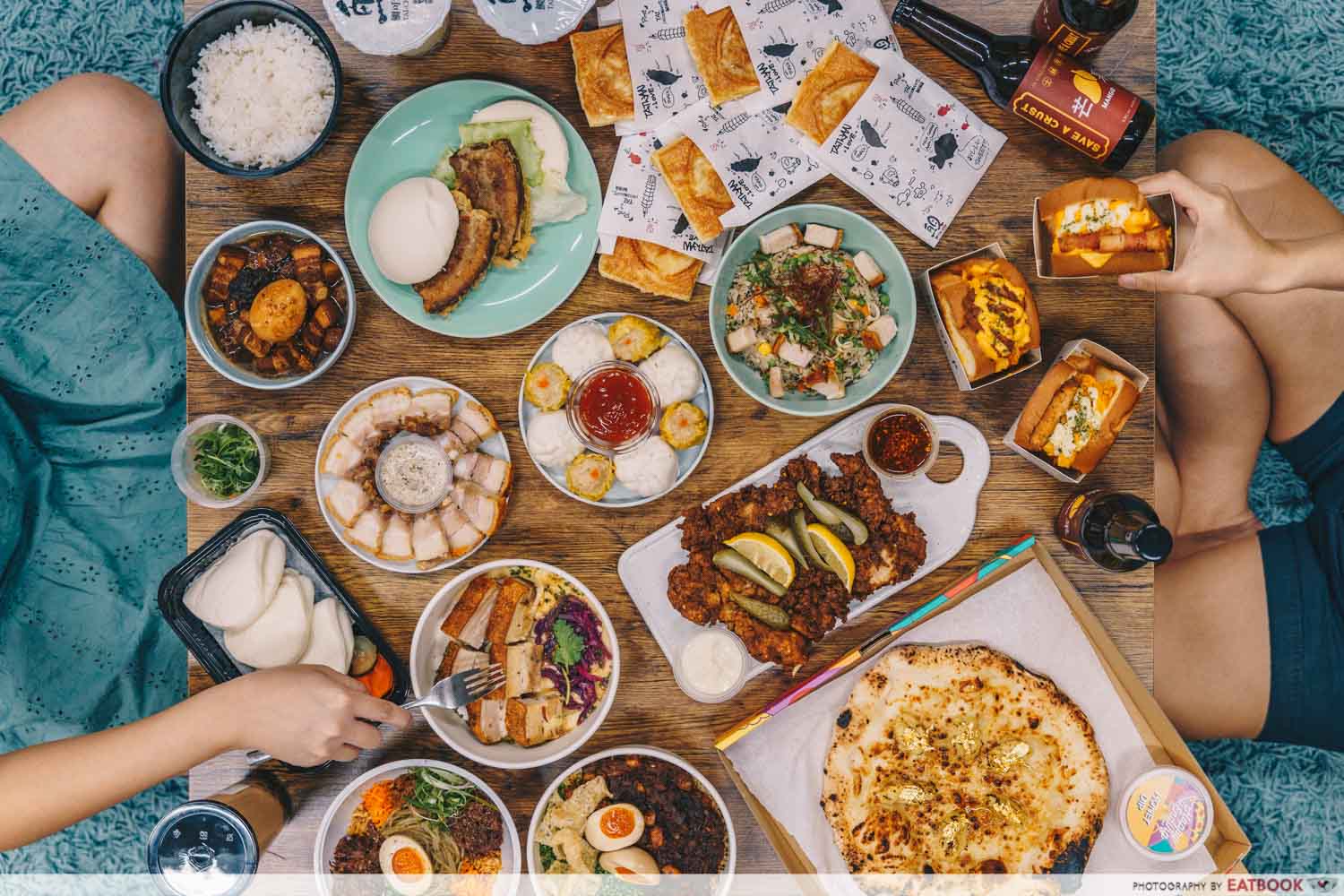 So mark your calendars and set your alarms! Even though the Circuit Breaker has been lifted, it is still of utmost importance to stay safe and stay home as much as possible. Plan a Shilin Night Market-themed Zoom party with friends on one of the weekends and soak in the atmosphere of their live band performances.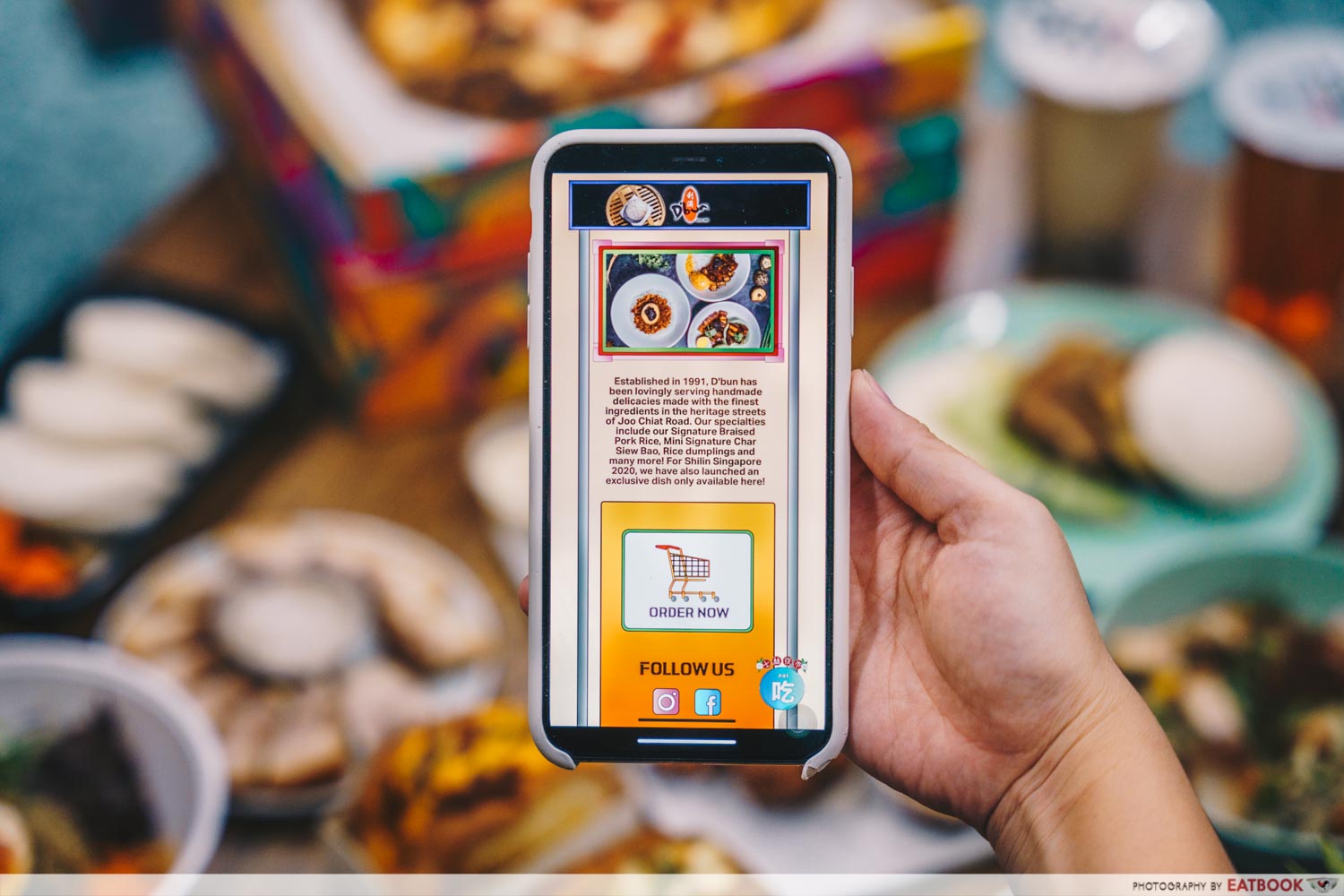 Step into the EAT zone on the Digital Shilin Singapore event page to browse through the wide selection of food and beverages. The organizer has teamed up with Pickupp to fulfil the delivery to your doorstep! Click 'Order Now' and the page will redirect you to the website.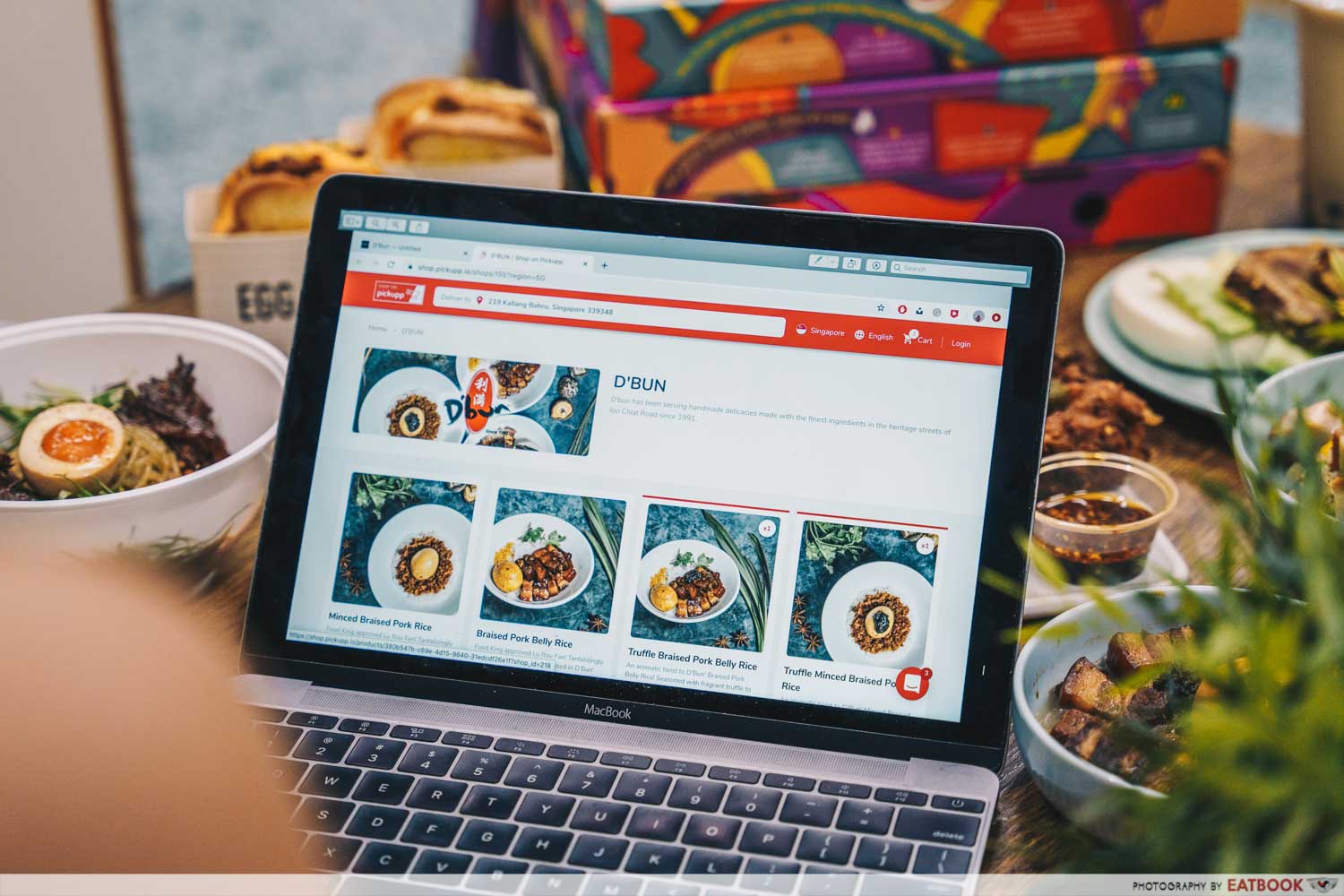 This site is accessible both on your mobile phone as well as desktop. Simply key in your postal code to view the list of vendors that deliver to your location. Click on the food you would like to purchase and cart them out—just like you would with online shopping!
When you're done, create an account and enter your address, name, mobile number, preferred date and time of delivery, followed by payment details. 
Don't forget to enter the promo code 'SLYS3OFFPICKUPP' to enjoy $3 off your total bill. This is applicable only to the first 3,000 new sign-ups on Pickupp, so be there or be square.
Event dates: 12 to 14, 19 to 21 June 2020
Opening hours: 12 June 3pm to 11pm, 13-14, 19-21 June 12pm to 11pm
Website
This post is brought to you by INVADE.
Photos taken by John Lery Villanueva.