Dine Inn allows you to have home-cooked meals at a host's home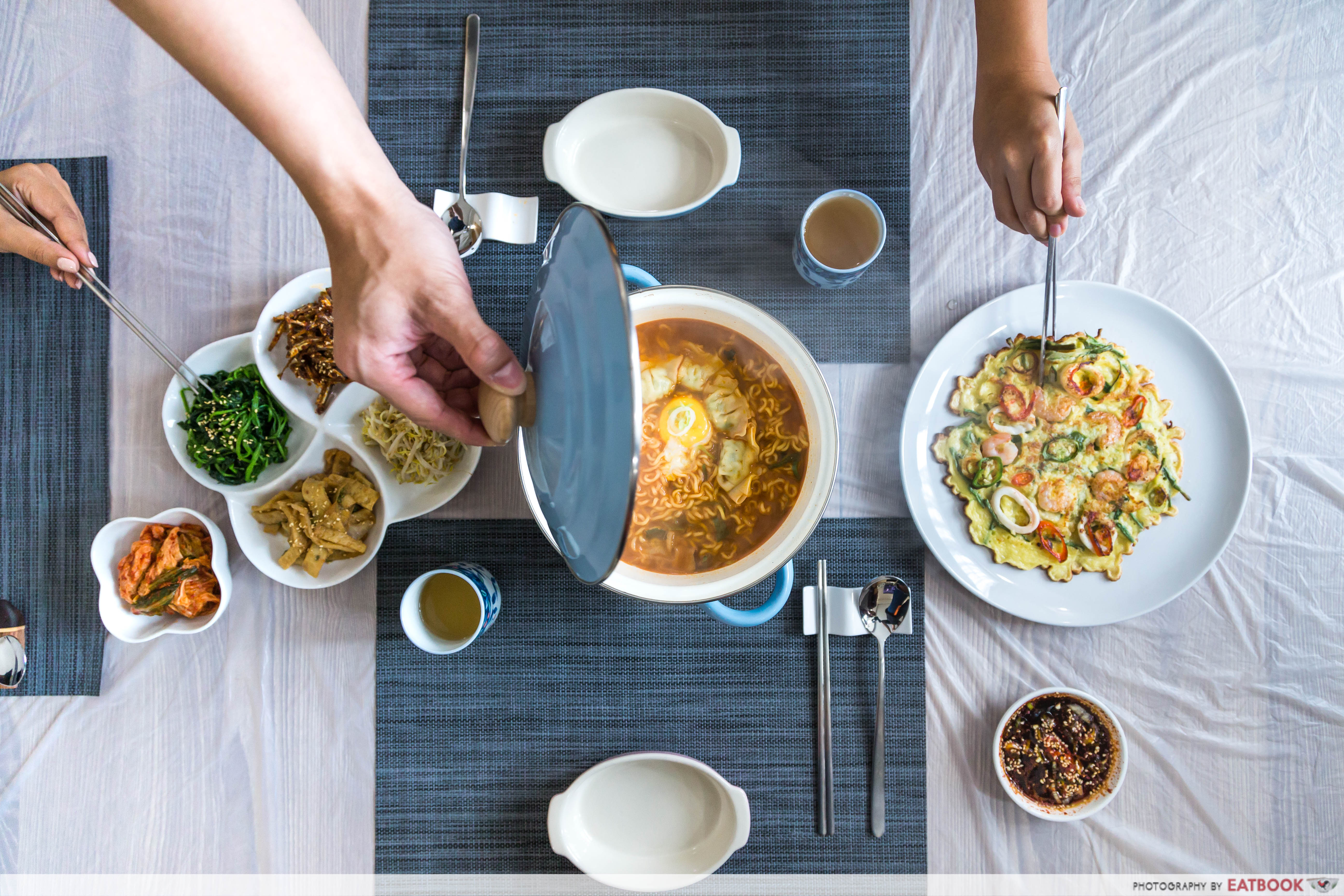 Awkward. That was the first thought that popped into my head when I heard about Dine Inn, an app that allows you to have home-cooked meals prepared by strangers, at their homes.
Though slightly hesitant, I was curious to know what this "food version of Airbnb" is like. While looking at the many cuisines available at different hosts' homes, I was most drawn to Minjiya's Korean food. After indicating the date, time, number of people, and the food we wanted, all we were left with was to make our way down to Minji's place at Tampines.
Uncertain of what to expect, I arrived at Minji's doorstep in the evening with a few of my colleagues. Minji's husband, Sebastian, was the one who welcomed us at the door while she was preparing our meal. The moment we stepped into the home, we found ourselves embarrassingly fawning over every little thing in the living room – from their wedding photos to the futuristic-looking air-con.  
Food from Dine Inn (Minjiya)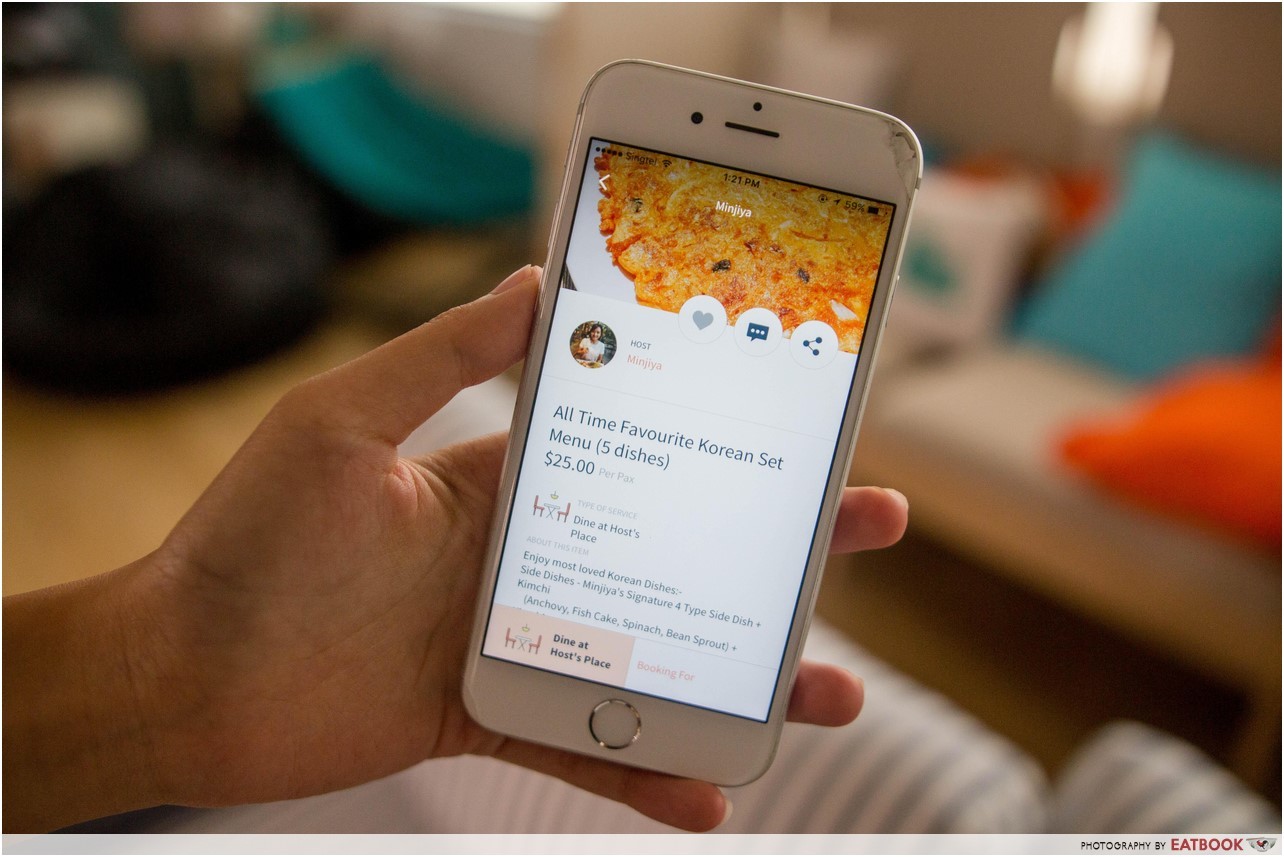 While making the reservation on Dine Inn, we ordered the All Time Favourite Korean Set Menu that was priced at $25 per person. Payment was made via the app so all we had to do was wait for Minji to prepare the food!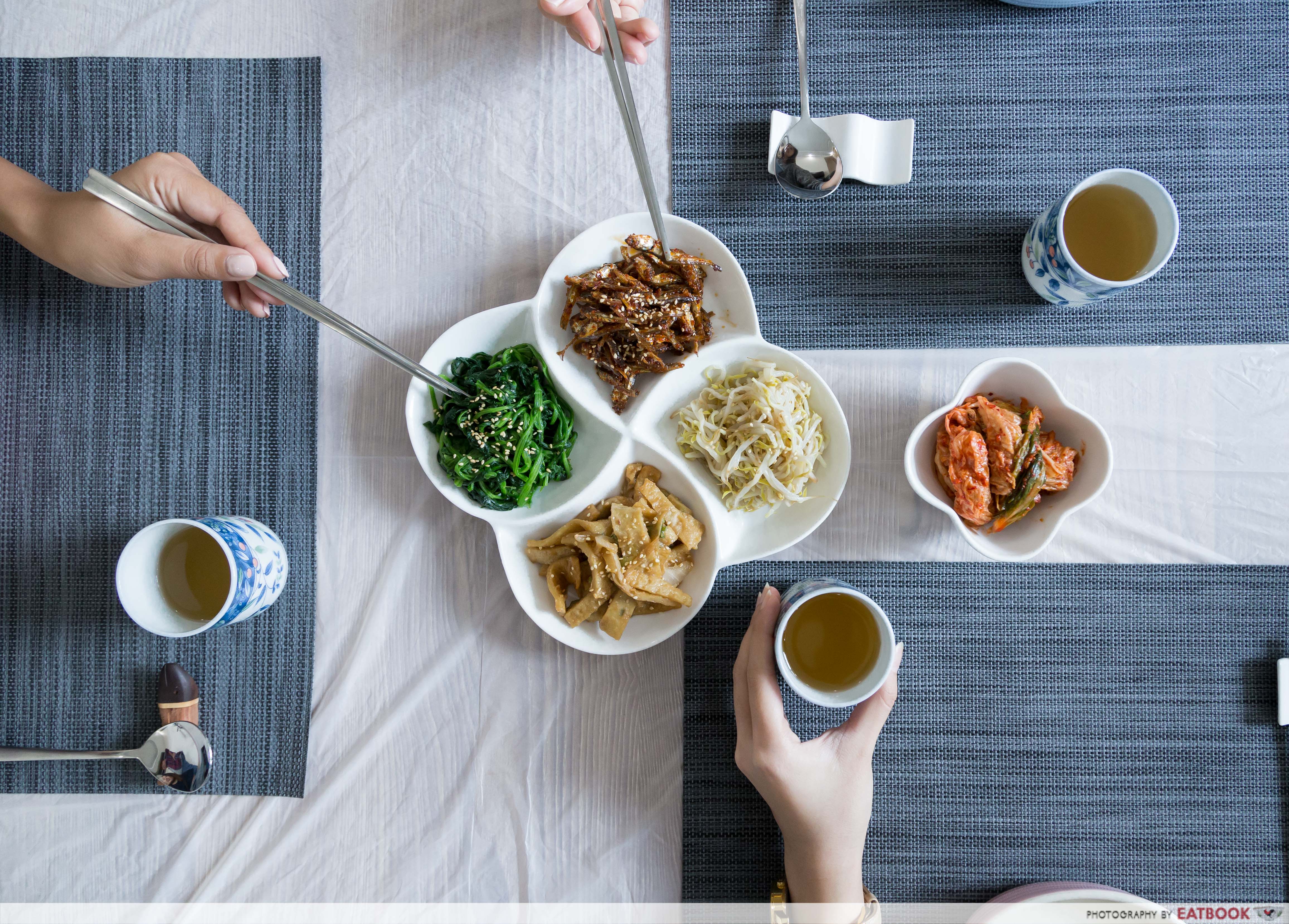 Just like how most Korean restaurants work, we were first served with a variety of banchan (side dishes) the moment we were seated. Altogether, there were five side dishes, namely kimchi, anchovies, spinach, bean sprouts, and Korean fish cake.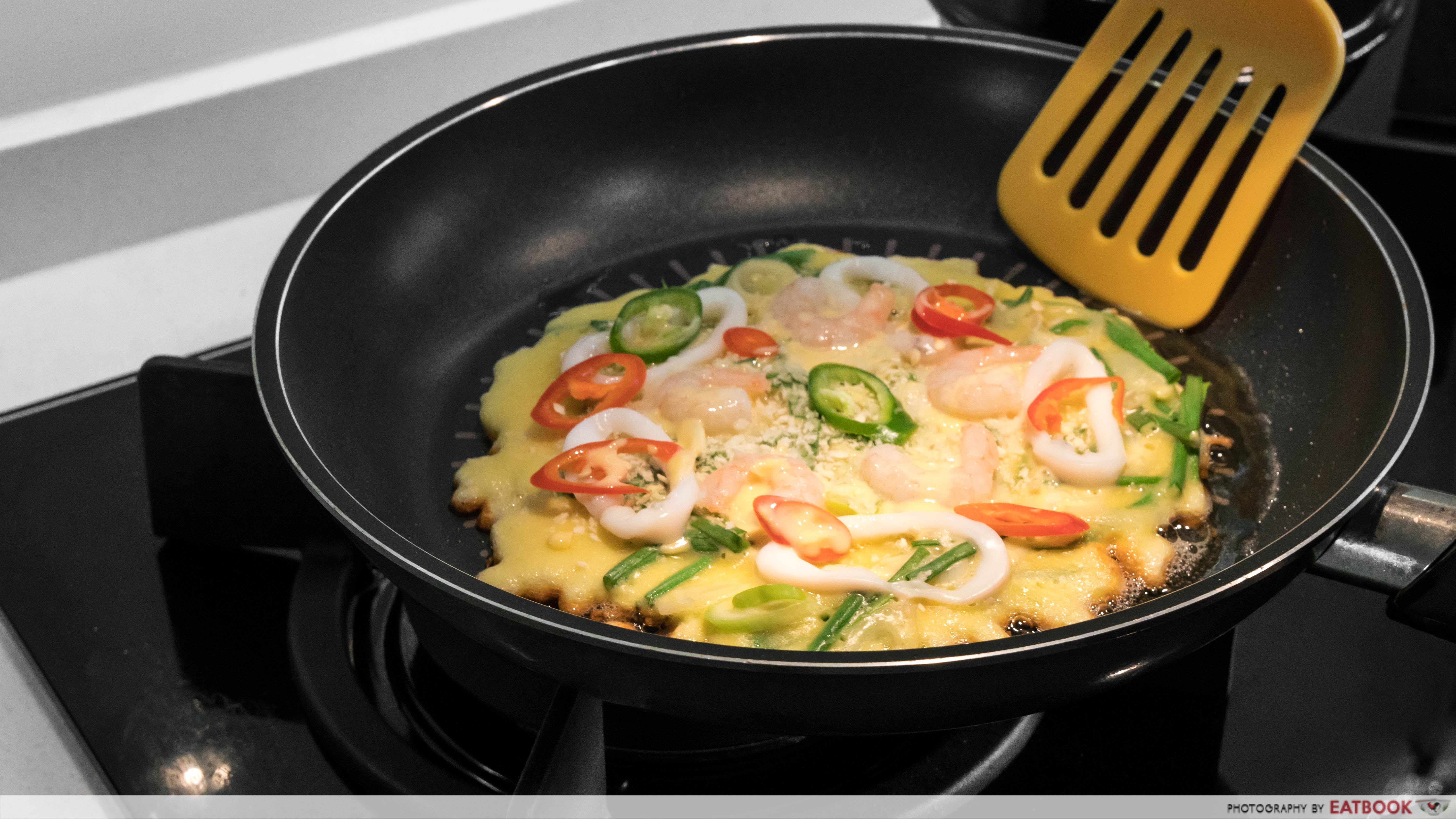 For the two starters that were included in the set, we could choose to have either egg roll or steamed egg, and seafood pancake or kimchi pancake. After we made our choices, Minji prepared the dishes in the kitchen and the food was served in less than 10 minutes.
While Minji was cooking, we peeked into the kitchen to watch her prepare the dishes. We were impressed by the attention she gave to every detail and how the complex-looking dishes were all prepared with simple and fresh ingredients. Of all the dishes, our favourite was the seafood pancake. Crispy yet greaseless, the pancake was generously filled with squid rings, prawns, and scallion.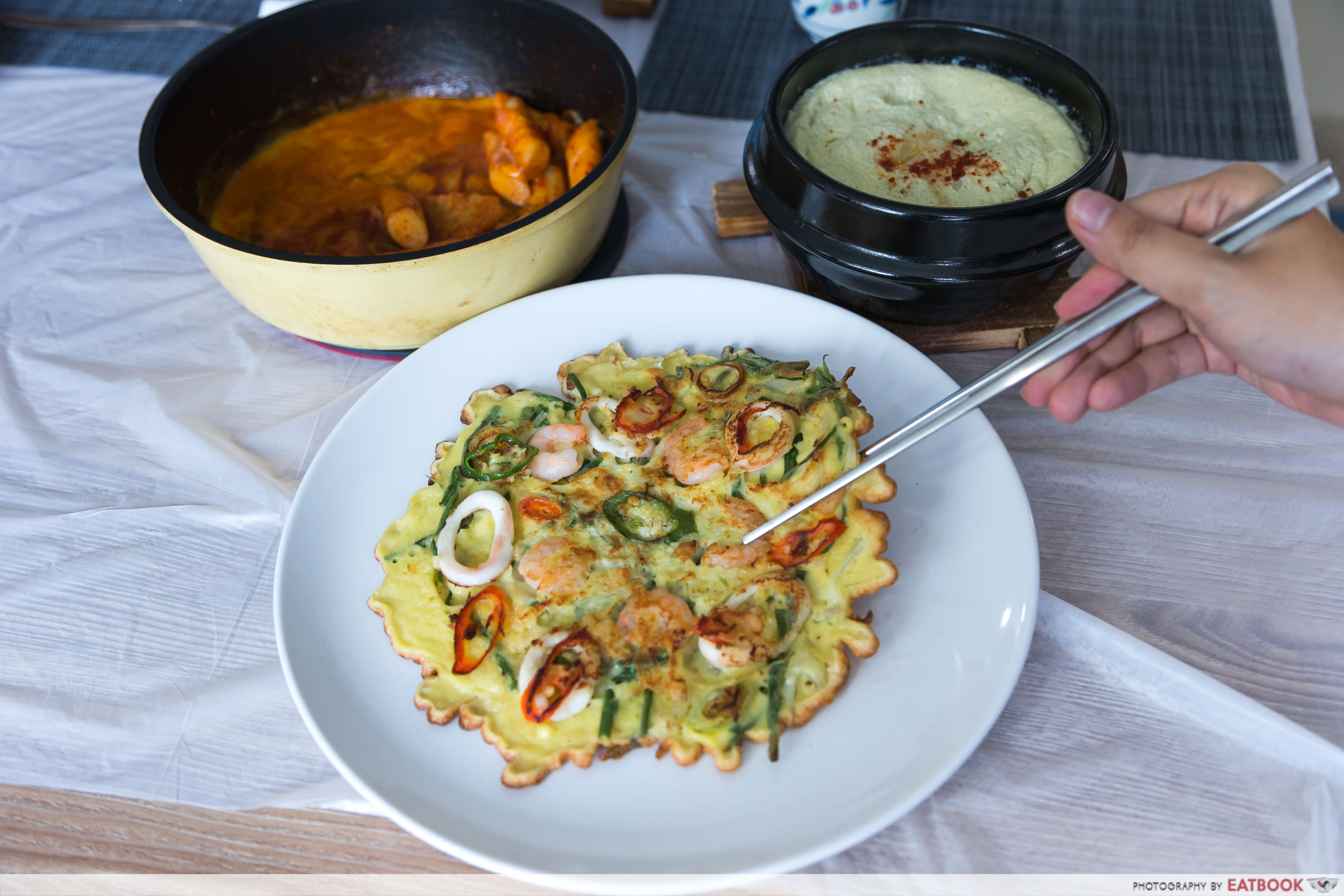 While we were still enjoying the starters, Minji emerged from the kitchen again with two main dishes – tteokbokki and Korean instant noodles with egg. With our low tolerance for spicy food, we asked for cheese to be added in the dishes. Even with that, we were sniffling throughout the meal but that only added to the shiok-ness of the entire experience.
While chatting with Minji over the meal, she said, "I get very angry when I eat outside and the rice cake is 20-over dollars but the food they serve is so pathetic." To serve authentic Korean food at affordable prices was what gave her the idea of joining Dine Inn as a host.
Ambience at a Dine Inn host's home (Minjiya)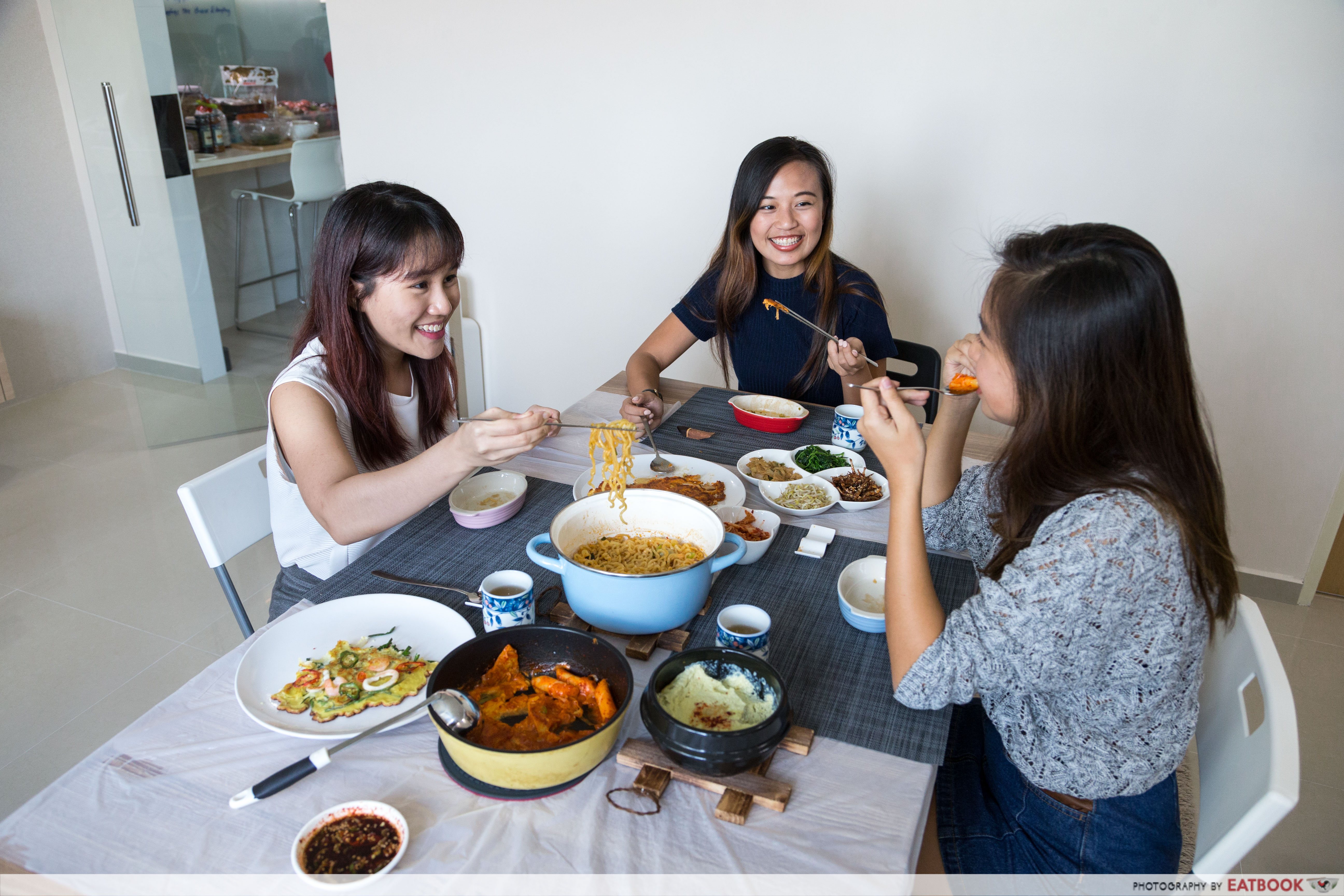 In Minji's three-room flat, the space was impressively clean, spacious, and comfortable. With soft Korean pop acoustic music playing in the background and stainless steel utensils placed on the table, I felt instantly transported into those Korean homes that I see in K-dramas.
Unlike what I initially feared, there was nothing awkward or uneasy about the experience. Although Minji spent most of the time preparing the dishes in the kitchen, the times where we interacted were casual, fun, and enjoyable. We even picked up a few Korean phrases from her and watched videos of her wedding shoot while enjoying the meal!
The verdict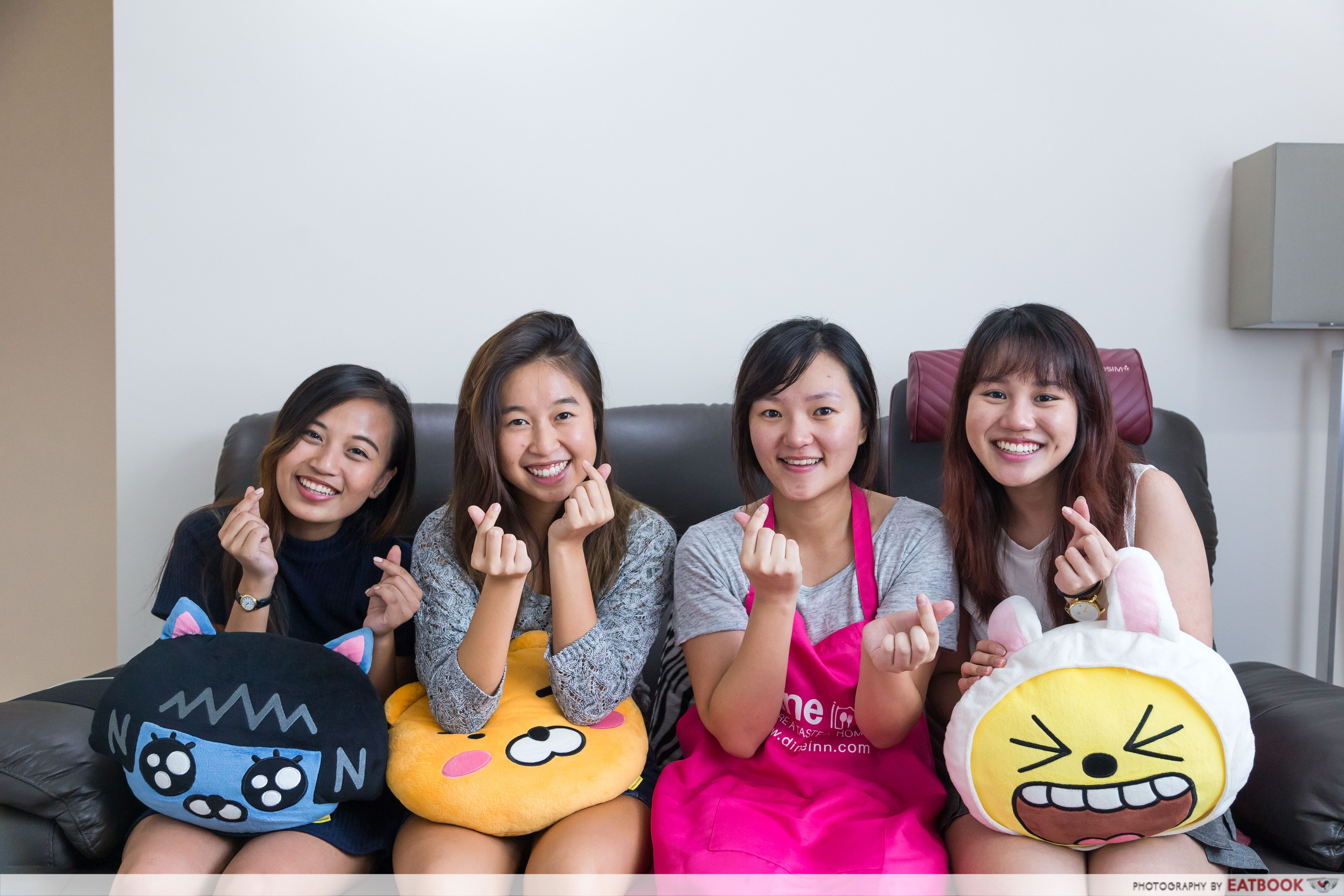 Overall, I was surprised by how enjoyable and fuss-free the entire experience was. Although showing up at a stranger's place was daunting at first, it did not take long for us to settle in and feel like we were enjoying a meal at a friend's place. In fact, it felt like we booked a private room with a personal chef – at an affordable price.
As for the food, the home-cooked Korean meal was more than satisfactory. Although Minji's house is nowhere near where I stay, this is one place I wouldn't mind travelling to when craving for good Korean food. A bonus would be that you are allowed to bring your own drinks to the host's place with no additional charge.
However, if you do not have the time to dine out or simply prefer to enjoy the food in the comfort of your own home, the app also offers options for self-collection and delivery!
Click here to find out more about Dine Inn!
This post is brought to you by Dine Inn.
Dine Inn App Review
Summary
Pros
– Delicious home-cooked food
– Entire process was fuss-free and efficient
– The five-course meal was affordable
– Host was friendly
Cons
– The place is only suitable for small groups
Recommended Dishes: All Time Favourite Korean Set Menu ($25) from Minjiya