Dione ice-cream arrives in Singapore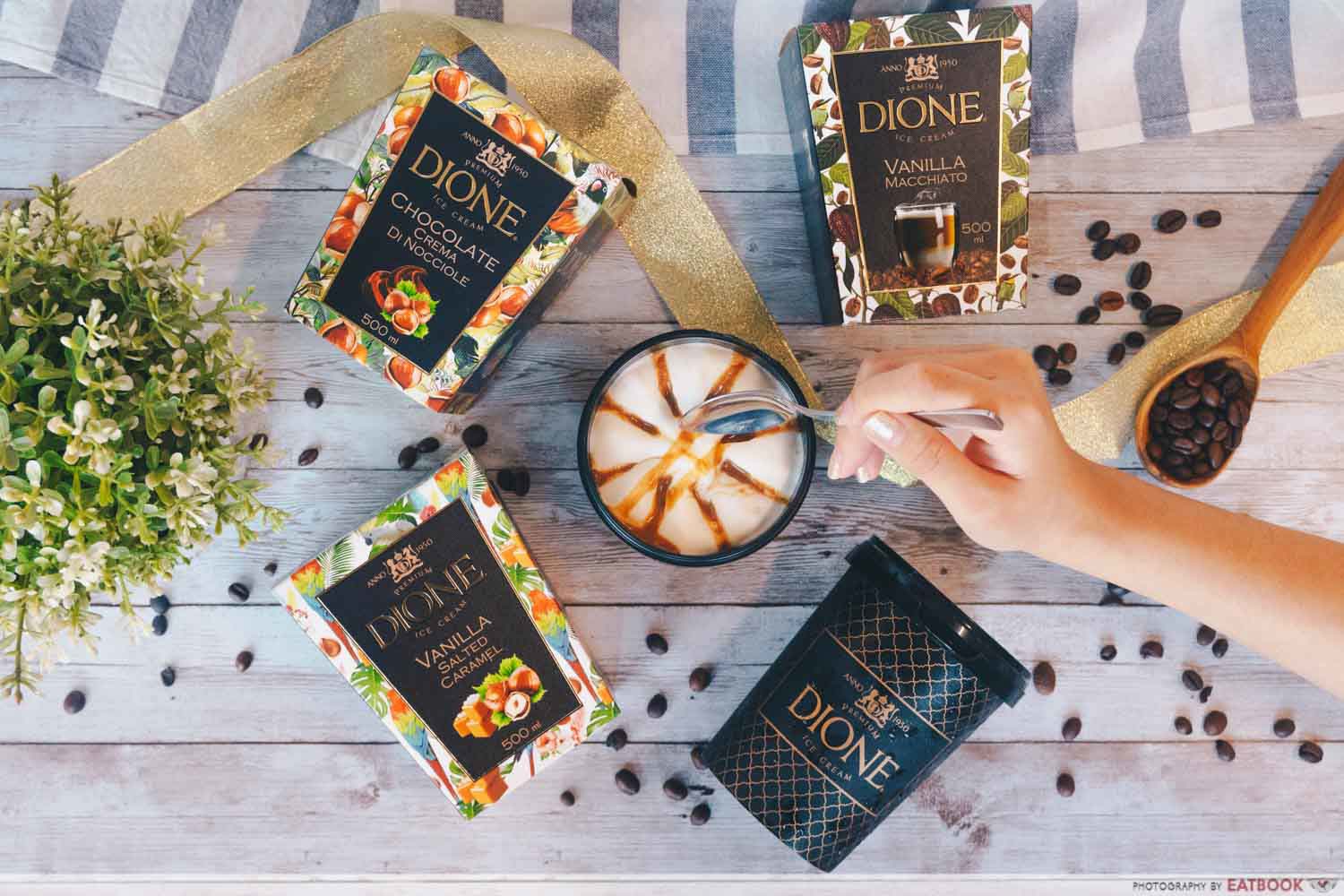 The constant summer heat in Singapore can be a bit much at times, especially when you step right out of the shower only to start perspiring. Our latest comrade to battle against the sweltering heat is Dione ice-cream!
This European ice-cream brand may not sound familiar to us, but they've been churning out frozen treats in Lithuania since the 1950s. 
Having arrived on our sunny shores since July 2019, the halal-certified ice-cream is available in three luxe flavours, namely Vanilla Salted Caramel, Vanilla Macchiato, and Chocolate Crema di Nocciole, all of which go at $14.90 a pint.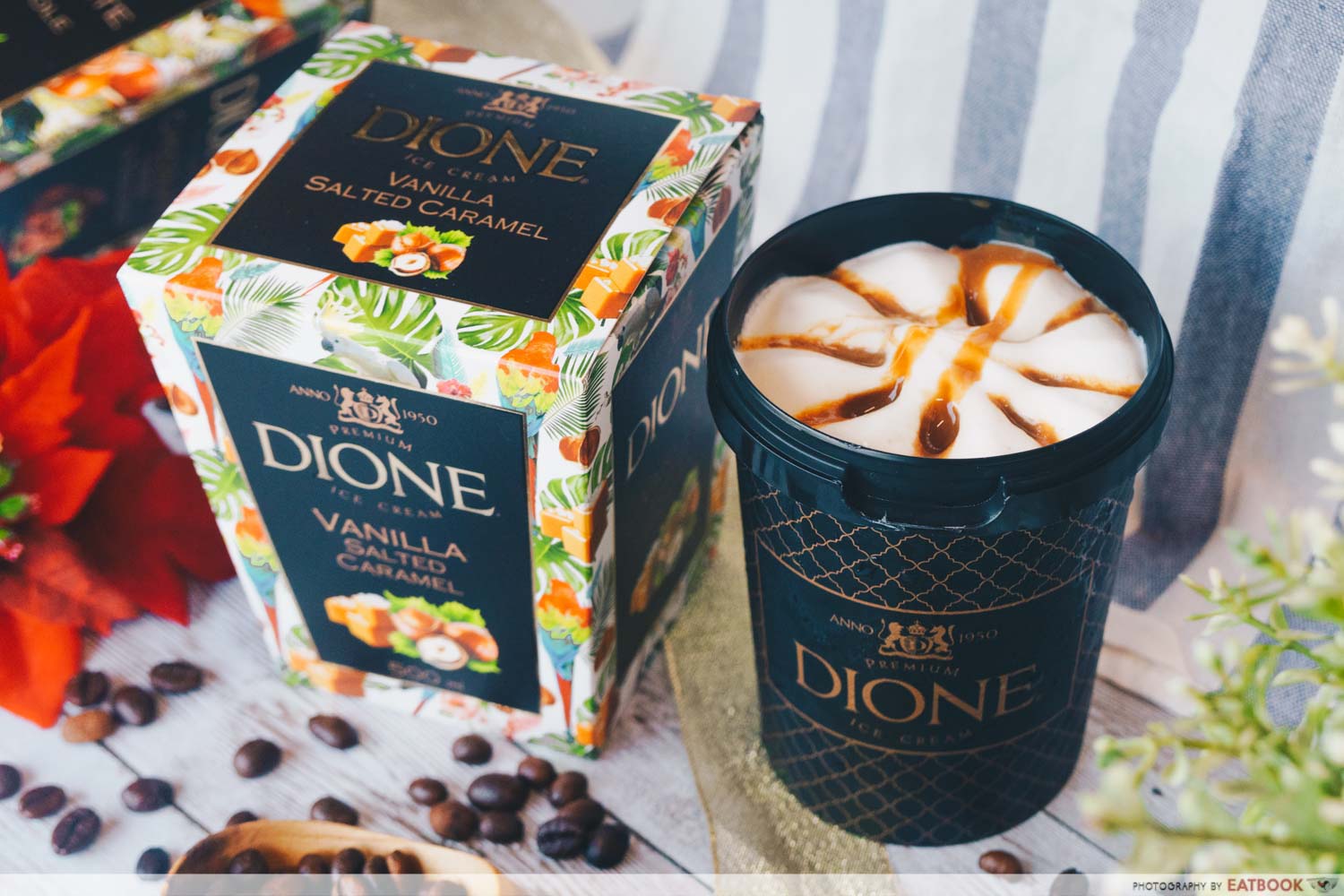 If you have both a sweet and savoury tooth, then the Vanilla Salted Caramel is the one for you. You'll get a smooth, silky mouthfeel from the rich and creamy vanilla ice-cream, followed by a welcoming textural contrast from the crunchy hazelnuts. The sweetness from the vanilla base is taken down a notch, as the salted caramel swirls add a delectable savouriness to this cold treat.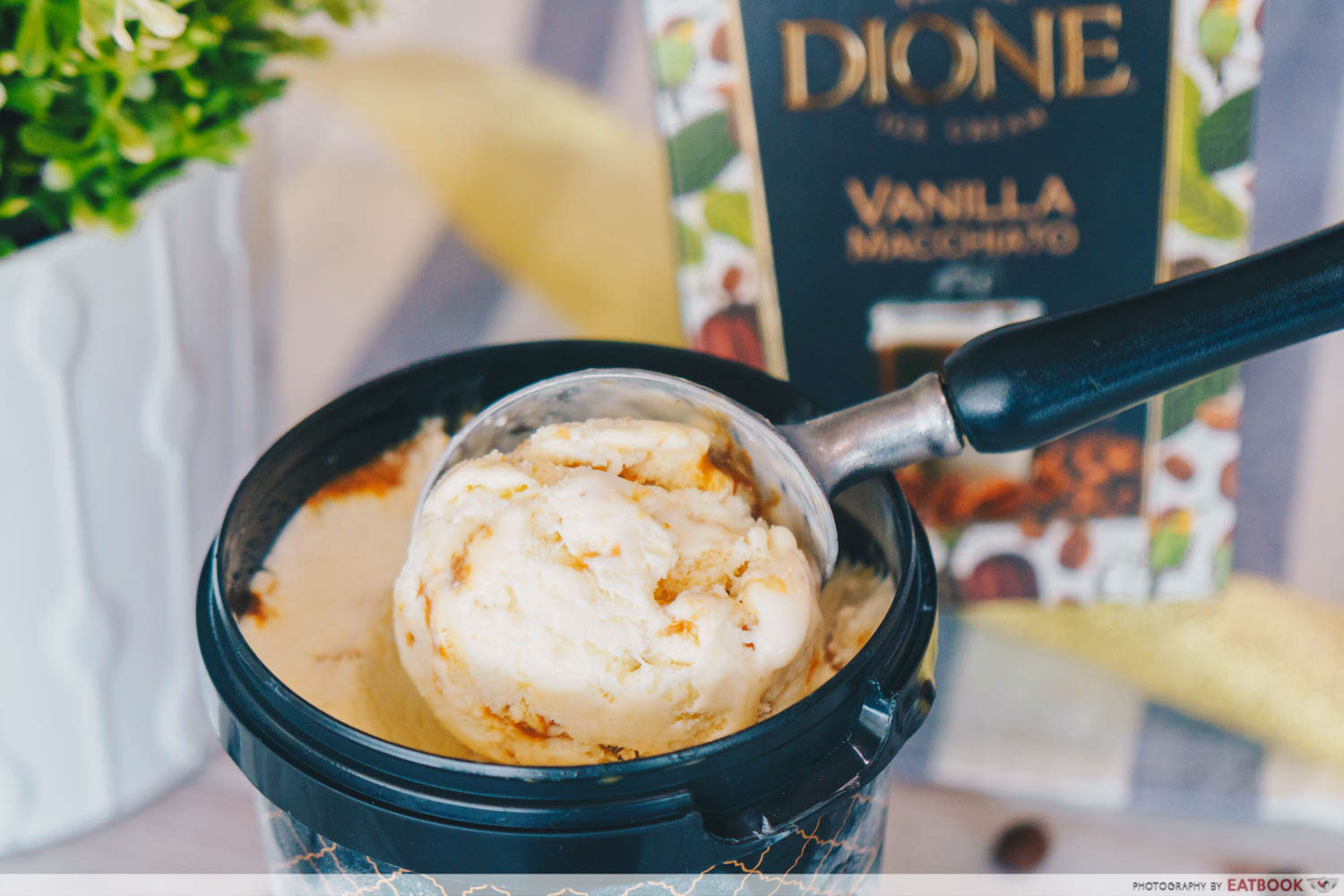 If you're a coffee fan, then the Indian coffee ripples in their Vanilla Macchiato would def' be pleasing. My inner basic white girl was squealing in delight, as the ice-cream was reminiscent of my all-time fav' Starbucks drink. The bitter caffeine kick is toned down by the sweet and creamy vanilla base, making you feel like you're drinking an actual cup of coffee.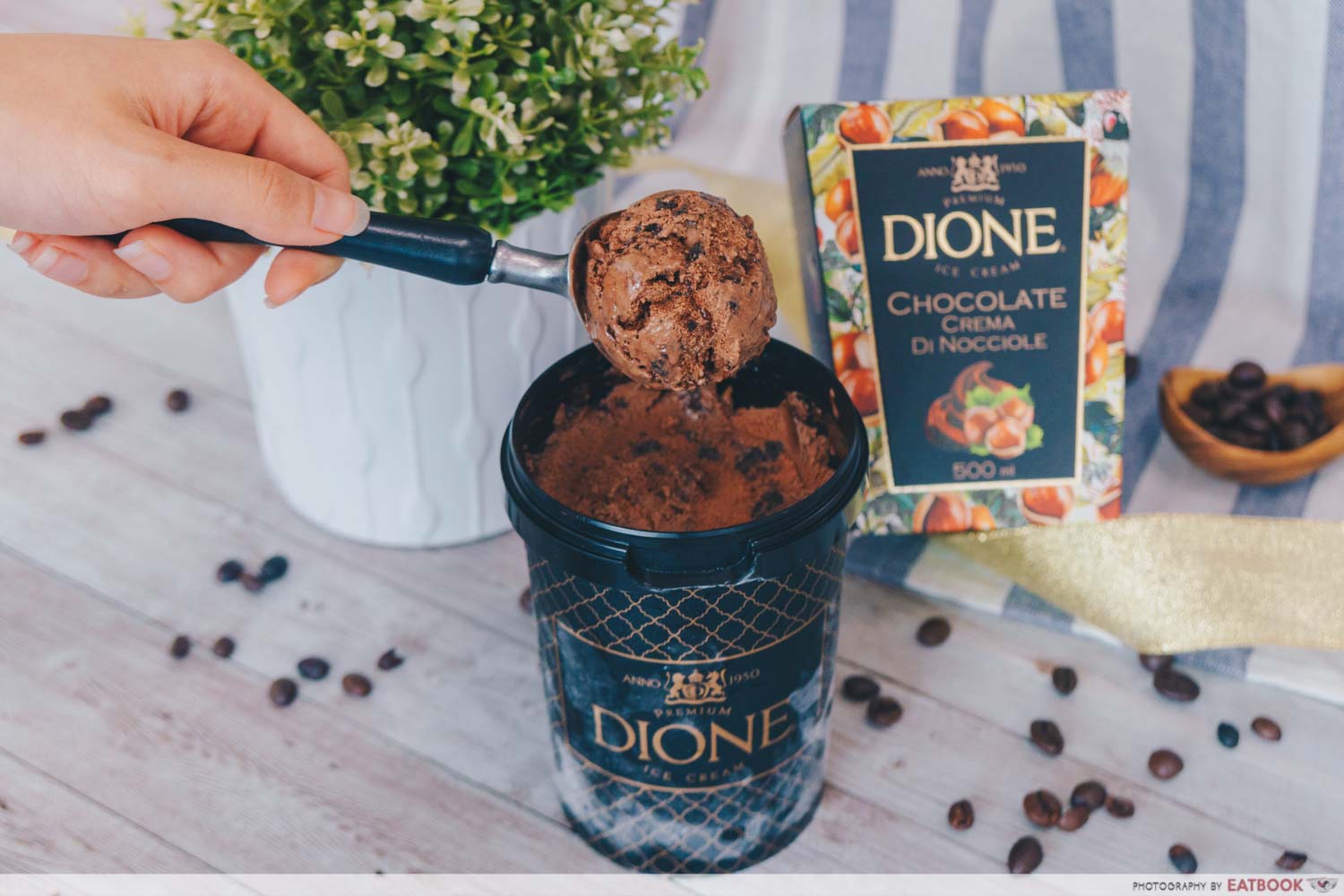 Made from pure Belgian chocolate, their Chocolate Crema di Nocciole will surely cure your cocoa cravings. The cacao nibs add a nice bitter crunch to the luscious ice-cream. Its rich chocolatey-ness is made even more decadent as hazelnut cream swirls elevate the cocoa flavour.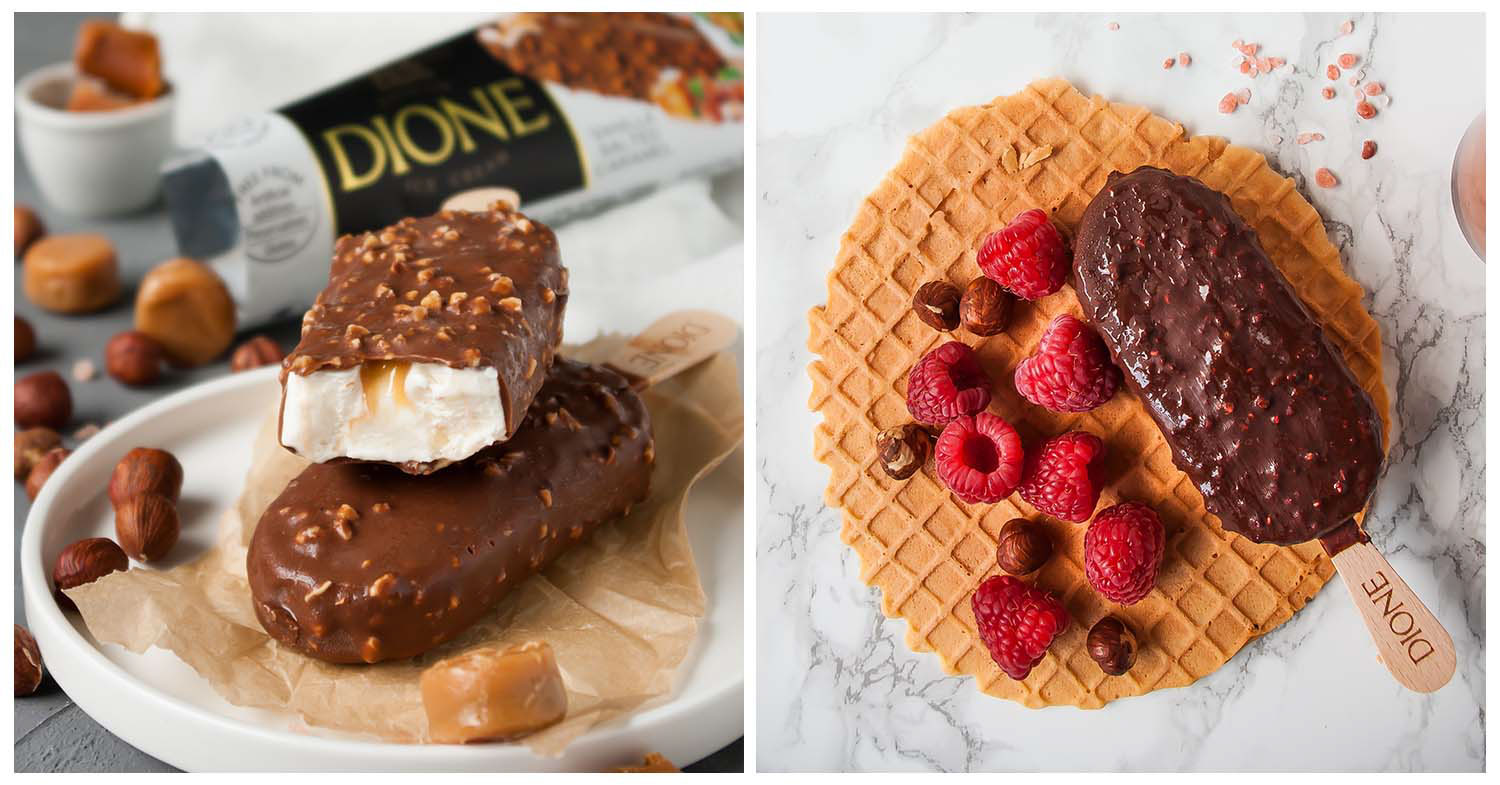 You can also enjoy these cold treats on the go, with their Magnum-esque ice-cream bars, which feature a crunchy chocolate casing.
Dione ice-cream is available at FairPrice, Sheng Siong, and Cheers outlets. If you're feeling a lil' lazy, there's the option to order via RedMart too. 
Those who love a good bang for your buck will be glad to know they're having a promotion in stores from now until 30 September 2019, where each pint only sets you back $12.55! 
Keep tabs on their Facebook and Instagram for future offers. You never know if luck is on your side with their awesome giveaways.
For more sweet treats, check out these new ice-cream cafes in Singapore or whip up your own BBT at home with these bubble tea recipes!
Photos taken by Ian Teoh.
This post is brought to you by Dione.