Get bara chirashi don at $10 at District Sushi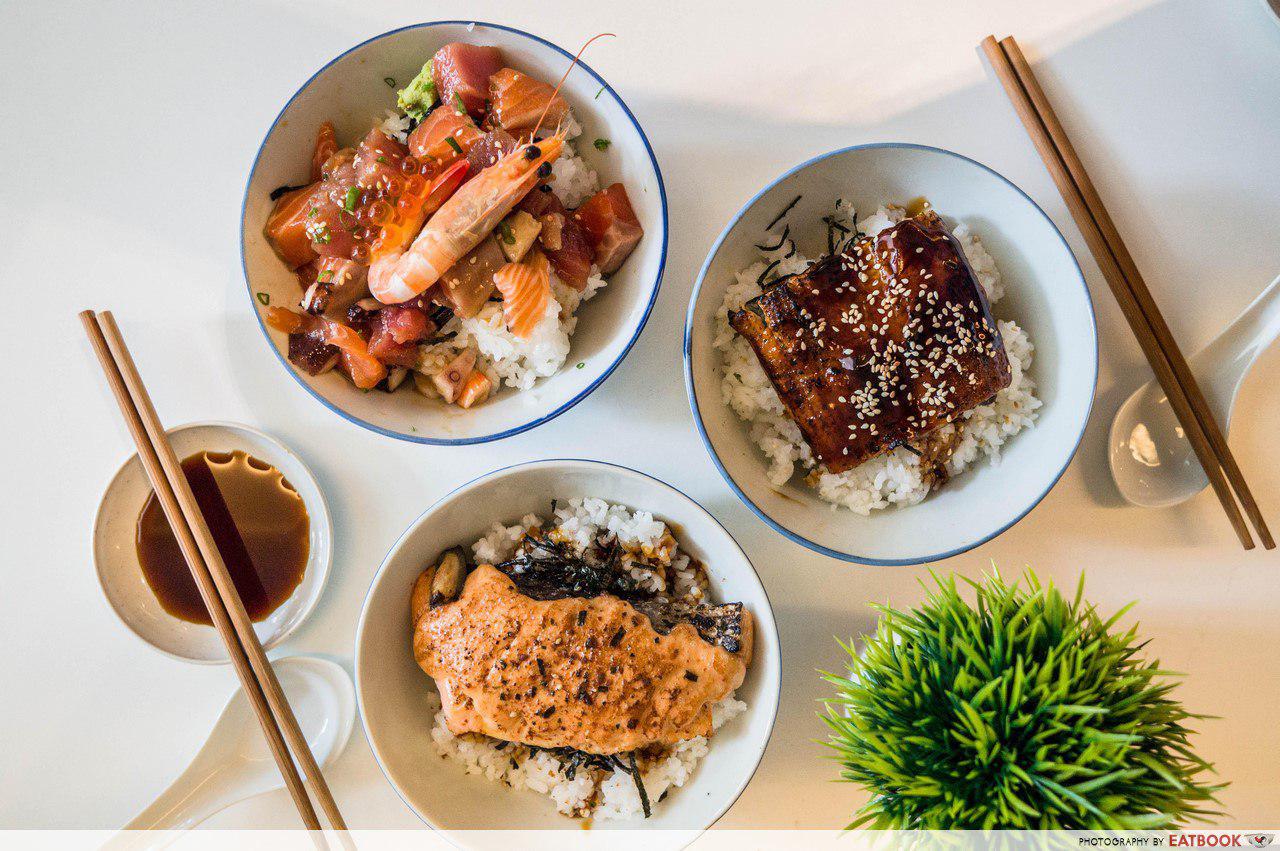 I know Sunshine Plaza as the printing place design majors go to for their assignment posters and zines and lament about their money. I was bone-tired from just travelling there once, towards the end of my final semester, but I dragged myself through the tedium of comparing shop prices and quality. For such a quiet neighbourhood, I passed a good number of eateries I felt eager to explore but the hot afternoon walk from the train station left me absolutely drained. The recently opened Downtown Line though has made all the difference this time around.
District Sushi is one of the new additions to the neighbourhood that comes with a perpetual line outside. The joint is helmed by a chef who worked in a restaurant with years of local and international working experience under his belt. It's his first venture into a business and it was clear that they prize quality before anything. The place has barely started for a month but worker bees in the area already began lining up before they opened their doors at noon.
Food at District Sushi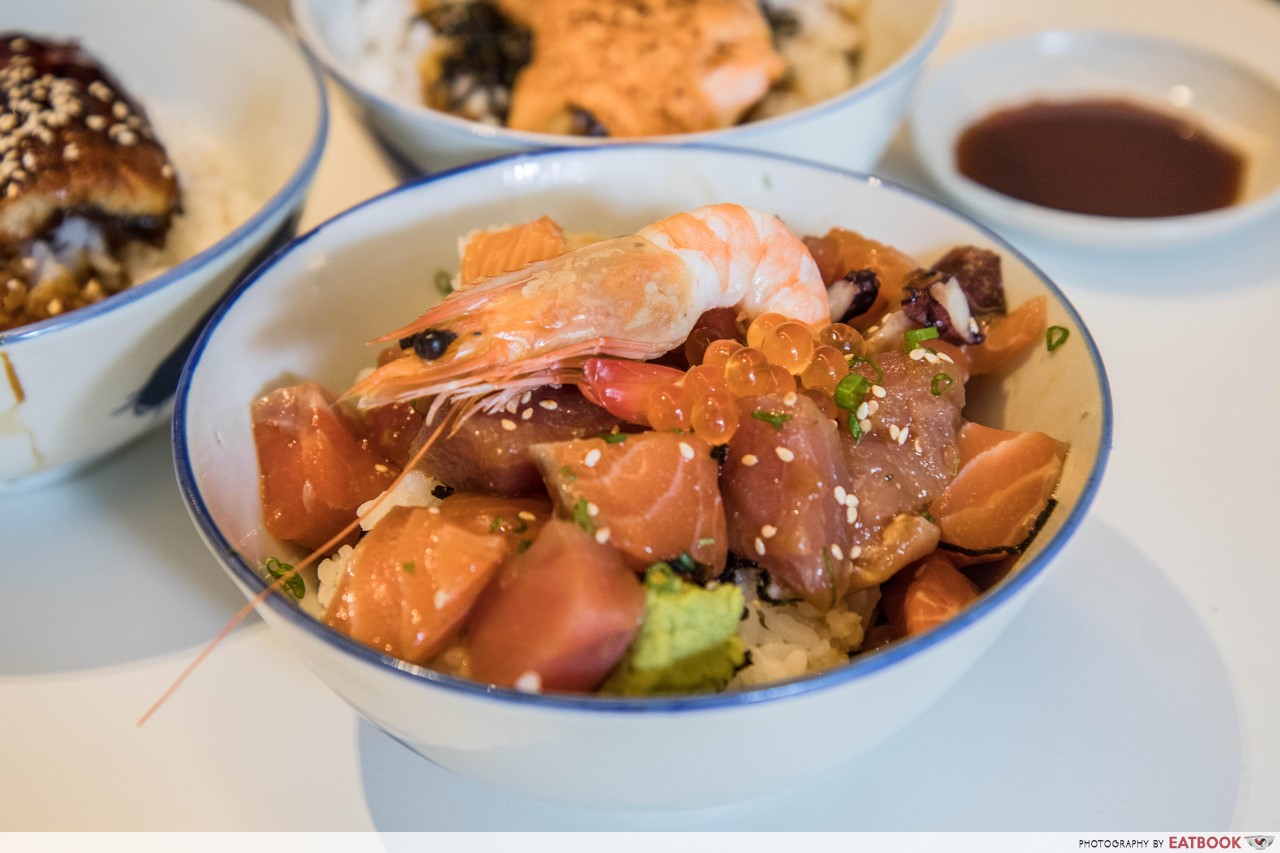 A typical bara chirashi don in most eateries easily burns close to 20 bucks so their Bara Chirashi Don, which goes at $10, was understandably one of the crowd-favourites. A porcelain bowl of rice and seaweed shreds came topped with raw salmon and tuna cubes, diced octopus and prawn, plus ikura. Spring onions and white sesame seeds garnished it with a dollop of wasabi on the side, and a poached prawn decorated it like a star on a Christmas tree. It was lunch that looked modestly priced for the amount of sashimi and the careful plating that went into it.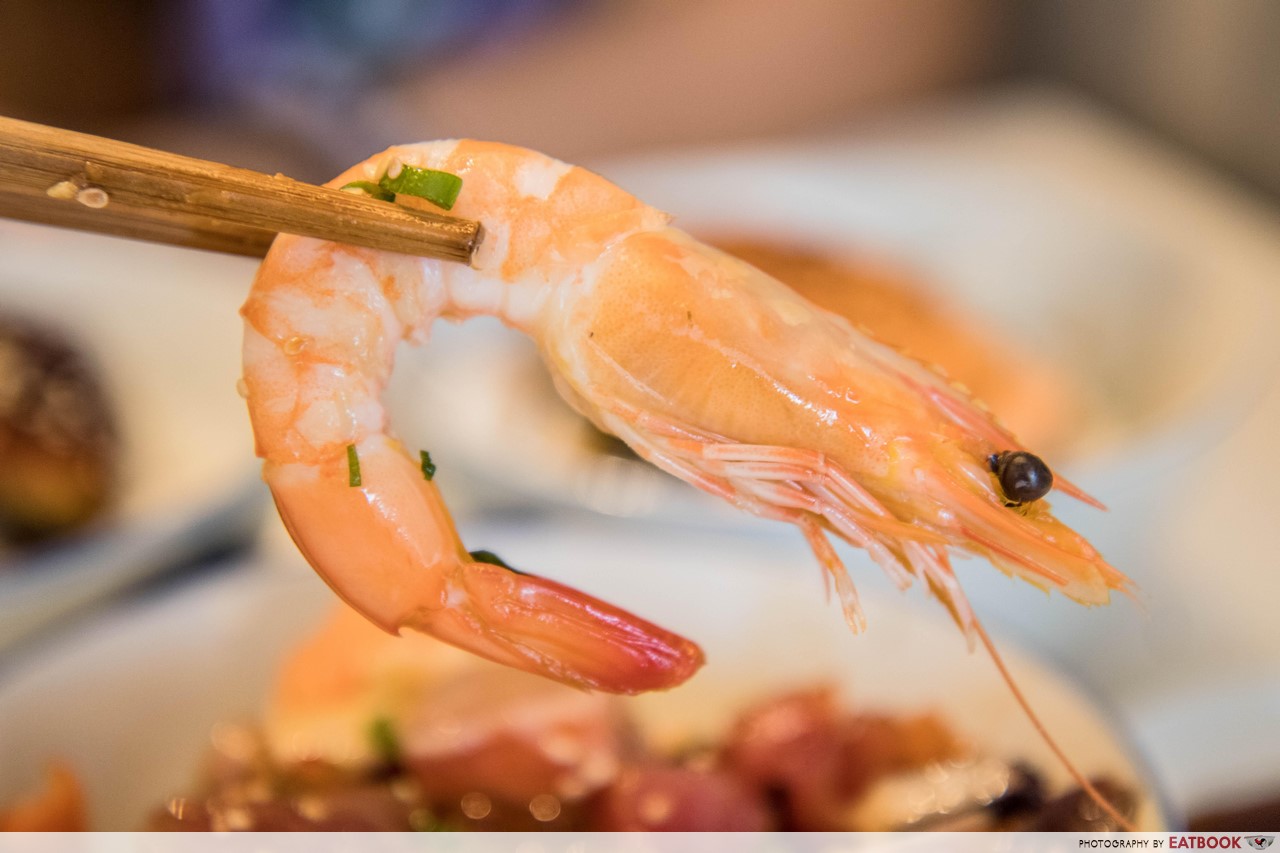 The medium-sized prawn was deshelled, leaving just its head and tail, so its meat was easy to devour. It wasn't distinctly sweet or meaty but good enough to not complain.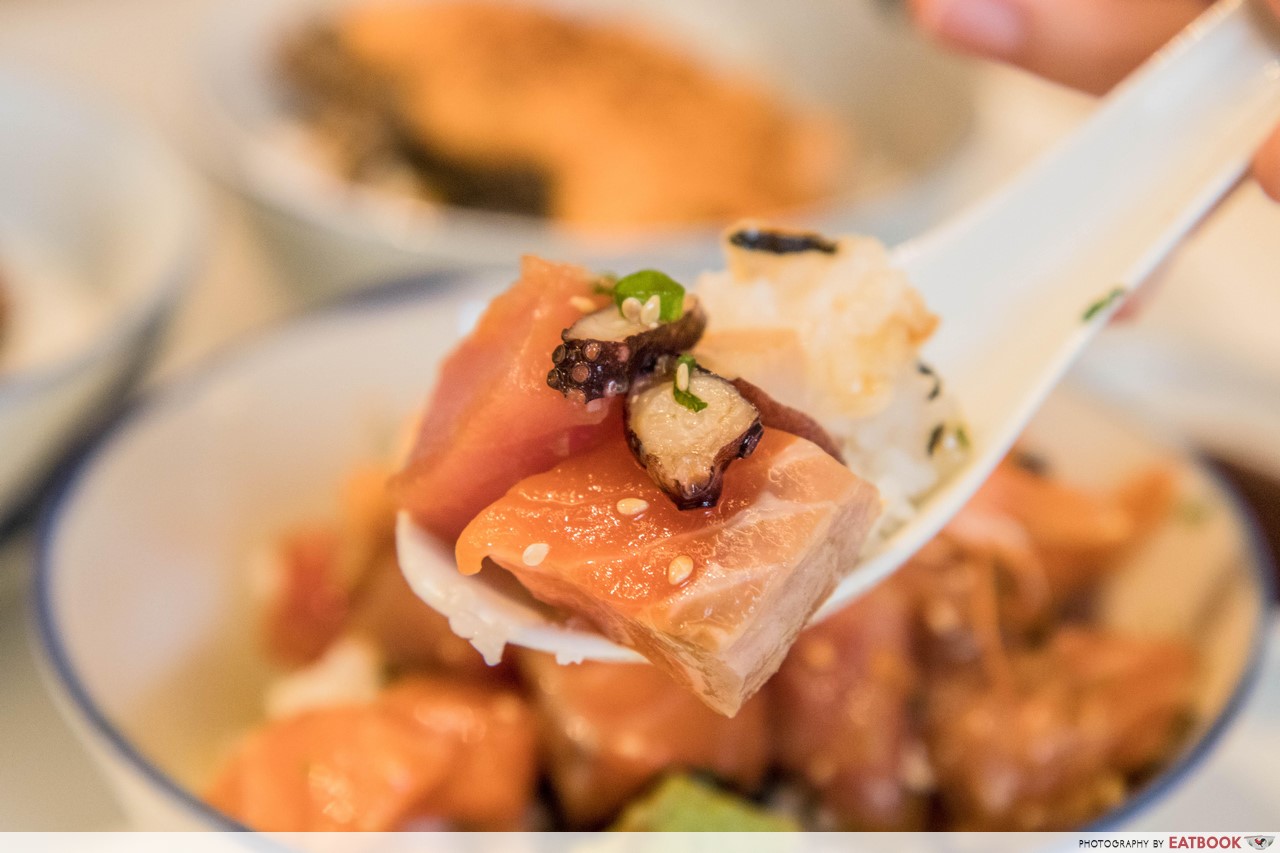 The raw fish cubes were soft and fresh without fishiness and the small pieces of octopus lent some chewiness to the dish. The natural flavours of the ingredients didn't shine, so a stronger marinade would've been an enhancement and helped with the bland rice. Ikura has a welcomed brininess but here, it was very slight. Nevertheless, with some wasabi and a dab of soy sauce, the thickly diced chunks still made very satisfying morsels.
My only gripe was that the Japanese rice was unevenly cooked, especially because it was a recurring problem for the rest of our dishes. Some grains were hard and undercooked while the centre of the bowl was clumpy and mushy. It seems like the restaurant still needs more time to stabilise and cater to the crowd.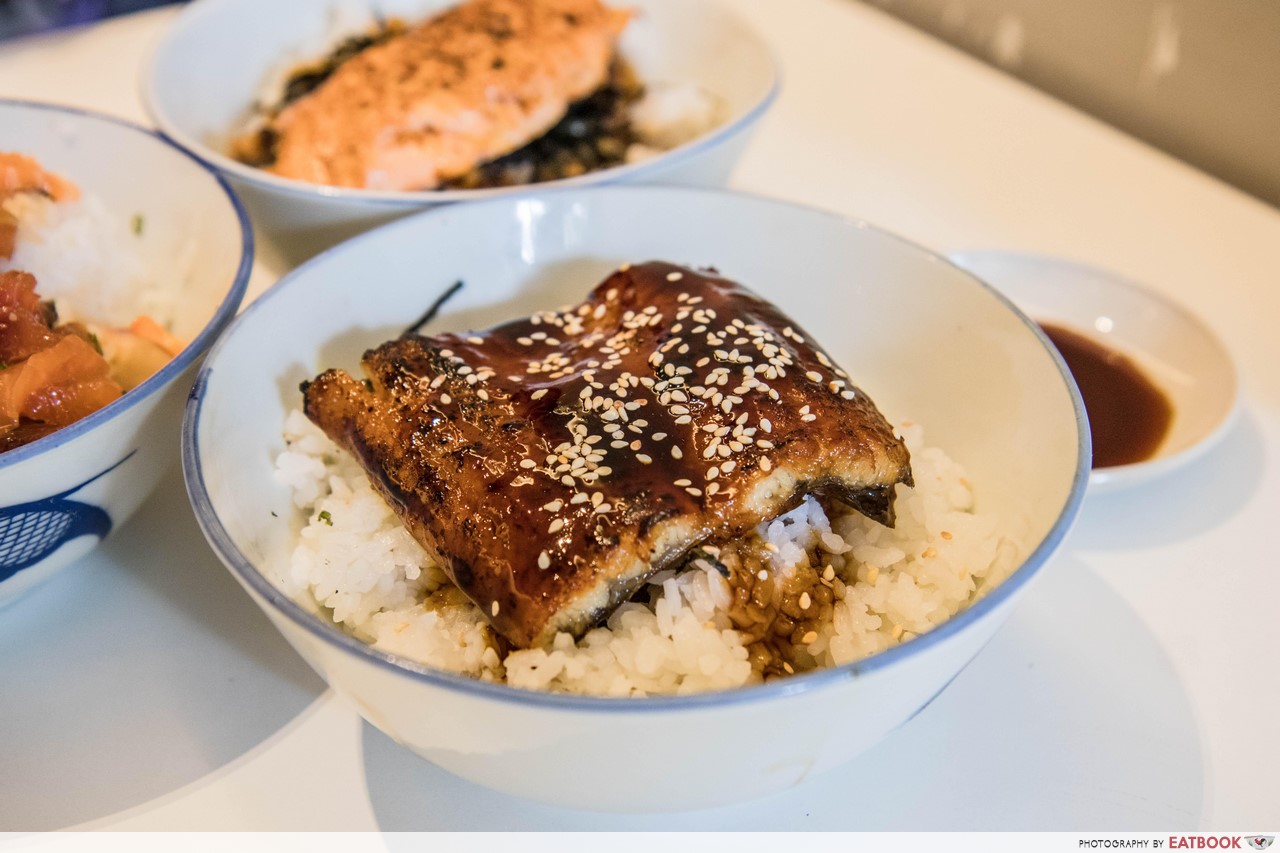 As much as I rather have savoury mains, grilled eel has always been one of my default orders when it comes to Japanese food. Unagi Kabayaki ($12) glistened with a thick glaze of sauce and was freckled with white sesame seeds. Underneath was a sprinkling of seaweed and a splash of sweet sauce over a bed of white grains.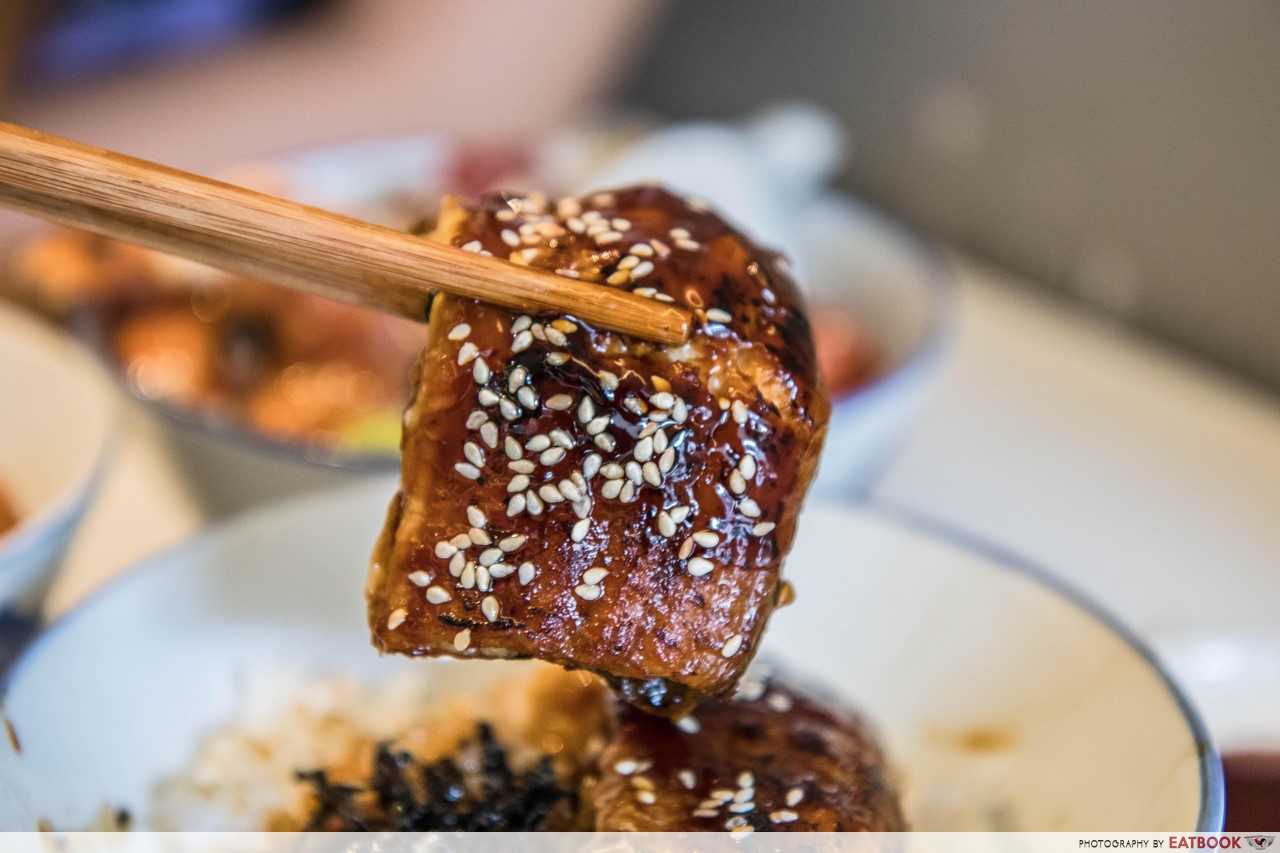 The unagi slab was sizeable enough to satisfy a heavy craving with enough savouriness to flavour most of the bowl. Its flesh, soft without detectable bones, was decent and not too thin. What would make me crave this enough to travel just for it is if its top side also carried slight crisp and some char.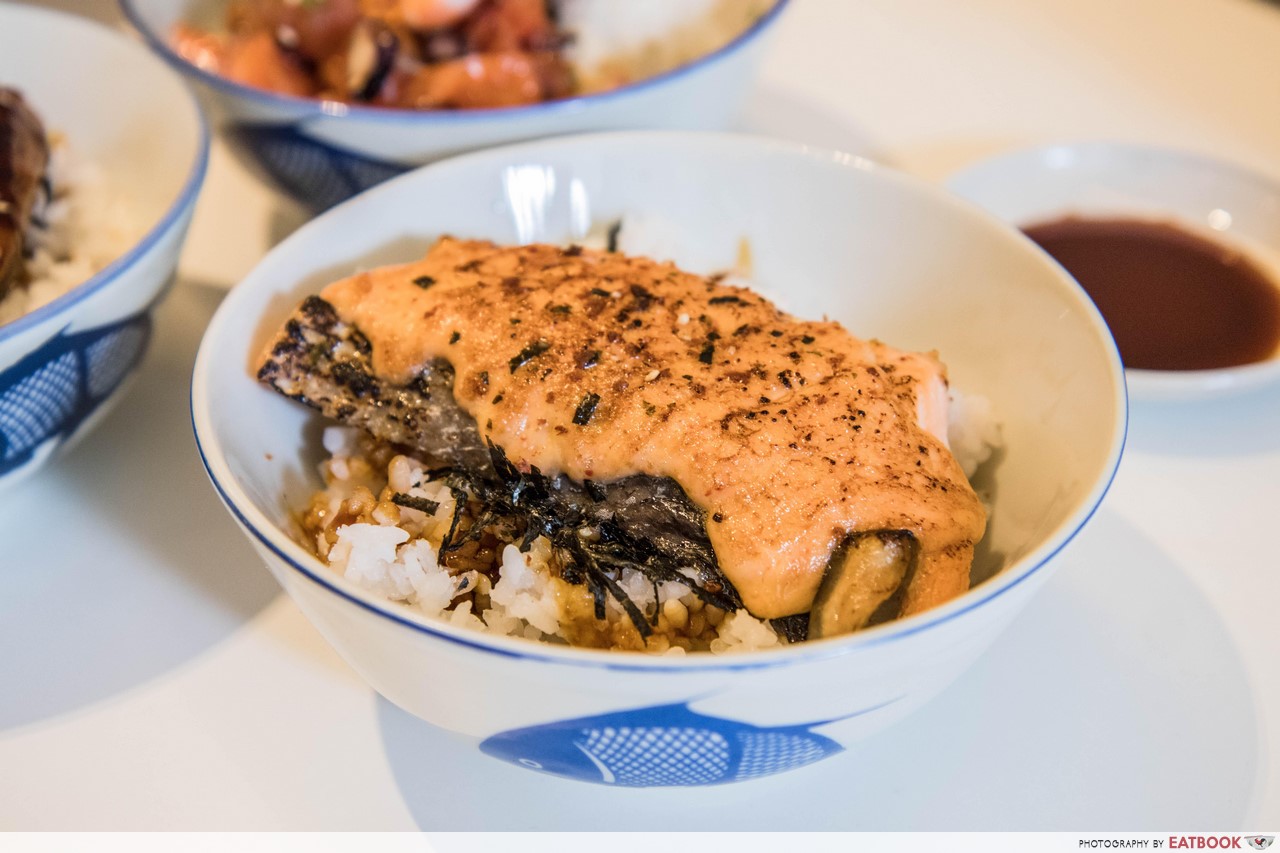 Salmon sashimi and unagi might make up my usual cravings for Japanese food but Salmon Mentaiyaki ($10) is what I'd repeat at District Sushi. Like the Unagi Kabayaki, the rice had sauce and seaweed with a salmon fillet resting upon it. A thick layer of torched mentaiko sauce covered its top, making it look just as deliciously pleasing as the rest.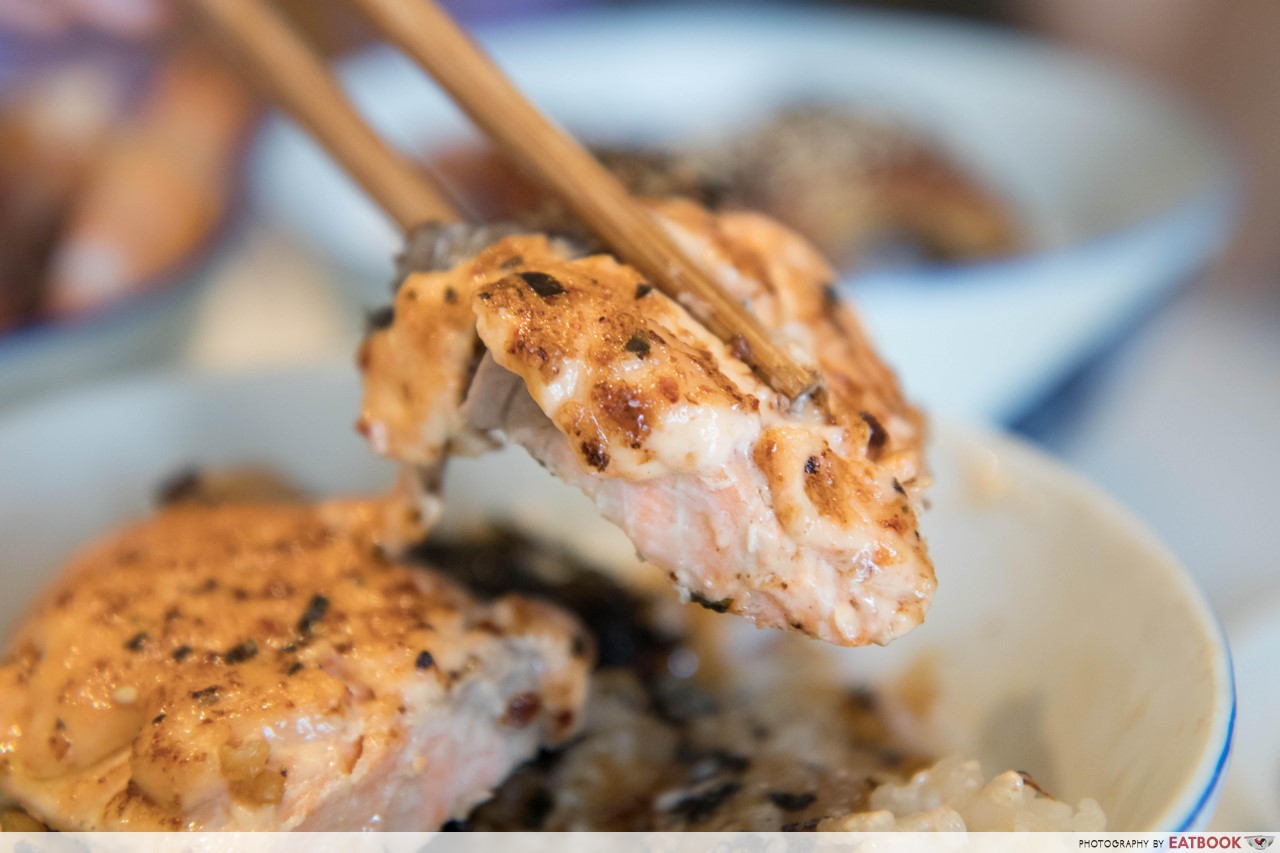 A bite into their salmon fillet smeared my lips with mentaiko sauce because they were so generous with it that it was like gooey thick cream mixing with the meat in my mouth. That was precisely what made it the least forgettable. The fish wasn't overcooked so it was soft and moist, rather than firm and meaty, which was just how I wanted it.
Ambience at District Sushi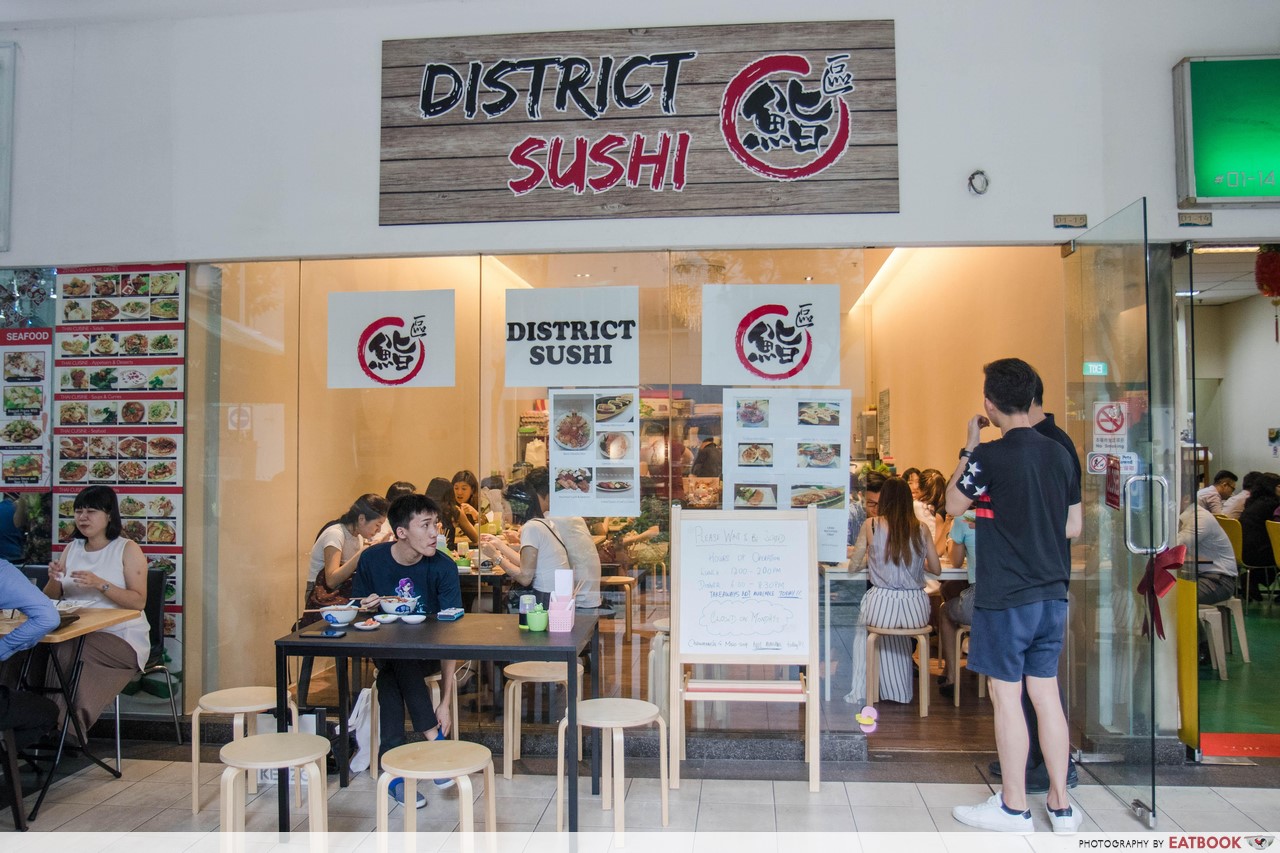 Besides Mondays when they're closed, expect to wait in a queue for a seat with your lunch crew even when not all their six communal tables are full. District Sushi staggers their customers to keep the restaurant from being too crowded, so they can function and serve efficiently, keeping their service fairly fast.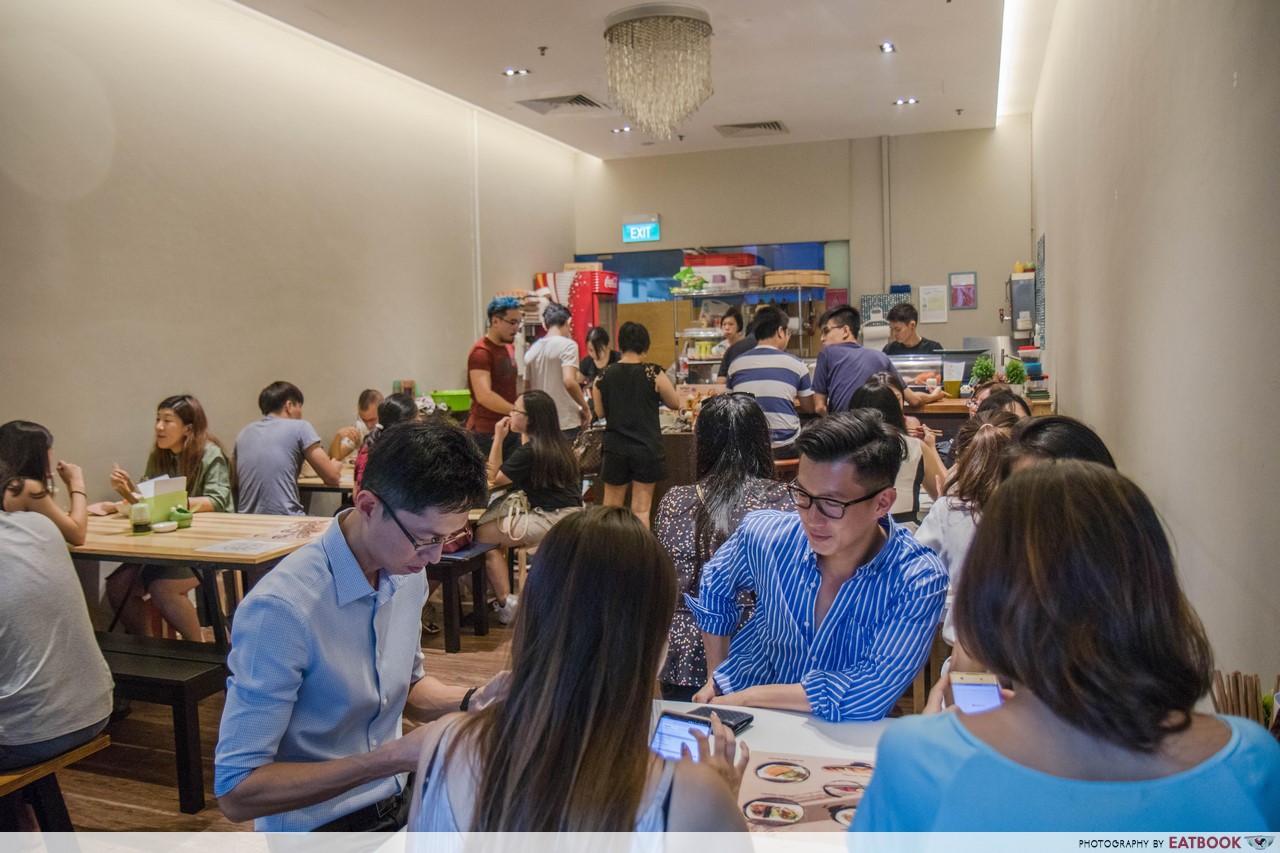 Like at many ramen joints, we received an order chit while waiting and after we got a seat, I took ours to the cashier for order and payment. On that note, bring cash because they're still working on fixing up a NETS system. Beside the cashier was a basic sashimi counter behind which, the chef was doling out a line of bara chirashi don. The walls inside were bare but table decorations helped warm the place and the food was the main draw anyway.
The verdict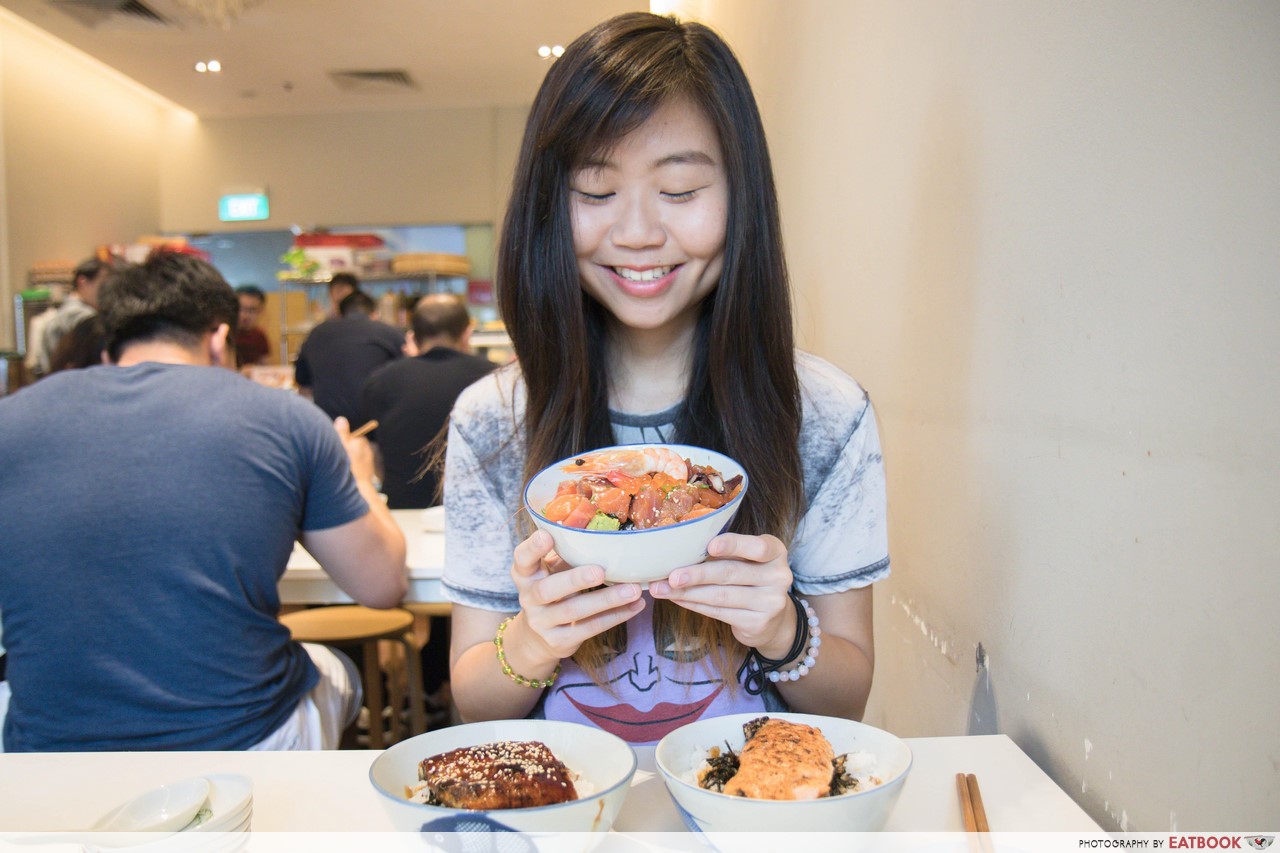 The classic Japanese dishes served here are about taking basic ingredients and applying skill to create something luxurious. Typical restaurant food is made affordable here because they're so passionate about quality. Their opening hours are short for that very reason as they try to take in new stock as close as possible to serving. It's a place to swing by, for sure, because there's also a range of sashimi, nigiri sushi, and more donburi to taste. For more food along the Downtown Line, check out these food places at Tampines West and Bedok North.
Address: 91 Bencoolen Street, #01-15, Sunshine Plaza, Singapore 189652
Opening hours: Tue-Sun 12pm to 2pm, 6pm to 8:30pm
Website
This is an independent review by Eatbook.sg
Summary
Pros
– Fresh quality ingredients
– Quick service
– No GST and service charge
– Relatively affordable
Cons
– Long queue time
– Rice was unevenly cooked
Recommended Dishes: Bara Chirashi Don ($10), Salmon Mentaiyaki ($10), Unagi Kayabyaki ($12)
Operating Hours:
Tue-Sun 12pm to 2pm, 6pm to 8:30pm
Address: 91 Bencoolen Street, #01-15, Sunshine Plaza, Singapore 189652