DLLM Lok Lok At Macpherson
Update: DLLM Lok Lok's Macpherson outlet will move to a new address by end March 2022: 47 Kallang Pudding Road, #01-08, The Crescent @ Kallang, Singapore 349318.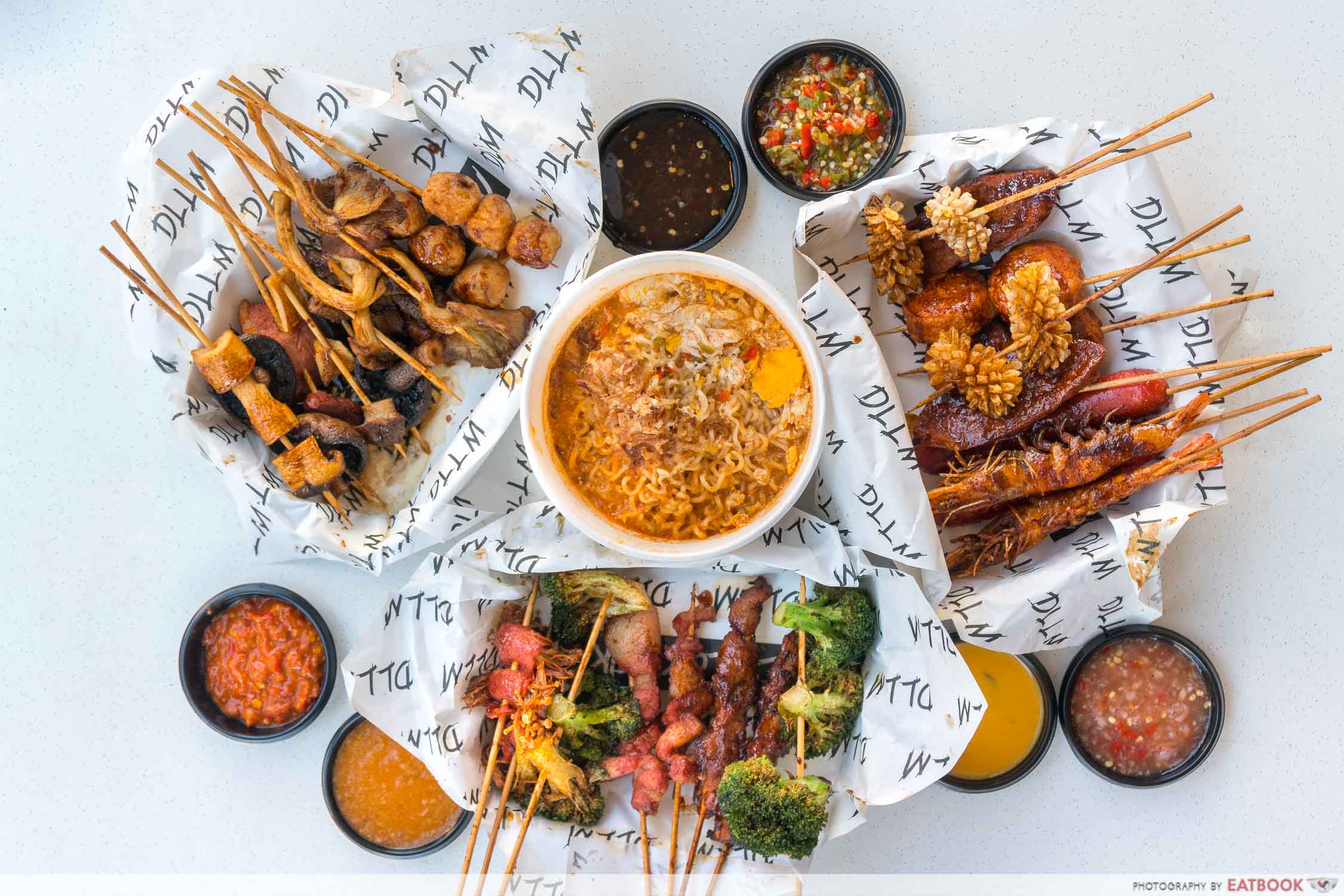 DLLM Lok Lok at Macpherson serves lok lok, a popular Malaysian street snack. This snack is essentially various skewered meats and vegetables, boiled in hot water or deep-fried in oil. Being one who constantly laments about how much I miss my JB day trips, I had to go down to DLLM Lok Lok to relive some of those memories.
12 Lok Lok Places In Singapore To Feel Like You're In JB, Including Free-Flow And Mala Skewers
Food at DLLM Lok Lok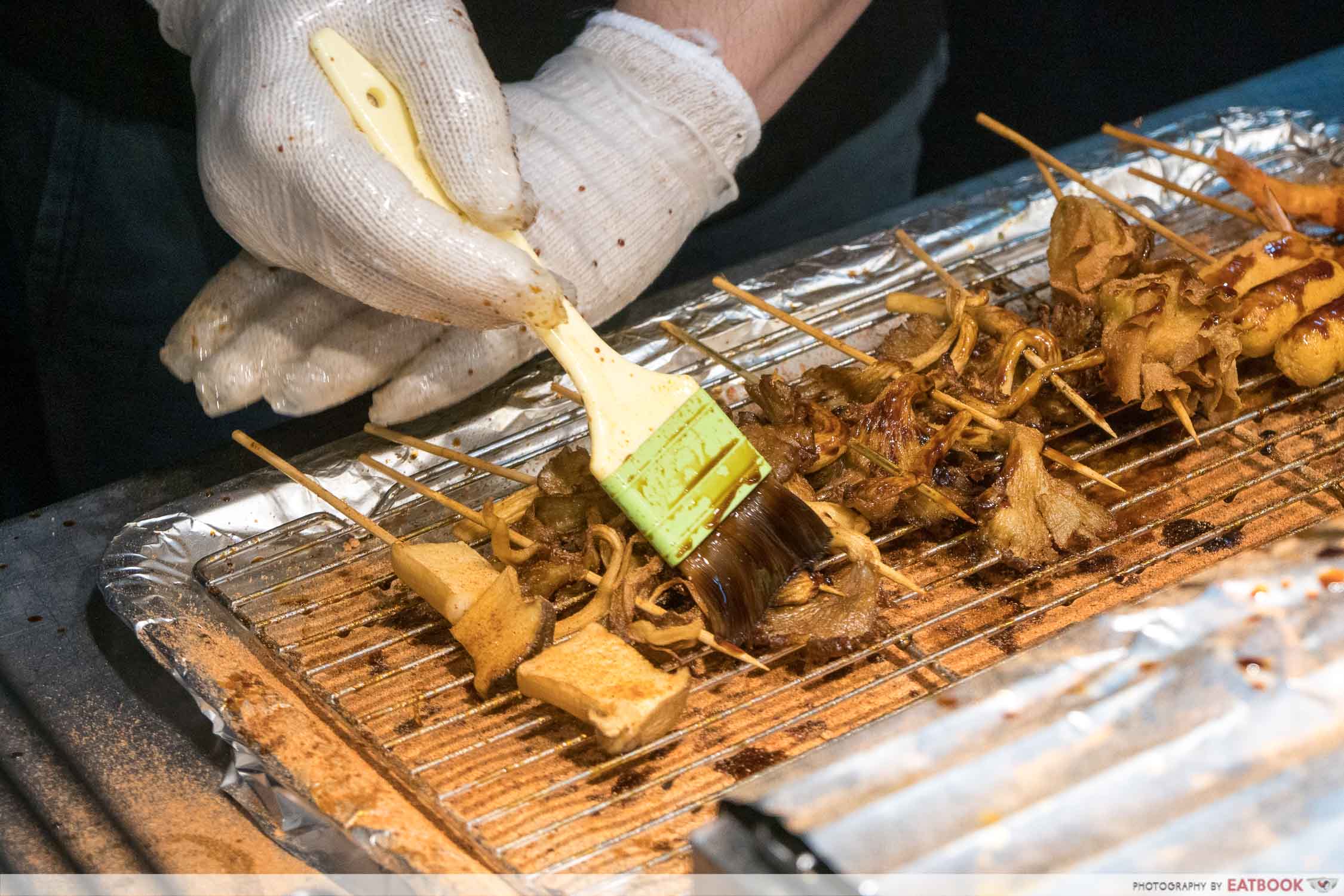 Every skewer at DLLM Lok Lok is deep-fried by default and covered in a savoury and sweet sauce. Each lok lok is priced at $1 regardless of the ingredient.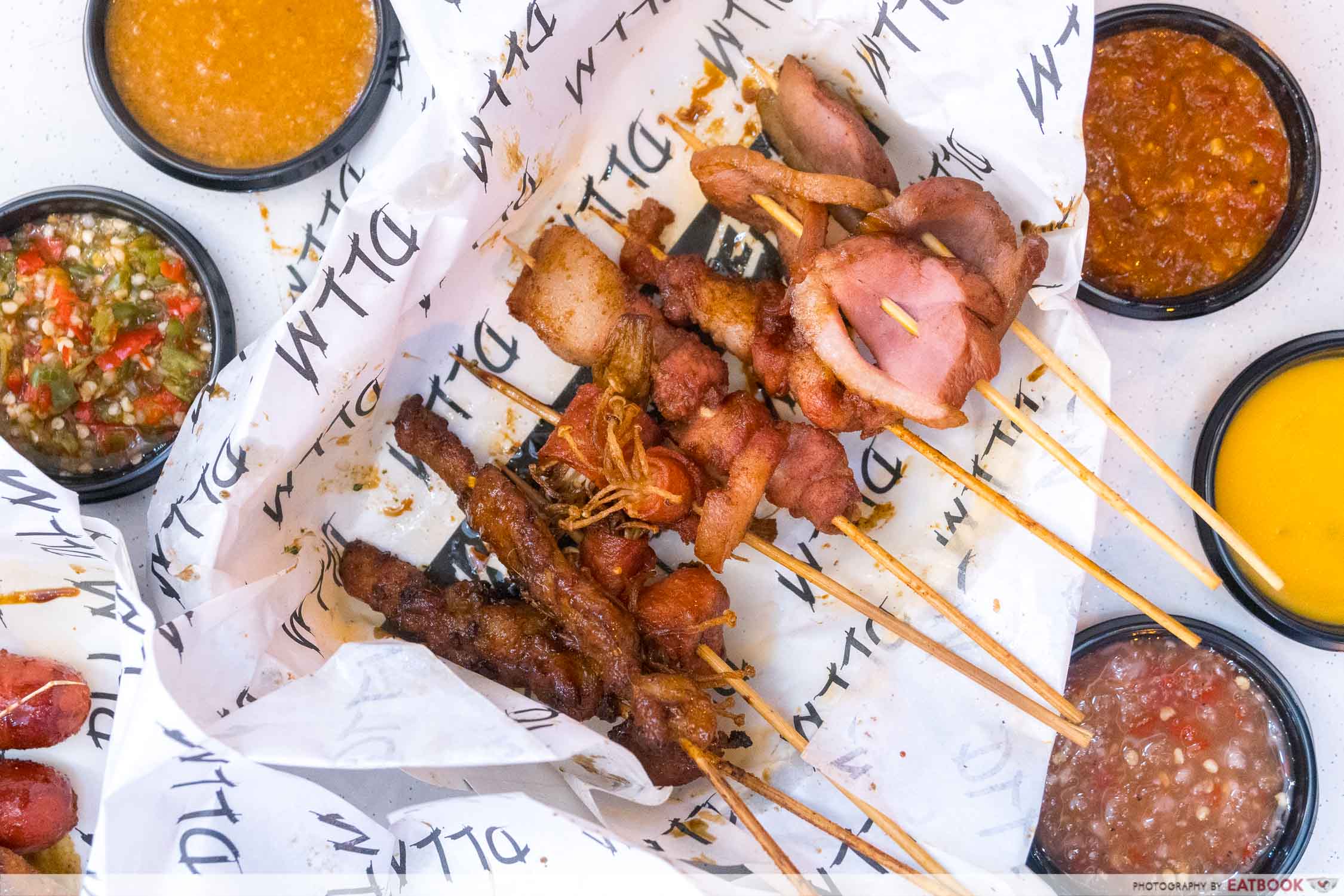 For those who haven't had lok lok before, do note that this is a messy affair. The skewer sticks themselves are covered in the sticky sauce, but lok lok is, after all a street food, and when in Rome, do as the Romans do.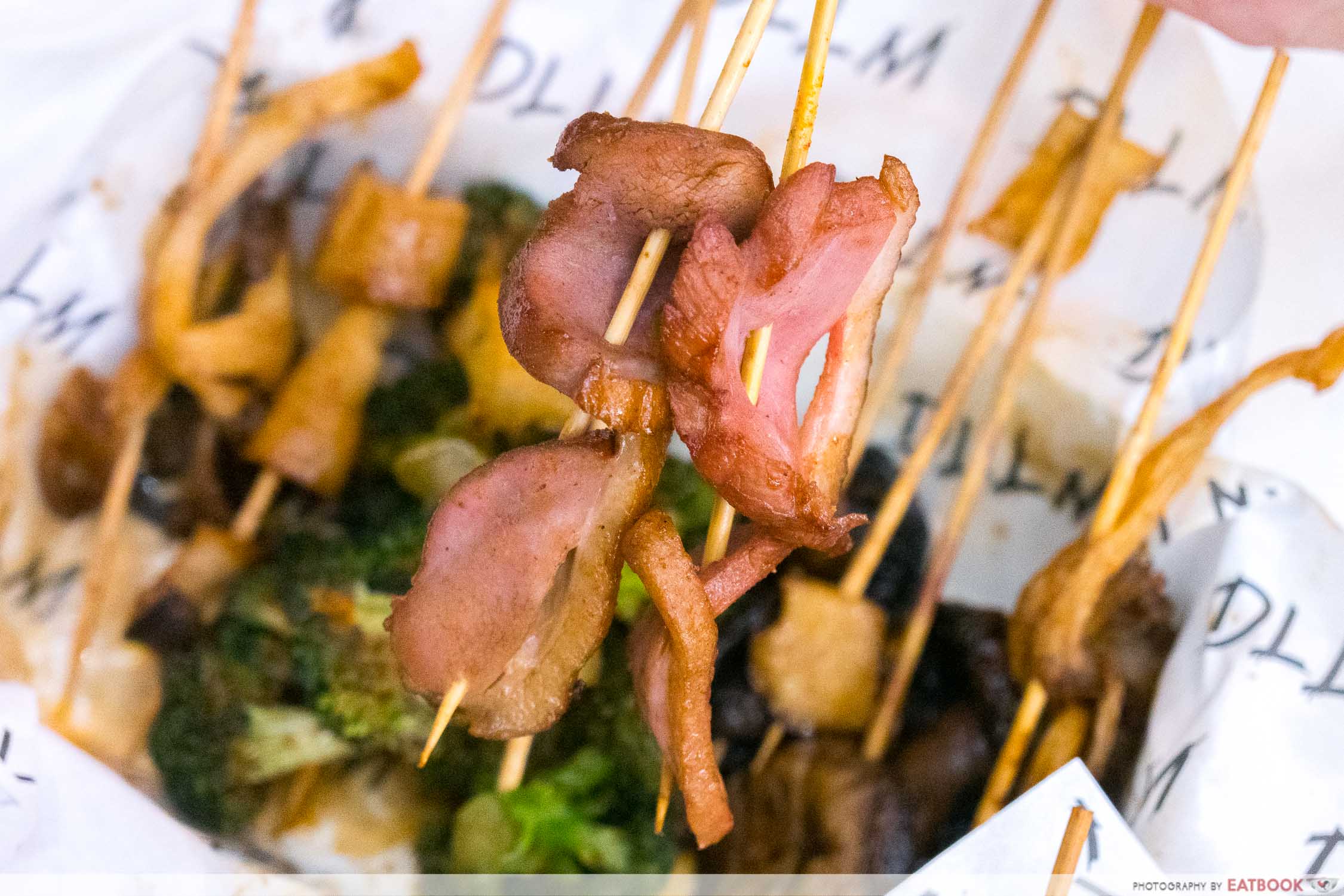 The Smoked Duck we ordered wasn't as conventionally salty, I was delighted to find them tender and juicy. These paired well with the sweet and salty sauce.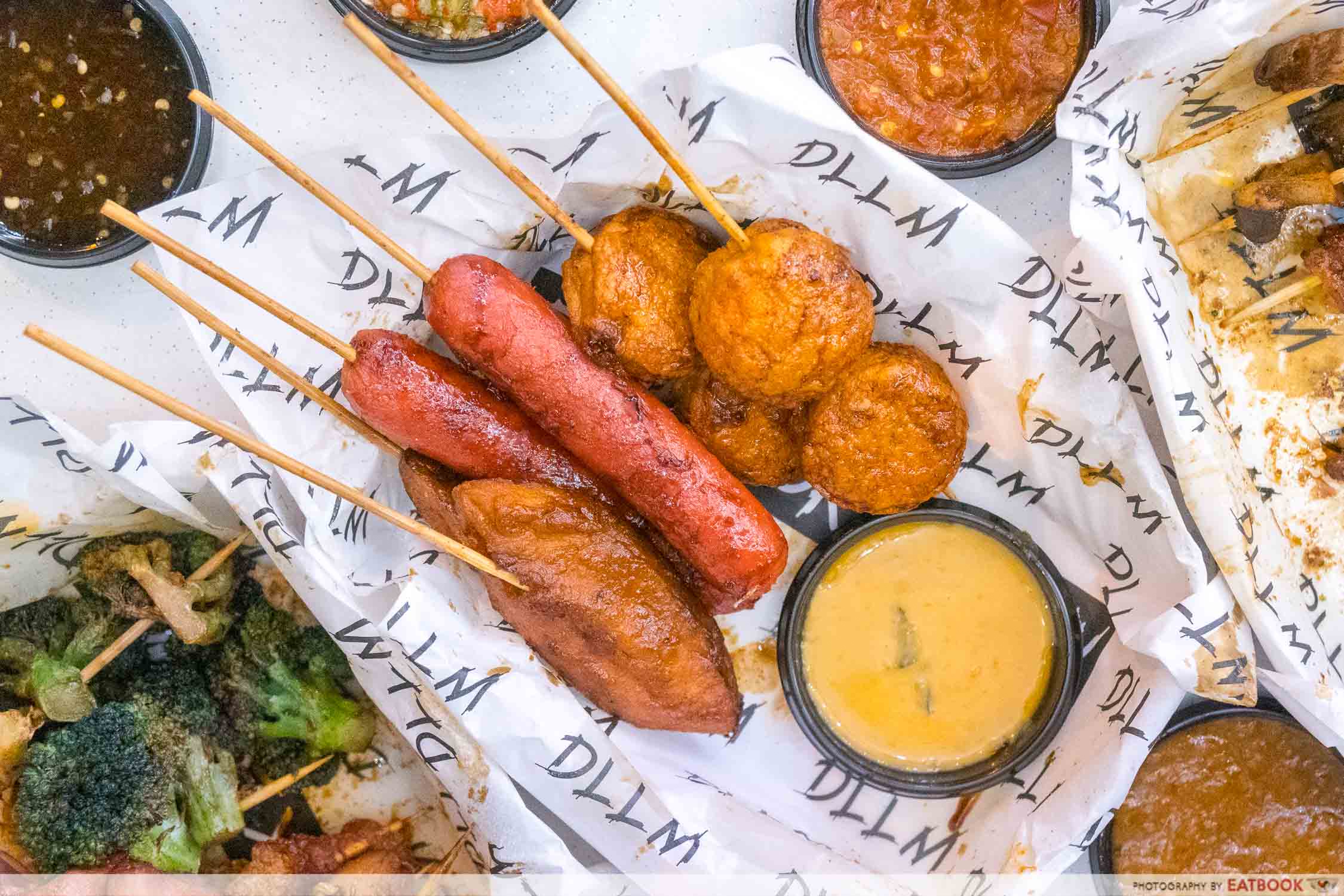 You can't truly enjoy street food without some processed food. We ordered a selection of sinful goodies such as Taiwan Sausage, Otah, and Fish Cake.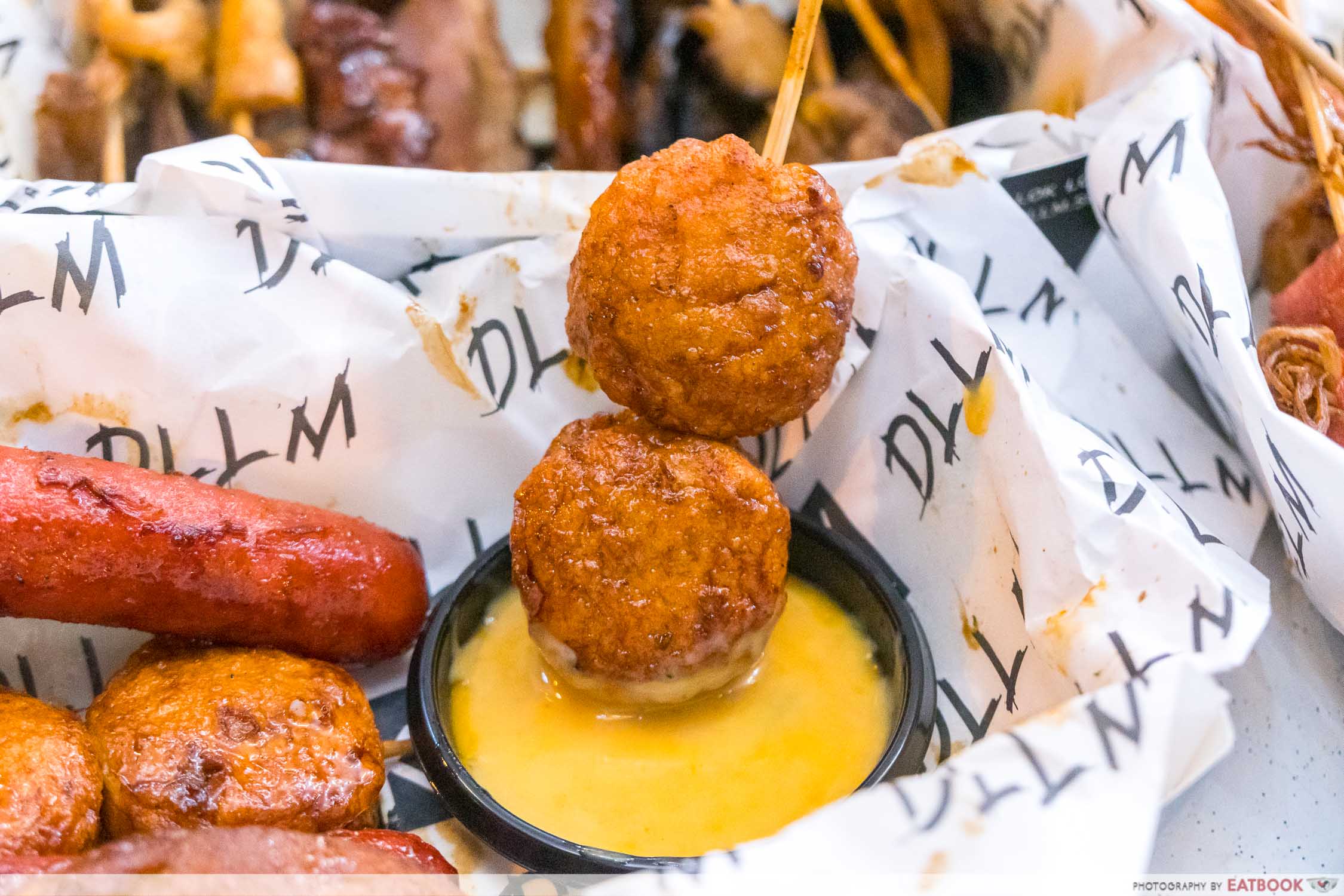 It's quite hard to go wrong with deep-fried Fish Cake, but I decided to make it more interesting by pairing it with what I dubbed as the king of the six sauces available at DLLM Lok Lok—the Salted Egg Sauce. It was creamy and thick with its salty-sweet flavours that were so addictive. It was no wonder why it wasn't free flow, unlike the other sauces.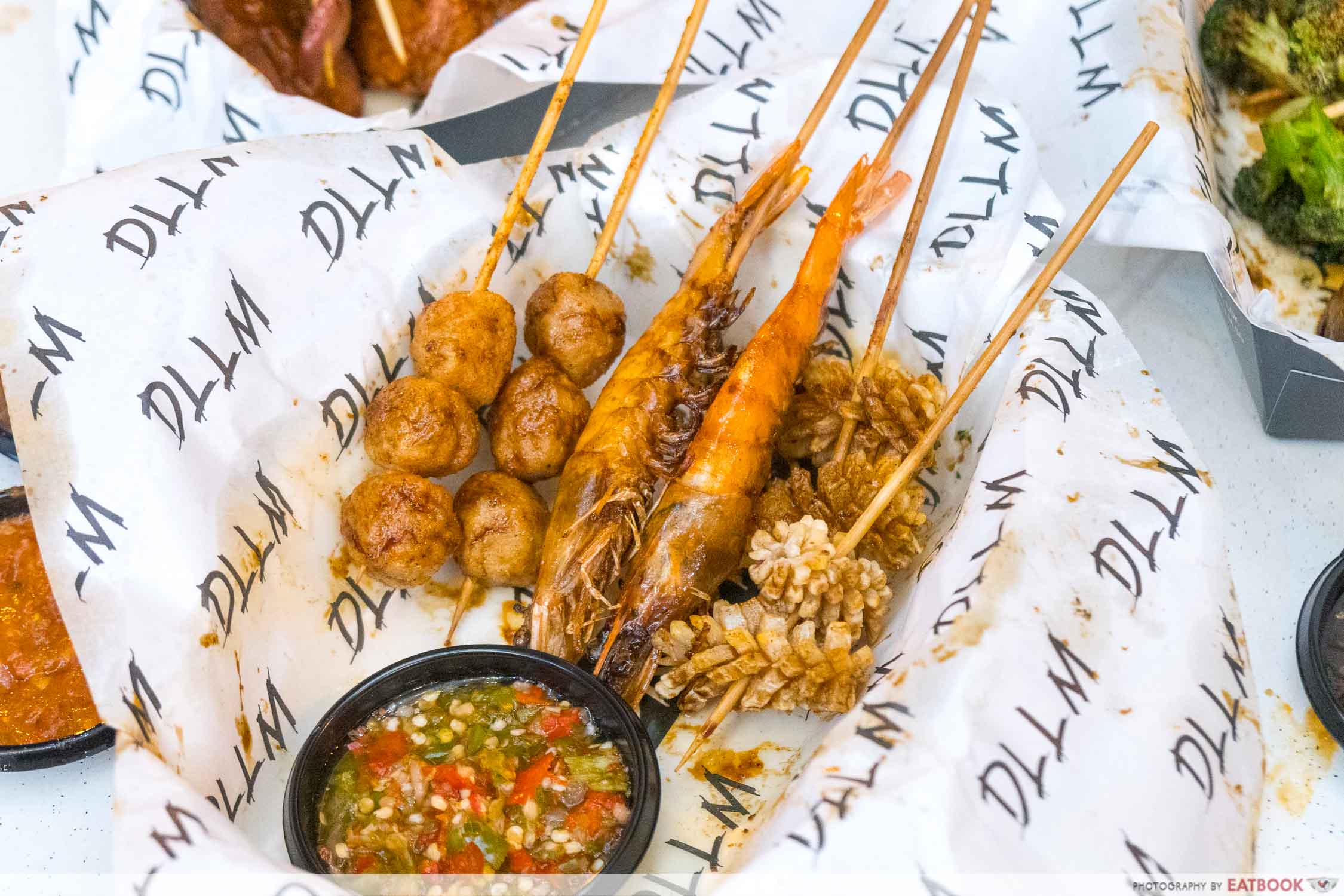 My favourite category was hands down the Seafood. I found that the briny flavours of this category went well with their range of sour and spicy sauces. Any last bit of fishy taste was ridden after the frying and marination.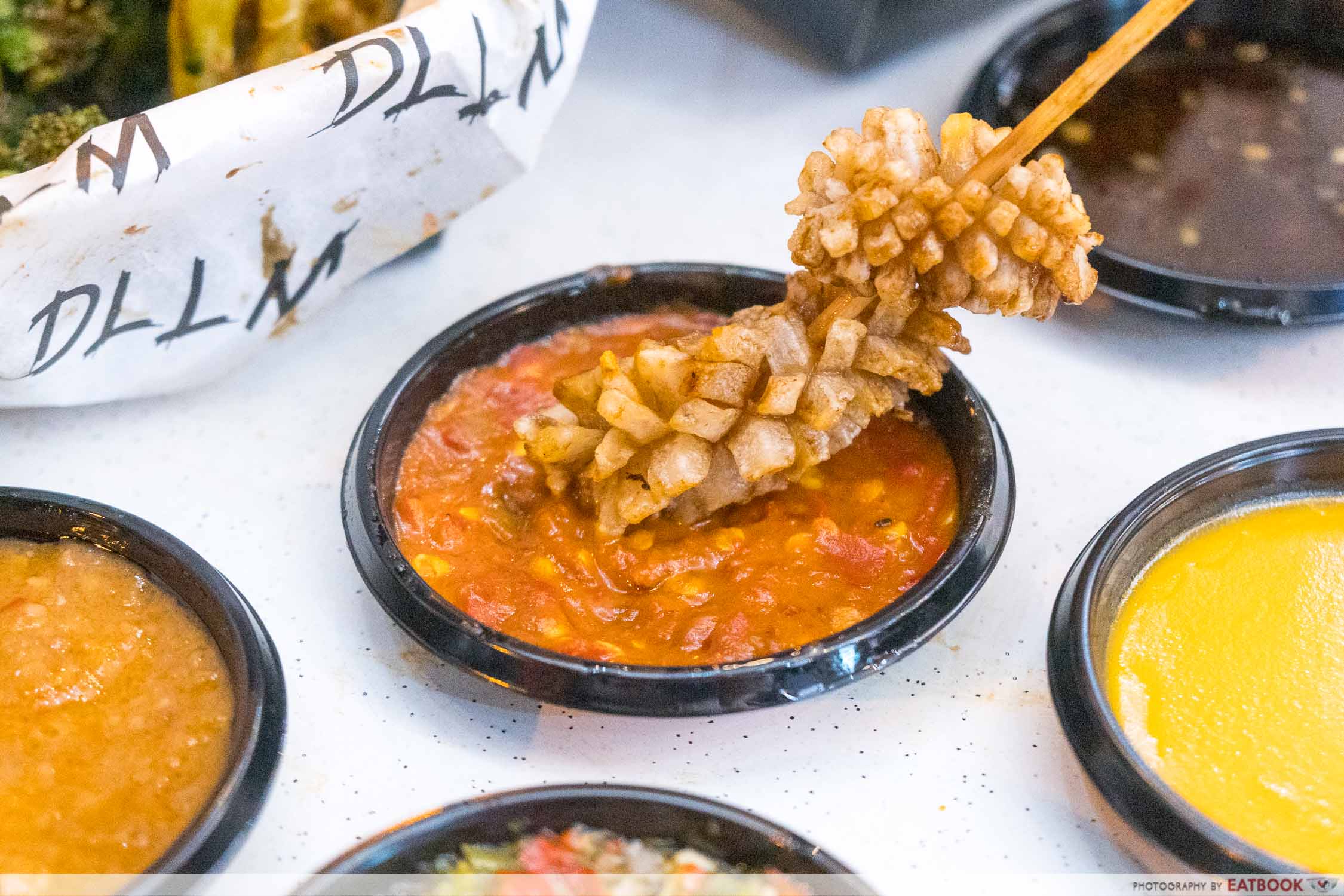 The deep-fried Squid had a slight crisp on its exterior while still maintaining a good chew inside. It went particularly well with their spicy and tangy Chilli Padi And Lime sauce.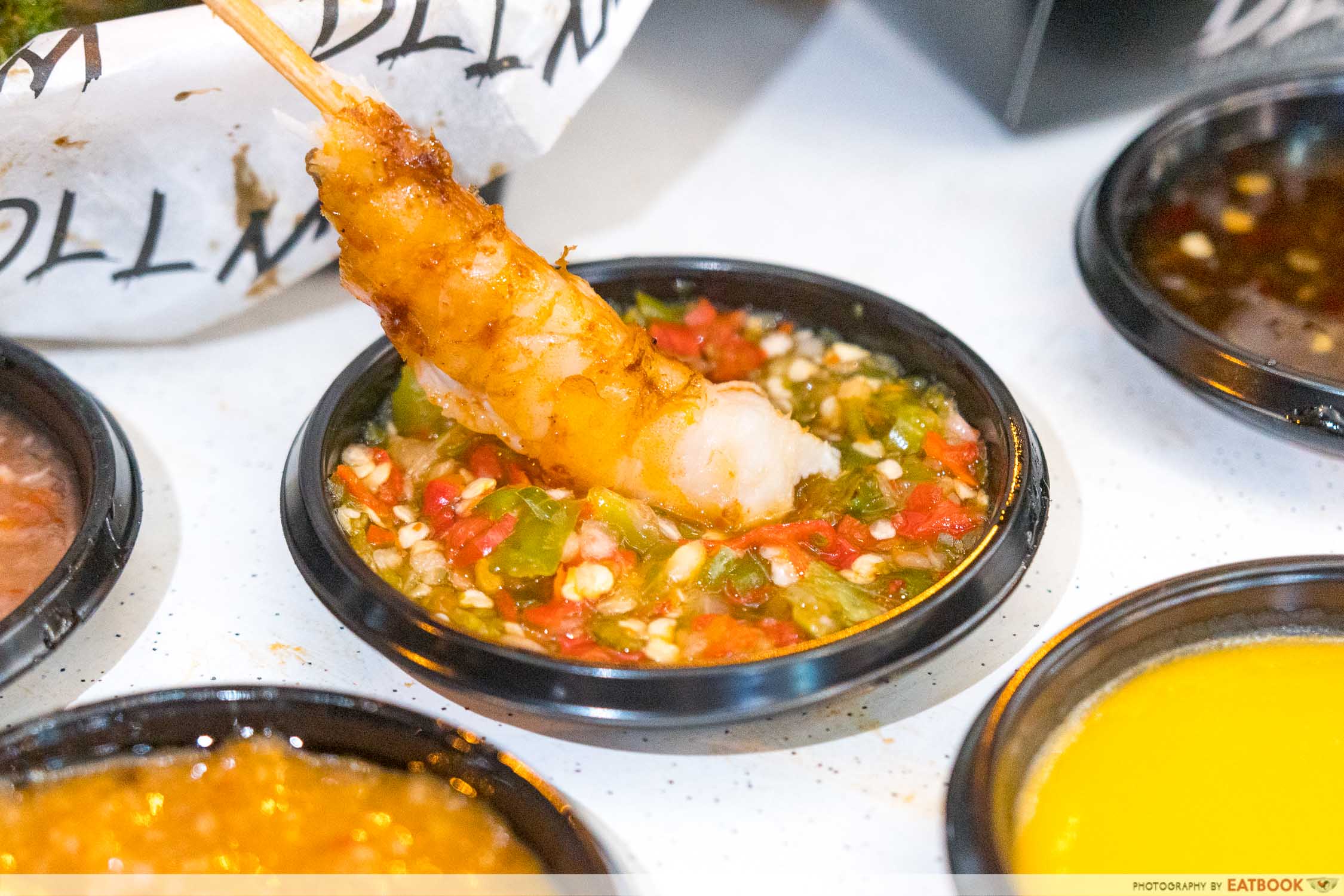 While these were neither the juiciest nor crunchiest Prawns I've tried, I still enjoyed the light flavours beneath the shell, as they reflected the zesty and savoury Thai Nam Jin sauce deliciously. The Thai Nam Jin here included fish sauce, lime juice, and cut chilli, giving a burst of salty, sour and spicy flavours all at once.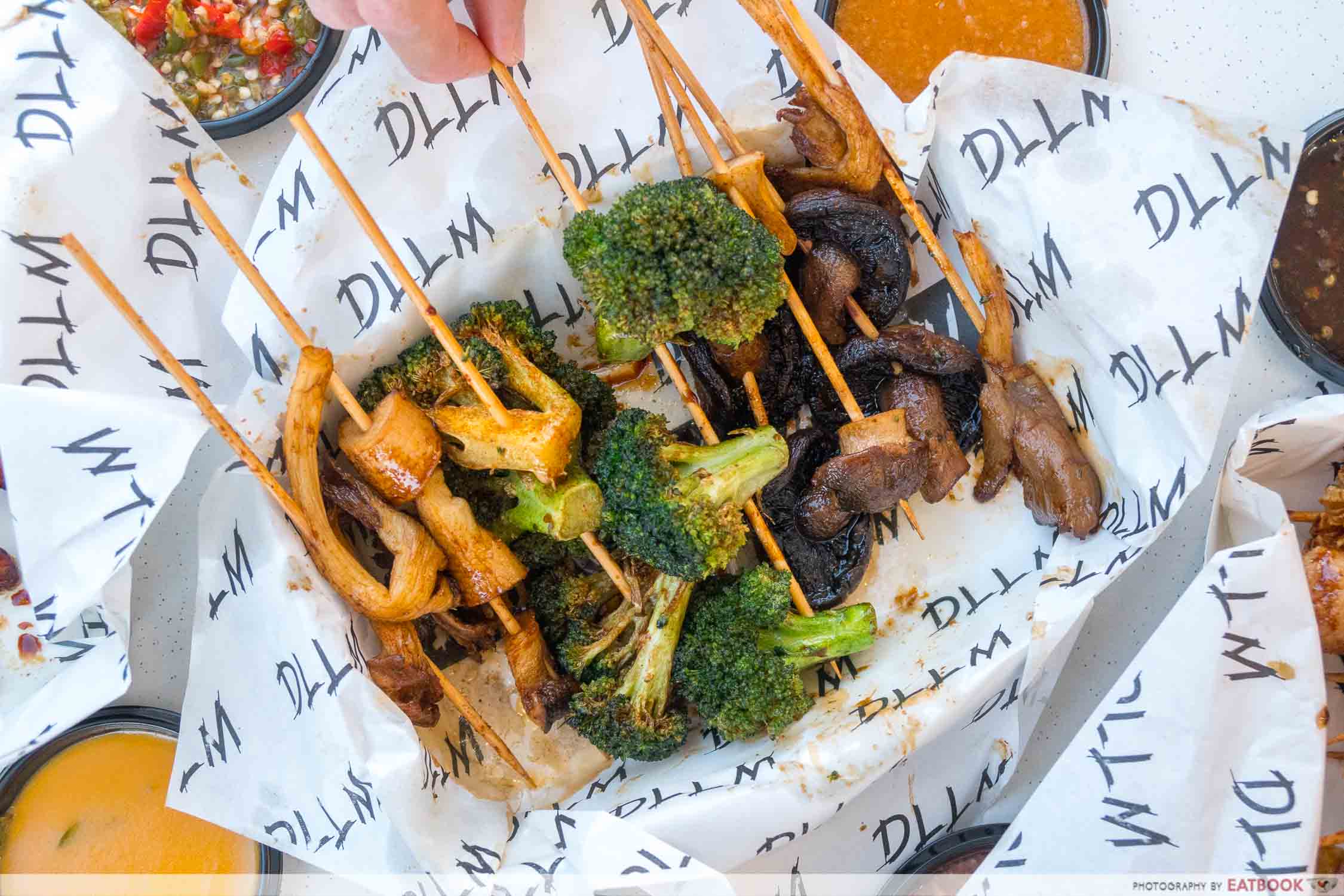 For the same people who order salads at McDonald's, DLLM Lok Lok also carries a selection of mushrooms and vegetables.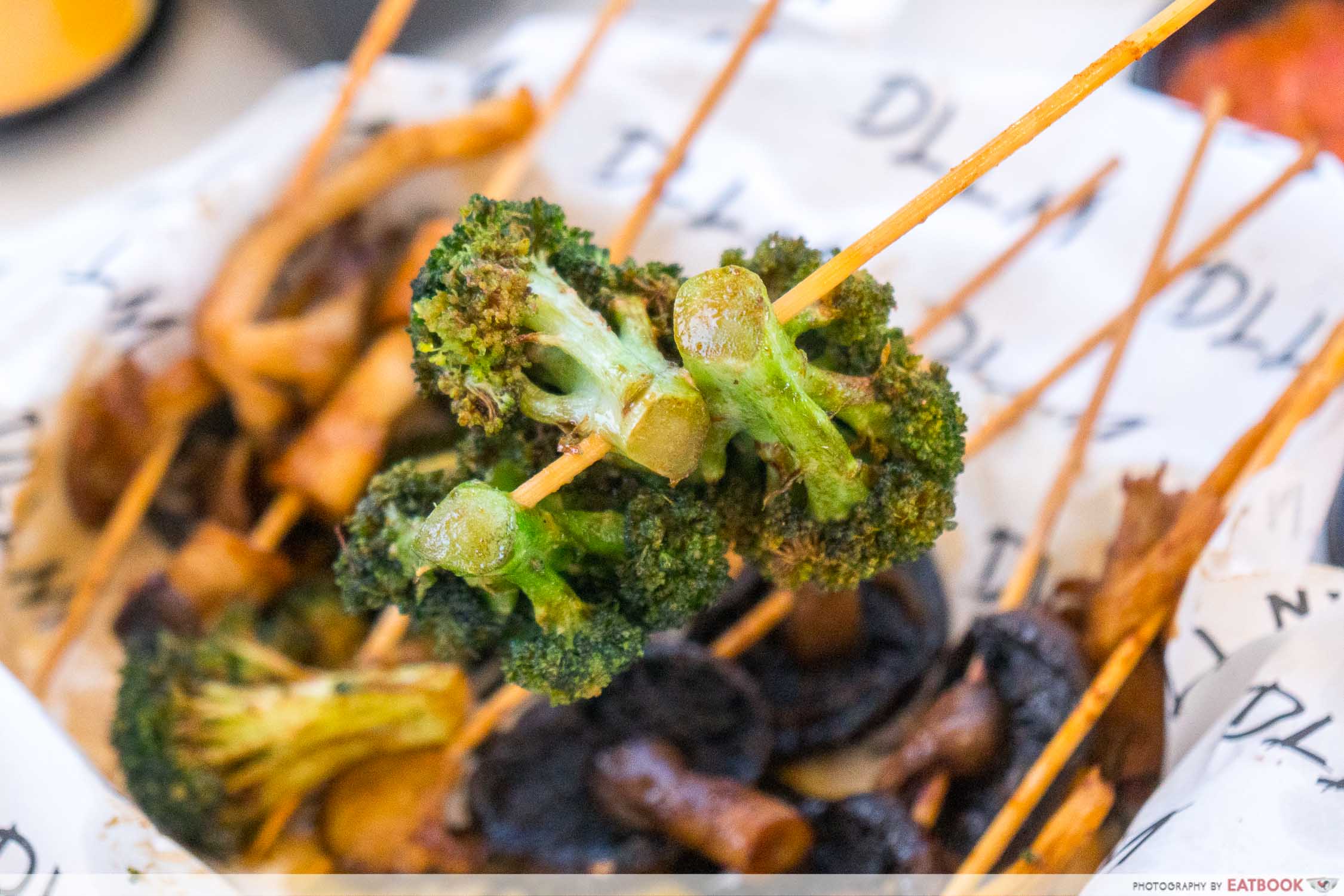 Their Broccoli is particularly popular, and I understood why when I tasted how well it fried up and sponged up the sweet and savoury sauce. This was balanced with a good fresh crunch from the stem, which helped to elevate any jelak-ness.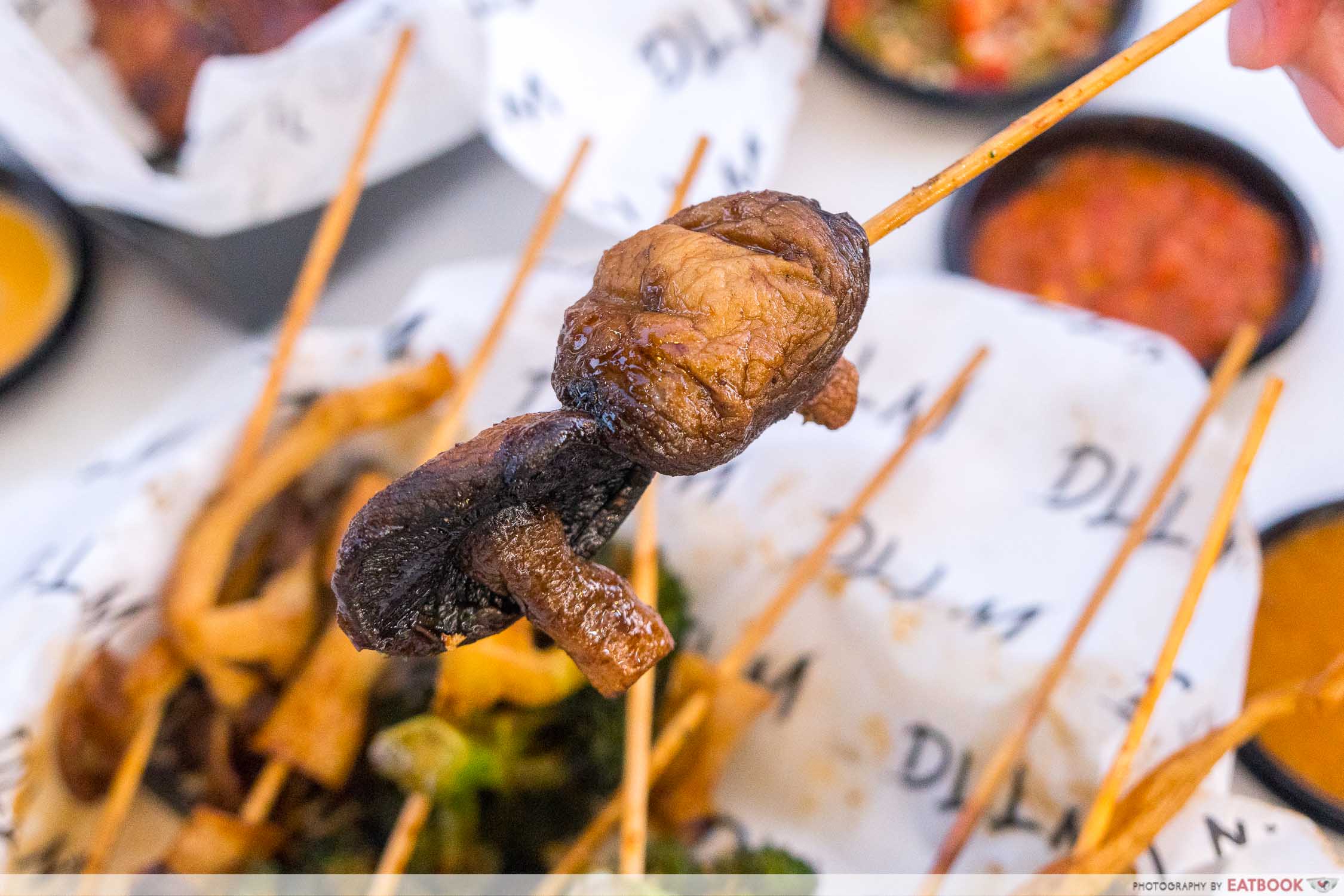 Despite being well-fried, the Shiitake Mushrooms maintained their fresh, earthy flavours and did not taste too raw.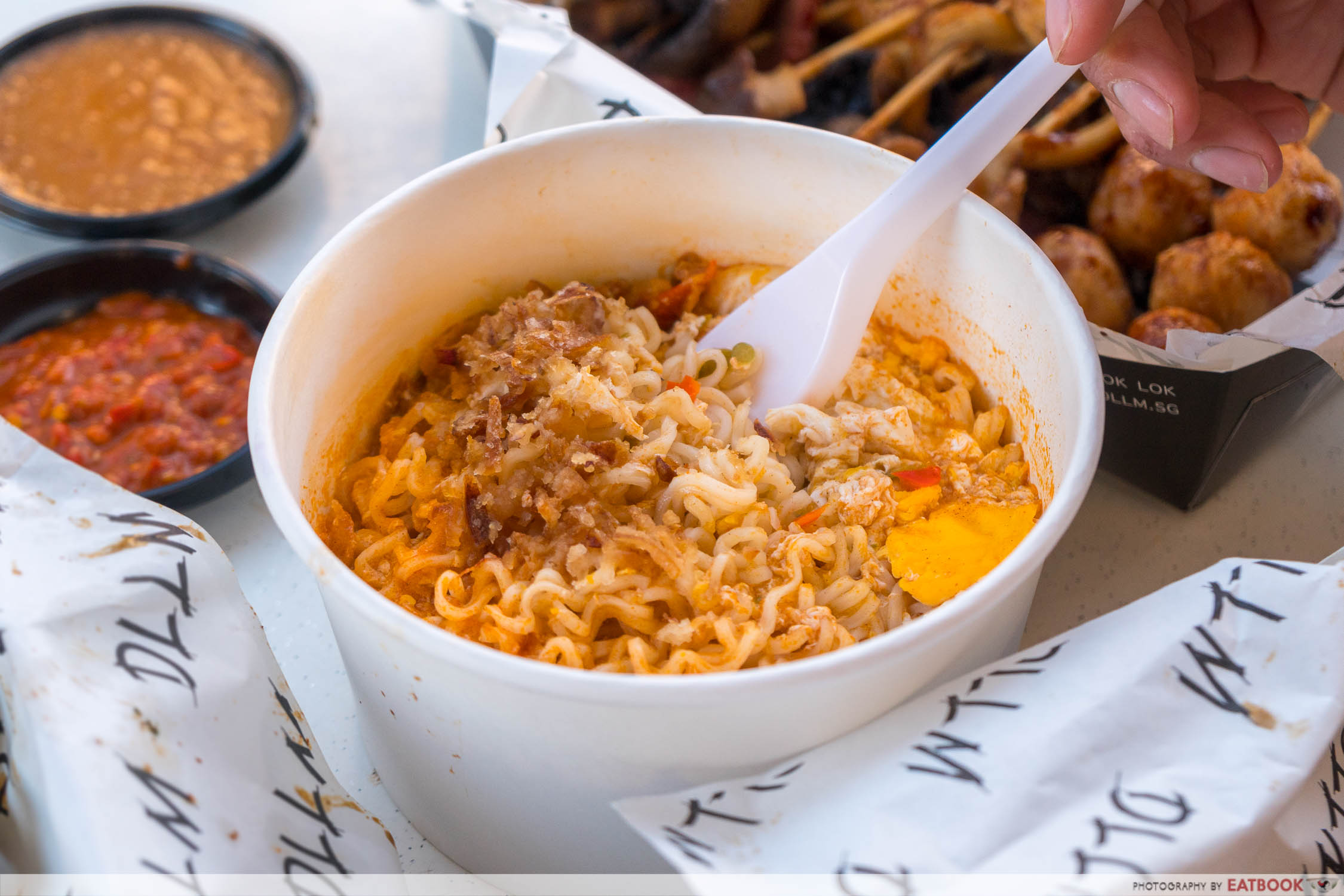 Other than lok lok skewers, there is also Tom Yum Ahma Mee ($2.50), which is essentially a packet of instant noodles cooked with their homemade tom yam sauce, garnished with shallots and egg yolk. While it's a simple dish, you will see many ordering one of these to go with their alcoholic drinks.
Sticks 'N' Bowls Review: $1 Lok Lok And Mentaiko Salmon Don In Tampines Coffee Shop
Ambience at DLLM Lok Lok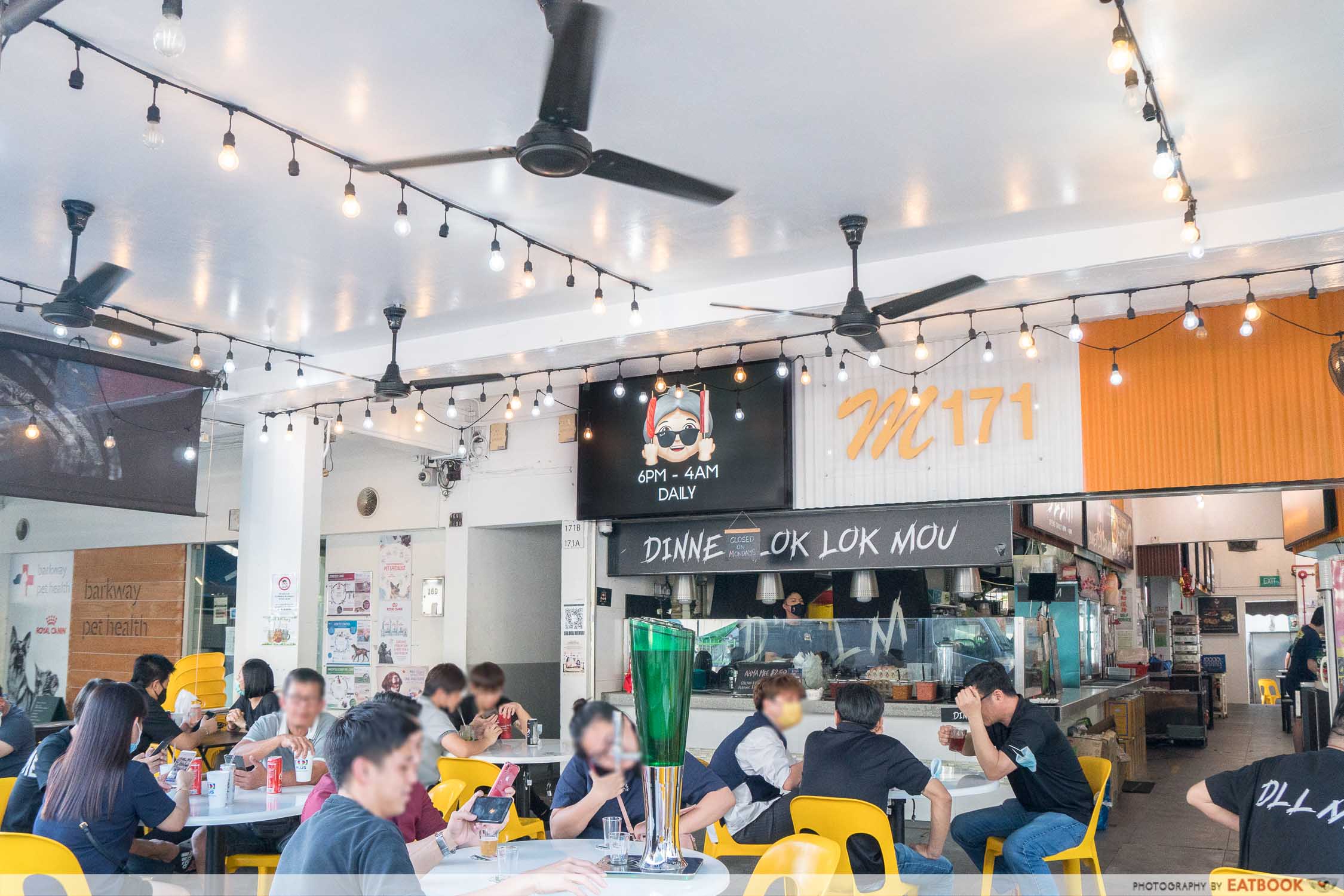 Although missing the headbanging EDM you would usually expect when enjoying lok lok in JB, DLLM Lok Lok's choice of a location is flanked by a car park and a back alley, replicating the ambience of a street food stall.
With a 10-minute bus ride from Macpherson MRT Station, it is definitely more accessible than the JB customs at this juncture.
Ipoh Curry Chee Cheong Fun Review: Curry Mee And Chee Cheong Fun With Roast Meats In Yishun
The verdict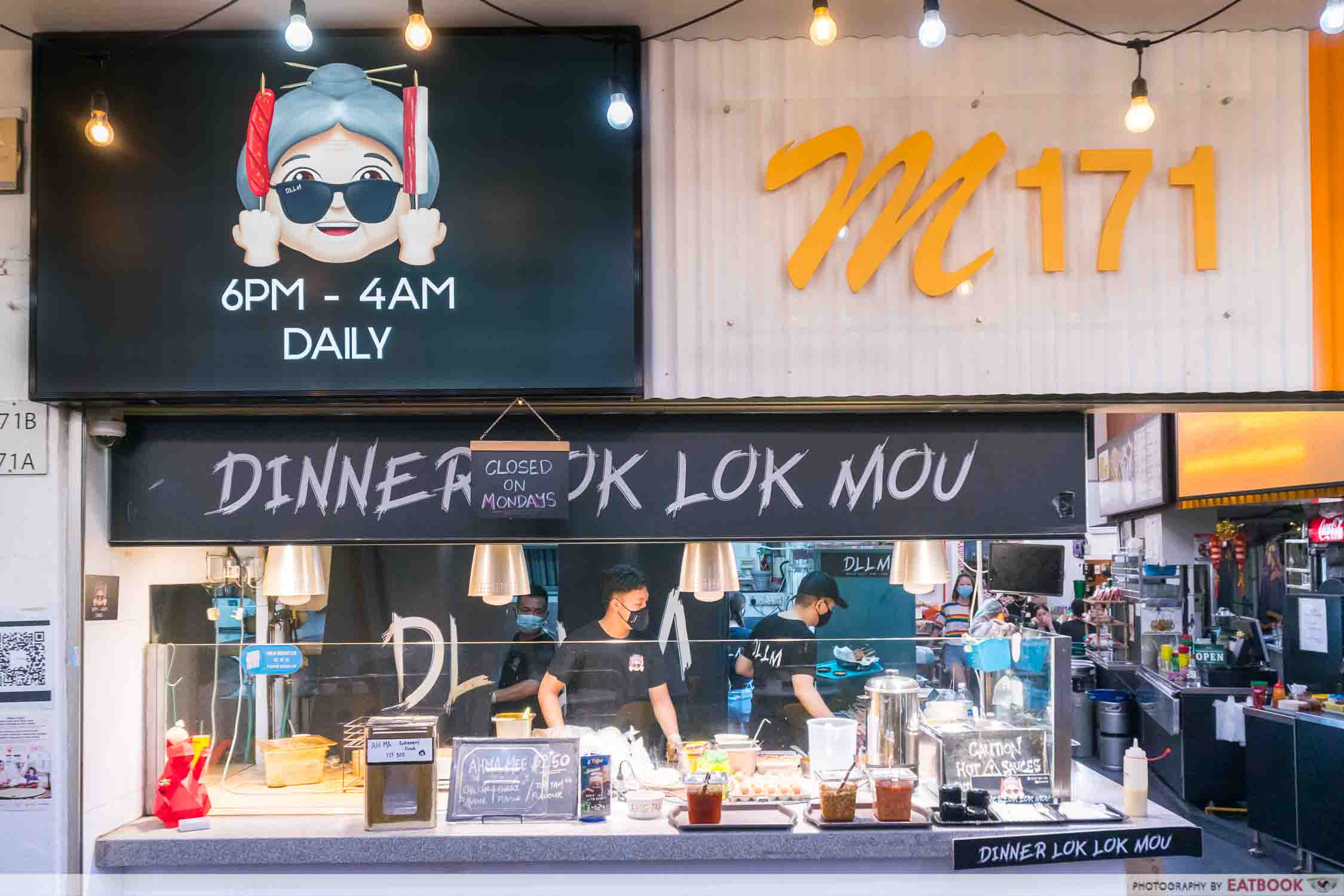 Despite the stall's name being an abbreviation of a vulgar Cantonese phrasem and the area being littered with their crude logo of an old lady giving you the finger, DLLM Lok Lok did not seem to have deterred anyone pining for some lok lok.
Their foray into this venture seemed to have paid off as they are expanding to another stall at the back of the coffee shop. Seeing myself relishing and reliving memories with the lok lok skewers, I do see myself coming back to DLLM Lok Lok.
If you are as big of a lok lok fan as I am, check out our lok lok guide for lok lok buffet, mala skewers and more. Otherwise, check out our Macpherson food guide for sambal fried rice, roast meat and more.
Address: 171 MacPherson Road, Singapore 348536
Opening hours: Tue-Sun 6pm to 4am
Website
DLLM Lok Lok is not a halal-certified eatery.
9 Macpherson Food Places From $3 Worth The Food Coma After Lunch
Photos taken by Keith Kok
This is an independent review by Eatbook.sg.
DLLM Lok Lok Review: Lok Lok Stall With $1 Skewers And Salted Egg Sauce That Opens Till 4am
DLLM Lok Lok Review: Lok Lok Stall With $1 Skewers And Salted Egg Sauce That Opens Till 4am -

7.5/10
Summary
Pros

– Flavourful sauces
– Well-seasoned ingredients
Cons
– Long waiting time
Recommended dishes: Smoked Duck ($1), Squid ($1), Broccoli ($1)
Opening hours: Tue-Sun 6pm to 4am
Address: 171 MacPherson Road, Singapore 348536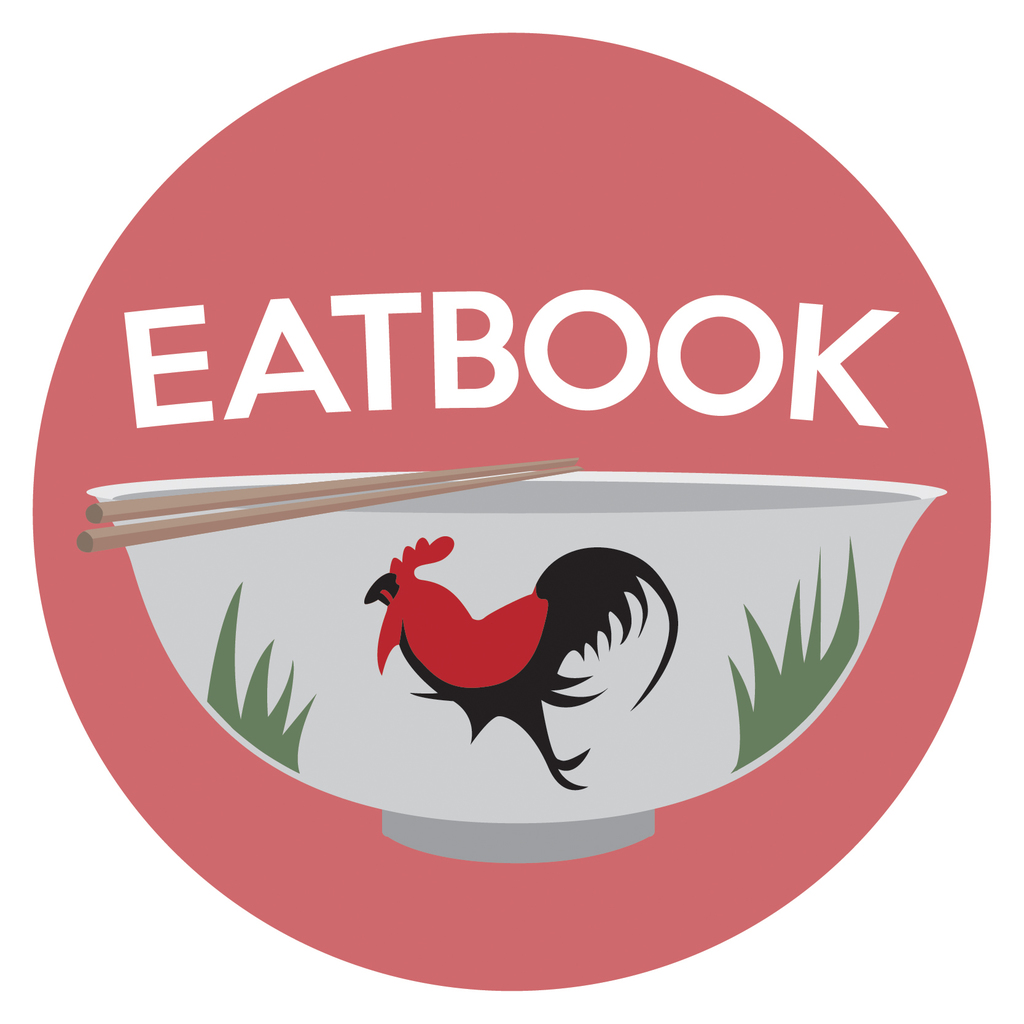 Drop us your email so you won't miss the latest news.