---
Best Don Don Donki desserts
---
Going to Don Don Donki is actually a national pastime. The Japanese supermarket is home to thousands of imported products and produce that one can spend hours just browsing the shelves for hidden finds. Another huge reason we all love Donki is the sheer variety of eats available across the spectrum, from freshly prepared bento boxes to sold-out roll cakes.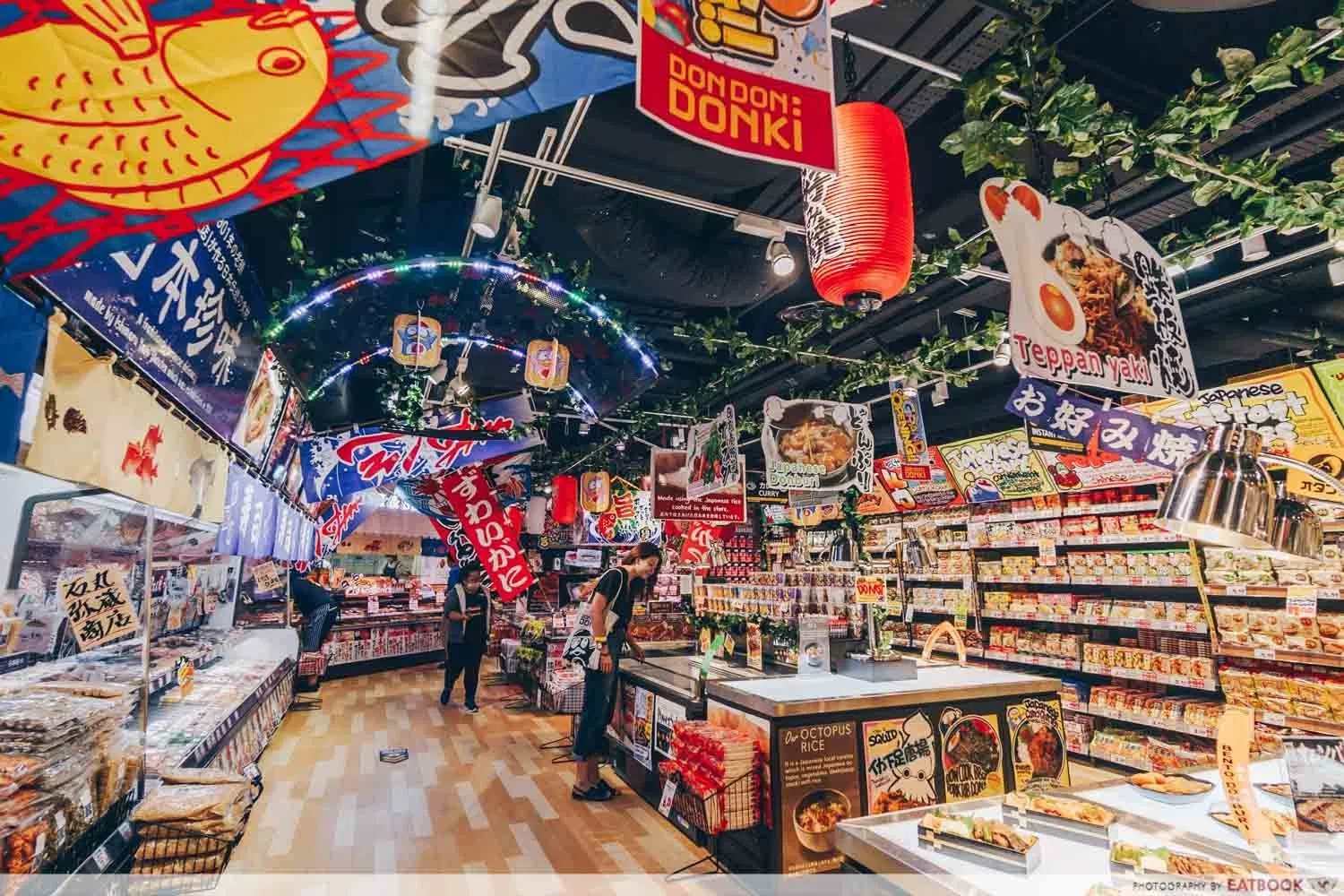 If you're there looking for a snack or something sweet to finish off your meal, here are some popular desserts at Don Don Donki worth trying.
---
1. Hokkaido Milk Matcha Soft Serve (only at Orchard Central)
---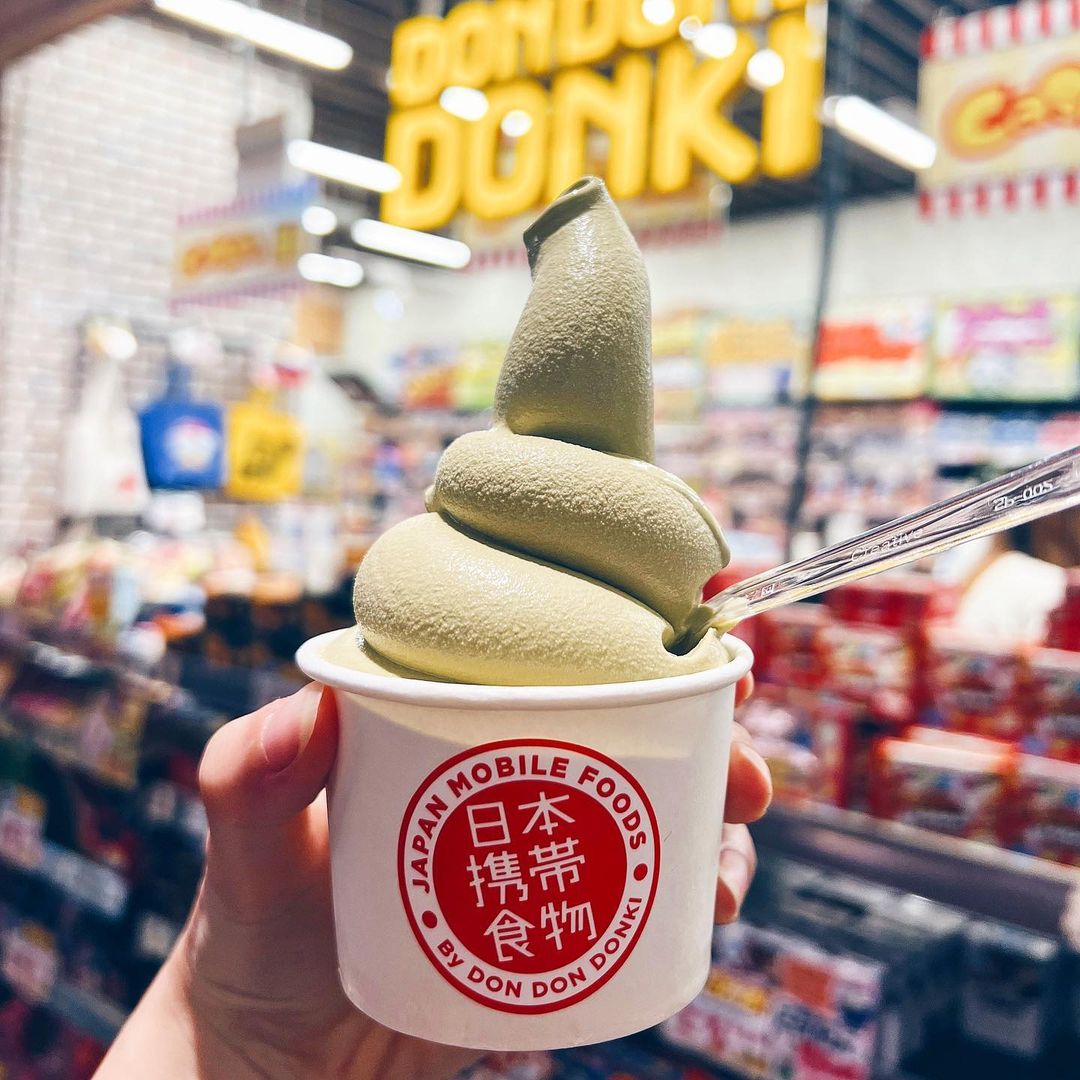 Image credit: @eat.nonstop
Matcha desserts are dime a dozen in Singapore, but few combine affordability with premium quality matcha like Don Don Donki's Hokkaido Milk Matcha Soft Serve. Priced at $2.40 a cup, this picture-perfect swirl of both creamy Hokkaido milk and matcha soft serve ice creams is a welcome sweet treat when you're walking around the mall. Do note these are only available at the Orchard Central outlet, though. 
---
2. Domremy Patisserie Hokkaido Roll Cake 
---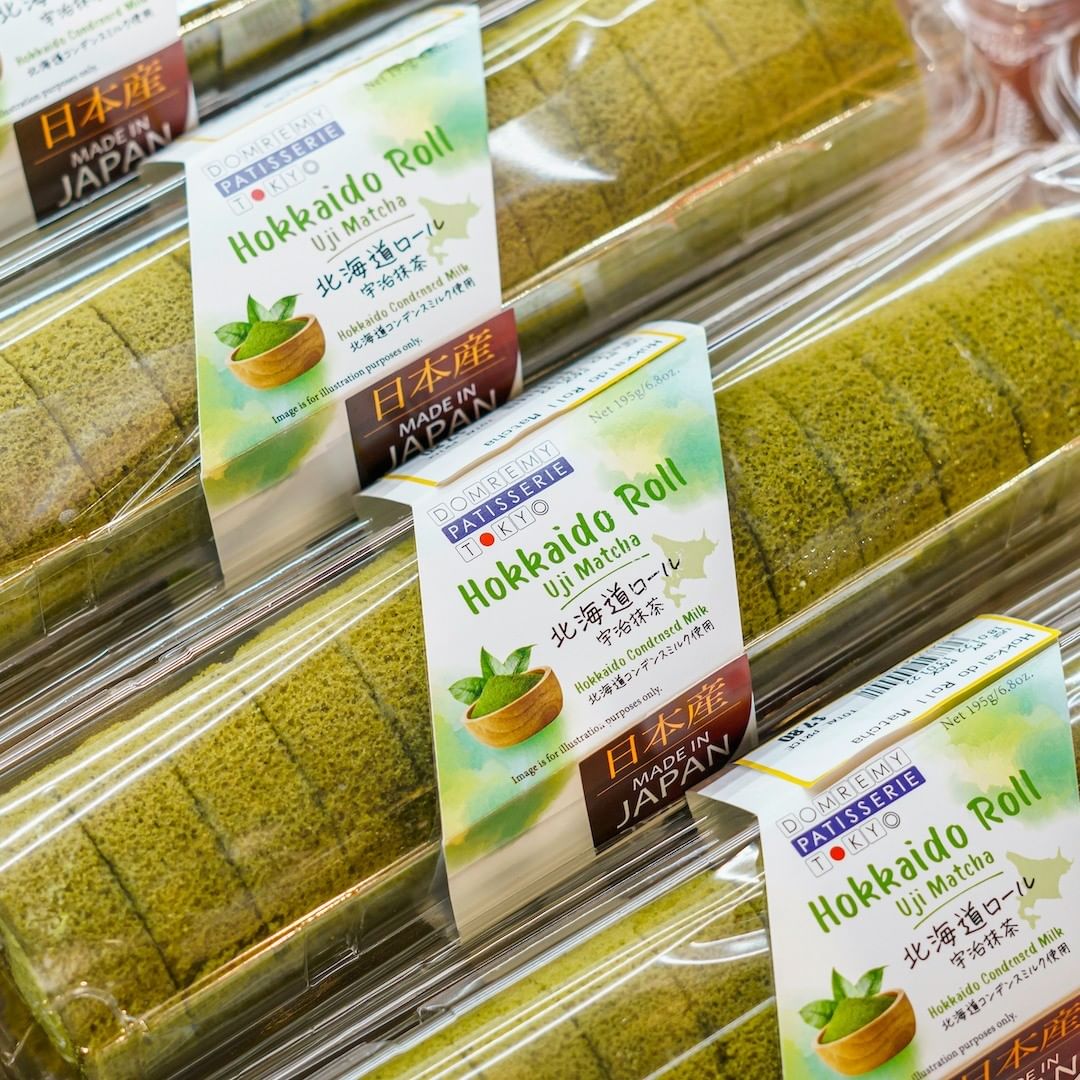 Image credit: @donkisg
Not to be confused with the notorious, highly addictive Happy Souffle Roll Cake (which we cover in #4), the Hokkaido Roll Cake is more of a traditional Japanese-style cream roru-keiki. Each roll is priced at $9.80 and comprises an airy, flavoured sponge with a fluffy Hokkaido milk cream filling. Flavours include original, cheese, strawberry, tiramisu, and the ever-popular uji matcha. These are also made in Japan and air-flown to DDDK!
---
3. Glico Ice No Mi Kyoho Grape Ice Ball
---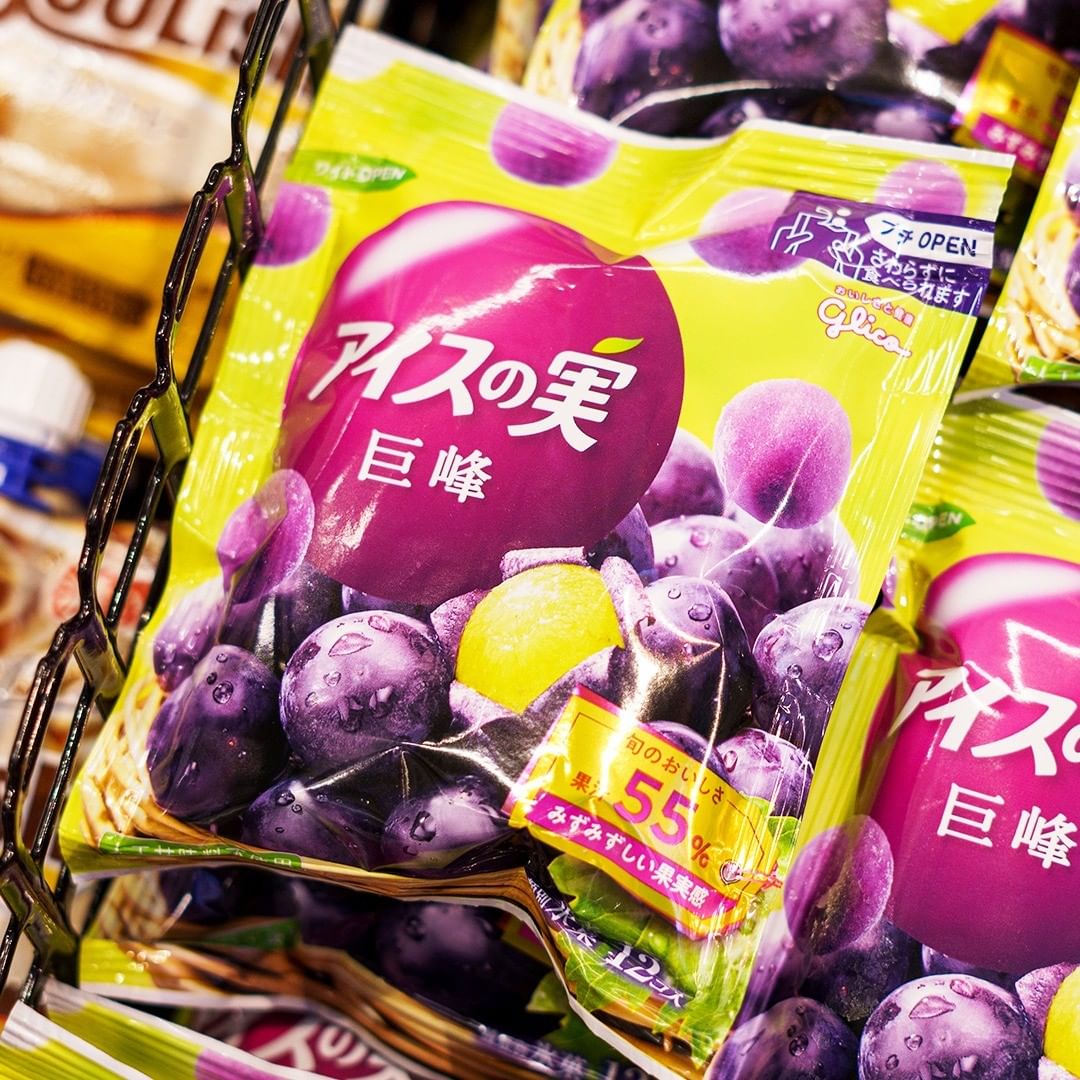 Image credit: @donkisg
TikTok's latest fave is the Glico Ice No Mi Kyoho Grape Ice Ball ($3.50). These are bags of mini frozen sherbert balls, full of Kyoho grape goodness, great to cool off on a hot day. Apart from the popular grape flavour, this snack is also available in grapefruit, pear and peach flavours too.
---
4. Happy Souffle Roll Cake
---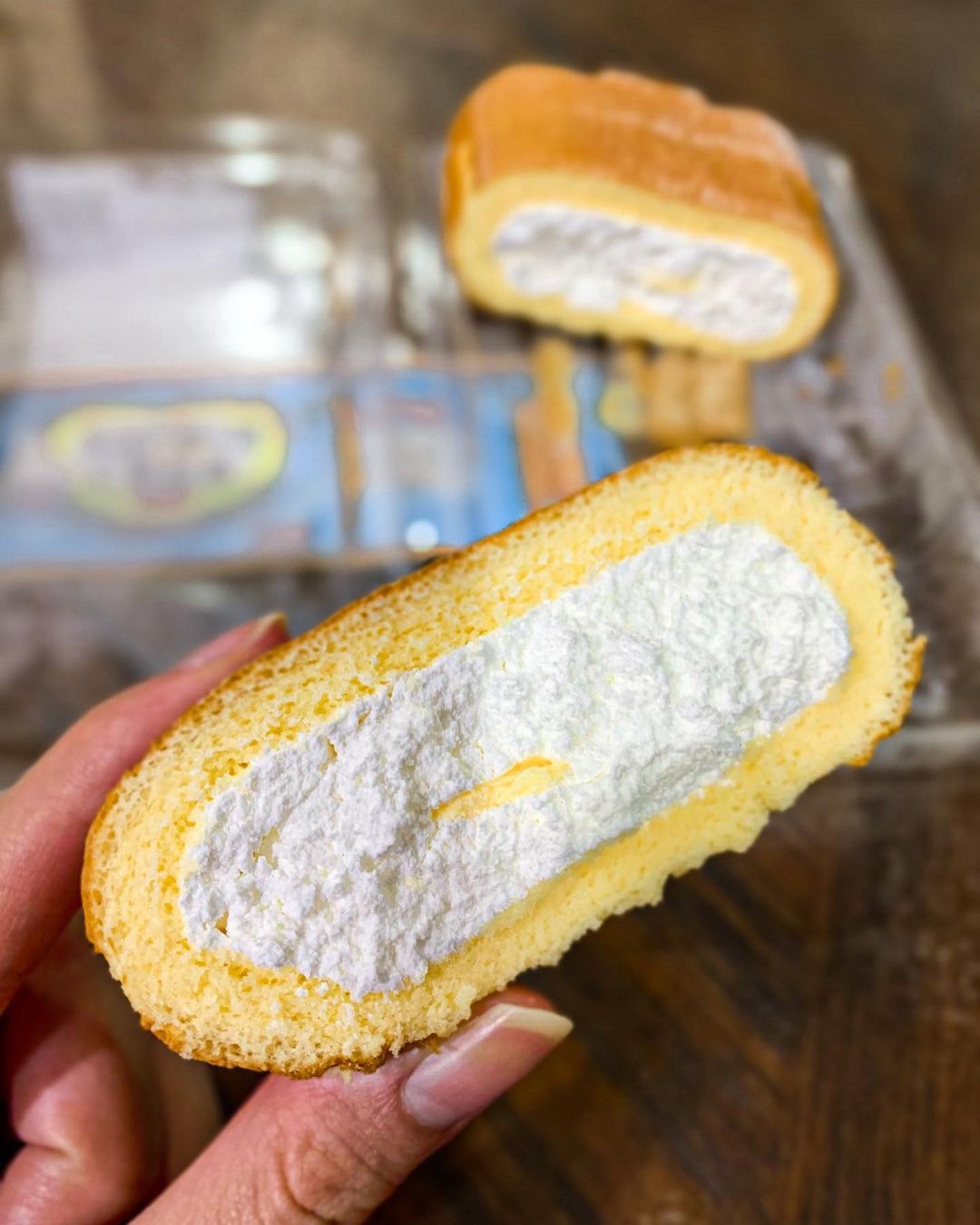 Image credit: @cilantrobokchoy
The Happy Souffle Roll Cake took the Internet by storm when it launched in Singapore. So addictive, this cake is dubbed "the poison" by fans because you can't stop at just one slice. Each roll costs $7.90, and these are sold in two flavours: Original and Chocolate. These are made in Japan, and then air-flown to Singapore. Fluffier than your average swiss roll, and chock full of milky cream, these rolls melt in your mouth with every bite. Fans also love that these aren't super sweet as well. They're also best enjoyed straight out of the fridge.
---
5. Lotte Yukimi Daifuku-Mochi Ice Cream Balls 
---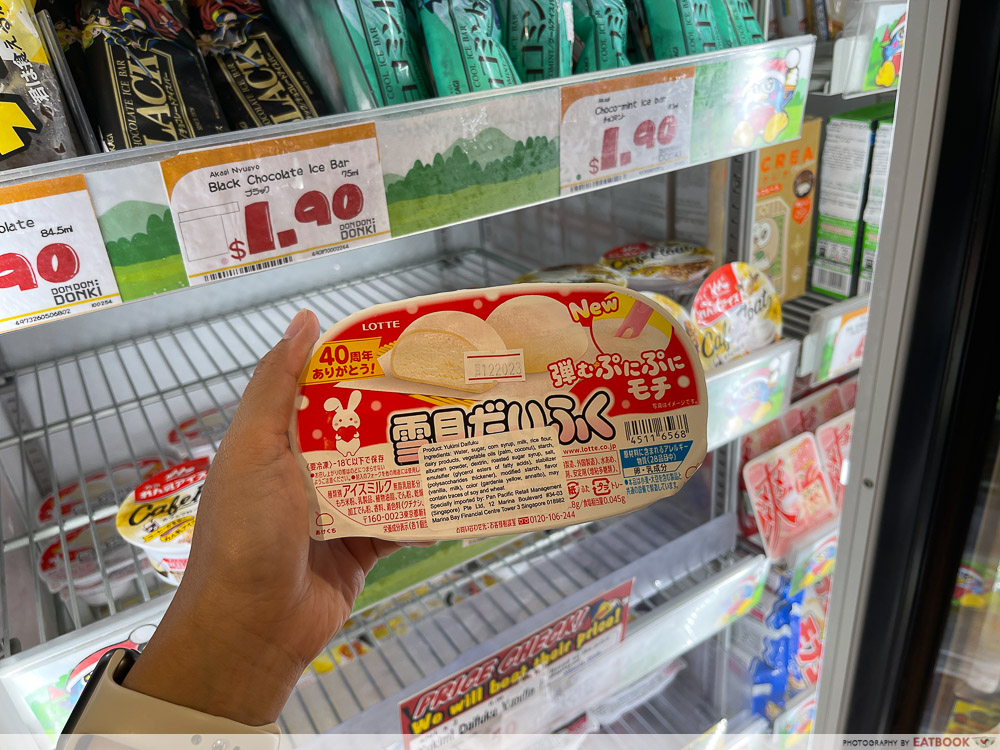 Think of Don Don Donki desserts and mochi ice cream often comes to mind, as these are perpetual bestsellers. Though there are a number of mochi ice cream options at DDDK, the Lotte Yukimi Daifuku-Mochi Ice Cream Balls ($2.50) are always the most popular. These are instantly recognisable with their bright red and white packaging. Each packet comes with two pieces, of QQ chewy mochi skin and milky vanilla ice cream. They also have a sweet potato flavour for the same price, or mini versions sold in boxes of three for $7.90.
---
6. Kokubo Hokkaido Mille Crepe
---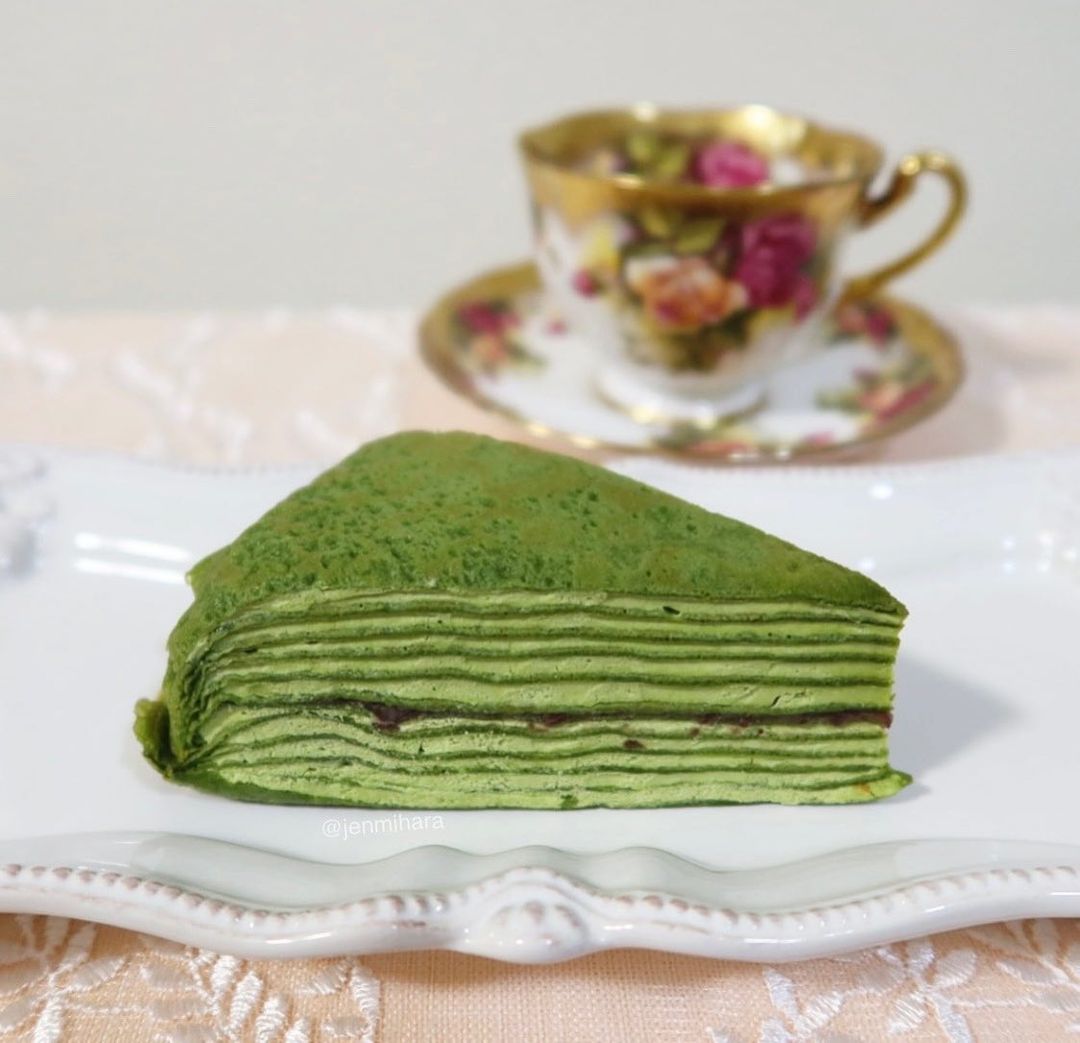 Image credit: @jenmihara
Another hot favourite from the dessert section at DDDK is their Kokubo Hokkaido Mille Crepe cakes. Sold in a bundle of two for $7.50, these mille crepes come in either Original or Matcha flavours. The former sees thin layers of vanilla-accented crepes stacked with a whipped Hokkaido milk cream, while the latter is made with matcha crepes, and matcha-infused whipped cream. Either way, this is an affordable alternative to mille crepes from bakeries such as Lady M.
---
7. Japanese Parfait Desserts
---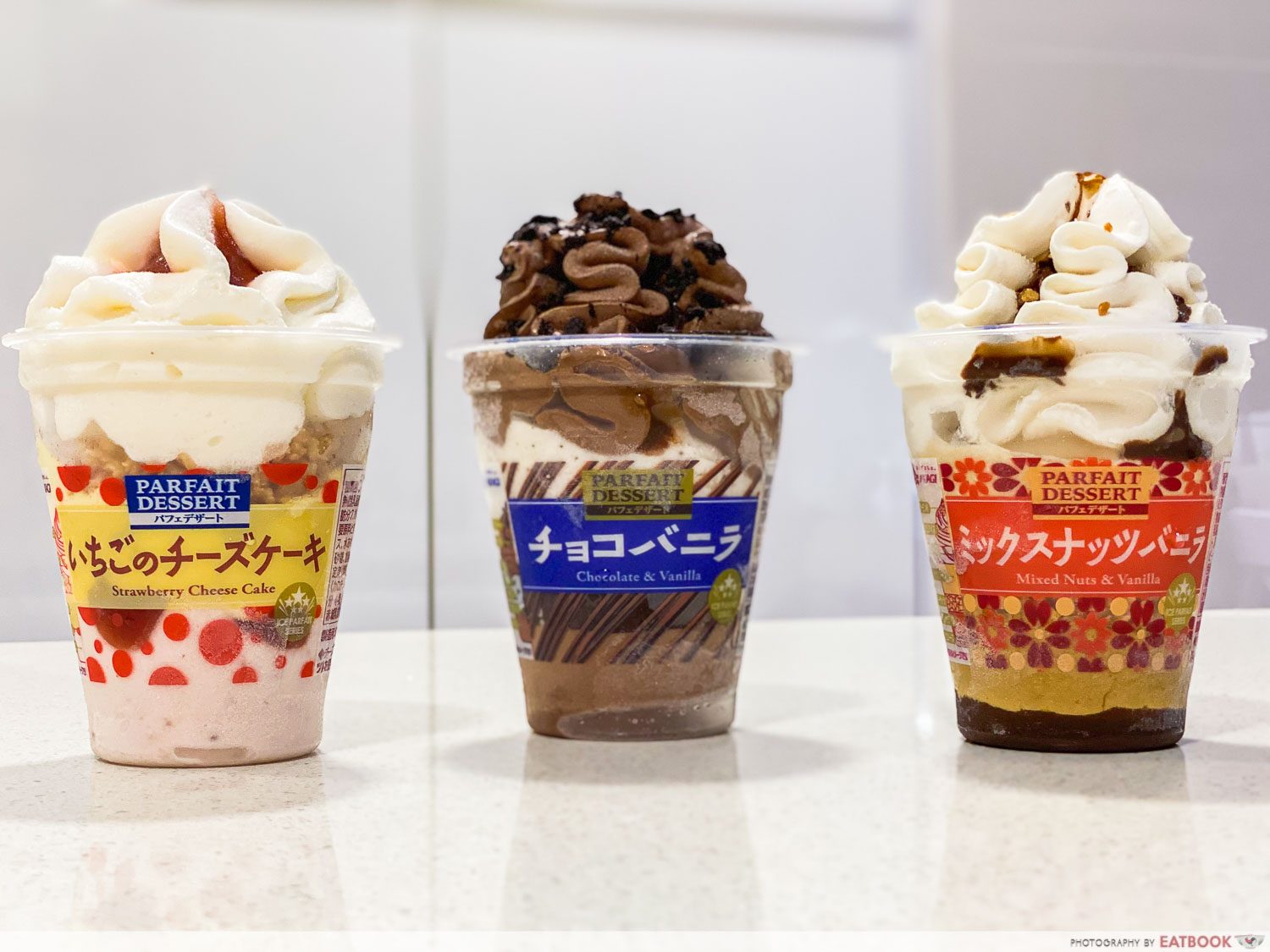 Those craving an all-in-one sweet treat should try the Japanese Parfait Desserts sold at Don Don Donki. These are quite new to the Japanese supermarket, but have rapidly become hot sellers. Sold for $6.90 each, these parfaits tend to comprise a topping, cream, ice cream, and cake, all stacked in layers. Flavours include the fruity Strawberry Cheesecake, classic Chocolate & Vanilla, and the peanut butter-y Mixed Nuts & Vanilla. 
Japanese Parfait Desserts Spotted At Don Don Donki, With Choco Mint And Strawberry Cheesecake Flavours
---
8. Tokyo Waffle Club Japanese Mochi Waffle 
---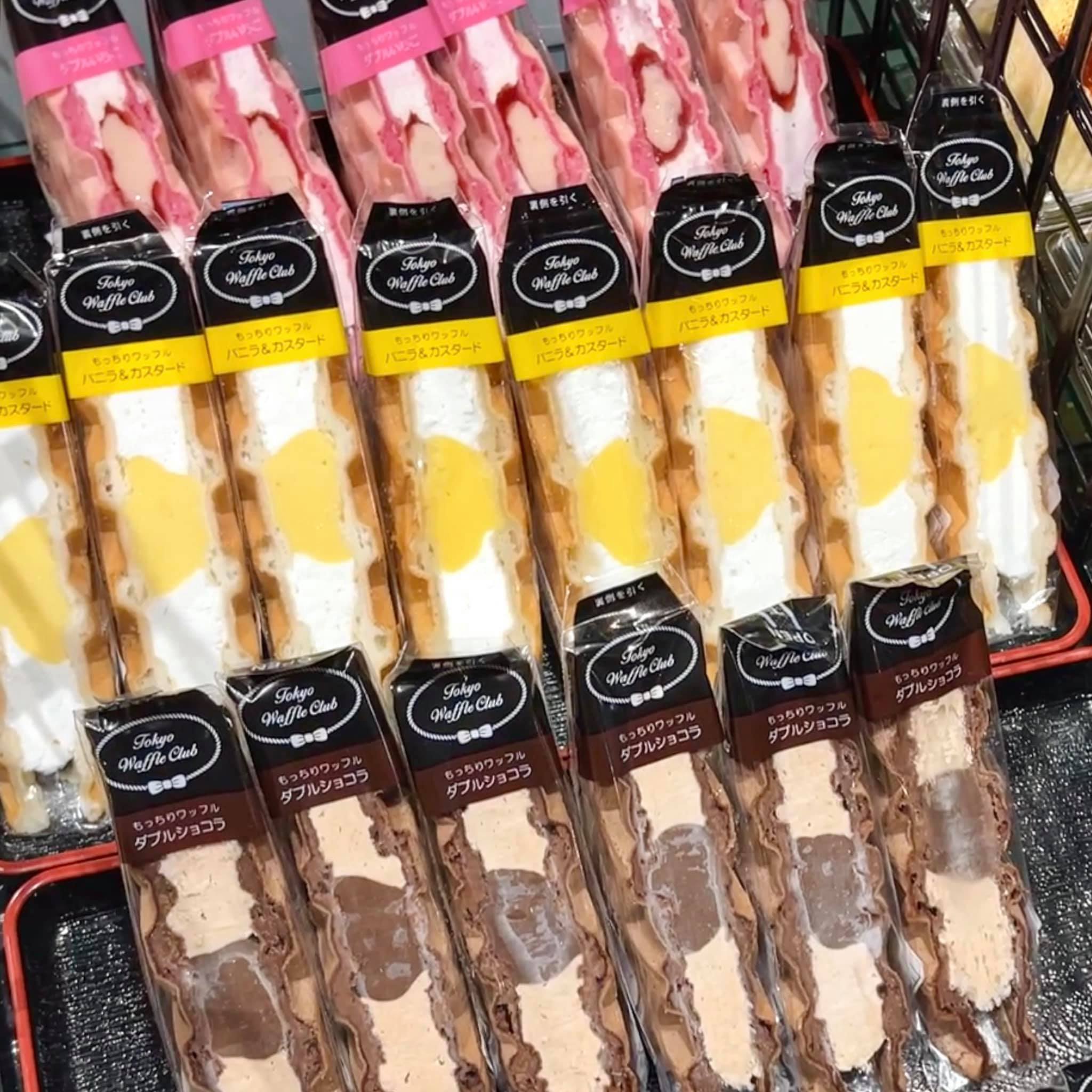 Image credit: KL Foodie
This dessert hits the spot for fans of ice cream, mochi, and waffles. The Tokyo Waffle Club comprises thin but chewy mochi waffles, a substantial amount of cream, and a flavoured core, whether it be jam, custard or chocolate. The fact that it's a sandwich also makes it super easy to snack on when you're on the go. 
---
9. Don Don Donki Cream Daifuku Mochi
---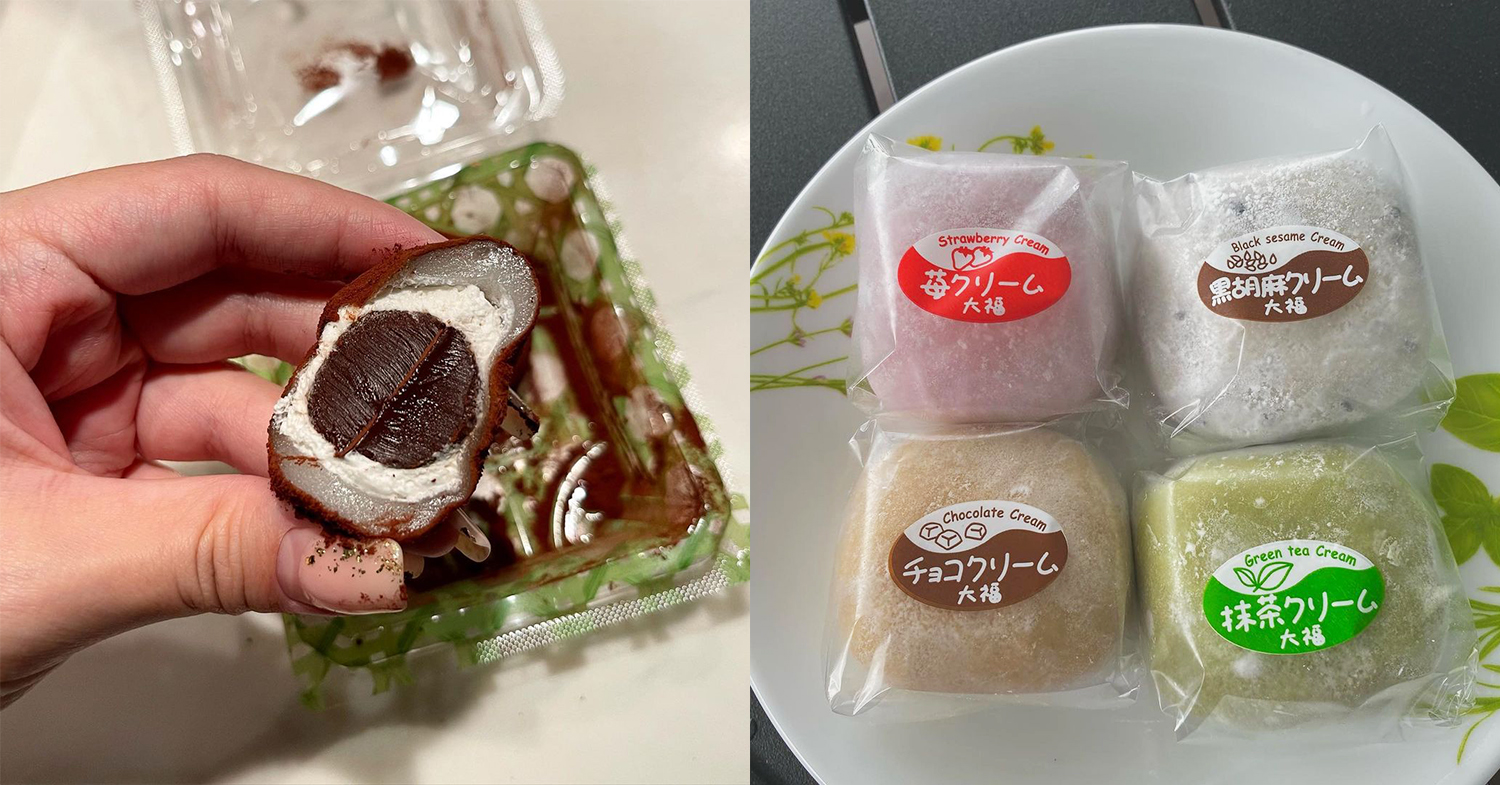 Image credit: @mealswithsharon and @foodiefueling
DDDK's wide array of cream daifuku mochi have been a bestselling dessert since the Japanese supermarket arrived in Singapore. While regular daifuku mochi is filled with azuki bean paste, this version is loaded with flavoured fresh cream, packaged in soft, thin skin. The most popular flavours are the Chocolate Cream, which comes with a ganache centre, and the Black Sesame, chock full of nutty goma paste and a cream centre. Prices vary across outlets, but they tend to be around $2.50 each. 
---
10. Custard Cream Puff 
---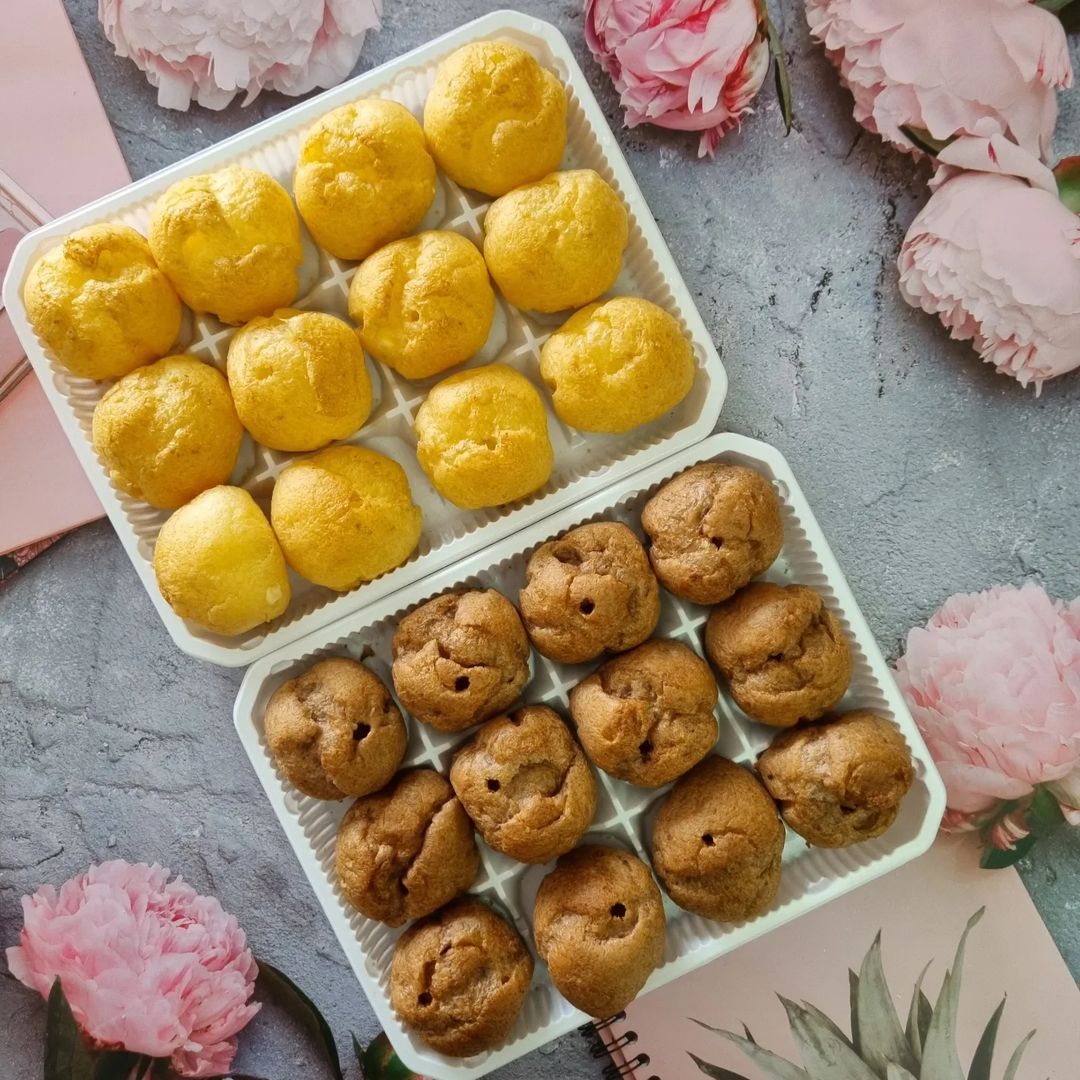 Image credit: @iam_blackswans
These nondescript trays of Custard Cream Puffs are a gem of a find in the frozen section at Donki, and come highly recommended by their staff. Priced at $4.90 for 12 puffs, and available in flavours including matcha, vanilla, and chocolate, these puffs are packed with sweet cream and are super snackable. Just be sure to defrost them overnight in your fridge before taking a bite!
---
11. Ishiya Shiroi Kobito Ice Cream Sandwich 
---

Image credit: @laieatlaiplay
Ishiya Shiroi Kobito white chocolate biscuits are the next most popular souvenir from Japan that travellers bring home, second only to Tokyo Banana. They launched an ice cream sandwich version of the beloved biscuits last year, available for $4.90. If you love the OG biscuit, give this dessert a try as it upsizes everything you love about it.
Shiroi Koibito Ice Cream Sandwiches Now In Singapore, Available For A Limited Time Only
---
12. Pastry Snaffles Catch Cakes
---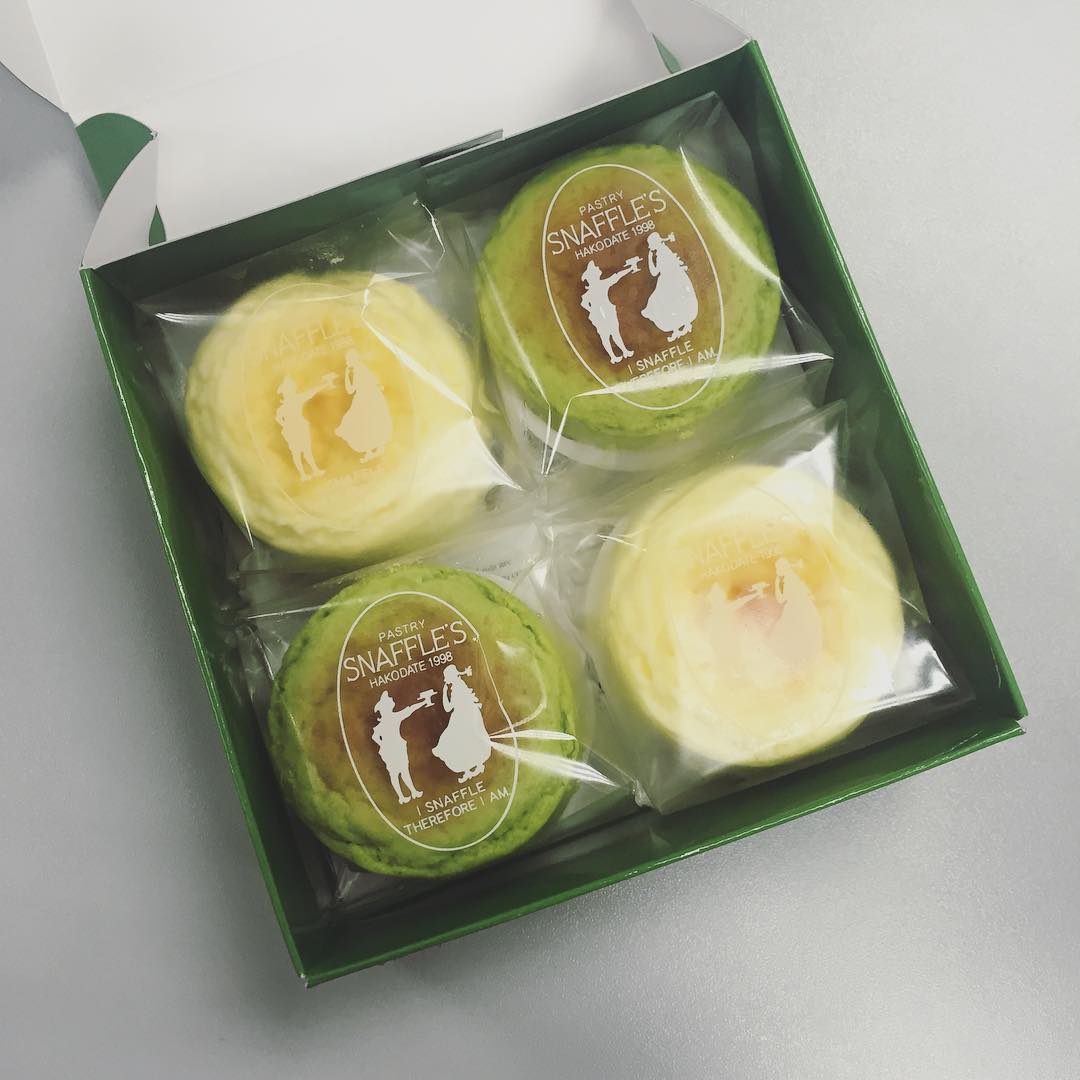 Image credit: @qiandahua
Get your hands on Hokkaido's best-selling cheesecakes at Don Don Donki, as some supermarket outlets have been found to stock these famed Pastry Snaffles Catch Cakes. A box comes with individually packed mini cheesecakes, available in either matcha or original. They're made with milk and eggs from farmers in Hokkaido, and prepared with a special baking process to ensure the cake is airy, without being too eggy. Prices differ depending on the outlet you go to.
---
DDDK desserts to try
---
With 12 Don Don Donki outlets in Singapore, you'll be able to get these desserts with ease. 
For other sweet treats, check out our guide to mochi desserts, and our list of ice cream and waffle cafes in Singapore!
16 Mochi Desserts And Bakes To Try, Including Mochi Doughnuts, Waffles, And Mantou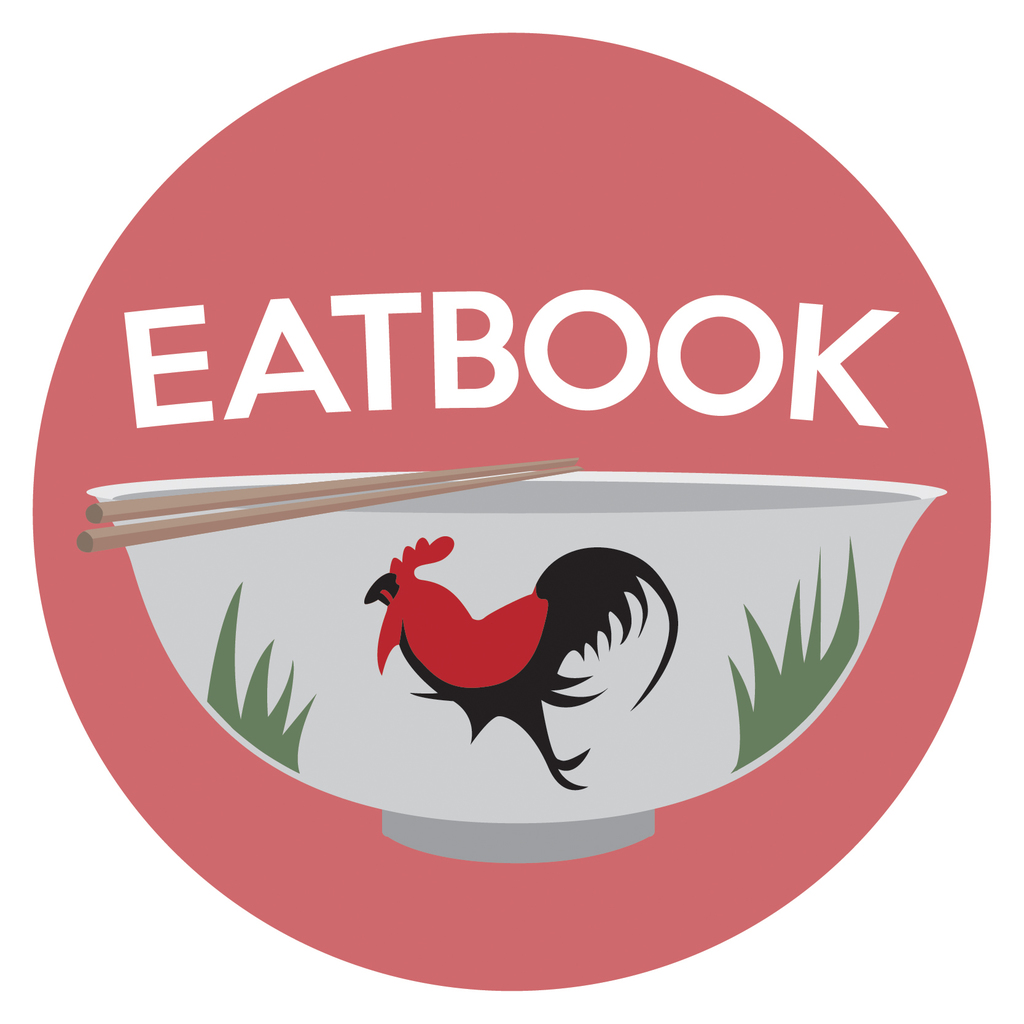 Drop us your email so you won't miss the latest news.