---
Mochi desserts and bread in Singapore
---
The mochi trend has taken a life of its own. Today, the Japanese rice cake can be found in all shapes and forms, from viral mochi ice cream to chewy mochi doughnuts. We've curated a list of 16 places to get mochi desserts in Singapore—read on to find out where to get your mochi fix!
---
1. Spuds & Soda
---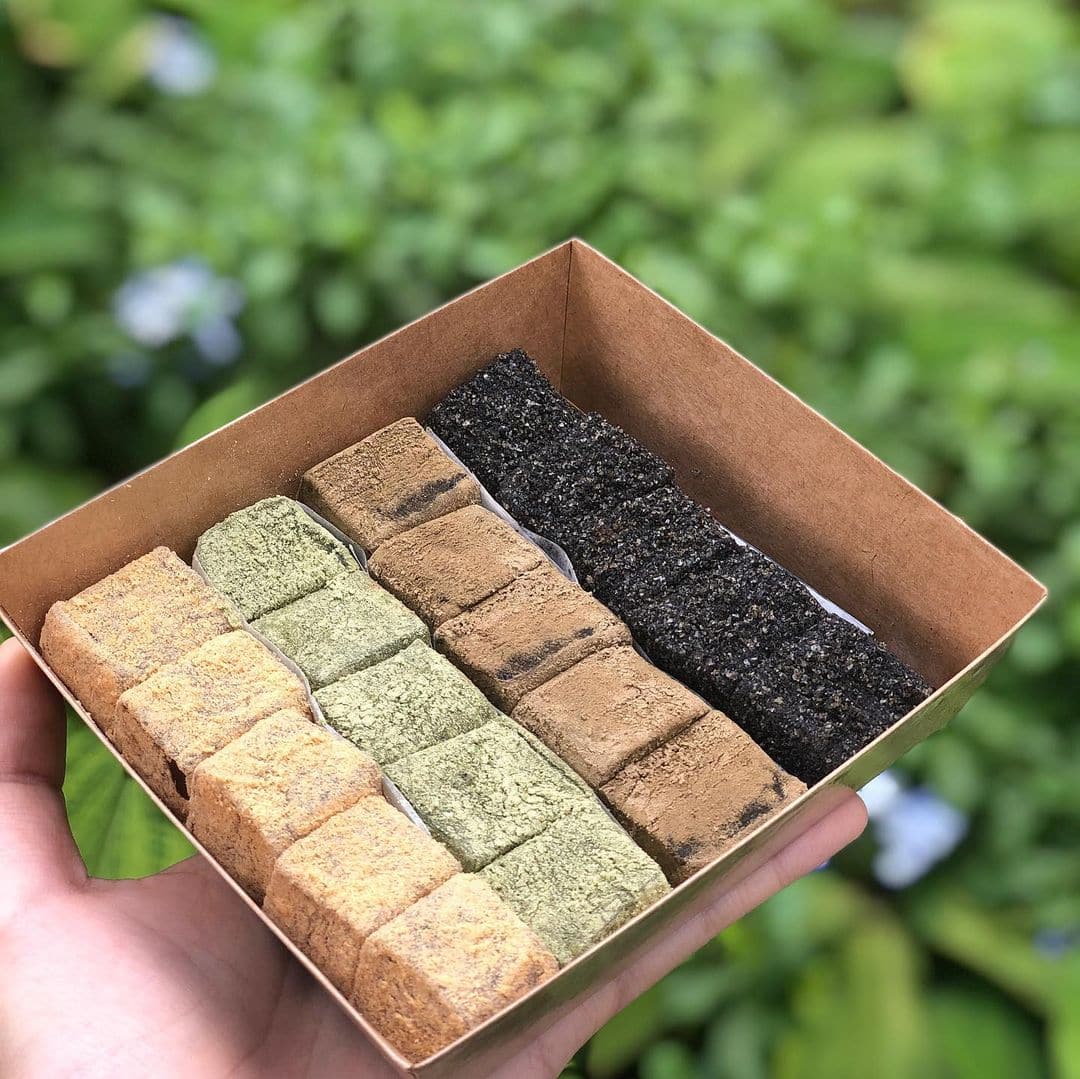 Image credit: @thefluffypao
Home-based business Spuds & Soda made waves when they launched in 2021, selling handmade warabimochi in unique flavours such as Bandung ($10.80) and Teh-O. Unlike run-of-the-mill mochi that's made from glutinous rice, the Japanese confectionery is made with starch for a more delicate, jelly-like bite. For those who prefer classic Japanese flavours, get the Houjicha ($11.60) or Matcha ($11.60) instead.
They've recently opened a pickup location along Jalan Jurong Kechil, a three-minute walk from Beauty World MRT Station, making it more convenient for Westies to collect their mochi goodies. For updates, visit their IG!
Address: 68 Jalan Jurong Kechil, #01-04/05, Singapore 596180
Collection hours: Wed-Sun 12pm to 8pm
Website
Spuds & Soda: Handmade Warabimochi In Unique Flavours Including Bandung, Milo, Teh-O And More
---
2. MuYoo
---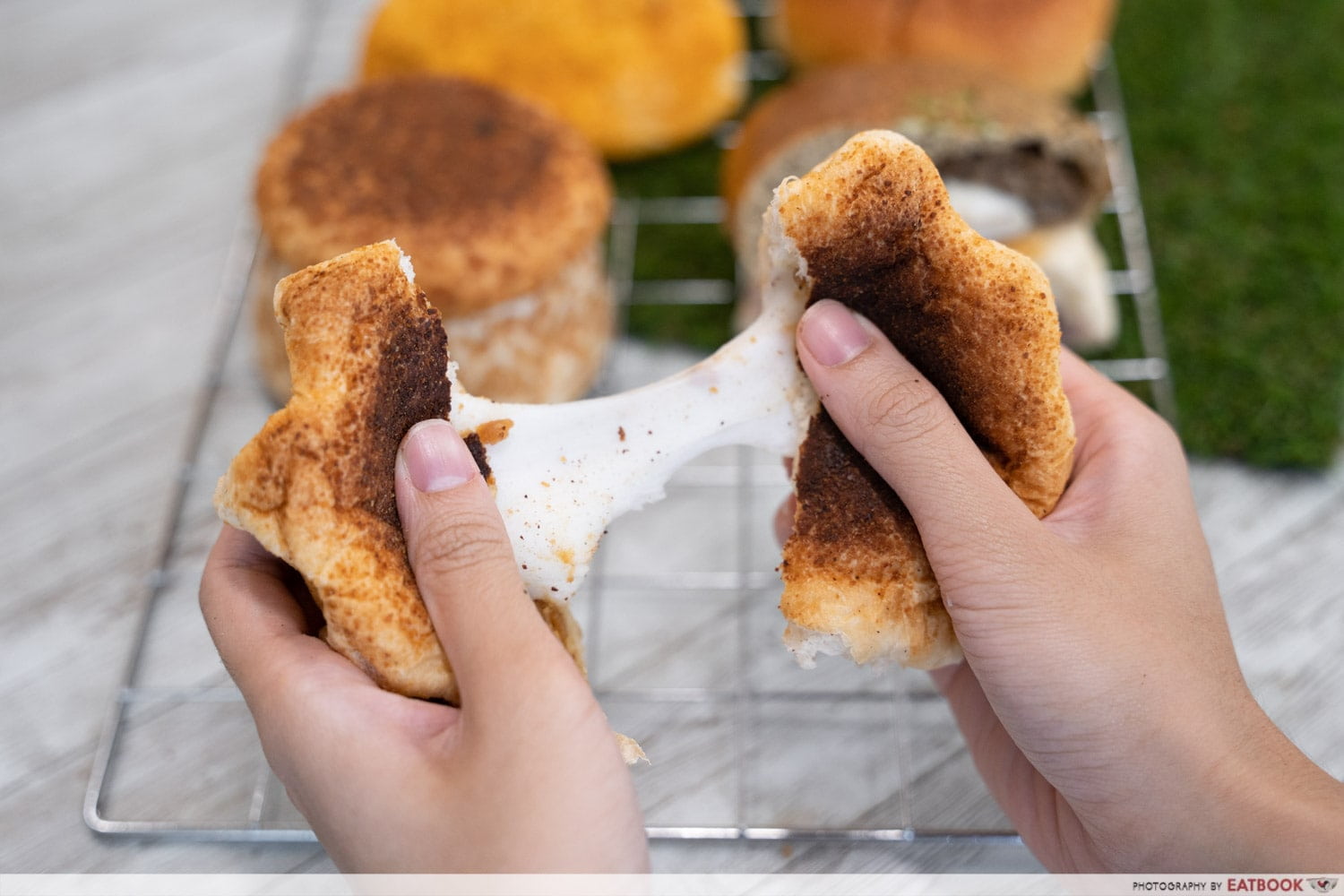 When done correctly, mochi is irresistibly soft and chewy. That's what we encountered at MuYoo, a popular bakery that does mochi-filled buns. Their Black Sesame Mochi ($2.80) boasts an IG-worthy mochi pull matched with an earthy black sesame filling. There's also a QQ Earl Grey Custard ($2.00), which comes with fragrant earl grey notes infused in the dough and filling.
Check out our MuYoo review here!
Address: 63 Jurong West Central 3, #01-K8, Jurong Point, Singapore 648331
Opening hours: Daily 9am to 10pm
Website
MuYoo Review: Mochi Bread Bakery With Flavours Such As Black Sesame, Chocolate Banana, And Earl Grey
---
3. Glacier 
---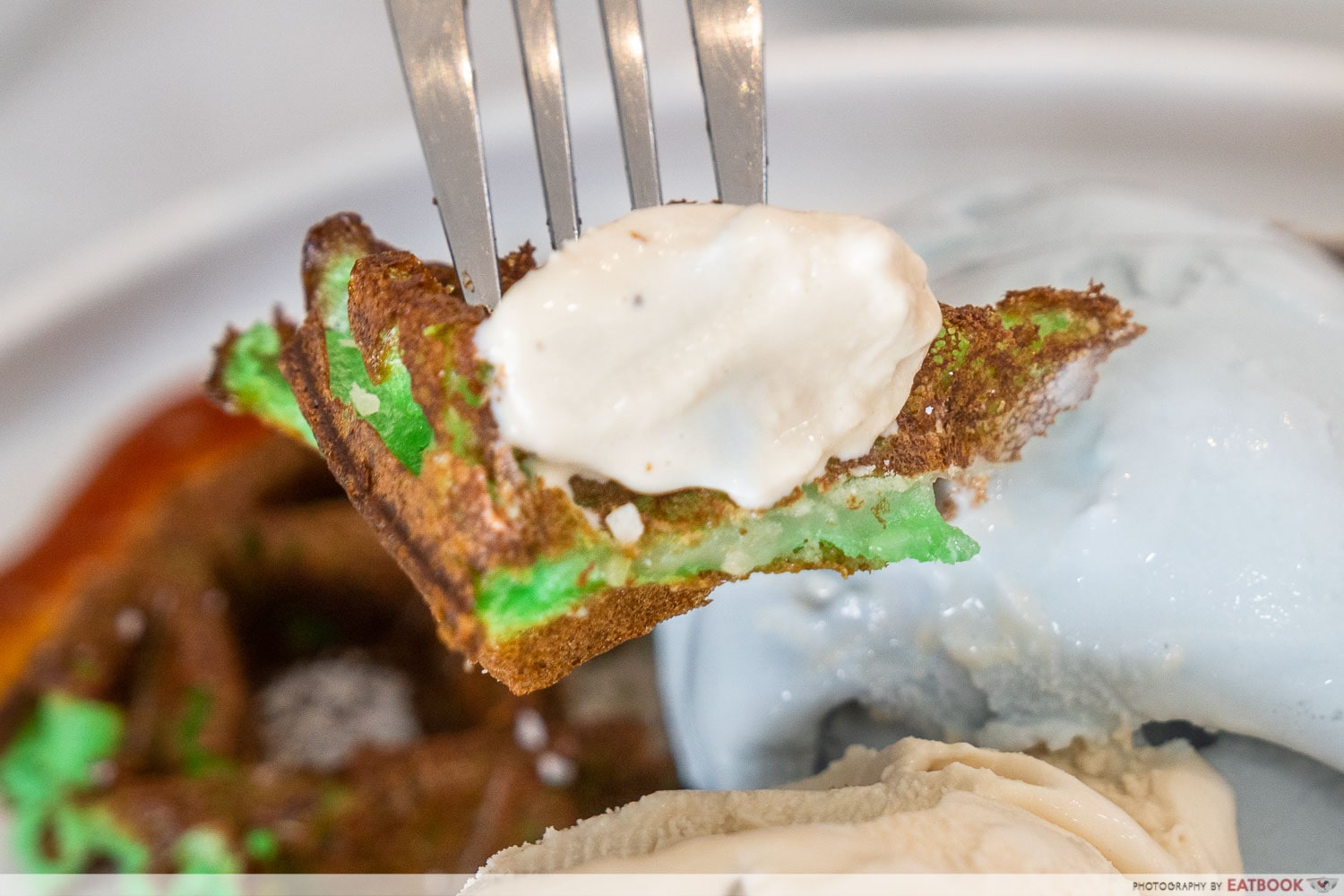 For ab alternative take on the traditional Japanese mochi, try the Pandan Mochi Waffle ($8) from Glacier, a botanical-themed cafe in Jalan Besar. This green-hued, pandan-spiked waffle has stretchy mochi within, so you're getting crisp edges with a QQ texture within.
Pair it with a scoop of Blue Pea Lemongrass Pandan ($5) gelato to elevate the pandan notes, or go for the Oolong Osmanthus ($5) for a light floral aftertaste.
Check out our Glacier review!
Address: 114 Lavender Street, #01-05, CT Hub 2, Singapore 338729
Opening hours: Sun-Mon, Wed-Thurs 9am to 10pm, Fri-Sat 9am to 1am
Tel: 6993 5148
Website
Glacier Review: Minimalistic Cafe Opens Till 1am With Mochi Waffles, Matcha Brioche And More
---
4. My Little Bakery
---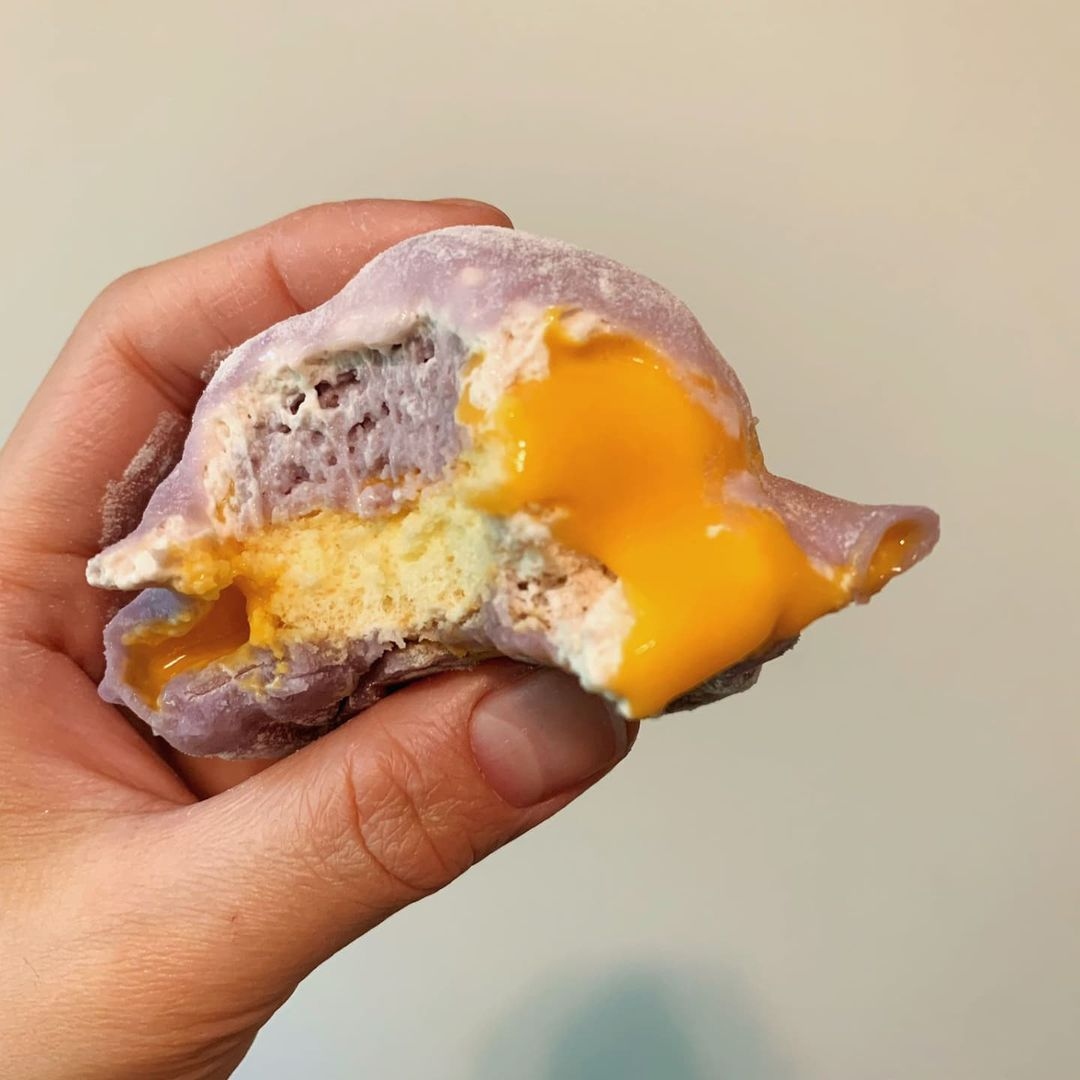 Image credit: @mylittlebakery_sg
For handmade mochi in trendy flavours, check out My Little Bakery. This home-based business specialises in mochi rounds stuffed with unique fillings, such as Taro & Salted Egg Lava, which is a nod to everyone's favourite orh nee dessert. This interesting flavour combines taro paste, taro cream, chiffon cake, and salted egg lava that oozes out when you first bite into it.
Prices start at $27.50 for a box of six pieces of the same flavour. To place an order, WhatsApp 82282490.
My Little Bakery: IG Baker Has Handmade Mochi In Flavours Including Taro & Salted Egg Lava
---
5. Doughter Bakery
---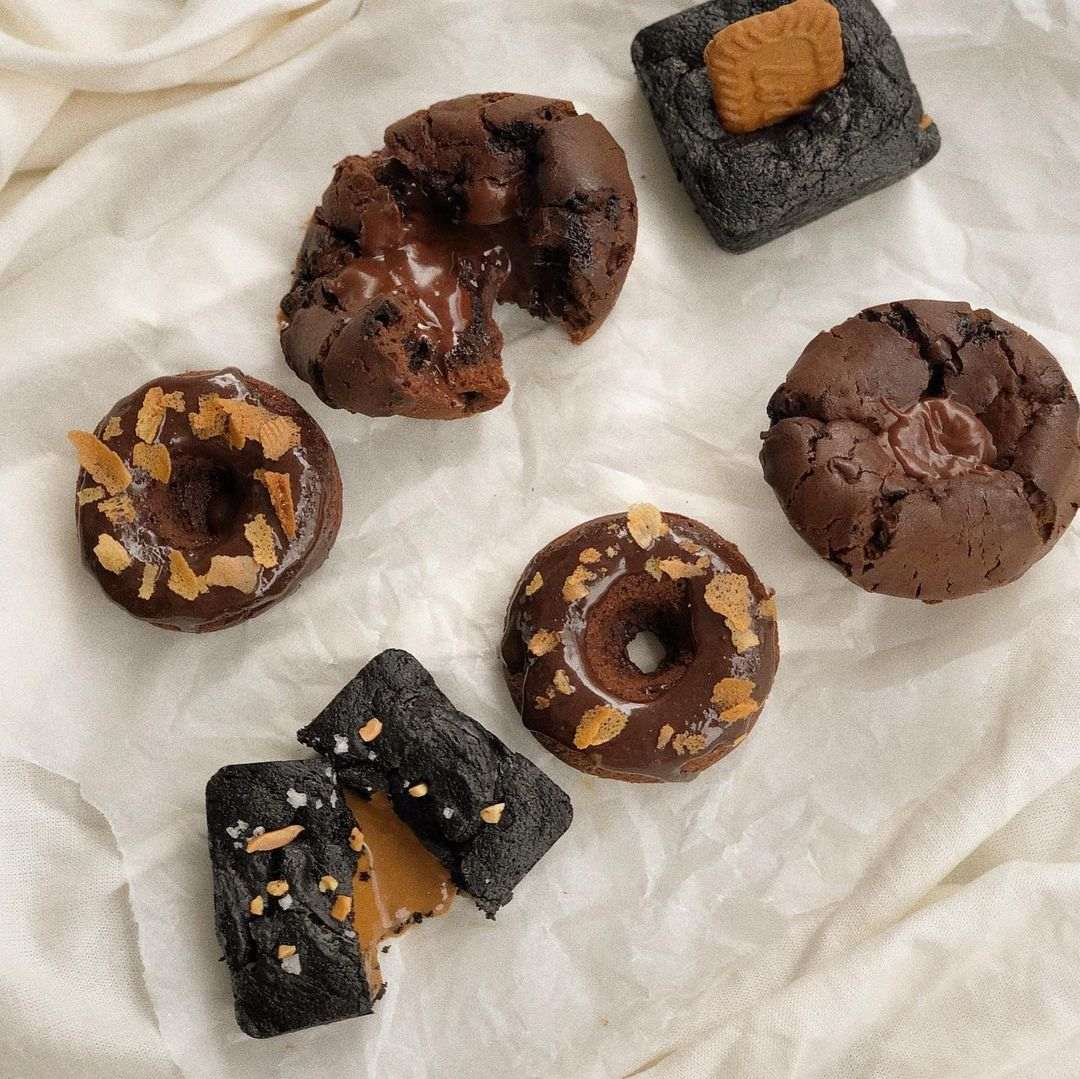 Image credit: @doughterbakery
Doughter Bakery is an all-mochi specialty online bakery that started during the Circuit Breaker period in 2020. The mother-daughter duo transforms muffins and doughnuts to chewy rice cake-filled desserts, so you can get your fix of QQ goodness here.
A must-try is their Chocolate Overload set ($25), which includes three Mochi Muffins of your choice and three Mochi Brownies in flavours such as Caramel Crumble. There's also the Everything You Love set ($22) that comes with their best-selling Chocolate Mochi Donuts, which are baked with premium Belgium chocolate.
Islandwide delivery costs $8 per location, and takes place from 11am to 6pm every Tuesday to Saturday.
---
6. Jo-Yi Bakery
---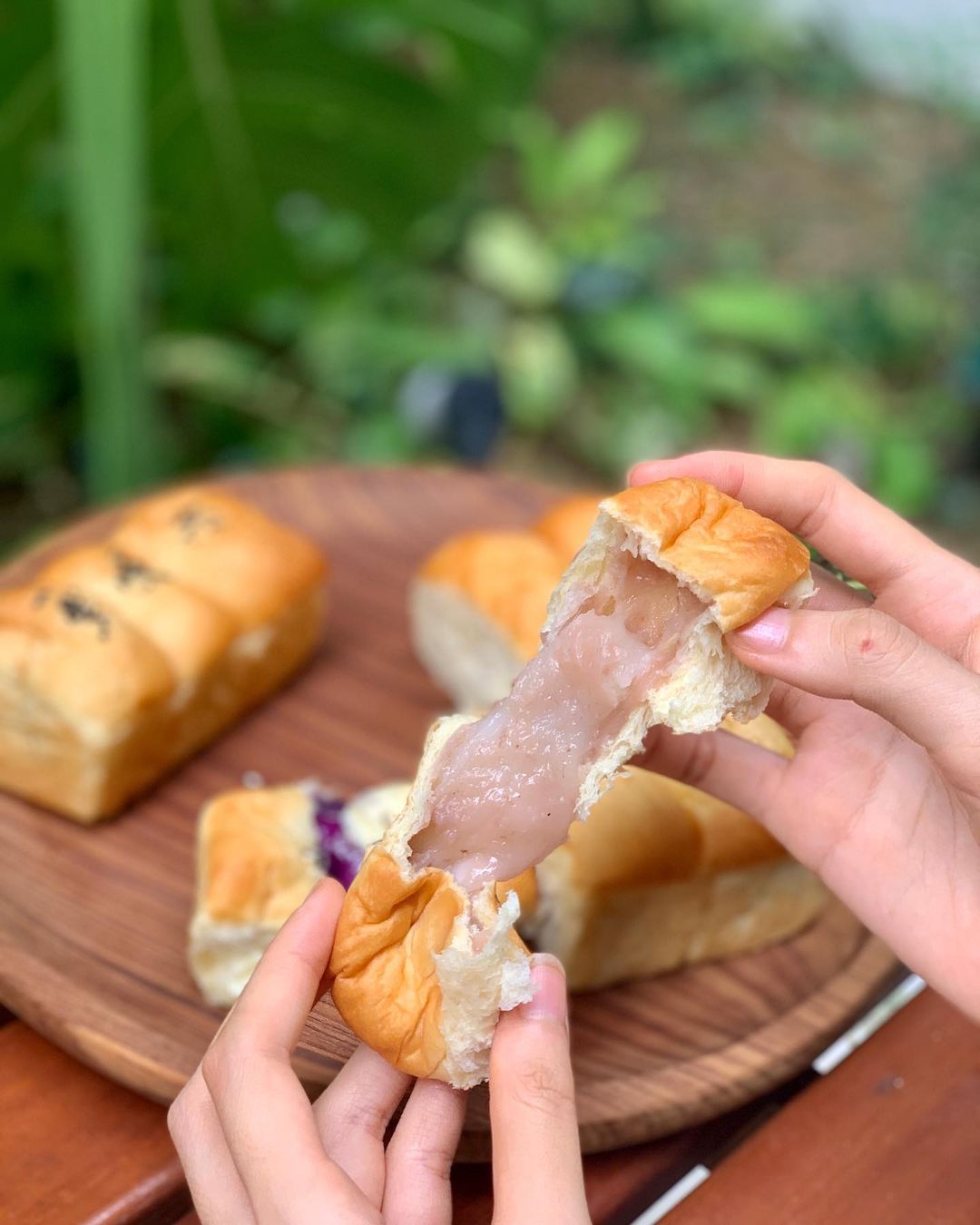 Image credit: @breaduwu
Jo-Yi Bakery is an underrated Taiwanese-inspired bread store that sells mochi-stuffed buns at wallet-friendly prices. There's an endless array of bread flavours available, including customisable options. Most of their bread items are priced below $2, and you can top up $0.50 to add on their Handmade Signature Mochi if you wish.
Popular flavours for their mochi bread include Purple Sweet Potato, Red Bean, and Black Sesame + Peanut.
Address: 4 Hillview Rise, #02-09, hillV2, Singapore 667979
Opening hours: Daily 8am to 8pm
Website
Jo-Yi Bakery: Taiwanese-Inspired Home Bakers Open First Outlet At Hillview
---
7. Dochi Dochi
---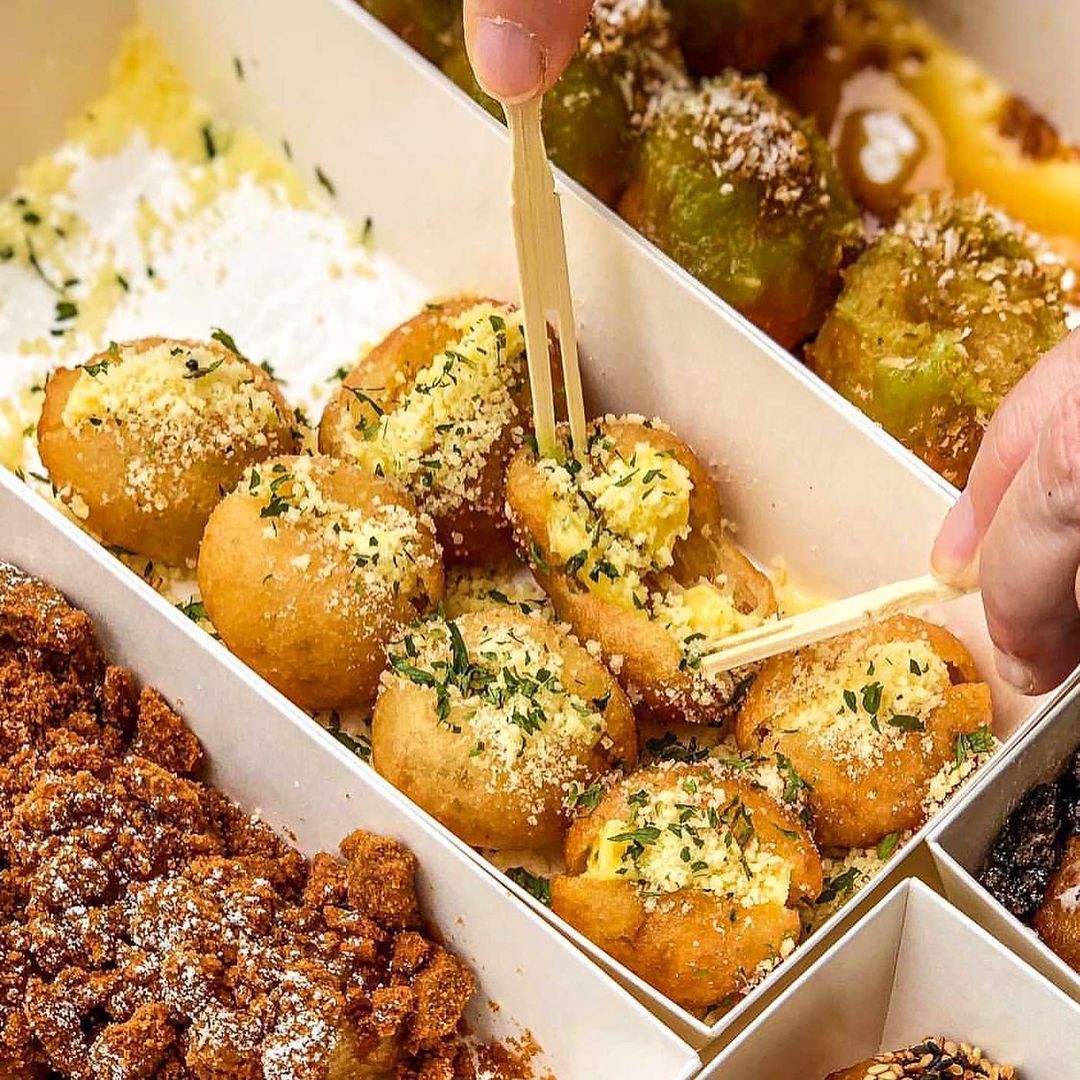 Image credit: @goneinpieces
WTV Food SG is one of those home-based business success stories. What started out as an online shop in July 2021 has since evolved to an actual store in Joo Chiat, called Dochi Dochi. Here you'll find bite-sized mochi doughnuts AKA dochi, a term coined by the brand. Choose from a wide range of savoury and sweet flavours, including Parmesan Garlic Butter ($12), Maple Osmanthus ($9), and Kaya-Lah ($9). You get 10 pieces in each tray.
Address: 95 Joo Chiat Rd, 01-02, Singapore 427389
Opening hours: Tue-Sun 11am to 9pm
Website 
This Home-Based Business Sells Mini Mochi Doughnuts In Flavours Such As Kaya And Biscoff
---
8. Mamafang 
---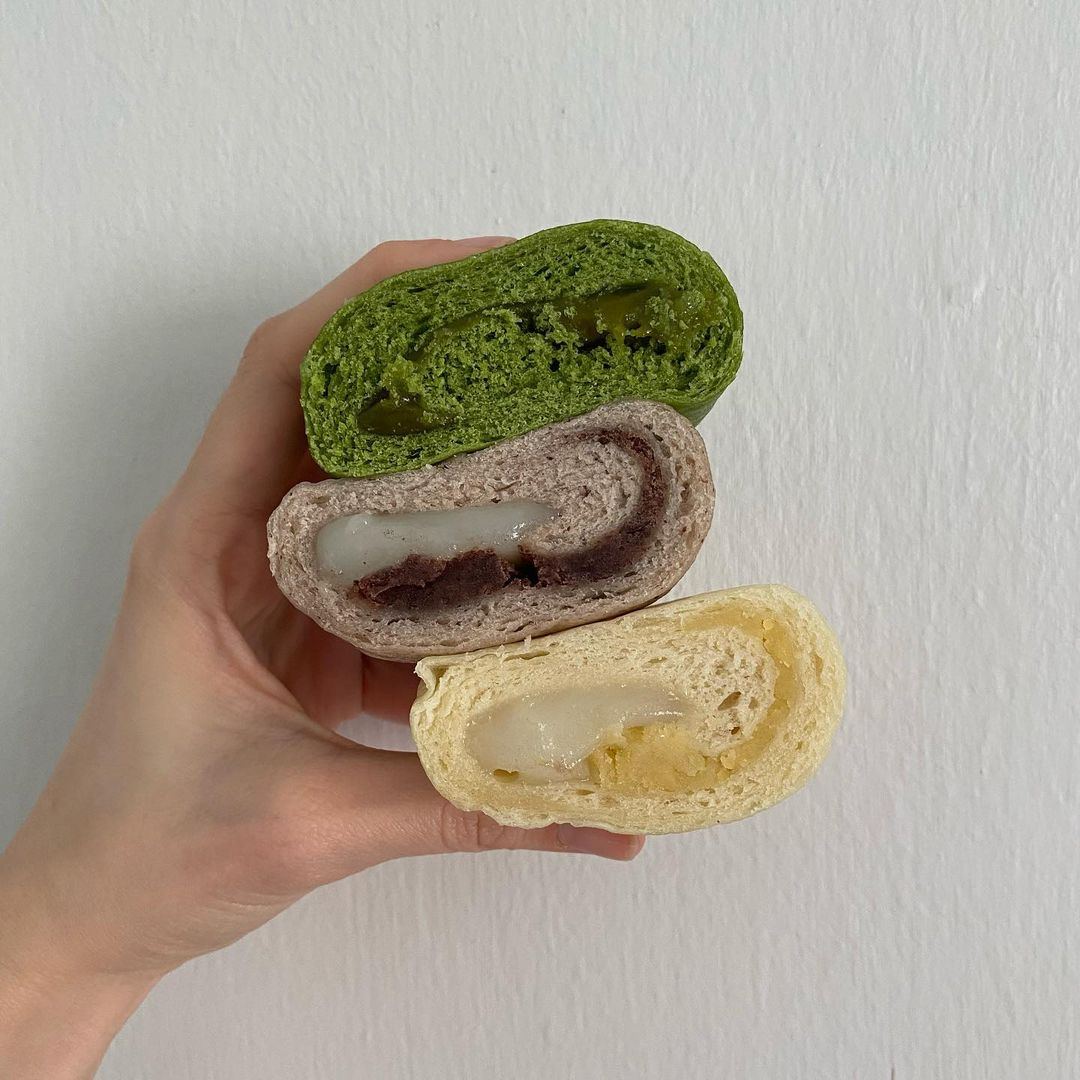 Image credit: @breadxoats
Home-based bakery Mamafang offers made-to-order steamed mochi buns in old-school flavours such as yam, sweet potato, and red bean. These palm-sized buns are made without preservatives, using natural ingredients only, so you can expect maximum freshness.
Prices start at $20 for a box of six mochi buns, and go up depending on the flavours you choose. A popular order is the Matcha Mochi Mix ($22), which comes with three Matcha Mochi Buns and another three of your choice. Keep your eyes peeled on their IG page for updates on new launches!
Mamafang: Handmade Mochi Buns With Black Sesame, Matcha Red Bean And More At This Online Bakery
---
9. Rakki
---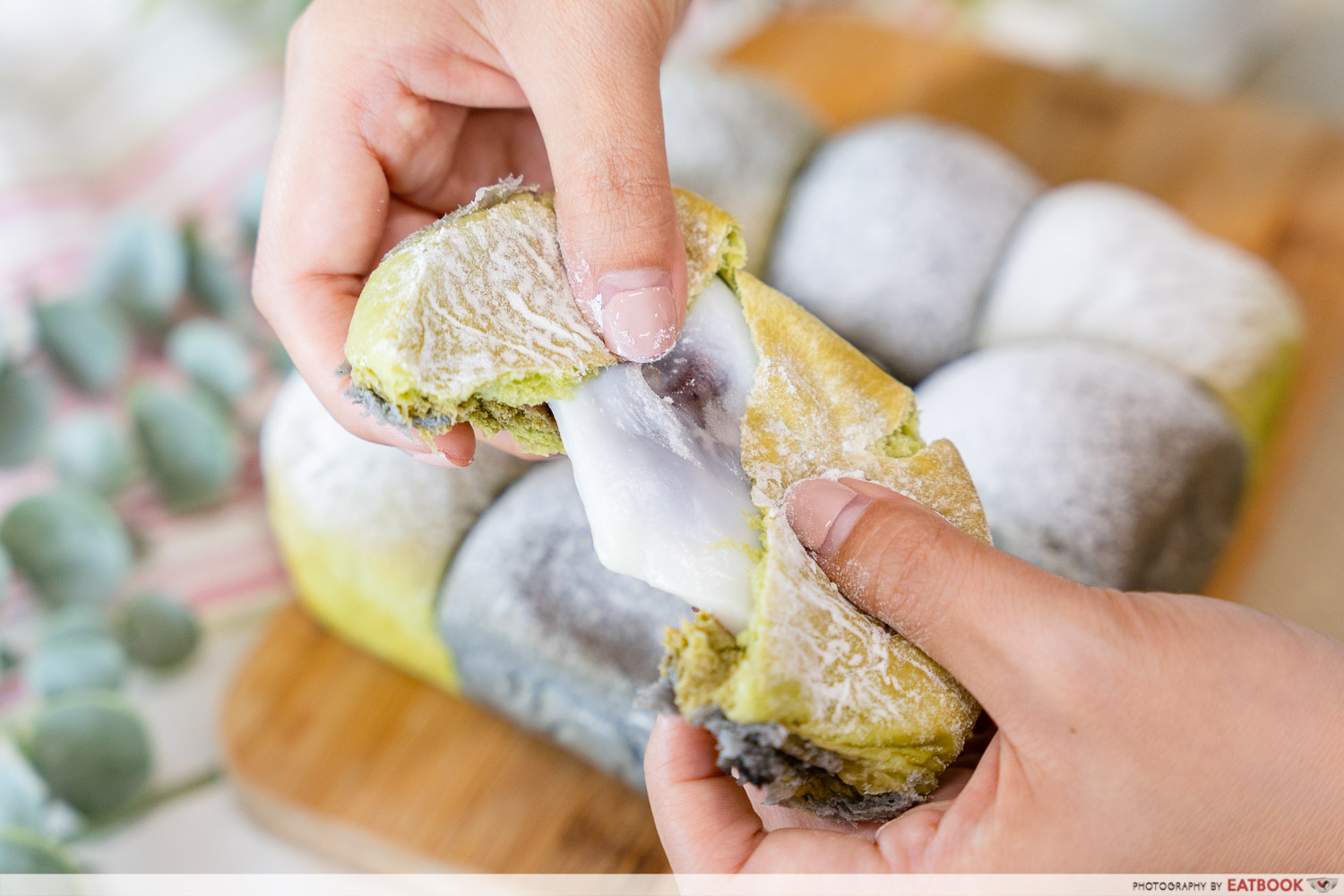 Rakki is a small home-based bakery with only one item on their menu: mochi-filled milk buns. Priced at $27 a box of nine buns, there are only two flavours at this moment: Black Sesame, and Matcha Azuki.
The mochi in these pillowy buns is said to be more opaque and less gooey as compared to other mochi-filled buns on the market. They come in a checkerboard-like square of nine, so you can split them up with your friends. As Rakki works as an omakase concept, flavours may change at any time, so keep an eye on their Instagram page for the latest updates.
---
10. Butter Bread
---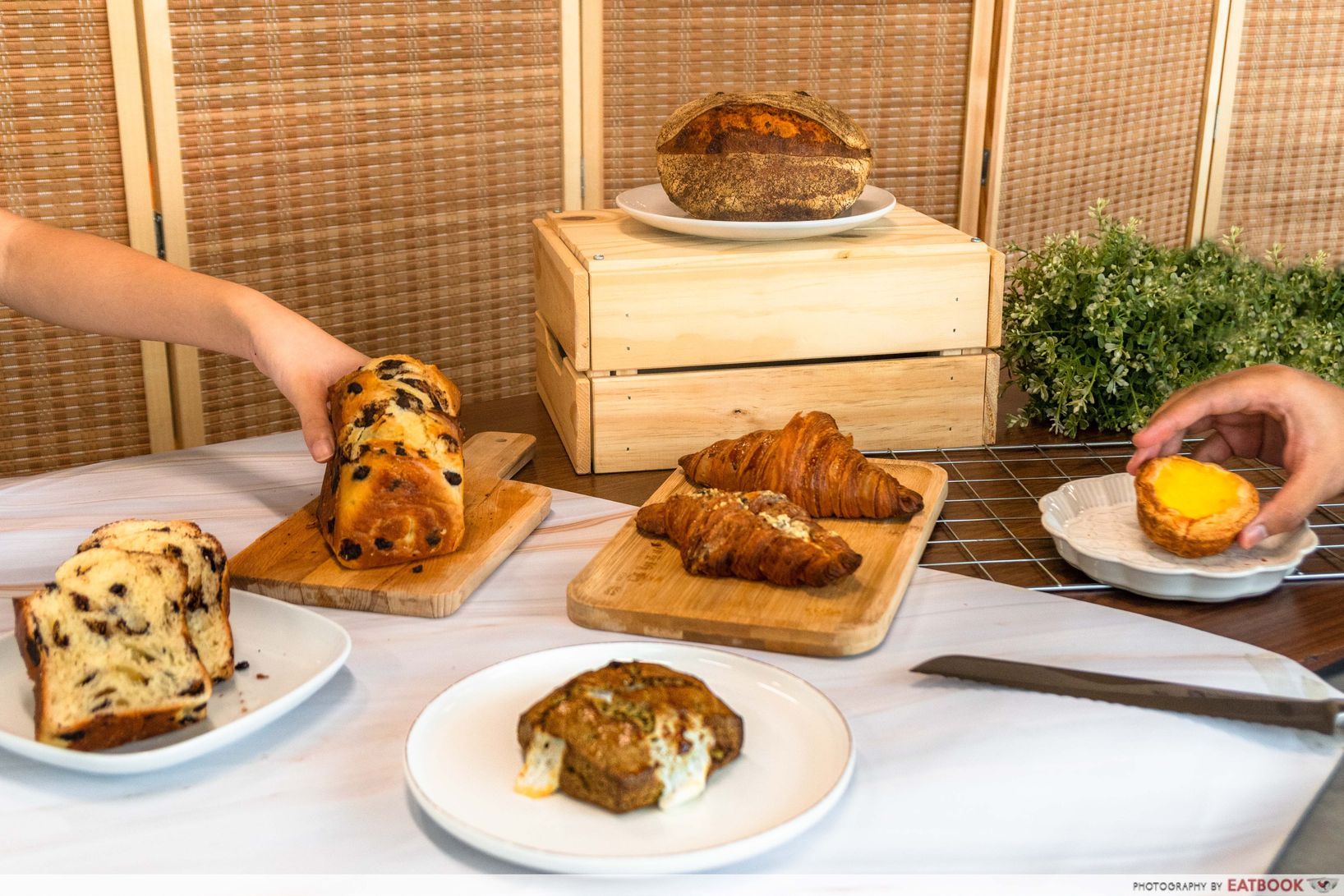 When we tried Butter Bread's Matcha Mochi Scone ($6), we were impressed by how the bitter matcha notes paired well with the soft and stretchy rice cake. While this particular bake is no longer on the menu, they've replaced it with a Hojicha Honey Mochi Scone ($4.50) that sounds equally delicious. Flavours change from time to time, so make sure you visit their IG page to stay updated.
Apart from scones, the bakery also has a selection of unique bakes on the menu, including a Kimchi Mozzarella Sourdough ($10.50) and Garlic Cheese Croissant ($4.50).
Read our Butter Bread review.
Address: 1189 Upper Serangoon Road, #01-44, The Midtown, Singapore 534785
Opening hours: Tue-Sun 12pm to 6pm
Tel: 9117 3529
Website
Butter Bread Review: Ex Shangri-La Hotel Chef Opens Bakery With Egg Tart Croissants, Mochi Scones And More
---
11. Jiababa 
---
Another home-based business to check out is Jiababa, known for their mochi-stuffed bagels inspired by Taiwan. You might have seen these mini baked bagels popping up on your IG feed, featuring a wide range of colourful fillings that are made from scratch, without added refined sugars or oil. Do take note that Jiababa's bagels lean towards soft and spongy—unlike the classic New York-style bagels that have a hard crust and chewy middle.
Slots are limited and flavours every week. Popular runs include Black Sesame Bagel with Black Sesame Mochi and Red Bean, and Matcha Bagel with Matcha Mochi and Red Bean.
JIABABA: Home Bakers Selling Taiwanese-Style Bagels Filled With Chunky Taro, And Peanut Butter Mochi
---
12. 108 Matcha Saro
---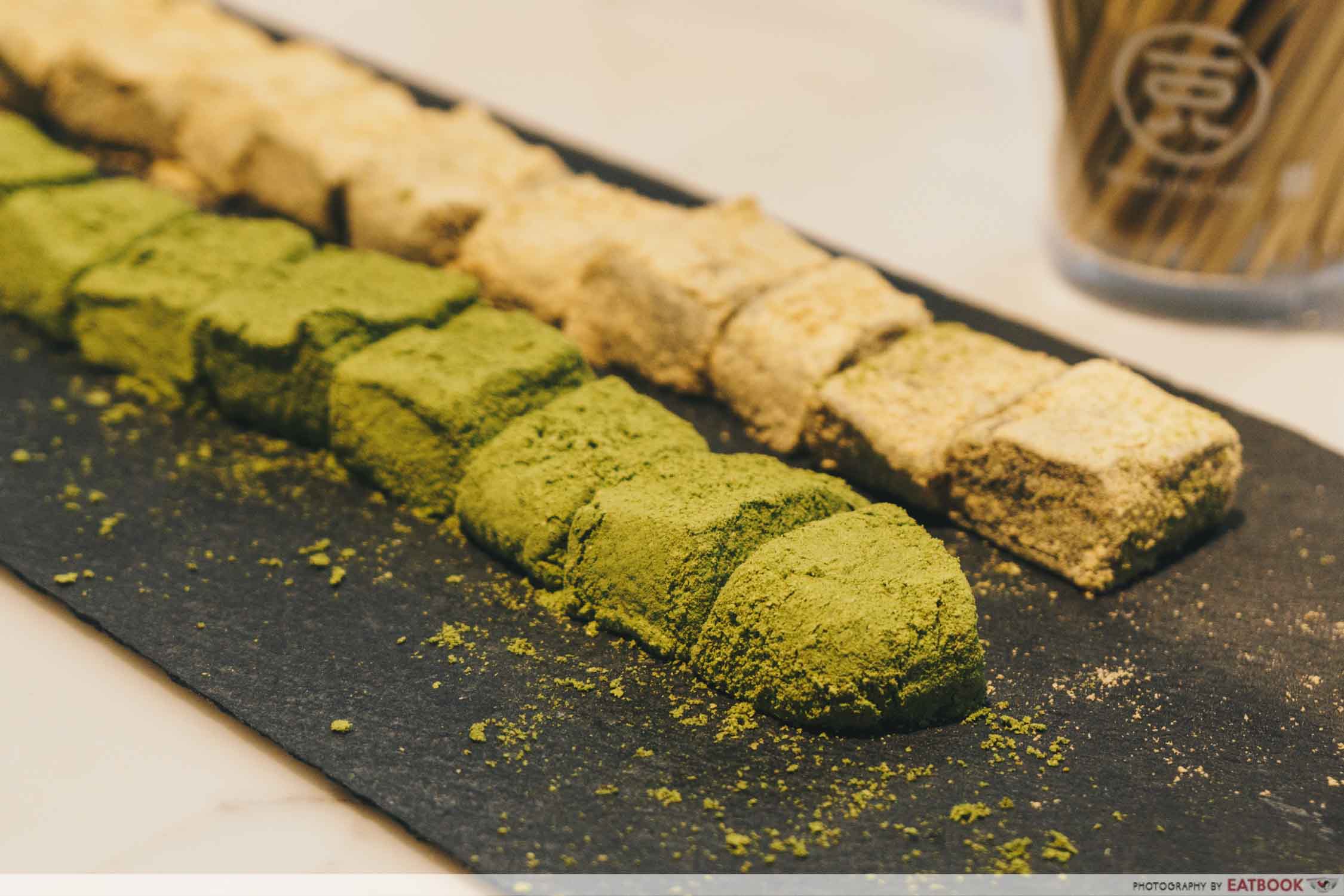 For legit Japanese warabimochi in Singapore, visit 108 Matcha Saro, which has three outlets islandwide: Changi Airport T3, Suntec City, and ION Orchard. The famous Hokkaido chain sells classic matcha desserts made with their very own Uji matcha powder, including soft serve($4.90), obanyaki (from $2.90) and QQ warabimochi (from $5.50).
Flavours include their best-selling Matcha Powder, as well as Soybean Powder and Black Sesame. You can also get a mixed box with two flavours if you want more variety.
108 Matcha Saro: Famous Matcha Joint From Hokkaido Opens At Suntec With 1-For-1 Soft Serve
---
13. Thai Baang 
---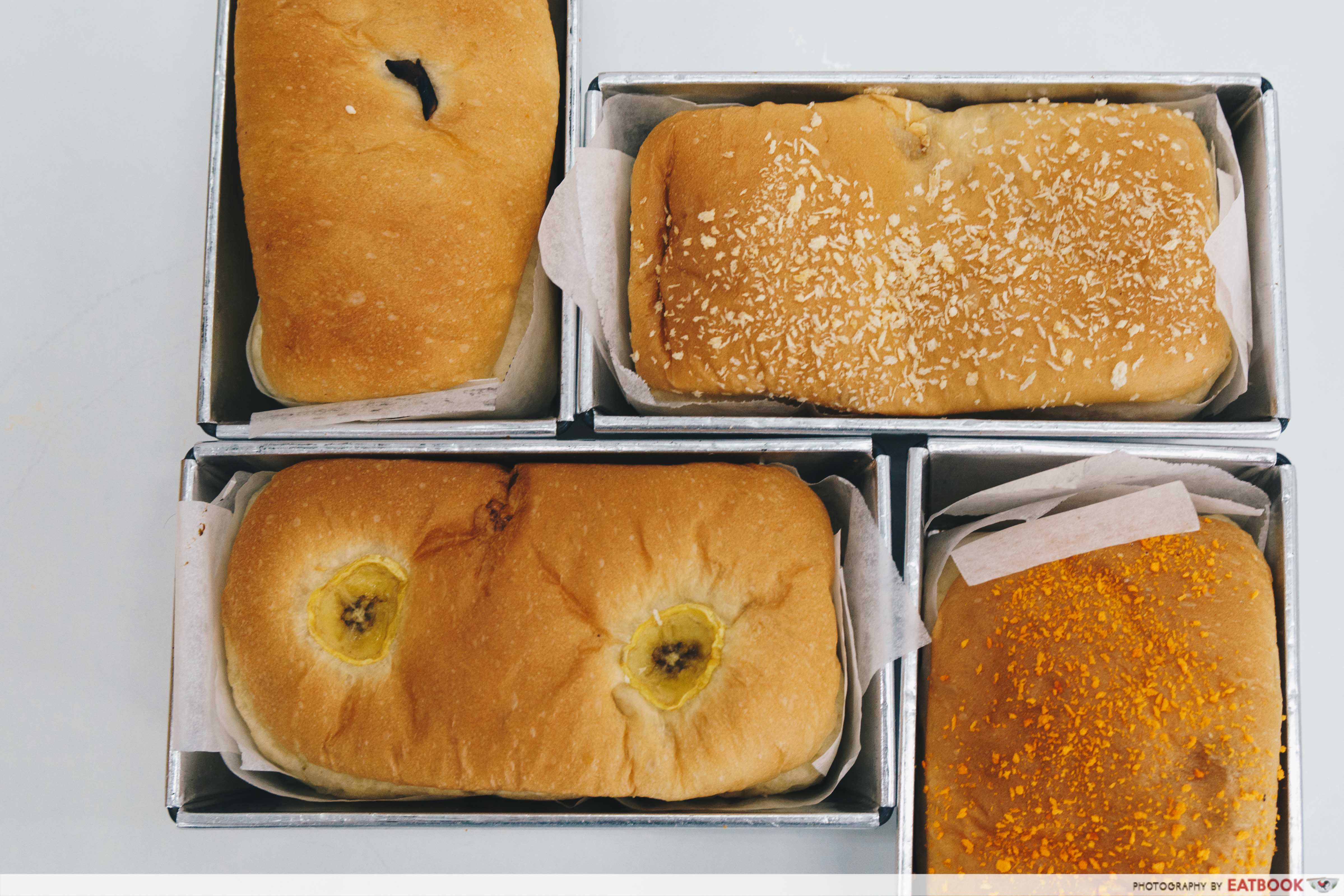 Another popular bakery to bookmark for mochi bread is Thai Baang, which opened their second outlet at Holland Village in late 2021. Mochi lovers have to try their Mochi Buns, available in an assortment of fillings including Black Sesame ($3.50), Yam Floss ($3.50) and Peanut Butter ($3.50).
The homegrown business is known for their super soft bread that's freshly baked in tins. You can also find other bakes including the Banana Chocolate Bread ($6.80), said to be light and fluffy with just the right amount of sweetness. Their full list of bakes is available for online order too, so you can shop without leaving home.
Read our Thai Baang review.
Thai Baang: First Thai Bread Bakery In Singapore Beside Lavender MRT Station
---
14. Qi Homebake
---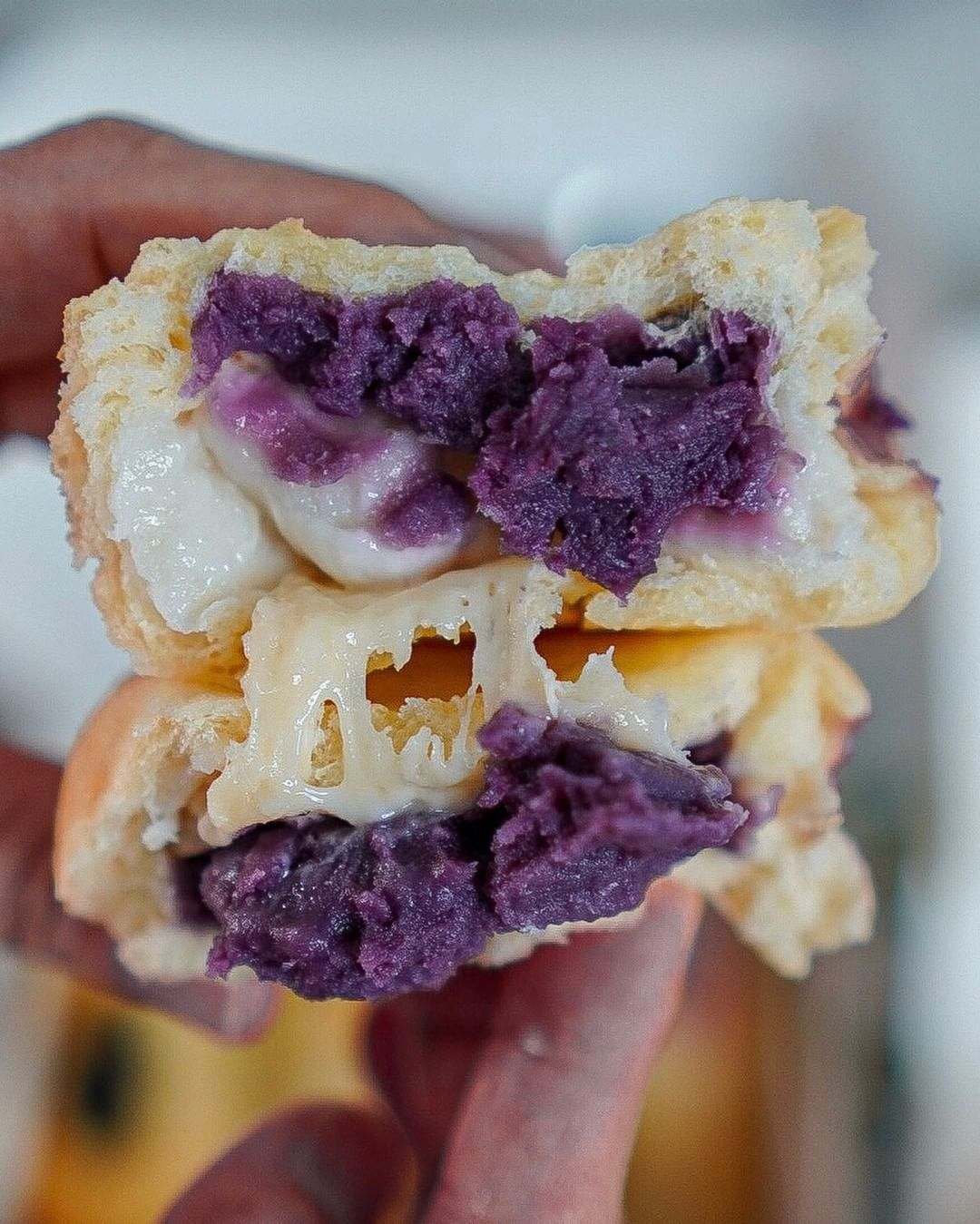 Image credit: @auntiekongfoodie
Qi Homebake is an under-the-radar home bakery offering a varied selection of fresh bakes, including Mochi Bombolini ($25 for four). These handcrafted doughnuts come in eight sweet fillings, including Peanut Butter, Matcha, Orh Nee, and Sweet Potato. They're also said to be less sweet than their commercial counterparts, so you don't feel too jelak after indulging in one or two.
To place an order, send them a direct message on their IG page or WhatsApp them at 97940414. All orders above $60 are entitled to free delivery.
---
15. Little Red Dot Bakery
---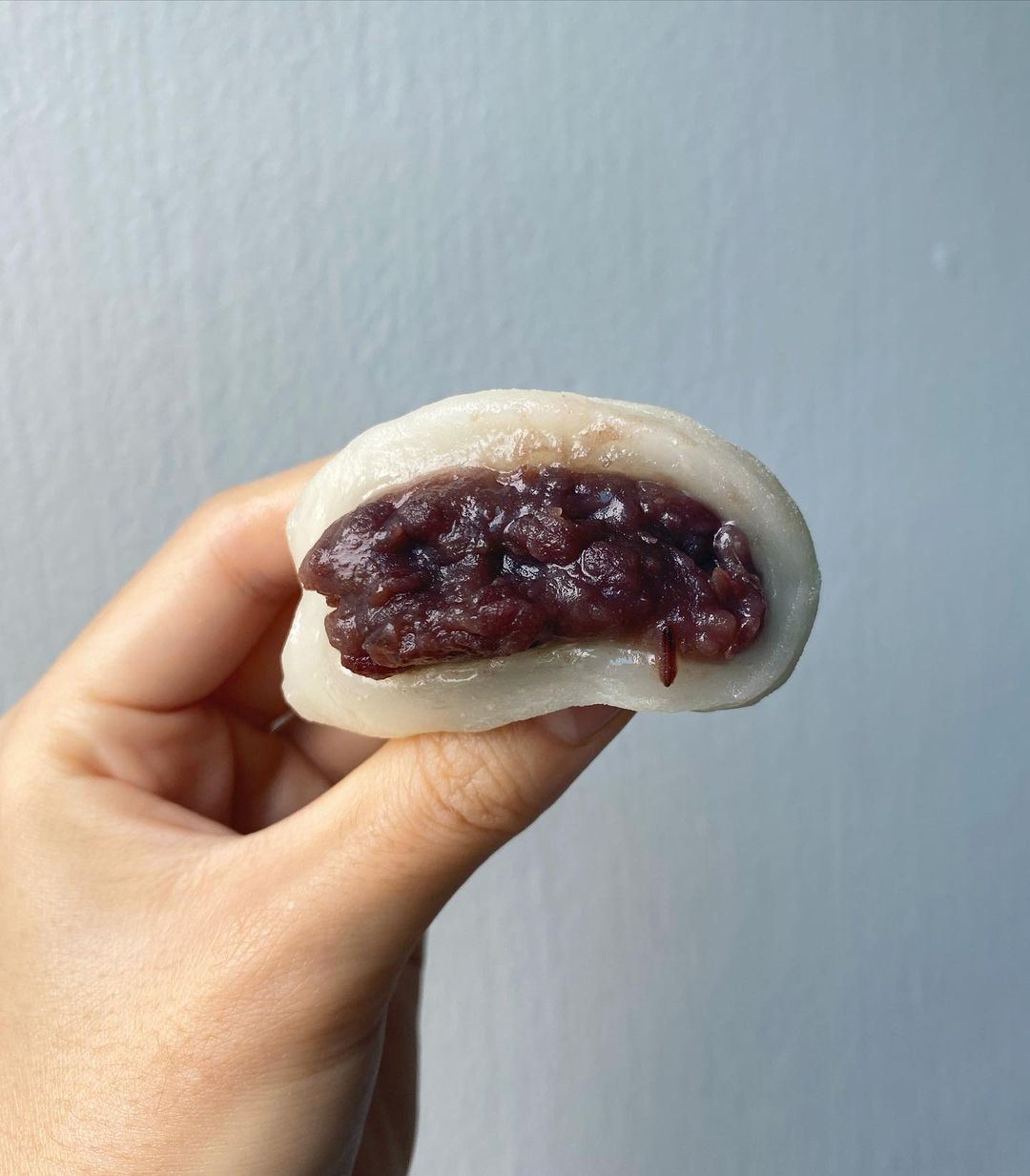 Image credit: @breadboooo
For uber soft and QQ mochi with old-school fillings, visit Little Red Dot Bakery, a hidden gem in Commonwealth. The under-the-HDB bakery caters to the elderly living in the area, so the bakes are softer and more affordable than most big brands. A must-try is the Red Bean Mochi ($2.50 for three), made with chewy mochi and a housemade red bean paste that isn't too sweet.
The mochis are made fresh daily in the morning, and tend to sell out before noon. Make sure you drop by early in the day or ring them to make a pre-order!
Address: Blk 169 Stirling Road, #01-1165, Singapore 140169
Opening hours: Daily 8am to 9pm
Tel: 6473 4336
Website
Little Red Dot: Traditional Bakery In Commonwealth With House-Made Mochi, Pizza And More
---
16. Little Moons
---
We were impressed when we tried UK brand Little Moons' viral ice cream mochi for the first time last year. Available on Redmart, these artisanal ice cream balls come in a variety of flavours, including Honey Roasted Pistachio, Vegan Chocolate, and Green Tea. Wrapped in a thin and slightly chewy sweet rice cake skin, the ice cream is smooth and creamy, without being too sweet. Each piece comes under 80 calories, so you can enjoy the sweet treat guilt-free!
Get it on Redmart at $10.95 for a box of six.
---
Where to get mochi desserts in Singapore
---
The next time you're craving mochi, check out our list of mochi desserts, bread and more to get yourself inspired! Some of these places offer free delivery too, so you don't even need to step out of your house for your fix of soft and chewy goodness.
If you're looking for old-school desserts to try, read our House of Dessert review. Otherwise, head to The Fat Kid Bakery for stuffed doughnuts and more!
House of Dessert Review: Old-School Dessert Stall In Tampines Sells Watermelon Balls And More From $1.50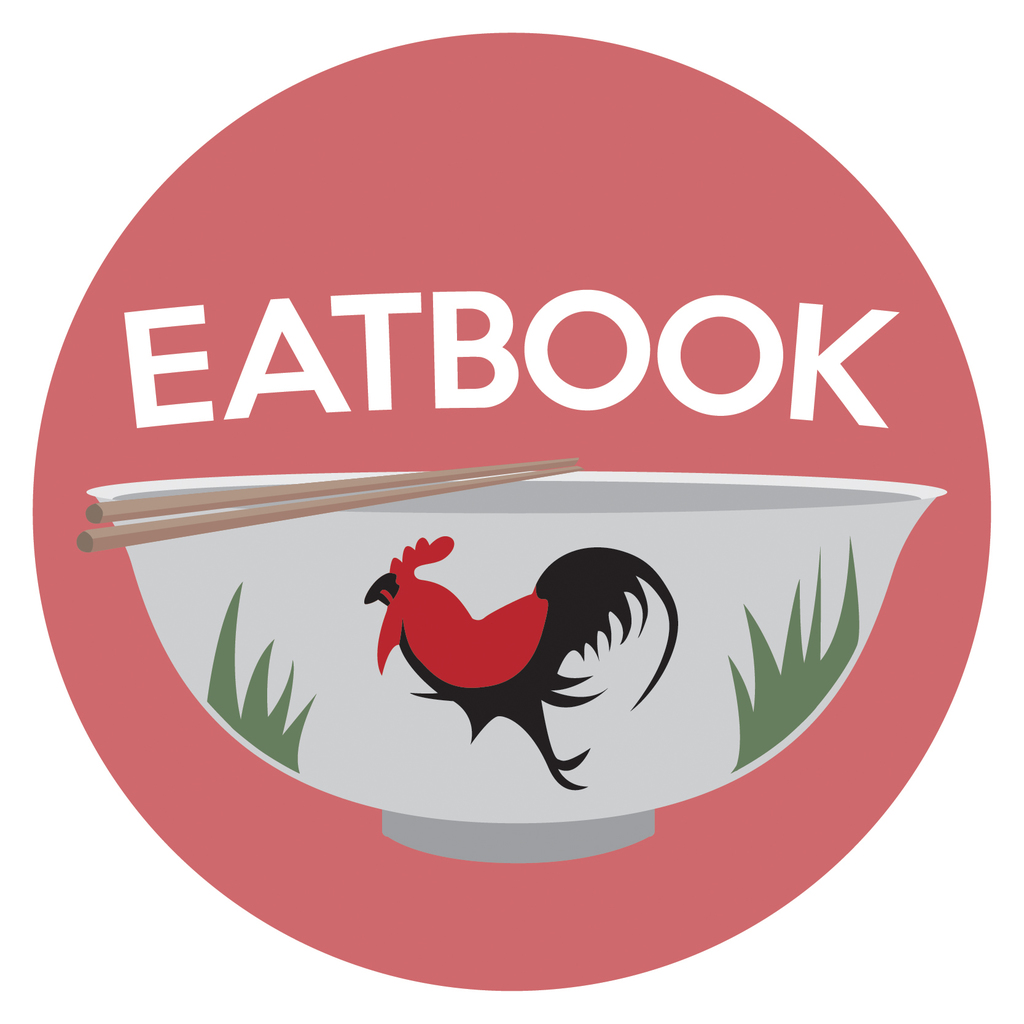 Drop us your email so you won't miss the latest news.