Butter Bread bakery at Hougang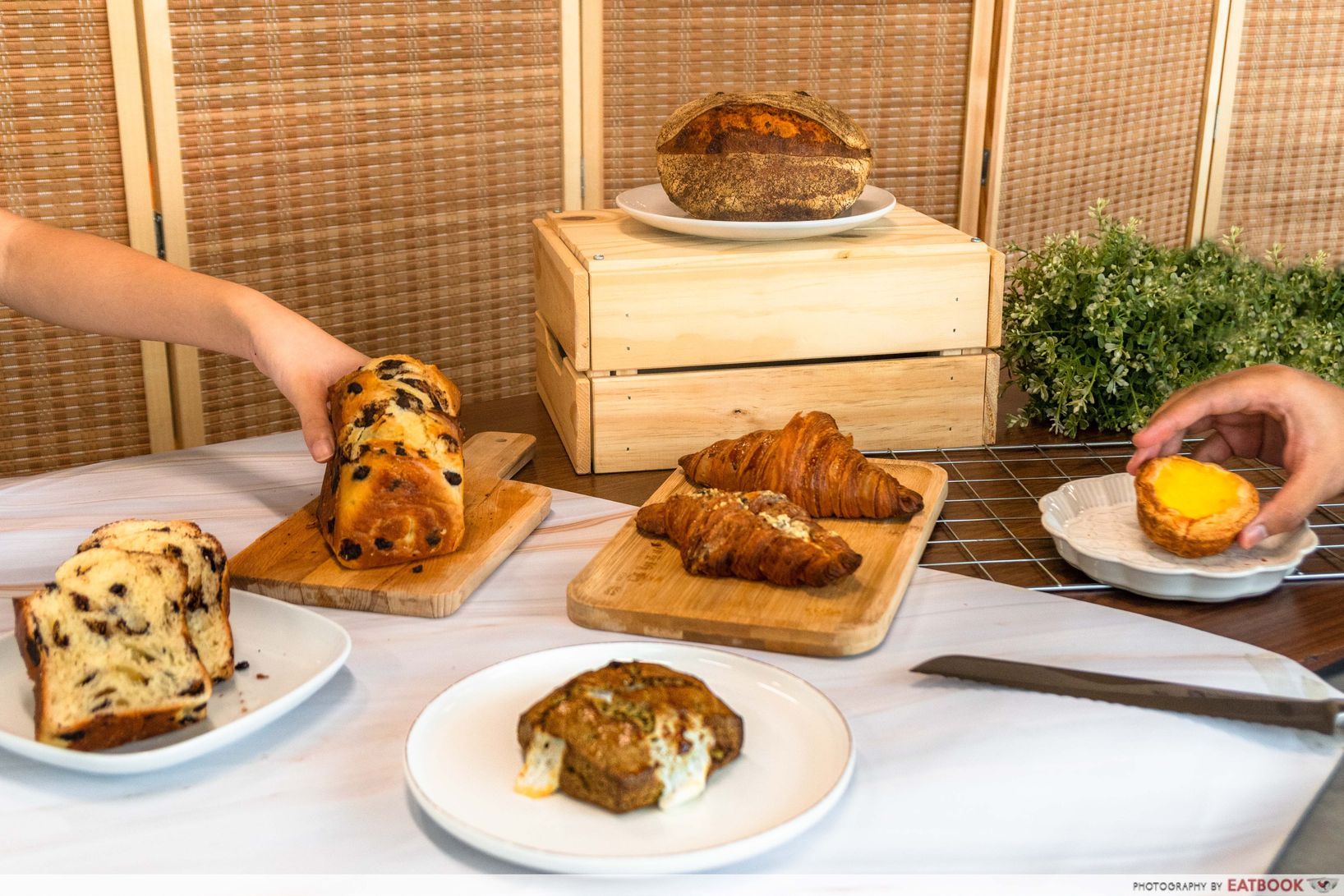 We all have our favourite bakeries that we just keep going back to—think Champion Bolo Bun and Puffs and Peaks—but within my circle of friends, I haven't heard of any well-known artisanal ones in the North-East. Thus, stumbling upon Butter Bread was exciting for me, especially with its unique array of options. 
Champion Bolo Bun Review: Three Storey-Cafe With Curry And Butter Bolo Buns
Food at Butter Bread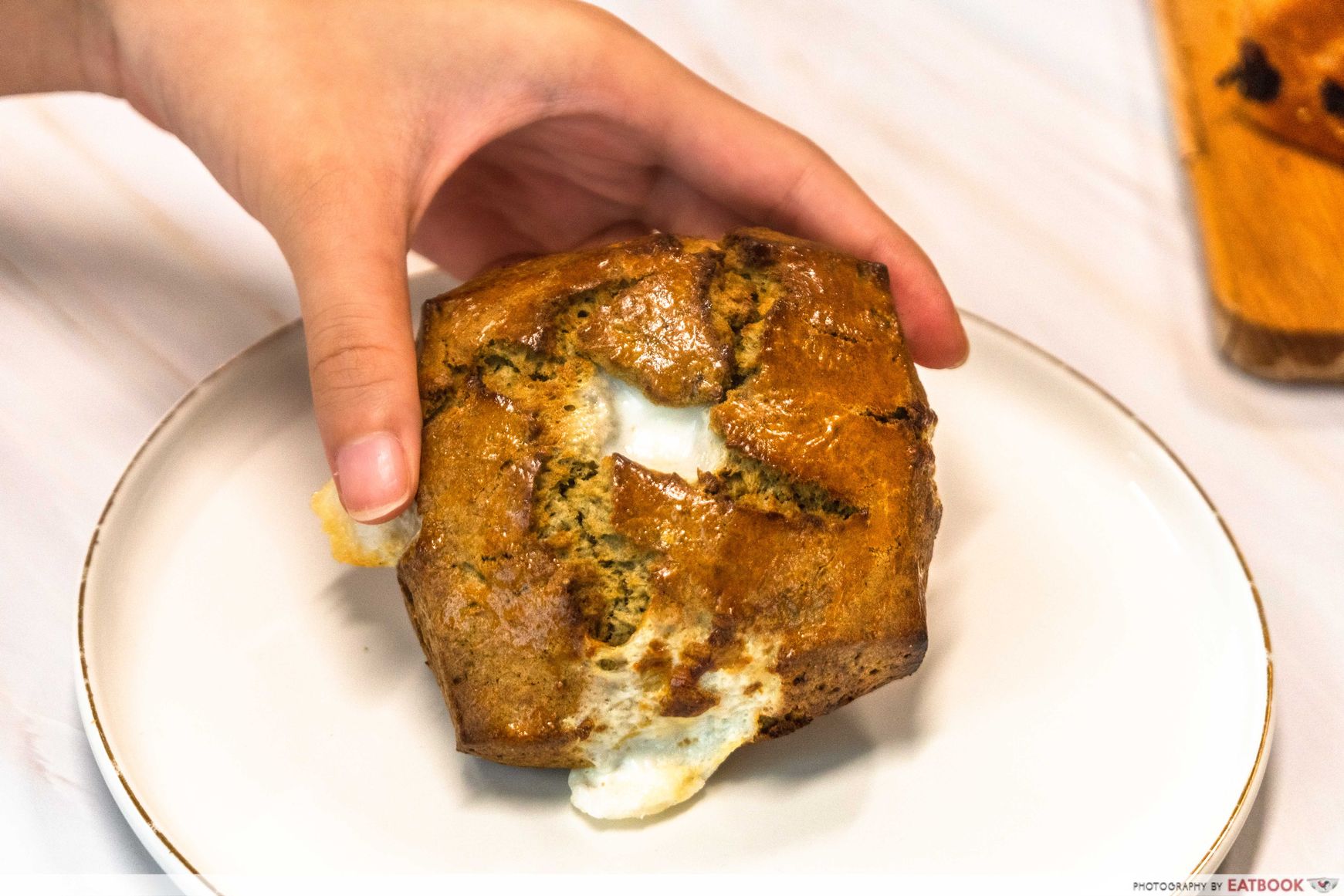 My colleagues and I were most eager to try the Matcha Mochi Scone ($6). Initially intrigued by the prospect of a mochi pull, we had our expectations met by the IG-worthy shot that was captured.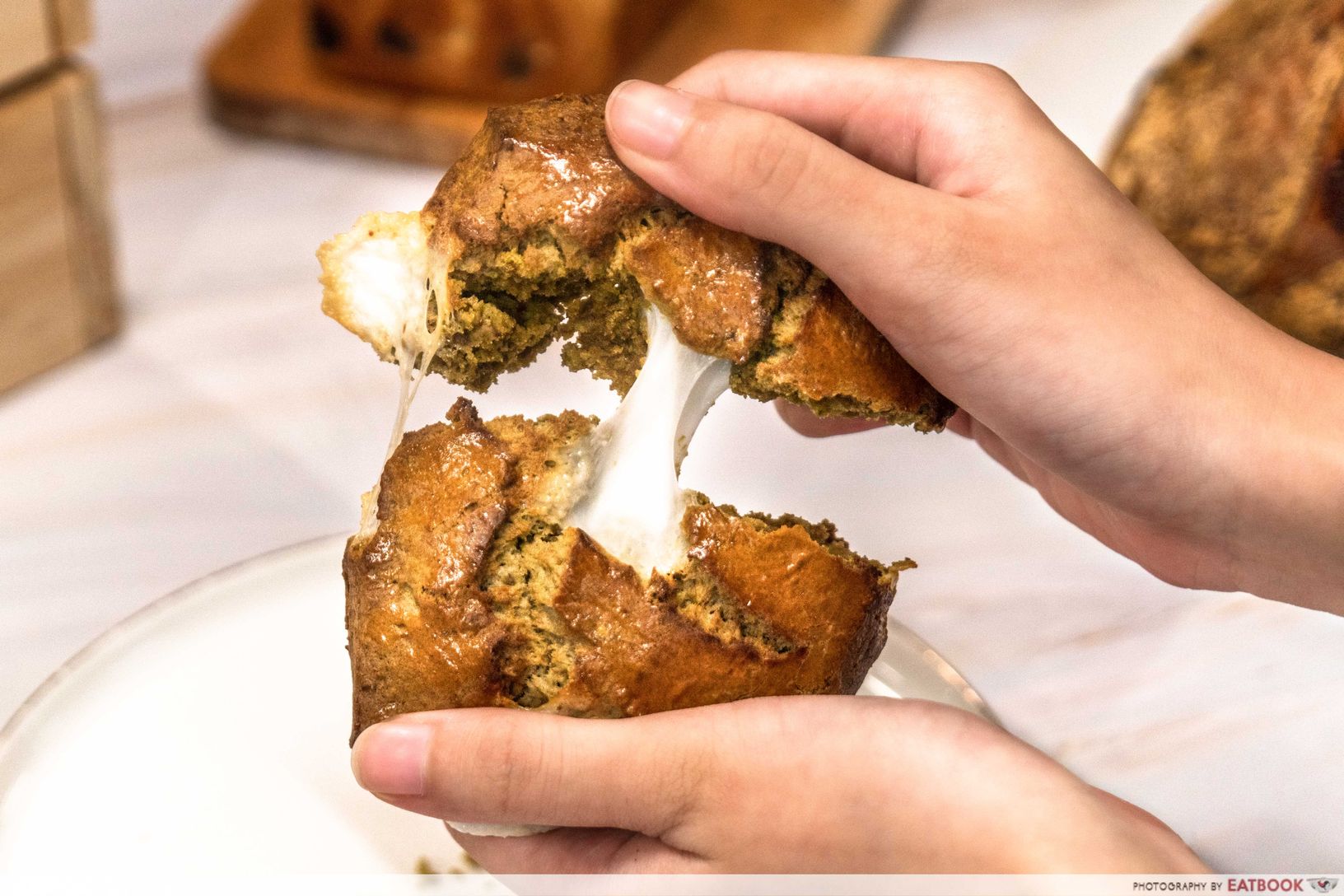 I must admit that the textures of the crumbly scone and chewy mochi together were slightly confusing at first. Thankfully, the distinct bitterness of matcha became more prominent after a few bites, and thus worked well with the soft, gooey mochi.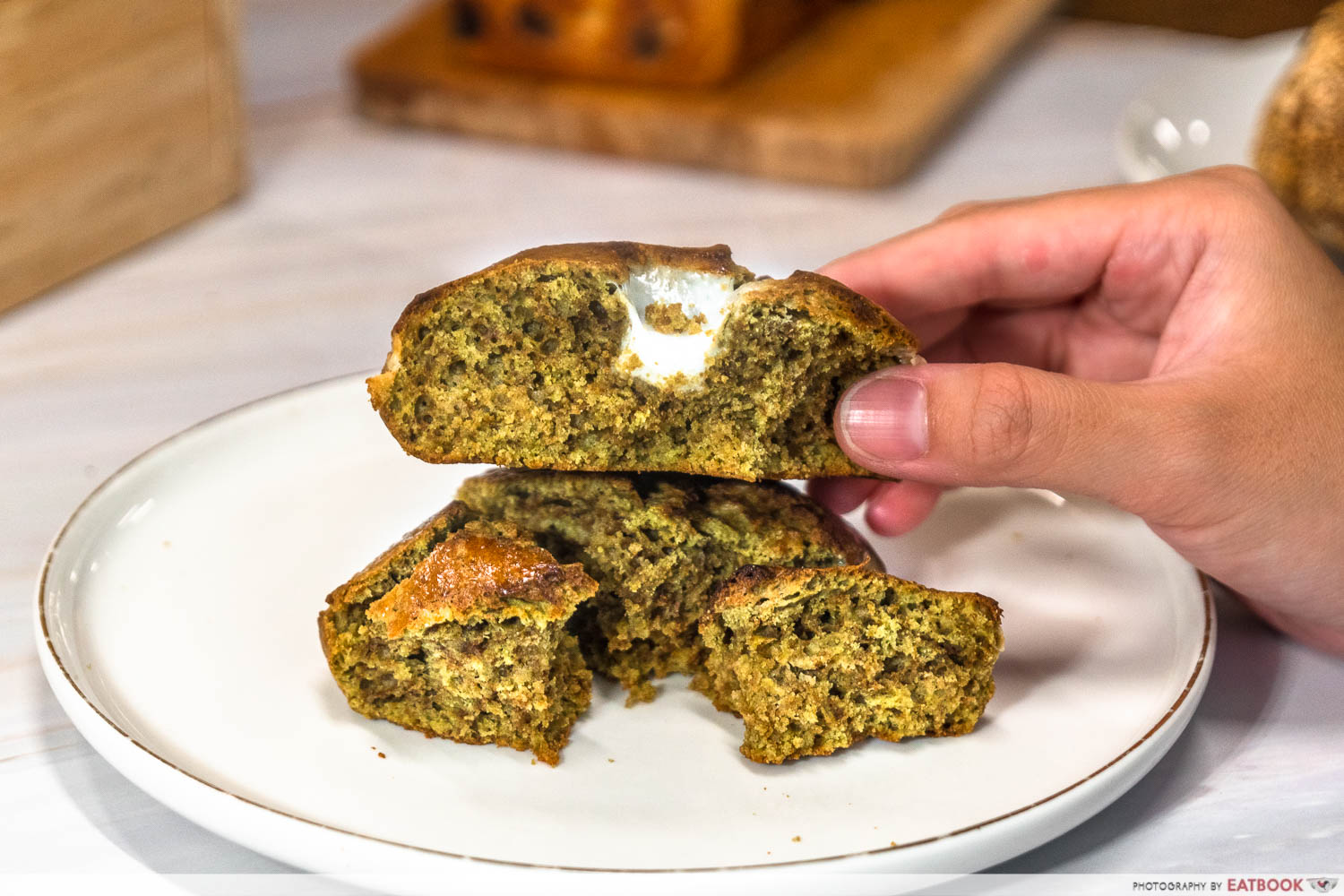 After chatting with the owner, he revealed that the Matcha Mochi Scone will actually no longer be on the menu, and will be replaced with a Hojicha Honey Mochi Scone. The menu here changes often, as the owner likes to keep the options fresh for his customers.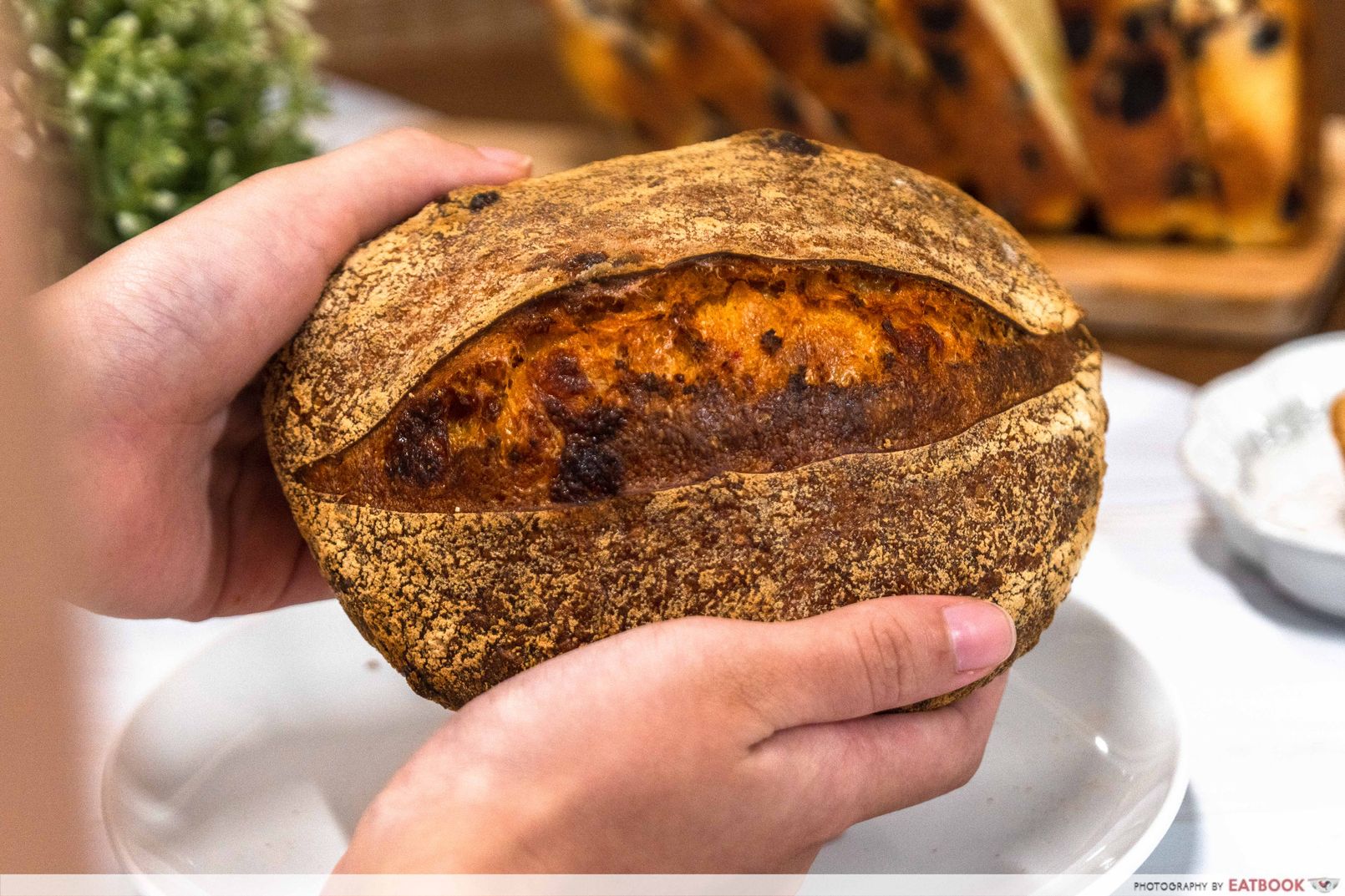 Another must-try is their Kimchi Mozzarella Sourdough ($11.50). Unassuming on the outside, the size of the sourdough initially disappointed us, as we had expected something slightly bigger.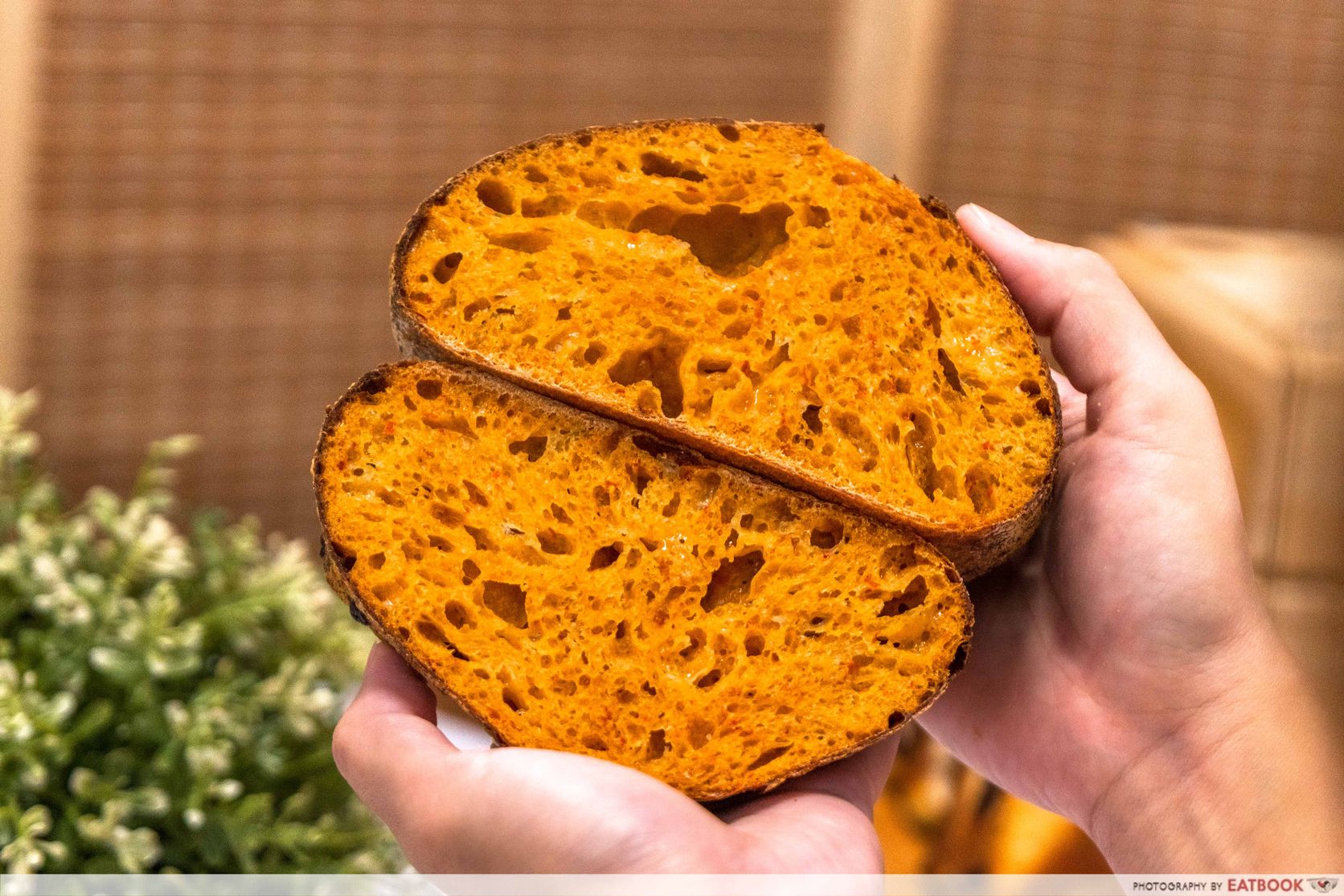 However, upon slicing it open, we found beautiful air pockets along with an enticing orange hue, reflective of the colour of kimchi. The strong kimchi taste worked splendidly in the sourdough. The unique sourness of the fermented cabbage was not too strong to throw us off. 
Though we found the presence of mozzarella lacking, this didn't bother us much as the kimchi alone was enough to satisfy our taste buds. Some may perceive the price as slightly steep, but I would argue that the use of actual kimchi justifies it.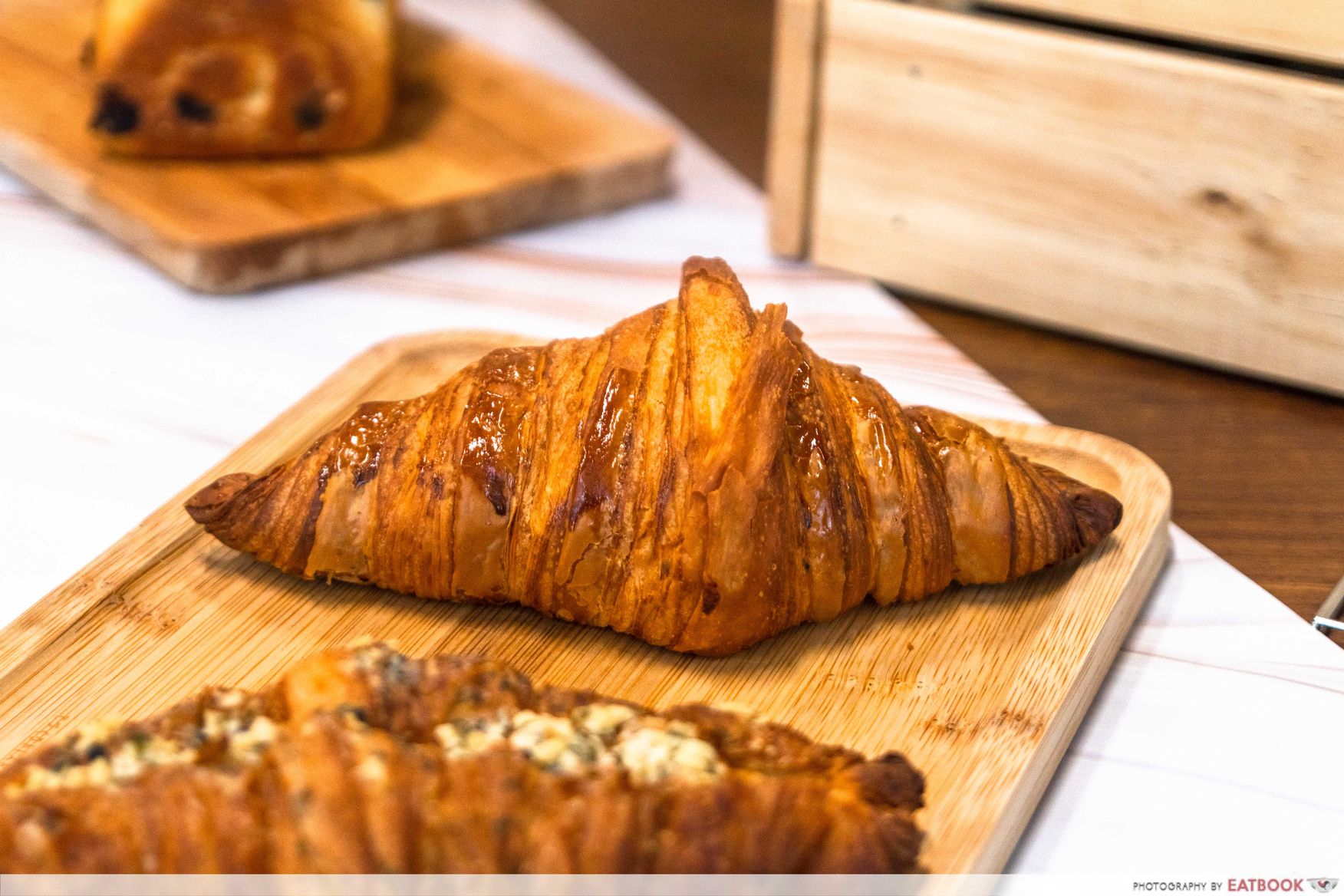 In my opinion, every good bakery should have a quality plain croissant. The ability to perfect this technically challenging pastry without the crutch of additional fillings is essential, and Butter Bread was able to pull it off.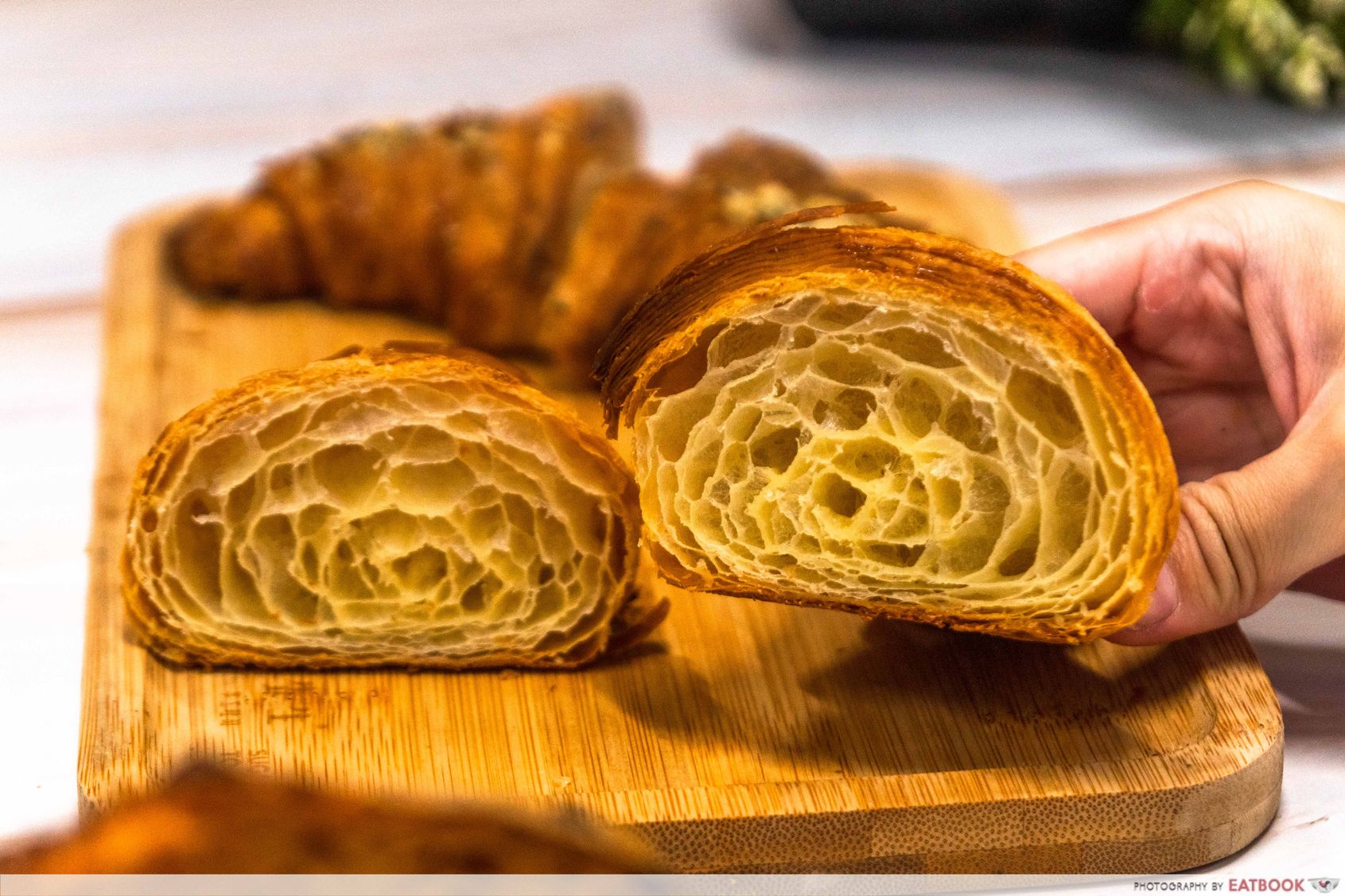 Their Original Croissant ($4.50) possessed beautiful air pockets, characteristic of any good croissant. Texture-wise, it was sinfully flaky and buttery.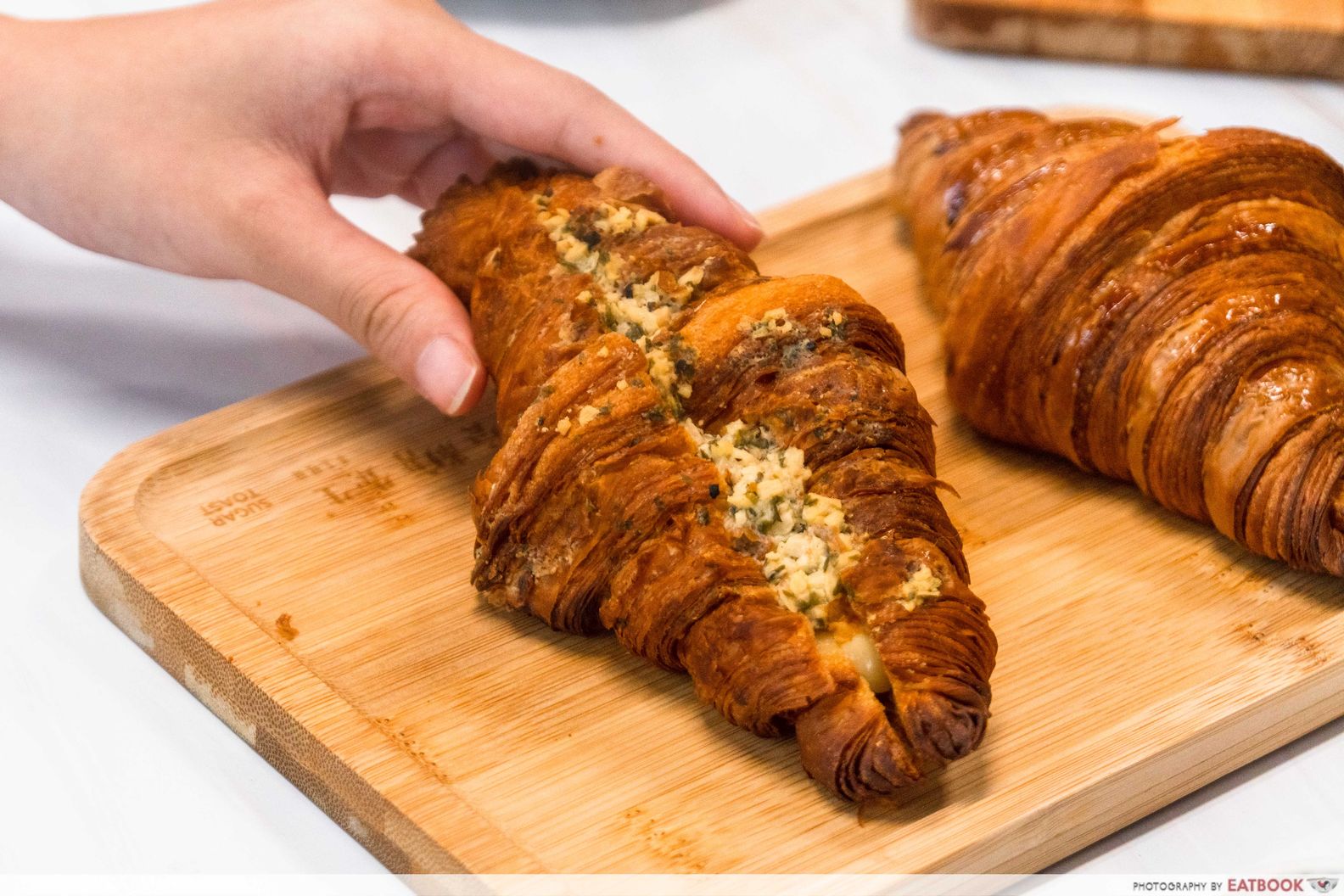 Other than the usual sweet croissants, Butter Bread also serves a variety of savoury ones. One of which is the Garlic Cheese Croissant ($5.50), which was a pleasant surprise for us. Their decision to use minced garlic impressed me greatly, as I went in expecting mere garlic powder as garnish.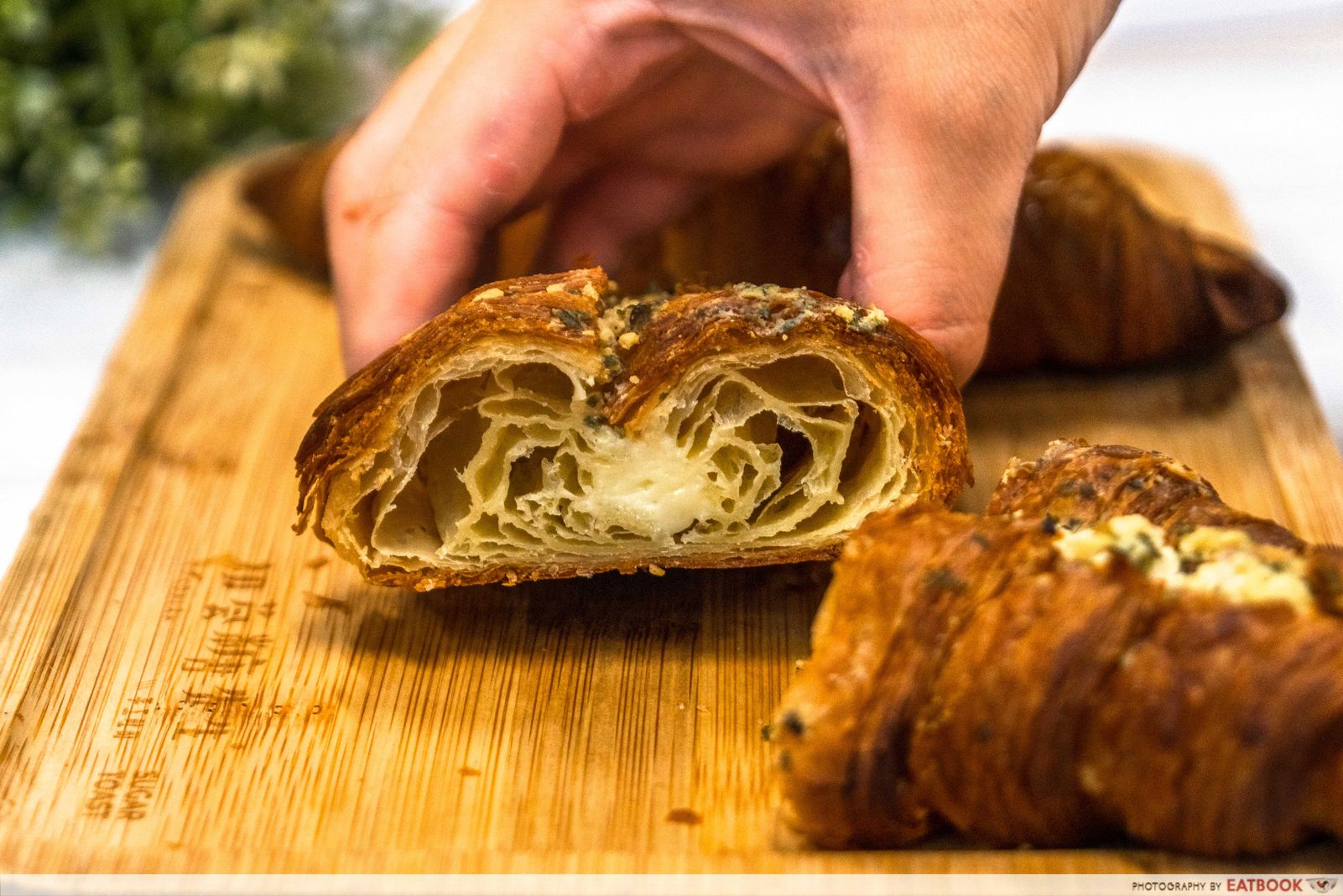 Each bite rewards you with flaky pastry outside, sharp garlic on top, followed by sweet and tangy cream cheese. Nothing was too overpowering or outshone the rest. 
There was also a unique Egg Tart Croissant ($5.50), which I very much enjoyed more than regular egg tarts. The light, flaky croissant pastry was a good change from the typical crumbly hard ones I'm used to eating. In addition, the egg tart custard delivered a smooth sweetness that was not too dense in texture.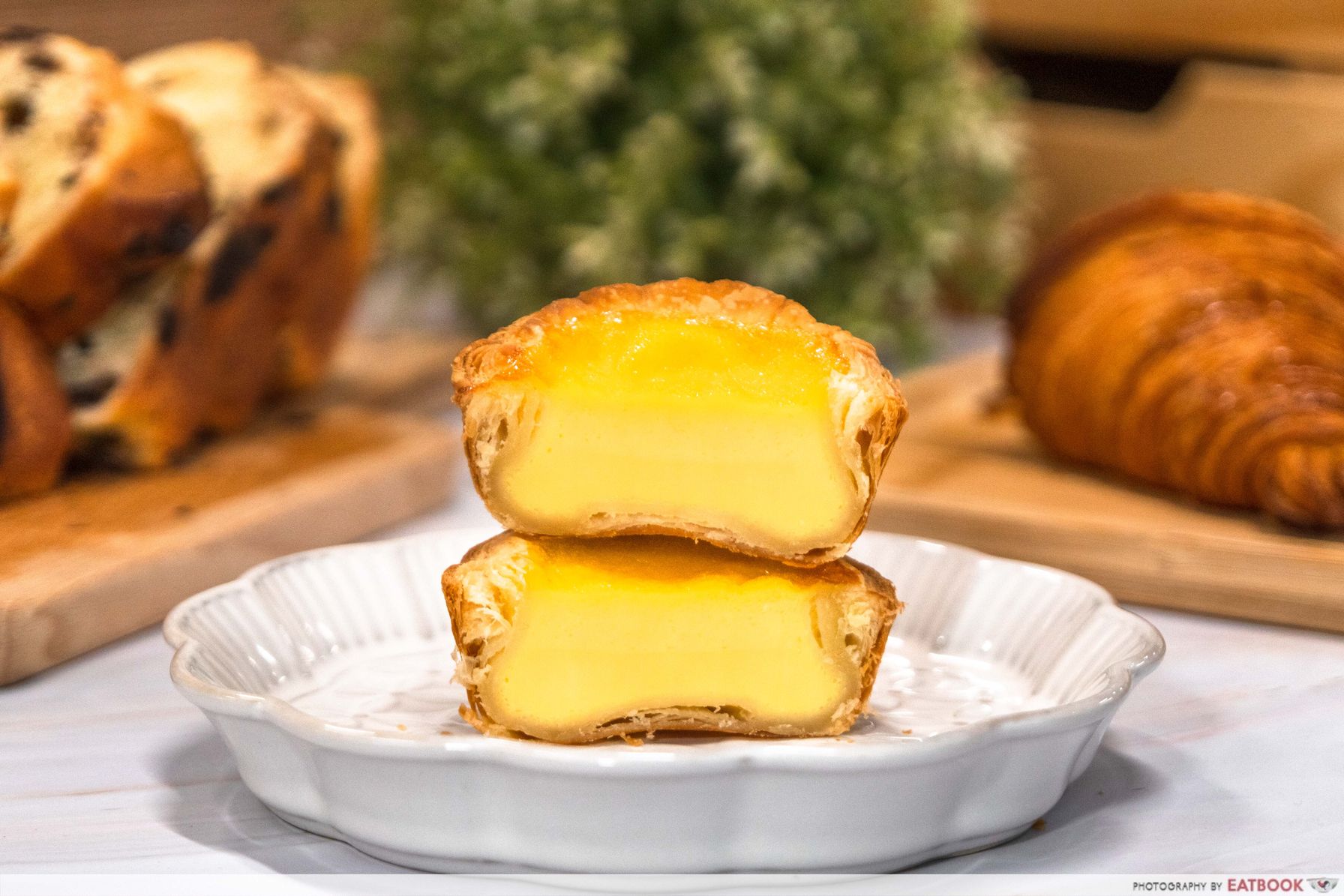 My only qualm with this is the steep price point. $5.50 for one egg tart is not something I'm entirely comfortable with paying on a regular basis. Besides that, I can definitely see myself reaching for this when looking for a small mid-afternoon snack.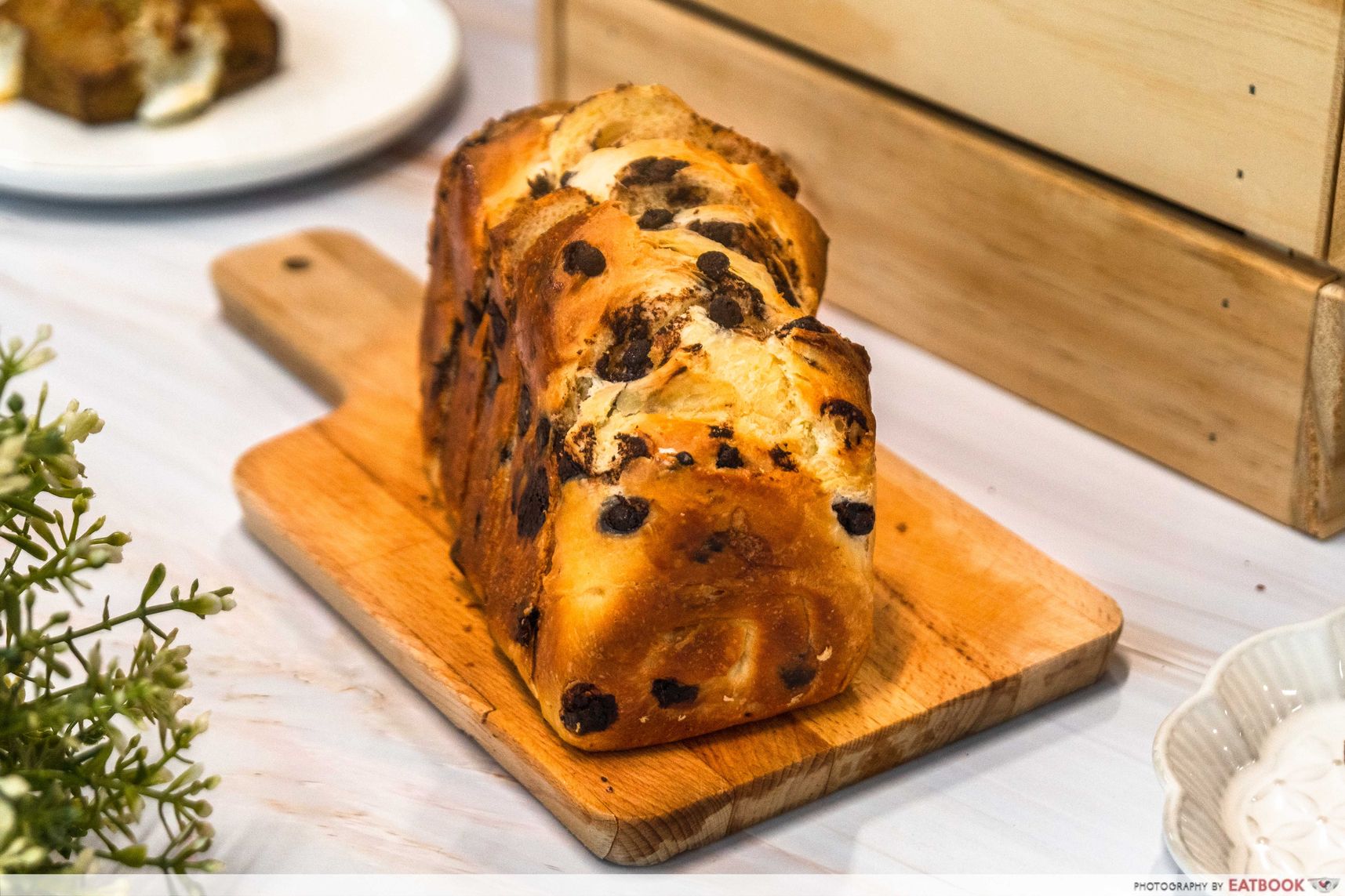 Lastly, we also got ourselves a loaf of Chocolate Chip Brioche ($7.50). With chocolate chips evenly distributed throughout, this truly captures the meaning of life's simple pleasures.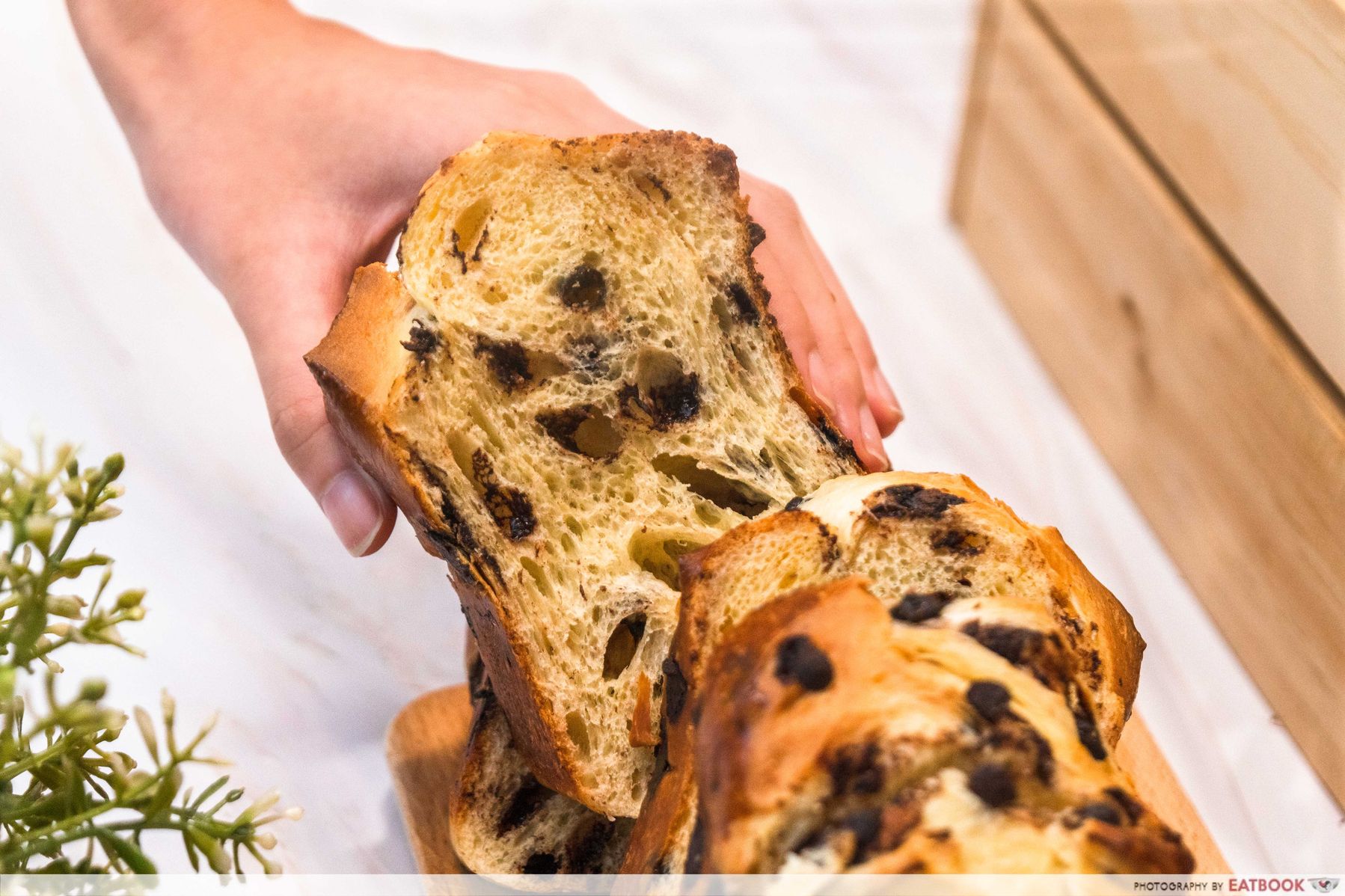 There was a sufficient amount of chocolate chips in each slice, which gave it a nice bittersweetness. Soft and fluffy, these are easy to munch on plain, on its own, throughout the day. 
Ambience at Butter Bread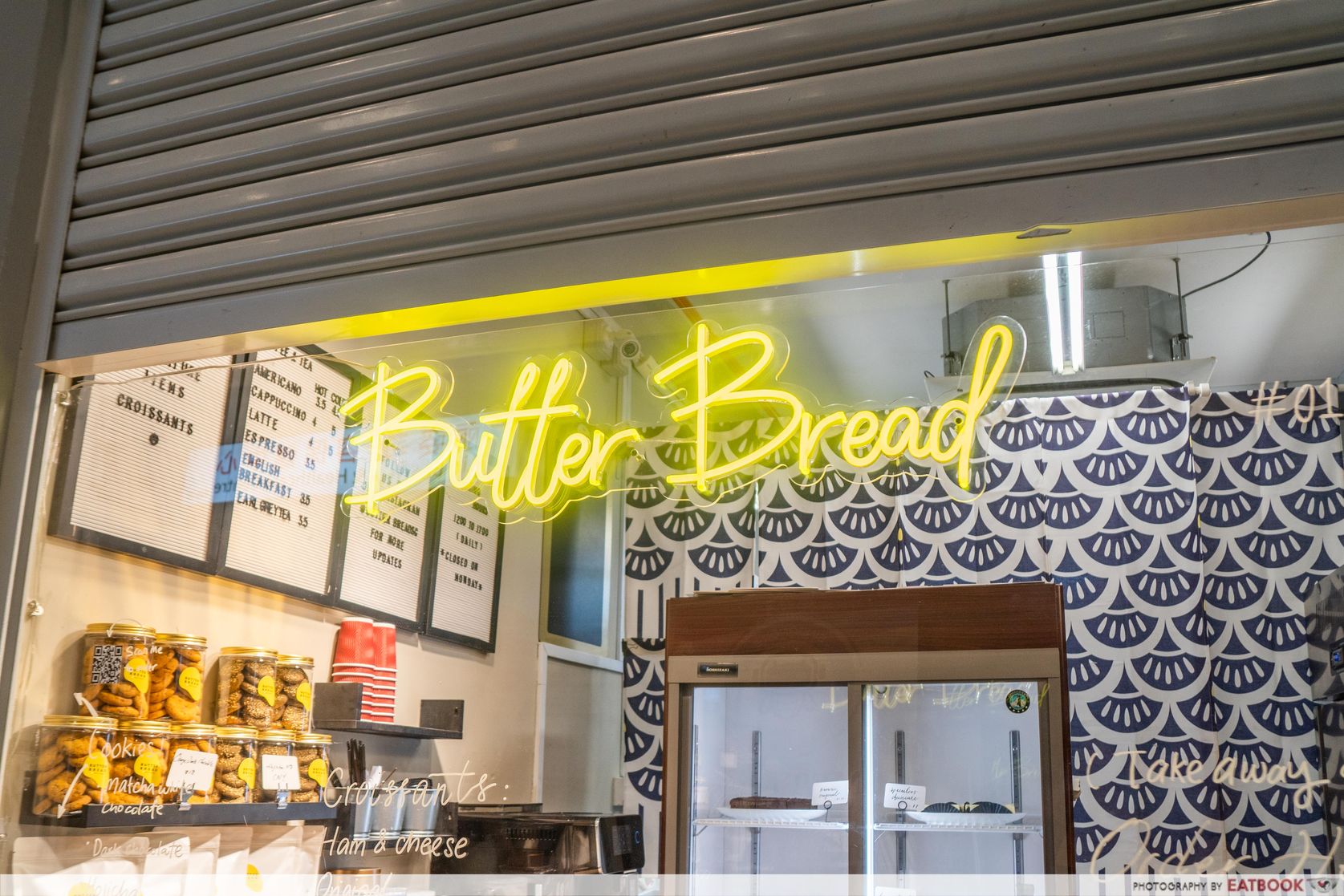 Located at The Midtown, Butter Bread is a stone's throw away from Hougang MRT Station. Due to its hole-in-the-wall concept, all purchases are takeaway by default. For a more delectable experience, be sure to heat them up before digging in.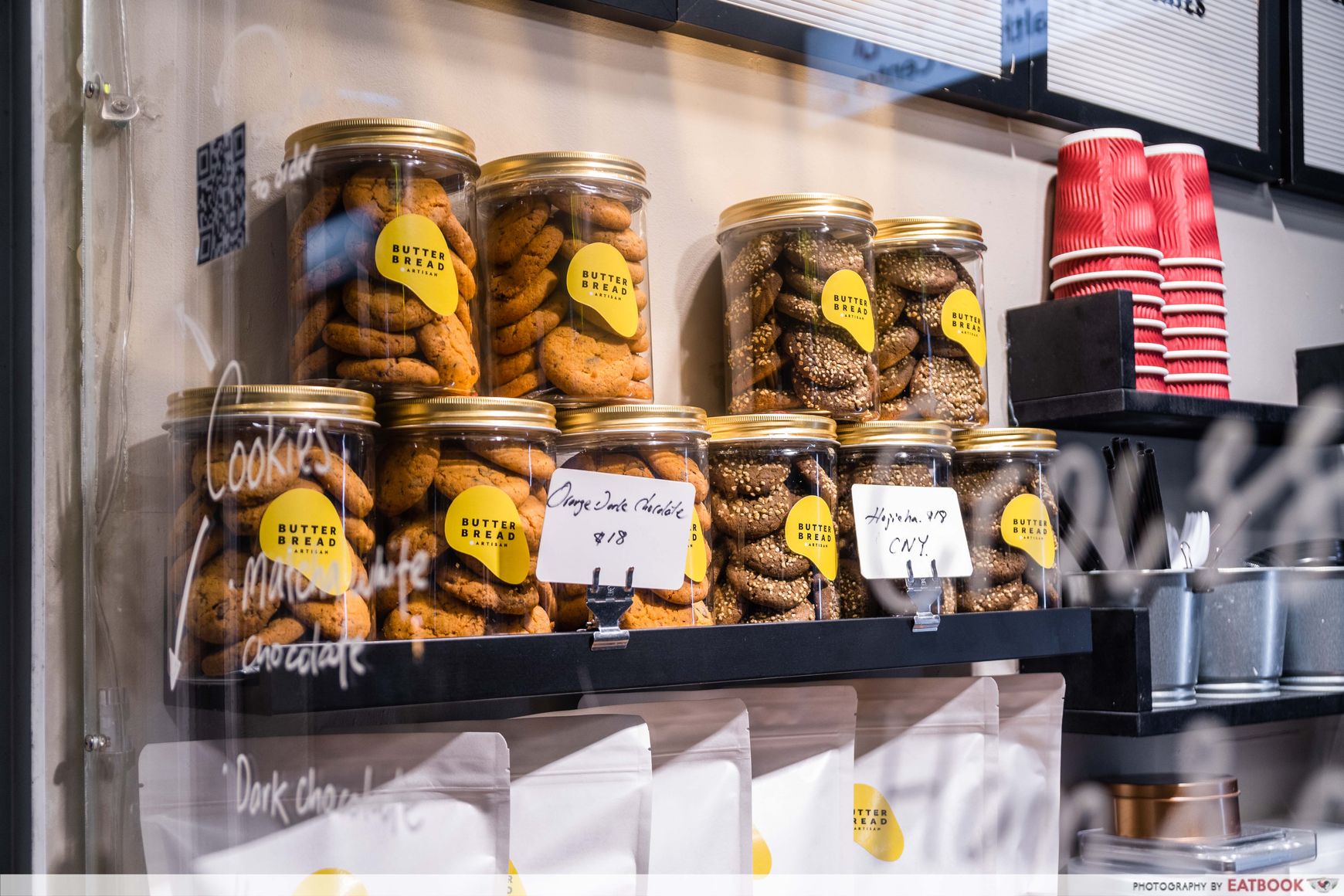 Besides pastries, they also sell cookies, cheesecakes, tarts, and brownies. They tend to sell out fast, especially on weekends; do head down early, or pre-order on WhatsApp to secure your baked goods. 
The verdict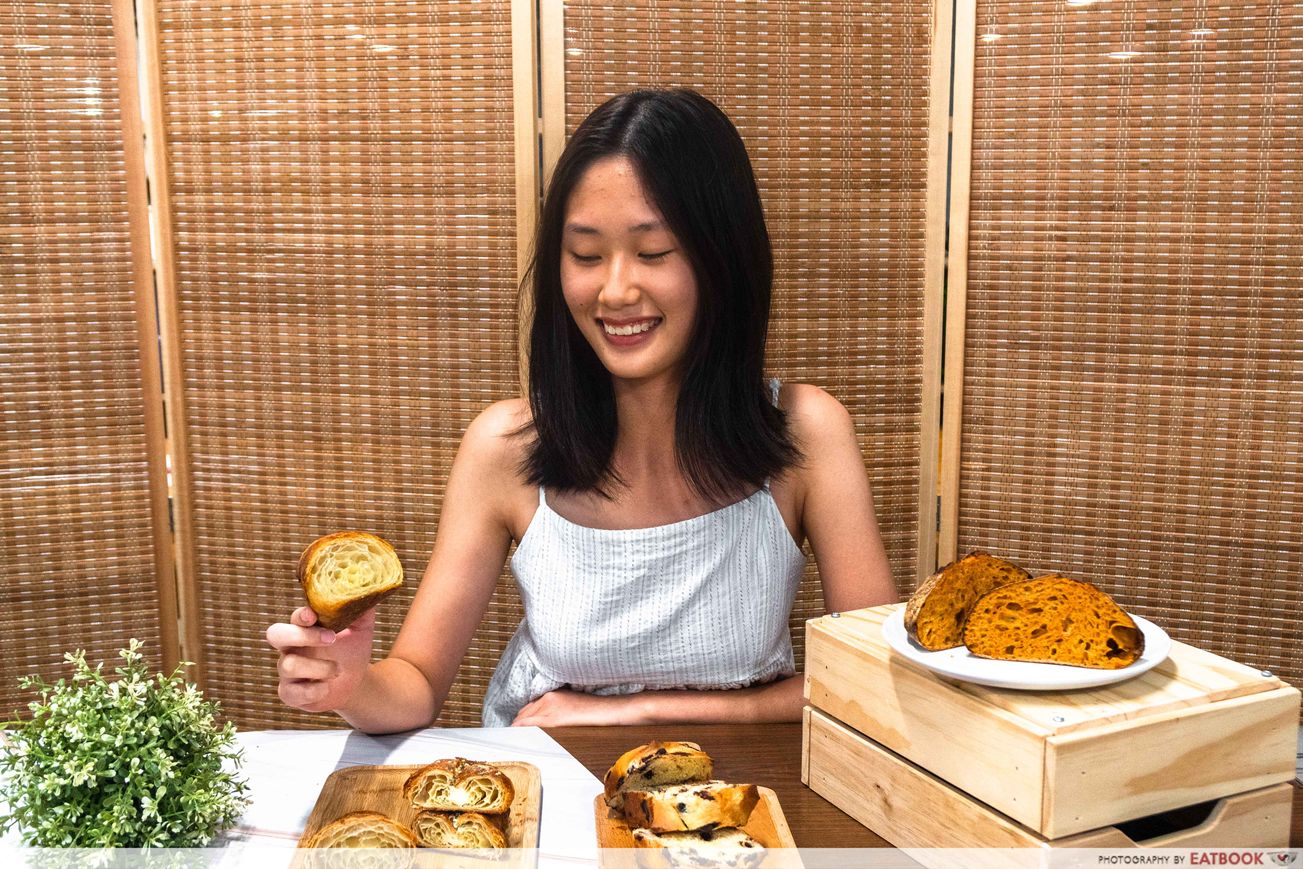 Overall, Butter Bread has convinced me smaller bakeries should not be overlooked. I truly respect their dedication to using quality ingredients, it does make a difference in their bakes. I would definitely come back for their more unique items.
If you're looking for more bakeries, check out our Serangoon Gardens Bakery review for old-school bread. For other hidden gems, check out our 929 Desserts & Bites review for cheap bingsu by hawkers. 
Serangoon Gardens Bakery & Confectionery Review: 40-Year Old Bakery Sells Luncheon Meat Buns, Taro Bread And More
Address: 1189 Upper Serangoon Road, #01-44, The Midtown, Singapore 534785
Opening hours: Tue-Sun 12pm to 6pm
Tel: 9117 3529
Website
Butter Bread is not a halal-certified eatery.
Photos taken by Zu Yi Kong.
This is an independent review by Eatbook.sg.
Butter Bread Review: Ex Shangri-La Hotel Chef Opens Bakery Selling Croissants, Mochi Scone And More
Butter Bread Review: Ex Shangri-La Hotel Chef Opens Bakery Selling Croissants, Mochi Scone And More -

8/10
Summary
Pros
– Quality ingredients
– Offers items different from other bakeries
Cons
– Can sell out quickly
– Slightly pricey

Recommended dishes: Kimchi Mozzarella Sourdough ($11.50), Egg Tart Croissant ($5.50)
Opening hours: Tue-Sun 12pm to 6pm
Address: 1189 Upper Serangoon Road, #01-44, The Midtown, Singapore 534785