O Happi Place newly opened at Outram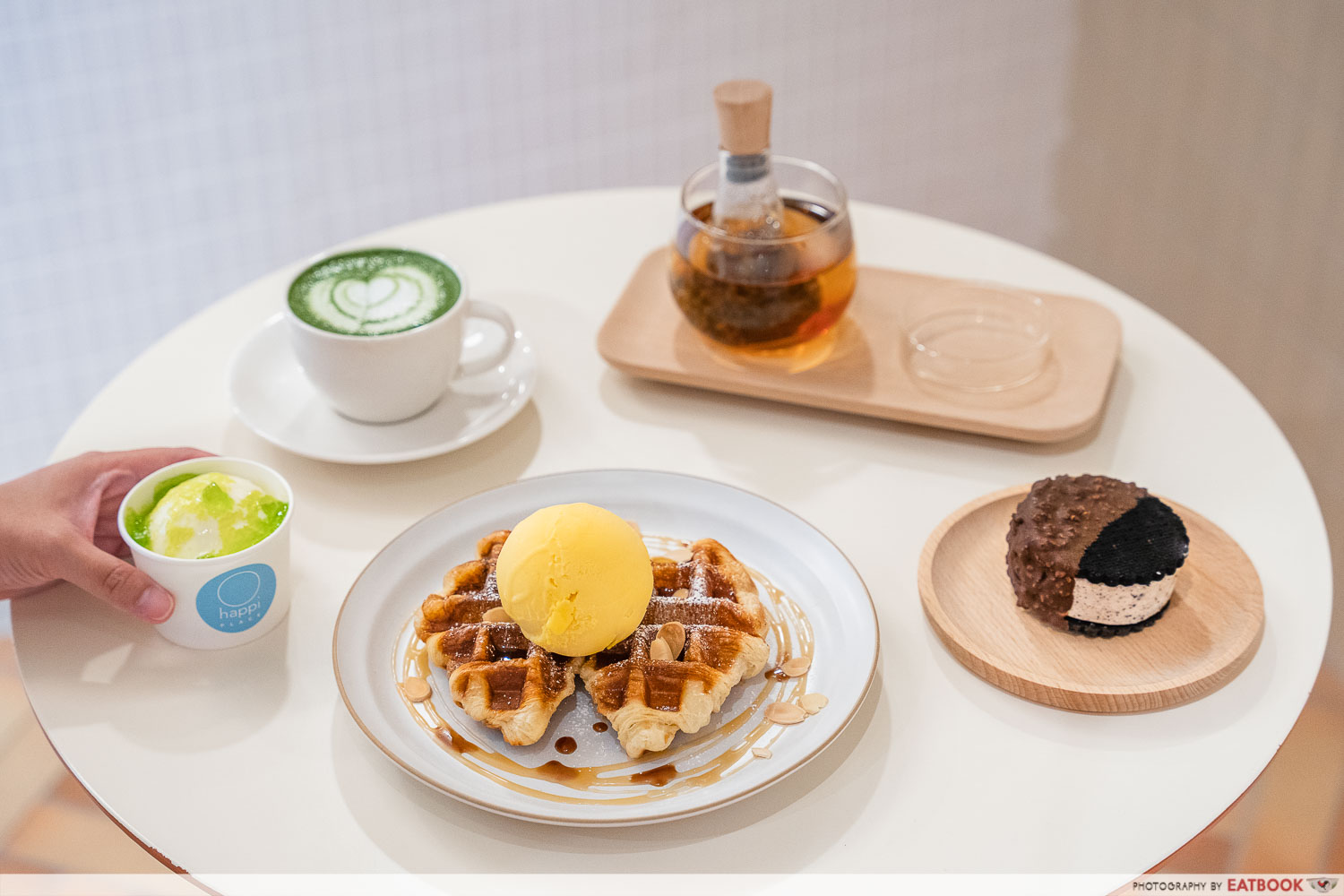 Everton Park has set its mark on the map as the newest hipster spot with the recent unearthing of various food gems in the area. Pay a visit with your eco-chic tote bag and you're bound to hit a cool cafe or two. 
Another spot to visit this weekend is O Happi Place, a cafe with charming mid-century modern interior, offering a range of classic to off-the-wall gelato flavours, ice cream sandwiches and more.
Food at O Happi Place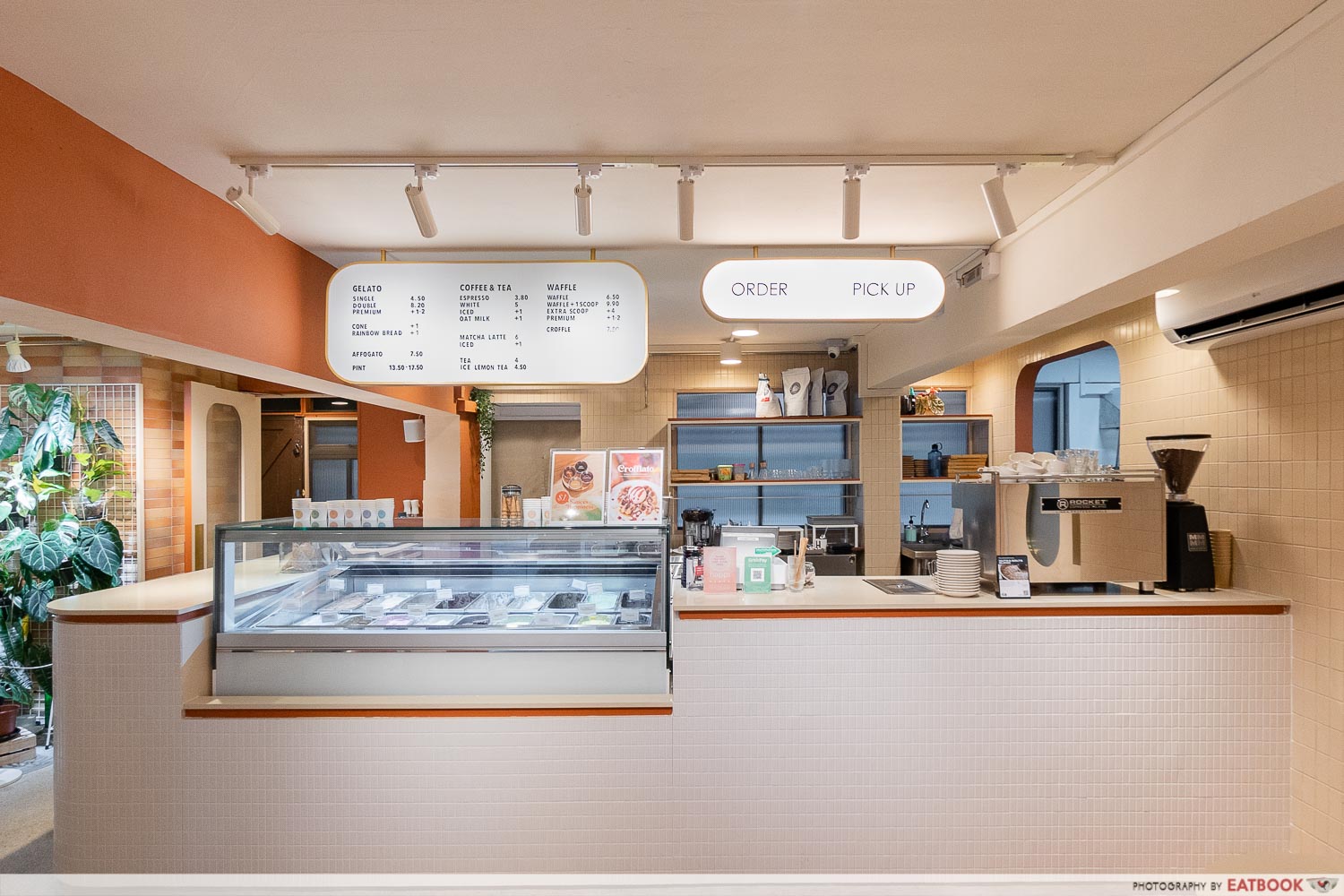 You will be surprised by how extensive the menu at O Happi Place is. There's a fun selection of gelato flavours, pints ready-to-go, coffee, matcha latte, waffles, croffles, and even the time-honoured rainbow bread ($1) to pair with your choice of scoops.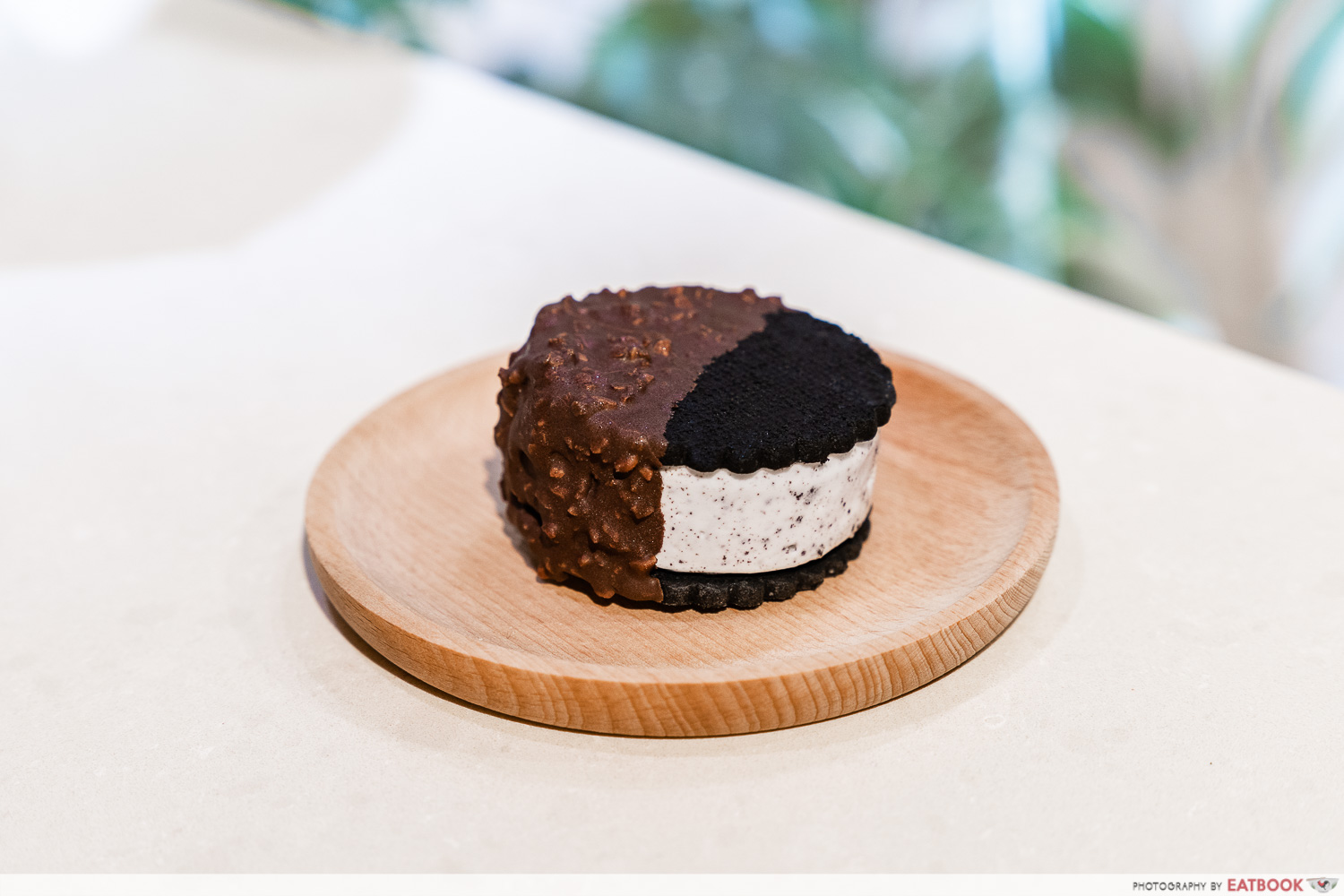 Leaving the best for the first, a must-order is their Cookies and Cream Sandwich ($6.90). Just like how the cookie and the ice cream filling contrasted each other in colours, they also deliciously contrasted each other in flavour and texture.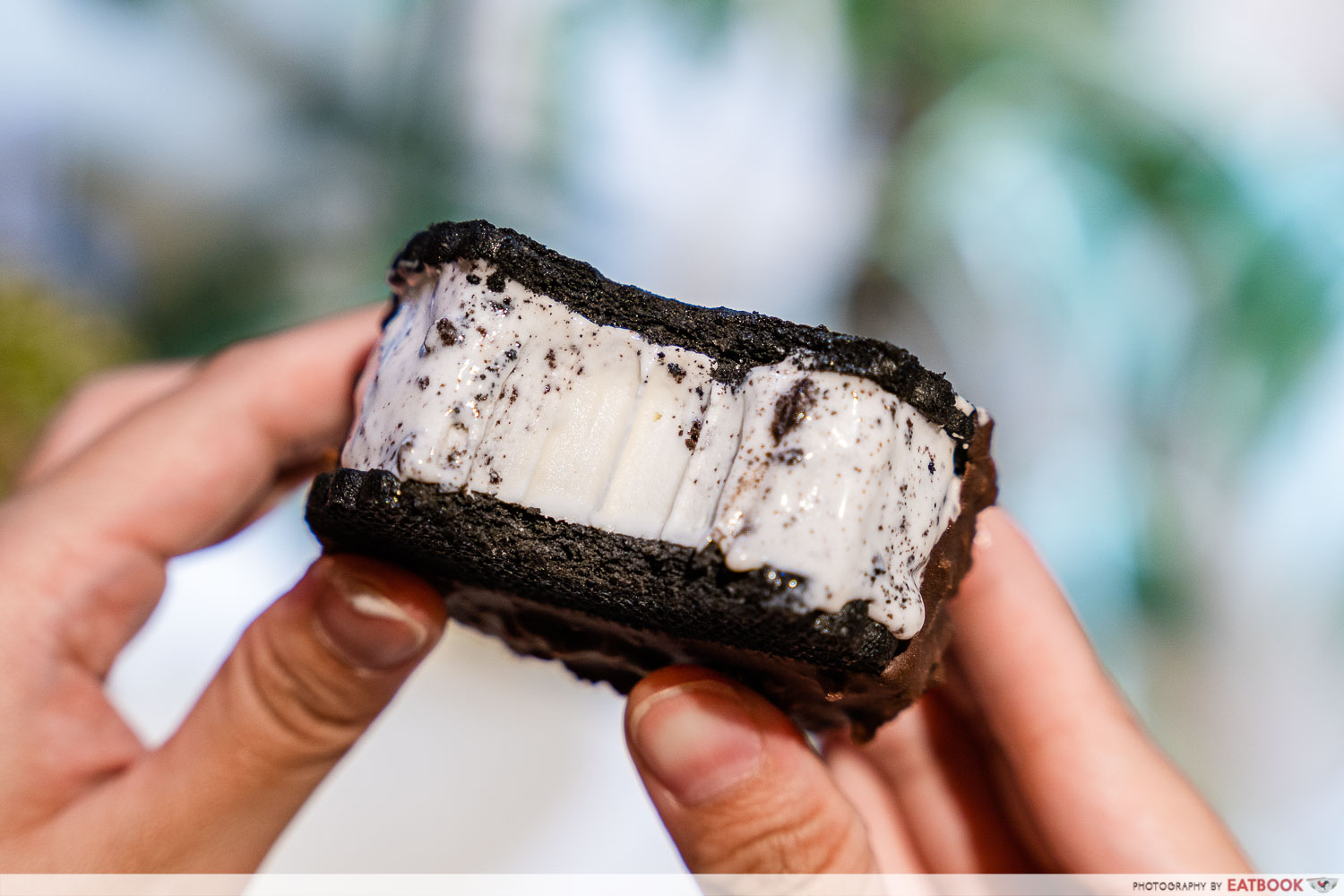 The crunchy blackout-chocolate cookie was satisfyingly bittersweet, bringing out the milkiness of the vanilla-based ice cream filling. Start from the plain end and work your way towards the chocolate-dipped side for a nutty surprise. The eating experience also adds to the fun, as I felt like a kid giddy with dessert-excitement all over again.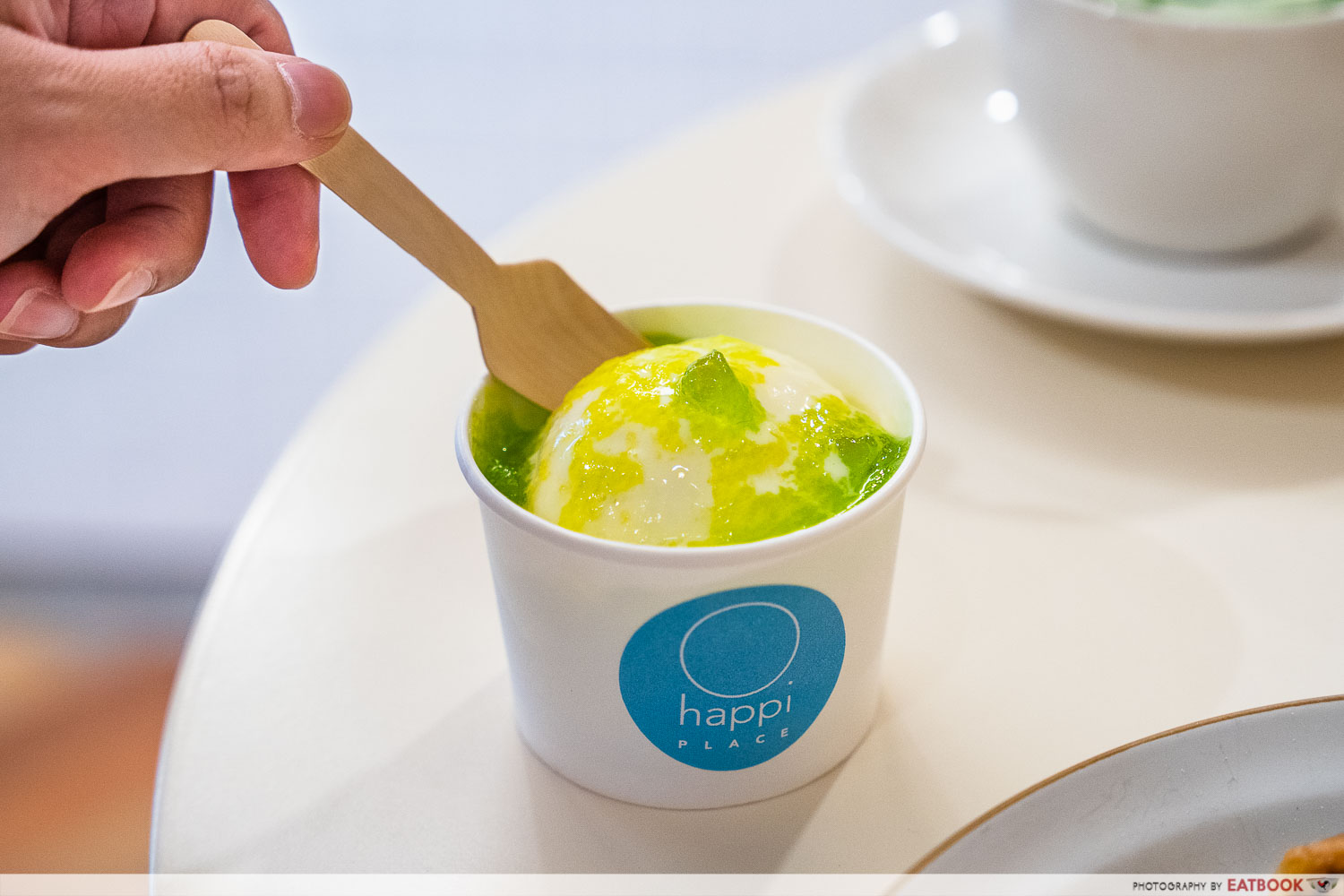 Another item on the menu that took me down memory lane was their Milky Limey ($4.50) gelato. Even for someone who rarely goes for fruit-flavoured desserts, this scoop won me over with its tangy and refreshing hit.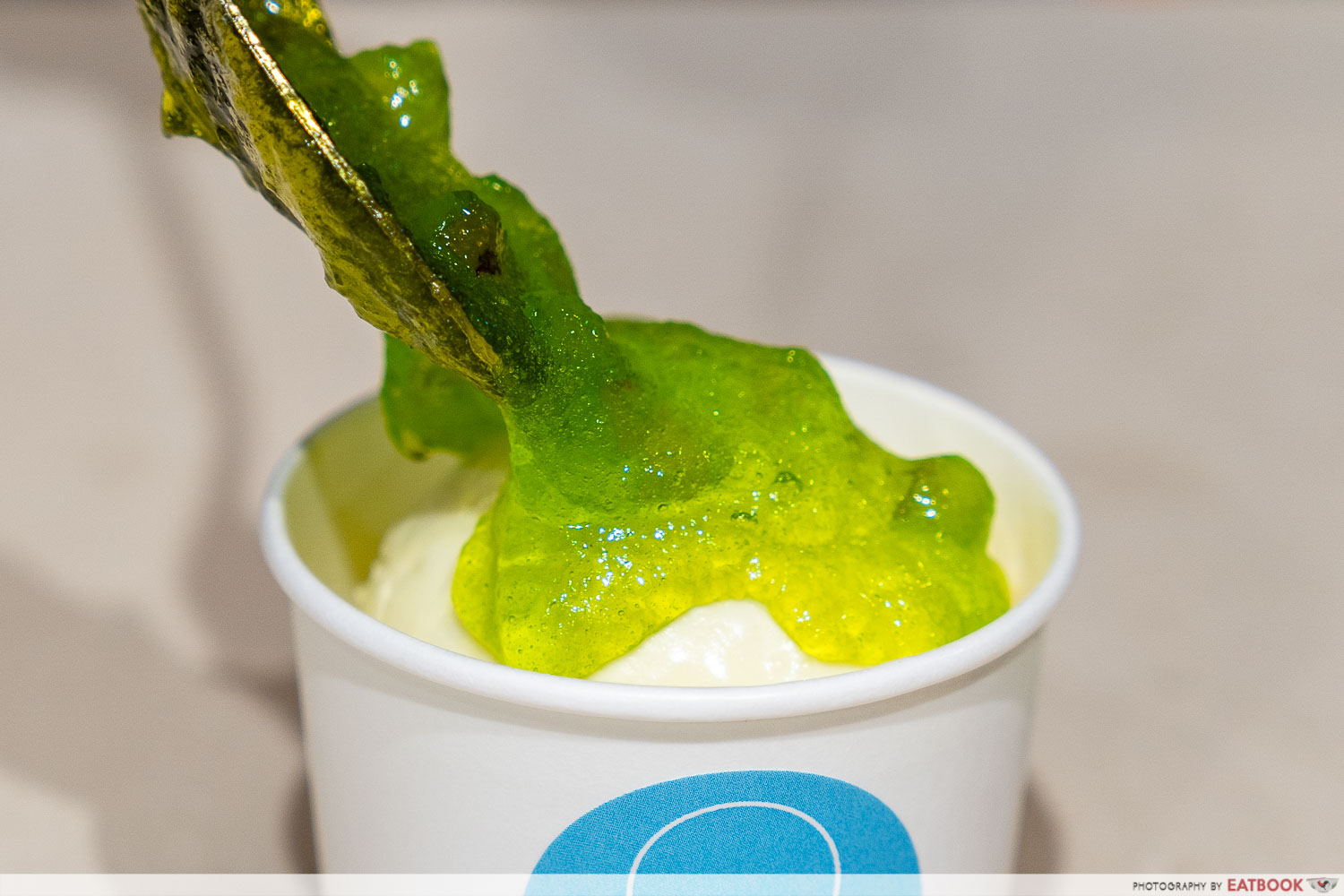 Akin to the Solero popsicle, an ooey-gooey, neon green lime sauce is coated over a serving of creamy lime gelato. The sauce is tart with sticky candied lemon peel and is nicely balanced by the mildly sweet lime gelato.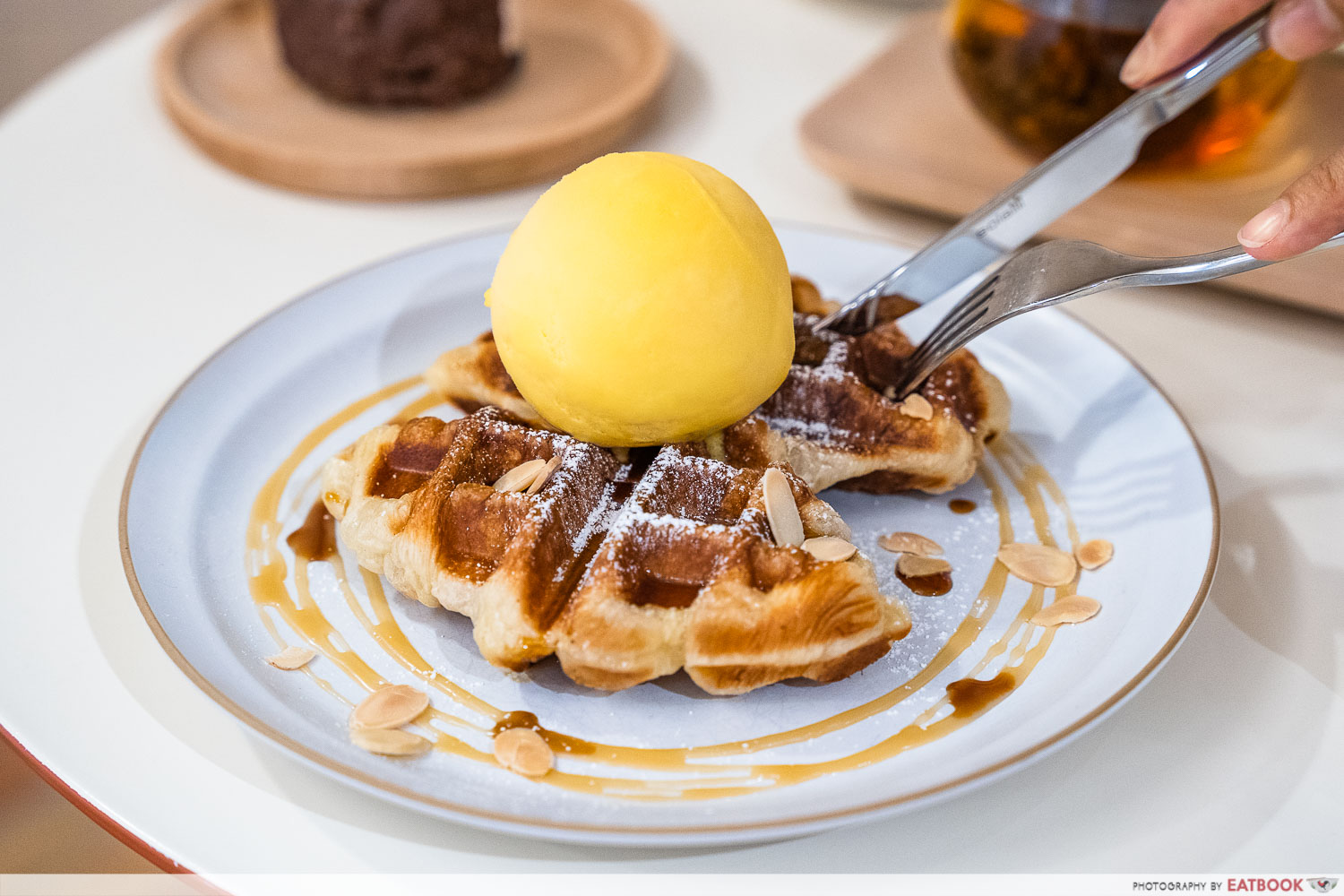 Cronuts are so last season, but croffles have been a big food trend this year. O Happi Place's latest addition to the menu is the Crofflato, a crossover between croissant, waffles, and gelato. 
Priced at $10.90 a pop, the set comes with two piping hot croffles and a scoop of gelato. You can also get a serving of maple syrup, gula melaka, caramel, or raspberry sauce to go along at an additional $1.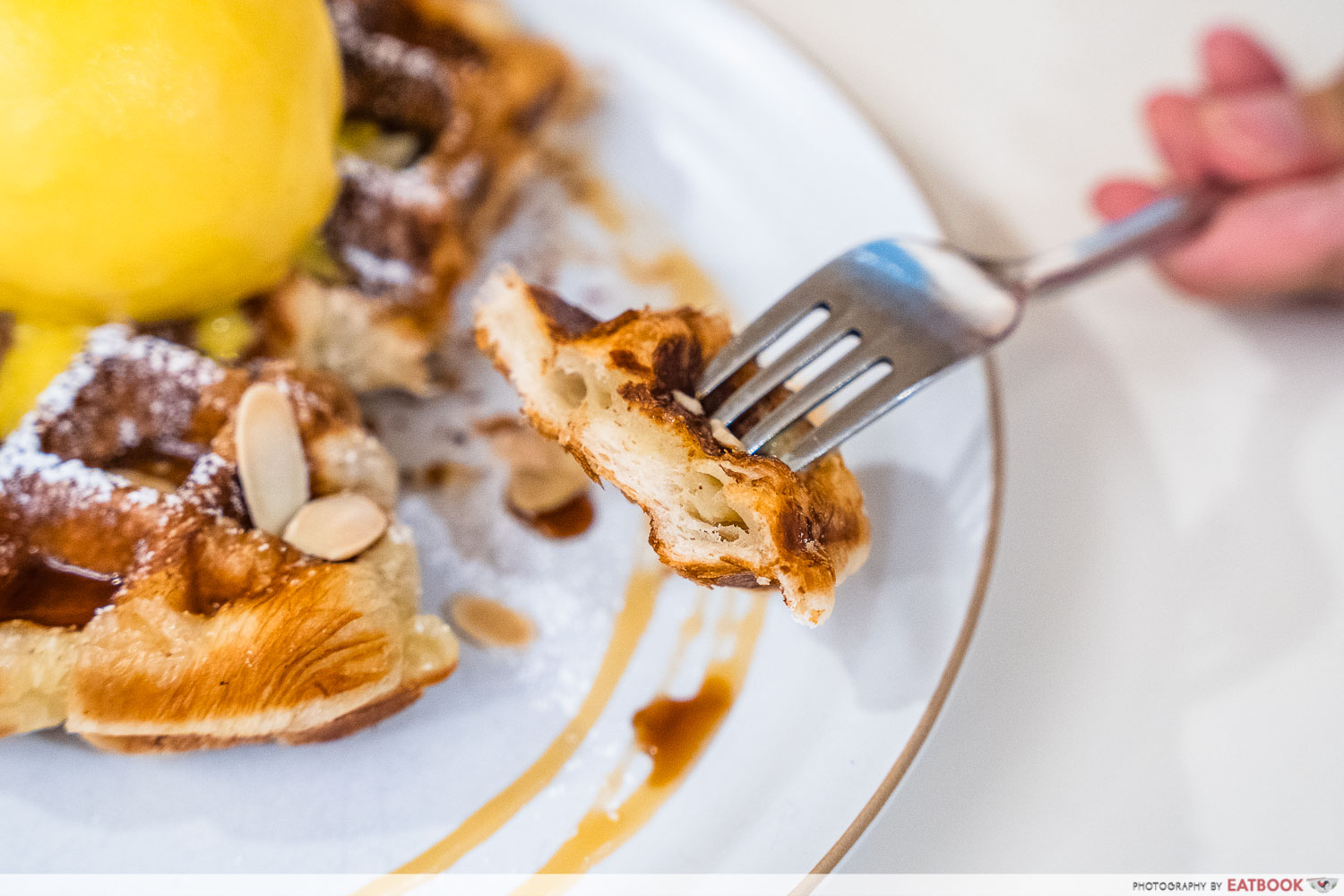 Waffles are well-loved as a vessel for ice cream as they are crisp on the outside and fluffy on the inside. Each bite of this croffle gives you the same mouthfeel, but with an added boost of buttery, flaky layers. Pair this with fruity flavours such as Yuzu & Mango Sorbet ($4.50) or Mixed Berries ($4.50) to turn it into a danish pastry-themed dessert!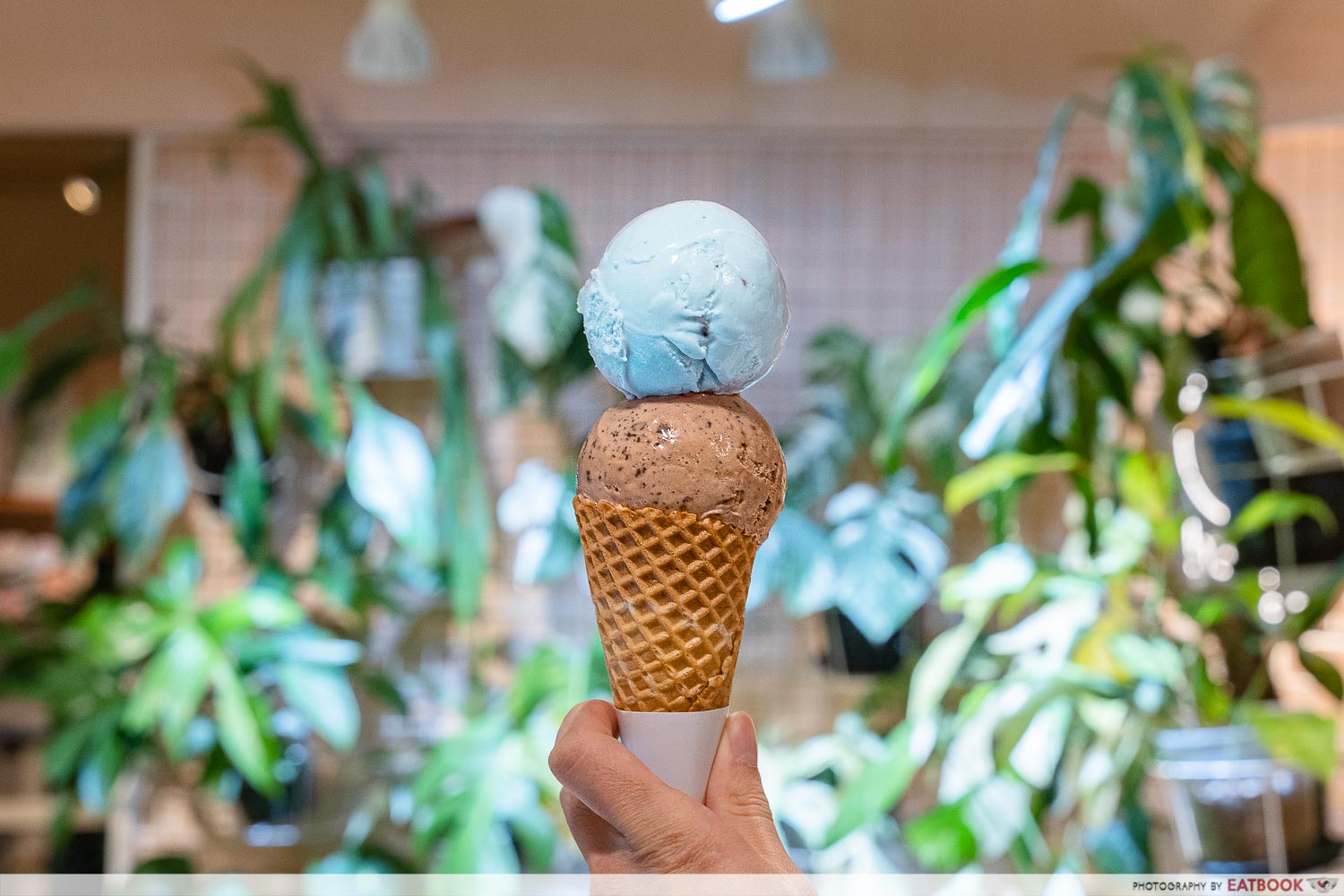 You know the drill—the flavours at most ice cream cafes are always on rotation. The seasonal flavours here are inspired by the lady boss' favourite drinks and desserts, remixed in her own creative ways. 
There's Cookieeee ($5.50), inspired by the blue cookie-gobbling monster on Sesame Street. Tinged naturally using butterfly pea flowers in baby blue, the vanilla gelato is not dotted with your typical cookie bits, but with chewy cookie dough and pops of chocolate.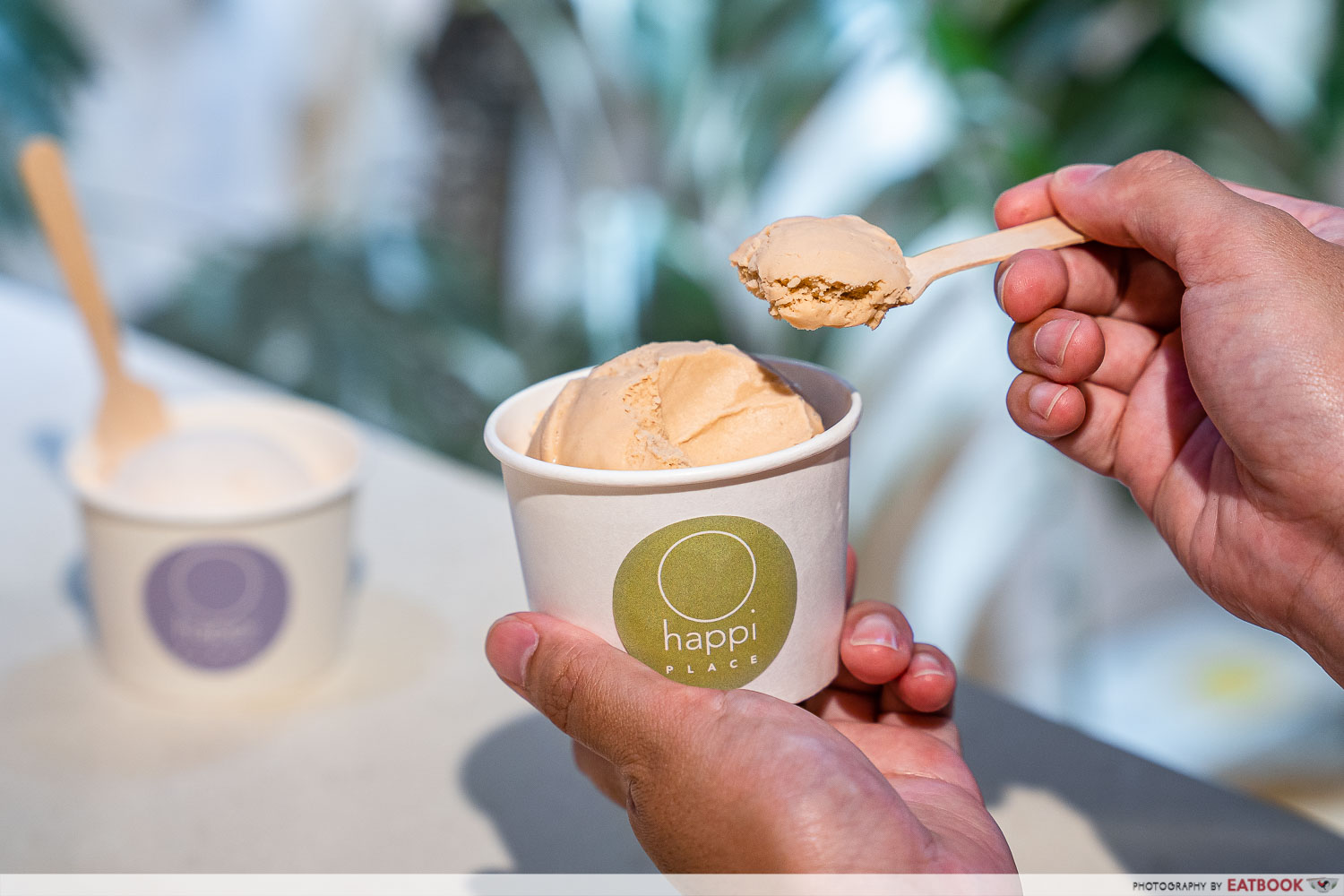 If you want to impress the in-laws, your boss, or anyone with refined tastebuds, get the popular Ju Pu ($5.50). The word 'ju' is taken from chrysanthemum tea in Chinese, and 'pu' from pu'er tea. Combining both together, the notes from the teas are robust and fragrant. Factor in the luscious milk from the gelato and it hits the sweet spot.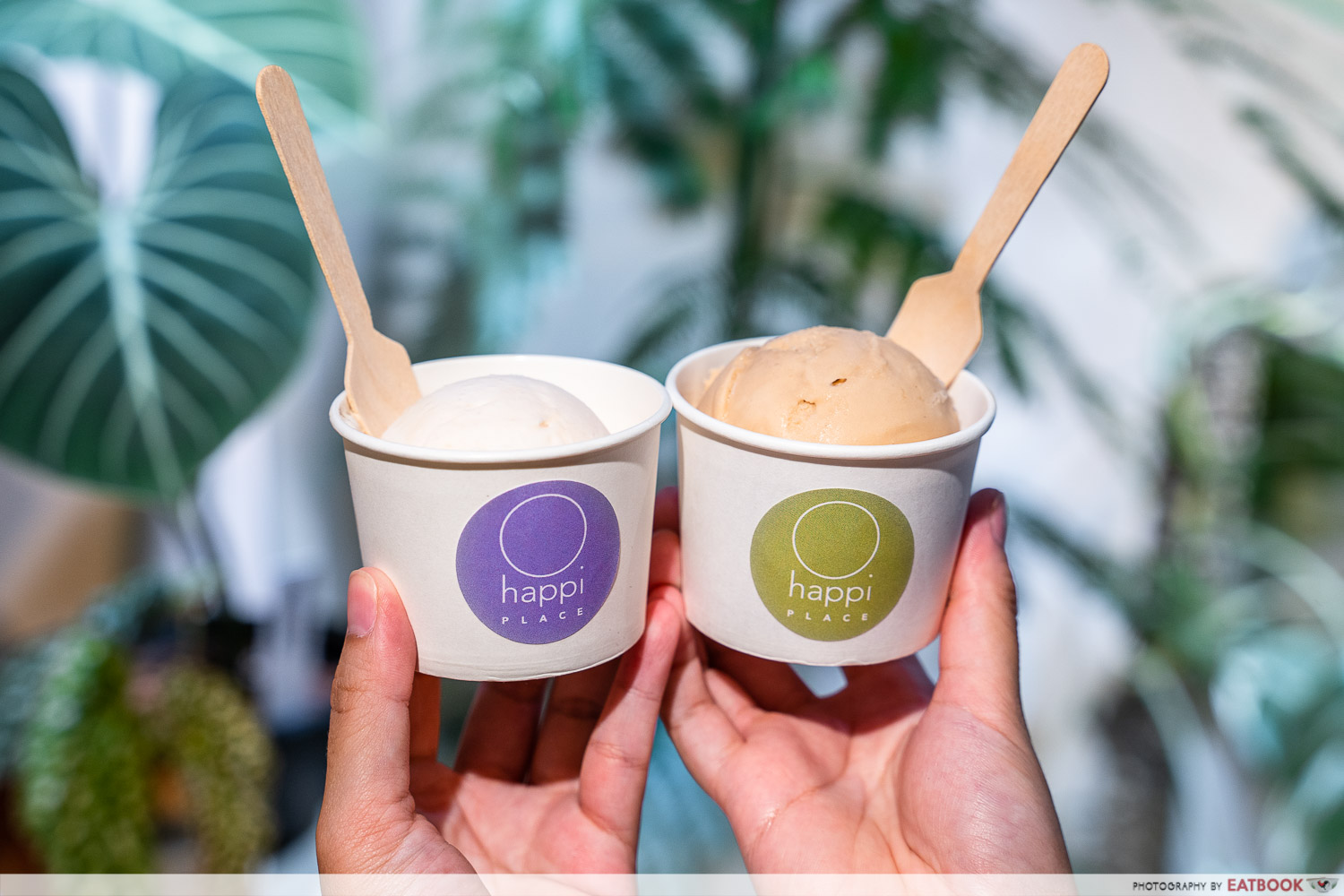 Other cheeky options worth a mention are Sake Melon and Bon Bon, both super potent in the flavour department. 
Prices here start from $4.50 for a single scoop, $8.20 for a double scoop, and another $1 to $2 more for the premium flavours. You can get them in a cone or rainbow bread for $1, but take note that the latter is available usually only on the weekends.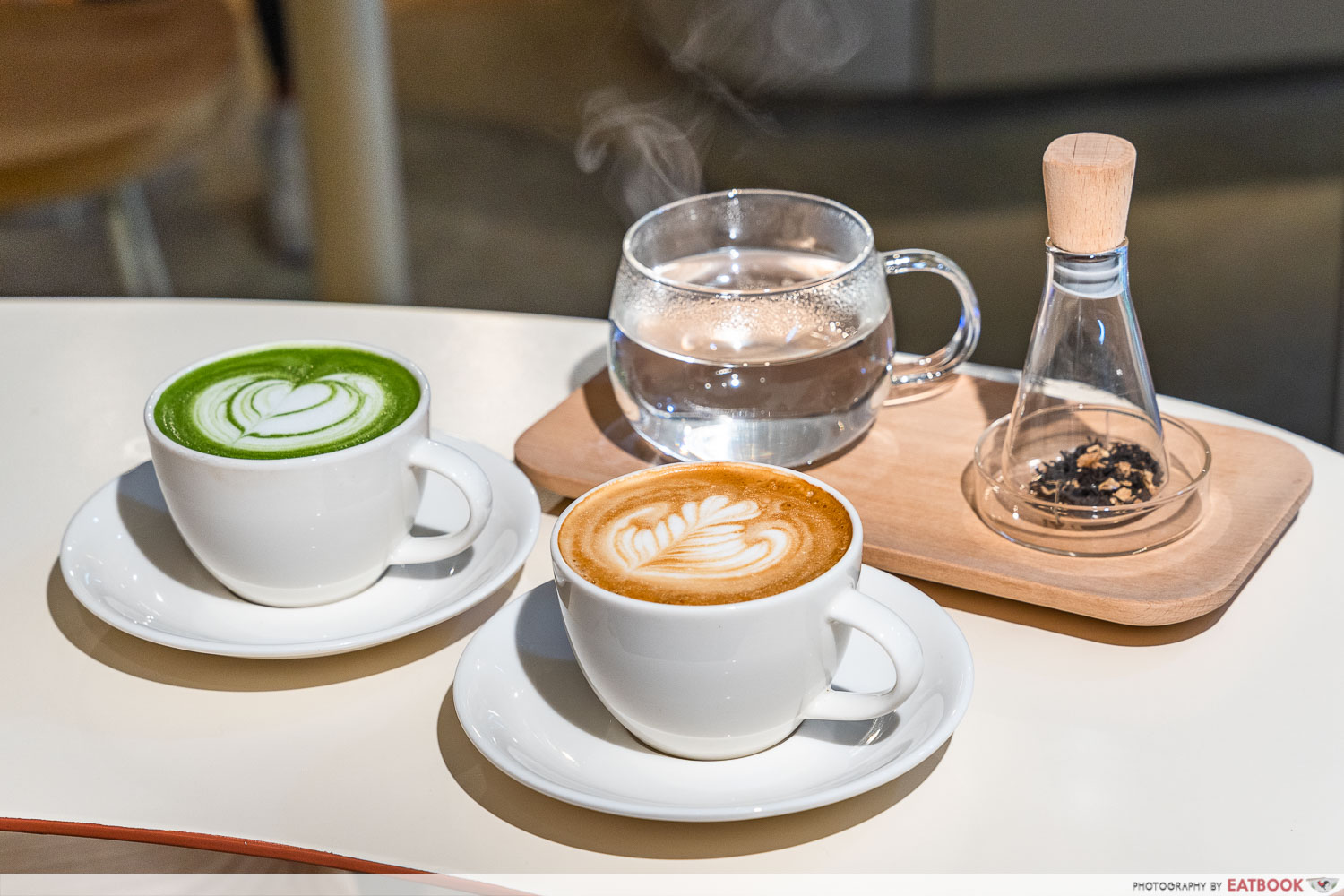 For those looking for a warm cuppa to go along with the ice-cold desserts, there is also coffee (from $3.80), matcha latte ($6), or brewed tea ($4) available as well!
Ambience at O Happi Place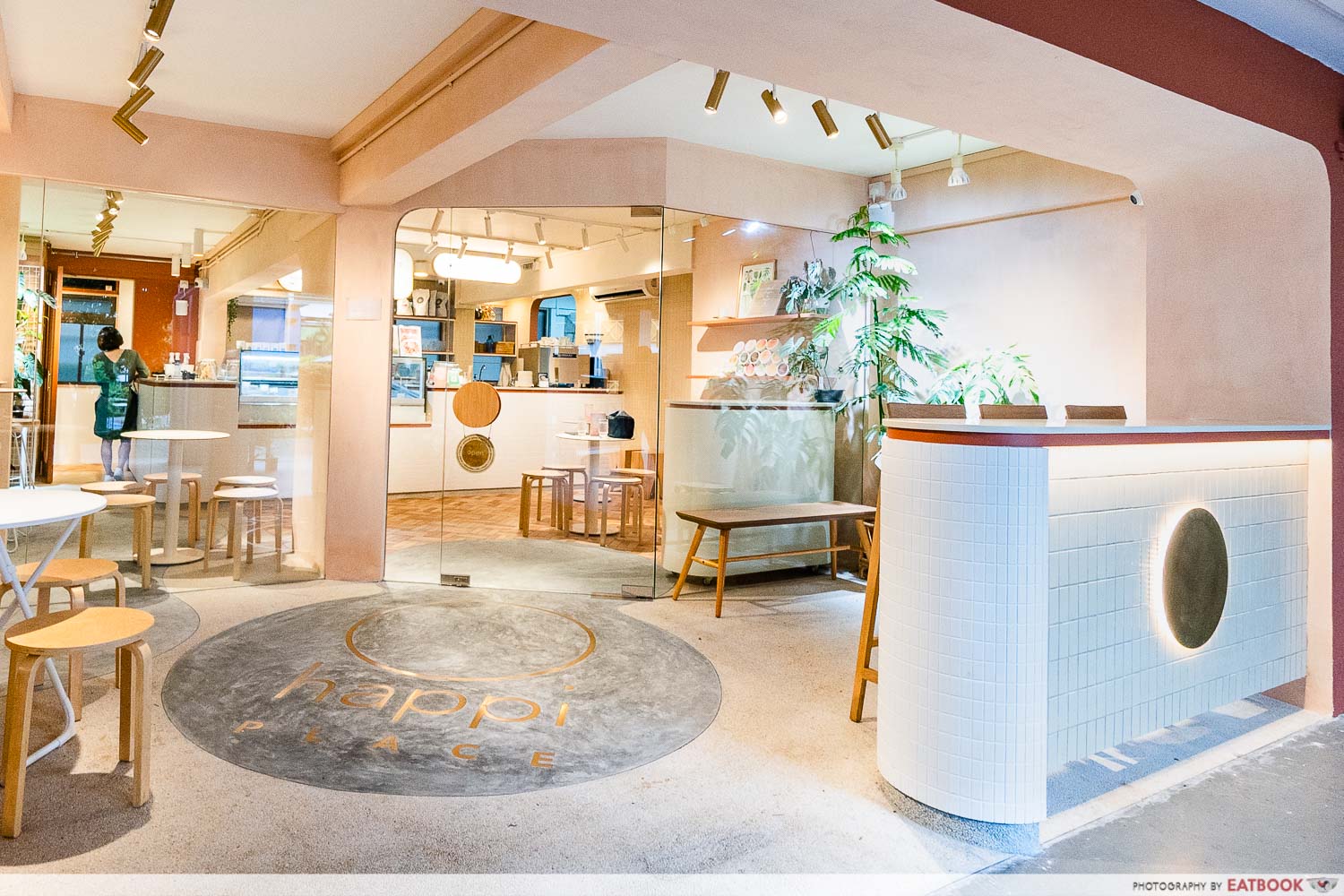 The interiors, filled with all things trendy such as archways, tiled counters, exposed cement, and accent walls, are an ideal backdrop for the delectable gelato flavours they offer. For an immaculate vibe, even the music playlists here are curated according to the kind of crowds they get at different times of the day.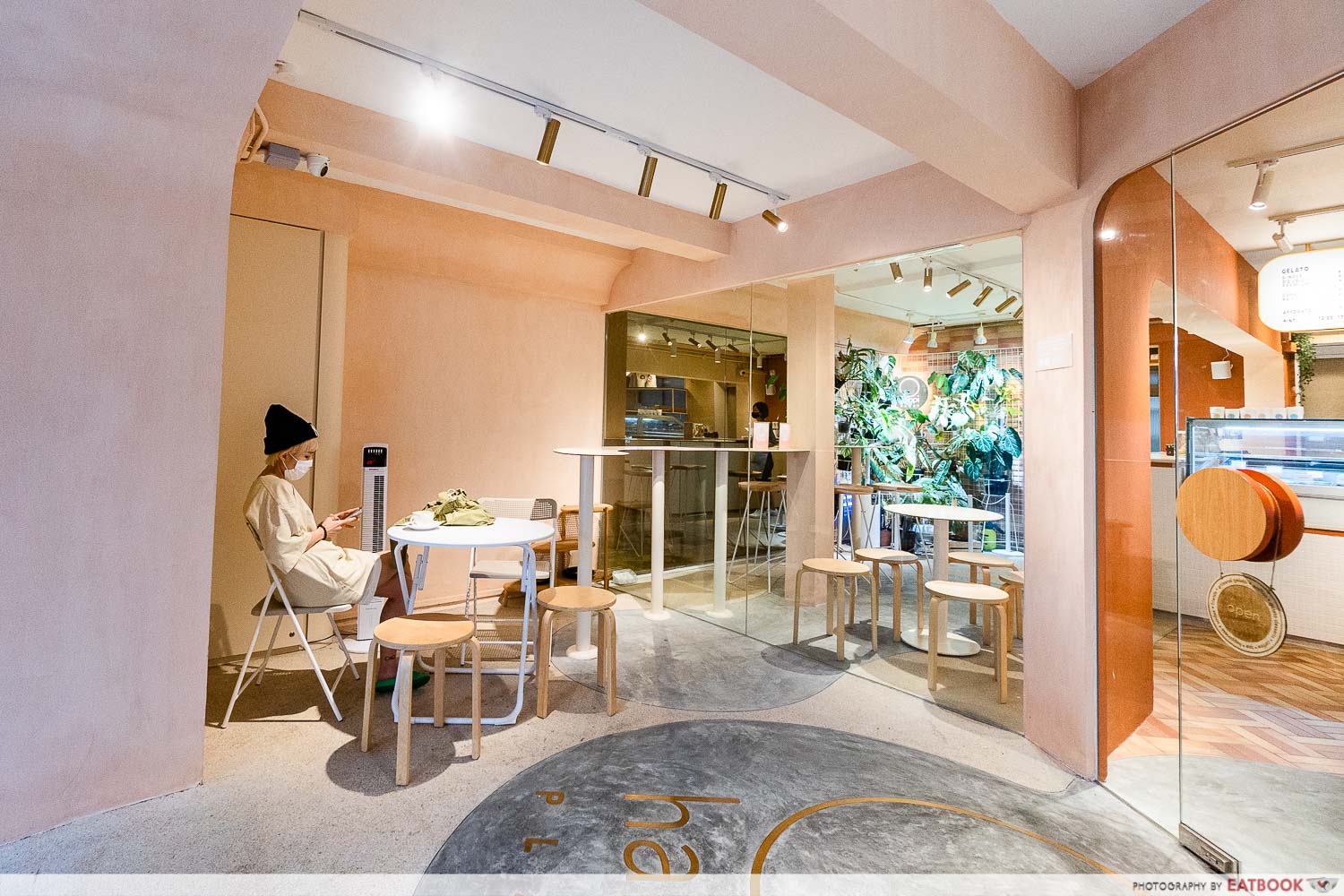 While the cafe is relatively spacious with a capacity to hold around 10 small groups of people at each time, I highly recommend getting a cup or cone to-go when it gets too crowded. Take a walk around the quaint neighbourhood of Everton Park or simply savour your dessert as you walk towards Outram Park MRT Station for a ride home.
Psst, my favourite stretch to sit and people-watch is at Neil Road Park, which is an easy 7-minute walk away from O Happi Place. At this spot, you'll surely be able to pet a cute corgi or two while enjoying your sweet treat!
The verdict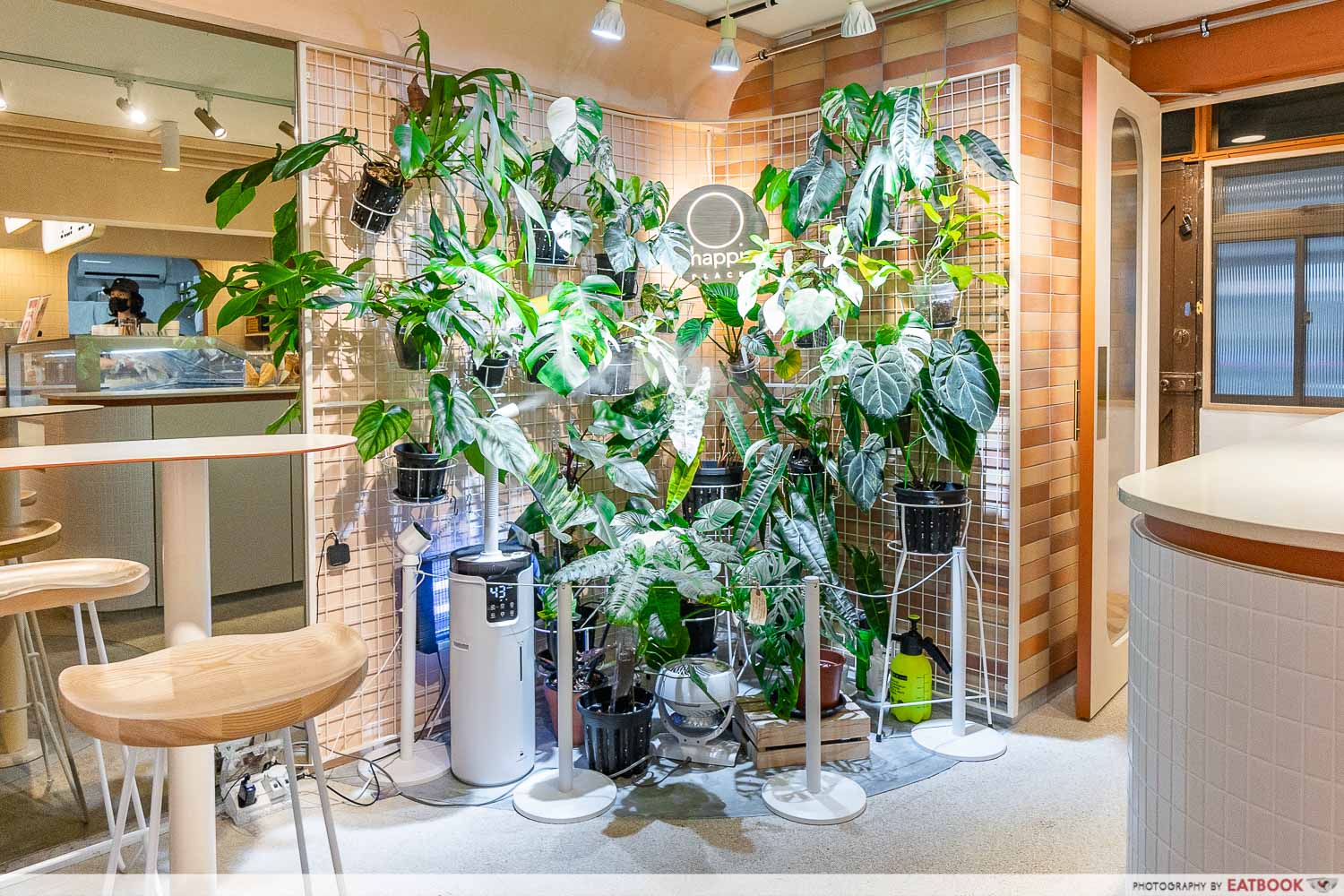 O Happi Place is a one-of-a-kind dessert spot, thanks to the owners' attention to detail towards the food served, and the experience they want to offer here. You'll get a dose of happiness from the ice cream, music, as well as serotonin from their eye-catching wall of exquisite plants.
I'll be sure to drop by often—there's always a new type of dessert, or a new flavour to try. 
Check out our list of Everton Park food gems for handmade Korean rice cakes, artisanal bakeries and more!
Address: 5 Everton Park, #01-22A, Singapore 080005
Opening hours: Sun, Tue-Thurs 12:30pm to 9pm, Fri-Sat 12:30pm to 10pm
Website
O Happi Place is not a halal-certified eatery.
14 Everton Park Food Places To Explore—Hidden Cafes, Handmade Mochi And More
Photos taken by John Lery Villanueva.
This was a media tasting at O Happi Place.
O Happi Place Review: Minimalist HDB Cafe With Unique Gelato Flavours, Croffles, And Ice Cream Sandwich
O Happi Place Review: Minimalist HDB Cafe With Unique Gelato Flavours, Croffles, And Ice Cream Sandwich -

8.5/10
Summary
Pros
– Non-typical gelato flavours
– Trendy interior design
Cons
– Slightly pricey
Recommended dishes: Cookies and Cream Sandwich ($6.90), Milky Limey ($4.50), Ju Pu ($5.50) 
Opening hours: Sun, Tue-Thurs 12:30pm to 9pm, Fri-Sat 12:30pm to 10pm
Address: 5 Everton Park, #01-22A, Singapore 080005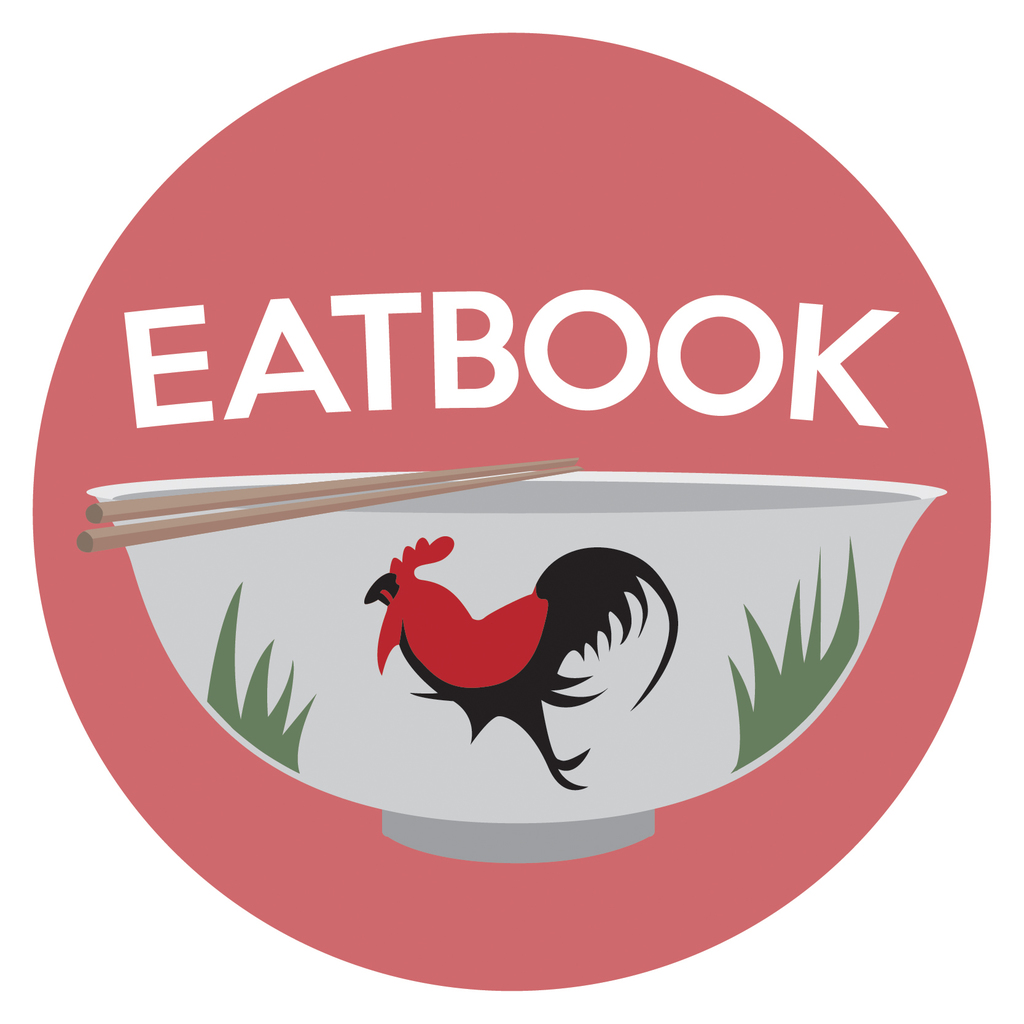 Drop us your email so you won't miss the latest news.