929 Desserts & Bites in Tampines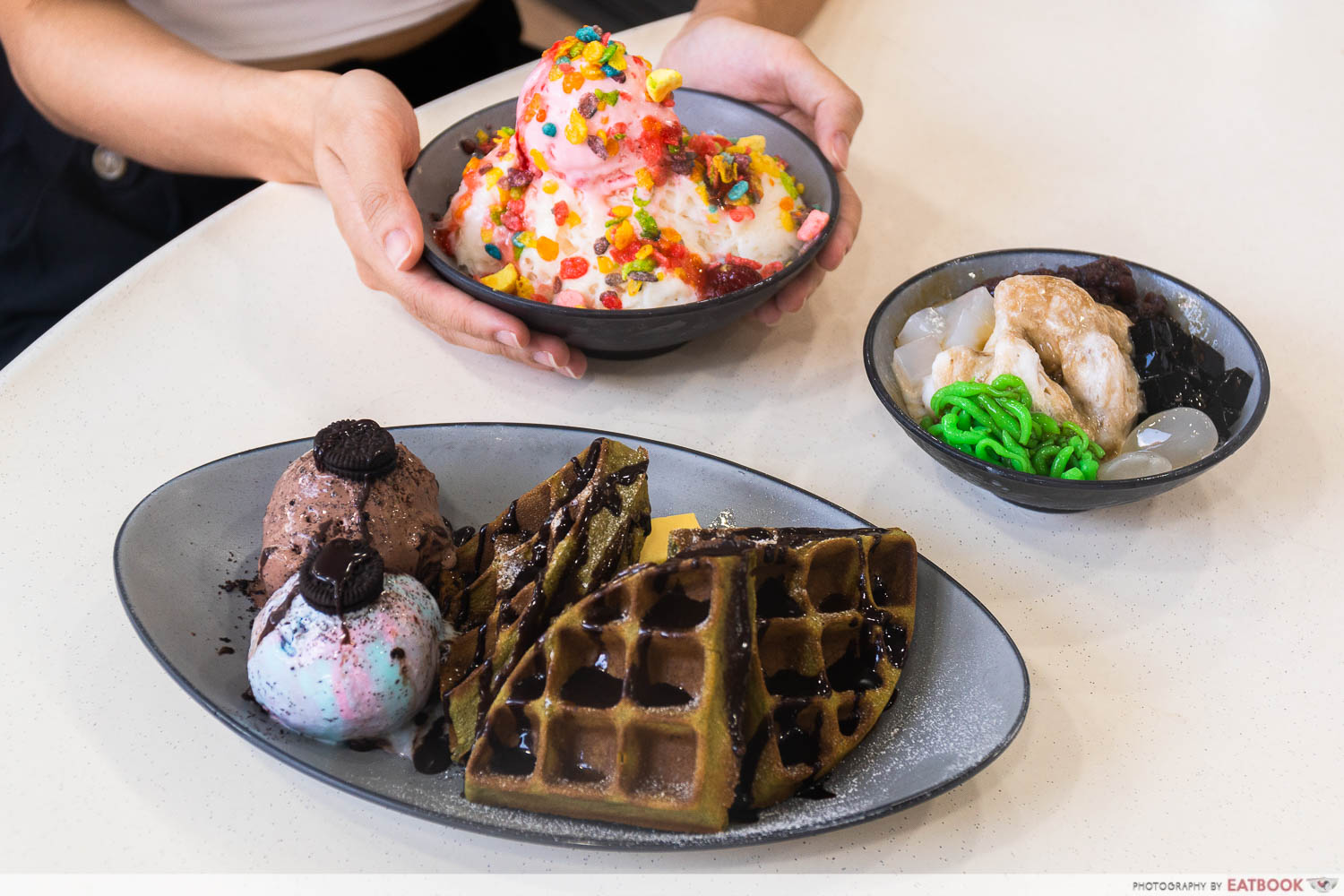 Run by a sister duo is 929 Desserts & Bites, with affordable shaved ice that is perfect for the hot weather here in Singapore. As an Eastie, I was stoked to find out about this hidden gem that serves interesting bingsu flavours at a cheap price. Their desserts take a local twist, which is different from other bingsu stalls that I've been to. 
JOFA Meepok Review: New Hawker Stall Serving Zhnged-Up Mee Pok With Fried Fish Sticks, Scallops And More
Food at 929 Desserts & Bites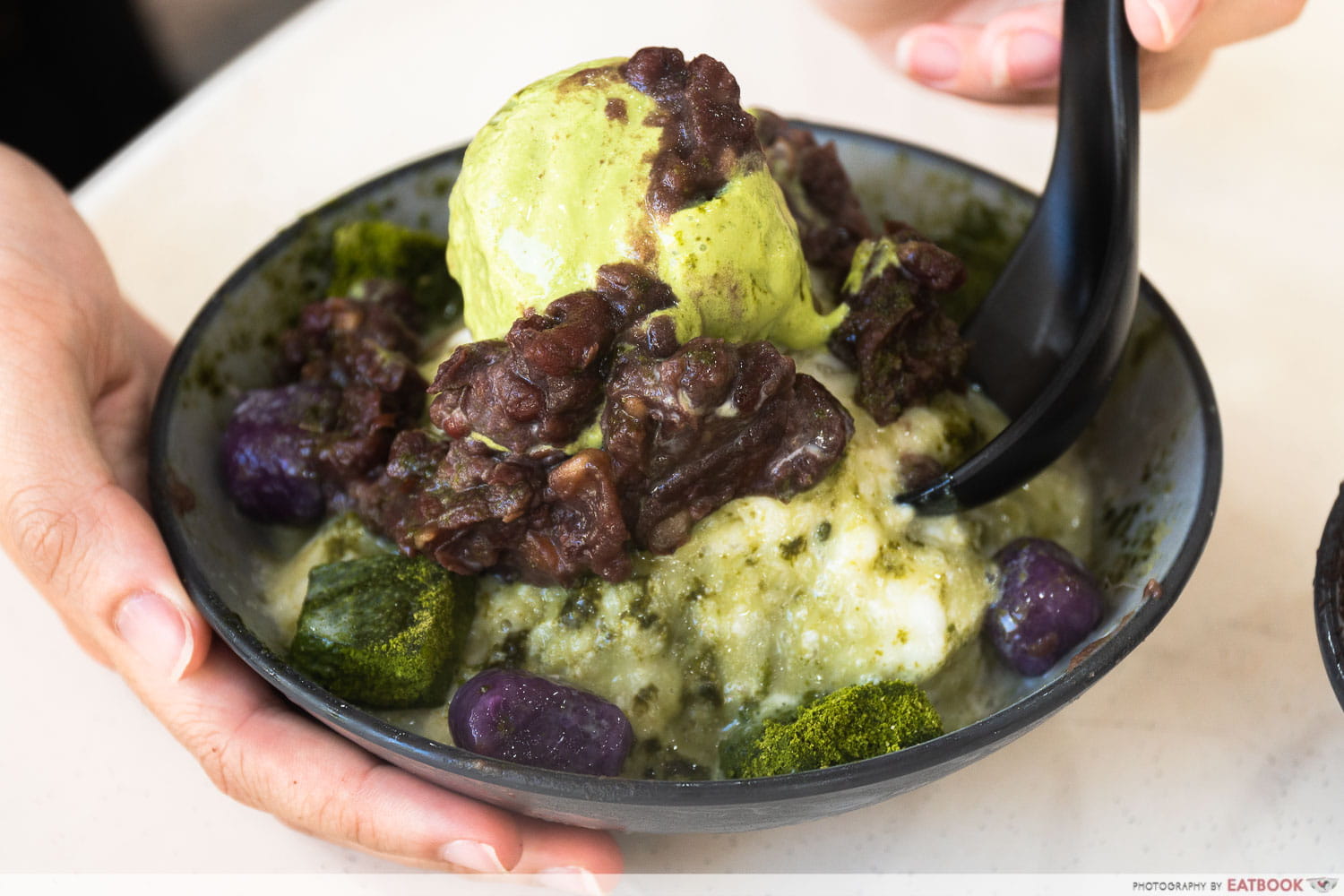 As a matcha lover, I went for The Green Monster ($8.90), which is matcha shaved ice covered with vanilla ice cream, QQ taro cubes, green tea warabi mochi, and azuki red beans. I particularly enjoyed the house-made taro cubes as they were chewy yet still had a slight bite from the traces of yam within.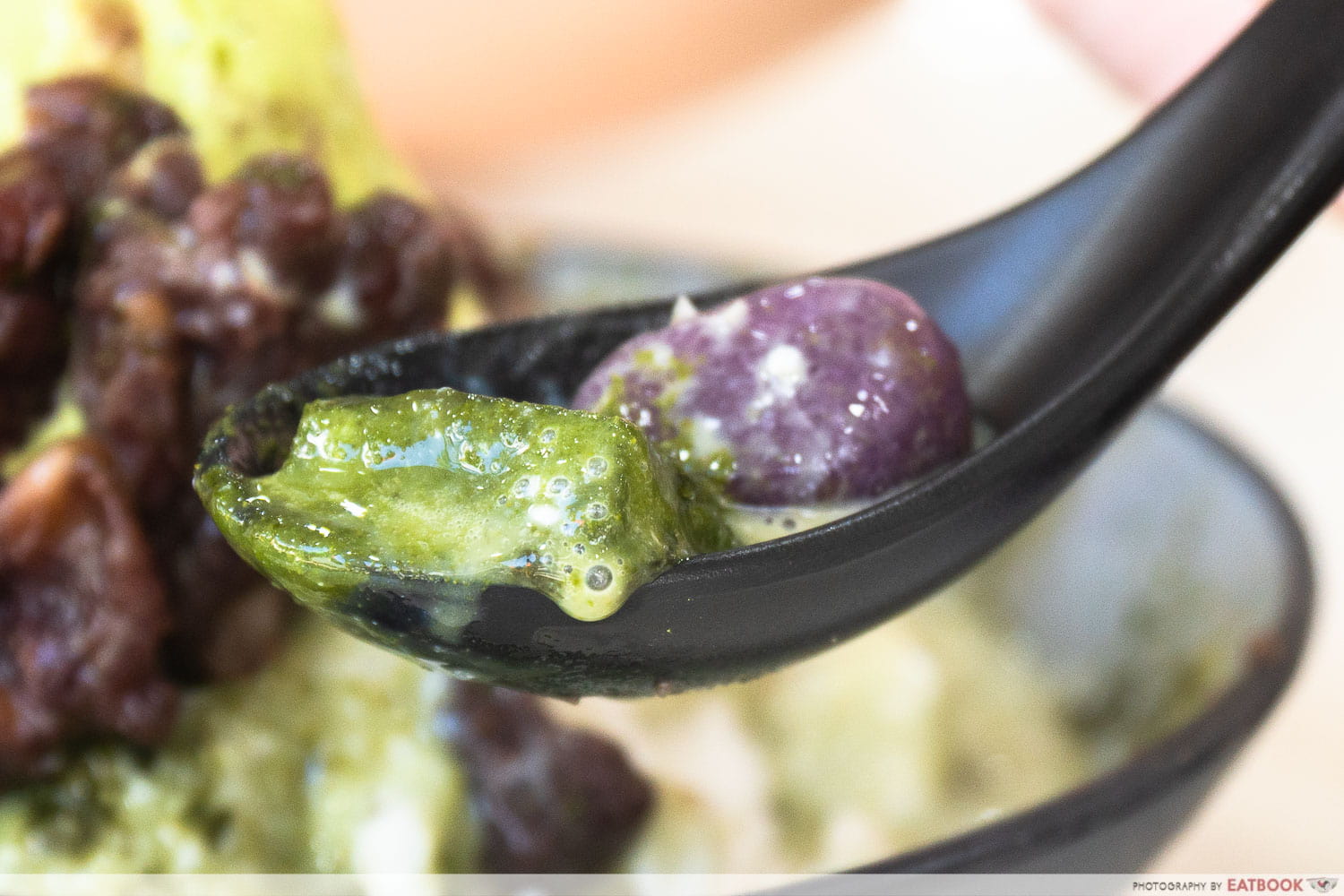 The shaved ice had a hint of earthiness from the matcha, while the soft warabi mochi was perfumed with a strong green tea flavour. The azuki red beans helped to temper the bitterness from the matcha, making this a well-balanced and palatable dessert.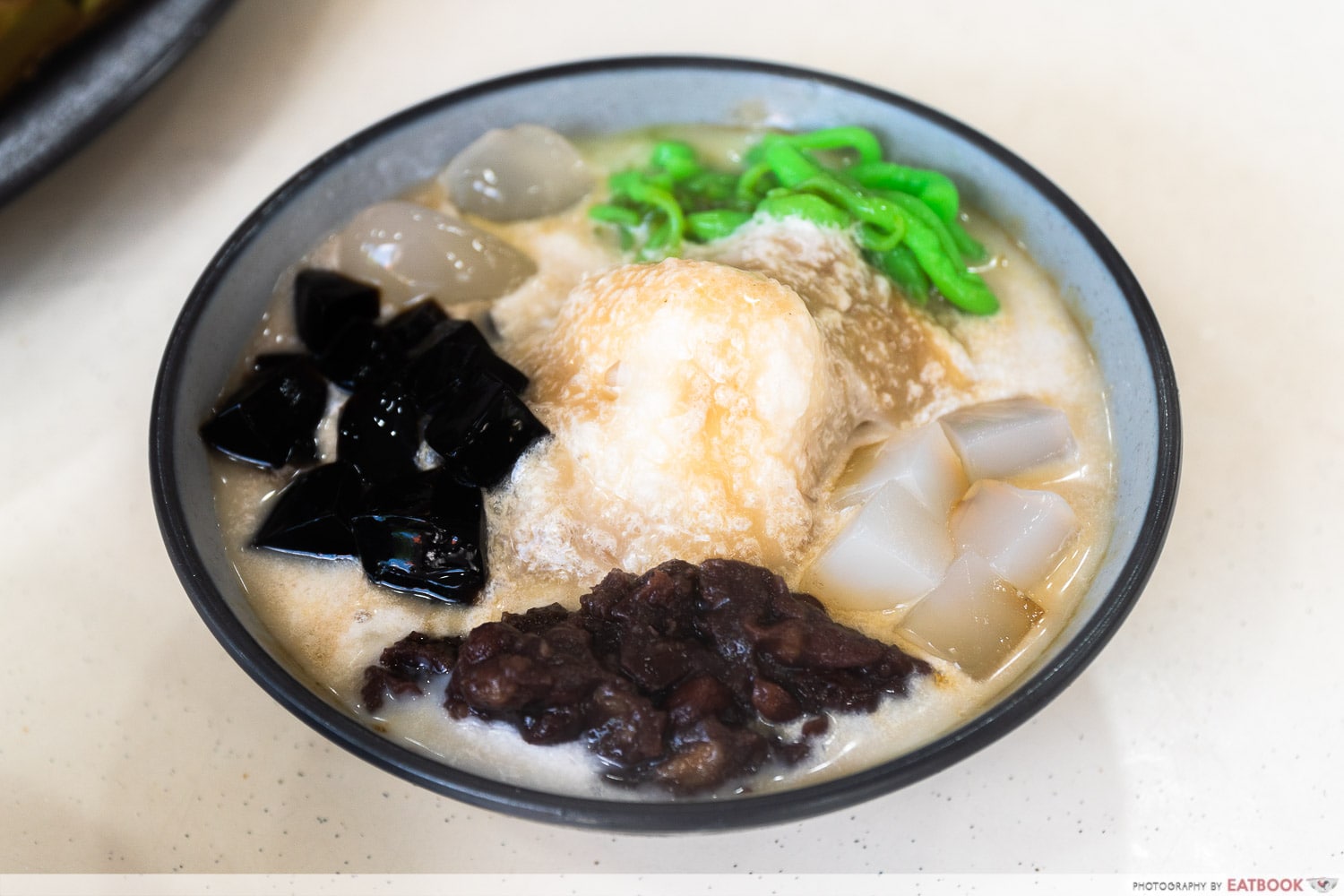 Next, we went for a more familiar flavour—the Chendol ($4.90) shaved ice. This comes with coconut shaved ice, and is topped with pandan jelly, red bean paste, grass jelly, atap chee, and gula melaka syrup. I was slightly disappointed by the flavours of this dessert as it lacked the richness that I usually associate this popular Singapore dessert with. 
Traditionally, this dessert is doused in thick coconut milk. However, this shaved ice was subtle in flavour and was not as satisfying.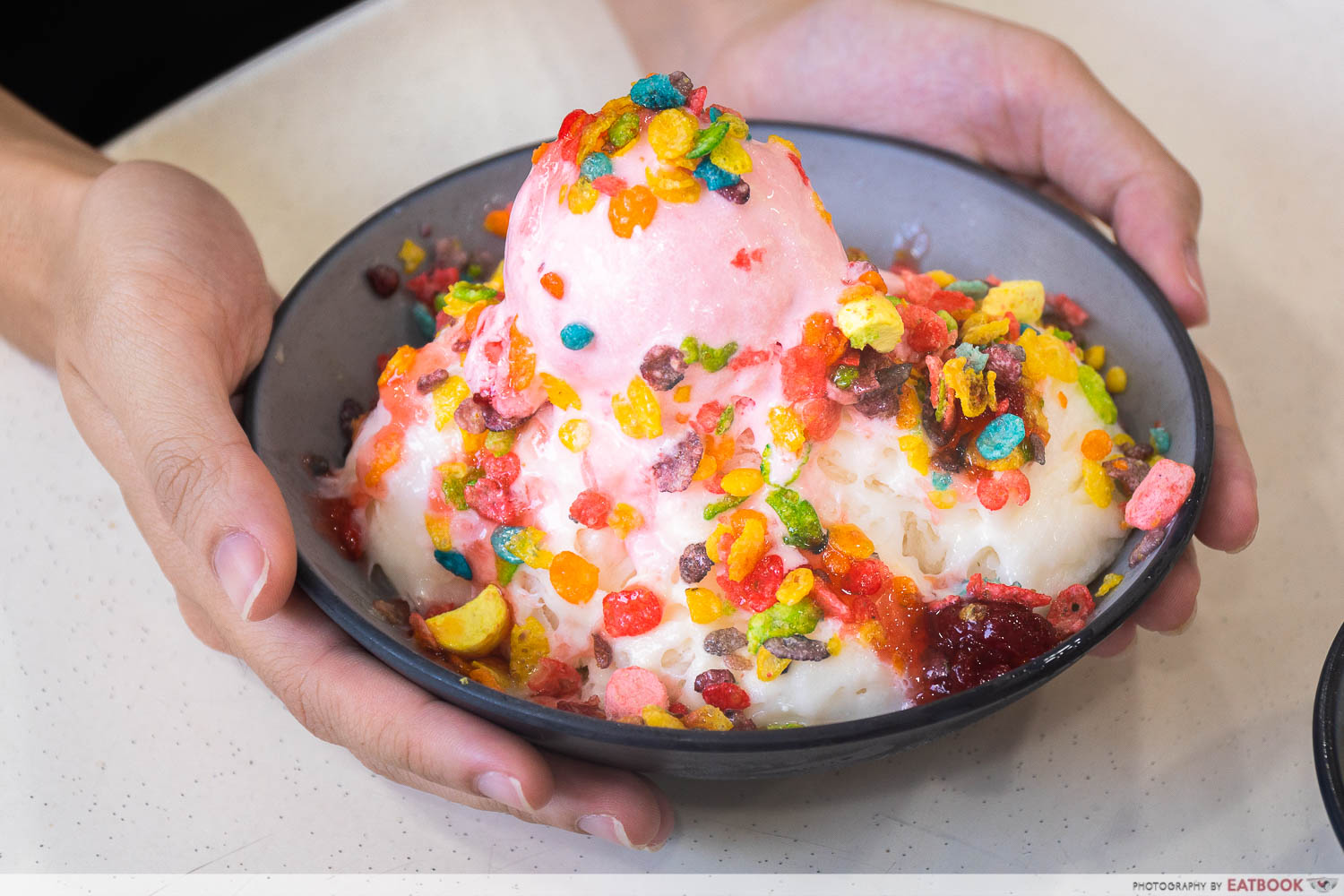 Next, I went for the colourful Funky Town ($6.90) bingsu that features a base of milk-flavoured shaved ice topped with strawberry ice cream, jam, and colourful fruity pebbles. The milk-infused ice was rather mild, while the fruity pebbles added a crunch and a sweet-sour aftertaste. 
The addition of strawberry jam to this dessert was quite refreshing as it was slightly tangy, contrasting with the lightly flavoured shaved ice.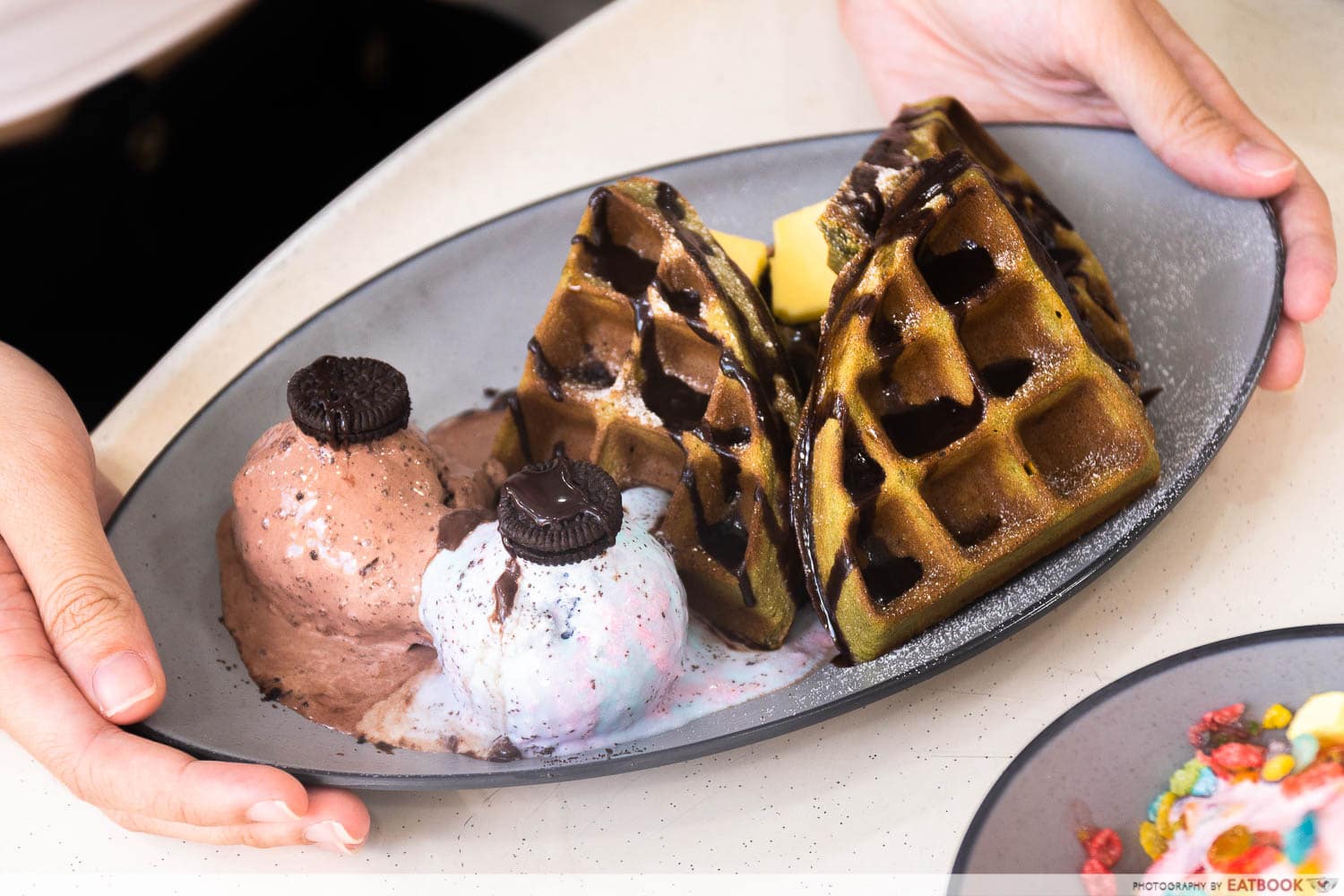 Finally, I went for another popular option, the Matcha Waffles ($8.90), with two scoops of ice cream. These are matcha powder-infused buttermilk waffles, drizzled with chocolate syrup and dusted with powdered sugar. I opted for Tutti Fruity and Double Chocolate ice cream to pair with the matcha waffles, and these came with cute mini Oreos on top.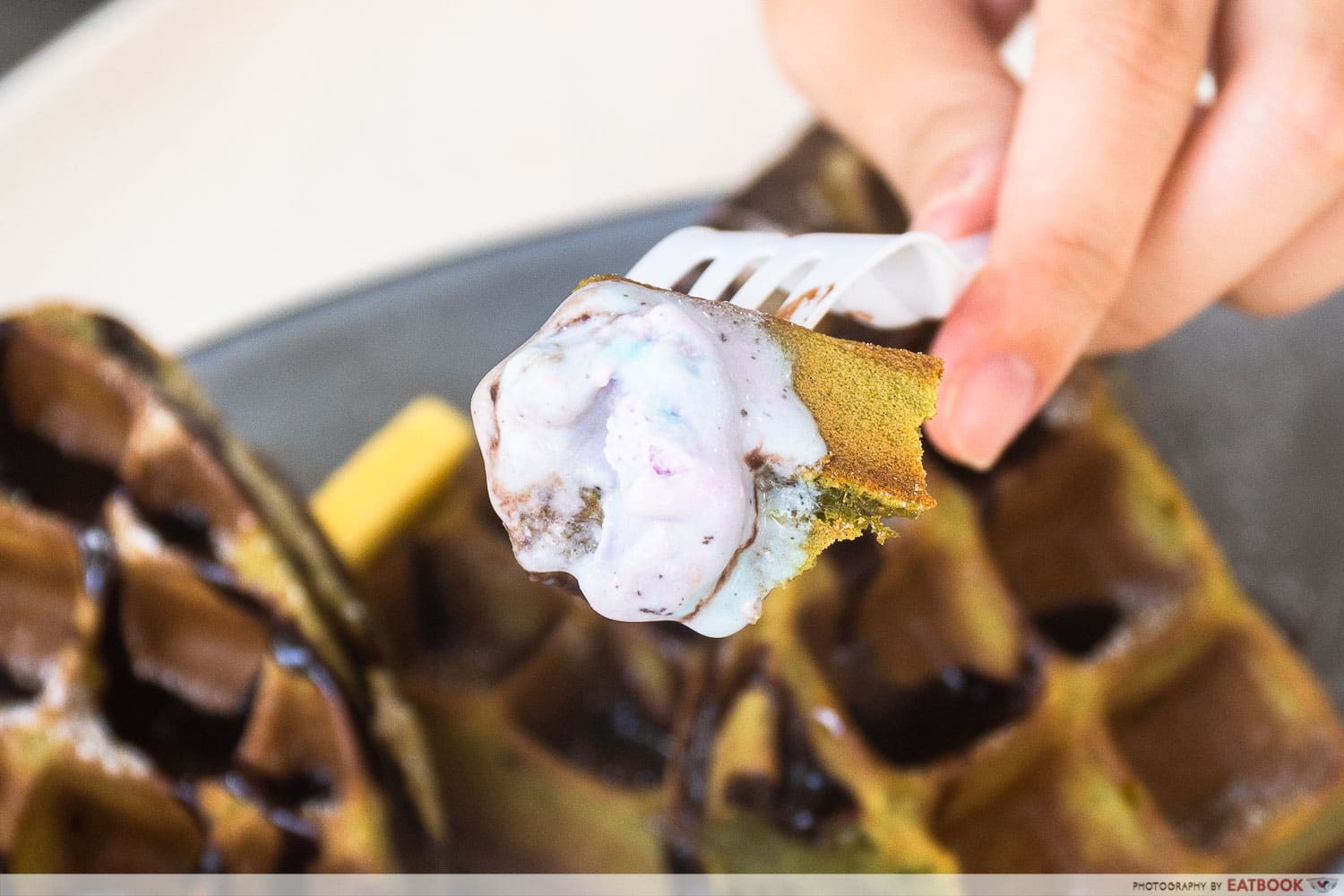 I was pleasantly surprised as the waffles had a rather pronounced matcha flavour. They were also fluffy on the inside, yet still crispy on the outside.
The Tutti Fruity ice cream saw a slightly artificial sweetness that I did not particularly enjoy, but it does have appeal for younger kids. The Double Chocolate was rich but not too jelak, and there was a hint of bitterness from the dark chocolate within.
Around Cafe Review: Glasshouse Cafe Opens Till 2am, Serving Gelato And Chunky Cookies At Tampines
Ambience at 929 Dessert & Bites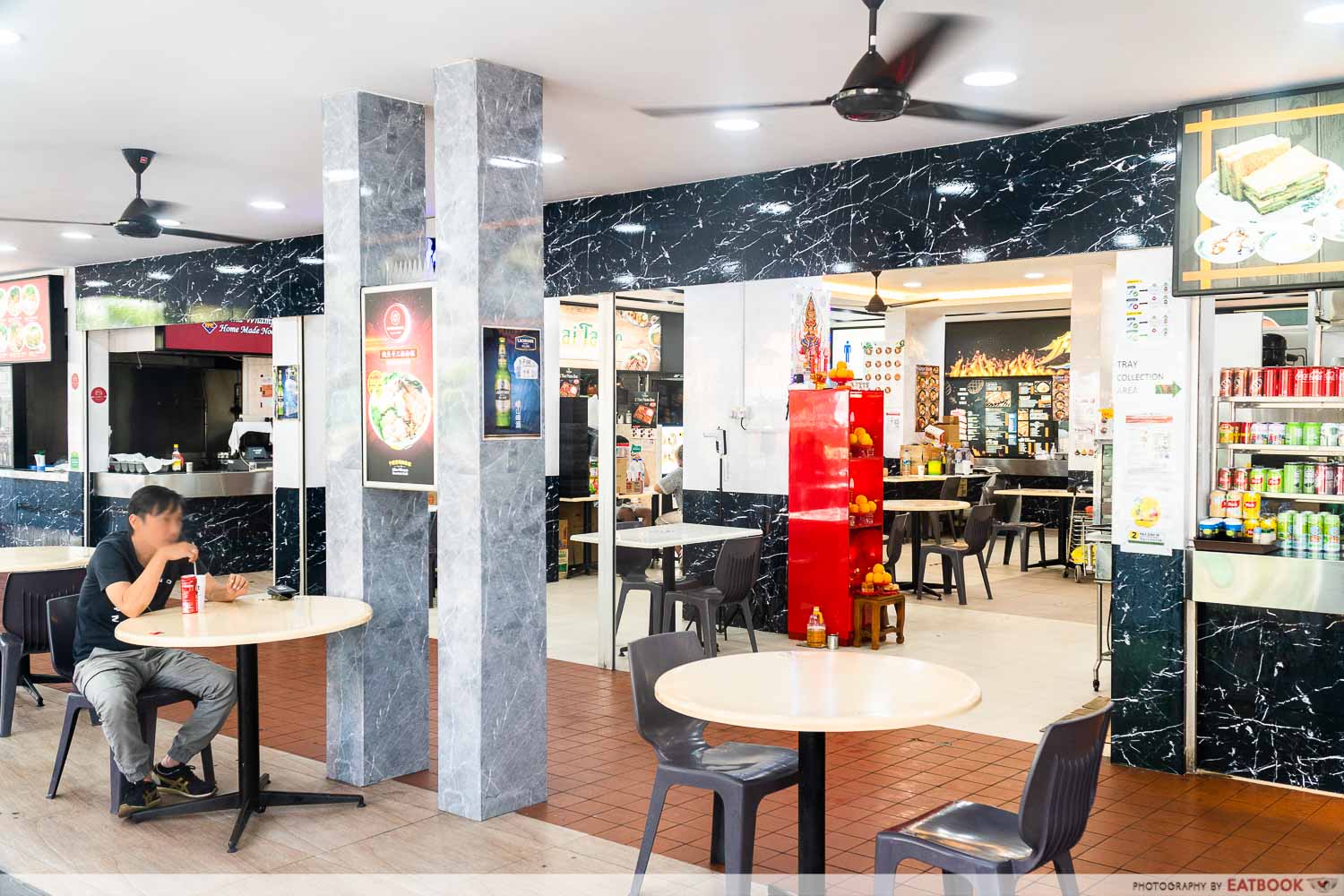 This dessert stall is located just a five-minute walk away from Tampines West MRT Station, so you can conveniently get your fix of shaved ice with friends and family. 
Hidden within the Kopitiam under Block 929 of Tampines Street 91, this ambience is rather quiet, even during lunch and dinner hours. Besides the brightly lit signage of 929 Dessert & Bites, you will also find other interesting food options such as a hipster nasi lemak stall, Hainanese beef noodles and more.
The verdict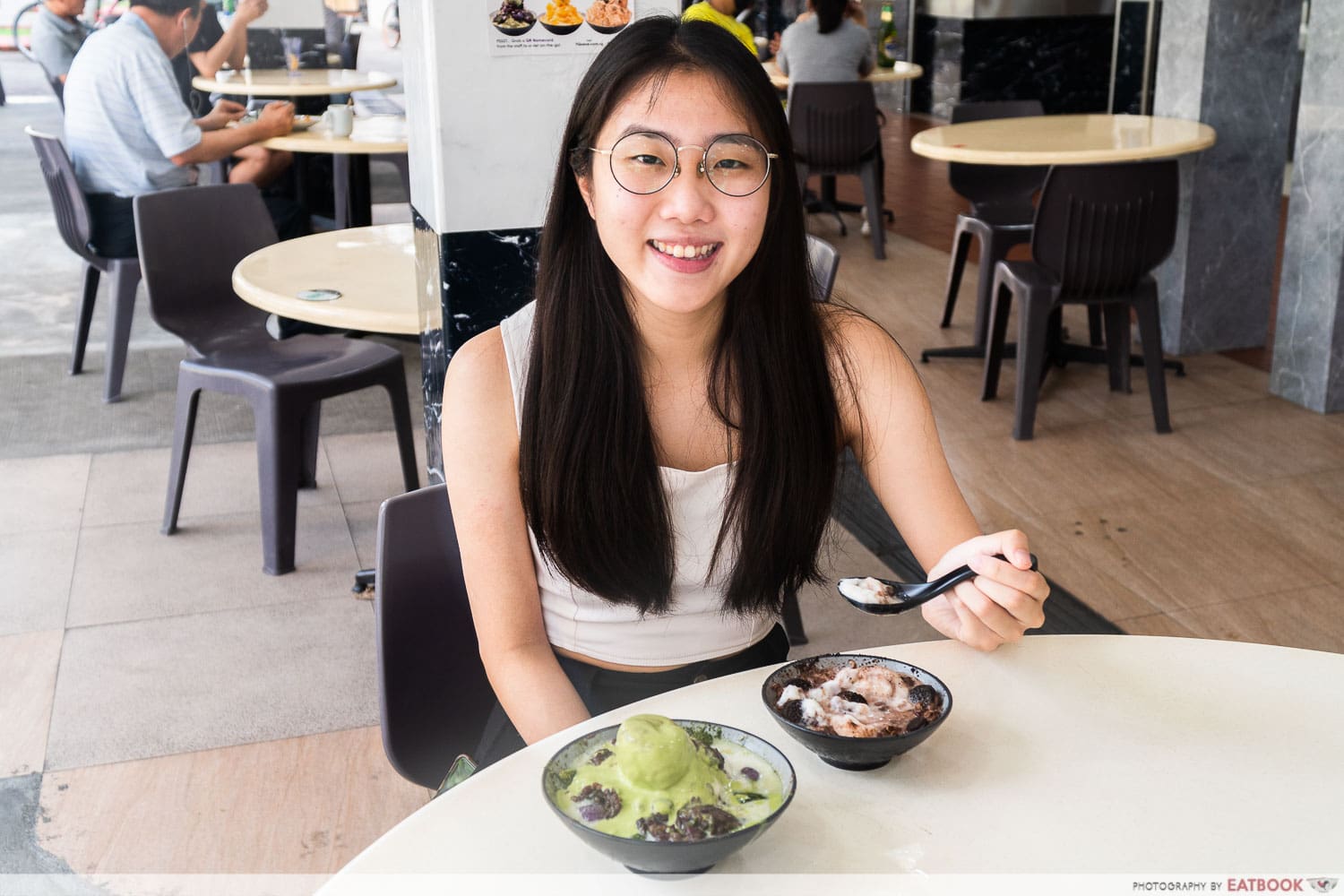 With the hot weather here in Singapore, I do see a high demand for such refreshing desserts that can help us brave through the sweltering heat. To find bingsu at such an affordable price is also quite rare, and I definitely see myself coming back after a meal around the area, for desserts. 
Although some of their flavours were slightly lacklustre, this can be overlooked considering their cheap pricing, and will surely appeal to students or millennials on a tighter budget. 
For more food in the area, check out our Ah Lemak review for fusion nasi lemak with unagi, soft shell crab, spam fries and more. If not, check out our JOFA Meepok review for zhnged-up mee pok with fried fish sticks. 
Address: 929 Tampines Street 91, #01-451, Singapore 520929
Opening hours: Mon 11am to 8:30pm, Tue-Fri 11am to 8pm, Sat-Sun 11am to 9pm
929 Desserts & Bites is not a halal-certified eatery.
Around Cafe Review: Glasshouse Cafe Opens Till 2am, Serving Gelato And Chunky Cookies At Tampines
Photos taken by Emily Teu.
This was an independent review by Eatbook.sg.
929 Desserts & Bites Review: Matcha And Chendol Bingsu From Only $4.90 At Tampines
929 Desserts & Bites Review: Matcha And Chendol Bingsu From Only $4.90 At Tampines -

7/10
Summary
Pros
– Affordable prices
– Unique flavours
Cons
– Chendol flavour was slightly underwhelming 
Recommended dishes: Matcha Waffles ($8.90), The Green Monster ($8.90)
Opening hours: Mon 11am to 8:30pm, Tue-Fri 11am to 8pm, Sat-Sun 11am to 9pm
Address: 929 Tampines Street 91, #01-451, Singapore 520929