Don Meijin serves chilli crab tempura don you can't find elsewhere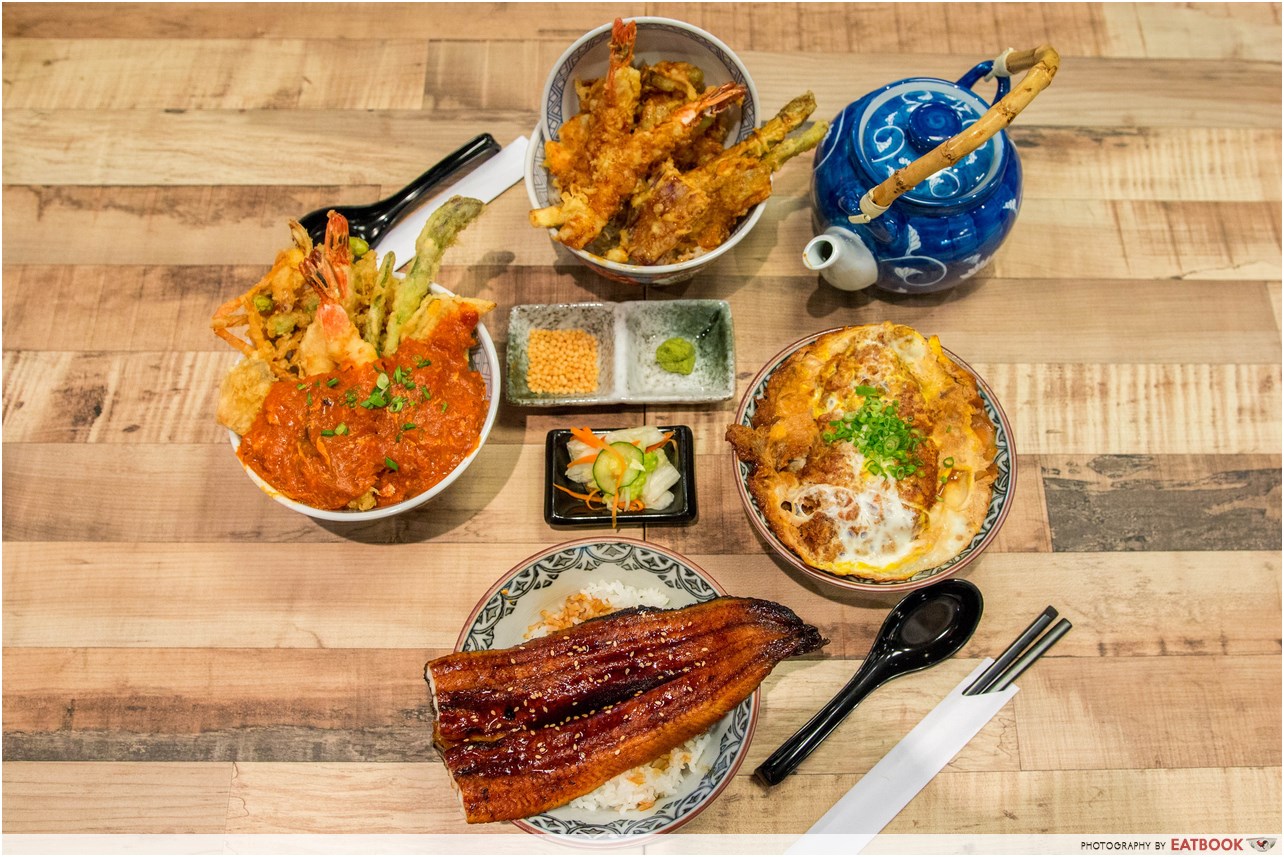 A unique fusion between chilli crab and tempura don, Don Meijin's Spicy Chilli Crab Tendon is definitely on the list of must-tries in 2017. Specialising in Japanese rice bowls and run by chef Masaki Kikuti who has over 10 years of restaurant experience, Don Meijin also serves several Japanese dishes such as mille feuille katsu don, as well as ochazuke (green tea or soup poured over rice).
Food at Don Meijin
We started off with what we came for – Spicy Chilli Crab Tendon ($14.80+). The rice bowl was bigger than expected, filled with a huge portion of fluffy rice imported from Hokkaido. It was topped with a generous portion of tempura, including prawns, asparagus, pumpkin, salmon, eggplant and kakiage, before being doused in mouthwatering chilli crab sauce.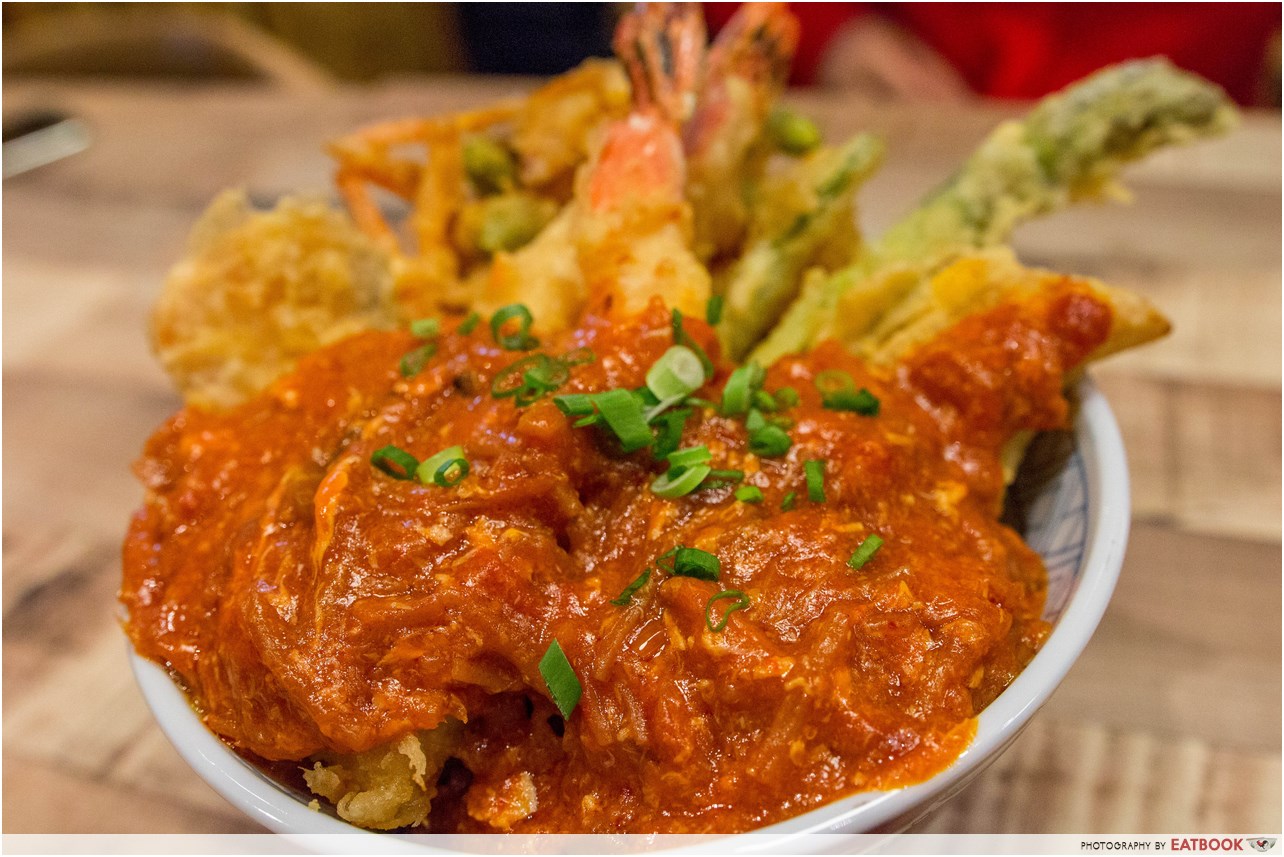 The chilli crab sauce was hands down the star of the dish. Boiled for more than four hours, fresh chicken broth was then filled with chunks of snow crab, Japanese soy sauce, mirin, as well as traditional tomato paste and egg. This transformed the broth into the spicy chilli crab sauce we know and love. The balance of flavours was excellent; the chilli gave the dish a good spicy kick while the flavours of tomato and egg were subtle but still noticeable. Don Meijin was also very generous with the crabmeat in the sauce, and every mouthful was filled with juicy tender snow crab.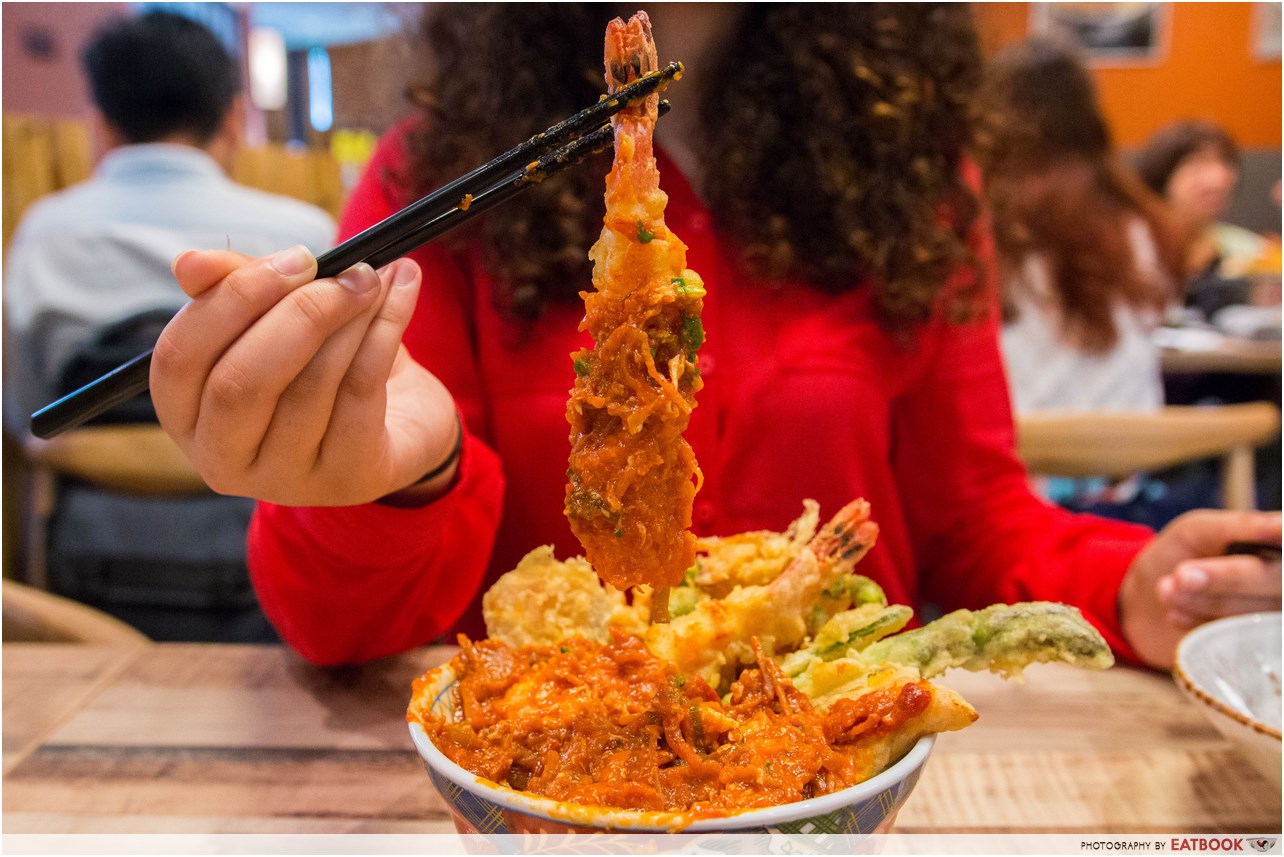 One of my favourite tempura ingredients was the ebi. Thick juicy succulent prawns coated in a crunchy, crispy, flavourful batter – it was a delight throughout. The chef prepares black tiger prawns daily from scratch, resulting in juicier, sweeter, and overall better tasting prawns.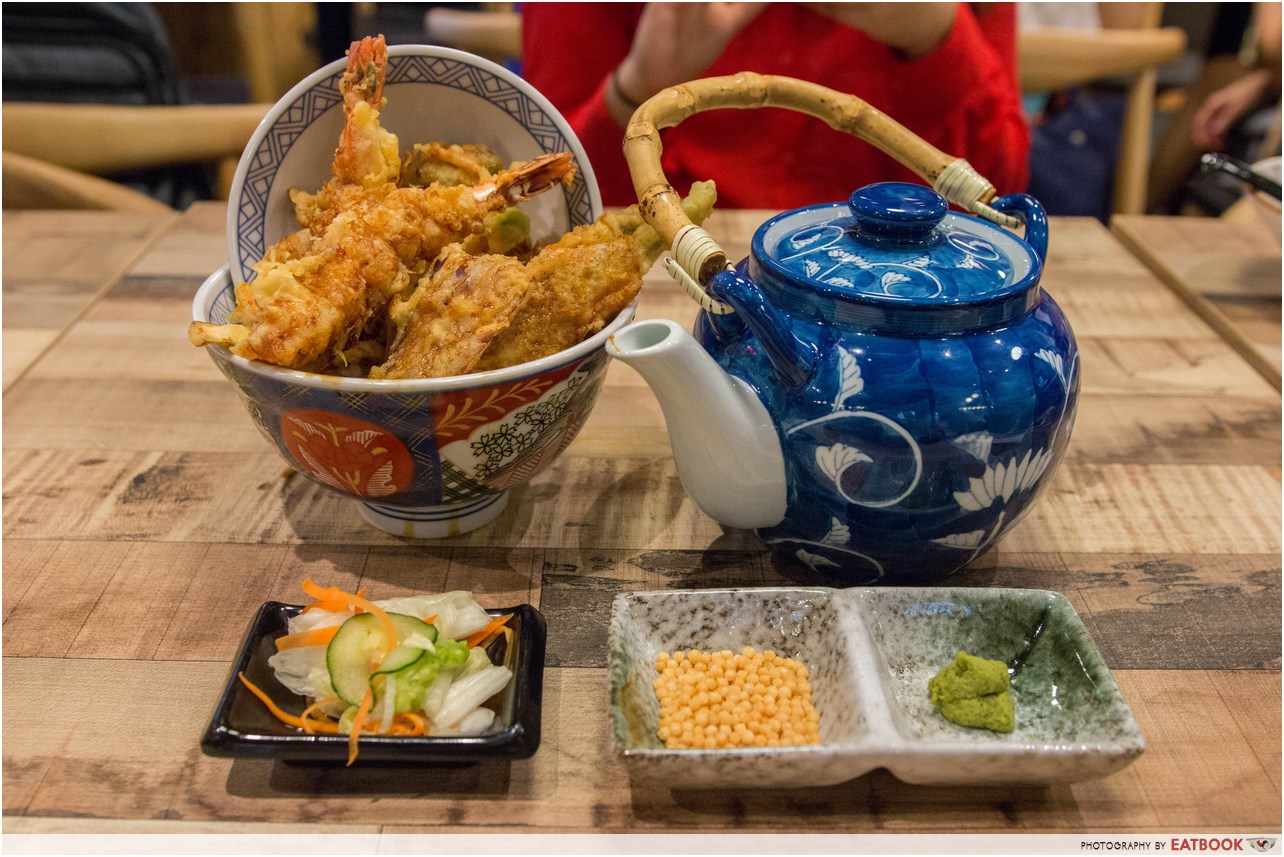 We also got Signature Tendon ($13+) with an Ochazuke set (+$2), which comprised dashi soup as well as rice crisps and wasabi. The tendon was similar to the Spicy Chilli Crab Tendon, except that the chilli crab sauce was replaced by tempura sauce. This dish is meant to be enjoyed two ways. The first is the standard way, by just eating the tempura with rice.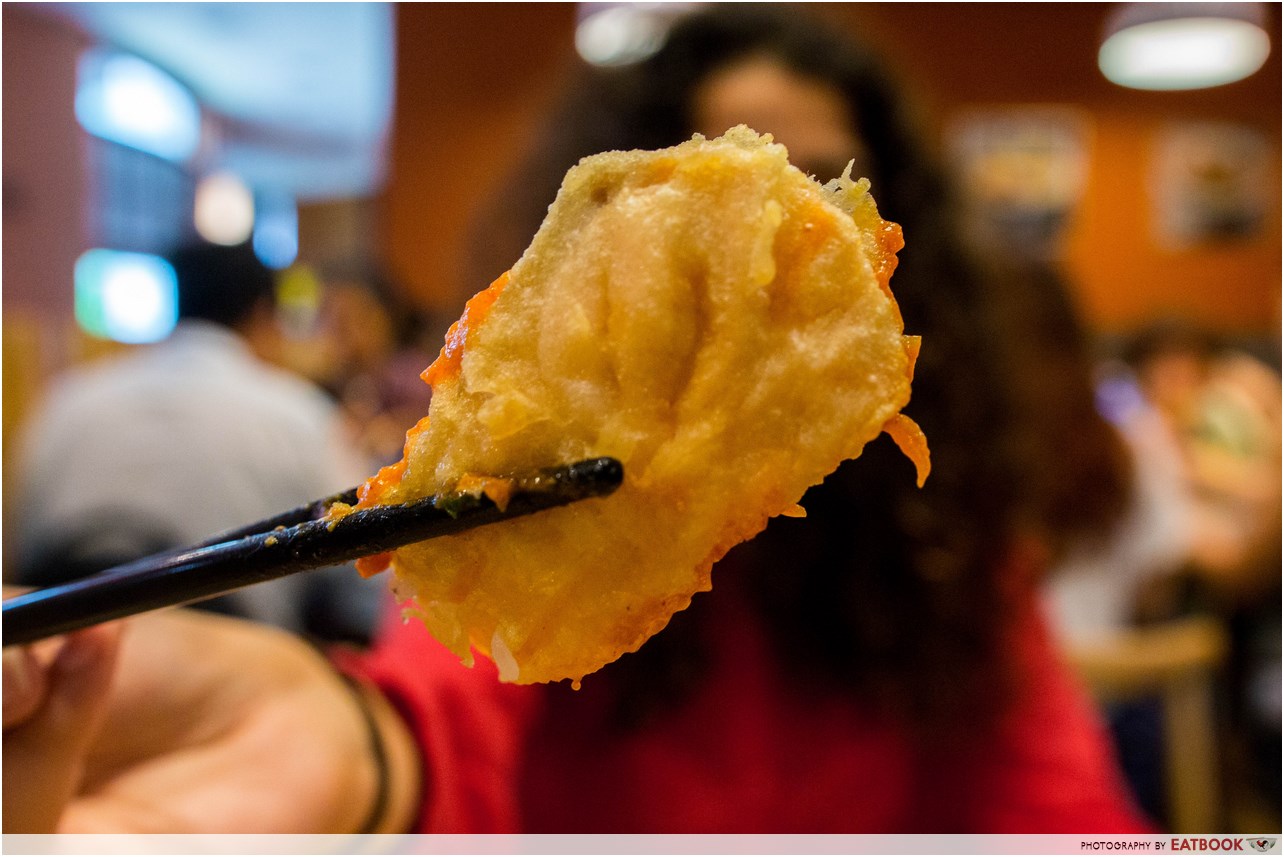 The tempura was similar to that in the chilli crab tendon – soft and meaty interior encased in a crunchy shell. The batter itself coated with sauce was absolutely delicious. The sauce was slightly sweet, salty, and very thick, while the batter was light and airy yet immensely crisp. Apparently, tempura here is fried at a specific temperature in a water fryer which helps give it its texture.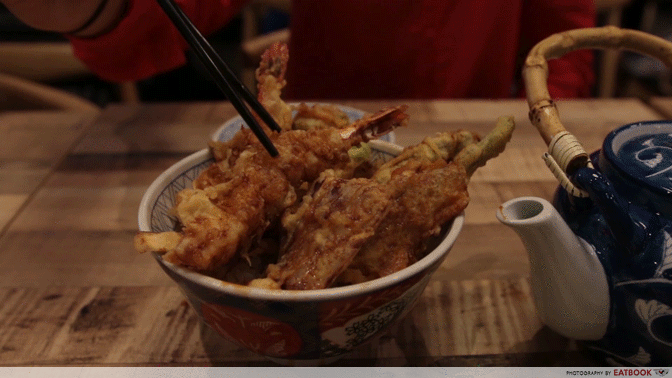 After consuming half of the dish this way, we switched to the second method of eating the tendon. We removed the crisp tempura and transferred it to another bowl to prevent it from getting soggy. Then we added the rice crisps and wasabi to the rice before pouring over the dashi soup.
The soup is boiled with bonito flakes, giving it a rich umami flavour. The rice crisps added some texture to the dish, giving it a crunch, while the wasabi was rather potent, taking a second before the flavour actually kicked in – so be sure not to add too much if you aren't used to it! Overall, it made for a unique refreshing change so you wouldn't get bored of your meal.
Next up, Unagi Don ($18.80+). From the moment this dish arrived at our table, we couldn't get over the smell wafting towards us, and were incredibly tempted to dig right in.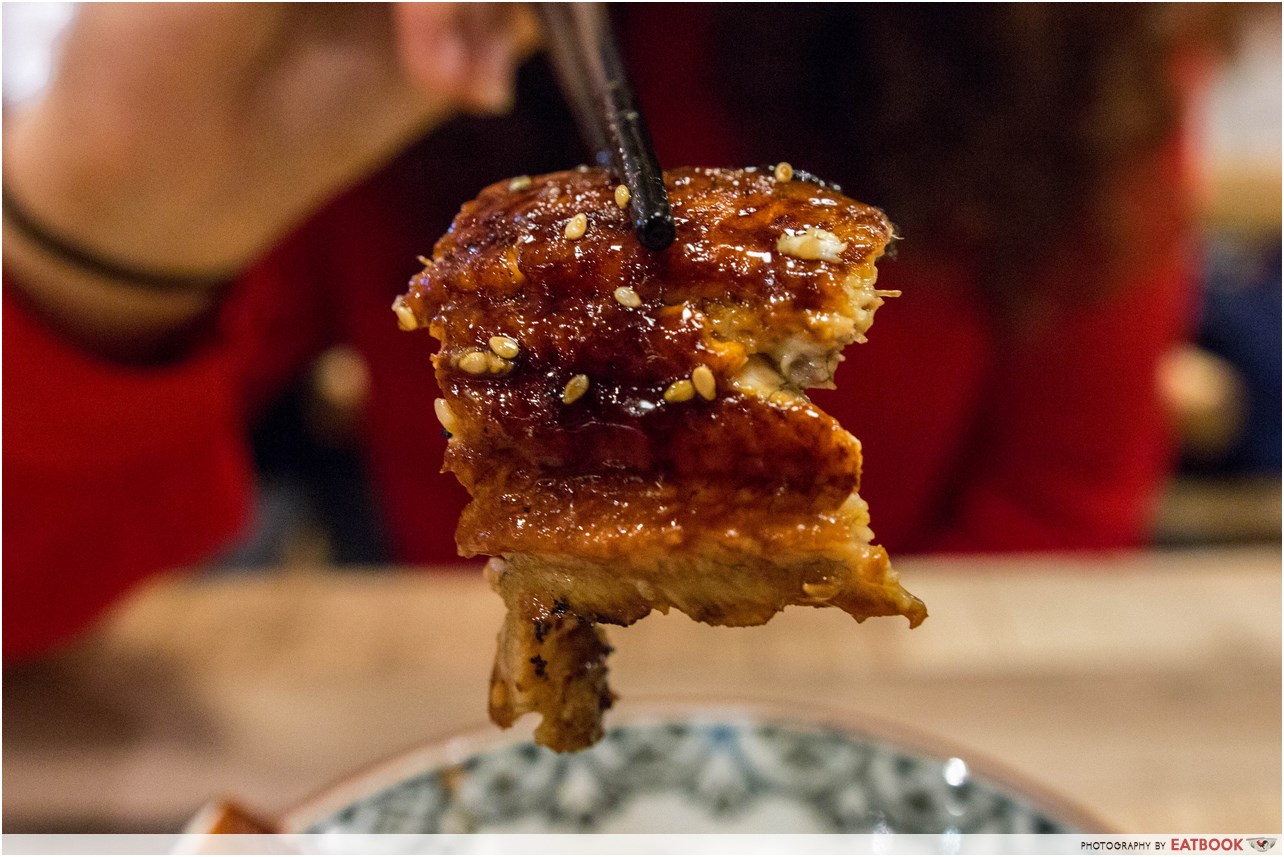 The piece of unagi was massive, especially for its price. It was surprisingly soft and tender, melting in our mouths. The thick, sticky teriyaki-like sauce was very intense and flavoured the unagi and rice well. It was also garnished with sesame seeds, giving it a slightly nutty flavour.
The last dish we had was Mille Feuille Katsu Don ($12.80+). The generous portion of fluffy Hokkaido rice was this time topped with pork loin and egg. The thick layer of egg was filled with onions and chives and cooked with Japanese soy sauce. On its own, it was a tad too salty, but eaten with the pork and rice was delectable.
Instead of one thick chunk of pork loin, the chef made the katsu with 14 thin marinated slices of pork loin, which he coats in nama panko (fresh bread crumbs) before frying. The result is a thick piece of soft, tender, incredible juicy meat encased in a crunchy shell. The pork itself made this dish a winner and our favourite dish from Don Meijin.
Ambience at Don Meijin
Don Meijin is located in Ramen Champion on the fourth floor of Bugis+, among other Japanese stalls. It's easy to spot, and boasts traditional Japanese vibes, with lanterns and a cloth banner hanging above the counter.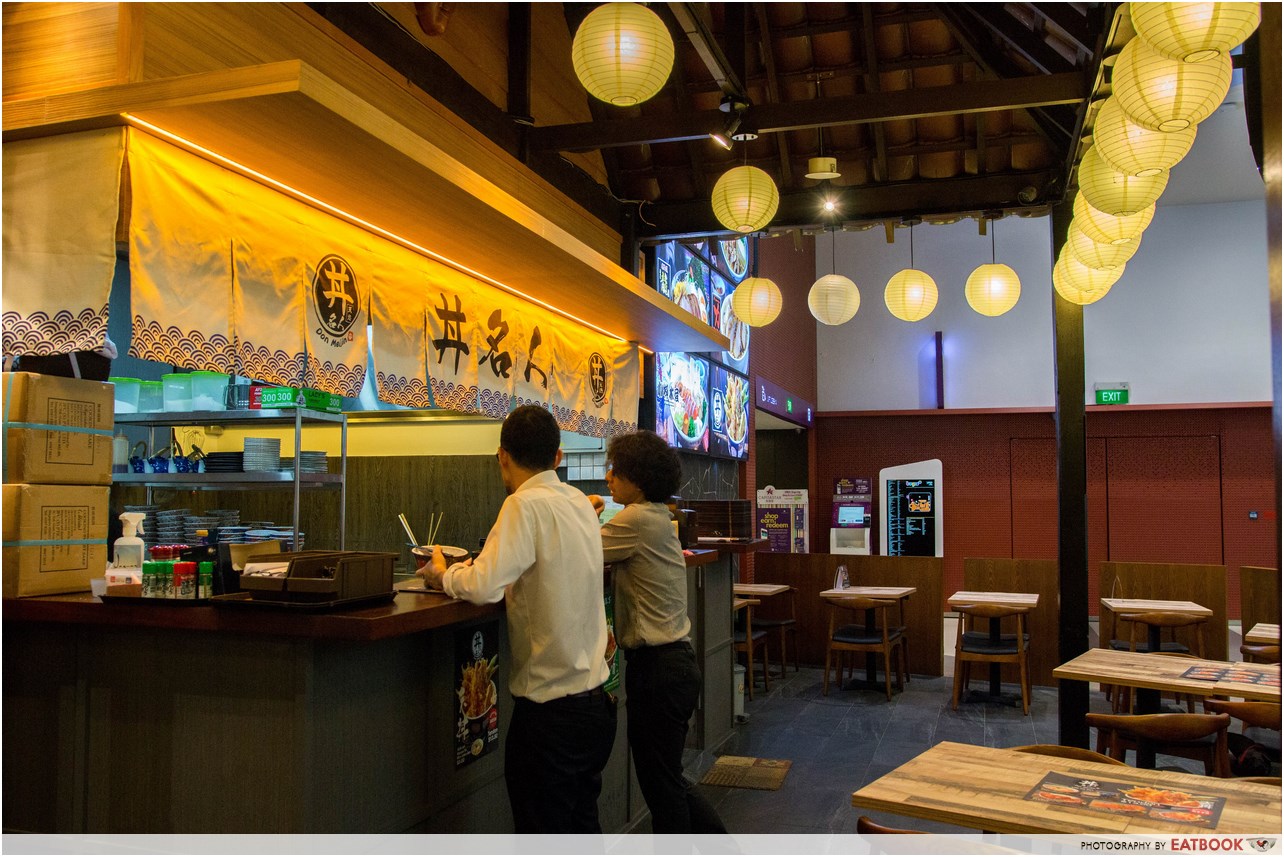 The interior is also large and spacious, with seats for both couples and groups spread out around the kitchen situated in the middle of the restaurant. The kitchen is open, and customers can watch their food being prepared. Service is efficient and the staff were extremely friendly as well, resulting in an all-round pleasurable experience.
The verdict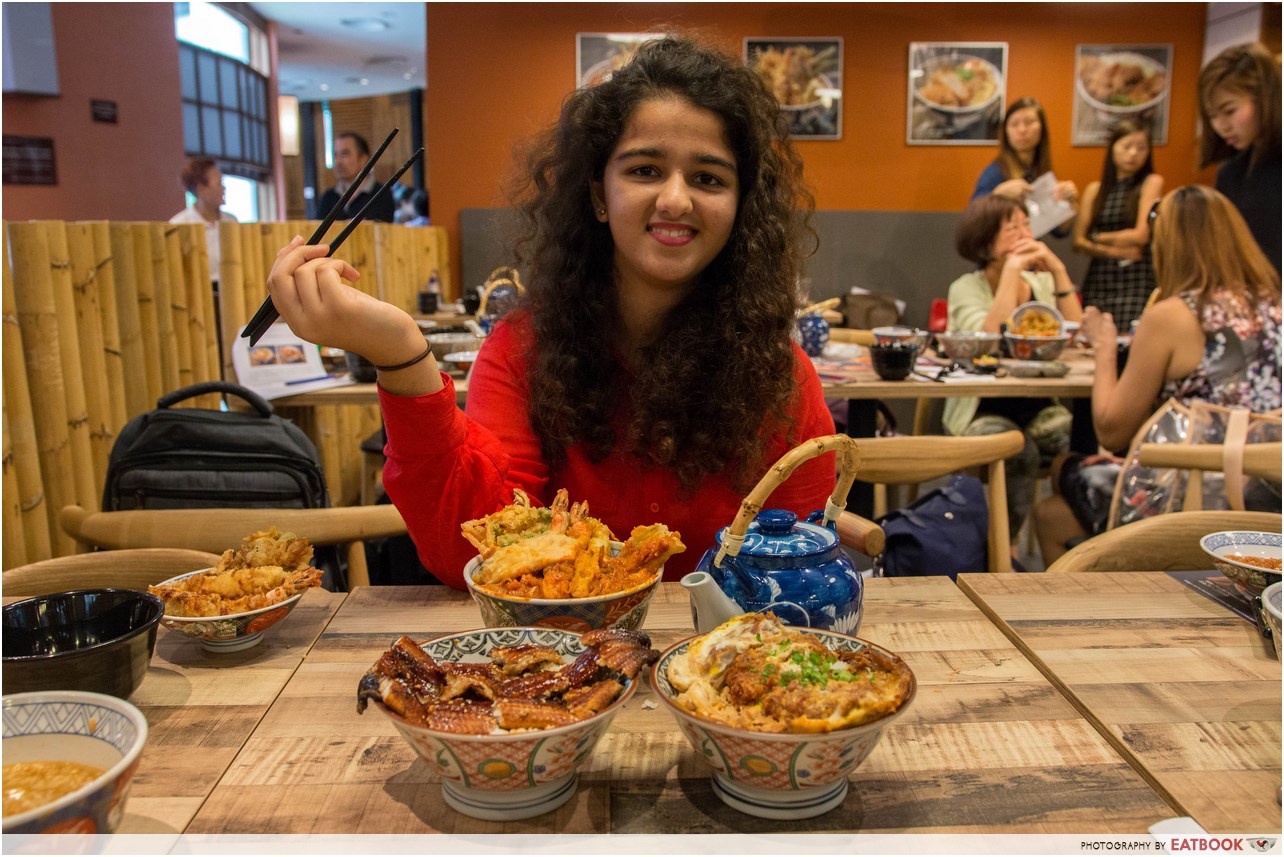 Even though Don Meijin is slightly pricey, the portions and food served make up for it. If you're ever in Bugis and want to try something different, AKA chilli crab tendon, be sure to head down to Don Meijin!
This was a media tasting at Don Meijin.
Summary
Pros
– Unique dishes
– Comfortable ambience
– Friendly staff
Cons
– Expensive
Recommended Dishes: Mille Feuille Katsu Don ($12.80+), Spicy Chilli Crab Tendon ($14.80+), Signature Tendon with Ochazuke ($15.80+)
Operating Hours:
Monday – Friday: 11am to 10:30pm
Saturday – Sunday, PH: 10:30am to 10:30pm
Tel:
6238 1011
Address: 201 Victoria Street, #04-10, Bugis+, Singapore 188067