Cute animal dim sum at East Ocean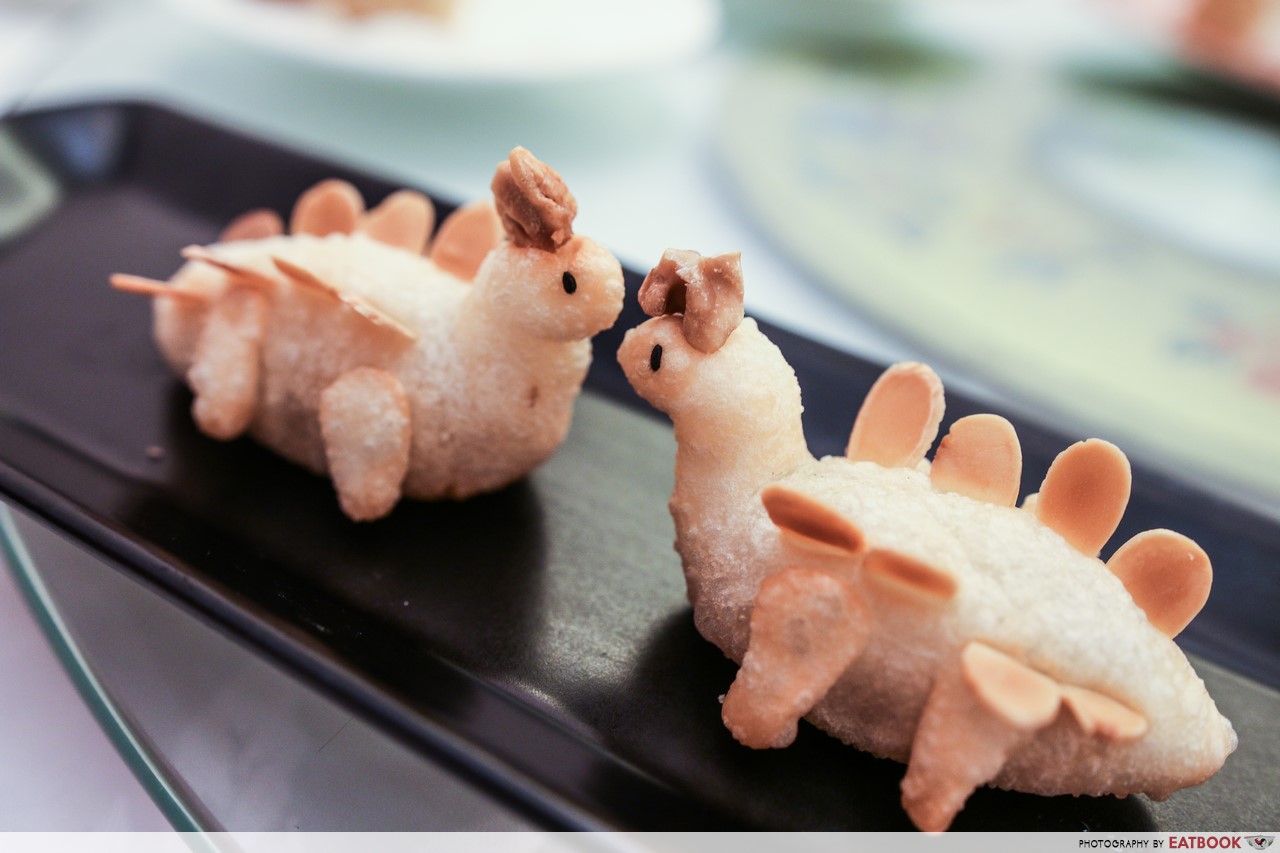 Bringing your entire extended family out for a special occasion can be hard. Ah gong and ah ma want to go to a good ol' Chinese restaurant, but your niece and nephew may want something more modern and Instagrammable. There never seems to be any restaurant that can strike a balance between delicious modern and traditional food, but that's about to change.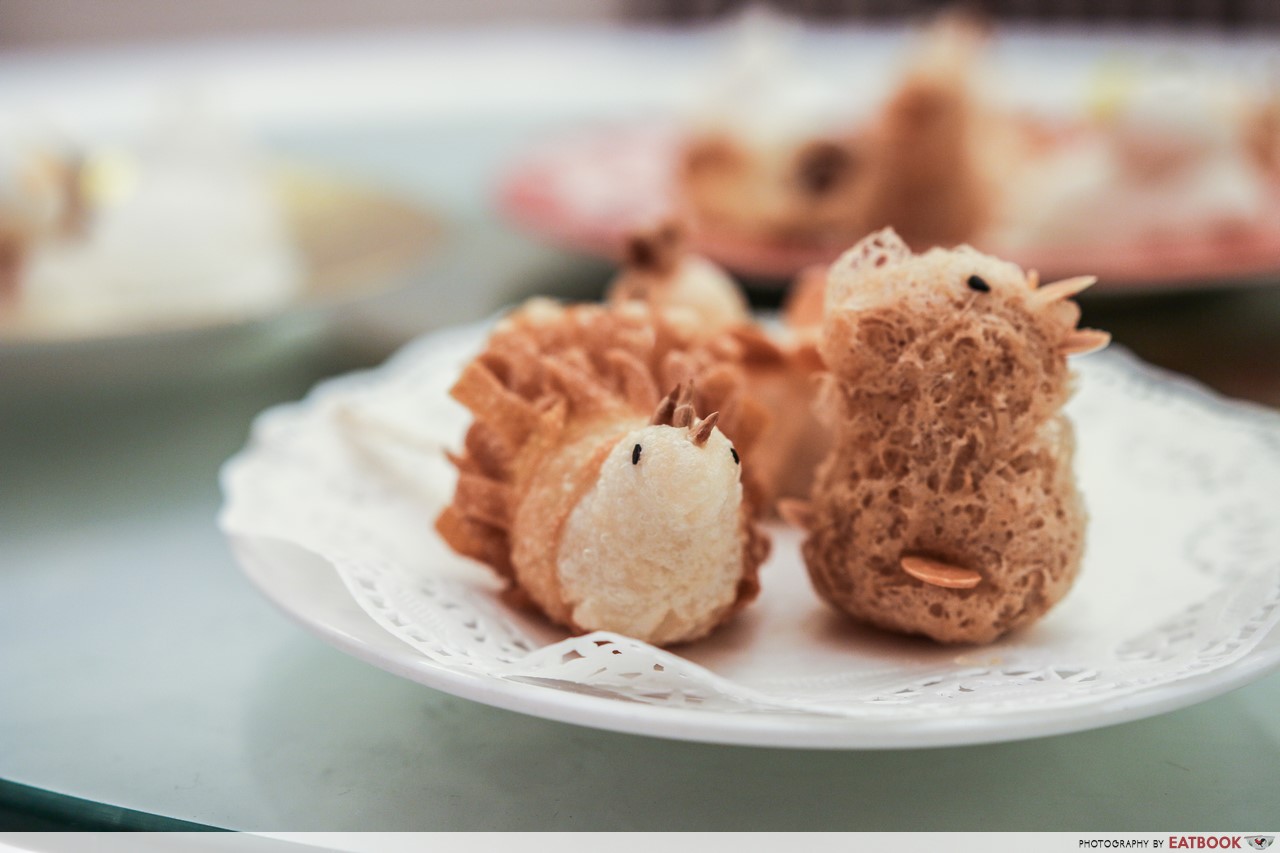 East Ocean Teochew Restaurant has upped their Chinese food game by selling cute animal-shaped dim sum AND traditional dishes like soya sauce duck soaked in an old recipe of lo shui (master stock).
Animal dim sum at East Ocean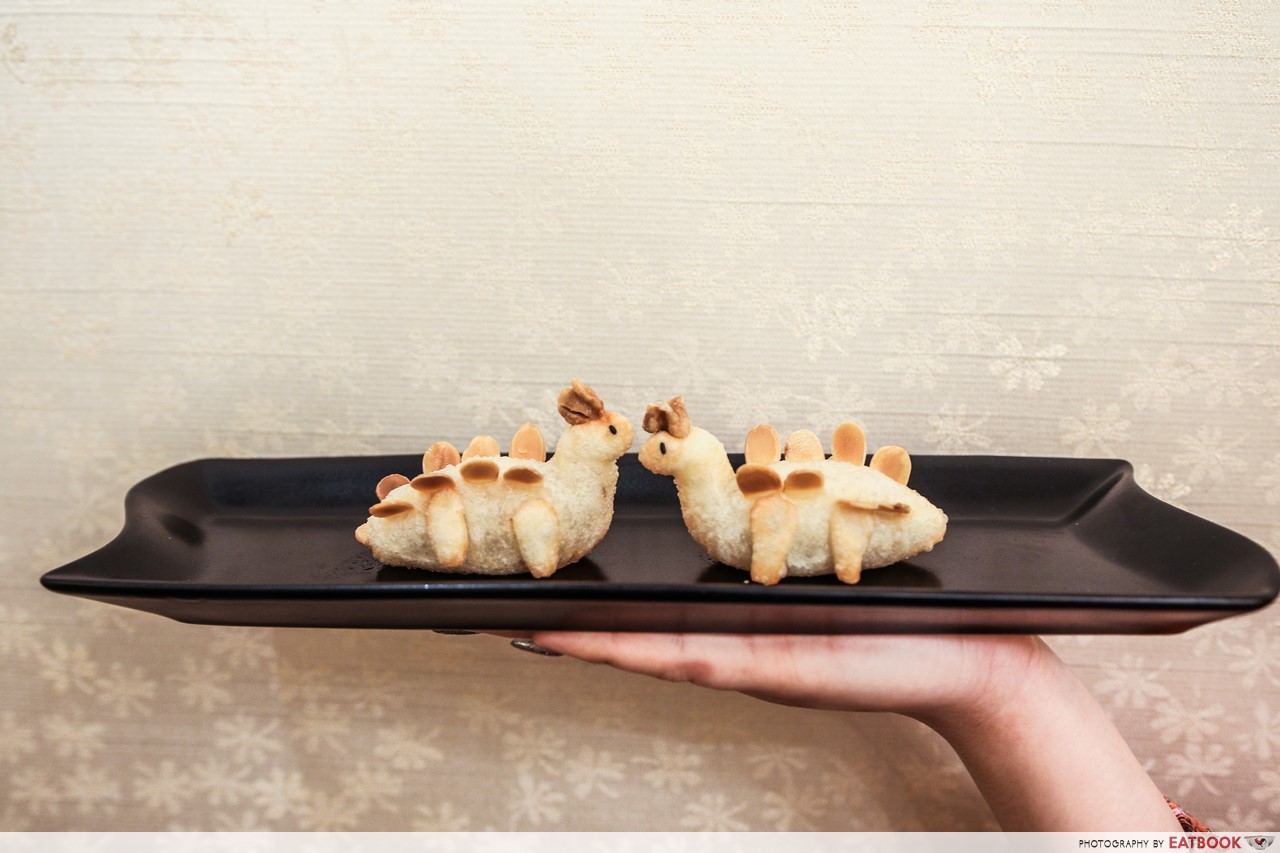 With over 25 new animal dim sum ($6.90++ for three pieces) released each quarter, it doesn't matter if you're coming here for a birthday party or family dinner because you're always going to be treated to a new set of cuties.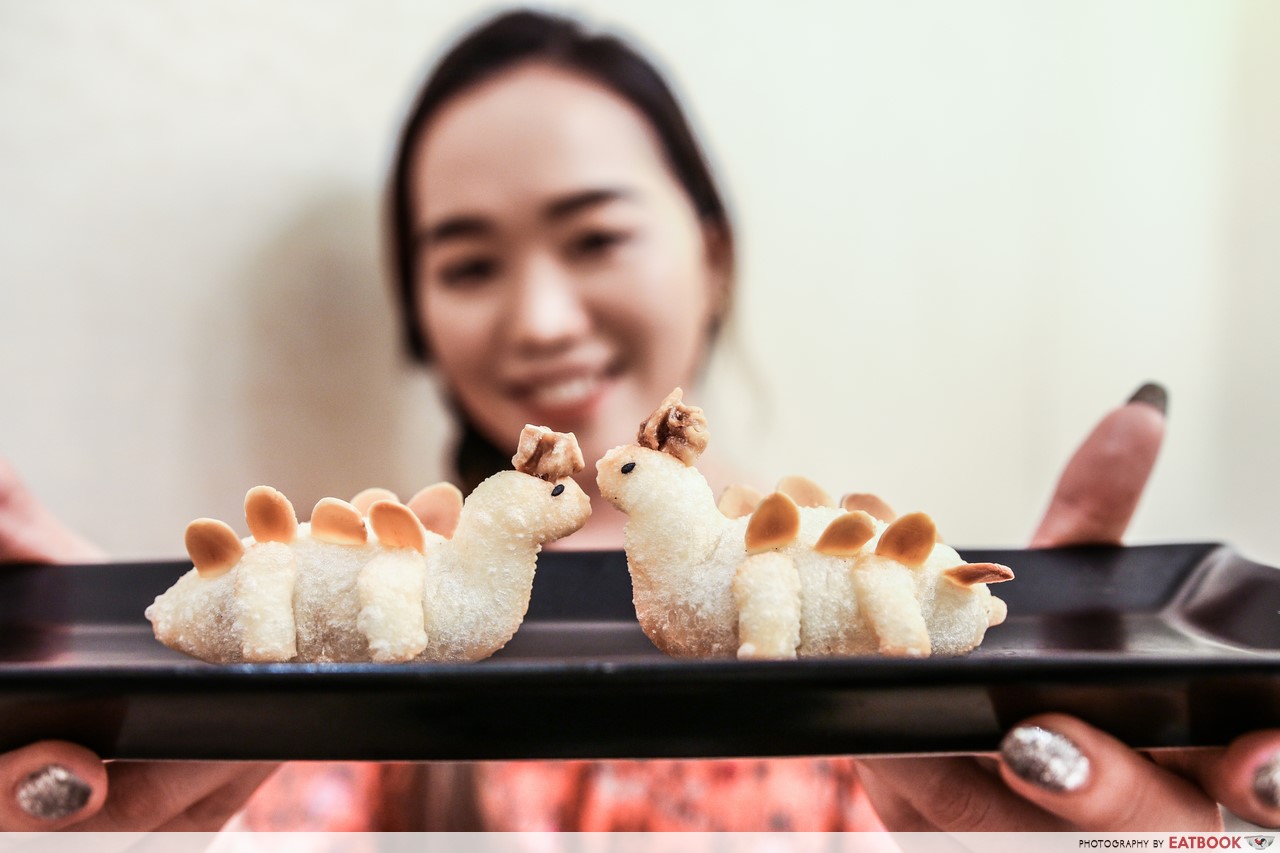 This was my favourite dim sum. Not only is it shaped like a super adorable Dinosaur, its sweet soon kueh tasting outer accompanied the slightly salted chicken and shrimp filling well.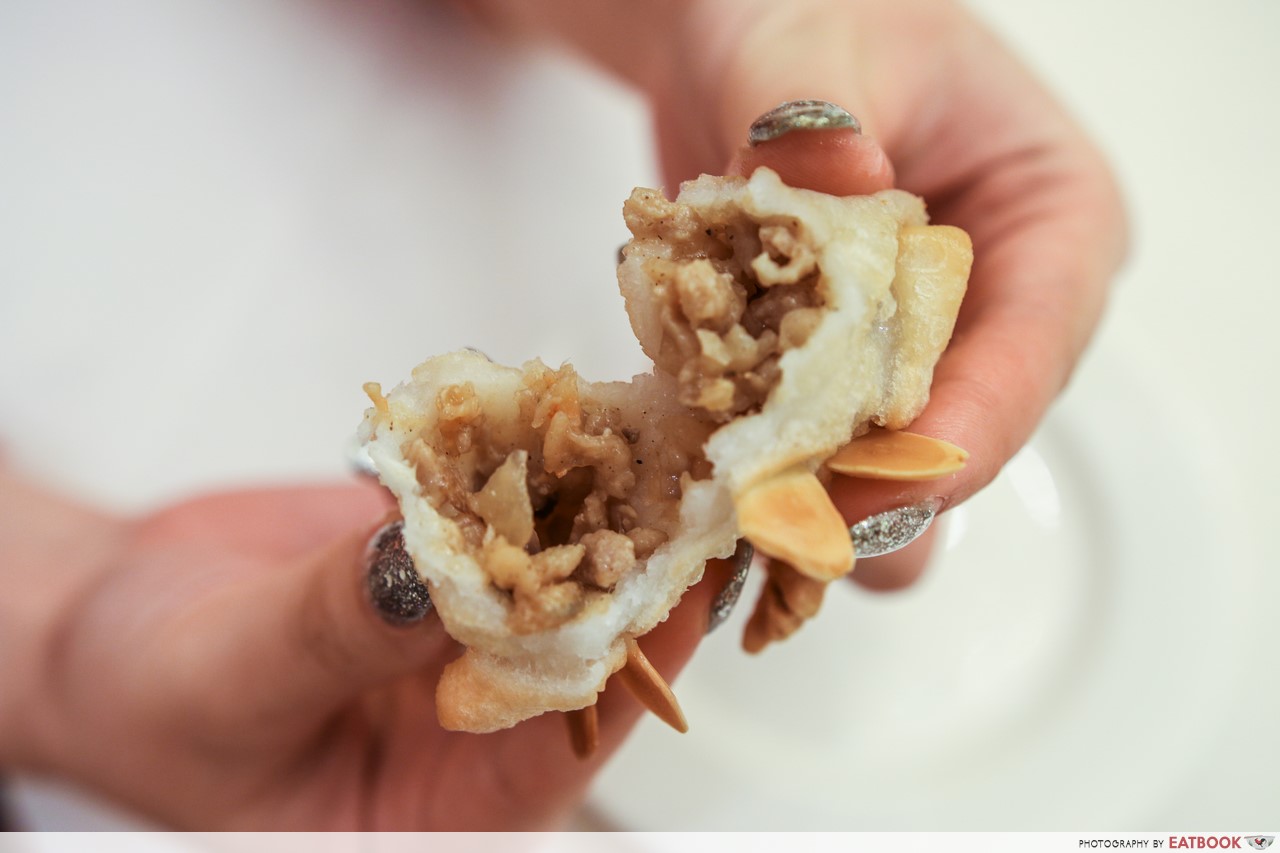 The walnut and almond slivers won me over by complementing the rest of the dumpling , and its crunchiness gave some texture to the soft filling as well.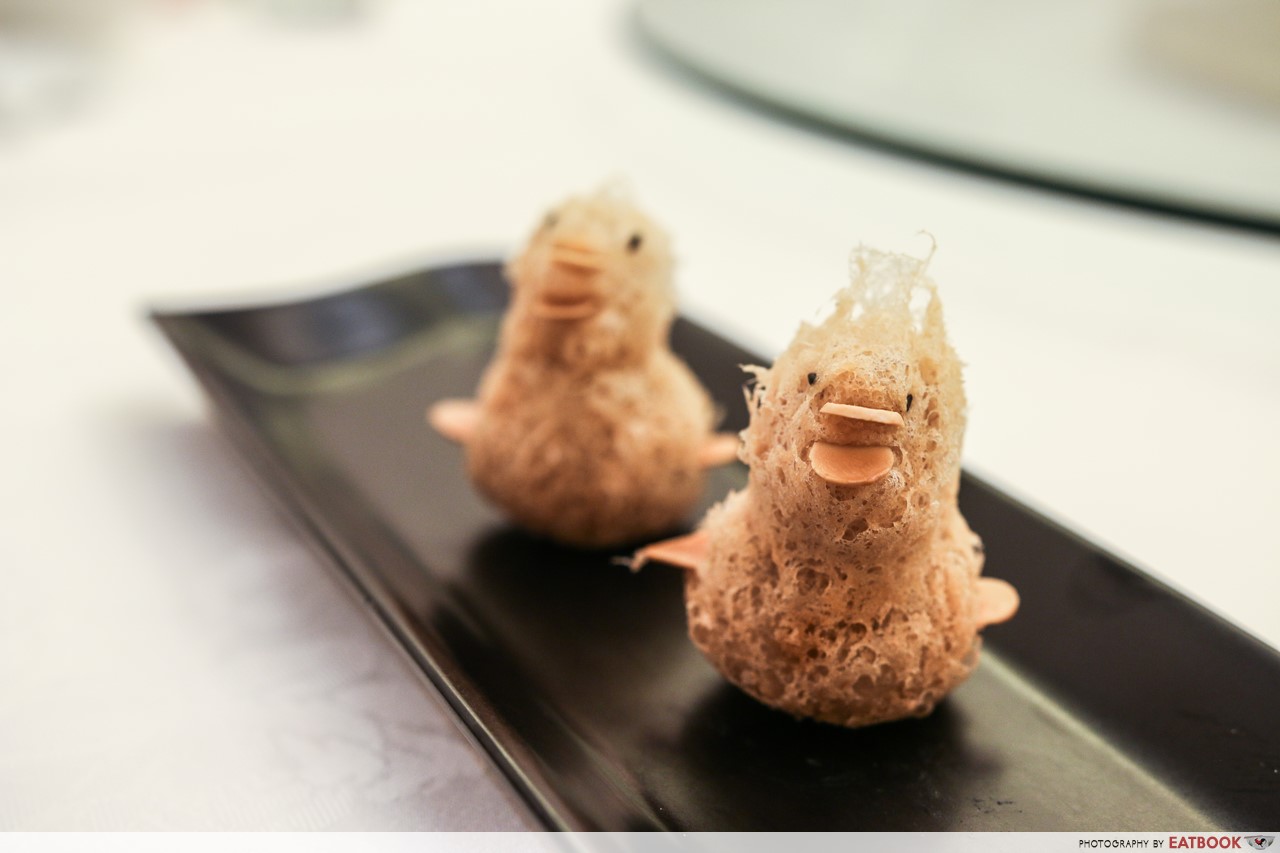 While the dinosaur dumpling looks adorable and tastes amazing, the Ugly Duckling dumpling is only good for Instagram.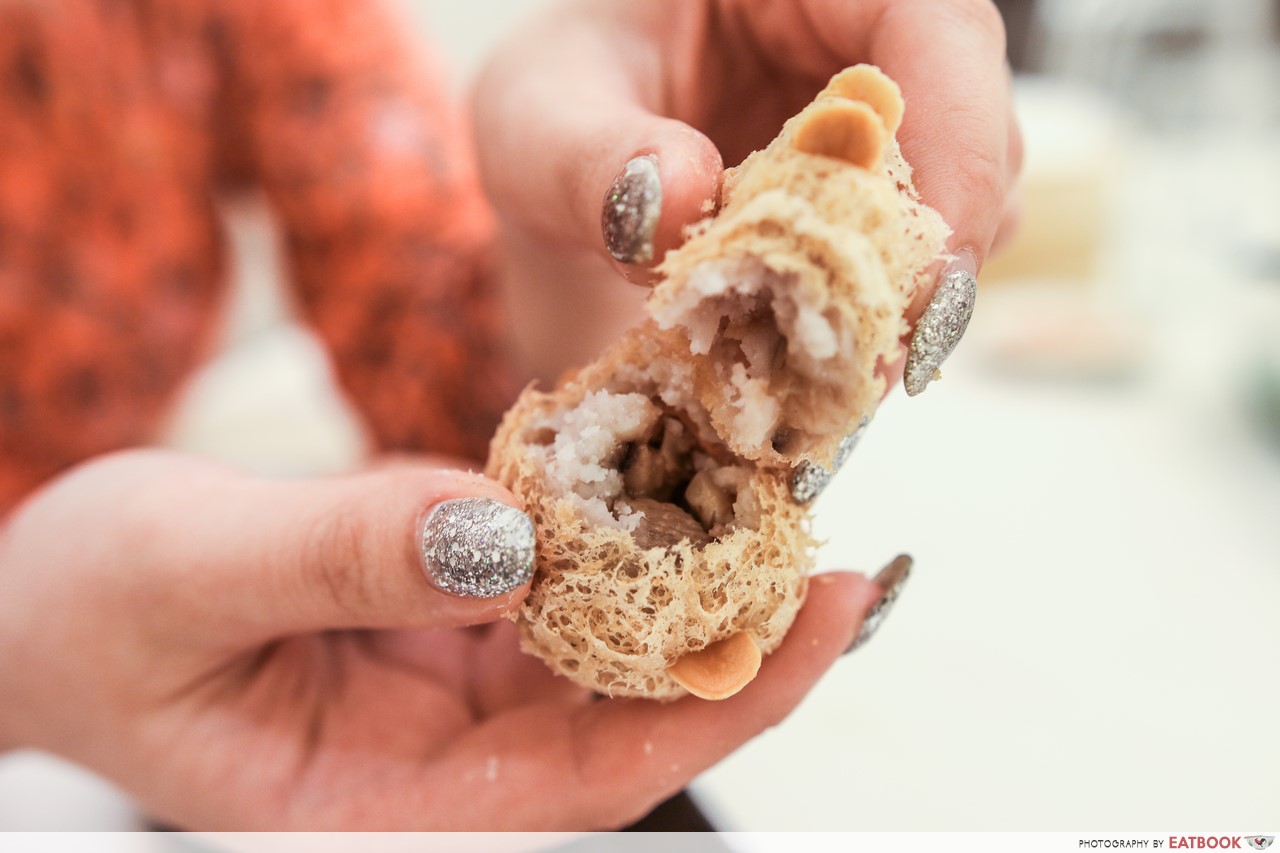 Each fried  dumpling is filled with yam, potato and, you guessed it, duck meat. I had high hopes for this, and was salivating at the thought of biting into juicy duck meat. But my theory was met with real-life disappointment. At first bite, I was treated to an onslaught of yam and potato, but the taste of duck didn't emerge at all.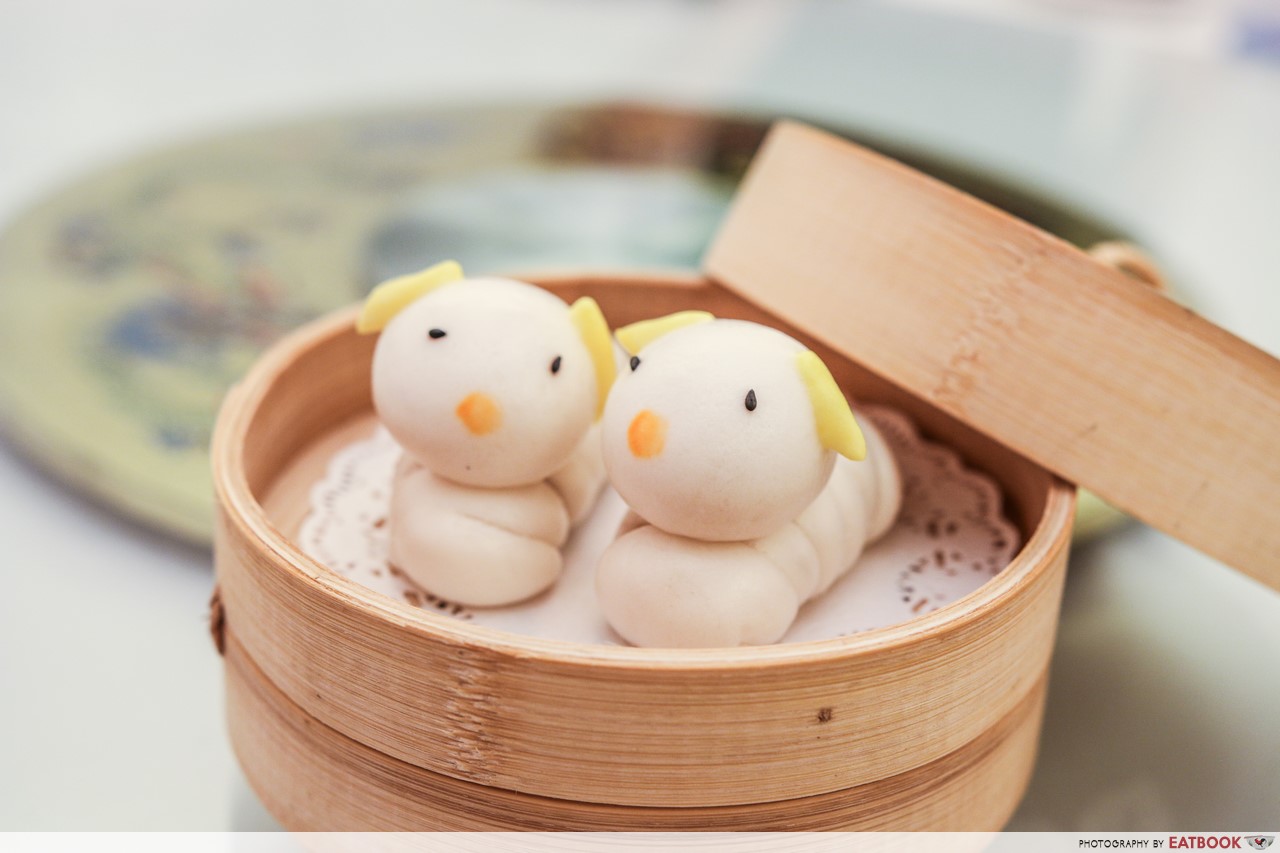 If your table has children, they'd probably like some of these cute Naughty Puppy hot dog buns. Unlike the ugly duckling, Naughty Puppy fortunately doesn't have puppy fillings. Instead, it's filled with chicken sausage wrapped in a pau-like outer, and tastes just like a regular hot dog bun.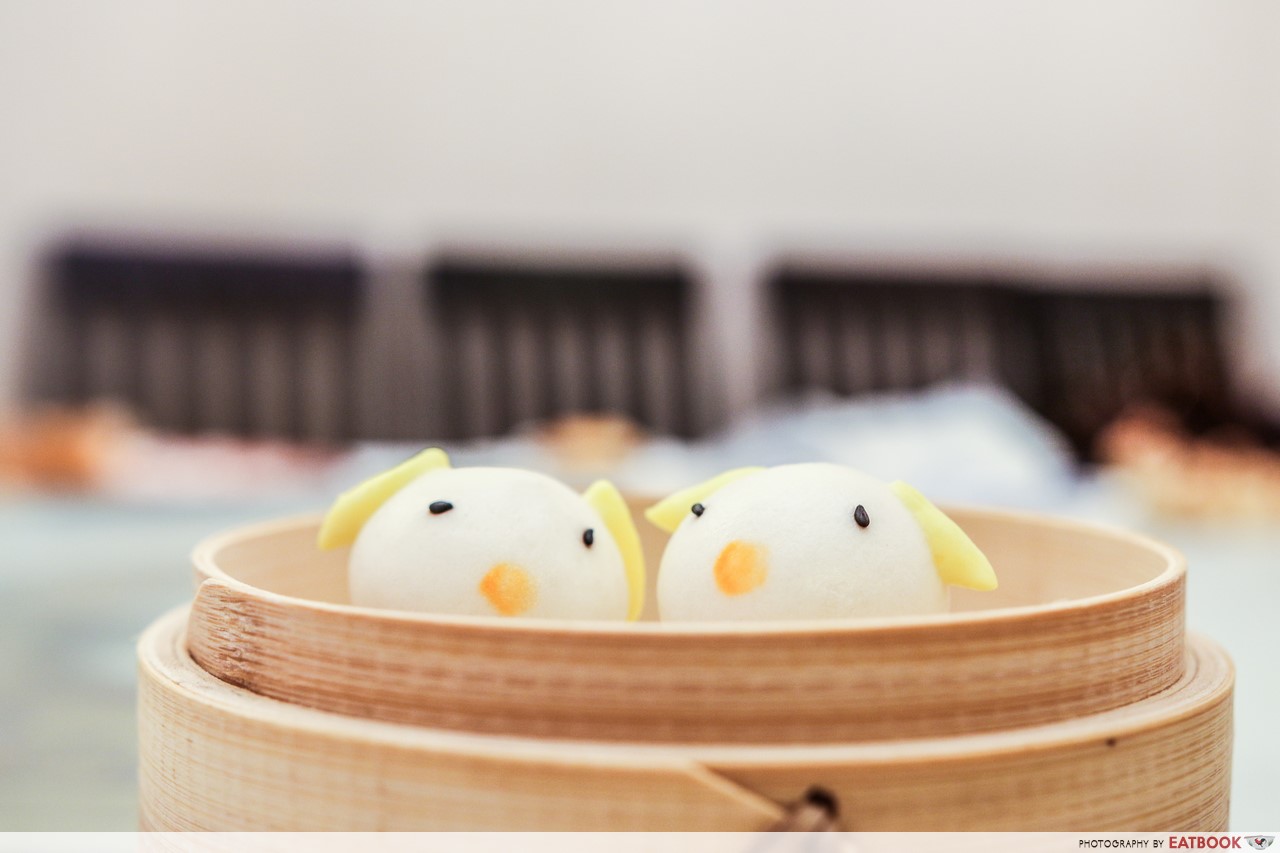 Aptly, the puppy appears with a dramatic opening of hot steam when you lift the cover. Props to East Ocean for putting a hot dog in a hot dog.
Main dishes at East Ocean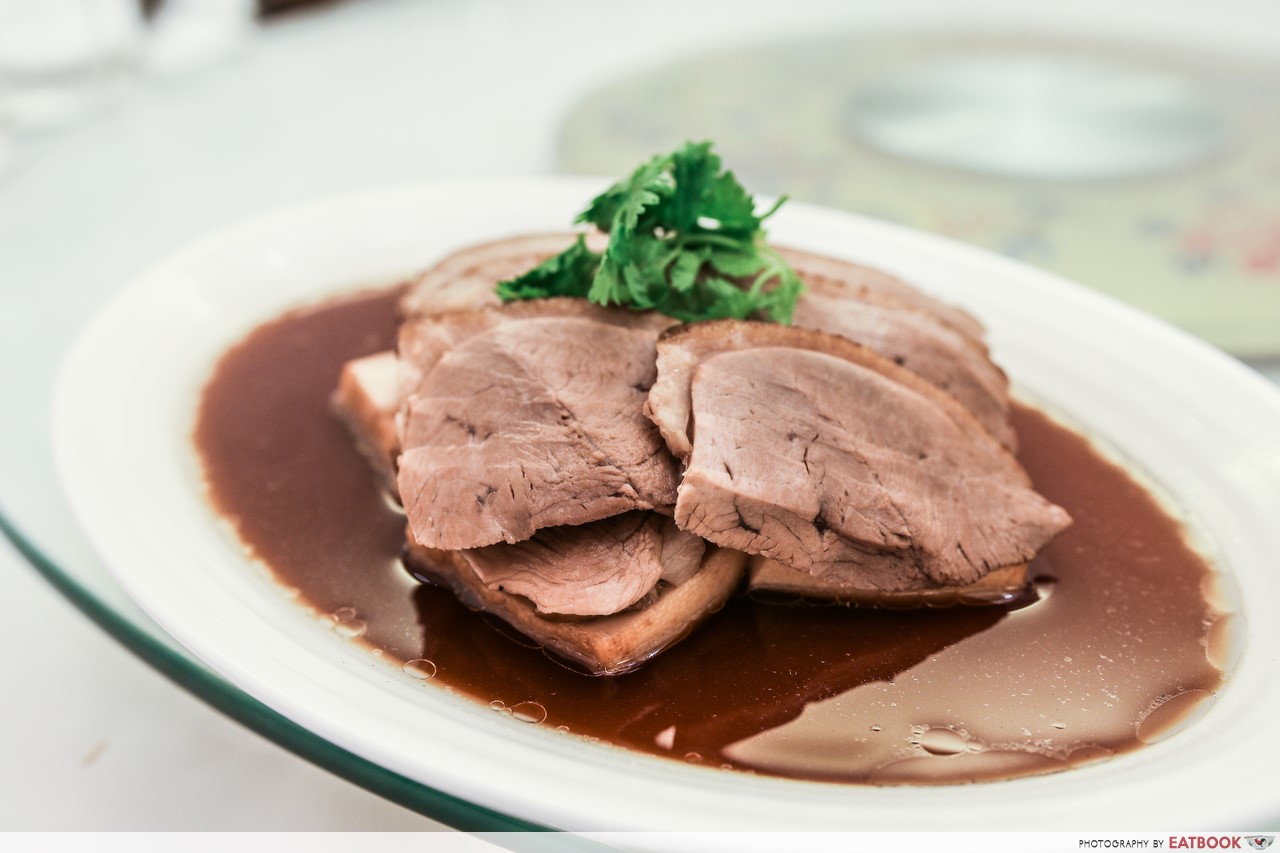 While the lo shui's tartness contrasted beautifully with the sweet duck, Teochew Sliced Soyed Duck's ($18++ for small) super tough meat was its downfall. The overcooked meat had my jaw aching from trying to chew it, and didn't do justice to the 25 year-old lo shui.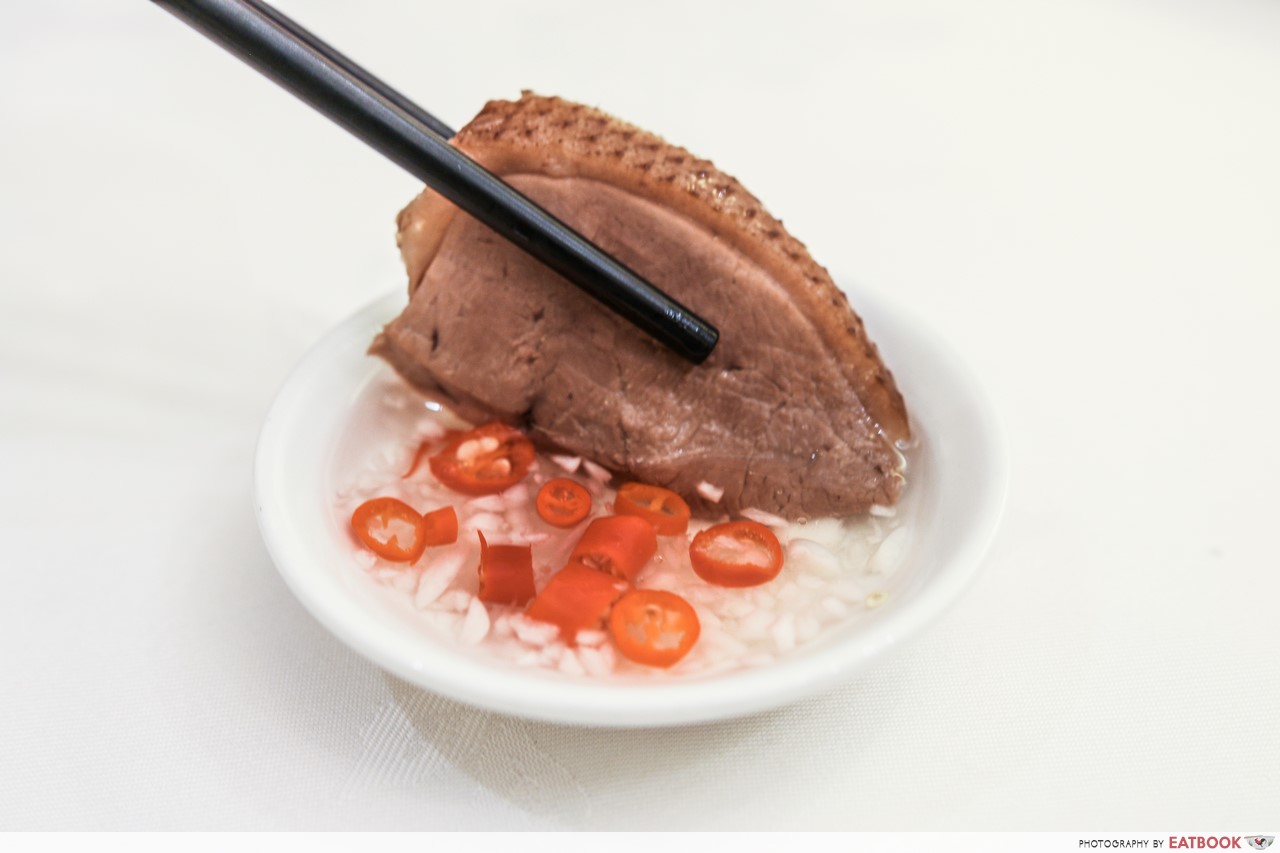 Eaten on it's own: 5/10. Eaten with the traditional Teochew chilli dip consisting of garlic, vinegar and chilli padi: 7/10. If the meat was more tender, it'd have gone up to an 8/10.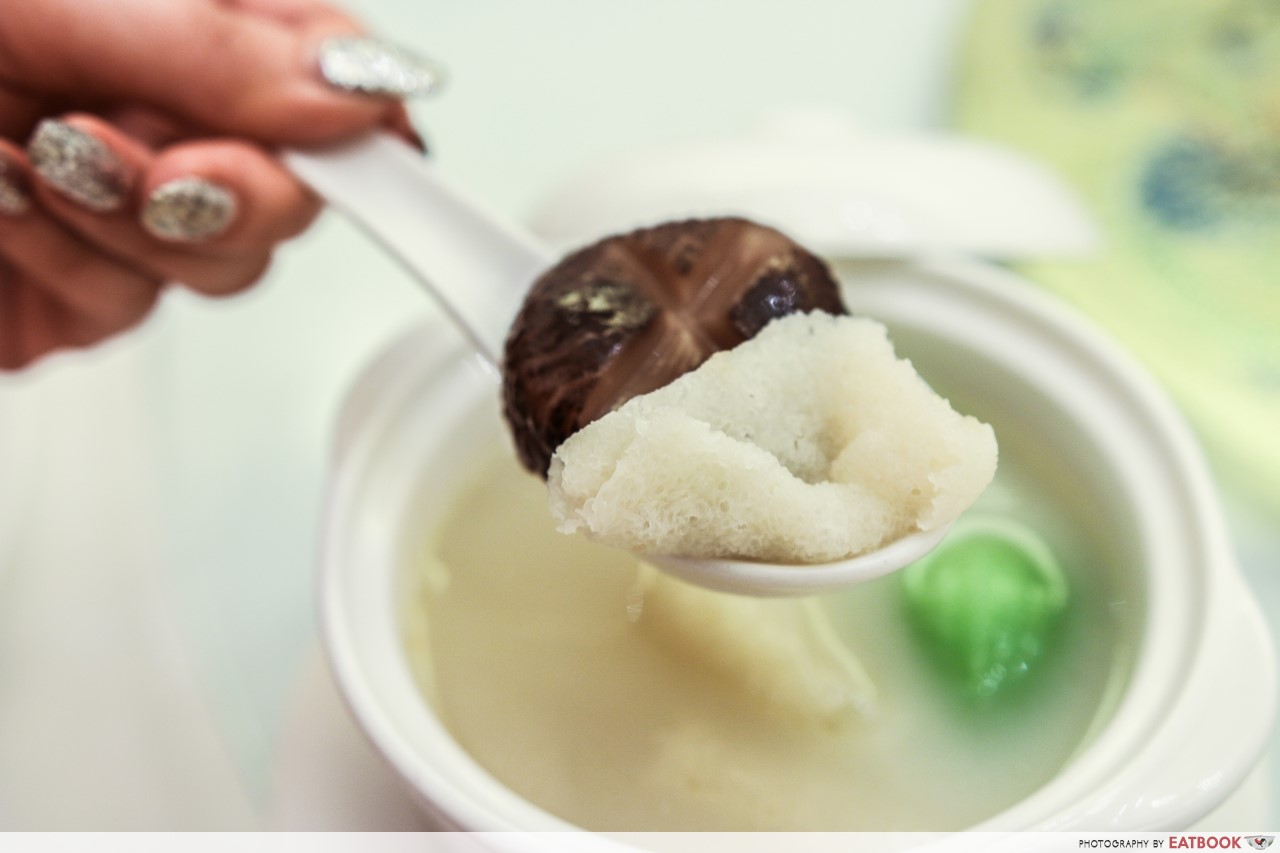 Fish maw, chicken, cabbage, mushroom and bamboo fungus may not sound the most appetising, but your saliva glands will be pleasantly #triggered once this Double Boiled Fish Maw Soup with Bamboo Fungus ($38++ per person) is on your table.
Their supple fish maw has a kueh-like texture that soaks up the broth and tastes like heaven in your mouth. Plus point: it contains collagen to help with maintaining youthful skin.
Unlike most bamboo fungus that tastes like you're biting into a 3M sponge, East Ocean's is soft like jelly on the outside, and boasts a crunchy inside to retain and enhance the flavour of the broth. 
Despite the eclectic mix of textures and flavours, each ingredient strikes a perfect balance between holding its own, and having a subtle uniting flavour that brings everything together harmoniously.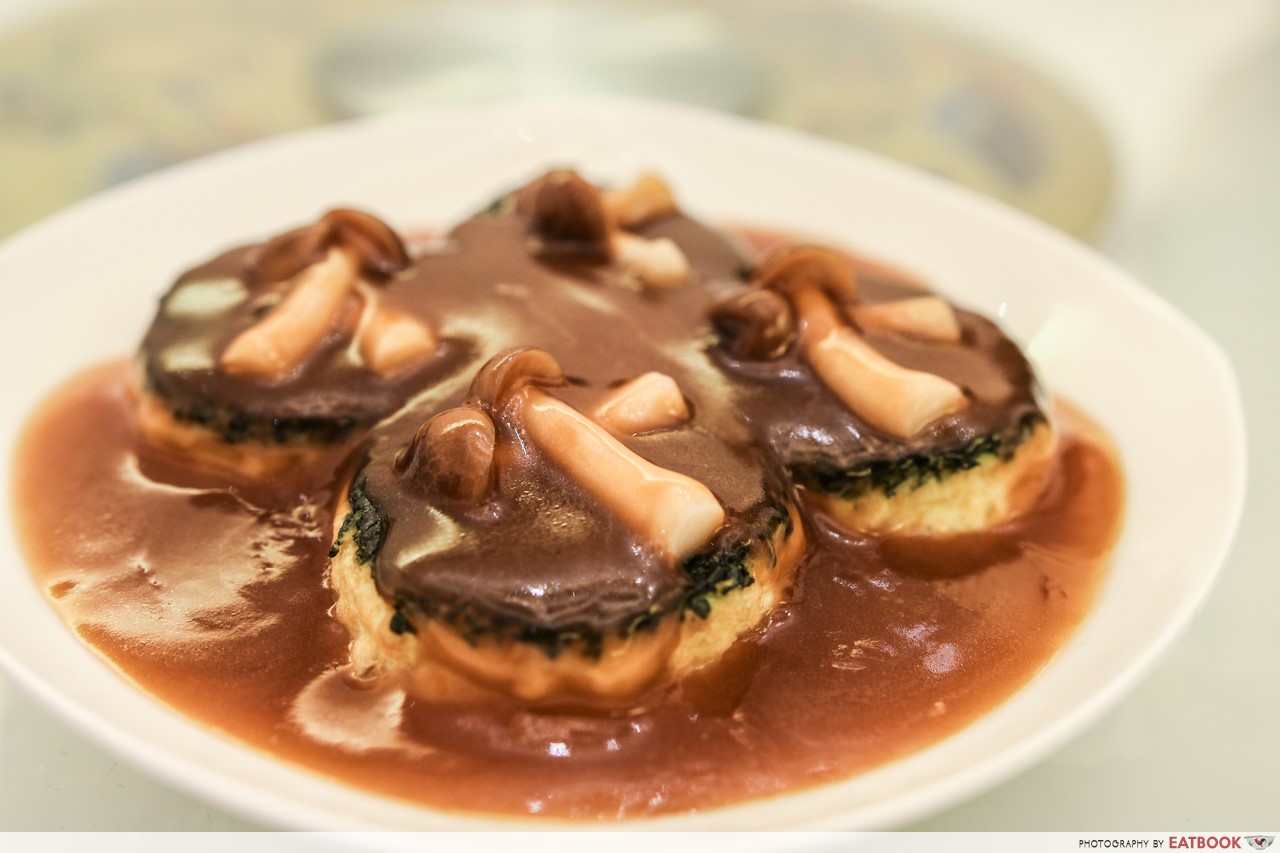 As a kid, my grandmother used to cook this whenever we visited. That was 10 years ago and I thought I'd forgotten how her cooking tasted, until I tried this Homemade Tofu with Assorted Mushrooms ($18++ for small).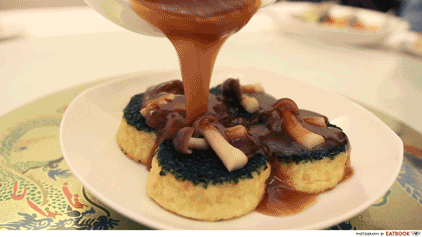 The velvety homemade tofu is topped with spinach and mushroom, then drenched gloriously in a thick, oyster sauce-based gravy that brings the entire dish together. Tip: eat a bit of everything in one spoonful to get the maximum foodgasm.
The verdict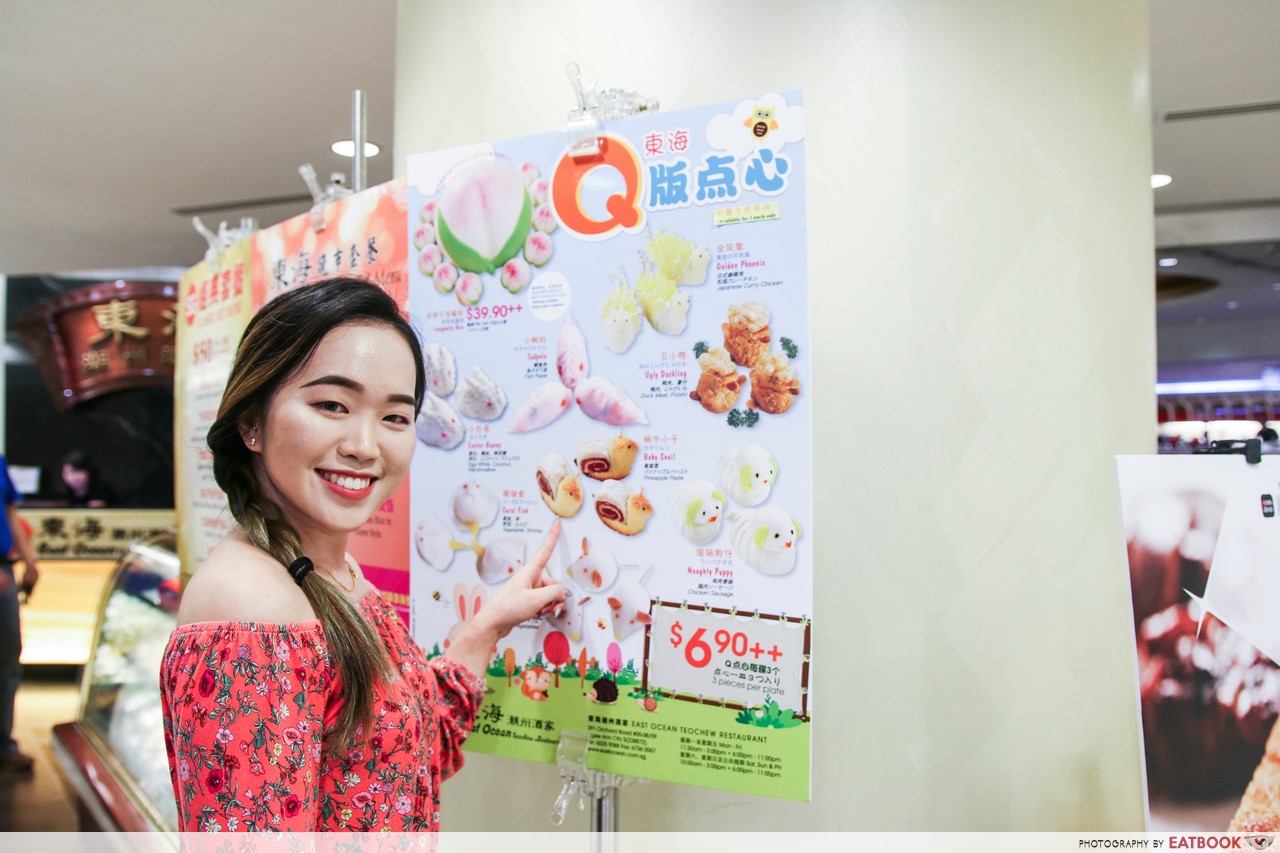 Not many traditional Chinese restaurants try to stay relevant in our Foodstagram scene, but East Ocean Restaurant has proven they're making an effort to cater to the modern diner. Their valiant attempt hasn't gone unnoticed, and we'll be looking out to see how they improve their animal dim sum.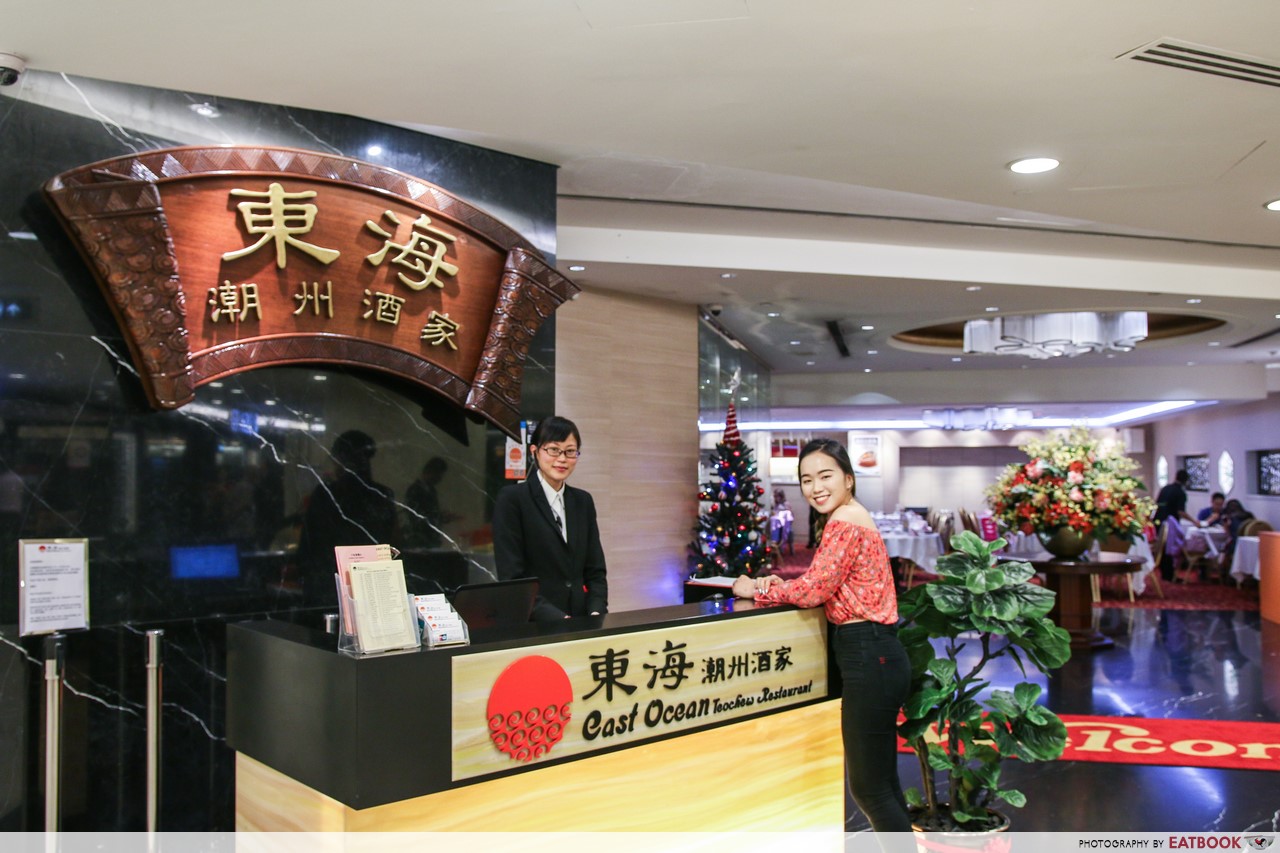 If you're looking for a restaurant that best combines 21st century food porn with the traditional, homely taste of Teochew dishes, we'd still recommend a visit, especially when you're bringing three or more generations to a large family gathering.
This was a media tasting at East Ocean Teochew Restaurant.
Summary
Pros
– Adorable presentation
– Suitable for big groups
– Convenient location
Cons
– Expensive
– Hit and miss
Recommended Dishes: Homemade Tofu with Assorted Mushrooms ($18++ for small), Double Boiled Fish Maw Soup with Bamboo Fungus ($38++), Dinosaur dumplings ($6.90++ for three)
Operating Hours:
Monday – Friday 11:30am to 3pm, 6pm to 11pm
Saturday – Sunday 10am to 3pm, 6pm to 11pm
Tel:
6235 9088
Address: 391 Orchard Road, #05-08/09, Ngee Ann City, Singapore 238872