---
Easy comfort food recipes with 1chi-yo collagen broths
---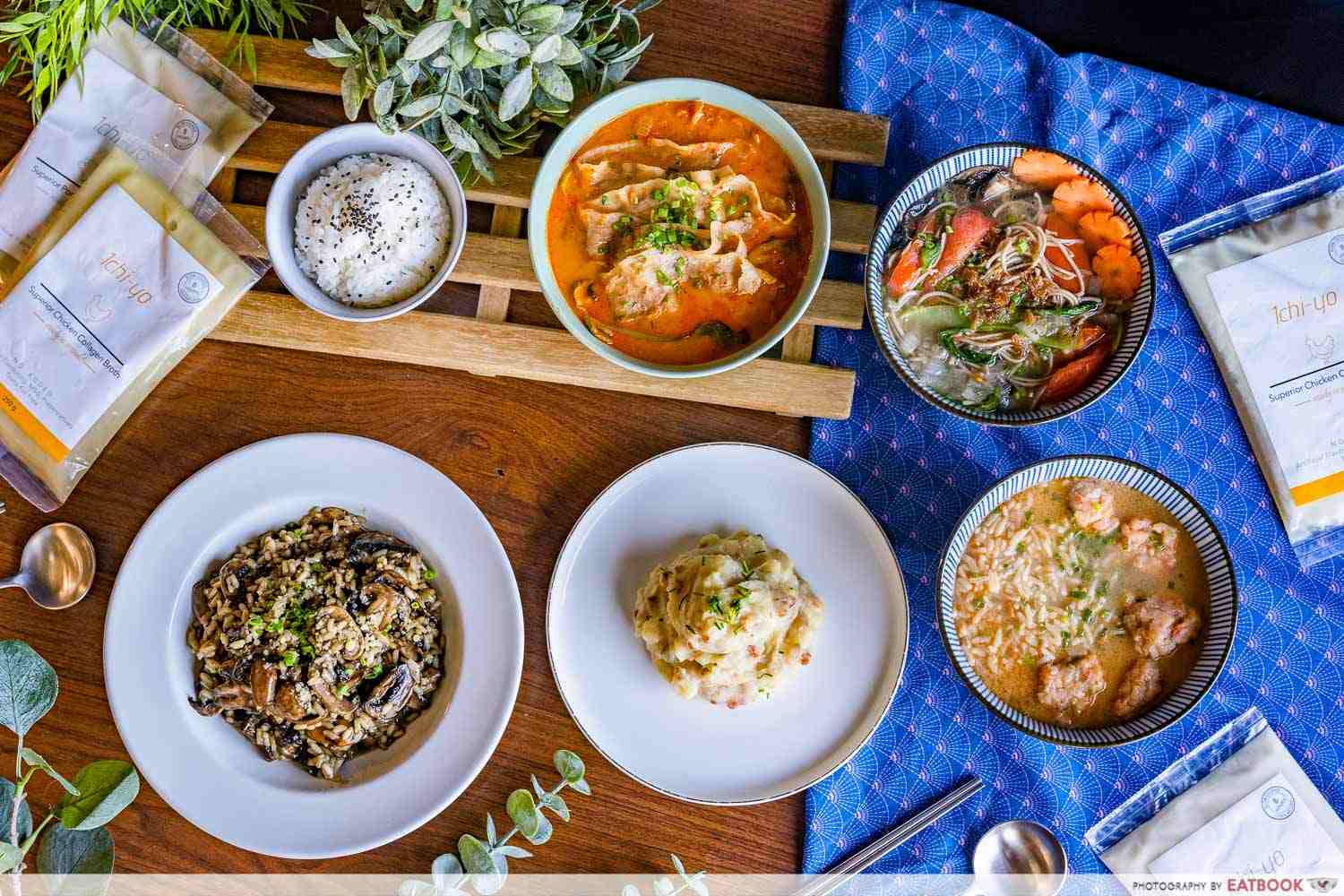 Whether it's dinner after a long and tiring day or a weekday lunch fix, having a piping hot bowl of your favourite comfort dish is a great way to perk up and re-energise. One easy way to level up in the kitchen is to use a flavour-packed shortcut such as 1chi-yo collagen broths from Food Yo. Made with premium ingredients without added MSG, preservatives, or flavouring, these nutritious chicken and pork collagen broths are a great time-saver as they add a ton of taste without the extra work.
For some cooking inspiration, here are five easy comfort food recipes you can try, including a hearty Kimchi Jjigae, creamy Mushroom Risotto, and trendy Pao Fan to spruce up your meal. 
---
1. Mushroom Risotto
---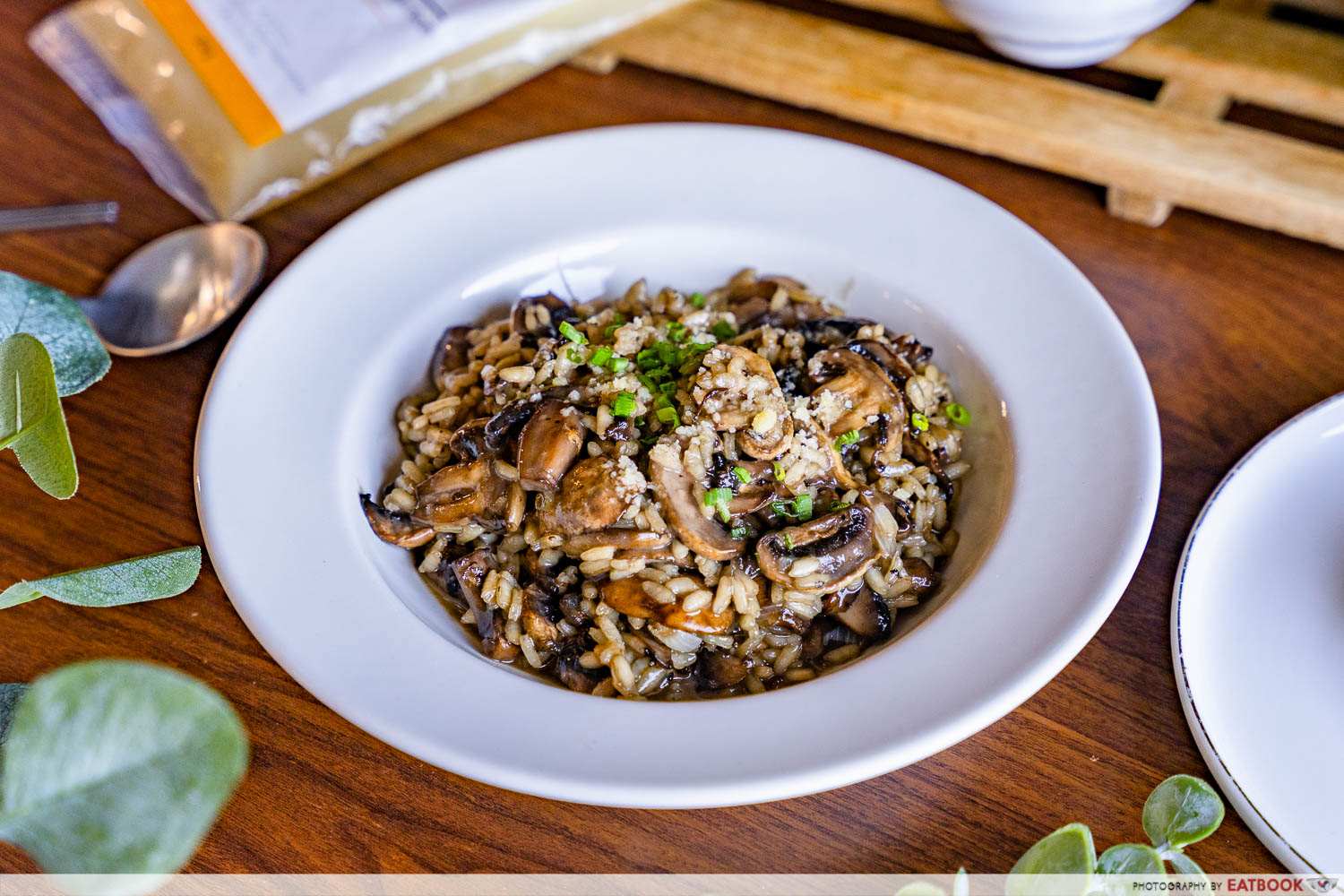 With the right ingredients and some spare time on hand, it's actually possible to achieve a restaurant-quality risotto you can be very proud of. This creamy mushroom risotto recipe incorporates 1chi-yo Superior Chicken Collagen Broth ($6) for a rich texture and flavourful body. 
Made with just three ingredients—chicken, salt, ginger—the ready-to-use collagen broth is simmered for eight hours to extract the full flavours and nutrients, making it ideal as a base for a multitude of dishes such as steamboat, stews, porridge, and even risotto!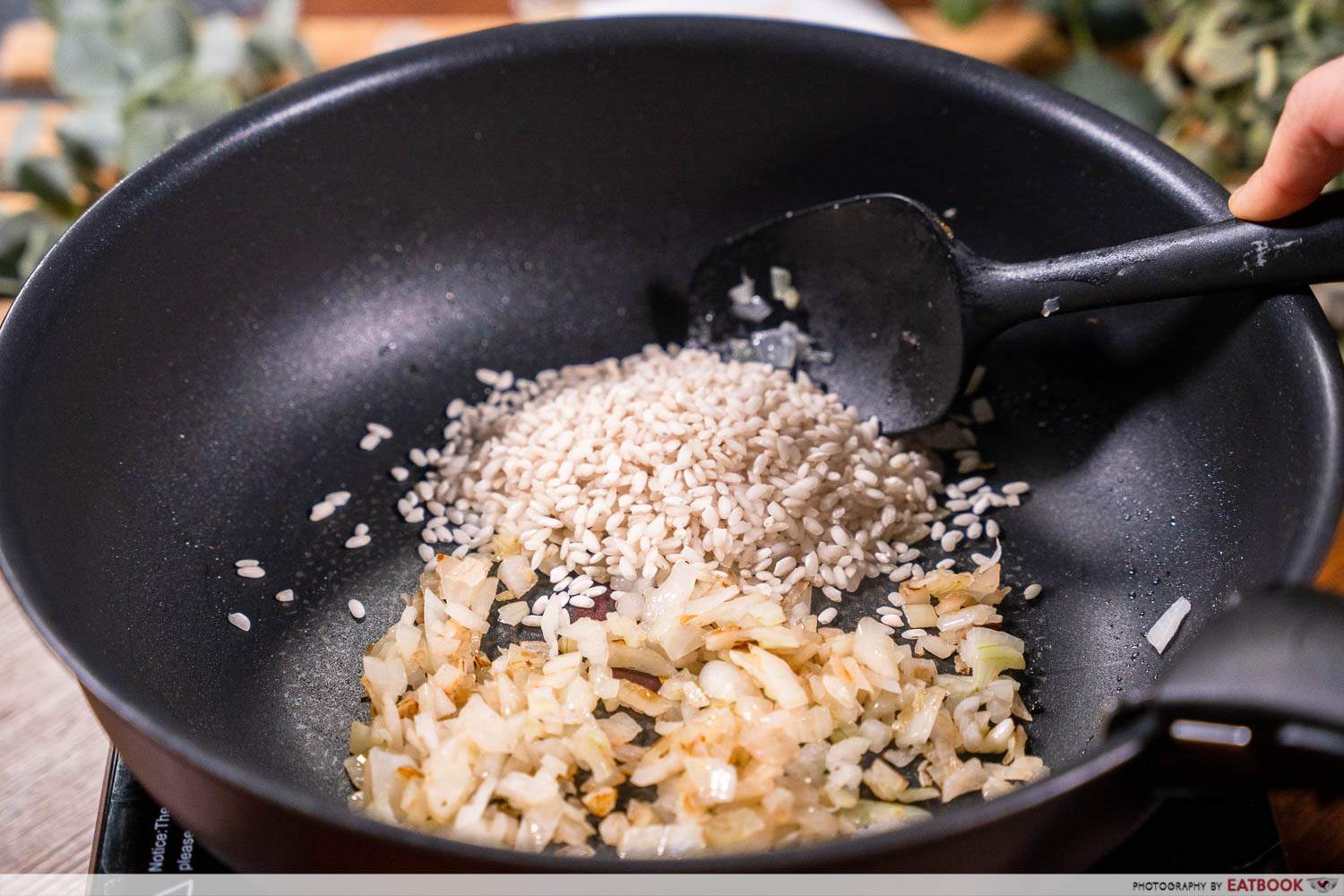 This easy and versatile one-pot recipe uses fresh mushrooms of your choice, although I'd recommend a mix of white button mushrooms for texture, and portobello mushrooms for an earthy, almost meaty flavour. It can be made with or without meat, so you can switch it up as you wish!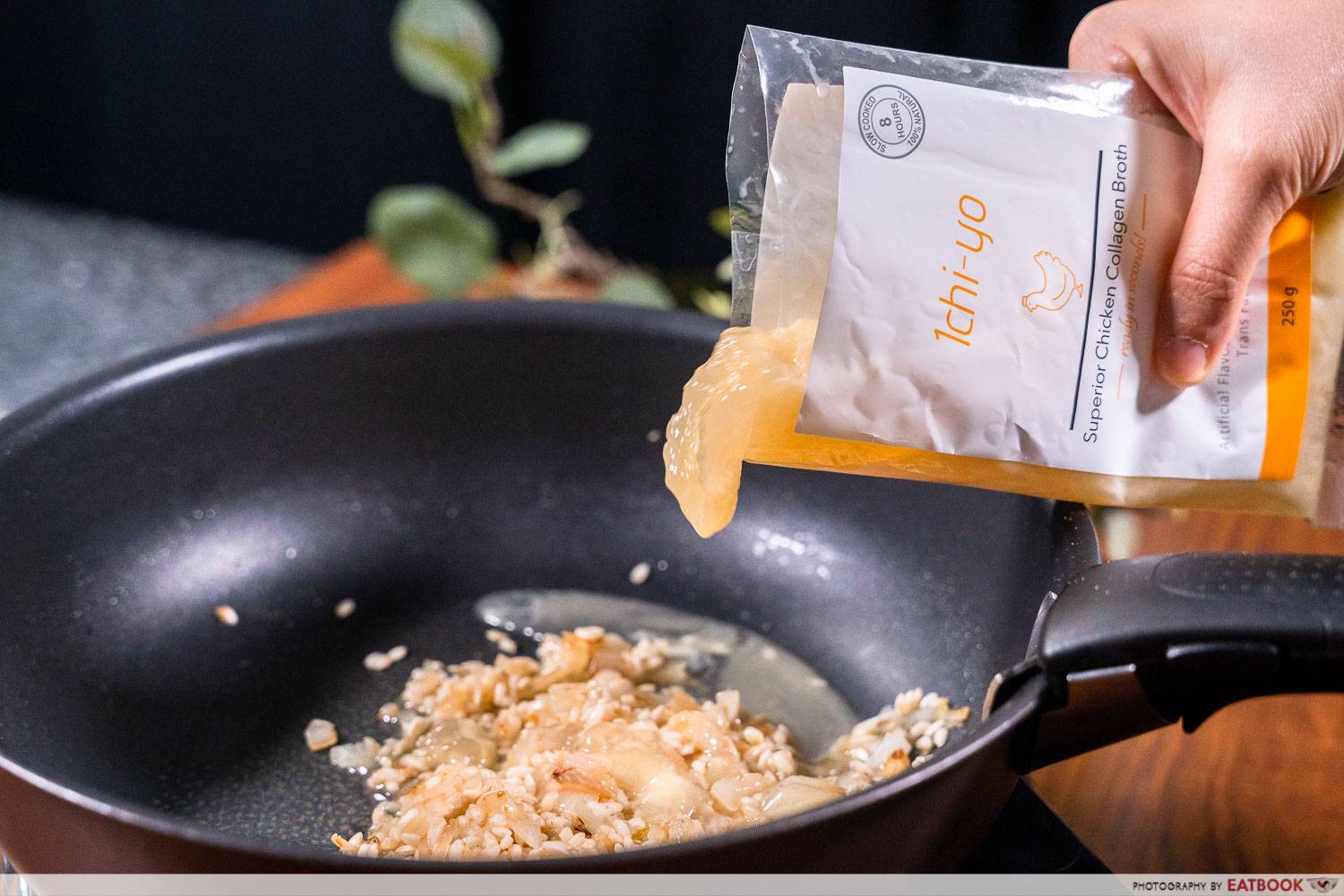 White onion is used for a natural sweetness, as with the white wine. Don't worry about the alcohol, as it evaporates and cooks off eventually. Alternatively, if you don't drink, you can swap it out for additional broth or water.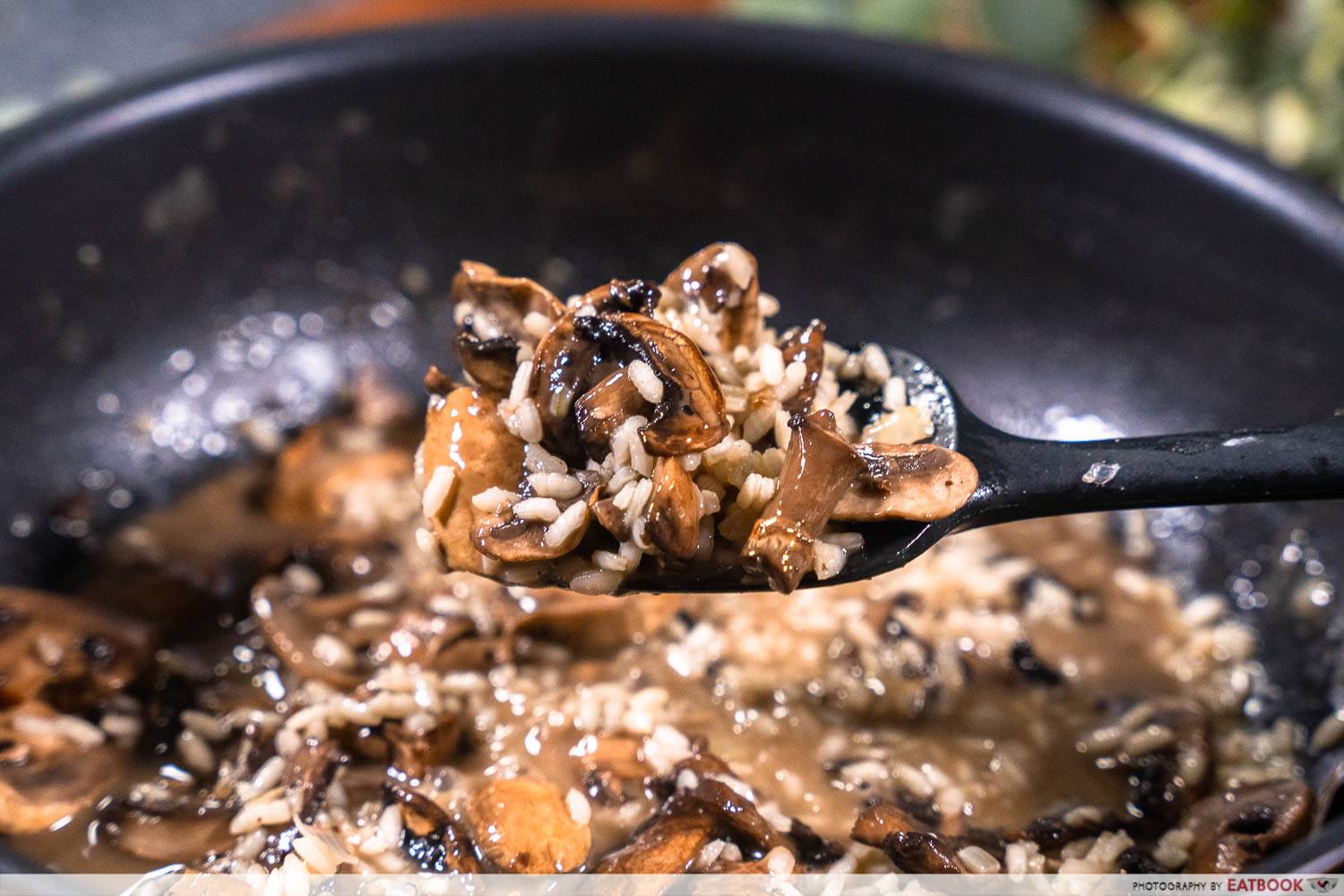 The key to attaining a smooth and creamy texture is to constantly stir while cooking the rice. You don't want to leave the pan unattended, or the risotto can stick to it if you're not careful. This step is probably the most important one out of them all!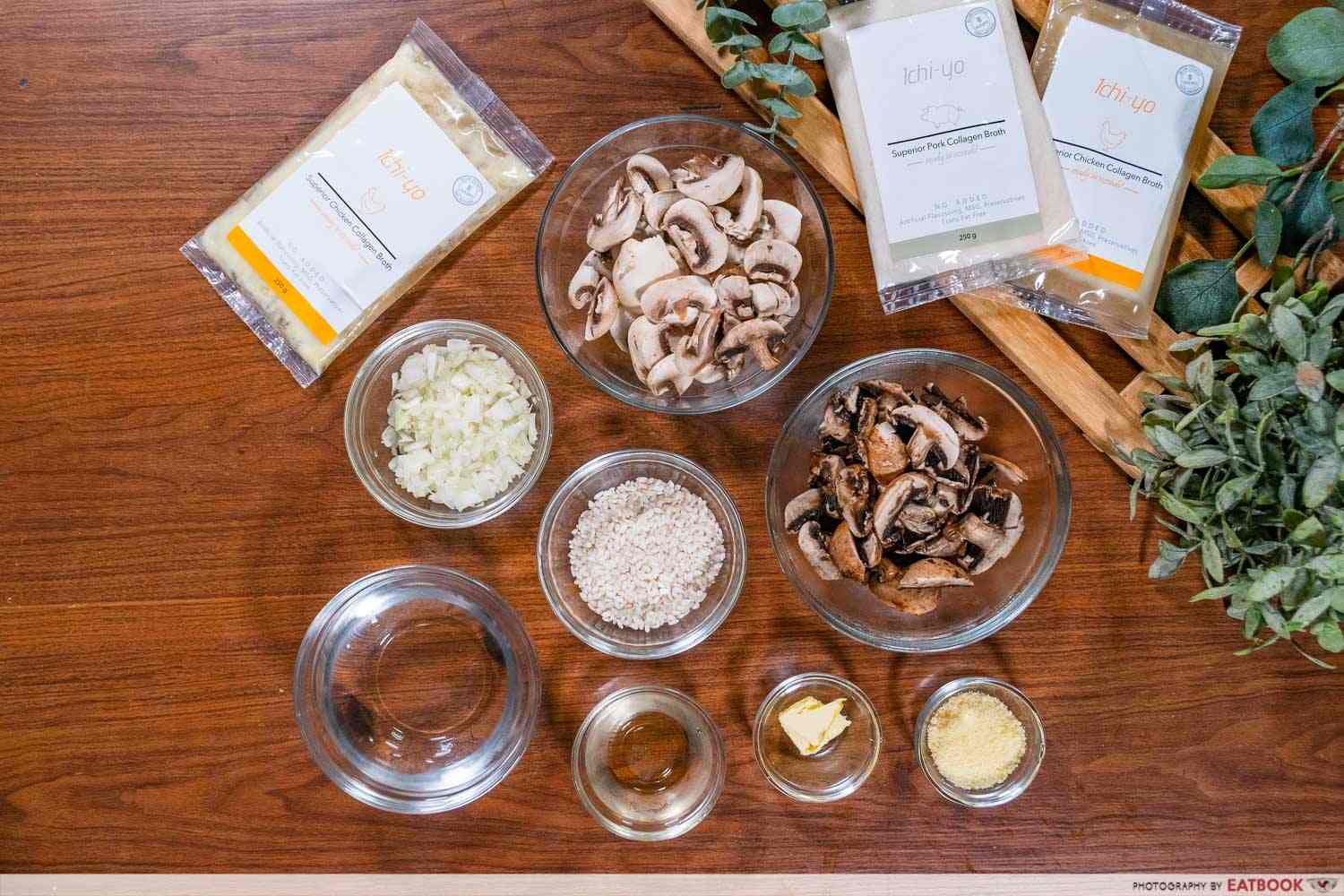 Yield: 2 servings
Cooking time: 40 minutes
Ingredients:
1 250g packet Food Yo 1chi-yo Superior Chicken Collagen Broth
½ cup Arborio rice
350ml water
100g white button mushrooms, thinly sliced
100g portobello mushrooms, thinly sliced
½ white onion, diced
1 tbsp butter
¼ cup dry white wine, such as chardonnay
Powdered parmesan for garnish (optional)
Chopped spring onion for garnish (optional)
Directions:
In a frying pan, fry the sliced mushrooms with oil until cooked. Season with salt and pepper to taste.

Transfer the mushroom mixture, along with its liquid, to a bowl.

In the same frying pan with more oil, cook the diced onion until softened, for around three minutes.

Add the rice and pan-fry until well-coated.

Add in the wine and cook for around two minutes or until it's fully absorbed into the rice mixture.

Slowly add the broth into the rice mixture bit by bit, constantly stirring through and adding more when it has evaporated.

Do the same for the water, adding it slowly and pausing to wait for the rice to absorb the liquid.

Cook and stir for around 25 to 30 minutes, or until the rice is fully cooked through and most of the liquid has been absorbed.

Add in the mushroom mixture.

Stir in the butter.

Transfer to a plate and garnish with spring onion and powdered parmesan. 
---
2. Prawn Ball Pao Fan
---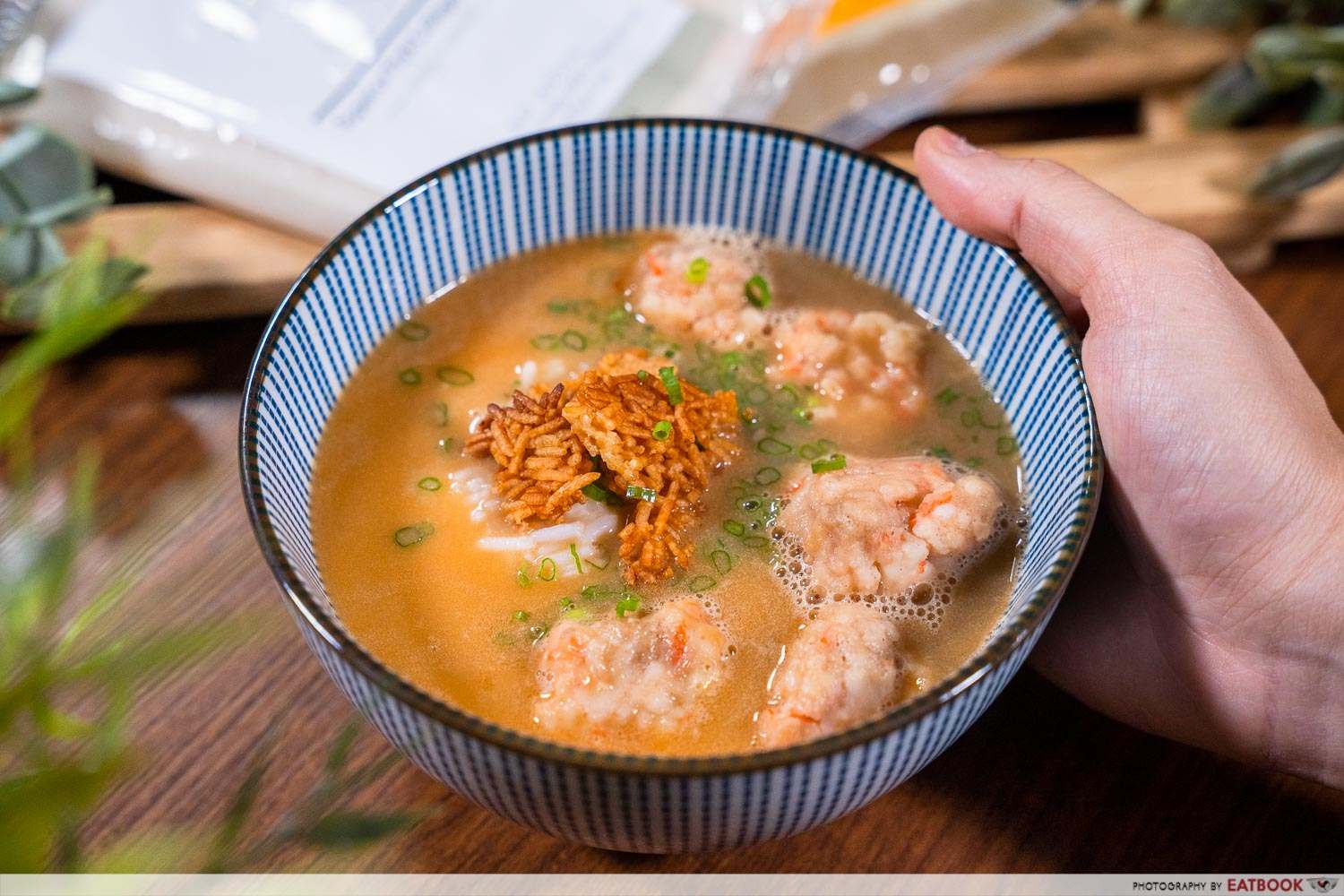 Pao fan is all the rage in the hawker scene, but they can also be made at home using simple kitchen appliances and ingredients. For a heady and umami flavour, whole tiger prawn shells are simmered in the creamy 1chi-yo Superior Pork Collagen Broth ($6). Featuring a mix of pork, ginger, spring onion, and salt, simmered for eight hours without MSG, additives or preservatives, this creamy broth works equally well for any type of hotpot, soups, or even as a ramen base.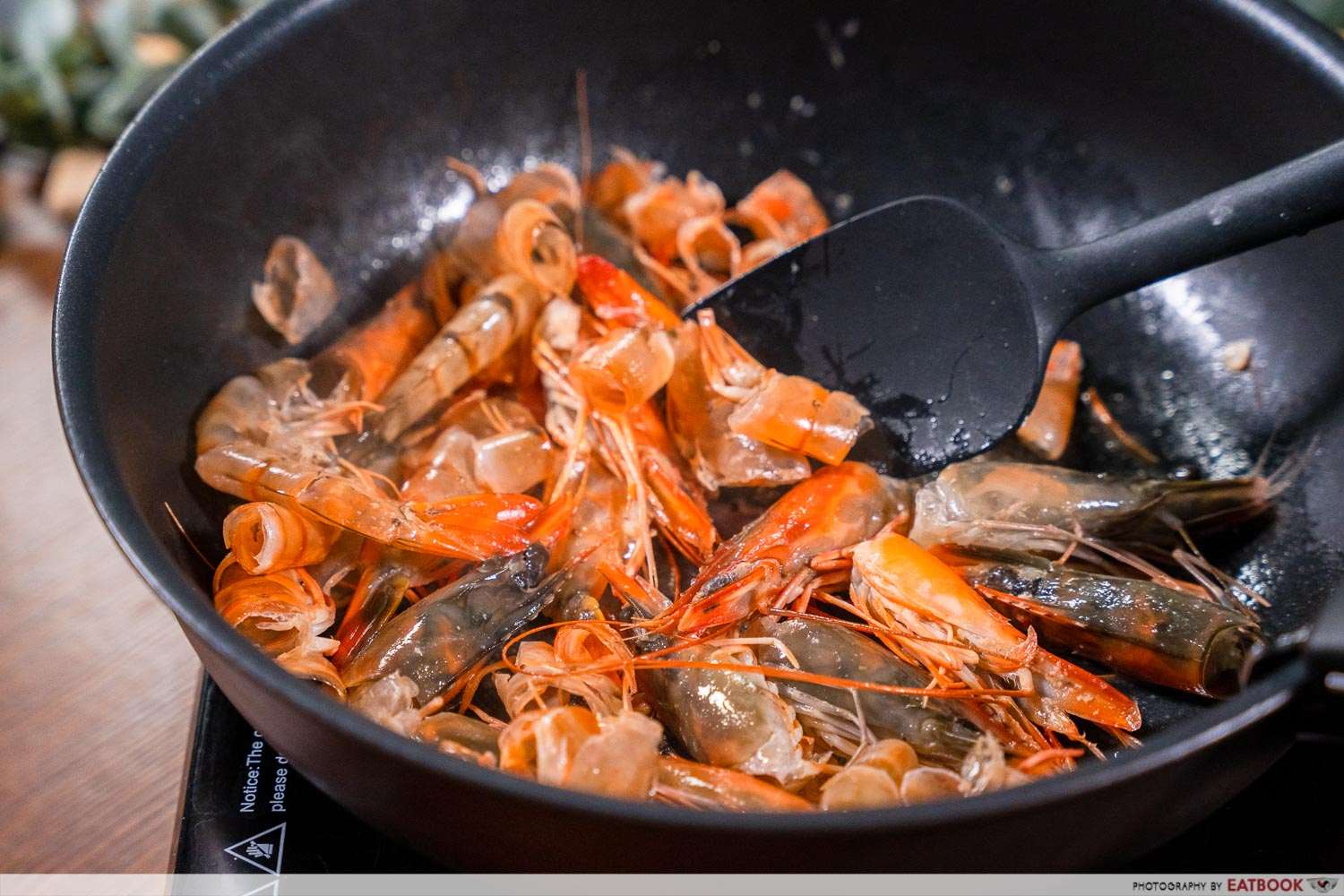 The recipe starts off simple, by frying fresh prawn shells and heads for that coveted seafood aroma. Once fragrant, garlic is included in the mix for additional flavour, and a dash of ginger powder helps to balance out the intense seafood notes. The rich pork broth brings out the heady flavours of the ocean, while adding body to the soup.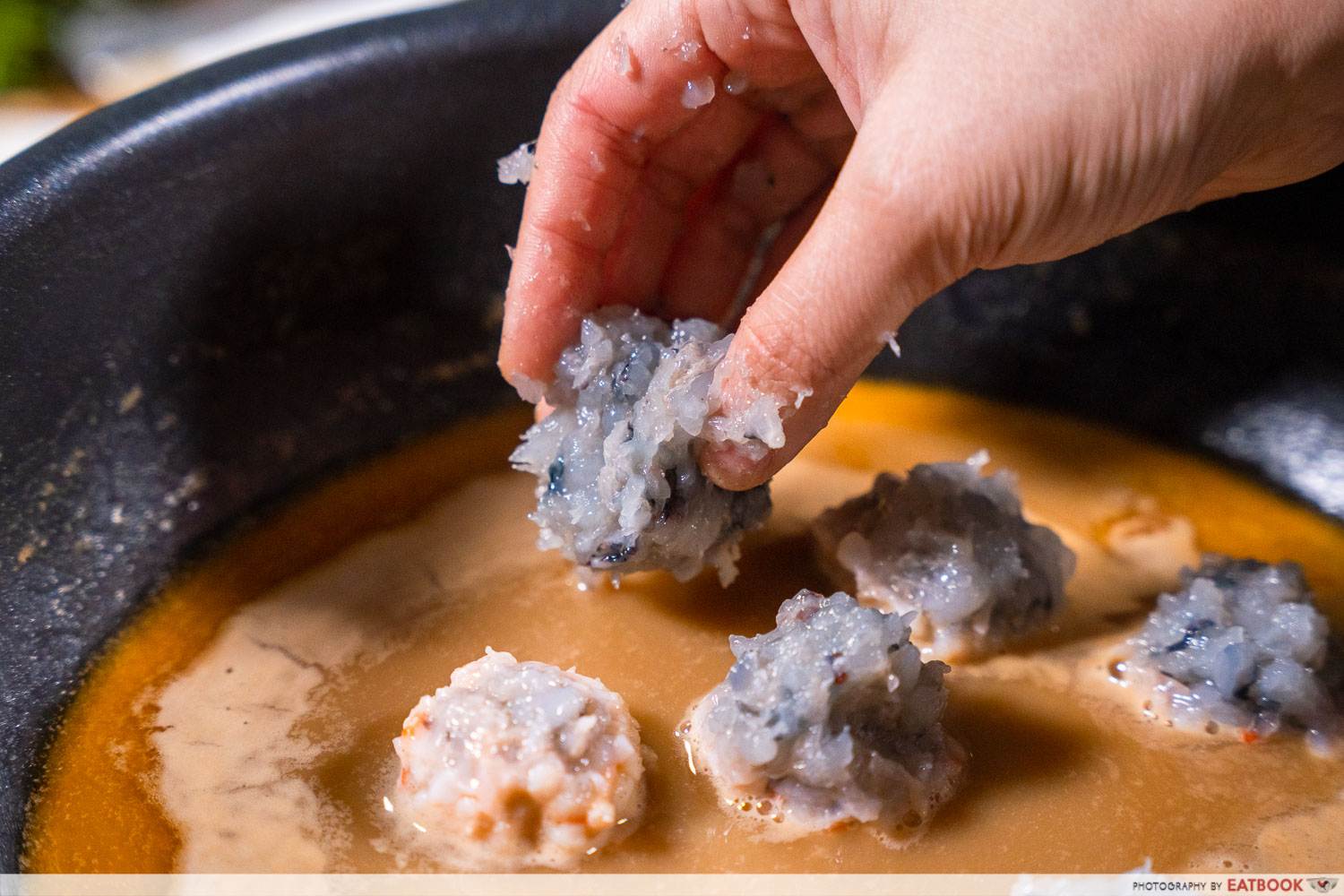 You only need a few ingredients for the prawn balls—they're one to add to your repertoire as they're super easy to put together! Fresh prawns are used for a superior texture, and cornstarch acts as a glue for easy shaping. Top tip: If you want to skip out on the rice, you can replace it with noodles, or even enjoy the soup alone with the prawn balls.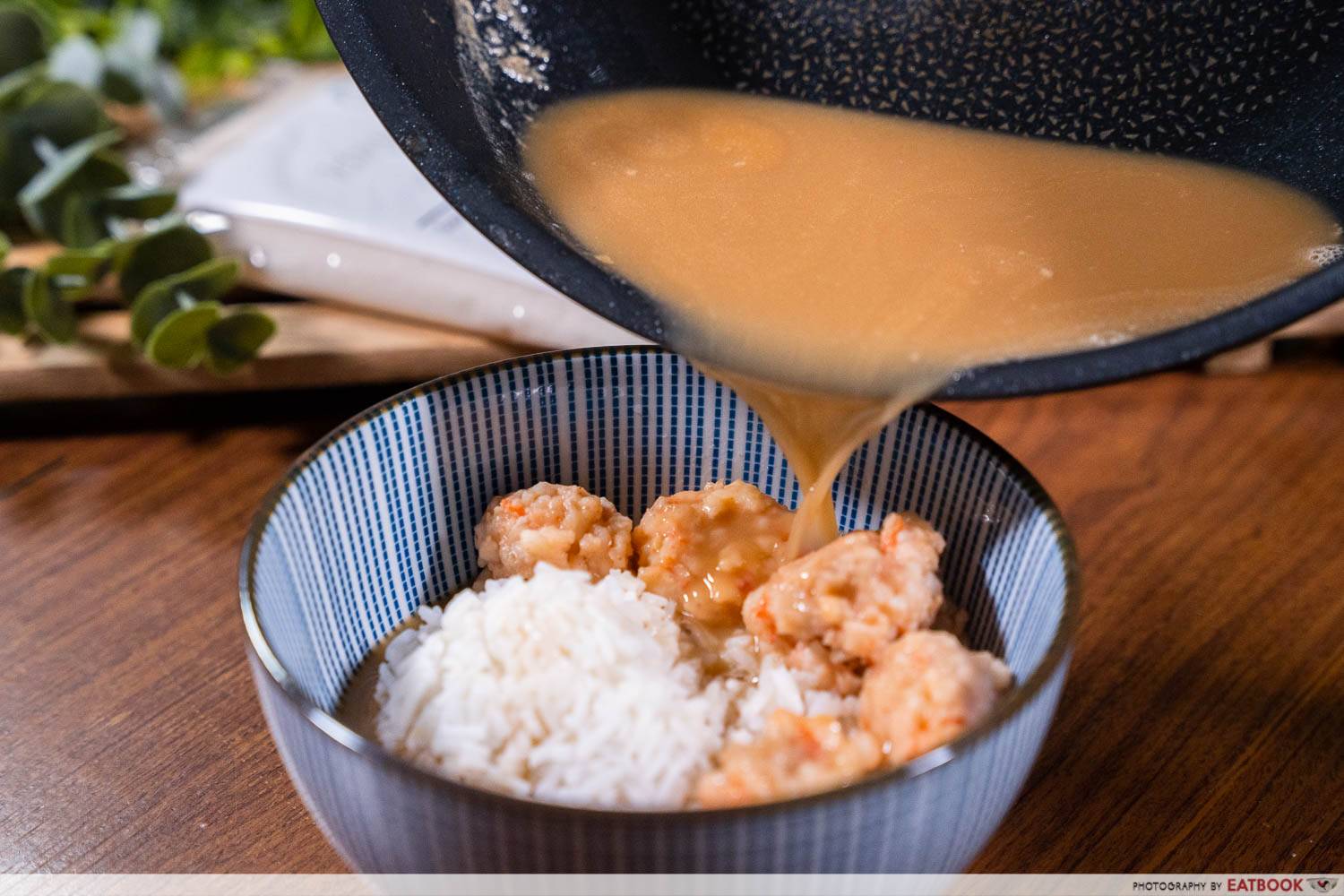 It's easy to plate up and make this dish look impressive. Go one step further by making your own crispy rice topping in an air fryer for a pleasant texture to the soupy dish. This step is optional, but it adds a pleasant crunch.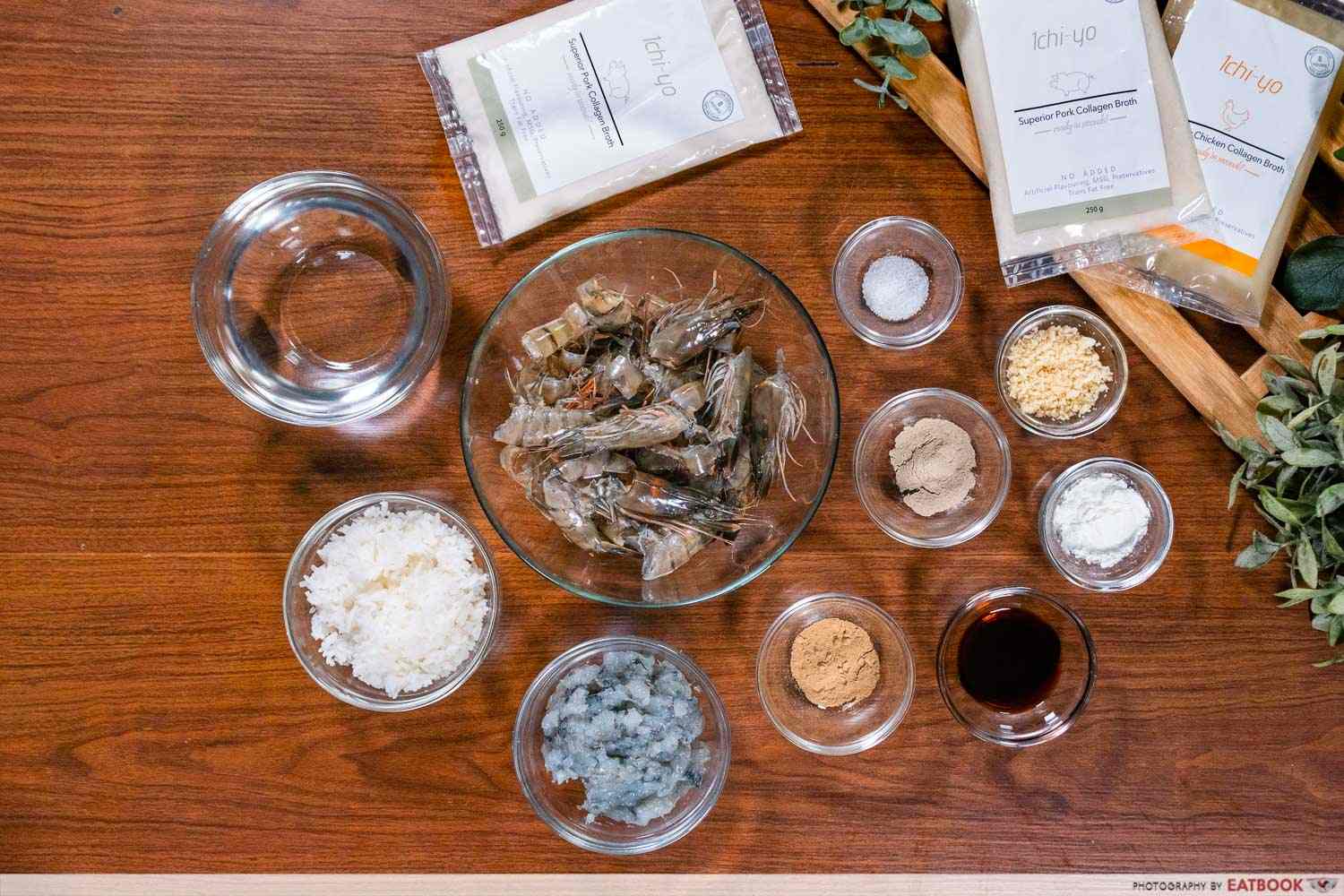 Yield: 2 servings
Cooking time: 1 hour
Ingredients:
1 250g packet Food Yo 1chi-yo Superior Pork Collagen Broth
350 ml water
2 cups steamed jasmine rice
400g fresh whole prawns, shells included
2 cloves garlic, minced
1 tsp soya sauce
1 tsp ginger powder
Chives for garnish
¼ cup steamed jasmine rice, chilled (optional; for crispy rice garnish) 
Ingredients for prawn balls:
200g prawn flesh, minced (from the 400g fresh prawns)
2 tsp cornstarch
1 tsp salt
1 tsp pepper
Instructions for crispy rice:
Lay out the chilled rice in one thin layer on a baking sheet.

Air fry the rice for 20 minutes at 200°C, flipping it at the halfway mark. You'll know the crispy rice is done when it's golden brown.

Take out the crispy rice layer and break it into pieces.
Recipe adapted from FairPrice's post 
Instructions:
Deshell the prawns and reserve the shells and heads. 

Chop up the prawn flesh into a relatively fine mince with small chunks.

In a separate bowl, add the prawn mince, cornstarch, salt and pepper. Mix, and then place in the fridge to chill.

In a large pan with oil, fry the prawn shells until fragrant, for around 10 minutes.

Add the garlic and ginger powder. 

Add the broth, followed by the water.

Bring it to a boil and simmer on low heat for around 20 minutes. Add the soya sauce.

Sieve out the prawn shells and heads.

Place the soup back in the same pan, and bring it up to a simmer. 

Take out the chilled prawn mince mixture from the fridge.

Using your hands, shape the prawn mince mixture into small balls, throwing them into the soup one at a time. 

Add the balls into the soup and cook for around five minutes, or until fully cooked.

To plate, ladle the broth over a bowl of steamed rice.

Add the prawn balls to each bowl.

Add the crispy rice on top and garnish with chives.
---
3. Kimchi Jjigae 
---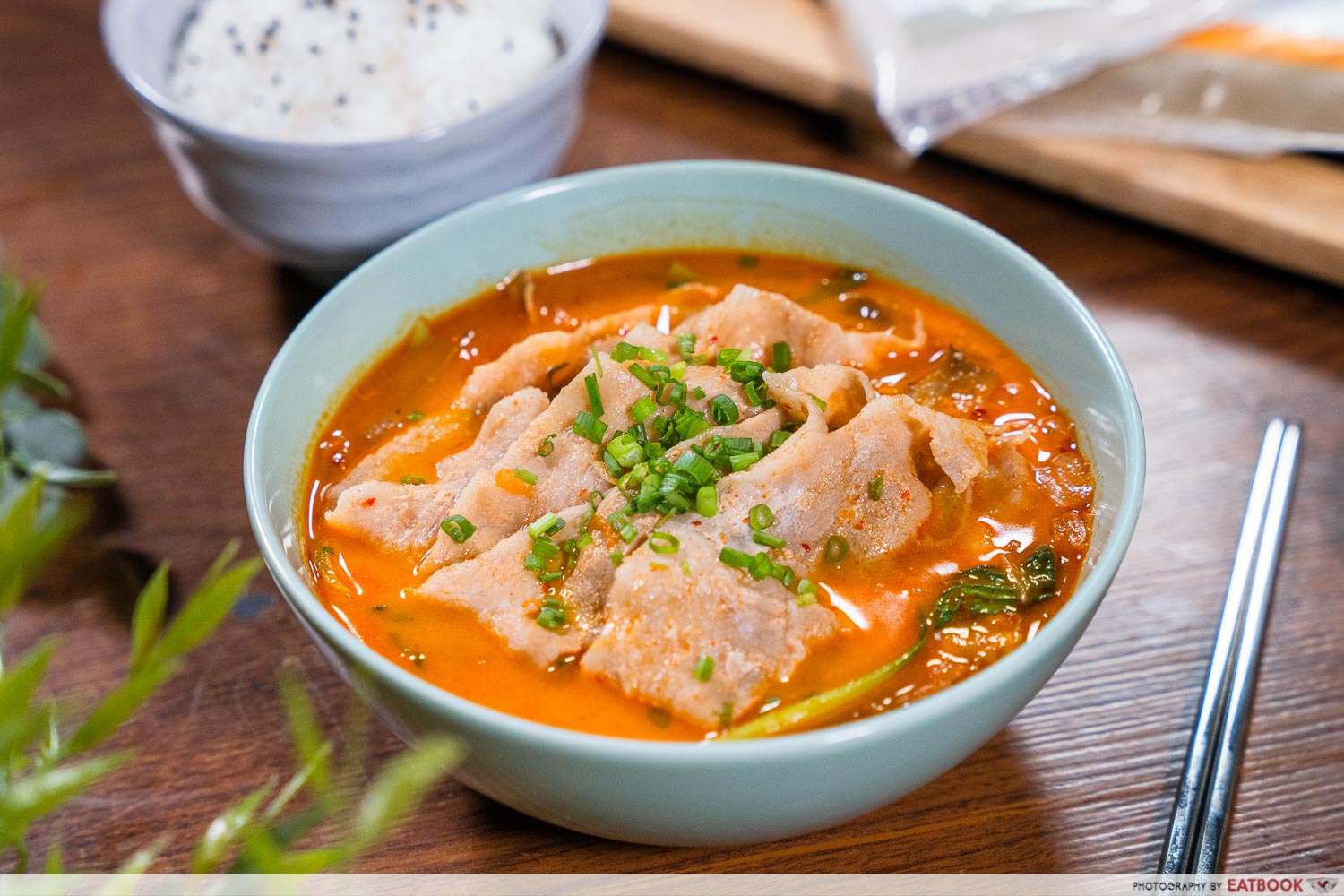 Kimchi Jjigae is a well-loved Korean classic perfect for any time of the day, especially on rainy evenings. This kimchi jjigae recipe uses the 1chi-yo Superior Pork Collagen Broth for an easy shortcut to a rich and flavoursome broth. 
The 20-minute recipe uses just one pot, and features store-bought kimchi for a refreshing tang, fresh greens of your choice for some nutrition, and thinly sliced sukiyaki-style pork belly for quick cooking. Serve it with some steamed short-grain rice, and you're good to go for a K-drama binge-fest!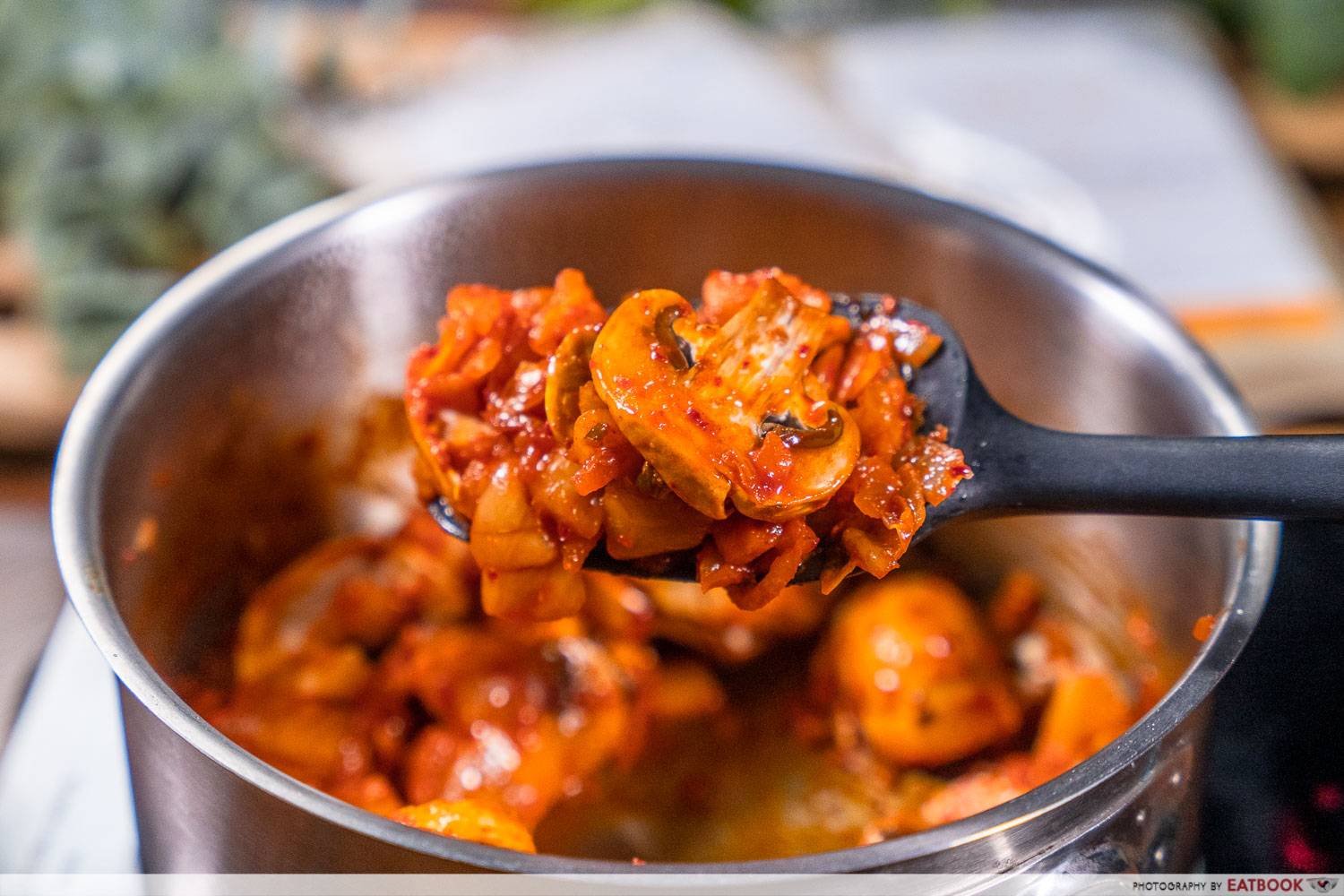 It starts with frying up the kimchi to release its fragrance. A spoonful of gochujang paste adds a slight sweetness to the soup, while giving it a kick of heat. The rest of the steps are pretty simple; you add in the mushrooms, or you can leave it out entirely, followed by the broth.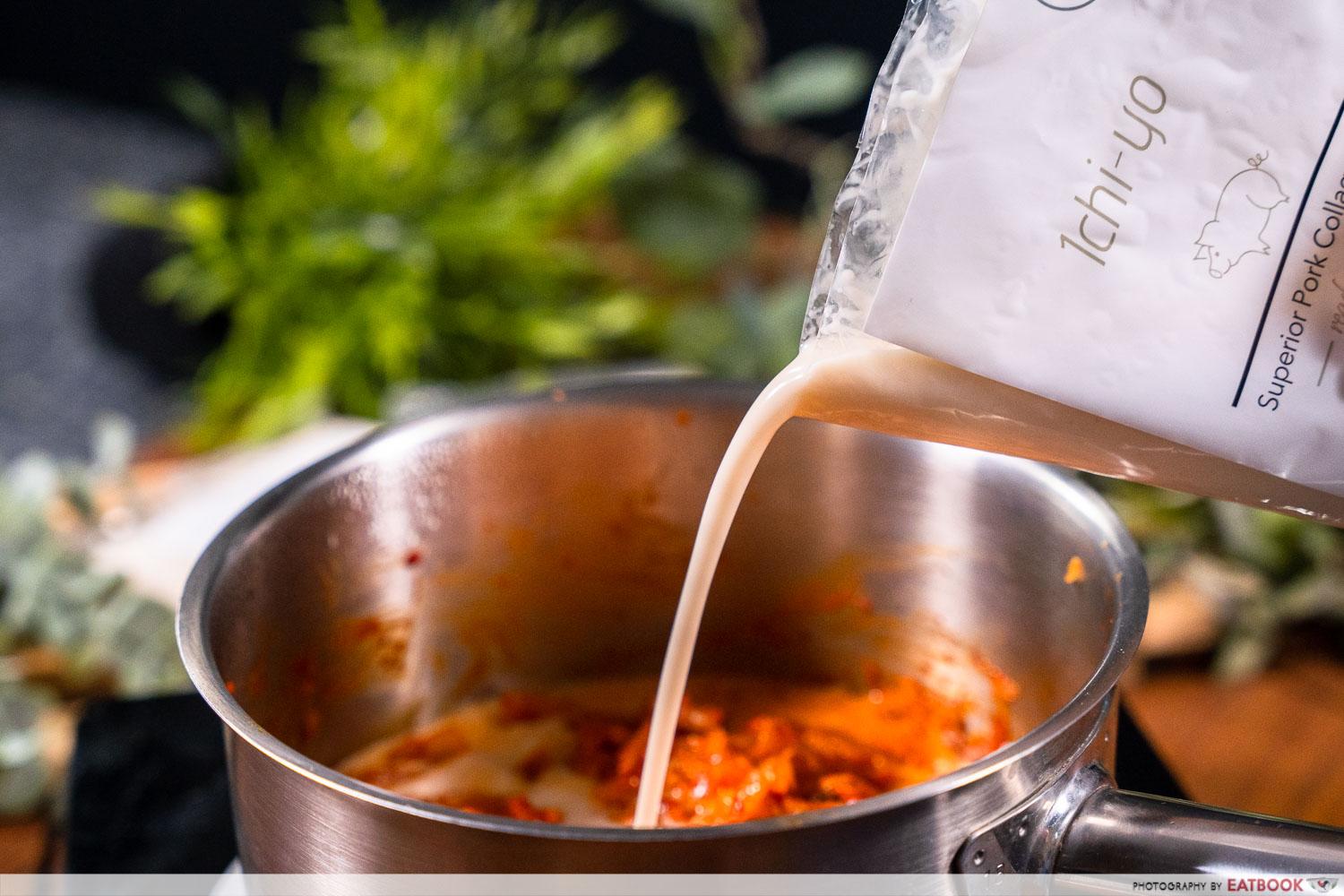 As the pork broth is creamy, it elevates the kimchi soup and gives it a fuller body. The recipe wraps up with some sukiyaki pork belly, but you can also opt to use another meat if you prefer, and your choice of greens. Bok choy works well as it cooks fast.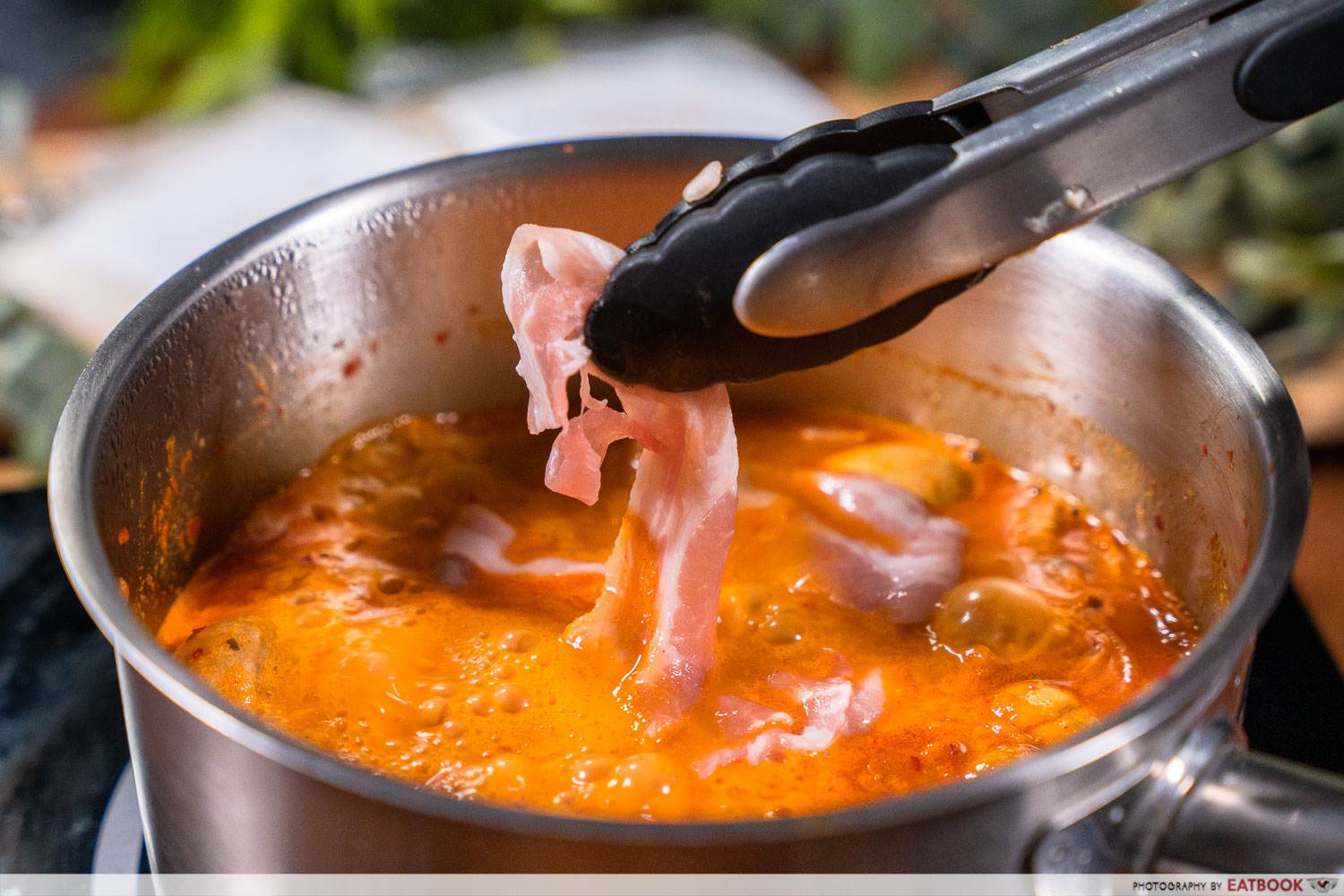 Pair your steaming hot bowl of kimchi jjigae with a generous portion of rice. I chose short-grain rice, as its slightly sticky and chewy texture pairs well with the spicy soup, but you can also go for brown rice or even go carb-free if you prefer.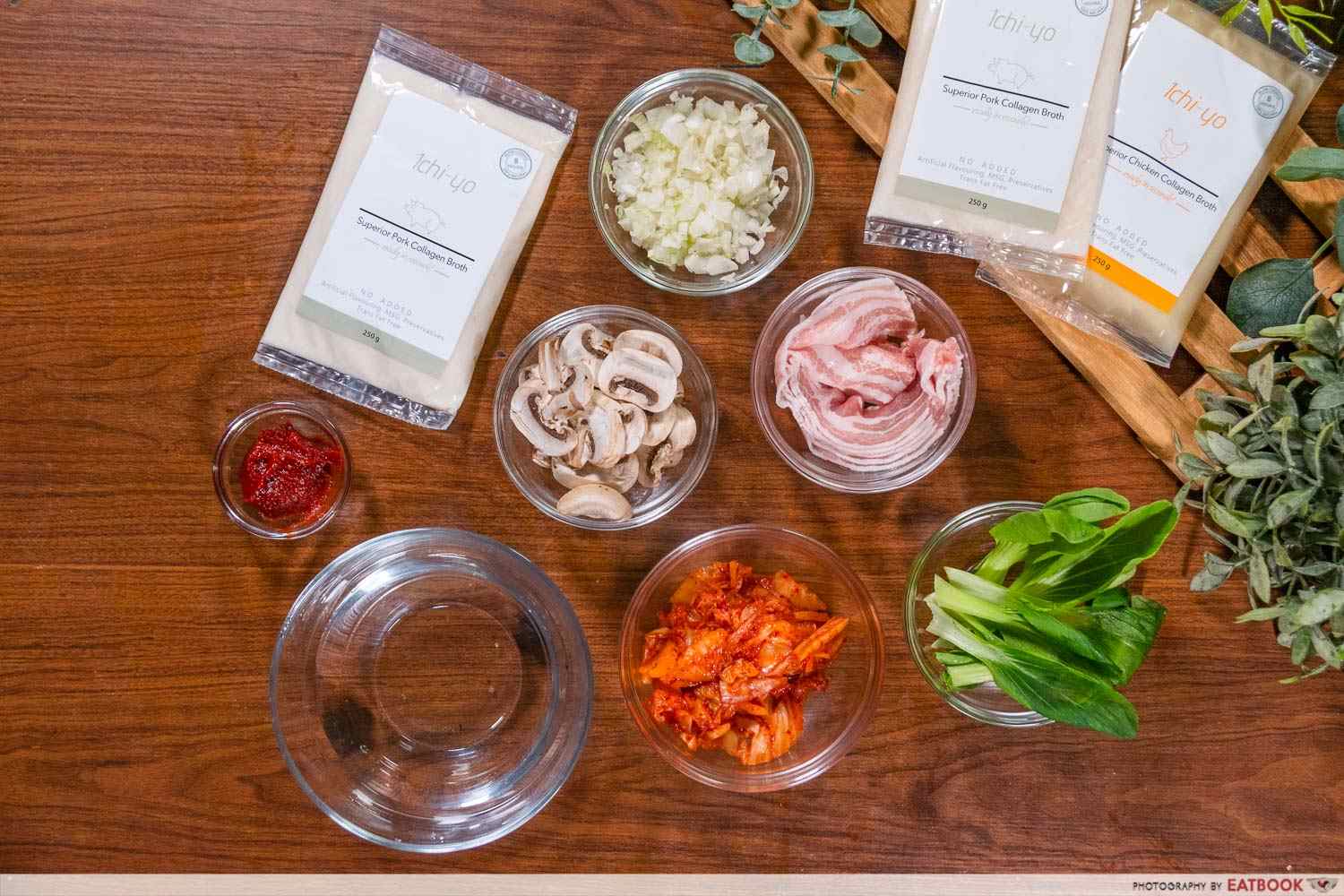 Yield: 2 servings
Cooking time: 20 minutes
Ingredients: 
1 250g packet Food Yo 1chi-yo Superior Pork Collagen Broth
300ml water
100g white button mushrooms, sliced
1 cup kimchi, chopped
1 tbsp gochujang
½ white onion, diced
200g pork belly sukiyaki
100g fresh bok choy, chopped
Cooked short-grain rice to serve
Chopped spring onion and sesame seeds for garnish
Instructions:
Stir fry onion for around two minutes, or until soft 

Add kimchi and fry until it's fragrant, for around two minutes 

Add gochujang and mix 

Add the sliced mushrooms and fry for two minutes, or until cooked

Add pork broth and water, bring up to a boil

Lower the heat and simmer for five minutes

Add sliced pork belly and bok choy

Cook for another one to two minutes. 

Ladle into a bowl and garnish with chopped spring onion.

Serve with steamed rice that's garnished with sesame seeds. 
---
4. Loaded Veggie Soba Soup
---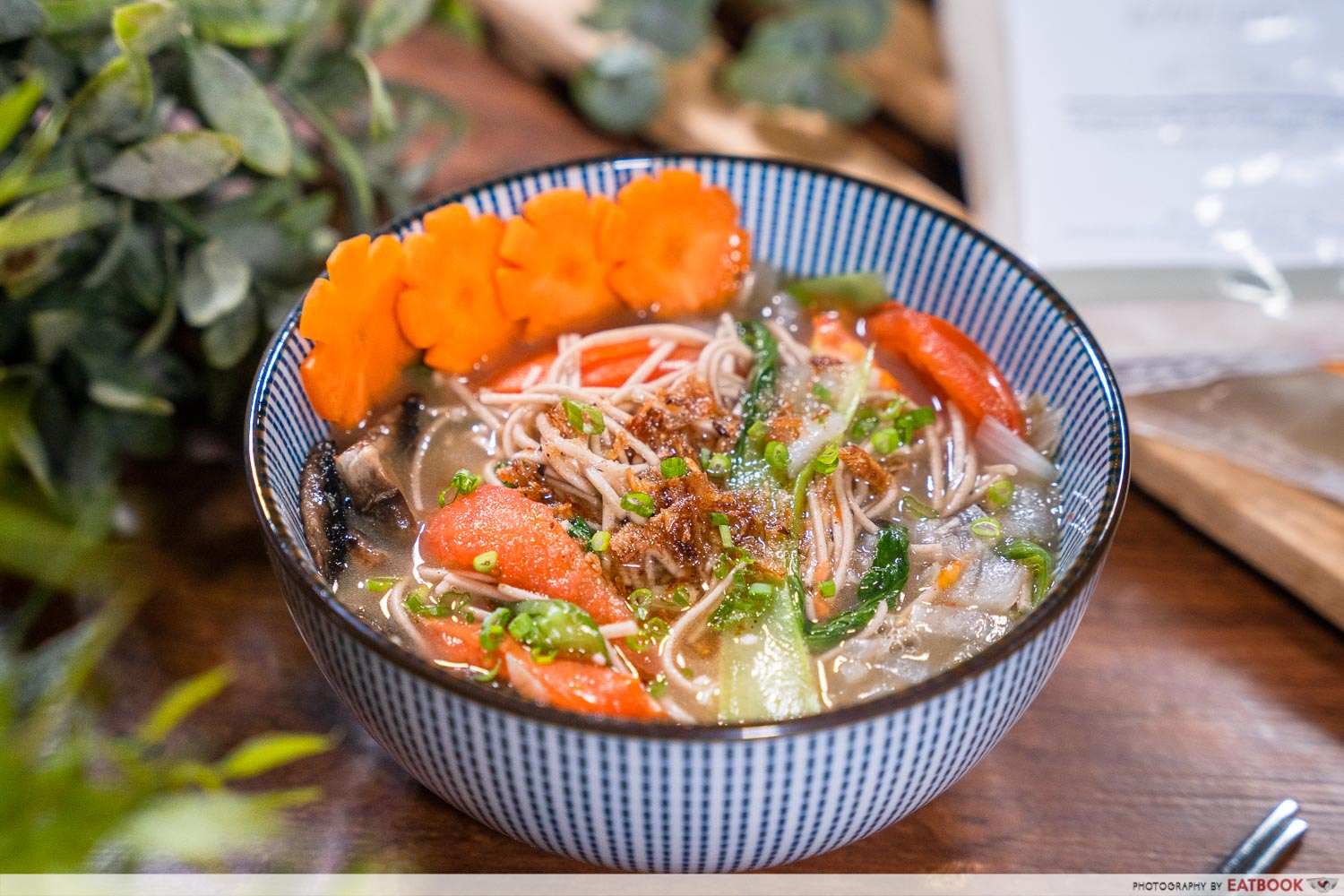 If you're running behind time, or simply don't have the energy for tedious cooking, this quick and fuss-free recipe is for you. The best part: it's super healthy! The star of the show is the 1chi-yo Superior Chicken Collagen Broth, which adds a ton of flavour while keeping it light-tasting.
The recipe starts off with some minced garlic and diced onion. Top tip: get the pre-minced garlic at the supermarket to save you some time! After lightly frying the mushrooms, you can throw in the broth and water, season it to taste, and your soup base is just about done.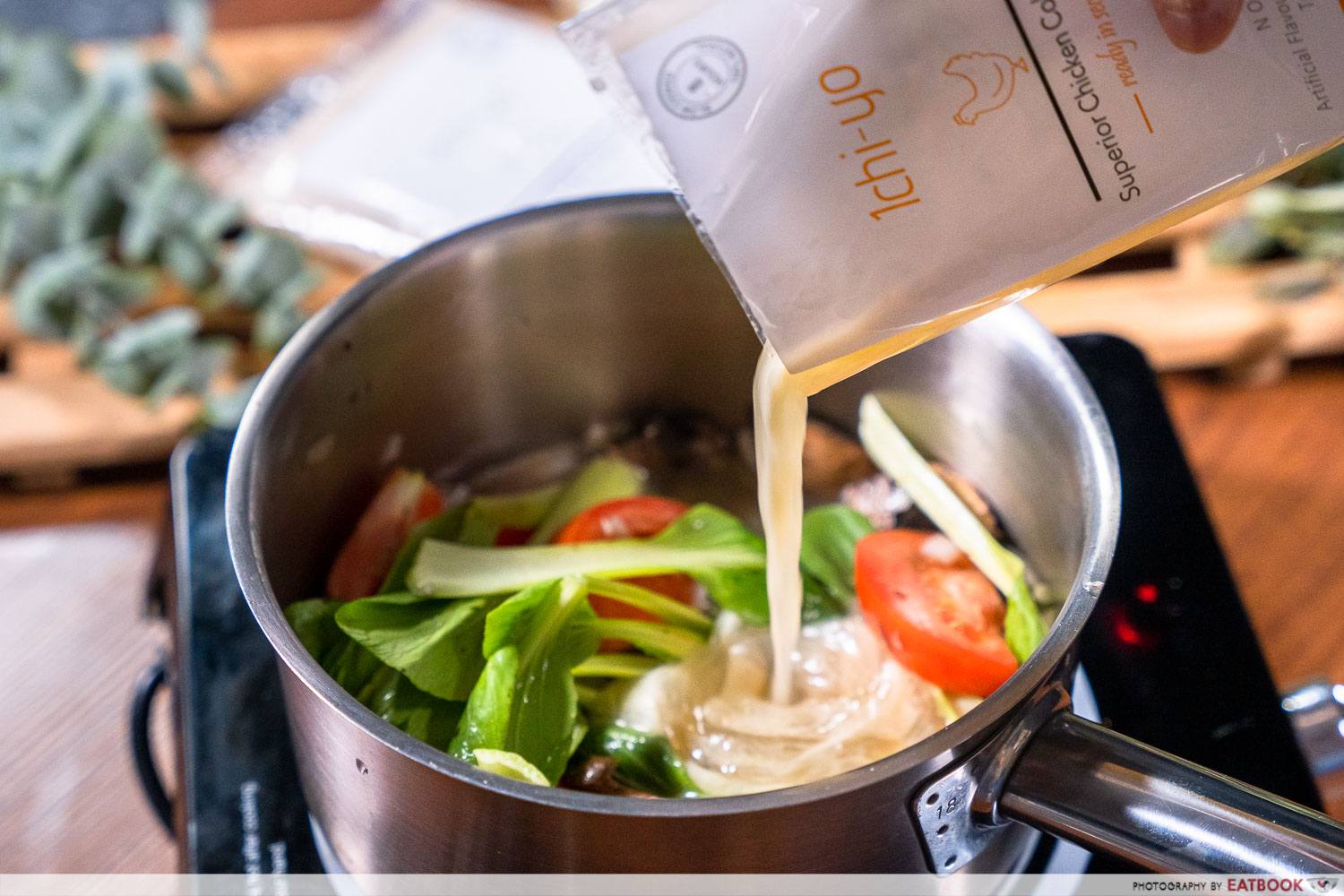 If you've not had your fair share of veggies, now's your chance to load up on your daily dose of greens. Like most of the recipes featured here, you can tweak your ingredients based on what you have in the fridge. Here I included fresh tomato, fresh bok choy, mushrooms, and flower-shaped carrot slices for garnish.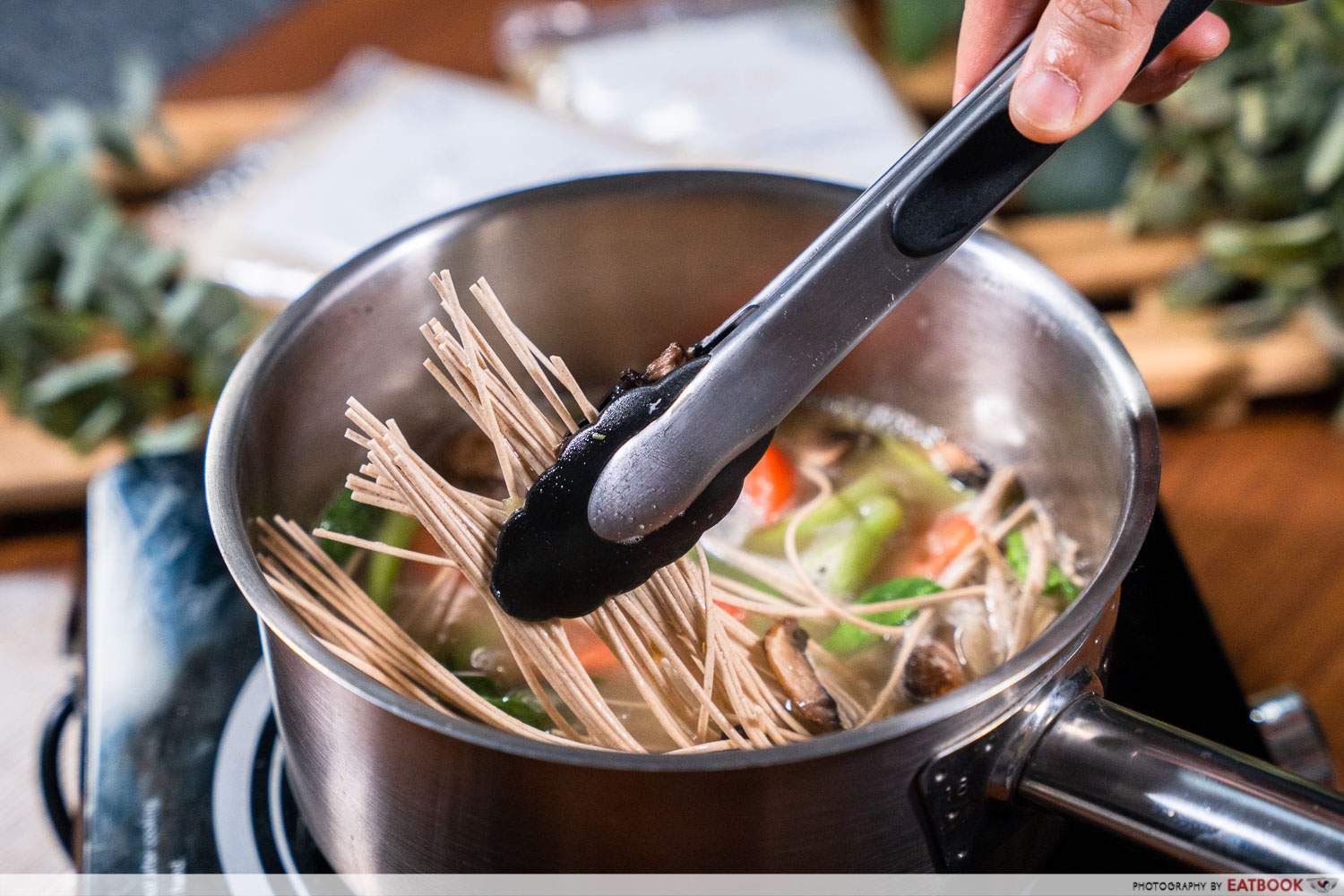 I used soba noodles as they cook up within minutes. Other great options include udon, kway teow, or glass noodles. Alternatively, have it along with a bowl of rice. The healthy soup is amped up with some shallot oil as a finishing touch for extra flavour.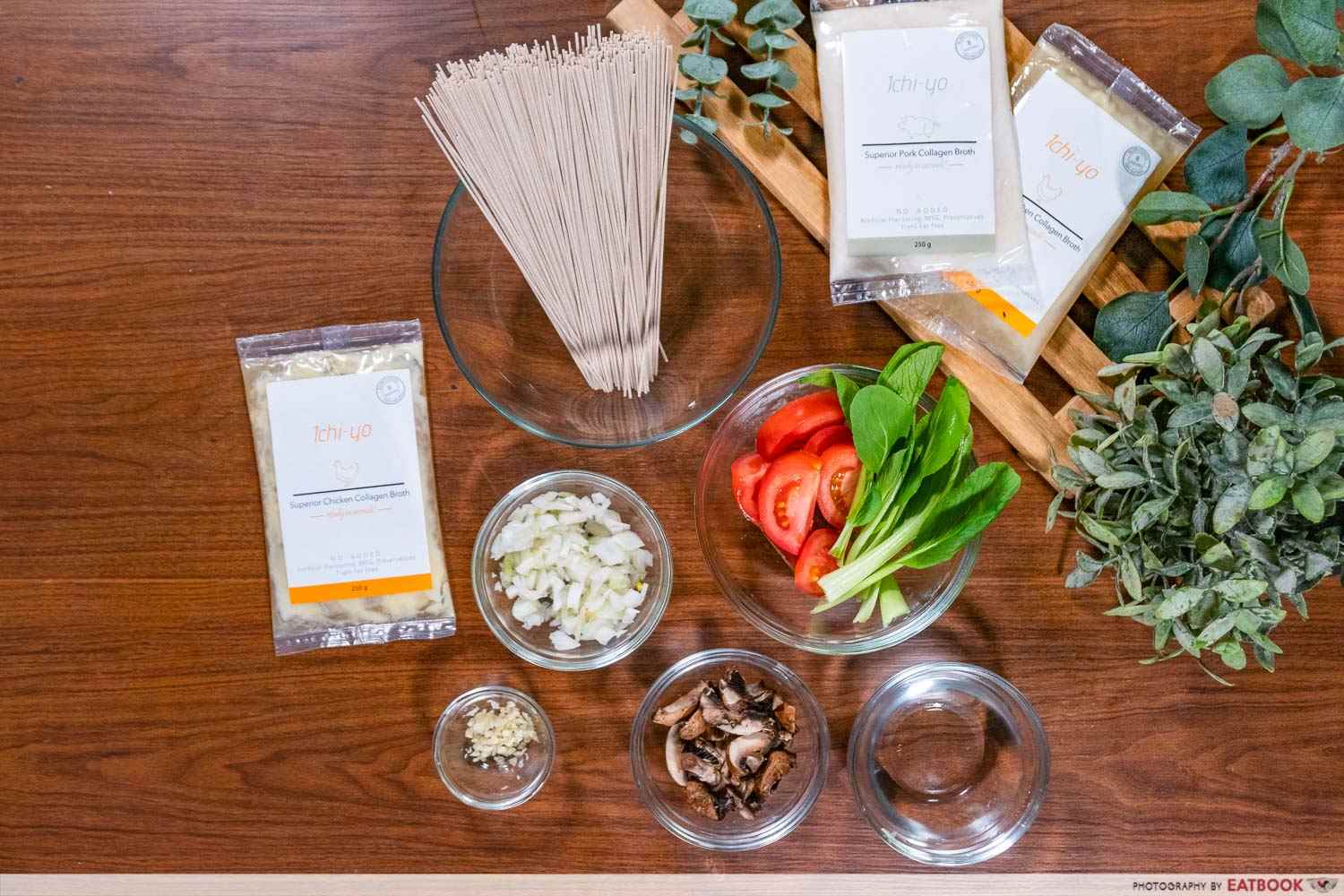 Yield: 2 servings
Cooking time: 15 minutes
Ingredients:
1 250g packet 1chi-yo Superior Chicken Collagen Broth
250ml water
1 fresh tomato, sliced
100g fresh bok choy
1 clove garlic, minced
½ white onion, diced
100g portobello mushrooms, sliced
100g soba noodles
½ carrot, sliced for garnish
Shallot oil for garnish (optional)
Instructions:
In a pot, pan fry the garlic and onion with the oil.

Throw in the mushrooms, and fry for two to three minutes. 

Add the broth and water to cook for around two minutes.

Add the tomatoes.

Throw in the soba to cook, for around two minutes or more, depending on the package instructions.

When the soba is almost done, add in the bok choy.

Serve with fried shallot oil.
---
5. Bacon Mashed Potato
---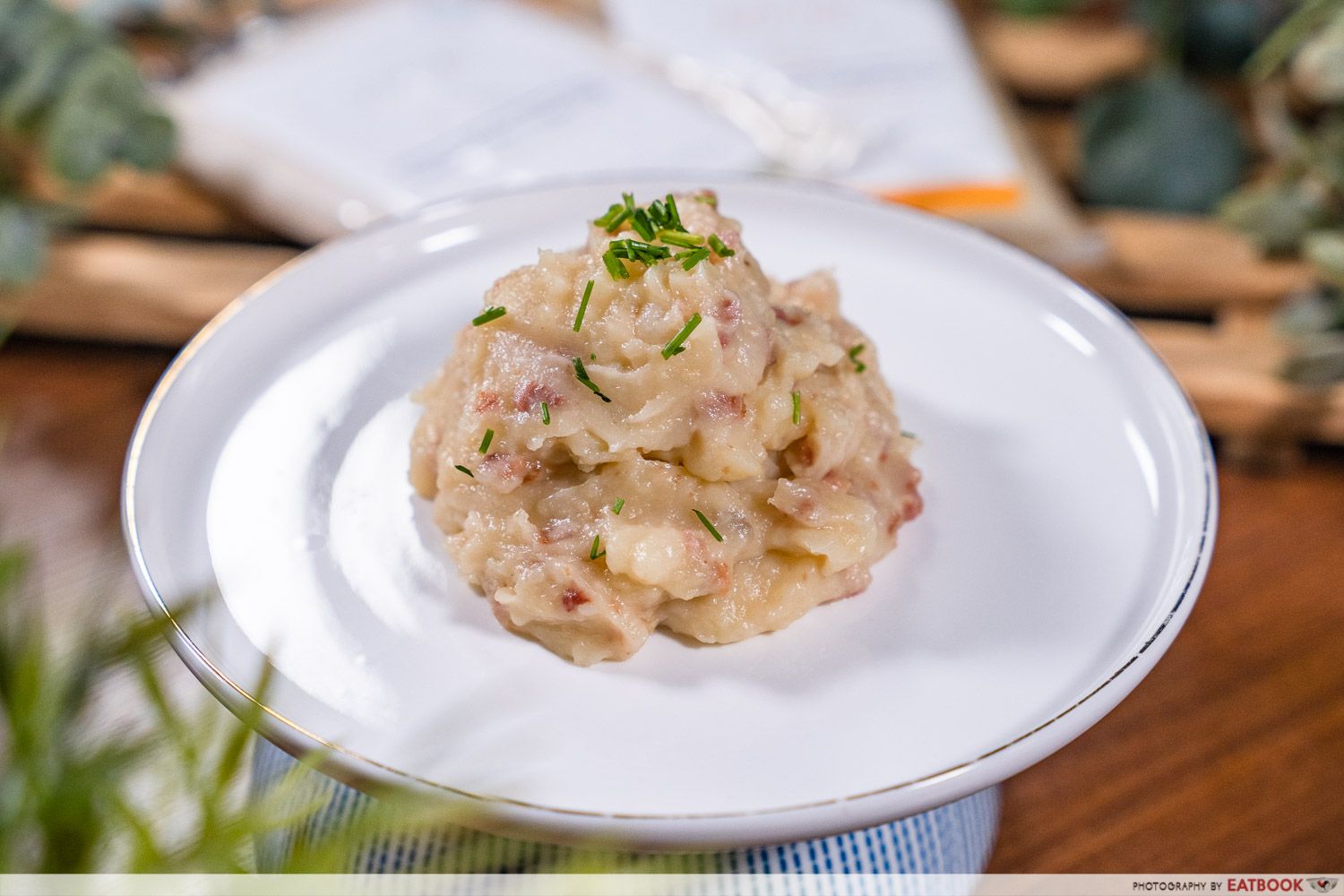 I'd never thought of using broth instead of water to cook potatoes. Turns out it actually works! Swapping out plain water for the 1chi-yo Superior Pork Collagen Broth made a world of difference when it comes to flavour and texture. We actually made a batch with water just to compare, and we were blown away by the results—the one cooked in broth was much more creamy and flavourful.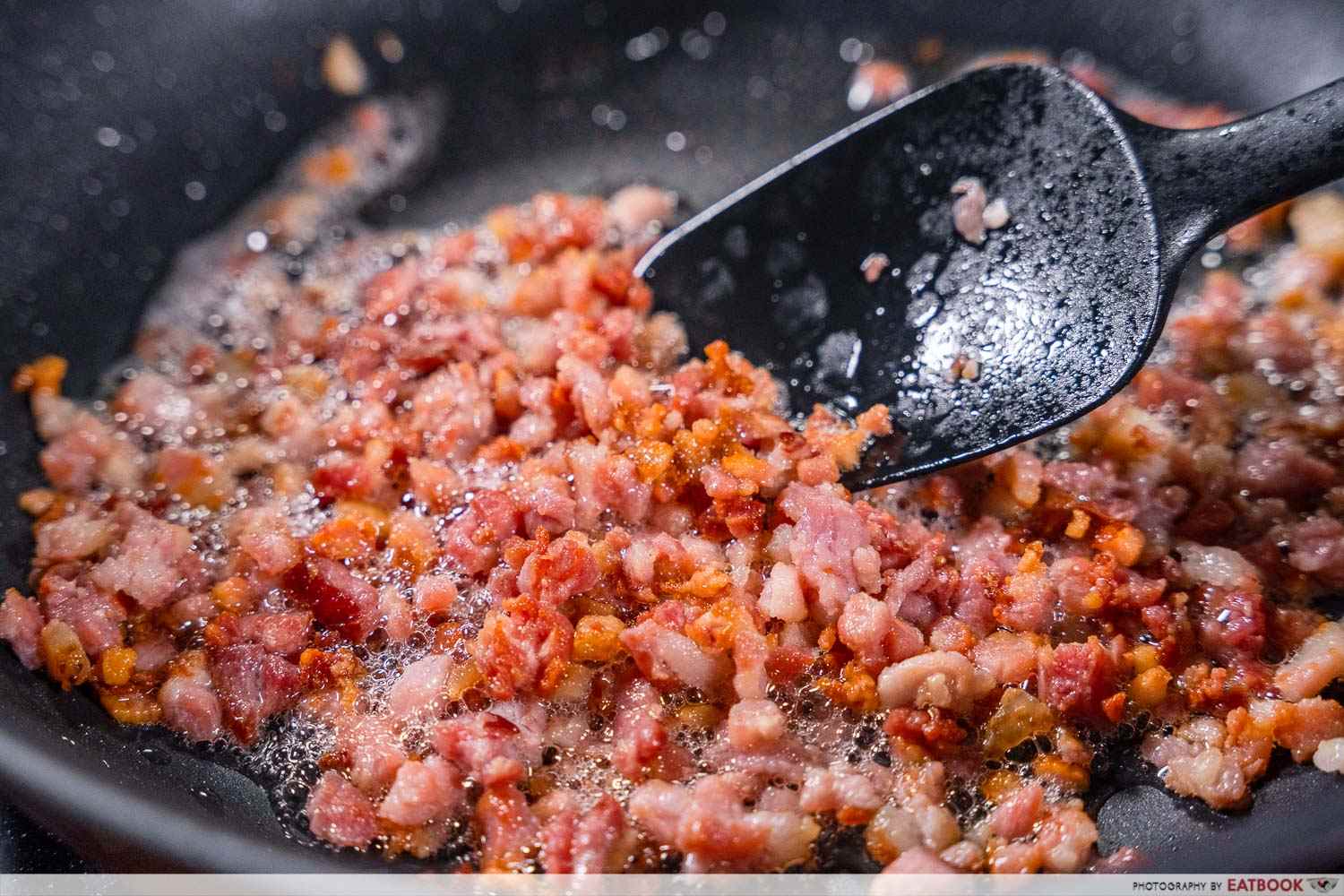 This is a fairly simple recipe that starts off with one of my favourite ingredients of all time: bacon. For easy preparation, I used pre-chopped bacon bits that are easily available at most supermarkets. As streaky bacon is high in fat, no additional oil is needed as the meat will cook in its own fat. You'll want to let the bacon crisp up for added texture.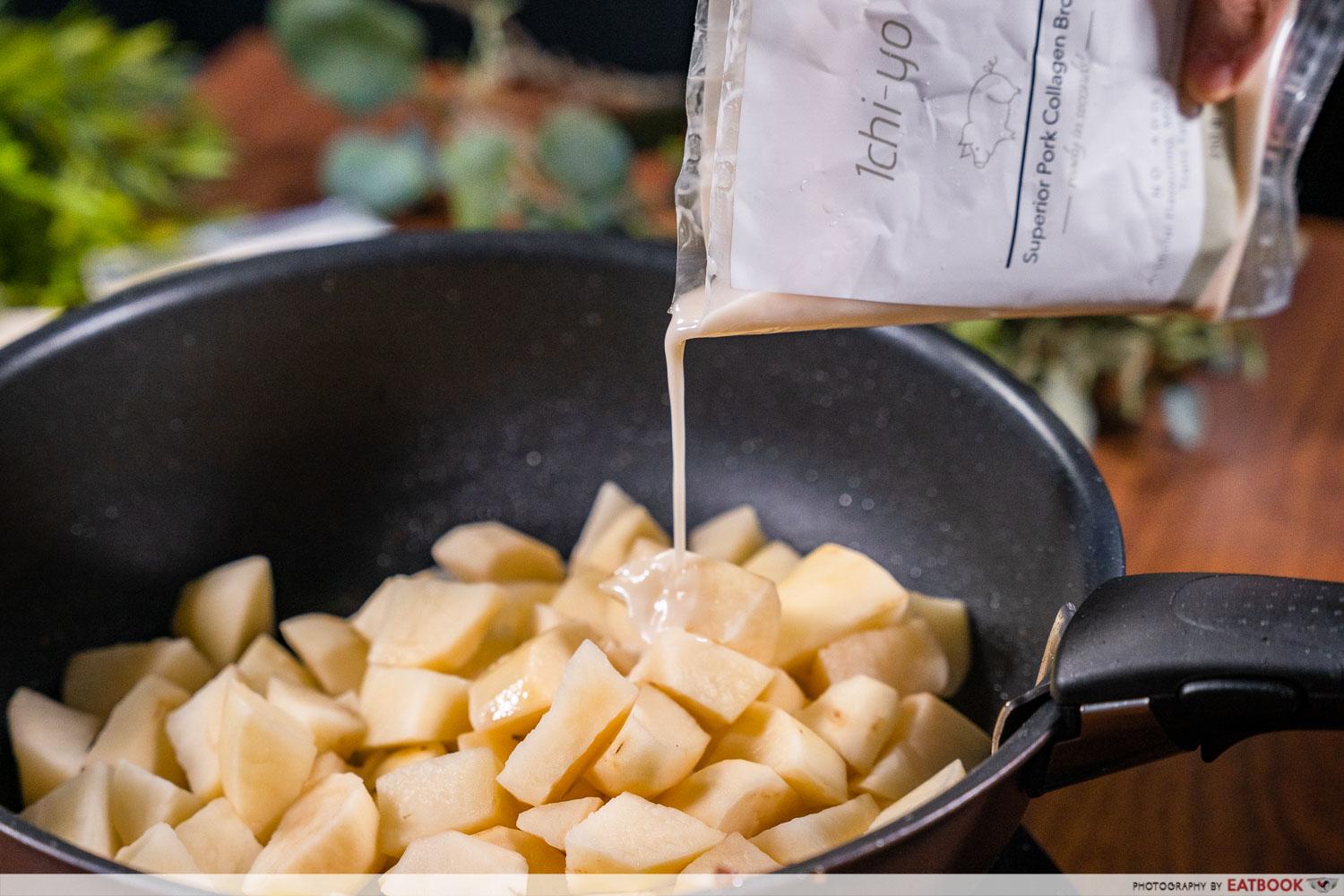 The bacon fat lends flavour to this dish, so reserve it for the next step—to cook the potatoes. As everything is done in one pan, there's less washing up involved, too.
As the broth cooks the potatoes, make sure you keep an eye on them and toss the mixture around to prevent excessive browning. After you add in the water, let it come to a boil, and simmer to cook fully.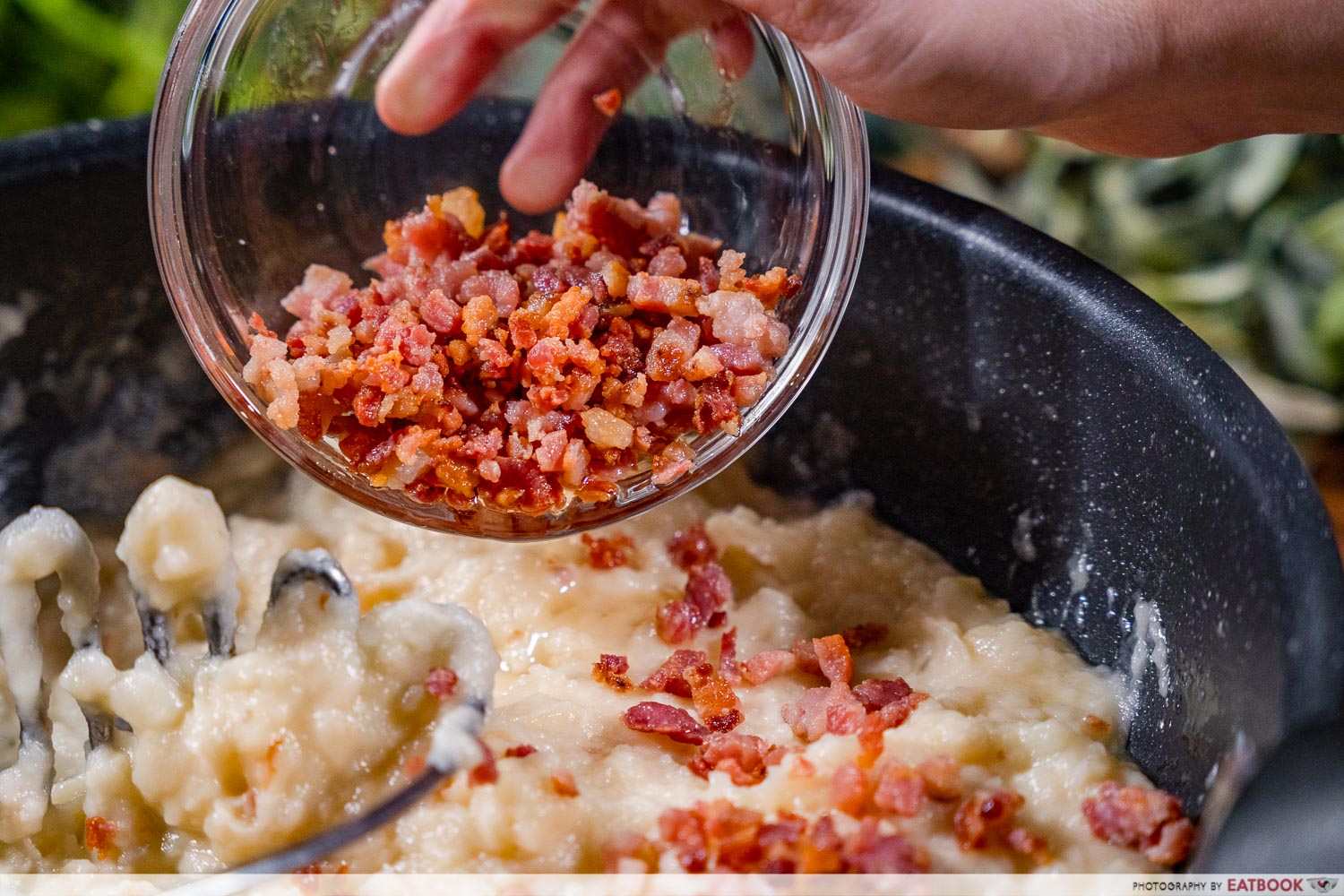 The crispy bacon bits elevate the taste of the mashed potato, adding rich and savoury notes to the mix. For the ultimate experience, I went all out by including some cream and butter, but you can leave out either if you want a lighter flavour.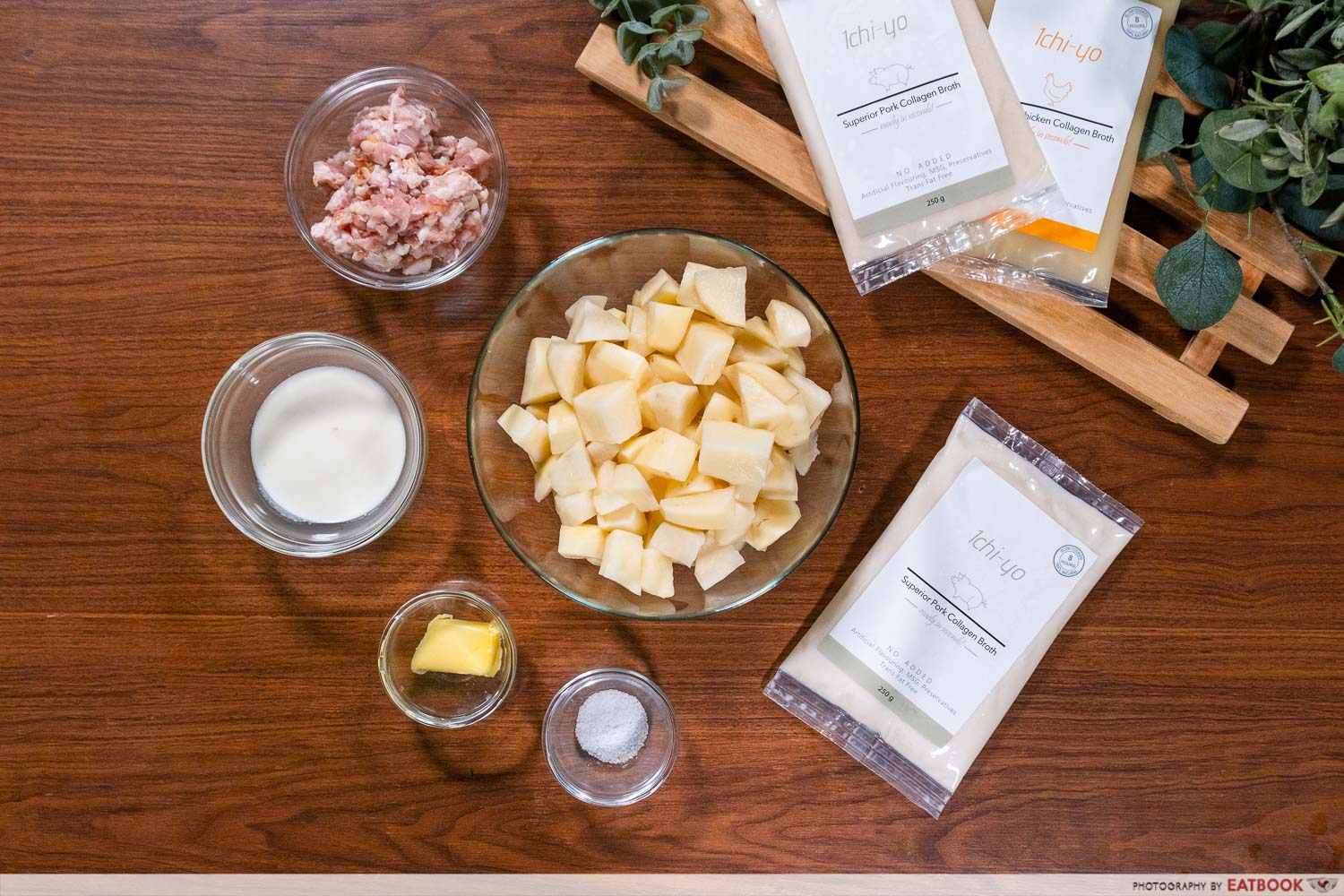 Yield: 3 servings
Cooking time: 40 minutes
Ingredients:
1 250g packet Food Yo 1chi-yo Superior Pork Collagen Broth
300ml water
700g russet potatoes, peeled and cubed (around five potatoes)
190g bacon bits
¼ cup cooking cream
1 tbsp butter
Salt to taste
Instructions:
In a large pan, cook the bacon bits over medium heat until they're crispy, for around 10 minutes.

Transfer to a bowl.

Using the leftover bacon oil, fry the potatoes.

Add the broth and water, cook on medium heat, stirring occasionally.

Bring up to a boil, and then simmer and cook the potatoes until they're fork-tender. 

Once done, remove from heat and start mashing the potatoes.

Add the butter and cooking cream, while mashing.

Add the cooked bacon bits and stir well. Add salt to taste.

Garnish with chopped chives. 
---
Level up comfort dishes with 1chi-yo collagen broths
---
With 1chi-yo's collagen broths from Food Yo, you can easily recreate your classic comfort food in your kitchen, in under an hour. Made with premium ingredients simmered for hours, the versatile broths are loaded with natural collagen for nutrition and flavour. Use them on your next hot pot gathering, or whip up a fancy risotto for date night at home!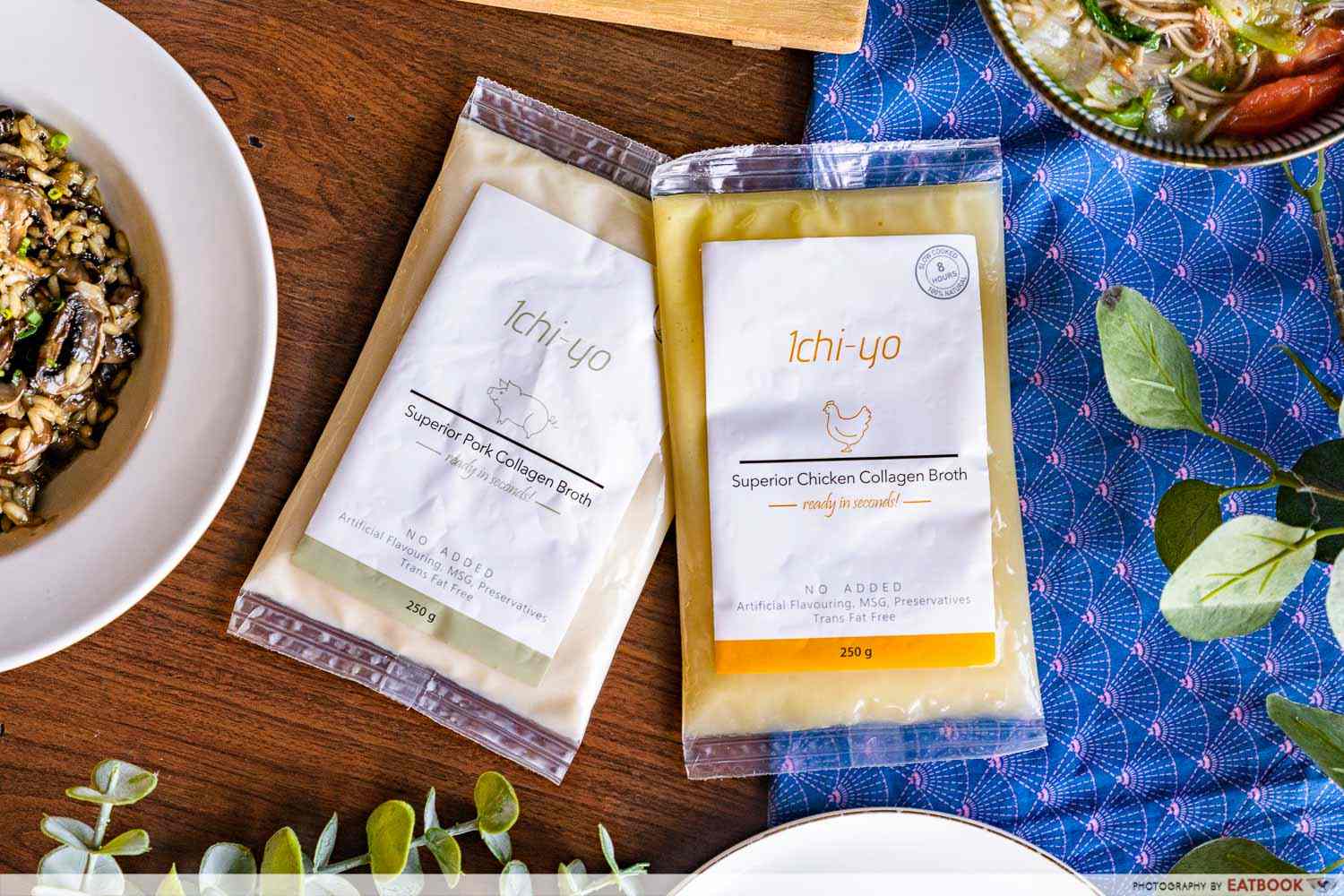 Shop Food Yo's 1chi-yo broths online at their website, e-commerce platforms including Lazada, Redmart, Shopee, Qoo10, and Fairprice Marketplace, as well as in Fairprice supermarkets and Sheng Siong. If you're buying direct, you can opt to collect at Food Yo Cafe (14 Senoko South Road, Singapore 758075), or enjoy free delivery with a minimum spend of $60. Alternatively, it's $8 for shipping to one location. 
Don't miss this ongoing deal, exclusively available on their website: get a packet of 1chi-yo Superior Pork Collagen Broth (U.P. $6), plus a free packet of YoGravy Curry Gravy (U.P. $2) at just $0.99! Simply apply the code 'EB99P' to enjoy the offer. Act fast as only 100 sets are available! Alternatively, from now till 31 December 2021, enjoy 20% off and receive a free packet of YoGravy Curry Gravy with a minimum spend of $50, when you use the code 'EB20' upon checkout.
Also, Food Yo is hosting a giveaway on their Facebook page, where 10 lucky participants stand to win their collagen broth! For more information on their giveaway, check out their post.
Photos taken by John Lery Villaneuva.
This post was brought to you by Food Yo.