---
Easy KBBQ recipes with K-Grill
---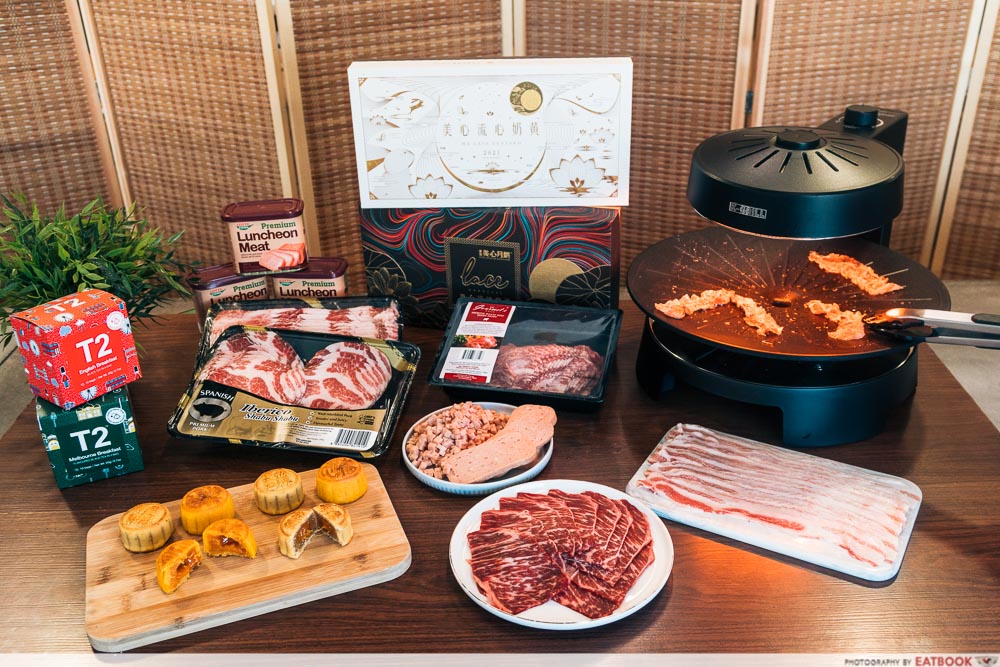 We live in a time-starved rat race, where quick, fuss-free meals are often the name of the game. You'd seriously doubt my word, if I told you that we could have a KBBQ office lunch in under half an hour. Enter the K-Grill, sold at FairPrice Xtra hypermarkets, a magical piece of equipment that delivers just that. Here are three easy KBBQ recipes with minimal cleanup, including a DIY Pepper Lunch, kimchi pancakes, and bulgogi!
---
1. Pepper Lunch
---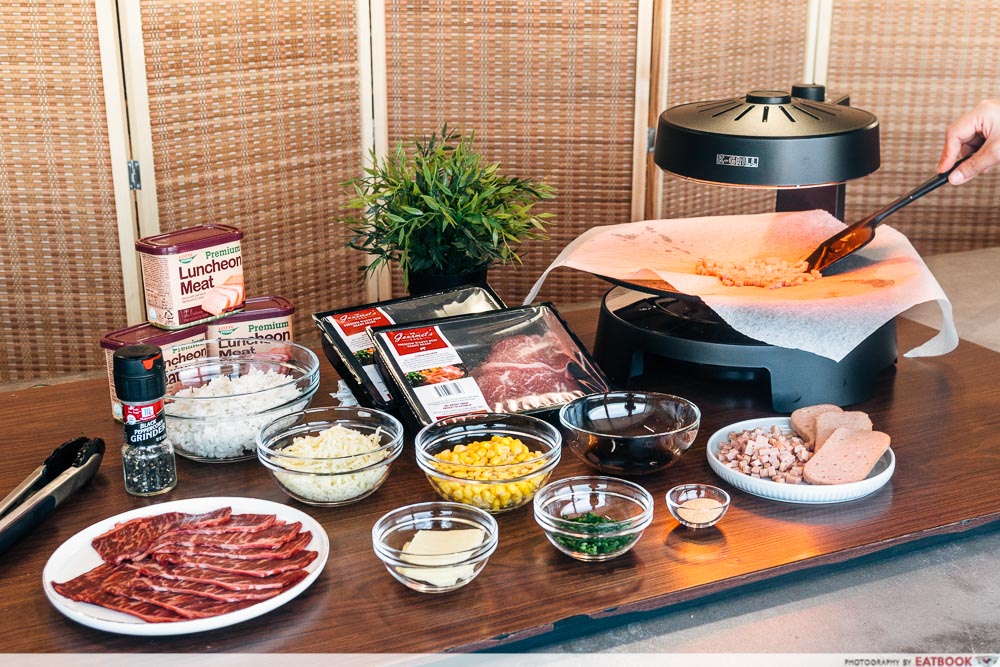 Beat the crowds at Pepper Lunch during peak hours, and DIY the Pepper Lunch experience right in the comfort of the office, or home. What's more, the size of the K-Grill pan, plus its circular shape, gives you all the freedom to make an XXL portion, which you and your friends or family can sit around and enjoy!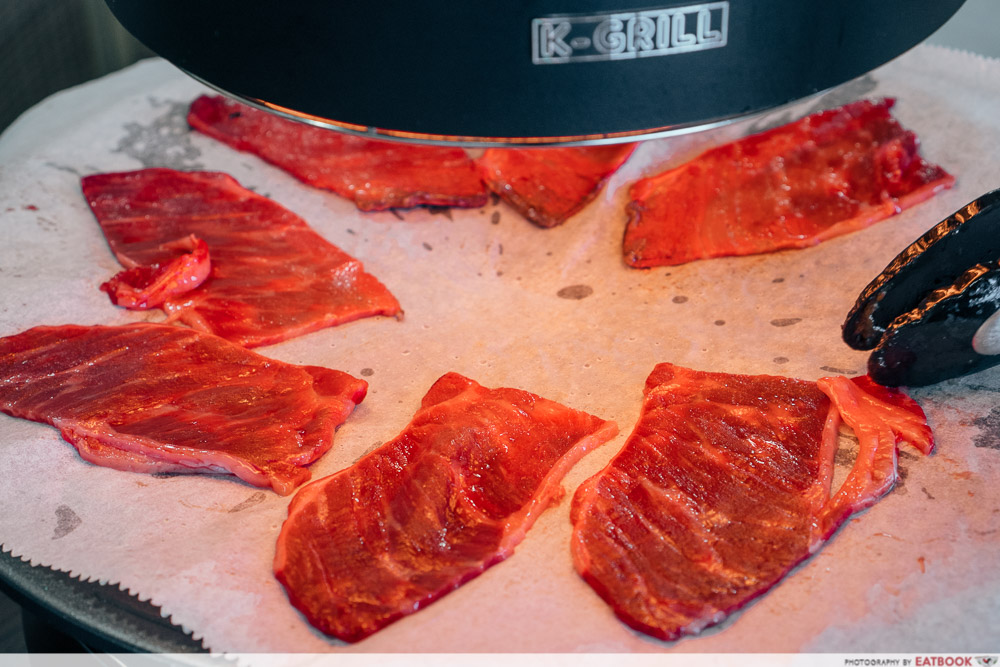 The heat on the K-Grill comes from above, so lining the pan with a sheet of baking paper allows you to catch all the rendered fat and juices from your choice of meat as they grill, before you mix it in with the rice. Here, we've used The Gourmet's Pack Wagyu Beef Sukiyaki ($18.65) for its buttery taste. Do note that Wagyu beef is available at selected FairPrice Xtra outlets, under different brands.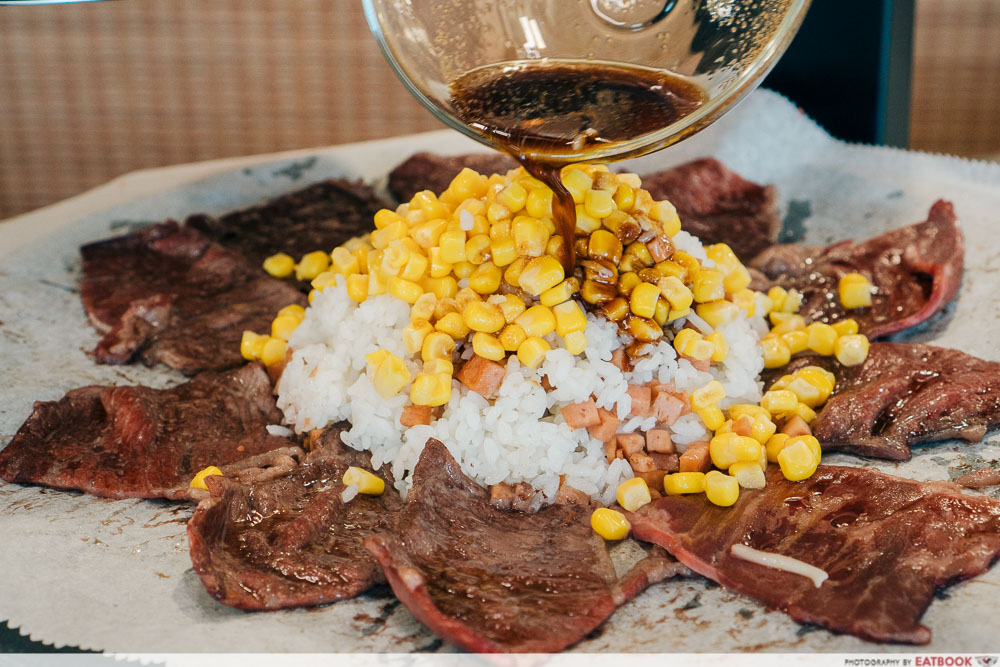 If Garlic Soy is your choice of sauce at Pepper Lunch, our quick hack simply calls for the addition of garlic powder to light soya sauce. Give this a quick stir and pour it liberally over the rice! We've also added Lotte Premium Luncheon Meat ($3.55, U.P. $5.80), which we lightly grilled and mixed into the rice, before laying the beef on the pan.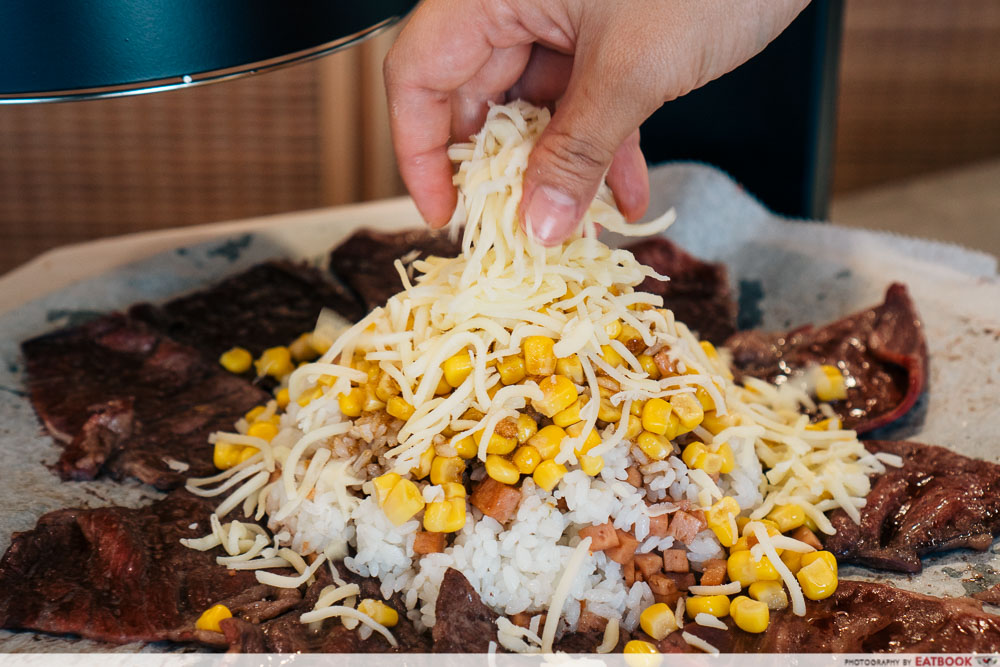 Since you're making this yourself, nobody's stopping you from adding as much cheese as you wish. The great thing about the K-Grill is that you can rotate the heating arm when you need more ease of access to your food.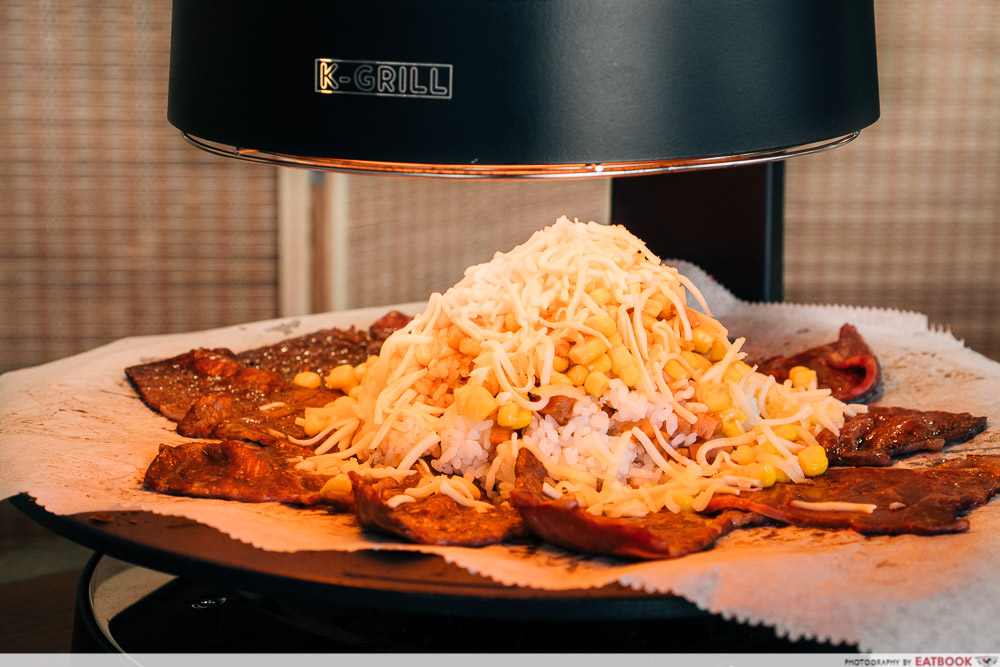 Finally, turn the heating arm back to allow the cheese and butter to completely melt over the rice. Leave it on till the cheese is as golden as you like!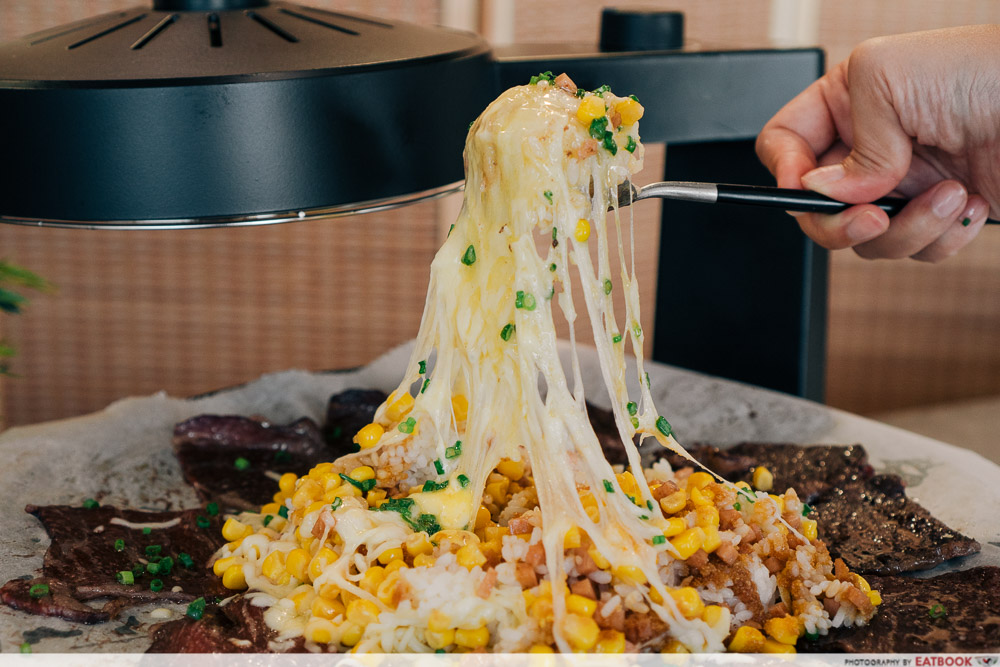 Save yourselves the hassle of washing extra plates, and dig in straight on the K-Grill.
Yield: 4 servings
Cooking time: 10 minutes
Ingredients:
½ can Lotte Premium luncheon meat, cubed
200g The Gourmet's Pack Wagyu Beef Sukiyaki, or any thinly sliced beef or pork
1 ½ cups short grain rice, cooked
1 cup canned corn, drained
2 tbsp butter
4 tbsp light soya sauce
4 tsp garlic powder
2 tsp black pepper
1 handful of mozzarella (optional)
1 handful of spring onions, finely chopped
⅓ cup of kimchi, chopped (optional)
Directions:
Lay a piece of baking paper over the grill pan, covering the hole for the drippings.

With the heat on high, spread the cubed luncheon meat over the pan, stirring occasionally, until it sizzles. Transfer to a large mixing bowl, and mix it in with the cooked rice.

Lay the slices of beef around the pan, leaving a space in the centre.

When the beef starts to bubble and brown, turn the hood away, and plate the rice in the middle.

Combine garlic powder and light soya sauce, and drizzle over the rice. Scoop corn over the top, and sprinkle generously with mozzarella, if using. Turn the hood back, and allow the cheese to melt.

Top with cold butter and chopped spring onions. Mix it up, and dig in.
---
2. Kimchi Pancake
---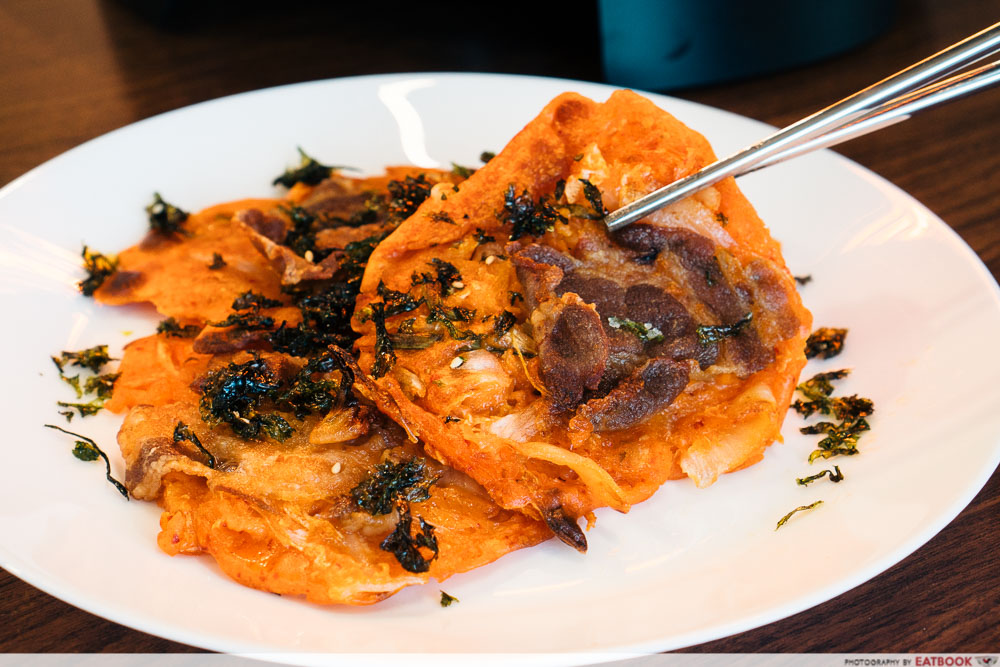 Kimchi pancakes, AKA kimchijeon, are one of my favourite things to eat at Korean restaurants. The best kimchijeon are crisp, with a balance of tanginess, spice, and savouriness. Making these pancakes on the K-Grill means mini-sized jeon, which equates to more crisp edges all around.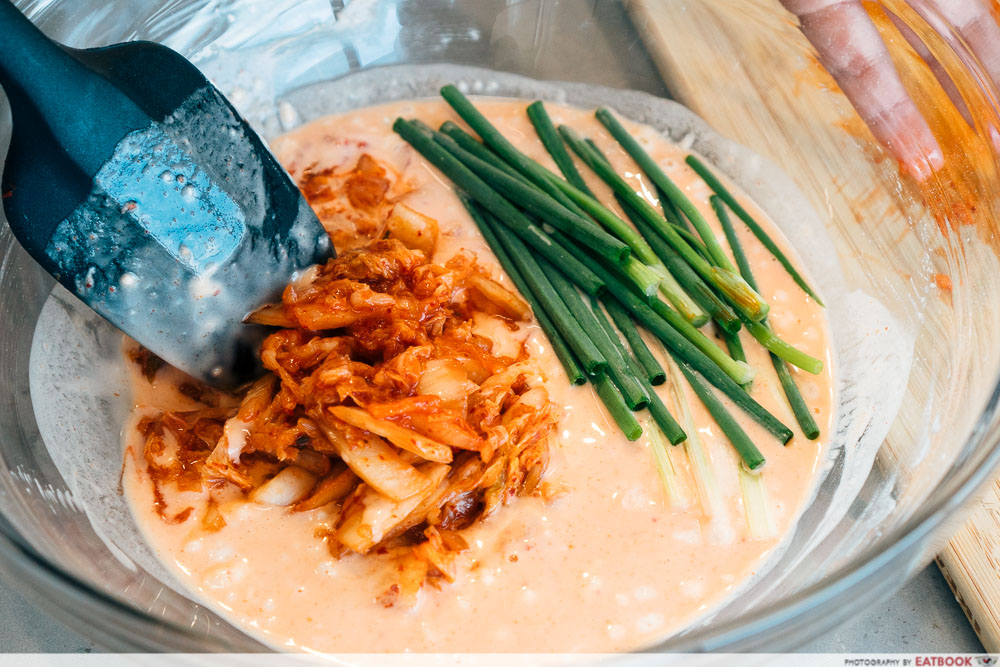 I used cake flour, but all-purpose works just as well. You mustn't skip the ice-cold water, because that's what gives the kimchi pancakes their light crisp. If the batter still looks lumpy after mixing, that's totally fine, but it should not be thick and goopy.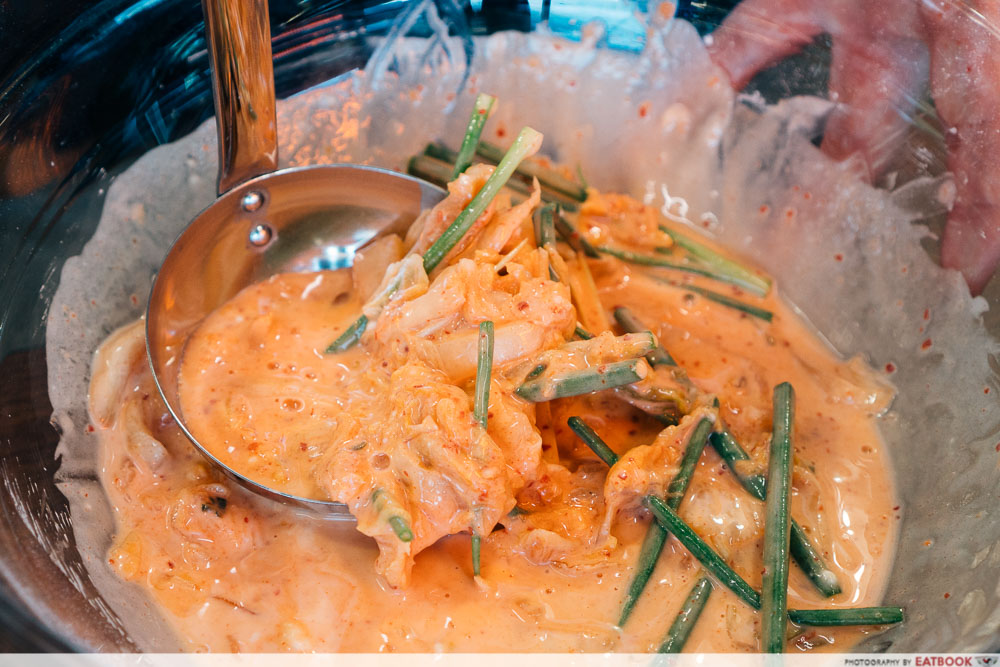 Spring onion haters can also leave the scallions out of these pancakes━it's frankly just a matter of personal preference. You can also add gochugaru, AKA Korean pepper flakes, for extra heat.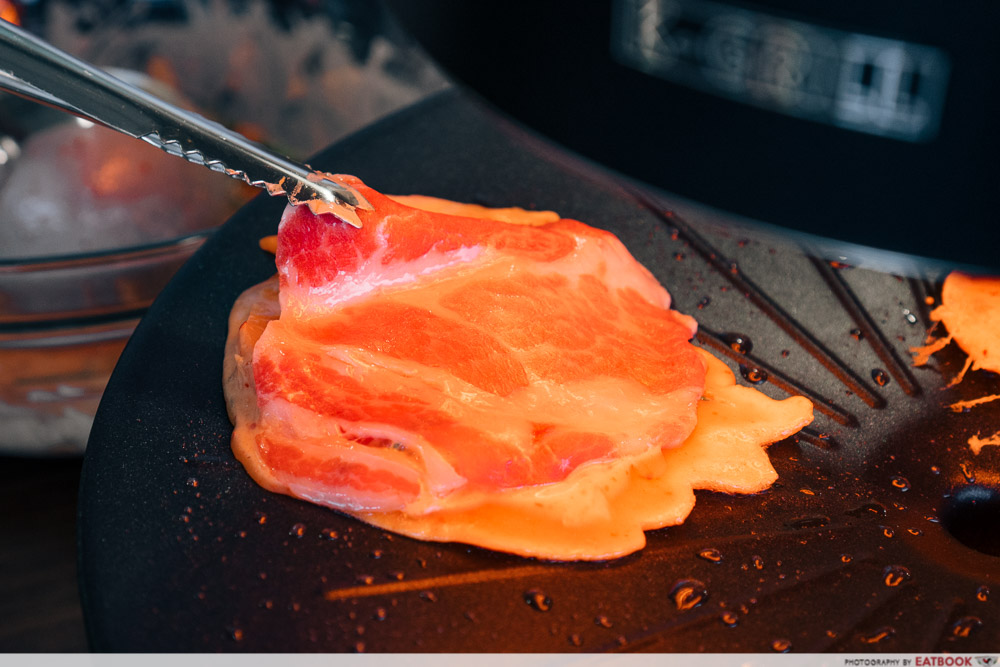 The batter is quite thin, but if you've heated up the pan till it's very hot, the pancakes should stay in shape once you ladle them onto the K-Grill. If they do run down the pan, use a spatula to halt the flow!
Grilled meat adds tons of flavour, so we've laid slices of Chef's Pork Premium Frozen Iberico ($8.90, U.P. $11.90)━in both Shabu Shabu, and Belly Slice variations. The marbled Iberico pork makes for lots of drippings that oil the pan, and up the flavour quotient in the kimchi pancakes.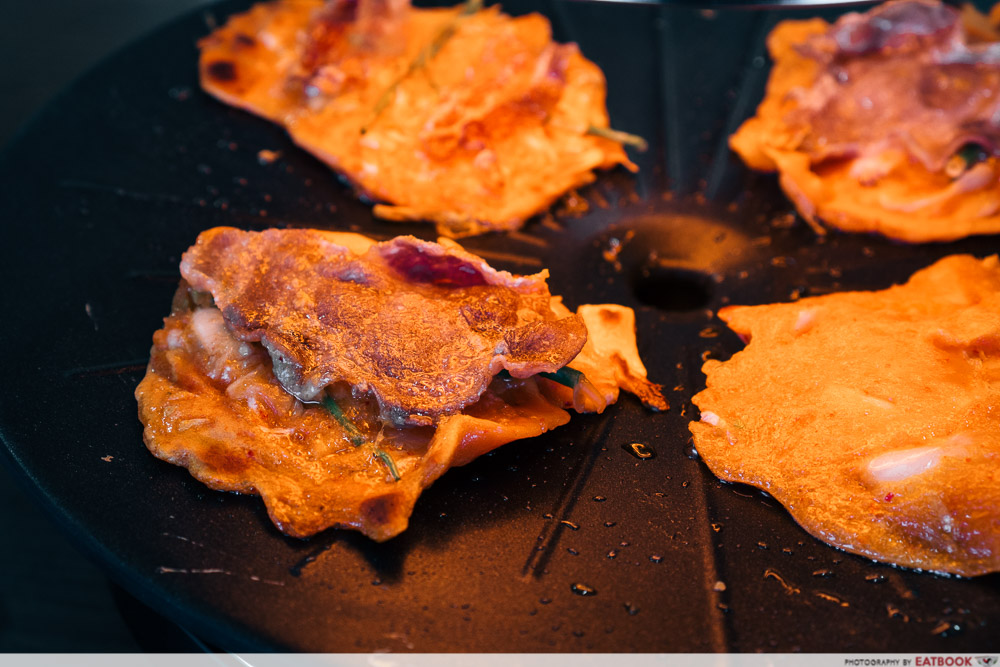 Allow the pancakes to brown and crisp up as little, or as much as you want. In fact, I find that the incline of the pan means any excess liquid and oil is drained off, leaving you with kimchijeon that's extra crispy—even more so than when it's fried in a pan!
Yield: 6 mini pancakes
Cooking time: 10 minutes
Ingredients:
¾ cup cake flour
2 tbsp kimchi liquid
¾ cup water, ice cold
1 tsp gochujang
1 tsp gochugaru (optional)
2 stalks of spring onions, sliced as desired (optional)
1 cup kimchi, thinly sliced
300g Chef's Pork Iberico pork belly, cut to 5cm strips, or sukiyaki
Korean seaweed rice toppers (optional)
Directions:
Turn the heat on high, and allow the pan to heat up.

In a large mixing bowl, combine flour, kimchi juice, and cold water. Stir to combine. Mix in sliced kimchi and spring onions, if using.

Carefully ladle the batter onto the hot pan, using a spatula to stop the flow if it starts running into the oil reservoir.

Place slices of pork belly or sukiyaki pork on each pancake, and allow to grill for two to three minutes.

Flip the pancakes and fry for another three minutes, or till desired crispness.

Serve with Korean seaweed rice toppers.
Recipe adapted from Korean Bapsang's post.
---
3. Bulgogi
---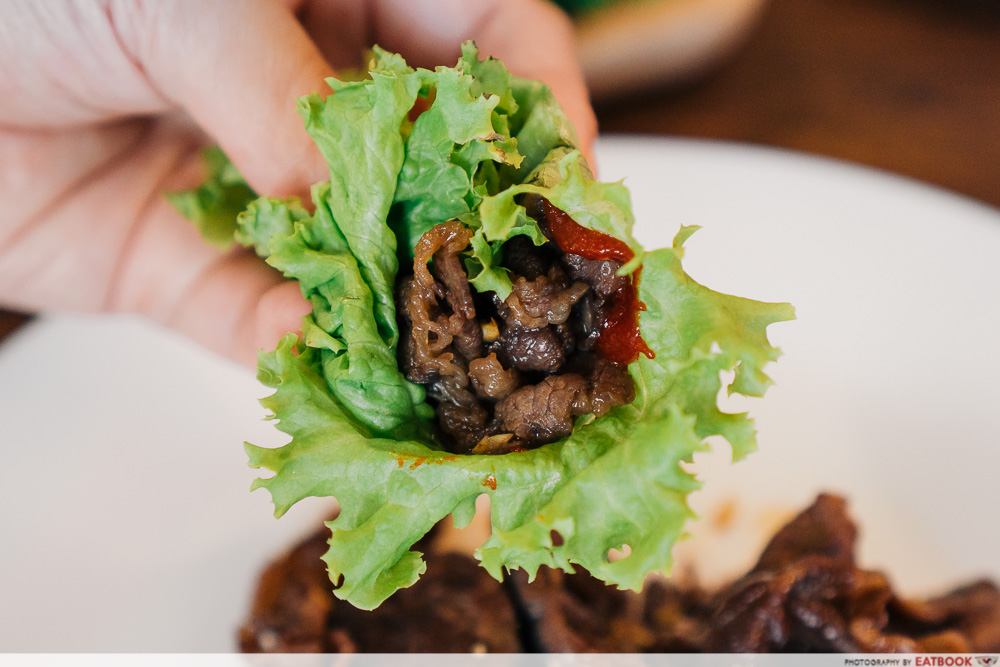 KBBQ isn't KBBQ without ssam, or Korean lettuce wraps. In this recipe we wrapped bulgogi beef in our lettuce wraps, but here's the kicker━we made our own bulgogi marinade! I've always bought it bottled at the Korean mart, but it turns out that you can make it with whatever's in your pantry.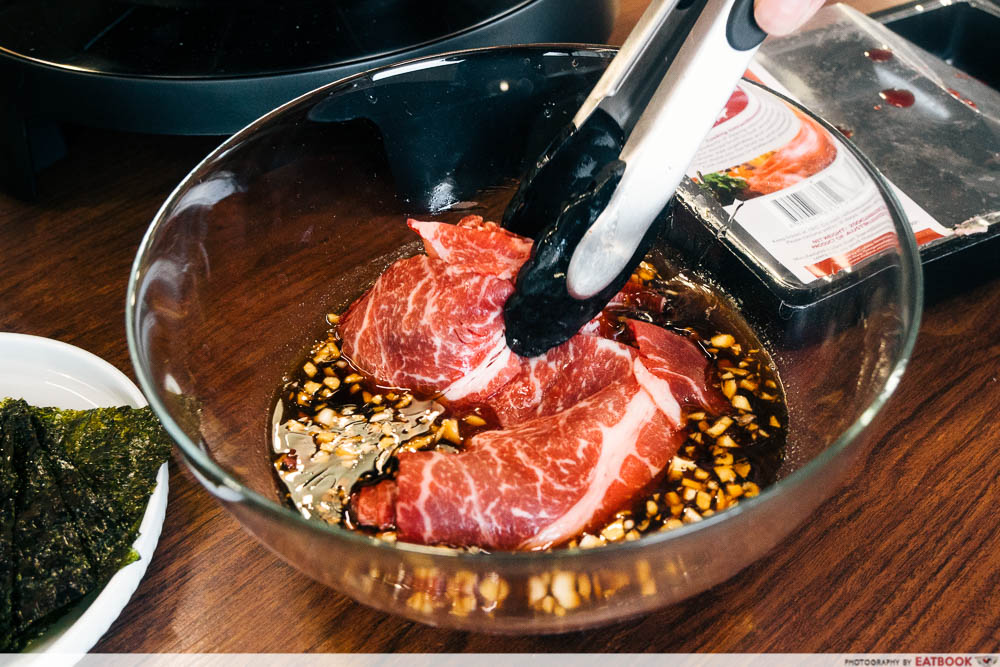 If you don't have honey, simply replace it with more sugar in the marinade. You could also easily skip the chopped garlic if you don't feel like getting the smell on your hands. Add a dash of garlic powder instead.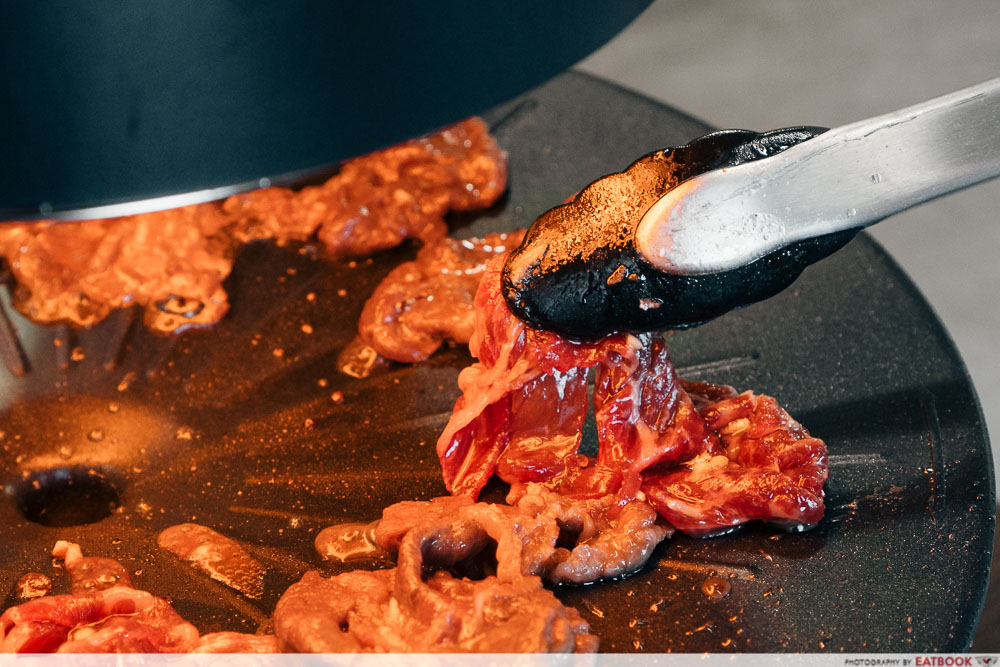 Once you've gotten the marinade out of the way, it's only a matter of getting the pan heated, and popping the meat onto the grill! The Gourmet's Pack Wagyu Beef Shabu Shabu ($18.65) is thinly sliced, so there's no need for prolonged marination. 
If you prefer, you could do this with the Chef's Pork Premium Frozen Iberico slices too. In the couple of minutes it takes for the grill to get up to temperature, the meat should also be ready to go.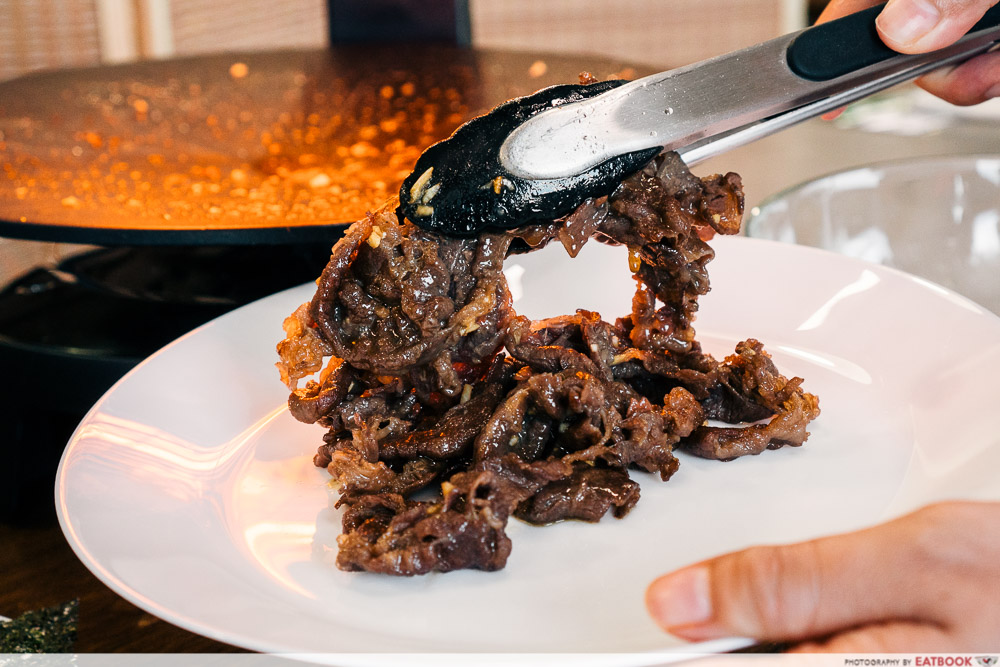 To avoid overcooking the meat, take it off the grill before it's fully browned. If you like it slightly more charred, feel free to leave it on for a longer time.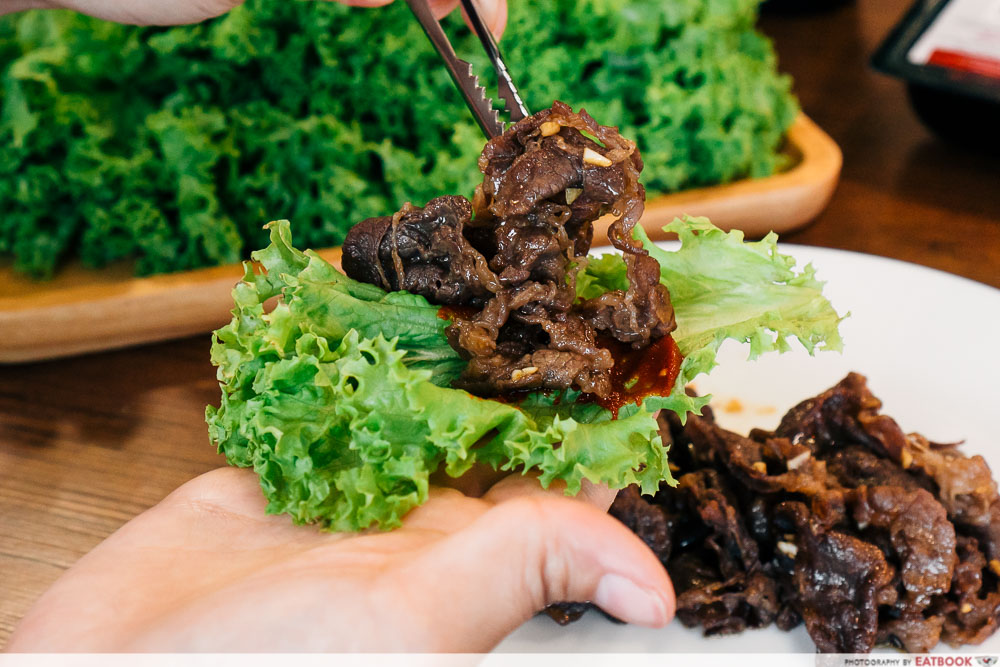 Serve it with Korean seaweed, lettuce, or rice, or all of the above if you like! The meat is sufficiently tasty, so dips are not needed. However, you can slather on some gochujang for that spicy-sweet kick.
Yield: 3 servings
Cooking time: 10 minutes
Ingredients:
200g The Gourmet's Pack Wagyu Beef Shabu Shabu
2 heads of Romaine lettuce
Korean seaweed (optional)
Rice (optional)
Gochujang (optional)
Bulgogi marinade:
6 tbsp light soya sauce
3 tbsp water
2 tbsp sugar
3 tbsp honey
2 tbsp rice wine, mirin, or cooking sake
5 cloves of garlic, minced
2 tbsp sesame oil
⅛ tsp pepper
2 tsp sesame seeds (optional)
Directions:
On medium high heat, allow the K-Grill pan to heat up.

Combine ingredients for bulgogi marinade. Add sliced meat to the marinade, and let it sit for up to five minutes. 

Lay the meat on the grill pan to cook till preferred doneness.

Serve with Romaine lettuce, gochujang, seaweed, and rice as desired.
Recipe adapted from Korean Bapsang's post.
---
Quick and easy Korean BBQ with the K-Grill
---
There's really no fuss with these three easy recipes, which you can use for KBBQ anytime and anywhere, with the K-Grill pan! The overhead heating element means there's no smoking, and there's barely any splatter involved. There are also only two things that you'll have to wash after your meal: the pan, and the oil reservoir. 
The K-Grill ($139, U.P. $199) is sold at all FairPrice Xtra hypermarkets in conjunction with the FairPrice Steamboat and BBQ fair that's running from now till 22 September 2021. Stock up on hotpot and BBQ ingredients, with discounts of up to 50% off at this fair.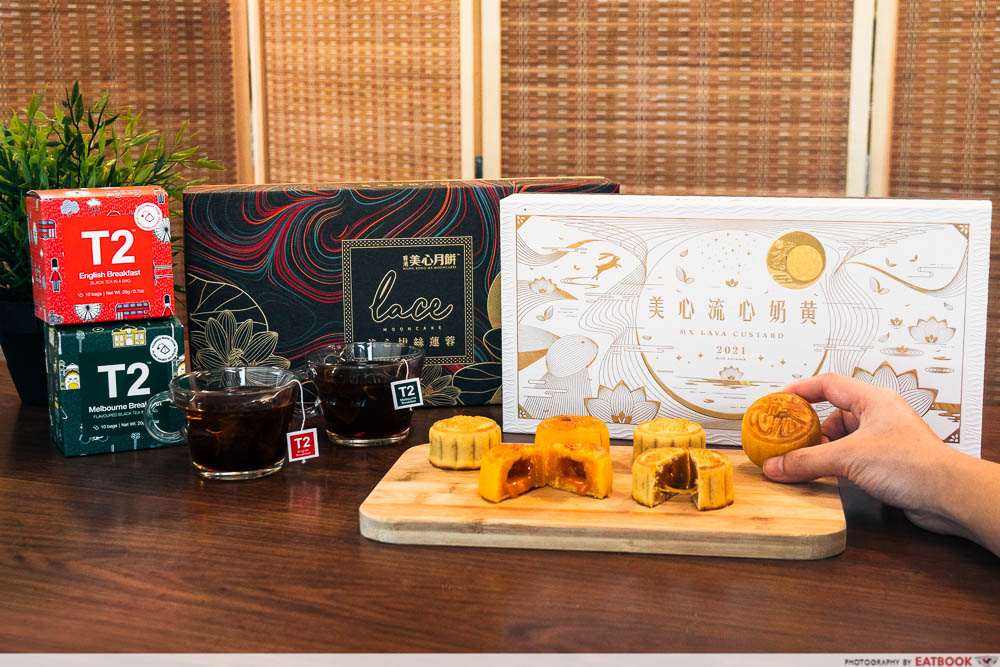 There's no better time to have a hotpot and BBQ party with your family at the upcoming Mid Autumn Festival. End the night after the requisite lantern- and sparkler-playing with Hong Kong MeiXin Mooncakes, accompanied with T2 Tea.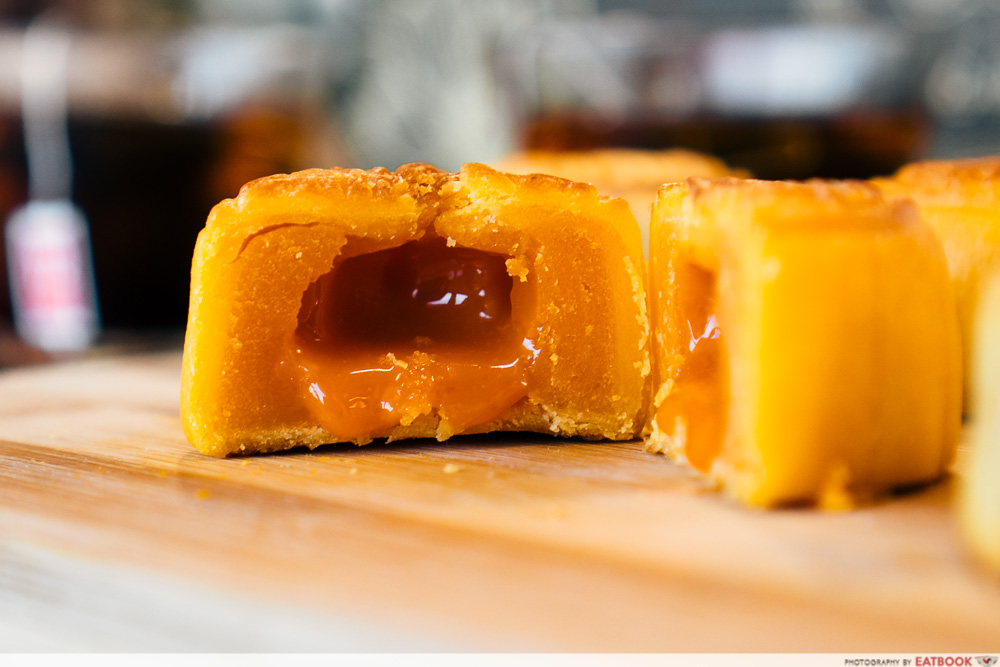 Get MeiXin's signature Lava Custard Mooncake ($66 for eight) at the FairPrice Mid Autumn Festival fair from now till 22 September 2021. These lava mooncakes are literally liu sha mooncakes that will liu even without the need for heating them up! Pair these sweet treats with T2 Melbourne Breakfast Tea ($8.90, U.P. $9.90), a bold, black tea that's perfumed with notes of vanilla.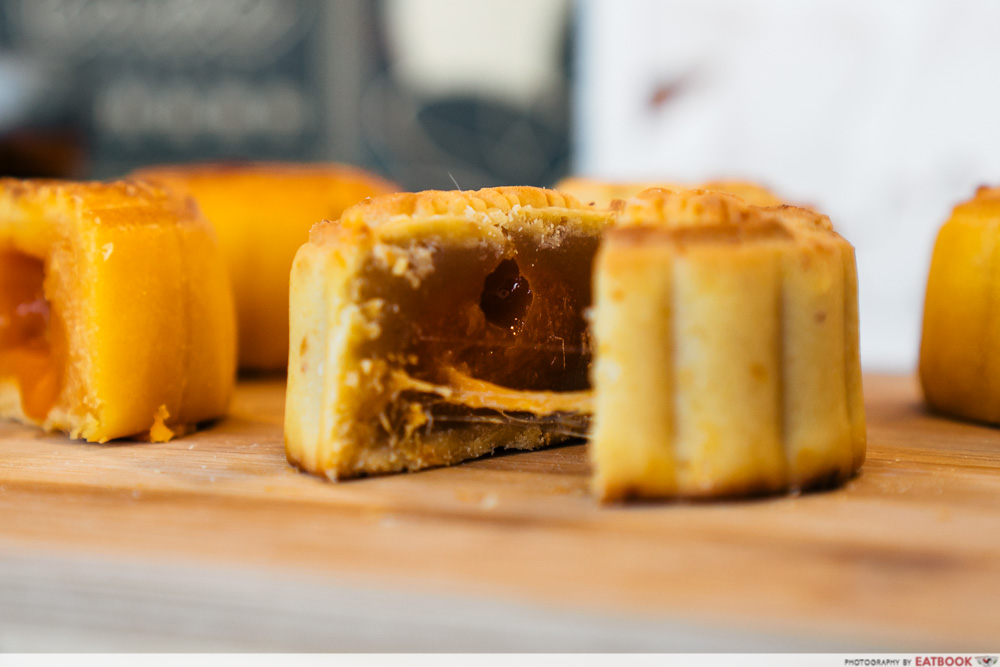 Otherwise, go for Hong Kong MeiXin's 2021 launch━the MeiXin Lace Mooncake ($66 for eight), which features a toffee-like centre reminiscent of malt candy, and is best served with T2 English Breakfast Tea ($8.90, U.P. $9.90). There's even crushed, caramelised peanuts in the skin! 
Photos taken by Pichan Dela Cruz.
This post was brought to you by FairPrice.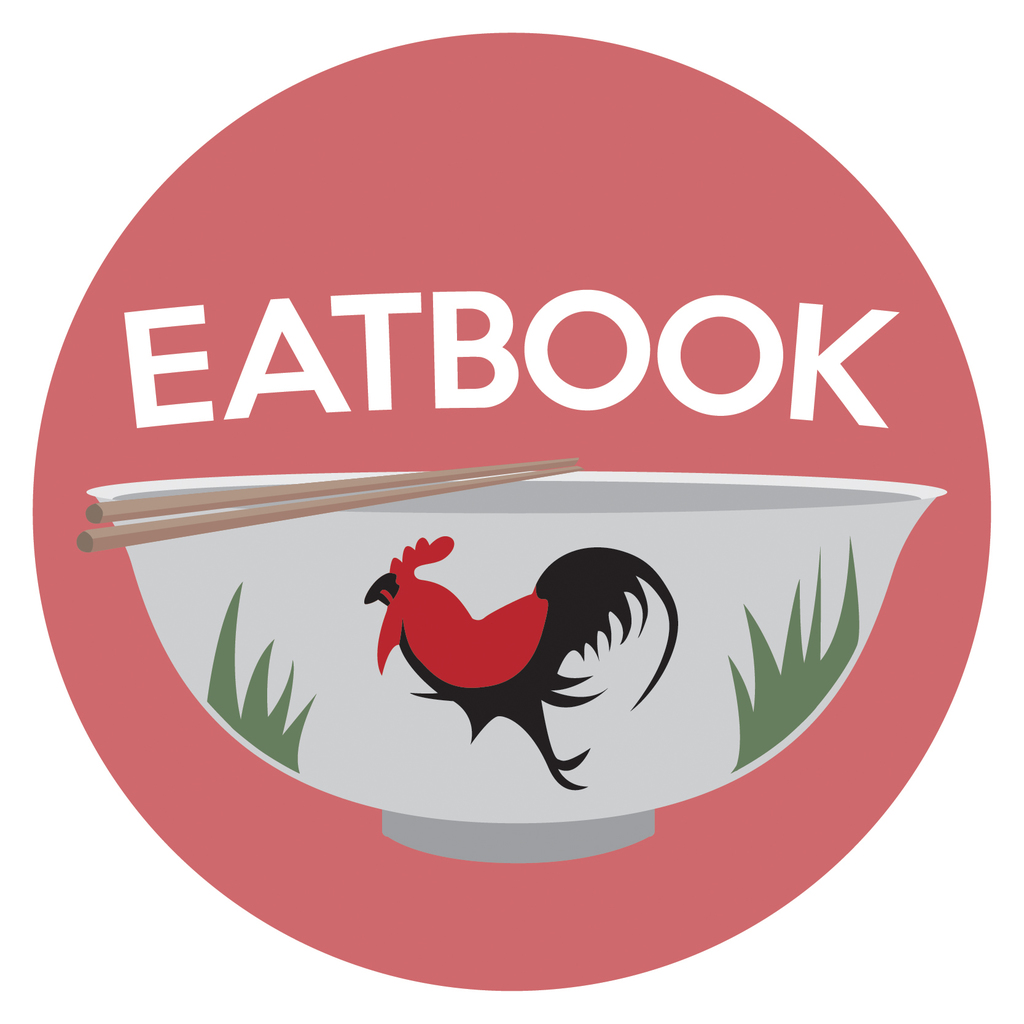 Drop us your email so you won't miss the latest news.