An all-you-can-eat feast at Edge


Buffet restaurants are a dime a dozen in Singapore. While some specialise in steamboat, it's difficult to find one that packs a wide range of international cuisine from around the world.

Having been to Edge a couple of times, I can safely say that its buffet lineup, with more than 150 dishes, is easily one of the largest in Singapore. Boasting regional favourites such as lok lok and chilli crab alongside Western fare such as pizza and pasta, the buffet has an unrivalled variety.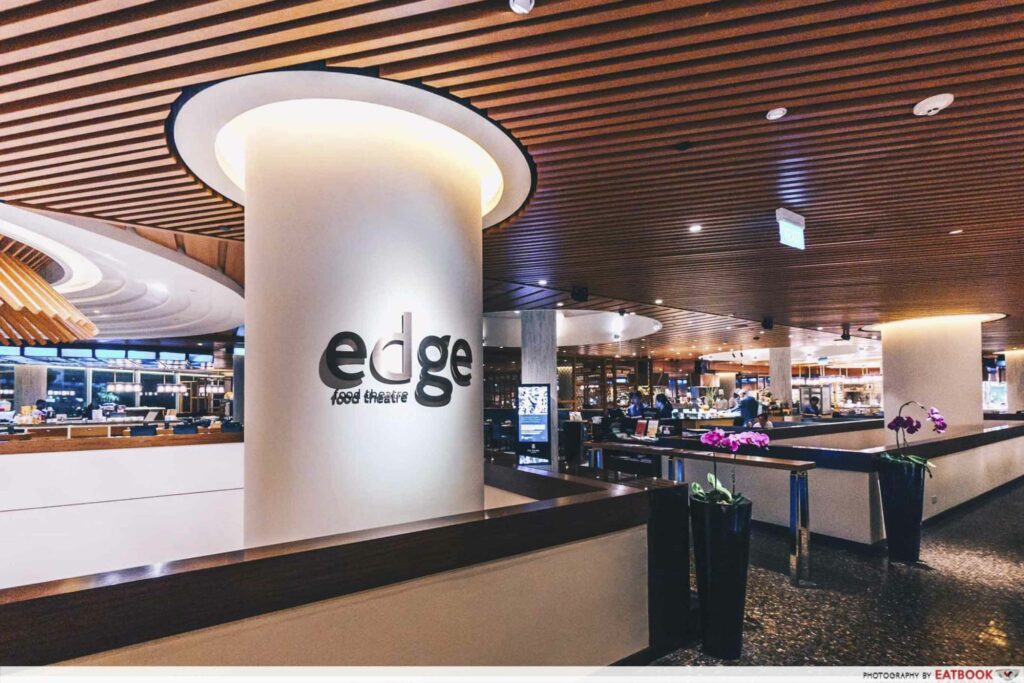 Prices for Monday and Tuesday are $78++ for adults and $39++ for children. The prices are slightly higher from Wednesday to Sunday, with the buffet going at $88++ for adults and $44++ for children. It's also worth noting that you'll be able to get Alaskan King Crabs from Wednesday through Sunday, as compared to Boston Lobsters on Monday and Tuesday.

Food at Edge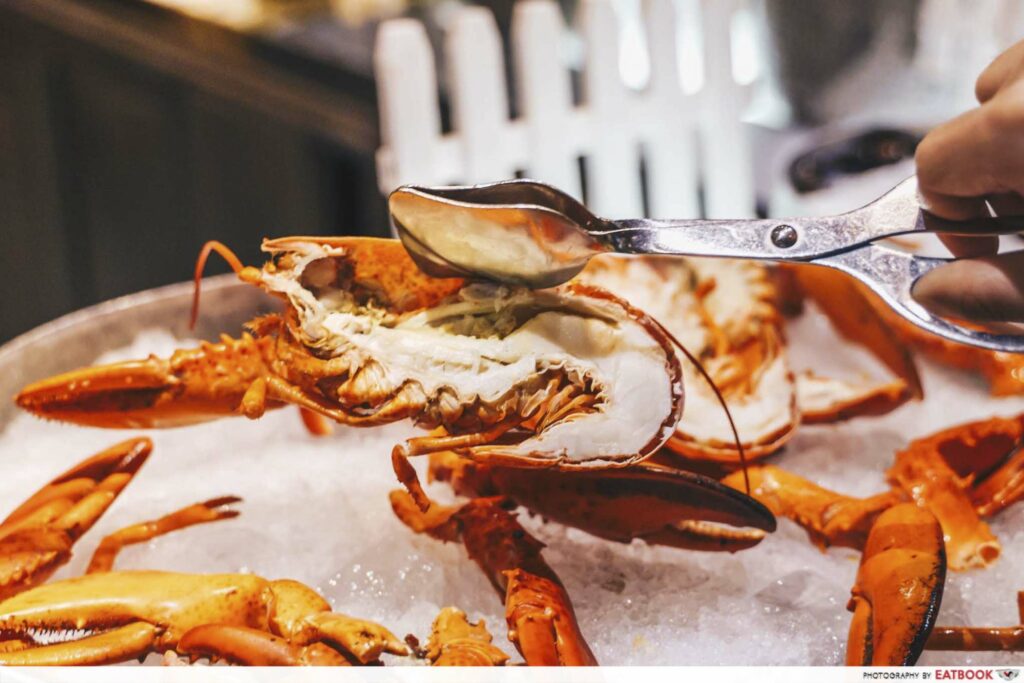 There's so many dishes on offer that the restaurant needs to be divided into 10 distinct cooking stations. The seafood on ice station is located just next to the entrance, so it seems almost natural to start your feast there. 
A bountiful spread of seafood can be found here, with each item cooked to the right doneness. It's then quickly flashed chilled to preserve its freshness.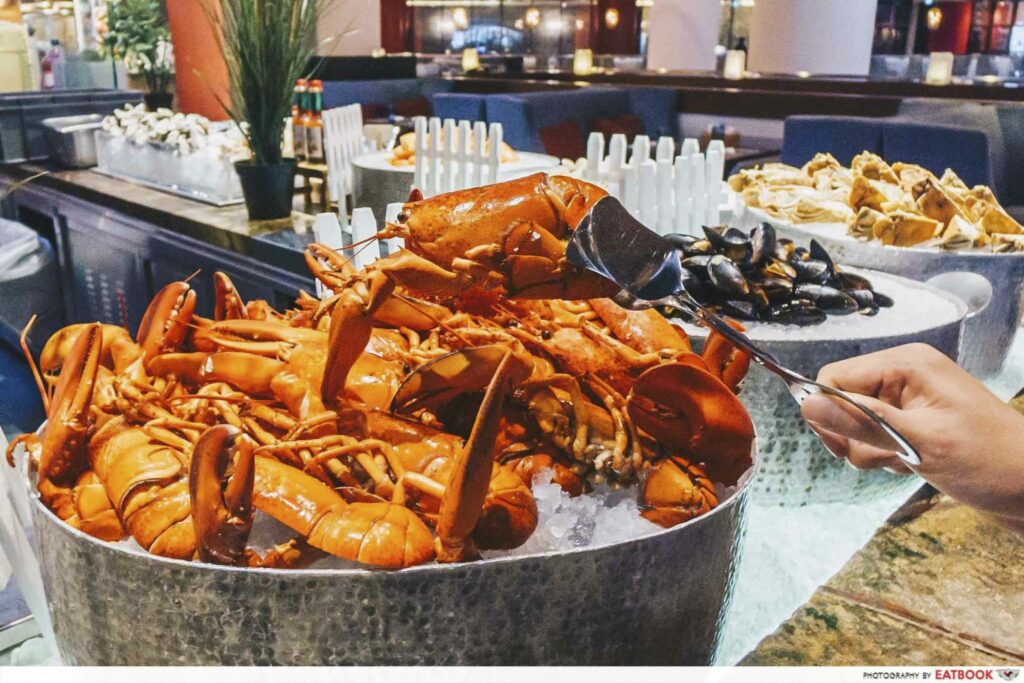 Chunky pieces of Boston lobsters can be found here, with loads of succulent meat nestling beautifully in its bright-orange shell. The lobsters get refilled pretty often, and you can choose between getting its tail or claw. I enjoyed nibbling on the claws as it has a slightly sweeter taste.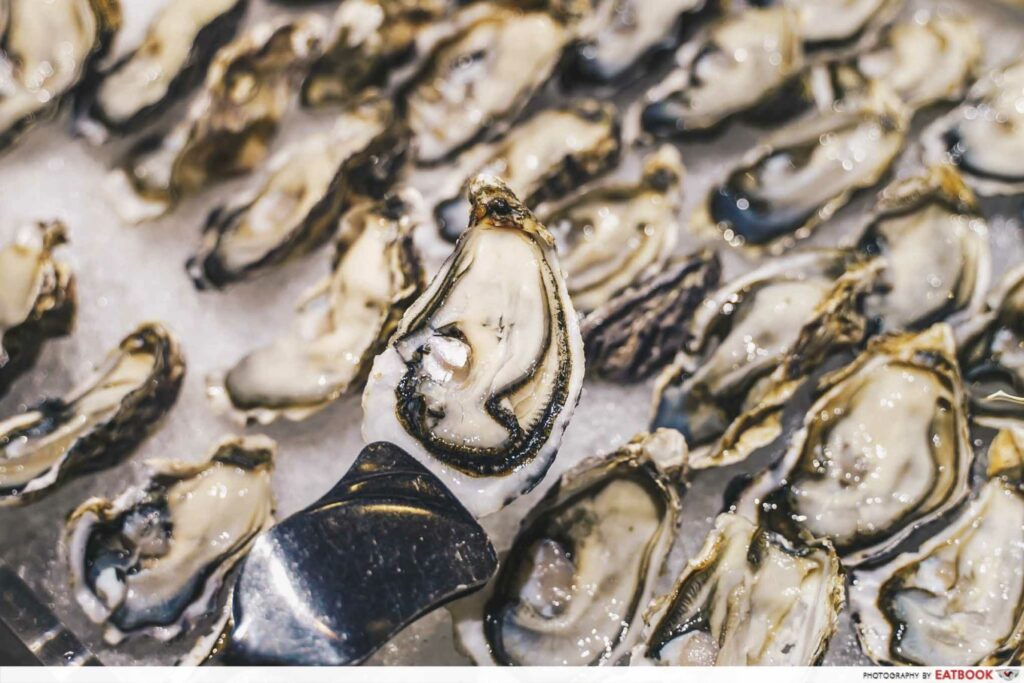 On top of the other shellfish, freshly shucked oysters are beautifully laid out on a bed of ice. A variety of house-made sauces can also be found on the side to pair them with.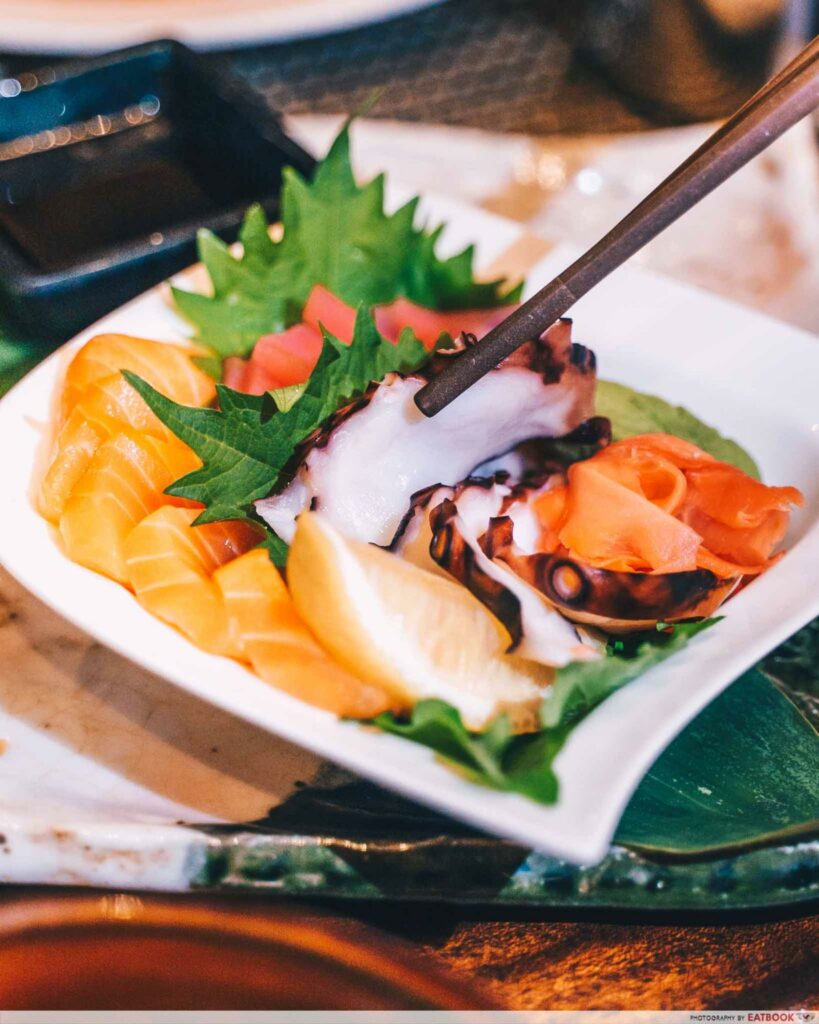 The sashimi options are plentiful, with tuna, salmon, and octopus on display. Buffet veterans will tell you that these are the most common items that get swept away pretty quickly.

Luckily, they're also speedily replenished and the chefs are more than happy to slice a couple of pieces for you if they are not yet on display.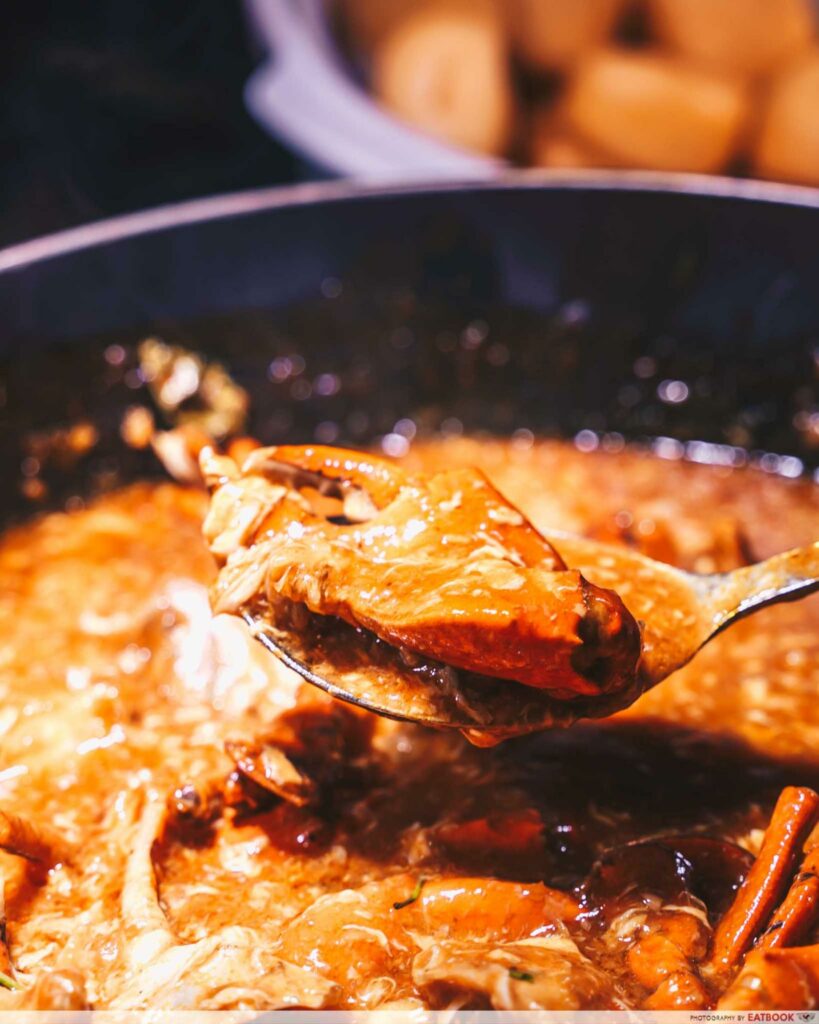 Local favourites such as Chilli Crab aren't forgotten as well. You're able to find chunks of steamed crabs that are cooked in a piquant tomato-chilli sauce here. The crabs had buttery flesh that goes well with the thick and eggy sauce.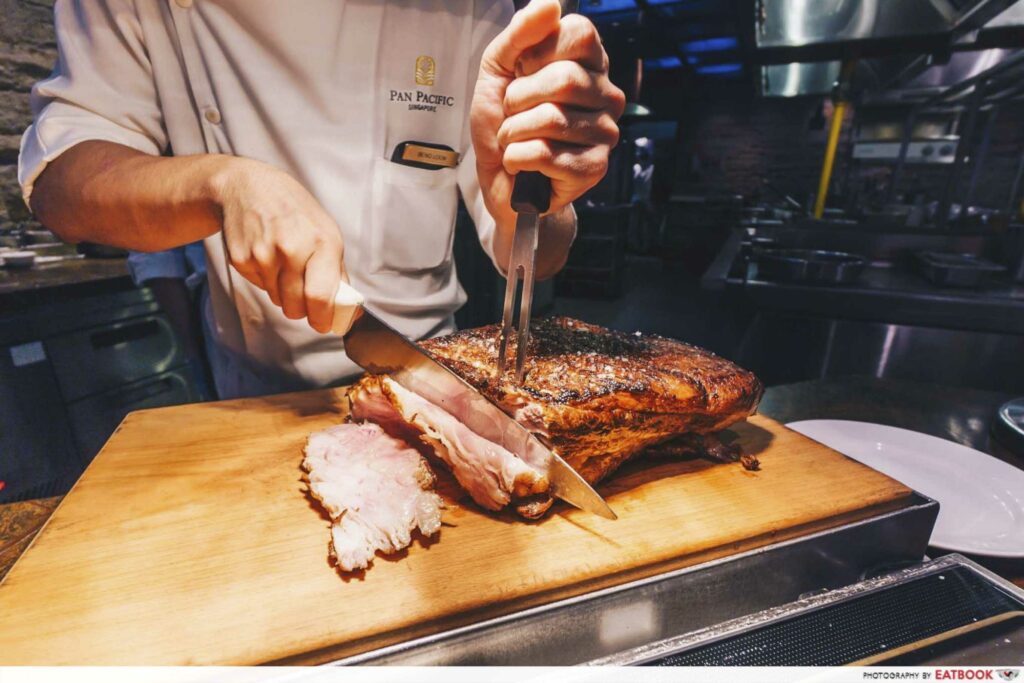 My personal favourite at the buffet was the roast beef. It's simply roasted without any fancy seasoning, and packs a real beefy punch that's accompanied by loads of lush marbling, giving it a heavenly melt-in-the-mouth texture. Beef lovers should make a beeline for this tasty roast.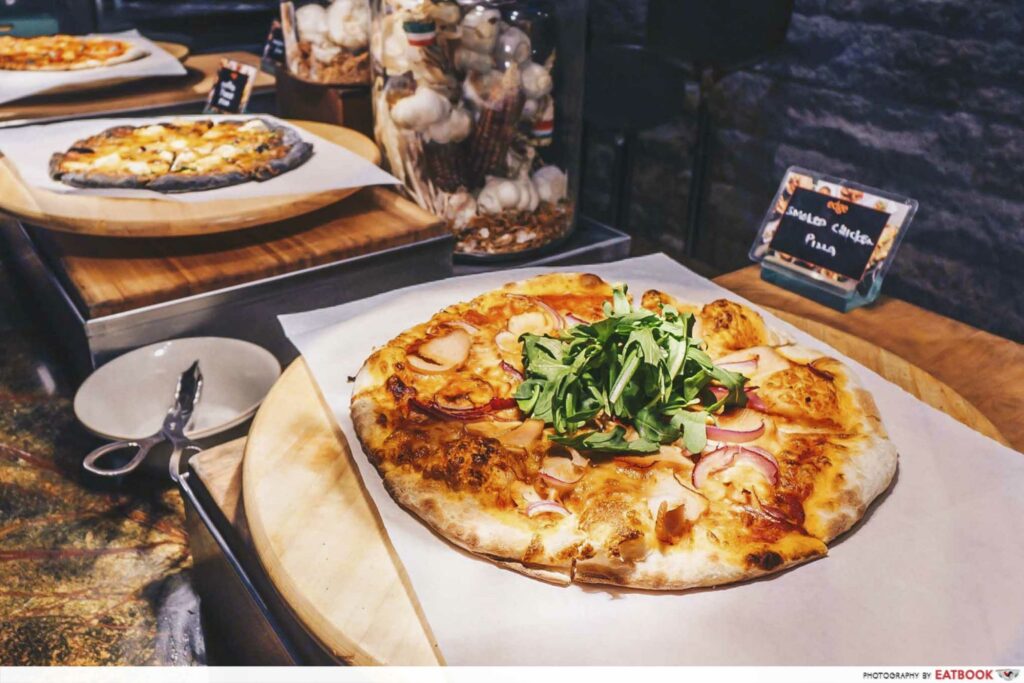 The pizzas here are freshly made inhouse, and baked in a traditional Italian-style oven that gives it a tasty char. There are quite a few varieties to choose from, including Margherita and an interesting squid-ink quattro cheese pizza.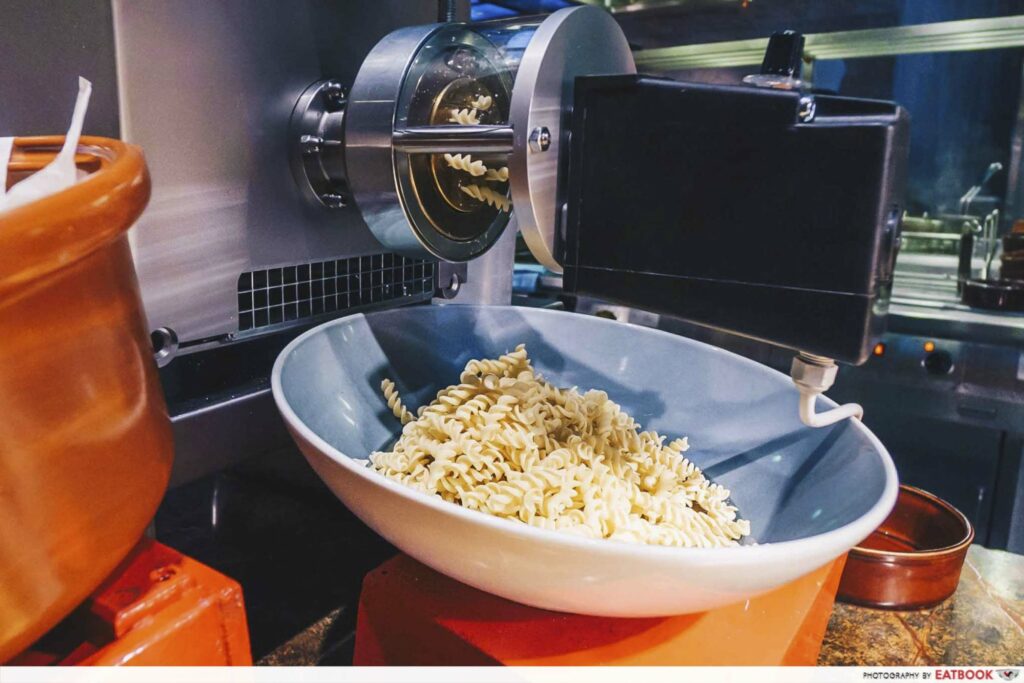 There's also a variety of house-made pasta that is freshly churned out by a machine. The spaghetti carbonara got quickly slurped up by my colleague, even before I could get much of a bite. I went for spaghetti aglio e olio instead, and liked how it had a nice aromatic kick of garlic.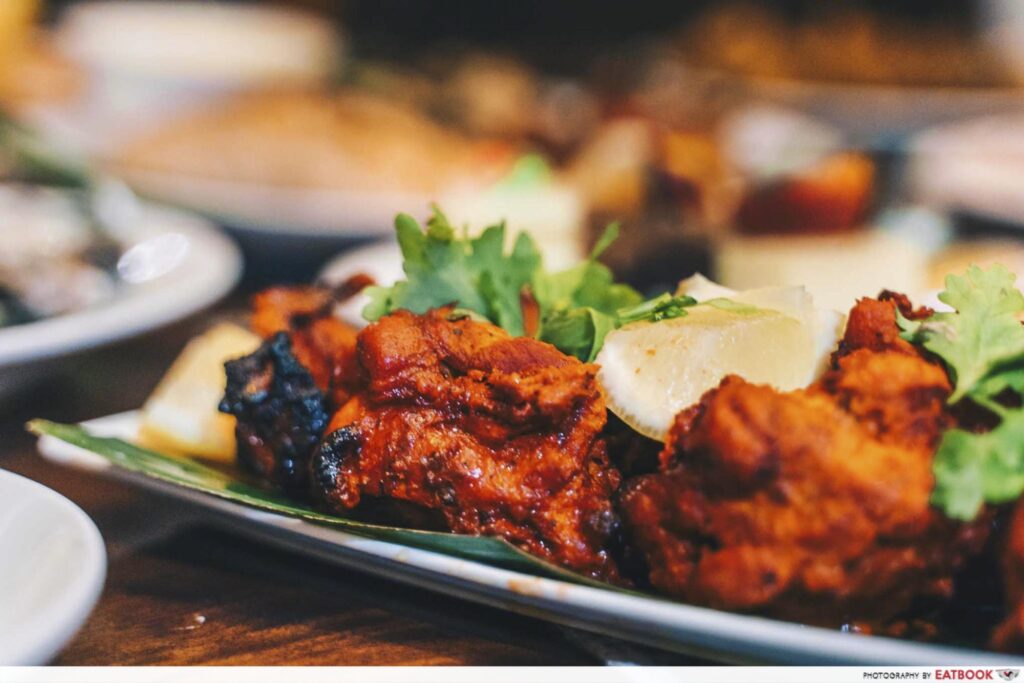 This buffet restaurant is serious about their Indian food too. Take the tandoori chicken for example. Each piece is placed in an actual tandoor that cooks the meat at a whopping 480 degrees Celsius. This gives it a special and characteristic char that is unmatched by conventional ovens.  
As exciting as cooking my own food sounds, nothing is better than getting it grilled by trained chefs. A variety of marinated meats such as squid, chicken wings, beef, and pork collar are available for selection here.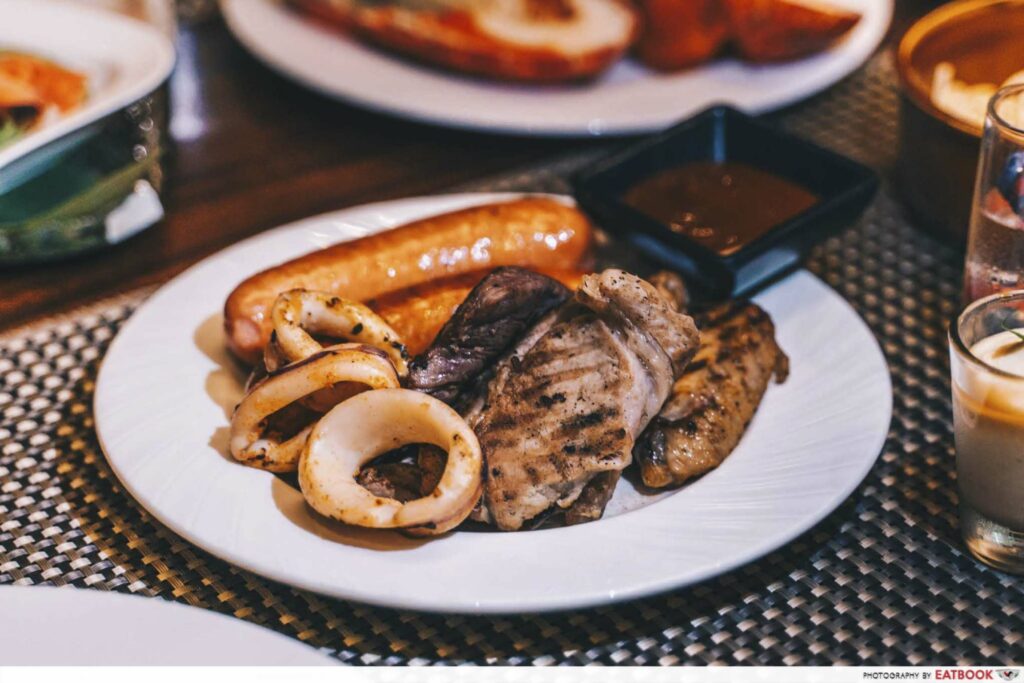 All you have to do is to get the friendly chefs to pick out the items for you, and have it expertly grilled and delivered straight to your table.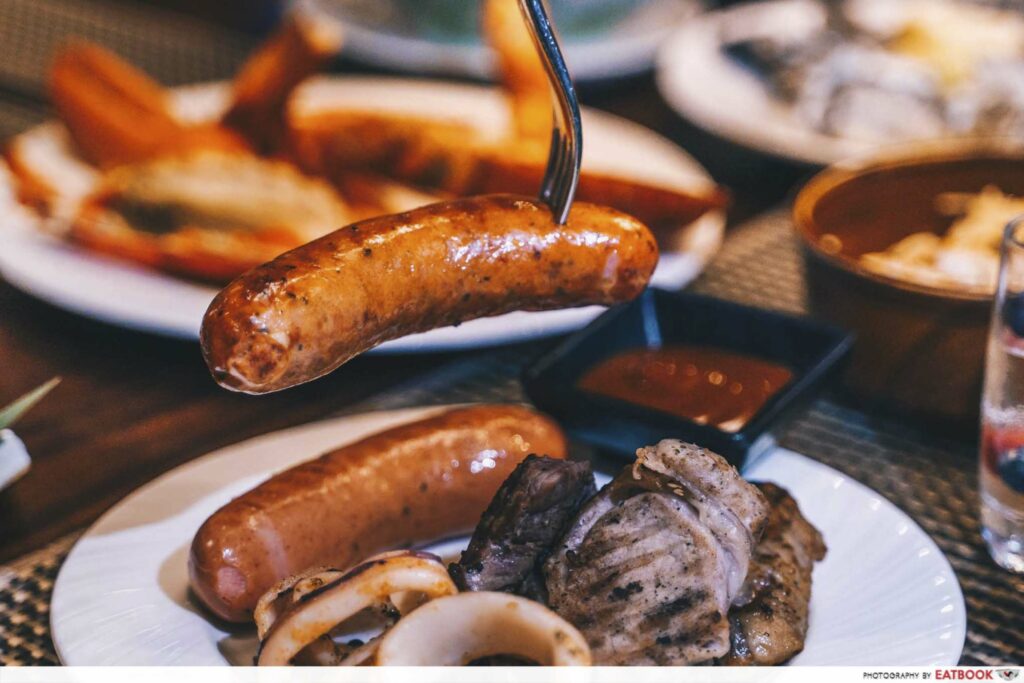 The sausages are well marinated and cooked just right. Their fats are all rendered during the cooking process, making them nice and juicy.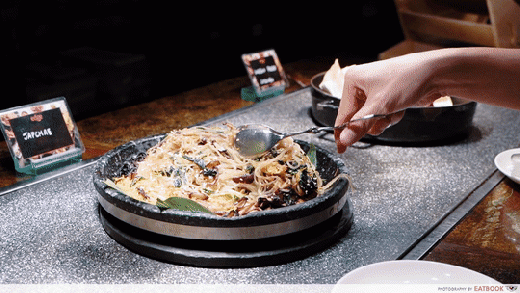 It's not just stock-standard buffet fare here. There are various thematic setups that change periodically. The restaurant was serving up Korean food when we were there, and we had the chance to sample classic favourites such as Korean Fried Chicken and Japchae.

Our favourite was the Japchae. Its springy glass noodles were chewy, and are lightly kissed with a breath of fragrant toasted sesame oil.

For those who're looking to visit Edge soon, keep an eye out for their upcoming themes. They're having a Sichuan theme from 1 to 26 October 2019, Halloween on 2 and 3 November 2019, and Festive Specials from 11 November 2019 to 1 January 2020. Prices may vary for themed buffets so call beforehand to check.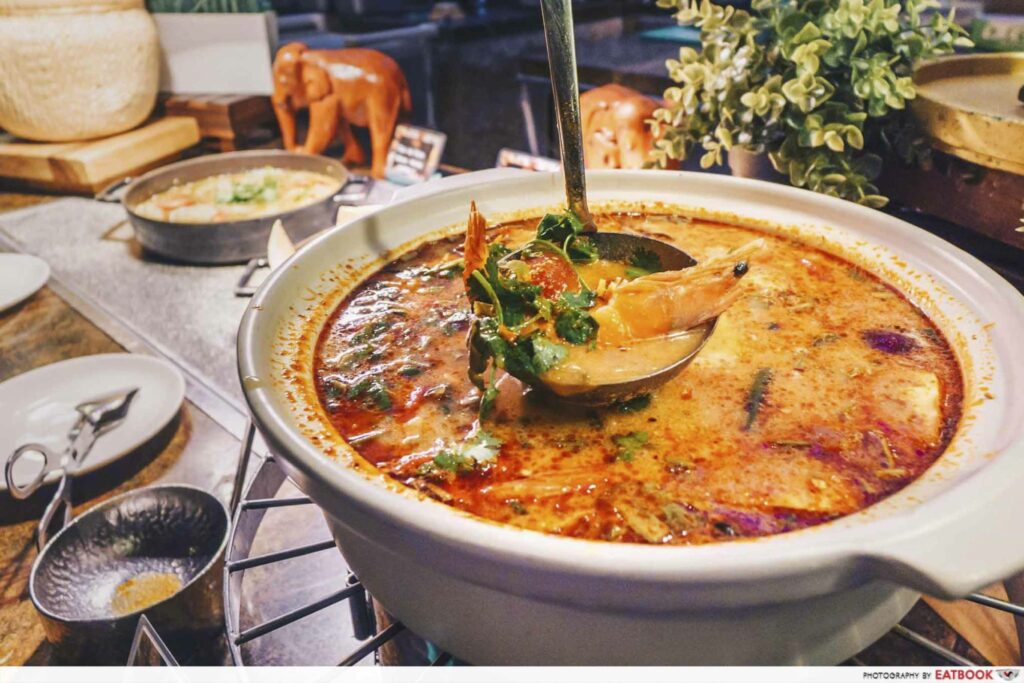 A bubbling pot of Seafood Tom Yum can also be found at the Thai station, along with Som Tum and Fried Squid. The tom yum soup is cooked in the traditional Bangkok style, and packs a real flavourful punch with its sweet and sour flavours.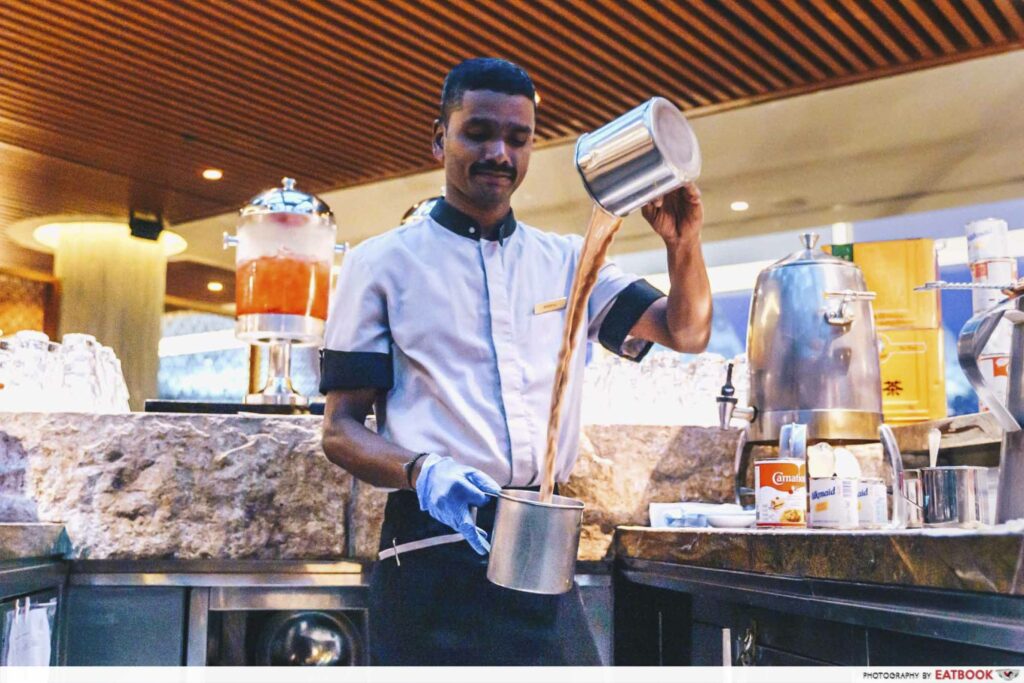 Unlimited tea and coffee are also available for you to quench your thirst after a hearty meal here. Special mention goes out to the Teh Tarik, which was expertly pulled by the baristas and remained nice and frothy without being overly sweet.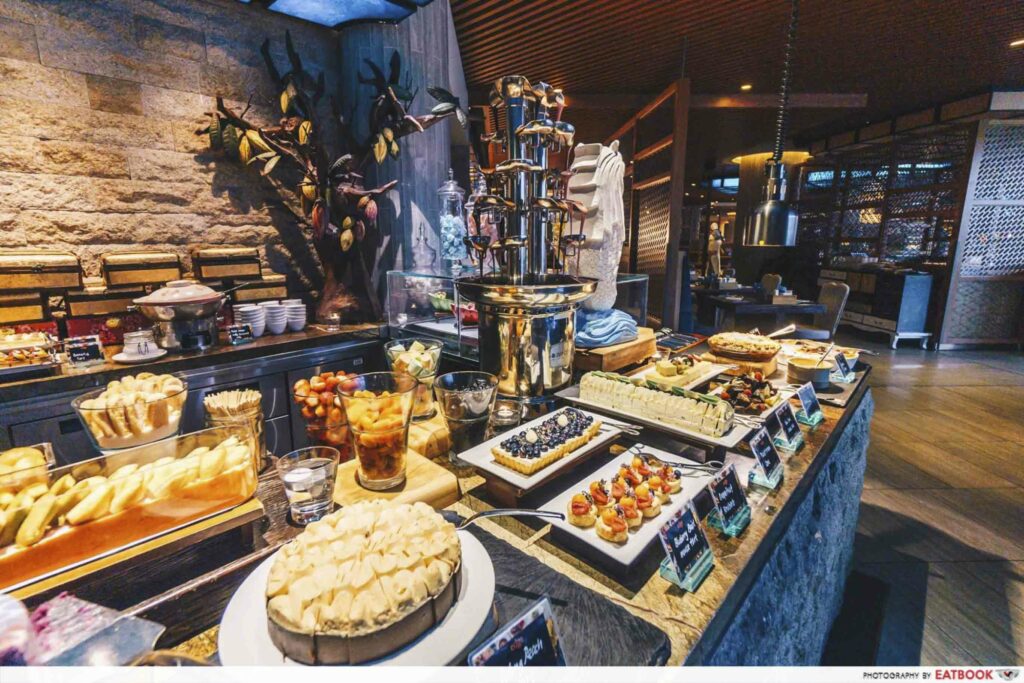 I maintain a strict 90:10 ratio when dining at buffets; 90% for the mains and 10% for desserts. But at Edge, the ratio gets switched to 80:20. The dessert spread stretches on for quite a bit, with a variety of pastries, tarts, and even kueh to choose from.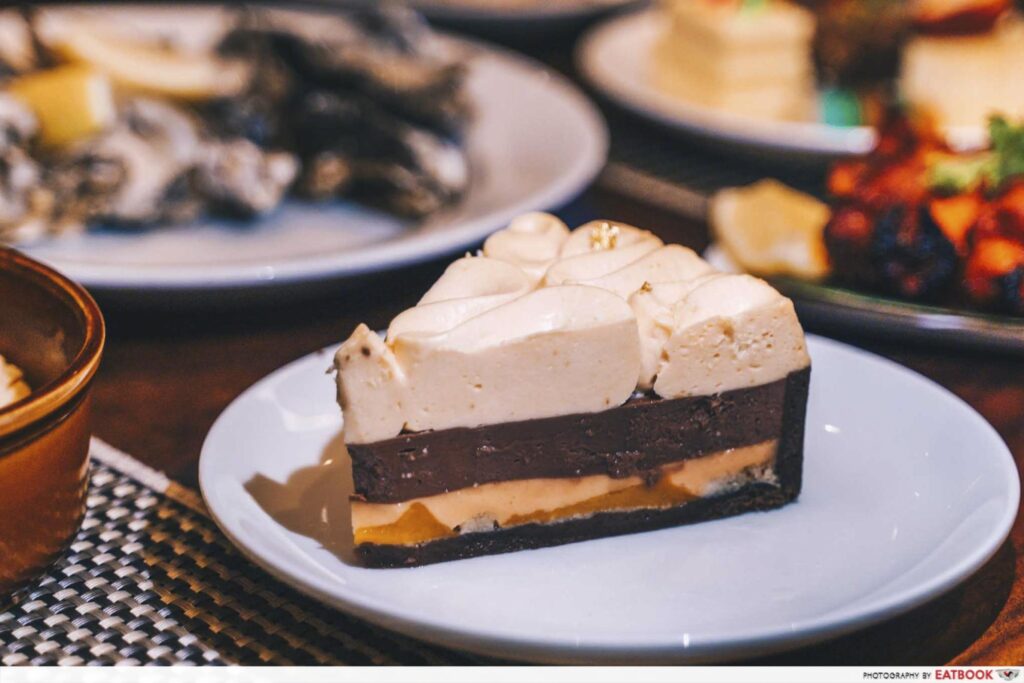 The seasonal Oolong Peach Tart is a three-layer tart that comprises aromatic oolong cream, creamy chocolate mousse, and a sourish peach filling that nicely balances everything. It's difficult to combine sharp flavours with chocolate, but the master patissiers here do it expertly well.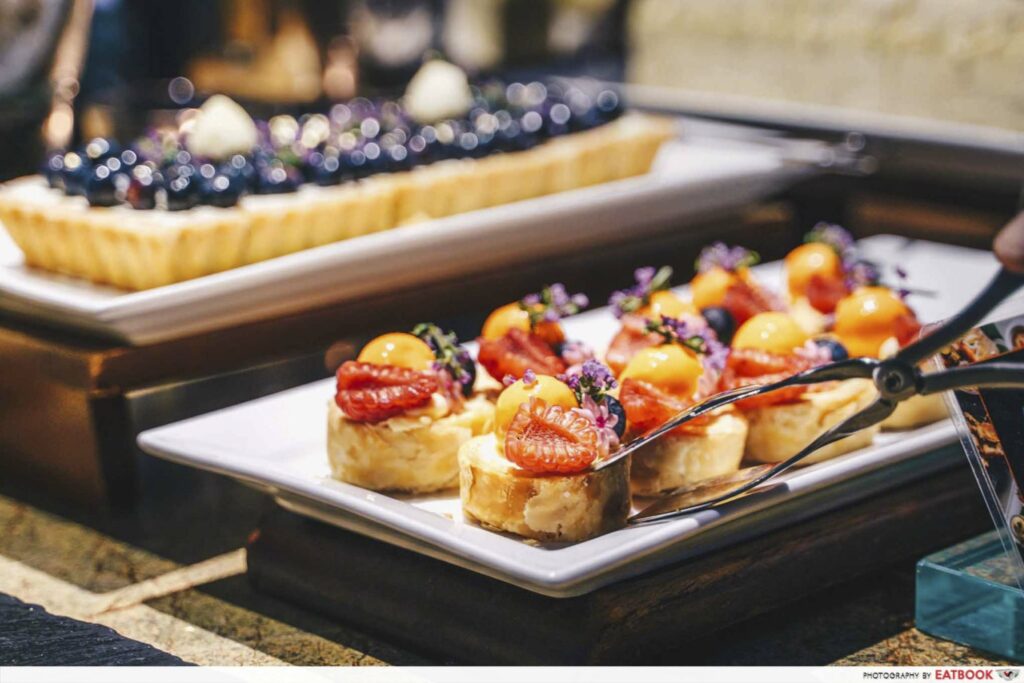 You can also fill up on a variety of petit pastries here. These fruit tarts were particularly addictive, and we couldn't stop at eating just one of them.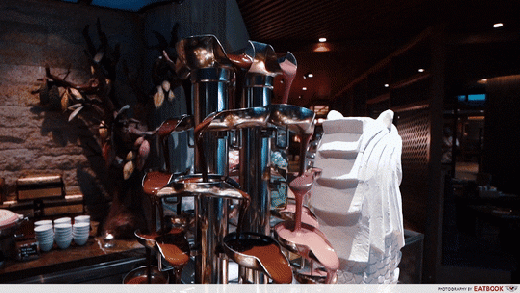 There's also a fondue station that not only lets you coat fruits and marshmallows with molten chocolate, but also with a refreshing strawberry sauce as well.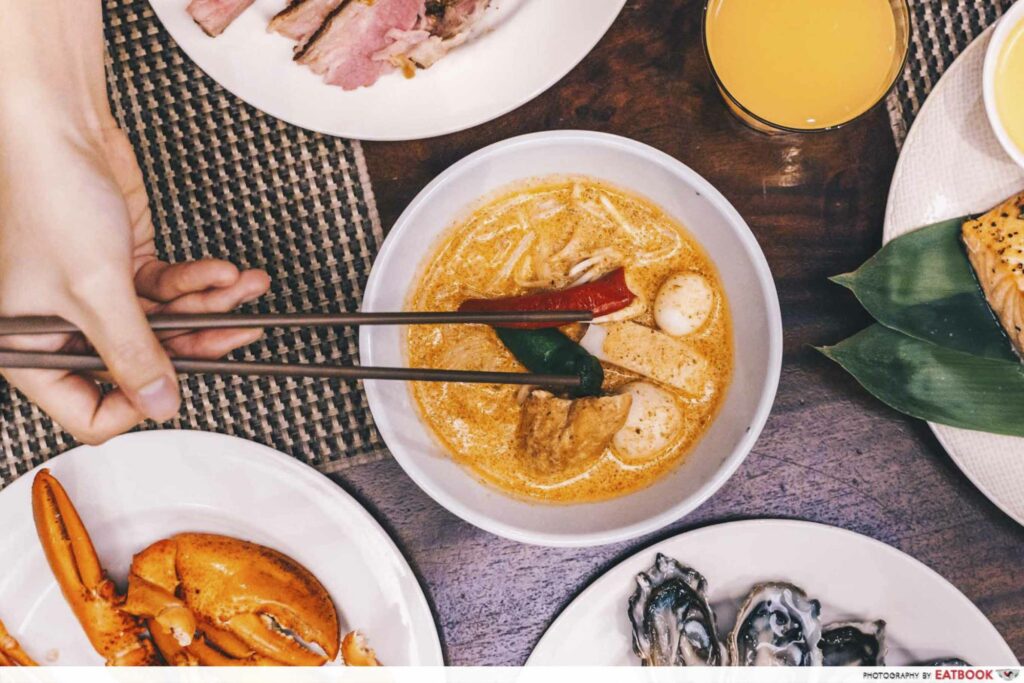 You'll be able to find a similar lineup that includes the same generous seafood spread during lunch, but at a cheaper price. Adults will have to pay $55++ on weekdays, and $60++ on Saturdays. 
The menu rotates slightly during each session, so you might be able to find Ampang yong tau foo and oven-baked salmon with saffron cream sauce when you're here.
Ambience at Edge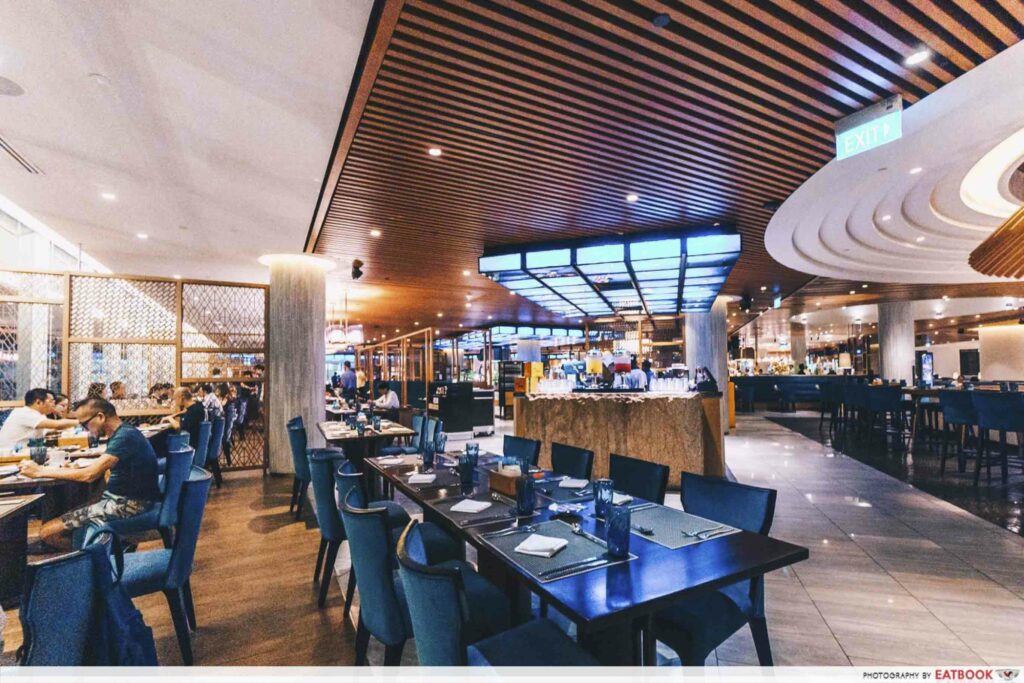 Located at the Pan Pacific Singapore, this charming restaurant oozes a laid-back and elegant charm that makes it ideal for a long night of feasting on delicious fare. The staff were quick to clear the plates away, and we liked how smooth and efficient the service was. 

Boasting a picturesque view of the Singapore Flyer and Marina Bay Sands, this restaurant also lets you get a glimpse of the laser beams shooting into the night skies during the light and water show.
Getting there isn't too much of a hassle, with a five-minute walk from either Promenade or Esplanade MRT stations. 
The verdict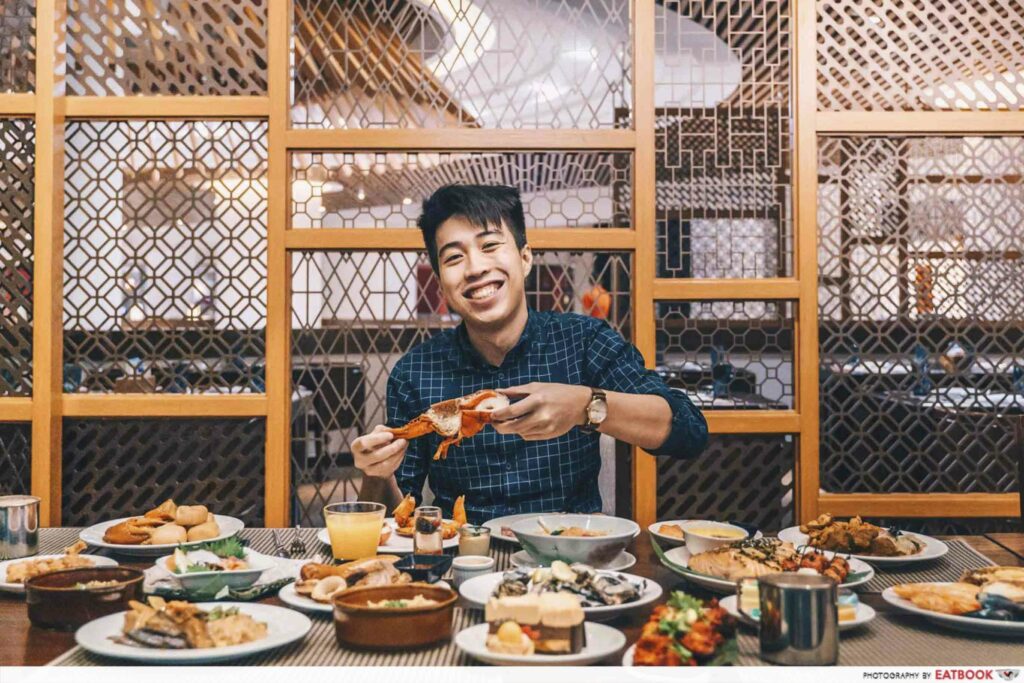 Buffets are a great way to sample a whole load of delicious food all at once. While some focus on a single type of cuisine, Edge throws in an expansive spread of food that ought to excite anyone.
Most of the dishes were executed well and there are plenty of classic dishes that impressed us. If the chefs could add an innovative spin to some of their dishes like what they did with the Oolong Peach Tart, I would give Edge a perfect rating. 
From now till 15 December 2019, you can get 20% off lunch and dinner buffets here by simply quoting <EB20> when making your reservation. You'll also get a complimentary glass of wine or a mug of beer if your dining party has a minimum of six adult diners! Take note that this promotion code is not valid on the eve of public holidays and public holidays, and also for Edge's Sunday brunch.

Address: 7 Raffles Boulevard, Level 3, Pan Pacific Singapore, Singapore 039595
Buffet hours: Mon-Sat 12pm to 2:30pm, 6:30pm to 10:30pm, Sun 6:30pm to 10:30pm
Tel: 6826 8240
Website
Edge is not a halal-certified eatery.

Photos taken by Pepita Hope Wauran.
This post is brought to you by Pan Pacific Singapore. 
Summary
Pros
– Most of the food were delicious
– Beautiful ambience
– Great variety
Cons
– Buffet could have included more innovative dishes 
Recommended dishes: Roast Beef, Grilled Bratwurst, Peach Oolong Tart 
Opening hours: Mon-Sat 12pm to 2:30pm, 6:30pm to 10:30pm, Sun 6:30pm to 10:30pm
Address: 7 Raffles Boulevard, Level 3, Pan Pacific Singapore, Singapore 039595