Get legit Japanese snacks at EVERY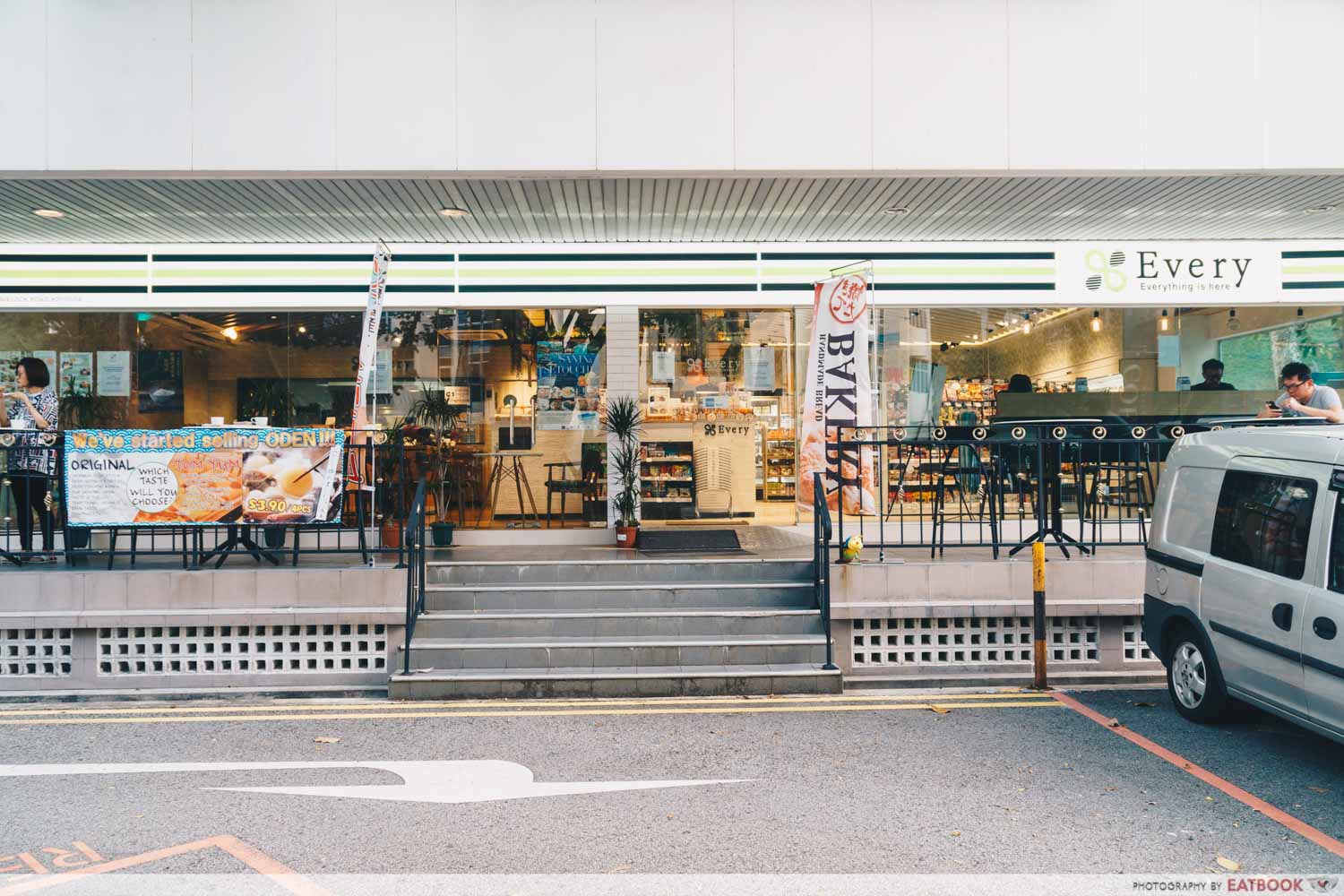 Tucked away in Tiong Bahru is a two-unit convenience store that looks like it's been plucked right out of Japan. Inside, EVERY looks exactly like a legit Japanese convenience store—the kind you'll see as you walk down the bustling streets of Tokyo.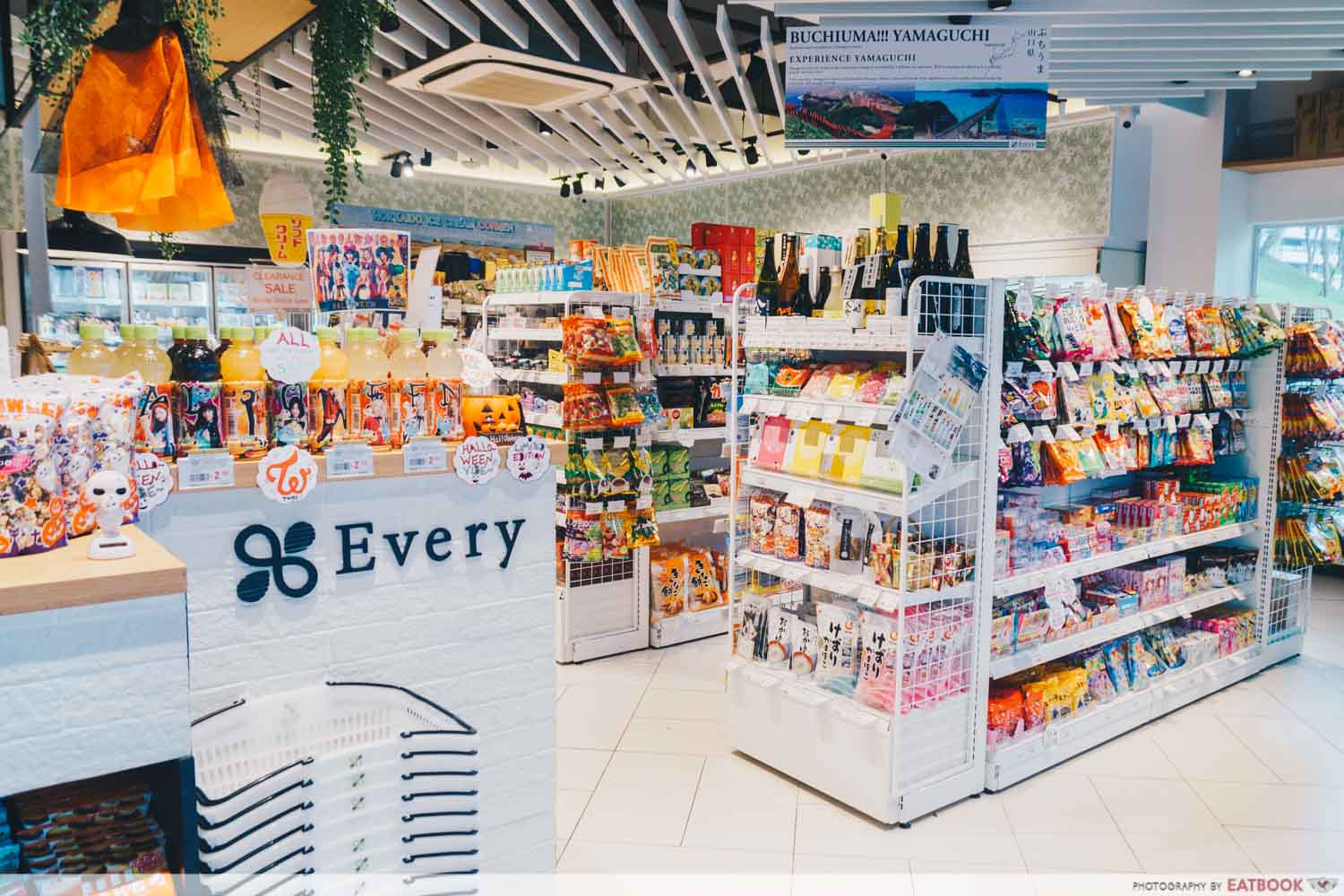 As soon as the doors slid open, we were greeted by the upbeat notes of J-pop, playing from the speakers overhead. A kaleidoscope of bright packaging sat on the first aisle. Most of the snacks, marked with kanji and grinning mascots, were completely foreign to me.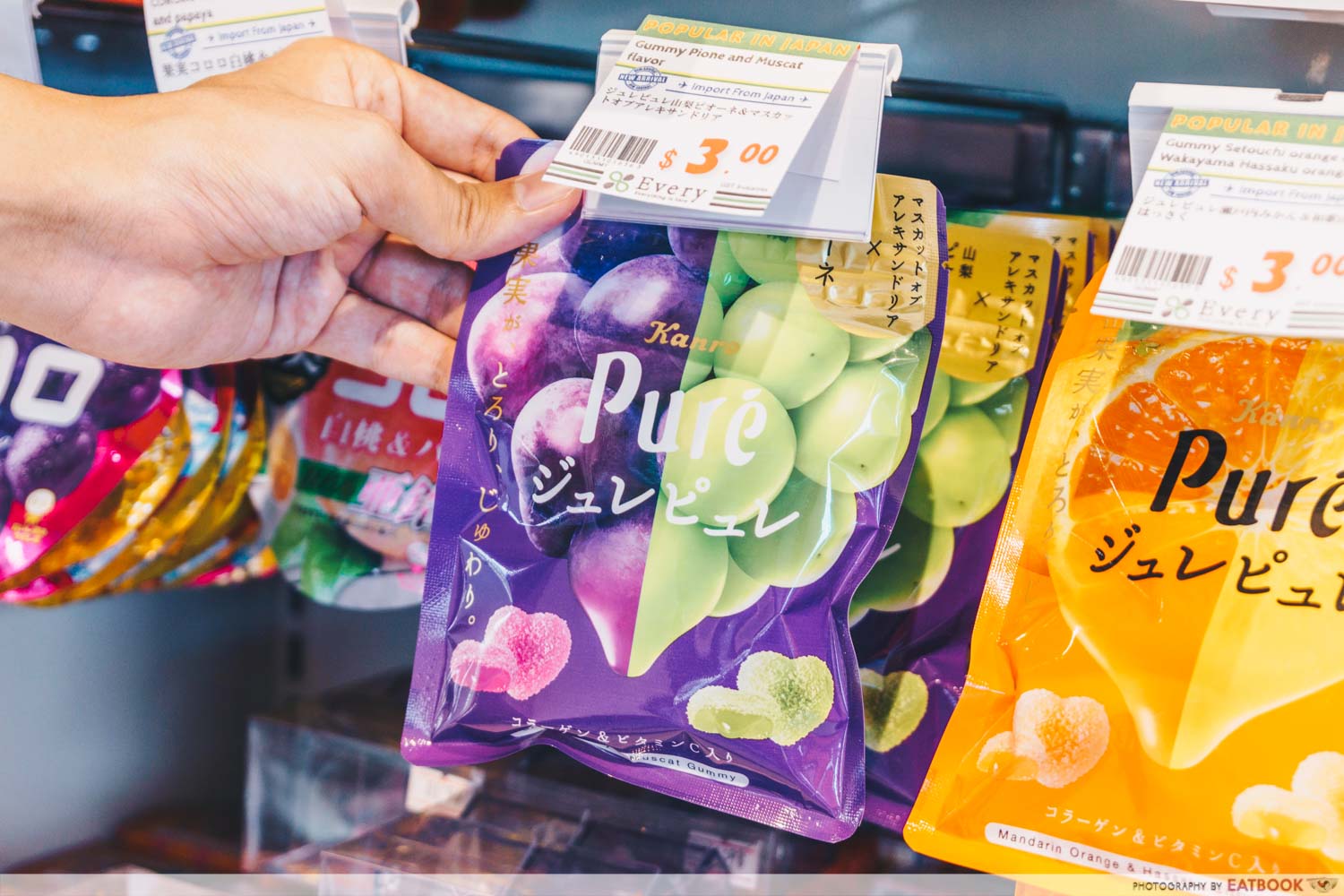 With so many vividly packaged options on the shelves, I wasn't sure what to go for. When I asked about the most popular choice, the staff recommended the Pure Gummy – Pione and Muscat Flavor ($3). The packet of heart-shaped sweets was imported from Japan, along with pretty much everything else here.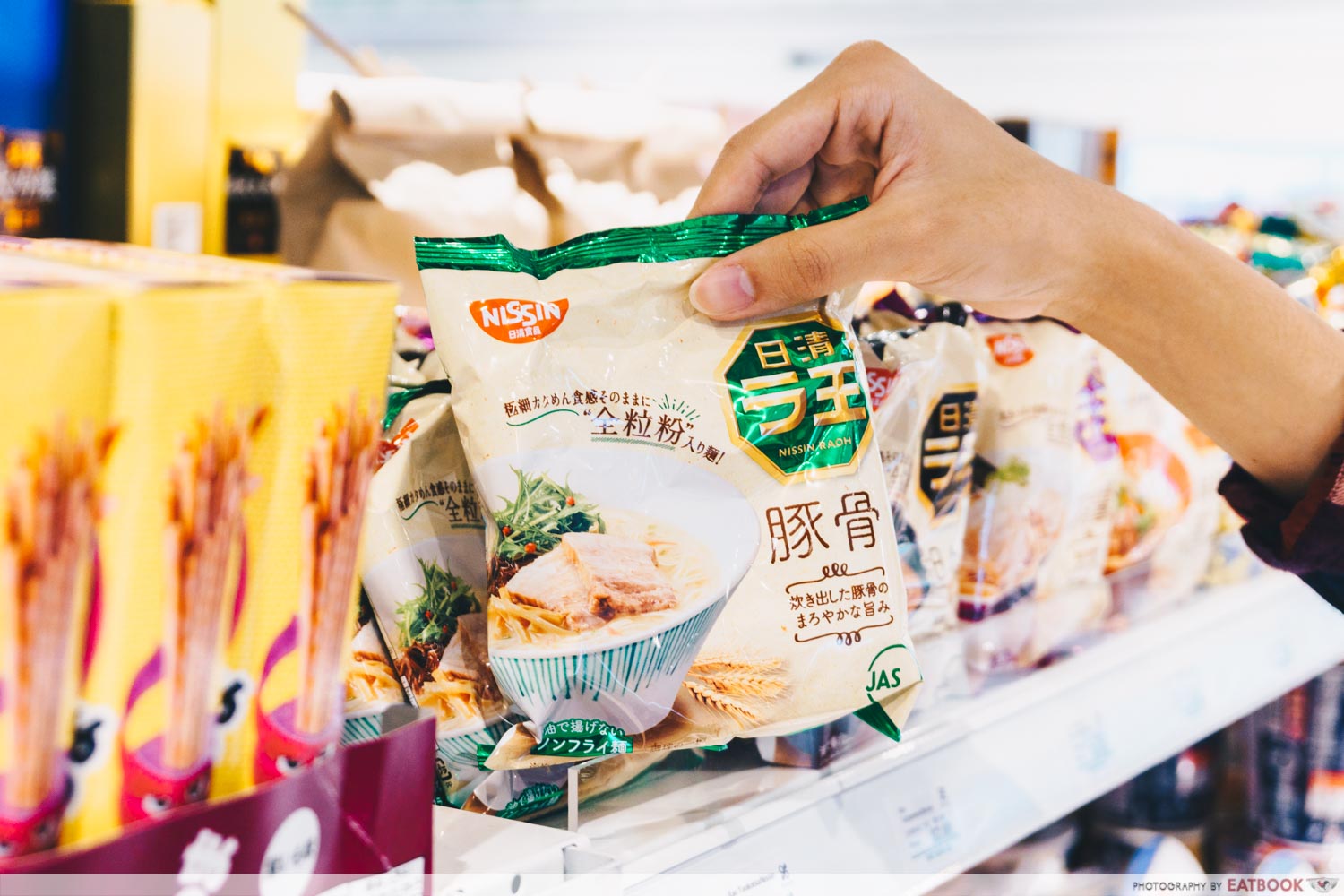 Most of us have looked on in envy at Instagram posts of Japanese ramen. Whether it's robust tonkotsu ramen or Michelin-starred cup noodles, Japan has it much better than us when it comes to these cheap and convenient meals. Luckily, EVERY has brought a little piece of that here. 
The Nissin RAOH – Tonkotsu ($2) comes with whole-grain noodles and the soup is a cloudy tonkotsu broth. You can pop open the noodles right there in the store's cafe, and enjoy a quick meal without putting a dent in your wallet.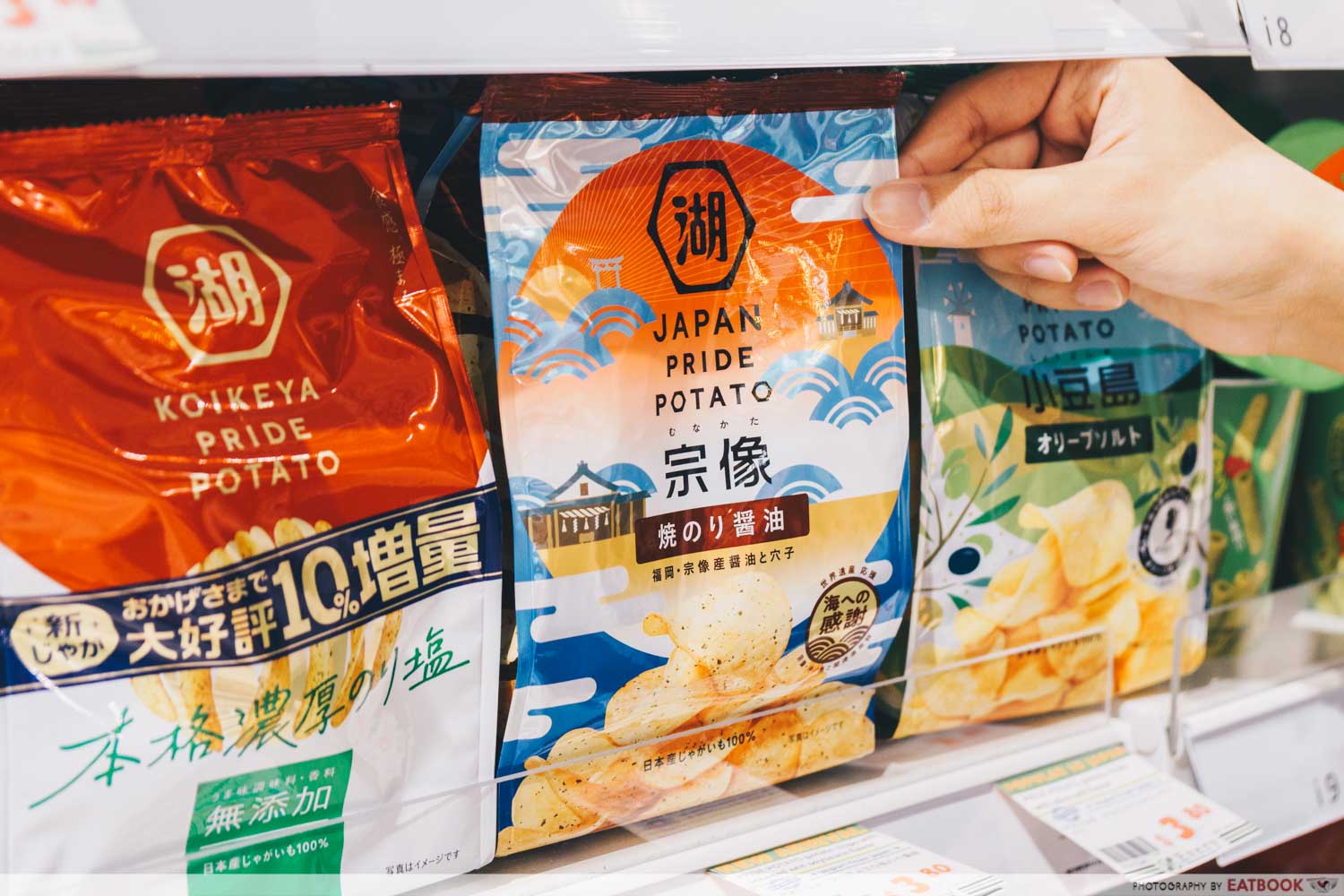 Calbee isn't the only high-quality chip brand in Japan. EVERY imports Koikeya's JAPAN PRIDE POTATO Potato Chips ($3.80), coming in Seaweed & Soy Sauce flavour, and Olive Salt flavour. The crispy chips are flavourful and have just the right thickness. Koikeya uses only Japanese-grown potatoes for their chips. You'd be hard-pressed to find most of EVERY's products in other stores unless you go all the way to Japan for the real deal.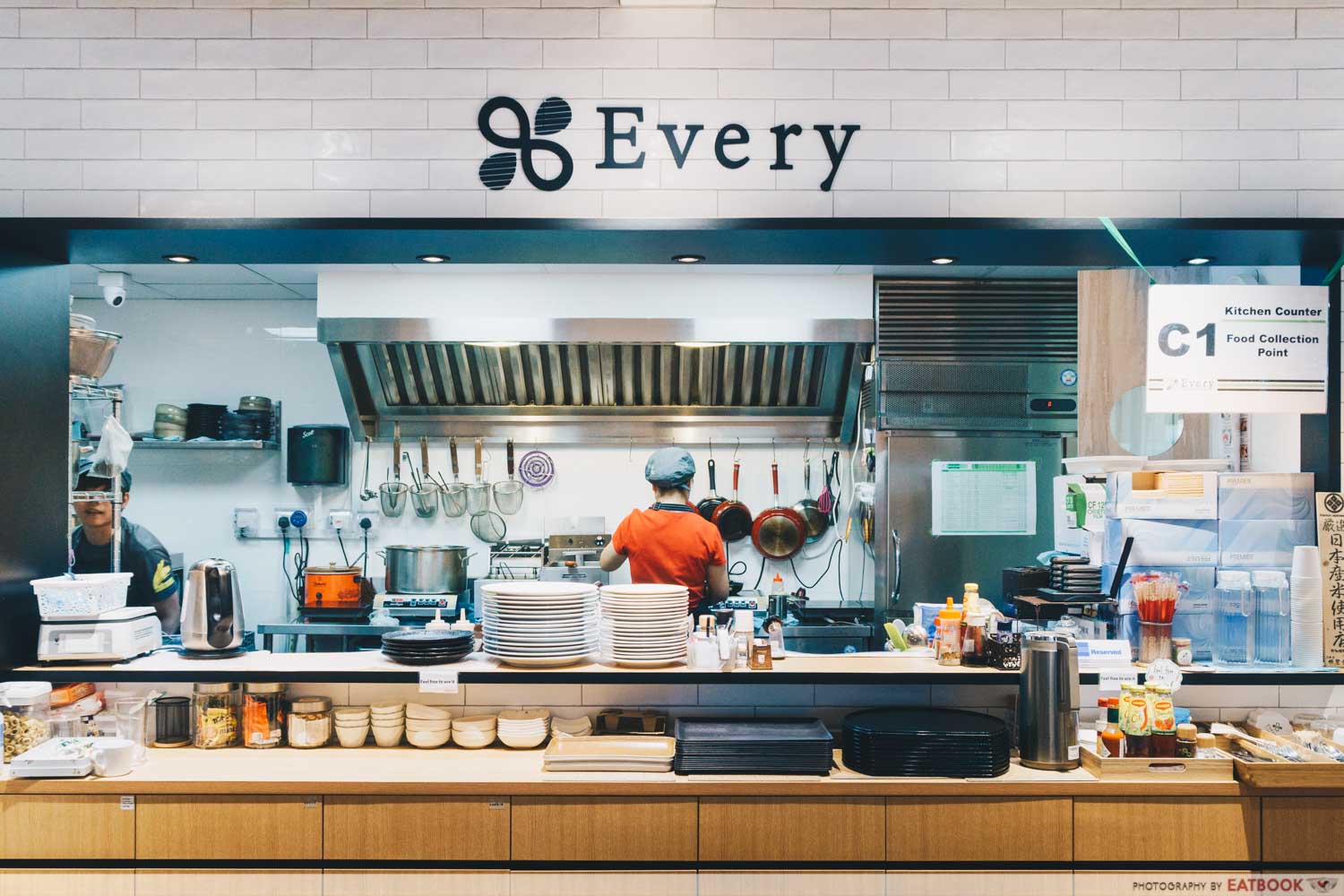 Right next to the convenience store section is EVERY's cafe. The cosy eatery is locally staffed and helmed by an experienced Japanese Head Chef, with prices kept affordable. EVERY offers Japanese-Italian pasta, appetisers, and katsu sandwiches. Almost everything is below $15. On top of that, the cafe dishes all come at nett prices.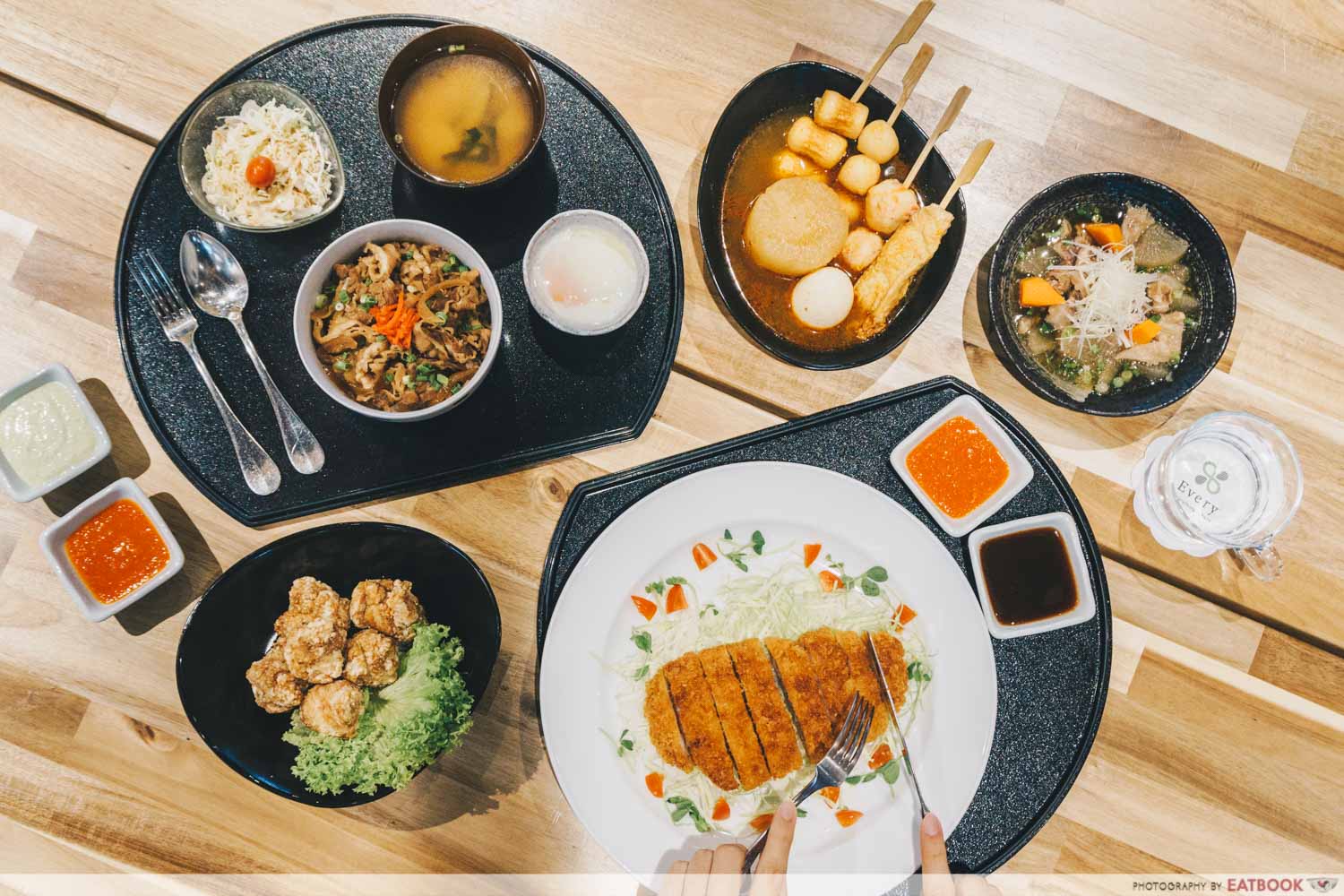 On weekdays, the cafe offers limited-edition set meals. Only 15 of these are made daily, and the $10 value meals vary from day to day.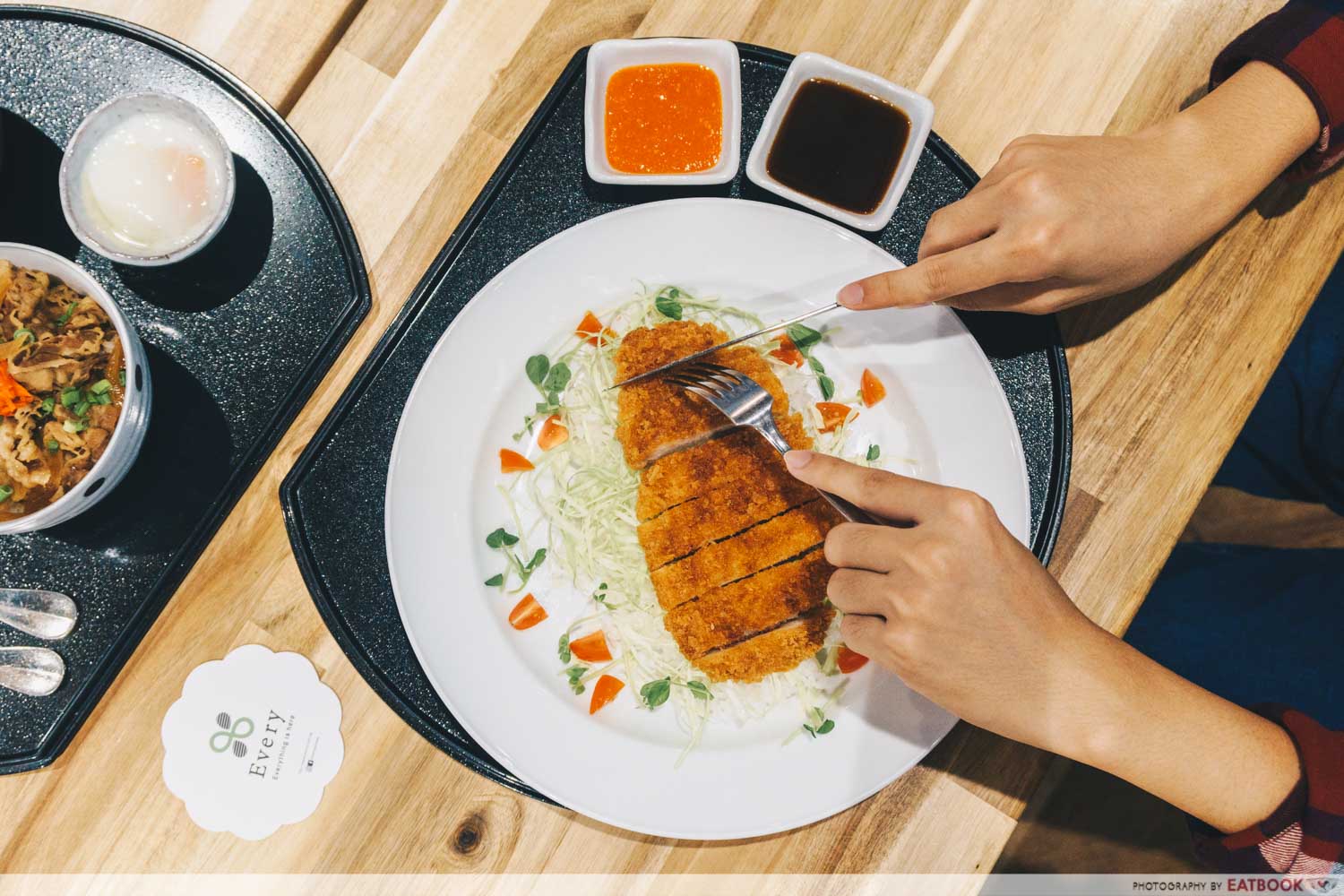 The first set we tried was the Spicy Pork Katsu Plate. This huge cutlet is inspired by Nagoya's Miso Katsu and is served with chilli and tonkatsu sauce to suit local tastebuds. The dish is usually only available on Wednesdays.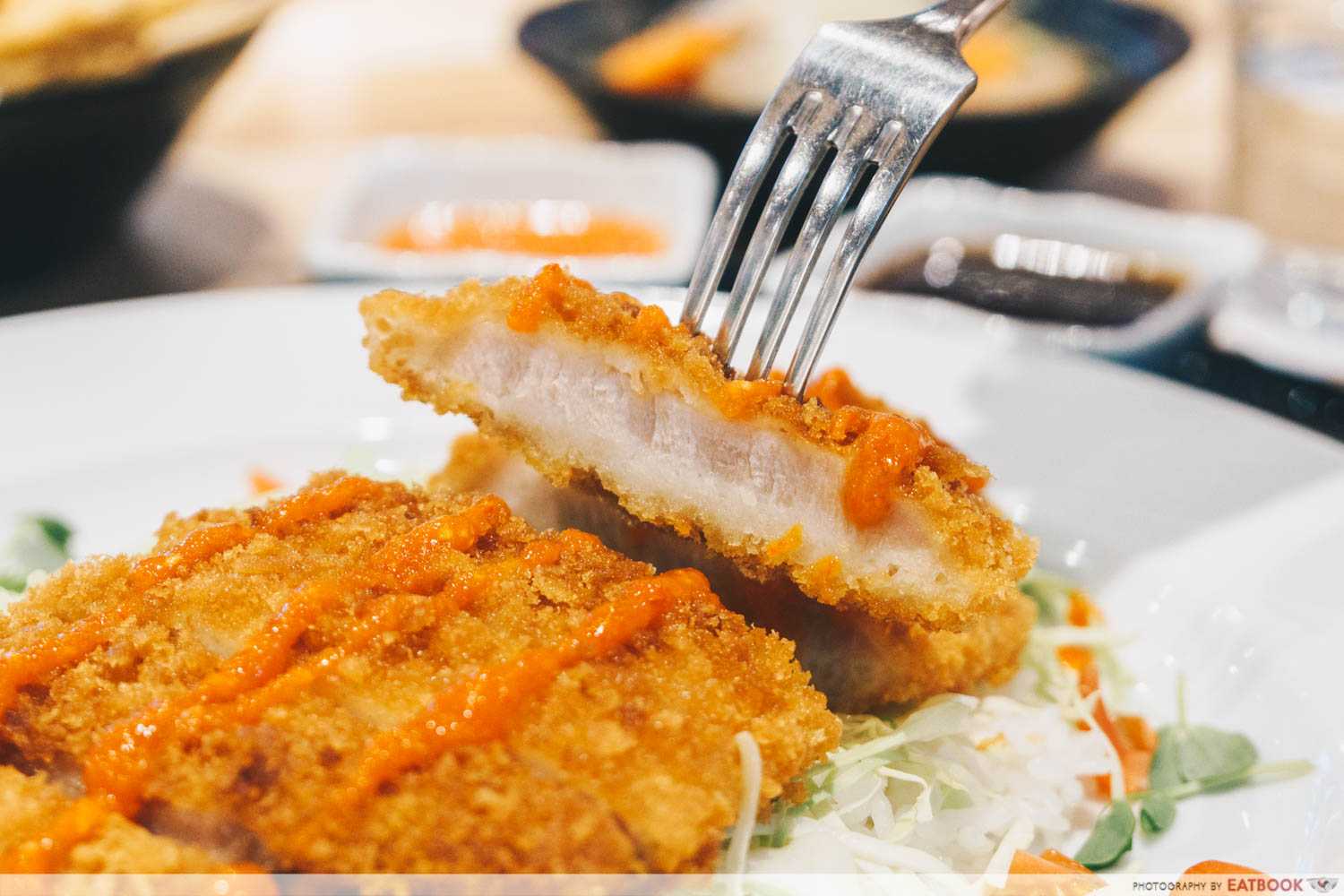 The meat was remarkably thick with a light layer of breading. The house-made chilli had a spicy-sweet tinge, which gave a bit more flavour to the generous slice of succulent pork.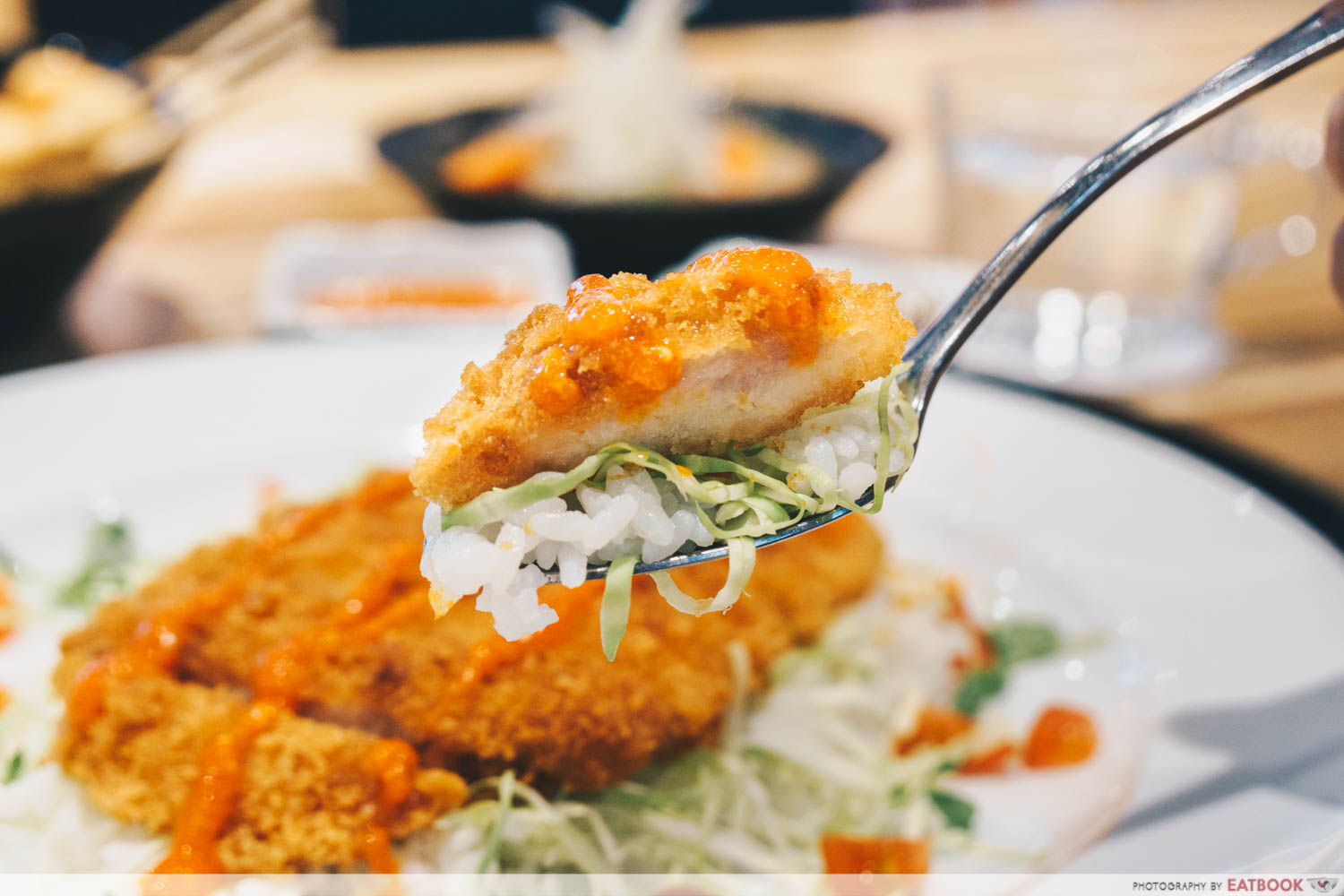 It came on a bed of fresh shredded cabbage with Hokkaido rice underneath. While most imported Japanese rice arrive pre-polished, EVERY receives their rice whole and processes it in Singapore. This lets the rice keep a sweeter, fresher taste, since it's sent to shelves directly after being prepared.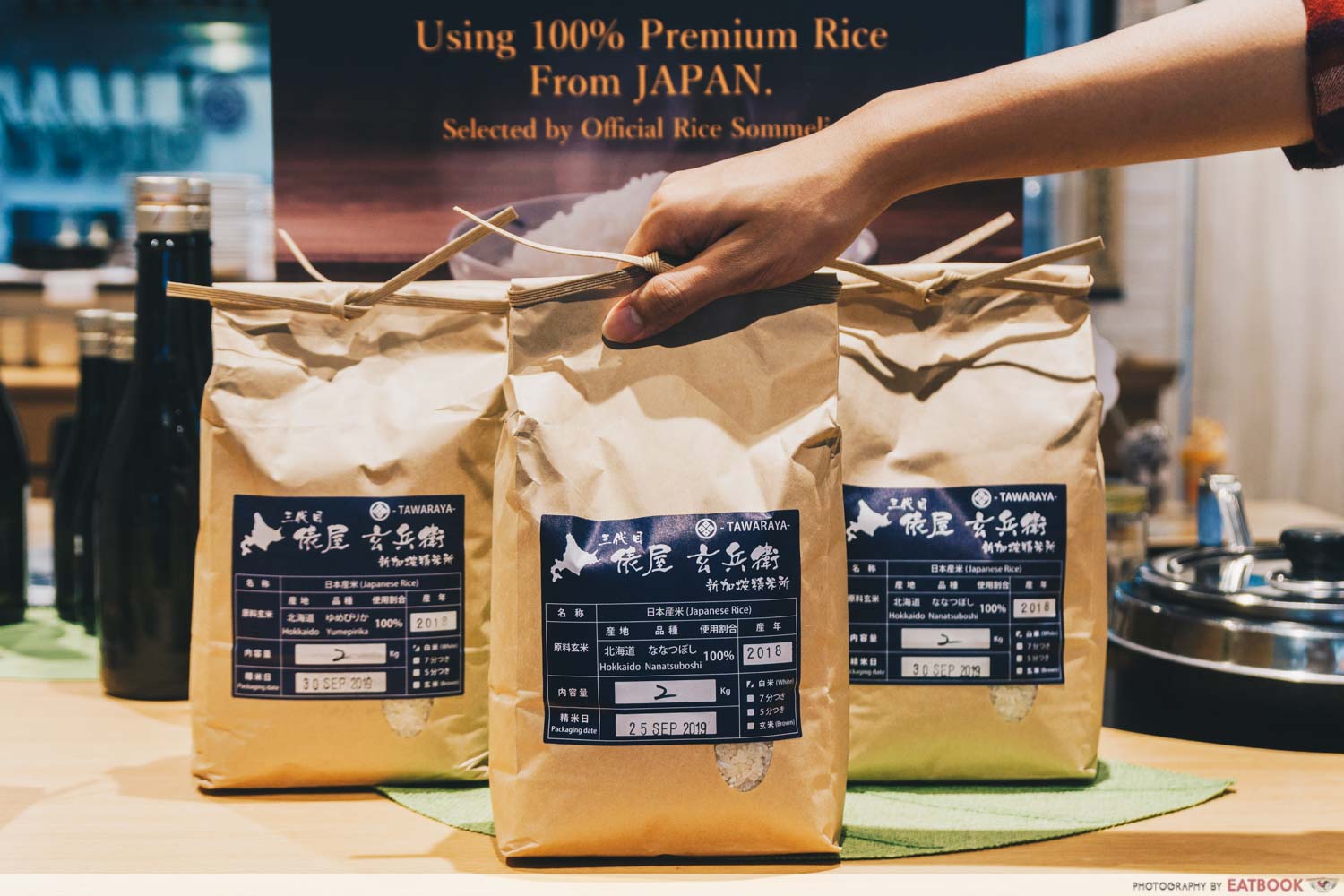 It costs $23 for a 2kg bag of premium Yumepirika Rice. The pearly grains were consistently delicious, with a slightly firmer texture than jasmine rice. They were sticky, yet didn't clump together. 
The other type of rice is the Nanatsuboshi ($19), with a lighter flavour and texture that's usually used for rice balls.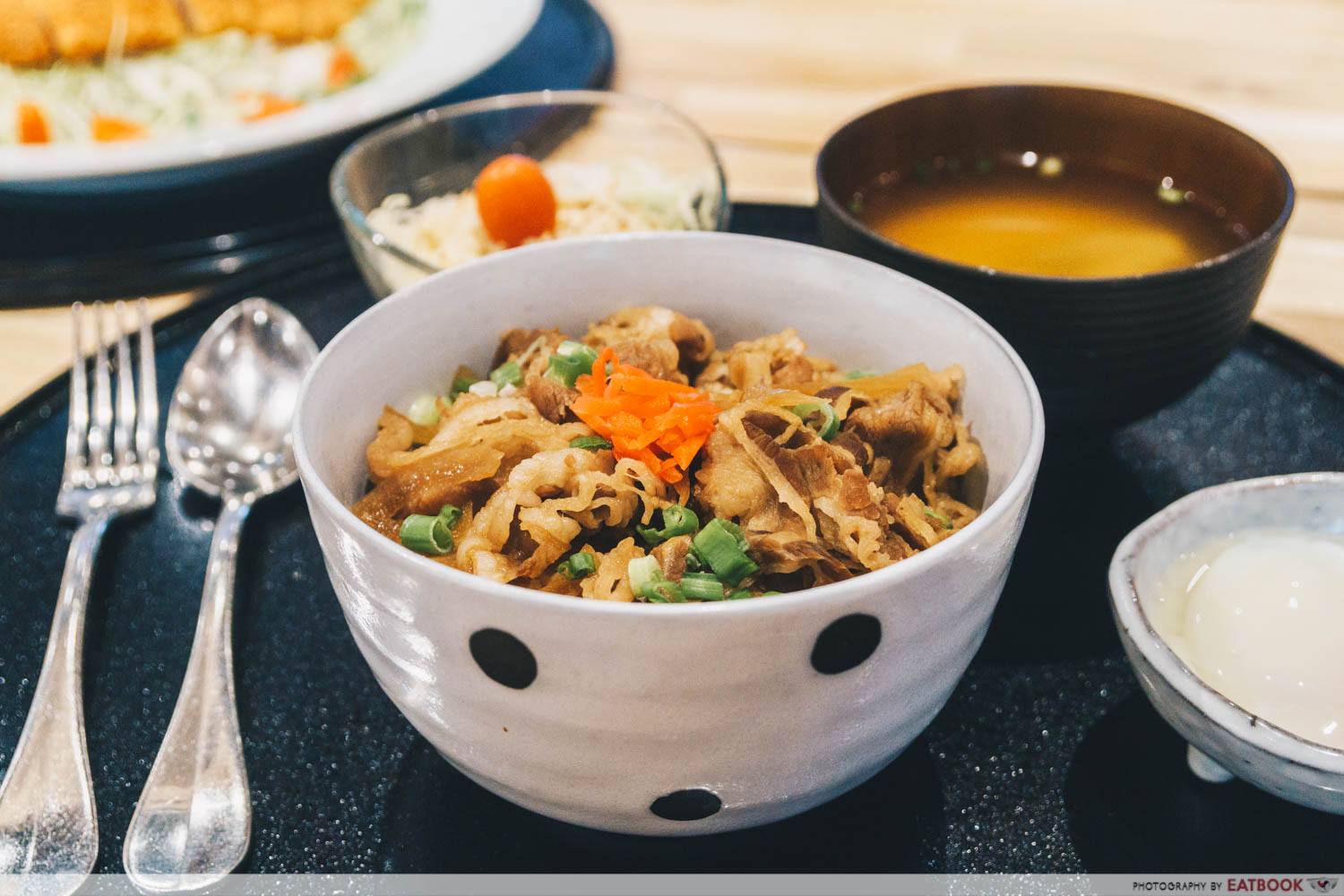 Another set meal is the Gyudon & Onsen Tamago Set, which was served with a bowl of salad and thick miso soup. It came with a garnish of pickled ginger and spring onions. There was a substantial amount of meat, completely covering up the rice in a thick blanket. The beef bowl is only sold on Fridays.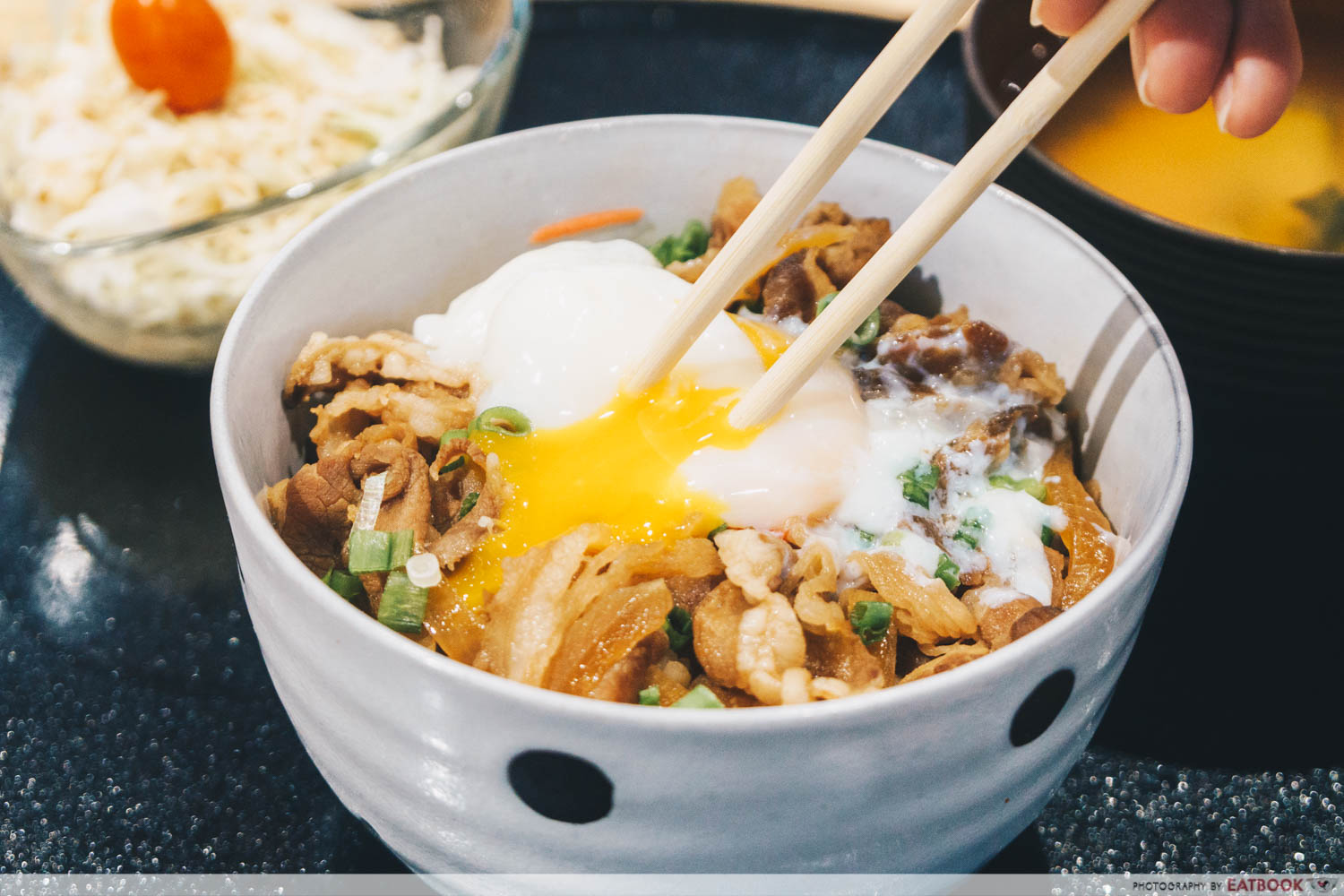 We poured the runny egg into the bowl and mixed it up with the rice and beef. The creamy egg burst open at a light touch, letting the beautiful golden yolk seep out into the bowl.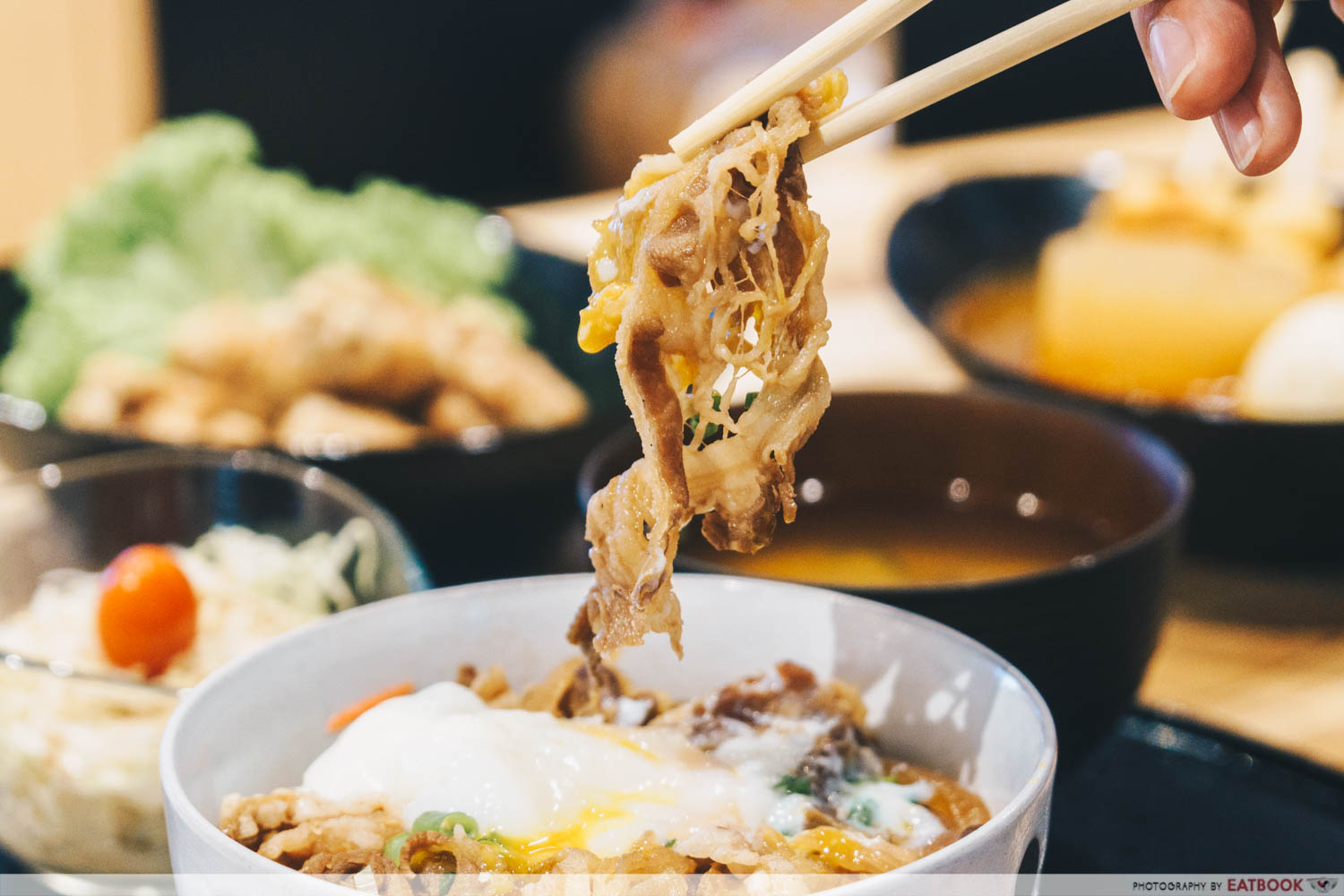 The meat was thin, tender, and tasty, with strips of chewy fat running through it. It was seasoned well, and its savouriness was pronounced. While the chunks of meat weren't as thick and plentiful as the pork cutlet, the beef had a stronger taste.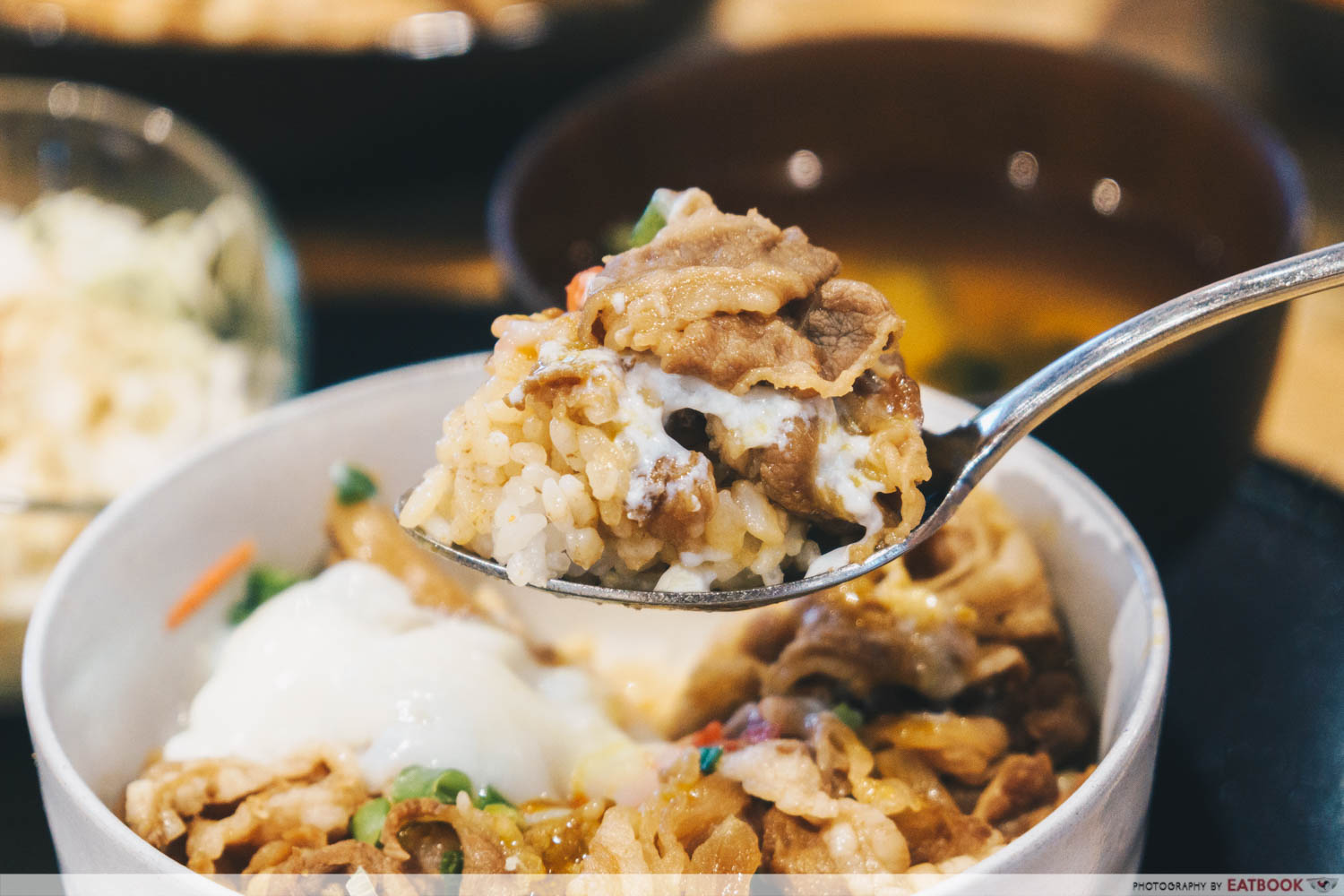 Mixing it up caused the silky egg to coat the pearls of Hokkaido rice and tender beef, giving the whole spoonful a smooth mouthfeel. At just $10 for this set, with sides included, it definitely offers great value. You'll have to come down early, though, since the lunch sets are limited.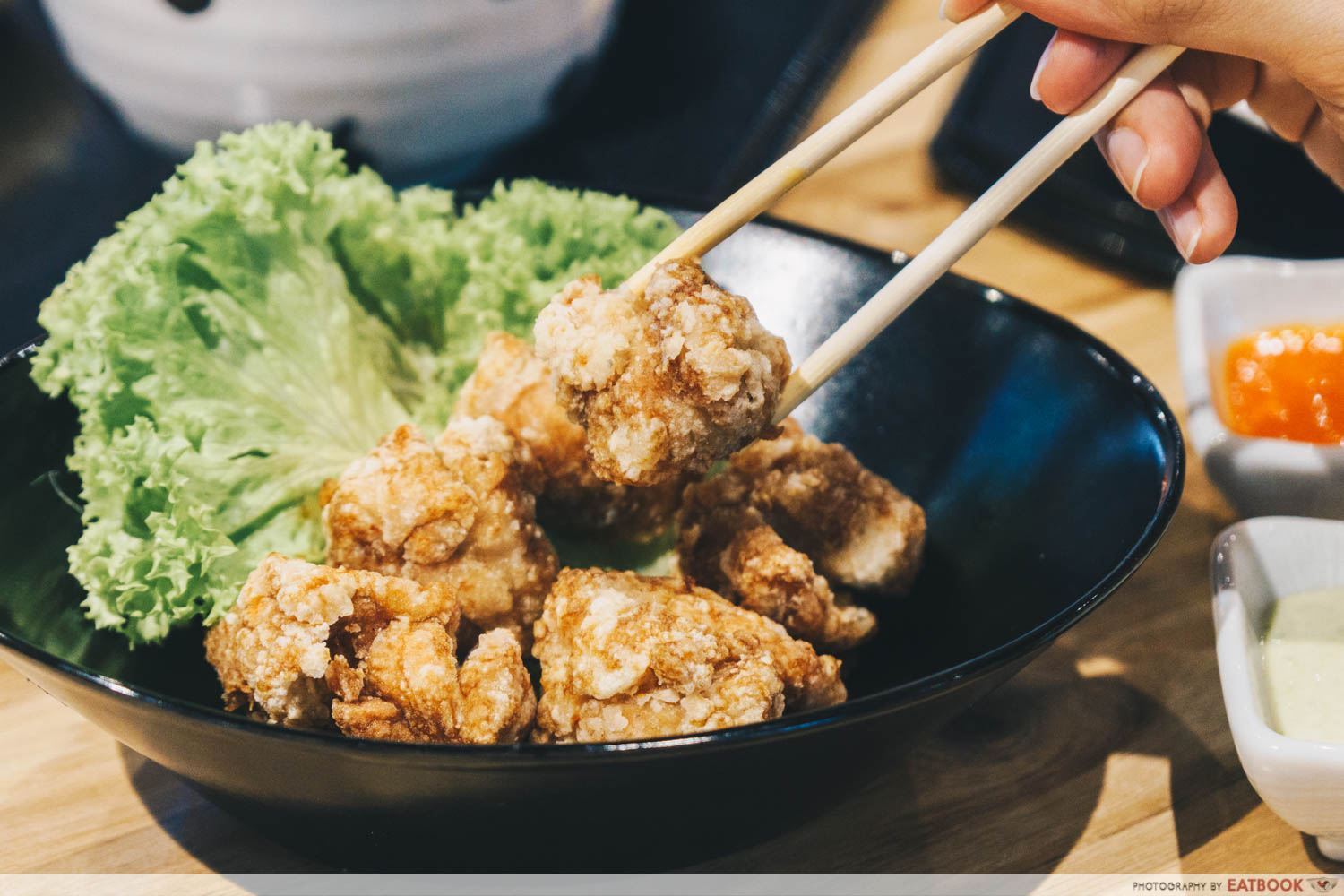 The Chicken Karaage ($7.40) comes with either wasabi mayo dip or the house-made chilli sauce. The chunks of chicken were meaty and juicy. There was far more meat than batter, which is the hallmark of good karaage. The thin layer of breading was still crispy and salted evenly.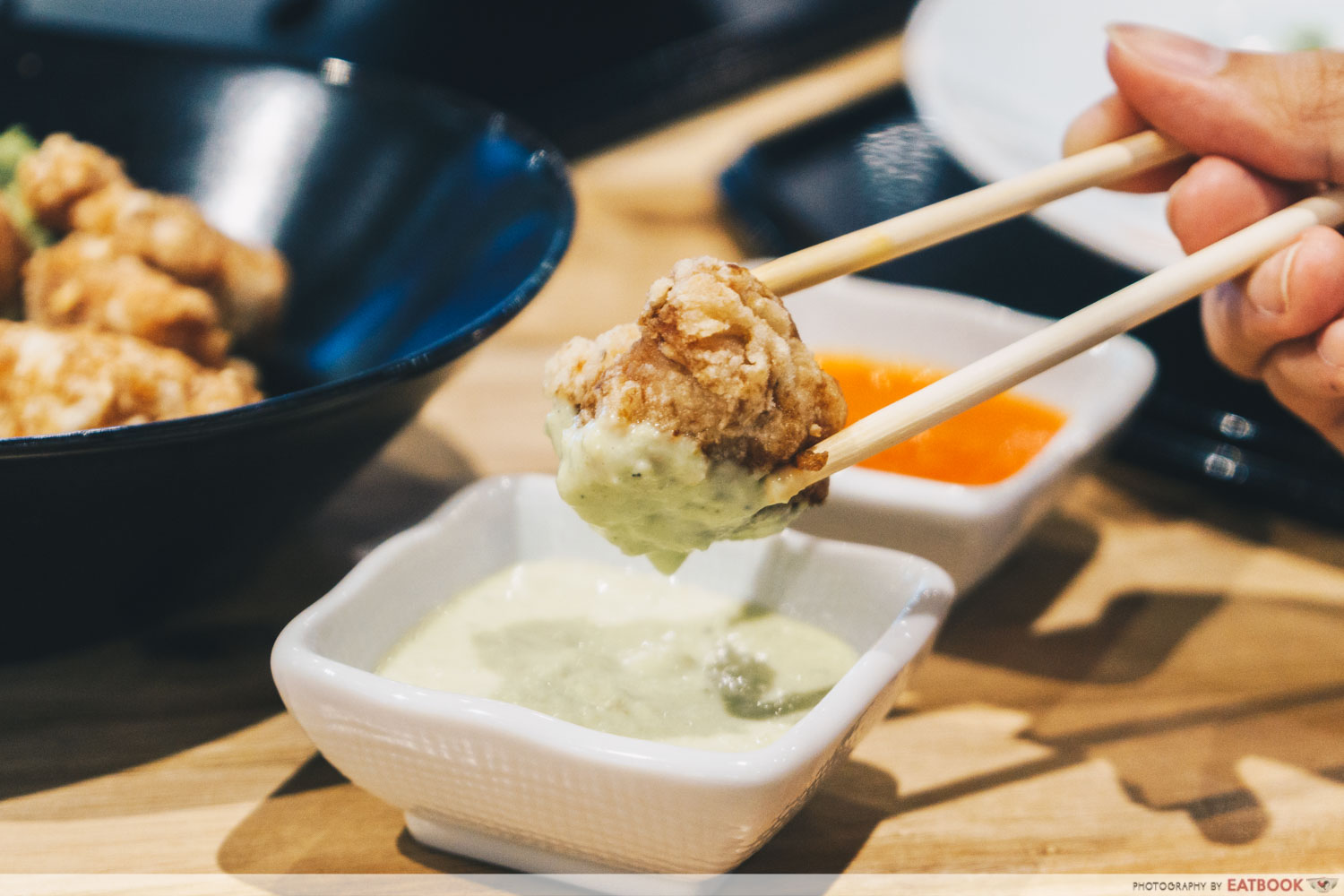 The wasabi mayo was thick and creamy. It gave the chicken an initial taste that's mild and sweet. Then, the powerful taste of wasabi flooded my nose and left me gasping. The pale-green sauce definitely packs a punch, courtesy of the burning wasabi aftertaste.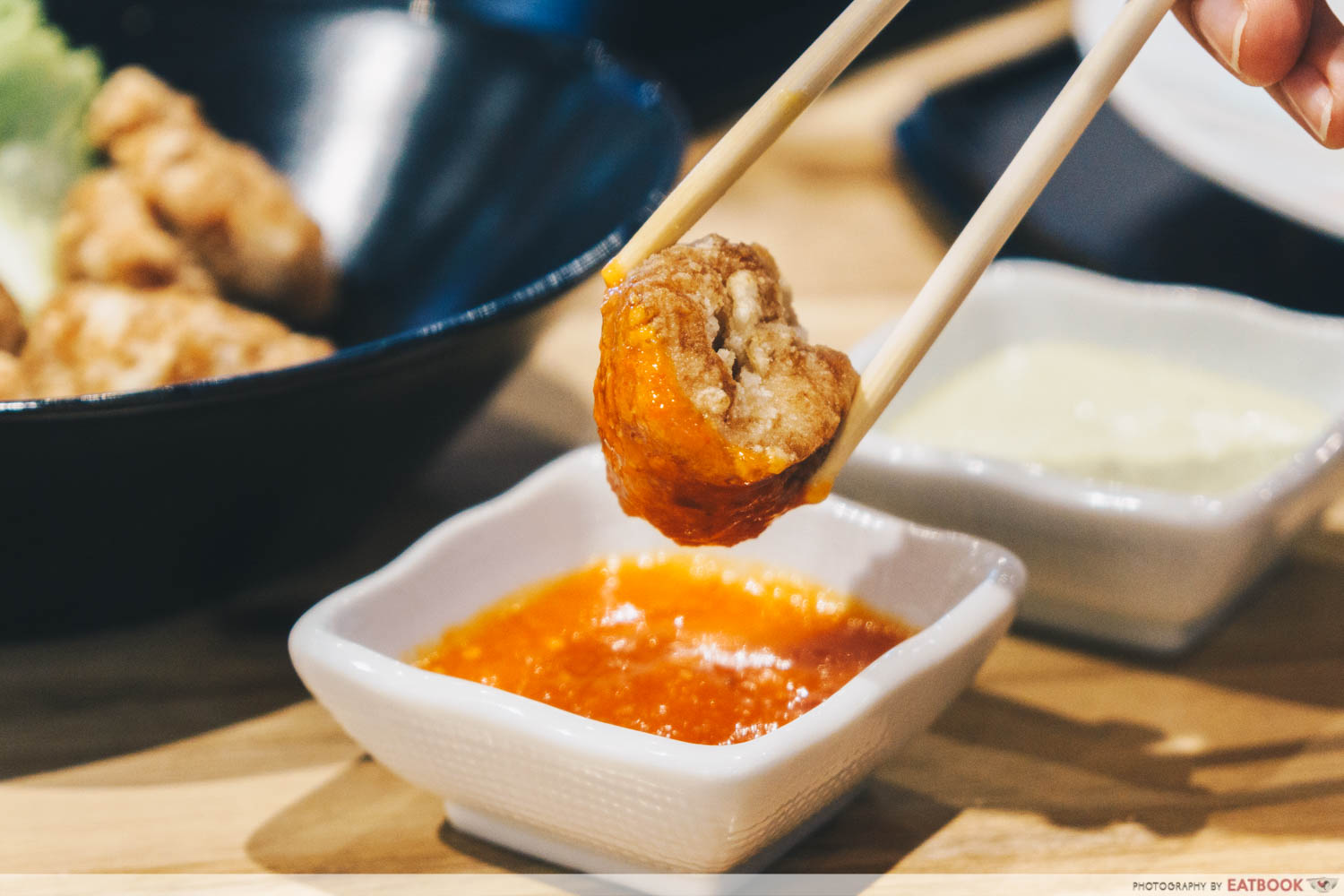 The chilli sauce was a lot sweeter than its green counterpart. It was the same kind used for the pork cutlet. I preferred the harsher, earthy taste of wasabi over it.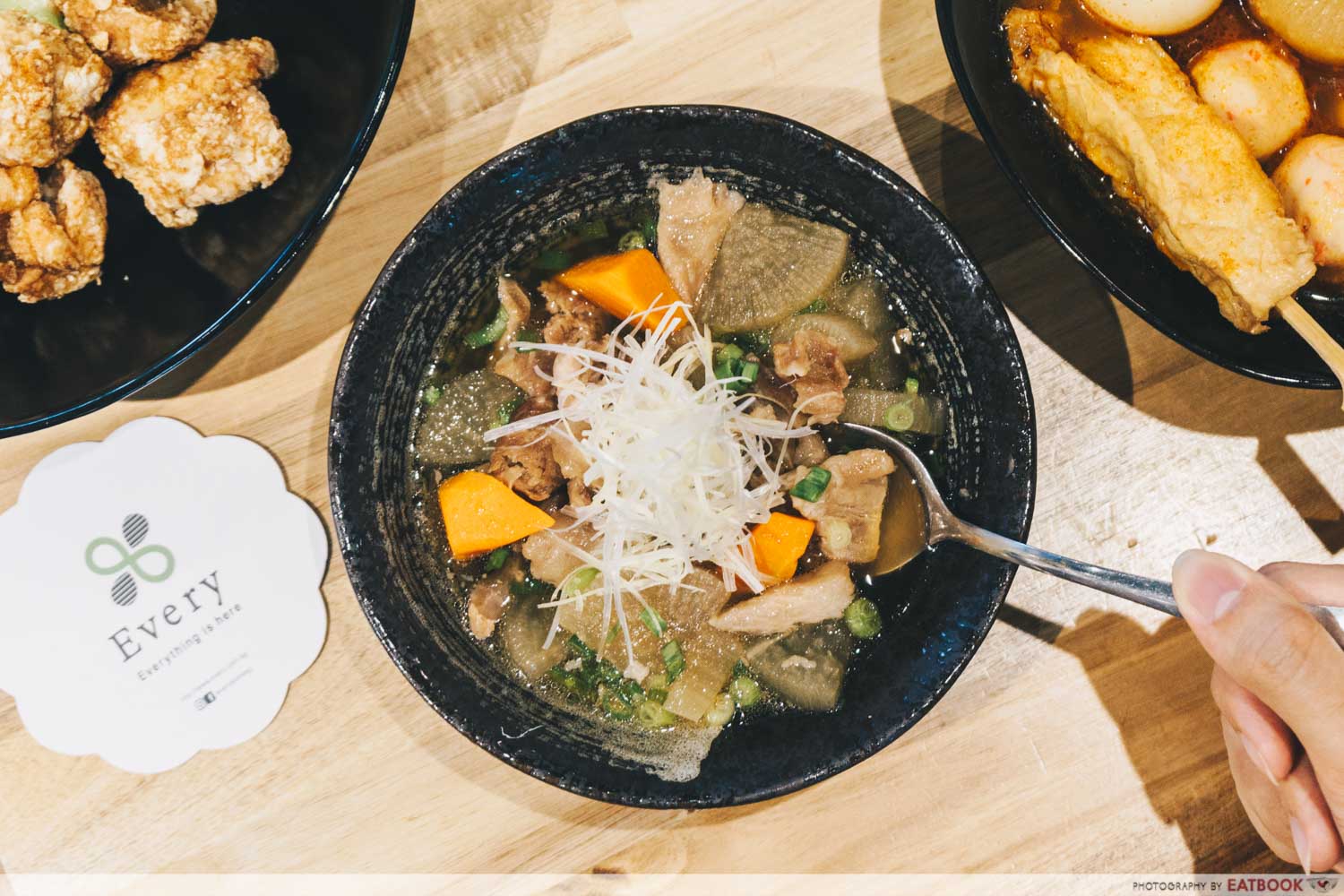 One thing I was excited for was the Wagyu Beef Tendon Stew ($7.40), served with a mountain of shredded ginger and spongy daikon. The meat sat in a bowl of light, clear dashi, with carrots giving it a splash of colour.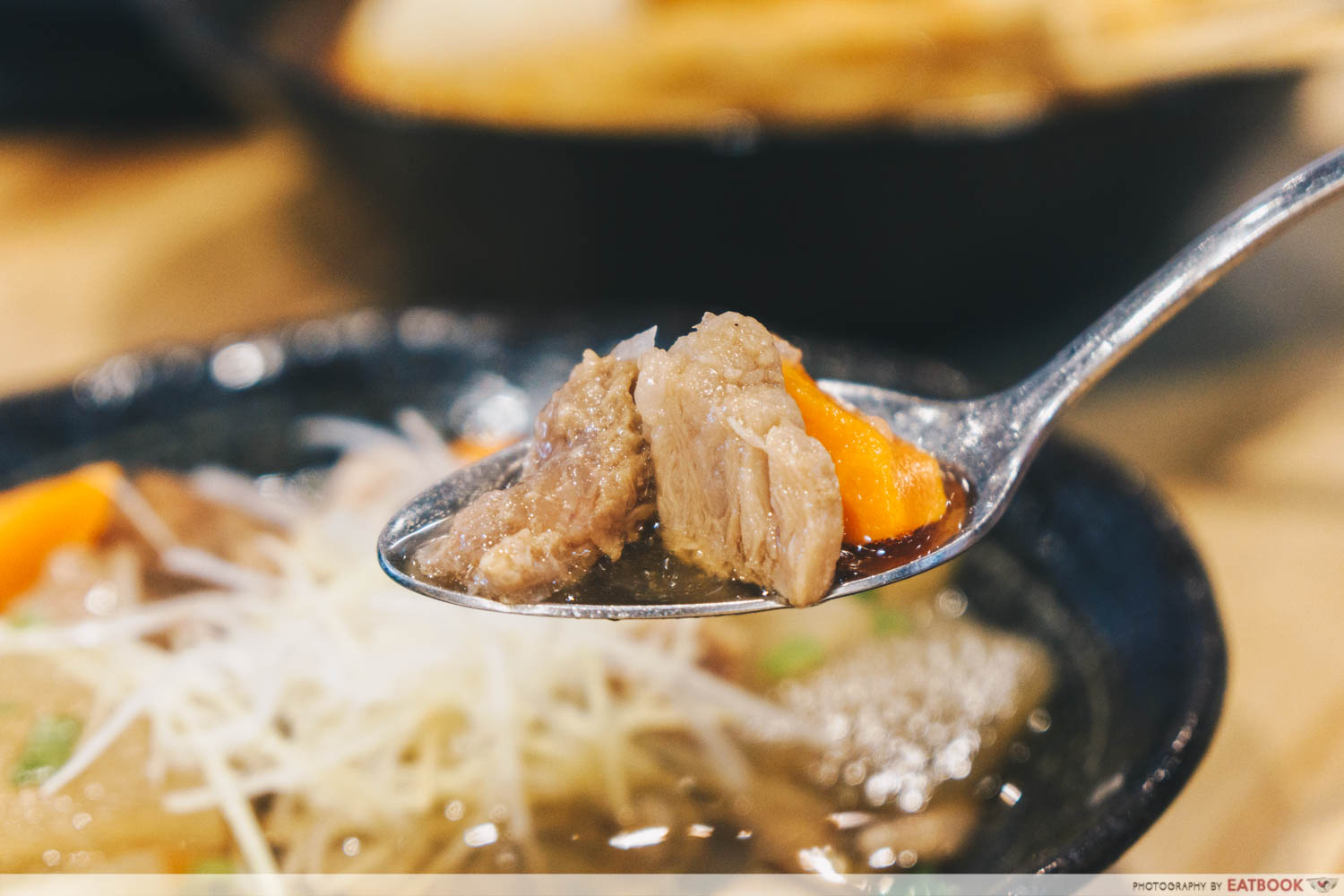 I enjoyed the soft and jelly-like texture of the tendons. The meat inside was a bit thicker than what I got with the gyudon, and I enjoyed slurping up warm spoonfuls of dashi soup. Only 10 bowls of stew are available every day, making it a bit more exclusive than the lunch sets.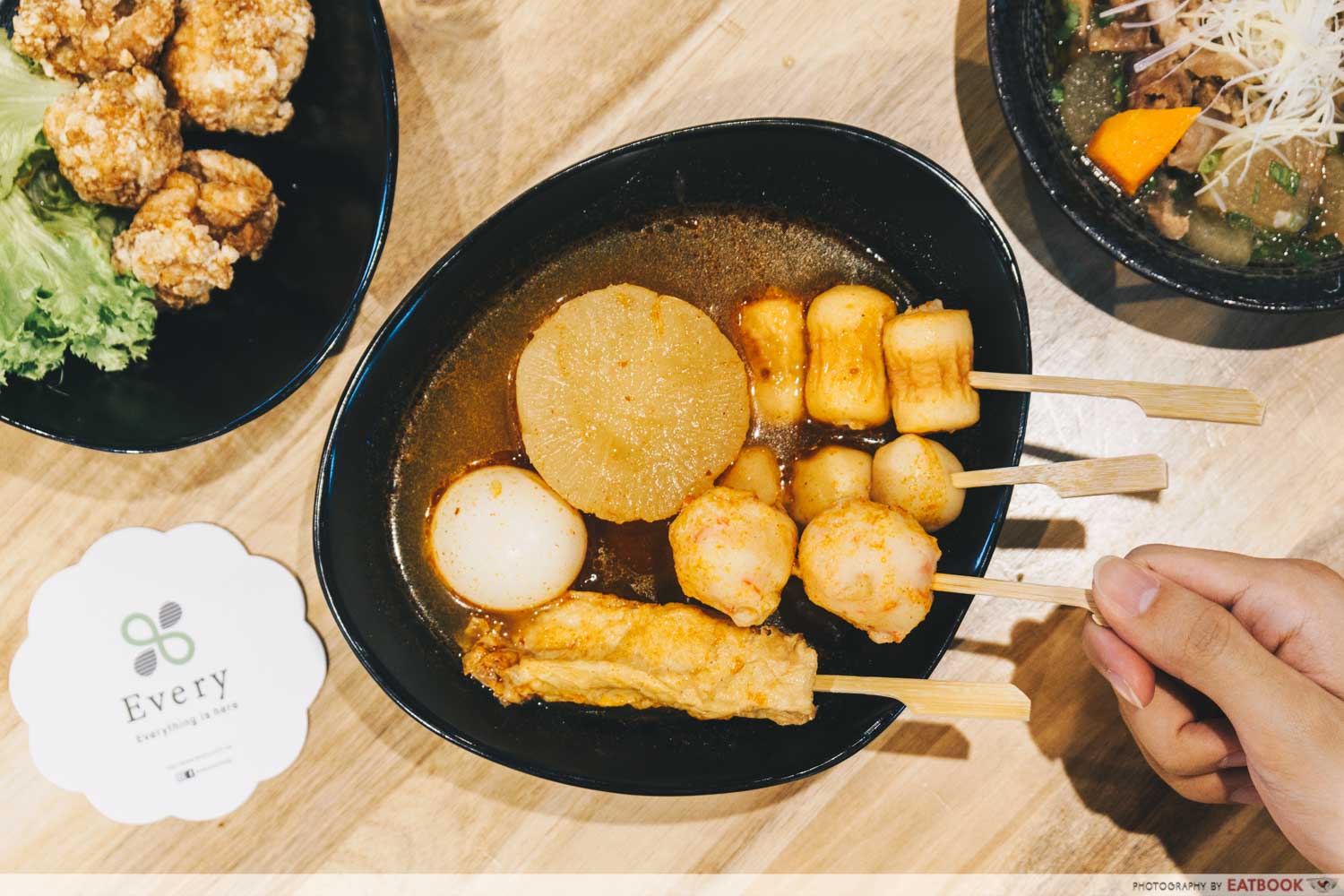 One thing that caught my attention was the bubbling pot of Oden ($6.90 for seven sticks) that sat by the side of the counter. The Japanese snack is usually eaten in winter and traditionally served up in bowls of dashi stock. The konbini offered a spicy tom yum option too, which we chose out of curiosity.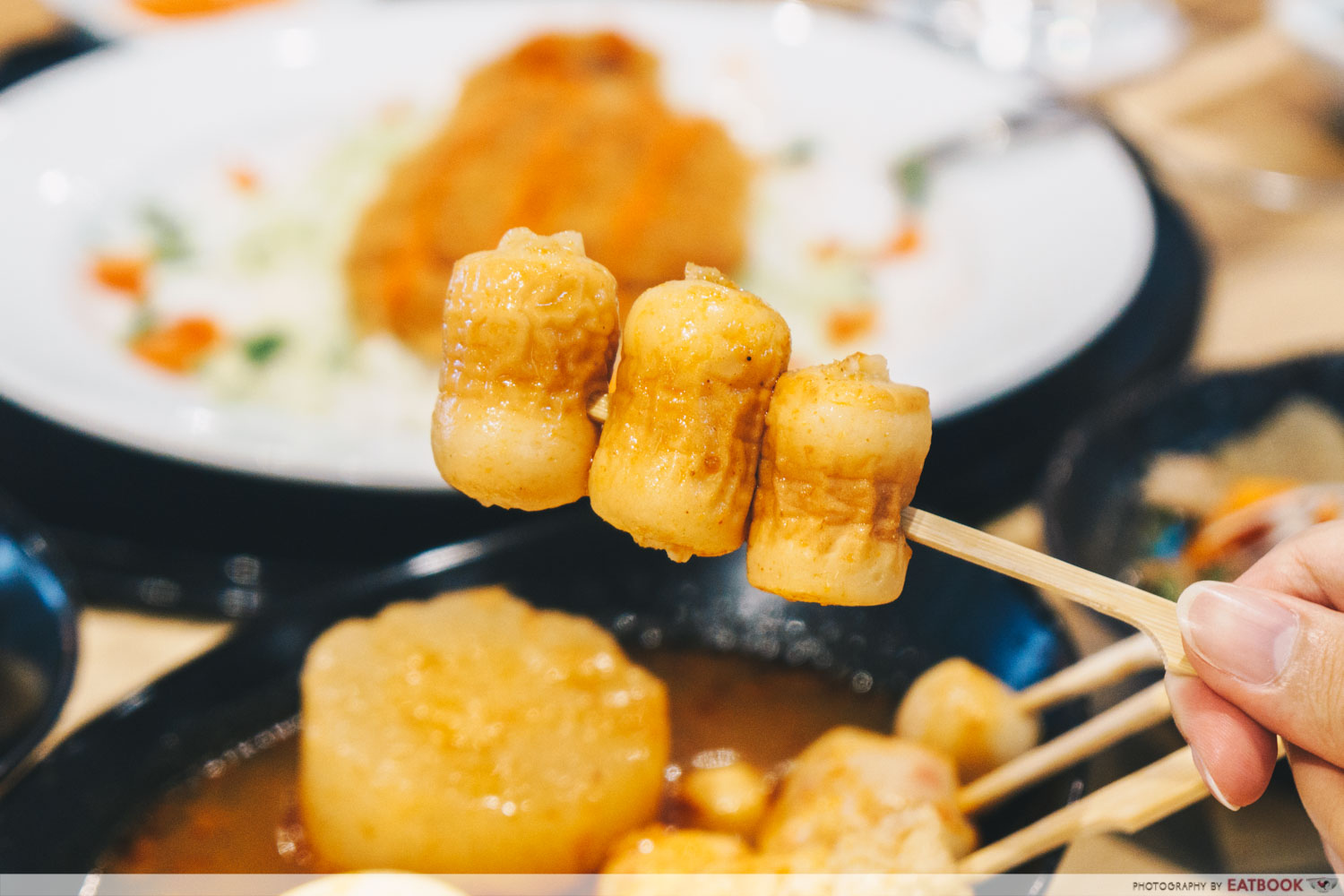 The chewy, jelly-like chikuwa (Japanese fishcake) soaked up the sour and spicy tom yum broth, releasing mouthfuls of hot soup with each bite. The spongy snack had a QQ texture to it. Overall, the bowl costs about the same as oden from Japan, at a dollar per ingredient. 
My favourite part of the oden was the daikon radish. It came in an impressive chunk and soaked up the vibrant soup like a sponge. While it was solid enough to keep its shape, it fell apart easily as I bit into it, and was chock-full of the piquant notes of tom yum.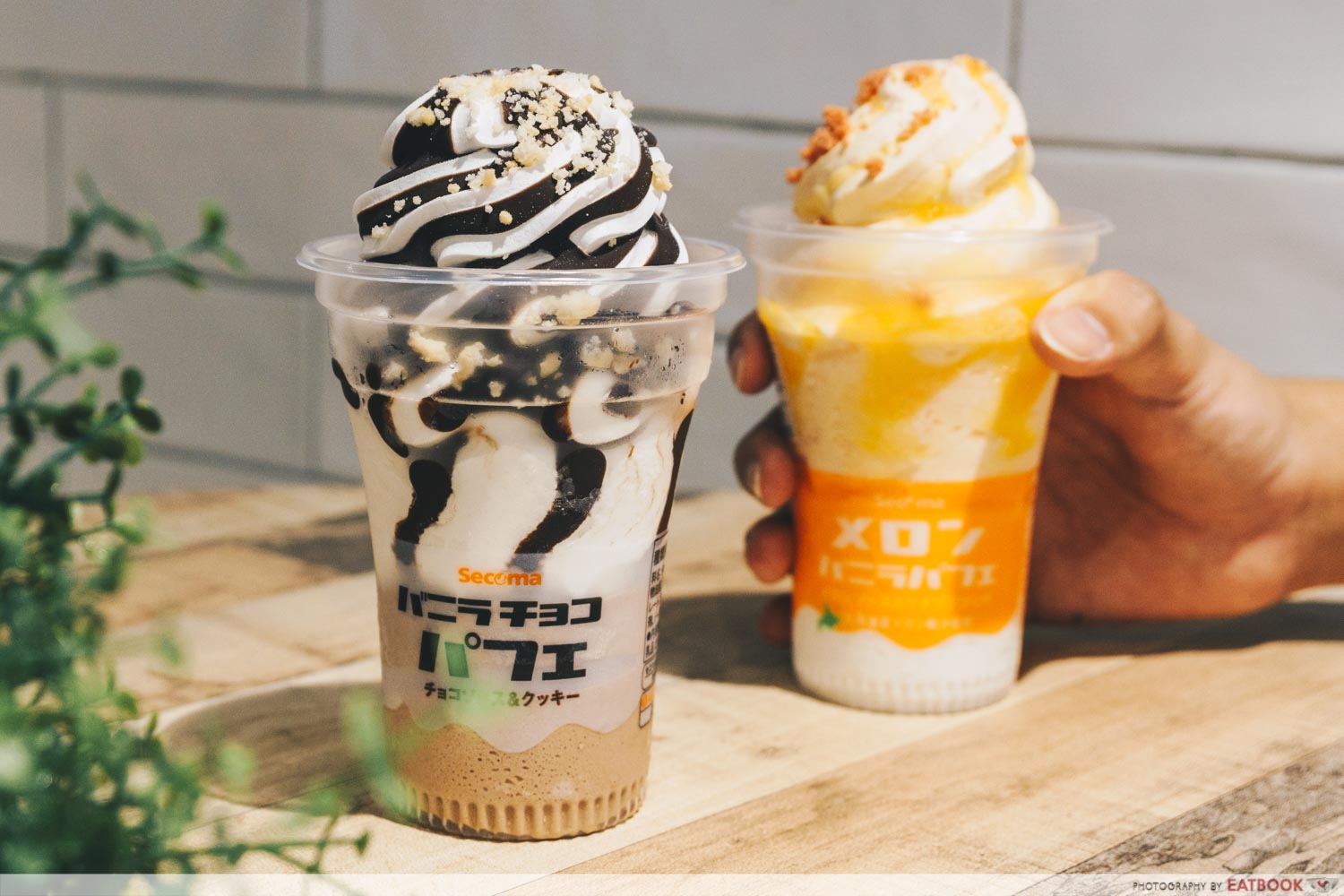 While I would normally be too stuffed for dessert after such a huge meal, I couldn't miss out on EVERY's dessert section. The fridges are filled with tubs and cups of imported Japanese ice-cream. We picked out two cups of parfait, both made with Hokkaido milk.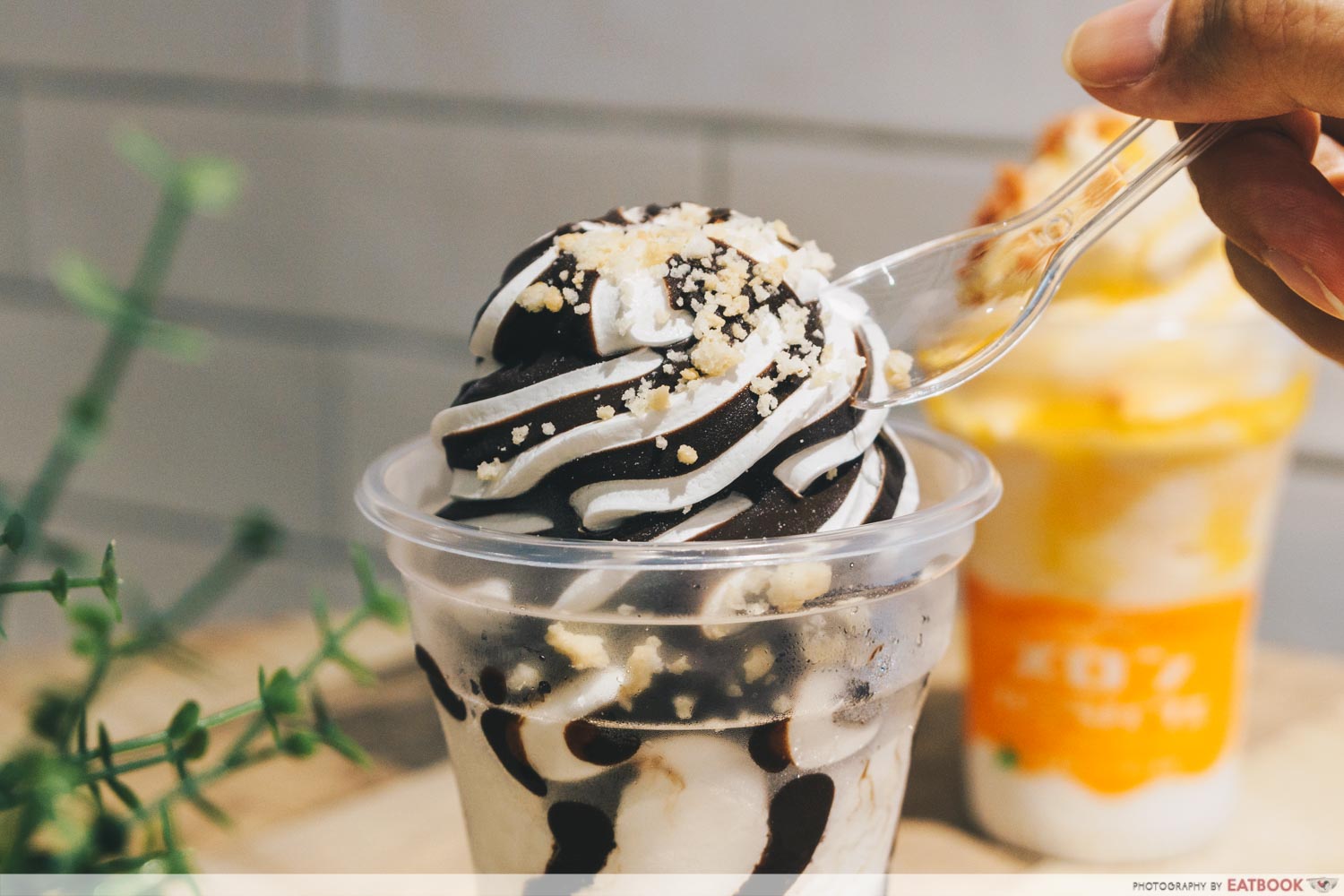 The Vanilla Chocolate Parfait ($6.80) was sprinkled with chopped nuts and had streaks of solid chocolate winding through it. It was impressive for convenience store ice-cream, albeit a little pricey. 
One thing that caught me by surprise was that it followed the proper Japanese parfait formula. The top portion turned out to be cream, instead of a thicker soft serve. It had an almost meringue-like consistency and was light and milky. The upper half was vanilla, but the flavour swapped to chocolate about two-thirds of the way down.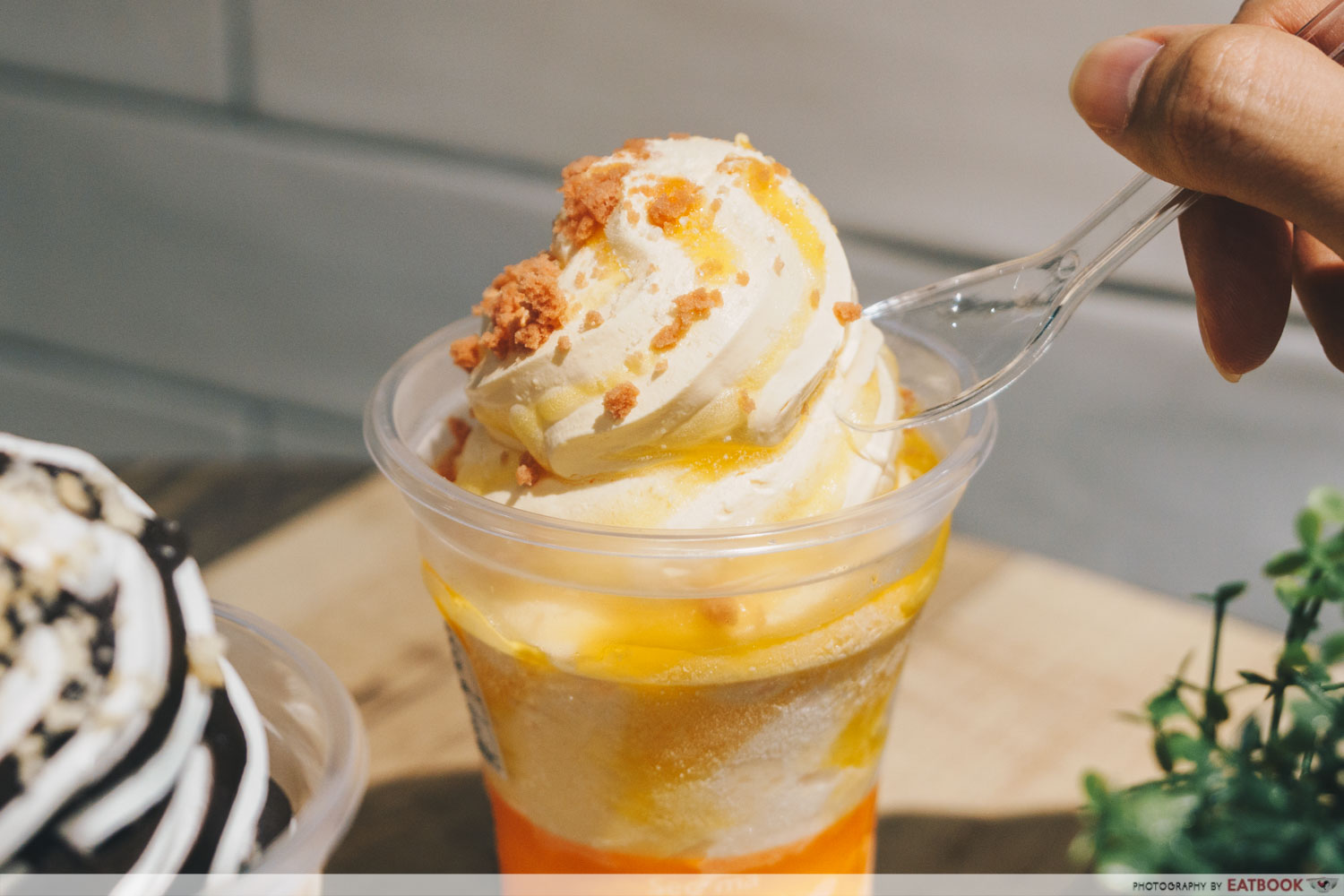 The brightly-coloured Melon Vanilla Parfait ($6.80) was covered in bits of sour melon, with streaks of zesty yuzu running through it. The melon ice-cream was mild and fruity, occasionally taking on sharper flavours when I got a mouthful of the tart melon chunks.
The cream portion was quite a bit sweeter than the vanilla one and had the milder melon sweetness infused into it. Overall, this flavour was a lot gentler and lighter than the sweet chocolate.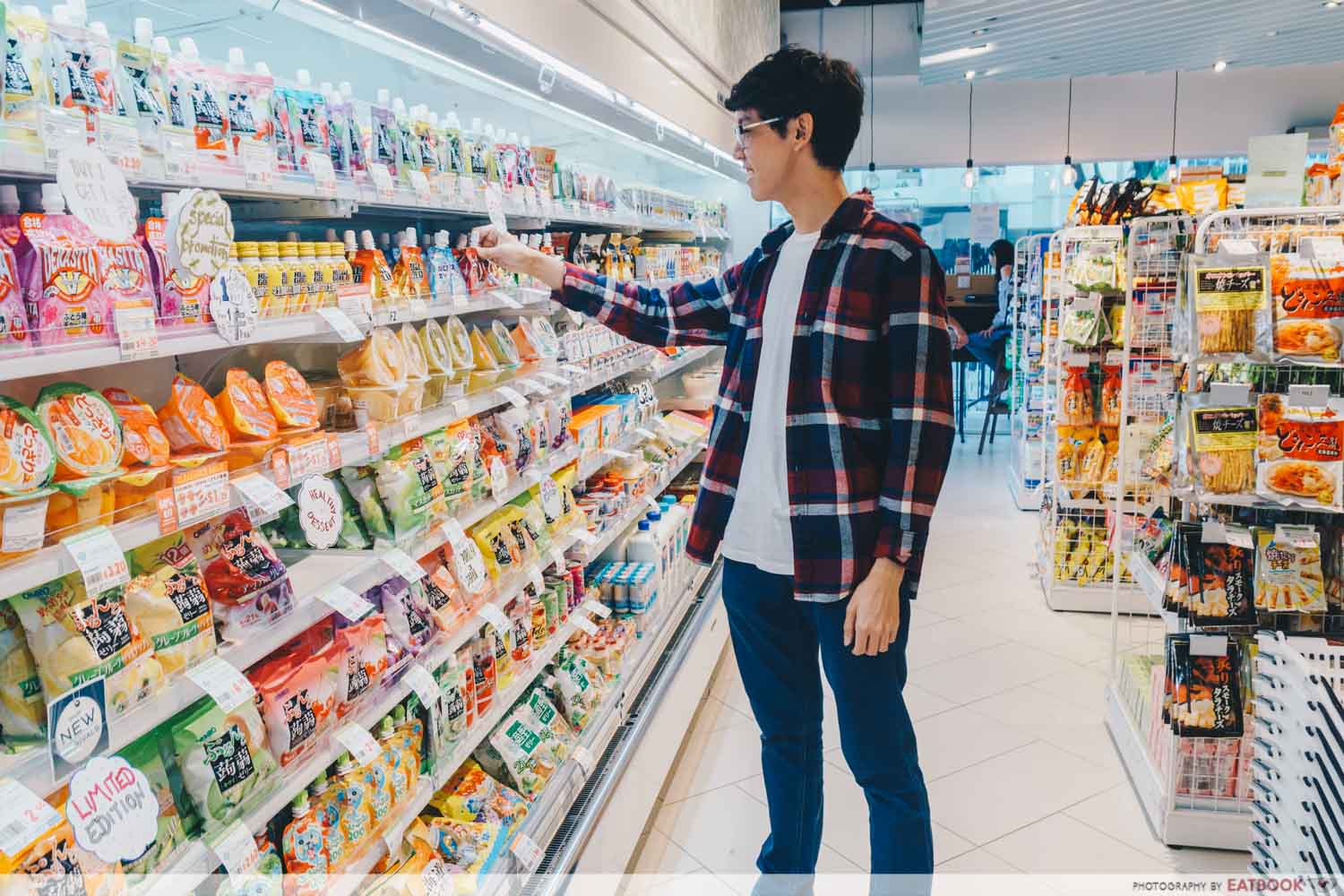 EVERY is as close to a Japanese convenience store as you can get here in Singapore. There's a huge variety of Japanese snacks, candies and desserts to choose from, most of which I never thought I'd find here. The cafe has a cosy, peaceful air, and I really envy the nearby residents who can regularly visit the store.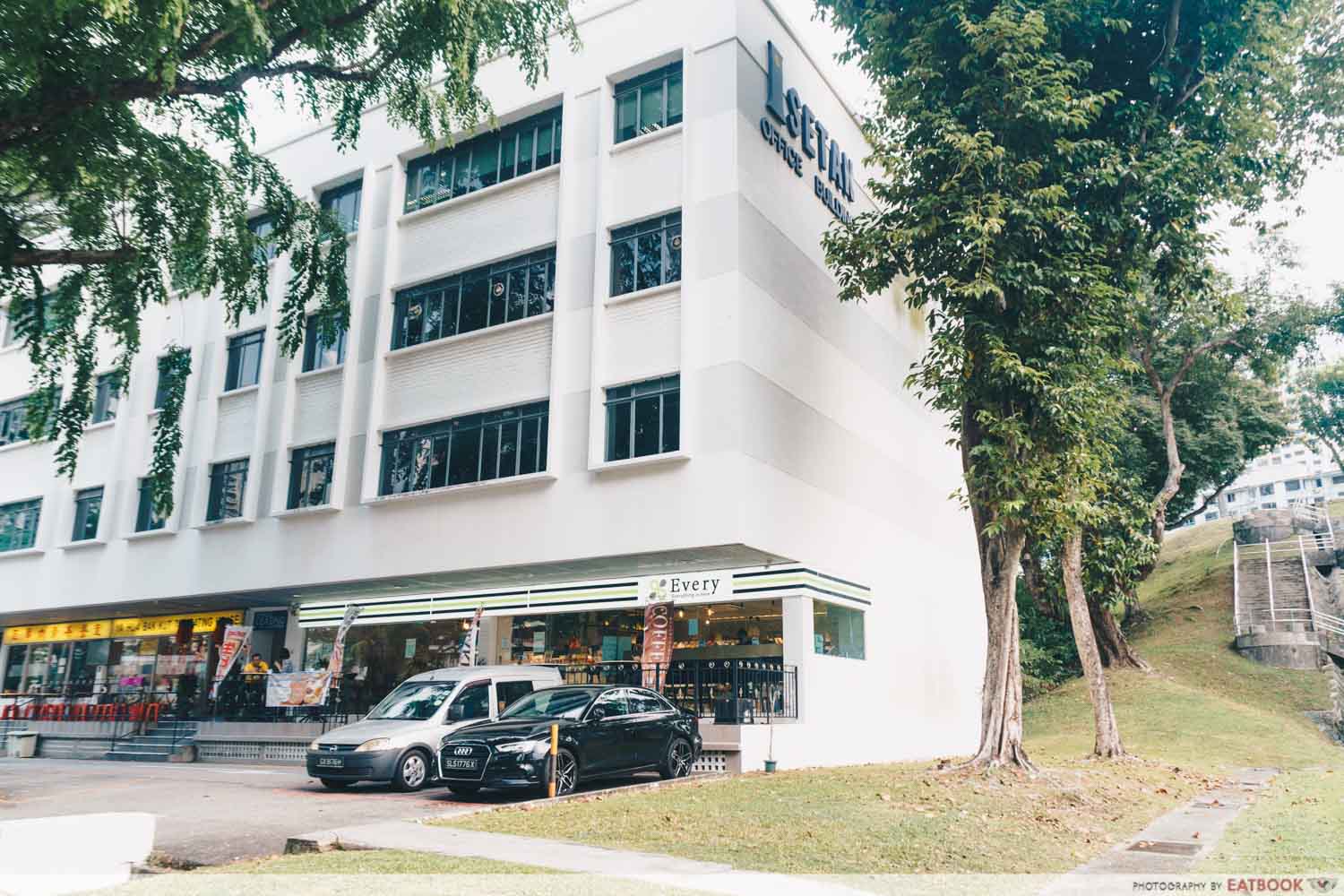 EVERY is hidden at the base of the Isetan office building, and most people don't know about its existence. It's about 15 minutes from Tiong Bahru MRT station. If you've got a craving for Japanese food, or if you're missing a particular snack after coming back from a vacation, give EVERY a visit.
Address: 593 Havelock Road, #01-03/04, Isetan Office Building, Singapore 169641
Opening hours: Daily 8am to 10pm
Website
Photos taken by Lim An.
This post is brought to you by EVERY.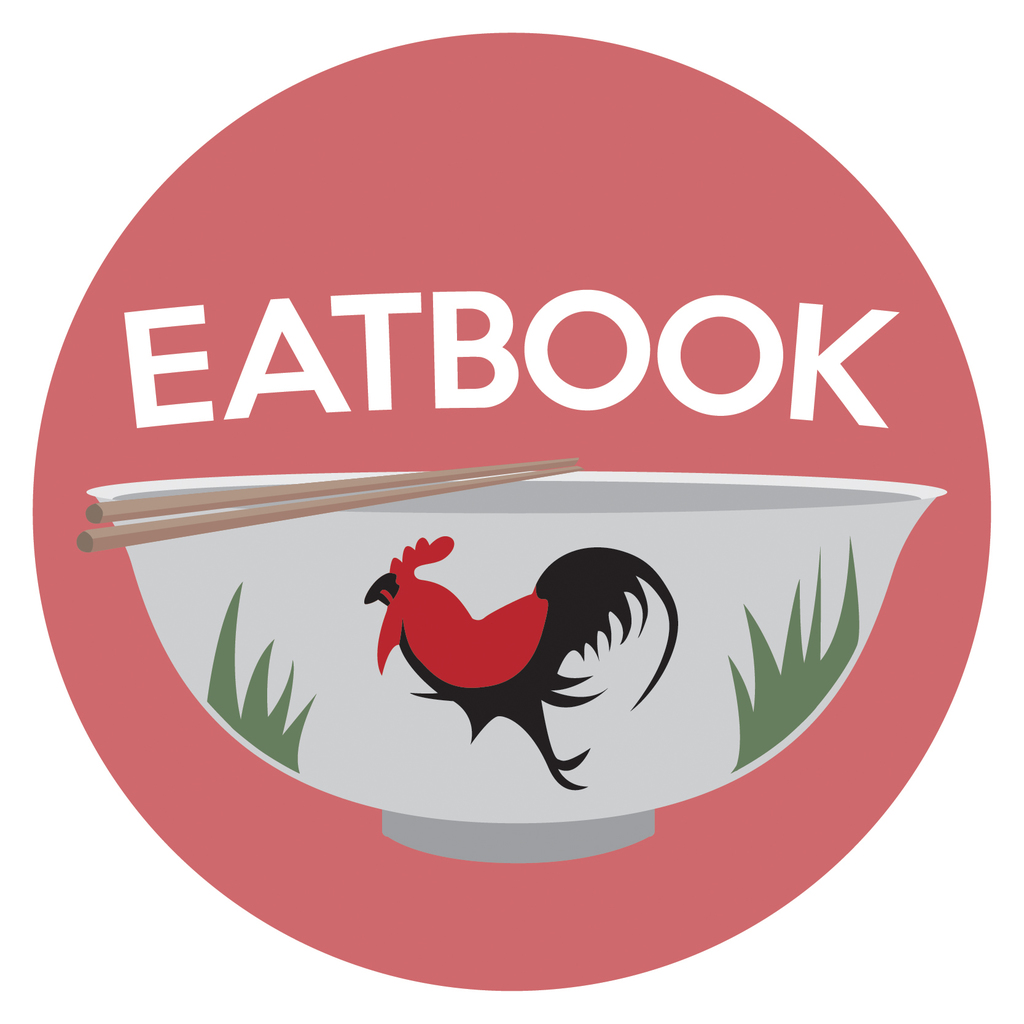 Drop us your email so you won't miss the latest news.