FairPrice for Christmas roasts and more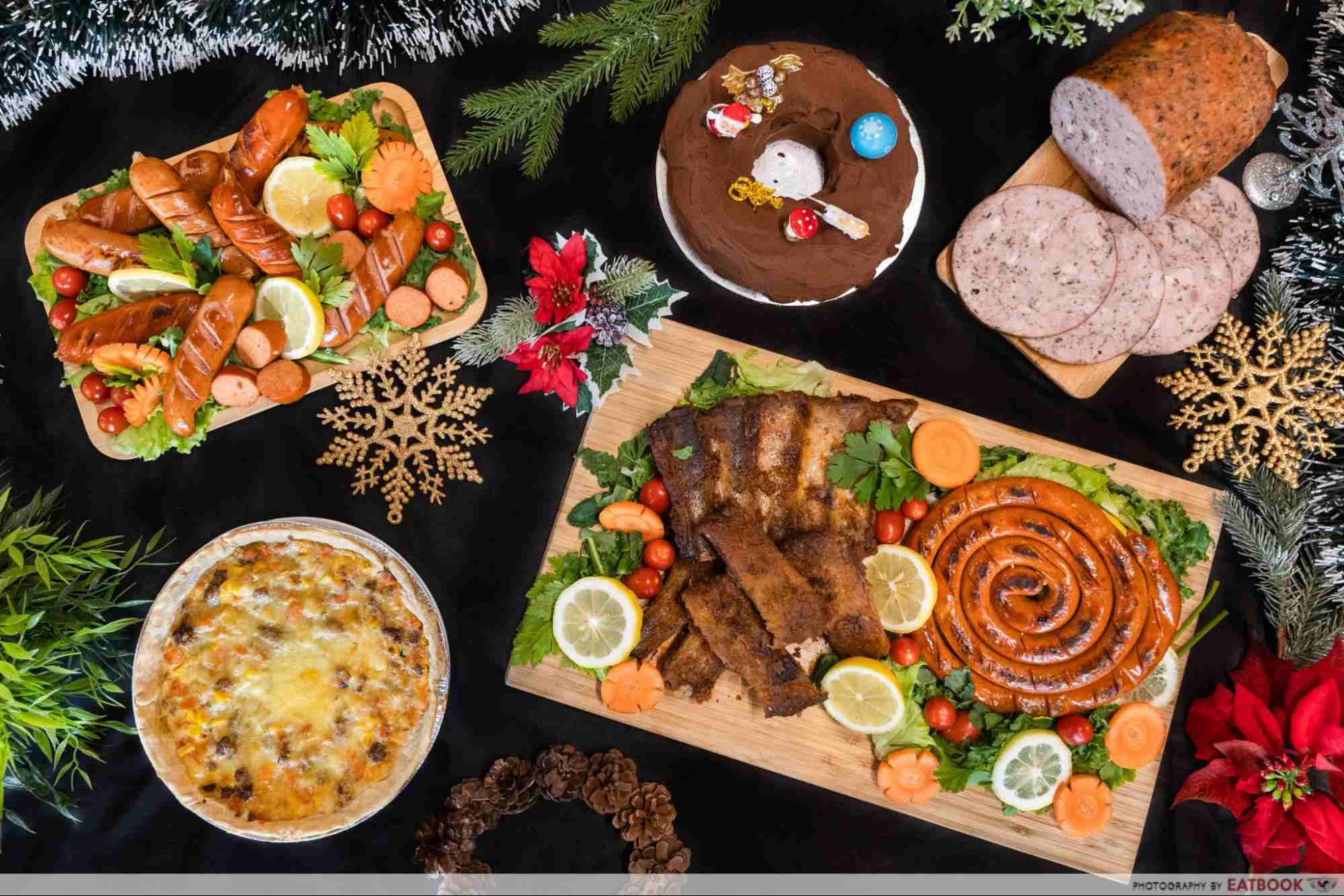 Every Christmas is the time when we feast on the full festive works: hearty roasts, savoury cold cuts, fancy log cakes and more. This year, FairPrice has pulled out all the stops to offer everything you'll need for your end-of-year feast. From free-range deli and plant-based bakes, to halal-friendly sets, all at affordable prices, the one-stop supermarket has it all.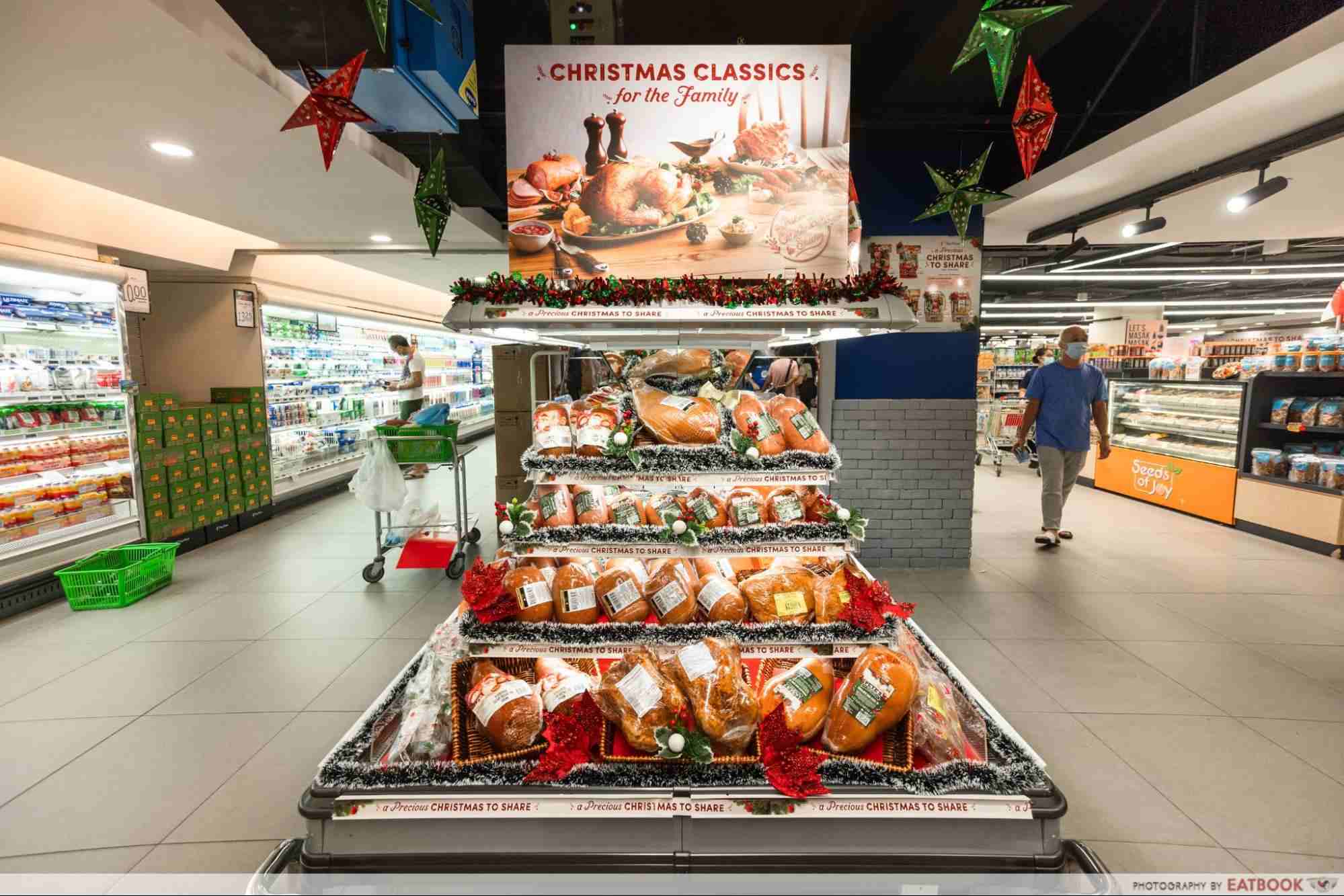 If you're familiar with FairPrice's festive offerings, you'll know that they have really gone all out this year in terms of variety and quality. You'll find your usual Christmas combos, such as the Classic Combo ($82, serves 12 to 15), comprising a traditional roast turkey with chestnut stuffing, cranberry sauce, and another pack of gourmet sauce, honey baked ham (1kg), and German pork knuckle (1.3kg before roasting), alongside smaller sets that feed an intimate party of three to four.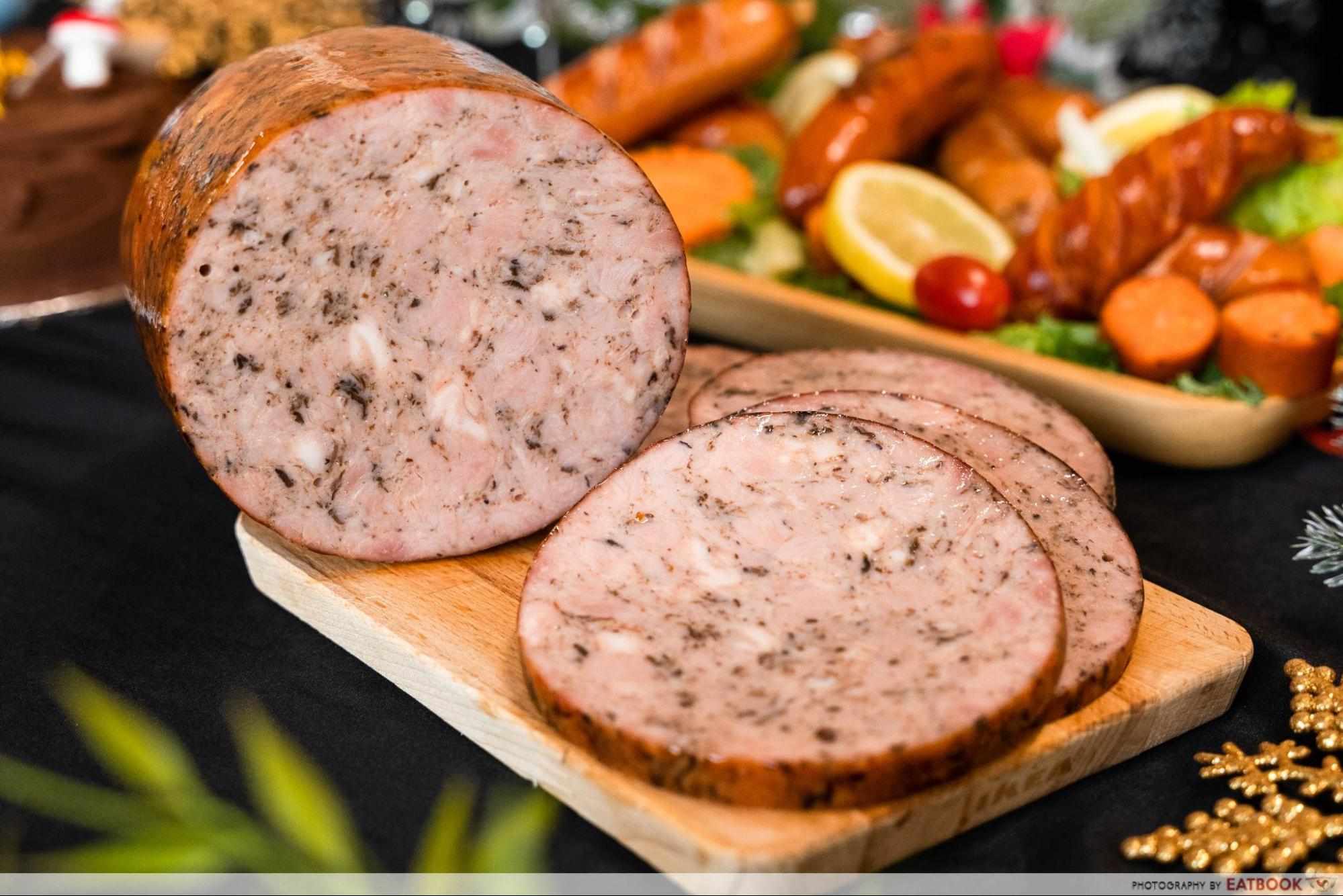 Christmas is incomplete without ham. Going beyond the usual holiday must-haves, the Tuscany Truffle Ham ($38) features a fragrant truffle-spiked chunk of pork ham. It weighs in at a whopping 1.5kg, making it perfect for sharing among six to eight people. This year's theme is 'A Precious Christmas to Share'—especially fitting since we haven't been able to gather much in the past year.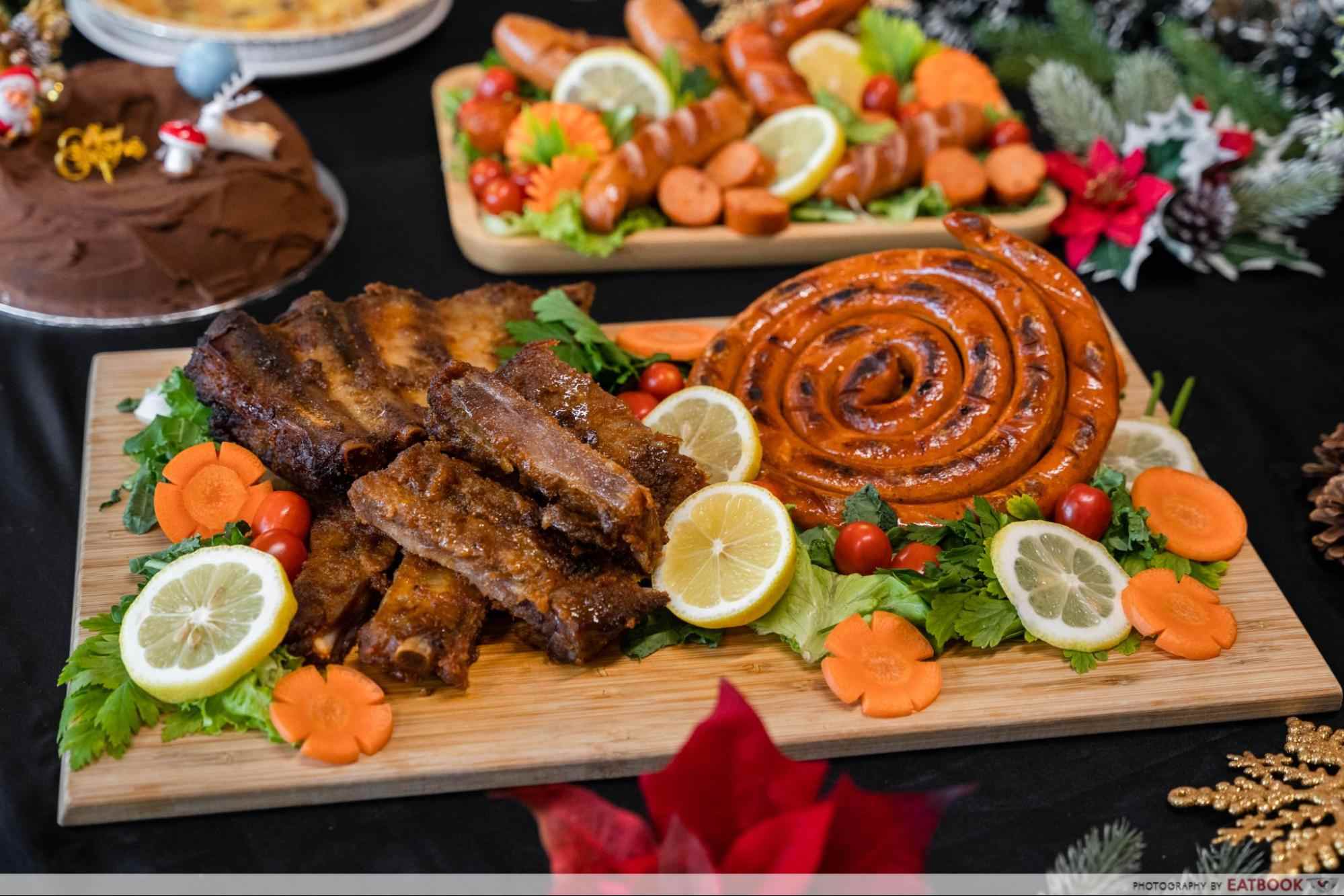 Another festive highlight to add to your cart is the Supreme Delight ($38), an all-new platter consisting of Truffle Pork Ribs (1.2kg before roasting) and a Helix Pork Sausage (around 450g).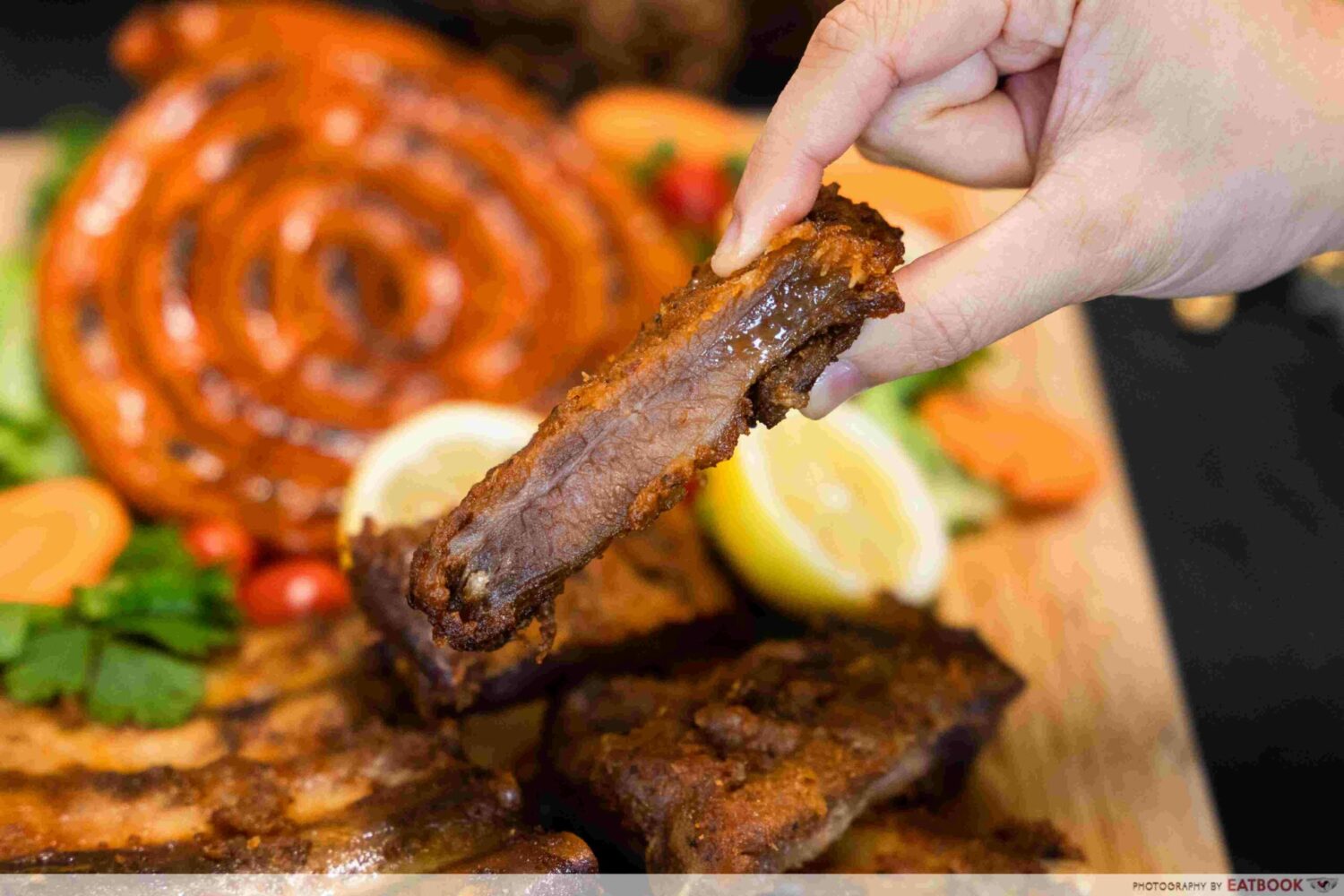 The truffle pork ribs boast a strong truffle fragrance upon roasting, while the giant sausage has a good snap when you sink your teeth into it.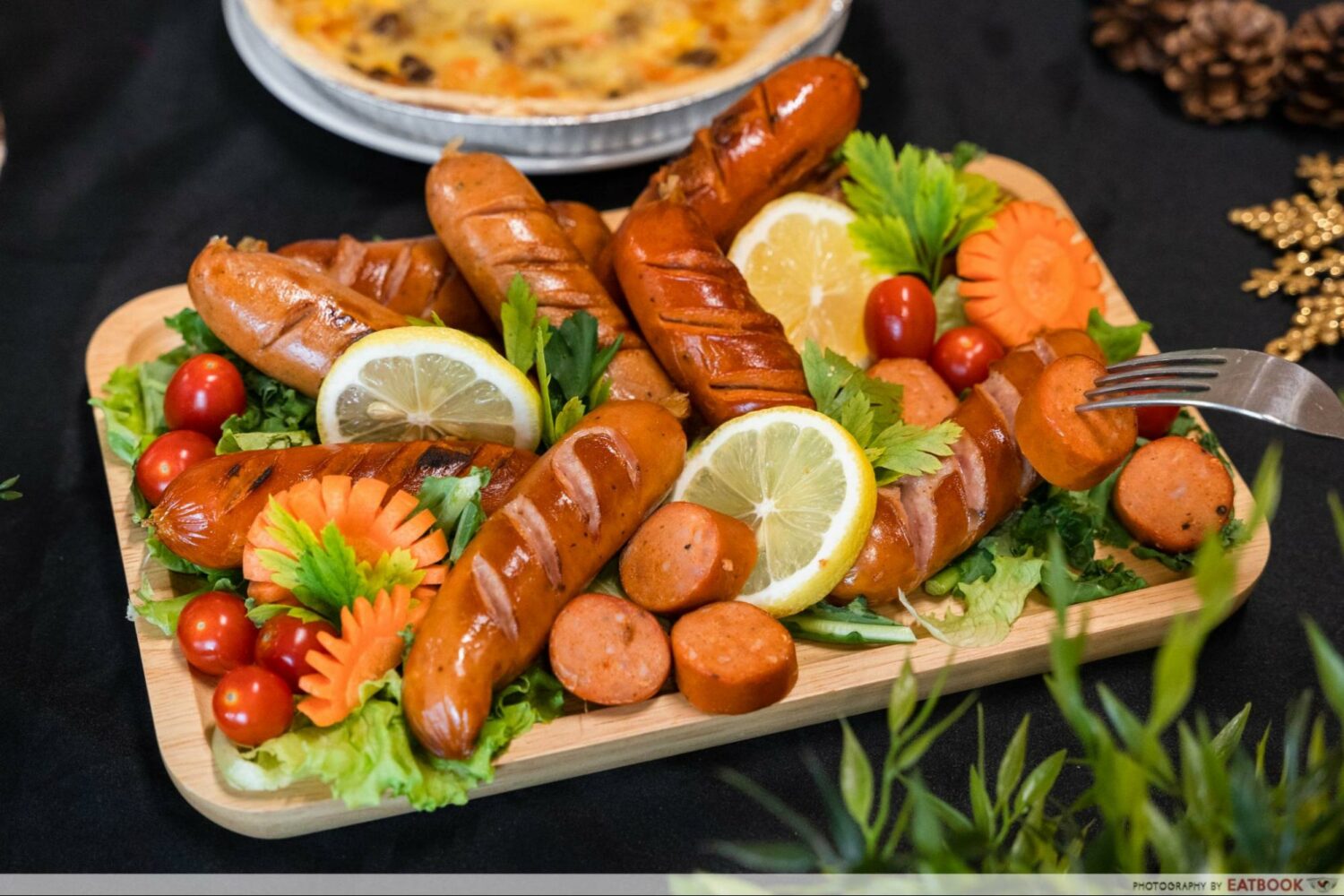 Adding on to the meaty list is the Free Range Sausage Platter ($33.90), which includes four of each flavour: German Pork Sausage, Pork Cheesy Sausage, and Italian Pork Sausage. The meat comes from free-roaming Australian pigs that are raised with ethical farming processes, including having free access to outdoor spaces.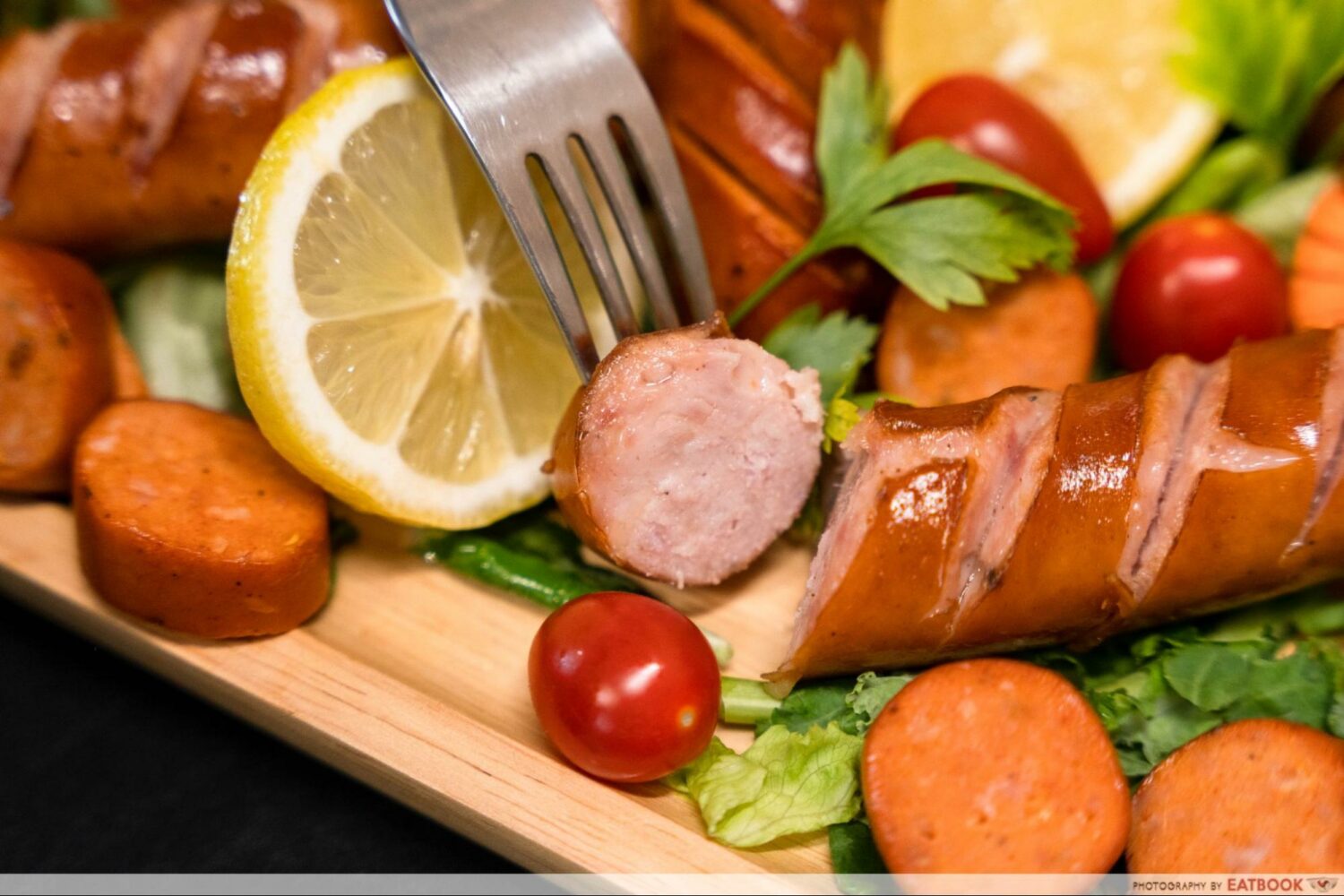 Suitable for a party of six to eight, the sausage assortment is best served warm, after briefly grilling or pan-frying. Our favourite out of the lot is the cheesy variant, as the creamy cheese complements the juicy and flavourful pork. 
FairPrice houses a wide selection of halal deli, too. There's the Delectable Roast Turkey ($56.90, 4.5-5.5kg) for six to eight people, and the Roasted Black Pepper Rib-Eye Beef ($42.80, 1.2kg before roasting), which serves two to three.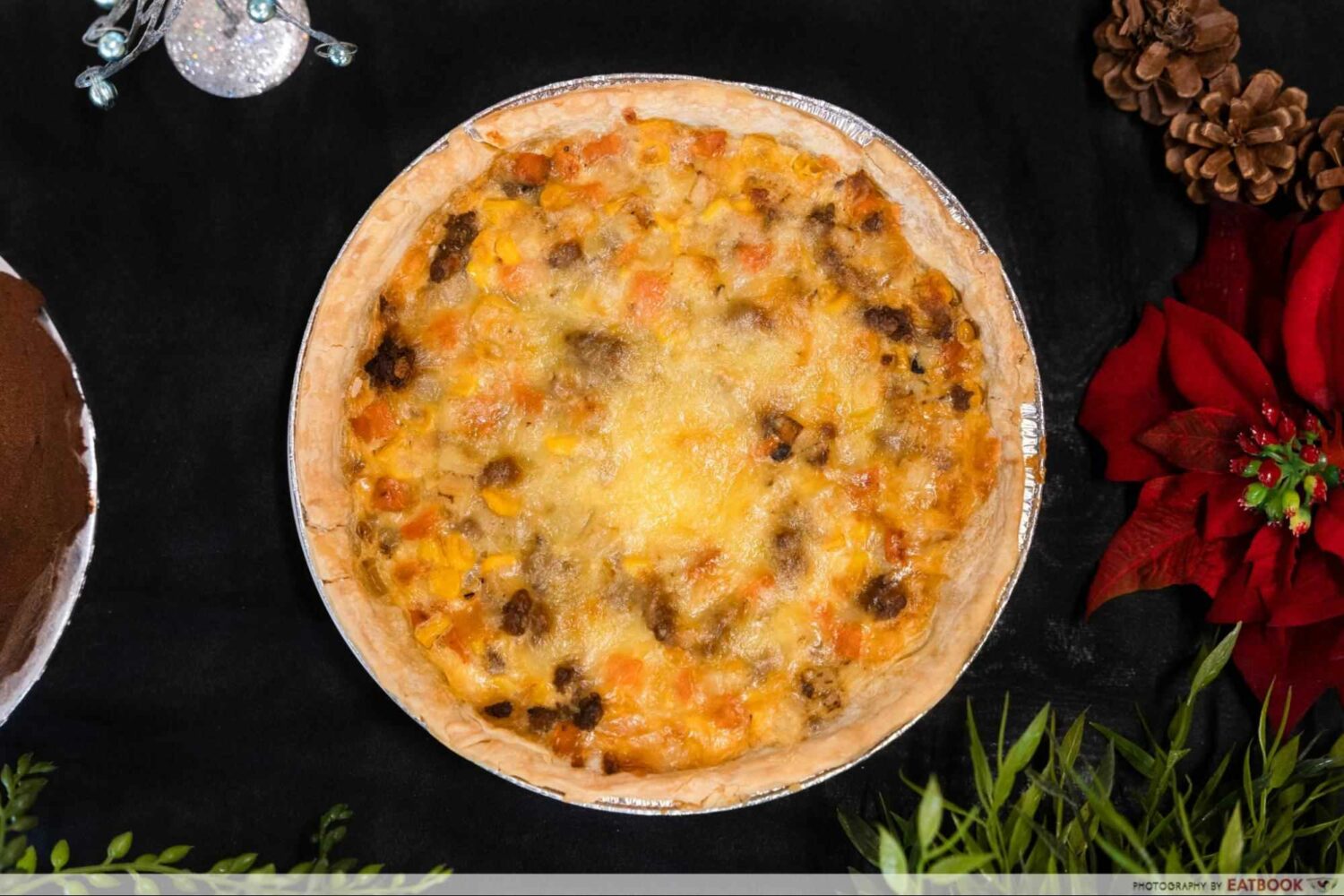 If you're looking for a meat-free alternative for your vegetarian friend, check out the plant-based selection. We highly recommend the Impossible Plant-Based Beef Quiche ($39.90) for a group of four to six. 
Make sure to heat it up in the oven at 140°C for 15 to 20 minutes before serving, so the pastry turns a beautiful golden brown.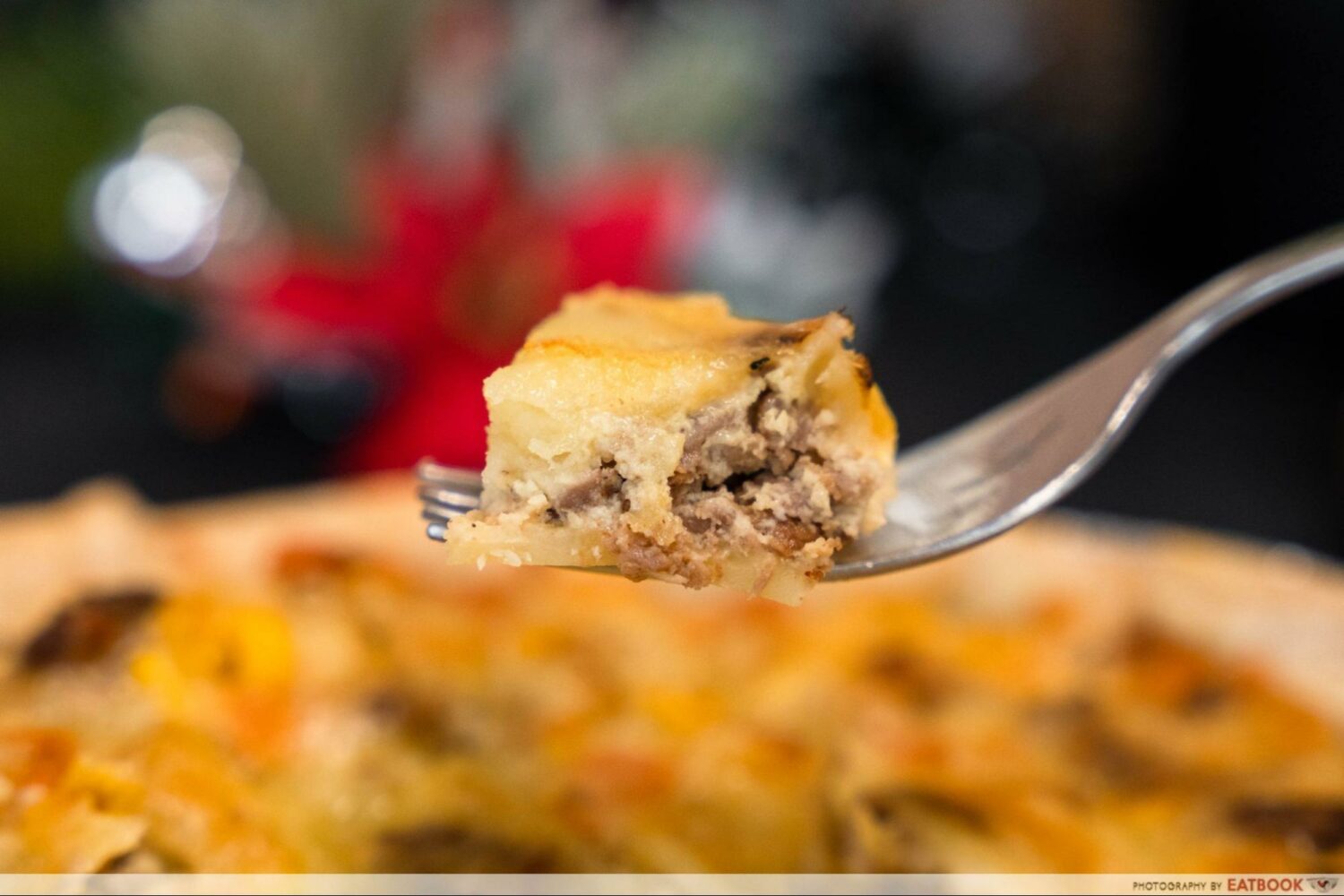 We were pleasantly surprised by how hearty and satisfying the filling was. It could almost pass off as beef, sans any gaminess commonly associated with red meat. This would make the perfect Christmas pie for meat lovers and vegetarians alike, and the best thing is: you'll only need to pop it in the oven to reheat!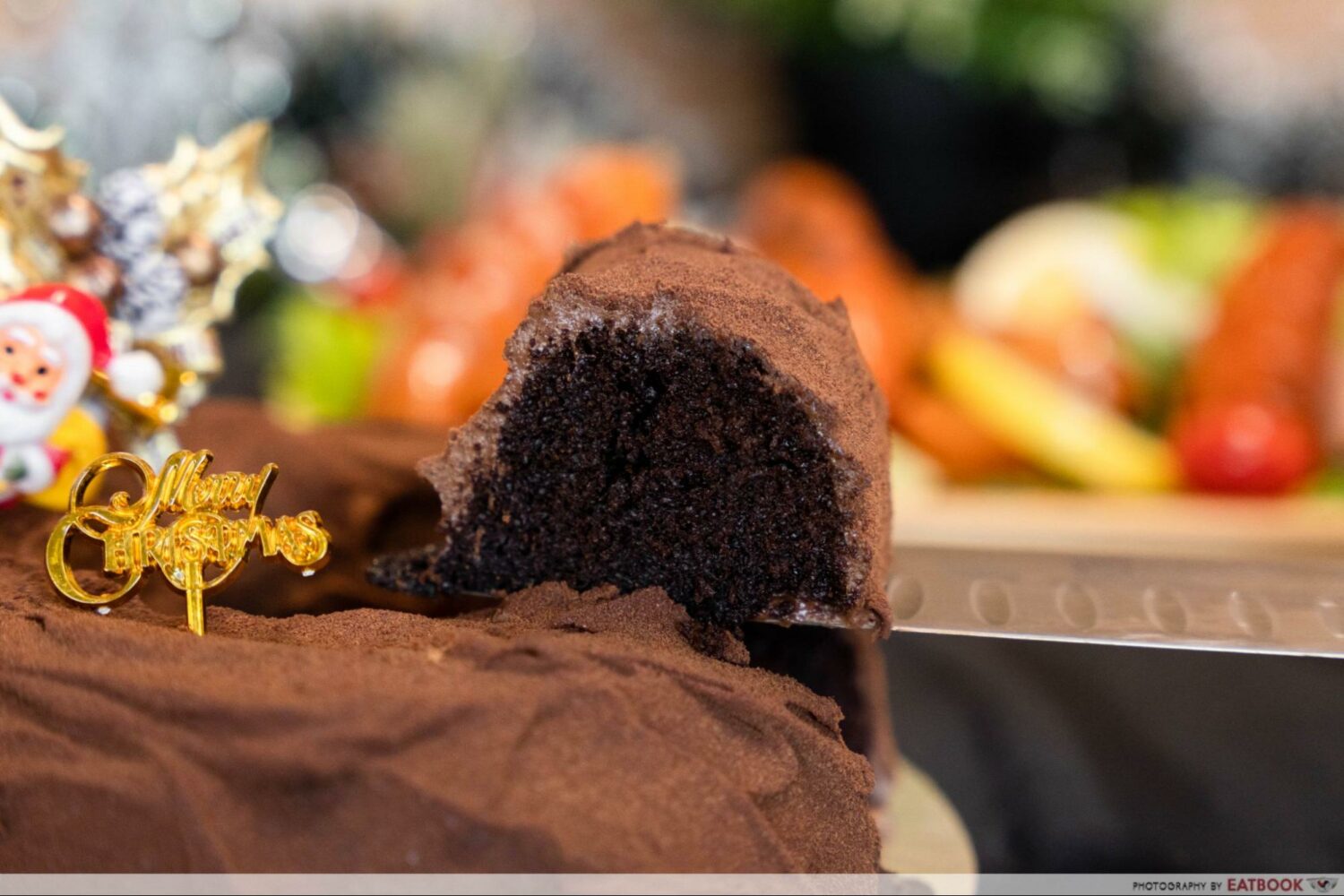 The dessert lineup is an equally impressive affair, with halal-friendly cakes taking centre stage this year. Smaller groups can enjoy the Happy Christmas Tree Cakes ($29.90) and Christmas Cream Puffs ($29.90), but if you have the stomach space, definitely go for the vegan Jolly Truffle Chocolate Cake ($39.90). The latter is rich and indulgent, with a fudgy, almost brownie-like crumb.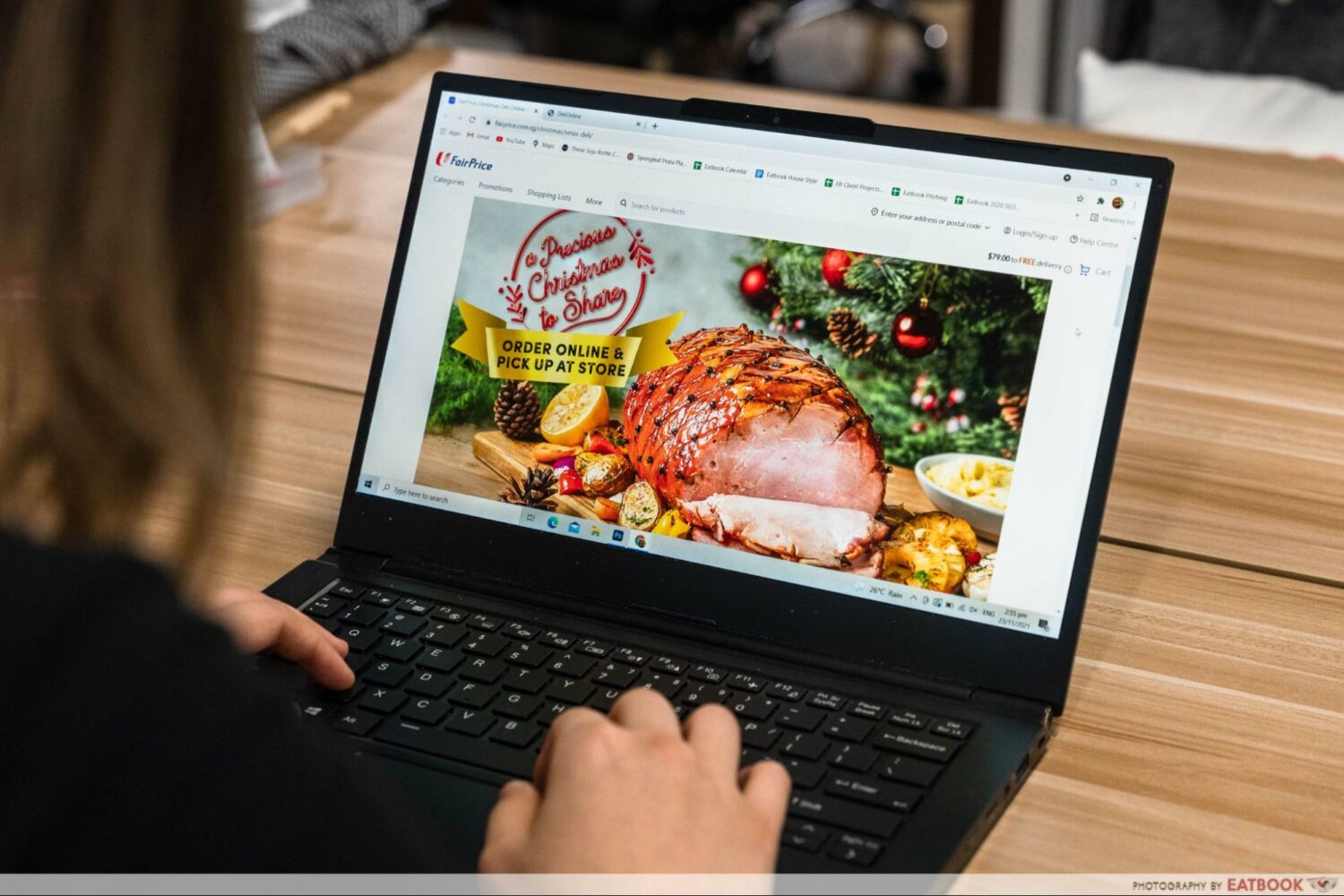 Ordering online is as easy as 1, 2, 3. First, select your preferred store to pick up your order. Then, you'll be sent an email with payment instructions. Upon confirmation, you'll receive an order number, which you'll refer to on collection day. You can also order in-store anytime from now till 16 December 2021, with a five-day lead time before pickup, but you'll want to do so quickly as there are limited slots left. The collection period runs from now till 2 January 2022.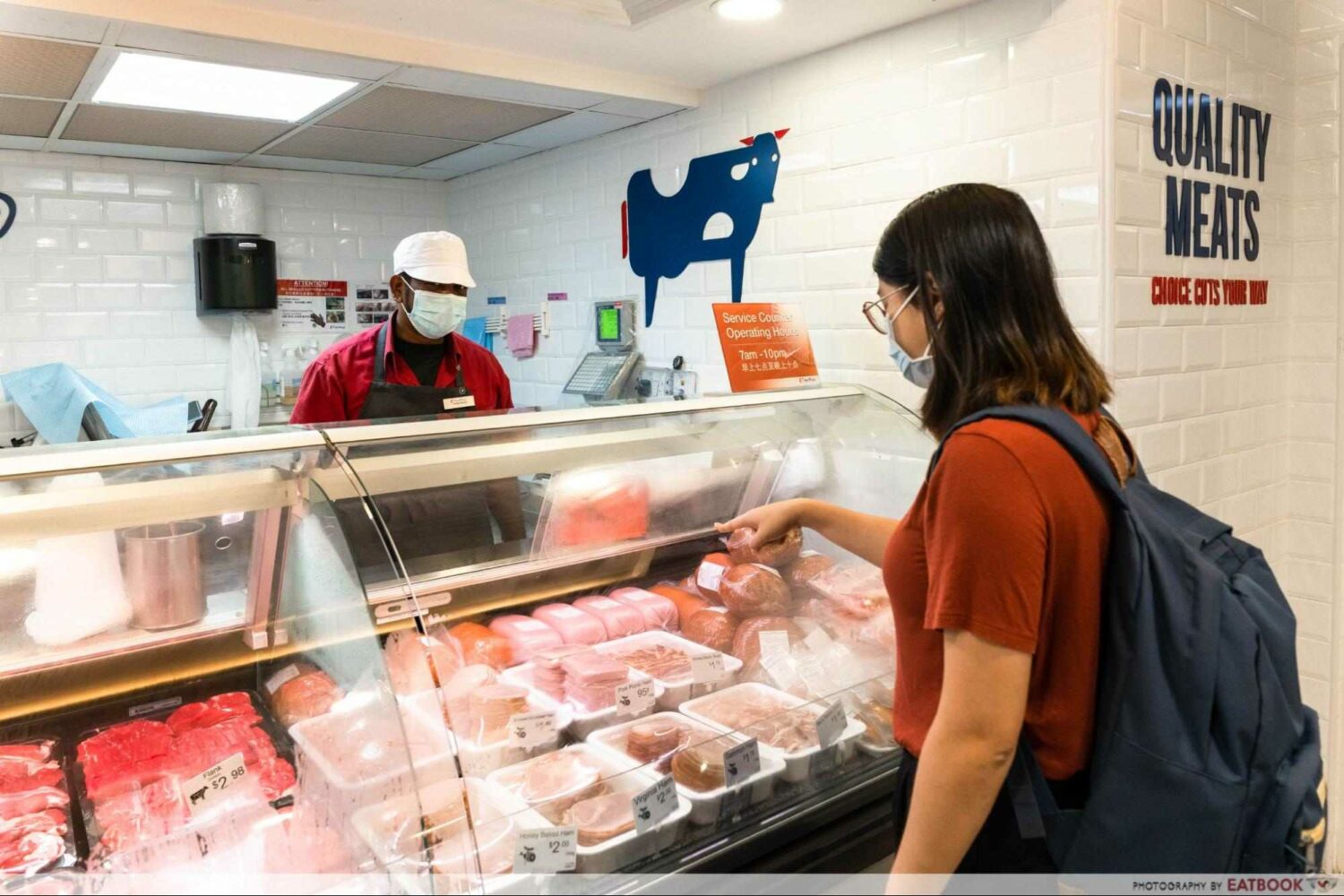 For those who prefer shopping in store, you can also find a range of Cash & Carry festive roasts, cold cuts and more, exclusively available at selected FairPrice stores from now till 31 December. To place an order, simply head to the deli section and speak to their friendly staff.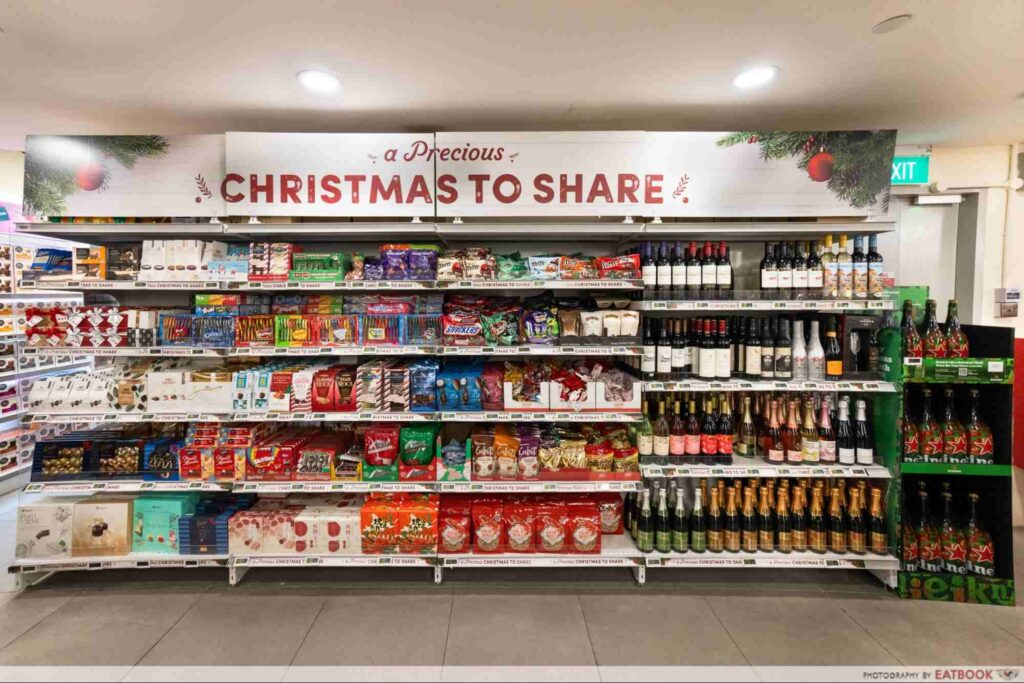 With over 150 stores across the island carrying these festive goodies and more, Christmas shopping is more convenient than ever. The wide and affordable selection caters to different dietary needs, and will please even the pickiest guest. 
In this season of giving, we're teaming up with FairPrice to give away a $100 e-gift voucher to three lucky winners. To enter the giveaway, check out our IG page for more information!
Photos taken by Hay Thi.
This post is brought to you by FairPrice.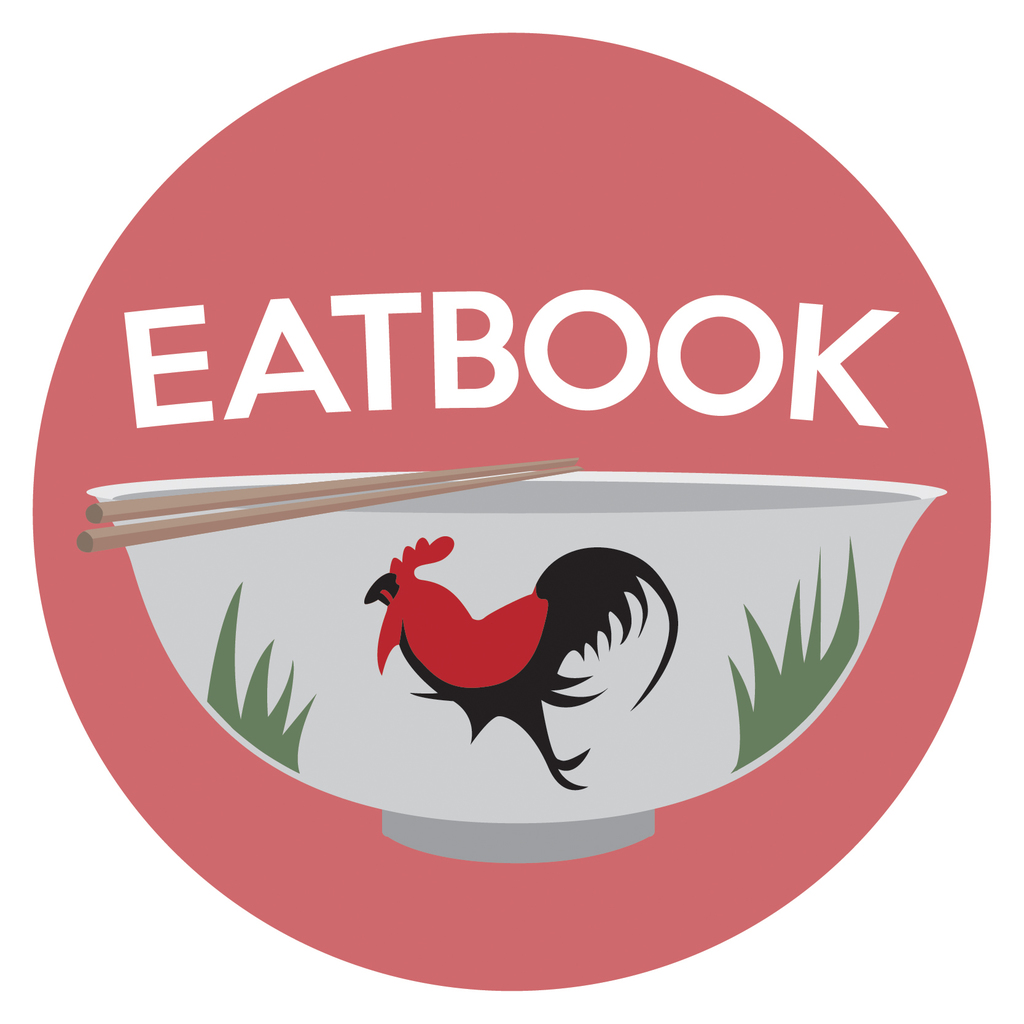 Drop us your email so you won't miss the latest news.