Lava Cheese Burger at TOBY'S The Dessert Asylum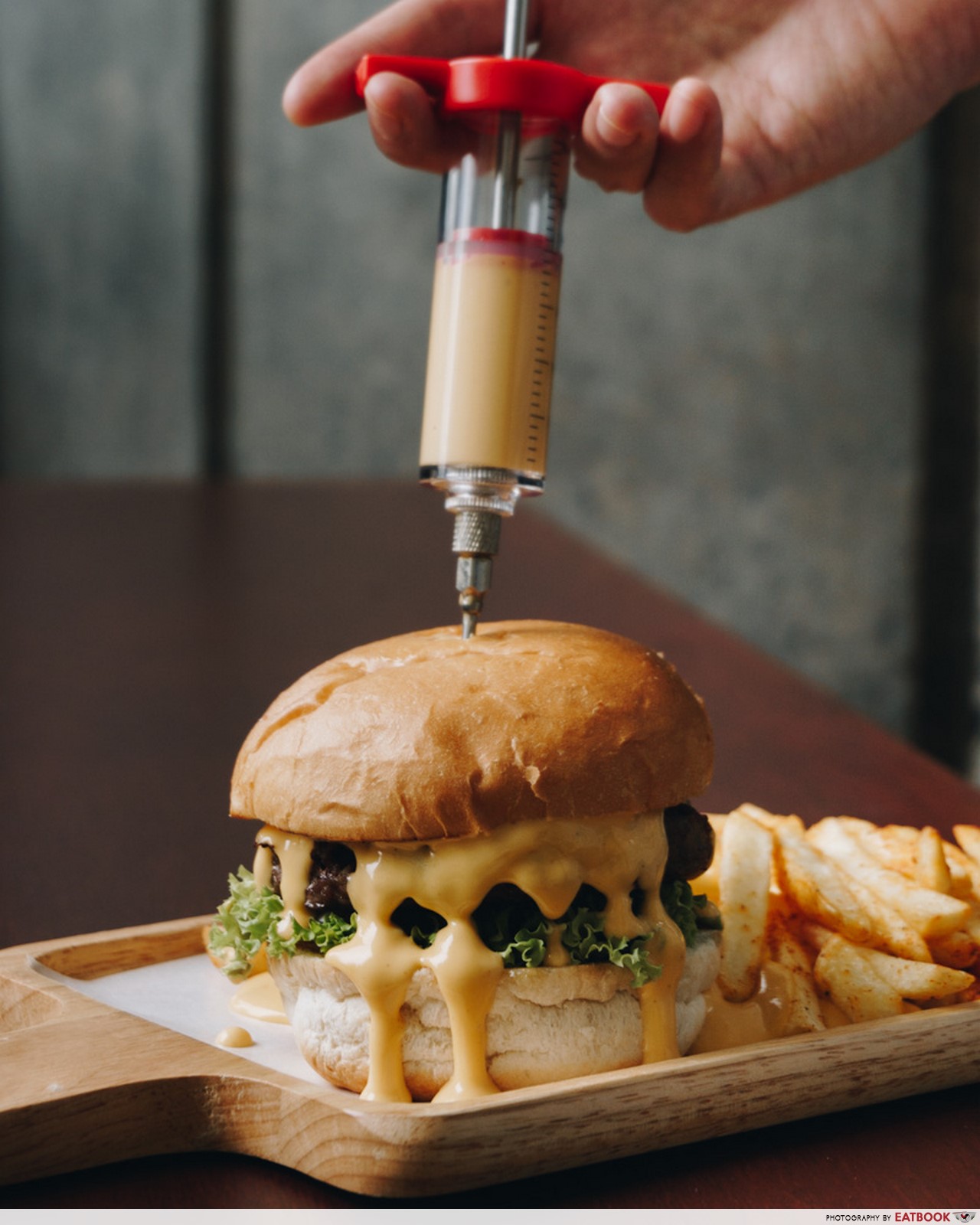 From chicken rice burgers to Ramly burger cafes, the burger scene in Singapore has always been exciting, with plenty of new and innovative creations constantly popping up.
Fresh out of the griddle is a Lava Cheese Burger ($14.50+) from TOBY'S The Dessert Asylum. The burger is presented with a thick beef patty that is sandwiched between buttery toasted buns. And with it comes a massive syringe filled with hot and gooey nacho cheese, which is directly injected into the burger.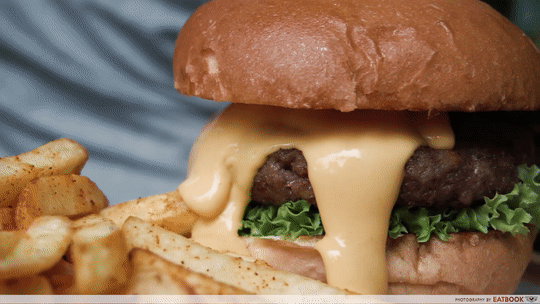 The melted cheese flows out of the burger, resulting in a thick and gooey mess. It will get quite messy though, so be prepared to get your hands dirty.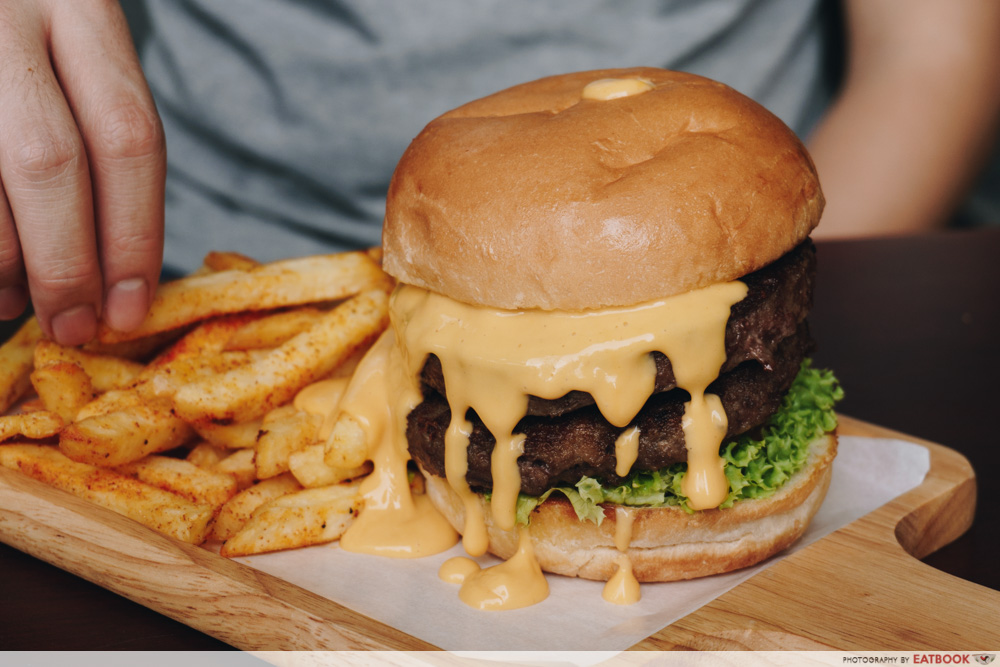 Injecting a burger with cheese might sound a little gimmicky, especially when it can be simply poured over the burger.
But this unique method ensures the cheese is served piping hot, resulting in a thicker and viscous consistency that coats the burger.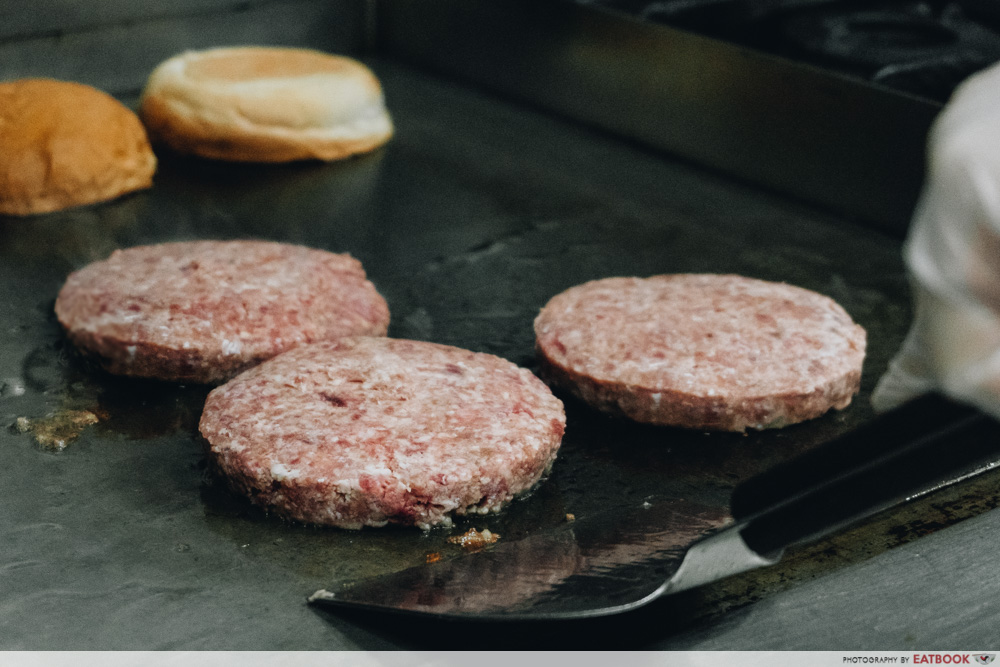 Located in Jurong East, the restaurant only uses 100% beef patties. This means there's no onions or fillers in the thick disks of meat.
They are also given a nice sear on the griddle, before being finished off in an oven. This two-step cooking process ensures that the meat remains juicy without being overcooked.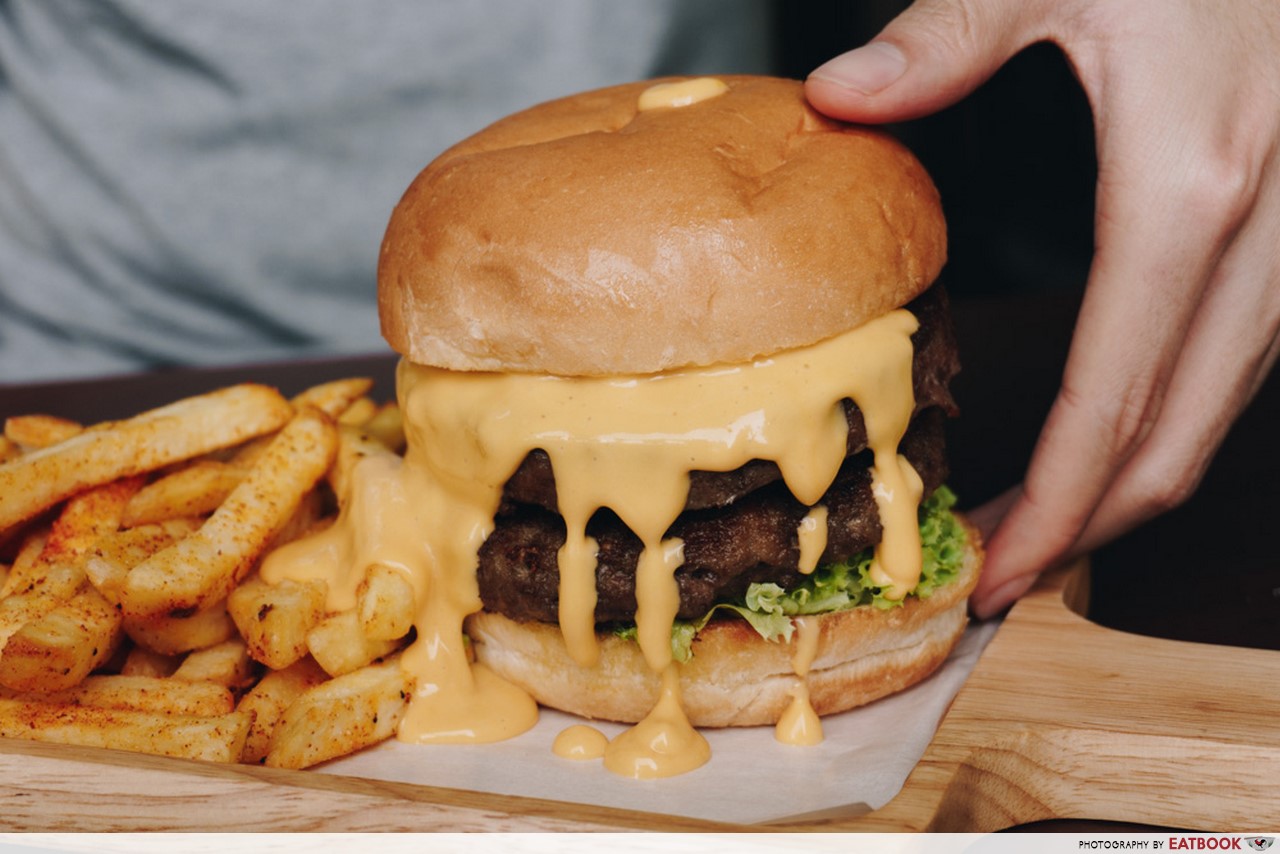 For those who want to add additional oomph to their burgers, an extra patty is available at $4+. It's quite a good deal considering the single patty burger costs $14.50+.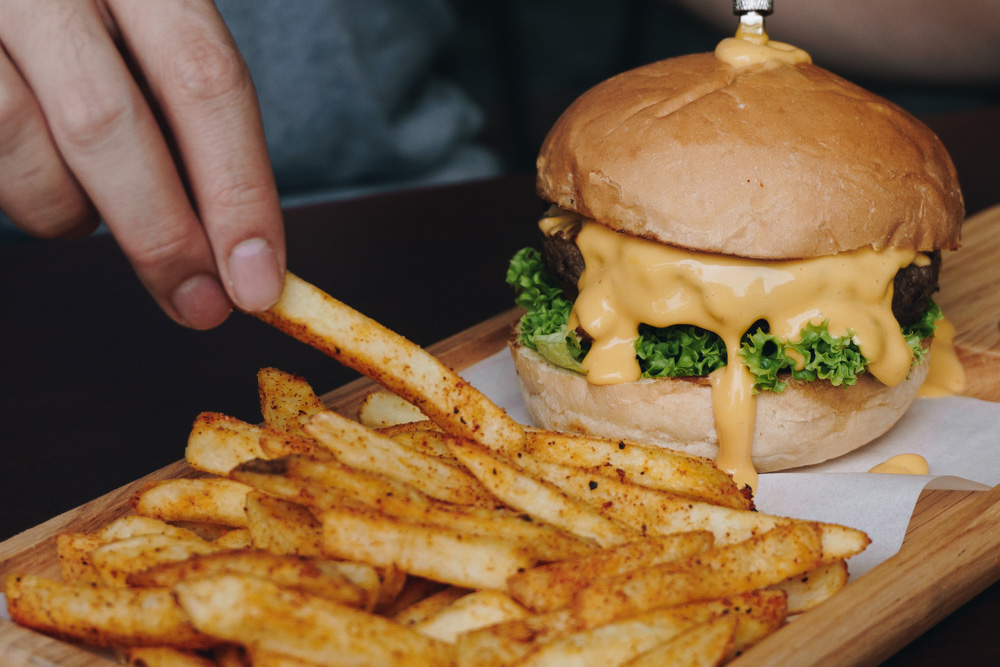 The burger also comes with a side of paprika-dusted fries. The spice powder gave a mild spiciness to the fried potatoes, but also a subtle sweetness that is nice when combined with the nacho cheese sauce.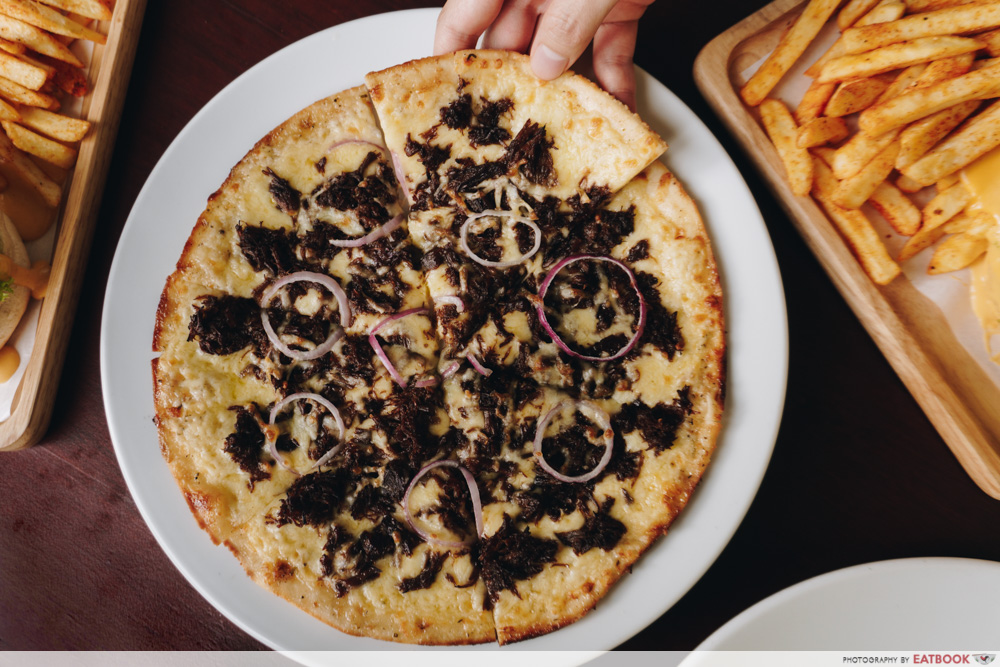 The restaurant is also known for serving up tasty pizzas, with their Stewed Pork Pizza ($15.90+) being a favourite among regulars.
The dough is rolled to a thin crust and slathered with a special white garlic sauce instead of the usual tomato variant. Shredded pieces of stewed pork are then scattered around the pizza, along with thinly sliced onions.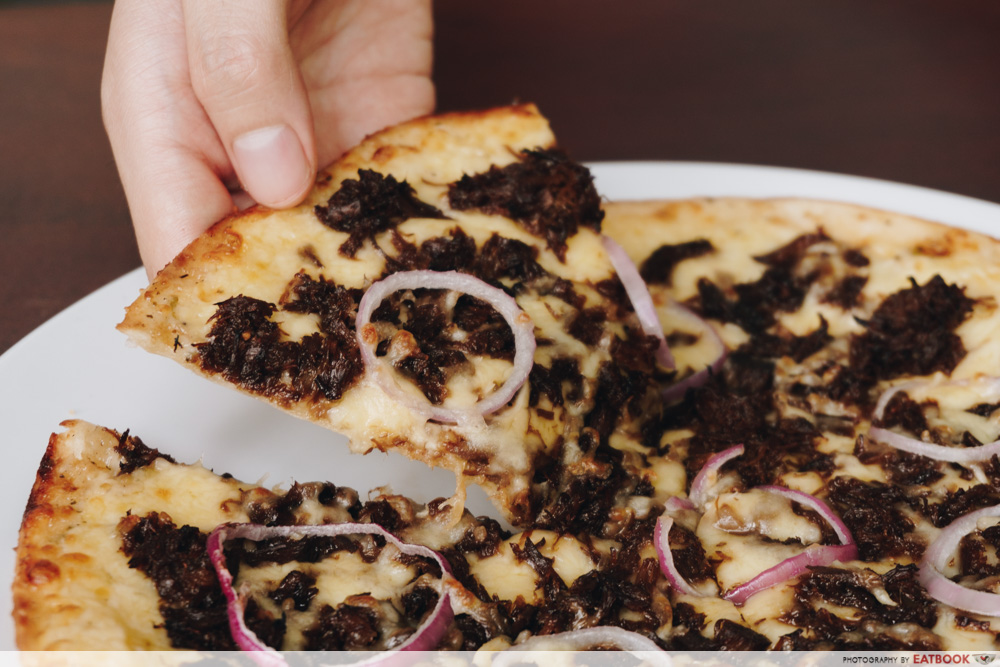 The creamy and rich garlic sauce combined with tender stewed pork makes for a tasty combination. I also liked how the house-made pizza dough was nicely stretched, giving a good bite and holding up the condiments well.
Address: 8 Boon Lay Way, #01-35, Tradehub21, Singapore 609964
Opening hours: Daily 11am to 10pm
Tel: 6316 2422
Email: enquiry@tobys.com.sg
Photos taken by Nadia Loewito.
This post is brought to you by TOBY'S The Dessert Asylum.