Flame Cafe takes steamboat to the next level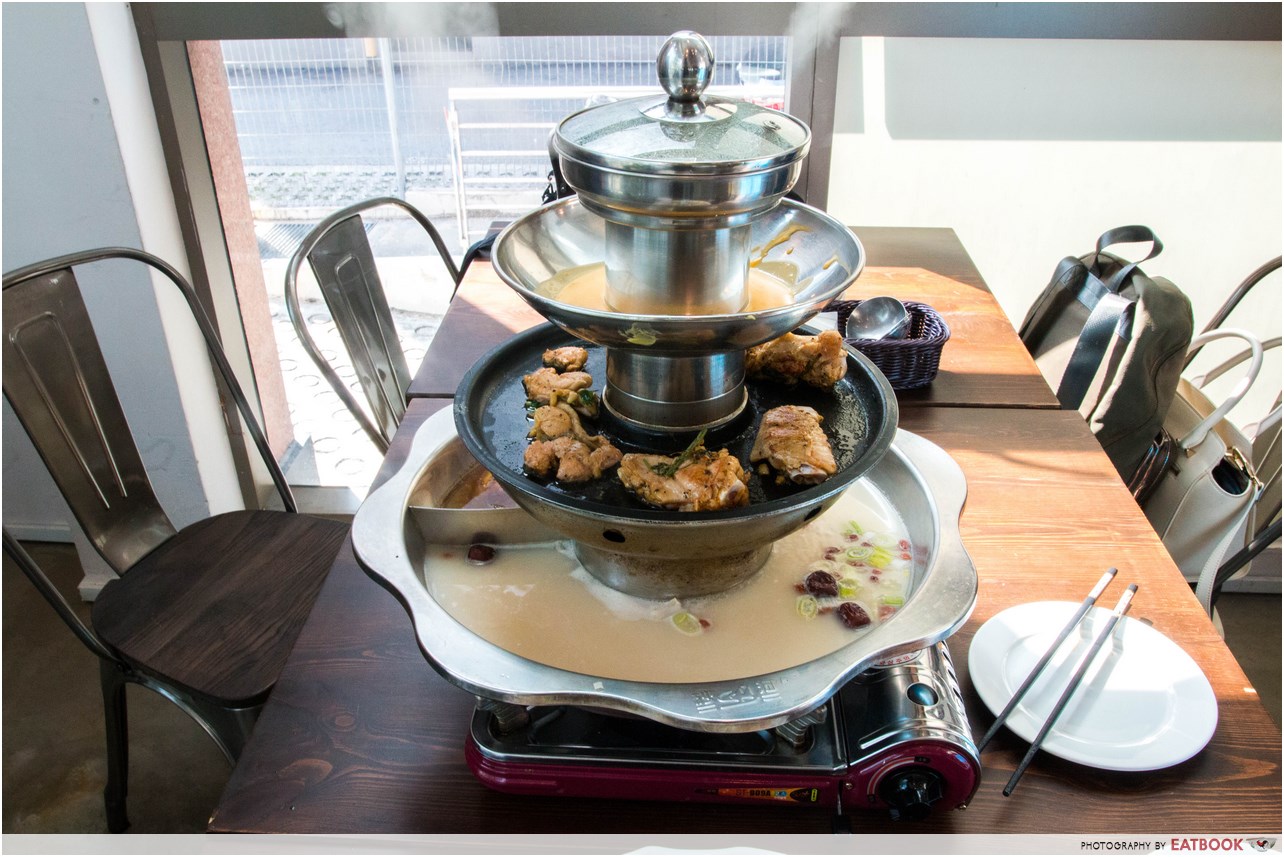 Add cheese to anything and you've got my attention. Add cheese to a hot pot sesh and you'll see me jumping out of my seat. Give me a cheesy hot pot in the cool, relaxed ambience of a cafe and you can be sure I'm on my way.
We've introduced a cheese fondue steamboat before, but we heard Flame Cafe upped the game with a four-tiered BBQ hot pot with cheese fondue. Just a two-minute walk from Tai Seng MRT station, this cafe was screaming for a visit, so visit it we did.
Food at Flame Cafe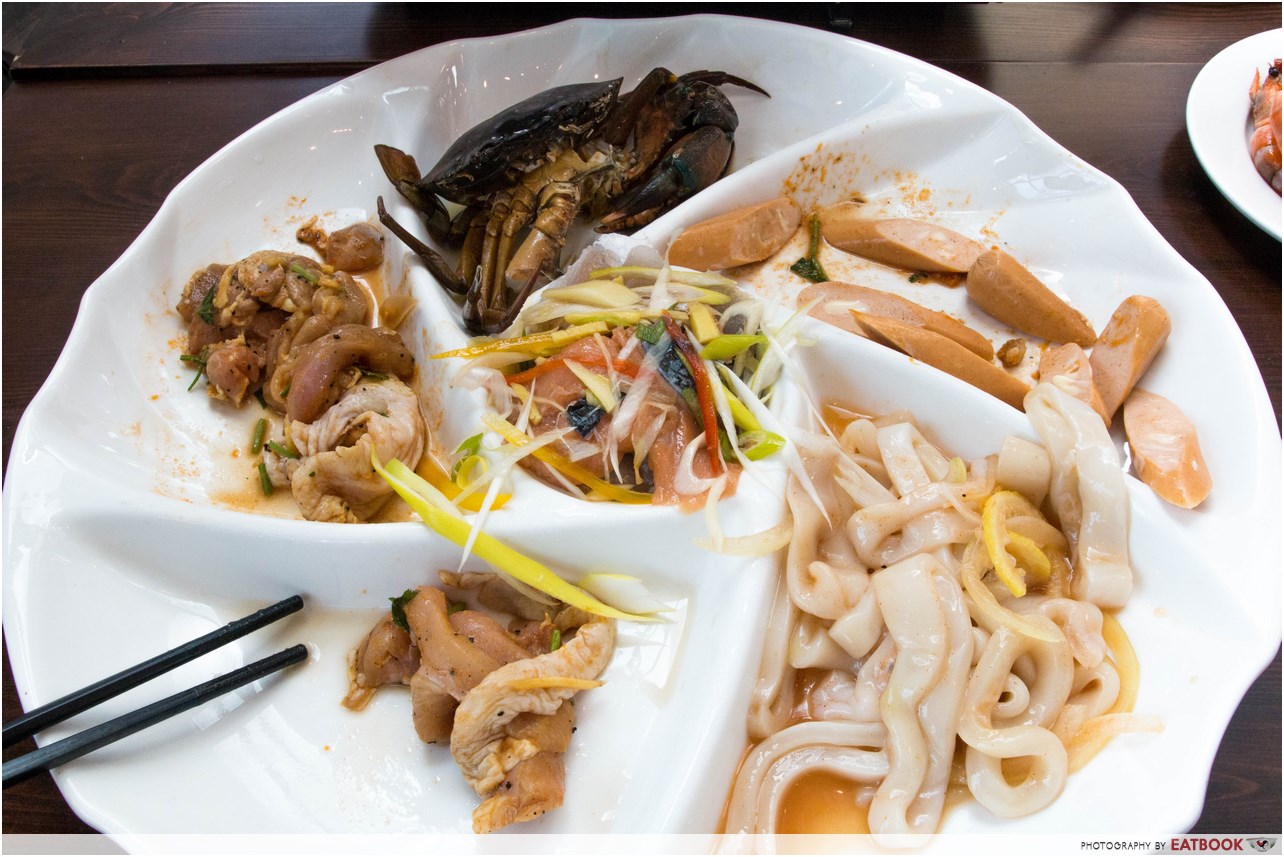 We ordered Cheesy Hotpot & BBQ Pagoda Steamboat with a Seafood & Meat Combo ($48.90++) that serves two to three people. The combo came with a wide variety of ingredients, including sotong, mussels, tiger prawns, mud crab, salmon, cheese hot dogs and chicken wings, all of which we could cook by steaming, grilling, or boiling.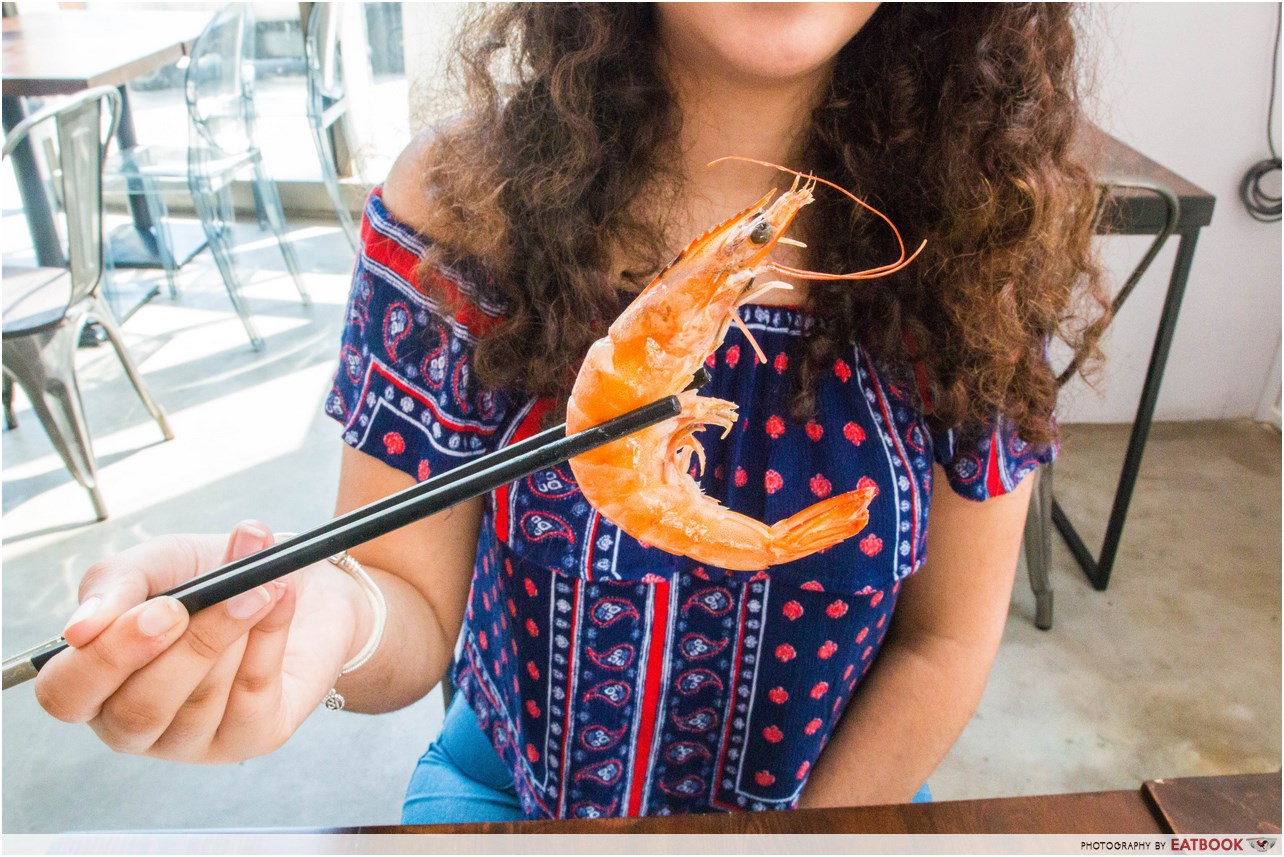 The tiger prawns and mud crab stood out the most. The prawns were plump and fresh, and as soon as we peeled the shell, juices started squirting out. This was the first ingredient we had, and it tasted great no matter how we cooked it.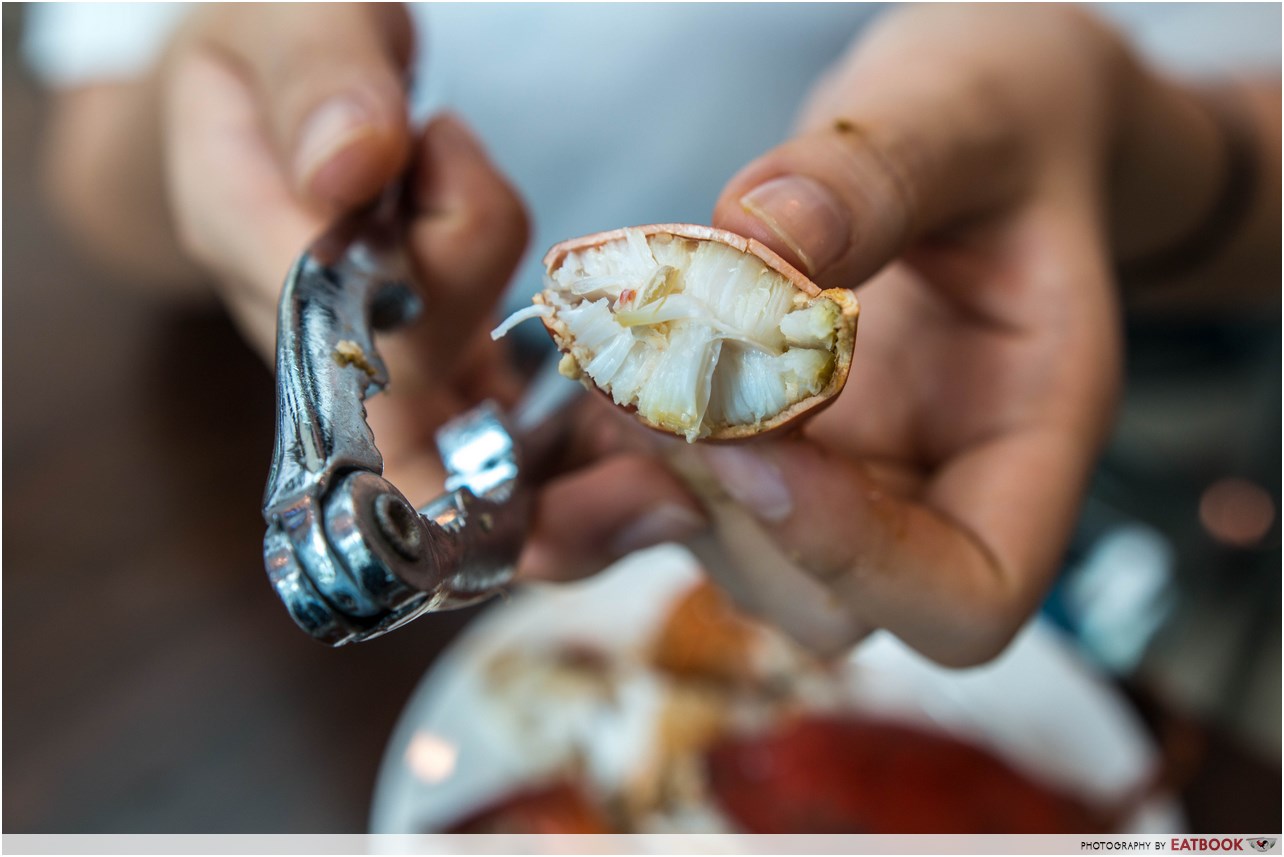 The shell of the mud crab cracked easily to reveal a surprisingly meaty interior. It didn't have an overly fishy taste or smell, and the meat was succulent.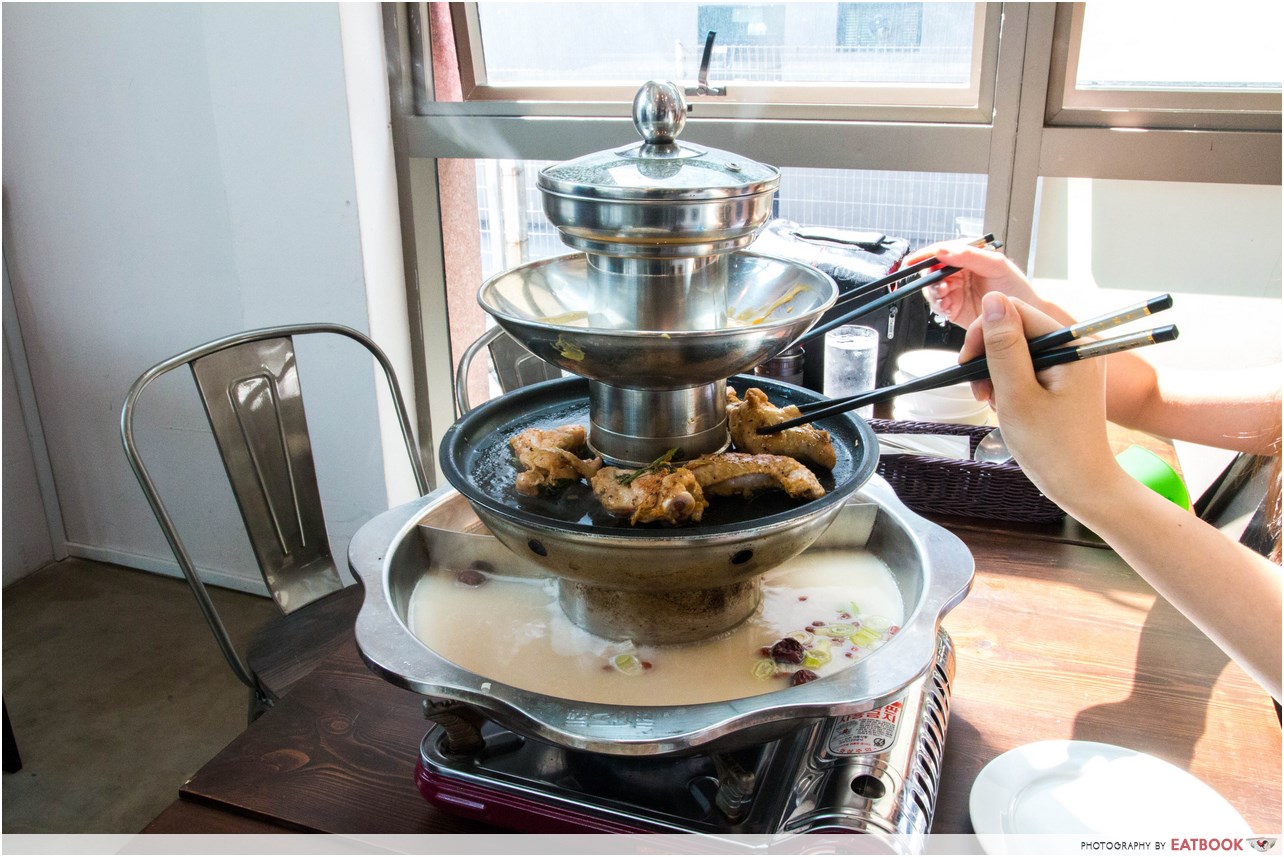 The pagoda itself has four tiers – a steamer, a plate of cheese fondue, a buttered grill, and a pot for the soups. The cheese fondue is one of the main draws of Flame Cafe, but while decent, wasn't as mesmerising as we had hoped.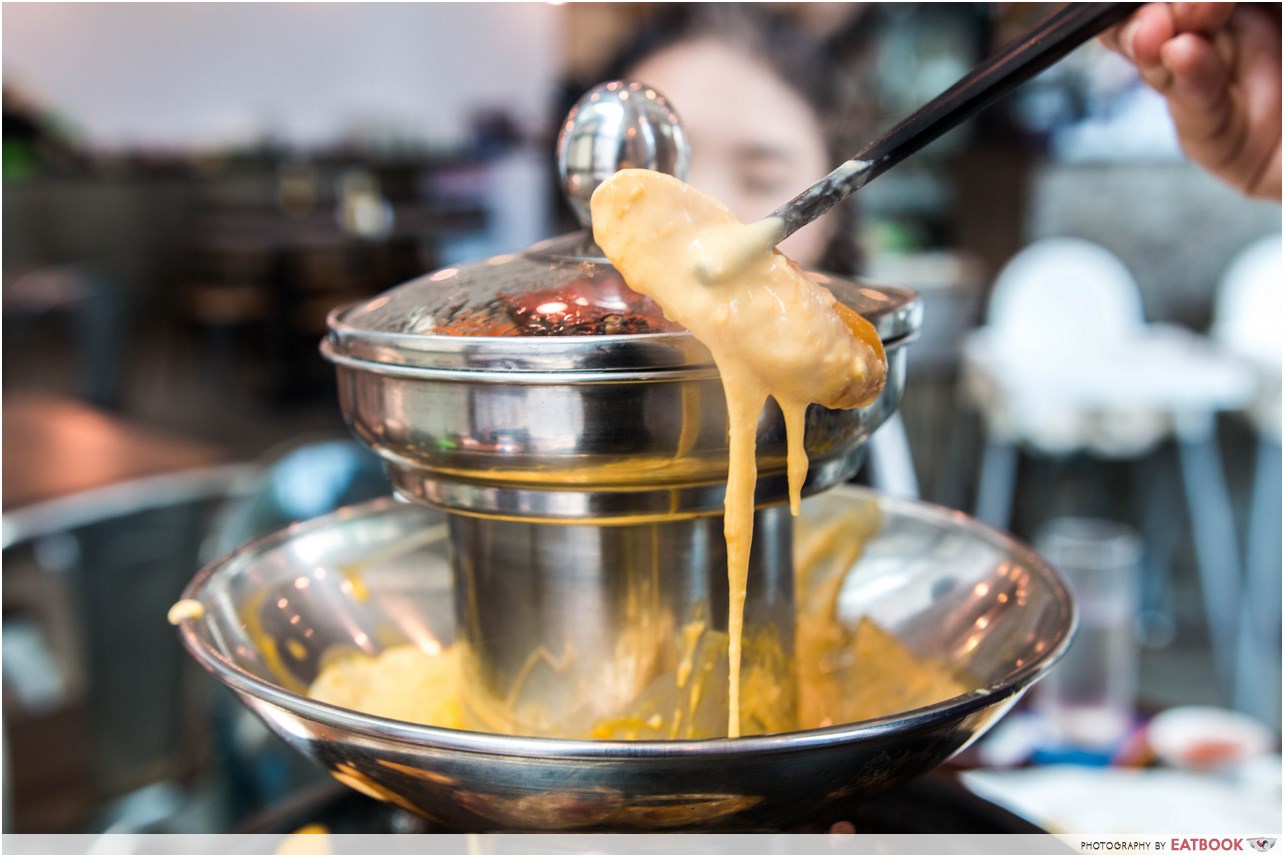 It was a nacho cheese sauce, and while it did pair well with the cheese hot dogs and chicken wings, it seemed to fit better as a movie-snack than a restaurant-quality meal.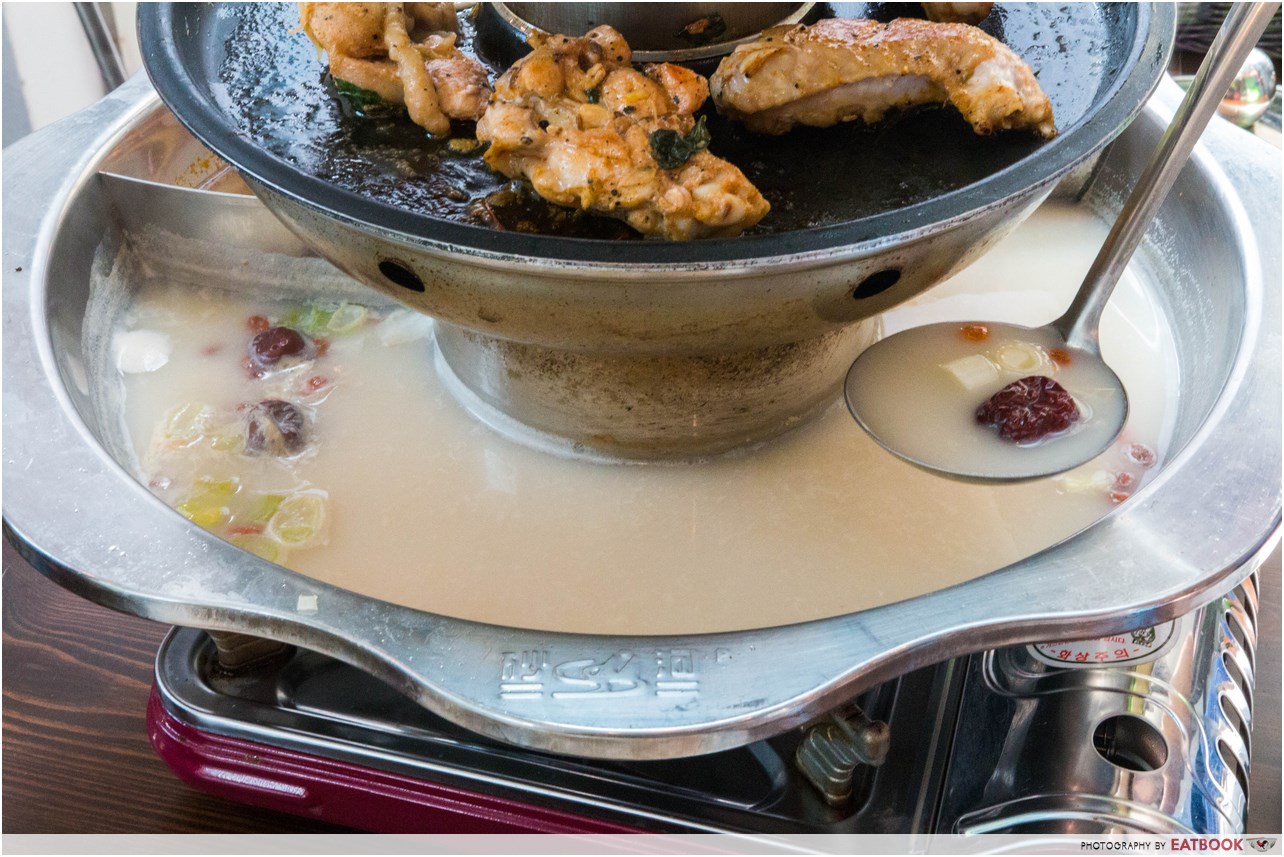 We chose to have Clear Chicken Soup ($5.90++) and Tom Yum Soup ($8.90++) as our base. The former, however, wasn't actually clear, but was milky instead. It was also slightly too salty and the chicken flavour didn't come through.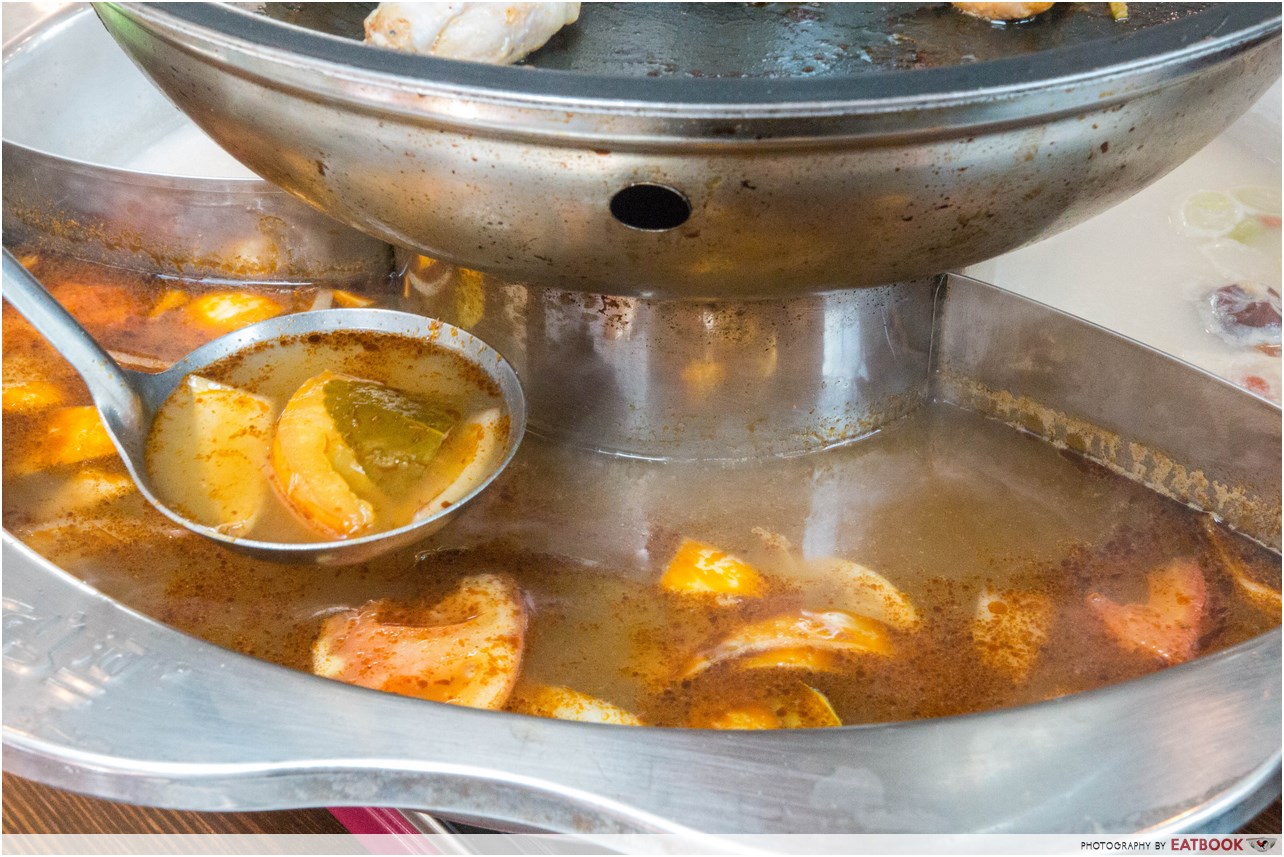 The tom yum, on the other hand, was significantly better. It had a kick with just the right amount of spiciness, and was extremely flavourful with undertones of lemongrass and kaffir lime.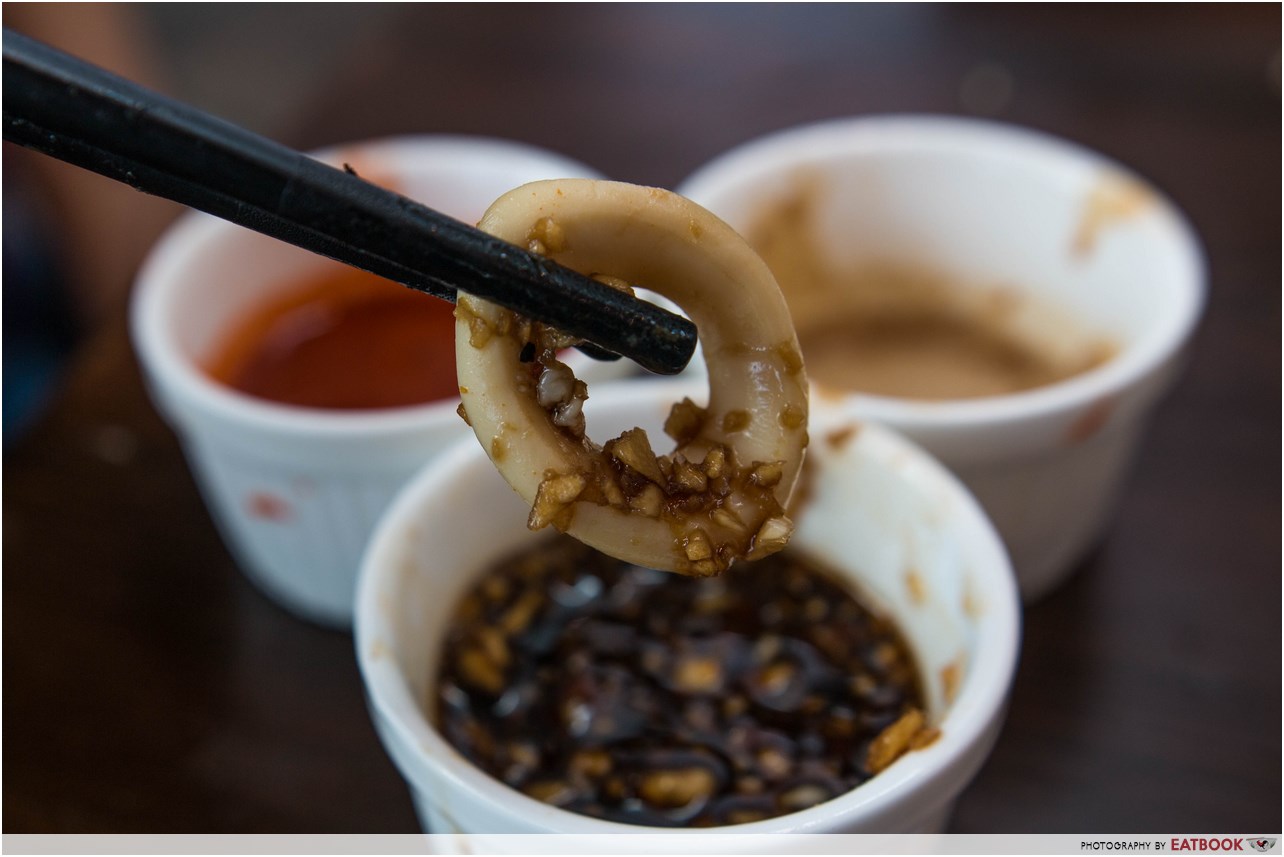 There was also a wide variety of condiments for us to choose from, and we went with three sauces: peanut sauce with white sesame seeds, chilli sauce, as well as vinegar and garlic. Vinegar and garlic stood out the most, as it was salty and sharp, but not excessively so.
We were pleasantly surprised at the end when we discovered the combo came with ice-cream for up to three people.
Ambience at Flame Cafe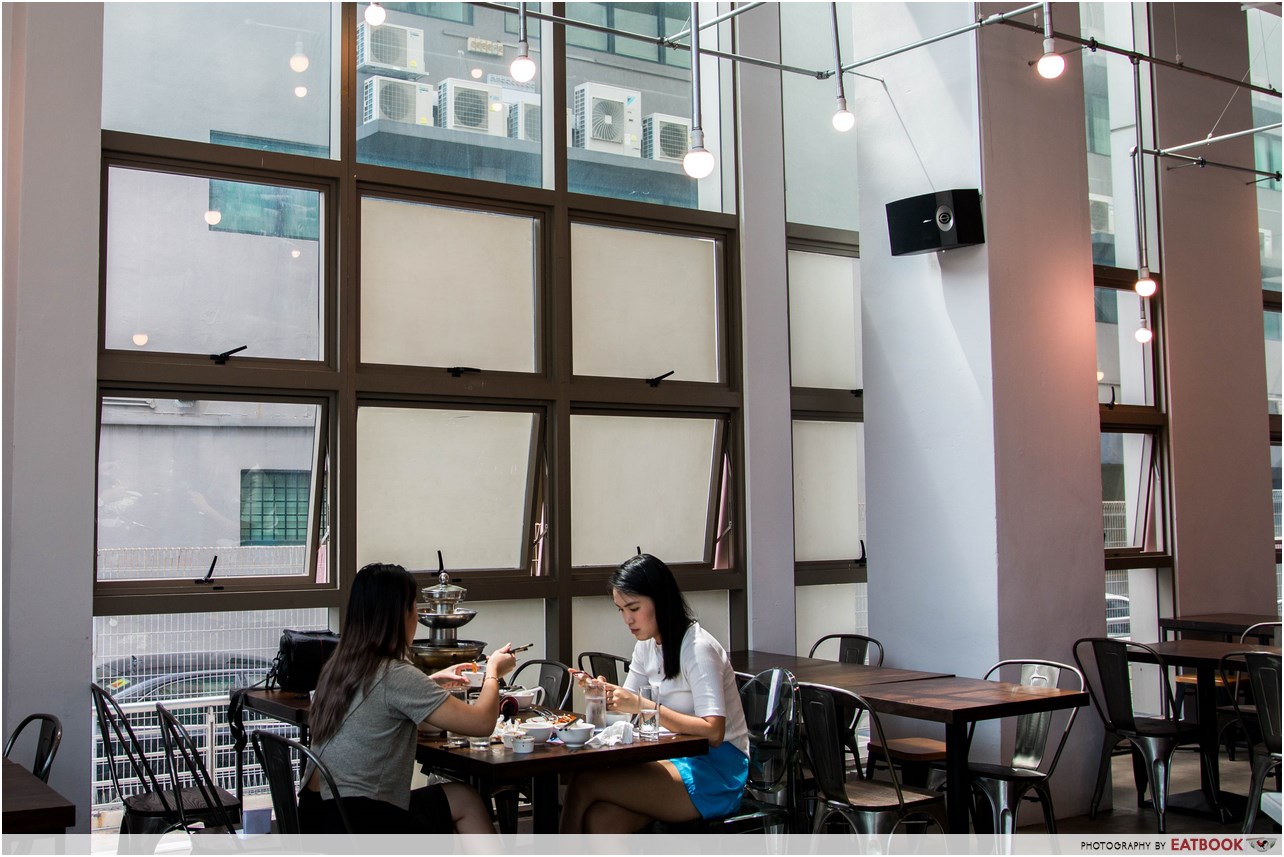 Conveniently located just a two-minute walk away from Tai Seng MRT Station, it's easy to see why Flame Cafe would be such a draw to office workers in the region. It boasts an Instagram-worthy interior, with warm lights and comfortably spread out tables that would make extended group lunches or dinners enjoyable.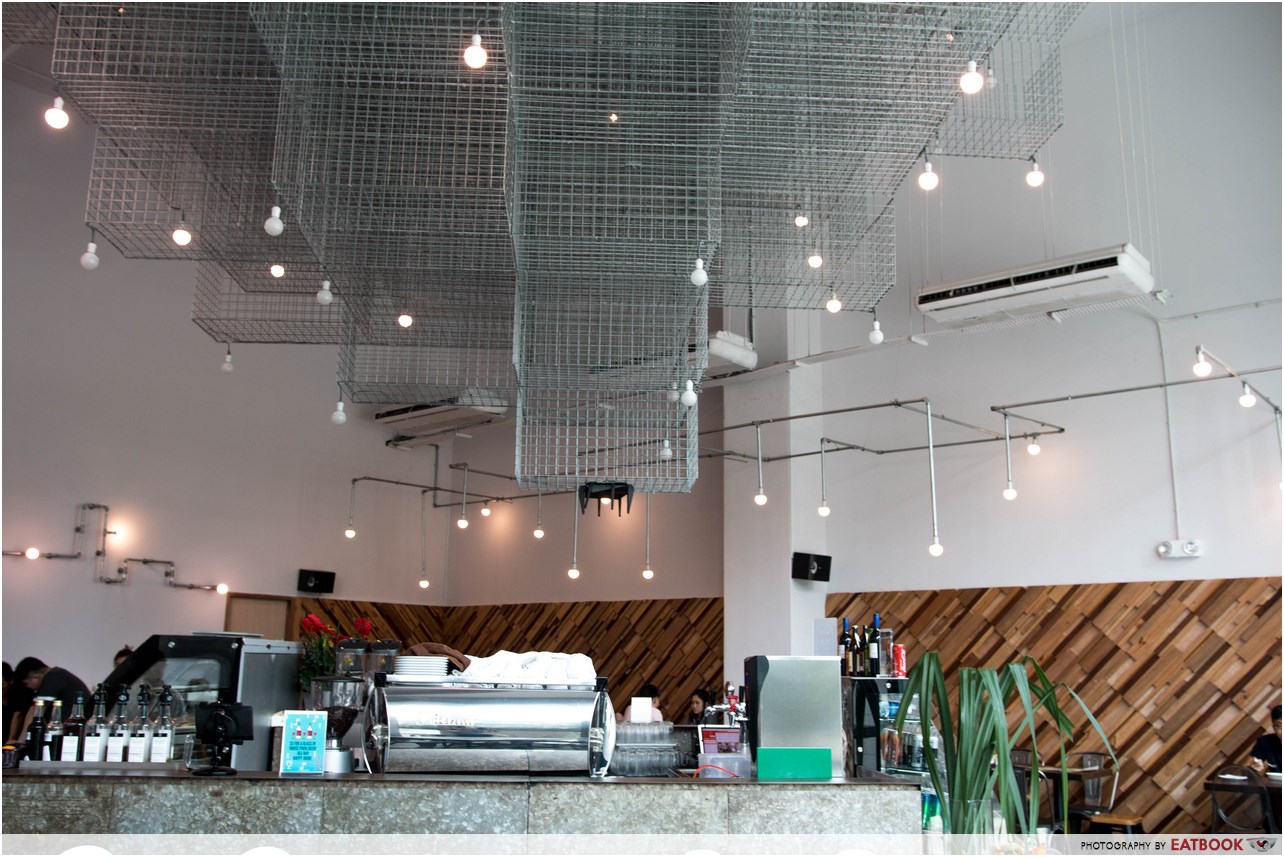 Right smack in the middle of the cafe is a large triangular bar, with an array of drinks on one side, fruits on another, and trays of add-ons for the steamboat on the third. Above it hangs an intricately constructed light installation that drew my attention when I walked in.
The verdict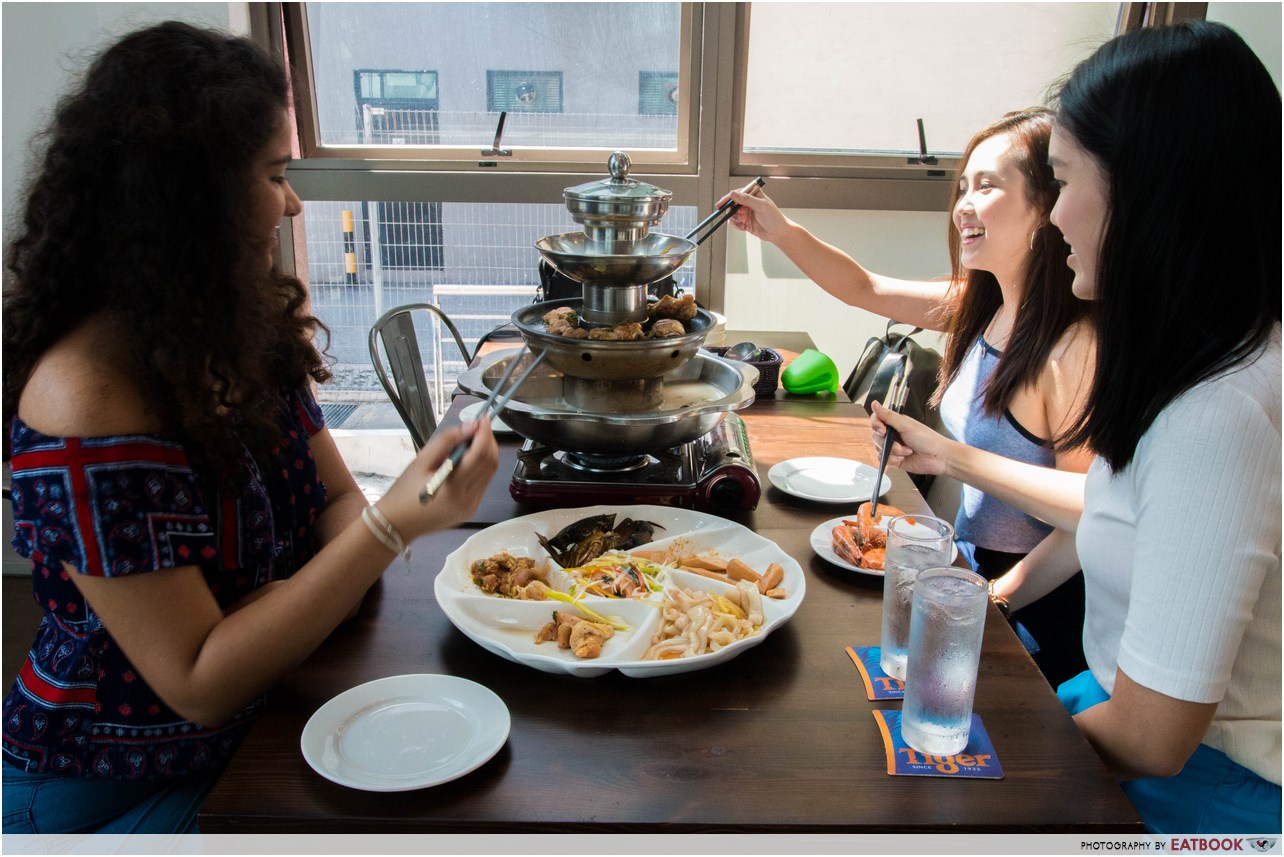 While the concept of a four-tiered hot pot with cheese is a great idea, the food was nothing to rave about. Location and ambience, however, give this cafe an edge.
This is an independent review by Eatbook.sg
Summary
Pros
– Convenient location
– Comfortable ambience
Cons
– Expensive
Recommended Dishes: Cheesy Hotpot & BBQ Pagoda Steamboat with Seafood and Meat Combo ($48.90++)
Operating Hours:
Monday – Thursday: 9am to 11pm
Friday – Saturday: 9am to 2am
Sunday: 11pm to 11pm
Cheesy Hotpot & BBQ Pagoda Steamboat is only available after 3pm.
Tel:
6282 0251
Address: 73 Upper Paya Lebar Road, Level 1, Singapore 534818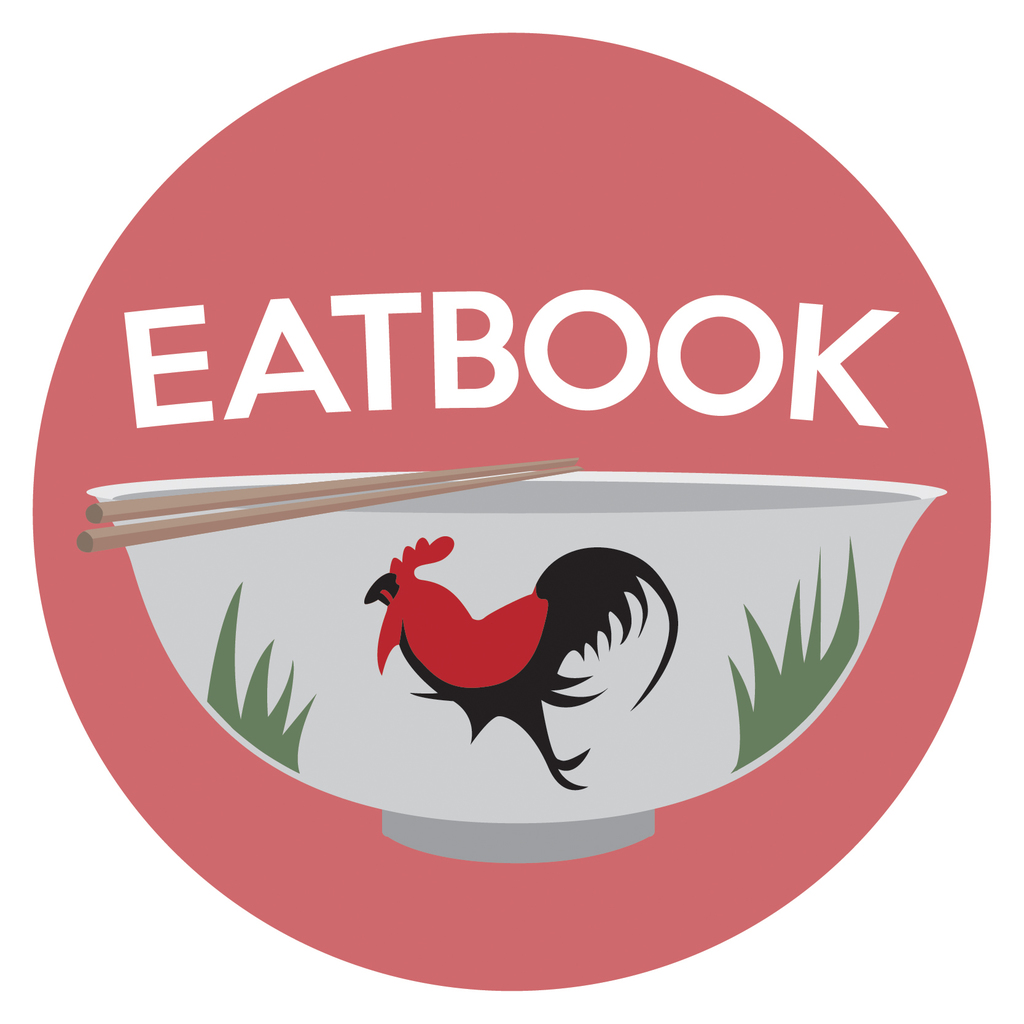 Drop us your email so you won't miss the latest news.