---
Set fire to the plate
---
"Liar, liar, pants on fire" is the famous nursery rhyme, but there ain't no pants on fire going on in Singapore. Instead, a trend of setting food on fire is popping up. From pizza to chocolate domes and steaks, restaurants everywhere seem to be lighting up their dishes to attract diners. If you're into setting your dish aflame, here are 10 places that can help you achieve just that.
---
1. The Ship Restaurant & Bar
---
If you're a big believer in restaurants that have been around for ages, then you'll like The Ship. Started almost 40 years ago, this old-school restaurant serve hearty western fare that includes an impressive Ship Steak ($36.90++). It is flambéed with brandy before served, which makes this is a dish you should prep your camera for.
Address: 1 Scotts Road, #03-16/18, Shaw Centre, Singapore 228208
Opening hours: Mon-Thur 11am to 3pm, 5:30pm to 9:30pm, Fri-Sat 11am to 3pm, 5:30pm to 10pm
Tel: 6235 2235
Menu
Find out what other old-school restaurants there are in Singapore here.
---
2. Shin-Sapporo Ramen
---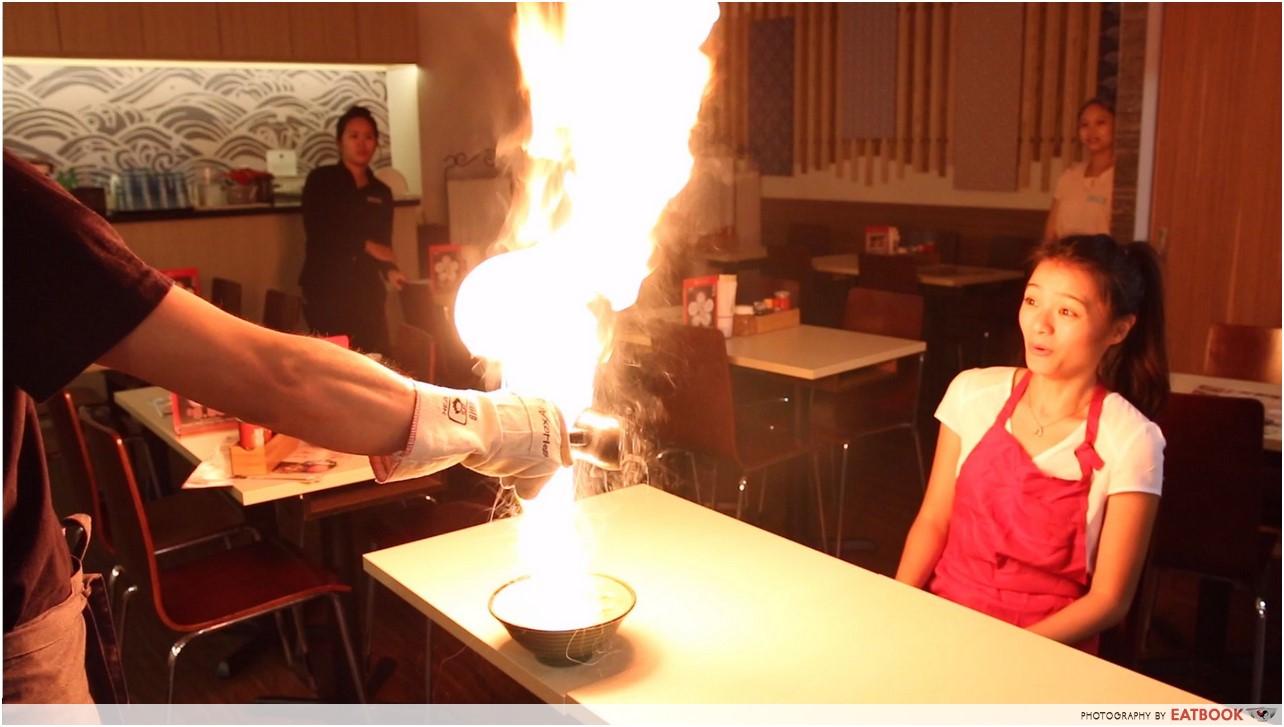 We all want our ramen to arrive piping hot, but Shin-Sapporo Ramen takes hot to a whole new level. Every bowl of Fire Ramen ($15.80++) comes with a performance, where you get a chef adding a scoop of flaming oil over chashu ramen. Don't play play 'cause they've even got a set of safety guidelines you need to follow to make sure you don't get hurt.
Address: 2 Tampines Central 5, #B1-10/11, Century Square, Singapore 089592
Opening hours: Mon-Sun 11am to 10pm
Tel: 6783 6304
Menu
Read our full review here.
---
3. Lokkee
---
This has got to be one of the quirkiest dishes in Singapore. Lokkee's Awesome Flaming Pineapple Beef ($28++) is literally a giant pineapple on fire! Open it and you'll find tender and flavourful pieces of braised beef that'll go well with a bowl of fluffy white rice. Located in Plaza Singapura, this is an awesome spot for after-work dinner with a few friends.
Address: 68 Orchard Road, #03-01, Plaza Singapura, Singapore 238839
Opening hours: Mon-Sun 11am to 3pm, 5:30pm to 10pm
Tel: 6884 4566
Menu
---
4. Henri Charpentier
---
Henri Charpentier's flaming Dome ($29++) took Instagram by storm when it first appeared in the scene, and it's still one of the most popular ones in Singapore to date. The fire only lasts for a few seconds and leaves behind a melted chocolate parfait of strawberry and almond cookies. If you've got space in your tummy for more, definitely order the flaming Crepe Suzette ($22++), which is the very dessert that first made them famous in Japan.
Address: 9A Dempsey Road, Singapore 247698
Opening hours: Mon-Thur 12pm to 7pm, Fri 12pm to 11pm, Sat 11am to 11pm, Sun 11am to 7pm
Tel: 6479 5518
---
5. Mr & Mrs Maxwell
---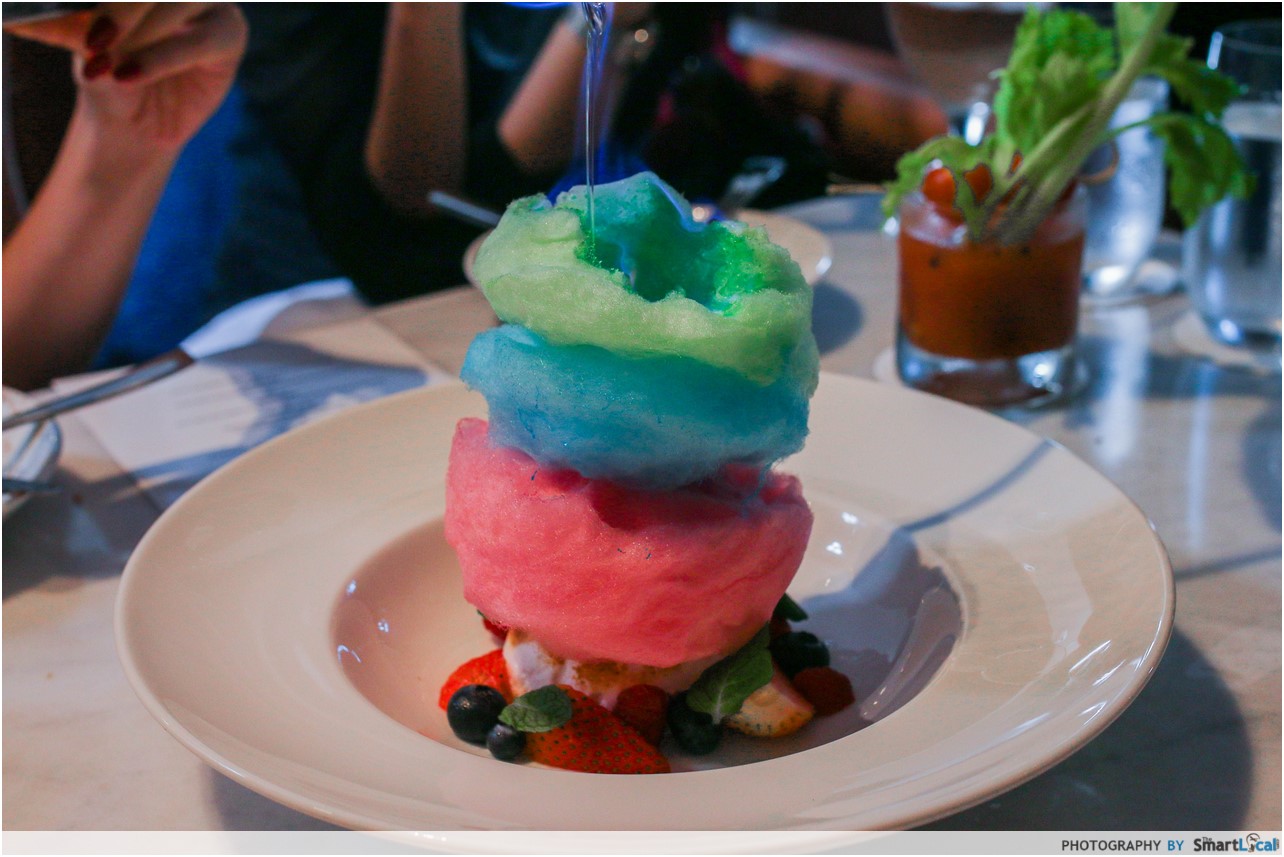 Here's one for those who need help for date night. Mr & Mrs Maxwell's atas decor and extensive menu will impress bae, and if you want to extend the lovely night, stay for desserts. Their Baked Alaska ($16++) stands out with colourful cotton candy, and it's set on fire right before your eyes.
Address: 28 Ann Siang Road, Singapore 069708
Opening hours: Mon-Sun 7am to 11pm
Tel: 6808 2181
---
6. Atmosphere Bistro & Bar
---
In case you're not aware, the number 1 rule in life is to never say no to pizza. Atmosphere Bistro & Bar doesn't just serve pizza, but pizza on FIRE. It's not just some small random spark either, the flame is on most of the pizza and we still can't figure out how it doesn't burn the entire thing to ashes – let us know if you can.
Address: 920 East Coast Parkway, #01-25/26/27, Singapore 449875
Opening hours: Mon-Thur 6pm to 12am, Fri 6pm to 1am, Sat-Sun 10:30am to 1am
Tel: 6440 9705
Menu
---
7. Shashlik
---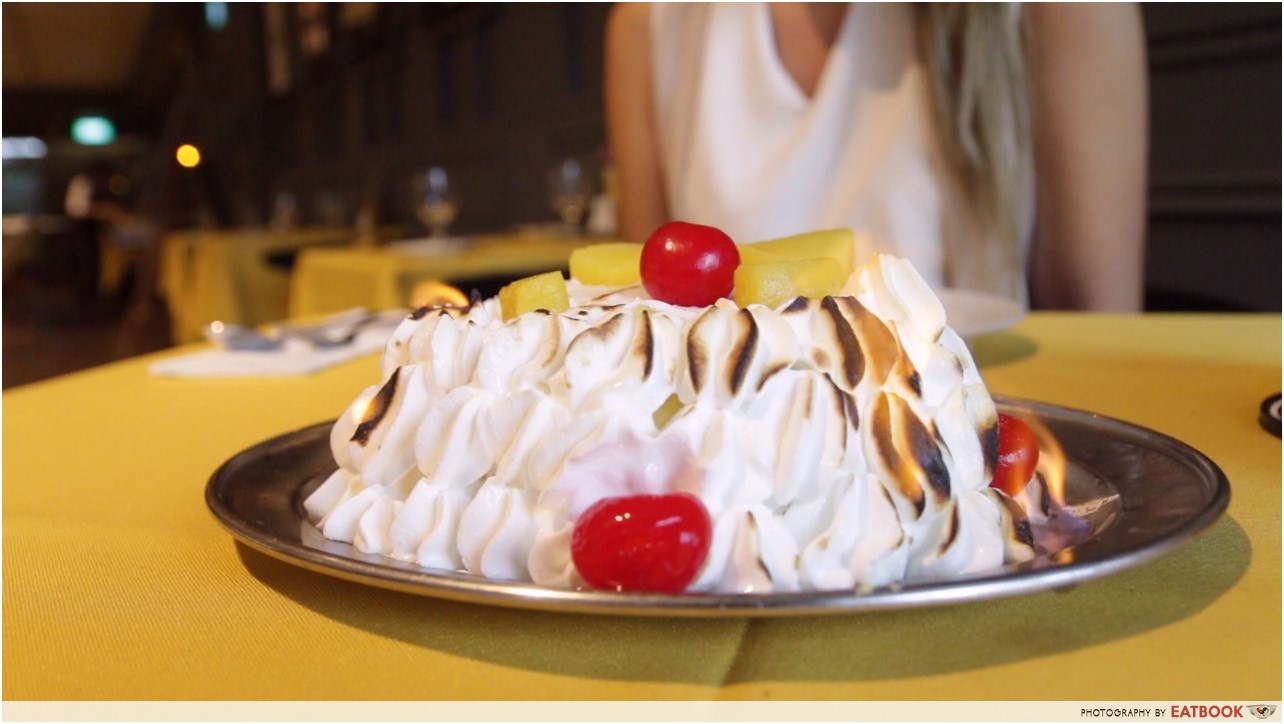 Unlike Mr & Mrs Maxwell's, Shashlik's Baked Alaska ($24++ for 2 people) is way more old-school. Expect vanilla ice-cream and sponge cake wrapped in meringue, then doused with flaming dark rum. They've also got a Russian Coffee ($15++) that's set on fire before it's served with whipped cream on top.
Address: 545 Orchard Road, #06-19, Far East Shopping Centre, Singapore 238882
Opening hours: Tues-Sun 12pm to 2:15pm, 6pm to 9:15pm
Tel: 6732 6401
Read our full review here.
---
8. BOCA
---
When it comes to European cuisine in Singapore, Italian and French restaurants immediately come to mind. While those are plentiful in our sunny island, Portuguese cuisine deserves the spotlight too. BOCA bring Portuguese cuisine to Singapore with buttery Portuguese Egg Tarts ($6++) and Chourico em chamas ($36++), or flamed chorizo that's still burning on your table.
Address: 6 Bukit Pasoh Road, Singapore 089820
Opening hours: Mon-Sun 12pm to 2:30pm, 6pm to 12am
Tel: 6221 0132
Menu
---
9. Bar Stories
---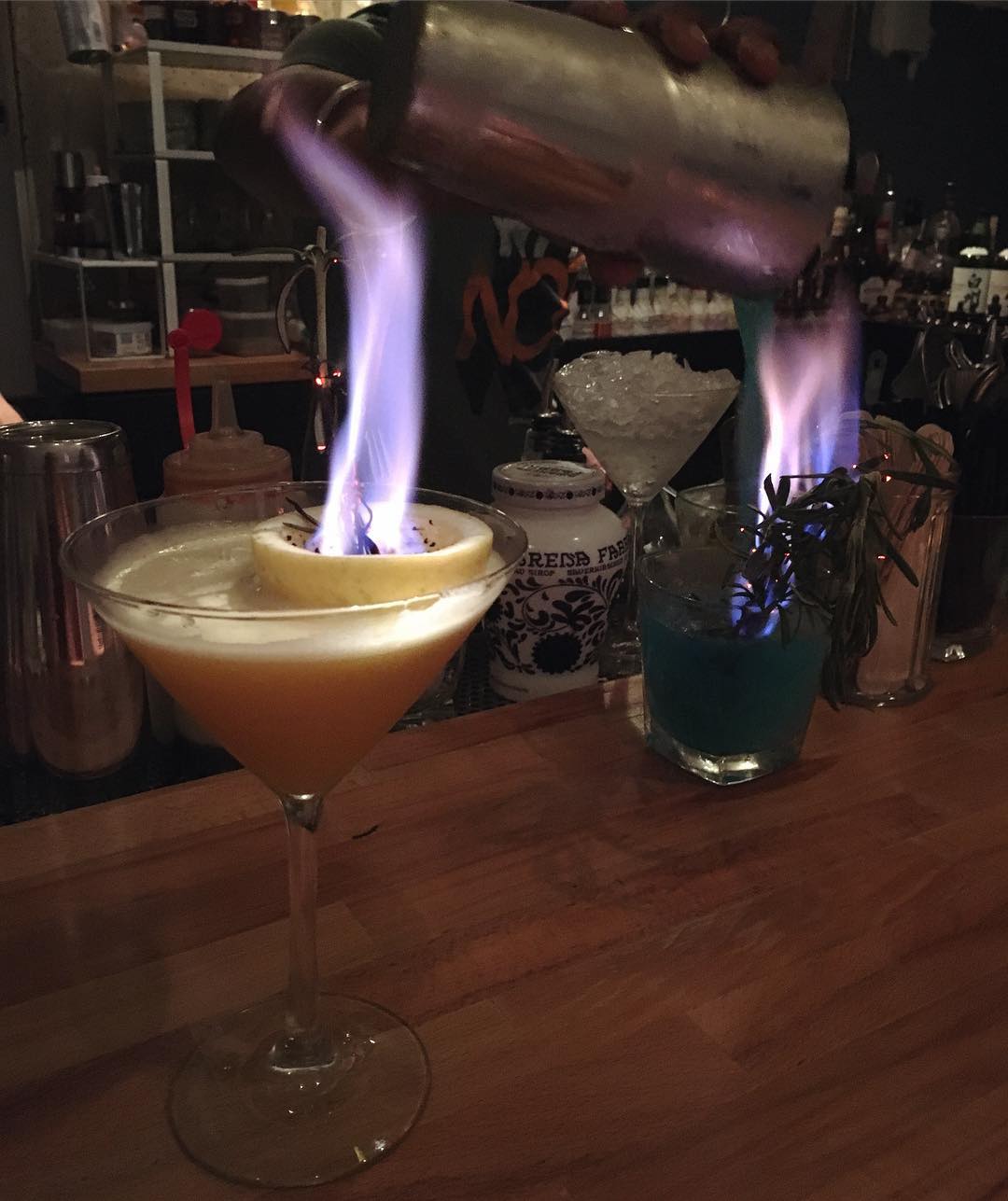 Bar Stories' flaming drinks takes "alcohol burning your throat" to the next level. Get the experienced bartenders to customise your drinks as you wish, and expect nothing less than a stellar cocktail here. They've got all sorts of ingredients at the back of the bar – including Nutella and kaya – so don't hold back on your order!
Address: 55-57 Haji Lane, Singapore 189248
Opening hours: Mon-Thur 4pm to 1am, Fri-Sat 4pm to 2am, Sun 4pm to 1am
Tel: 6298 0838
Find out what are some other speakeasies in Singapore here.
---
10. FOC
---
For a post-dinner spectacle, get FOC's Flaming Rum Baba with Chantilly Ice Cream ($14++). Before you go, "Rum-whaaat?", rum baba is a French yeast cake saturated in liquor and filled with cream.  At FOC, a waiter or waitress scoops flaming rum into the dessert right before you so get ready to watch the cake go up in flames.
Address: 40 Hong Kong Street,  Singapore 059679
Opening hours: Mon-Thur 12pm to 2pm, 6pm to 10pm, Fri-Sat 12pm to 2pm, 6pm to 10:30pm
Tel: 6100 4040
Menu
---
Somebody call 911
---
There's no shawty fire burning on the dance floor here, but there are loads of dishes burning on the table in Singapore nowadays. No matter which one on the list you go for, be sure to take an awesome shot of it and tag us. Let us know in the comments if you've come across any other flaming dishes as well!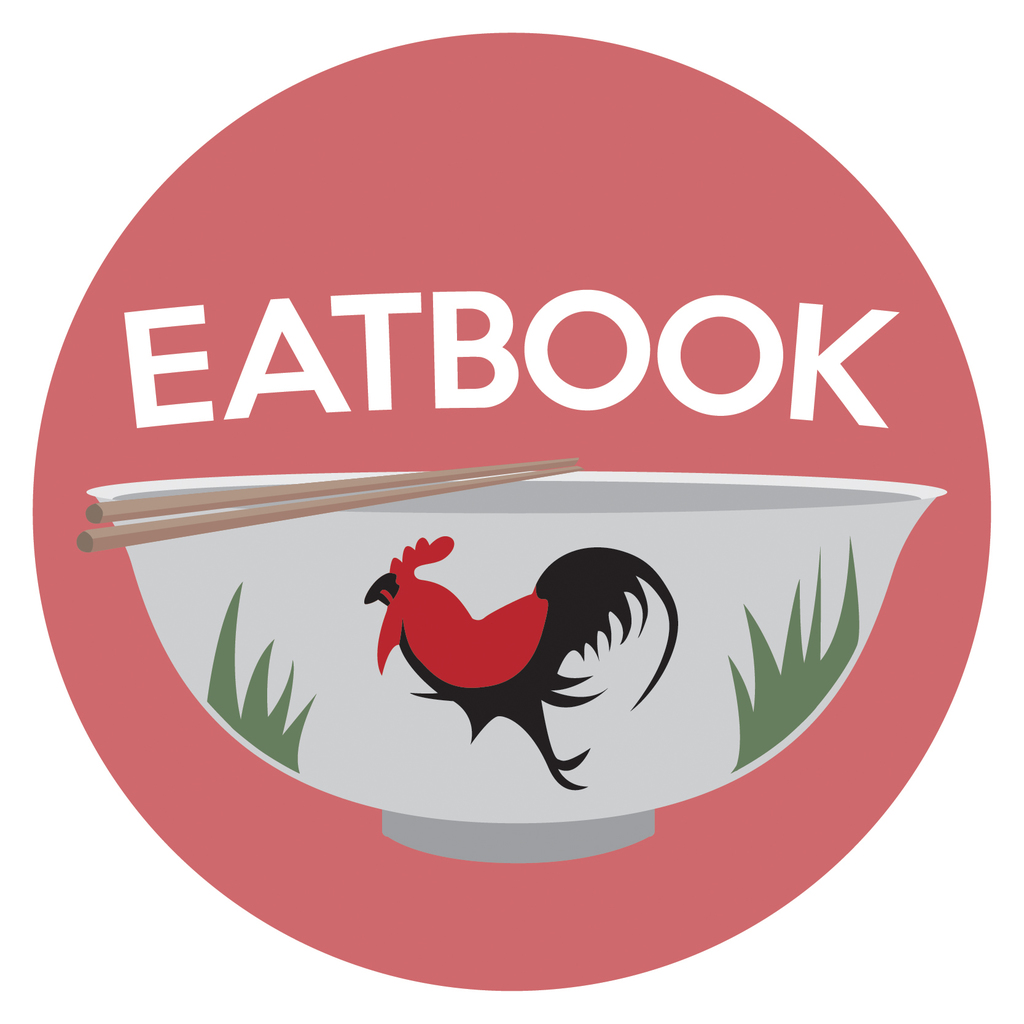 Drop us your email so you won't miss the latest news.