Frieda is an underrated restaurant in City Hall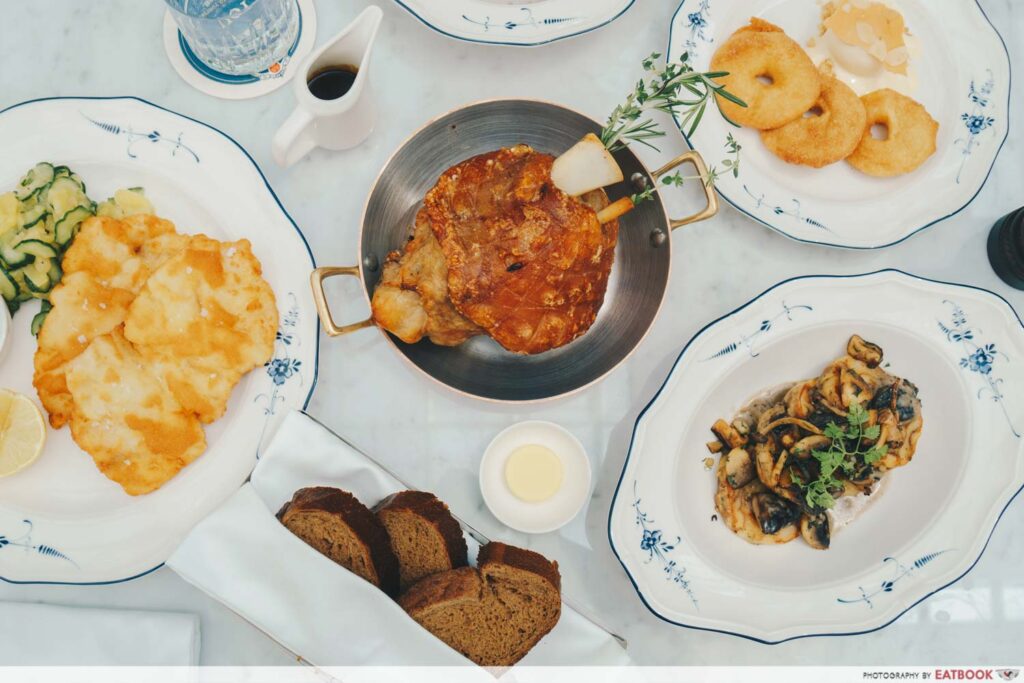 When I think of German restaurants, a more masculine atmosphere filled with dark wood always comes to mind. So when I stumbled upon Frieda, I was surprised to find a menu of hearty German fare instead of dainty cafe bites. Situated at the Capitol Kempinski Singapore, where Capitol Milk Bar is  also located at, the airy space is inviting, and is a far cry from Brotzeit or Paulaner Brauhaus.
Food at Frieda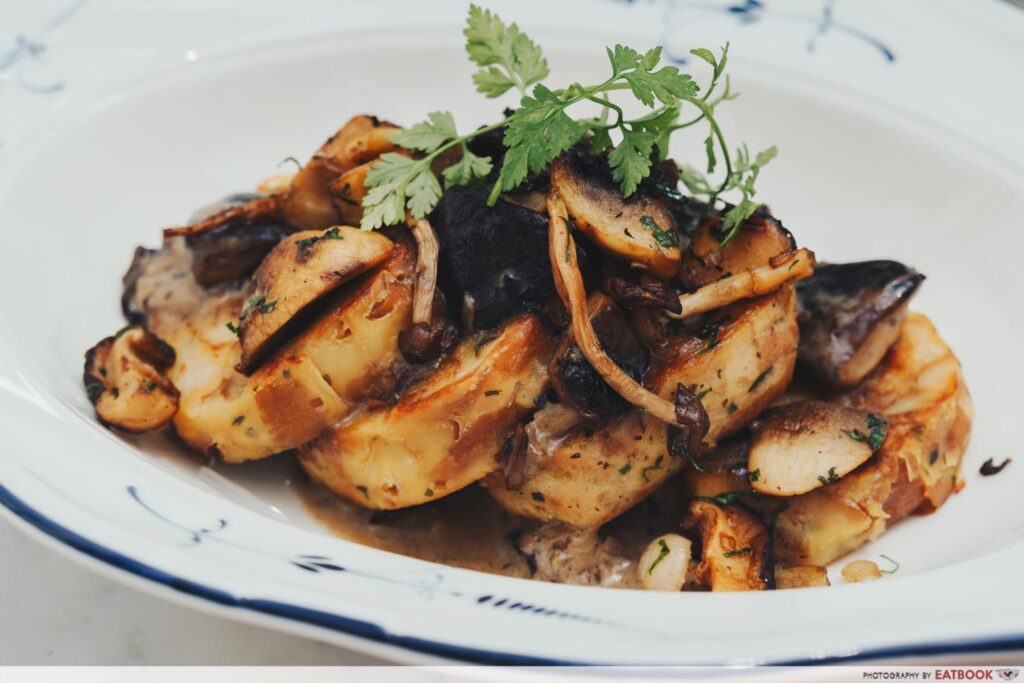 The Pretzel Dumplings ($15++ for half, $26++ for full) might not look like much, but it was the reason why I made a return visit to Frieda. Unlike the usual potato dumplings you would find in an Italian or Czech restaurant, the German variant is made using an actual baked pretzel. 
The pretzels are cut into cubes, before being soaked in milk mixed with onions, chives, parsley, and egg white. Afterwards, they get formed into rolls, and are poached and pan-fried with butter. 
Its dense texture made for the perfect base to mop up the velvety mushroom ragout sauce that came with it. It was a rustic dish full of hearty flavours⁠⁠—my idea of comfort food at its best.
If you're dining in a group, I suggest you order this to share as part of your carbo fix. Having it all on your own may prove to be too filling.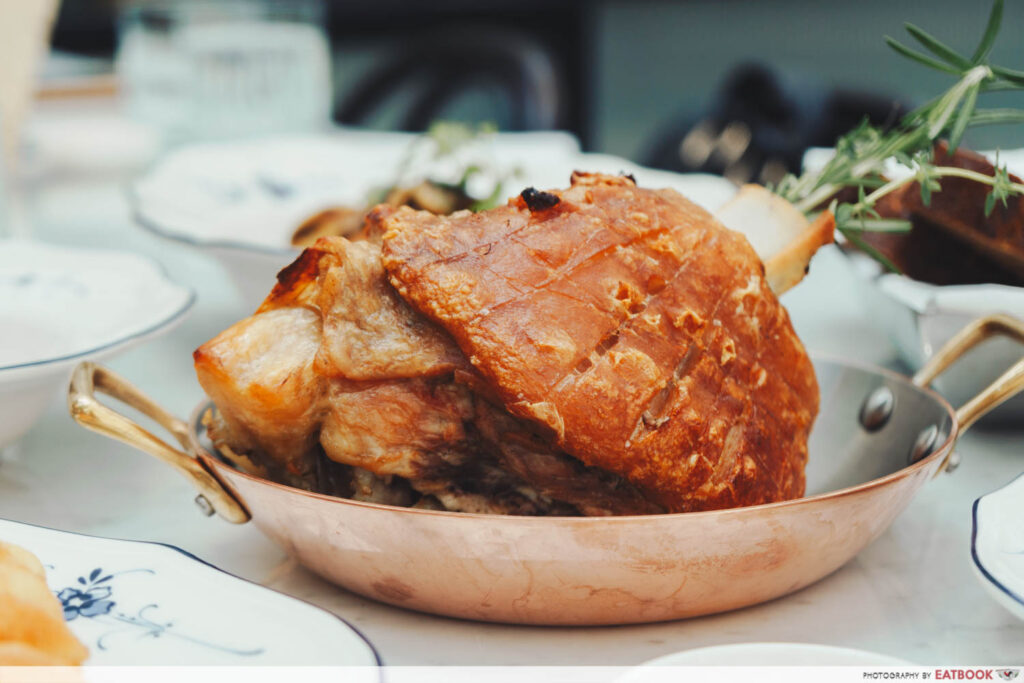 Their Oven Roasted Pork Knuckle ($49++) is worth waiting 30 minutes for. This photo does this hunk of meat little justice, but rest assure this piece of pork is big enough to feed four carnivores.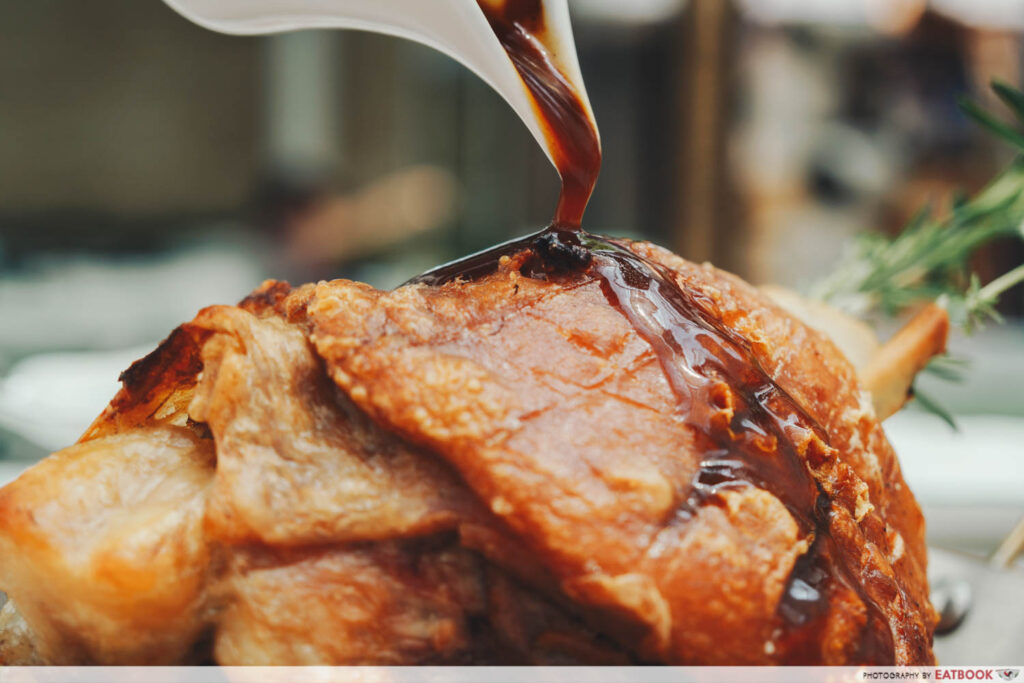 Before you dig in, be sure to pour the accompanying beer jus for a punch of scrummy flavour.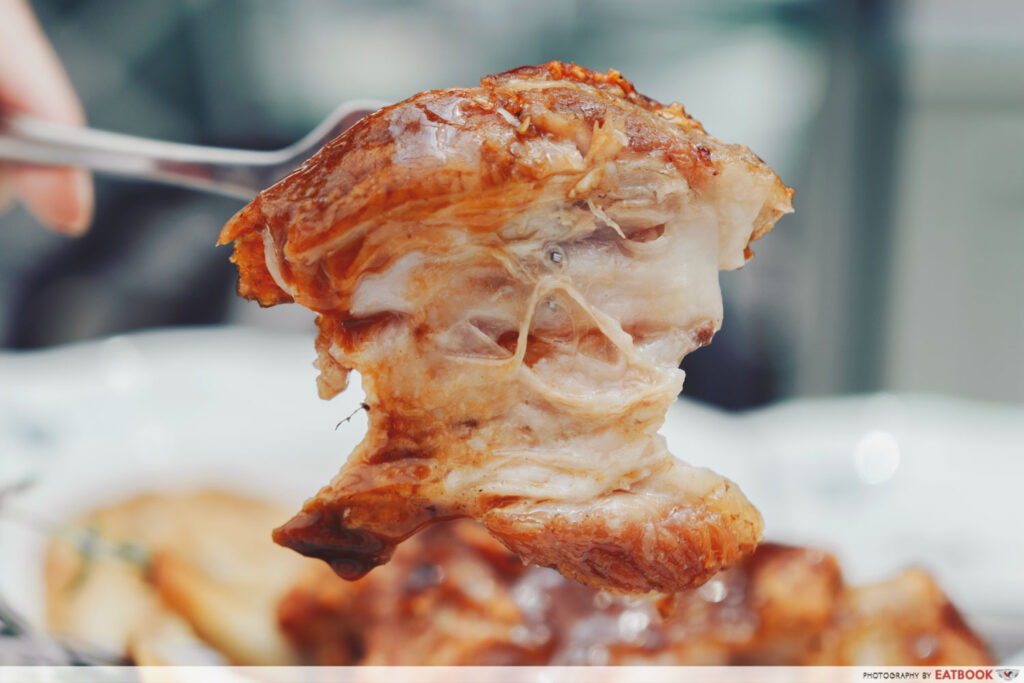 Slow-cooked for three hours in a pork-based stock comprising juniper berries, peppercorns, cloves and bay leaves, the fatty meat was tender and not at all gamey. The golden skin also managed to remain crispy, as it was removed and baked in the oven thereafter. However, we would have preferred if it was more crackling.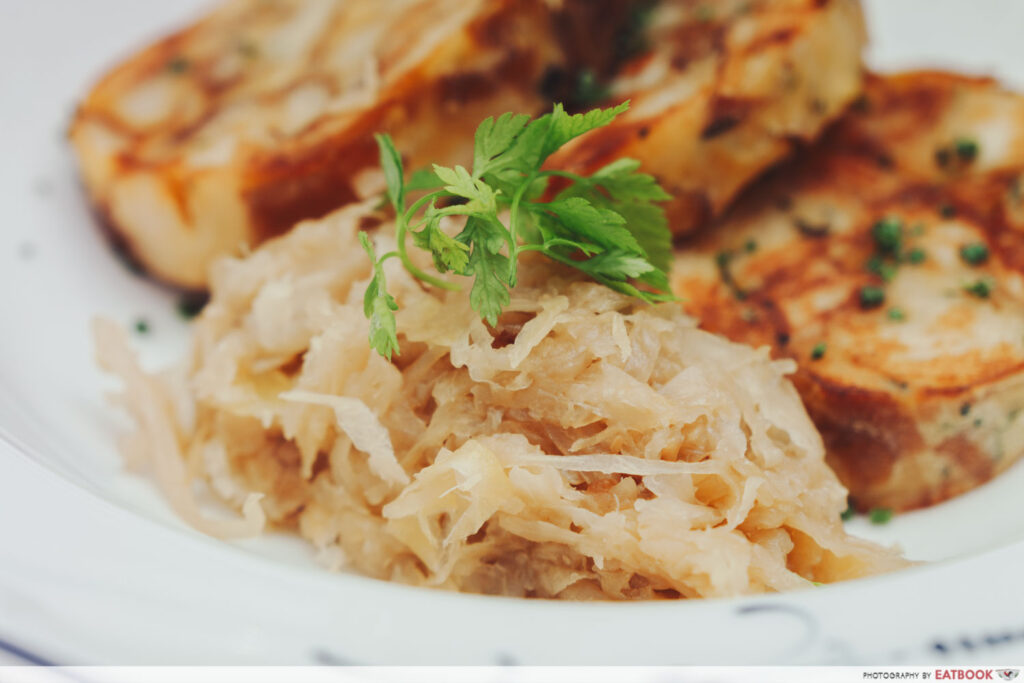 The pork knuckle also comes with house-made sauerkraut and dumplings. The former provided a nice respite from the meat-heavy dish with its sharp bite.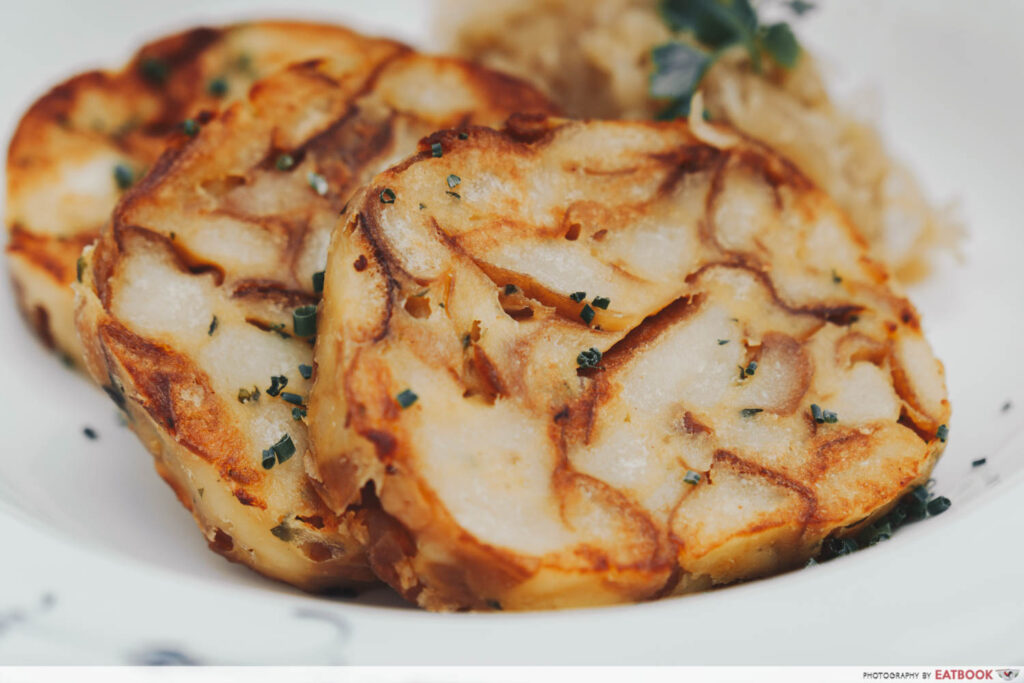 It's interesting to note that the dumplings, despite being the same as the ones found above, were dry. They fared better when doused in sauce.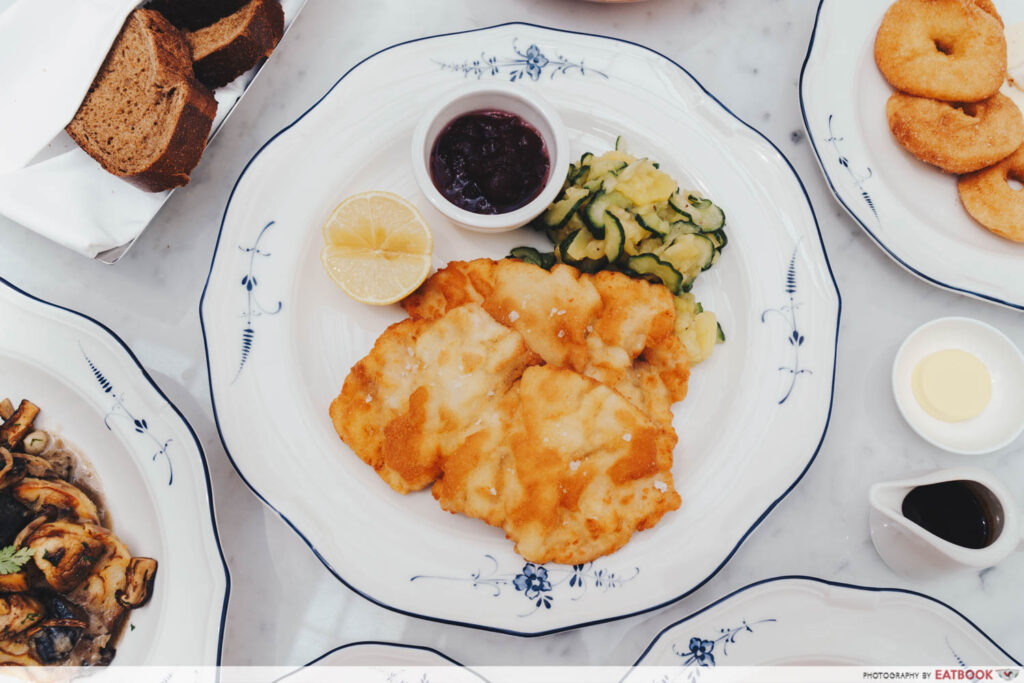 A good schnitzel is one that's evenly pounded to a thin slab, and then covered in a light breading. It should be lighter than the usual chicken cutlet or fish and chips, and has to be free from oil.
The Veal Wiener Schnitzel ($22++ for half, $37++ for full) ticks all the boxes for a good schnitzel, with meat so thin there were air pockets between the veal and breading.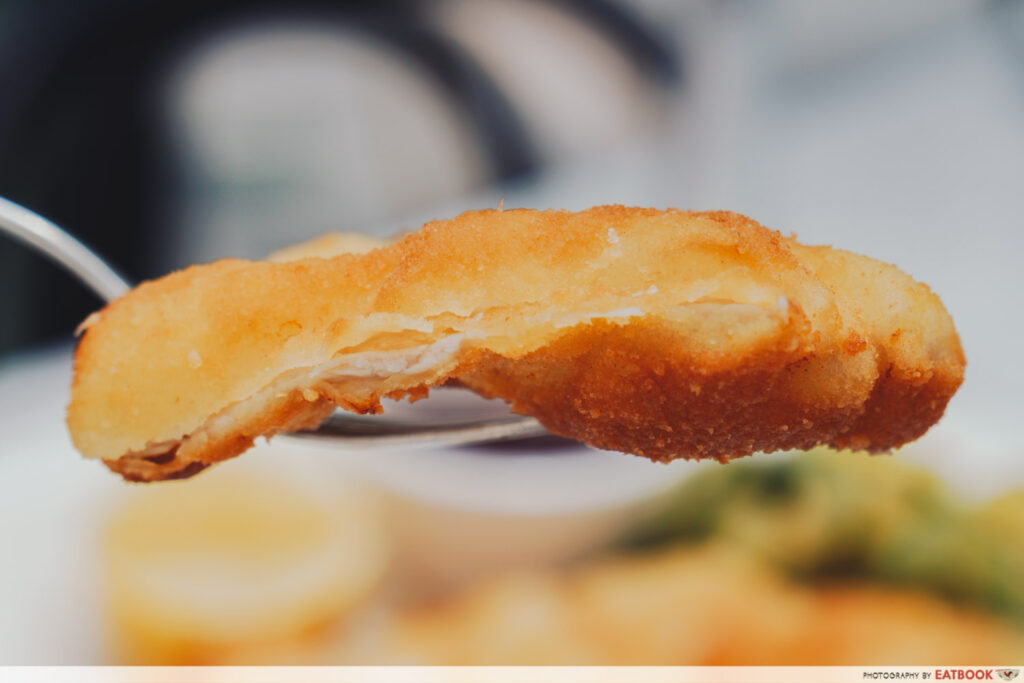 That being said, I still can't wrap my head around paying so much for such a simple dish. For an additional $2++ I could get the pork knuckle instead.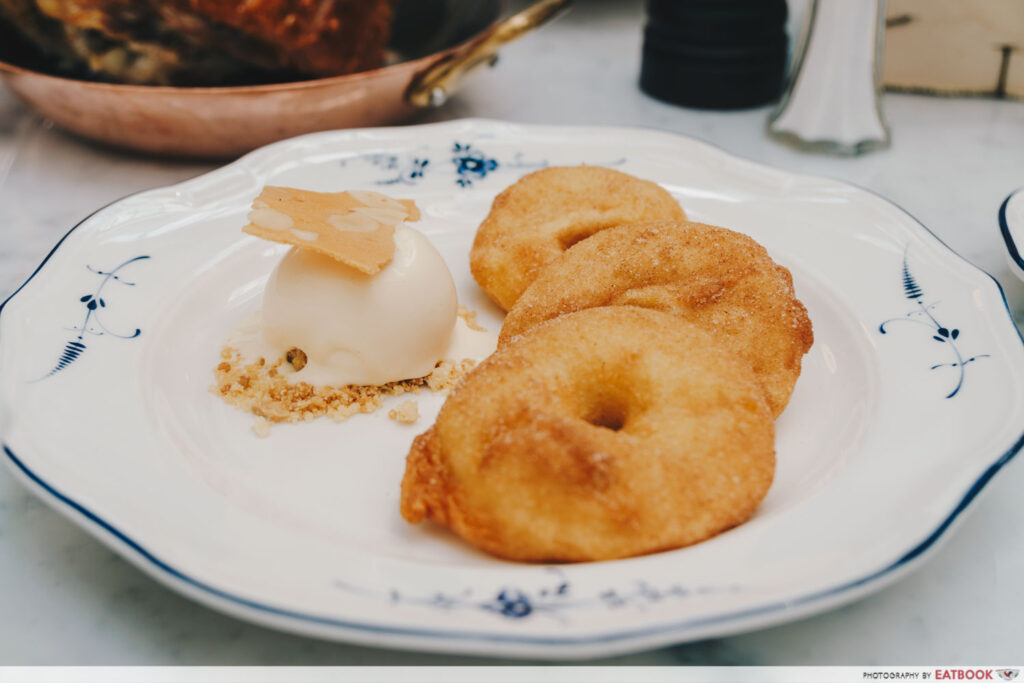 Dessert was a serving of Applefritters ($12++) with a scoop of vanilla ice-cream. Thinly sliced apples were encased in the same light batter as the schnitzel, then dusted with cinnamon sugar.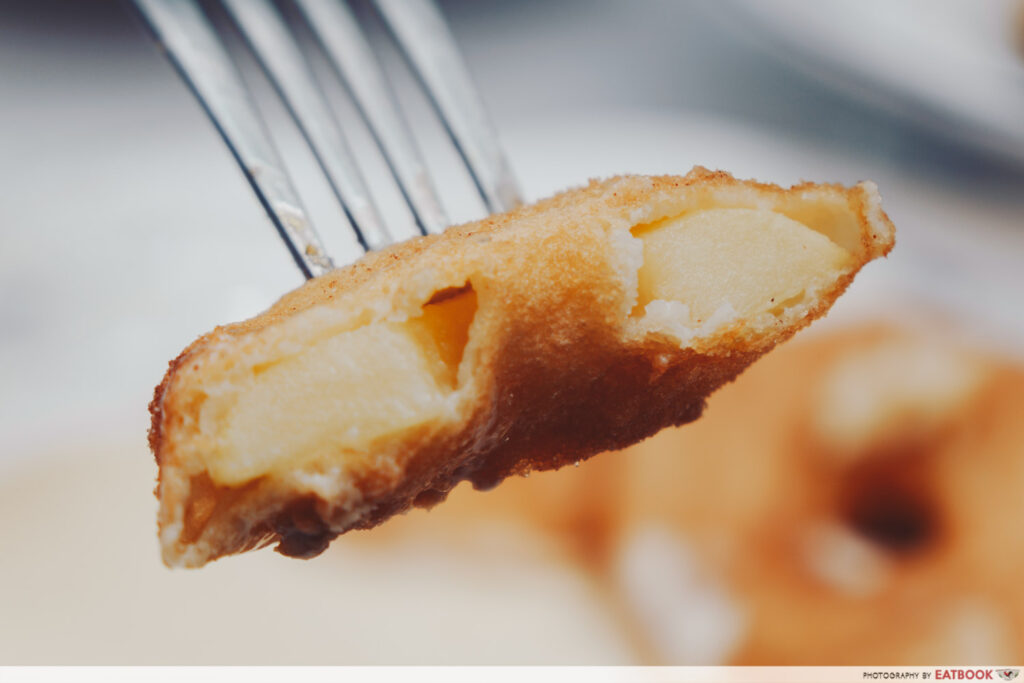 Thumbs up to the pastry chef for ensuring that the apples retain a little crunch instead of being straight up mushy. Flavour-wise, this dessert was more tart than sweet, making it an easy dessert to enjoy after all the heavy dishes we had. 
Ambience at Frieda

Frieda's "al fresco" seating area is not really outdoors, as it is housed within the air-conditioned Capitol Piazza. However, you still get the open-air courtyard vibes, with natural sunlight streaming in through the sunroof. So if you've always wanted a garden dining experience without the heat, Frieda will be an ideal choice. 
10 City Hall Food Gems Including Truffle Beef Bowl, Lava-style Omurice And More
Aside from its gorgeous garden-themed ambience, the service is remarkable. The waitstaff is attentive and you never need to raise your hands for long to get their attention. It's super kid-friendly too. I went there with my two-year-old son, and the waitresses were entertaining him with arts and craft activities throughout our dinner. 
The verdict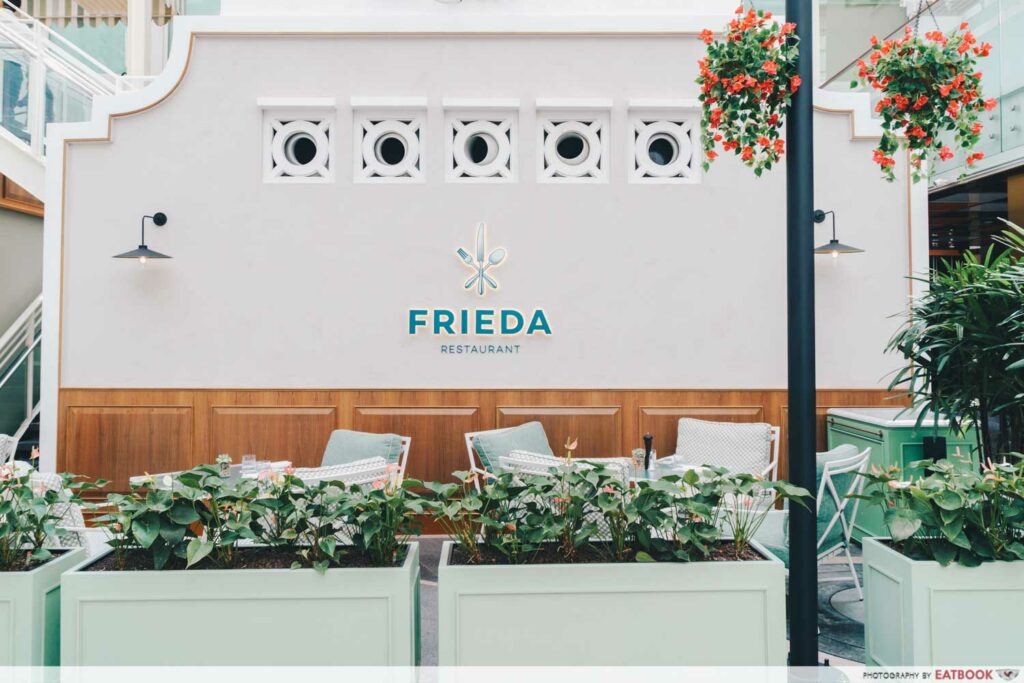 All in all, Frieda makes for a good restaurant for special occasions. Whether it's a long-awaited get-together with your girlfriends or a dinner with the fam, you can expect a memorable time at this German bistro. While the food didn't score a perfect 10/10, the service and ambience sure brought their overall rating up a notch.
Olivia Restaurant & Lounge Review: New Must-Try Suckling Pork Belly And Burnt Cheesecake At Keong Saik
Address: 15 Stamford Road, #01-87/K1-K2, Arcade @ The Capitol Kempinski, Singapore 178906
Opening hours: Daily 12pm to 3pm, 6pm to 10:30pm
Tel: 6715 6873
Website
Photos taken by Koh Hui Qing.
This was a media tasting at Frieda.
Summary
Pros
– Great service
– Beautiful ambience
Cons
– Expensive
– Food could be better 
Recommended dishes: Pretzel Dumplings ($15++ for half, $26++ for full), Oven Roasted Pork Knuckle ($39++)
Opening hours: Daily 12pm to 3pm, 6pm to 10:30pm
Address: 15 Stamford Road, #01-87/K1-K2, Arcade @ The Capitol Kempinski, Singapore 178906