---
Best GastroBeats 2023 food
---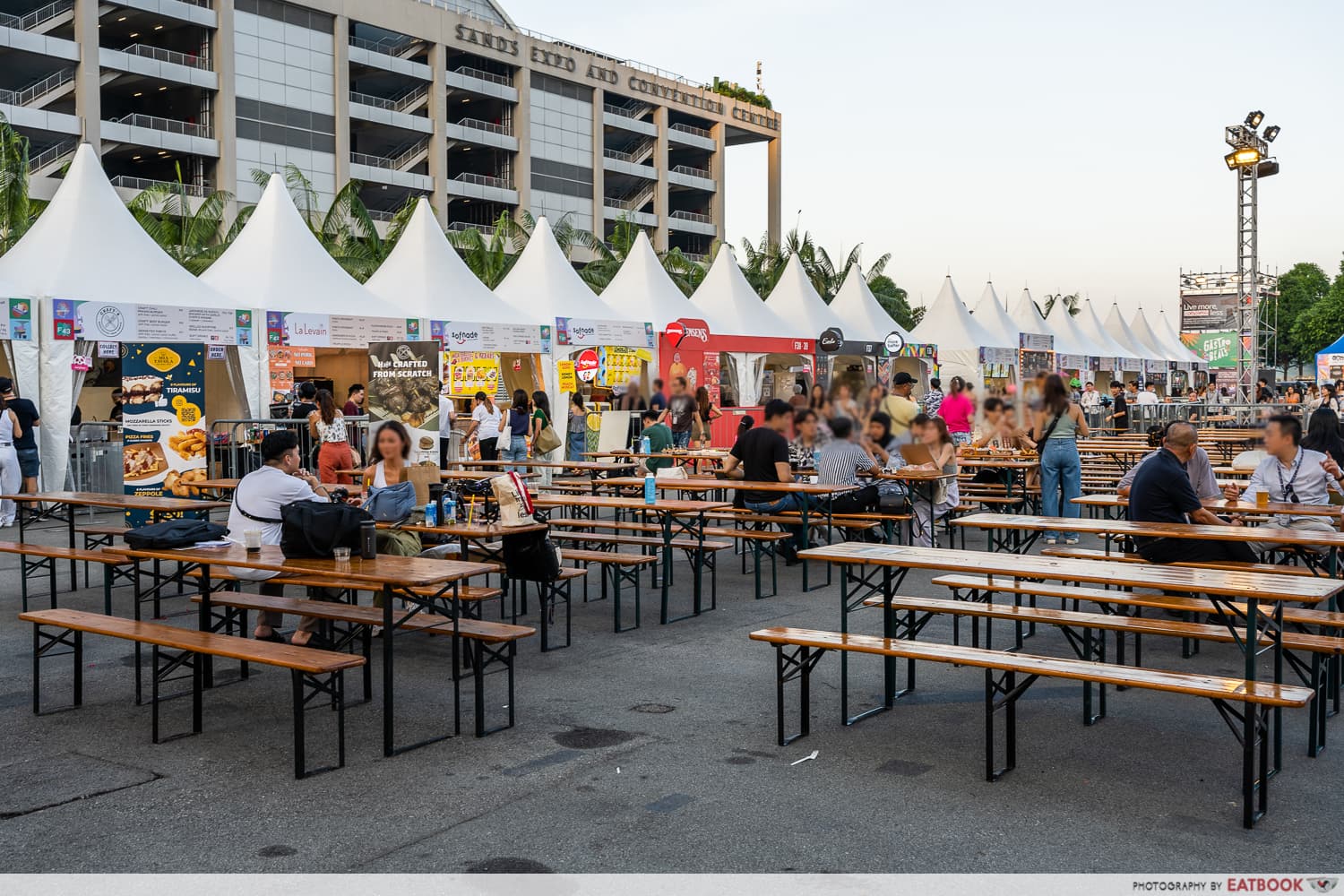 Good eats and good tunes with no admission fee—that's what you're getting at GastroBeats. The food and music festival at Bayfront Event Space is back for its second rodeo from now till 25 June 2023, with returning vendors and new debutants among its food offerings. If you're heading down to join in the fun, keep reading, for we'll introduce you to the 8 best GastroBeats 2023 stalls you can't afford to miss.
---
1. more batter
---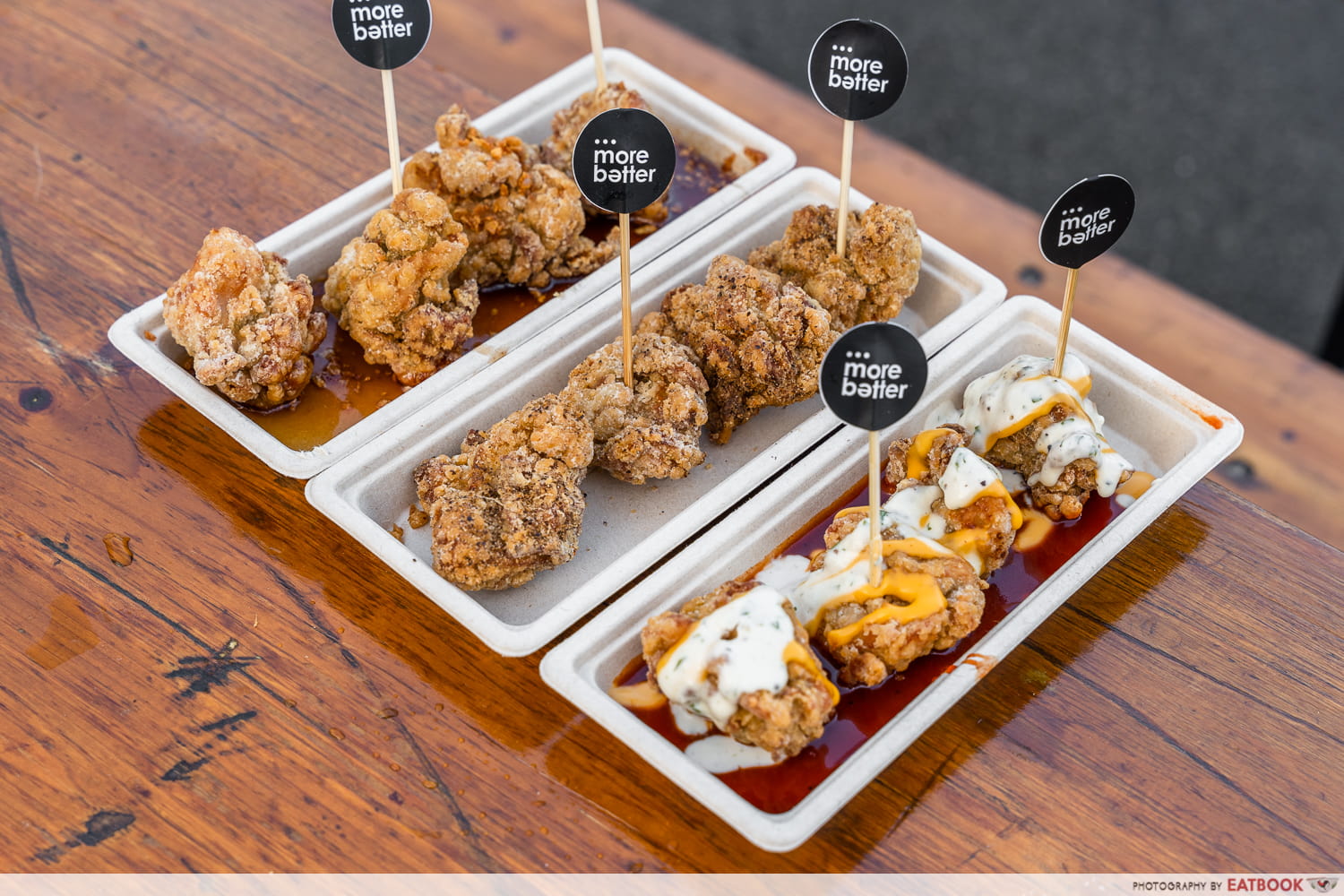 While Korean fried chicken brand more batter is usually delivery-only, its booth at this year's GastroBeats allows you to try its double-fried boneless chicken fresh out of the fryer. In addition to being juicy and crispy, the brand's chicken is slathered with highly flavourful Korean sauces, including Honey Garlic, Seaweed, and Cheesy Gochujang.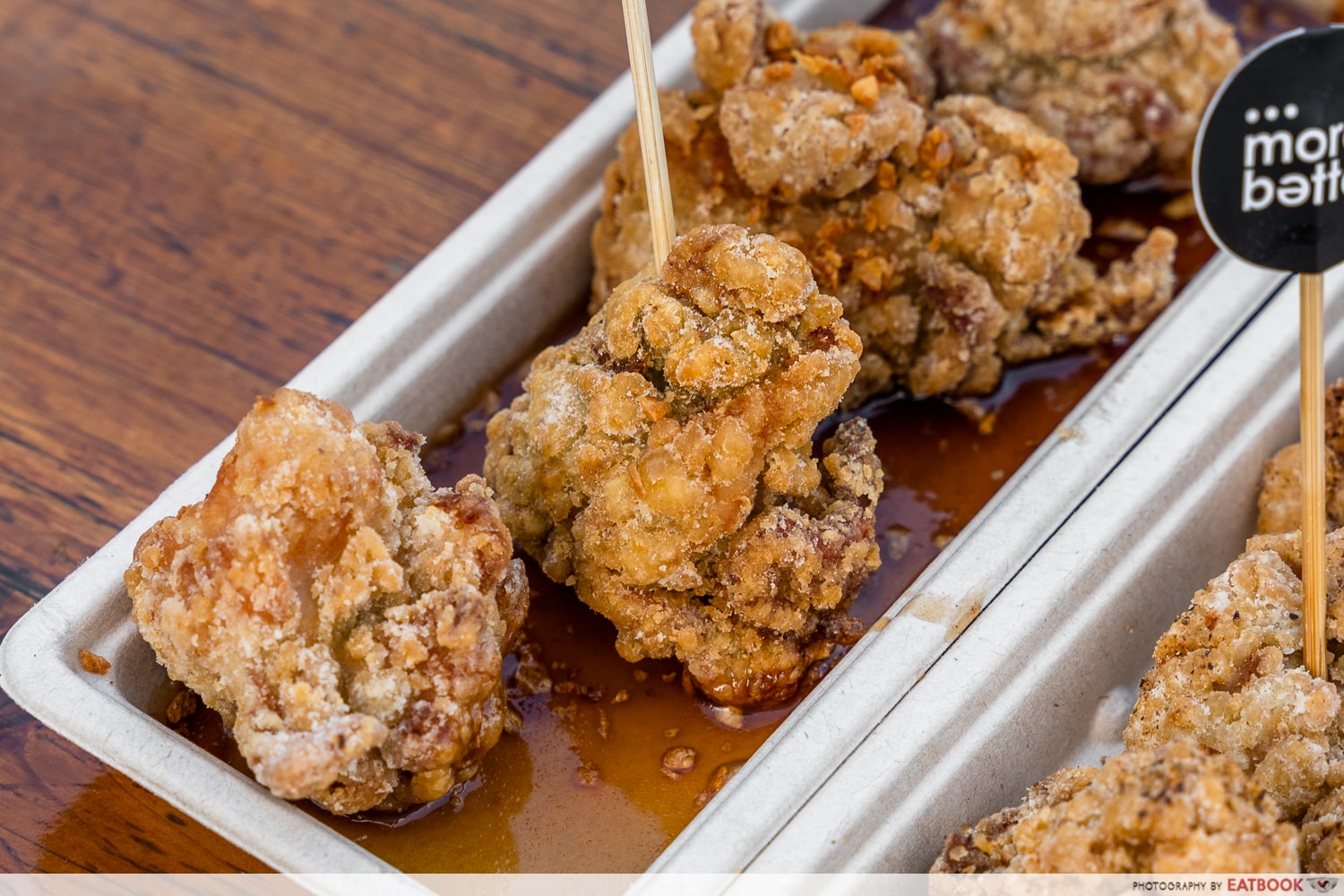 A platter of these chicken bites will set you back $7. But there's more than just chicken here—sides such as the Fried Mashed Potato Balls ($5) and Seaweed Fries ($5) are great additions to your meal.
Website
more batter is a halal-certified eatery.
---
2. Gyushi
---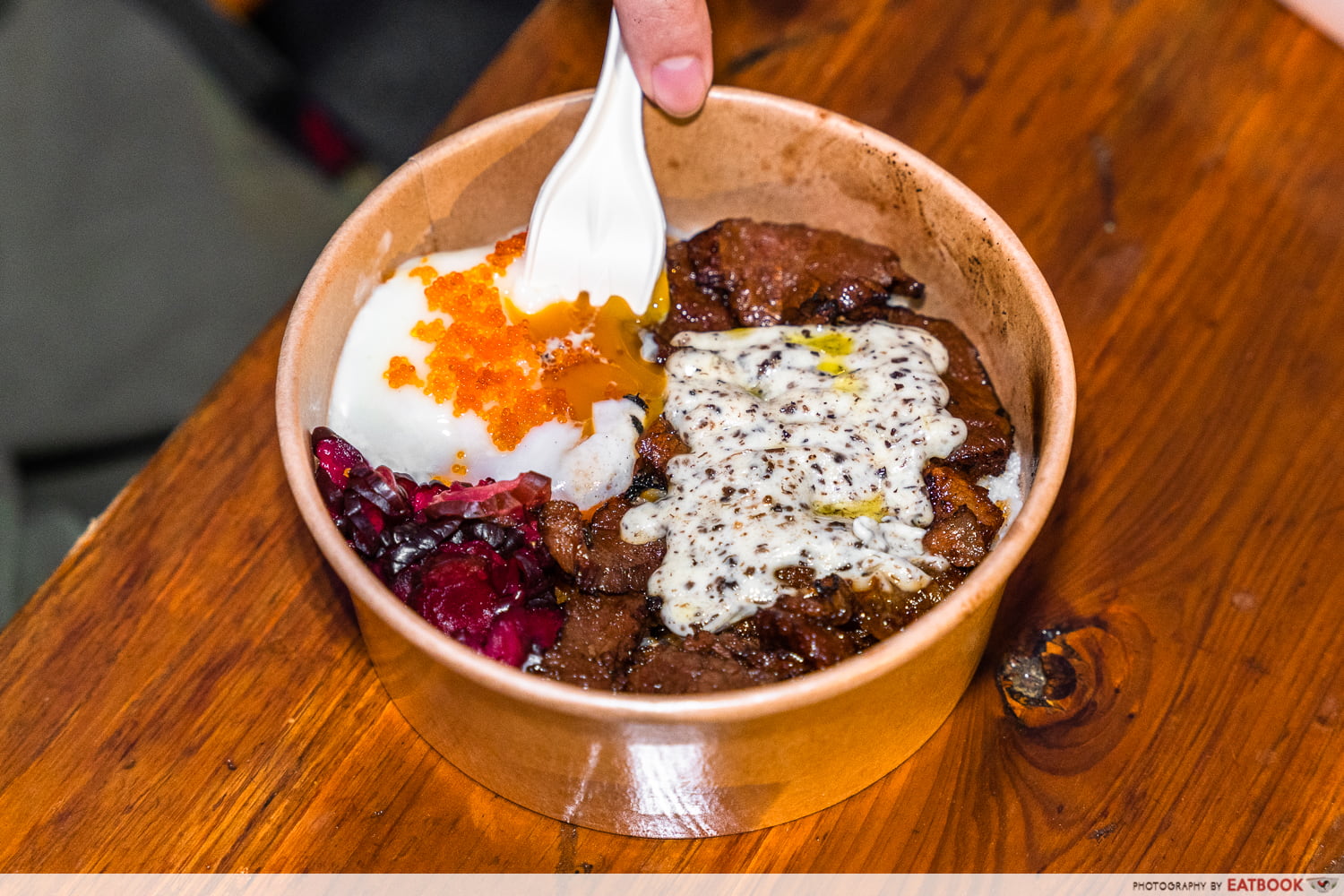 Gyushi serves affordable Wagyu bowls done right. Just take a dish such as the Truffle Wagyu Beef Bowl ($15), for instance—luscious Australian-imported Wagyu is combined with fragrant truffle oil to great effect.
Fans of mentaiko's rich umami can opt for either the Mentaiko Wagyu Beef Bowl ($15) or the Spicy Mentaiko Wagyu Beef Bowl ($15), but if you're fine with the simple yet effective combination of beef slices and rice, you can't go wrong with the Original Wagyu Beef Bowl ($14).
Website
Gyushi is not a halal-certified eatery but uses no pork or lard.
---
3. Central Siam Cuisine
---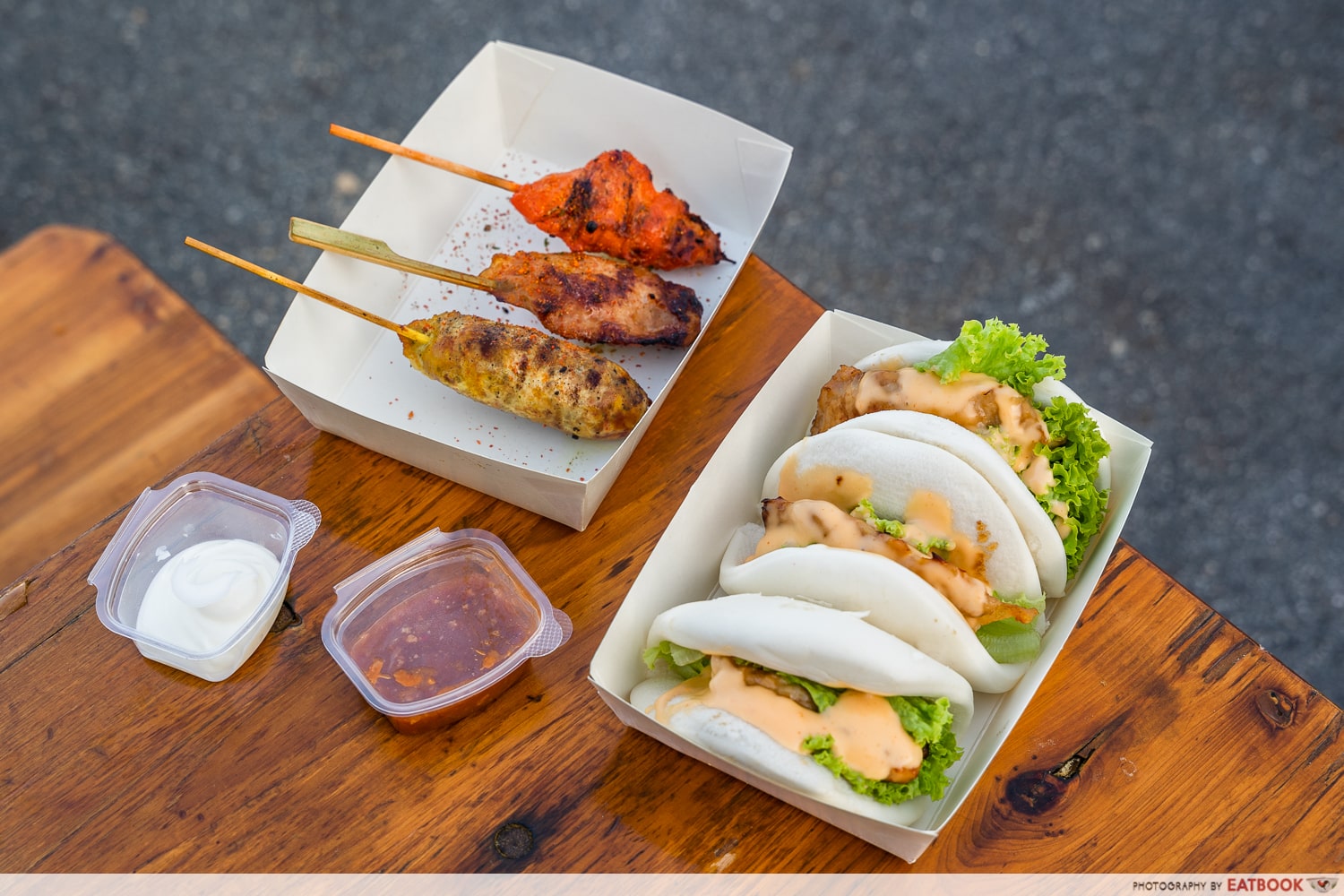 If you require some Thai street food to really feel like you're at a food festival, Central Siam Cuisine has got you covered. The stall specialises in Thai barbecue skewers such as Mooping, Gaping (chicken skewer), and Thai Spicy Sausage, which cost either $3 for one or $8 for three pieces. These juicy and smoky meat skewers are plenty satisfying on their own, but if you'd like something heartier, you can choose the Mooping Bao Set ($8), which is basically the aforementioned moo ping but placed in a bun.
Central Siam Cuisine is not a halal-certified eatery.
---
4. Baoderful
---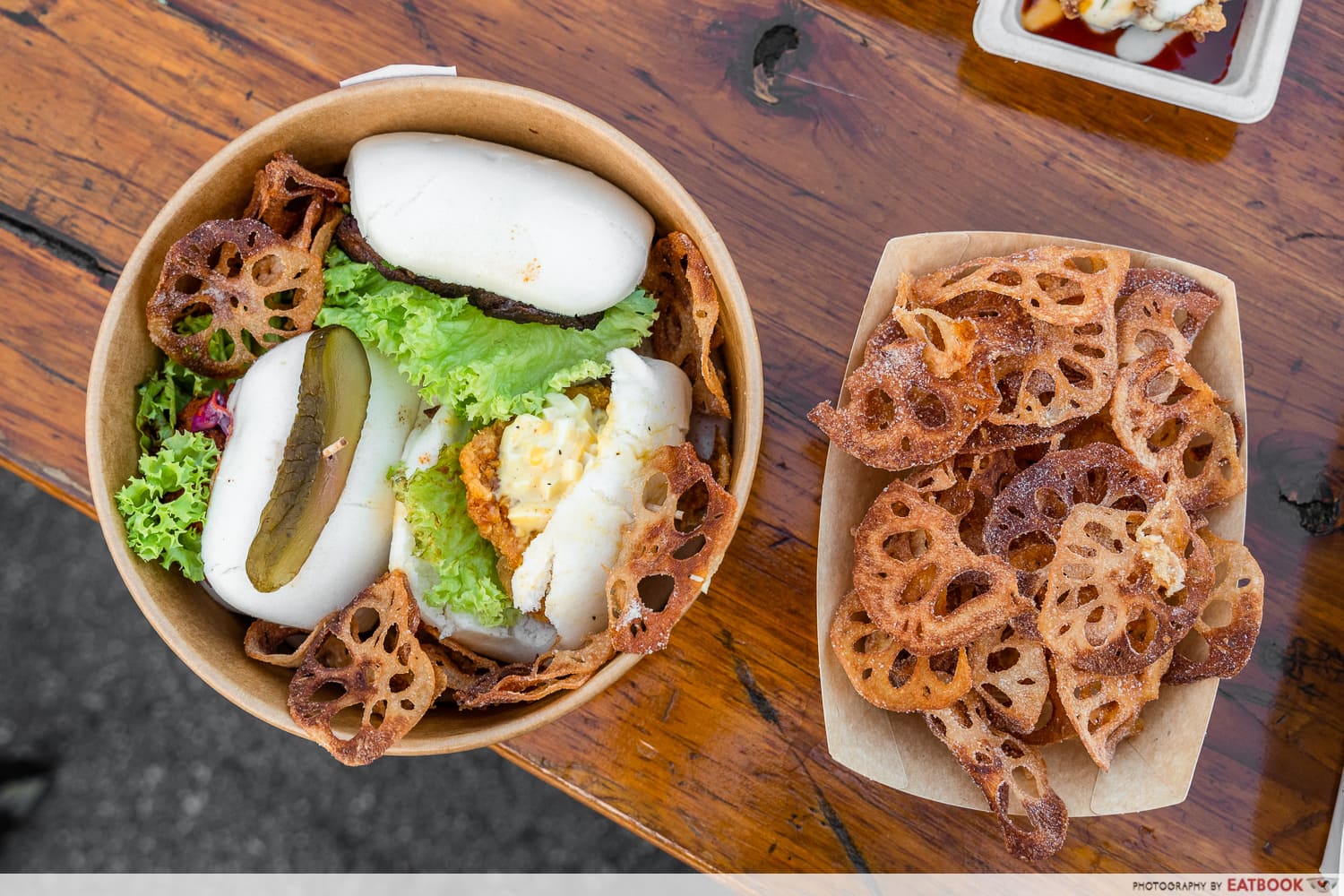 If you've visited Taiwan before, you might be acquainted with gua bao, a type of steamed bun filled with pork belly. Baoderful provides a selection of these buns, including the delectable Karabuta Braise Pork Belly Bao, whose tender pork and fluffy bun is a delight to eat.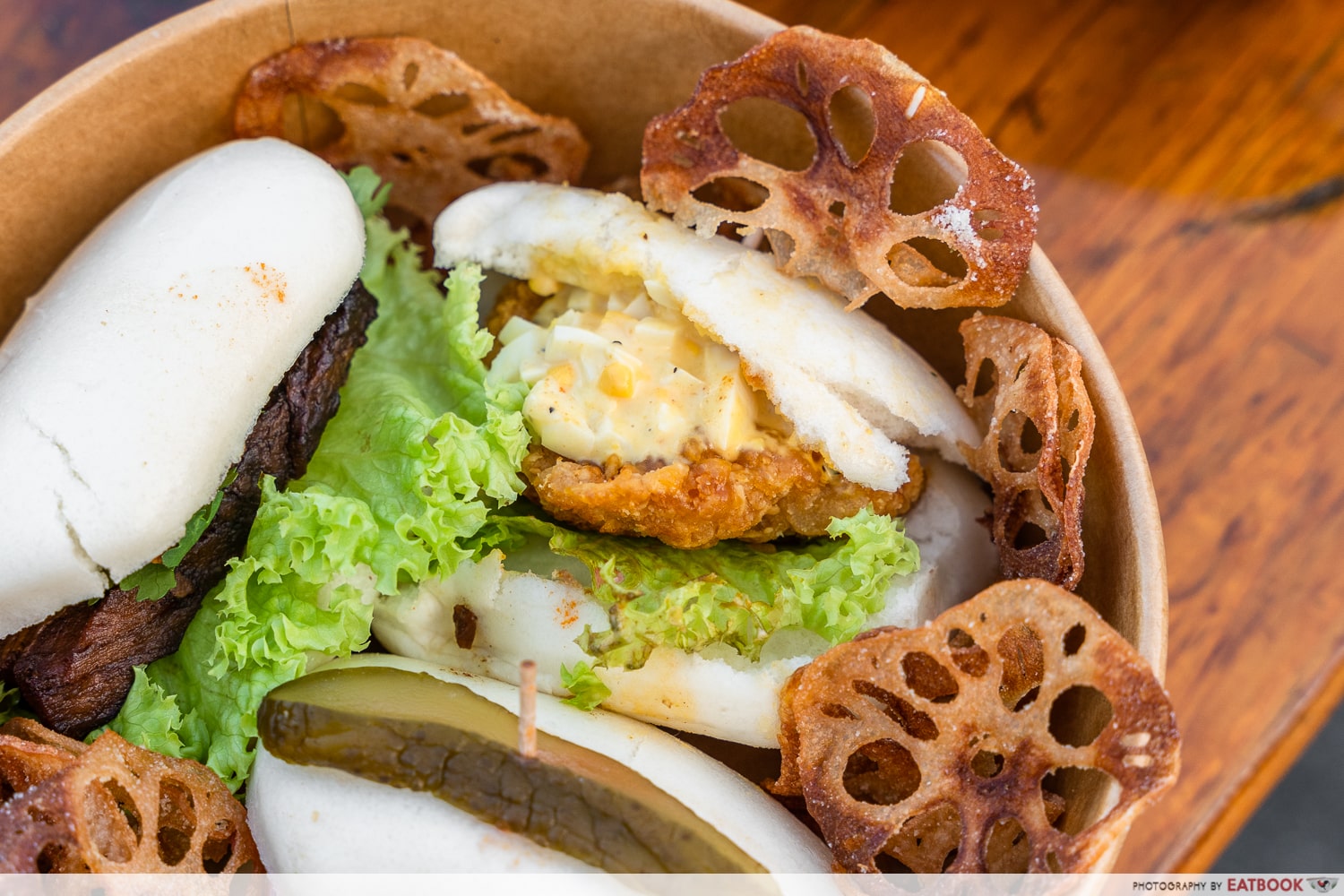 Additionally, they offer more creative variations such as the Chicken Katsu Egg Mayo Bao and the Nashville Chicken with Slaw Bao. These buns are sold at $12.90 for two and $18.50 for three.
Baoderful is not a halal-certified eatery.
---
5. 2 Ninja 1 Fatty
---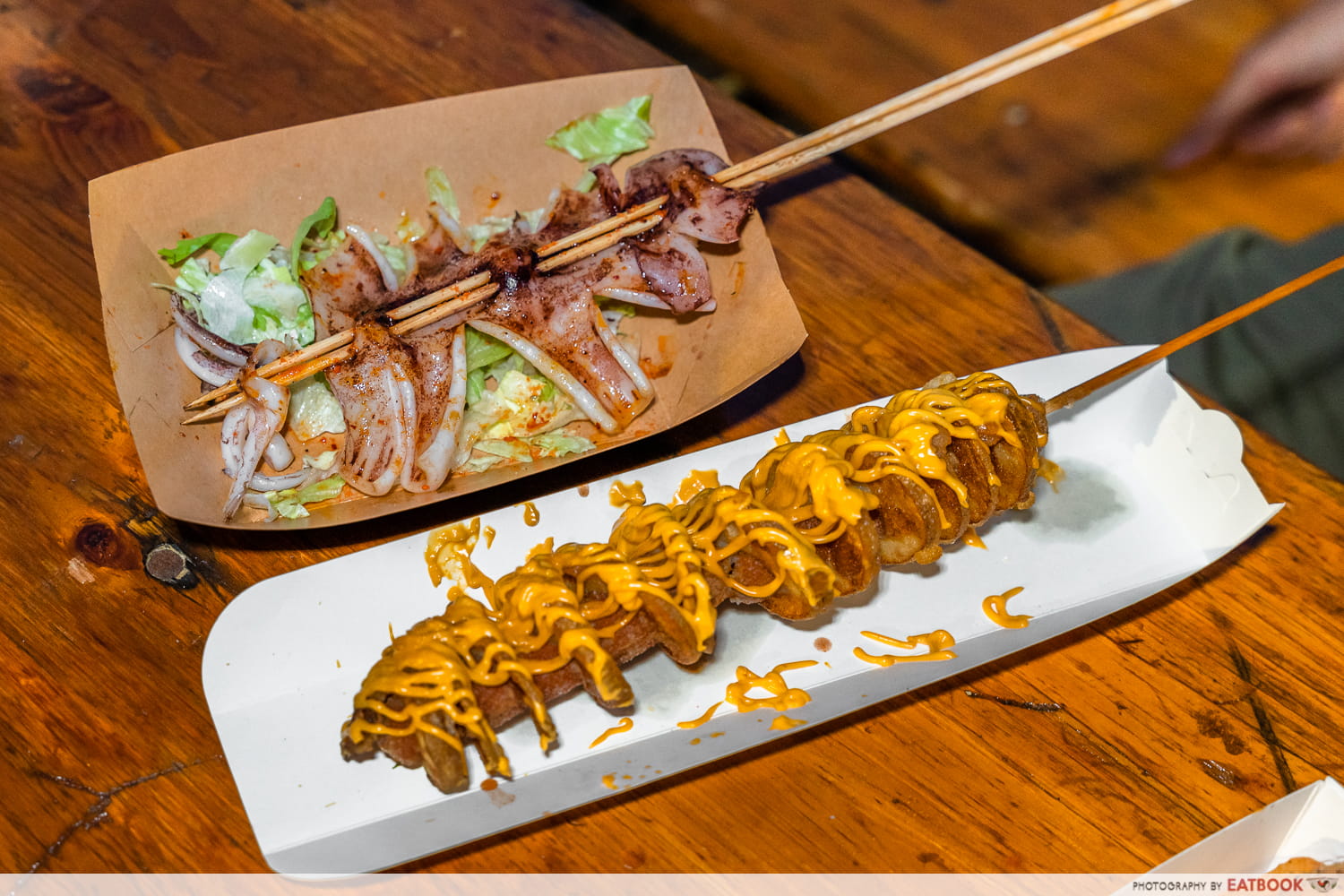 Those who are looking for classic night market snacks should check out 2 Ninja 1 Fatty. Seafood fans in particular will find much to love here: there are Grilled Sashimi Oysters ($15), Grilled Scallops ($15), and the Giant Grilled Squid ($9) whose size alone makes it quite Insta-worthy. There are also other hulking snacks at this stall, such as the Hotdog Tornado Potato ($7), which matches the squid in length, and is deliciously crispy and fragrant. You can choose to have it with cheese for extra flavour.
Website
2 Ninja 1 Fatty is not a halal-certified eatery but uses no pork or lard.
---
6. No Time Hot Pot
---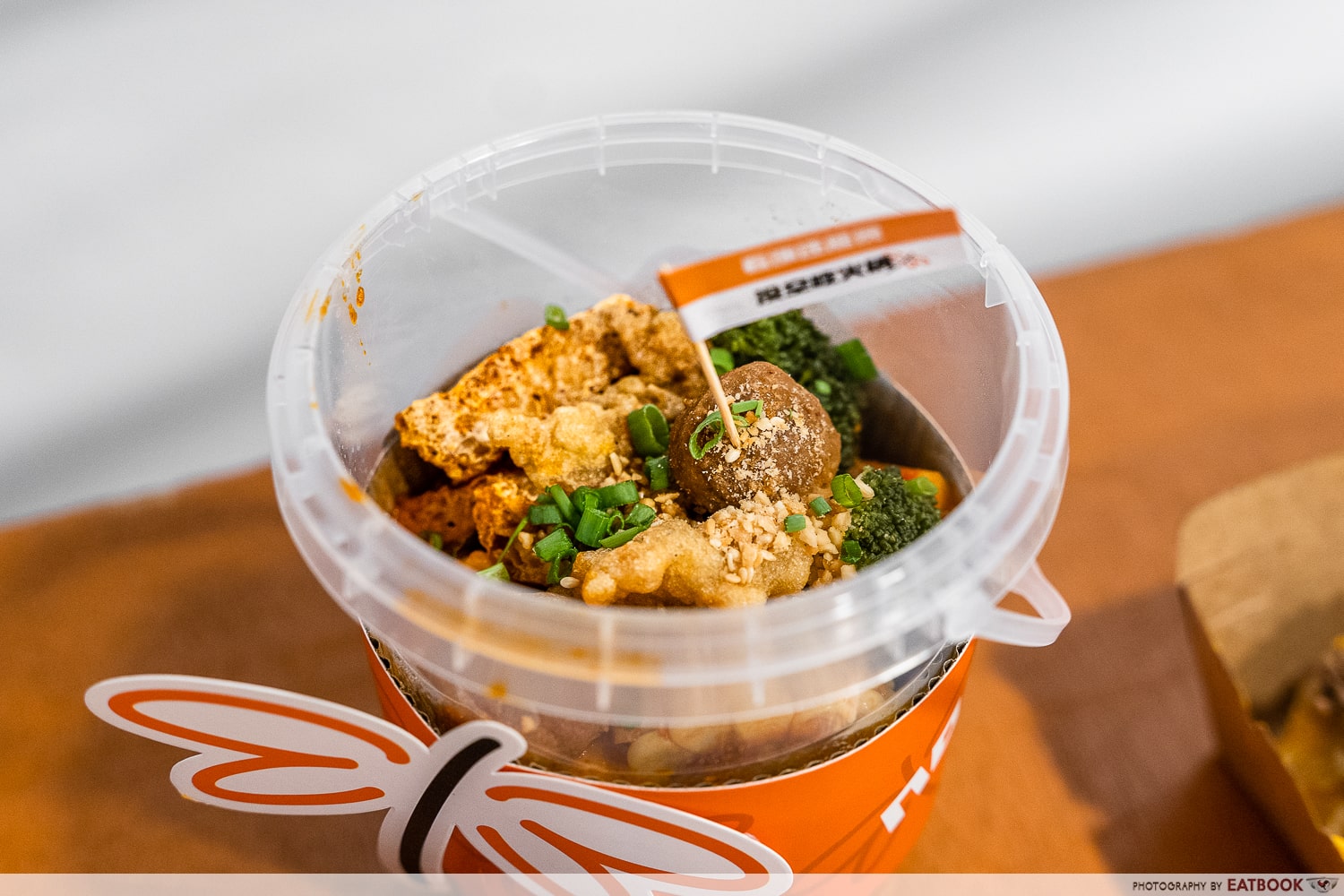 HomelyPot's latest venture, No Time Hot Pot, is a well-received food delivery service where you can enjoy a mobile hotpot experience in adorable cups. Each cup is packed with a tasty broth and a range of steamboat ingredients. Be sure to try the No Time Anyhow ($23.80), which features toppings such as prawn paste with fish roe, cheese tofu, and handmade pork ball.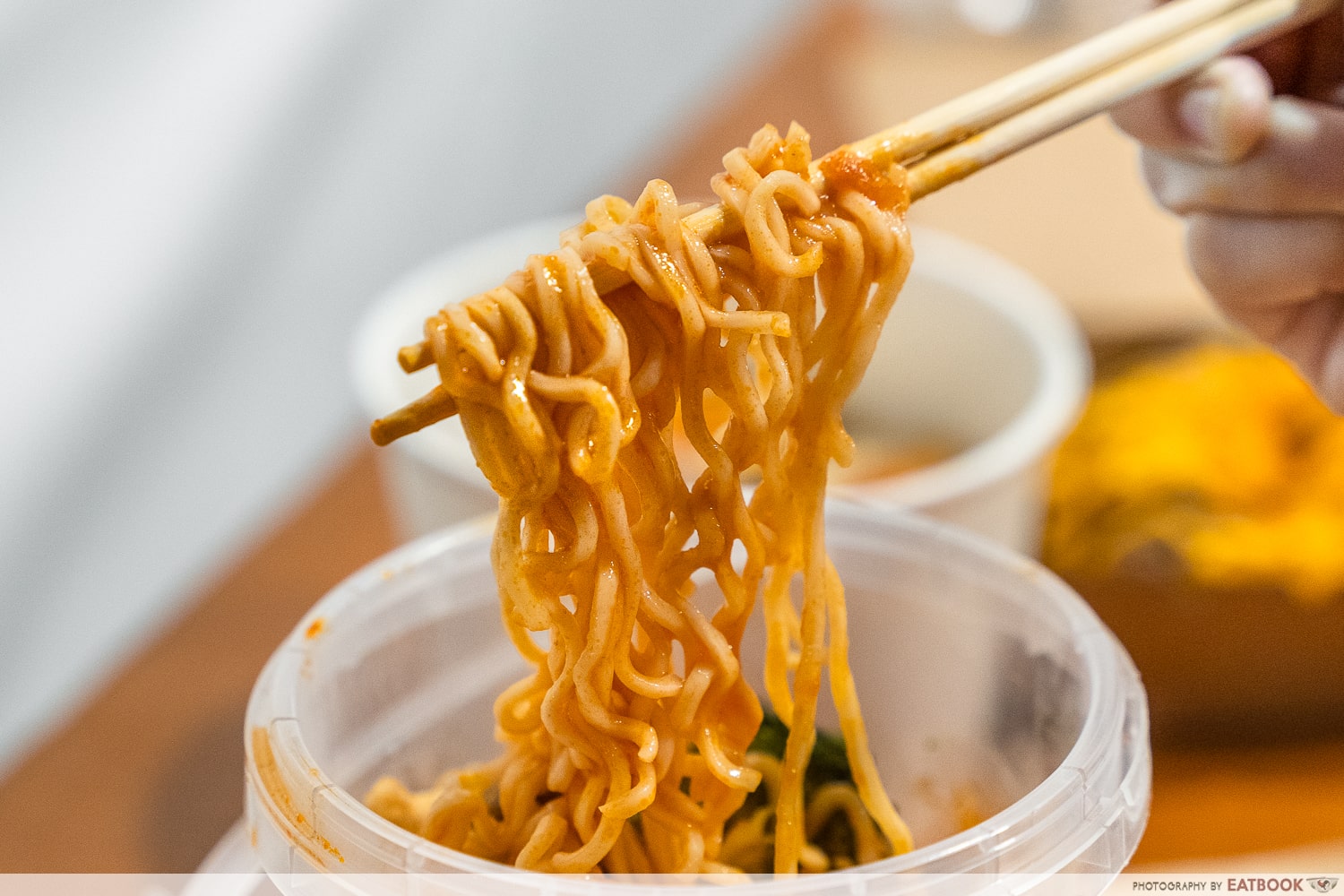 You also have the option to select between two soups: No Time Ma La and No Time Ketchup, which is basically a tomato soup. Each serving includes instant noodles and is suitable for sharing between two people.
Website
No Time Hot Pot is not a halal-certified eatery.
---
7. Papi's Tacos
---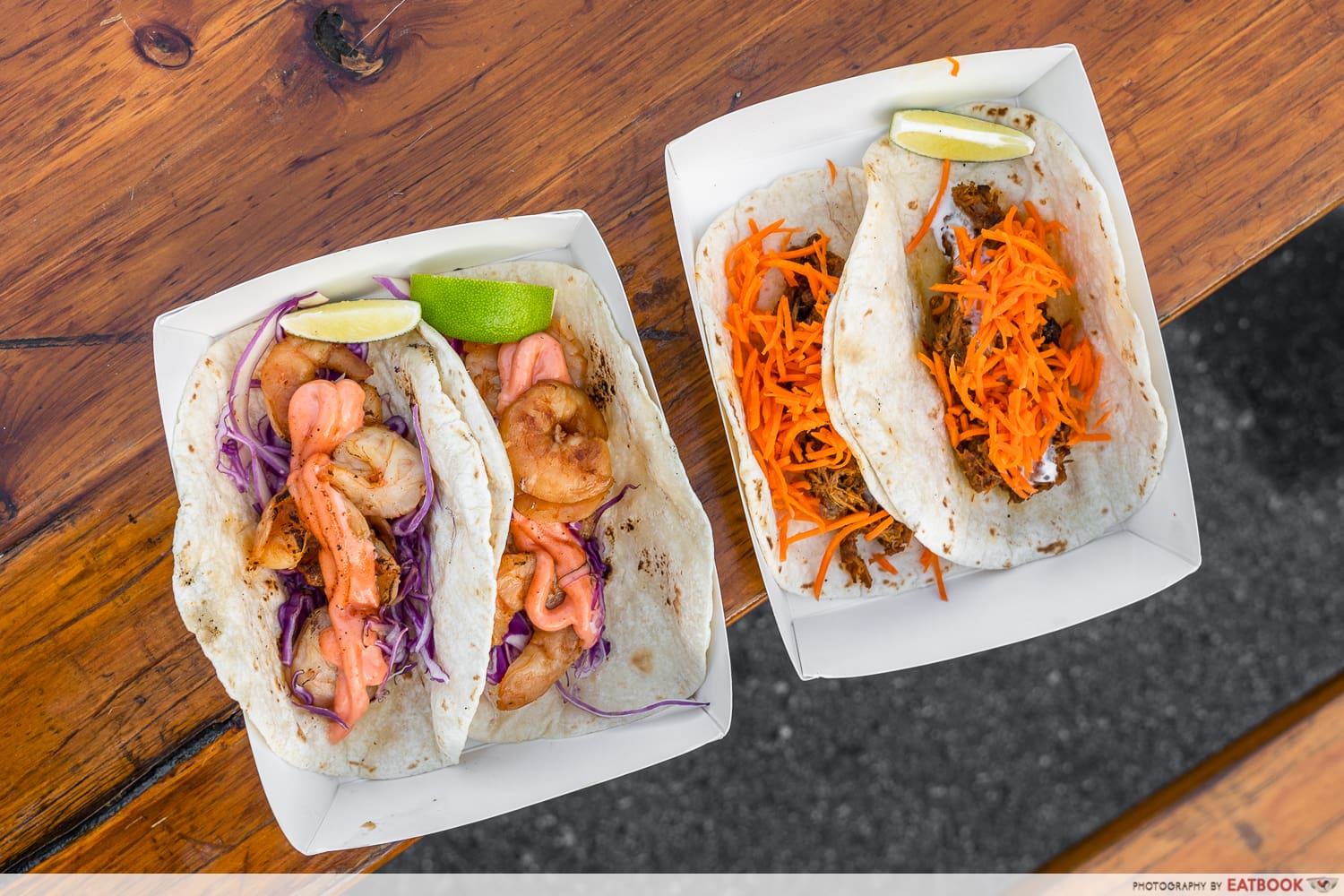 One of the most recognisable taco eateries in the country, Papi's Tacos has brought its acclaimed Mexican dishes to this year's GastroBeats. Most of the tacos and snacks here are great, but if we had to narrow down the recommendations, the Signature Beef Rendang Taco ($16), with its succulent beef and aromatic rendang sauce, is a great pick. If you're more into seafood, then the Grilled Tiger Prawn with Mentaiko Sauce ($18), which has sweet and meaty prawns coated with savoury mentaiko, will be up your alley.
Website
Papi's Tacos is not a halal-certified eatery but uses no pork or lard.
---
8. You Tiao Man
---
You Tiao Man is where you'll find exciting renditions of everyone's favourite fried dough snack. The brand combines you tiao with ingredients such as Mochi (from $6.90), Otah ($9.90), and Sotong ($9.90), elevating what is a familiar treat to new heights.
The chewy mochi you tiao come in many flavours, but we suggest getting Peanut Mochi ($6.90) or Black Sesame ($6.90) for that added nutty taste. If you like your berries, however, then the Strawberry Mochi ($7.50) will likely impress.
Website
You Tiao Man is a halal-certified eatery.
---
What to eat at GastroBeats 2023
---
With the plethora of stalls to choose from at GastroBeats 2023, this list will help you narrow down the food options to what are, in our opinion, the must-tries. Other than the good eats, be sure to try out the fun activities for the whole family, including Kiztopia's inflatable playground and DBS's Glambot, which captures cinematic, slow-motion video reels of you that's fit for the red carpet!
If you're planning a trip to Bali sometime soon, read our 10 best things to eat in Bali. For a great place to have some drinks in the Indonesian province, check out our 8 best bars In Bali guide.
Photos taken by Zi Hui Tan.
This was a media tasting at GastroBeats.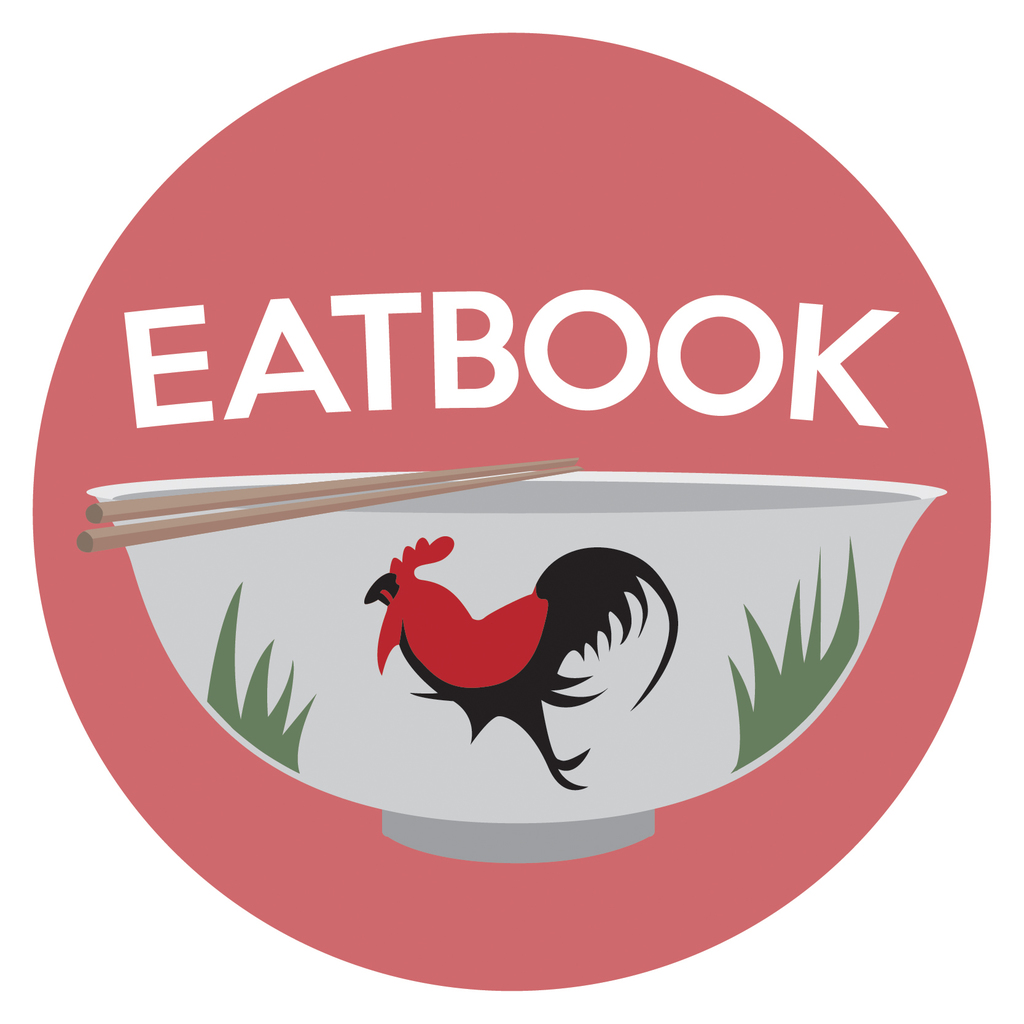 Drop us your email so you won't miss the latest news.