Giant tom yum hot pot at Thai Goldmine Kitchen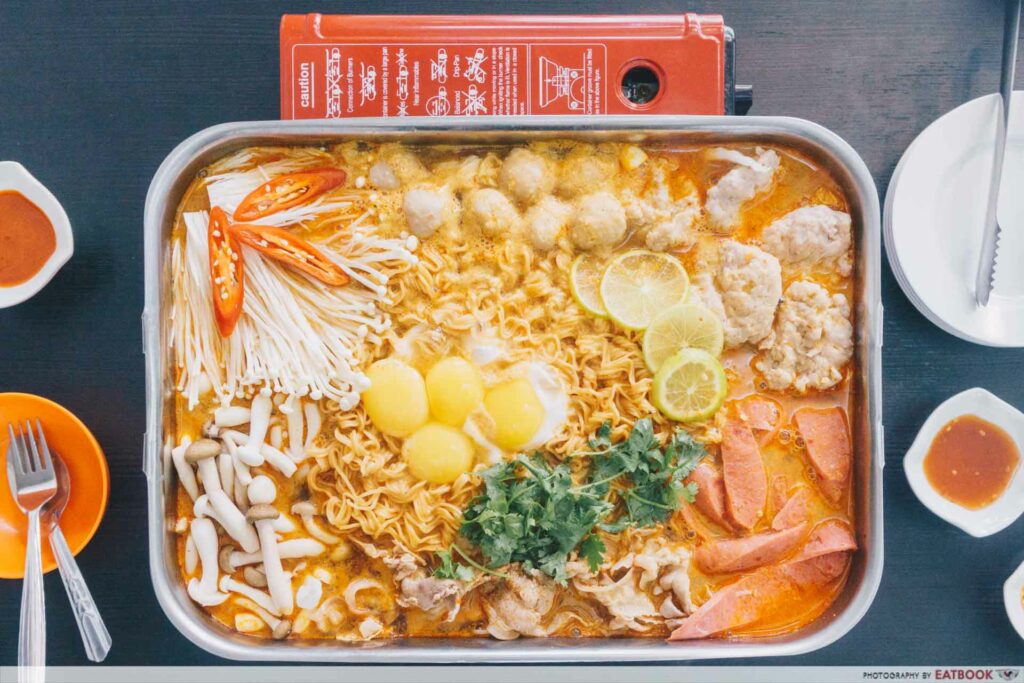 Thai food has always been one of my go-to comfort foods – specifically, anything tom yum. There is just something so addictive about the sour and spicy broth that tantilises my senses. So when I heard Thai Goldmine Kitchen has giant tom yum hot pot available on their menu, I immediately knew where I was going for my next Thai food fix!
Thai Goldmine Kitchen serves affordable and delicious Thai food that comes in generous portions. Their menu also includes vegetarian options with recipes from Zen Fut Sai Kai – Singapore's oldest vegetarian restaurant which they have now replaced.
Food at Thai Goldmine Kitchen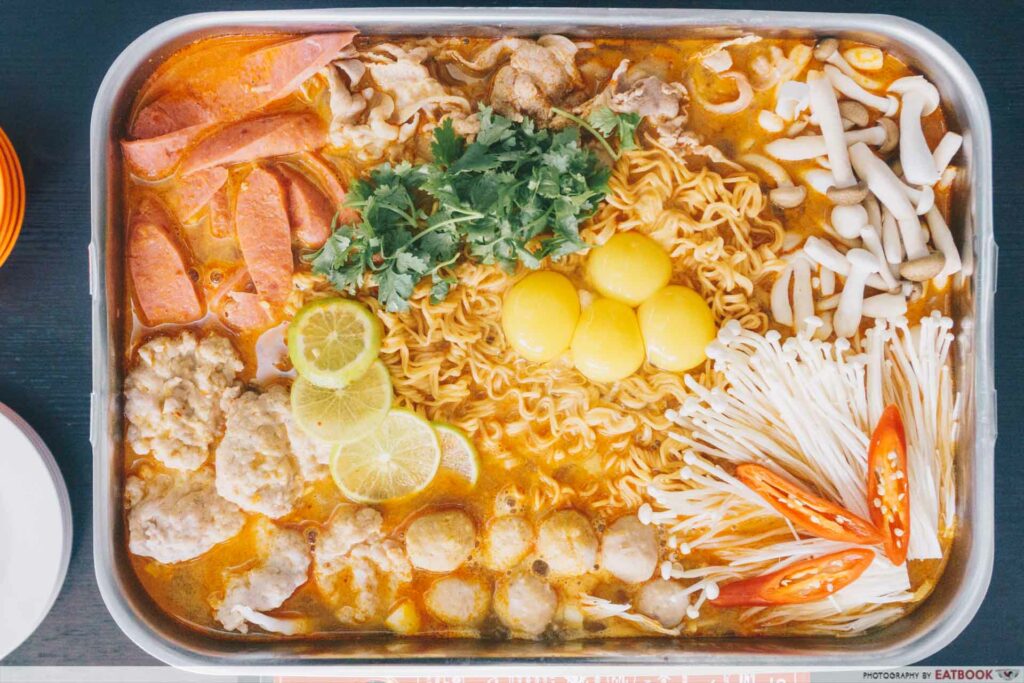 On their signature Goldmine Hotpot menu, we went for their Jumbo Goldmine ($38). Meant to feed about four to five people, the hot pot was served in a large rectangular tray, and arrived with a gentle bubble. The dish had meatballs, Taiwanese sausage, pork belly, instant noodles, an assortment of mushrooms, cabbage and four freshly-cracked eggs simmering in tom yum.
You can choose from four levels of spiciness – Level 1 (no kick), Level 2 (ok lah), Level 3 (hot hot) and Level 10 (dun play play!). The owner warns to stay away from Level 10 unless your tolerance  for spice is on another level.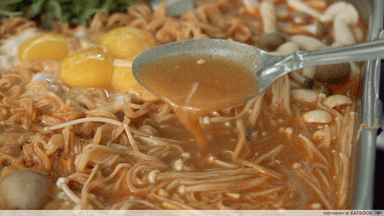 I always love some heat in my food, and get disappointed when supposedly spicy food are "not spicy enough". Hence, we went for the Spicy Level 3 (hot hot). The soup had a thicker consistency than the usual clear tom yum. Tastewise, there was a strong kick of spiciness that hit the back of my throat, but it was not too overwhelming. If you're into spicy food, Level 3 is the way to go, but a safer option would be Level 2.
I would have preferred if there was a stronger lemongrass aroma in the soup, to bring out a lighter and more refreshing taste.
Pro-tip: Remember to fish out the lime slices in the hot pot after the broth is brought up to a boil. Leaving it in for too long may inject bitter flavours into the soup.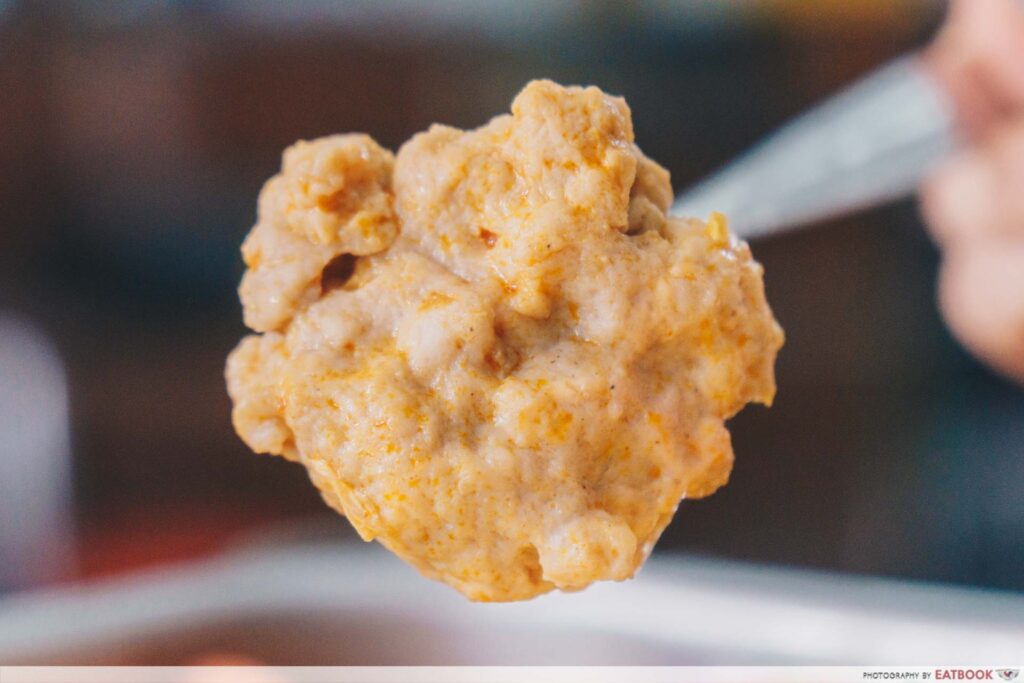 The house-made meat patties was definitely an ingredient that stood out amongst the rest. Though oddly shaped, the meatball was soft and juicy. The meat itself was packed with flavour, and soaked up the broth well. Salty and slightly peppery, I couldn't help but reach for another one.
I liked that the chef decided to form the minced meat into a single patty, instead of having it in small chunks which tend to disintegrate in the soup.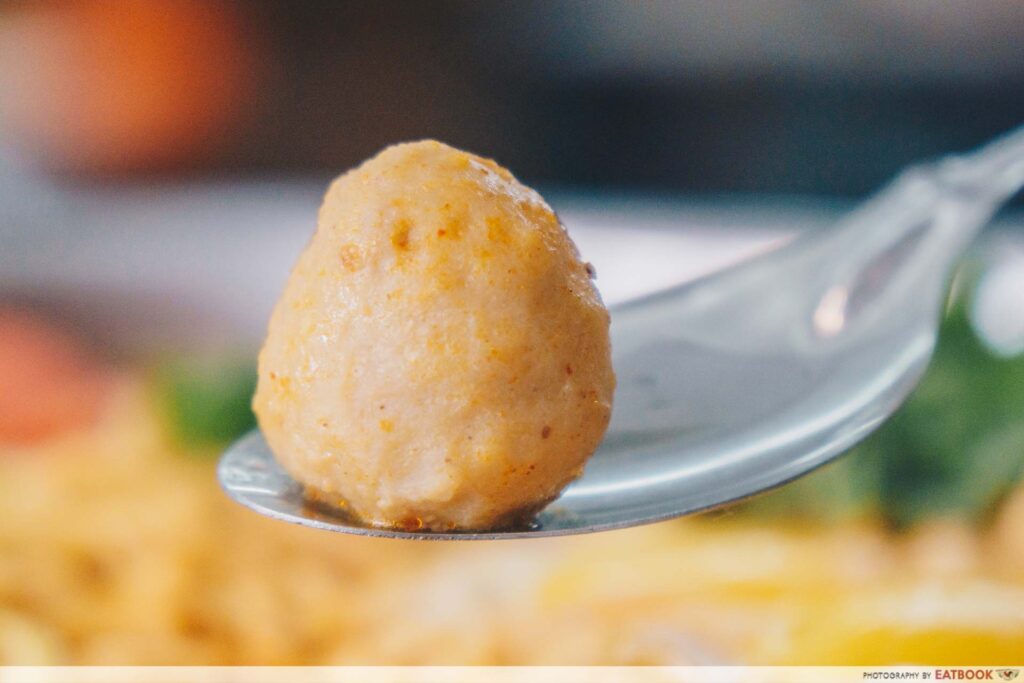 Though perfectly rounded, the meatballs fell short in comparison to the housemade patties. It was nothing to shout about, and tasted just like the standard store-bought frozen meatballs. Chinese sausages were also added into the mix.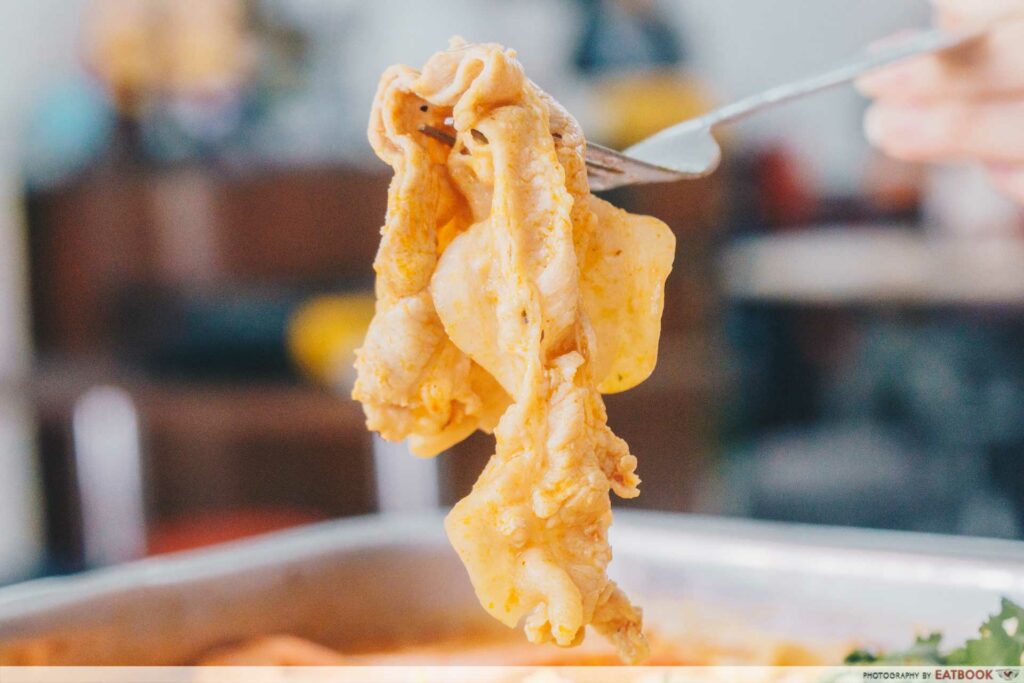 To satisfy the carnivores out there, there are also generous slices of pork belly. The pork belly was thinly sliced and had a good meat to fat ratio. The meat soaked up all the flavour from the soup and was bursting with umami.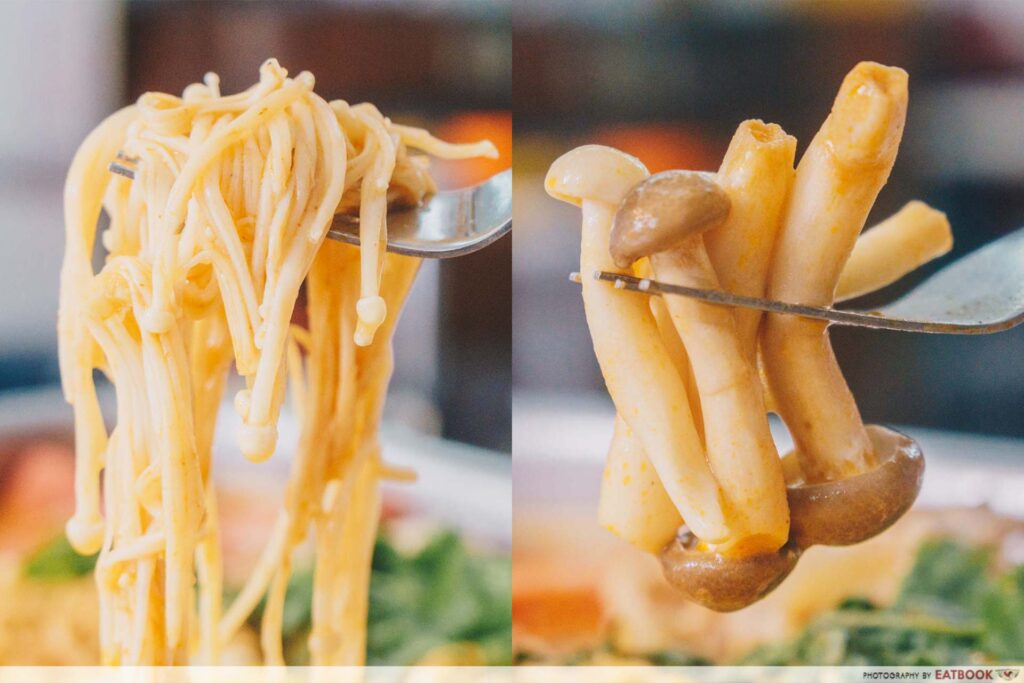 Assorted mushrooms like enoki and shimeji were included in the hot pot too. Both types of mushrooms added a delicate and earthy taste to the pot; the enoki mushrooms delivers by a slight crunch and the shimeji mushrooms has a meatier bite to it.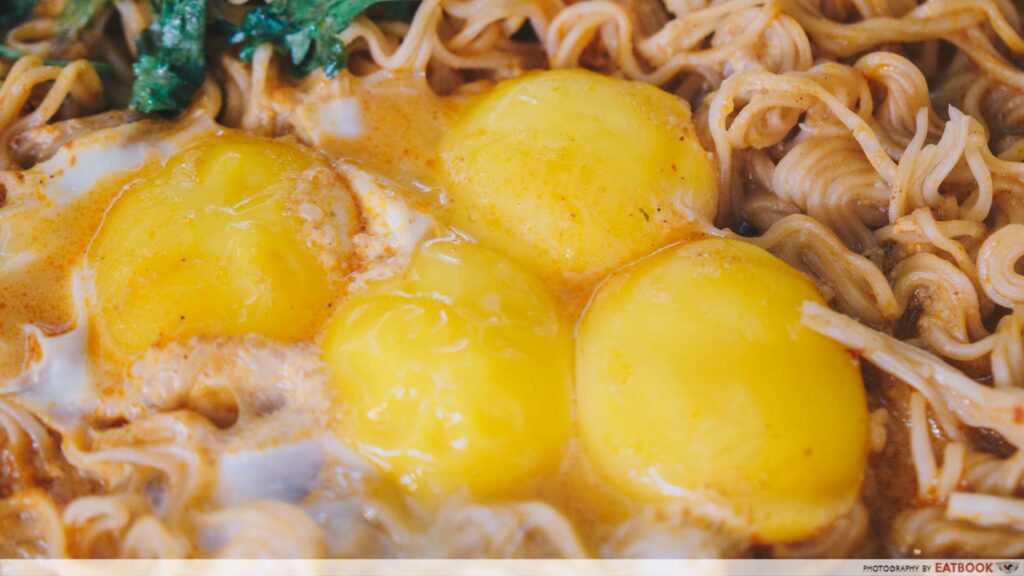 The eggs added another dimension to the soup, giving it a richer and creamier consistency. Not only did the eggs mellow out the spiciness of the soup, it brought out the fragrance of the tom yum even more.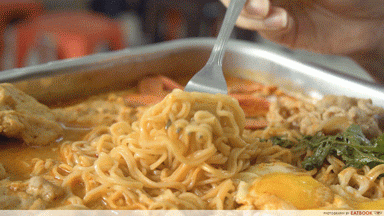 To guarantee a meal that fills you up, four packets of instant noodles were added into the pot. Soaking in the soup for too long, the noodles lost the springy bite that I was looking for. I'd recommend going for the noodles soon after the soup reaches a boil as it can get overcooked fast.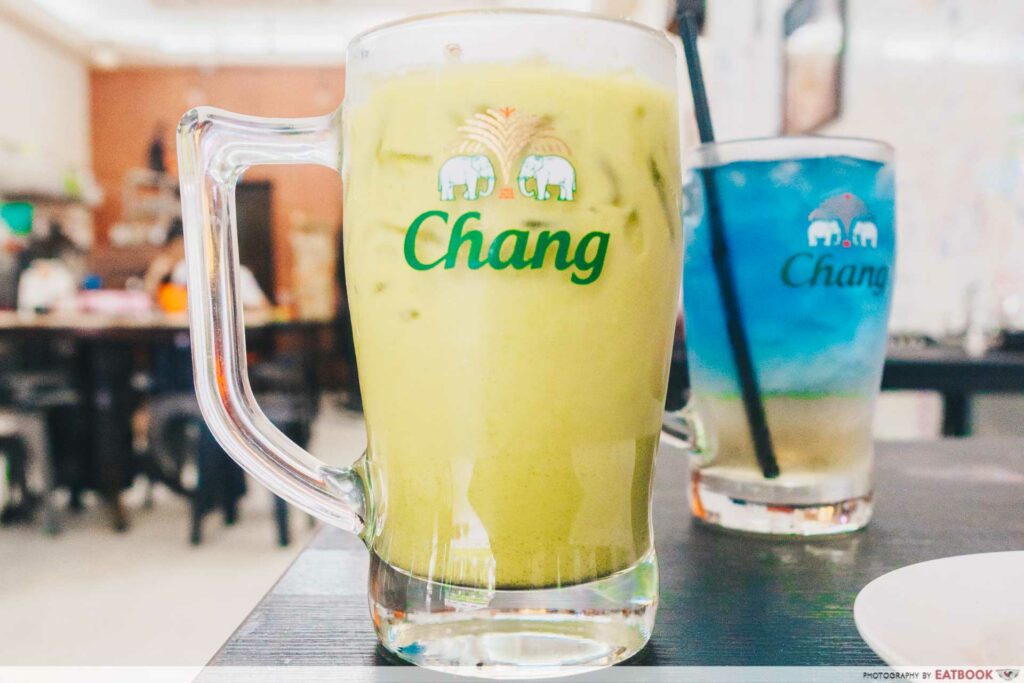 The Iced Thai Green Milk Tea ($2) is a soothing drink to go along with all that spice. With a prominent green tea flavour, the drink was satisfyingly thick and milky, and I liked that it was not too sweet.
Captivated by the bright blue in the Royal Blue Butterfly ($3), I was excited to give this a try. Stirring into this gave a beautiful boomerang shot, but was disappointing upon taste. It tasted more like honey water than anything floral.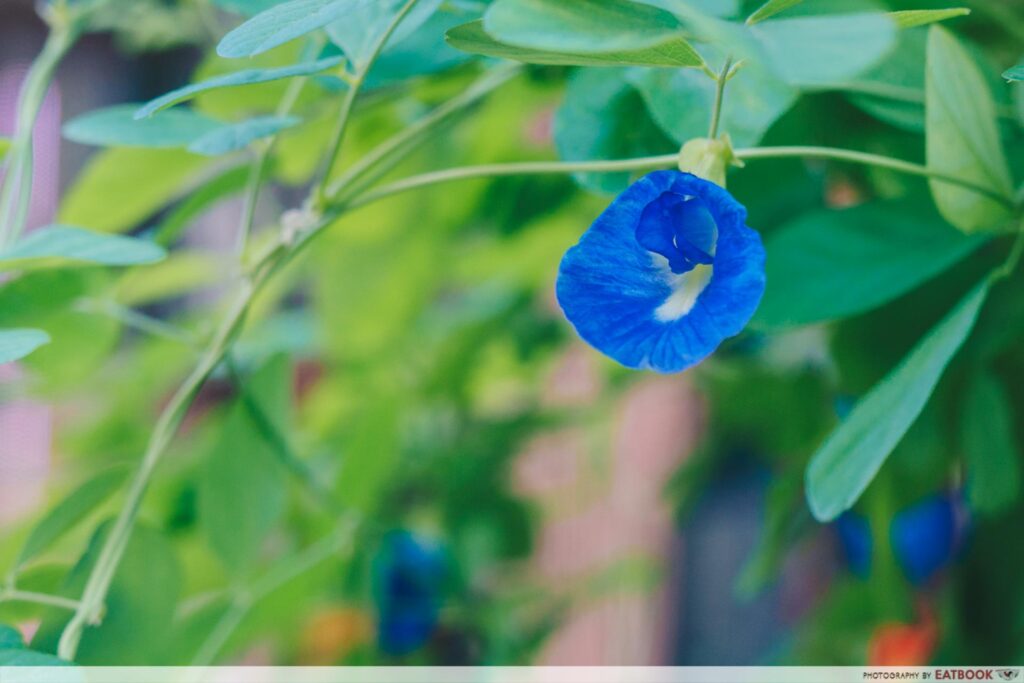 Just outside the restaurant, the owners grow a cluster of blue pea flower plants, which they use to make their signature Royal Butterfly drinks.
Ambience at Thai Goldmine Kitchen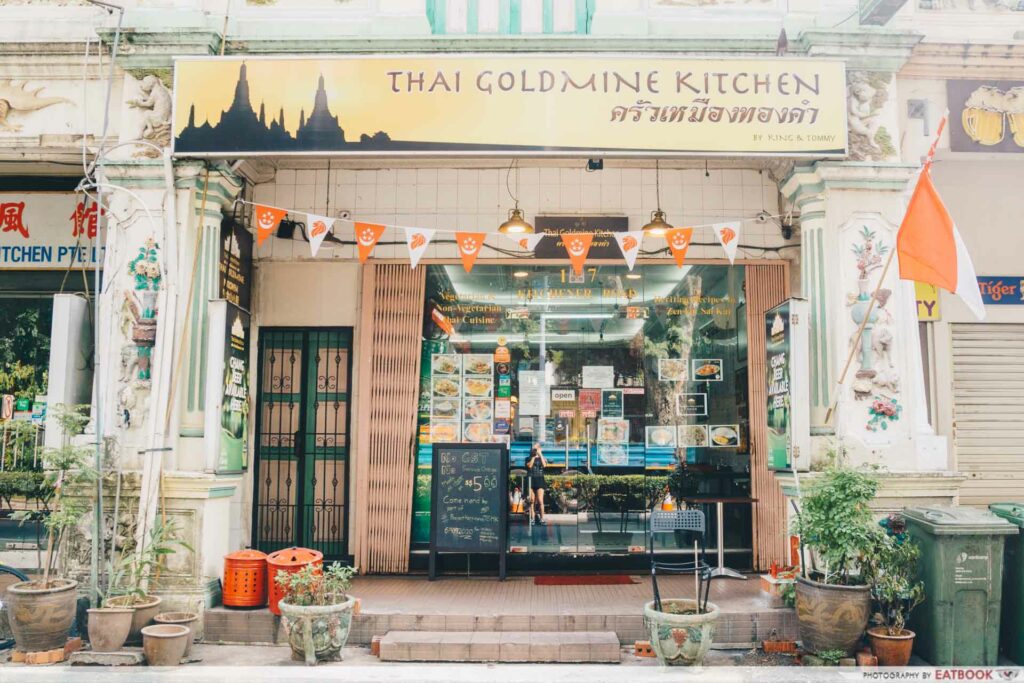 Just a short walk from Farrer Park MRT station, Thai Goldmine Kitchen replaces the now-defunct Zen Fut Sai Kai. Located along Kitchener Road, you have to keep your eyes peeled lest you miss the shop. Perhaps a more prominent signage may help to bring in more crowd.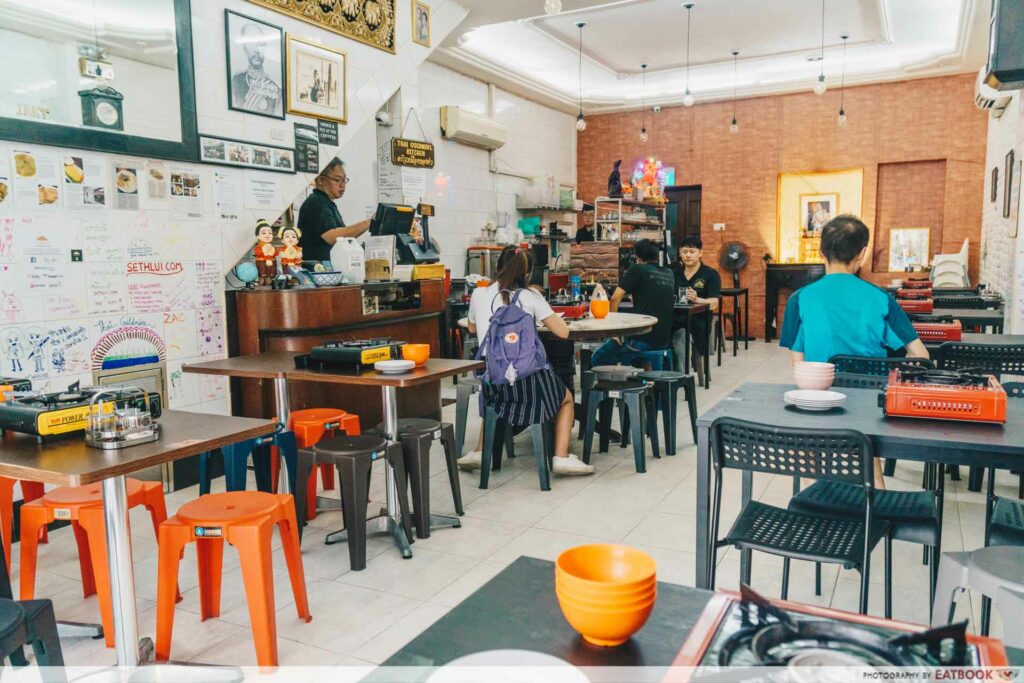 The restaurant is air-conditioned so you don't have to worry about breaking a sweat whilst slurping your noodles – unless it's from the heat of the spice. The seating area is spacious and can accommodate large groups.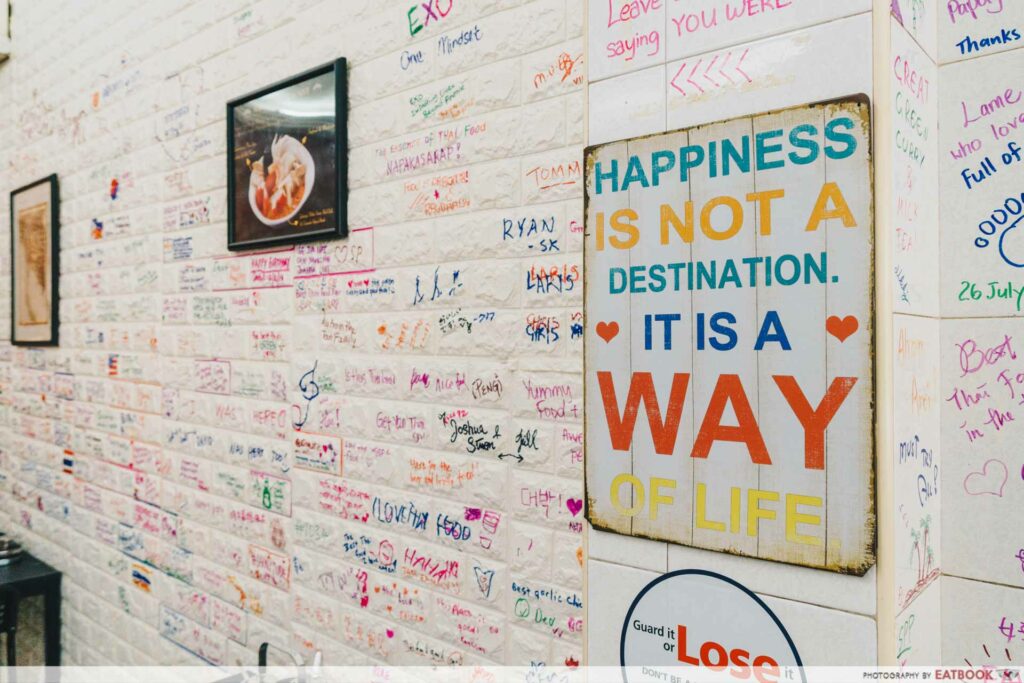 It is almost impossible to let the vandalised walls of this restaurant go unnoticed. The walls are filled with writings from customers who have dined here, leaving compliments for both their food and service. I was definitely entertained reading the notes while waiting for my food to arrive!
The verdict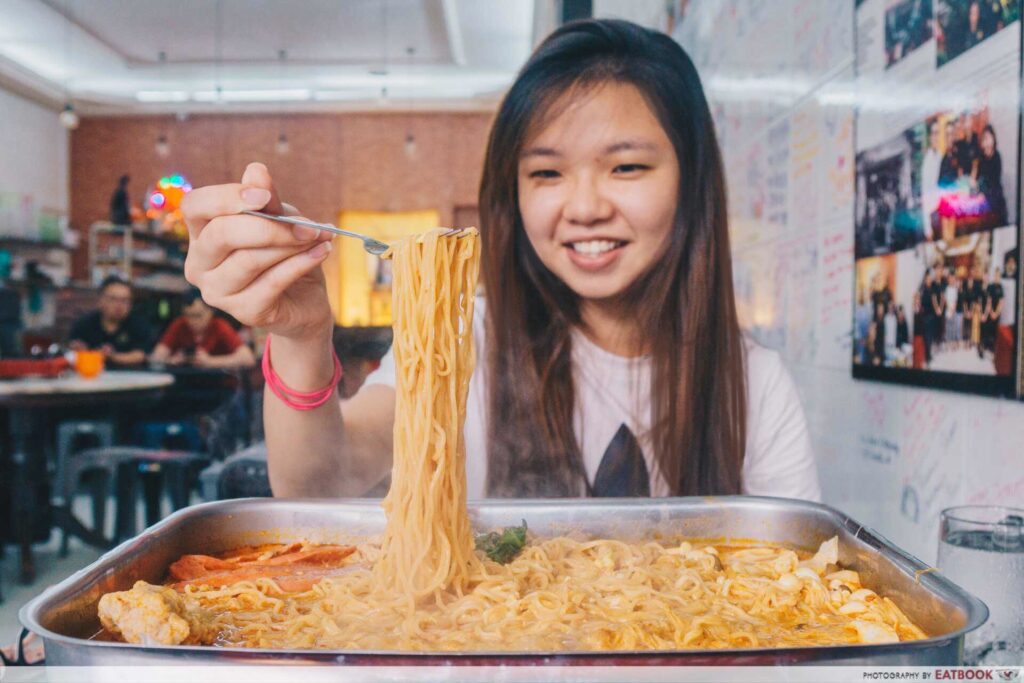 As a big fan of Thai food, I am thrilled to add Thai Goldmine Kitchen to my list of go-to Thai food spots. Apart from these giant hot pots, the usual dishes that are offered at most Thai eateries are also available. Considering the price points and food offered here, I would come back again to try their a la carte menu. 
For those looking for a quick grab-and-go, Thai Goldmine Kitchen allows for takeaway with an additional $0.30 per item. They add new specials to their menu once in a while, so do follow their Facebook page for all their latest updates!
Address: 147 Kitchener Road, Singapore 208524
Opening hours: Tue-Fri 11am to 10pm, Sat-Sun 11:30am to 10pm
Tel: 6909 2020
Website
Thai Goldmine Kitchen is not halal-certified.
Photos taken by Ho Jing Yi.
This is an independent review by Eatbook.sg.
10 Affordable Thai Food Places To Tide You Through Till Your Next BKK Trip
Thai Goldmine Kitchen Review: Giant Tom Yum Hot Pot From $7.60 Per Person
Summary
Pros
– Giant tom yum hot pot
– Flavourful soup
Cons
– Inconvenient location
Recommended Dishes:  Jumbo Goldmine ($38)
Opening Hours: Tue-Fri 11am to 10pm, Sat-Sun 11:30am to 10pm
Address: 147 Kitchener Road, Singapore 208524