Get sweet and savoury waffle sandwiches at Griddy
Update (4 April 2019): Griddy has permanently closed.
I've always been a waffles-over-pancakes kind of person. Crunchy on the outside and fluffy on the inside, waffles are the ideal vessel for toppings such as maple syrup and ice-cream, especially because all that good stuff conveniently collects in the lil' waffle pockets.
At Griddy, you can get your hands on familiar dessert waffles, as well as some savoury waffle sandwiches. Instead of paying fancy cafe prices, Griddy dishes out a substantial selection without putting a giant hole in your wallet.
Food at Griddy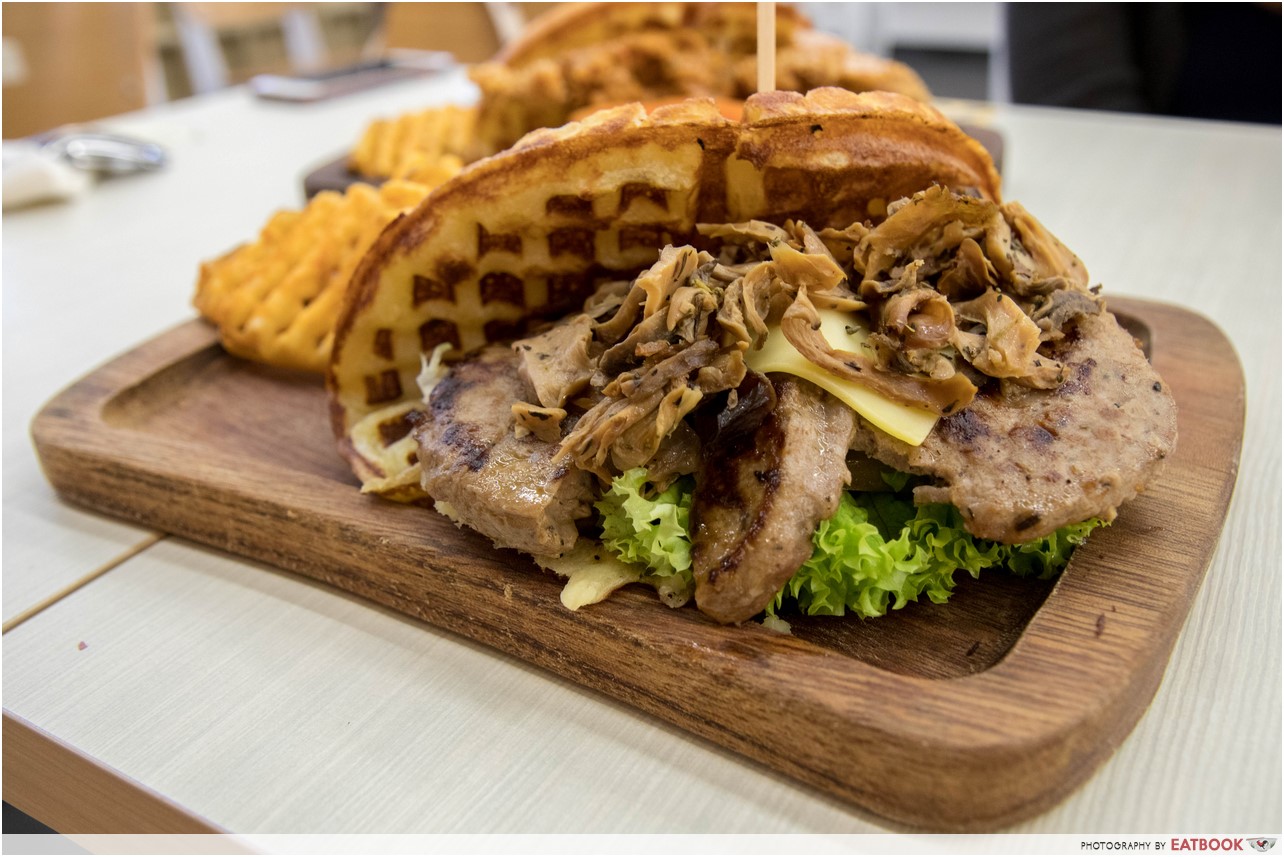 We started with their signature Griddy Burger ($9.90++), which was made by sandwiching two hamburger patties, lettuce, tomato slices, half a slice of cheese and mushrooms in a round waffle.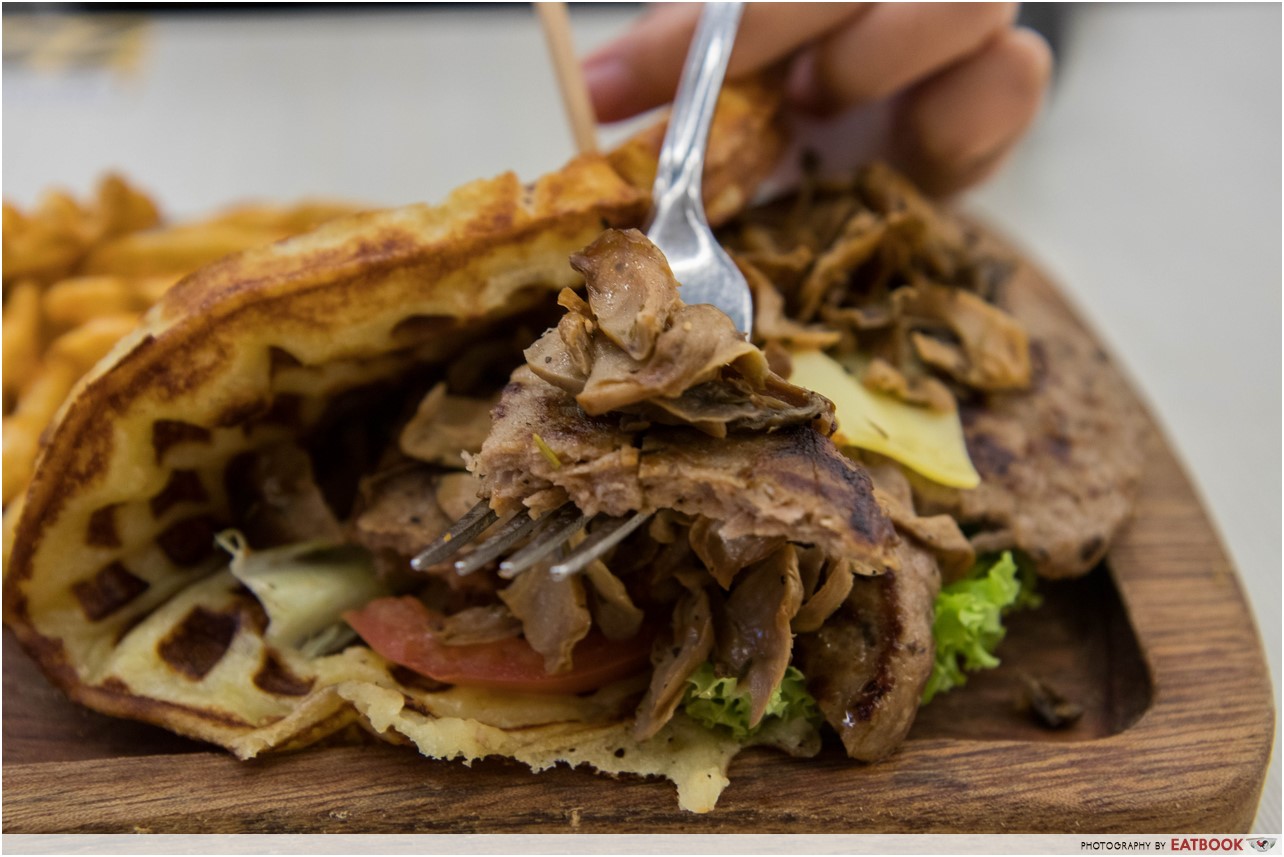 Though the beef patties were quite thin, they were well-seasoned and had a consistent texture throughout. Since they were done medium-well, the meat was on the chewy side. The pan-fried mushrooms were salty enough to add flavour to the sandwich, even though they didn't come with sauce.
When eaten together with the slightly savoury waffle, the textures and flavours of these separate components came together wonderfully. My only complaint is that the slice of cheese wasn't properly grilled or melted enough.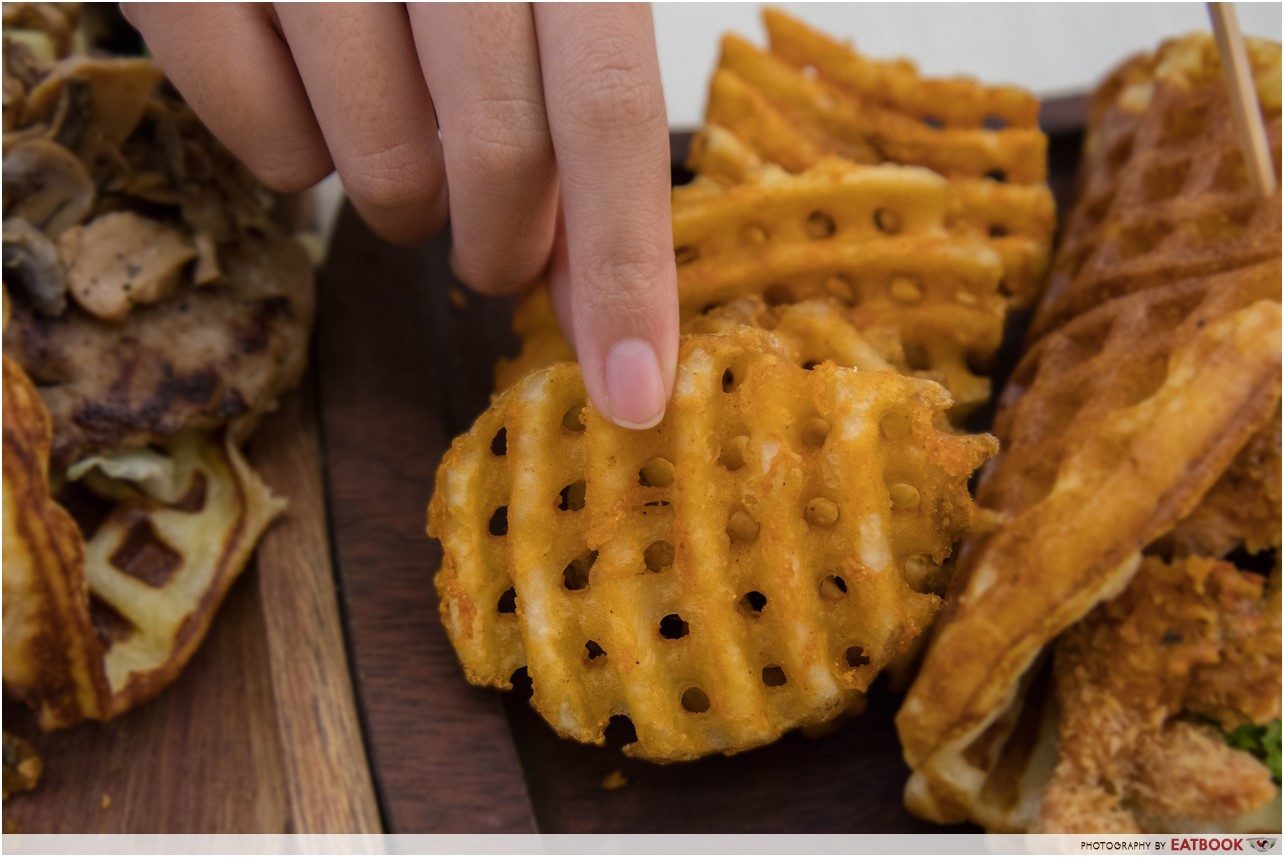 All of their waffle sandwiches come with a side of lattice fries, AKA waffle-cut fries. Each piece had a tasty, crispy crust, while the insides were soft and easy to bite into. Just like how I prefer waffles to pancakes, I'd take these lattice fries over regular ones any day.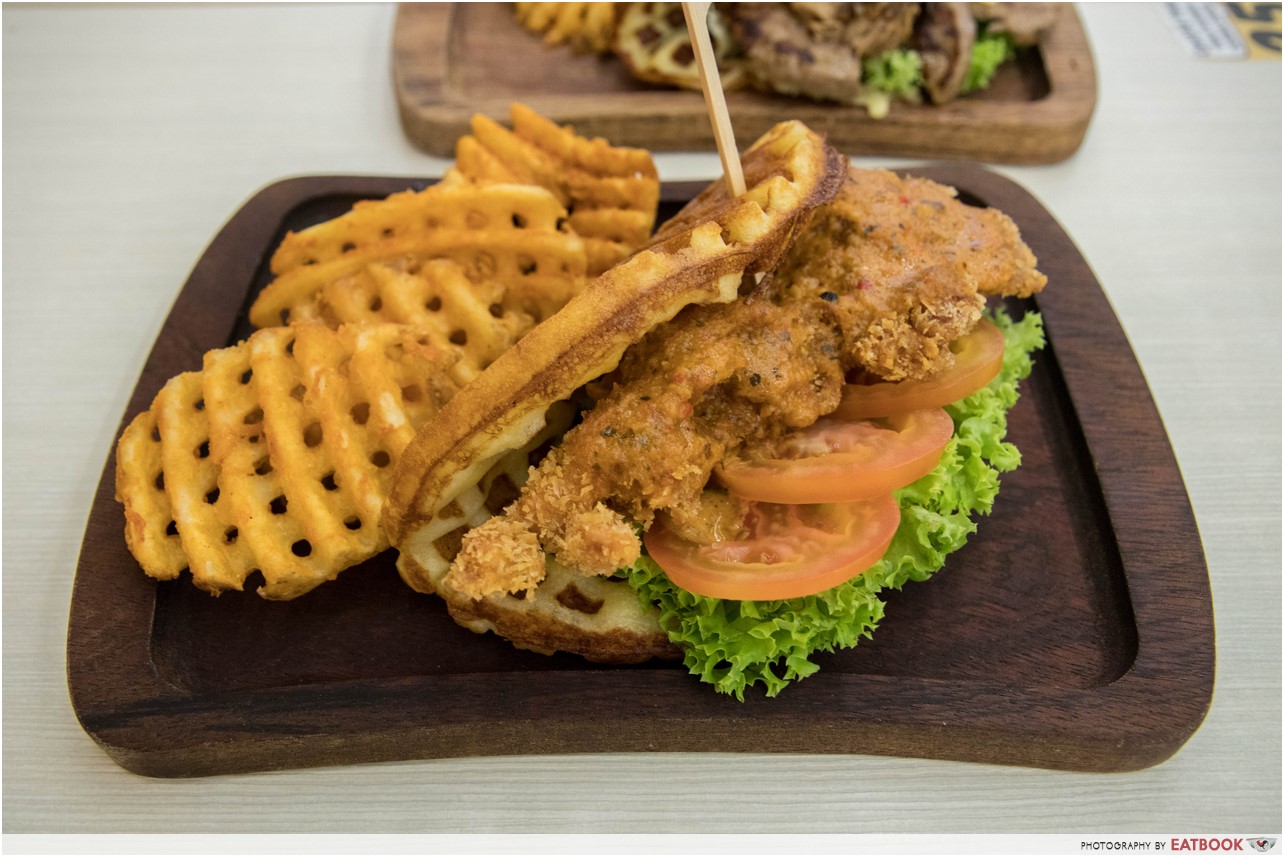 For savoury waffles with a twist, get their Battered Chicken With Laksa Sauce ($8.90++). Instead of two hamburger patties, this waffle sandwich came with a generous portion of fried chicken. The laksa sauce resembled standard zi char chilli crab sauce as it was slightly sweet and was spicy. We could even see speckles of curry leaves in the thick sauce.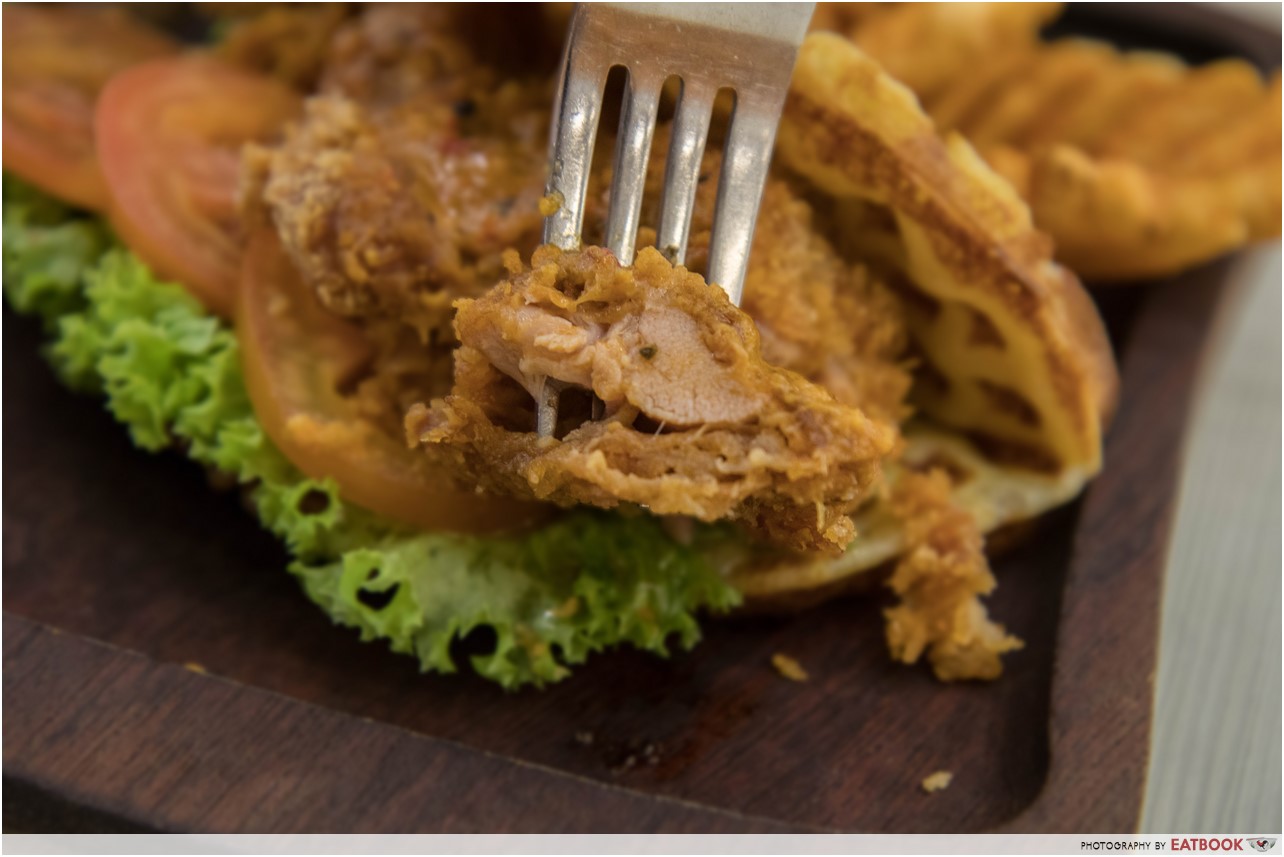 The chicken cutlet was juicy and tender while the crunchy batter soaked up all the flavourful sauce. Unlike the Griddy Burger, the chicken in this was more satisfying to eat on its own rather than as a sandwich filling.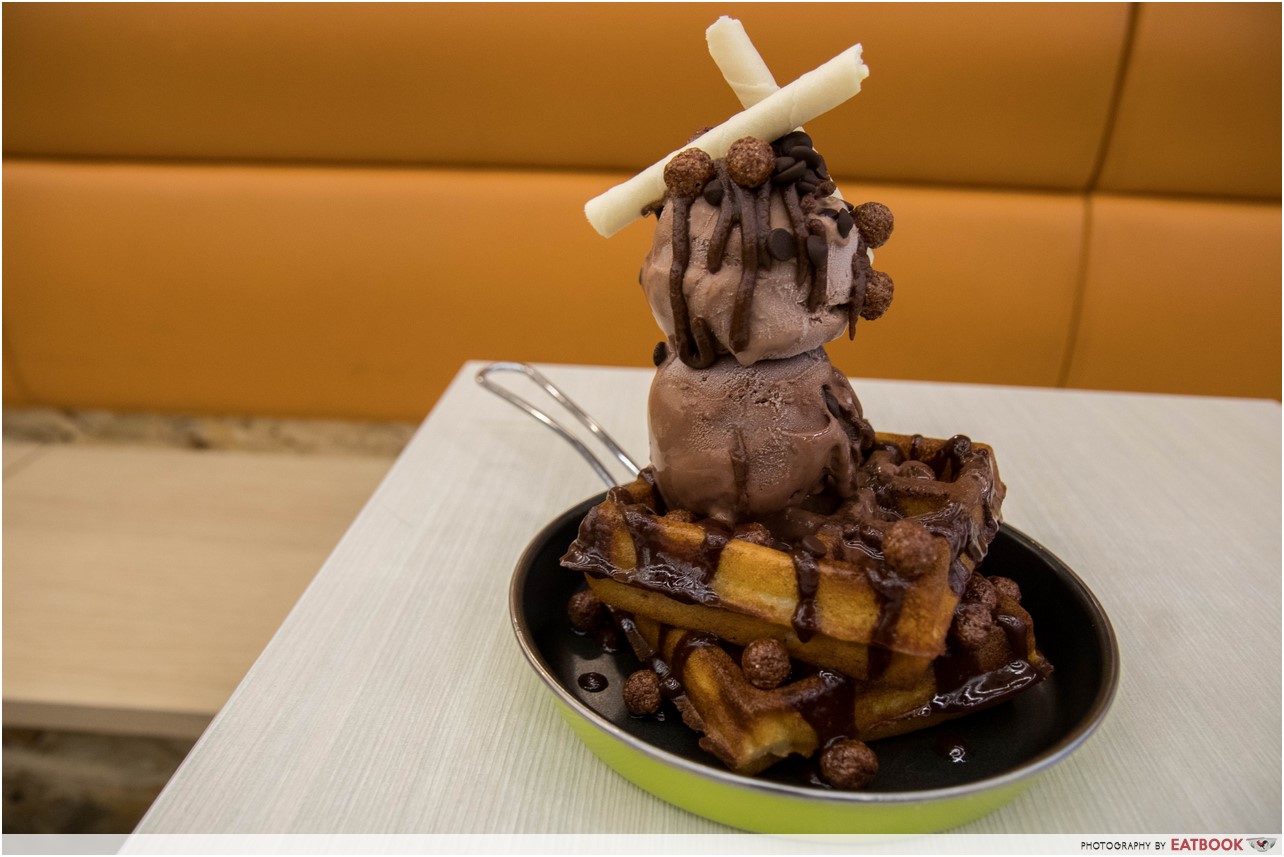 Though their savoury waffles were quite impressive, I had my eyes set on their desserts from the start. Fellow chocoholics should get their Chocolate Madness ($11.50++). Served on a pan, this dessert was stacked high with two thick waffles, two scoops of chocolate gelato, and milk wafer sticks.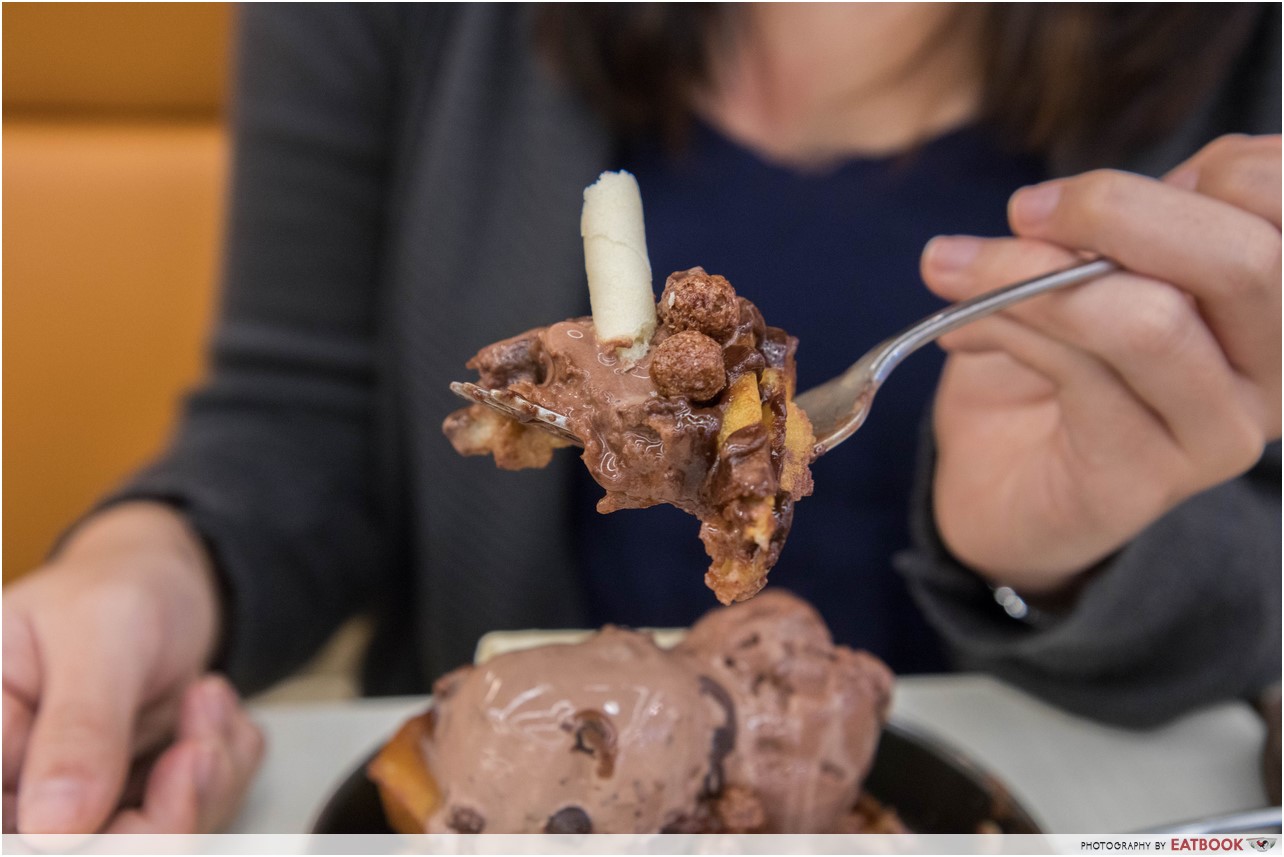 Unlike the savoury waffles, these were much thicker and fluffier on the inside while the outer layer was more crispy. The pockets on these waffles were also much larger, perfect for transporting all that rich chocolate gelato from the pan to my mouth. The milky wafer sticks and Milo cereal balls also added a satisfying crunch to this rich dessert.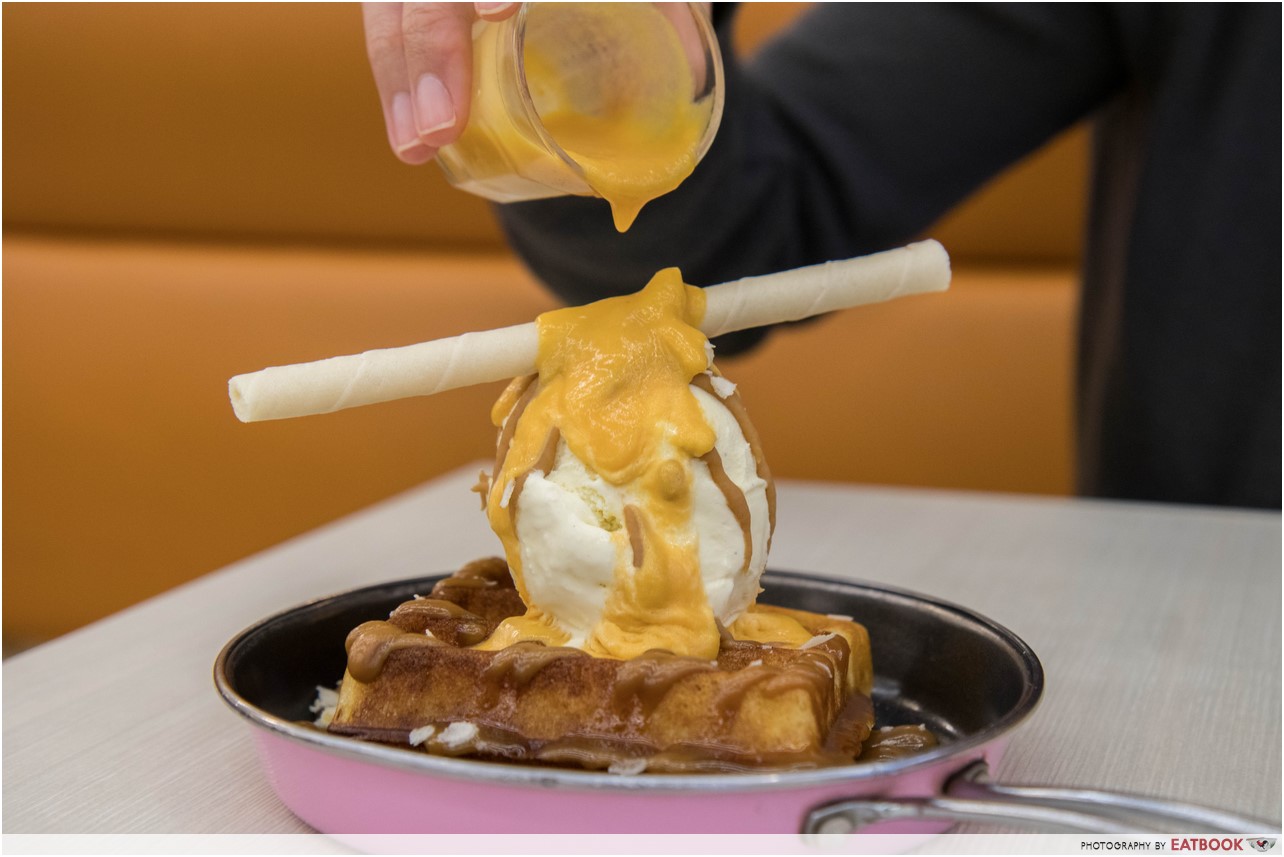 If you have a more adventurous palate, go for their Salted Egg Yolk & Caramel ($8.50++) instead. Fans of salty-sweet food combinations will probably enjoy this dessert. This came with a fluffy waffle and vanilla ice-cream, topped with thick caramel sauce and a milk wafer stick. A shot glass of warm salted egg yolk sauce that was served on the side was the pièce de résistance.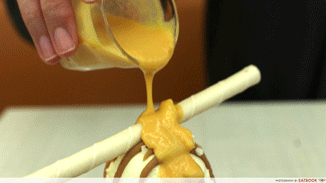 The salted egg yolk sauce wasn't the typical liu sha bao-like custard I was expecting. Instead, this tasted as though it came straight out of a zi char dish. The thick, savoury sauce served as a stark contrast to the sweet caramel and ice-cream.
The sauce was a little too intense for my liking as it overpowered the rest of the components. If you're a loyal salted egg lover, however, you'll definitely enjoy this dessert.
Ambience at Griddy
Griddy is located in the basement of Westgate, which is connected to Jurong East MRT Station. Though we went during lunch time on a weekday, we had no problem finding seats. Since the place wasn't busy, it's a great spot to just sit down and chat while enjoying your food.
The verdict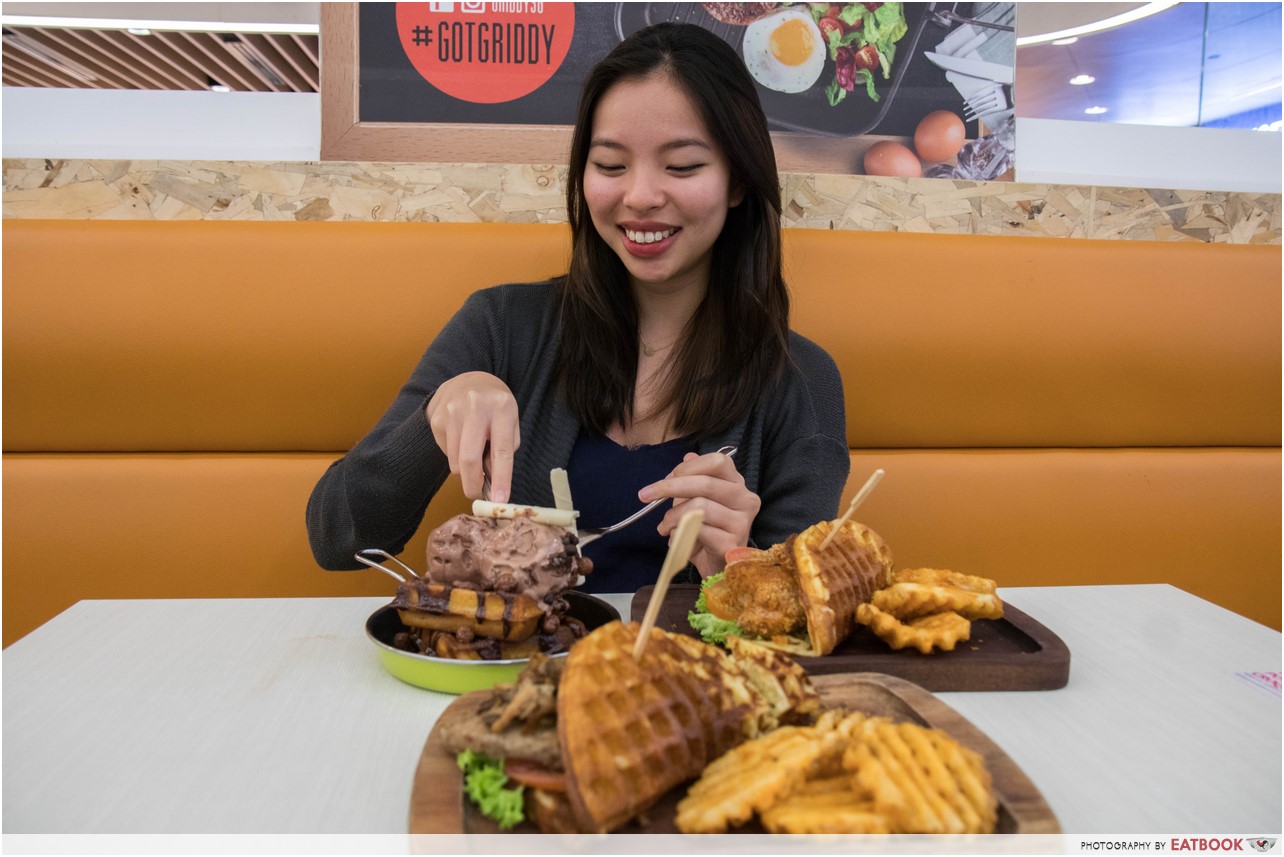 Overall, we enjoyed the selection of waffles from Griddy. Whether you prefer your food savoury or sweet, classic or unconventional, there'll be a waffle that you're sure to like here. The comfy ambience and relatively affordable prices of these cafe-standard dishes are reasons enough to come back.
Address: 3 Gateway Drive, #B2-K12, Westgate, Singapore 608532
Opening hours: Daily 11am to 10pm
Tel: 6465 9465
Website
Griddy is not a halal-certified restaurant.
This is an independent review by Eatbook.sg.
Summary
Pros
– Affordable
– Convenient location
Cons
– Not all flavour combinations were good
Recommended Dishes: Griddy Burger ($9.90++), Chocolate Madness ($11.50++)
Operating Hours:
Daily 11am to 10pm
Tel:
6465 9465
Address: 3 Gateway Drive, #B2-K12, Westgate, Singapore 608532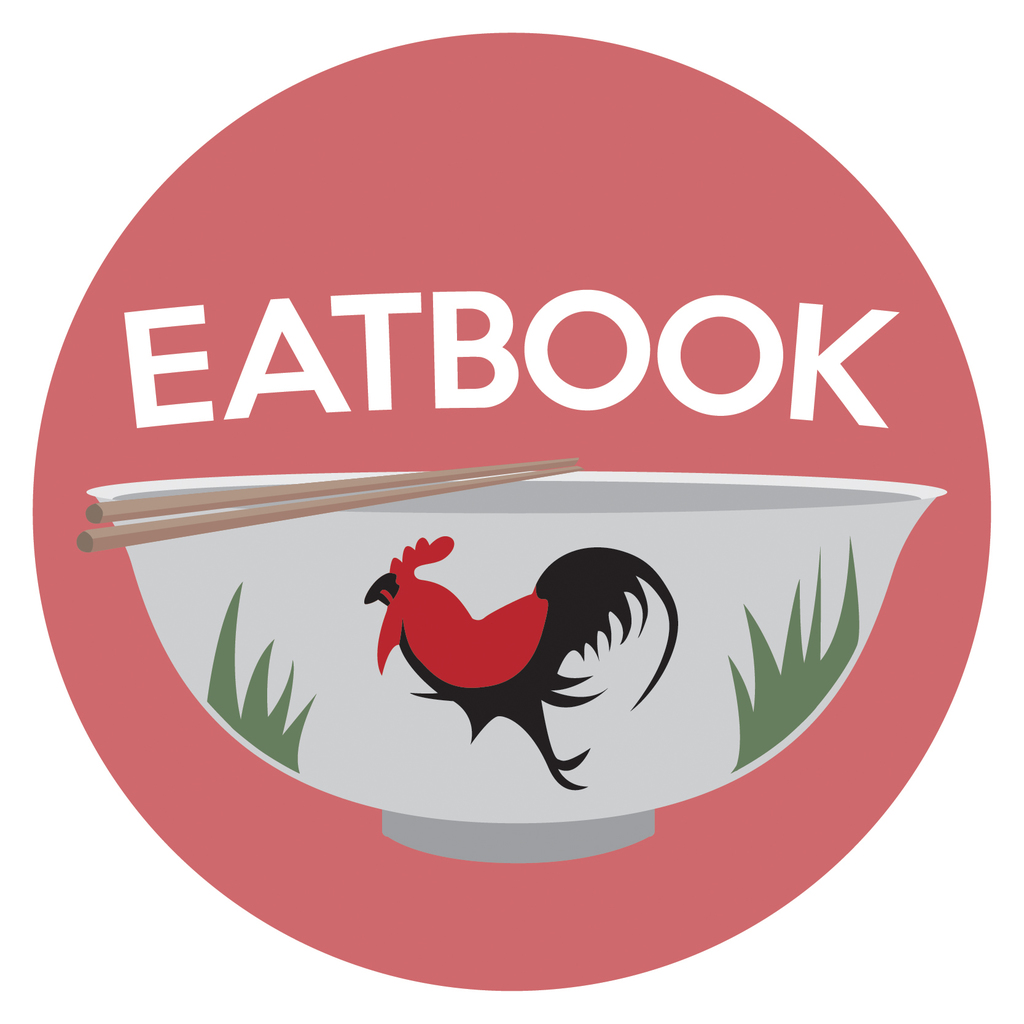 Drop us your email so you won't miss the latest news.