Guriru for Japanese BBQ in Outram Park
There are plenty of romantic restaurants across the island for date nights and special occasions. Another new addition to the list is Guriru, a legit Japanese charcoal grill restaurant helmed by well-known Japanese Chef Teppei Yamashita, the man behind Man Man Unagi.
Food at Guriru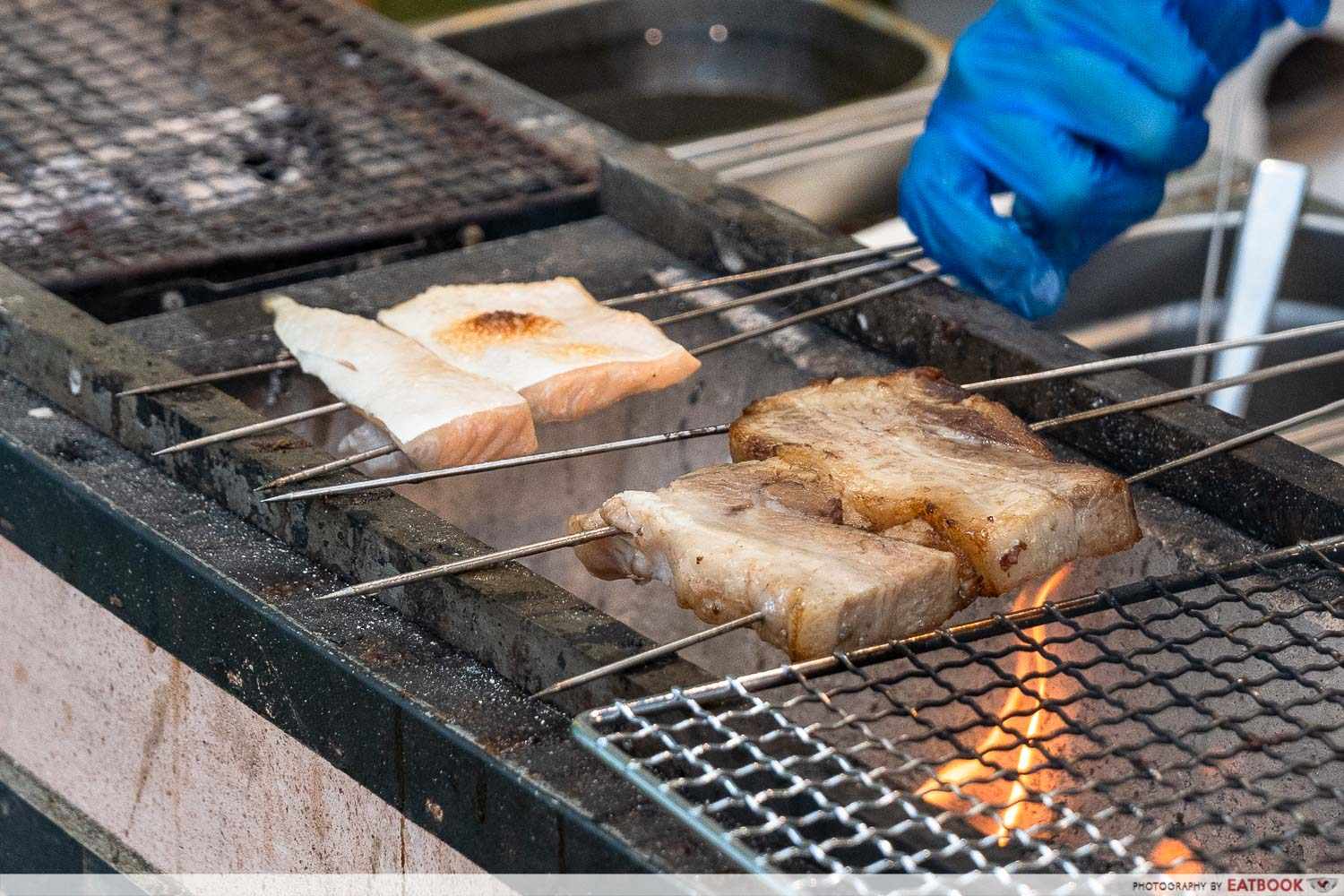 The casual alfresco restaurant is inspired by the hamayaki-style of cooking common in Chef Teppei's hometown, where an assortment of fresh seafood is grilled on binchotan upon order.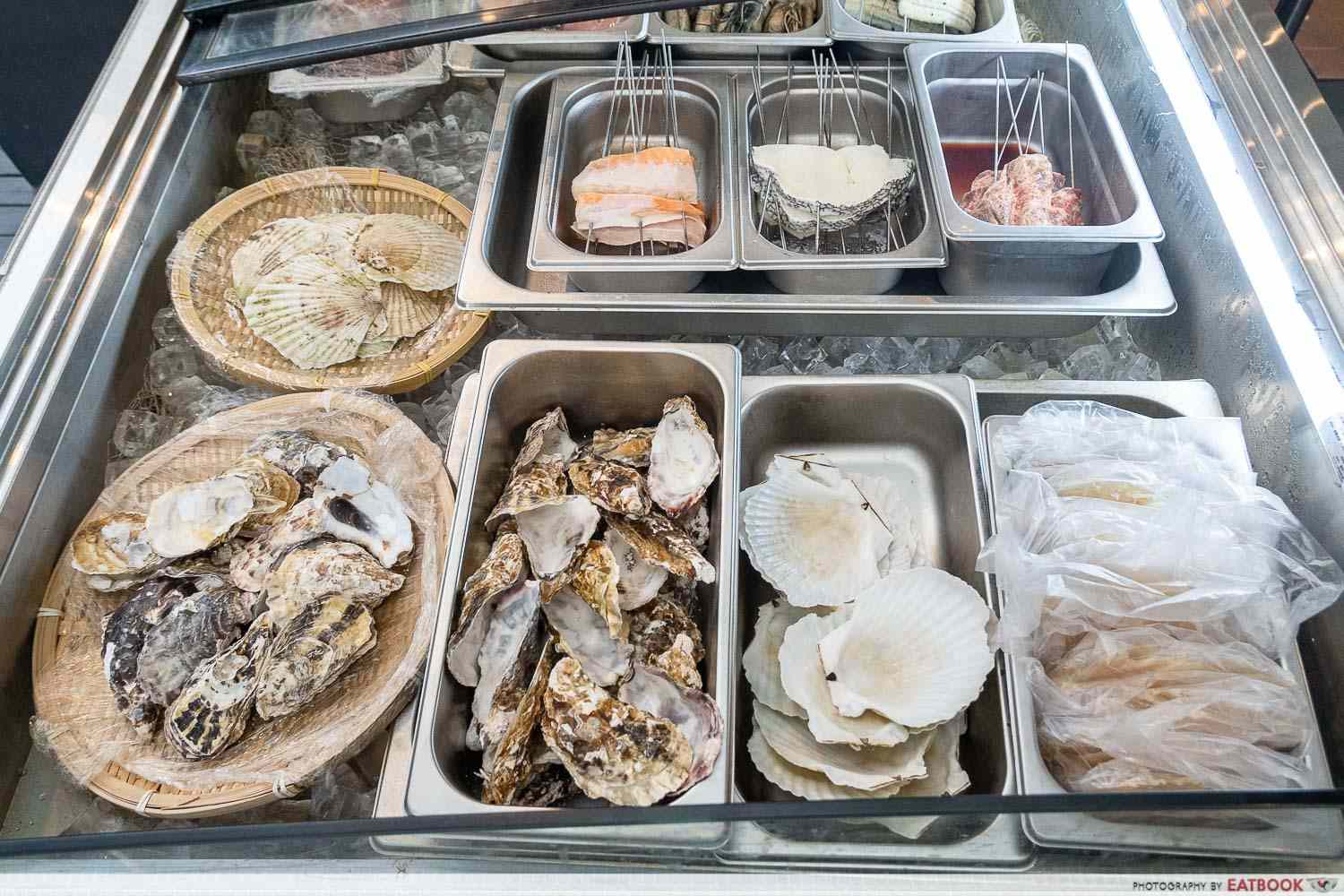 For the full experience, I'd recommend heading to the grill counter to pick from the fresh seafood display. A majority of the seafood items are sourced from Japan, including the Half Shell Scallop ($10++ for three), grilled with ponzu sauce or butter.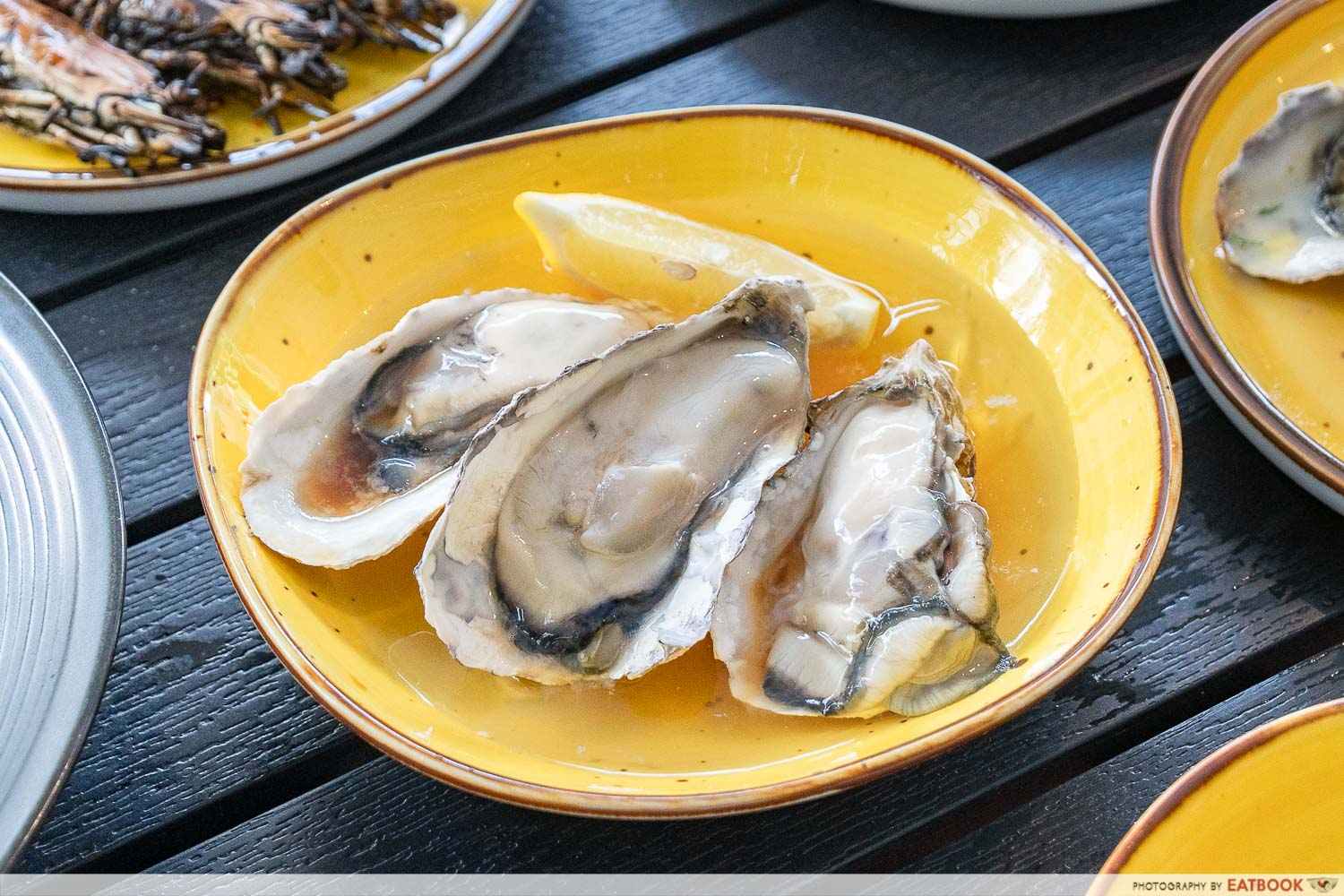 We chose to start on a fresh note with the Raw Hyogo Oyster ($10++ for three, $19++ for six), served with ponzu sauce and a generous wedge of lemon. I'm not usually a fan of raw seafood as I often find them too fishy. However, I was blown away by how fresh, plump, and sweet these oysters were. For $3.20 a pop, the Japanese-flown shellfish were some of the best I've had.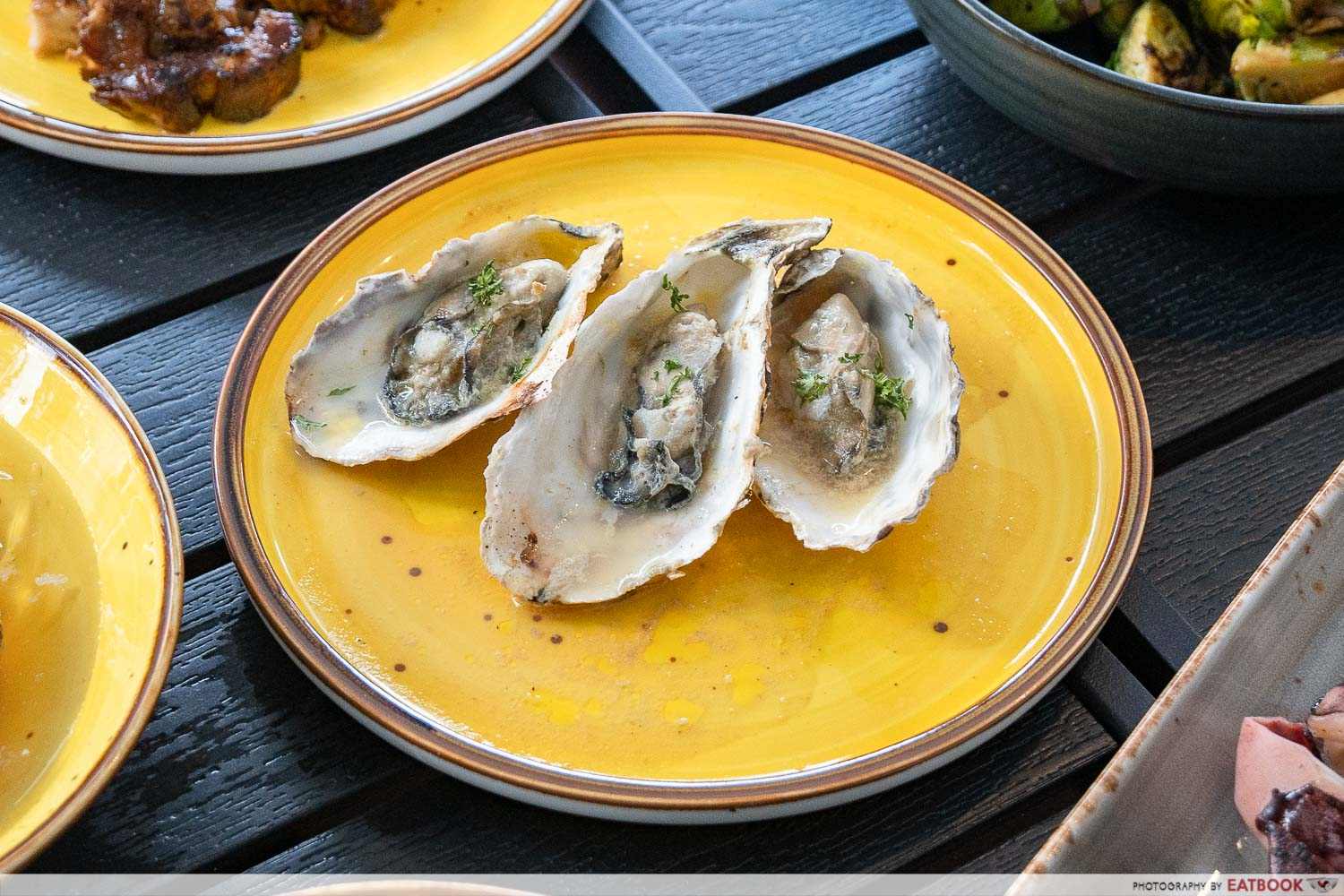 You can also get them grilled for the same price, but after trying them sashimi-style, the cooked versions paled in comparison.
Another excellent starter was the Whole Squid ($16++), charcoal-grilled and served with what looked like a mayo-based sauce. I didn't think the creamy dip went particularly well with the squid, but the latter was grilled-to-tender with a delectably smoky finish. A squeeze of fresh lemon was all it needed since the squid was fresh enough.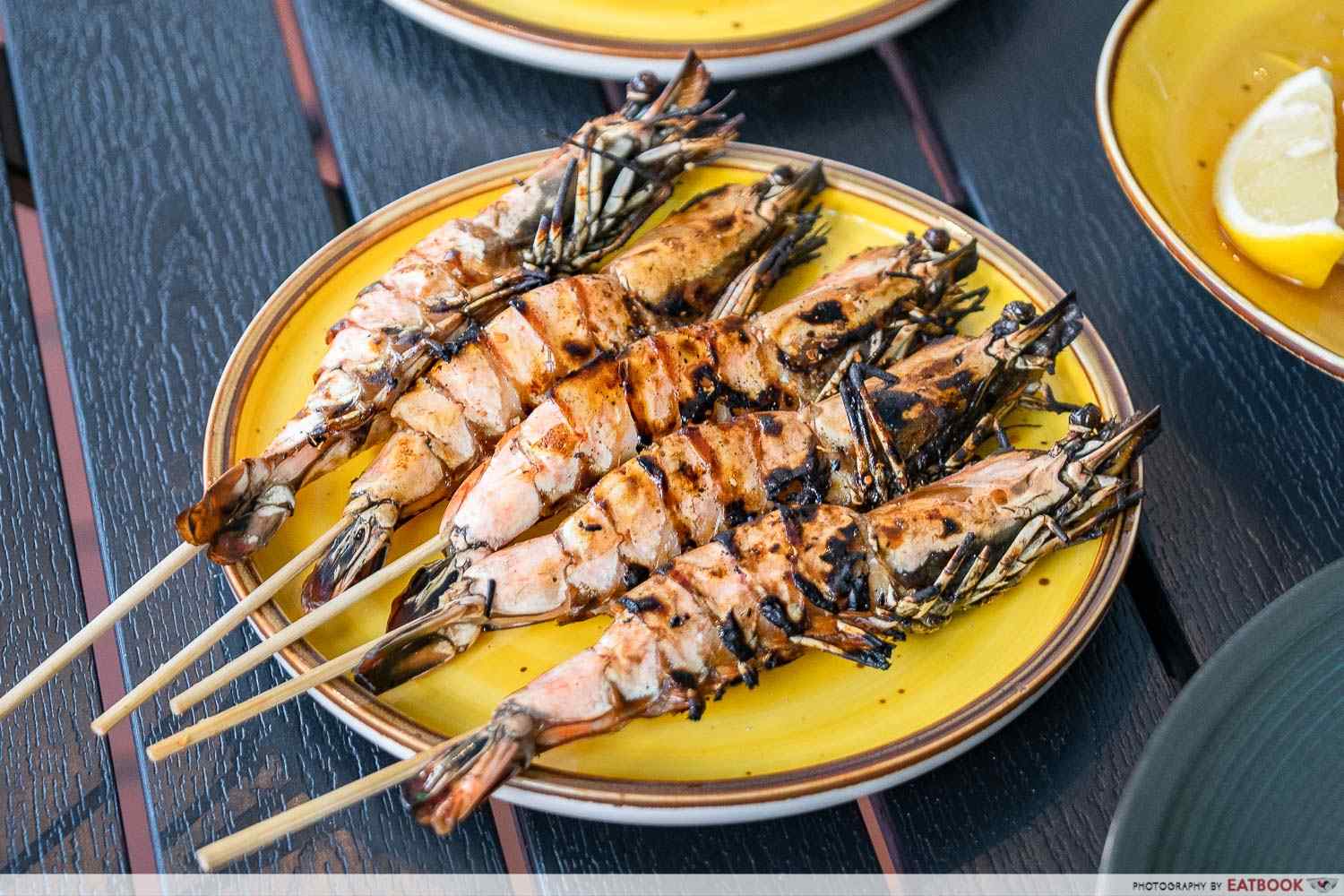 The Black Tiger Prawn ($6.50++ each, $25++ for five) was also perfectly grilled with a discernibly charred exterior. It looked slightly burned on the outside, but thankfully, the prawn flesh within was sweet and juicy with a slight bite. These prawns were extremely fresh, though we wished the garlic butter sauce they were bathed in had more flavour.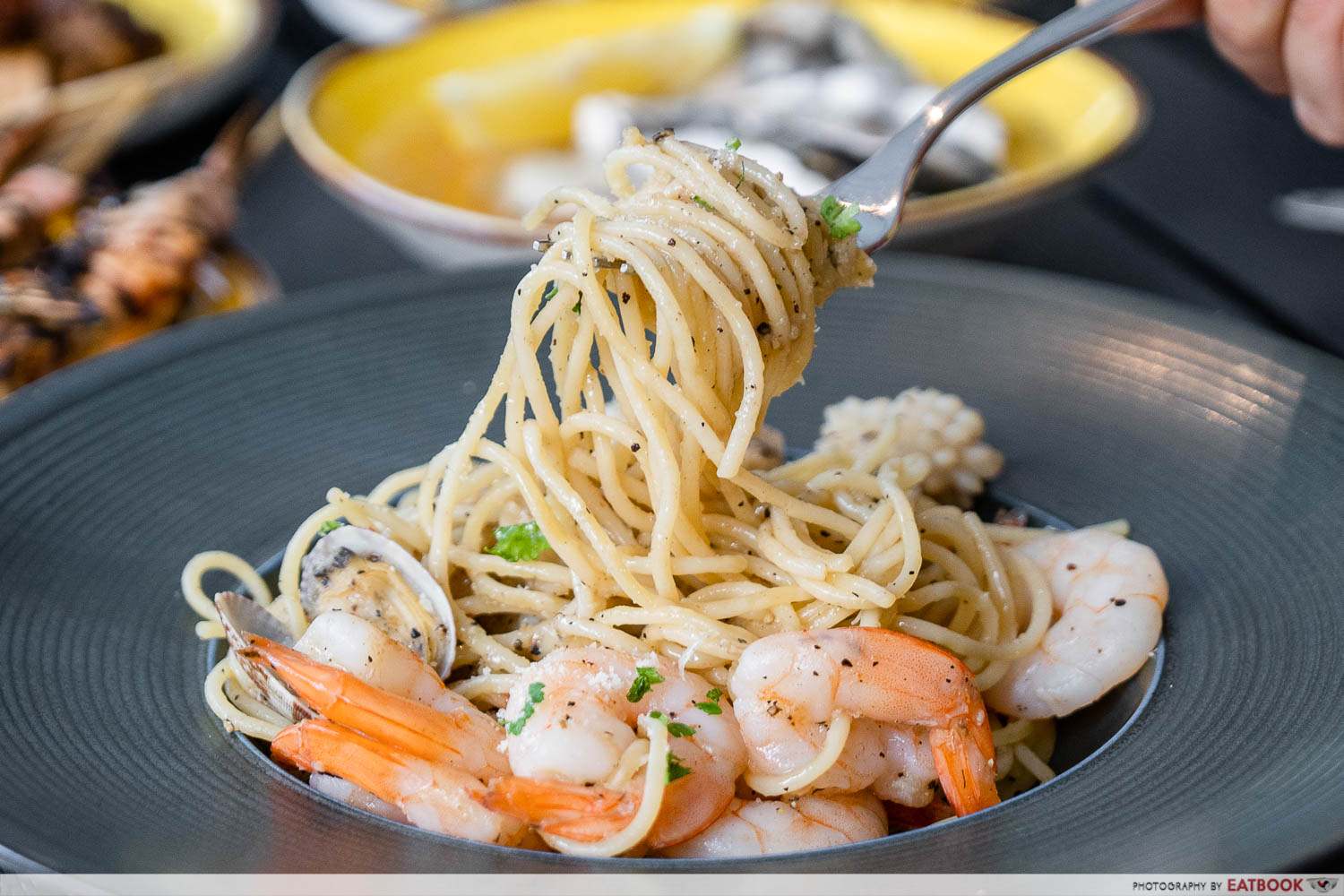 Fill up on carbs with an order of Seafood Aglio Olio ($22++), a slightly spicy pasta dish loaded with prawns, squid, and clams. Each strand of al dente pasta was coated in a deliciously savoury olive oil sauce, with bits of garlic and black pepper for extra flavour. I'd only wished fresh prawns and squid were used in this well-seasoned dish.
Take a break from the seafood with an order of the Meltique Beef ($18++), a thin slab of Wagyu with a house-made yakitori glaze and garlic chips on top.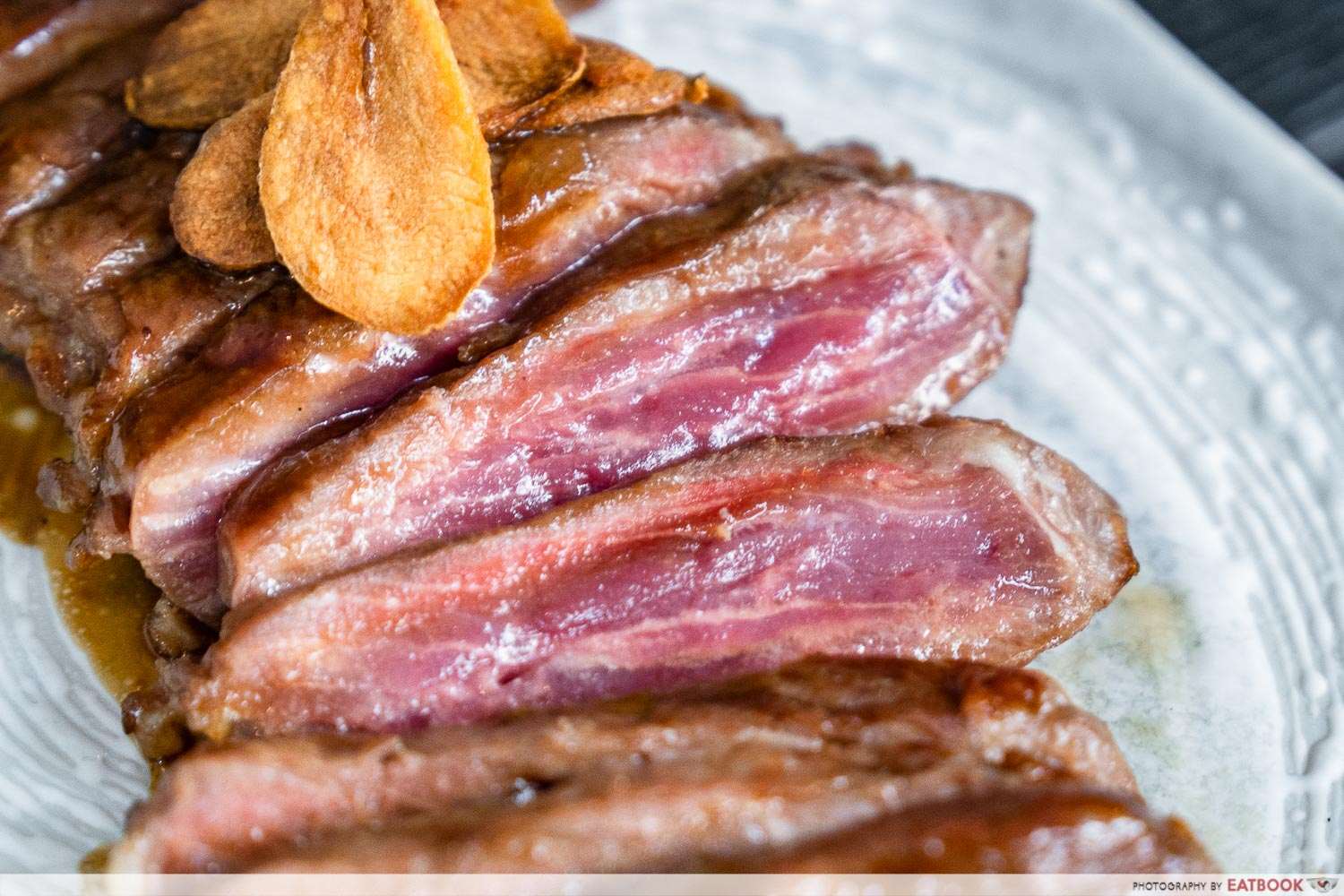 Each slice was cooked to medium rare with a gorgeous pink middle—just the way I like my steak. The slightly sweet yakitori sauce complemented the beefy flavour, but I could do with more of those addictive, crispy garlic chips.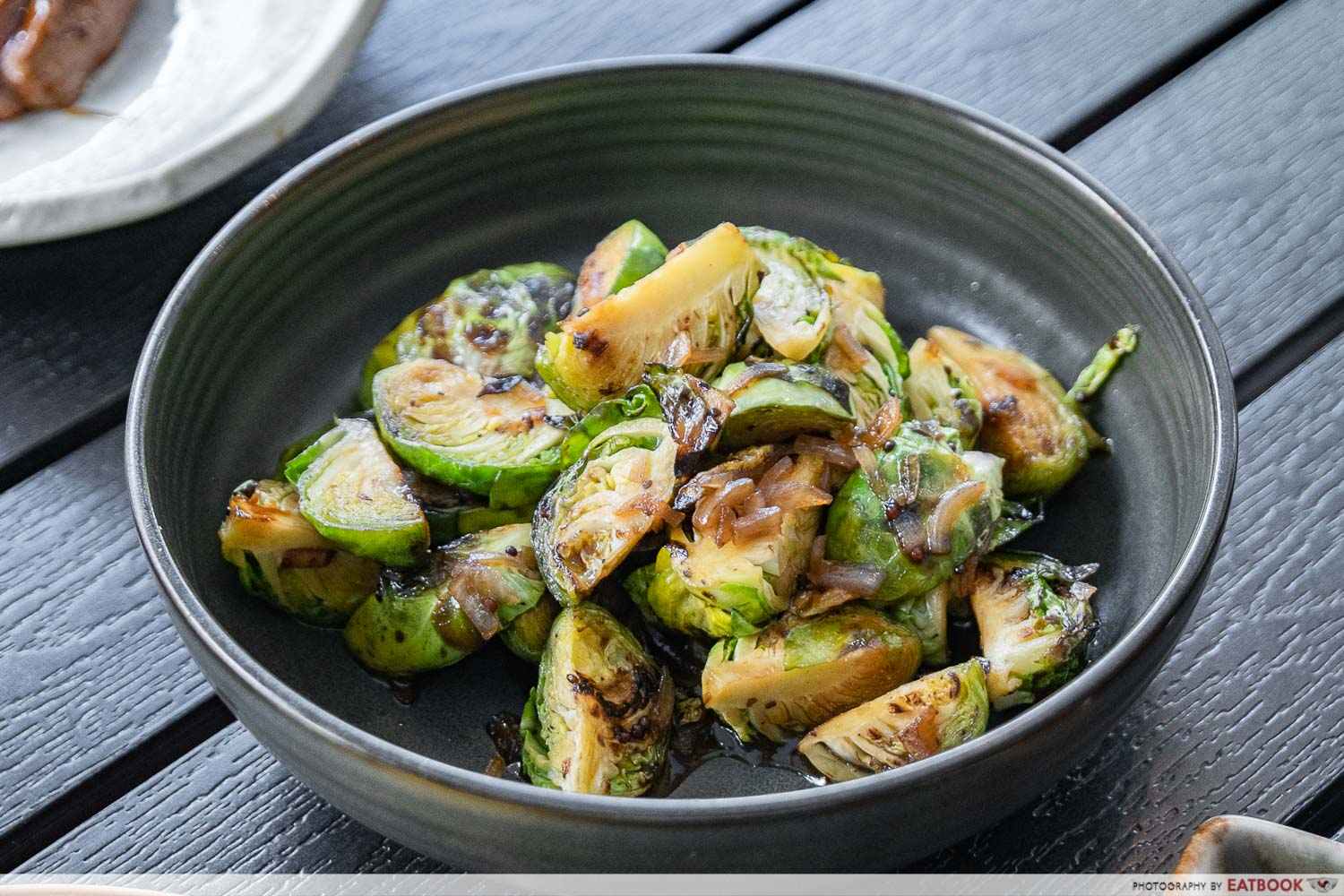 We wanted to balance out the meaty affair with some greens in the form of the Charred Brussel Sprouts ($12++), sautéed in wasabi ponzu. Unfortunately, this dish fell short. While the veggies came with a beautiful char, they lacked flavour. The sauce did little to mask the brussel sprouts' bitter taste, and the almost-soggy texture left us unimpressed.
Ambience at Guriru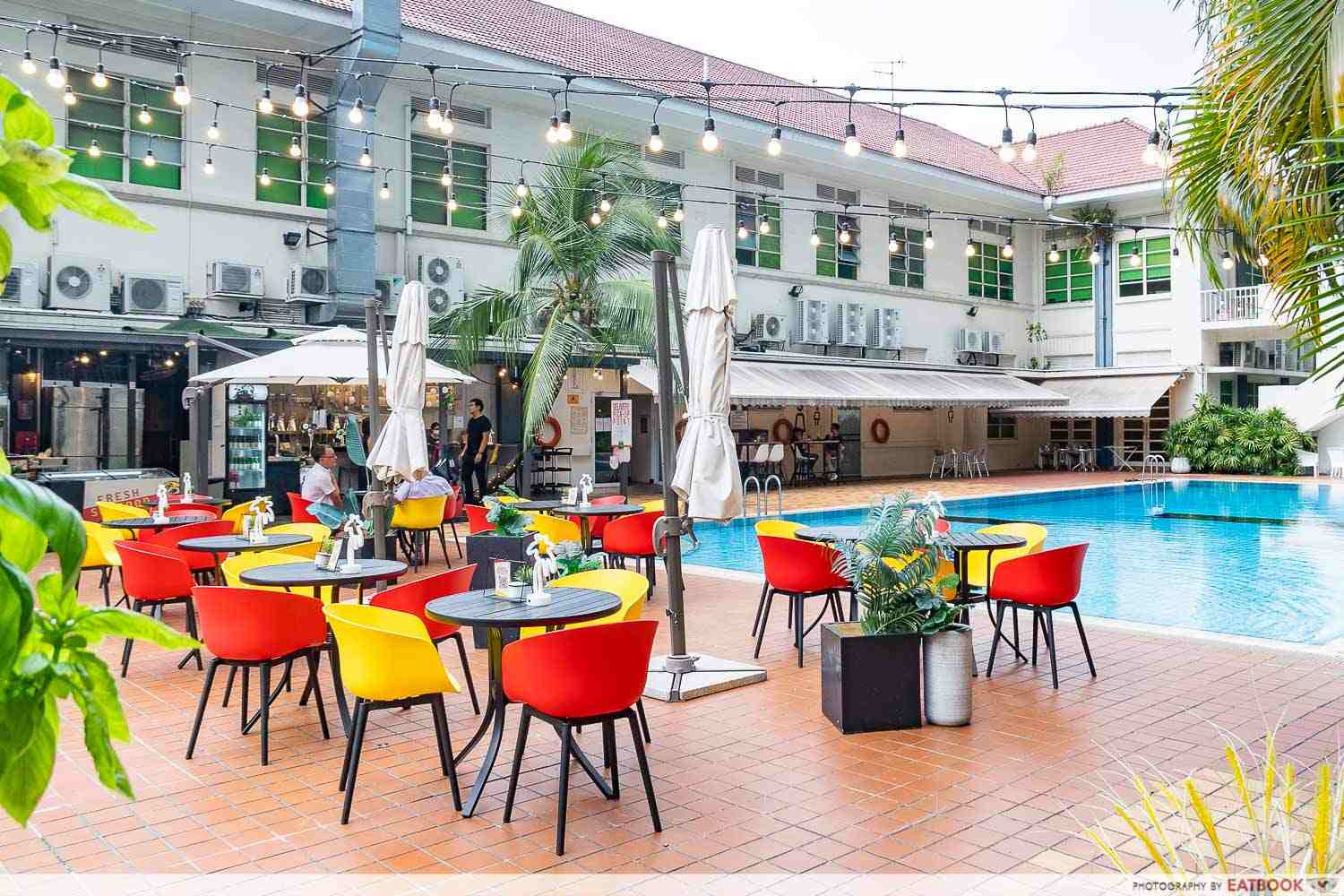 Guriru is an eight-minute walk from Outram Park MRT Station. There's a slight upslope to conquer if you're coming from the train station, but the walk was fairly easy.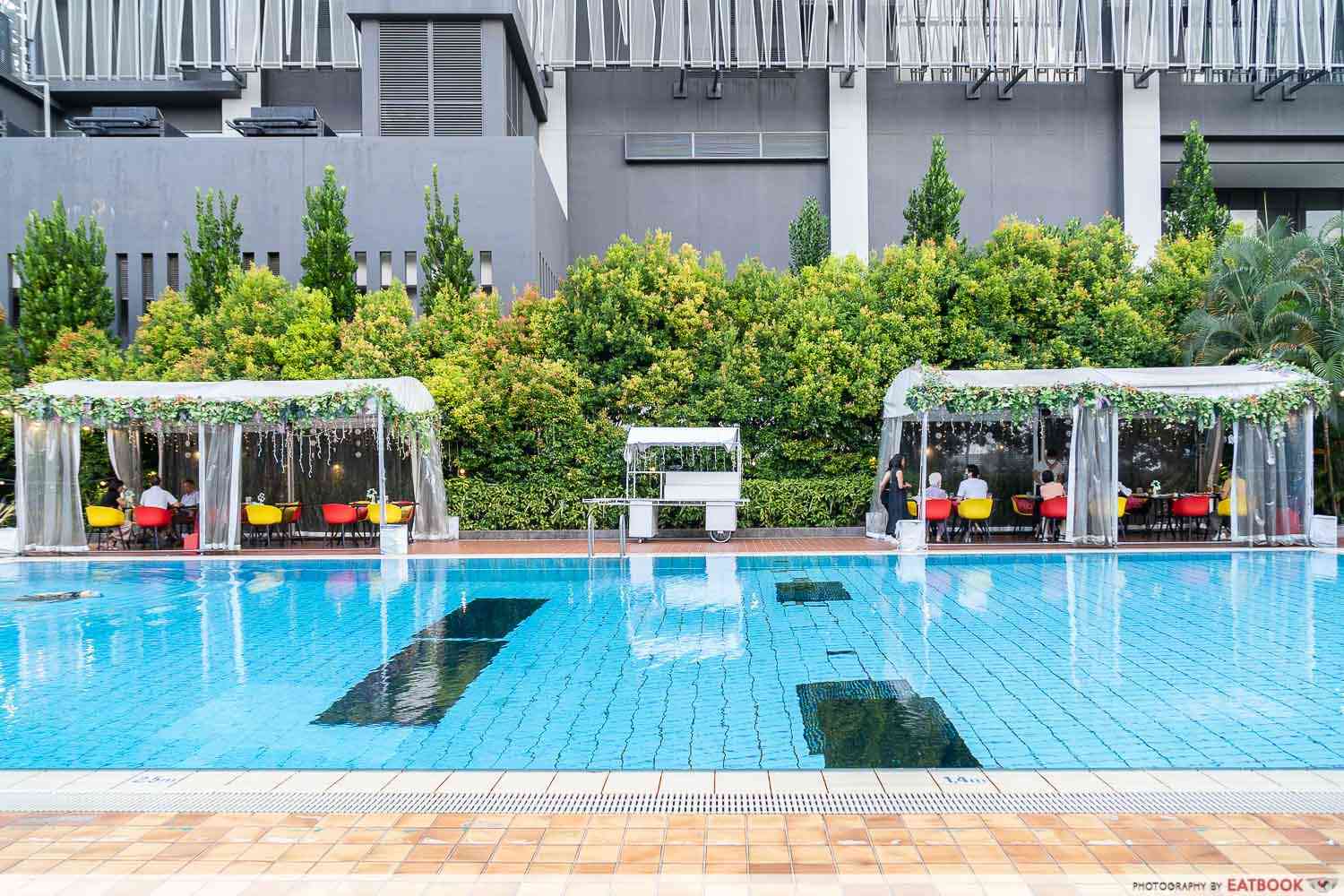 The outdoor restaurant is tucked at the back of the Alumni Association, surrounding a pool. It exudes a casual yet exclusive vibe as it's well hidden from the main road.
Fairly lights drape from above for a romantic effect during sundown, while bright red and yellow seats give the space a fun pop of colour. White, beachy tents shield patrons from the natural elements, though I think it would still be a challenge to dine in during a downpour.
The verdict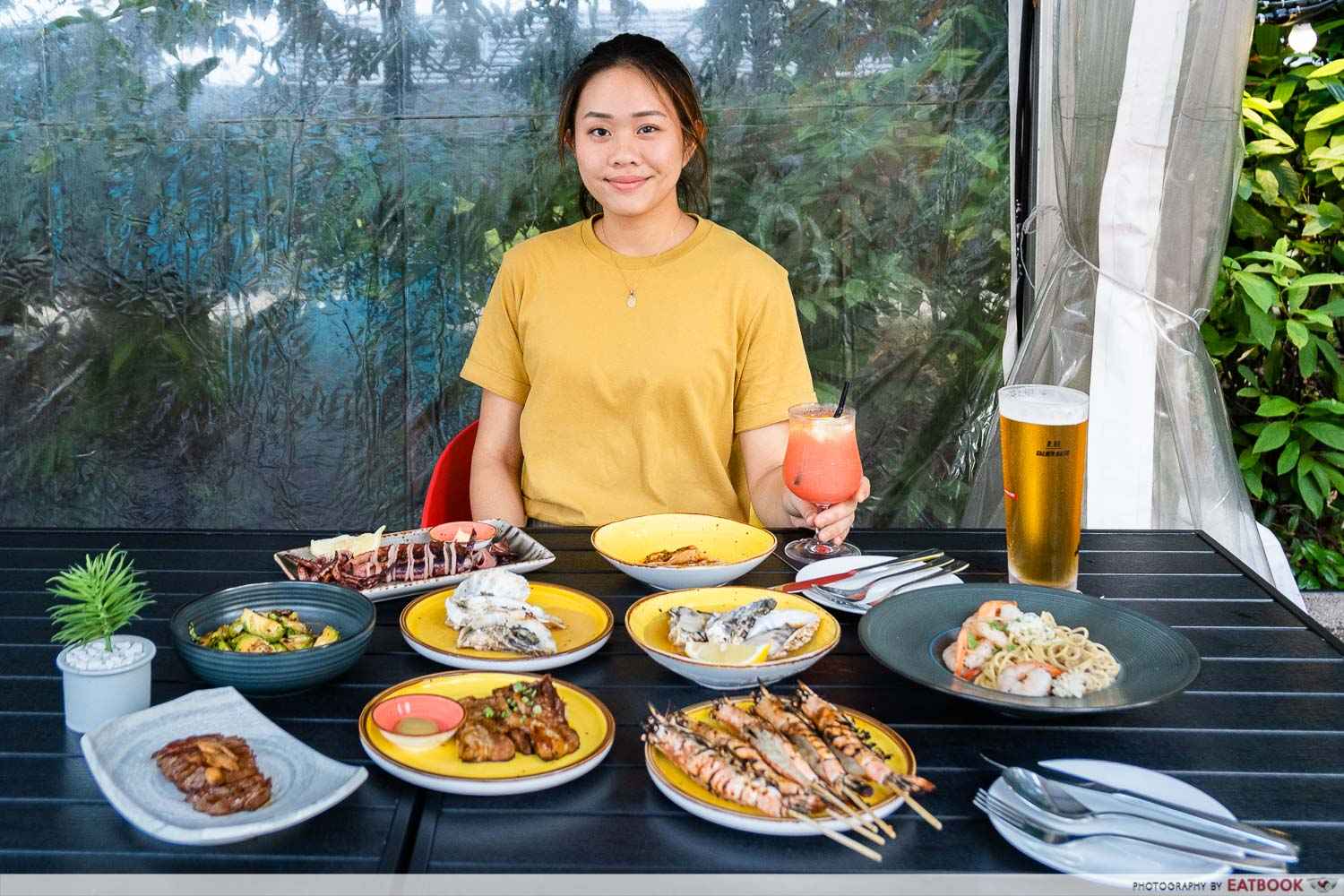 While Guriru had a fair mix of hits and misses, food-wise, the ambience was pretty much on point—especially when we dined on a cool evening. Come for their impressive range of grilled-to-order dishes, and stay for their chill, poolside vibe, which is hard to come by for a location as central as Outram Park.
I can foresee myself returning to sample more of their seafood items, grilled hamayaki-style!
If you're in the area, also read our Pipes by Hattendo review for delicious Wagyu sando near Outram Park MRT Station! Alternatively, head to Orchid Live Seafood for more seafood, cooked in the form of Teochew-style lobster porridge and salted baked crab.
Address: 2 College Road, Level 1, Singapore 169850
Opening hours: Tue-Thurs 12pm to 11pm, Fri 12pm to 12am, Sat 5pm to 12am
Tel: 9010 7020
Website
Pipes by Hattendo Review: Popular Japanese Cafe Near Outram Park MRT With Mentaiko And Wagyu Beef Sandos
Photos taken by John Lery Villanueva.
This was a media tasting at Guriru.
Guriru Review: $3.20 Fresh Oysters And More At Hidden Japanese Charcoal BBQ Bar By The Pool
Guriru Review: $3.20 Fresh Oysters And More At Hidden Japanese Charcoal BBQ Bar By The Pool -

7.5/10
Summary
Pros
– Fresh seafood that's grilled to order
– Casual and relaxing vibes
– Central location
Cons
– Menu is on the pricier side
– Might be too hot to dine in the day
Recommended dishes: Raw Hyogo Oyster ($10++ for three), Meltique Beef ($18++), Seafood Aglio Olio ($22++)
Opening hours: Mon-Thurs 12pm to 10:30pm, Fri-Sat 12pm to 11:30pm
Address: 2 College Road, Level 1, Singapore 169850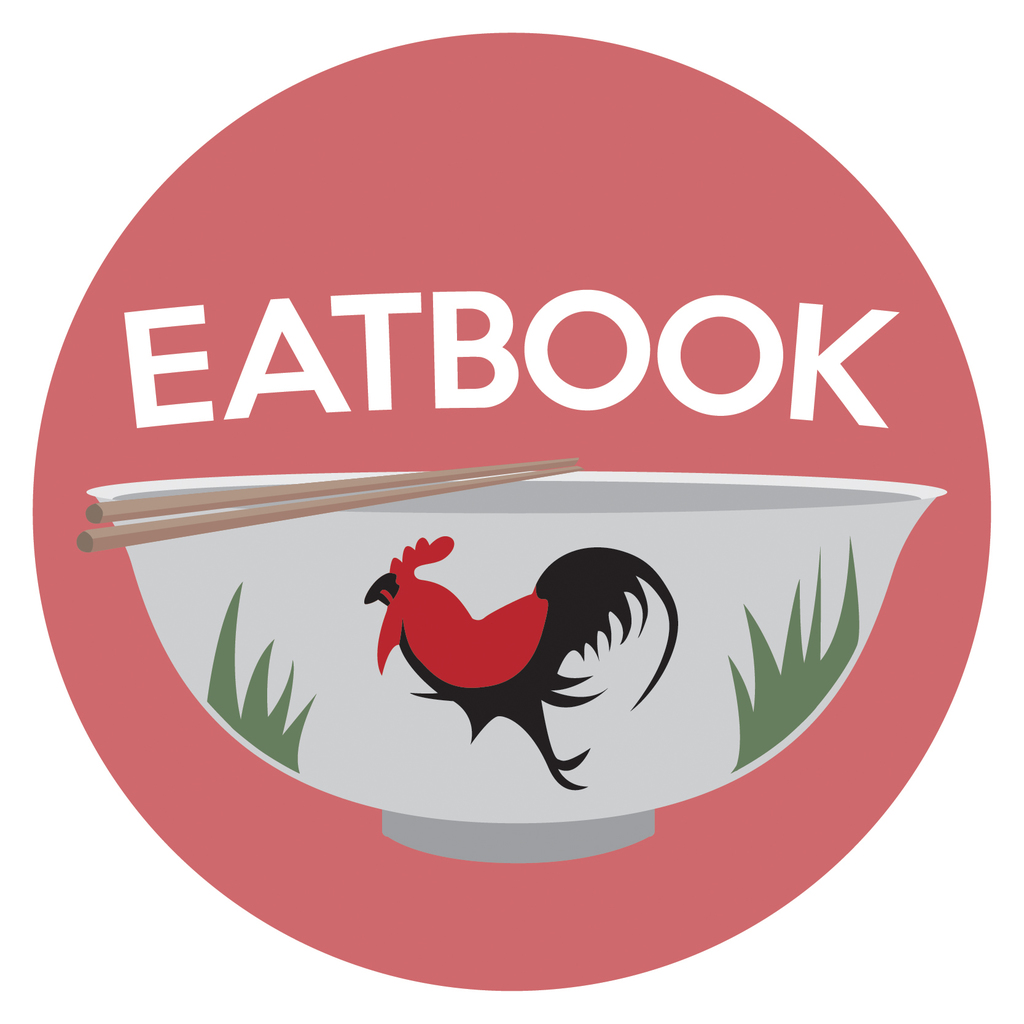 Drop us your email so you won't miss the latest news.