Hakka Lau Wei has Hakka-style kway chap at Geylang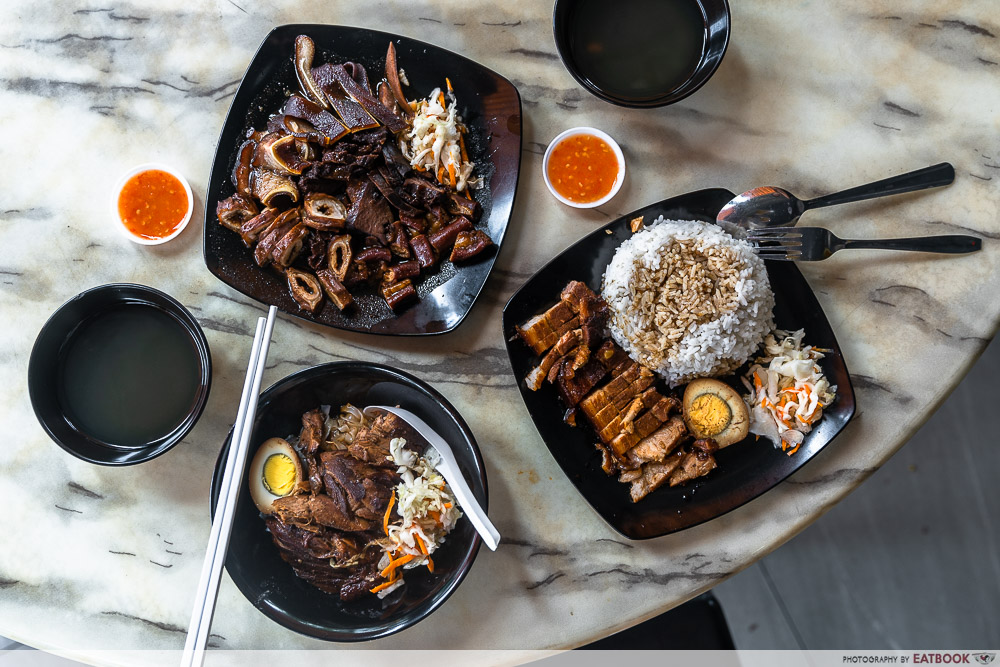 In the great culinary tradition of the Teochew people, kway chap is surely one of the most iconic dishes. Rarely, however, is it associated with the Hakka, whose dishes are said to be stronger tasting than its Teochew counterparts.
And so when I caught wind of Hakka Lau Wei, a stall along Guillemard Road that serves Hakka-style kway chap, my curiosity was piqued.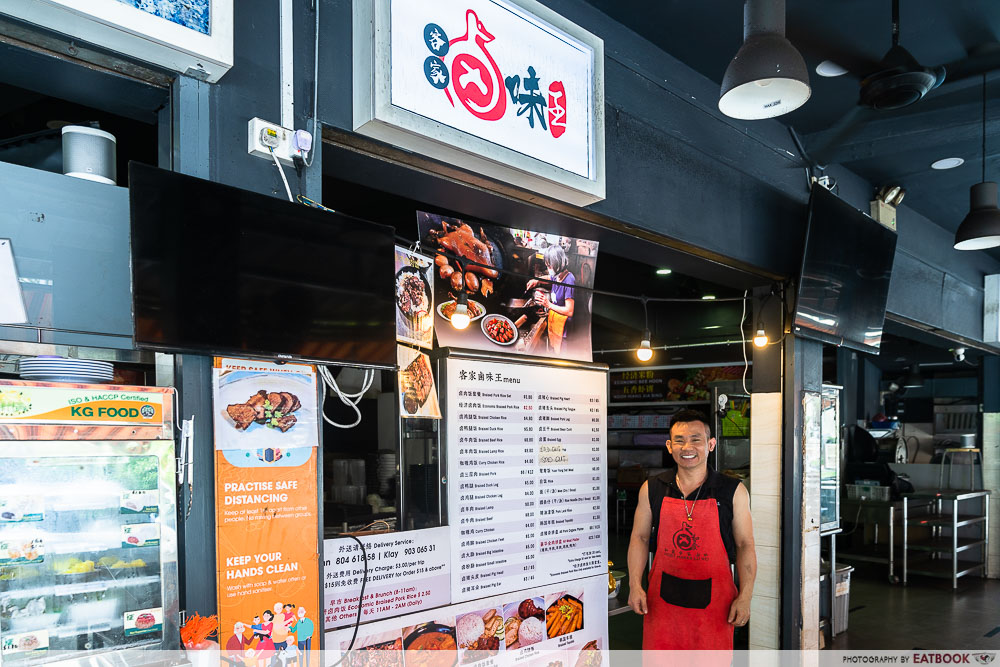 Hakka Lau Wei is run by the Malacca-born John Lau, who looks like he's just walked out of a martial arts film. He isn't all brawn, though, as the dishes he served us were clearly prepared with skill, passion, and plenty of Hakka flair.
Food at Hakka Lau Wei
The proper kway chap experience is twofold—you need a platter of pork offals and a bowl of kway. For the offals, we got the All Pork Organs Platter (from $8).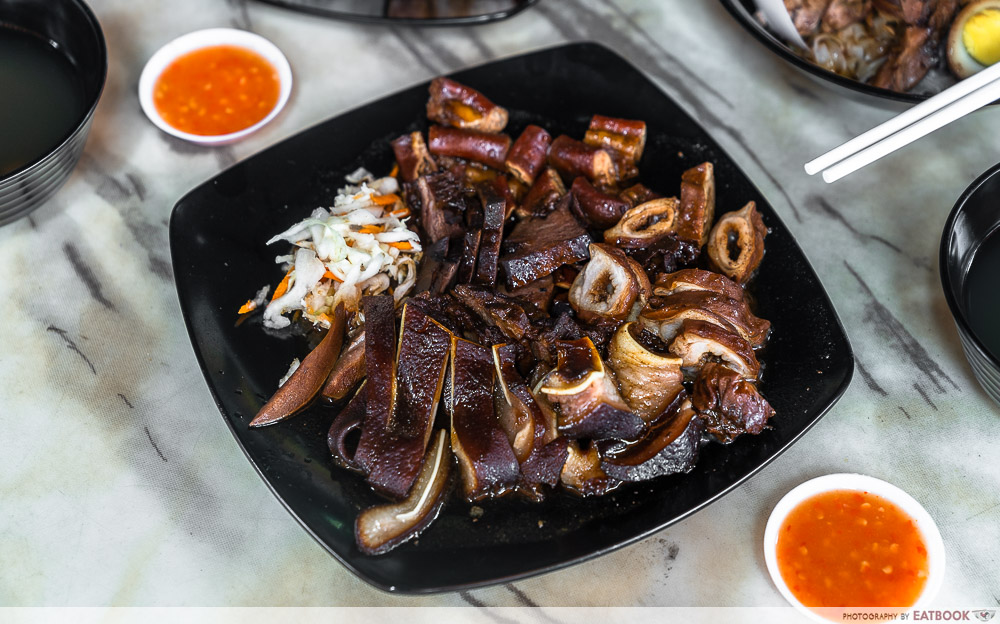 The platter came with the following cuts: pig's heart, ear, head, big and small intestines, and tongue. Each cut was wonderfully braised, possessing a more prominent herbal flavour than your average Teochew-style kway chap. It was also highly savoury, yet tinged with a pleasant sweetness.
Those who are wary of the funkiness that can sometimes plague offals will be glad to hear that the ones here are very well-cleaned. There's nothing here that will put you off from enjoying the bouncy and meaty intestines, the glutinous and crunchy ears, and the smooth and chewy heart. Pair them with the sharp chilli for an extra kick, but don't expect too much in terms of piquant flavour—the chilli was slightly bland in that regard.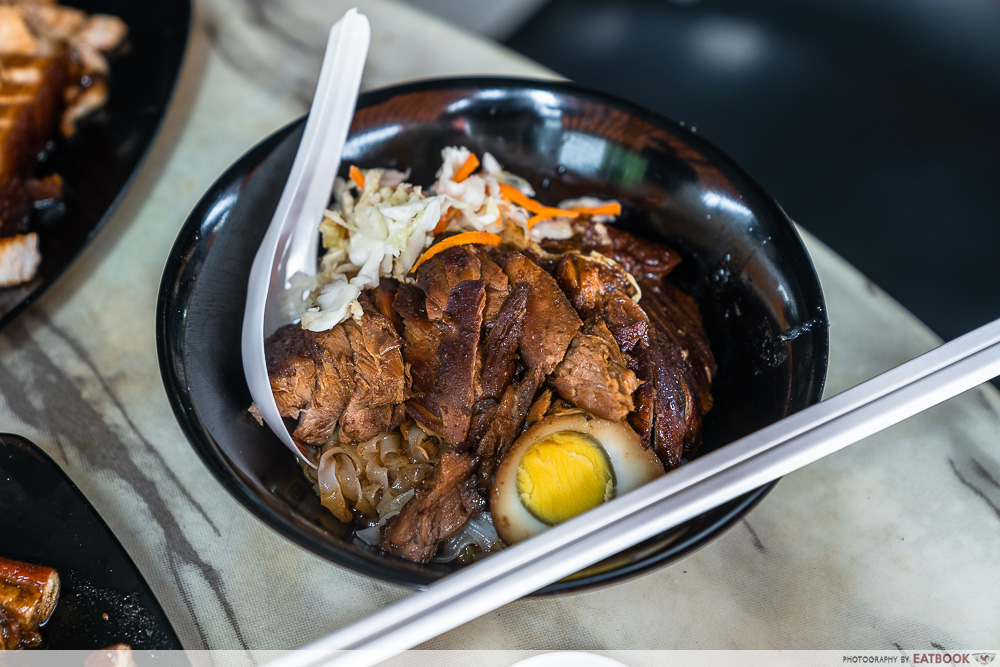 Meanwhile, the kway, AKA Rice Noodles ($1), is another element that makes the stall unique. There are two reasons for this: firstly, you can order the kway dry, and I'm not sure I've come across another kway chap seller that offers this option; secondly, they use kway teow kia, a narrower sort of kway that's unlike the broad sheets you'd get at your average kway chap stall.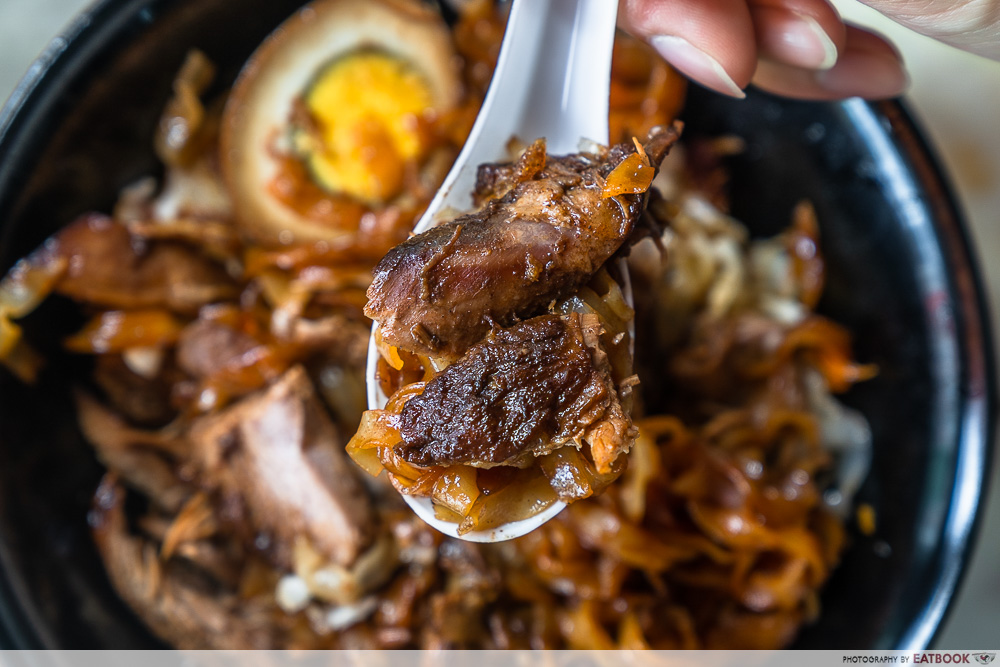 Seeing that Hakka Lau Wei offers a Braised Duck Rice ($5.80) set, I thought of replacing the rice with kway, so as to introduce another type of meat to our meal. And it worked out perfectly. The duck was delightfully tender and infused with all the goodness of the herbal braise—I just couldn't get enough of it.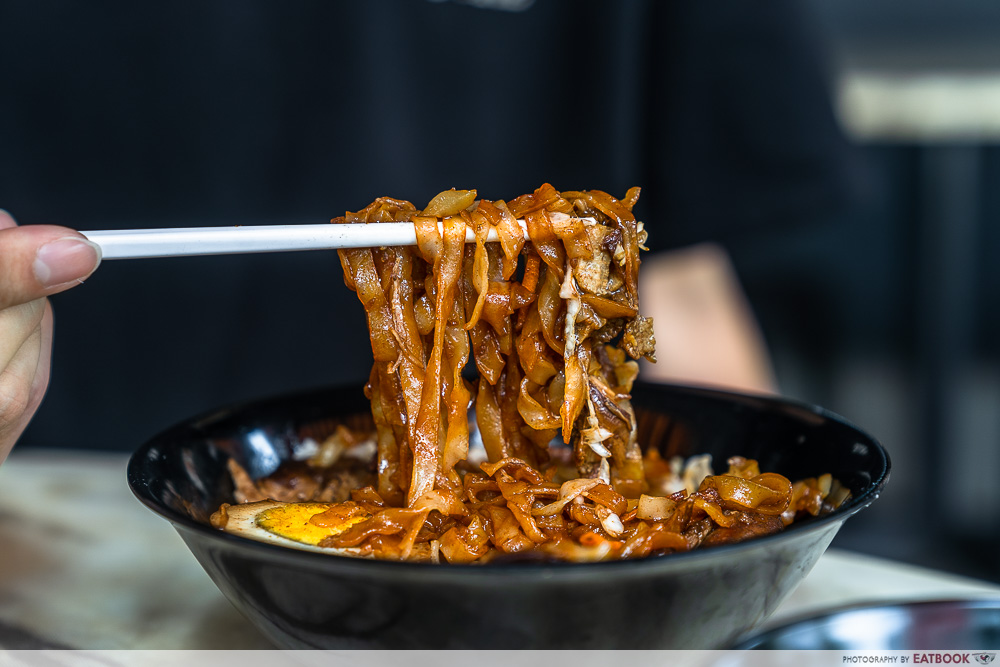 The kway teow kia was amazing, too. Silky-smooth rice noodles and savoury black sauce turned out to be a match made in heaven, making it the perfect accompaniment for the duck and, of course, the pork offals.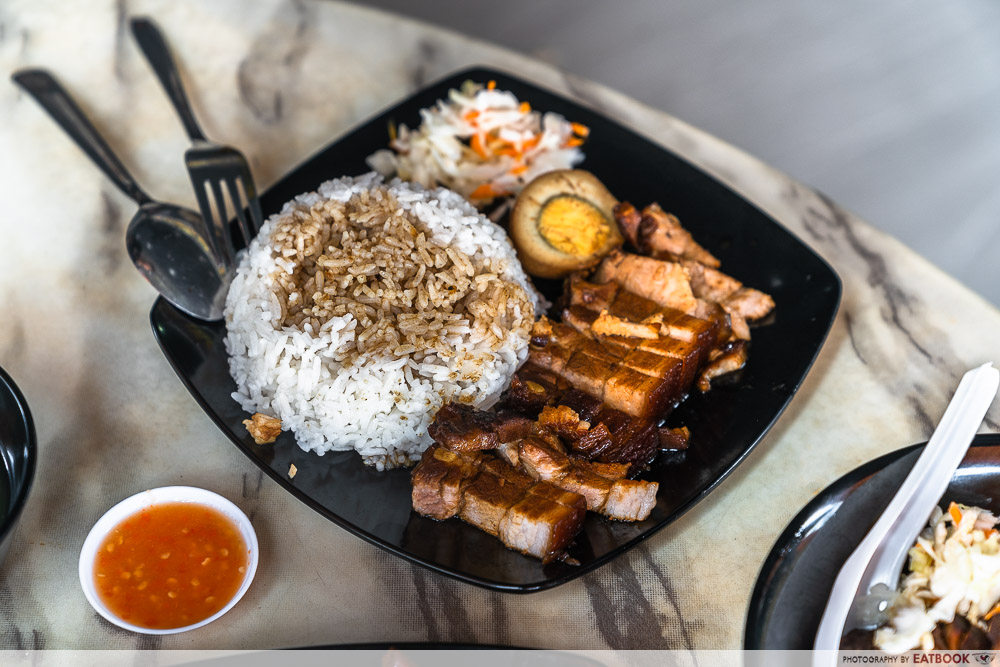 If you aren't into kway chap or duck, we recommend the Braised Pork Rice Set ($5.80). It's a simple dish: slices of braised pork belly, cabbage and carrot shreds, half a hard-boiled egg, and a mountain of rice.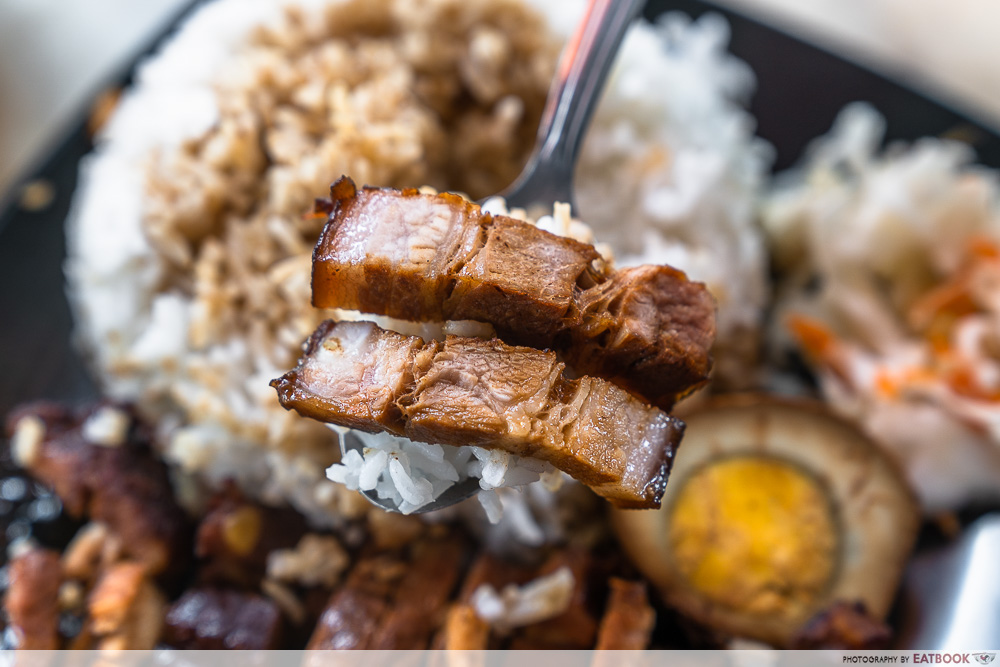 Though the pork belly looked far from the juiciest around, they were actually surprisingly succulent and tender. Again, it was the herbal braising that really stole the show, imbuing each slice of pork with its remarkable aroma and sweet-savoury burst of flavour.
Ambience at Hakka Lau Wei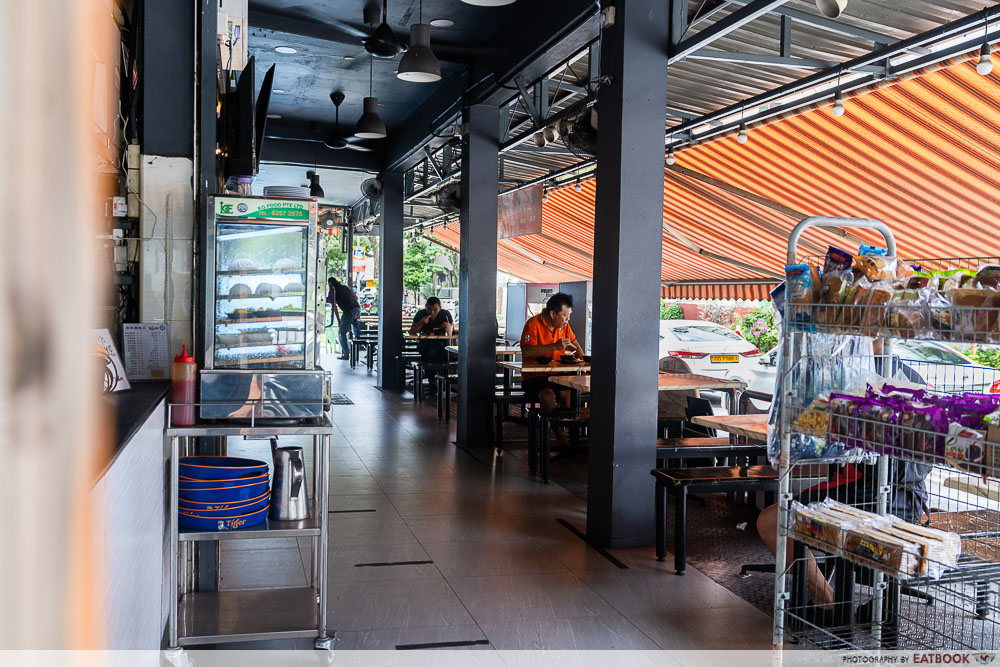 Hakka Lau Wei can be found in a small coffeeshop along Guillemard Road, a 10-minute walk from Mountbatten MRT station. It's clean, well-ventilated, and pleasant-looking enough to not detract from your kway chap meal.
We hear that the stall may be moving soon, so you can follow its Facebook page if you'd like to receive updates on the matter.
The verdict
Kway chap is a known entity in our hawker scene, and because of that, it can be hard to find a stall that prepares the dish differently. With its Hakka influences, Hakka Lau Wei is one of the few stalls that set out to do something unorthodox with the dish. In doing so, they have created one of the most flavourful kway chap I've had the pleasure of trying.
For delicious pig trotter rice, check out our Shi Nian Pig Leg Rice review. And if you haven't already tried this kway chap place, you need to read our To-Ricos Guo Shi review.
Address: 51 Guillemard Road, Singapore 399705
Opening hours: Mon-Thurs 11am to 12am, Fri-Sun 11am to 2am
Website
Hakka Lau Wei is not a halal-certified eatery.
Shi Nian Pig Leg Rice Review: Long-Queue Pig Trotter Rice At Old Airport Road
Photos taken by Chew Yi En.
This was an independent review by Eatbook.sg.
Hakka Lau Wei Review: Herbal Kway Chap And Braised Pork Rice By Malacca-Born Hawker
Hakka Lau Wei Review: Herbal Kway Chap And Braised Pork Rice By Malacca-Born Hawker -

8.5/10
Summary
Pros
– Very flavourful herbal braising
– Pork offals were well-cleaned and delicious
– Kway teow kia was silky-smooth
Cons
– Chilli was a little bland
Opening hours: Mon-Thurs 11am to 12am, Fri-Sun 11am to 2am
Address: 51 Guillemard Road, Singapore 399705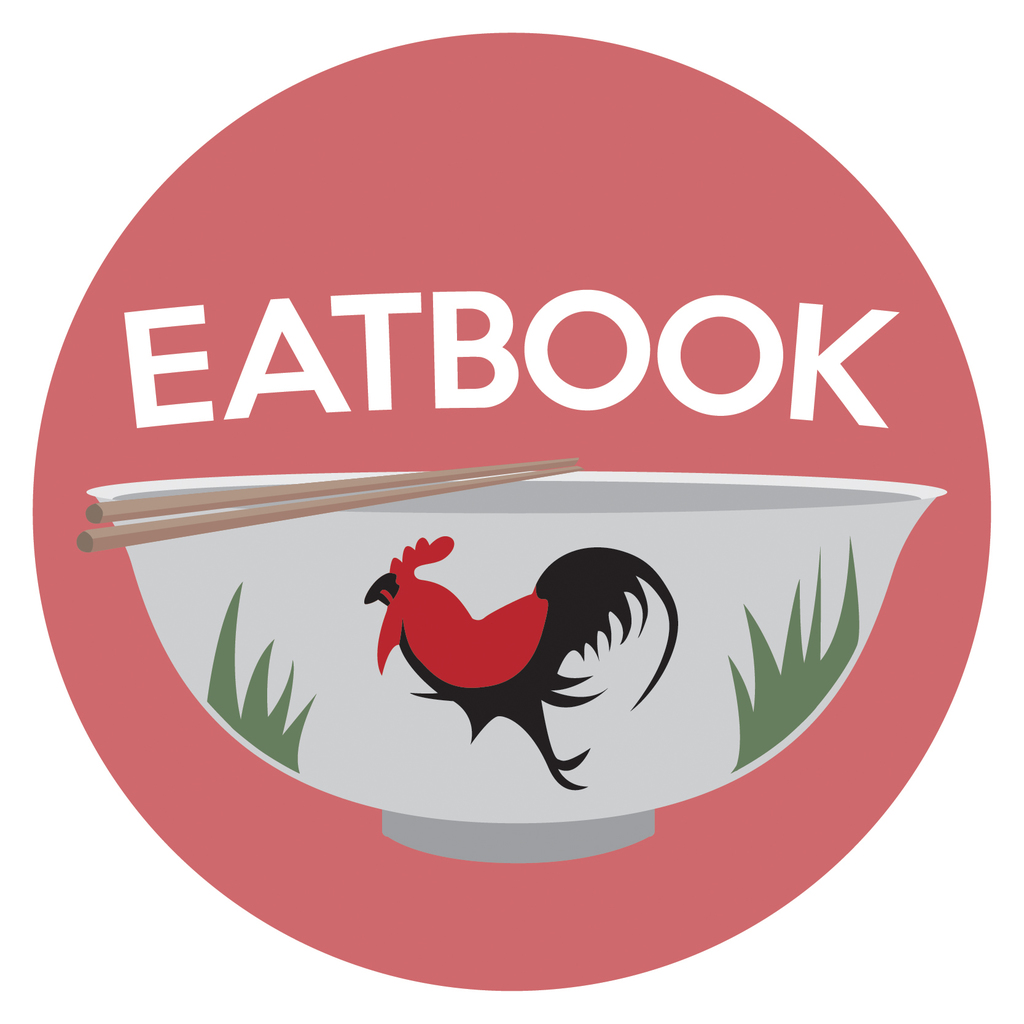 Drop us your email so you won't miss the latest news.