---
Halal Japanese restaurants to makan donburi and ramen at
---
Japanese eateries have been populating our streets, and thank goodness because it's my favourite cuisine. From donburi and ramen, to tendon and yakitori, I could have Japanese for dinner and during dessert, declare an encore for the next day. Halal-friendly ones to plunge into with Muslim friends though are rare finds, so here's a list of places I would keep in mind.
---
1. The Ramen Stall
---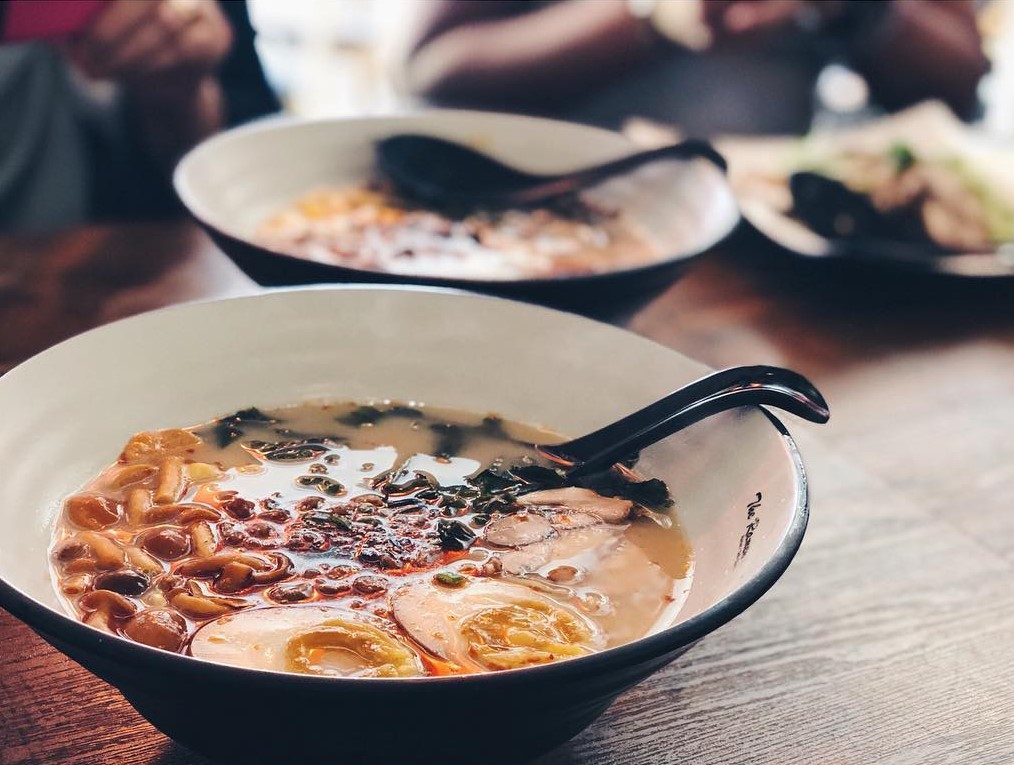 Image credit: @theramenstall
The soul of ramen lies in its broth and The Ramen Stall has chicken soup for the soul. A midweek pick-me-up to warm your belly with is Volcano Ramen ($11) with three levels of spiciness. Its springy noodles include a braised egg, and a showering of seaweed, bamboo shoots, and spring onions. Add on their Prawn Kushiyaki ($2.80) torched with roe and mayo or get a Kushiyaki Set ($12.90) with shishamo fish, shitake mushroom, chicken yakitori, quail egg, and beef roll with golden mushroom. It's a one-stop restaurant that covers classic don and curry rice, to desserts.
Address: 787 North Bridge Road, Singapore 198755
Opening hours: Mon-Fri 5pm to 5am, Sat-Sun 12pm to 5am
Tel: 6655 0800
Website
Menu
The Ramen Stall is a halal-certified eatery.
---
2. Kumoya
---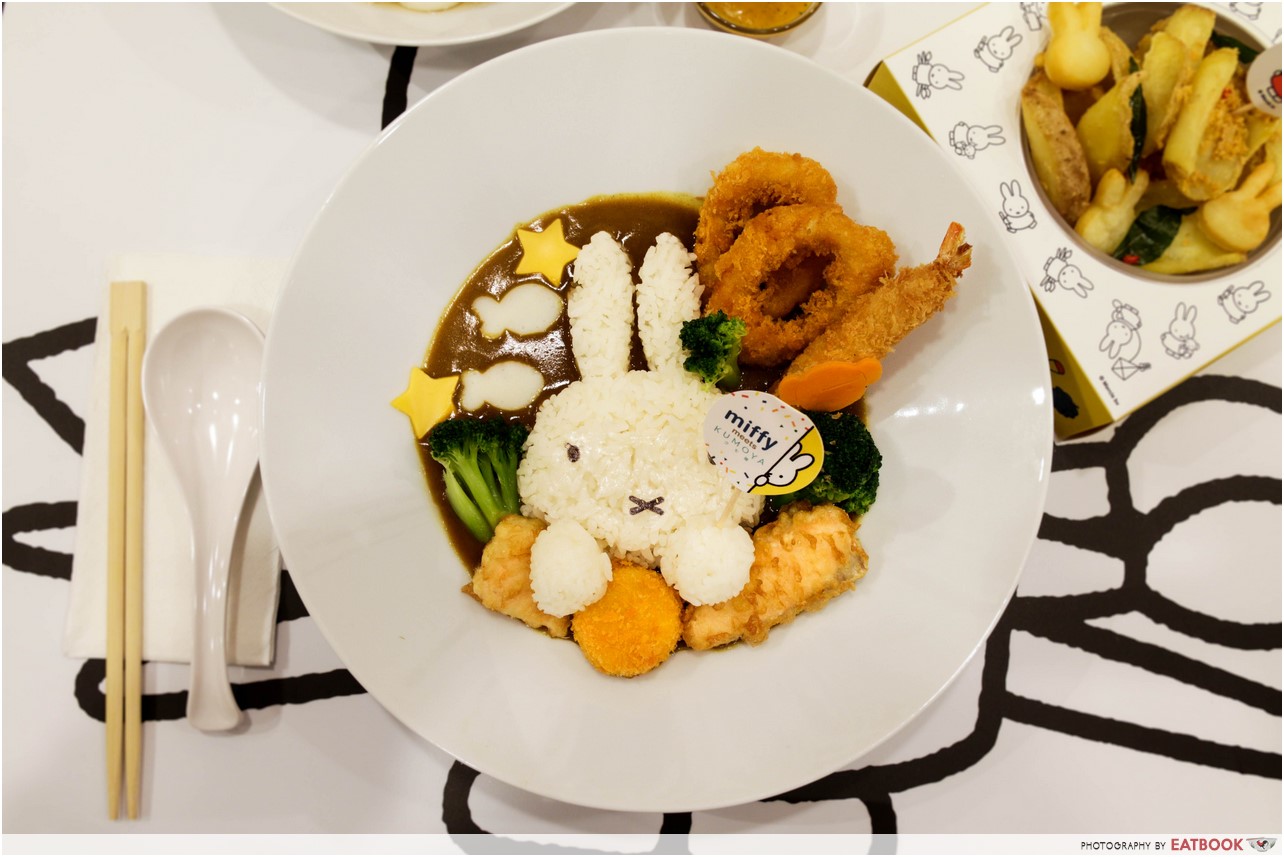 Bring the little ones on a family day out to Miffy meets Kumoya before the bunny leaves end-December. Splashing Good Fun Japanese Seafood Curry Rice ($24.90+) is a pile of Miffy-shaped Japanese rice in Japanese curry, decorated with fish-shaped kamaboko (fish cake) and star-shaped cheese. The curry's slight heat and subtle spices seem suitable for a child, like the somewhat mild flavours of their other savoury items. Their Matcha Mountain Azuki Shibuya Toast ($23.90+) lets you drizzle matcha sauce over soft serve and swirls of cream before slicing it open for squares of buttered toast hidden within.
Check our our full review of Miffy Cafe!
Address: 8 Jalan Klapa, Singapore 199320
Opening hours: Tue-Thur & Sun 12pm to 9:30pm, Fri-Sat 12pm to 10:30pm
Tel: 6297 3727
Website
Kumoya is a halal-certified cafe.
---
3. Hei Sushi
---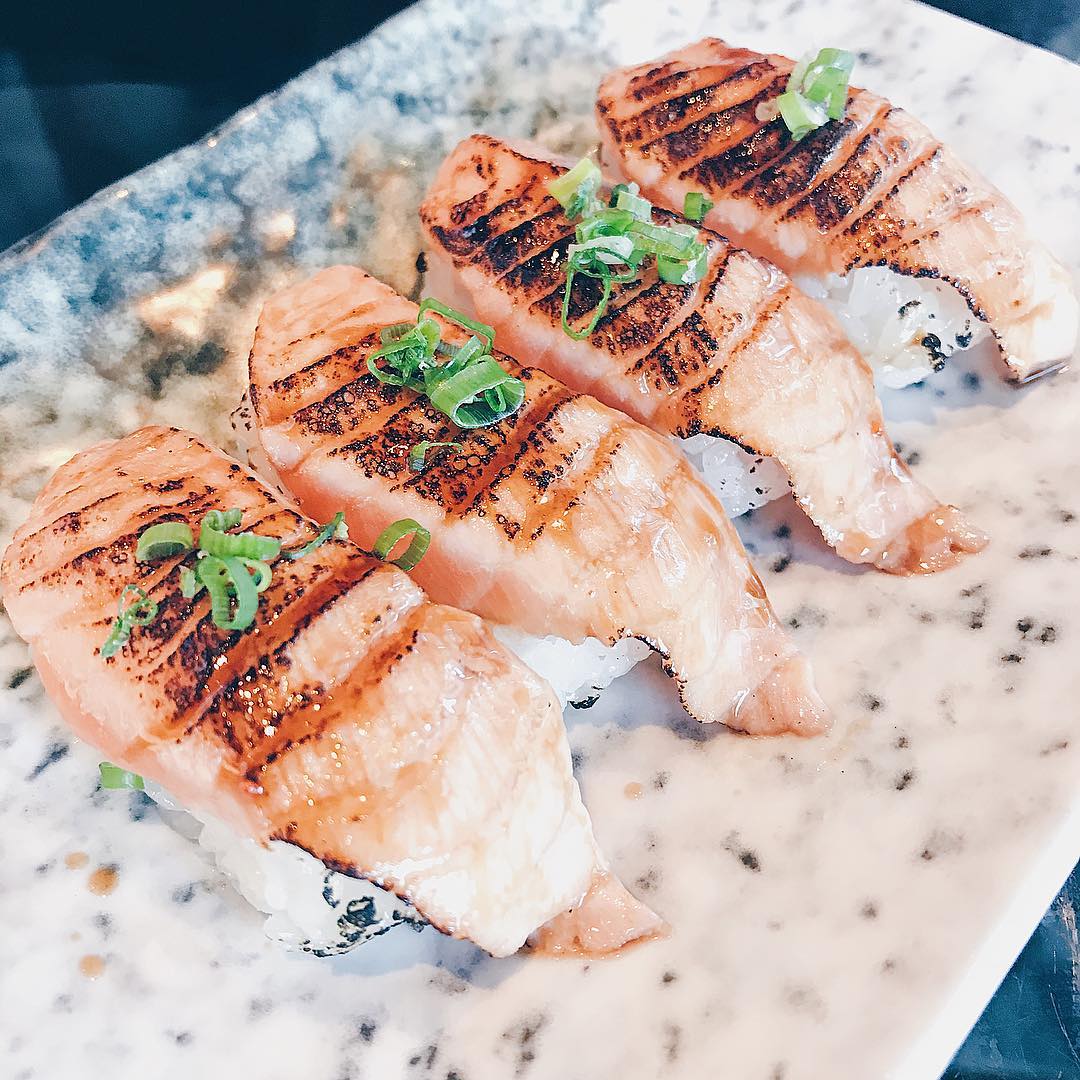 Image credit: @elovea19
More than once, conveyor-belt sushi has distracted me in my midst of sniffing out a lunch spot. I enter for a stopover snack but exit with the afternoon done. Hei Sushi is one such chain with basic plates like two pieces of salmon or smoked duck sushi for $2.38++. Their Cheesy Beef Neta on a black plate ($4.38++) is like a mini cheeseburger with a fried maki base, a square of cheese, and beef in sweet soy sauce. Red plates ($7.38++) are most premium but I'd add on their Spicy Shake (Salmon) Baked Rice ($4.88++). You can order for pick up or request for delivery if you pool together orders worth a minimum of $15.
Address: 28 Tai Seng Street, #01-02, Singapore 534106
Opening hours: Daily 11:30am to 9pm
Tel: 6382 1494
Website
Full list of outlets
Hei Sushi is a halal-certified eatery.
---
4. Isuramuya Japanese Restaurant Marketplace
---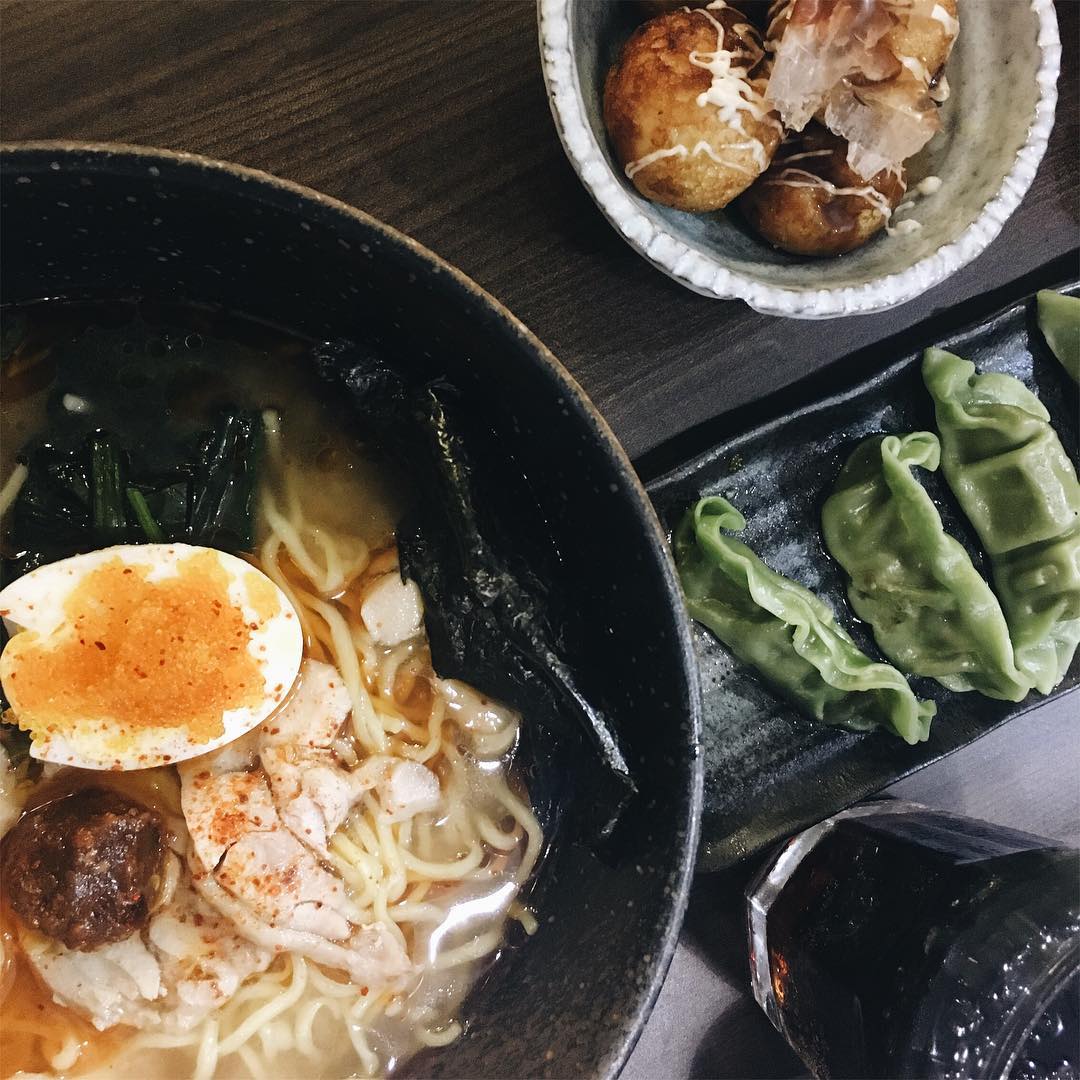 Image credit: @nursyafiqahrafiq
Isuramuya is on my list of halal Japanese places in the West, especially since it has a marketplace inside to pick up imported Japanese food too. Have sashimi with appetisers such as green tea fish gyoza ($6++ for five pieces) or fried edamame sticks ($4.50++ for five, $7++ for eight sticks). Their biggest ramen features four slices of chicken chashu, two flavoured soft-boiled eggs, spinach, and roasted sesame seeds at $13.80++. If you're not feeling up for soup, there's Dry Ramen with Chicken Chashu ($13.80++) and Ten Don ($8++) too.
Address: 2 Jurong East Central 1, #04-19, JCube, Singapore 609731
Opening hours: Daily 11:30am to 3pm, 5pm to 9:30pm
Tel: 6262 3008
Website
Menu
Isuramuya Japanese Restaurant & Marketplace is halal-certified.
---
5. Hanna's Fusion & Japanese
---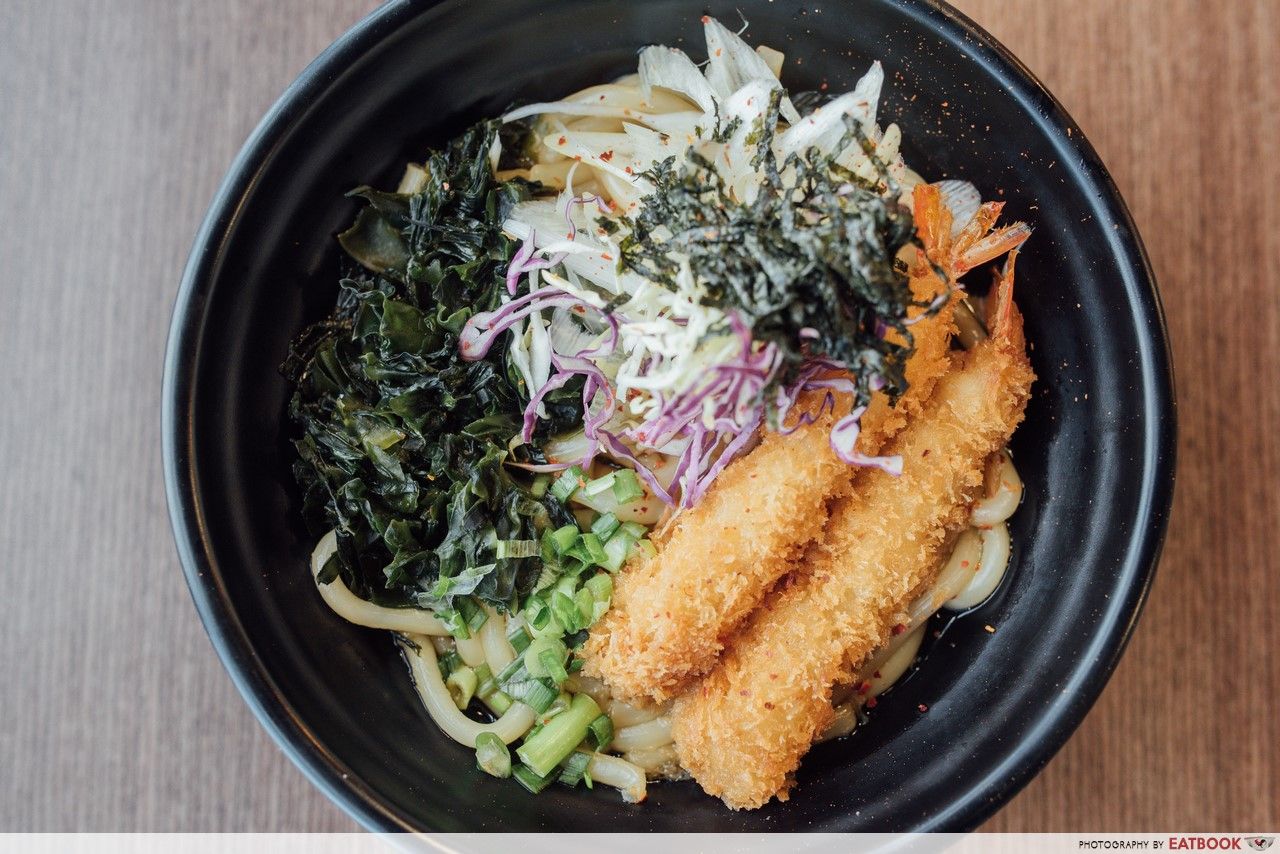 Sim Lim Square hides a trove of food places in the corners of just about every floor, and Hanna's Fusion & Japanese is a large restaurant there that draws a snaking lunch line. Their bestselling Chicken Katsu Don ($10.80) has tender chicken in a crispy coat, with a dash of spicy chilli flakes and sweet and tangy teriyaki sauce. There's also Tempura Udon ($8.90), Beef Curry ($12.90), pasta choices, Japanese burgers with chips, and others. Drop by for their nett prices and free-flow Japanese green tea and miso soup, but remember that they accept cash only.
Check out our full review of Hanna's Fusion & Japanese!
Address: 1 Rochor Canal Road, #04-02F, Sim Lim Square, Singapore 188504
Opening hours: Daily 11:30am to 8pm
Tel: 6337 7540
Hanna's Fusion & Japanese is a halal-certified restaurant.
---
6. Omoomodon
---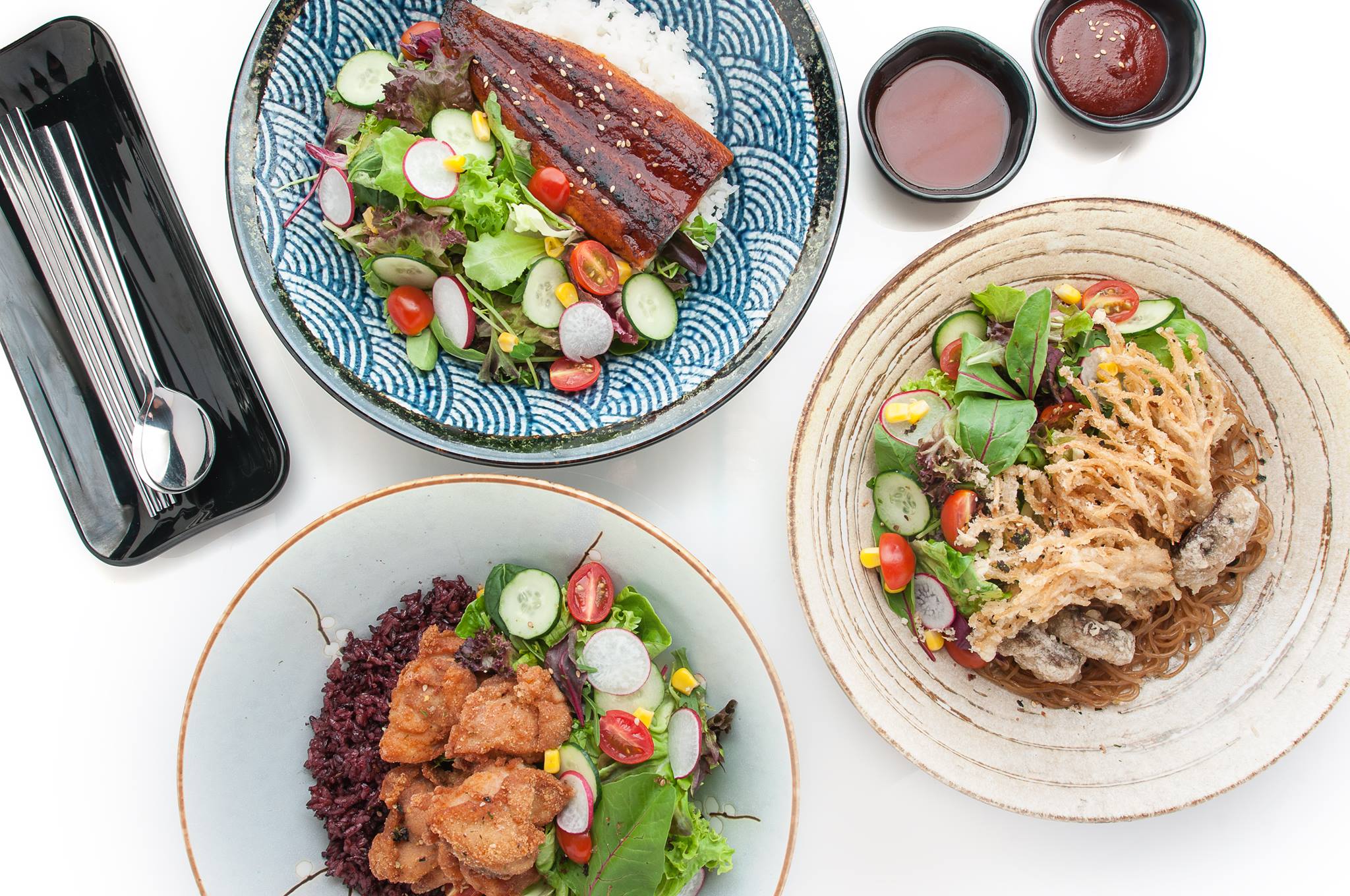 Image credit: Omoomodon's Facebook page
Omoomodon is said like "omo-omo-don" to mean "oh my don". It's a fusion restaurant in the West that offers Build My Don (from $8) rice bowls that come with a base, a protein, garnish, and sauce, with an extra $5 for a soft drink and side dish. They boast a wide menu with cheeky names like I Love Eeul ($15) for grilled unagi in Korean BBQ sauce on Korean white rice. Their self-service ordering system accepts card payment but there's a kiosk for cash too. It's spacious inside but prepare for a wait if you crash during peak hours.
Address: 1 Vista Exchange Green, #02-14/15, The Star Vista, Singapore 138617
Opening hours: Daily 11:30am to 9:30pm
Tel: 6734 1863
Website
Omoomodon is a halal-certified restaurant.
---
7. Yummy Takoyaki
---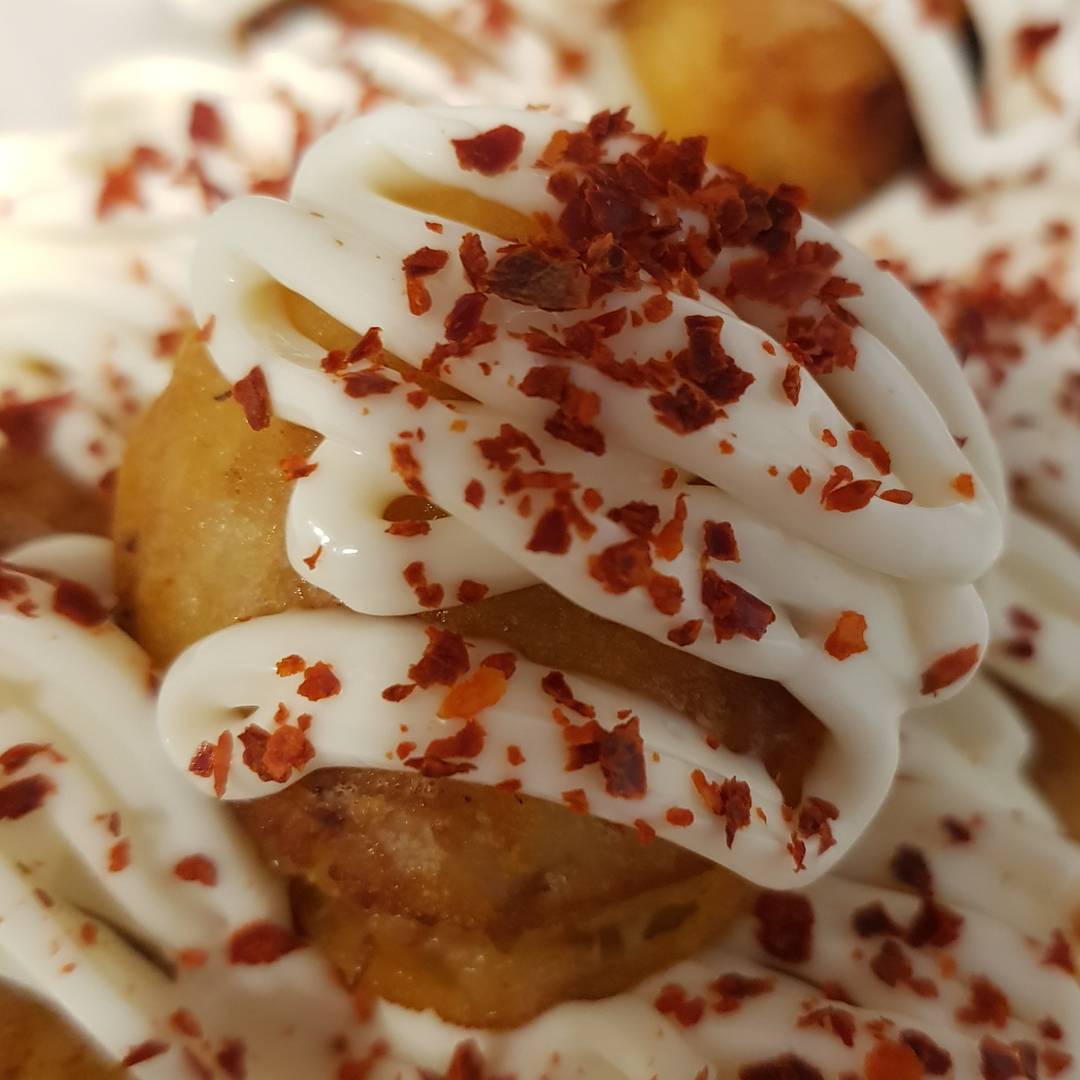 Image credit: @yummytakoyaki
Takoyaki was the point of me going to pasar malams before there were permanent stalls for them. Yummy Takoyaki is, however, a rare halal one that also does pop-ups and deliveries. Their Cheese Banjir Dingdong ($15 for 10 pieces) is shiok from being drowned in cheese, but they're popular for Chilli Tuna ($10 for 10 pieces) too. Their latest dish, Chilli Tuna Cheese ($15 for 10 pieces) combines both. To try a sweet treat though, there's Tako-Tella ($15 for 10 pieces) where every takoyaki ball is halved and sandwiches Nutella spread.
Address: 430 Upper Changi Road, #01-03, East Village, Singapore 487048
Opening hours: Thur-Tue 2pm to 8pm, Wed 2pm to 6pm
Tel: 9337 9195
Website
Yummy Takoyaki is Muslim-owned.
---
8. Maki-San
---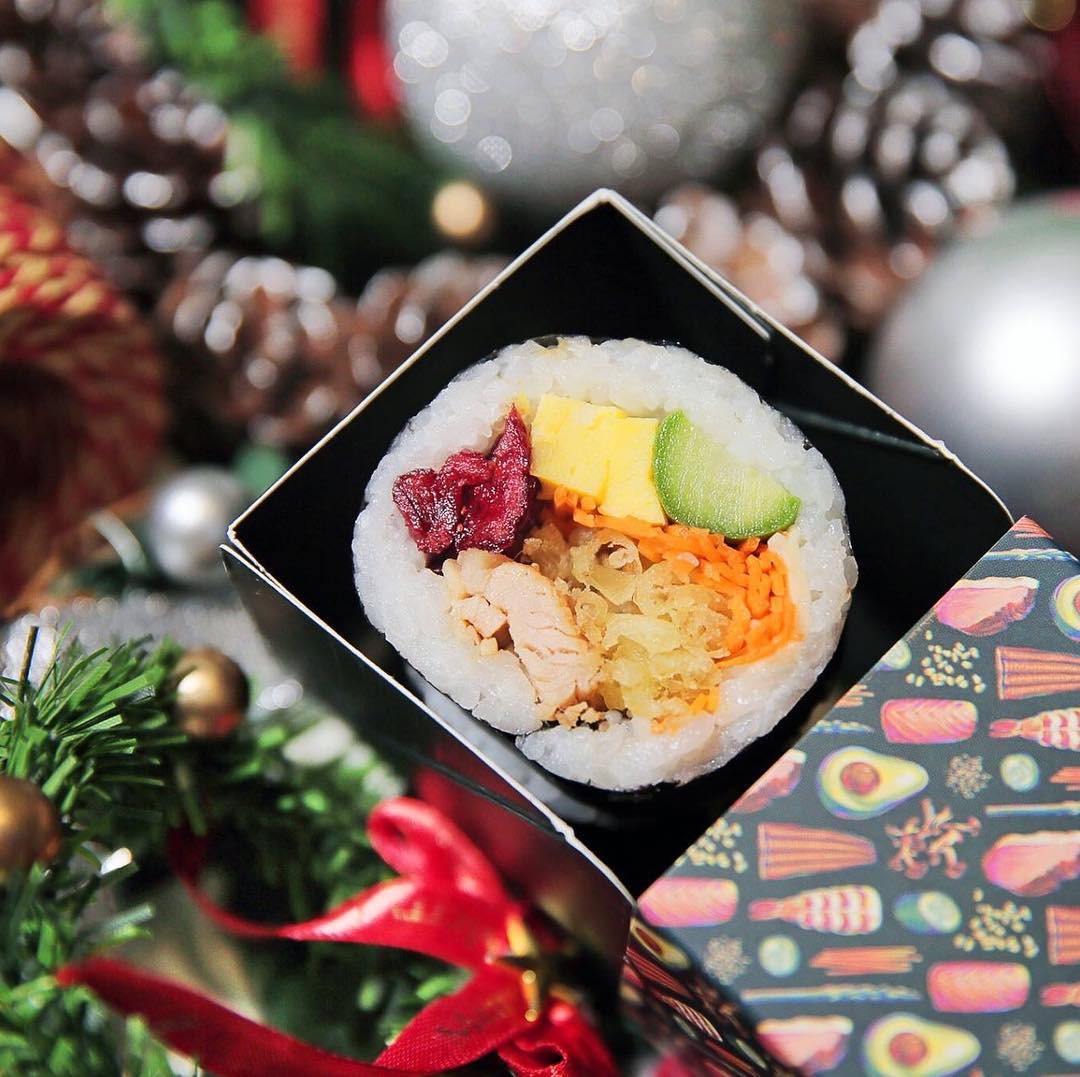 Image credit: @rollwithmakisan
DIY Mega San ($9.90) with #saltedeggshiok sauce served fried (additional $1.50) is my default order at Maki-San. But 'tis the season to try turkey sushi because their Quirky Turkey Christmas Roll ($9.90) sounds like a delightful detraction. It's filled with asparagus, sliced cheddar cheese, tamagoyaki, shredded carrot, tempura enoki mushroom, dried cranberries, mint yoghurt, and rouge turkey breast. Choose their Minty Wonderland sauce, which is also on a limited time offer, for a blend of mint leaves, yoghurt, and mayo.
Address: 8 Grange Road, #01-04, Cineleisure Orchard, Singapore 239695
Opening hours: Sun-Thur 11:45am to 9pm, Fri-Sat 11:45am to 11pm
Tel: 8218 4204
Website
Menu
Full list of outlets
Maki-San is a halal-certified eatery.
---
Japanese food with your kakis
---
It can be a struggle to dig out Japanese spots to share in the enthusiasm with your friends. Hopefully these eateries give you some options next time around. Let us know in the comments below if there are any others you know of too!
---
Featured image adapted from Omoomodon's Facebook photo.