Happy Cat Chuan Chuan for a quick
ma la
fix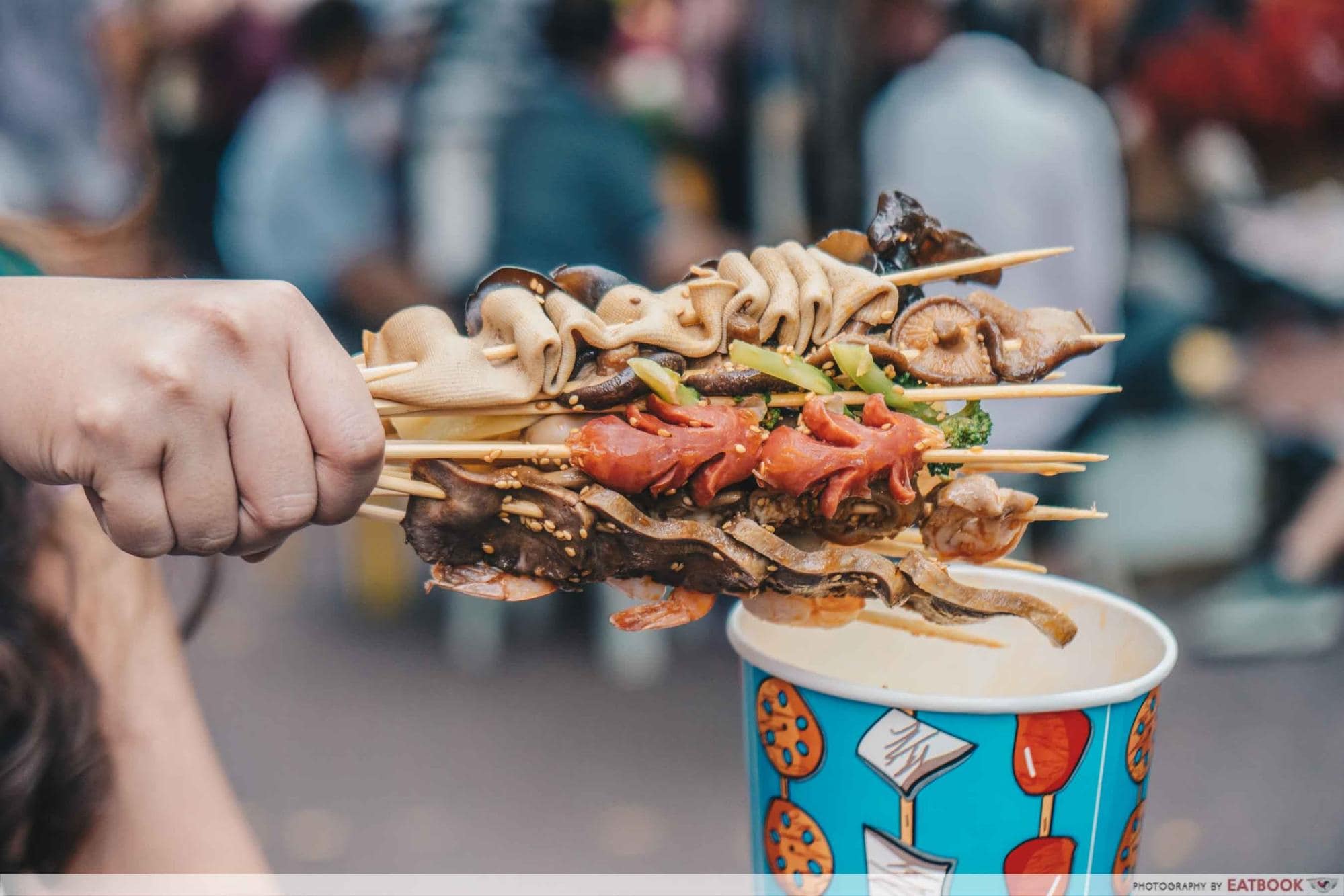 When you're looking for a quick ma la fix in Chinatown, Happy Cat Chuan Chuan should be top on your go-to list. Ma la doesn't always have to be a grand affair. You can skip the hassle of jio-ing your makan kakis just to share a huge bowl of ma la xiang guo.
Food at Happy Cat Chuan Chuan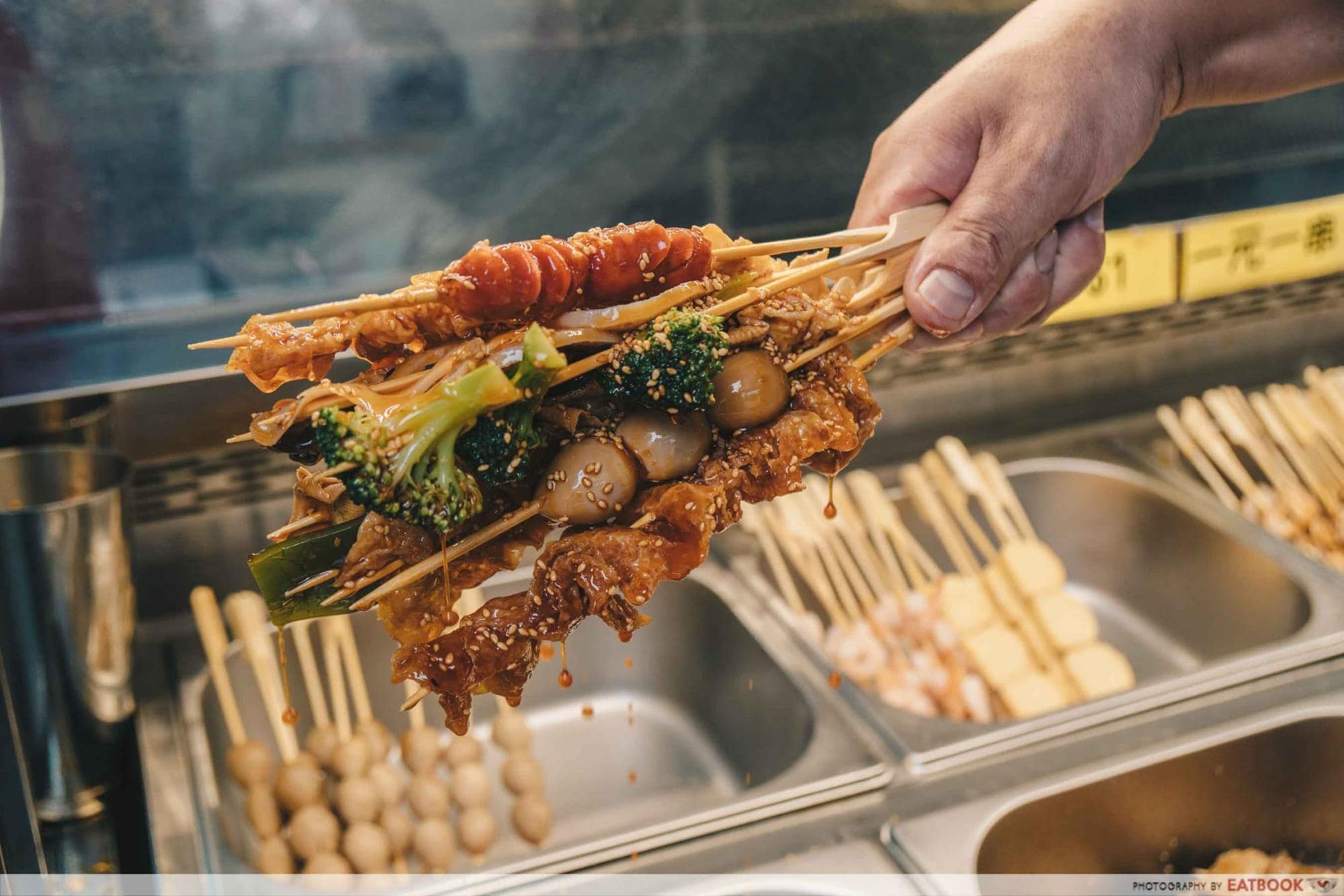 Expect simple and no-frills ordering when you're here at Happy Cat Chuan Chuan. There are up to 20 items in the menu, neatly displayed in chilled metal trays for you to choose from.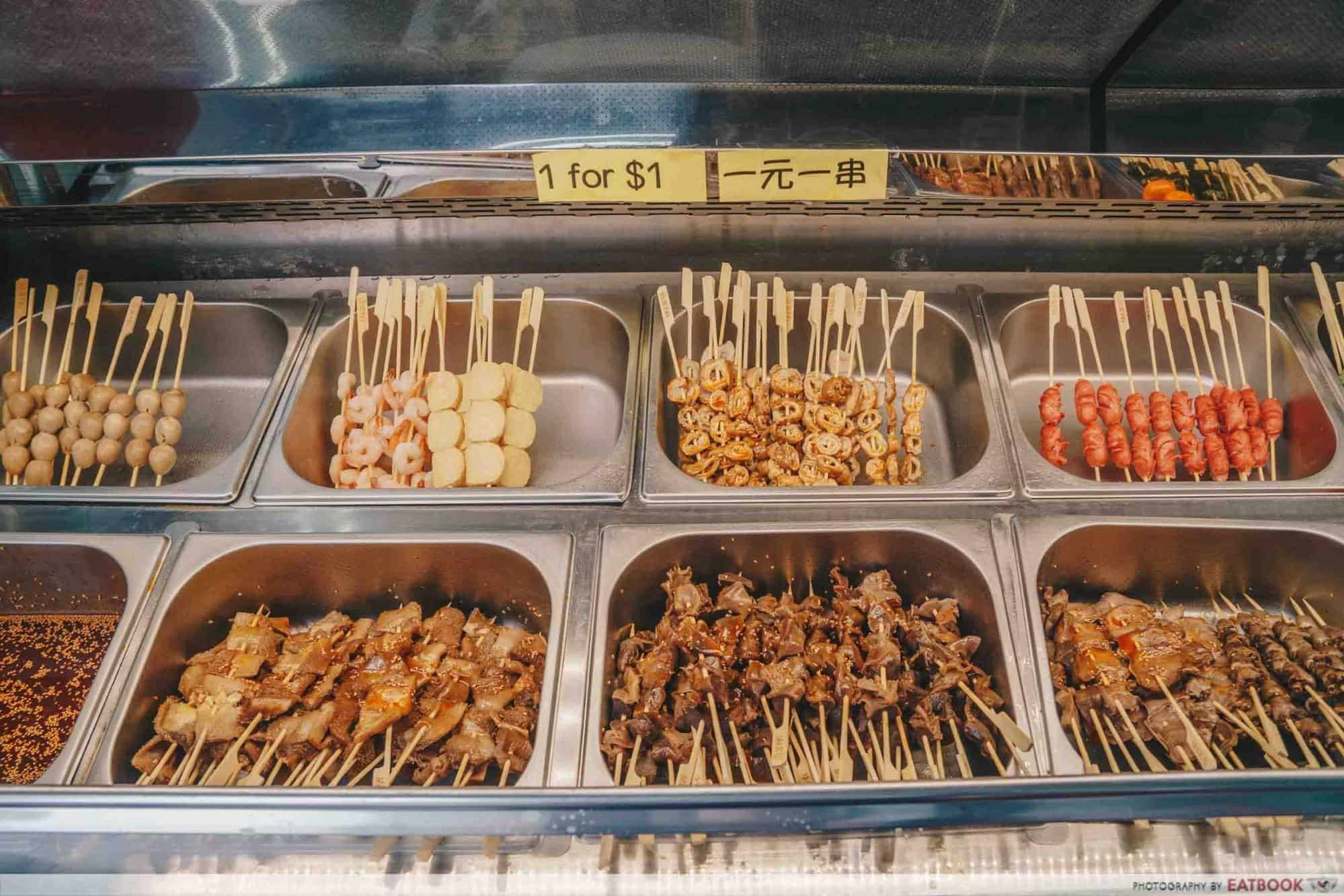 Unlike prices for ma la xiang guo, prices for these ma la skewers are clear as day. A stick of meat will set you back $1, while two sticks of vegetables will set you back $1.50.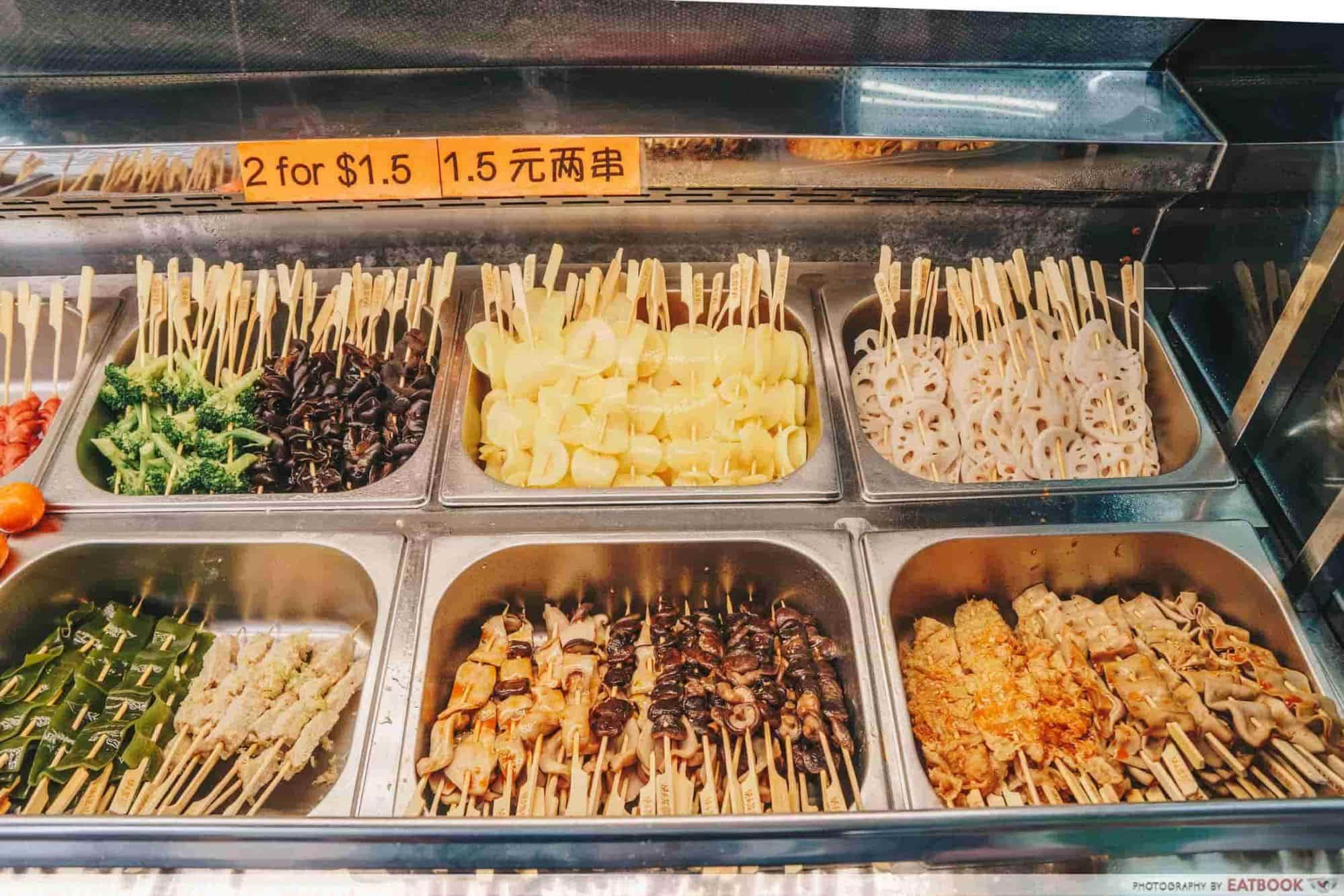 Items categorised under the meat section include mini Taiwanese sausages, peeled prawns, quail eggs, tofu fish cake, large intestines, and pork tongue slices. Vegetables include broccoli, lotus roots, potato slices, mushrooms, beancurd skin, and frozen tofu blocks.
A plastic roller blind is used to keep the items chilled and flies out, so be sure to pick your choice of skewers fast!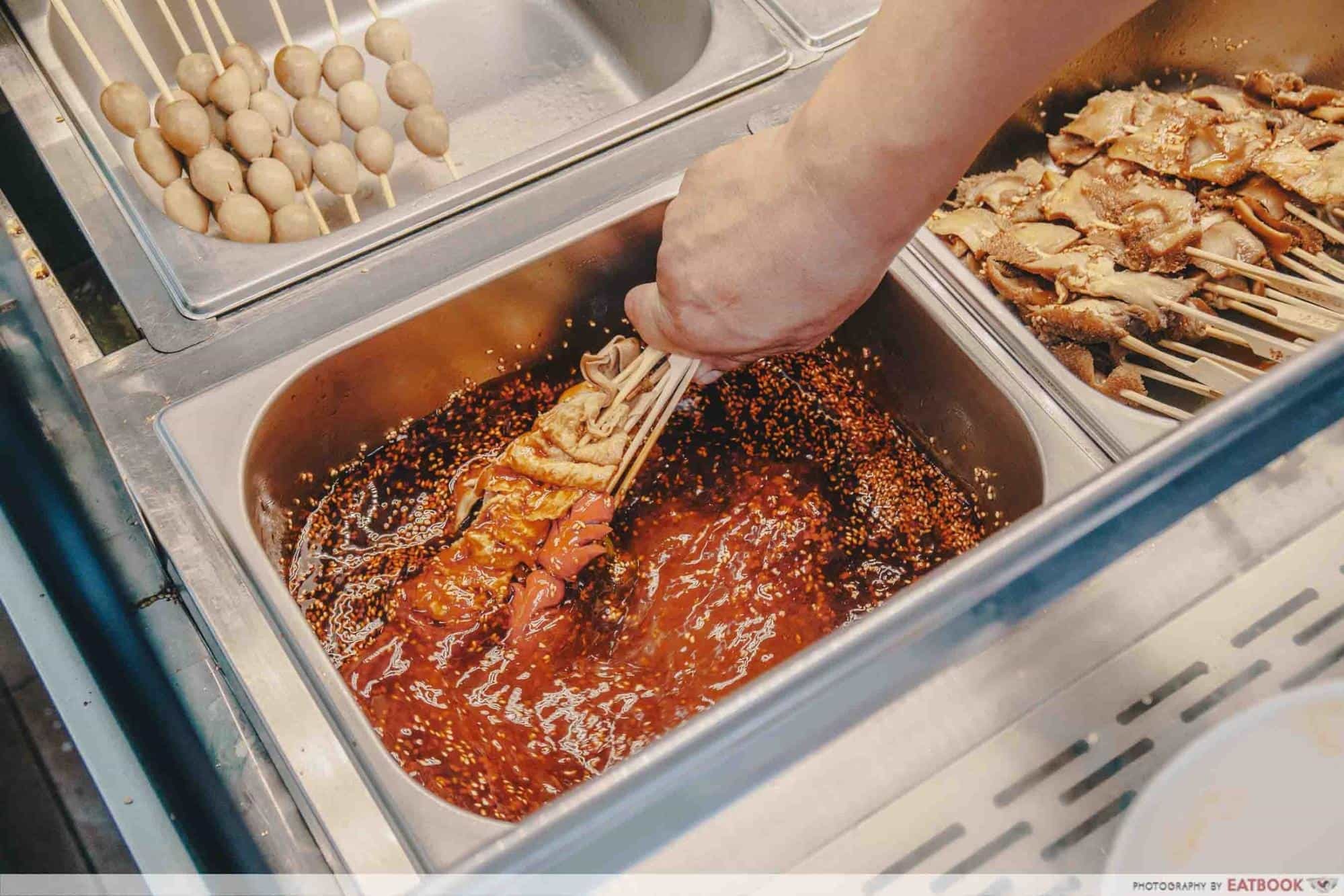 The skewers are doused and swirled roughly in a cauldron of menacingly red, cold ma la sauce, before presented to you in a cup as huge as 7-Eleven's Big Gulp. The sauce comes with a thick layer of ma la oil, followed by tons of sesame seeds floating atop. Unfortunately, despite how menacing the sauce looks, it was rather weak in both the taste and spice department, with zero to none numbing sensation and peppercorn aroma. Also, we didn't really appreciate that it was cold – we like our food hot, please! 
Out of the selection of meats, I highly recommend the mini Taiwanese sausages, quail eggs, large intestines, and pork tongue.
Fat Bird Review: Ma la Xiang Guo And Chicken Stew Hot Pot Buffet At $15.90++
Taiwanese sausages might be my perennial favourite since young, but that isn't the reason why I'm recommending them. The ones here are cleverly sliced at the sides; not for aesthetic purposes, but to create pockets for the chilled sauce and sesame seeds to be trapped – just like the spiral-shaped fusilli pasta.
Those who enjoy odd, ends, and organs will enjoy the large intestines, which had a deliciously chewy consistency, and tasted fattier than usual. The pork tongue was also surprisingly tender, despite how each slice was left to chill.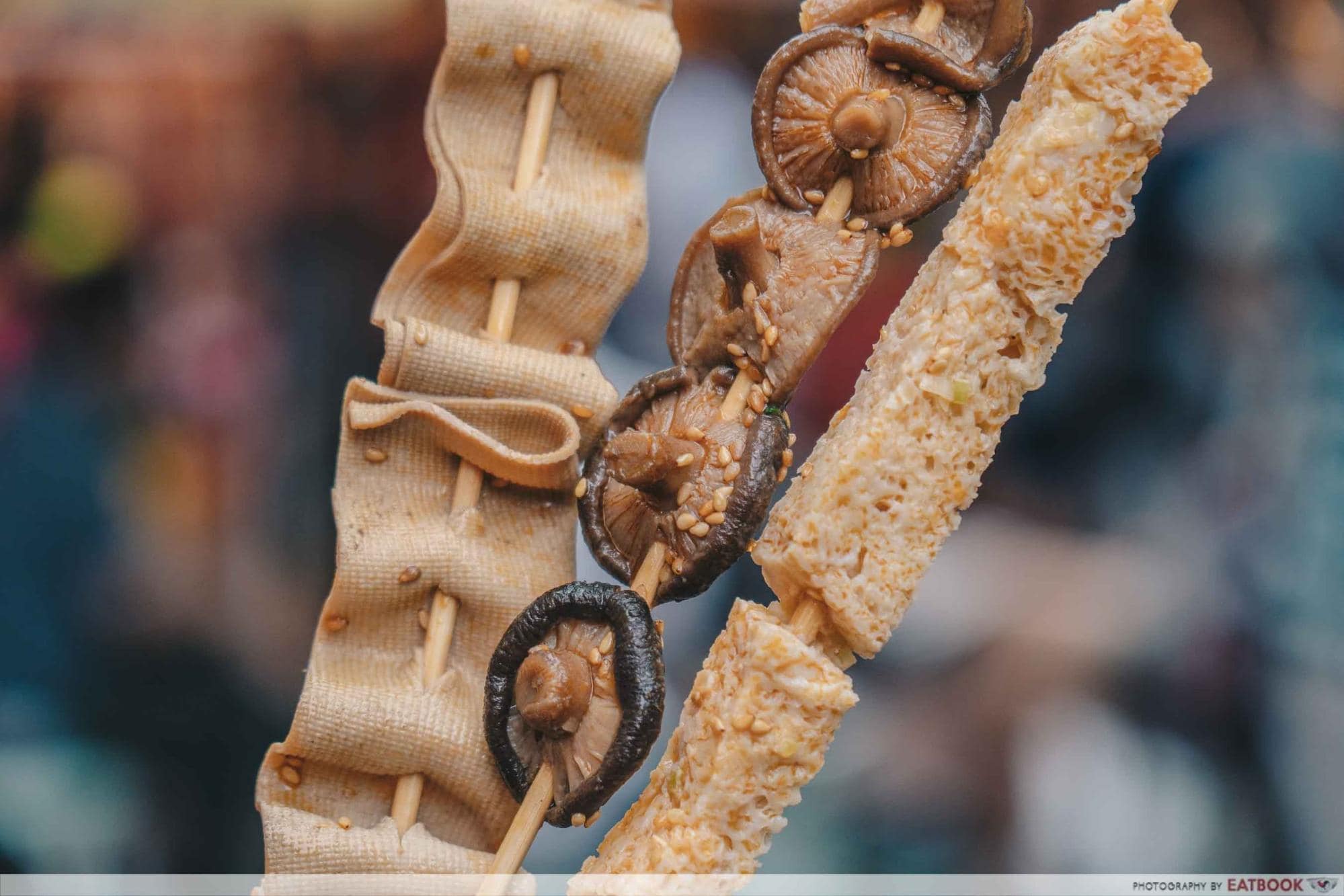 Amongst the skewers going at two for $1.50, the mushroom was the most value-for-money. Each skewer featured at least six pieces of mushrooms, with every piece drenched in moreish ma la sauce and fragrant sesame seeds.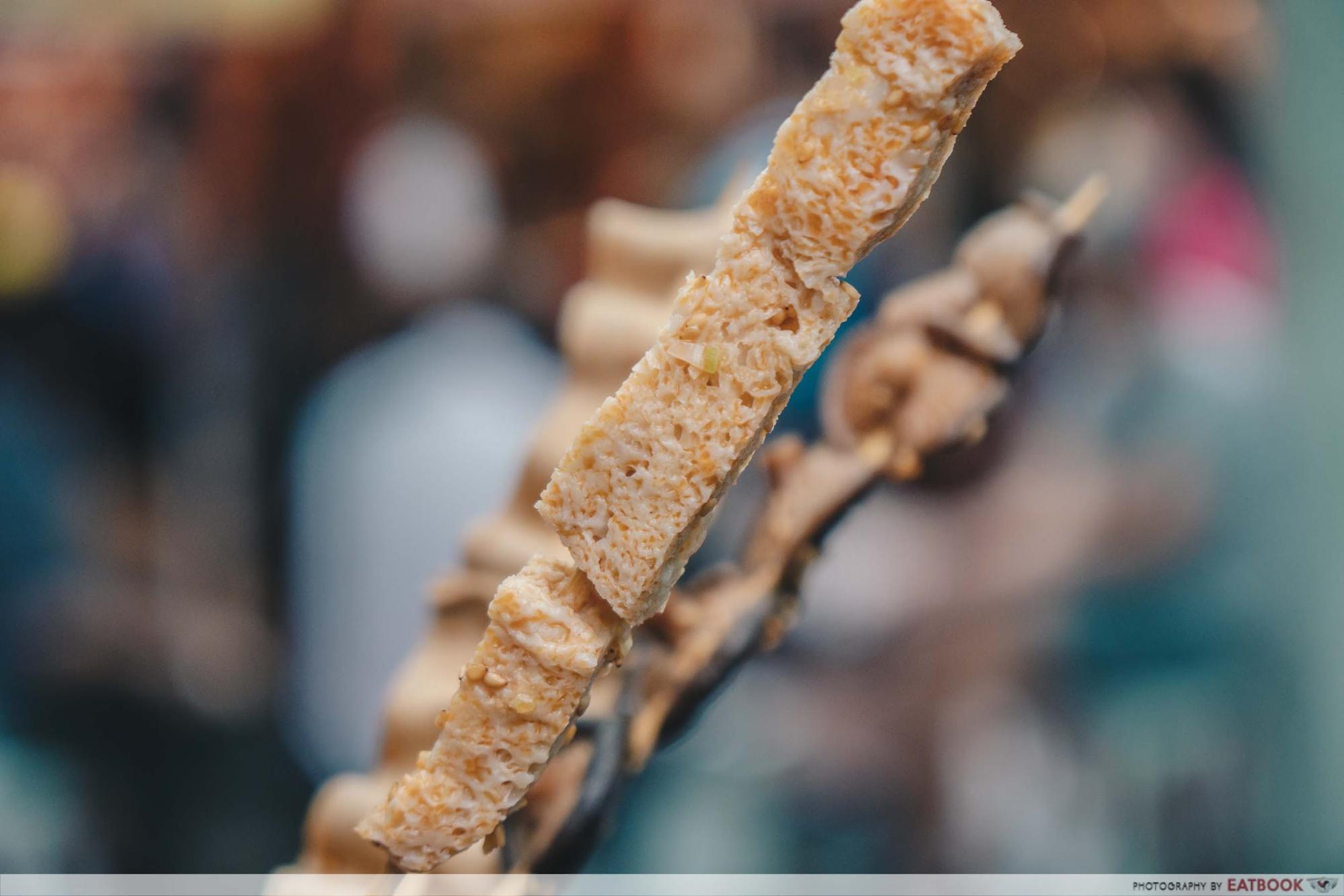 The best out of the bunch is the frozen tofu blocks, which is rarely found at ma la xiang guo stalls. Unlike typical tofu, these blocks are frozen then thawed. The result is a spongy and porous texture after the water has been drained. They are great for dipping as they soak up the sauce well, bursting with flavour at every bite.
Ambience at Happy Cat Chaun Chuan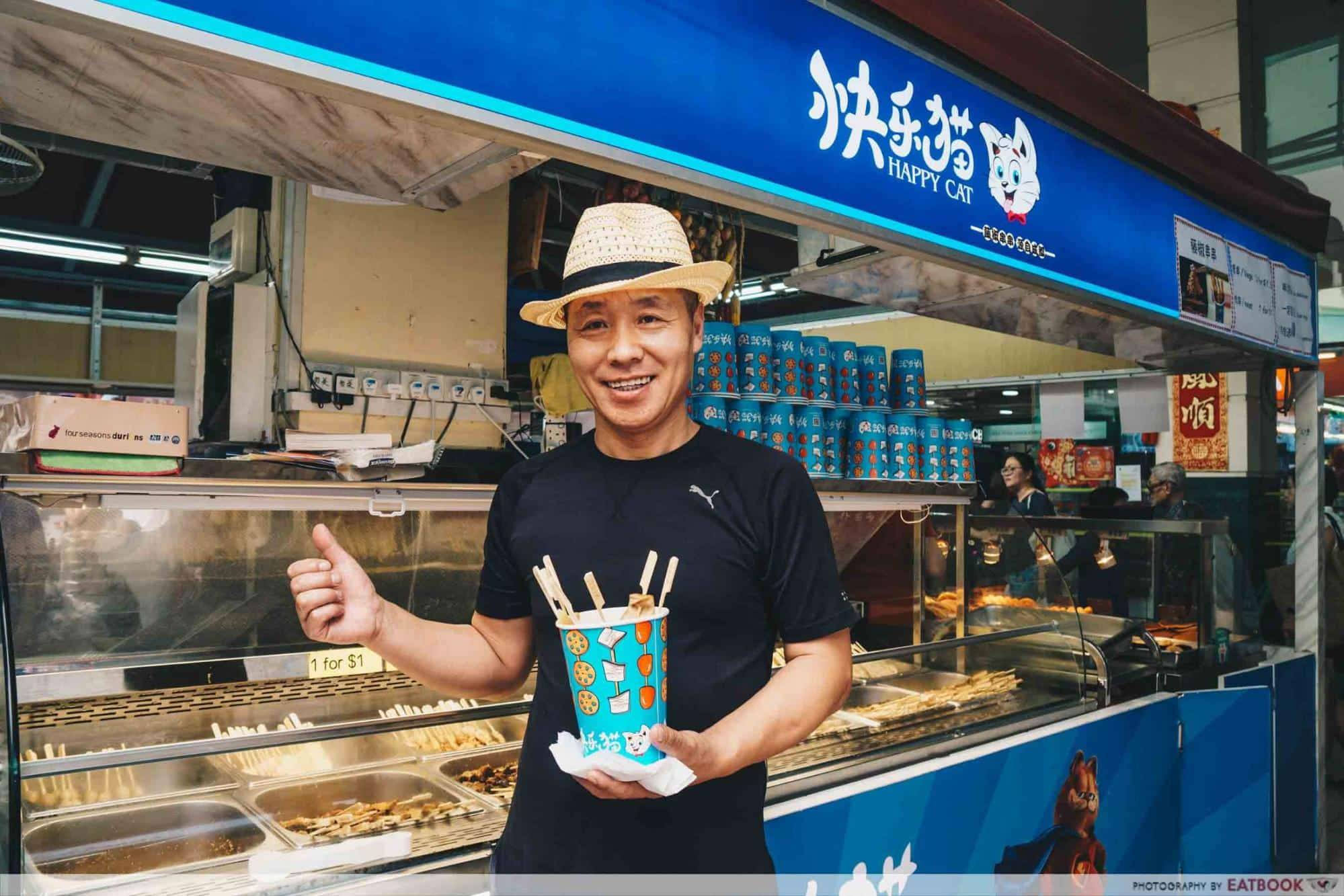 Happy Cat Chuan Chuan is one of the takeaway kiosks, located just outside Exit C of Chinatown MRT Station. Look out for its azure blue storefront and a man adorning a fedora straw hat.
Even though there are no seats, these skewers are easy on-the-go mini meals! The huge cups are also great for catching any ma la oil, threatening to drip onto your clean white shirt.
The verdict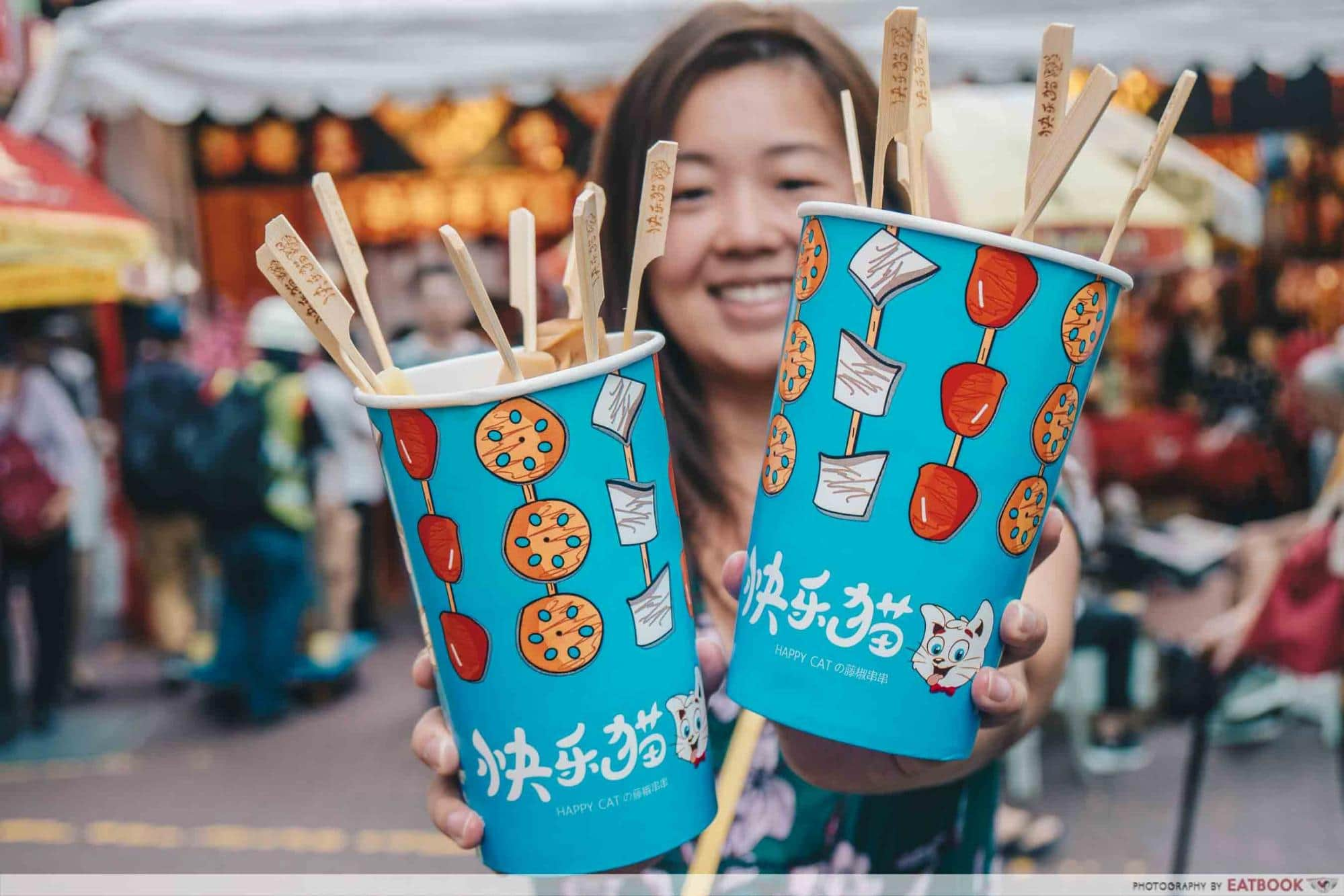 As a fan of ma la xiang guo, Happy Cat Chuan Chuan did not manage to quell my ma la cravings. The skewers were lacking in the department of taste and spice. Perhaps it would be better if instead of dipping, they were left to marinate in the ma la sauce instead. That being said, a stick or two makes for a toothsome midday snack when in the area!
Address: 1 Park Road, People's Park Complex, Singapore 059108
Opening hours: Daily 12pm to 8:30pm
Happy Cat Chuan Chuan is not a halal eatery.
Photos taken by Rae Fung.
This is an independent review by Eatbook.sg.
Summary
Pros
– Located right outside Chinatown MRT Station
– Affordable prices
– Substantial variety of skewers
Cons
– Skewers are served chilled
– Lack of flavour
– Not spicy enough
Recommended skewers: Taiwanese Sausages ($1), Pork Tongue ($1), Frozen Tofu Blocks ($0.75)
Opening hours: Daily 12pm to 8:30pm
Address: 1 Park Road, People's Park Complex, Singapore 059108