Cheese pot buffet at Happy Ice Dessert Cafe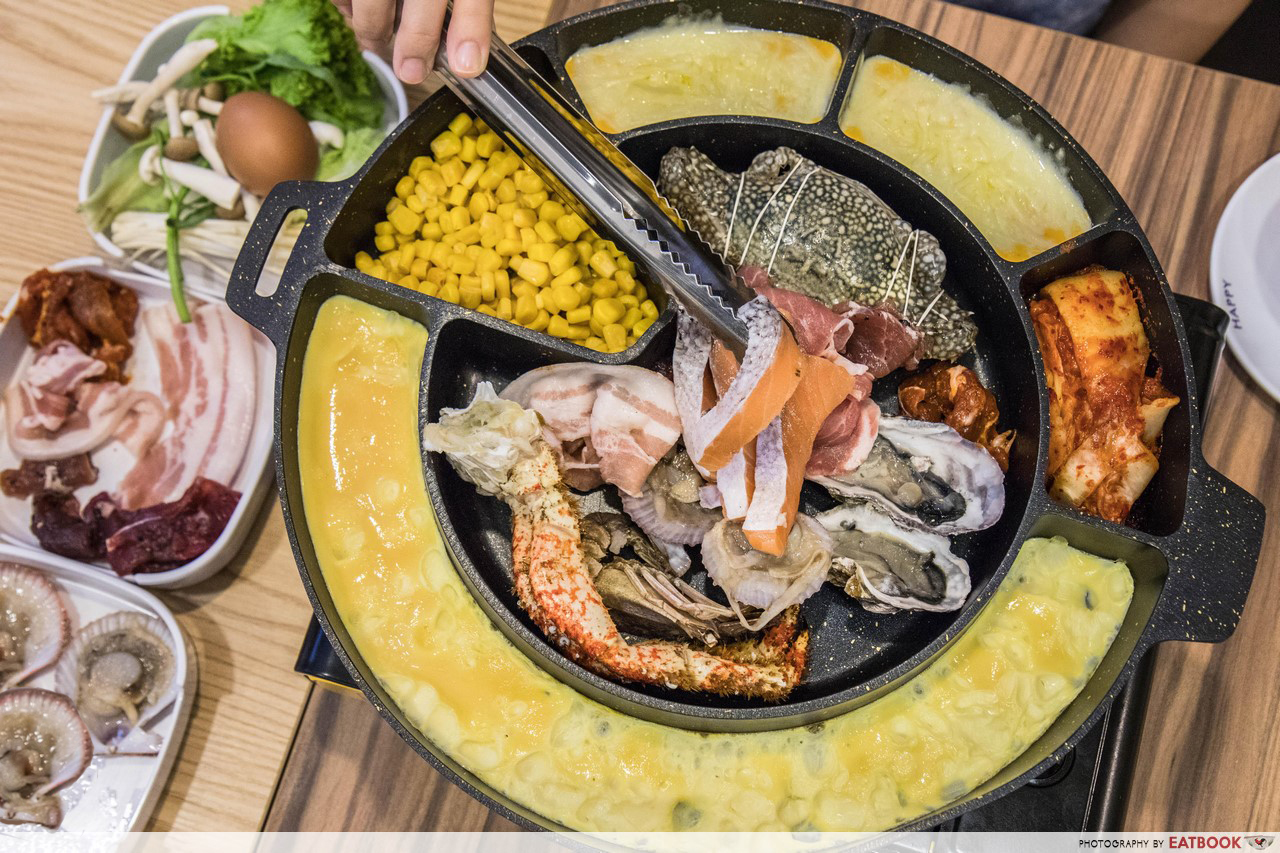 It's hard to maintain poised or a calm pretense when it comes to my favourite foods, and putting two or more of them together makes me stifle squeals. I'll purse my lips, trying to hide my smile, as my eyes shy away, hoping no one sees the glint of impatience and excitement in them. My friends back then and now still say that the mere mention of food lights up my face. I guess food breathes life into me.
Two weeks ago at Golden Mile Complex, Happy Ice Dessert Cafe quietly introduced a Korean Army Stew Ramyeon Buffet and a Cheese Pot Seafood Buffet at $33.90 nett per person from Monday to Thursday. The first thing I did was to find info on the seafood spread so I knew I could have crab, crayfish, cheese, shellfish, and salmon all barbequed in one meal. Then I checked out the desserts it included, which were six flavours of ice-cream that weren't your basic chocolate, strawberry, and vanilla. It's a limited-time promotion that started since 7 November so I made haste to visit.
Food at Happy Ice Dessert Cafe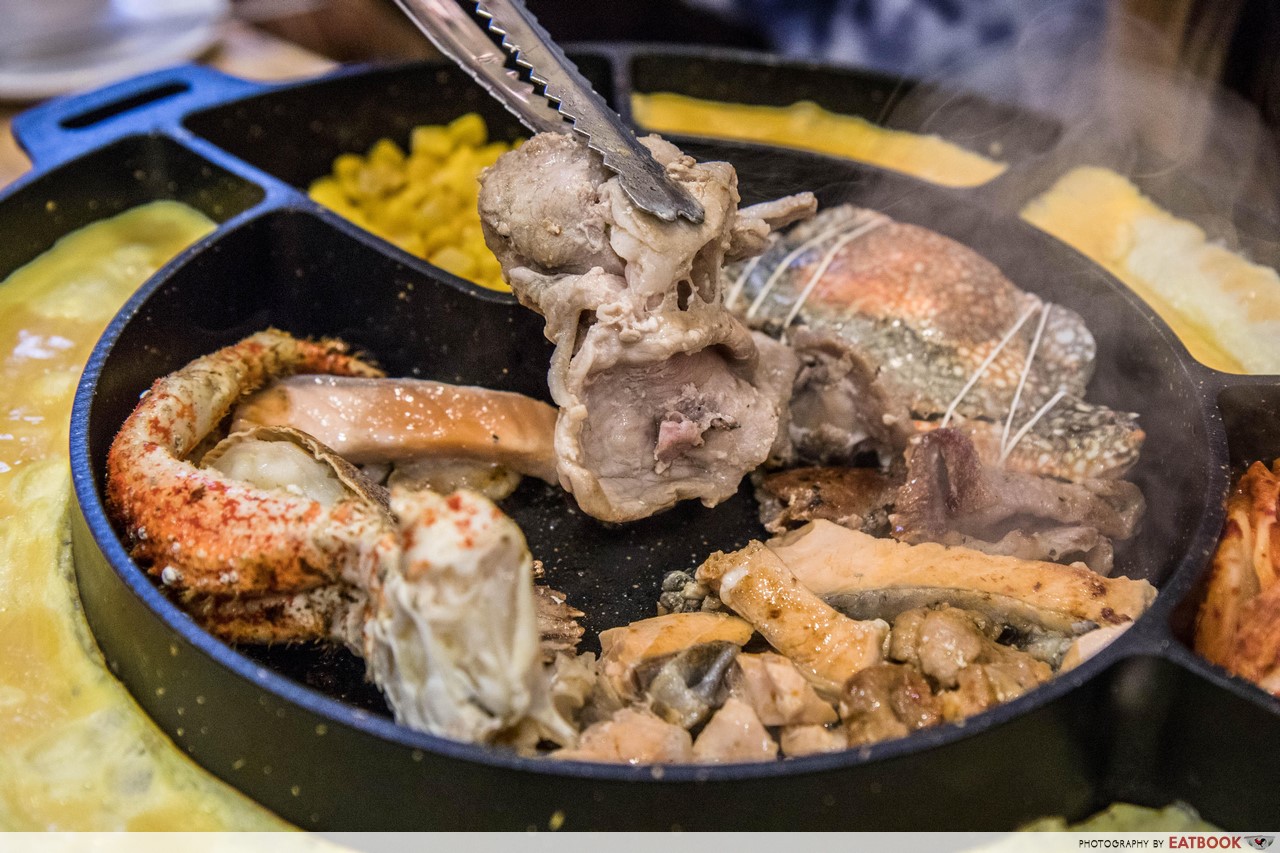 Every two customers can get one pot with unlimited refills of what it comes with so we chose the Cheese Pot over the Korean Army Stew Ramyeon for barbeque over soup. Their usual price is $33.90 per person but their opening promotion offers two customers 5% off, four customers 10% off, and six and more people 15% off, not including Friday to Sunday and public holidays. It also includes free-flow drinks and Thai coconut ice-cream.
Our grill arrived with half a ring of raw eggs, and the other half with pockets of corn with butter, kimchi, and two pockets of nacho cheese with mozzarella toppings. The staff also gave us a wooden spatula, a large pair of tongs, and a bin. We slapped on a piece of pork belly to oil the grill while the eggs cooked, and the cheese melted into creaminess.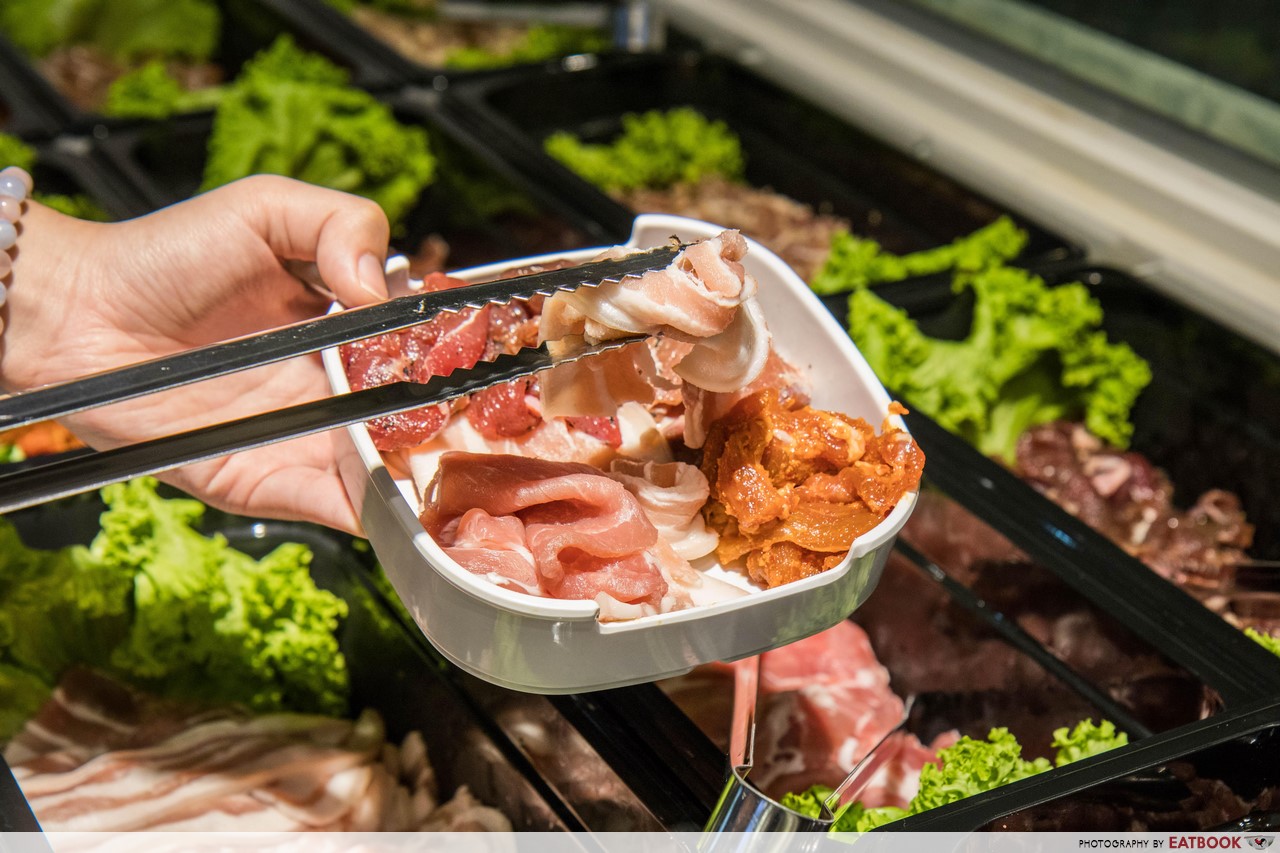 Stacks of plastic dishes for the raw food were at both ends of the buffet bar and we easily filled up a few. To the left of the bar were tubs of pork and chicken seasoned with garlic, black pepper, or spicy Korean marinade, and unseasoned meats such as beef.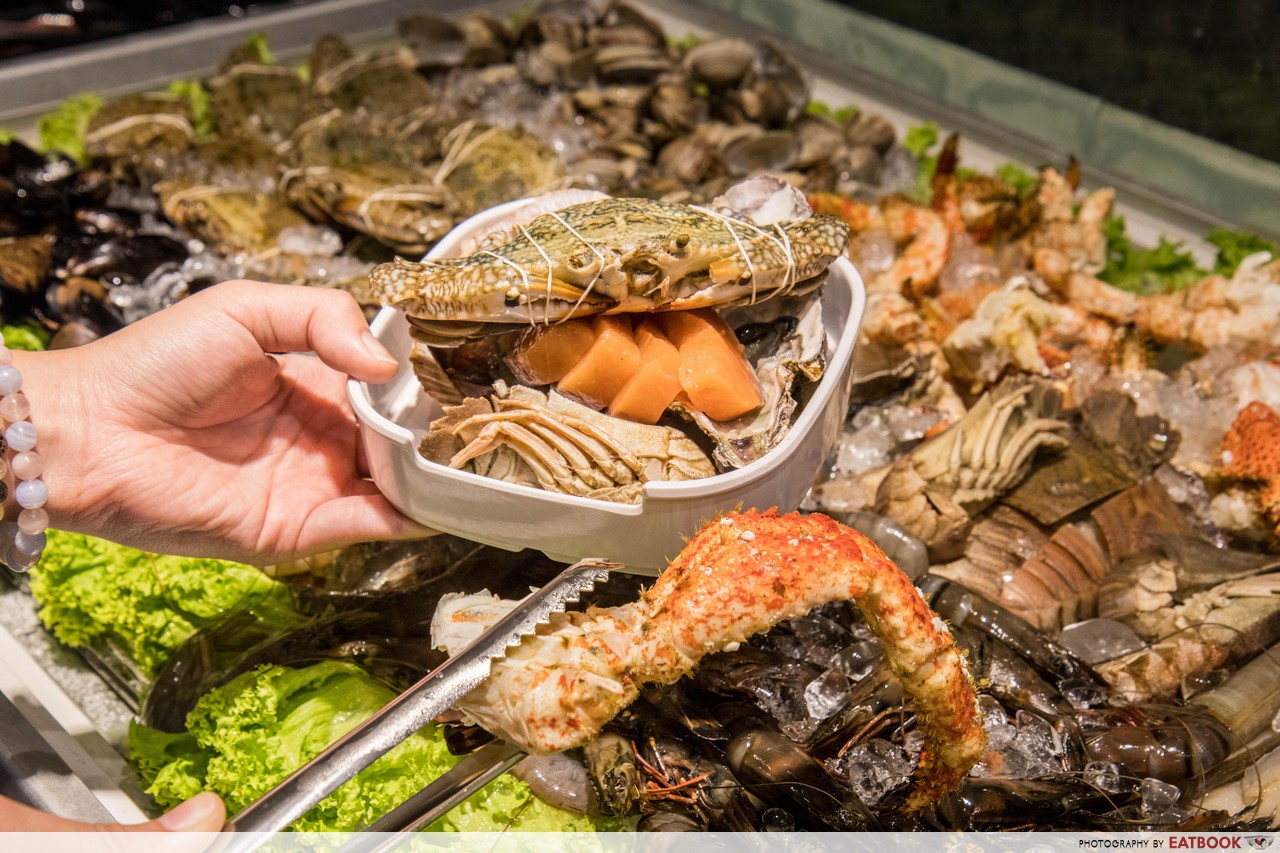 The highlight was definitely the colourful centre which boasted a wide variety of fresh seafood. Flower crabs, snow crabs, crayfish, oysters, gong gong, and thick cuts of salmon weren't even half of what was neatly spread over green lettuce and ice. There was also a tub of scissors and claw crackers if you need.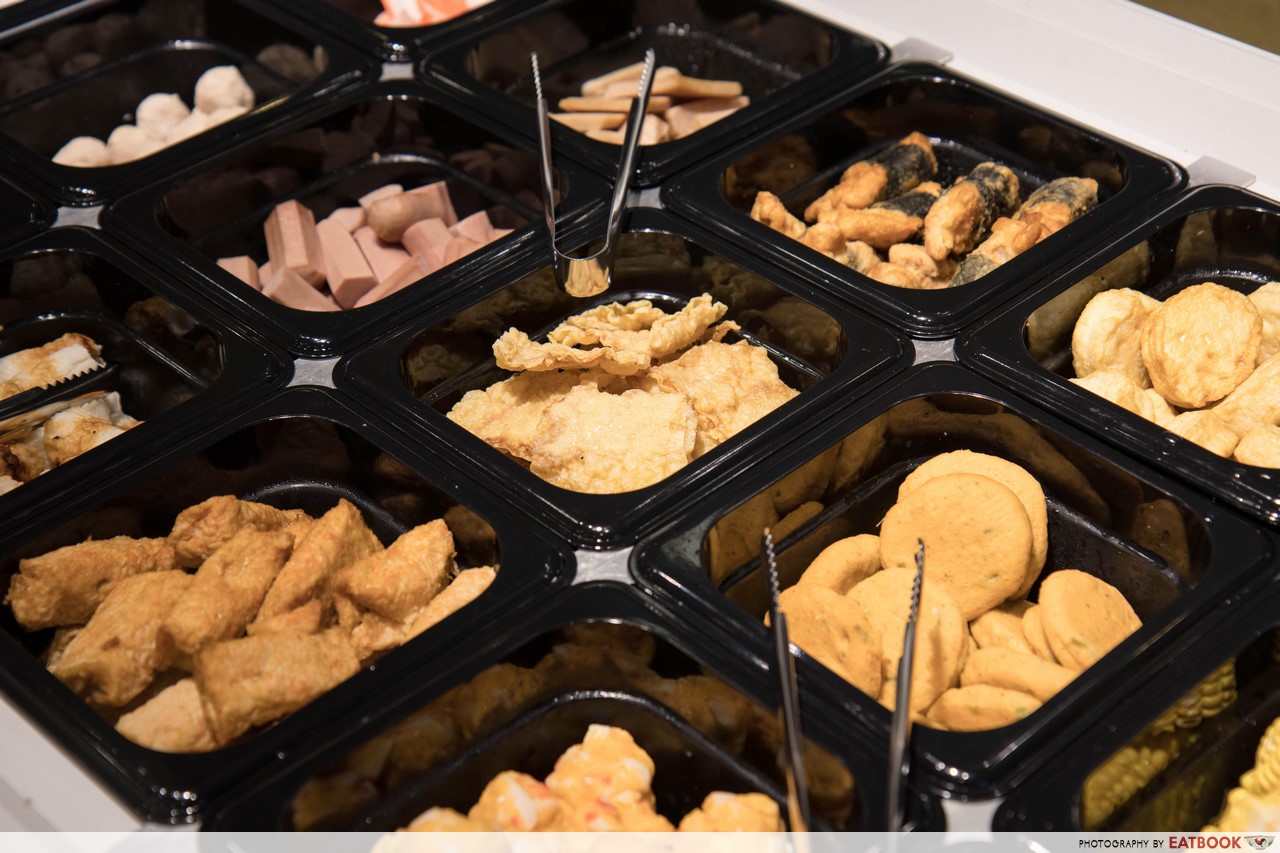 Down the row was processed foods like assorted fish cakes, luncheon meat, seaweed chicken, and crab sticks. Further right, were raw chicken eggs, assorted greens, mushrooms, and glass noodles. There were also cubes of stale white bread for you to mop up excess grease on your grill so don't eat them by mistake. If they weren't stale though, I'd have enjoyed toasting them on the grill to let them soak up all the flavours of the meat.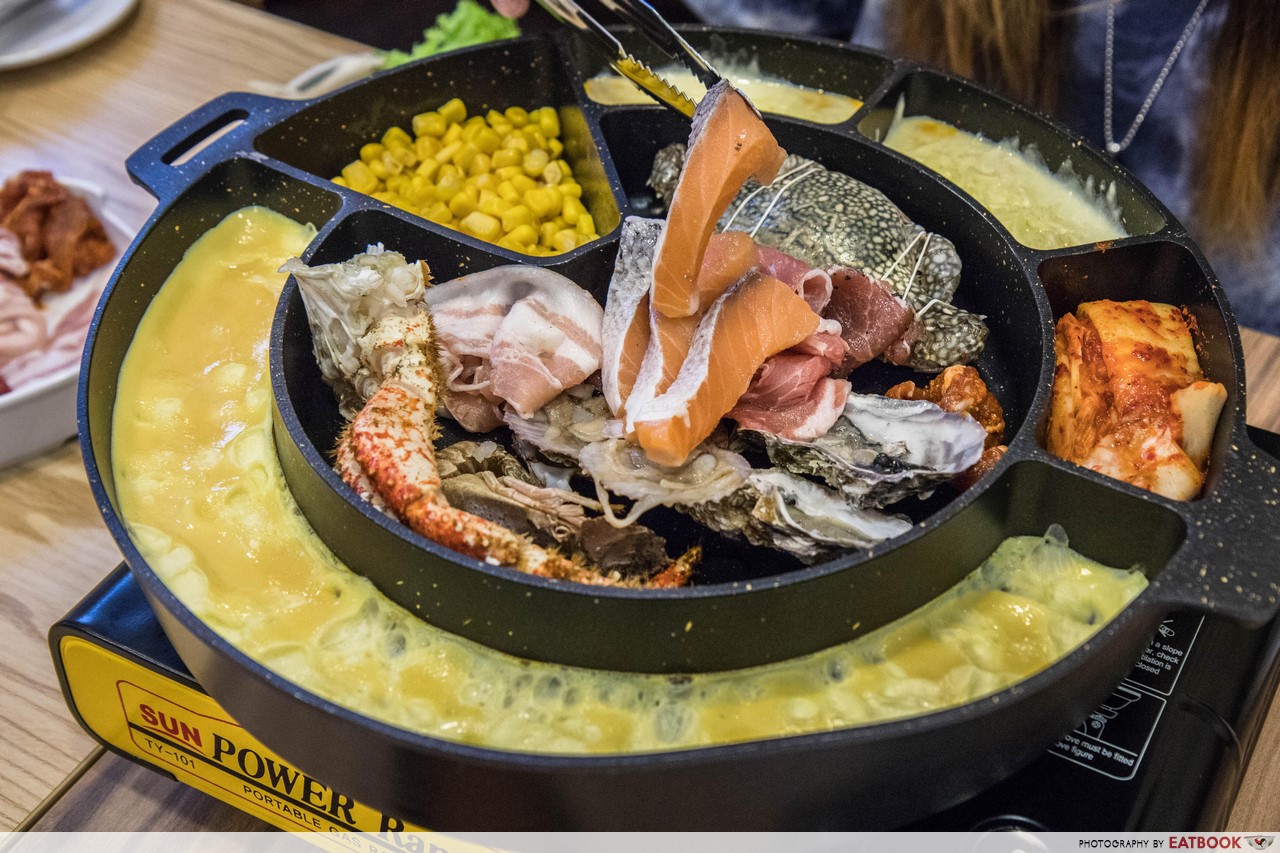 I started decorating our grill with seafood, arranging the crabs and shellfish before filling the centre with orange salmon and meat which sizzled and smoked. It was a pity the lettuce wasn't fresher or I'd have used them to wrap my meat. The pork slices were the most flavourful and I cooked them till each piece was charred and crunchy. Even the least flavourful chicken was passable after a dip into the cheese.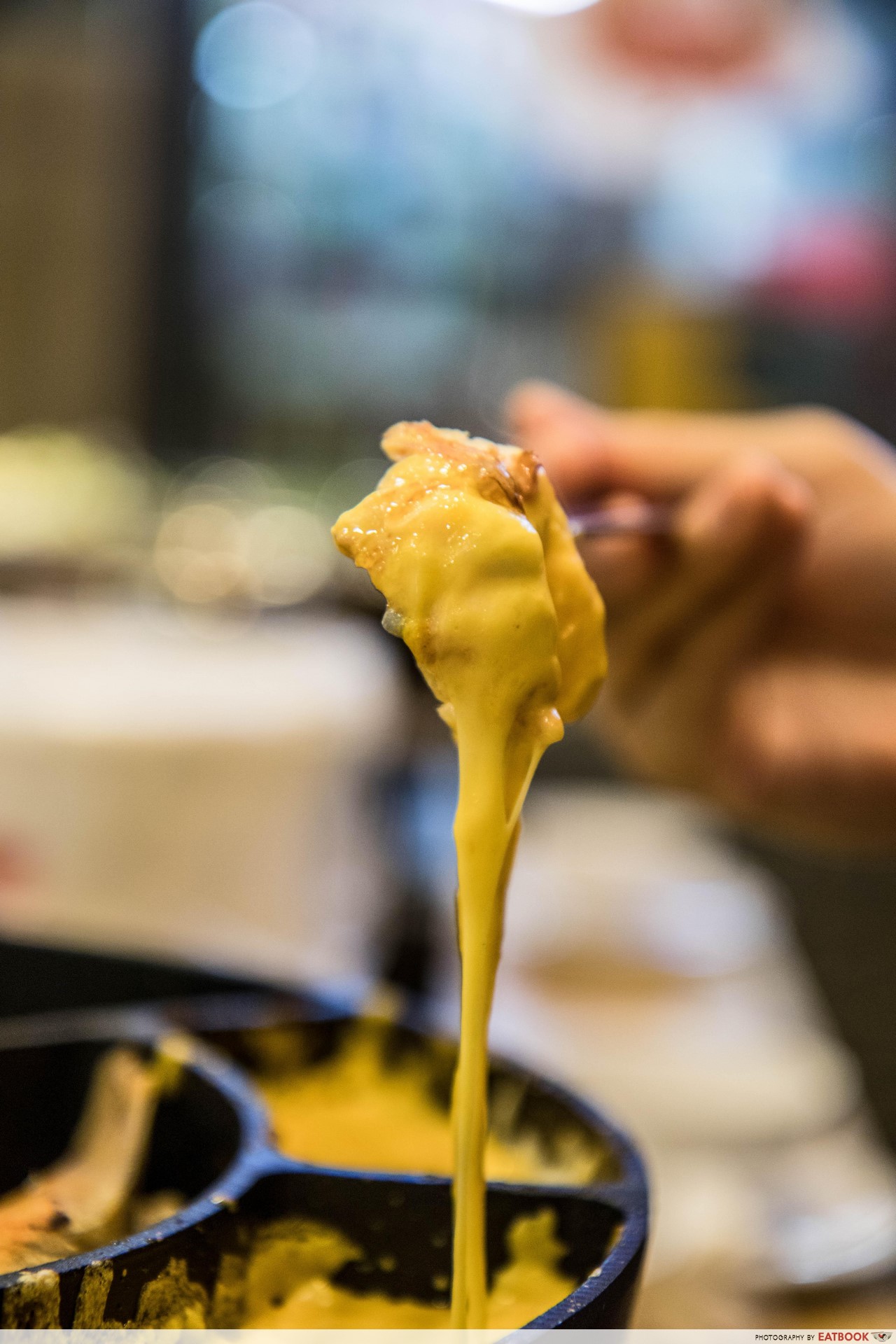 The stringy yellow cheese didn't break even when I stood up, making it so worthy a cheese-pull shot for the 'gram. There were condiments including chilli padi, chopped garlic, soya sauce, and spicy-sweet Thai chilli but with the unlimited cheese, I could hardly touch those.
I'm not the most patient when waiting for food especially when I'm staring at shellfish being cooked. I de-shelled our raw seafood, which thankfully was easy to do, and it instantly made space to cook more food. My favourites were the oysters, then crayfish, followed by scallops and salmon, each mouthful drowning in yellow cheese. What beats that was probably scraping up the cheese when its bottom was crisp and browned.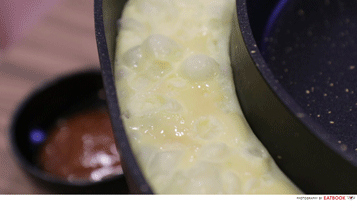 The non-stick grill really worked its magic. I easily pushed up the half-ring of egg with chopsticks and it was so thick it was only cooked to a custard-like texture when I bit into it.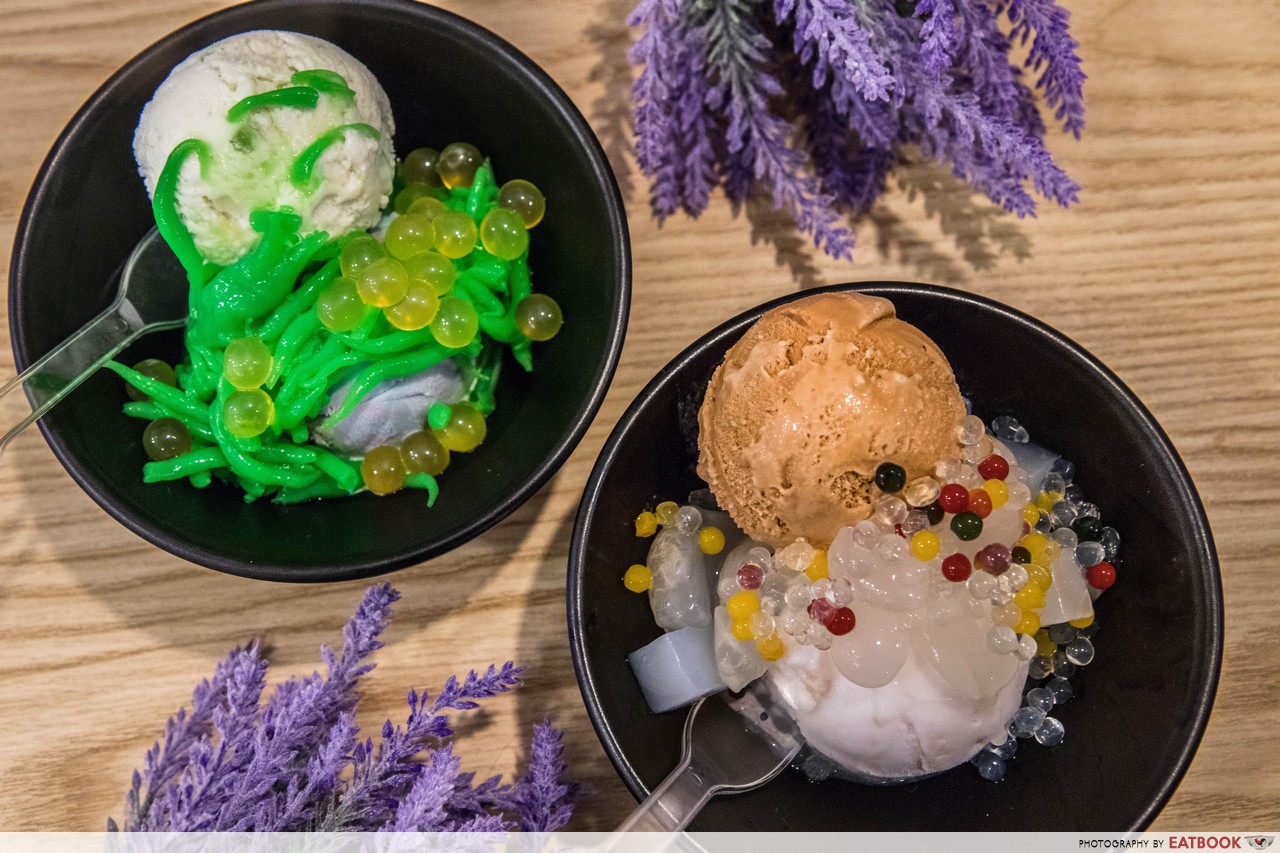 The buffet includes free-flow drinks like lemon barley and any of the cans in their fridge. I loved sipping on their house-made Thai milk tea but I know I enjoyed the ice-cream version more. There were six flavours of ice-cream, namely Thai milk tea, Tutti Frutti, lychee sherbet, peppermint, chendol, and coconut. Toppings were also available for you to jazz up the dessert. When I decided on my two favourites, I knew I'd be getting seconds with lots of attap chee. I was really full by then but if you're still up for more, their Signature Thick Toast ($13.90) is currently at 10% off.
Ambience at Happy Ice Dessert Cafe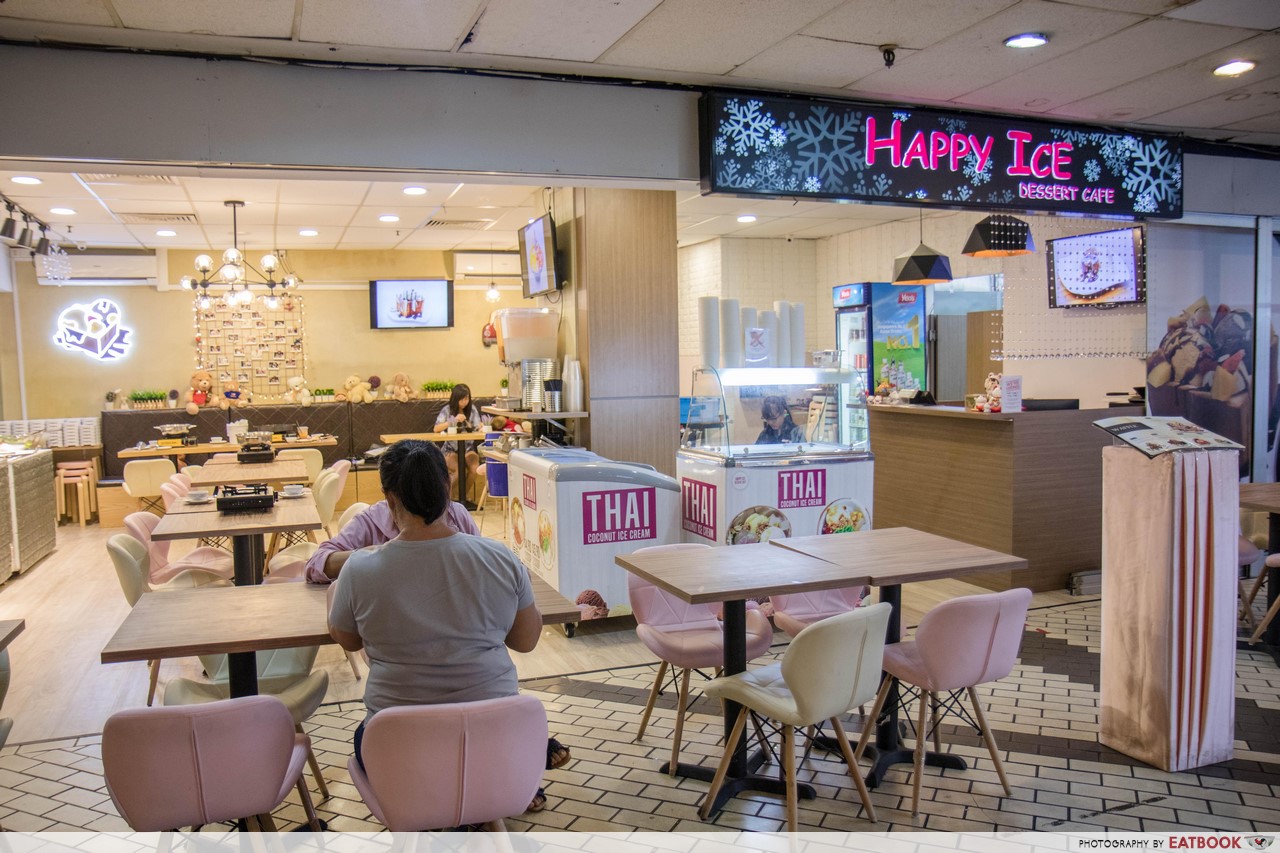 Once we reached Golden Mile Complex, it was easy to spot Happy Ice Dessert Cafe with its enticing seafood bar behind its glass wall. The cafe lights cast a warm glow over its interior of pastel and earthy hues. The decorations at the back made the place feel inviting with teddy bears, vintage toys, and Polaroid photos, so I really hope they'll fill the rest of the cafe with those over time too.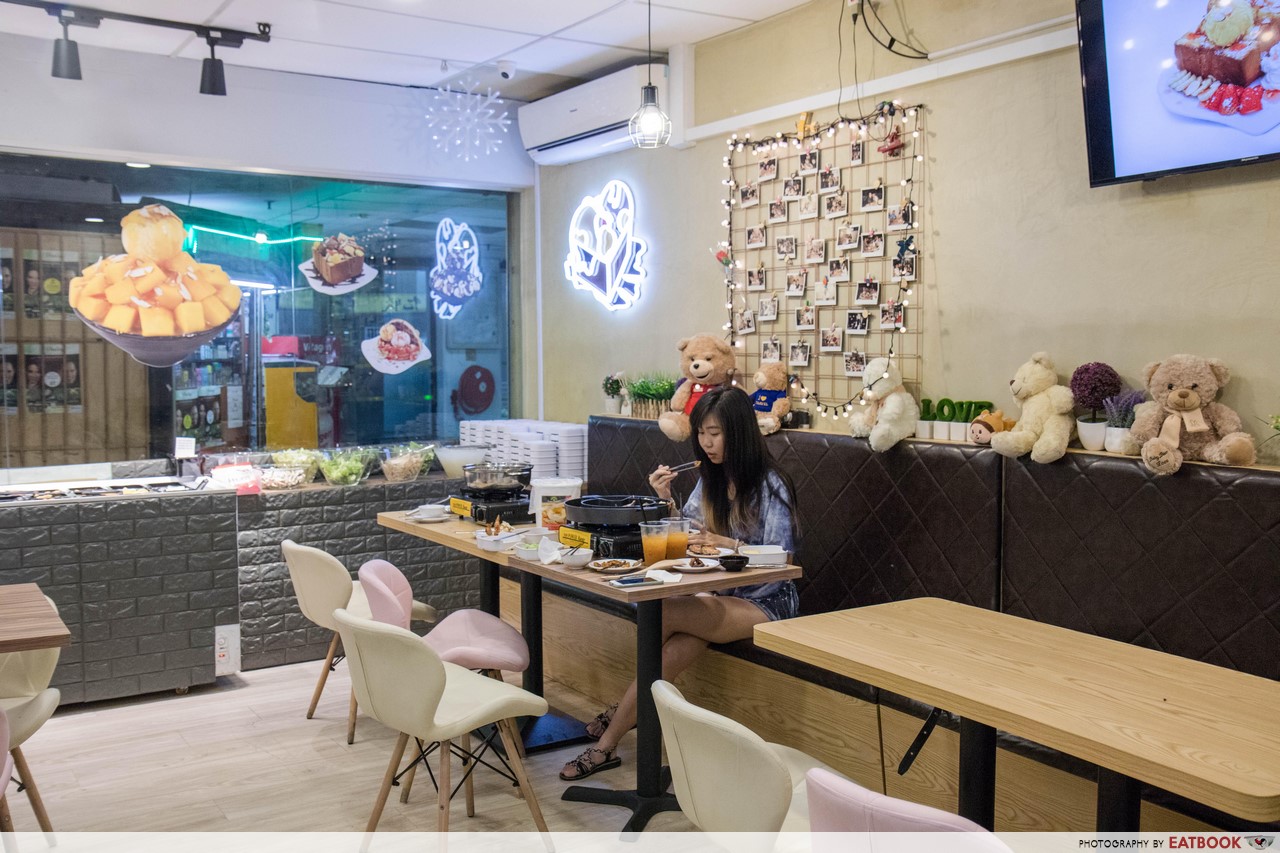 There was a dark brown teddy bear that was even larger than me and soft to hug but I can't decide if I still adore the Ted bear on my right more. The cafe was quiet when my colleague and I reached at 3pm on a weekday but we made reservations since we heard it's usually quite busy. K-drama theme songs filled the background and got us gushing whenever one we both recognised came up.
The verdict
The dessert cafe only opened six months ago before this buffet began in the last two weeks and it feels like they've done a brilliant job. It's a fine place to chill out with friends for a really long catch up while you rest your tummy for seconds – and probably thirds. We can't tell when their promotion will end but even after all the food, I've still been thinking about returning soon for more. If you love buffets and cheese, check out these cheese buffets around Singapore as well! For the 'grammers who are always looking for #foodporn-worthy shots, check out these epic cheese dishes.
Address: 6001 Beach Road, #01-52, Golden Mile Tower, Singapore 199588
Opening hours: Daily 12pm to 11pm
Tel: 9380 9028
Website
This is an independent review by Eatbook.sg
Summary
Pros
– Value-for-money
– Variety and freshness of seafood bar
– Convenient location
– Instagrammable food and decor
Cons
– Minimum of two customers per pot
– Vegetables could have been fresher
– A few flies at the buffet bar
Recommended Dishes: Cheese Pot Seafood Buffet ($33.90 per person)
Operating Hours:
Daily 12pm to 11pm
Address: 5001 Beach Road, #01-29/30/31, Golden Mile Complex, Singapore 199588