Hi Tea is here to modernise Chinese tea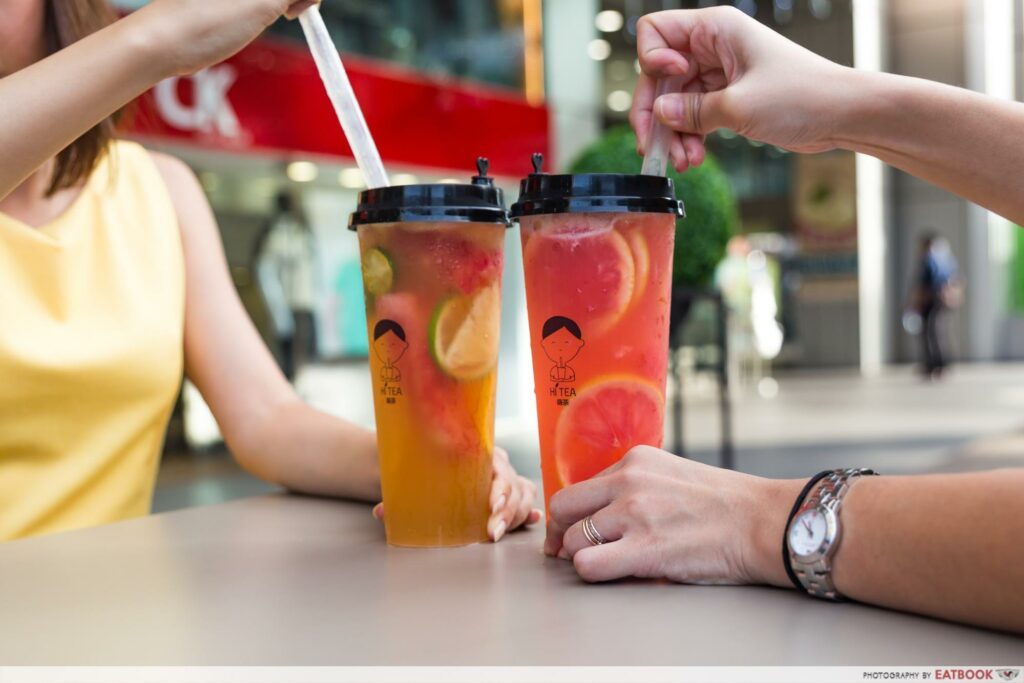 It's safe to say that fruit tea is the drink of the year. And the newest kid on the block is homegrown brand Hi Tea. What makes them stand apart is that all their tea leaves are soaked overnight in chilled water every day. This gives their brews a more delicate taste and smoother mouthfeel. Now, truth be told, fruit teas never caught my interest. But when I heard it was cold brewed, I couldn't wait to try, especially since very few cafes or bubble tea shops in Singapore serve this style of tea. Another winning point for me was that they don't use any artificial fruit syrup — everything is made with 100% fresh and real fruits, which they tediously pulp and cut daily!
Drinks at Hi Tea
First up on our list was Watermelon Snow ($4.80). Featuring freshly cut watermelons blended with jasmine tea, the floral perfume of the tea beautifully lifted the taste of the juicy fruit. It was a great choice to start with, as it cleansed and awoken our palate for the following drinks.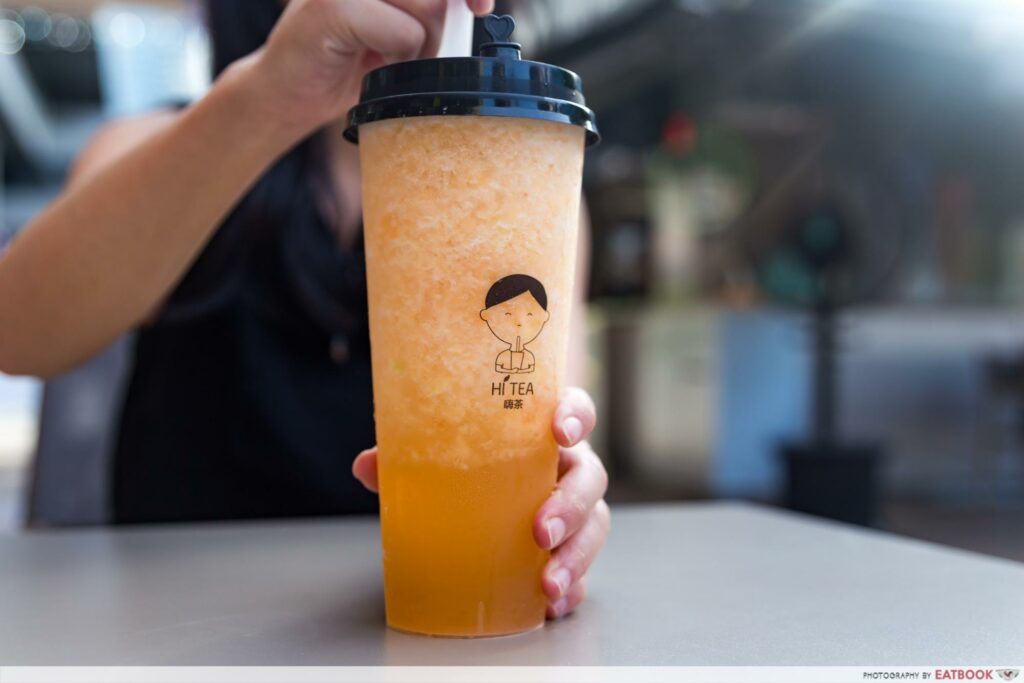 Rarely do we see rockmelon offered at bubble tea or fruit tea stalls. So my interest was piqued when I saw Rockmelon Ice ($5.20) on the menu. The mellow melon made a great alternative for punters who prefer something less sweet than watermelon. Together with the jasmine tea, this delicious blend was an excellent thirst-quencher. To boot, I also loved the eye-catching, swirling effects of the the rockmelon pulps when stirred – makes for the perfect Boomerang shot on Instagram!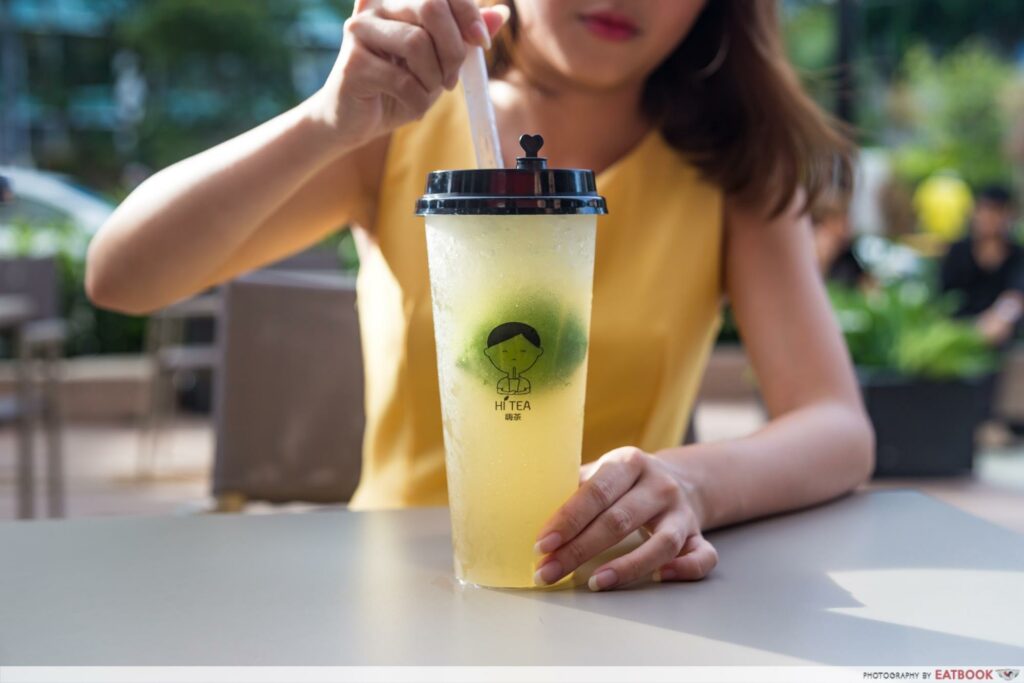 Lime Ice ($4.80) reminded me of my favourite calamansi drink, minus the intense acidity that can sometimes be too sharp on your taste buds. The cold brew oolong tea not only gave depth to the drink with its roasted tang, but subtly softened the sourness of the lime.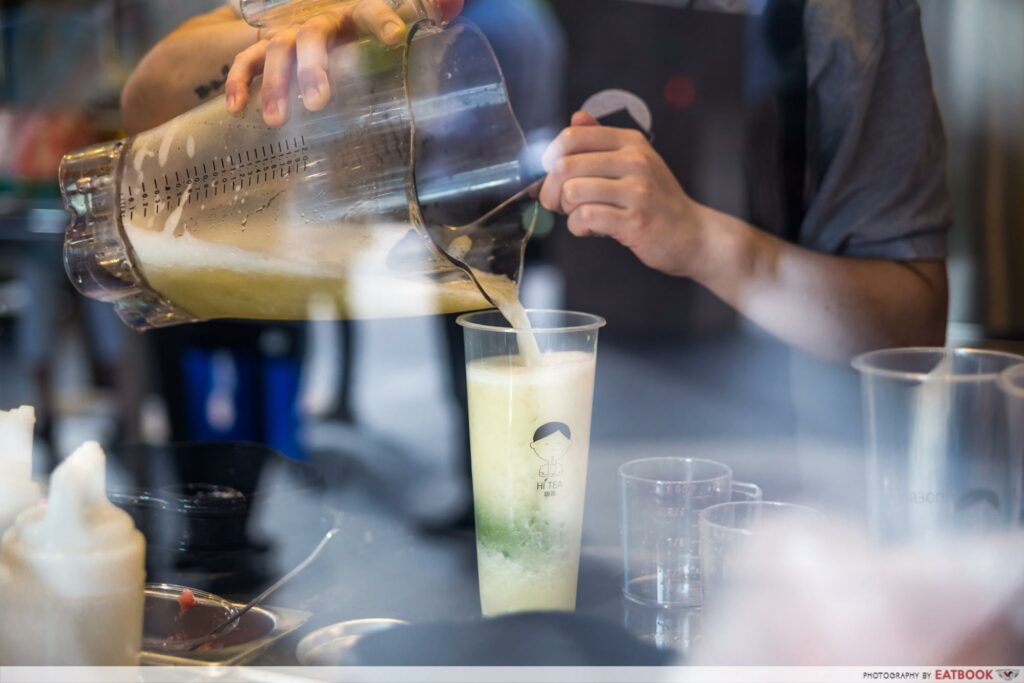 What I appreciated most was that the whole lime was only sliced and added in upon order, retaining the zesty citrus notes of the fruit.
There's no question why their Mix Fruit King ($5.80) is a crowd-favourite. Comprising chunks of freshly cut pineapple, watermelon, lemon, lime, strawberry and passion fruit in their oolong tea, the invigorating drink has multifaceted layers of flavours that were vibrant, tangy, and simply nectarous.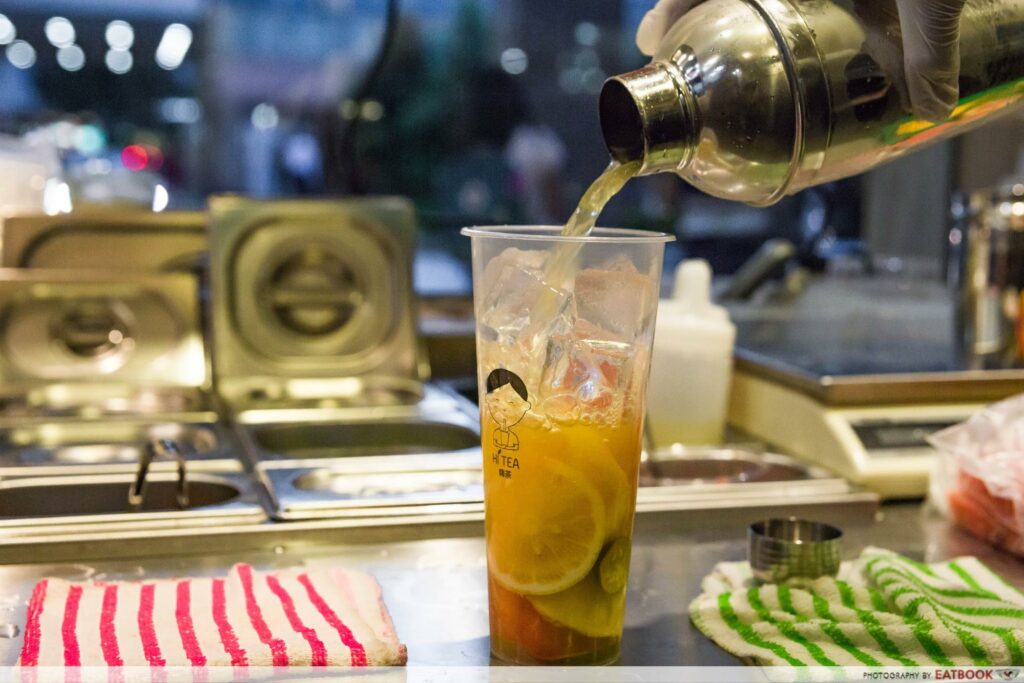 Once you're done with the toothsome drink, you can consume the fruits too! Soaked up in oolong tea, each bite delivered a burst of floral aroma along with the fruits' natural juices.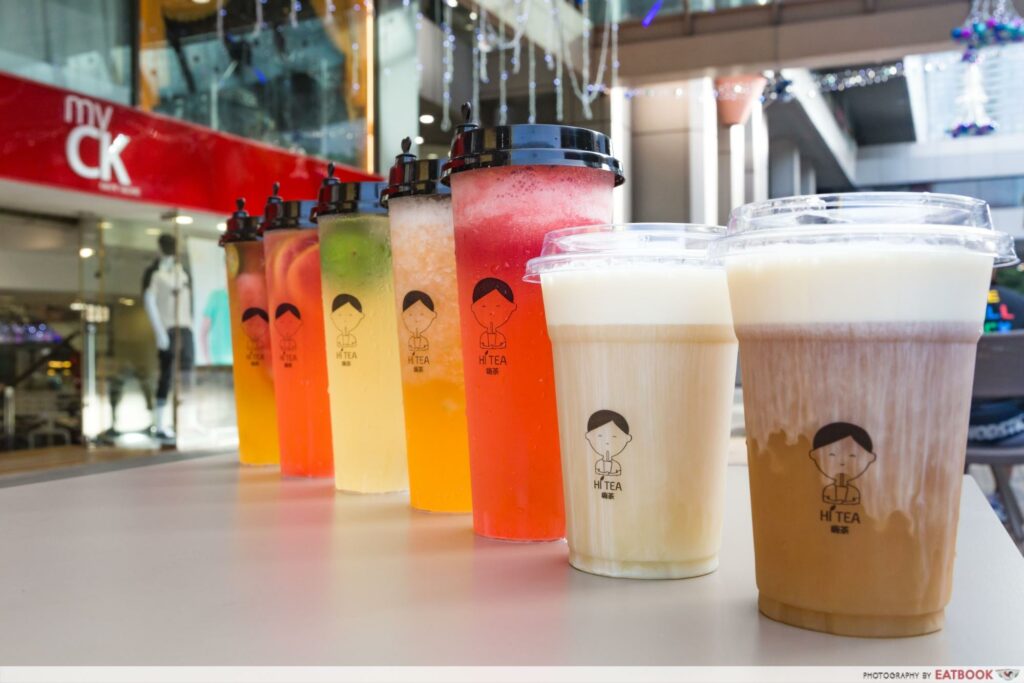 Aside from fruit teas, Hi Tea also offers cold brewed cloud teas. To differentiate themselves from the rest, their cloud tea is complete with a creamy milk mixture with a hint of salt, which I found more palatable and less jelak than the usual cheese topping.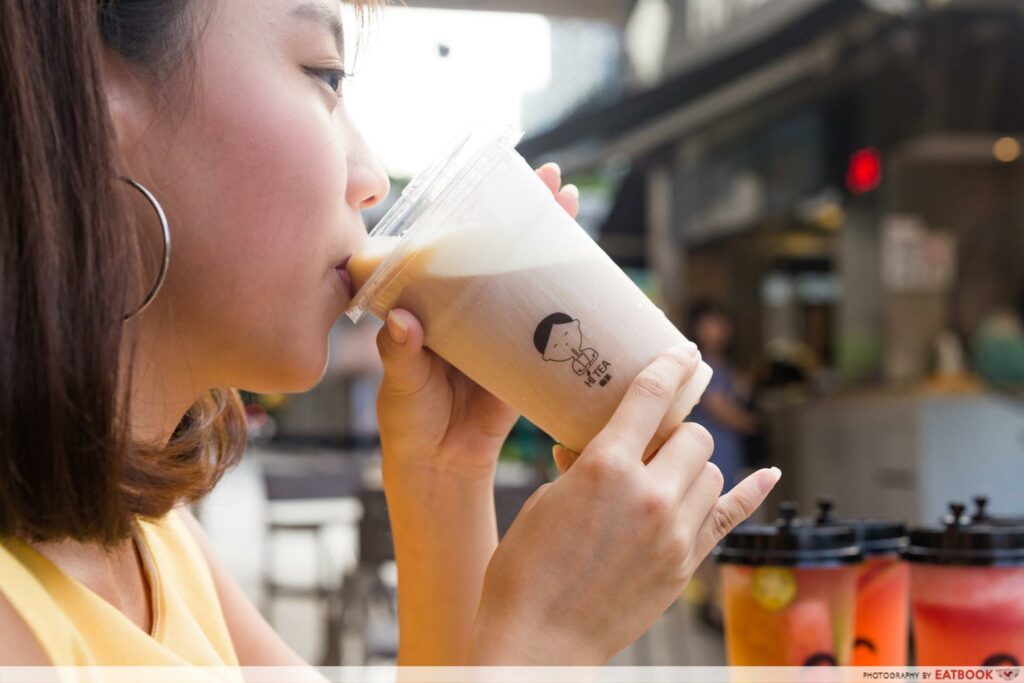 We tried Cream Cloud Oolong ($4.20) and Cream Cloud Lychee Red ($4.80). Both were an absolute delight to drink. The light, earthy oolong made for a great base to go with the rich cream, and will appeal to all. On the other hand, the lychee red tea gave off a bright, crisp finish that was further elevated by the cream, and will be enjoyed by those with a penchant for honeyed treats.
Ambience at Hi Tea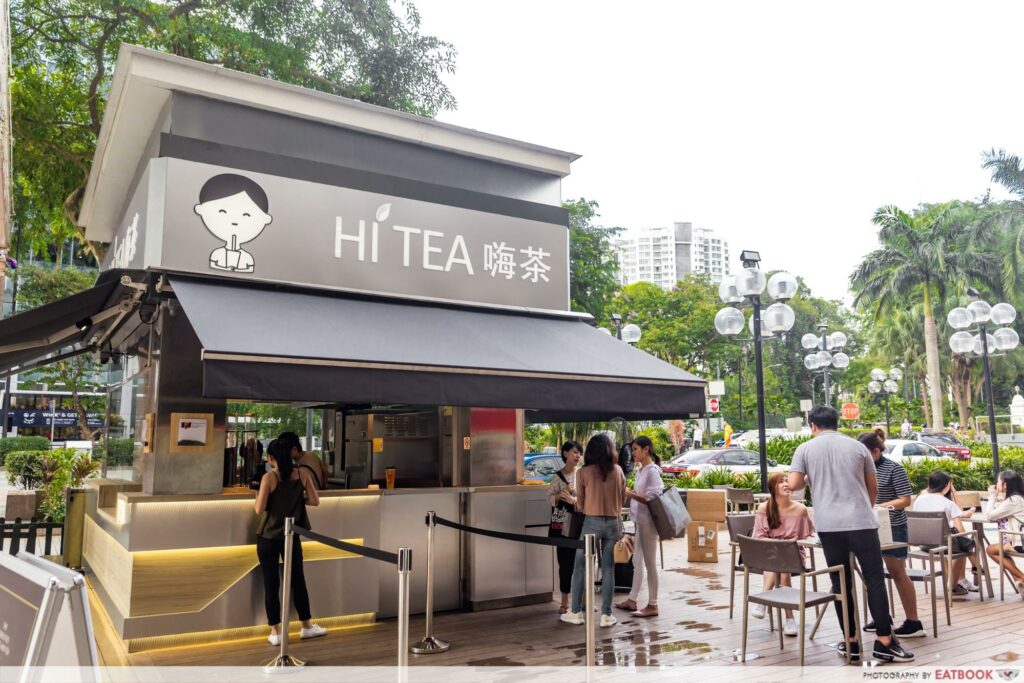 This outdoor tea cafe at Far East Plaza provides the perfect setting to people watch. The tables and chairs are also spread far apart, which is a huge draw, as I find that most restaurants and cafes tend to cram their patrons together these days.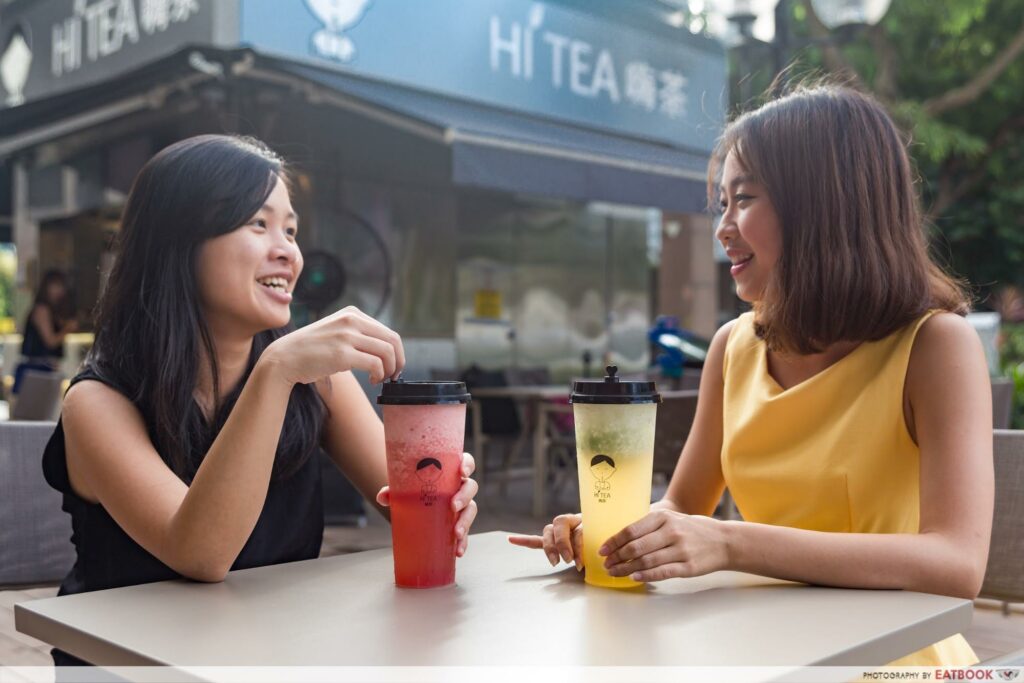 Currently, there's no shelter from the rain or sun, but I heard they are in the process of placing a tentage. So we no longer have to bake under Singapore's unforgiving sun, while we refresh ourselves with their tantalising cold brew fruit teas.
The verdict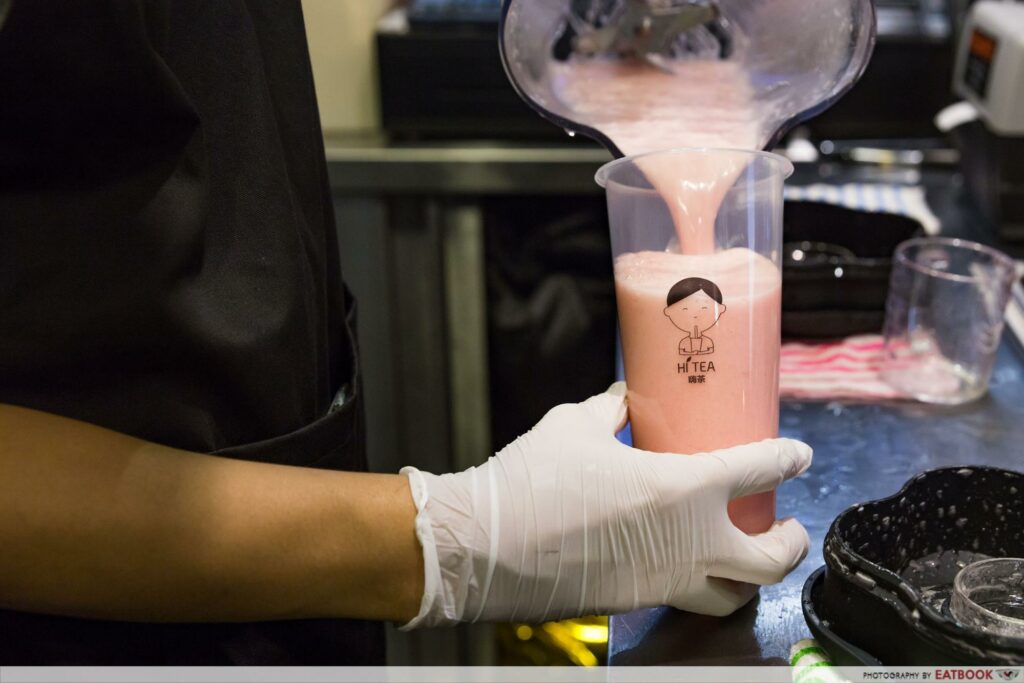 Hi Tea made me a fruit tea convert. I was pleasantly surprised by how luscious each drink tasted. Their teas were neither bitter nor did they overpower the natural sweetness of the fresh fruits, which I believe is thanks to their method of cold brewing. I also liked how it's a healthier alternative to bubble tea, and I don't have to feel guilty when drinking something sweet.
Less tannins are released during the cold brewing process, so their teas don't dry your mouth out with the siap siap feeling, giving off a more refreshing aftertaste. Plus, as cold brewed tea has half the caffeine content of regular hot tea, I never have to worry about sleepless nights.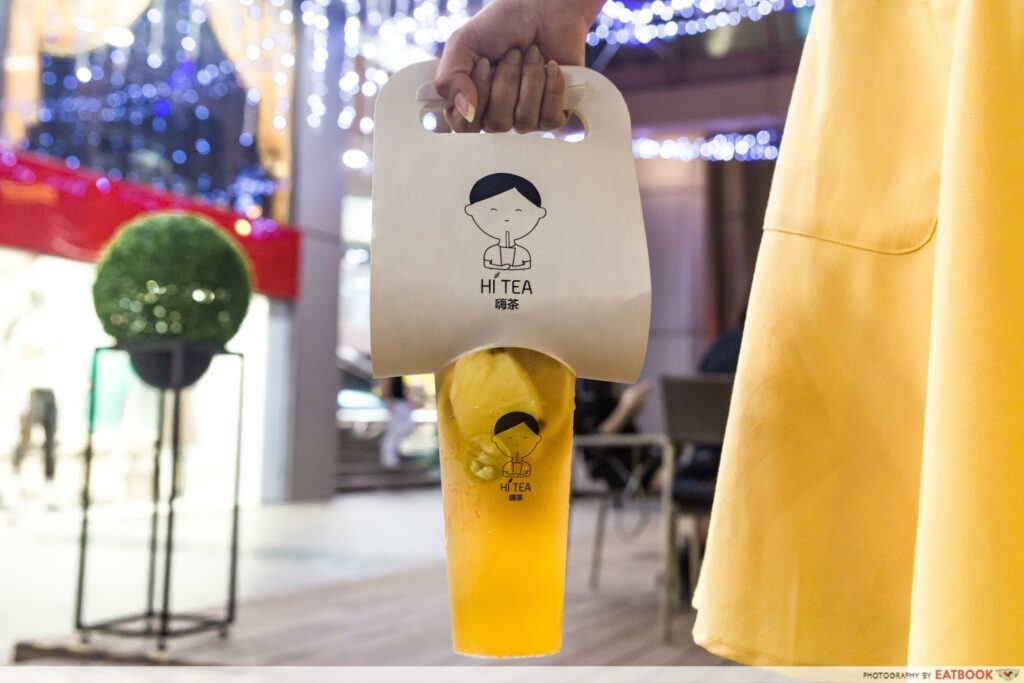 Their drinks are packed in a spiffy carrier for takeaways, so you won't fumble around fearing your drinks will spill – something I always experience when carrying my drinks in plastic bags. Hopefully Hi Tea will open up more stores soon, because I can foresee myself craving their refreshing teas every sunny day!
Address: 14 Scotts Road, #01-14B, Far East Plaza, Singapore 228213
Opening hours: Sun-Thur 11:45am to 10pm, Fri-Sat 11:45am to 10:30pm
Tel: 9339 2822
Website
This article is brought to you by Hi Tea.
Summary
Pros
– Fresh fruits used
– Teas are cold brewed giving a more delicate taste
– Friendly staff
– Pretty packaging
Cons
– Outdoor seating currently not sheltered
Recommended Drinks: Watermelon Snow ($4.80), Rockmelon Ice ($5.20), Mix Fruit King ($5.80) and Cream Cloud Oolong ($4.20)
Tel: 9339 2822
Operating Hours:
Sun-Thur 11:45am to 10pm, Fri-Sat 11:45am to 10:30pm
Address: 14 Scotts Road, #01-14B, Far East Plaza, Singapore 228213