73@Hillcrest at Bukit Timah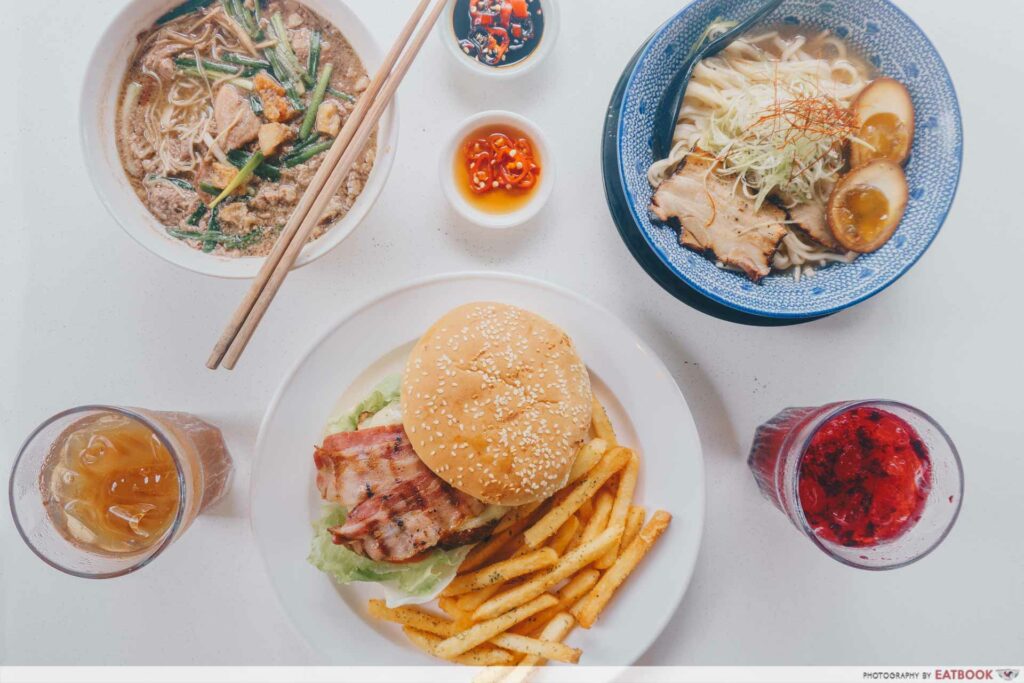 We are always on the lookout for hidden gems. As an Eastie, I admit that I have not travelled much to the West. However, hearing about a unique coffee shop-bistro bar in the heart of the Hillcrest residences, I knew I had to go and check it out.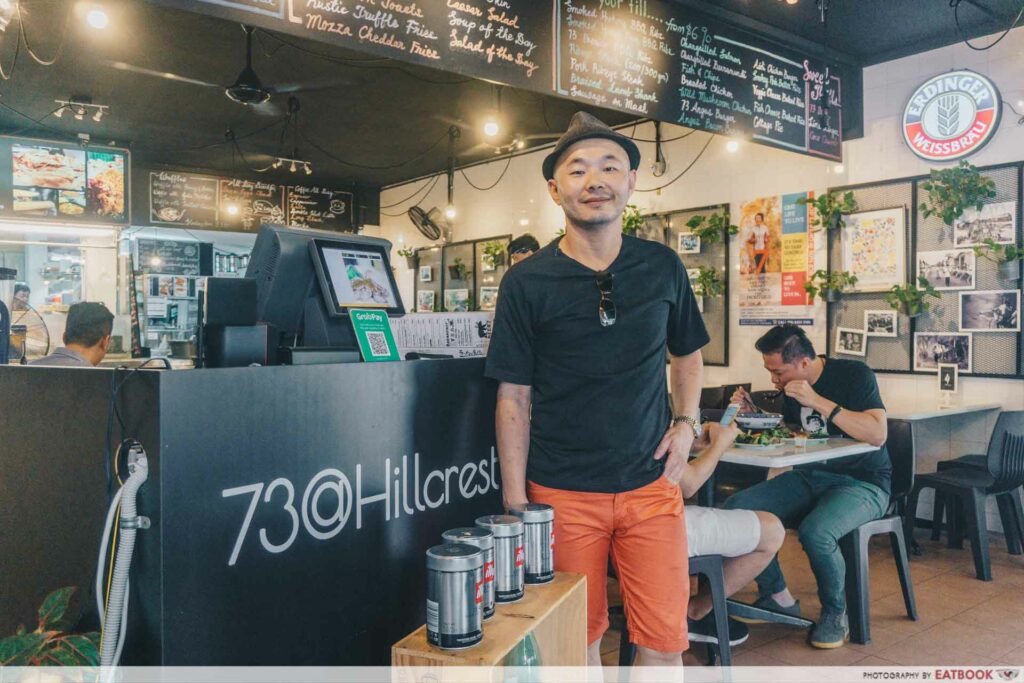 Opened just a little over two years, 73@Hillcrest is a humble coffee shop found in Bukit Timah. It is similar to a small-scale canteen, and the owner, Boon, brings in various vendors that specialise in different cuisines to give his customers variety.
There are currently four stalls in operation: a must-have drink stall and three food stalls serving Chinese fare, Japanese cuisine, and western delights.
Food at 73@Hillcrest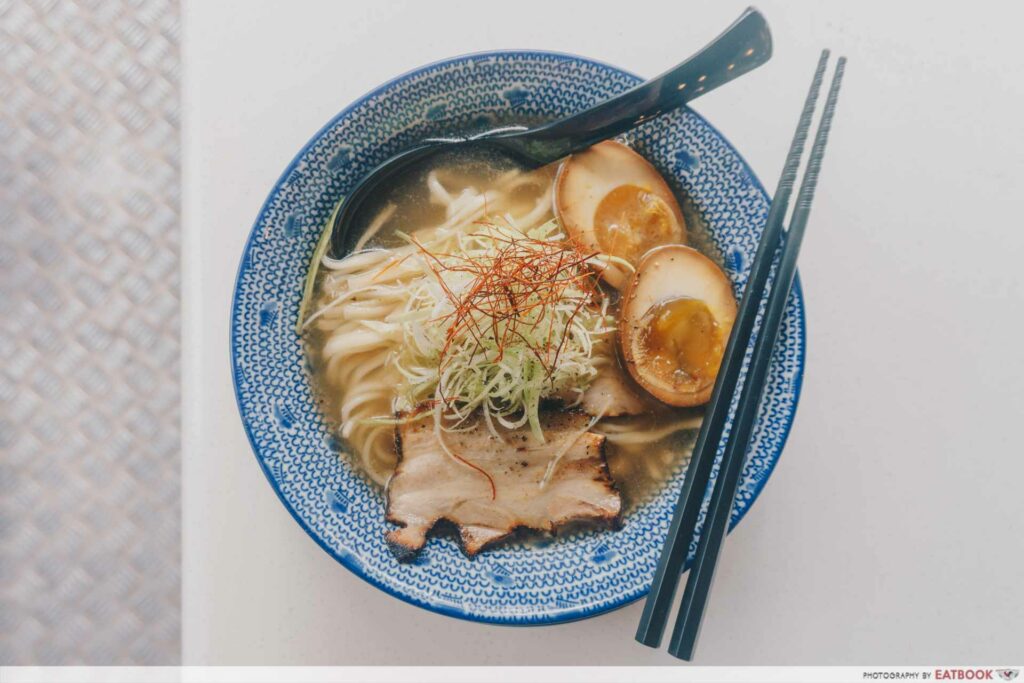 The Japanese stall is opened by the folks behind Enishi ramen, a Michelin Bib Gourmand winner from Kobe, Osaka. We decided to order the UMAMI Ramen with Egg ($12), which came with a ramen egg and two chashu pork slices. Upon closer inspection, we found that the dish is also topped with saffron and cabbage shreds.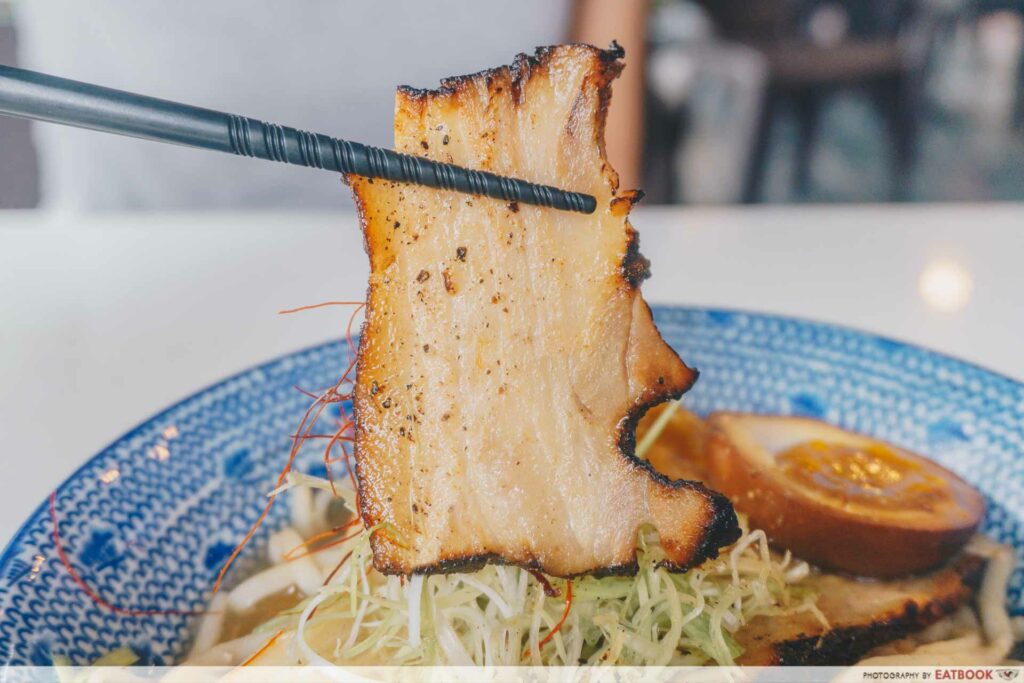 The chashu was big, with a good amount of meat-to-fat ratio. However, I did find the meat to be  too thinly sliced. I would have liked it to be thicker for a meatier flavour. Biting into it, the meat was easy to pull apart and soft. The charred edges also imparted a fragrant roastiness to each bite.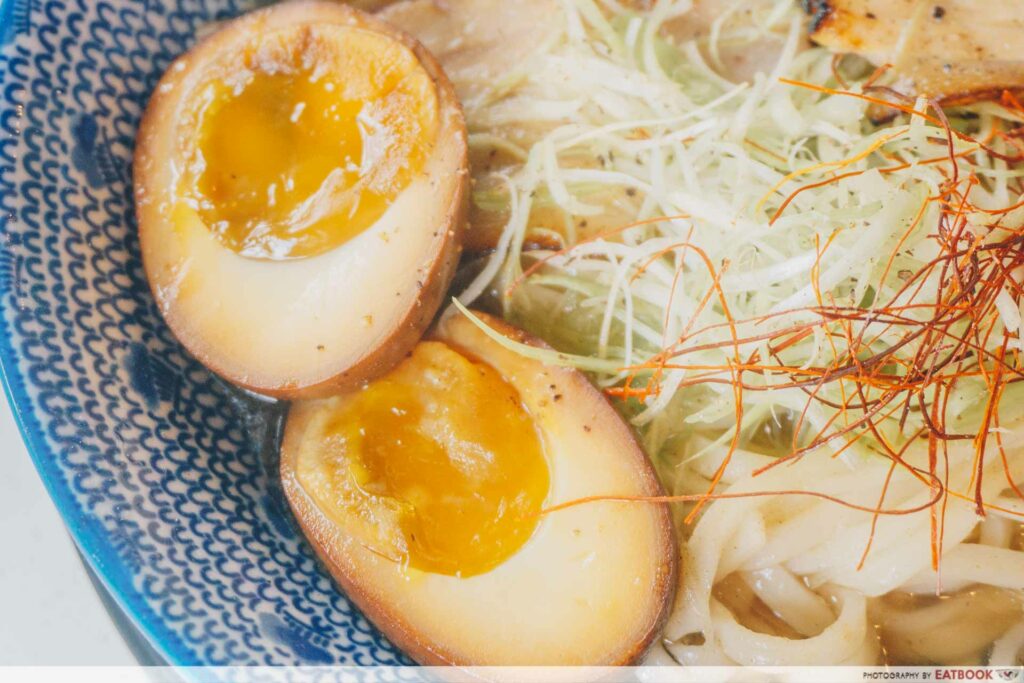 Whenever I order ramen, I always look out for the shoyu eggs. Stained brown with soy marinade, the gooey yolks were a glistening translucent yellow. It was perfect and I couldn't help but gobble it down within seconds.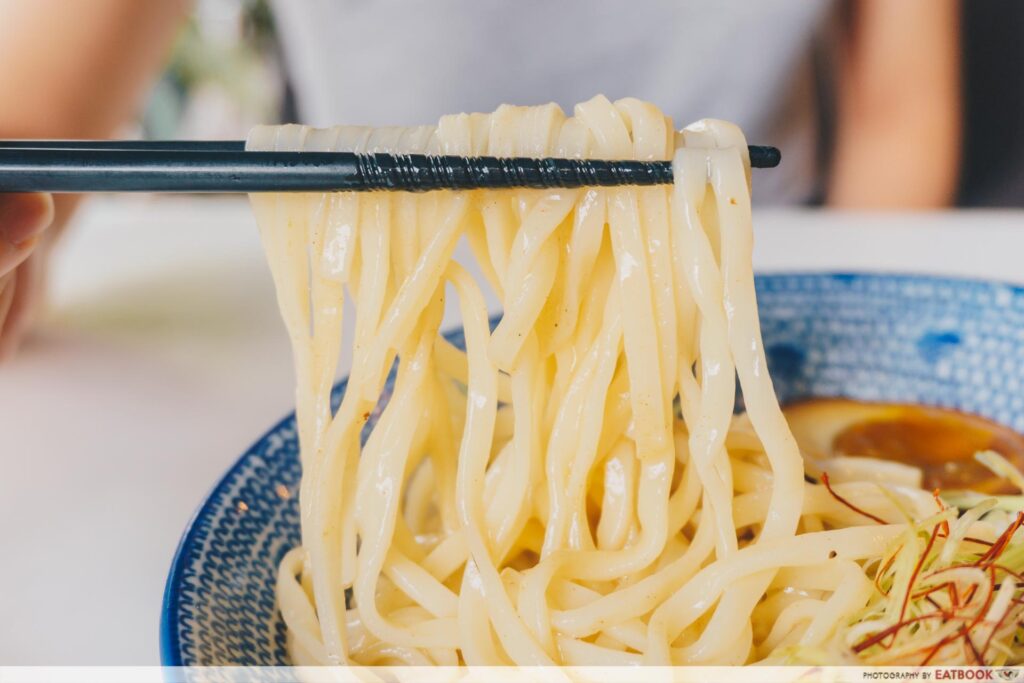 The noodles were a little thicker than your average ramen and was slightly overcooked. While some may prefer their noodles to be softer, I would have liked mine to have more bite to it. On its own, the noodles were a little bland and underseasoned.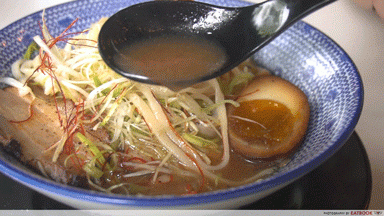 The broth was flavourful and not cloyingly oily. There was a slight sweet undertone to the soup, but none of that umaminess found in tonkotsu broth.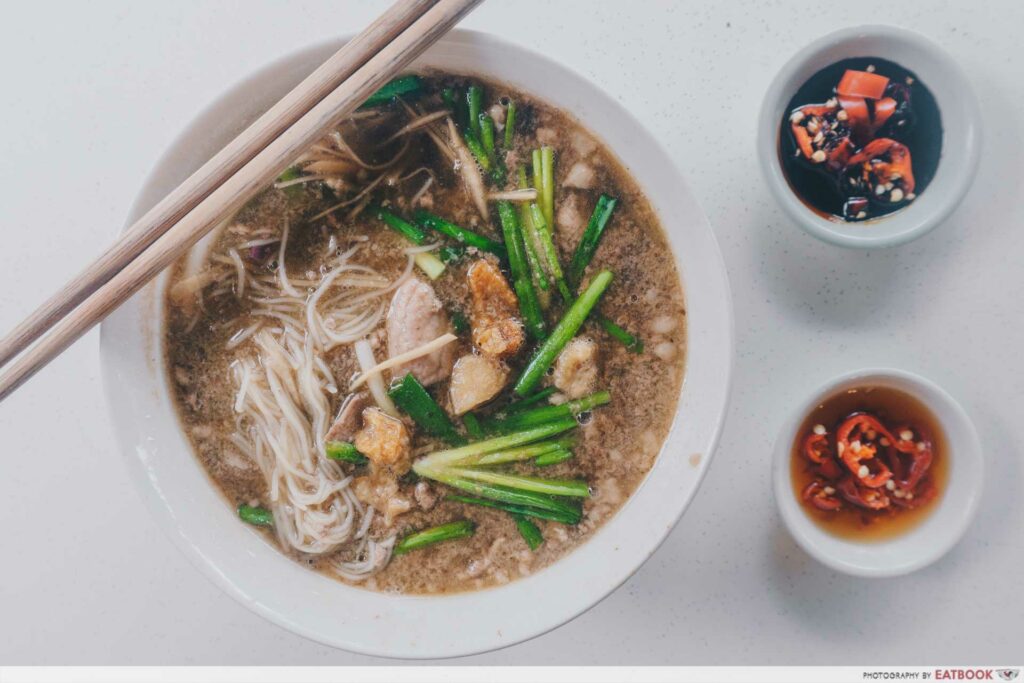 From the Chinese stall, we went for the Traditional Liver/Kidney Mee Suah ($7.50), or what most people will know as yo ji mee sua. For an additional $2.50, you can choose to add XO Cognac to your noodles.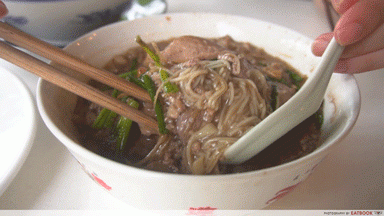 I gave the bowl a mix and slurped up the thin strands of mee sua in a slightly thick broth. The broth itself was earthy and rich, with a tinge of herbal taste.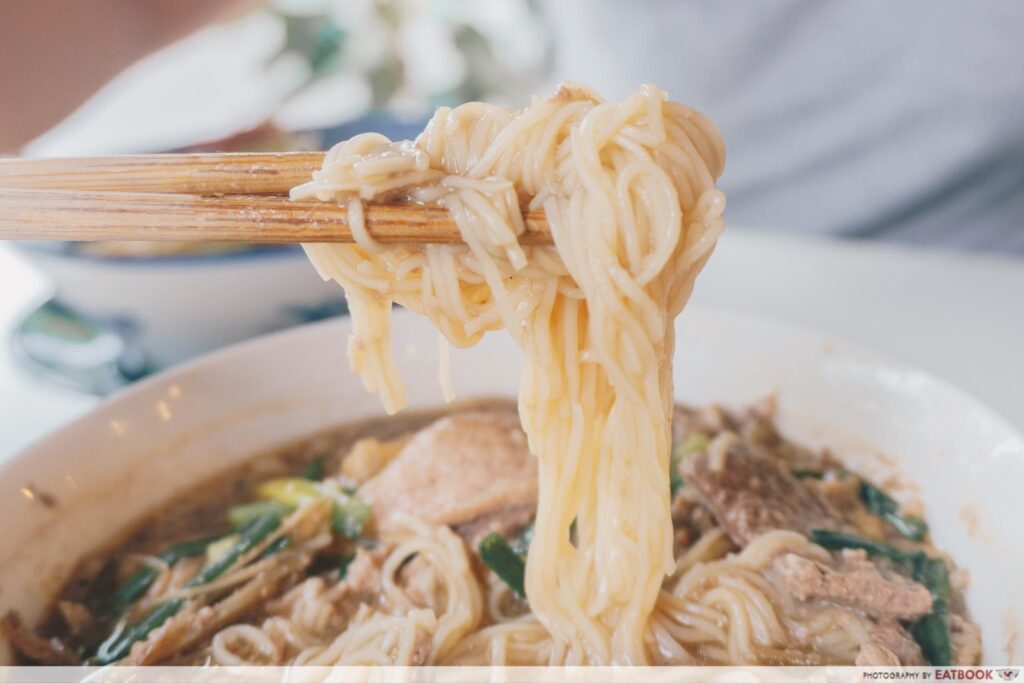 Personally, the noodles were too mushy for my liking. While some may enjoy how easy they disintegrate in your mouth, I found that the starchiness from the noodles was not particularly delectable.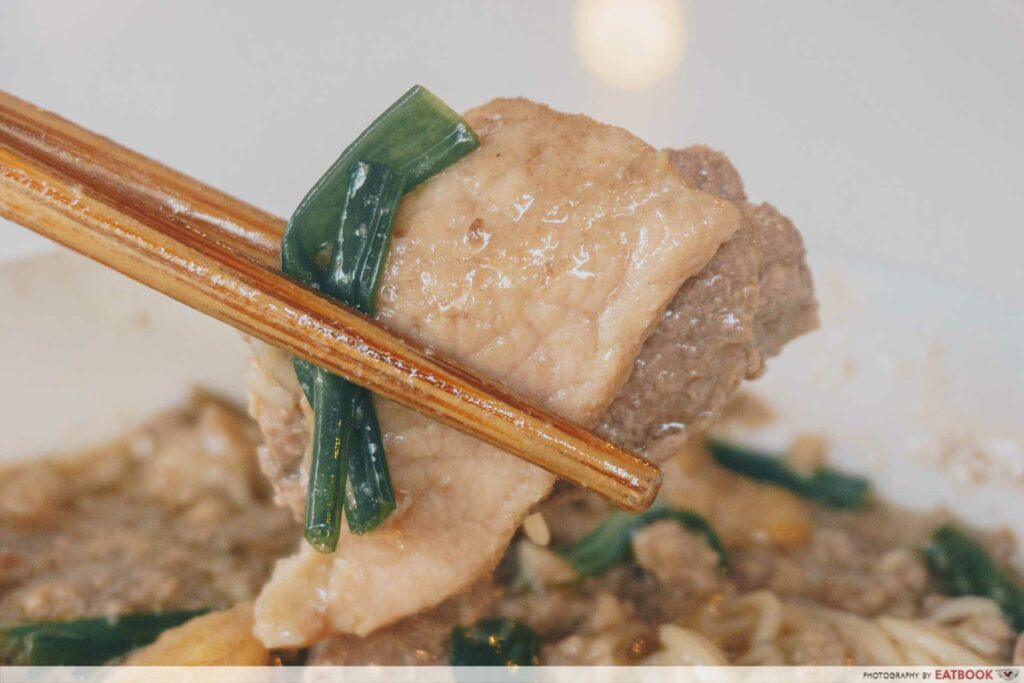 There was a generous serving of liver and kidney, and with every spoonful, I could pick up at least one piece of meat.
Truth be told, I'm not a huge fan of offal and was apprehensive about trying this dish.  The liver had a slightly powdery texture, and did not excite me to go for another bite. The kidney was tender and soft, and tantalised my palate better. If you are one of those who love offal, this may just be the dish for you.
Lastly, we ordered the Angus Bacon Burger ($13.90) from the Western food stall. Each burger order is served with a side of seasoned fries. For our bacon burger, we had a side of truffle fries served alongside.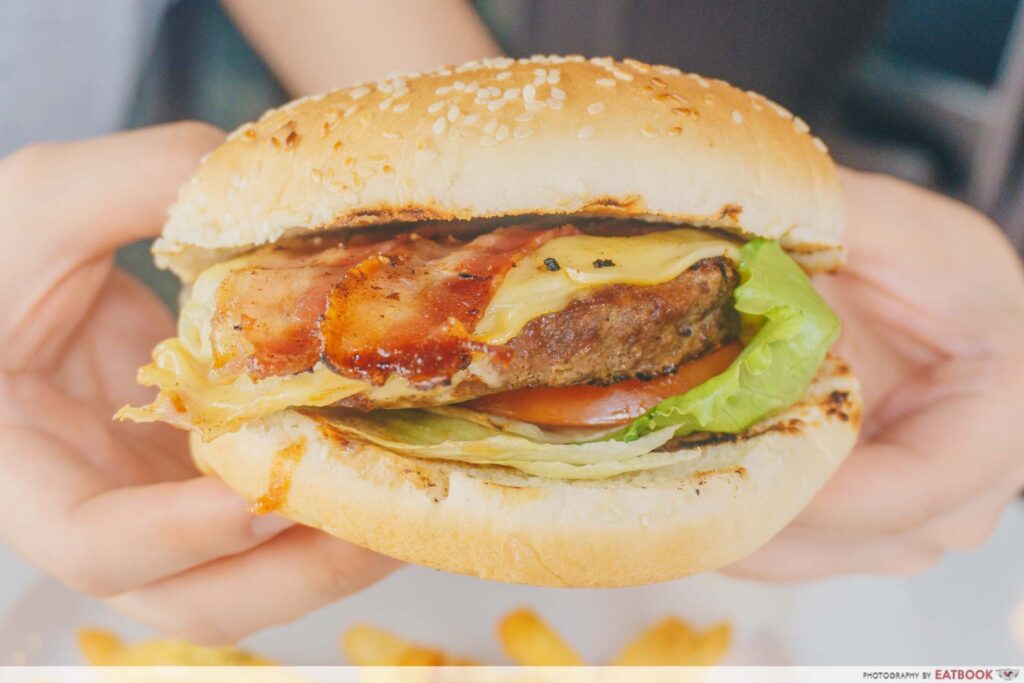 Encased between two buns was a juicy beef patty coated in honey rum sauce, two bacon strips, cheddar, lettuce and tomato.The chef made the effort to toast the buns first, giving it a nice charred grill marks on the inside of the burger buns. This left a crusty surface on the bun that added a slight smokiness to each bite.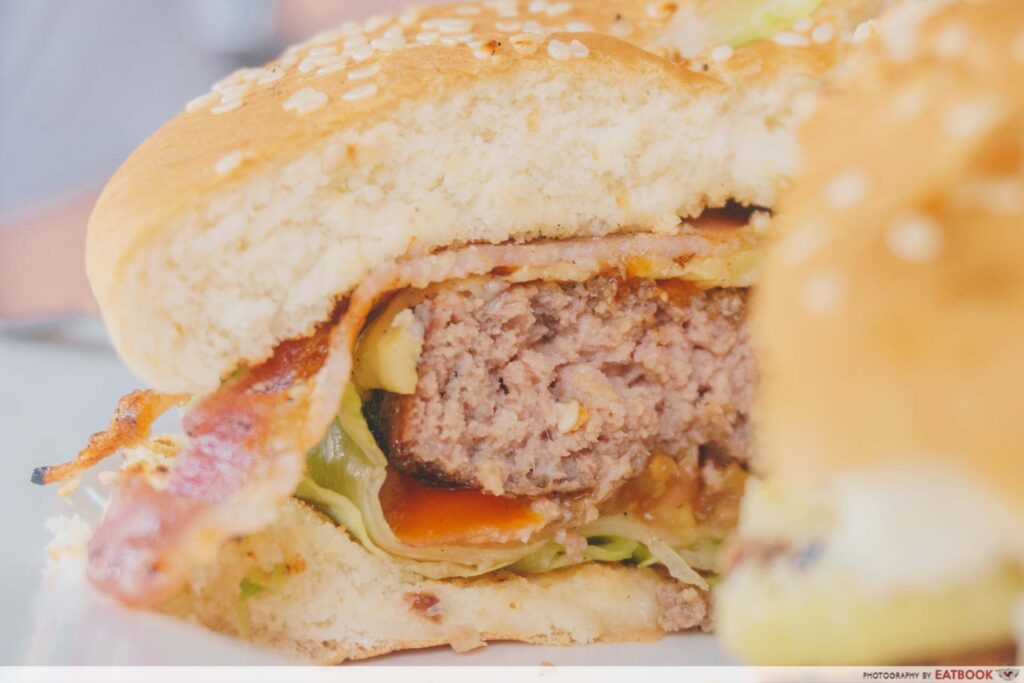 Slicing it down the middle, the slightly pink beef patty was juicy and moist. Biting into it, the burger was bursting with umami and was well-complemented by the flavours of all the other ingredients.
I was expecting the bacon to be hard upon bite, but it was soft and tore apart easily. I understood why the patty was slightly underseasoned, as the saltiness from the bacon strips would have made the burger too salty otherwise.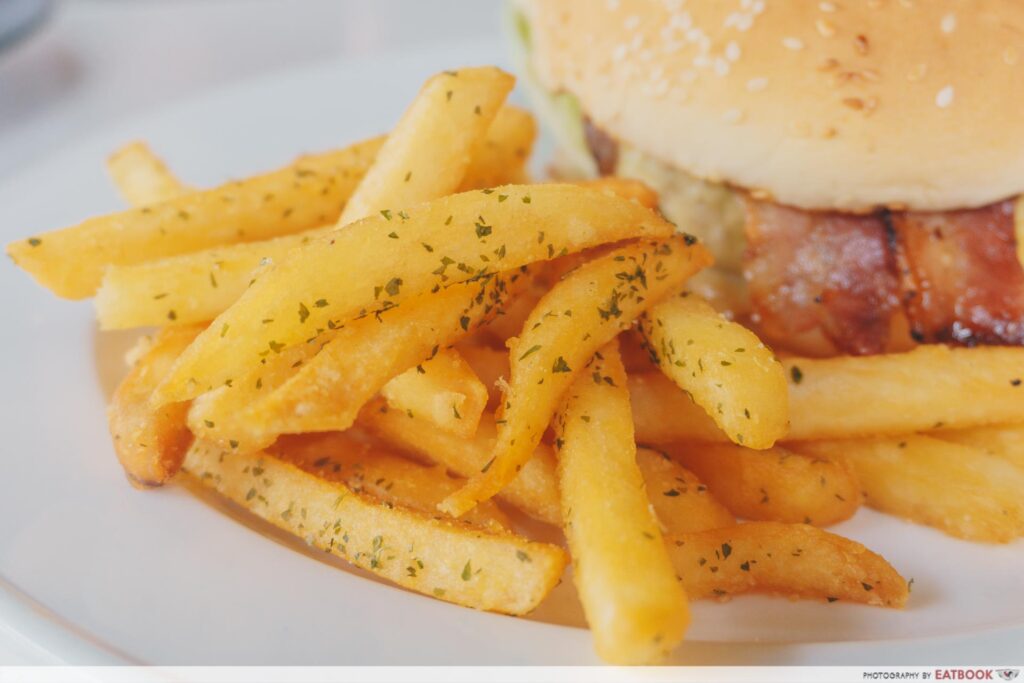 What I thought to be the Plain Jane of fries, left me pleasantly surprised. Crispy on the outside and soft of the inside, there was a strong truffle flavour that was not too overpowering. The fries were also seasoned with a hint of salt and parsley flakes, and was not overly greasy.
The owner recommends going for the 73 Burger ($17.50) for a more zhng-ed up version of the this burger. This order is the most popular order from the Western stall according to him.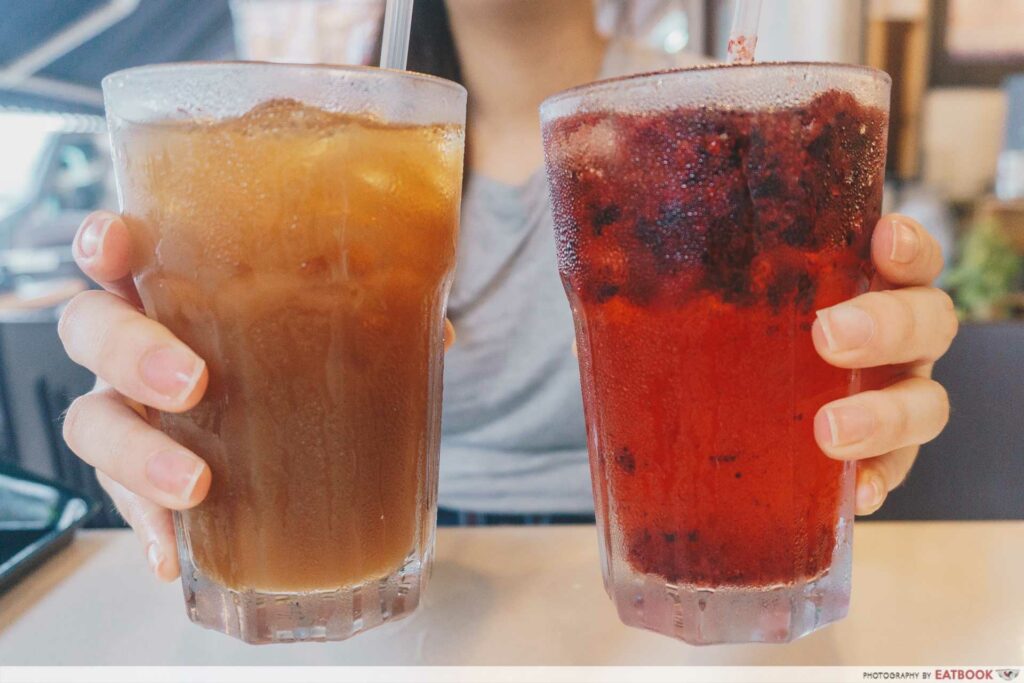 If you need a drink to go along your meal, order their Freshly Brewed Ice Lemon Tea ($3.20) or the refreshing Citrus/Blackcurrant Spritzer ($3.90). If you enjoy sour flavours, I recommend going for the latter. The drink left a zesty yet tingling bubbliness that went well with the food.
Ambience at 73@Hillcrest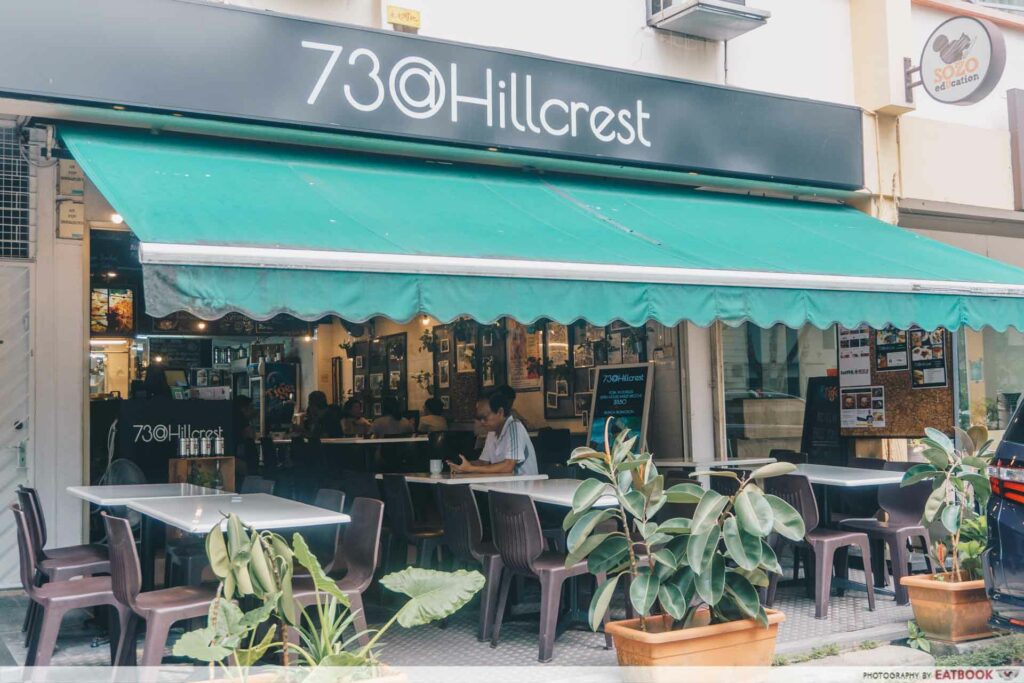 Nestled within a cluster of private houses, 73@Hillcrest is located in Bukit Timah, with the nearest MRT station being Tan Kah Kee. The walk from the station takes about a 15 minutes. Remember to carry along an umbrella with you if it rains on that day, as there are no shelters along the journey.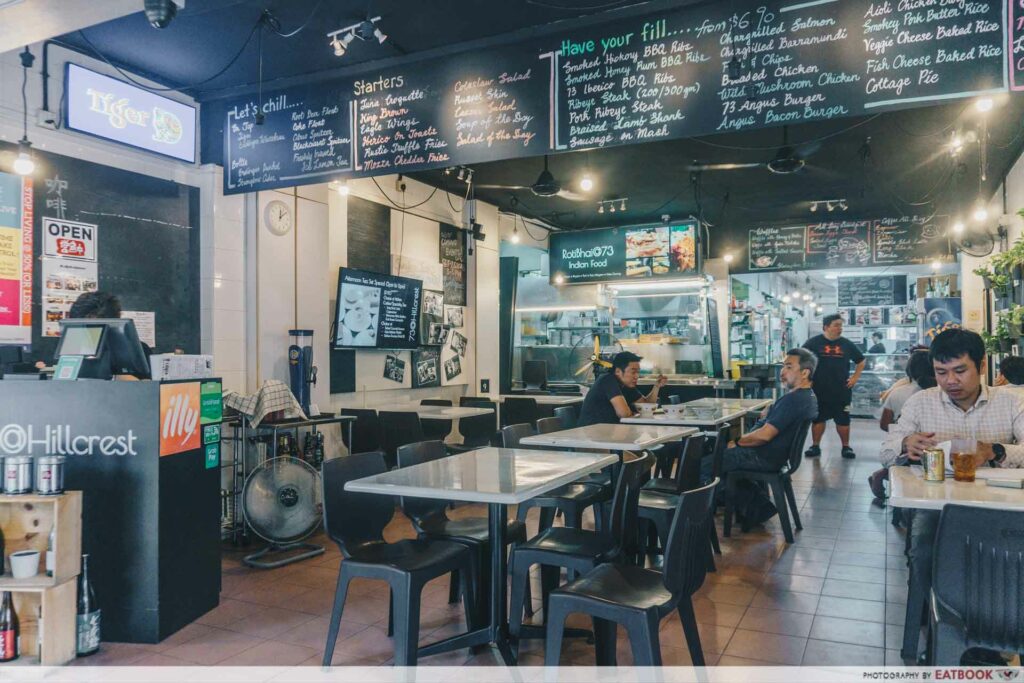 The coffee shop is brightly lit and clean. The menu was written with chalk on a blackboard, similar to those in many bars. With slow blues playing in the background, the shop gave off a chill and relaxed atmosphere. At night, the space turns into a bistro-bar, where folks can come here for beer and hearty western grub.
The verdict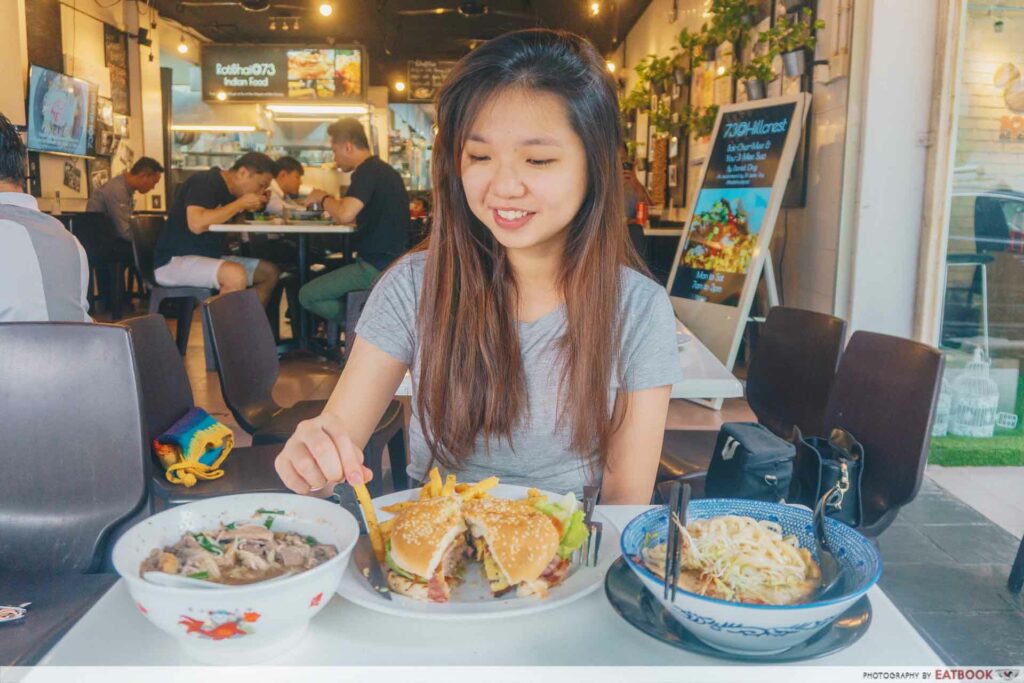 Whether you are craving for a hearty burger, a comforting bowl of ramen or just some good ol' mee sua, you will leave here feeling satisfied. On top of the wide selection of food available – from kid-friendly options to local favourites your grandparents would love – I liked how food here is kept simple and done well.
While the food may not be the best I've had, the atmosphere is one that keeps people coming for more. During my meal, i noticed that all the staff members are very warm and friendly, and they make the effort to go beyond just being servers in an eatery, creating a very homely dining experience.
10 Bukit Timah Food Centre Stalls To Visit After Your Bukit Timah Hill Hike
Address: 73 Hillcrest Road, Singapore 288945
Opening hours: Mon-Thur 12pm to 10:30pm, Fri 12pm to 11pm, Sat 8:30am to 11pm, Sun 8:30am to 10:30pm
Tel: 9694 5888
Website
73@Hillcrest is not halal-certified.
Photos taken by Ho Jing Yi.
This is an independent review by Eatbook.sg.
Summary
Pros:
– Juicy beef patty
– Wide selection of food choices
Cons:
– Inconvenient location
Recommended dish: Angus Bacon Burger ($13.90)
Opening hours: Mon-Thur 12pm to 10:30pm, Fri 12pm to 11pm, Sat 8:30am to 11pm, Sun 8:30am to 10:30pm
Address: 73 Hillcrest Road, Singapore 288945