---
Hokkaido snacks for your midday hunger pangs
---
There's a plethora of great cities to visit in Japan. Tokyo and Osaka are the vibrant, urban hubs of the nation, while Kyoto is considered by many as cultural capital. 
But when it comes to a more laid-back and scenic holiday destination, Hokkaido is hard to beat. Japan's northernmost island boasts sprawling ski slopes, picturesque onsens and delectable  food, making it a beautiful vacation spot.
With the summer break nearly over and December still painfully far away, booking a plane ticket to Hokkaido right now isn't a realistic prospect for most of us. However, you can still treat yourself to amazing authentic snacks at the Summer Hokkaido Fair by Meidi-Ya Japanese Supermarket at Great World City Atrium, level 1.
From now till 11 August 2019, this specially curated fair will exhibit a wide selection of exclusive Hokkaido products, accompanied by a showcase of premium Dassai sake. We've compiled a list of 8 must-try snacks from the fair to whet your taste buds and give you a peek into what Meidi-Ya's Summer Hokkaido Fair has to offer.
---
1. Rich snow cheesecake
---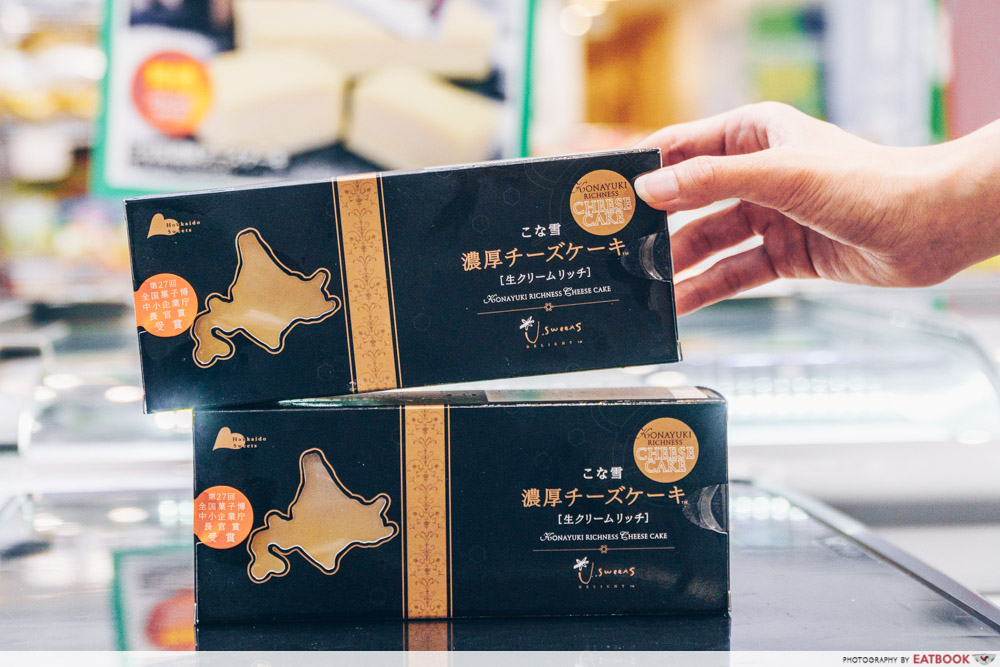 Hokkaido is well-known as a holiday destination with pristine, snowy slopes and idyllic ski resorts. While it's pretty hard to get that sort of weather in Singapore, you can evoke those snowy memories with Tashiro-ya's Rich Snow Cheesecake ($21).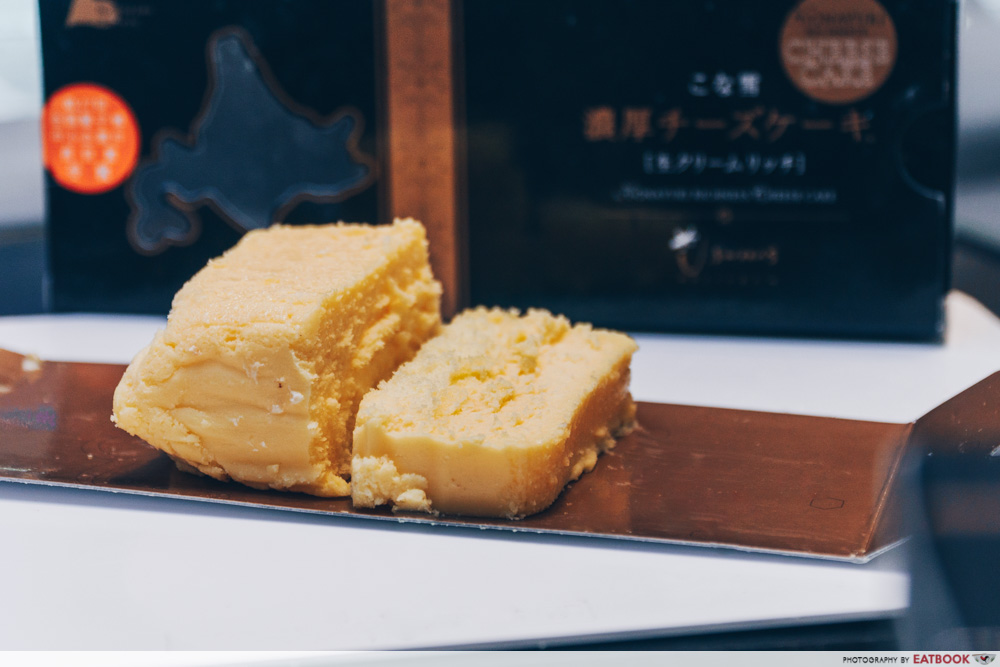 Most Japanese cheesecakes are light and fluffy but expect this cheesy confection to have a consistency that's a hybrid between the Japanese and American versions. That adds up to an airy yet velvety cake, bursting with luxe cream cheese flavour.
---
2. Hokkaido cheese pizza
---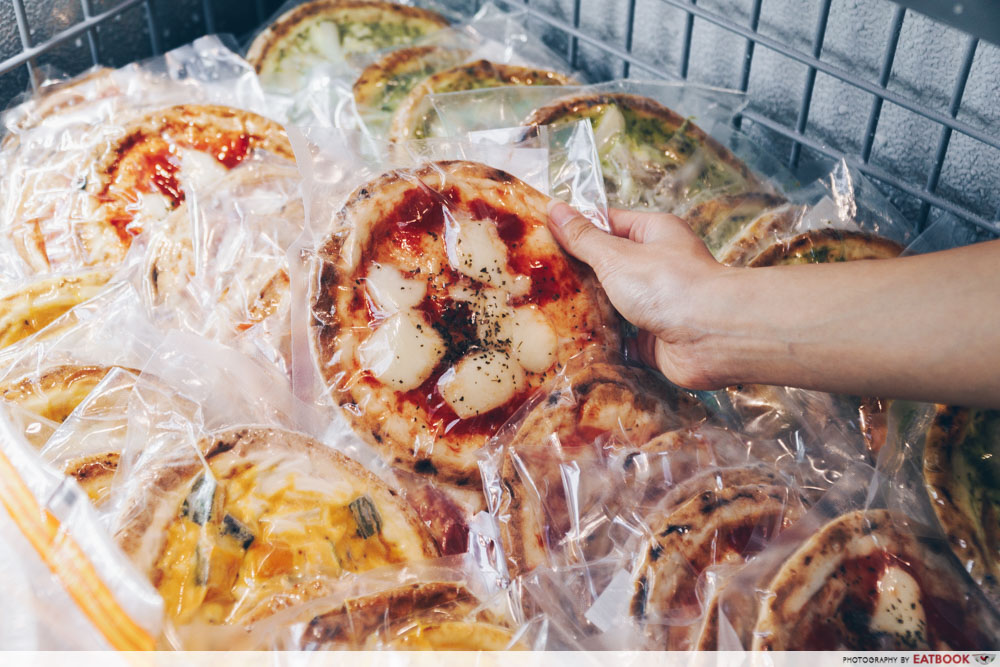 Milk is arguably Hokkaido's most famous export. Dairy lovers flock to products that use Hokkaido milk, from Hokkaido milk coffee to creamy soft serve. Real Hokkaido cheese is a little harder to find, but Il Pino highlights the Japanese product by slapping it on an Italian classic—pizza. If you didn't already know, IL Pino is a famous restaurant in Hokkaido that serves up scrumptious pizzas made with Hokkaido cheese and Hokkaido flour. 
Their Hokkaido Cheese Pizza ($16) amps up the traditional Margherita with a heavy dose of pristine Hokkaido cheese, giving the pizza a more delicate finish than their Italian counterparts. As Margherita pizza is all about cheese and tomato sauce, this simple frozen meal is the perfect chance for Hokkaido cheese to take centre stage.
---
3. Shiroi Koibito
---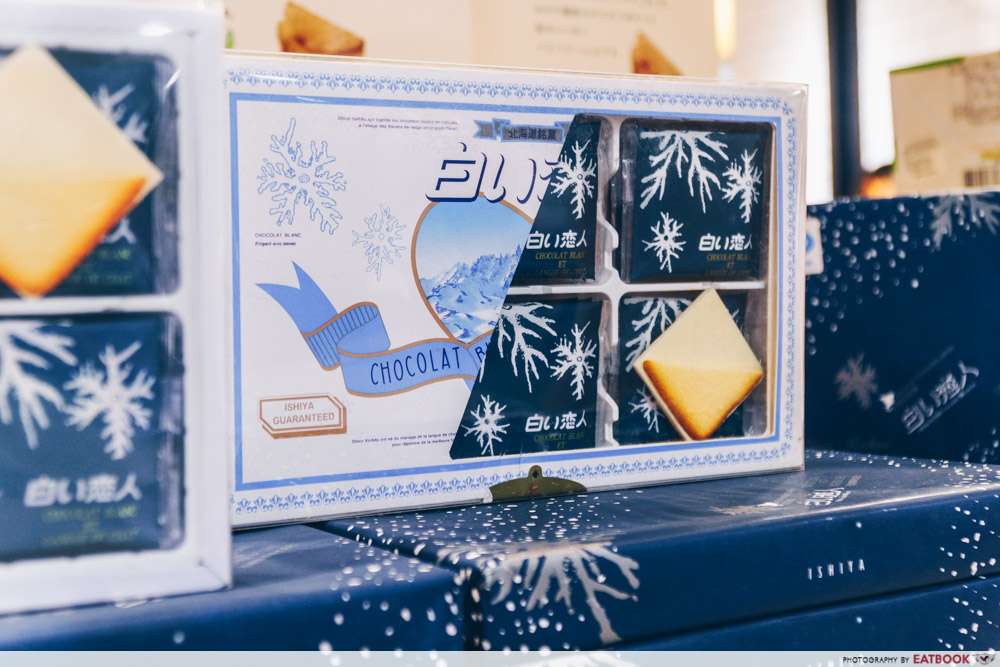 These addictive sandwich biscuits are an instantly recognisable Japanese confectionery, but most Singaporeans will likely be hard-pressed to nail their official name—Shiroi Koibito ($25.50 for 18 pieces), loosely translated as "white lover". This lovely cookie is a Hokkaido icon and Japan's most popular souvenir. It consists of a thin sheet of creamy white chocolate, sandwiched between two langue de chat (cat tongue) biscuits.

Many rip-off brands are available in the market, but those on offer at this Hokkaido fair are by Ishiya Seika, the O.G. creator of this famous cookie. Considering they're famous enough to be the main sponsor of Sapporo's football team, we wouldn't doubt the quality of these elegant snacks.
---
4. 3 colours bento
---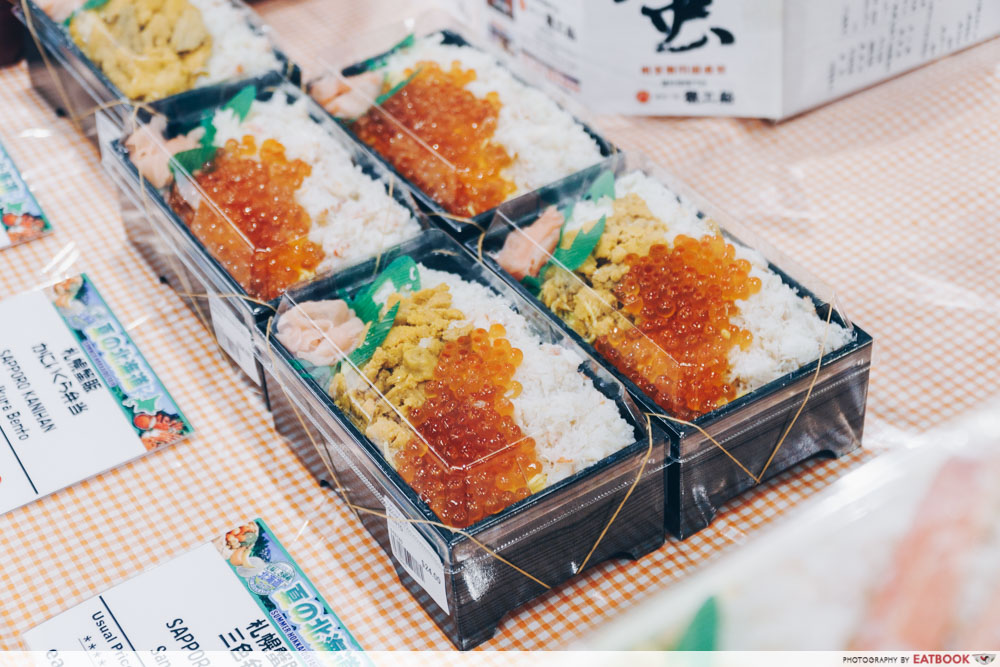 Head to the sushi section of many supermarkets in Singapore and you'll find a wide selection of bento and chirashi bowls. This 3 Colours Bento ($24) is unlike any other supermarket bowls on offer, boasting swathes of ikura (salmon roe), uni (sea urchin) and kani (crab), resulting in a tri-toned orange treat.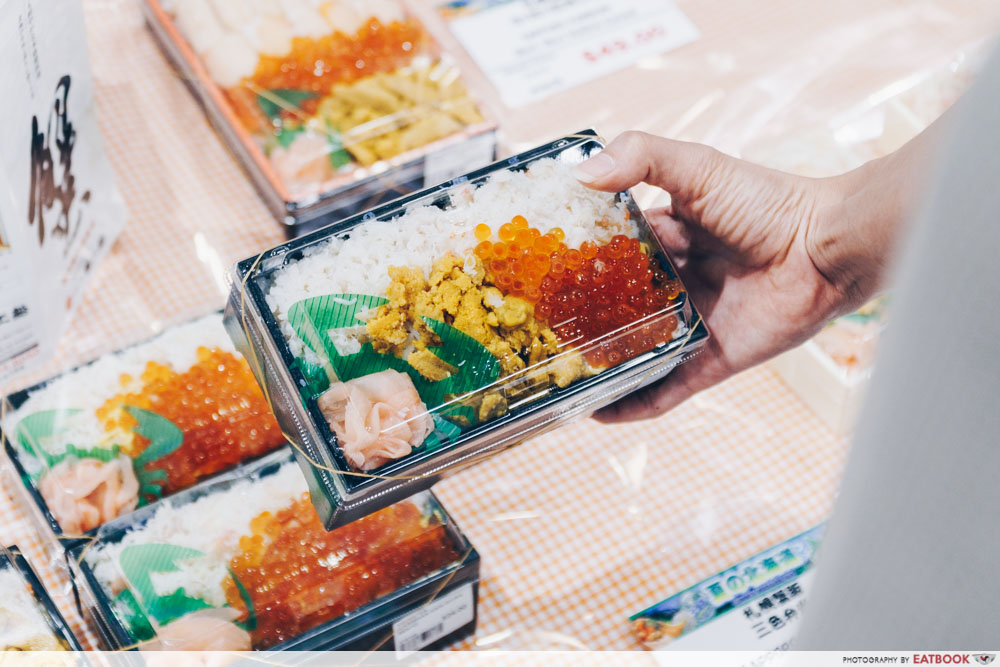 The kani is Hokkaido's most renowned seafood. Marked by their especially spiny shells, these Japanese crustaceans have exceptionally flaky and sweet meat. Briny spheres of ikura and the luxurious oceanic flavour of uni complete this truly premium supermarket bento.
---
5. Apple pie
---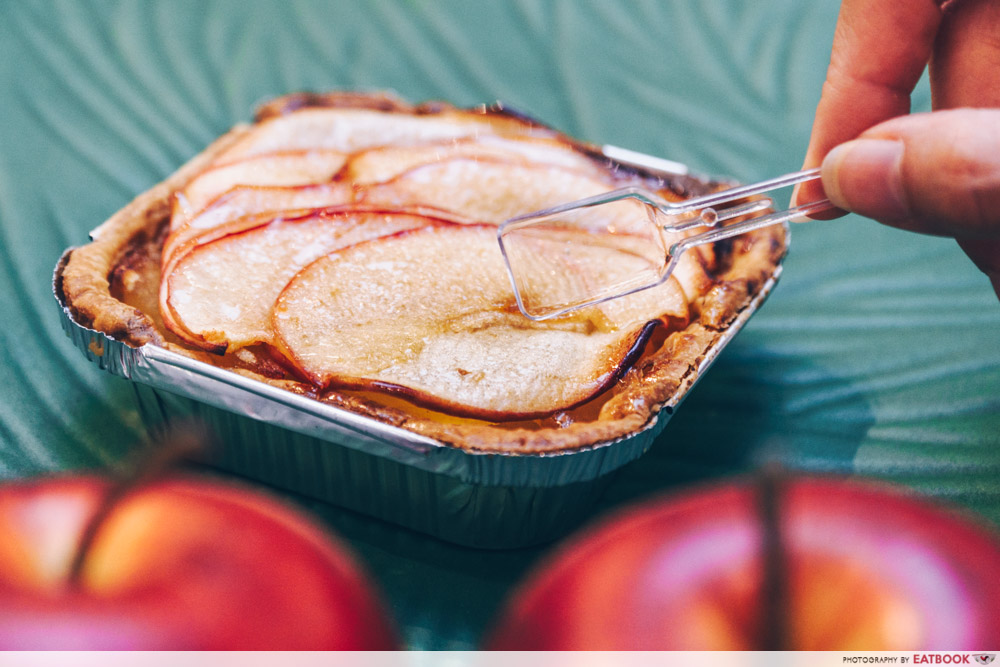 Made in Hokkaido, this Apple Pie ($9.20) from Tsuboya stuffs overlapping slices of ripe red apples from Japan into a thin pastry crust, letting the fruit's natural sweetness hog the spotlight. It's as easy on the eye as it is delicious, as the thin layers of caramelised apple overlap alluringly to form a pretty ripple pattern.
---
6. Melon & Berry sandwich cookies
---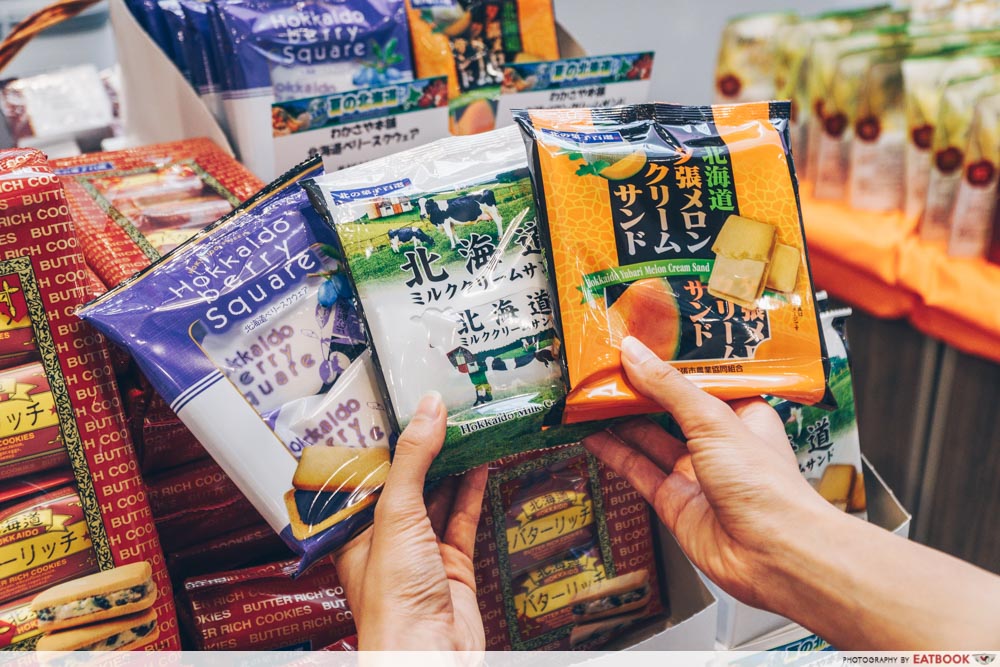 Shiroi Koibito isn't the only biscuit Japan has to offer. Wakasaya takes the classic sandwich cookie ($4 each) formula and spruces it up with flavours such as berry and melon, adding a fruity dimension to your snacking exploits. We're particularly interested in the melon variant, which boasts the invitingly syrupy flavour of Japanese honeydew.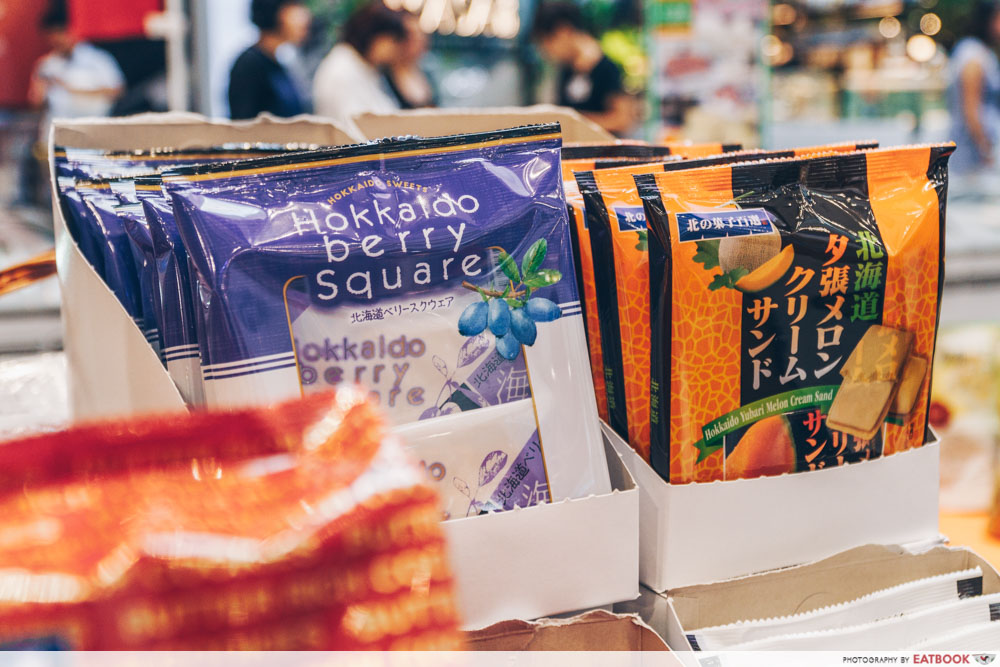 The Japanese confectionery also has a line of milk and potato cheese cookies, which flaunt a crumbly texture similar to French sablés (round shortbread cookies).
---
7. Fruit jelly
---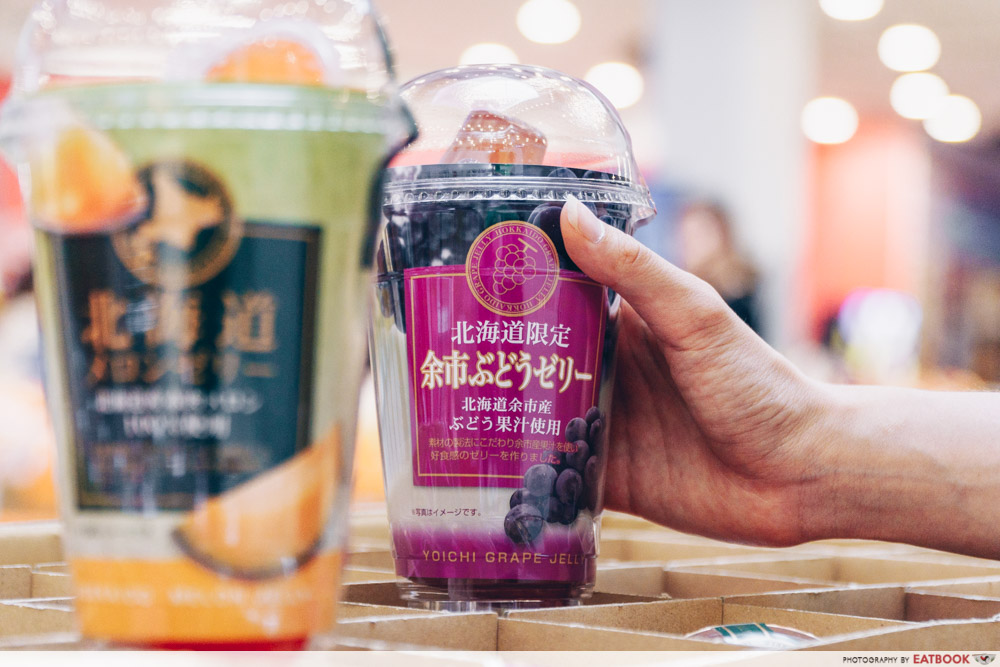 Jell-O may be one of my favourite nostalgic after-school snacks, but North Cleer does a better rendition of the beloved jiggly treat by eliminating any artificial, cloying flavours. Their melon and grape jellies ($5.90) provide that same throwback satisfaction as Jell-O. However, they rope in genuine fruity flavours to make a treat that suits both parents and kids alike.
---
8. Hokkaido fries
---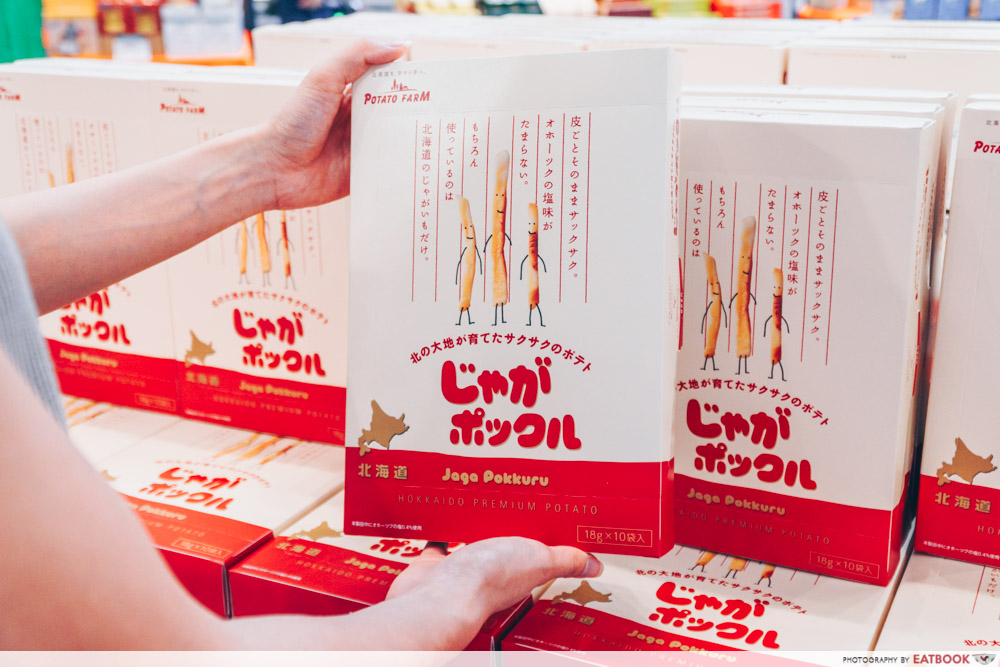 Calbee is prolific in the snacking scene, known for churning out affordable and addictive snacks such as Hot & Spicy chips and Jagabee. Their Jaga Pokkuru ($19.80 for 10 packets) looks like any other potato stick snack, but these crunchy batons are crafted from 100% Hokkaido potatoes.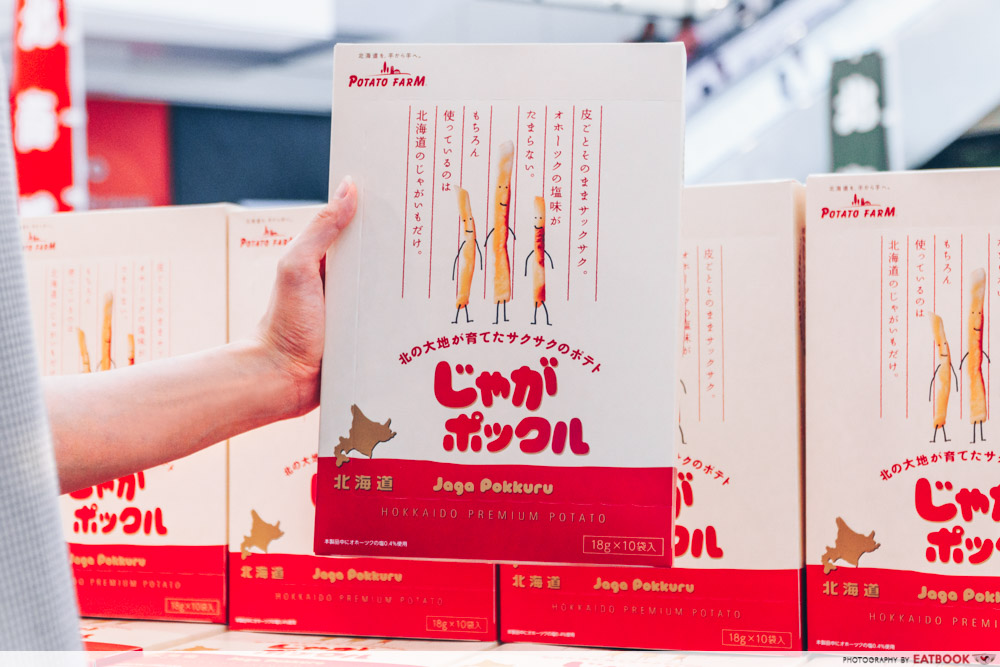 They undergo a strict quality control process before being seasoned with roasted salt from the prefecture's Okhotsk district. All that effort adds up to cracker-crisp sticks that are imbued with subtly smoky and salty notes.
---
Hark back to snowy slopes with these Hokkaido snacks
---
Every Japanese city has a distinctive cuisine and culinary speciality. This is just a taste of what the Summer Hokkaido Fair has to offer. Expand your knowledge on Japanese snacks beyond Tokyo Banana by heading down to Great World City to experience the full spectrum of Hokkaido delicacies.
The fair isn't limited to food either. Abrakadoodle Arts Studio at #03-104 of Great World City is curating Sakura art jamming sessions in conjunction with this fair! 
For those buying two or more of the featured snacks above, 10 winners stand to win $60 Kuriya Dining vouchers each! Simply submit your entry here after making your purchase to qualify for the lucky draw. 
Sign up as a Great V-aap member and receive 600 points when you spend $60 in a single receipt at Meidi-Ya's Summer Hokkaido Fair too!
Lastly, from 1 to 31 August 2019,  score a $10 Challenger voucher and 300 points when you sign up as a Great V-aap if you are the first 500 readers to present this article at Great World City's information counter on Level 2! However, do note that terms and conditions apply. 
Stay up to date on the latest happenings and deals at Great World City by following them on their Instagram at @greatworldcitysg as well as their Facebook page.
Address: 1 Kim Seng Promenade, Level 1 Atrium, Great World City, Singapore 237994
Event dates: 29 July to 11 August, 10am to 10pm
Website
Photos taken by Sharlene Lau.
This post was brought to you by Great World City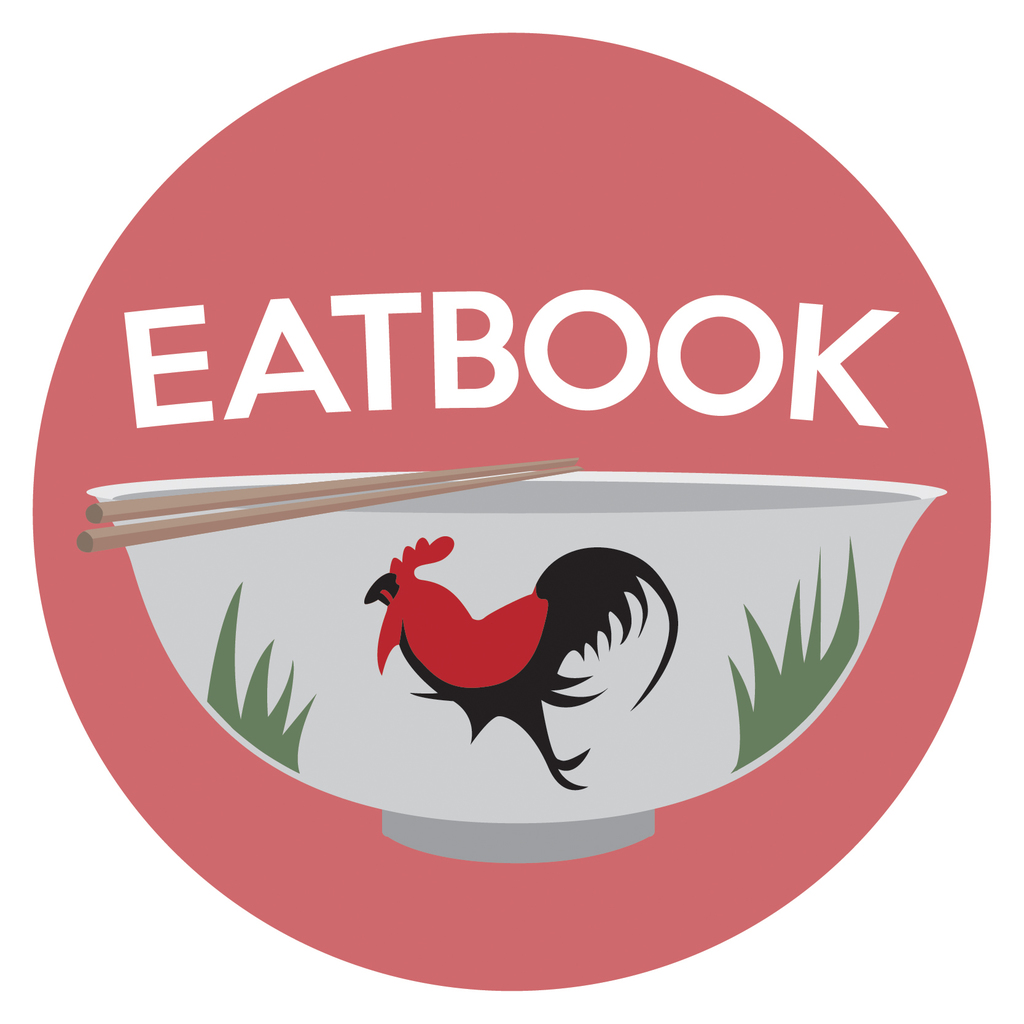 Drop us your email so you won't miss the latest news.