IRVINS Fish Head Curry Fish Skin
IRVINS is releasing its first non-salted-egg flavour: Fish Head Curry Fish Skin! Marrying their iconic fish skin chips with one of Singapore's popular dishes, the chips will be available for purchase at all IRVINS shops, online and offline, from 23 March 2020. Both local and international orders will be available online on the same date. 
At $8.50 for a packet weighing 105g, the Fish Head Curry flavour is priced $0.50 more than its Salted Egg forerunner.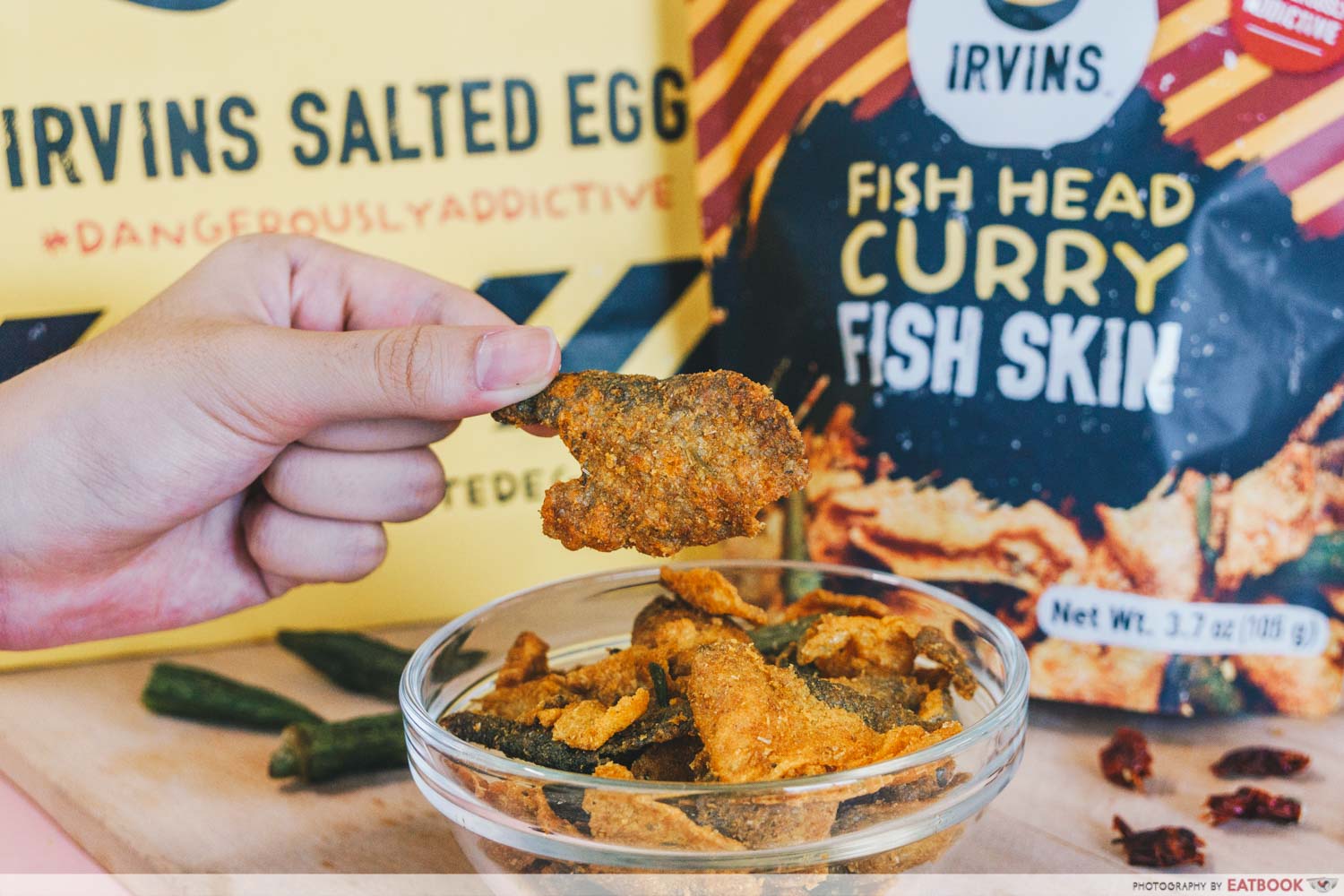 For a true fish head curry flavour that Singaporeans know and love, the chips will need to hit all the right notes of savoury, spicy, and tangy flavours. IRVINS' new chips showcase deep-fried fish skin tossed in a rich blend of aromatic fish head curry spices and topped with extra crispy okra chips. 
The chips in question are savoury and tangy indeed. I can taste onion, tamarind, ginger, and there are a few mustardy notes in the aftertaste. But there's something clearly missing. There's no spiciness! 
The level of spiciness is very mild. While that may help in levelling the snack across a wider demographic—young children, elderly, non-spicy food lovers, it might not impress IRVINS' voracious and long-time loyal fans. Considering the fact that the punchy flavours of the original salted egg yolk fish skin were what first roped people in, we have to say we weren't so blown away this time. 
That being said, the fried fish skin alone is still crispy and umami-packed, enough to keep us eating all the way to the end of the bag.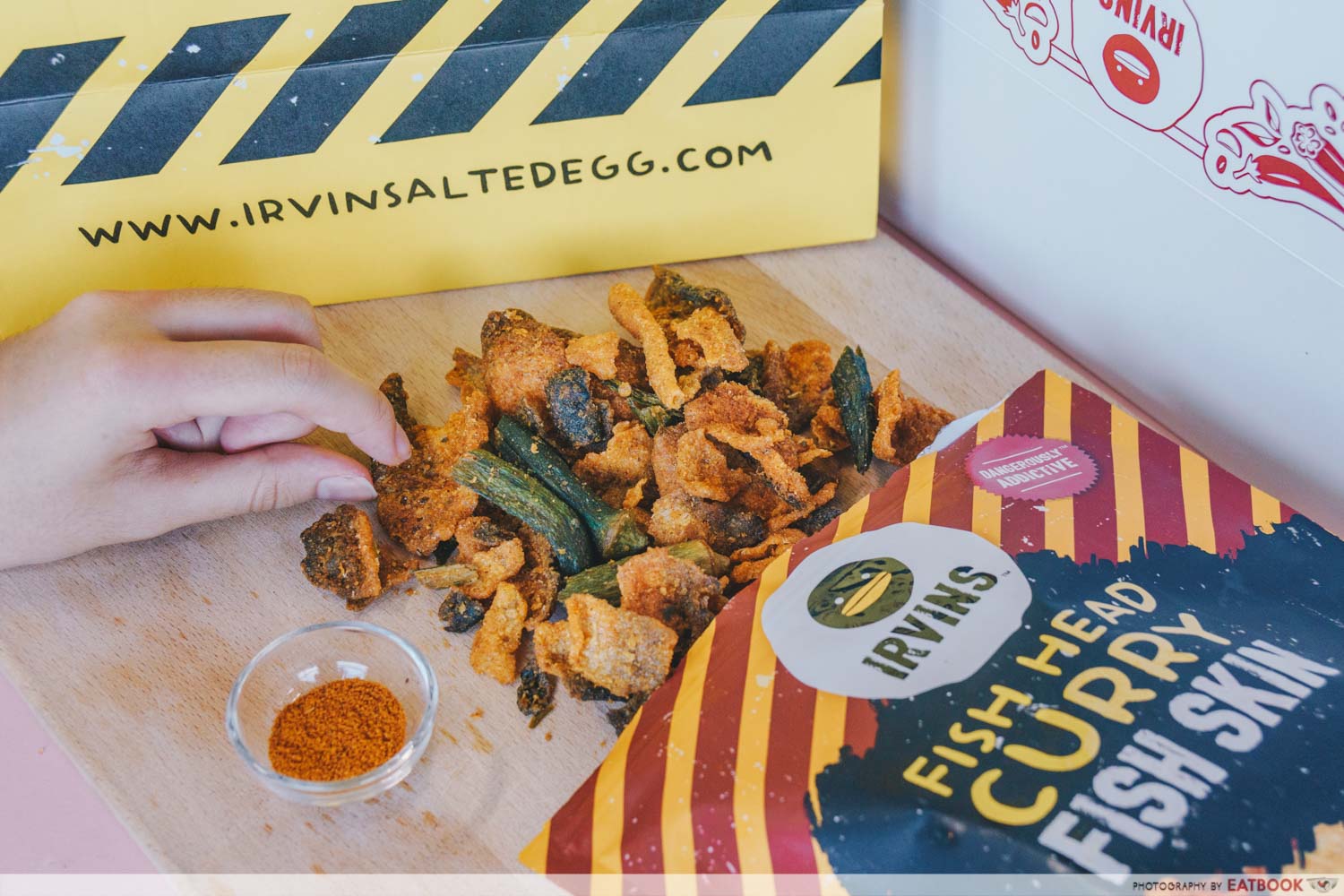 Making their new flavour fish head curry is a confirmation that IRVINS is likely to stick to their Southeast Asian roots for the time being. This makes us pretty excited about possible new flavours to come; we're hoping for chilli crab or even laksa fish skin to arrive. 
For members of IRVINS Danger Club, you'll be getting exclusive first dibs to the chips between 20 to 22 March 2020, where you'll be able to purchase them online or at any IRVINS outlet.

For more fish head curry, here's our review of Miki Kitchen, a restaurant with over 30 years of history. For more of IRVINS's food, check out our review of the savoury IRVINS rice bowls. 
IRVINS Now Has Truffle And Salted Egg Yolk Rice Bowls At Orchard
Photos taken by Chng Jia Yan.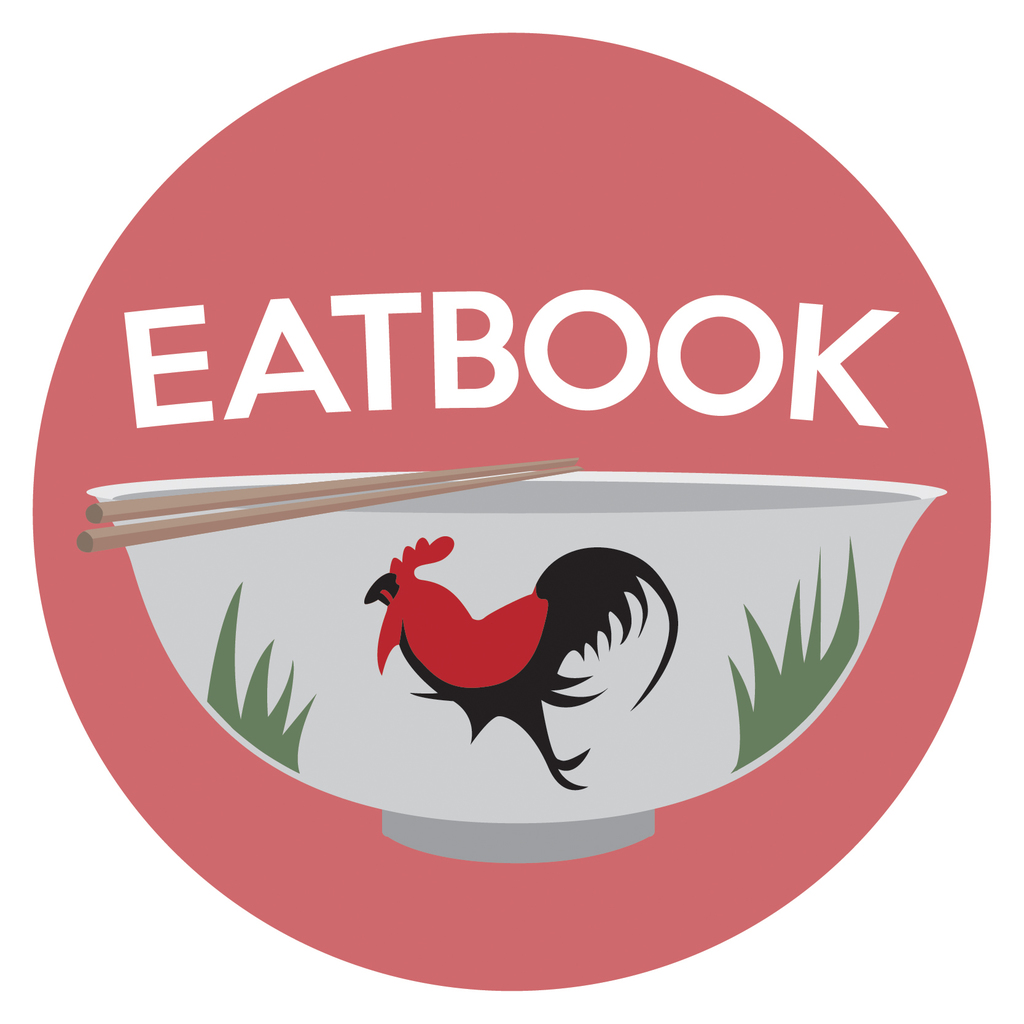 Drop us your email so you won't miss the latest news.