31 years of curry fish head at Miki Snacks
Update: Miki Snacks is now permanently closed.

It doesn't help with table manners but my dad often says, "Food must fight one, then nice to eat". Curry fish head definitely hits the A list of famous local dishes. It's a stew that groups can gather over, so the bigger it is the better. Still, there are only so many fish eyeballs I can snatch, so I'm either expressing love or being polite if I don't dig up the only one for myself. The size of the fish head, the gravy, and its price easily decides its worth, but if I get one with a buffet of textures, I know I'm getting ahead.
The one from Miki Snacks has been around since 1986 which means the zi char shop is one of the oldest businesses in the neighbourhood, along with Dona Manis. They've gone through the years starting as a humble eatery with only 10 items to choose from to their wide menu of affordable Cantonese and Thai-style zi char dishes. Head east for a feast with the fambam to chow down on what stood the test of time.
Food at Miki Snacks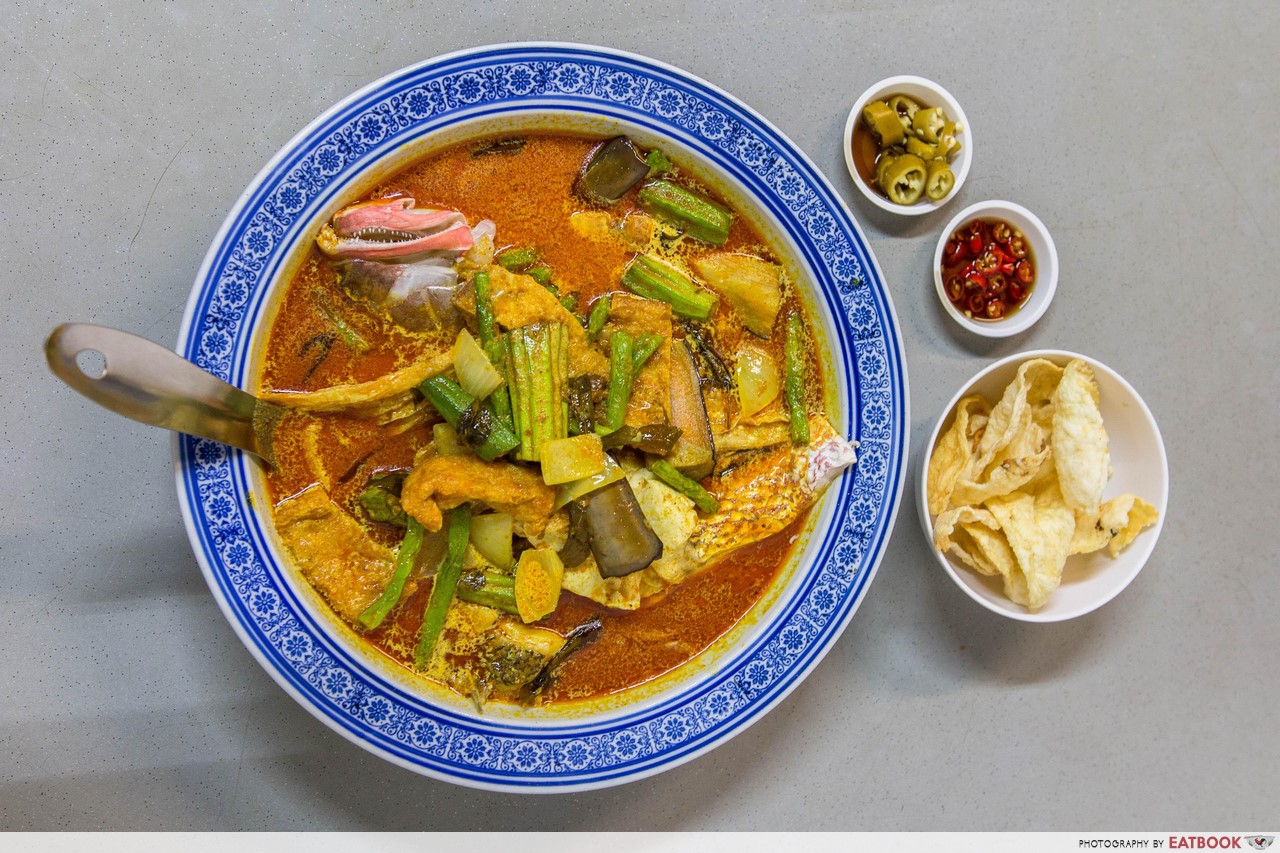 With three decades of history keeping it going, the first order of business had to be the signature Miki Curry Fish Head (from $24). To avoid waiting 20 minutes for it to be prepared, I ordered ours in advance with our phone reservation.
The aroma of fish curry wafted up as soon as it was set down in a heavy porcelain bowl with a side of belinjo crackers to accompany it. For a small portion, the fish head was so huge its lips peeked out of the curry. Plenty of tau pok, tau kee, brinjal, okra, long beans, white onions, and curry leaves, added to the generosity.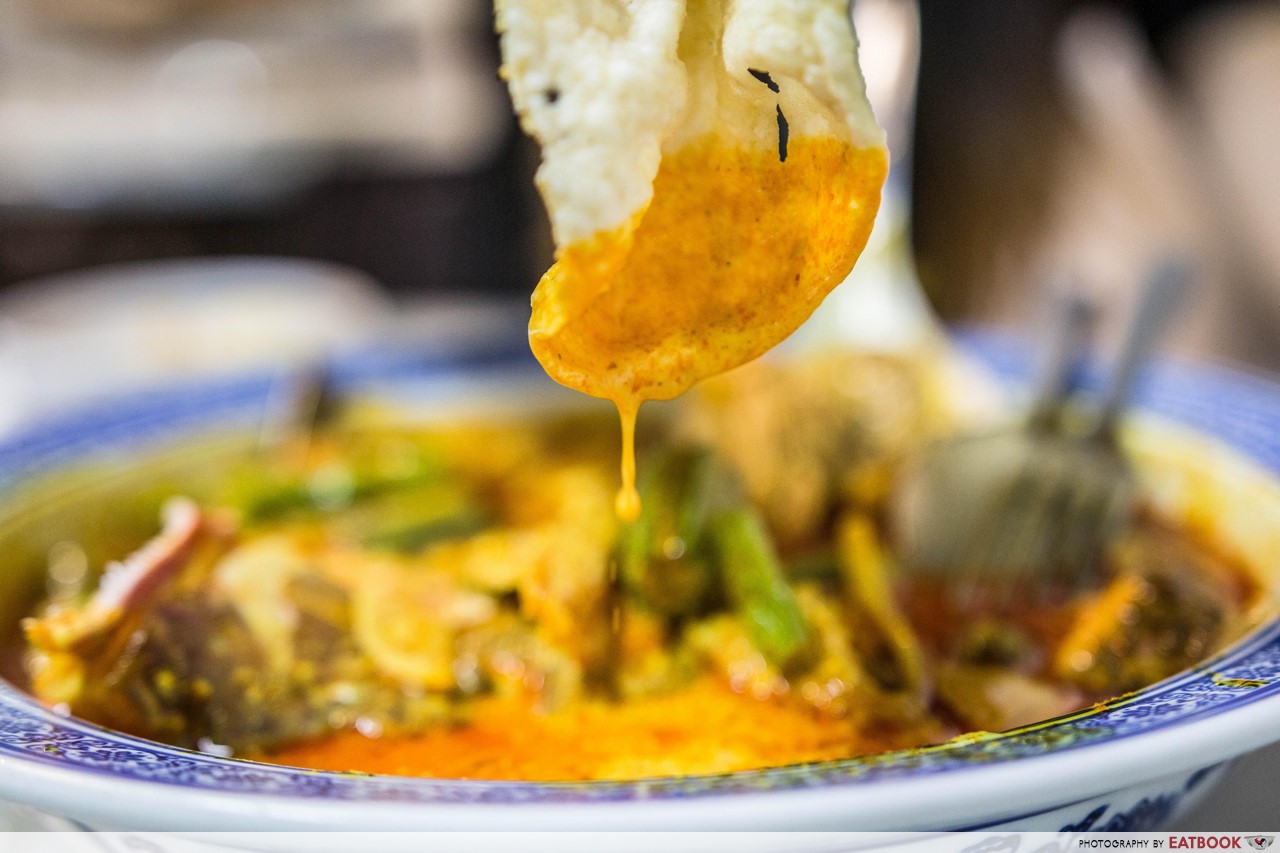 I like teasing my taste buds before tasting the star of the show. Before anything, I took a sip of the sauce and spiciness instantly hit my tongue. The gravy was deliciously rich with spices, smooth, and had a mild flavour of coconut milk. Its orangey-yellow hue had me expecting a creamy thick curry without much heat so this was a pleasant surprise. I usually slurp up my sauce like I'm drinking it and if you're like me, I'm telling you now this stuff wasn't jelak.
I dunked in a cracker with a tad of disappointment that there wasn't fried mantou on the menu. However, the slight bitterness of the crunchy chip blended with the spices adding a twist to the taste. It was light without being greasy, which also helped keep the plentiful gravy easy to enjoy till the end.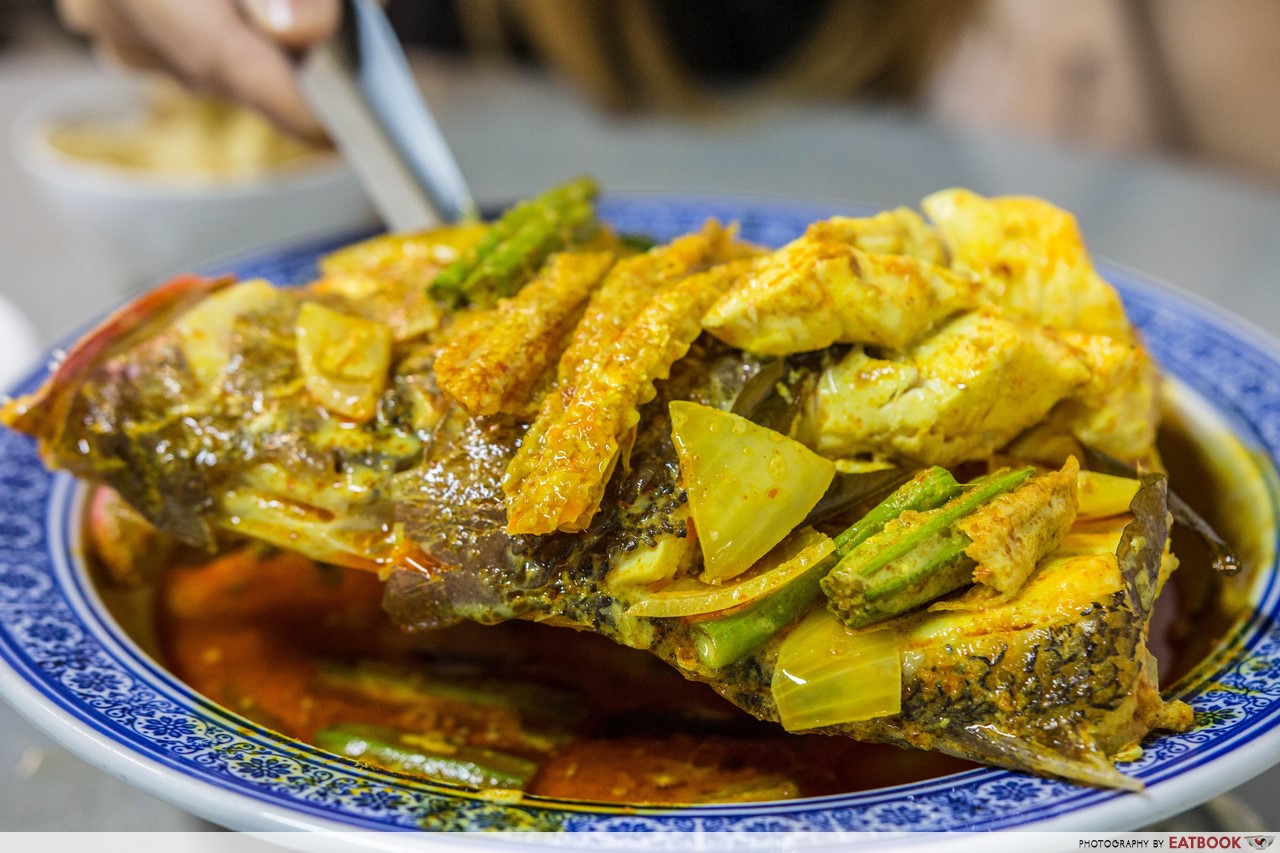 For a good look at the size of our main, I scooped up the fish head and gasped at its weight. It still surprises me when someone doesn't know where the prize of a fish head lies, but I had no complaints taking care of the gelatinous treasures for my squeamish colleague. I got the one eyeball, then the jelly parts around it, and finally the fish lips. They were like sucking up pudding.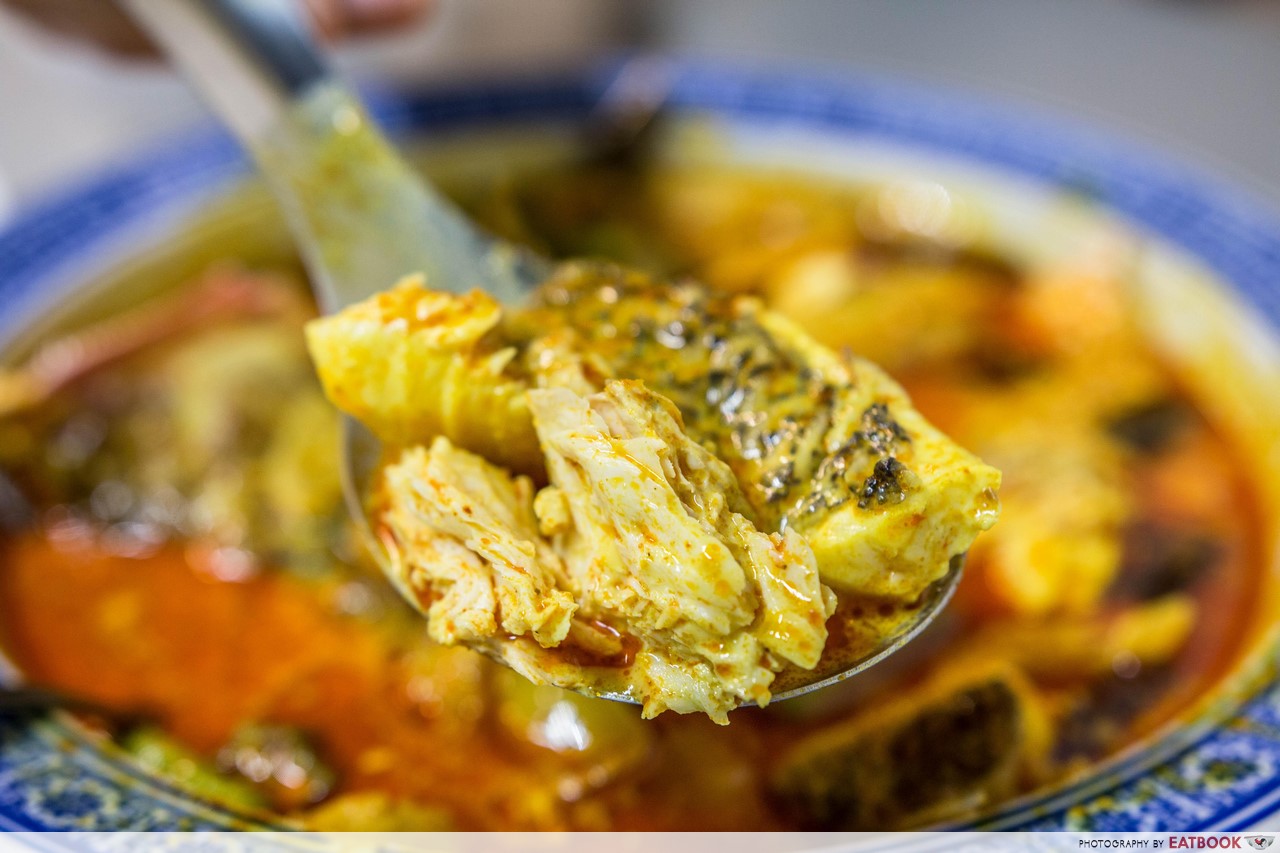 The cheeks are the prime parts of a fish head and I was all the more pleased when I realised the cheek flesh here was large enough to cover my spoon. It was a size decent enough to not leave me still wanting.
What definitely made the fish superb though was the meat of the fish. I easily carved up very thick chunks of flesh which were extremely soft and fine to chew into. It was fresh without a hint of fishiness and tasted savoury when often, this is where it goes bland. With just rice, this order could easily feed three to four.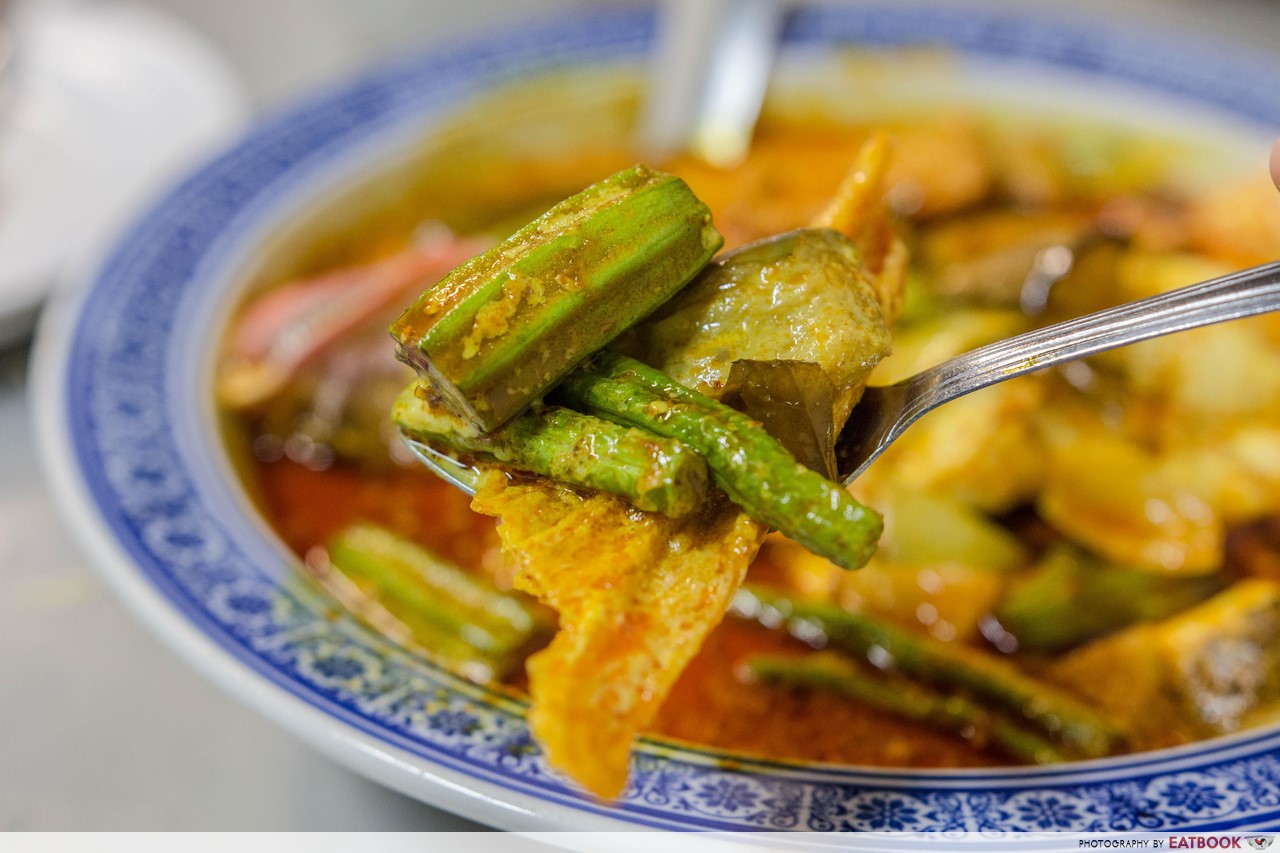 Swimming with the fish were plenty of veggies and, unlike most places, they added tau kee too. Their okra and long beans were bright green and crunchy which added contrast to the tender fish meat.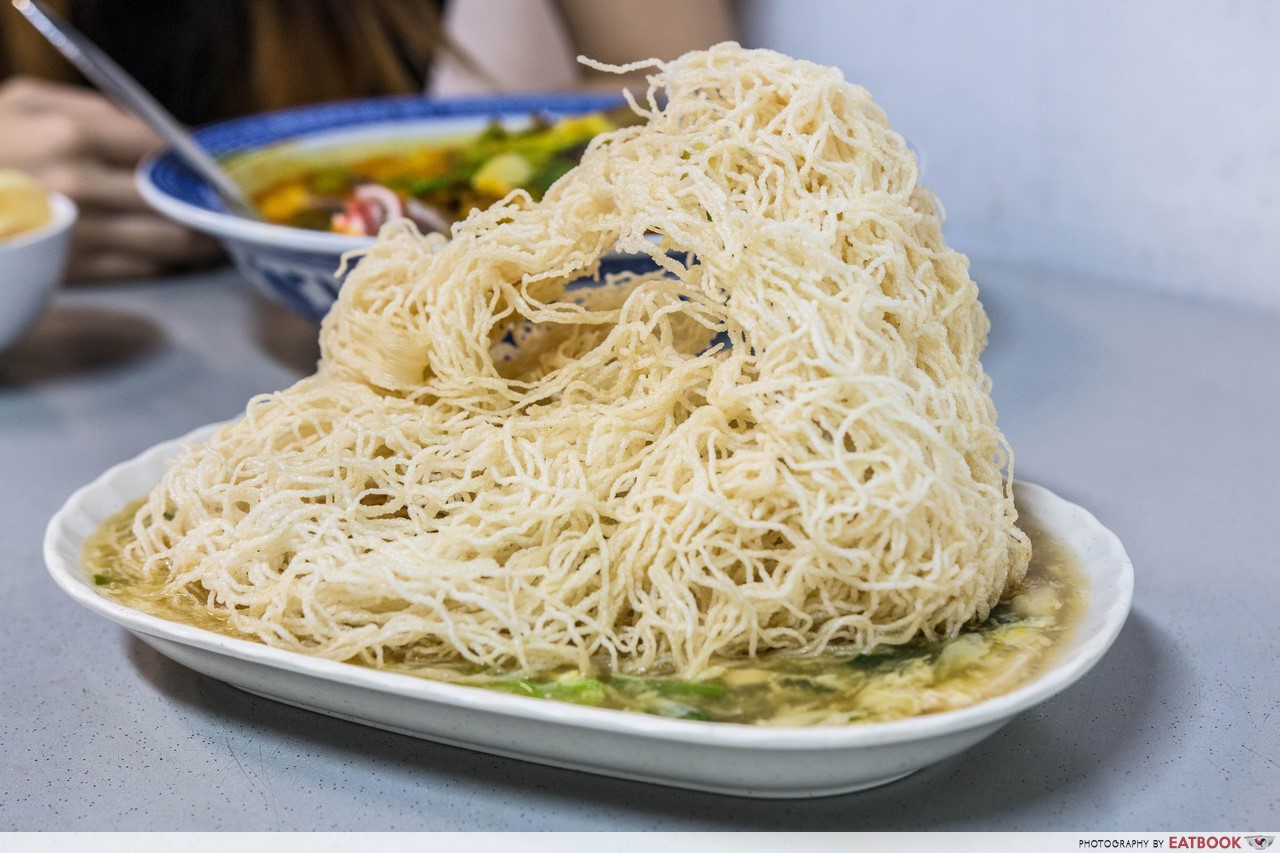 Seafood Crispy Rice Vermicelli ($8) is a unique dish we were eager to try. A large mound of rice vermicelli sat in a shallow dish of seafood broth that had a small amount of lean pork, egg, chye sim, and shrimps. There was a soft crackling when the dish was served as the base of the noodles softened in the gravy.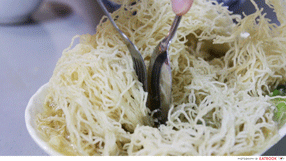 The vermicelli had to be broken and soaked in the broth before eating and bits of it shot off as I cracked it apart. The crispy parts were flavourless and not greasy so they easily absorbed the stock. My favourite mouthfuls had both the wet and dry parts with some chewy pork which deepened the savouriness. It was all right for something different but the broth could've been more flavourful and used fresher ingredients for its taste to leave an impression.
Ambience at Miki Snacks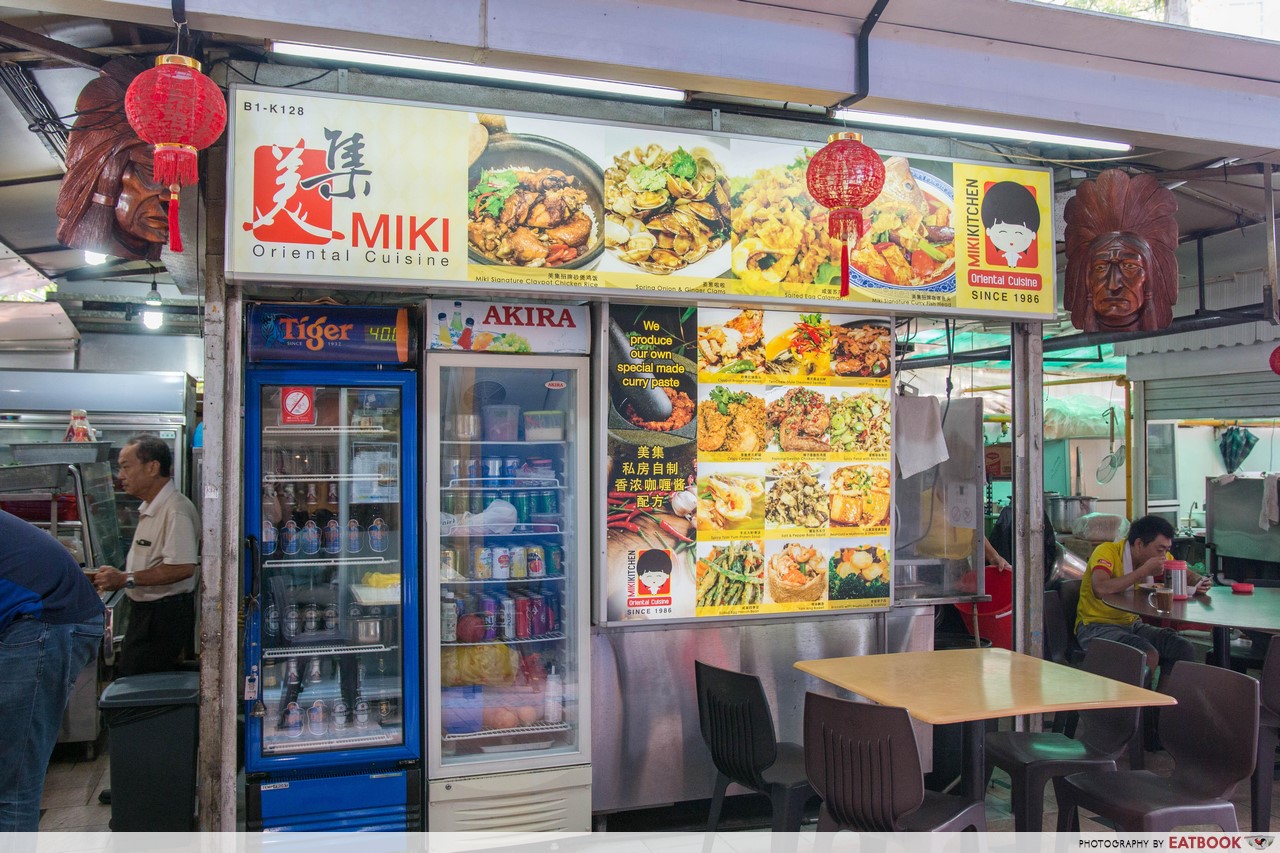 We turned into the basement of Katong Shopping Centre from Mountbatten Road where we saw the restaurant's signage. Opposite the shopfront was a small air-conditioned indoor space but their outdoor umbrella seats looked enough to seat a huge crowd. Still, do make reservations especially during their peak hours so you don't end up queuing for ages. Besides, you'd want to order their Miki Curry Fish Head in advance to avoid the long waiting time.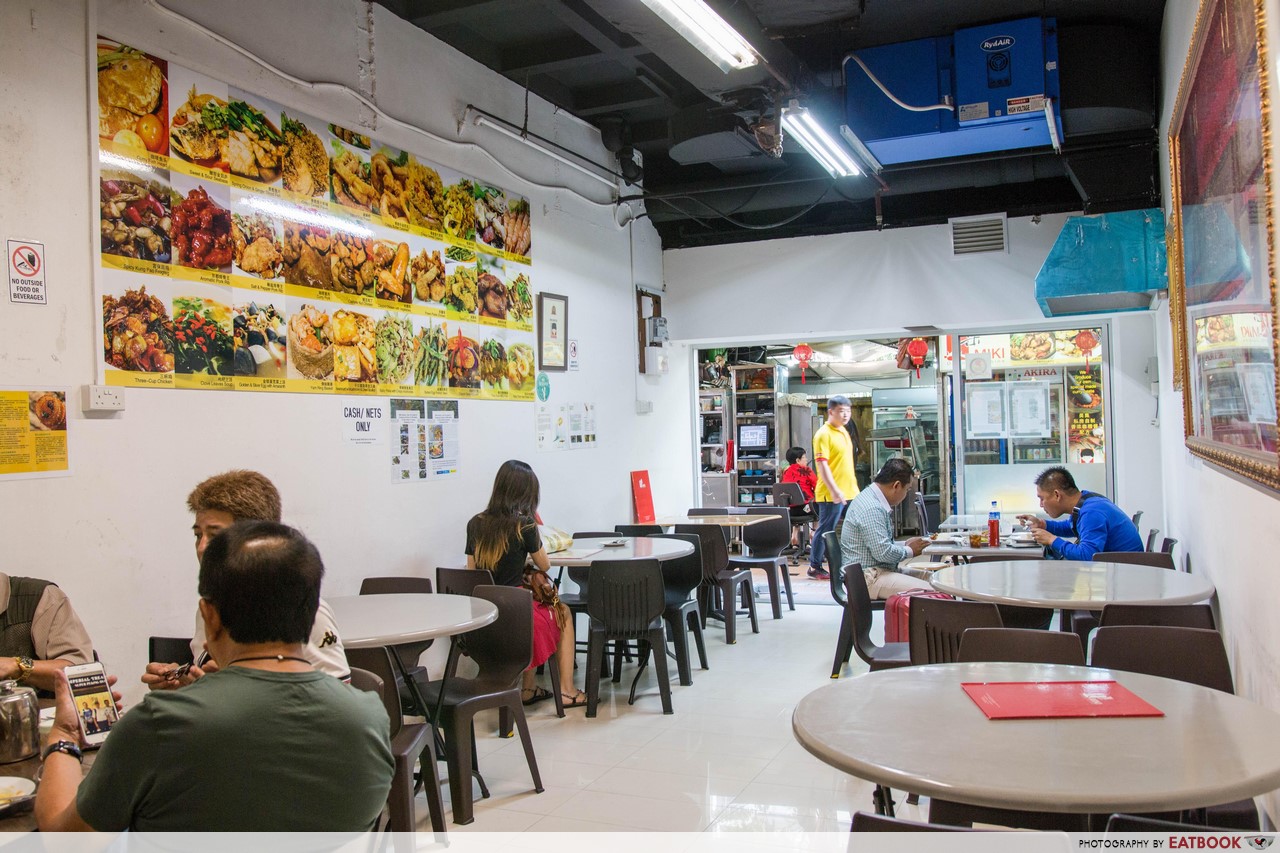 It was a sweltering late weekday afternoon but we avoided the lunch crowd which had just left and got a seat inside. The layout was simple with a no frills interior. However, the white and grey tones of the interior felt bare, and the outdoor seats looked messy with many plants that were not tended to.
The verdict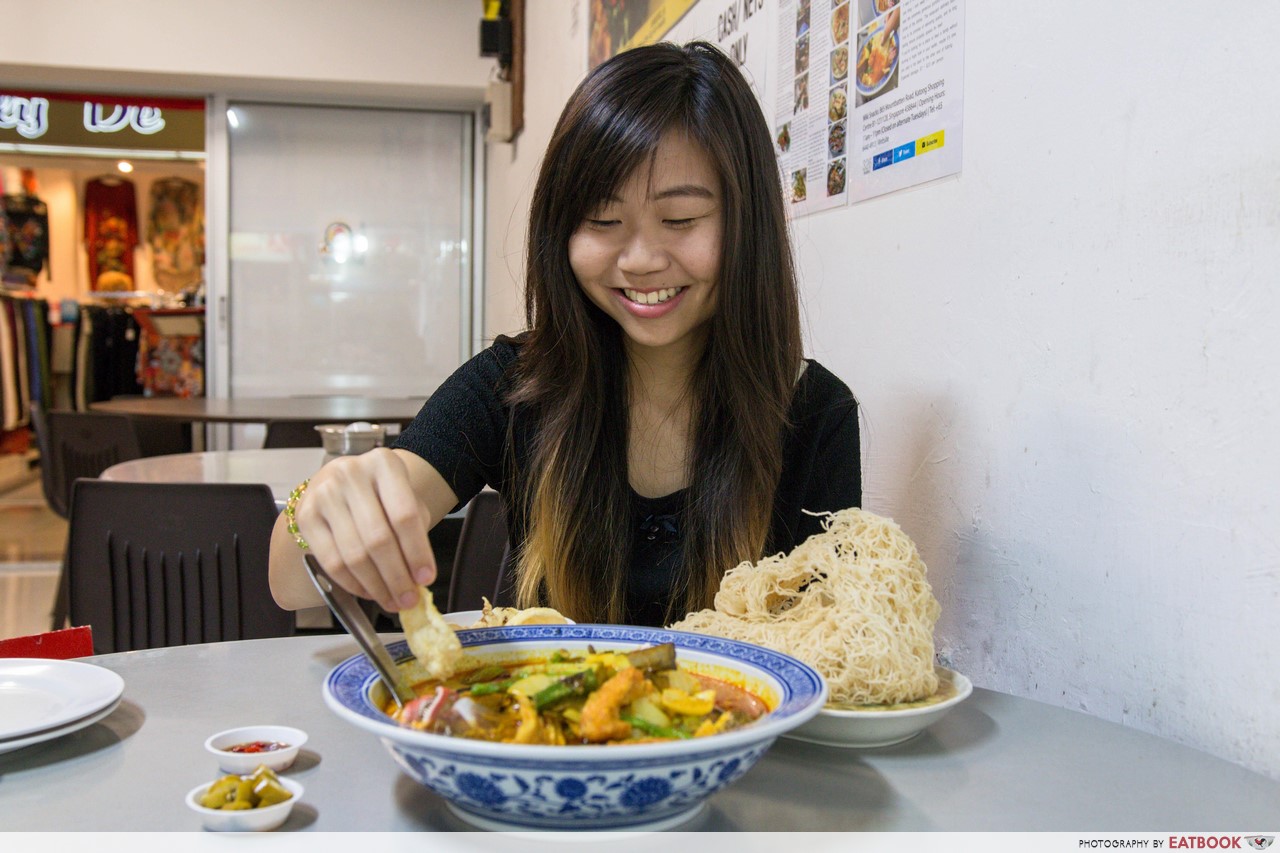 Despite having tried so many curry fish heads, Miki Snacksstill managed to get ahead in my personal list of food places. Curry fish head is a stew that gathers people together so it would have been nice to have some sense of warmth from the restaurant's environment. Although the other dish we tried was rather underwhelming, their trademark dish still makes the place worth a stopover.
Address: 865 Mountbatten Road, #B1-127/128, Katong Shopping Centre, Singapore 438844
Opening hours: Daily 11am to 11pm. Closed on alternate Tuesdays.
Tel: 6440 1318
Website
Menu
This is an independent review by Eatbook.sg
Summary
Pros
– Well-flavoured dishes
– Generous portions of curry and fish head
– No GST and service charge
Cons
– Limited air-conditioned seats
– Plain water is chargeable
– Other dishes could have been better
– Lack of ambience
Recommended Dishes: Miki Curry Fish Head (from $24)
Operating Hours:
Daily 11am to 11pm. Closed on alternate Tuesdays.
Address: 865 Mountbatten Road, #B1-127/128, Katong Shopping Centre, Singapore 438844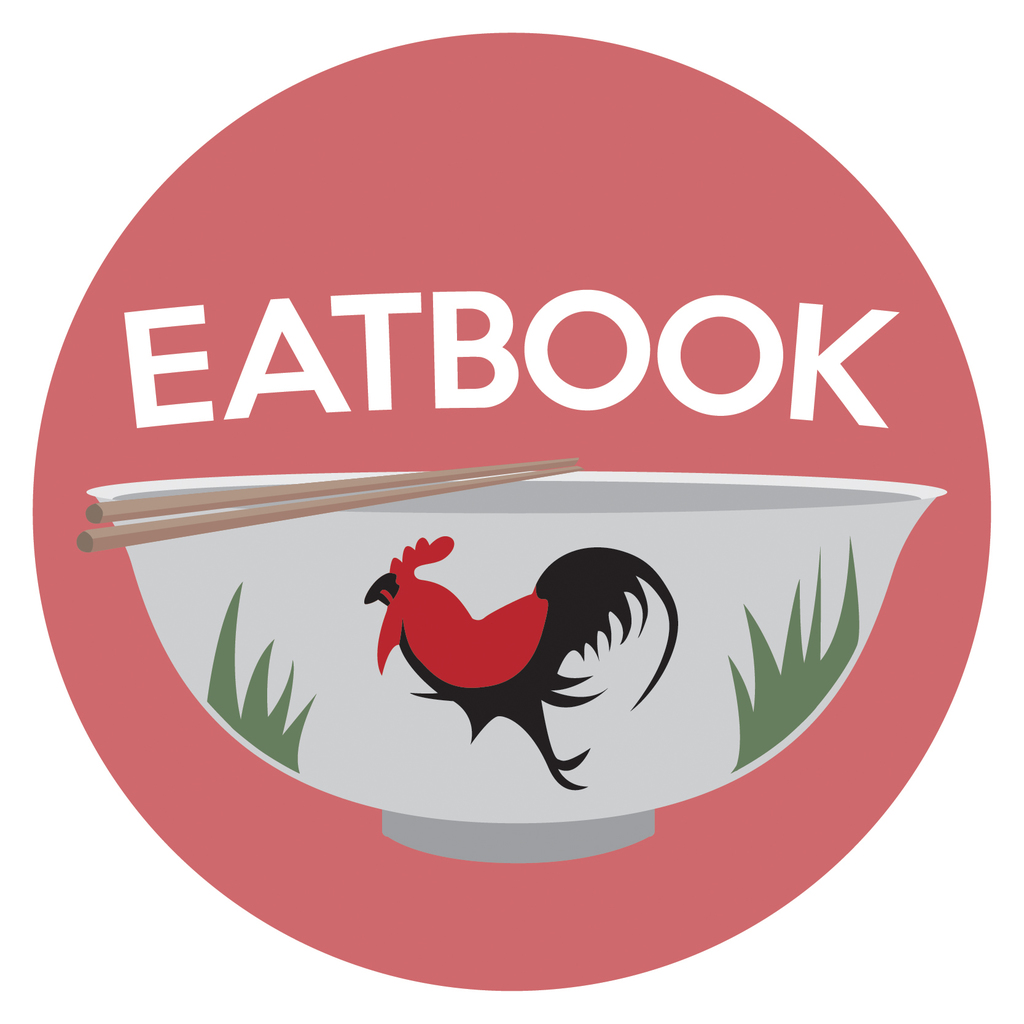 Drop us your email so you won't miss the latest news.