Jamie's Italian introduces chicken rice risotto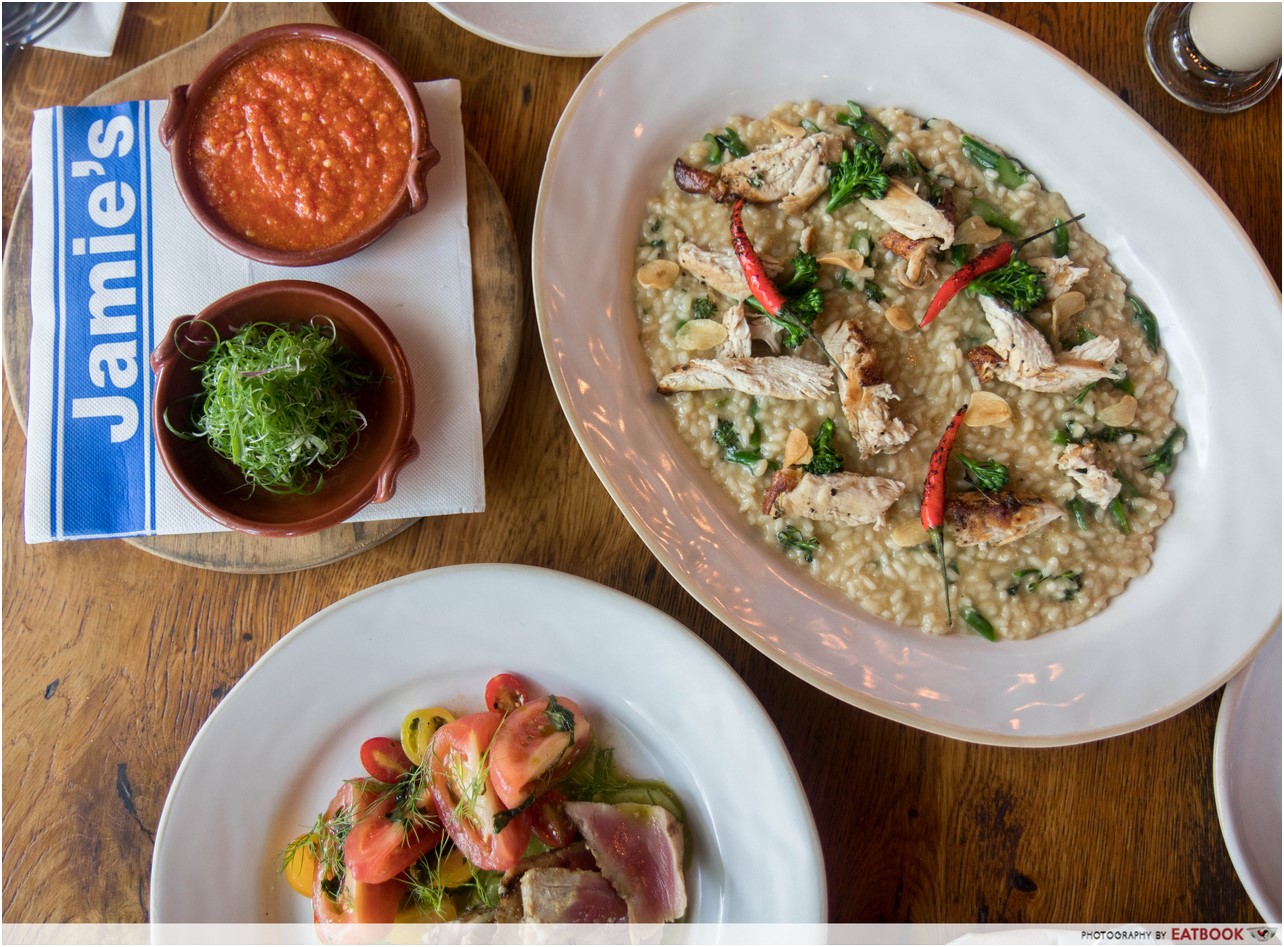 If there's one thing McDonald's Nasi Lemak Burger has shown us, it is that us Singaporeans love anything to do with hawker food – even spin-offs. We're willing to wait 45 minutes for just that one burger, when actual nasi lemak costs half the price and probably doesn't involve any queueing.
For those who have already tried the Nasi Lemak Burger and are itching to sink your teeth into another hawker food-inspired dish, check out Jamie's Italian. This celebrity chef restaurant by Jamie Oliver is introducing a chicken rice risotto for this year's National Day, so we popped by to give it a try.
Food at Jamie's Italian
We got some starters first. Crab & Avocado Crostini ($15.50++) came in a trio, and each piece consisted of a pile of crab meat salad seated atop a thin layer of smashed avocado and toasted baguette. The components of the salad – pickled fennel, dill, crab meat – complemented each other well, and created nice contrasts in texture. There was also a slightly spicy kick that made this a good start to the meal.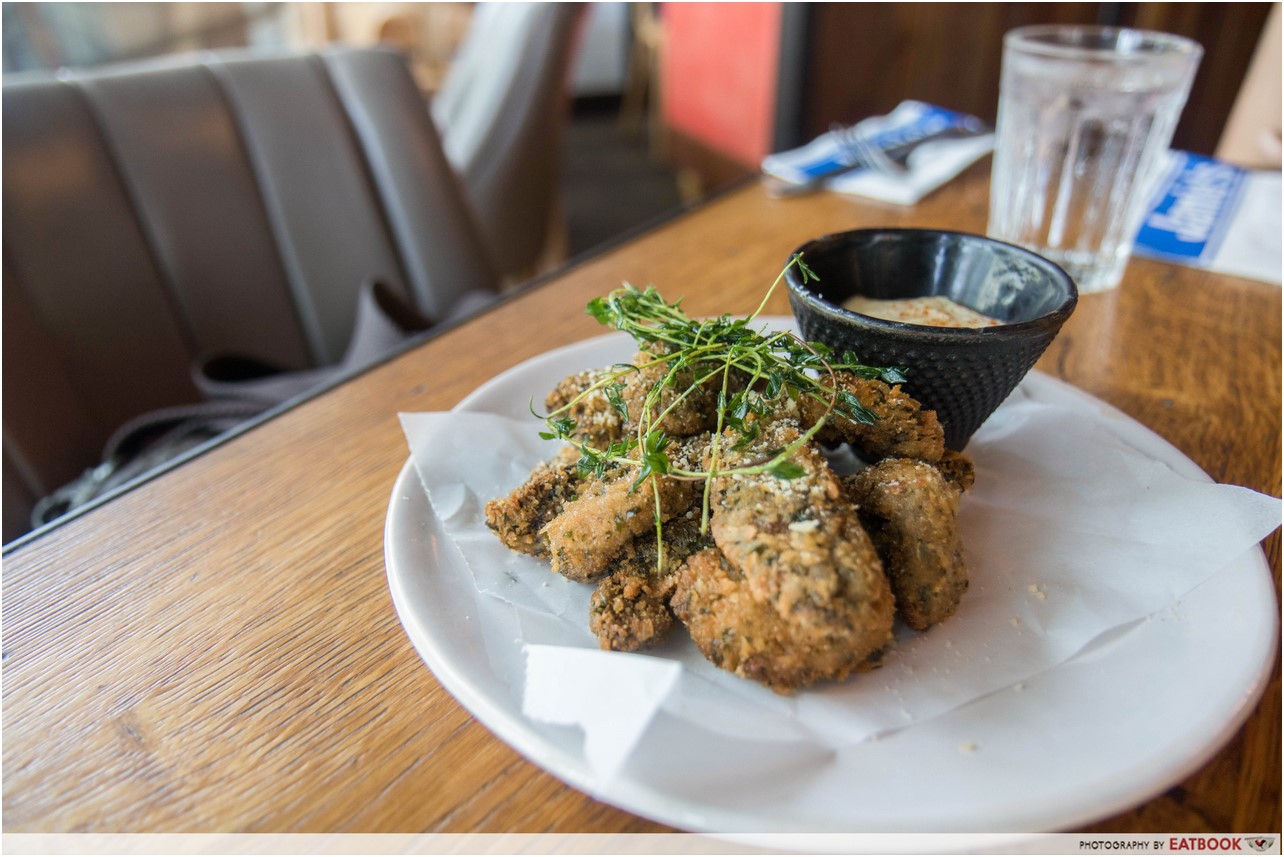 These pieces of Crispy Mushroom Fritti ($11.50++) were delicious, juicy little bombs. Each portion contains both deep-fried portobello mushrooms and brown button mushrooms, with the former being slightly juicer. The mushrooms were coated in breadcrumbs and thyme before going through the fryer.
The herby fragrance and exceptionally crispy coating made these very addictive. Eating the fritters alone were good enough for me, but you can dip them into the garlic mayonnaise served on the side to add tang and more flavour to them.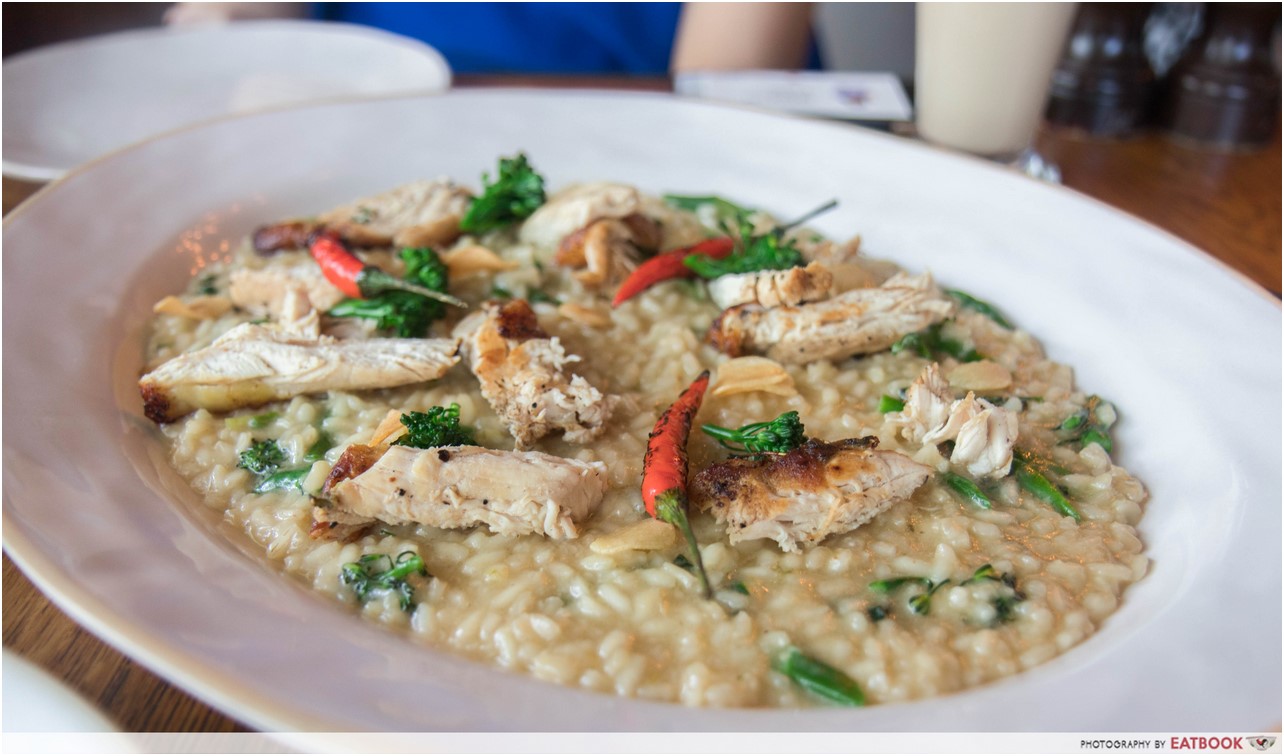 Chicken & Rice Jamie's Style ($19.65++) was no doubt the star of the show. Made with carnaroli rice, pieces of broccolini, roasted chicken breast, crispy garlic slices, and bird's eye chilli, this dish looked nothing like a typical plate of chicken rice.
So I was pleasantly surprised when I took my first bite. The rice was firm to the bite, and very rich in flavour. It was creamy and savoury, yet not overly oily. It was, however, too salty. The fresh and crunchy broccolini helped cut through the heavy rice.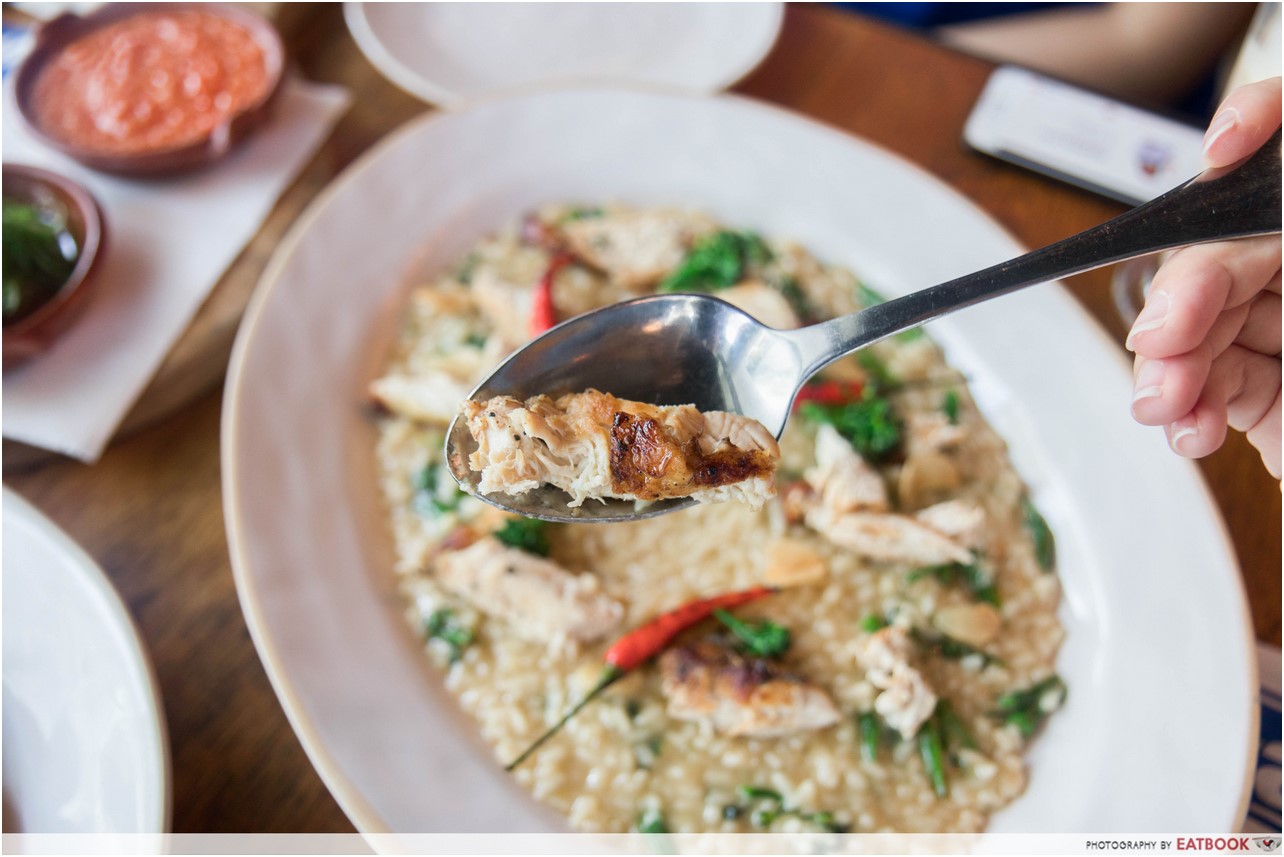 The roasted chicken left more to be desired. It was dry, rather tough, and didn't have much taste when eaten on its own. While its skin was crispy, not every piece came with the skin attached. Be sure to have the risotto with the chilli dip on the side. Sour and spicy, the chilli ties all the components together and it is what makes this a truly Singaporean-style dish. The dish will be available from 1 to 13 Aug 2017, so give it a try before it's gone.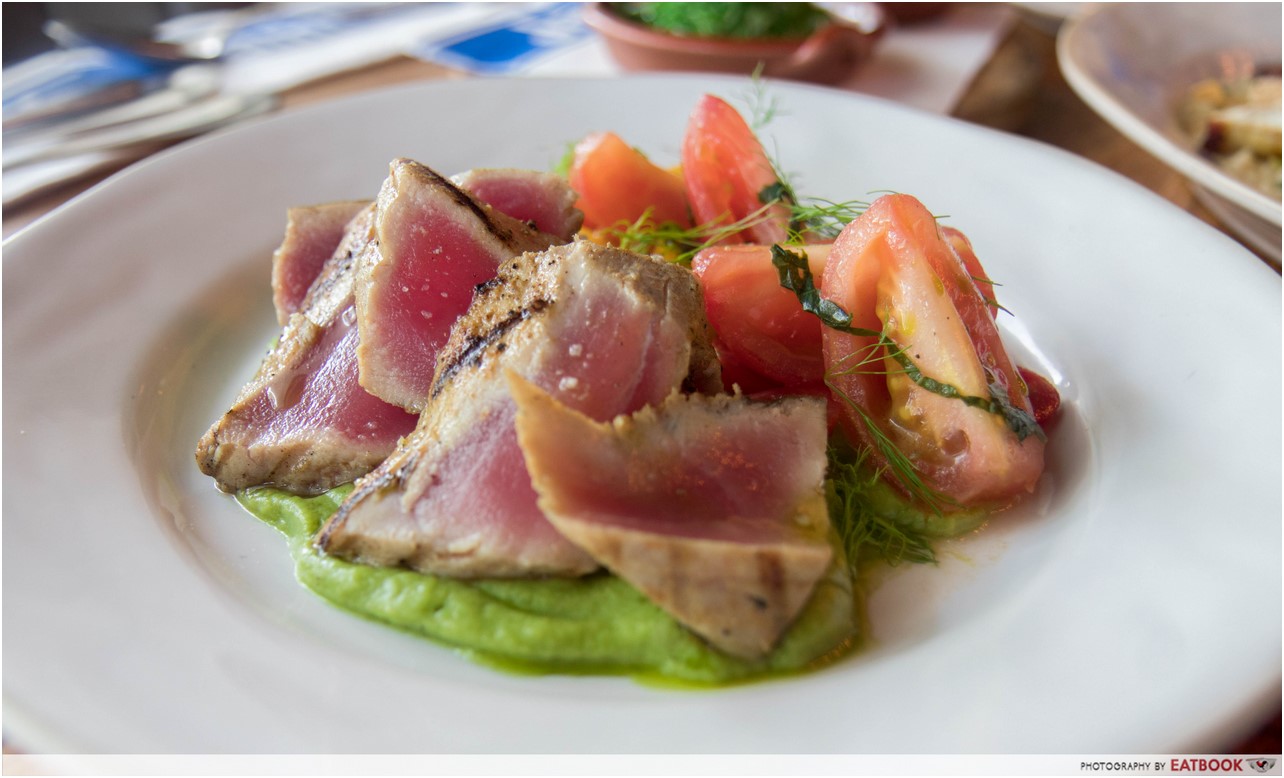 Compared to the risotto, Seared Tuna ($34++) was relatively refreshing and light on the palate. The tuna's charred edges added smokiness to the dish, and made a good complement to its slightly raw centre. A bed of avocado puree lied beneath it and, together with basil oil and the tomato salad on the side, gave this dish a herby, fresh touch.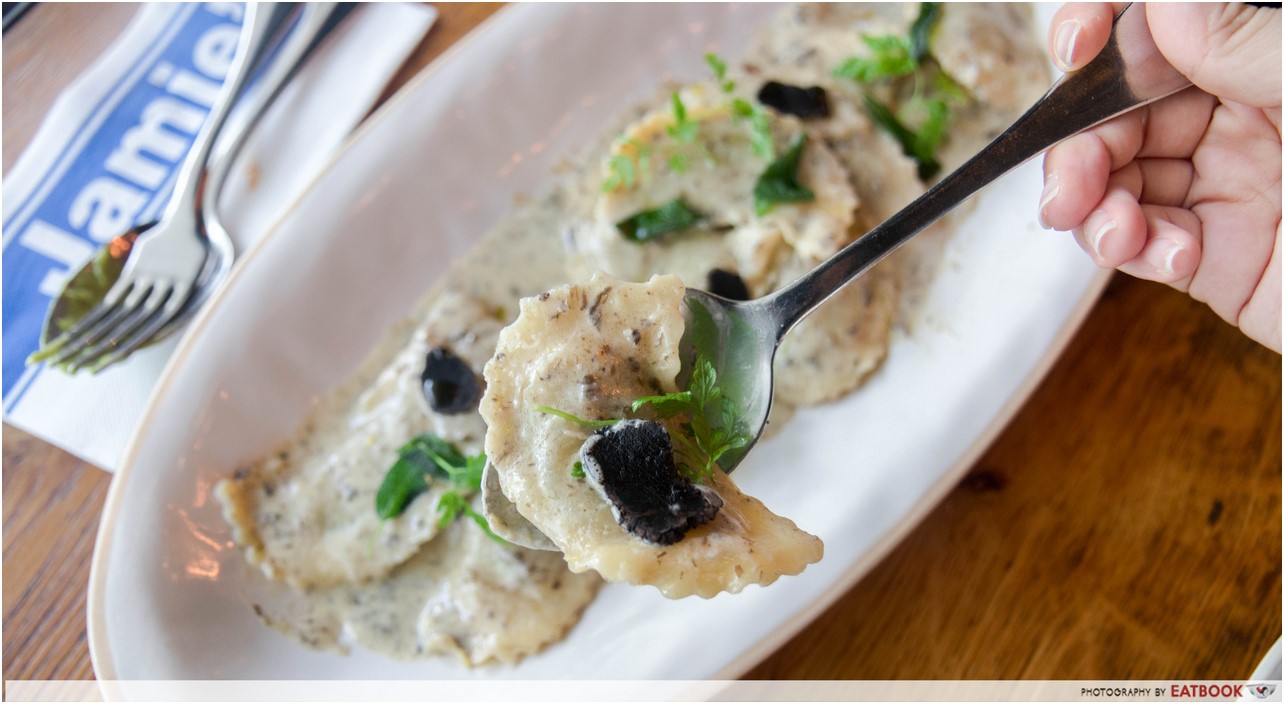 If you're a truffle lover, their Truffle Ravioli ($26.50++) would be right up your alley. With a filling that comprises just minced truffle and Parmesan, this Italian dish sounds simple but is in fact extremely rich. The garnishes – shaved truffle, sage leaves, chervil – helped add subtle layers of flavour to the dish, but the sauce was just way too jelak. Truffle lovers, no matter how much you adore truffle, be sure to share this with the rest of the table. This dish is only available at their Forum outlet, so remember to head over to Orchard for it!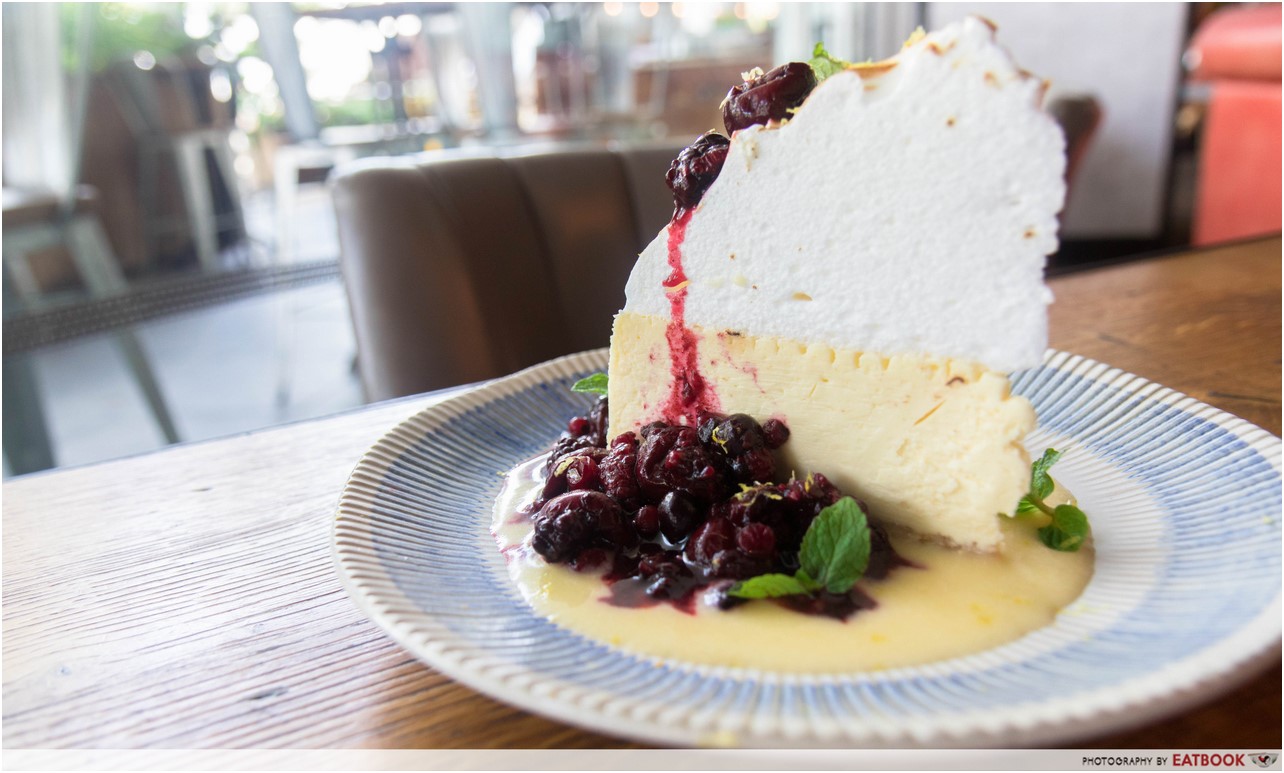 We ended off our feast with Lemon Meringue Cheesecake ($14++). A slice of lemon cheesecake with a thin cookie base formed the bulk of this dessert, along with meringue, a generous scoop of berry compote, and lemon curd. The cheesecake itself was dense and had just the right amount of tartness. I enjoyed the sour berry compote that balanced out the cake and sweet meringue. The meringue, however, was overwhelming in portion and didn't do much for the dish.
Ambience at Jamie's Italian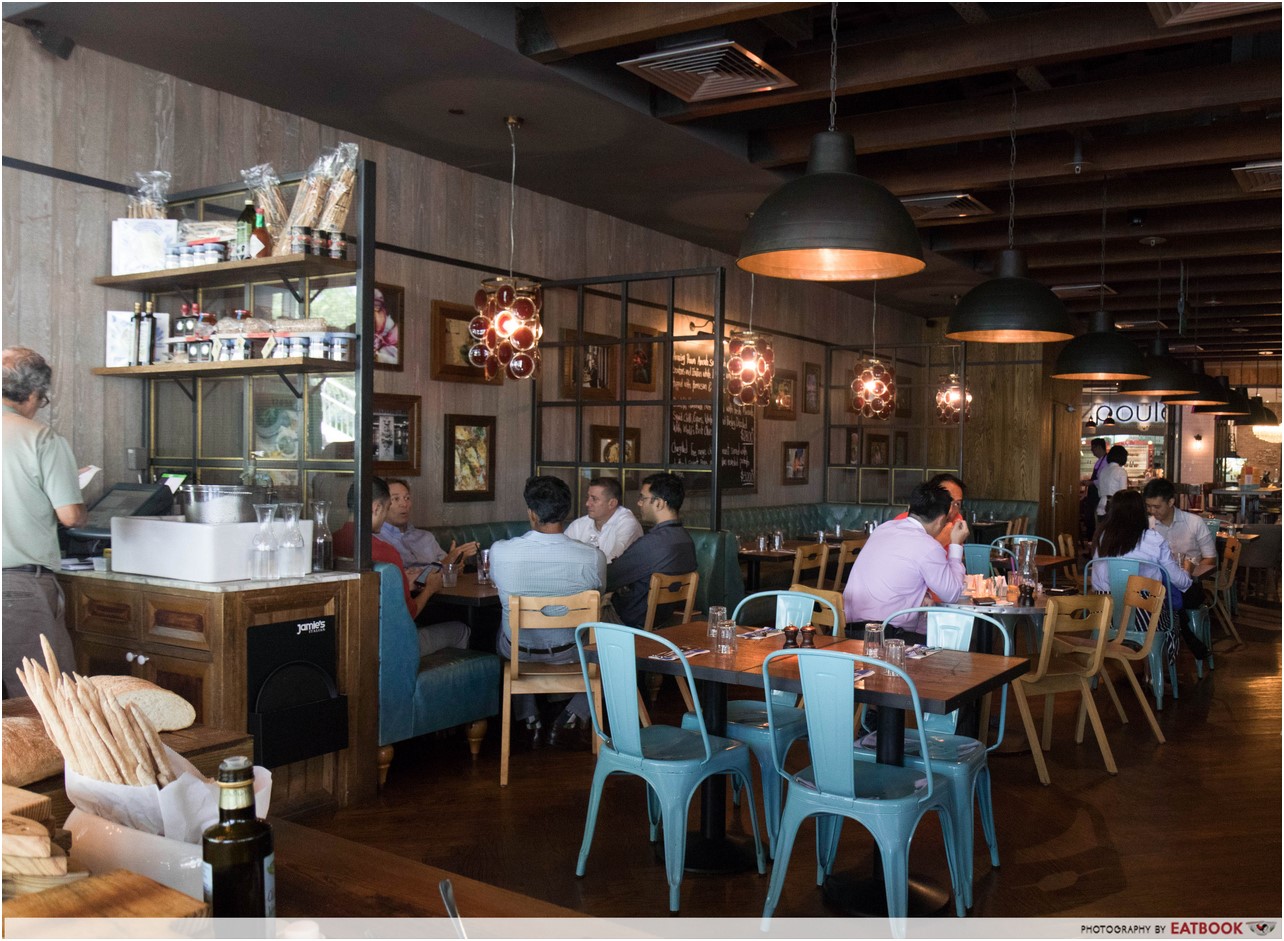 Spacious and bright, Jamie's Italian's outlet at VivoCity is a comfortable spot for groups that want a casual outing and are willing to pay a little more. It can get quite noisy during peak hours, so those who want somewhere more romantic might want to head to these quieter restaurants instead. The place was rather crowded when we swung by at around 12:40pm on a weekday, so be sure to make a reservation before going.
The verdict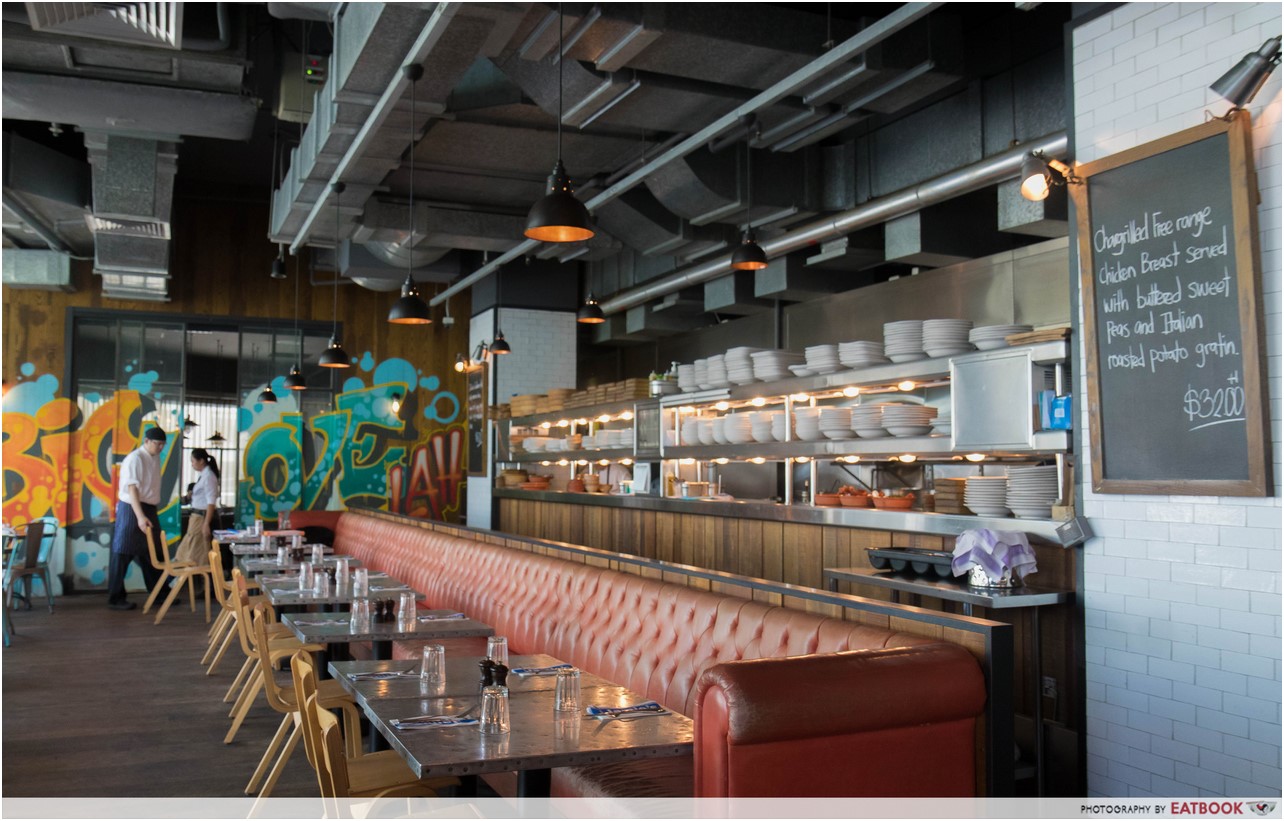 Jamie's Italian is definitely one for friends or family. The dishes here are hearty, generously portioned, and good for sharing. Prices are relatively high considering it's a casual restaurant, but the fresh ingredients they use make most of their dishes worth the money. For more places that are good for groups, check out this list of restaurants with fun group activities!
Address: 1 Harbourfront Walk, #01-165, VivoCity, Singapore 098585
Opening hours: Sun-Thur 12pm to 9pm, Fri-Sat 12pm to 10pm
Tel: 6733 5500
Website
Menu
Full list of outlets
Jamie's Italian is not a halal restaurant.
This was a media tasting at Jamie's Italian.
Summary
Pros
– Convenient locations
– Ingredients used were very fresh
– Comfortable ambience
– Good for groups
Cons
– Expensive
– Some dishes can get jelak
– Crowded during lunch hours
– Chicken & Rice Jamie's Style will only be available from 1 to 13 Aug
Recommended Dishes: Crispy Mushroom Fritti ($11.50++), Seared Tuna ($34++)
Operating Hours:
Sunday – Thursday 12pm to 9pm
Friday – Saturday 12pm to 10pm
Tel:
6733 5500
Address: 1 Harbourfront Walk, #01-165, VivoCity, Singapore 098585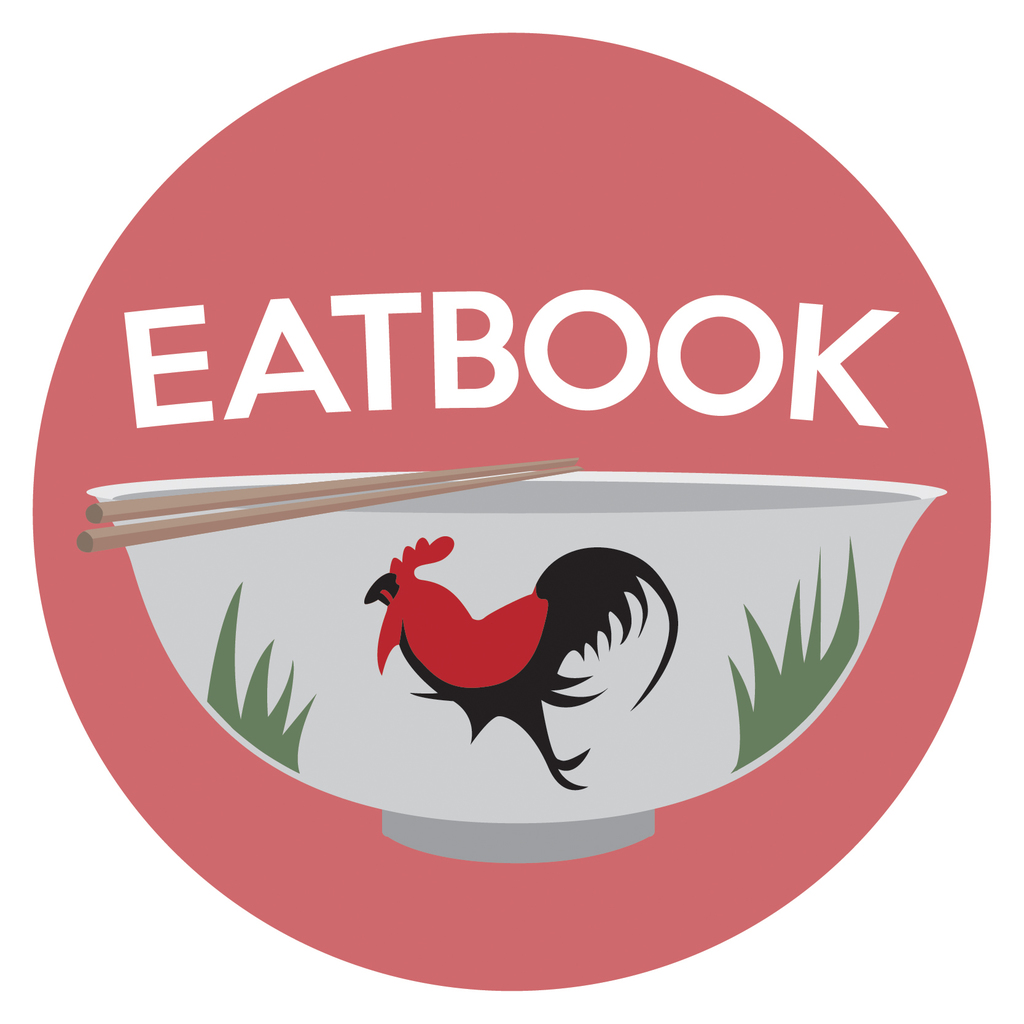 Drop us your email so you won't miss the latest news.