---
Restaurants with fun group activities for the clique with UOB YOLO
---
As Singaporeans with an incessant love for food, my crew and I always catch up with each other over dinner at one of those new cafés that are all over Instagram. But that's usually just the first stop of the night. Once we've filled our tummies, we'll hit up another spot for either a movie or some drinks to maximise the time we spend together.
If your clique is like mine, save the time spent travelling around by jio-ing your friends to these restaurants that double up as entertainment spots. Whether you guys prefer bonding over a game of darts, or are secretly pop stars who wanna sing the night away, these places can keep the squad entertained and stuffed at the same time. Plus, if any of you have UOB YOLO, you'll be able to get an 8% rebate* on your dining and entertainment spend on weekends!
---
1. HopHeads
---
HopHeads is, quite literally, an underground bar. Found in the basement of Haw Par Glass Tower at Dhoby Ghaut, this restaurant and bar offers a wide menu that includes salads, pasta, burgers, and pizzas. Their Waffle Burger ($18.90+) comes with deep-fried chicken thigh and sunny side up sandwiched between a whole waffle, and is enough for two to share.
After filling yourself up with delicious grub, challenge your friends to a game of pool, darts, foosball, board games, or table tennis. We've even seen a group play beer pong here!
Address: 178 Clemenceau Avenue, #B1-00, Haw Par Glass Tower, Singapore 239926
Opening hours: Mon-Thur & Sat 11:30am to 11:45pm, Fri 11:30am to 1am
Tel: 6904 4019
Website
Menu
---
2. Screening Room
---
For a movie and dinner of the hipster kind, pop by Screening Room. This boutique film theatre screens classics twice a day, with the first starting at 7pm and the second at any time between 9pm to 9:30pm. No tickets are required; just spend $15++ on food and drinks such as Truffle Fries ($10++) and Crispy Fried Karaage Chicken with Wasabi Dipping Sauce ($15++). If you need a full meal before the movie, Coriander Leaf Grill restaurant is just below the theatre.
Films that Screening Room has shown before include The Pursuit of Happyness and Meet the Fockers; follow them on Facebook to keep track of what's new to their screens. After you're done with the show, head to their rooftop bar to complete a chill night out with your friends!
Address: 12 Ann Siang Road, Level 3, Singapore 069692
Opening hours: Mon-Thur 5:30pm till late, Fri-Sat 5pm till late
Tel: 6532 3357
Website
---
3. 7th Heaven KTV
---
It's not everyday that you get to come across a KTV that's brightly lit and serves legit café fare. At 7th Heaven KTV, you'll find coffee made with beans from Common Man Coffee Roasters, as well as dishes such as twice-fried Salted Egg Yolk Chicken Wings ($13.90), Egg Lava Beef Burger ($17.90), and even Yuan Yang Pizzas ($21.90 each) with two flavours for groups that can't settle on one.
A flatlay is usually the must-have when café-hopping, but here, you can forgo that for hilarious videos of your kakis' off-tune crooning. Karaoke rates are $15, $20, or $30 per person for three hours, depending on the day and time, and prices include tidbits and a drink. Pop-star wannabes can opt to show their stuff in the main hall on the shared mic-system with a minimum spending of $15 per person on food and drinks.
Address:1/A Tampines Street 92, #03-00, SAFRA Tampines, Singapore 528882
Opening hours: Sun-Fri 3pm to 1am, Sat 2pm to 2am
Tel: 6458 5026
Website
---
4. Central Perk
---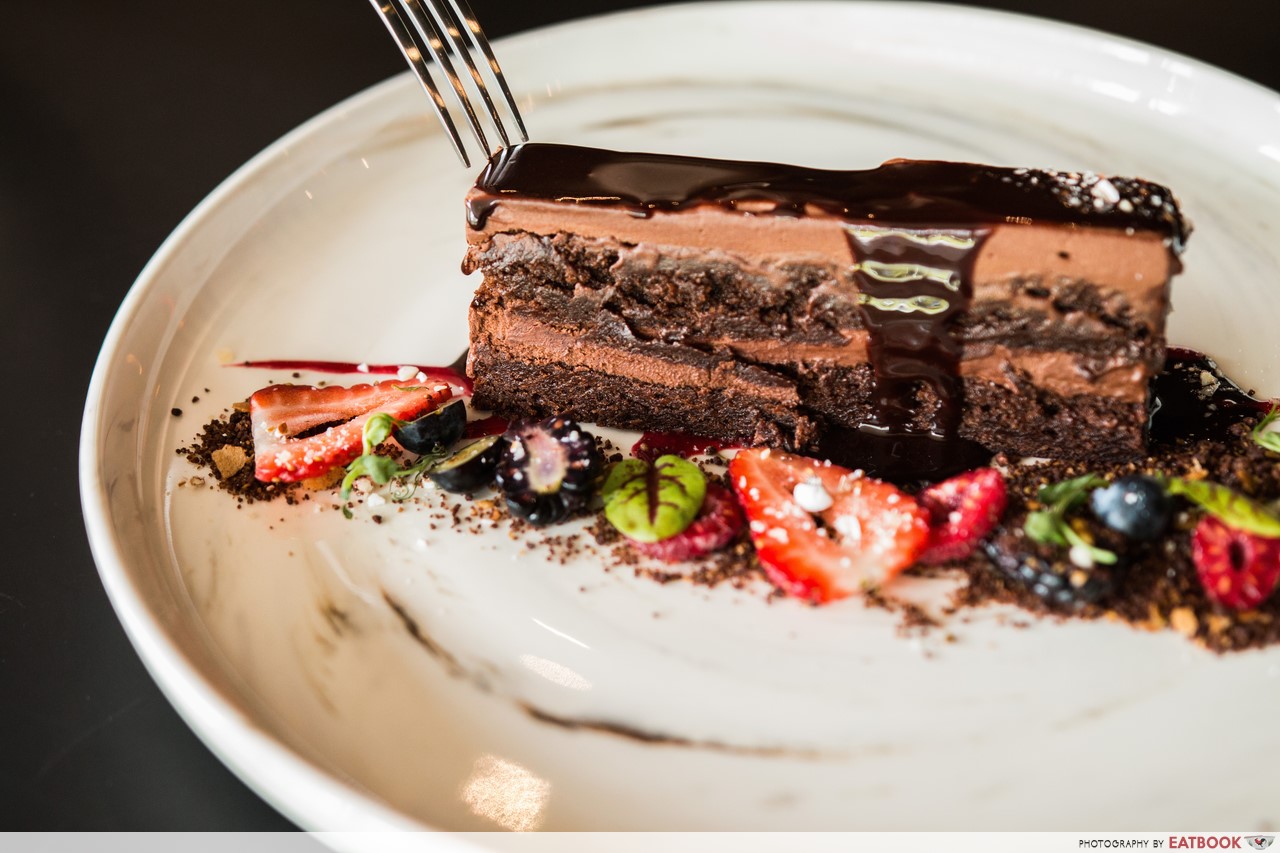 You know a sitcom deserves legacy status when it's popular even 13 years after its last season. For those who will never get old of Joey's, 'How you doin'?', pop by Central Perk. This Friends café boasts an interior that's made up of familiar sets from the sitcom, and even the menu here is filled with references to the show.
Sink your teeth into Janice's Oh. My. God. Baby Back Ribs ($39++), which includes Iberico pork that has been cooked for 72 hours. After filling yourself up with the fork-tender meat, go for their Heavy Fudge Chocolate Mudcake ($16++).
The restaurant hosts performances, comedy nights, as well as trivia nights regularly, so check their Facebook page before dropping by for a night filled with laughter, jokes, and witty banter – just like how it always is in the show's Central Perk.
Check out our full review of Central Perk!
Address: 1 Magazine Road, #01-06, Central Mall, Singapore 059567
Opening hours: Tue-Thur & Sun 11am to 11pm, Fri-Sat 11am till late
Tel: 9025 2524
Website
Menu
---
5. The Plant Story

---
Head over to The Plant Story for a relaxing afternoon. Their popular Miniature Garden Workshop ($80) teaches you how to build your own terrarium, but if that's not your thing then you could try their Home Apothecary Workshop ($80), which educates you on healing herbs and lets you try your hand at concocting natural remedies such as an "Awakening Room Spray" or a "Yummy Body Scrub". Each workshop lasts an hour, and comes with a high tea set afterwards, so grab a bunch of friends and spend some quality time together here.
The high tea set that comes with it includes tea or coffee, as well as a slice of cake, biscuits, and a scoop of ice-cream. If that's not enough to fill your tummy, they also have dishes such as Tomato Soup ($9.90), Beef Lasagne ($15.90), as well as Chicken Mushroom Baked Rice ($15.90).
Address: 11 Rhu Cross, #02-03, Passion WaVe at Marina Bay, Singapore 437440
Opening hours: Thur-Tue 10am to 7pm
Tel: 6348 8040
Website
---
6. Yunomori Japanese Onsen & Spa
---
Go into zen mode with your clique at Yunomori Japanese Onsen & Spa. This huge space at Kallang Wave Mall is home to 11 onsen pools, five for women and six for men. $38+ gets you an all-day pass to the entire facility. You'll get to wear an adorable yukata while you're inside, so be sure to take an #OOTD for the 'gram before you go!
Complete your self-pampering session with a meal at their café, which offers Japanese-style dishes including Pork Katsu Curry ($14.80++) and Udon Set ($10.80++). Even though the prices seem steep, the portions are generous and some dishes are even good for two small eaters to share.
Address: 1 Stadium Place, #02-17, Kallang Wave Mall, Singapore 397638
Opening hours: Daily 10am to 11pm
Tel: 6348 8040
Website
---
7. ORTO

---
Bookmark ORTO if your clique has a penchant for meeting during wee hours. This huge adventure park is found at Yishun, and it features a variety of 24-hour entertainment and dining areas. Their prawning facility is one such spot, and $20 can get you an hour of freshwater prawning. They've got electric grills that you can use to cook your prawns at no extra cost!
Of course, just prawns alone can't satisfy a growling tummy. There are seven restaurants found within ORTO, and most of them open till late as well. Hit up Aroy Jing Jing for their Grilled Seafood Barbeque Buffet (from $29.90++) or check out Quench! Bistro & Bar for some booze and classic Western fare.
Address: 81 Lor Chencharu, Singapore 769198
Opening hours: Daily 24 hours
Tel: 6257 8858
Website
---
8. Steamroom with The Pillar and Stones

---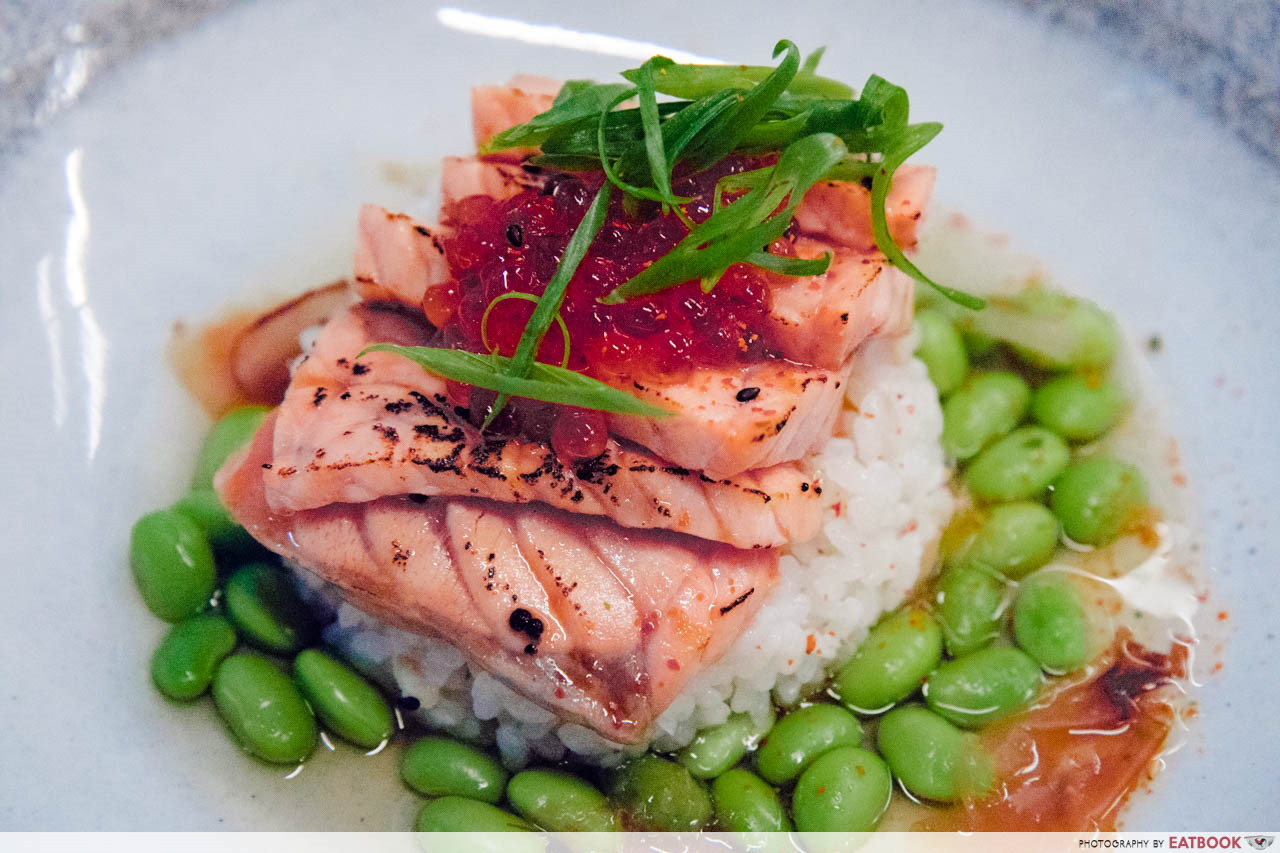 Head over to Steamroom with The Pillar and Stones (SRPS) if you're all about the tai tai life. This multi-concept unit houses a restaurant, a tearoom, as well as an art studio and a retail space. With loads of natural sunlight and minimalist decor, this is one to keep in view for an afternoon tea session with your BFF. But before that, fill up with their delicious and elegantly plated dishes, such as Salmon Ochazuke ($24++). The desserts here are also not to be missed, especially their Coconut & Pineapple Two Ways ($12++).
SRPS offers regular art jamming classes for both amateurs and pros, so book a session to give your inner Picasso an outlet. Each three-hour class is priced at $55, and you'll be provided with a 50cm by 60cm canvas, an apron, painting materials, as well as a non-alcoholic beverage.
Address: 181 Orchard Road, #03-08, Orchard Central, Singapore 238896
Opening hours: Daily 11am to 10pm
Tel: 6592 0571
Website
Menus
---
9. Shop Wonderland
---
Shop Wonderland is one of those places you'll find hard to walk by without stepping in. Decked with flowers and mosaic tiles, its interior is beautiful, relaxing, and makes you want to while hours away without leaving. And while away you may, because they offer a series of lessons on creating your own bouquet.
Nosh-wise, expect classic café fare such as Bacon Pesto Pasta ($16) and Baked Chicken & Potatoes ($16). They've also got a wide range of cakes, with some interesting choices being Gula Melaka Almonds Kaya Cake ($8) and Maple Bacon Cinnamon Tea Cake ($8).
Address: 134 Telok Ayer Street, Singapore 068600
Café's opening hours: Tue-Fri 8am to 6pm, Sat-Sun 10am to 6pm
Floral Studio's opening hours: Mon-Fri 10am to 6pm
Tel: 6299 5848 / 9299 4593 (WhatsApp)
Website
Menu
---
10. Smith Marine
---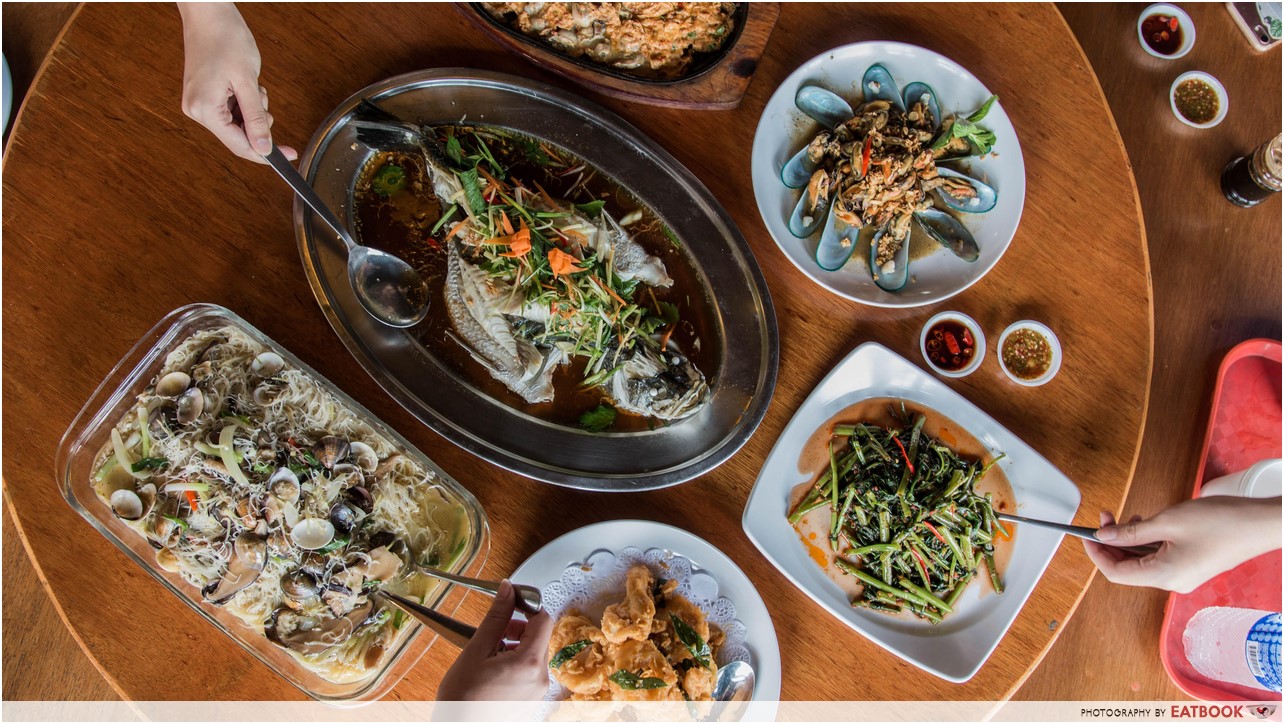 Smith Marine is a kelong and floating restaurant that lets you fish for your food and it can only be reached via a ferry from Changi Point Ferry Terminal. A two-way ferry costs $100 per ride, regardless of the number of people on the boat that can hold up to 12 people.
Once you're there, use the fishing rods and baits provided to catch a snapper or sea bass in one of their ponds, and their chefs will prepare it for you in Cantonese or Teochew style at $35. Alternatively, bring the fish home for mum to whip up at $15. They've also got a standard zi char menu that includes Chilli Crab (seasonal price), Cereal Prawn ($30/$55), and Sambal Egg Sotong ($25), so don't worry about starving even if you didn't manage to reel anything in.
Address: Off Changi and Pulau Ubin (GPS coordinates: 01'23'52″N – 103'57'42″E)
Ferry timings: 11am, 12pm, and 3 to 4pm (advanced booking required)
Tel: 9792 7609 (WhatsApp or SMS)
Website
Menu
Credit card payments at Smith Marine are subjected to a 3% administration charge.
---
Eat, drink, play and repeat with UOB YOLO
---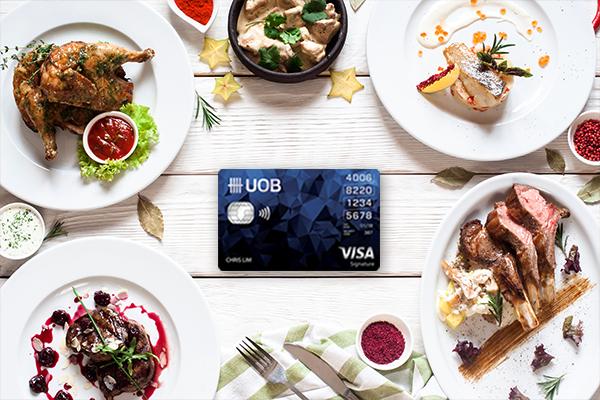 Hanging out with the crew can get a tad pricey at times, so remember to pay with UOB YOLO to enjoy an 8% rebate* on dining and entertainment spend on weekends. Plus, you can also get a variety of dining deals all around Singapore with the card!
Best of all, put any weekday dining or entertainment spend on UOB YOLO to score a free weekend Grab ride*, so you can cab home after your catch-up sesh.
For those who don't have UOB YOLO, sign up online from now till 30 September 2017 to receive up to $80 cash credit*!
Click here to find out more about the UOB YOLO card
This post is brought to you by UOB YOLO. You can follow their food adventures on Instagram at @iwannayolo.
*Terms and conditions apply, visit uob.com.sg/YOLO for more details.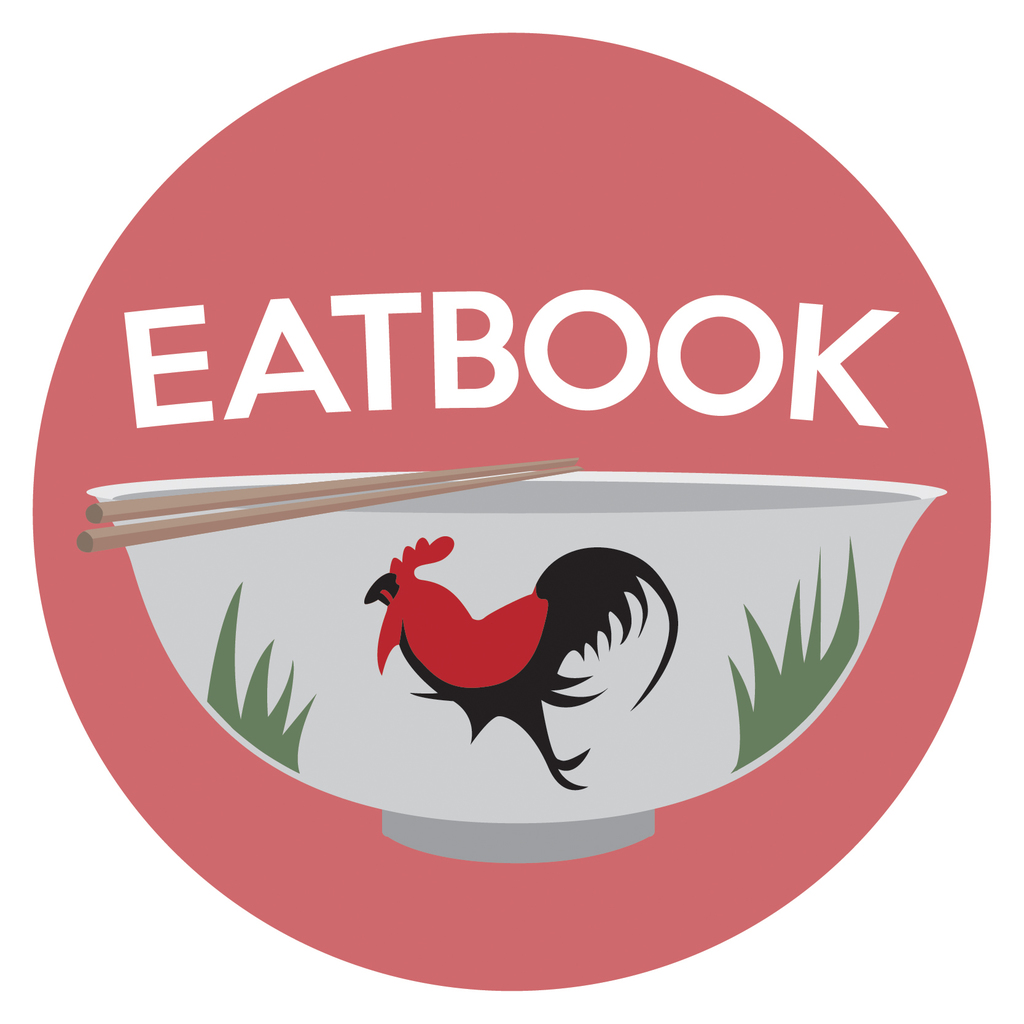 Drop us your email so you won't miss the latest news.