J&J Special Beef Noodle serves a wide variety of beef noodles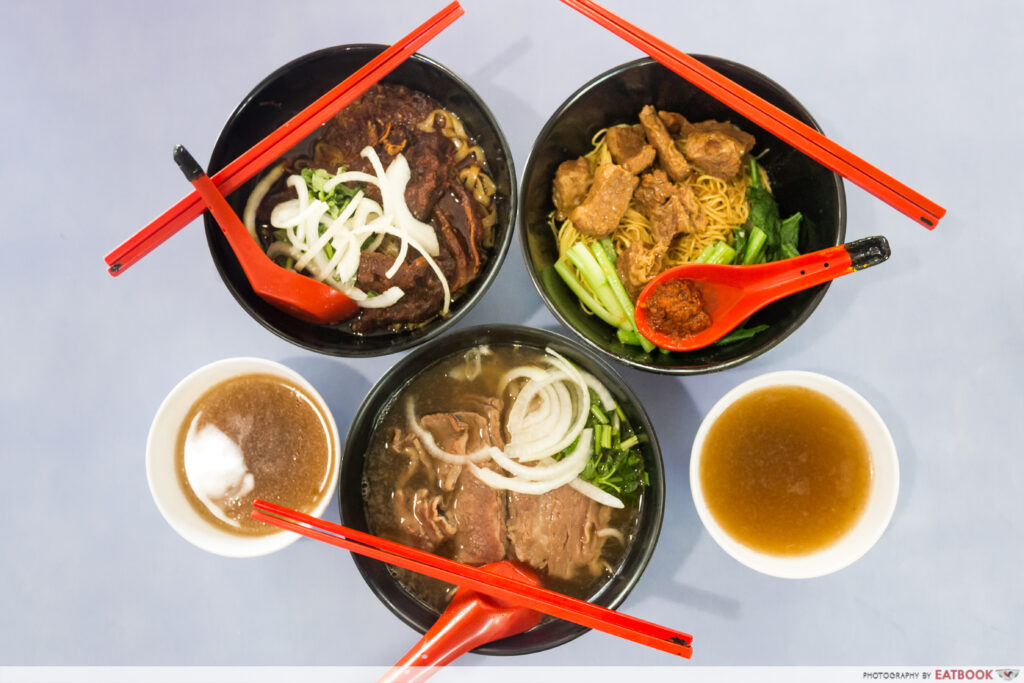 Old Airport Road used to be where Singapore's first airport once stood. Now, a huge bustling food centre has taken over, and it conveniently lies a mere five-minute stroll away from Dakota MRT Station. With more than 100 stalls there, we were spoilt for choice. My stomach grumbled for a hearty bowl of beef noodles, so I eagerly looked from stall to stall and decided to settle on J&J Special Beef Noodle, a stall that serves more than 10 different beef dishes. With articles and reviews plastered around its storefront, it immediately gained my trust.
Food at J&J Special Beef Noodle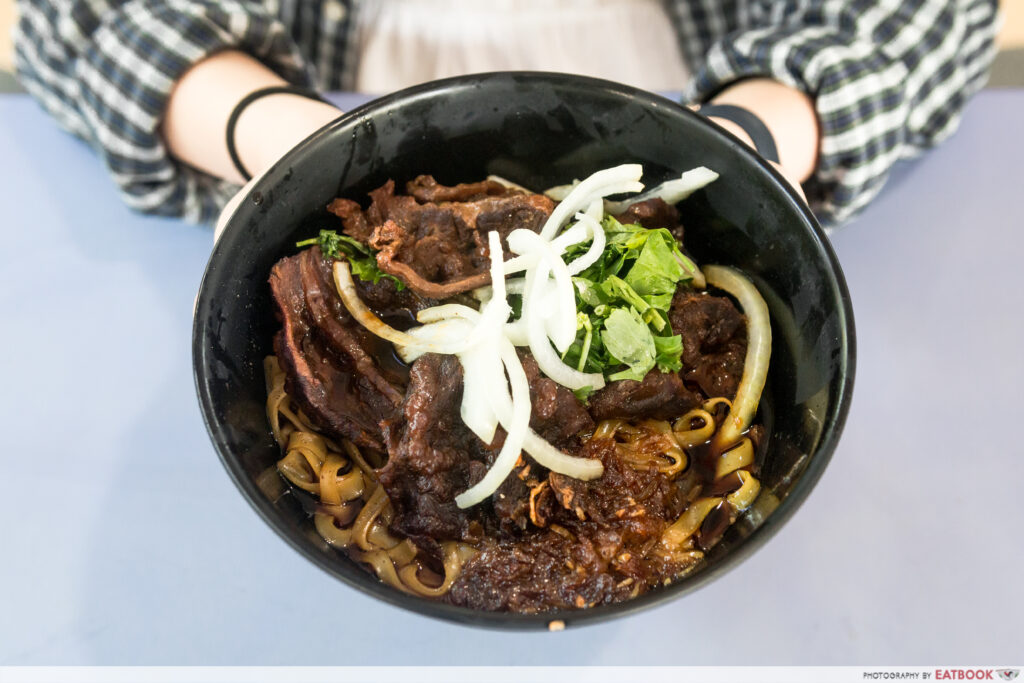 I was curious to find out how 'special' their beef noodles are. We started off with their signature dish, Braised Beef Noodle ($5.50/$7.50). This bowl definitely isn't the typical dry beef noodles you'll find at your neighbourhood kopitiam.  Its strong aroma was good but their sauce, which is made in-house by the couple, is what's special.
It came in a bowl filled with kway teow, plenty of beef slices, raw onions, coriander leaves, and a side of chilli sauce.
Created by an adorable Teochew and Hokkien couple in their 40s, this Teo-Hok dish gives the best of both worlds. What struck me with awe was how the sauce had a honey-sweet taste with a distinct braised beef flavour that had me head over heels. For those with a weaker endurance for spicy food, the smartly paired chilli blended well with the sauce, making each bite sweet and spicy.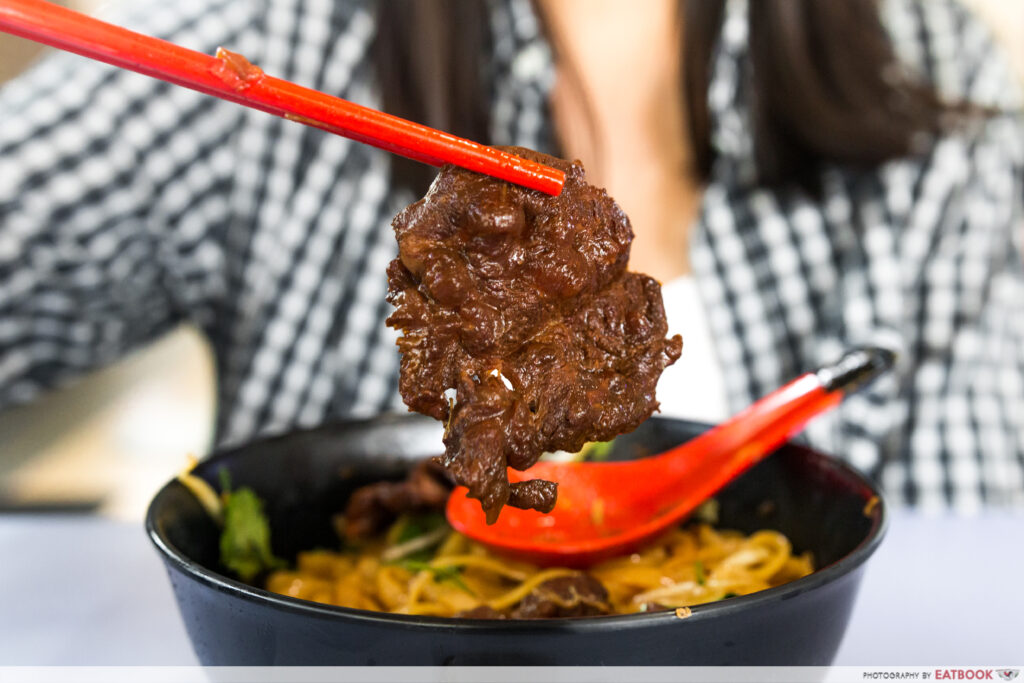 As I held up the beef slices, I started judging the book by its cover. It looked rather rough and overcooked. After much hesitation, I bit into it; I was surprised by how juicy and tender it tasted. I continued gobbling up the rest, nearly forgetting the other dishes.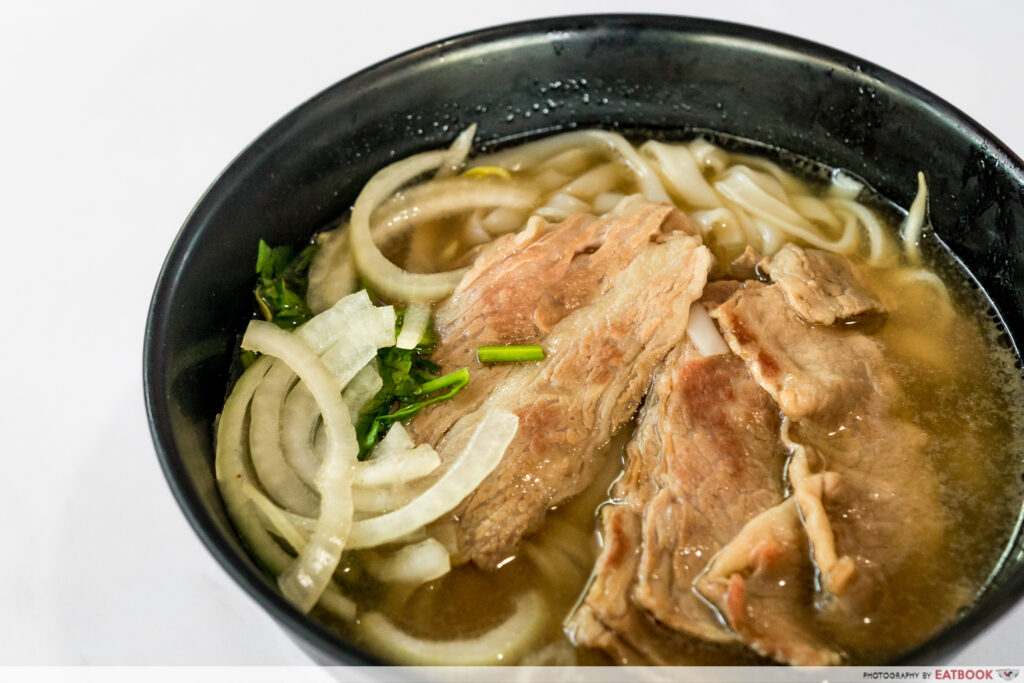 Enough said about the beef kway teow – onto our second bowl! Although they serve wagyu beef rice bowls at $12, we decided to go for the soup-based option, the Wagyu Beef Soup Noodle ($11). Drool ran down the edge of my mouth, as I watched the hawker aunty pour hot soup over the bowl of kway teow and raw beef.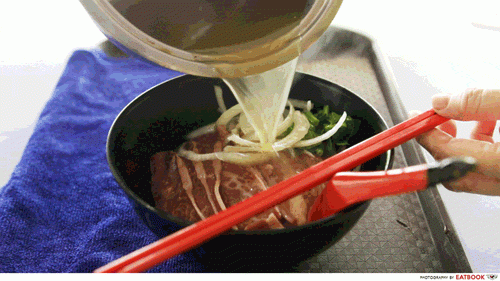 Slurping the soup first, I was impressed that it didn't give off a peppery aftertaste most beef bowls tend to have. Reminding me of home-brewed soup, this non-oily broth had a distinct beef taste that clearly showed long hours of brewing.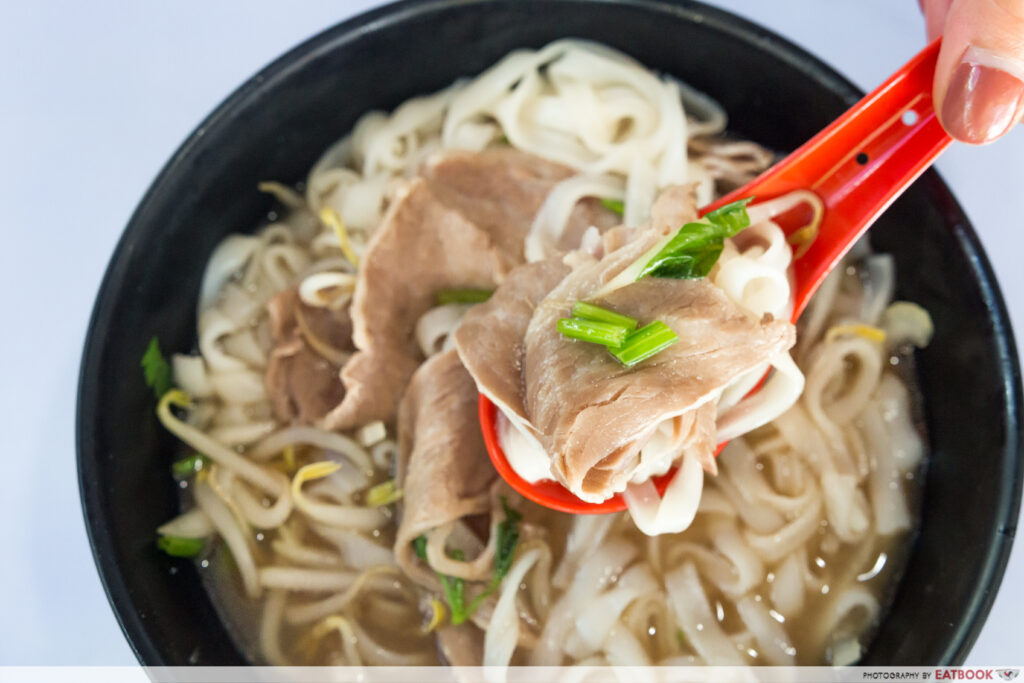 The beef slices played the star of the show in this bowl. Having just the right amount of tenderness, the soft and silky beef effortlessly slid down my throat. The chopped onions finished the taste with a zing that balanced the other ingredients.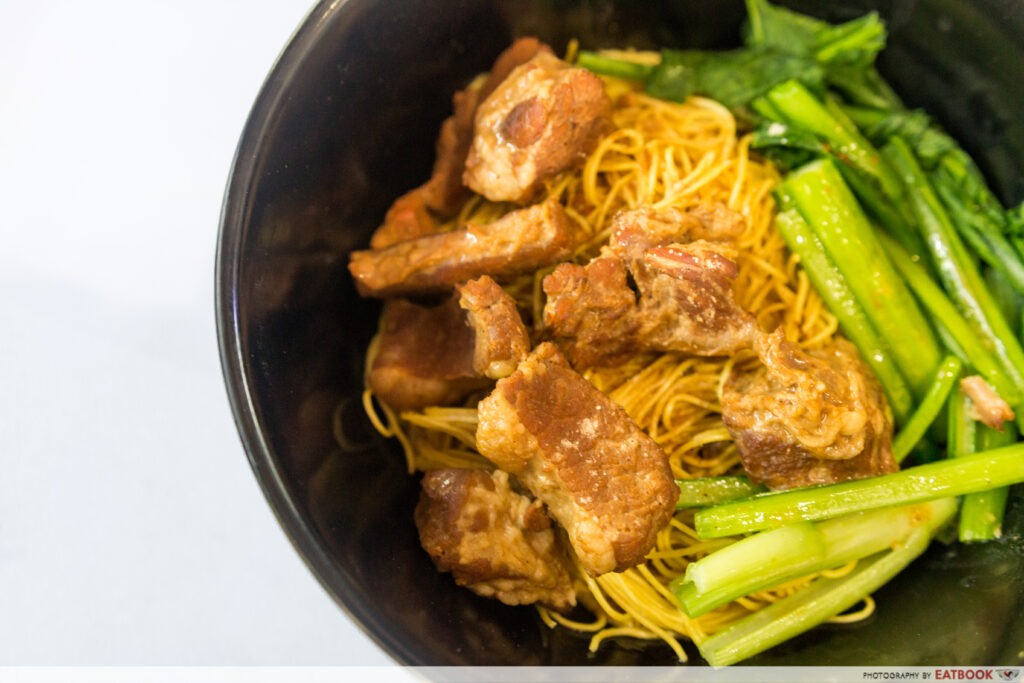 We decided to treat ourselves to a third bowl: the Beef Brisket Noodle ($7.50). Costing a pretty penny, it gave me high hopes especially since it is their second-most ordered dish after the Braised Beef Noodles. We were given springy thin noodles, a spoonful of chilli, thick and abundant pieces of beef brisket, and a load of chye sim, which added a crunch to this dish The sauce gave off an authentic beef taste without being too salty, while the beef brisket was a tad dry although soft. Overall, this was much lighter in flavour.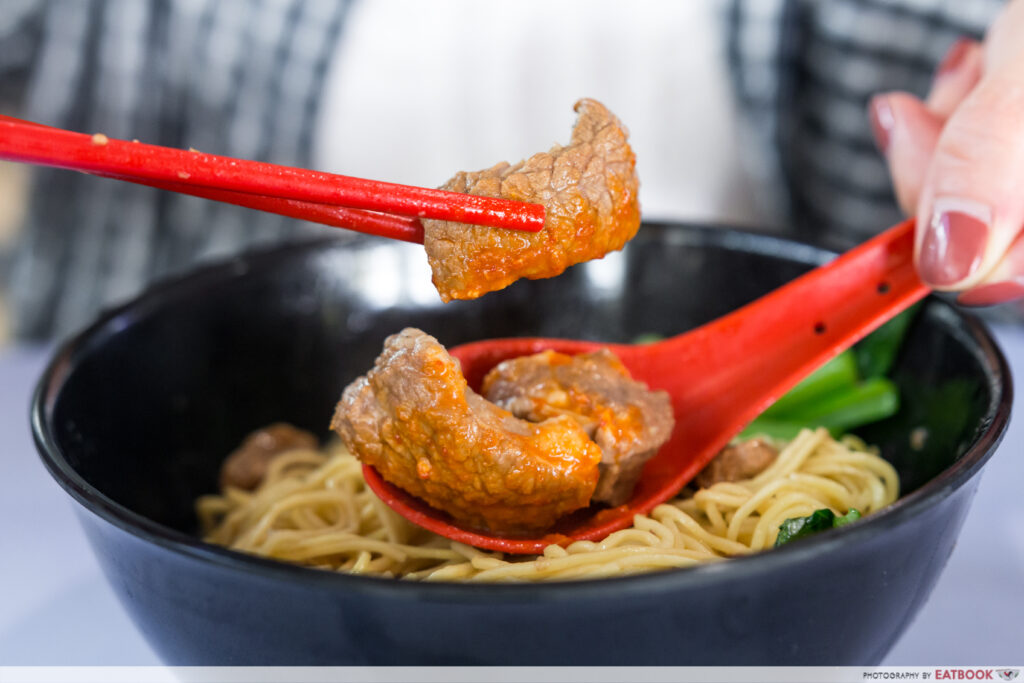 Drenching my beef brisket chunks in their chilli sauce, I took a bite and instantly regretted my ambitious decision. Even for the spicy tongues, you might want to take a step back. On a scale of 10, this chilli stands on a strong nine. It was a pleasant but average dish.
Ambience at J&J Special Beef Noodle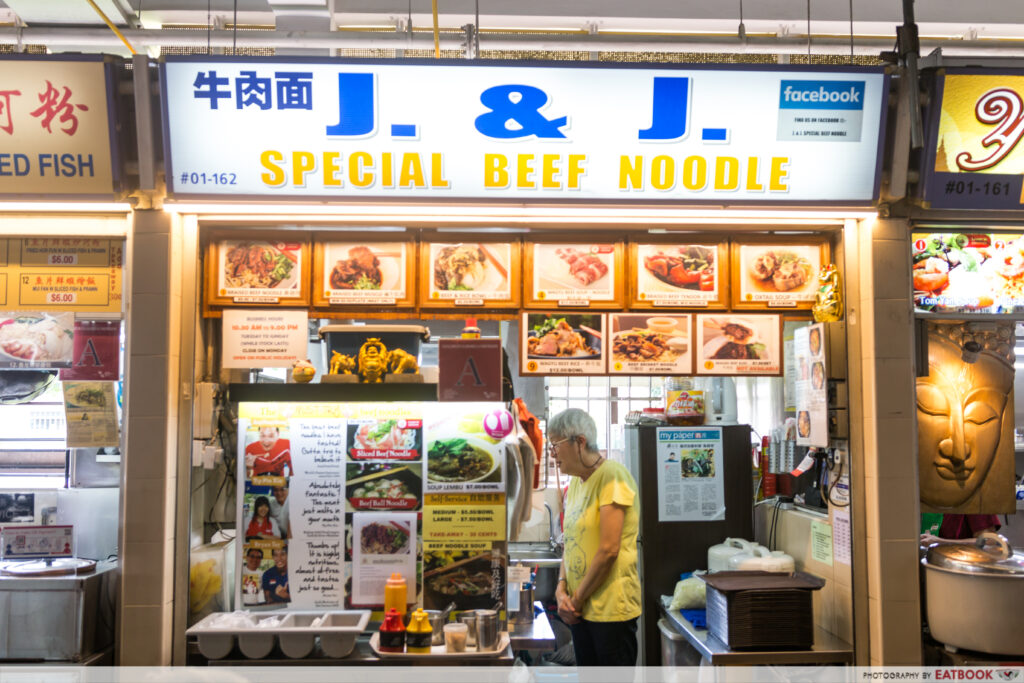 I've heard several praises about J&J Special Beef Noodle, even from the other stall owners nearby. When we got there, we saw pictures of dishes displayed across the top of the stall and the stall owner, William, busy cooking away. His wife then informed us that they named J&J after the first letters of their children, and how they were the taste testers of their dishes.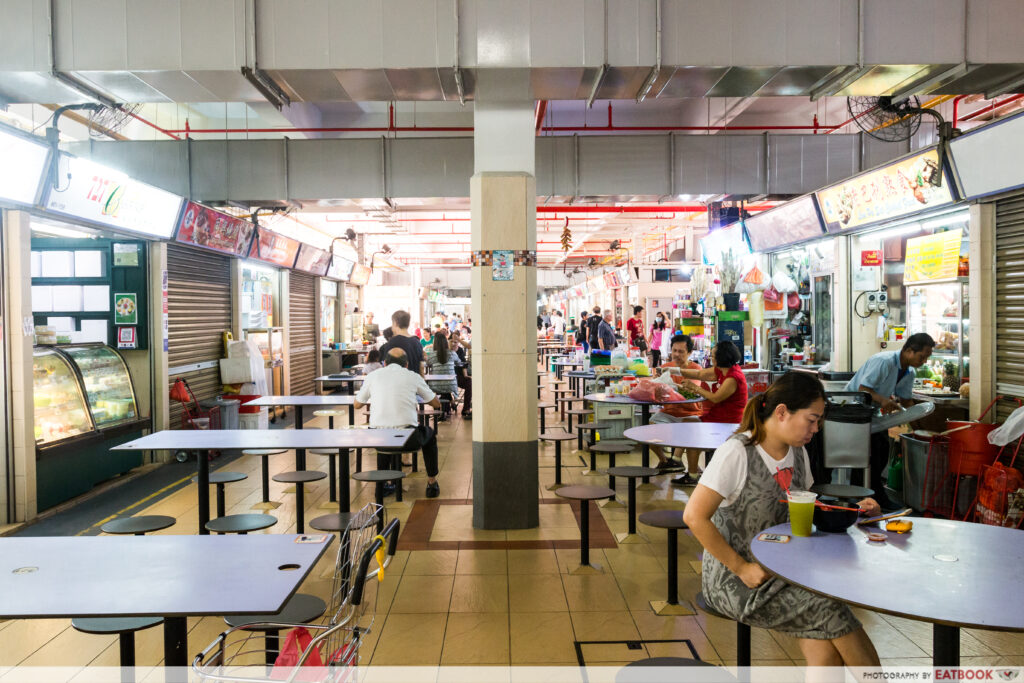 We went to Old Airport Road Food Centre on a late weekday afternoon to avoid the lunch crowd. It was easy to find a table in this huge hawker centre. To get to the stall, walk towards the end of the middle aisle.
The verdict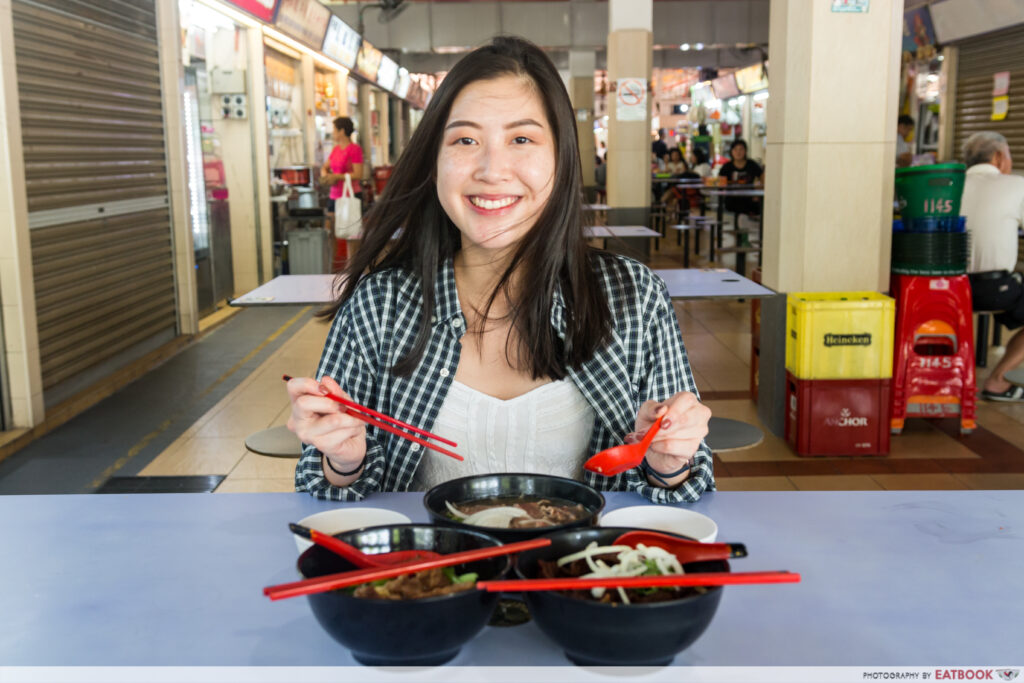 What you pay is definitely what you get. Even though the beef brisket was a rather run-of-the-mill dish, their Braised Beef Noodle and Wagyu Beef Kway Teow left a memorable taste good enough for me to come back for more. If you're a beef noodle fanatic, you've got to get your list of must-try boxes checked over here. For more comforting bowls, check out Nuodle and Gin Sen! Or visit these other Old Airport Road Food Centre Stalls!
Address: 51 Old Airport Road, #01-162, Old Airport Road Food Centre, Singapore 390051
Opening hours: Tue-Sun 10:30am to 9pm
This is an independent review by Eatbook.sg.
Summary
Pros
– Affordable
– Delicious dishes
– Convenient location
– Friendly stall owners
Cons
– Beef brisket was average
Recommended Dishes: Wagyu Beef Kway Teow ($11) and Braised Beef Noodle ($5.50/$7.50)
Operating Hours:
Tue-Sun 10:30am to 9pm
Address: 51 Old Airport Road, #01-162, Old Airport Road Food Centre, Singapore 390051