Jurassic World Cafe at ION Sky
We will finally get to walk amongst dinosaurs as the Jurassic Park franchise will open Southeast Asia's first Jurassic World Cafe at ION Sky come 6 November 2020. This cafe was formerly seen in Japan, in conjunction with the film's launch in 2018.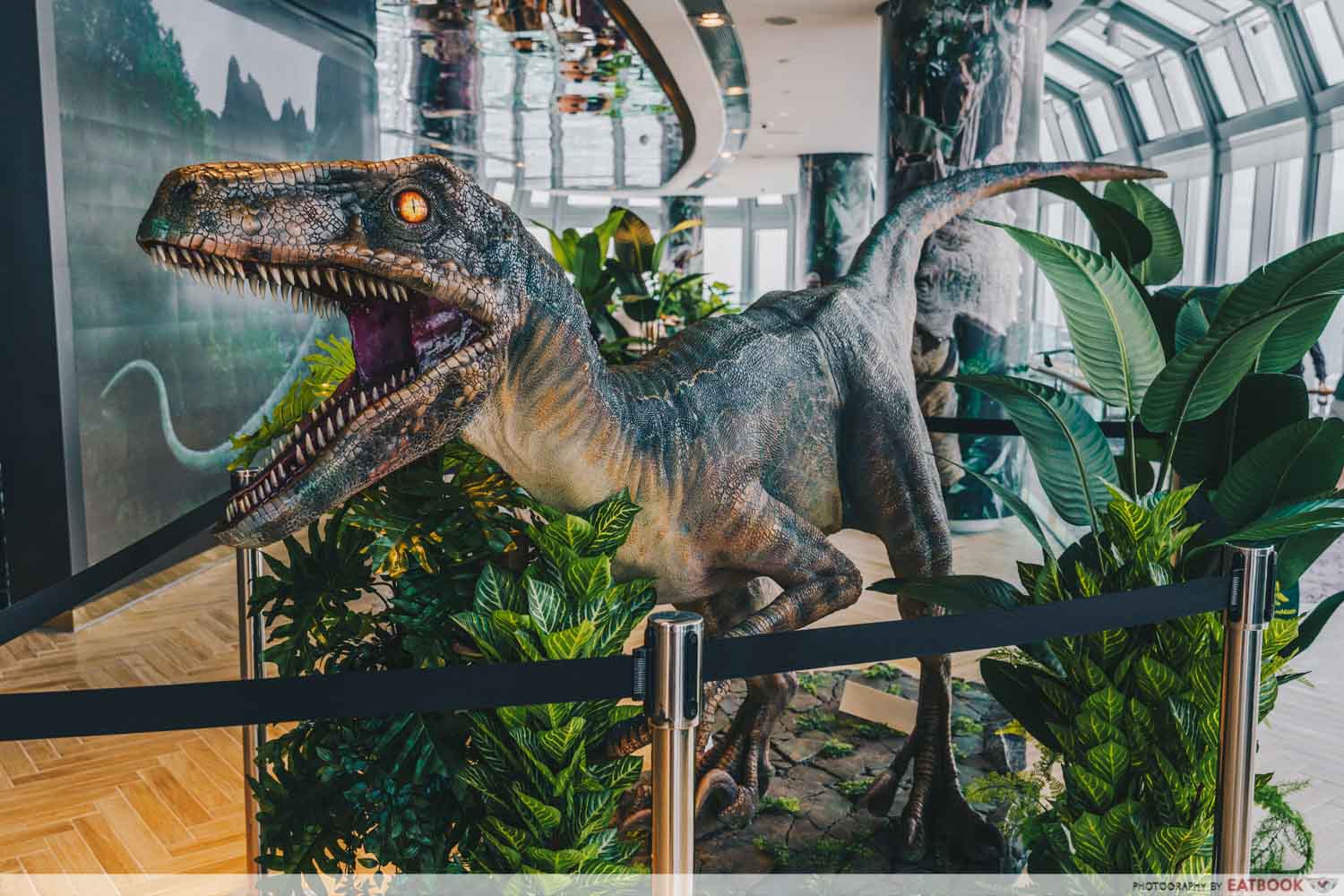 The experiential dining and retail pop-up will run till 3 January 2021 next year, and is backed by Universal City Studios. Located at ION Sky on Level 56 of the Orchard-based mall, the cafe is a scenic experience on multiple fronts.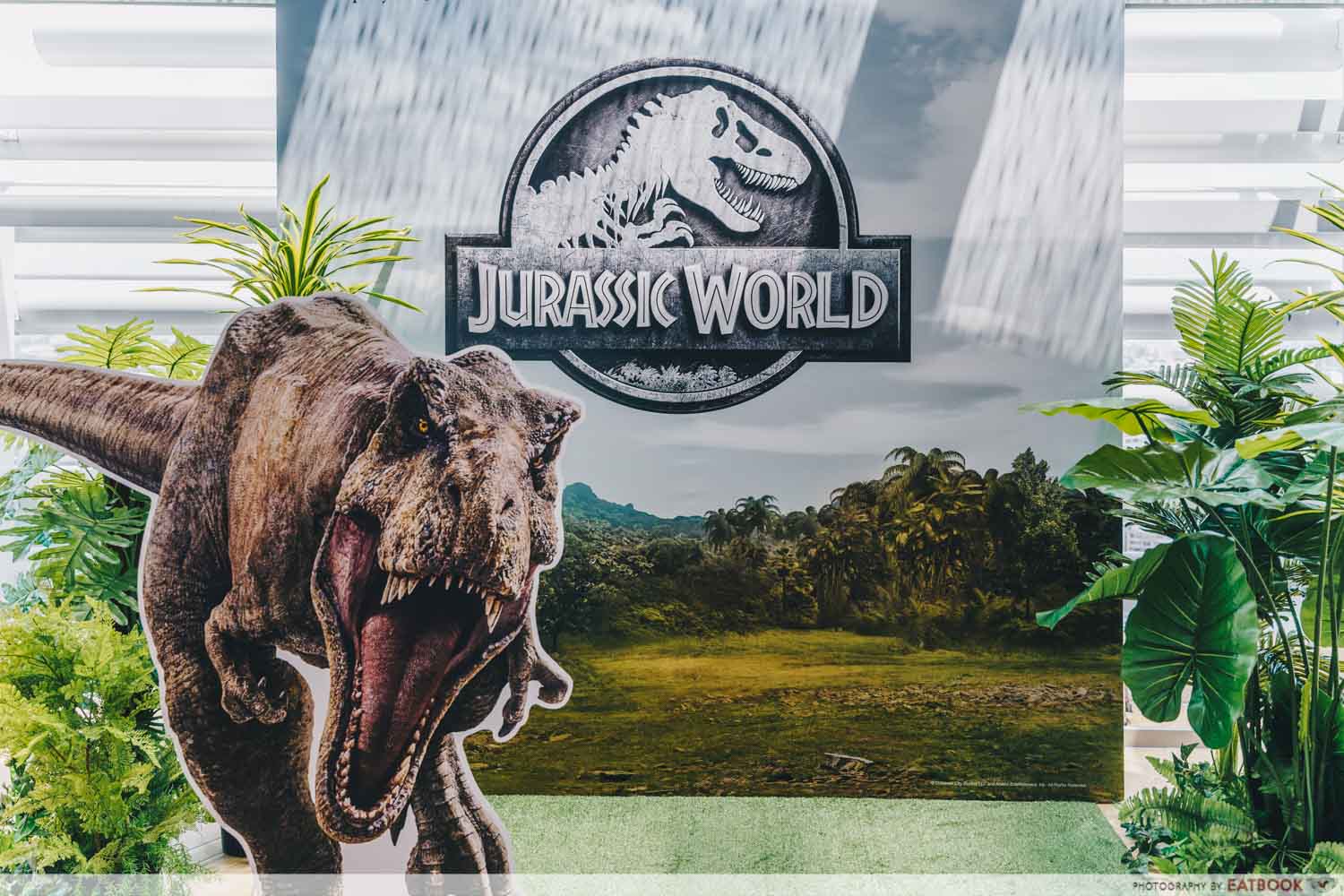 Be greeted by a life-sized model of Blue, the velociraptor, as you enter, and don't forget to take photos at the photo wall!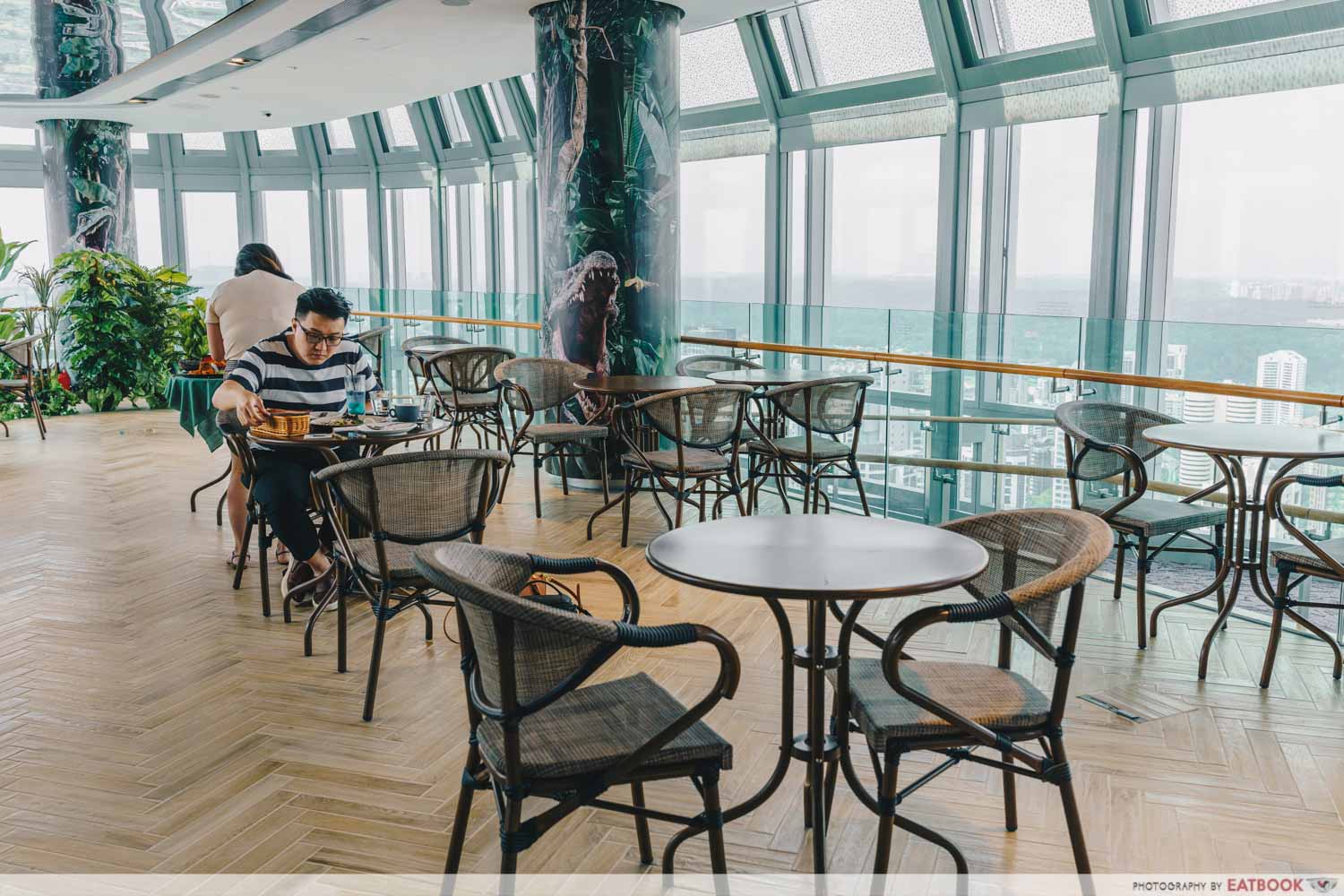 Allow yourself to be transported to the mythical isle of Isla Nublar, with walls of murals and screens depicting dinosaurs you'll recognise from the blockbuster franchise.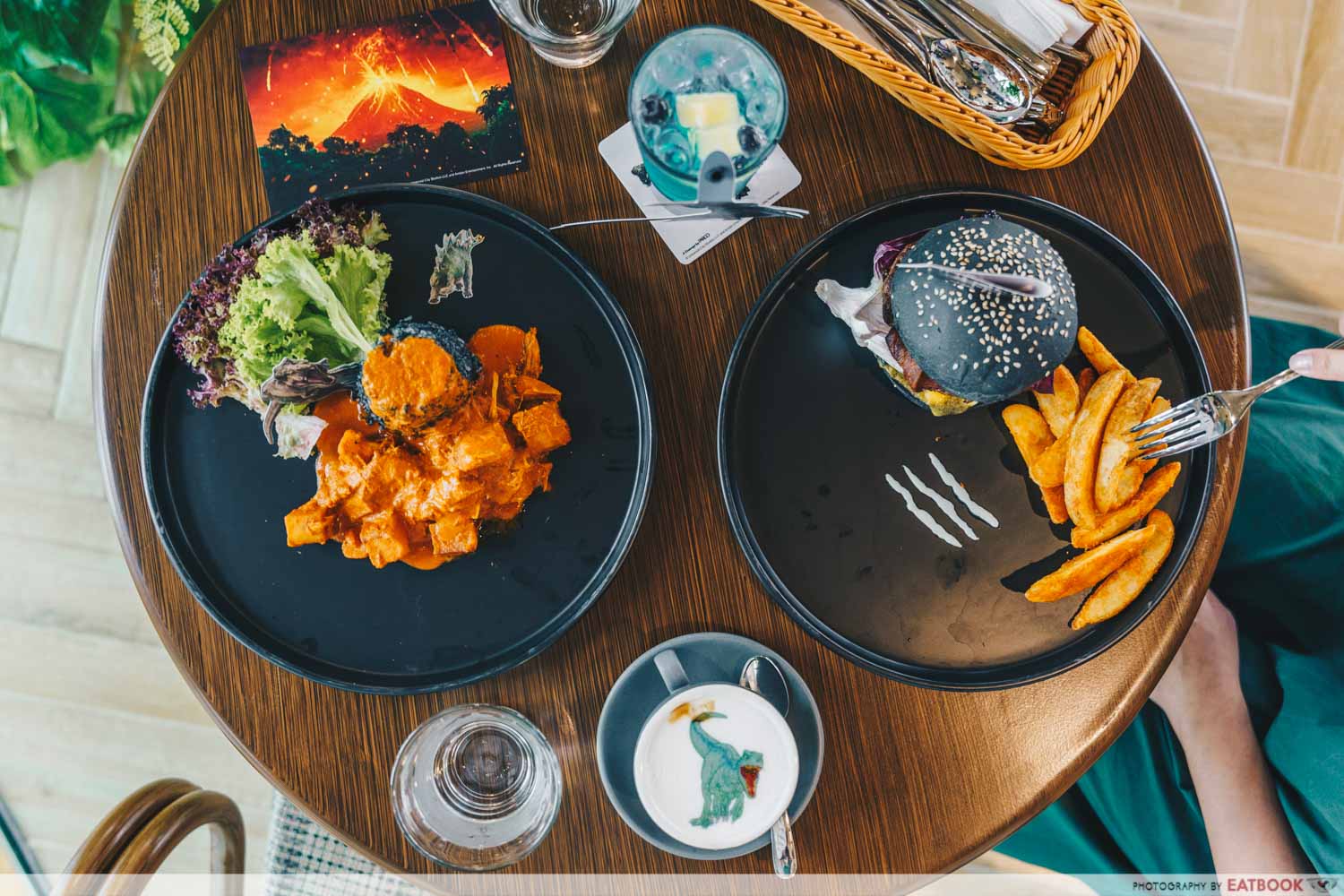 On the food front, there are themed dishes that nod to Jurassic Park, including our top pick: a Volcano Curry ($23) that comes with a postcard of an erupting volcano you can stand behind the plate, perfect for a 'gram shot of the dish.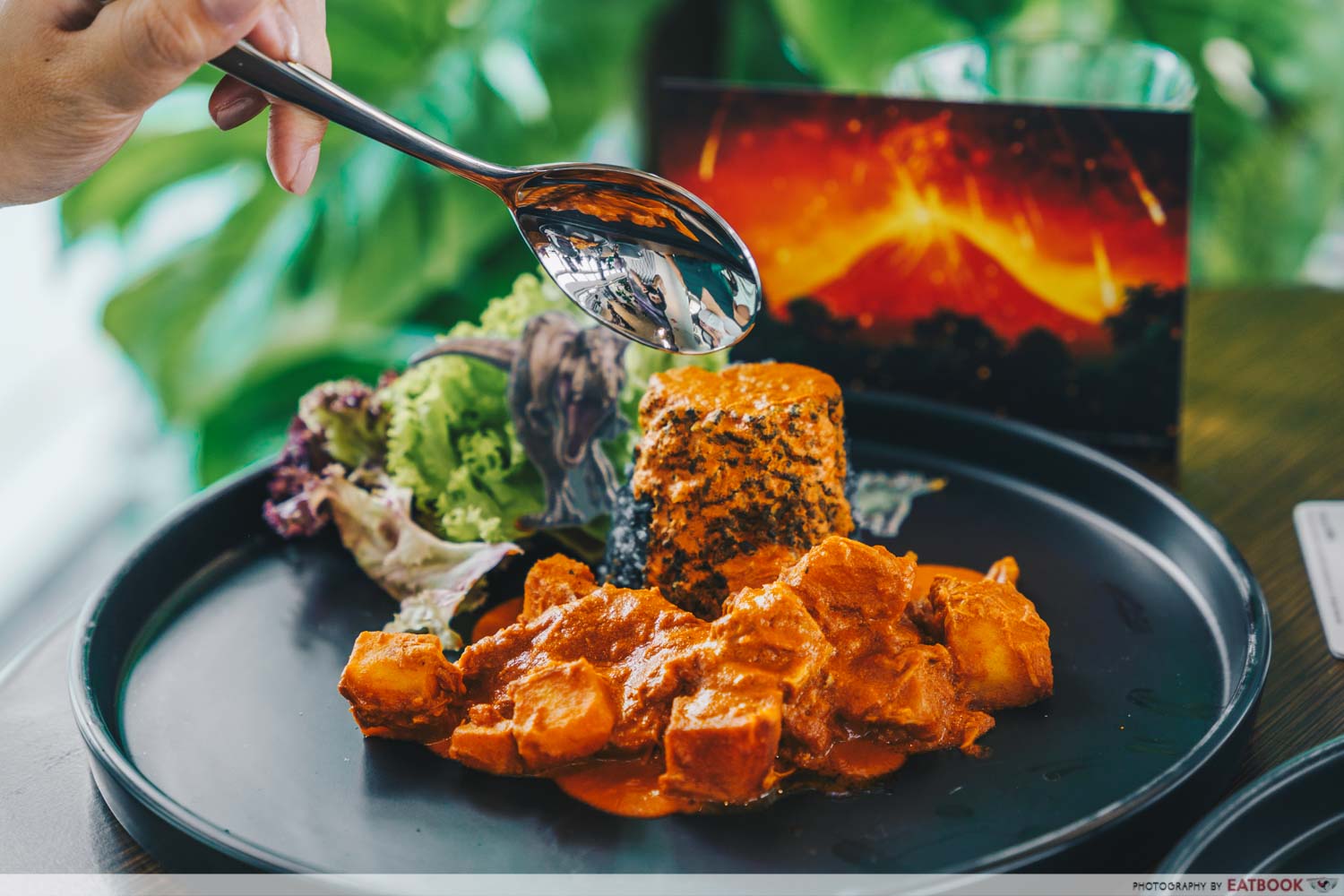 Plus points go to the pulled pork curry for not having any bones and bits that get in the way of enjoyment.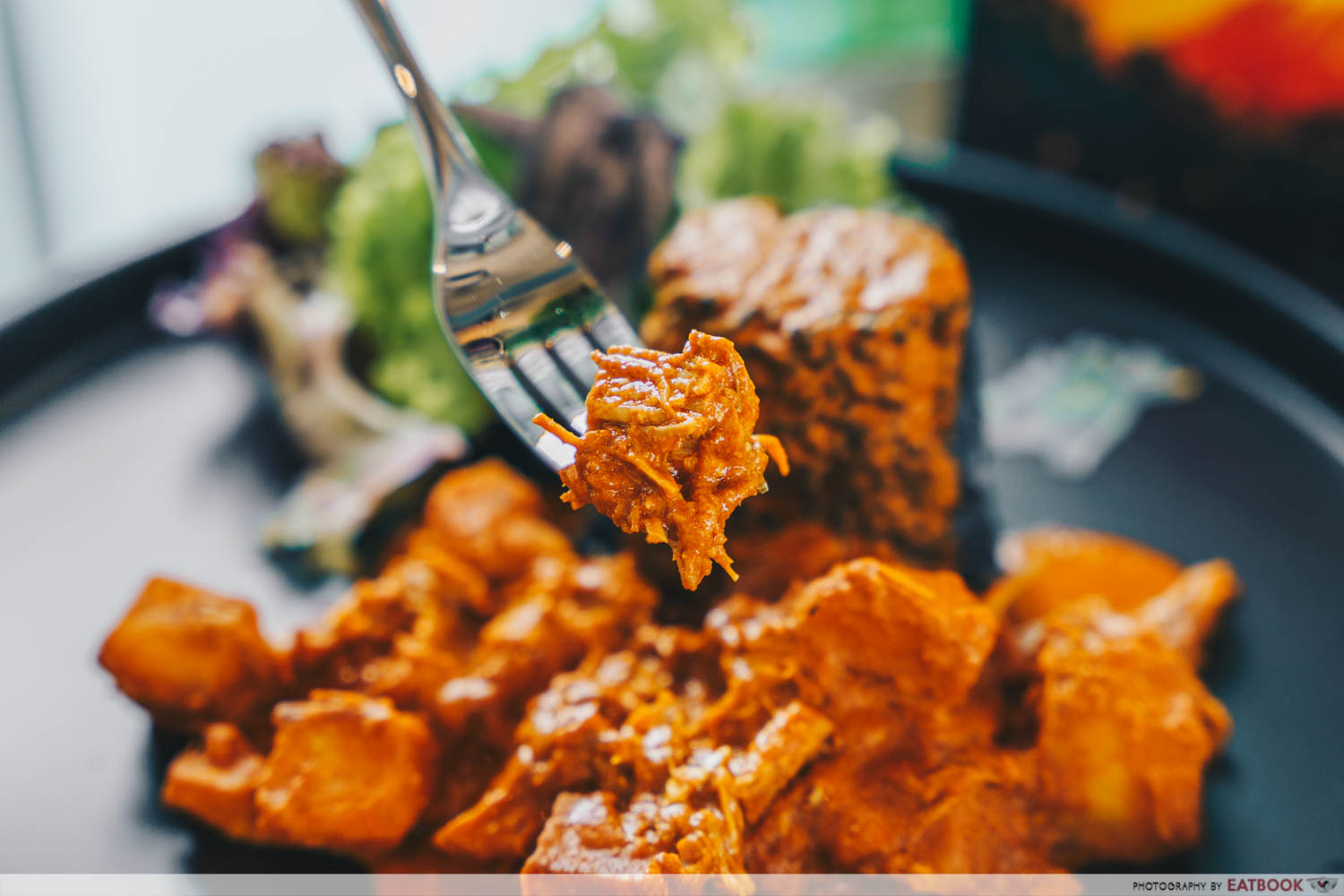 I appreciated how generous they were with the potatoes, which held their shape even drenched in all that thick, fiery curry gravy.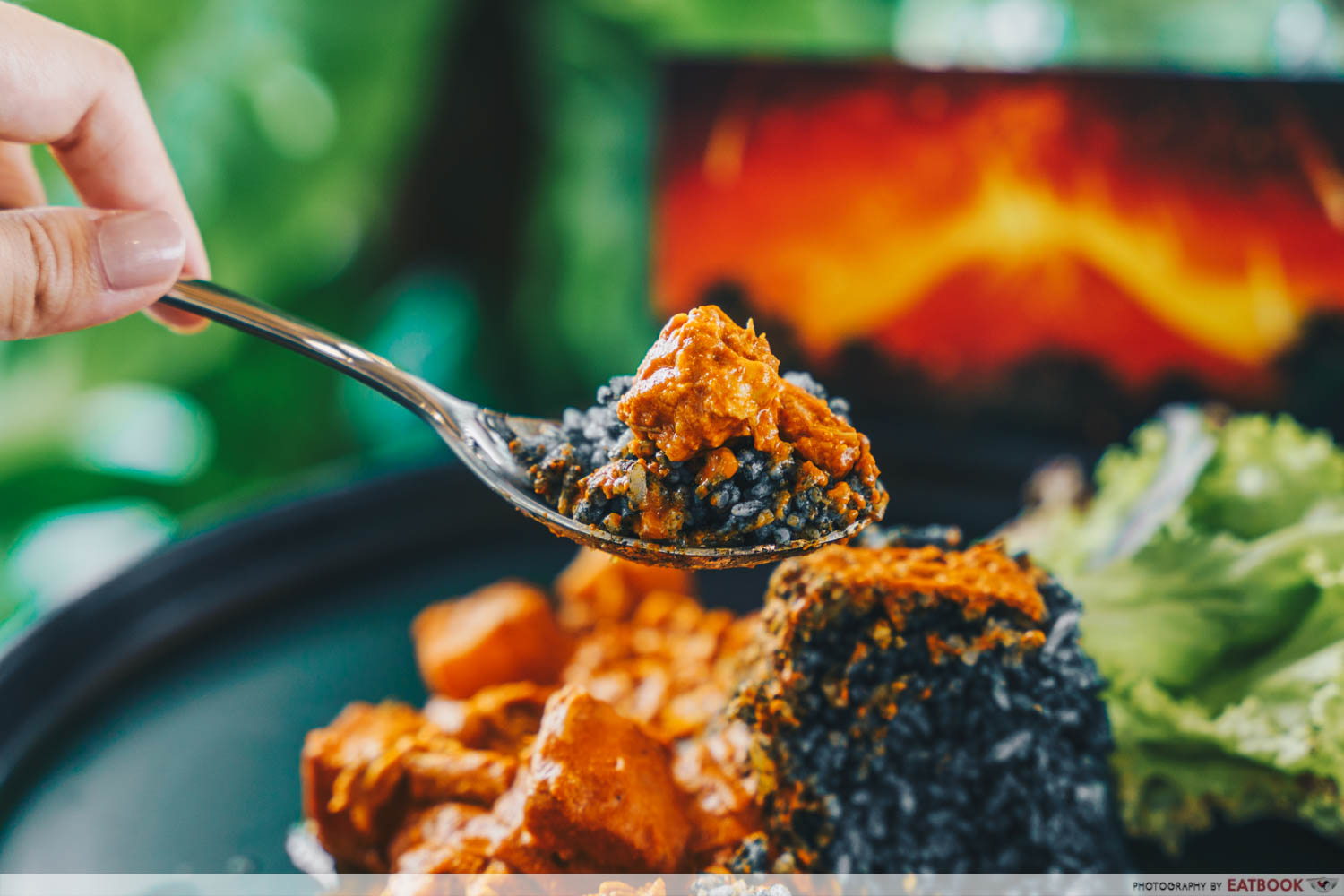 It is a little on the spicy side, with a strong kick reminiscent of Indian curry, rather than the more muted Chinese-style, lemak variety, or Japanese curry. If you're intending to come here with kids, this may not be the best dish to order for them.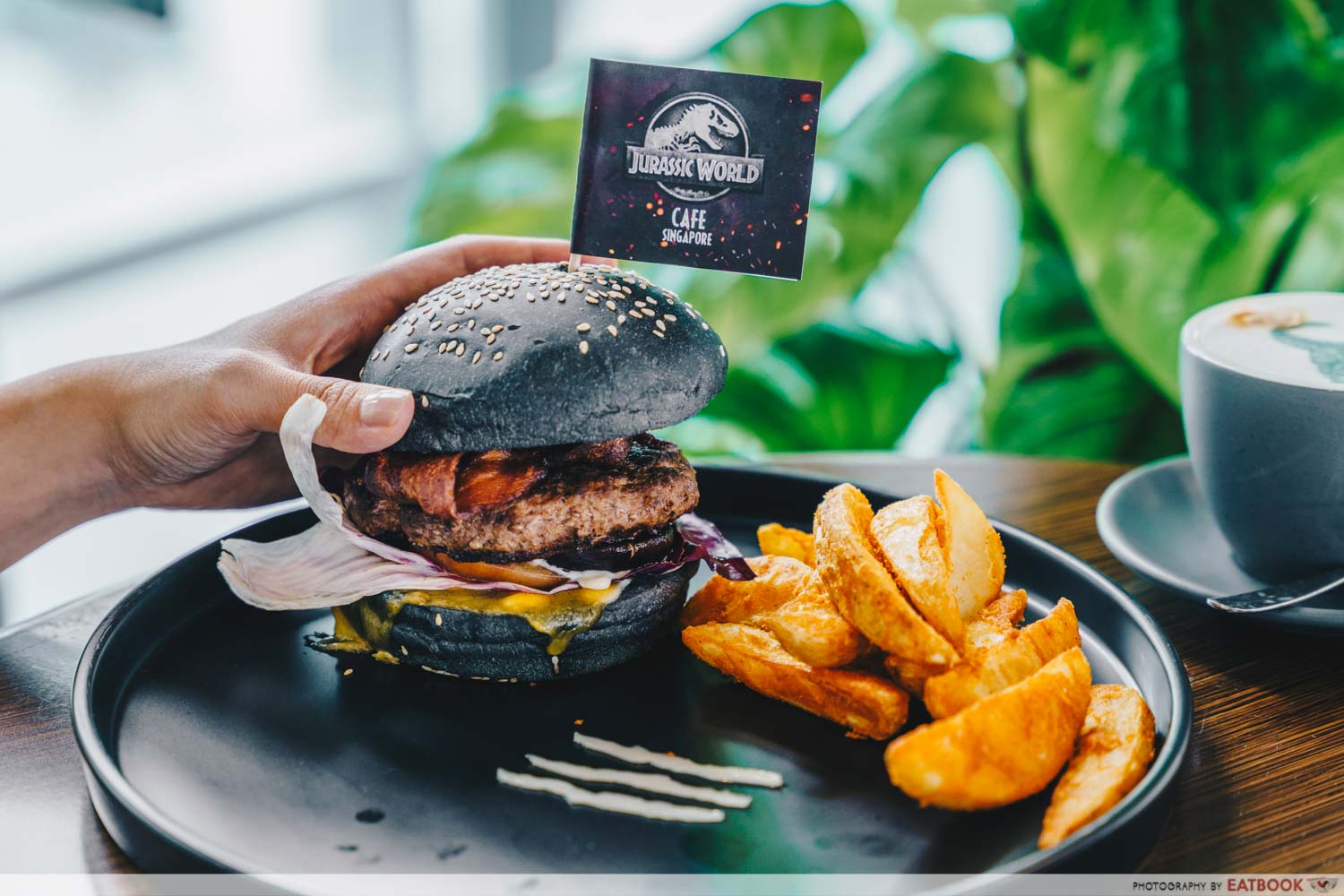 Another option is the Jurassic World Burger ($28), featuring a very chunky beef patty sandwiched in a charcoal burger bun. It's paired with mushrooms, bacon, cheese, your usual tomato and salad leaves, with potato wedges on the side and three ominous-looking 'scratches' on the plate.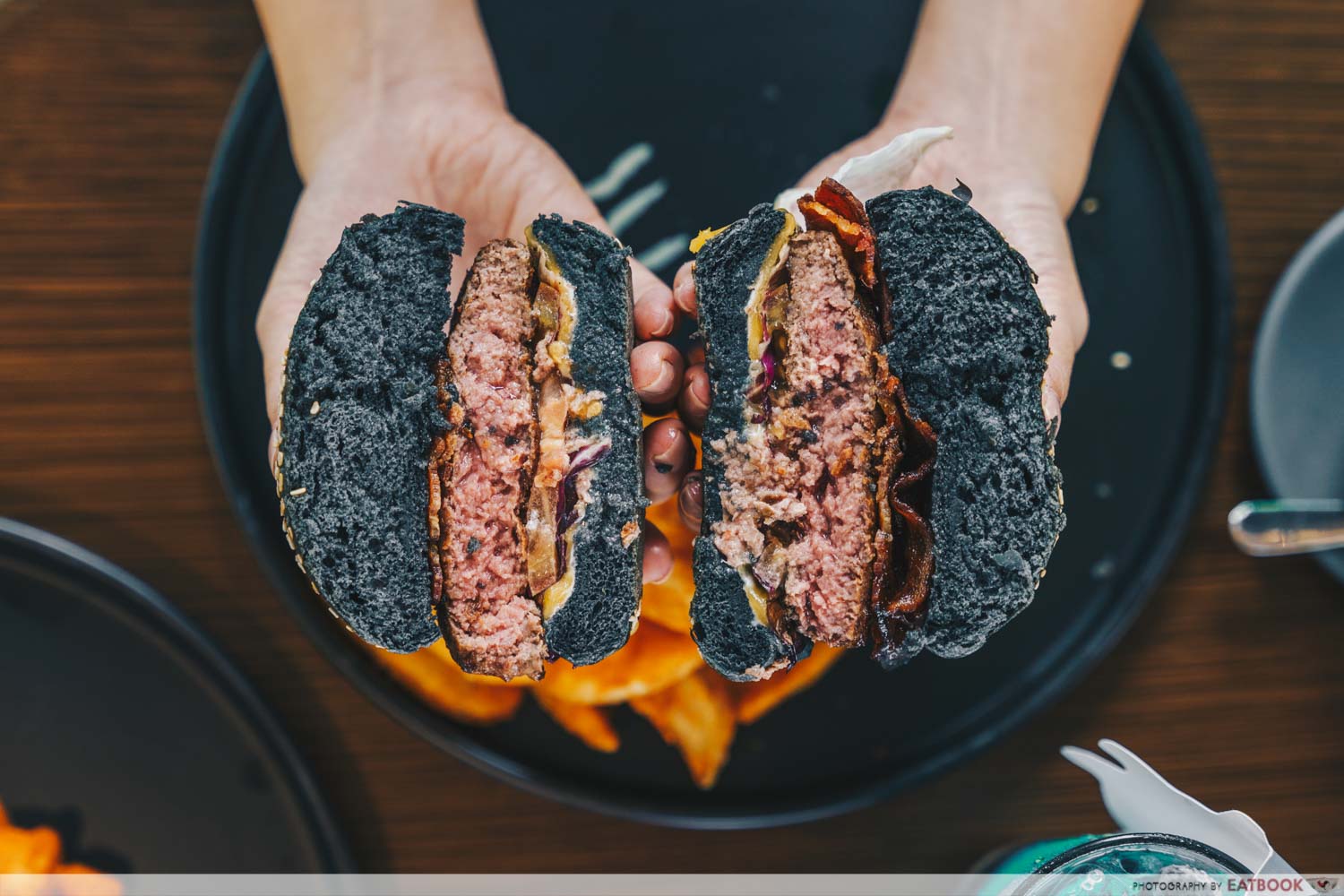 We were impressed with how juicy and medium-rare the patty appeared as we cut into it. Biting into the beef, though, was tough, as the outside was dry and hard, rather than crusty. I also felt the beef was ground too fine, and my dining companion found it under-seasoned. It is hoped that they will tweak the recipe before the cafe opens tomorrow.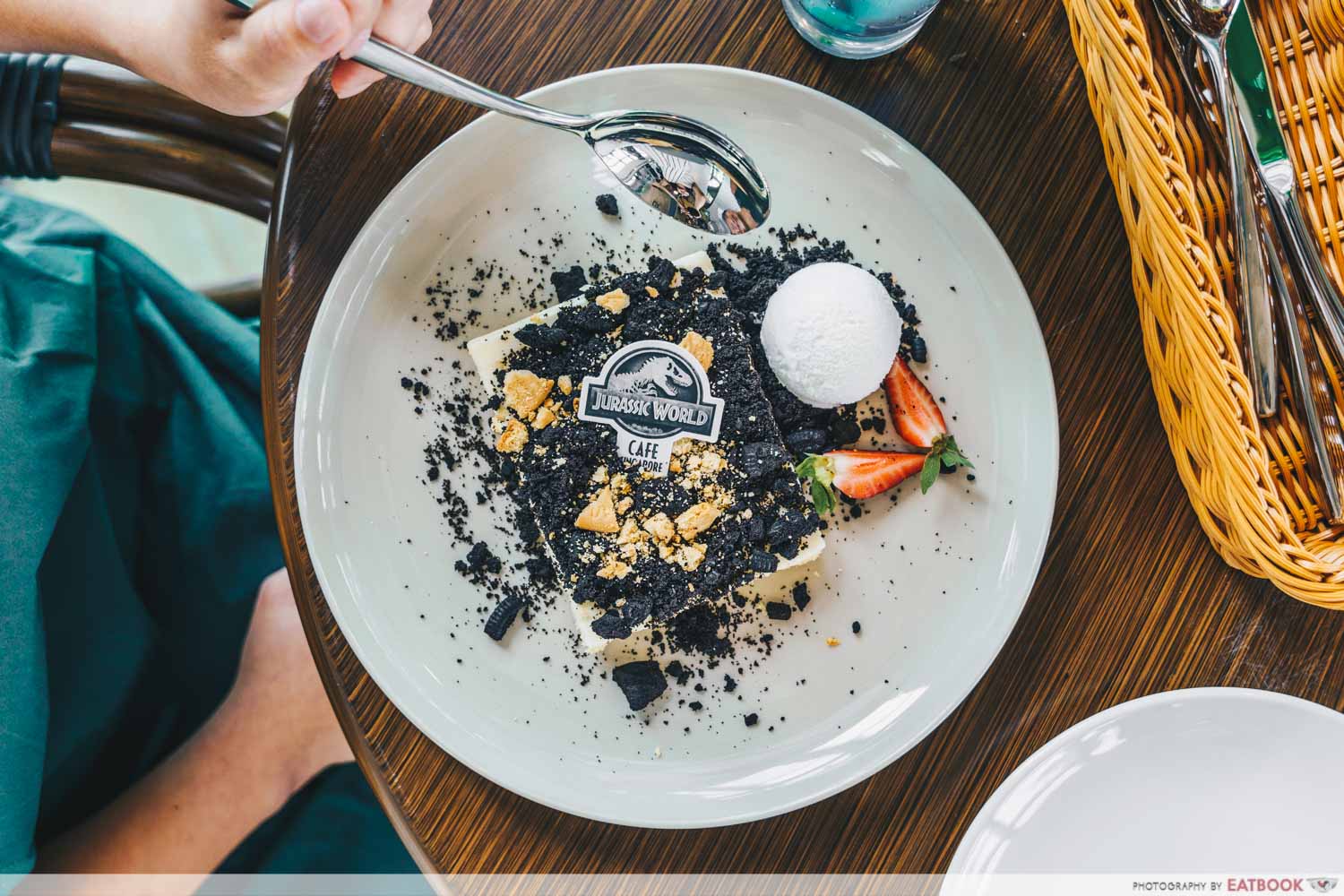 Kids will surely enjoy the Fossil Excavation Cake ($16), which has a base of sponge cake, a layer of vanilla and white chocolate mousse, and topped with crumbled cocoa biscuits.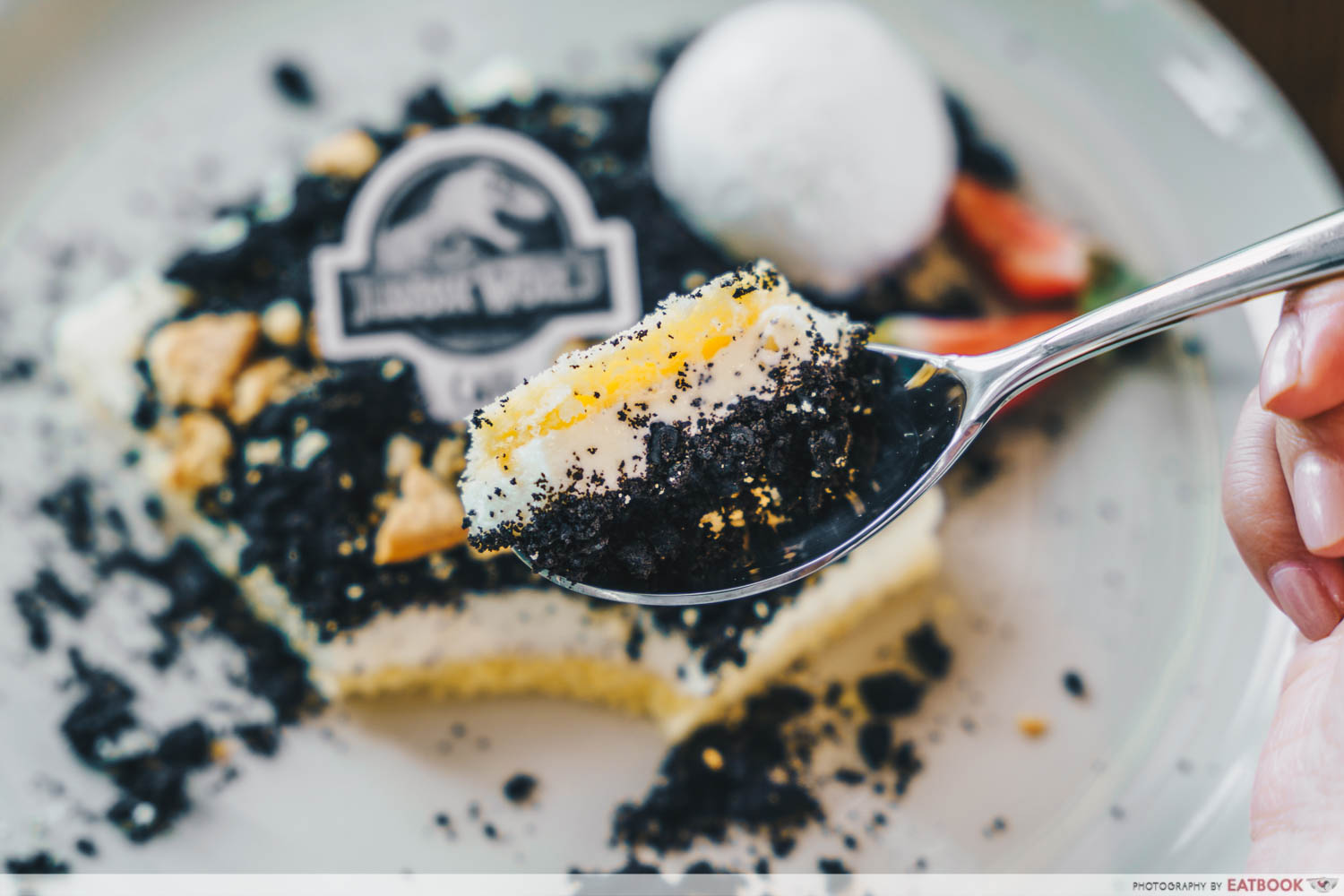 Other desserts to look out for include Lava Cookies ($12), Lava Flow ($12) which looks to be a molten chocolate cake, and a Geologic Parfait ($16) that looks like layers of rock in the earth.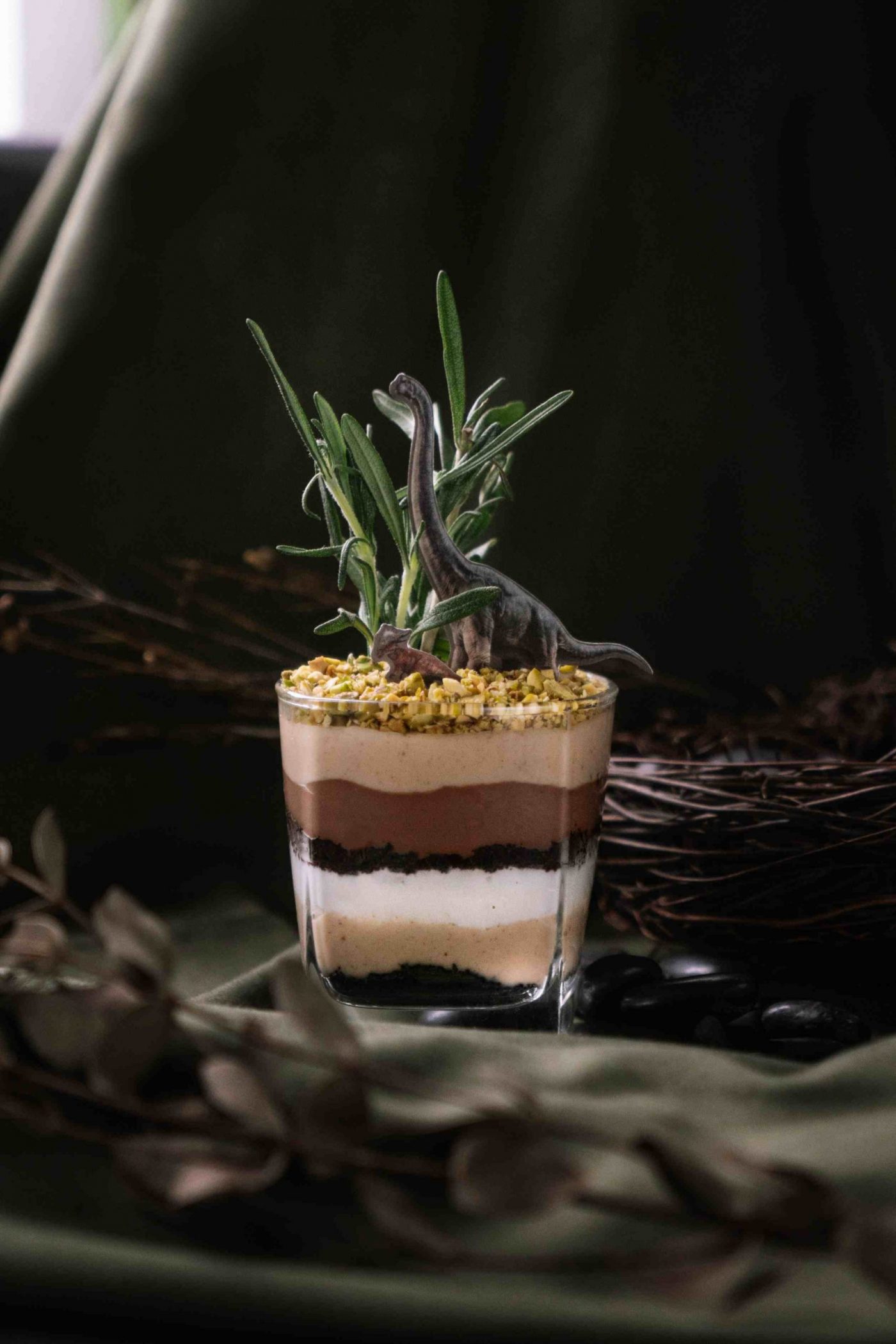 Image credit: 1-Group
If you're just here for the drinks, get yourself a Mosasaurus Soda ($8), a mystical aqua-blue drink that looks like the depths of the underwater area the film's Mosasaurus was housed in. It's spearminty and refreshing, with a very slight hint of rosemary.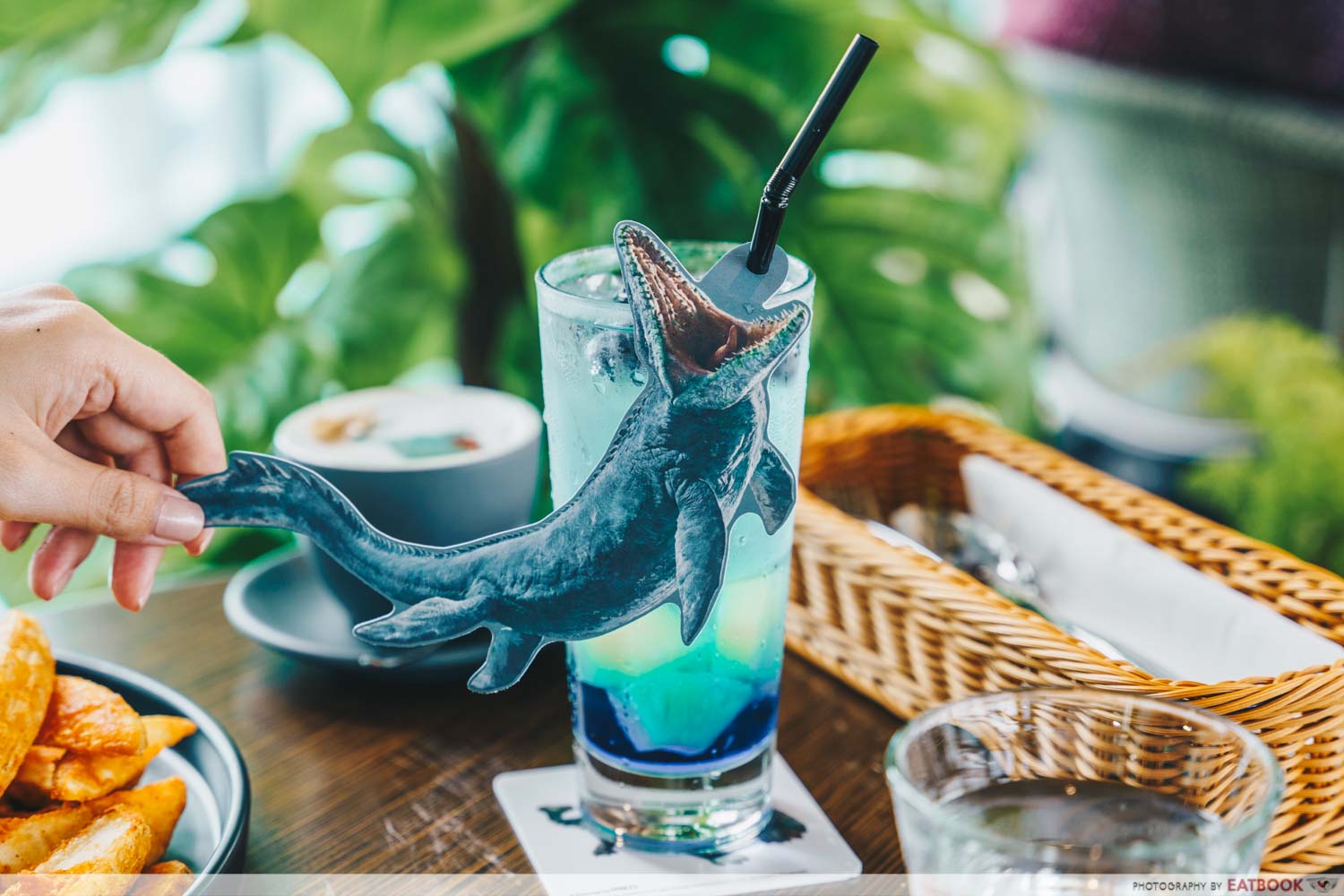 Otherwise, get the Brachiosaurus equivalent with the Brachiosaurus Mint Pandan ($8) or Brachiosaurus Chendol ($8), or stick to good ol' coffee. We'd recommend going for the Hot Latte($6), Hot Mocha ($6.50) or Hot Matcha Latte ($6.50), because these come with prints of the dinosaurs on the froth!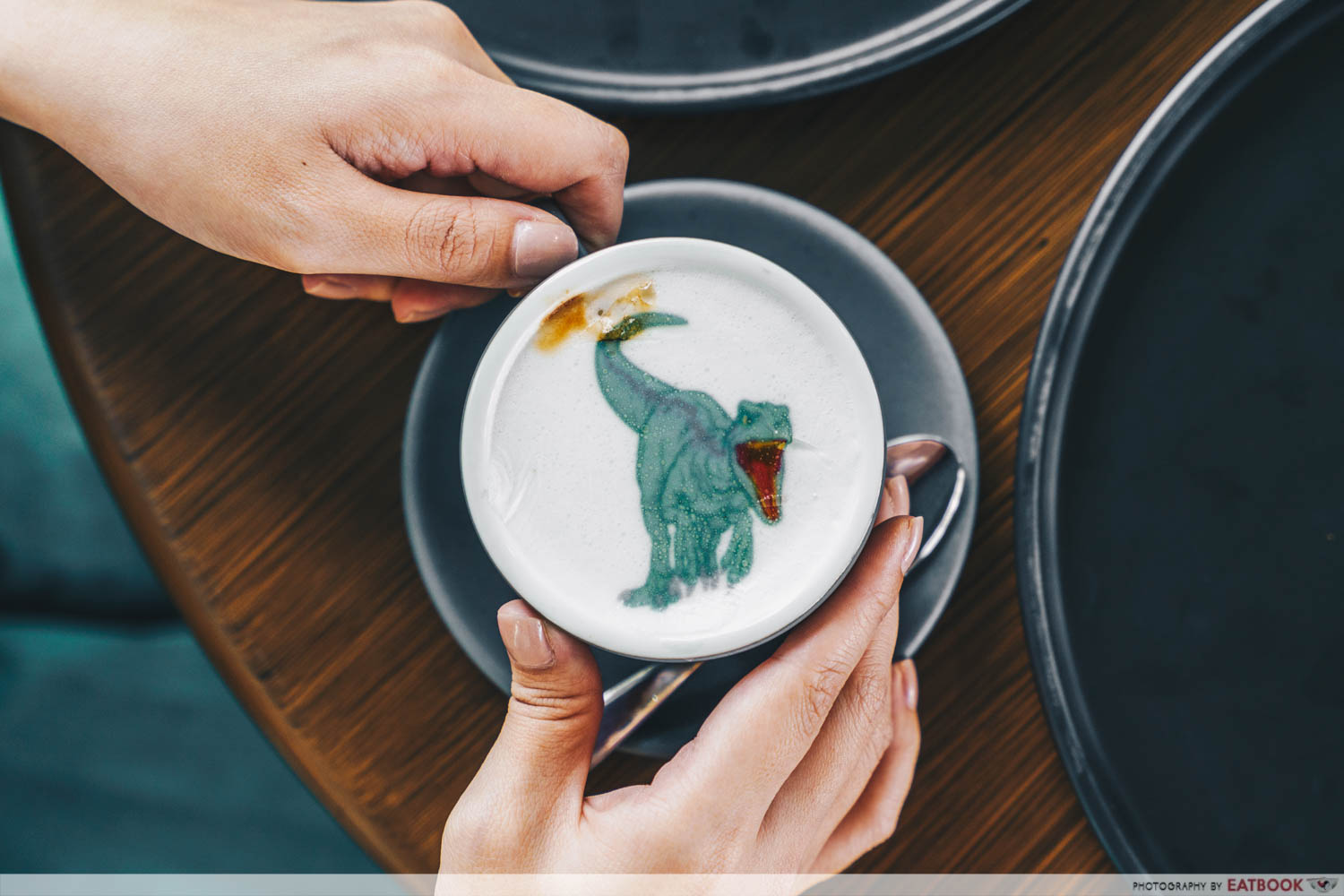 Exclusive merchandise and limited edition collectables are also be available on-site, so be ready to splurge. This includes an exclusive plushie keychain of the Velociraptor, Blue, and Jurassic World LEGO sets.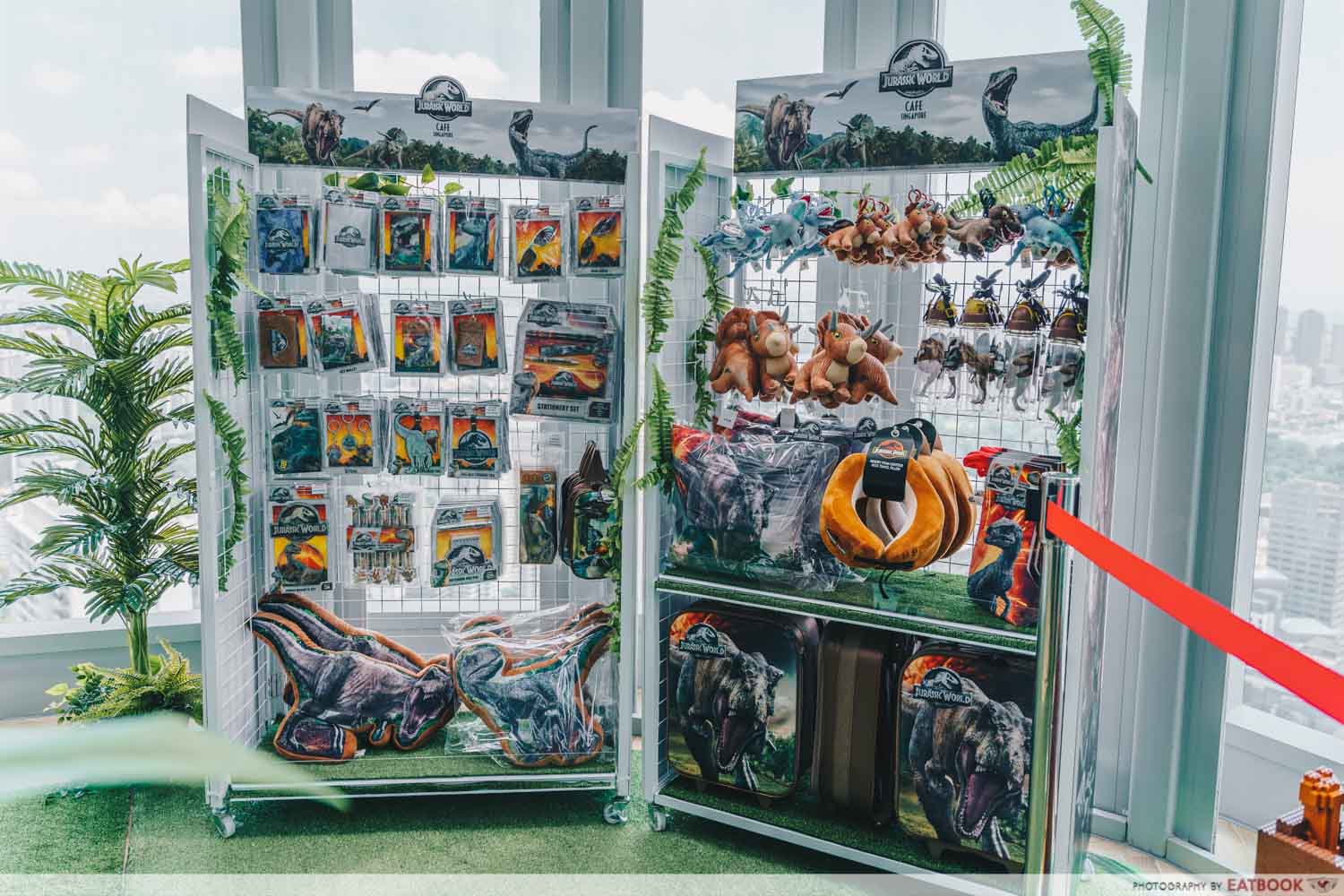 Another limited edition range of merchandise are these absolutely cute Mattel collectible Snap Squad figures, of which there are four.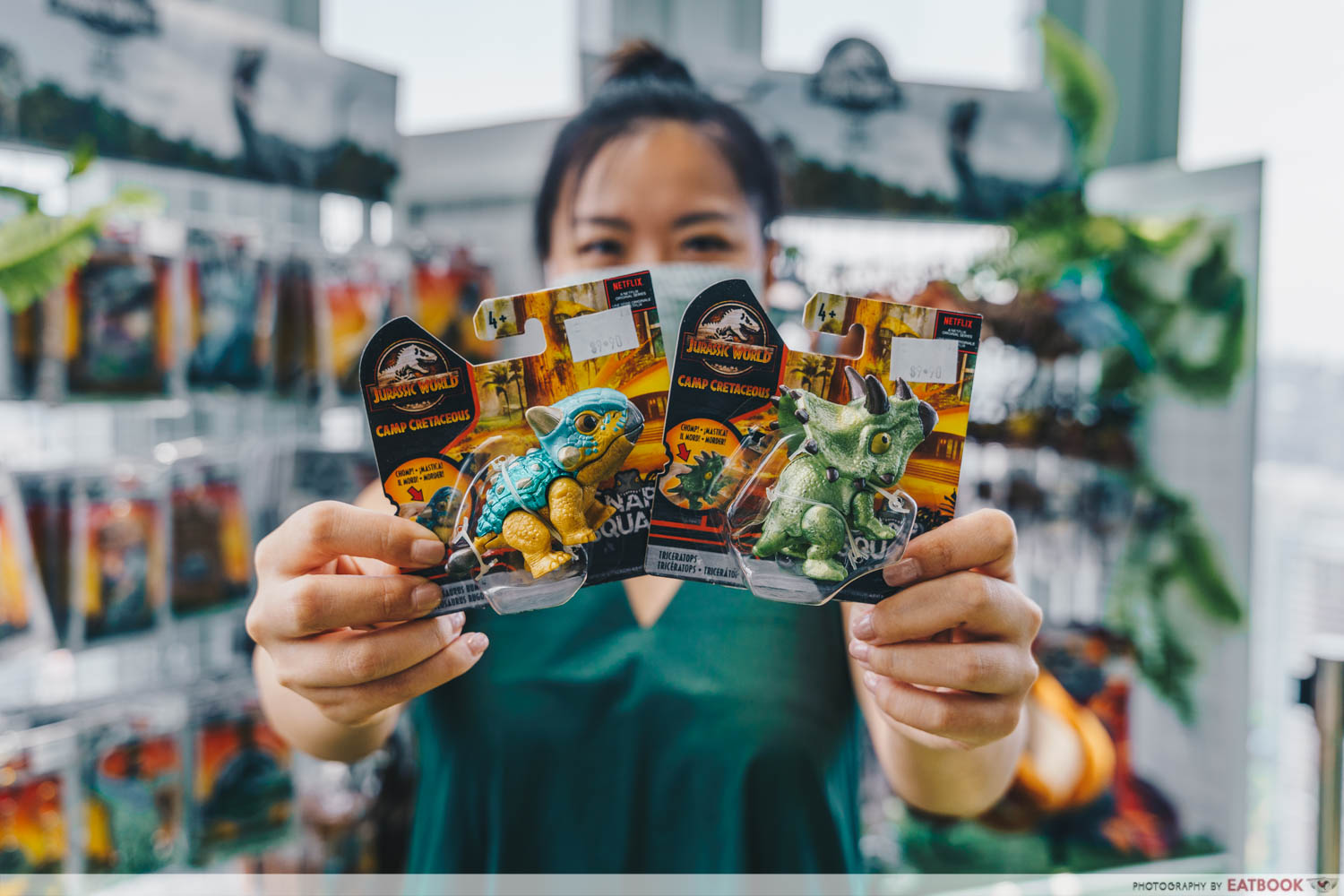 The cafe will operate from 11am to 10pm daily. Tables will be available for reservations from 6 November 2020 onwards. To book your table, you can call 8028 1489, or email reservation@jurassicworldcafe.sg
For more themed cafe experiences, check out the Rilakkuma Cafe at Orchard Central, brought to you by Kumoya. This year-long pop-up features Japanese dishes that star Japan's favourite brown bear and his friends, served amidst cute decor and a store that retails Rilakkuma merchandise.
Rilakkuma x Kumoya Cafe Review: New Cafe At Orchard Central Has Kawaii Bear-Themed Food And Decor
Address: 2 Orchard Turn, Level 56, ION Orchard, Singapore 238801
Tel: 8028 1489
Website
Jurassic World Cafe is not a halal-certified eatery.
Photos taken by Lim An.