New Rilakkuma cafe in Singapore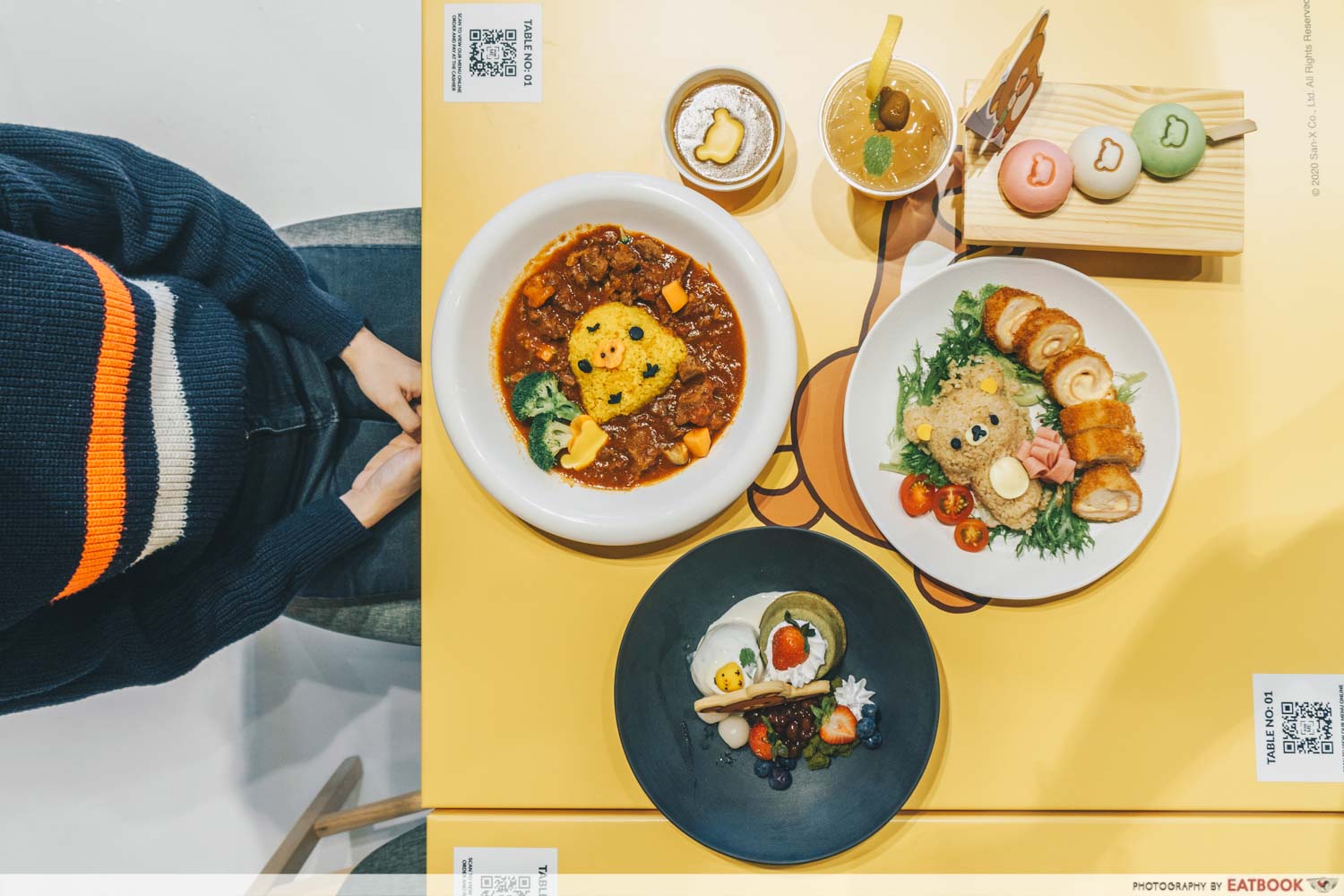 Kumoya is famed for being able to pull off adorable pop-up cafes that centre around popular cartoon characters such as Pusheen, Sesame Street, Gutetama and Bad Badtz. This time, they are intriguing the public once again with their newest concept ─ the Rilakkuma cafe in Orchard Central.
Kumoya To Open A Second Outlet At Orchard Themed After Rilakkuma
Rilakkuma ─ The Relax Café resides on the fourth floor of Orchard Central and it's a year-long collaboration between San-X and Kumoya. Rilakkuma, the internationally beloved brown bear, is obviously the star, featuring in their food and decor. 
Food at Rilakkuma x Kumoya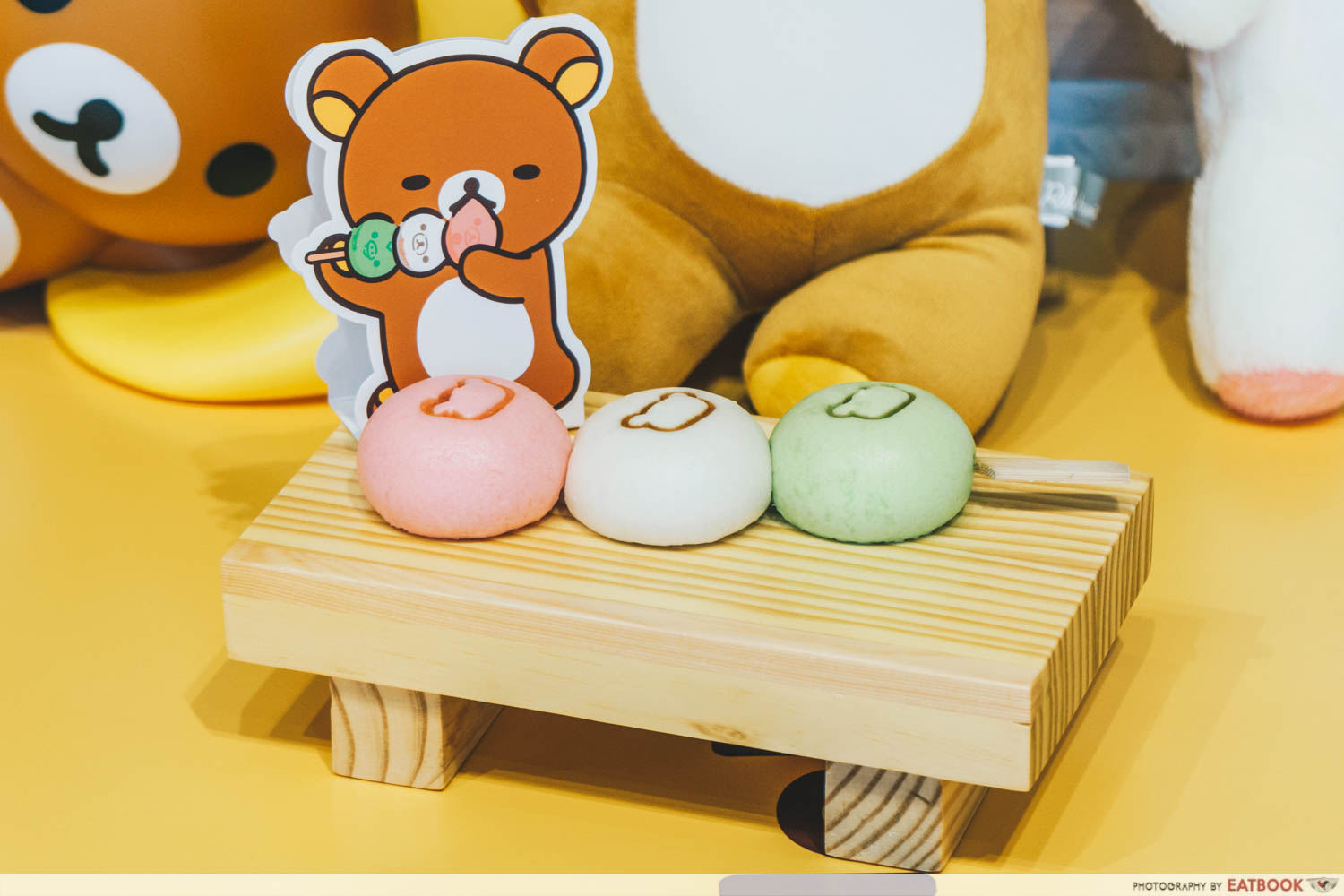 Bento art is a popular phenomenon in Japan, where chefs create these picture-perfect dishes that are almost too cute to eat. I wouldn't regard myself as one who fancies food styling like this. However, I couldn't hide my grin the moment we were presented with the dishes.
We kicked off the lunch with the Rilakkuma "Dango' Baos with Sweet Matcha ($12.90). These little buns were served on a skewer, resembling the iconic tricoloured Japanese dumplings, dango. The sweet matcha filling was a different spin on the regular azuki bean stuffing found in dango.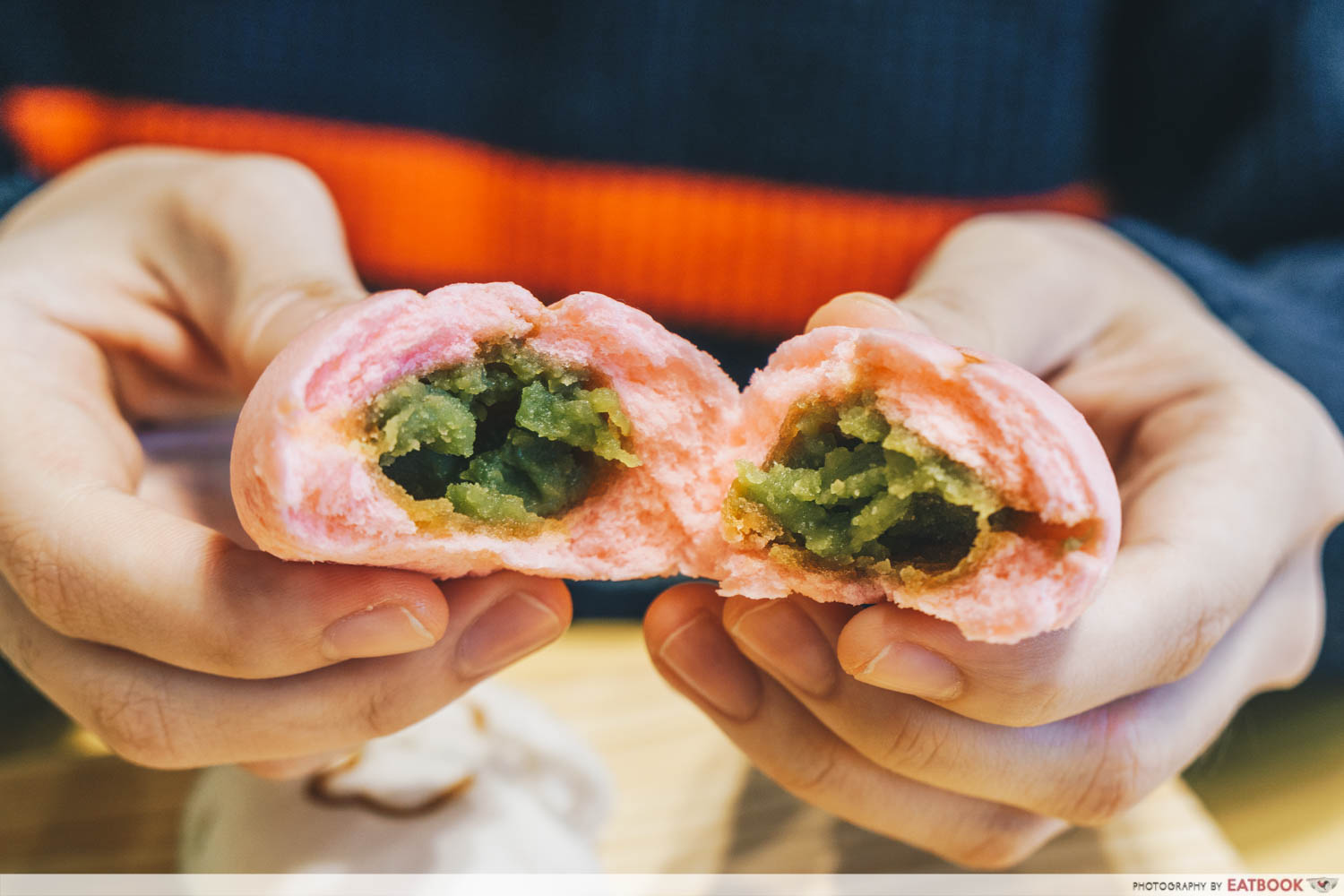 Even though the filling-to-bun ratio wasn't very proportionate, it was still admissible since the matcha was on the sweeter end of the scale and too much of it would have been cloying.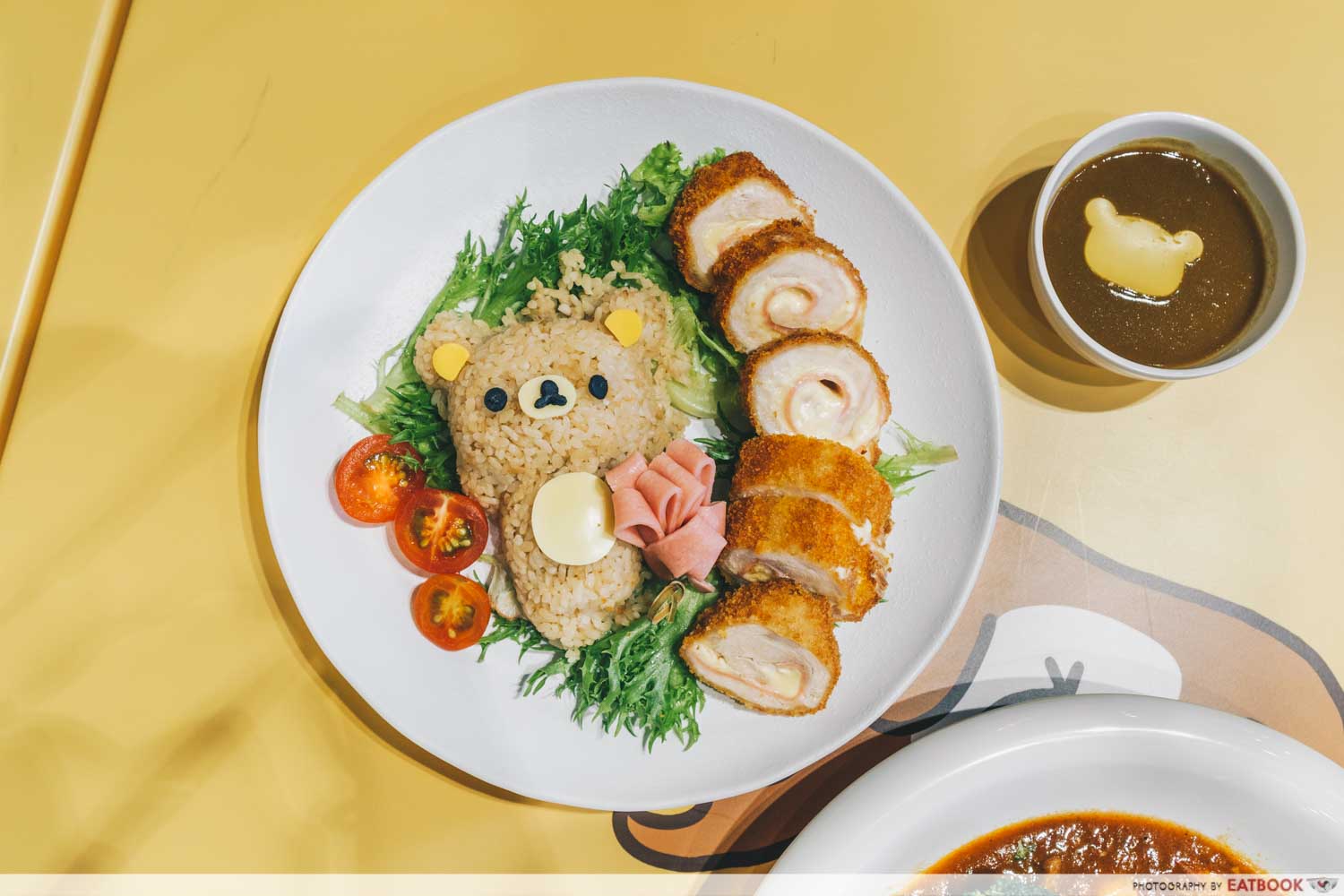 The Relaxy Rilakkuma Chicken Cordon Bleu ($29.90) featured a rolled-up chicken schnitzel stuffed with ham and cheese. This deep-fried roulade was accompanied by teriyaki rice that had been moulded into a relaxed Rilakkuma, served with a side of mushroom sauce and salad. 
The savouriness of the cordon bleu really whetted my appetite. However, it was slightly tough and dry. Moreover, the coasting wasn't as crispy as I hoped for. I couldn't really distinguish the teriyaki element in the rice either.
The hero of the dish was the mushroom sauce. Similar to the flavours of Japanese curry, the sauce was well-seasoned with just a tinge of sweetness, which helped elevate the entire dish. It had a slightly grainy texture, but that was unnoticeable when eaten with the rice or chicken.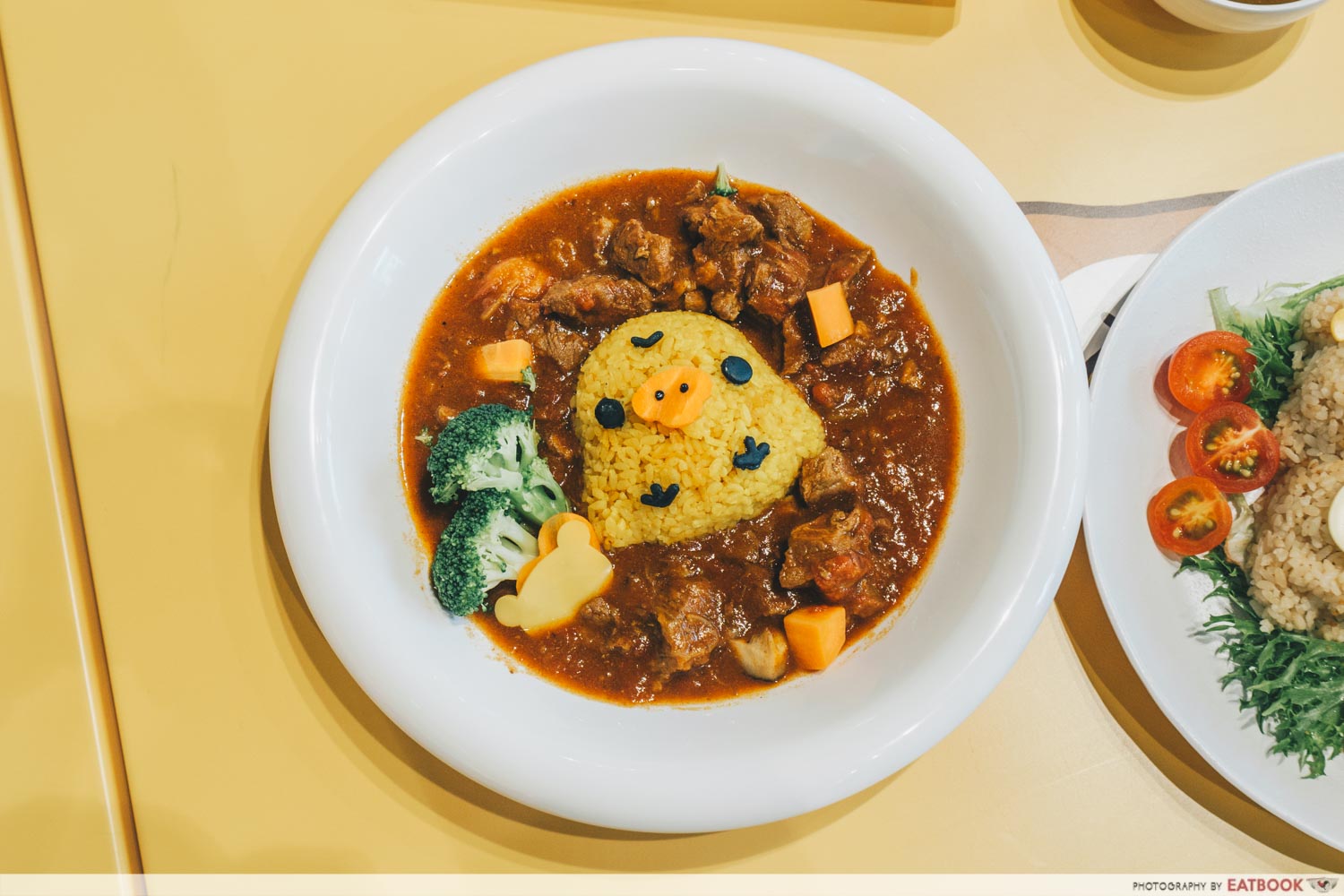 Instead of Rilakkuma, the Chirpy Kiiroitori Beef Stew Rice ($23.90) showcased rice styled like the bear's bird friend. The plate consisted of house-made beef stew served with turmeric rice and steamed vegetables.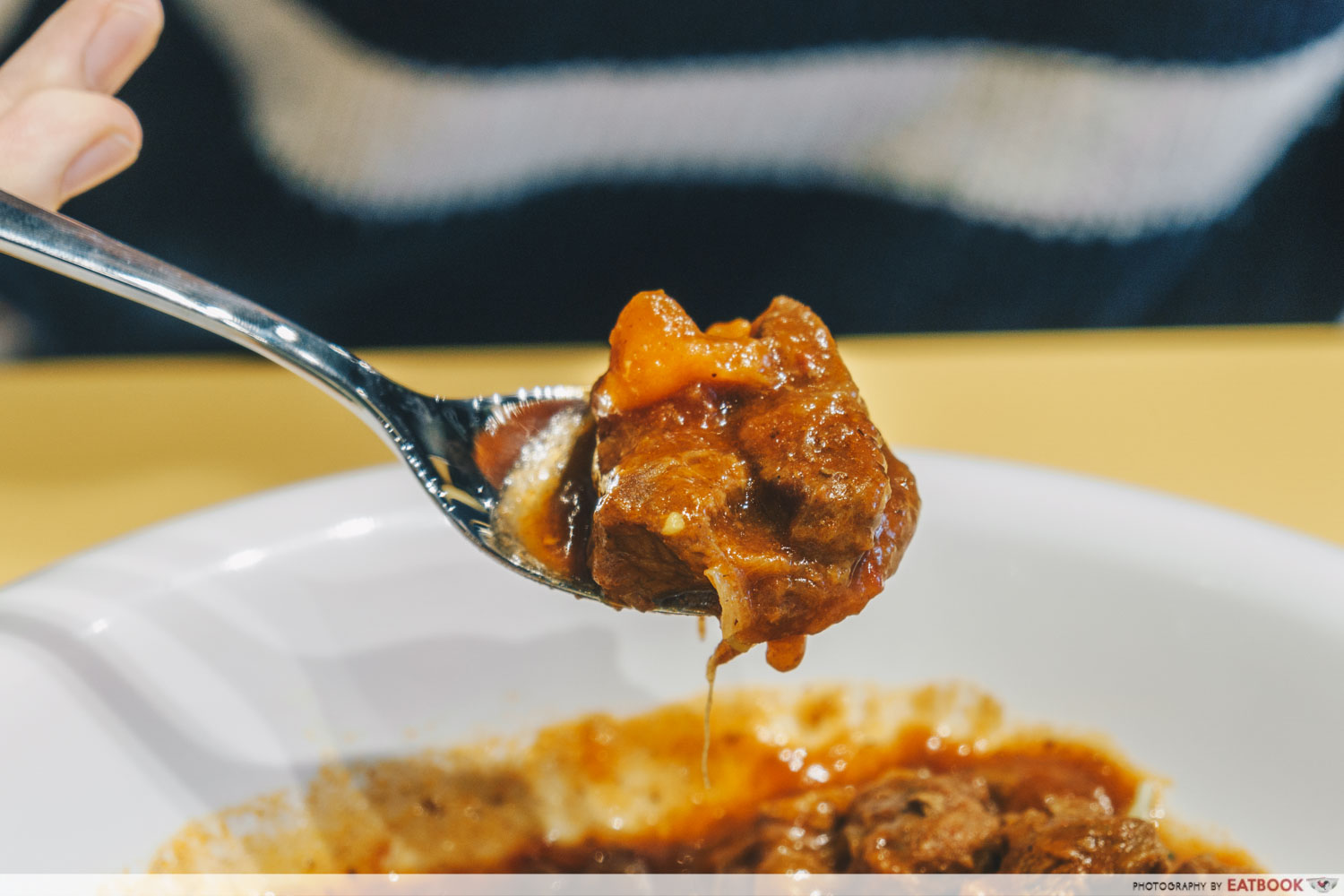 I was blown away by the concentrated, ragu-like flavour of the stew. The chunks of beef were tender enough, just shy of melt-in-your-mouth. The carrots, celery and onion pieces were incredibly soft, suggesting that the stew had been braising for some time.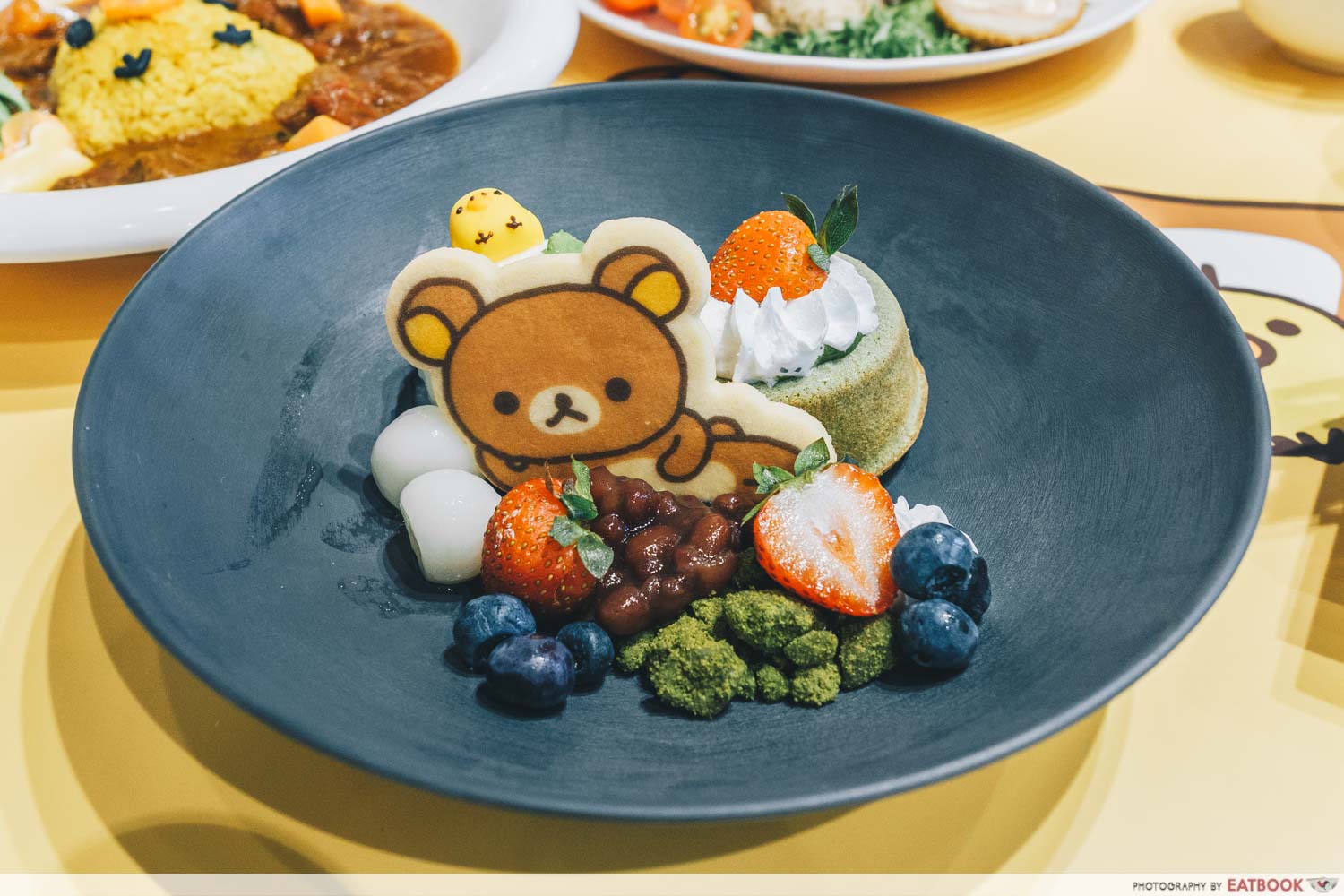 The Chill Chill Matcha Lava Cake ($20.90) was a dessert chock full of elements that worked well together ─ matcha lava cake, a Rilakkuma butter cookie, matcha crumble, azuki, dango, fresh berries and vanilla ice cream. I expected the lava cake to have a gooey centre that oozed when cut into. Unfortunately, it was a touch overcooked. It reminded me of a matcha KitKat, chocolatey and it had a subtle matcha undertone. The creamy vanilla ice cream and matcha crumble rounded off this highlight of a dish.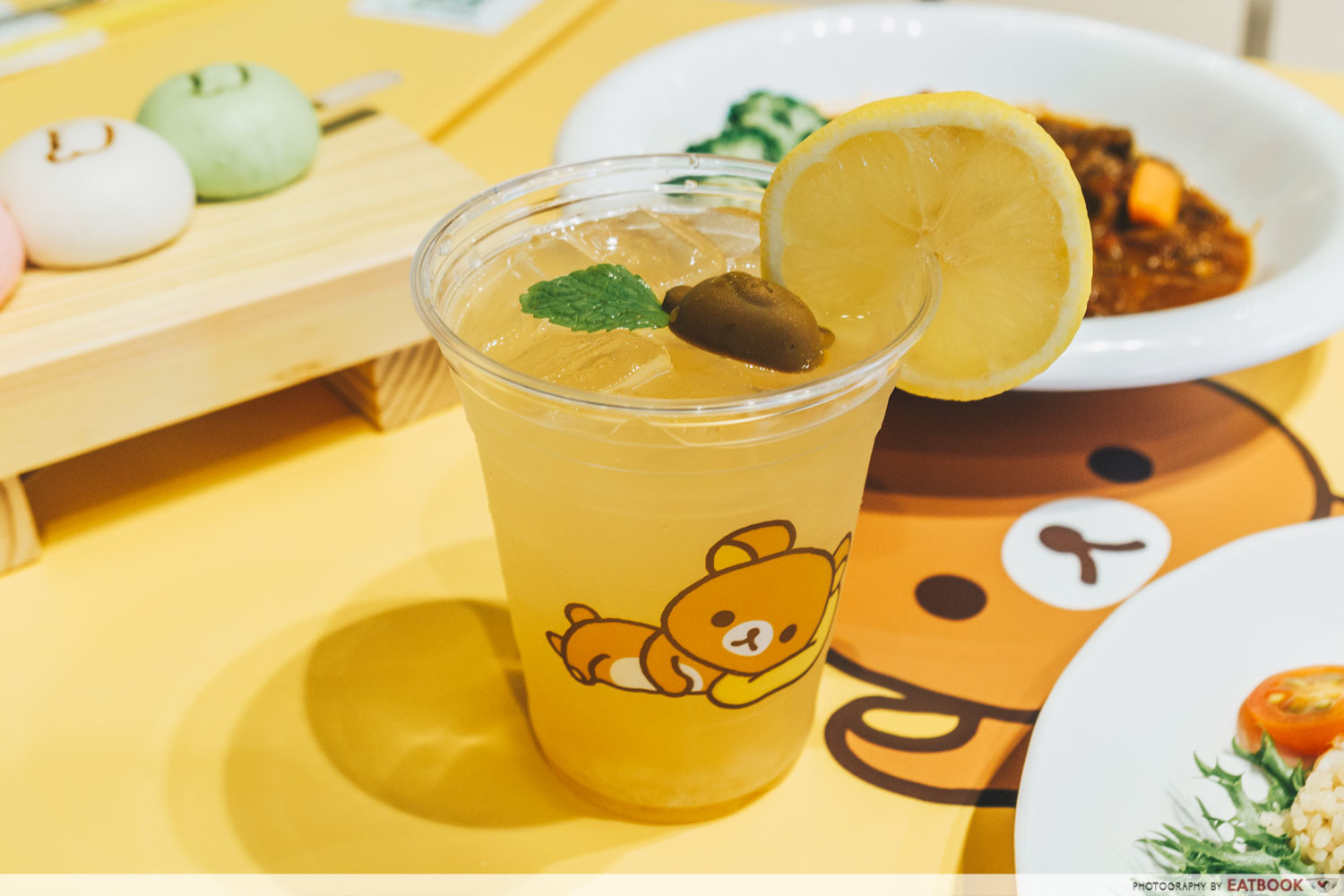 The Yuzu Iced Tea with Chocolate ($13.90) was a refreshing and citrusy drink, though pulp haters be warned that the bits of yuzu in the drink made it less smooth to sip on than I would have liked. I would have also preferred for it to be tangier and sweeter.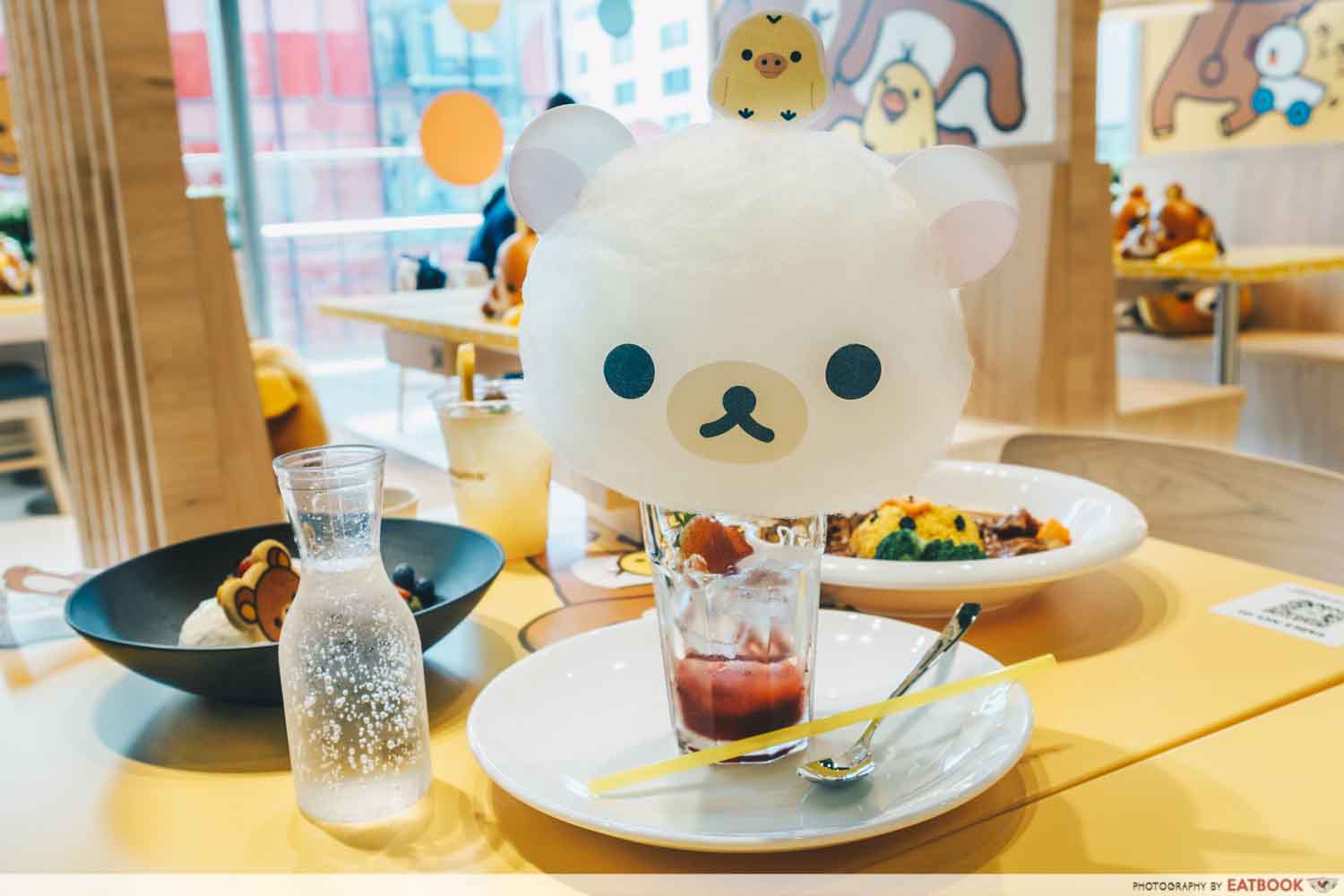 The Korilakkuma Fizzy Strawberry Soda ($16.90) is where you want to whip out your camera. Drinking it is an interactive experience, where you'd pour soda over the cloud of cotton candy that's resting on the rim of the glass.  It was a pretty interesting sight, albeit a little messy. The flavours were about what you'd expect from a strawberry soft drink─ a fizzy, carbonated soda with hints of strawberry essence.
Ambience at the Rilakkuma x Kumoya cafe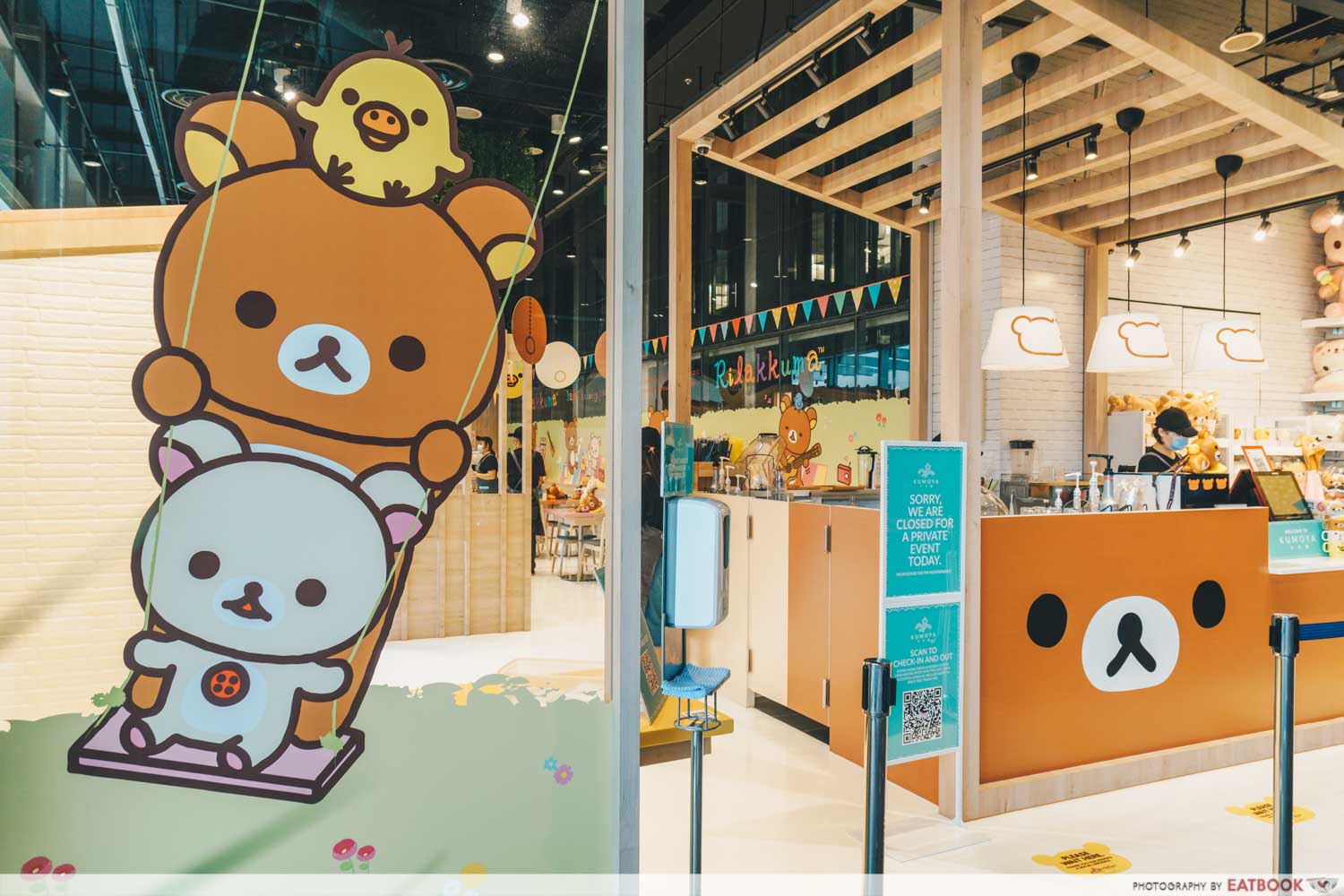 Kumoya's pop-up cafes never disappoint with their store design. The Rilakkuma pavilion-like counter contributed to an eye-catching storefront that draws you in. Once you pass the doorway, it's as if you've entered the world of the San-X cartoon.
The interior was brightly-lit and clad in awny brown and golden yellow. From the glass decals to tables, the characters of Rilakkuma and friends were imprinted almost everywhere.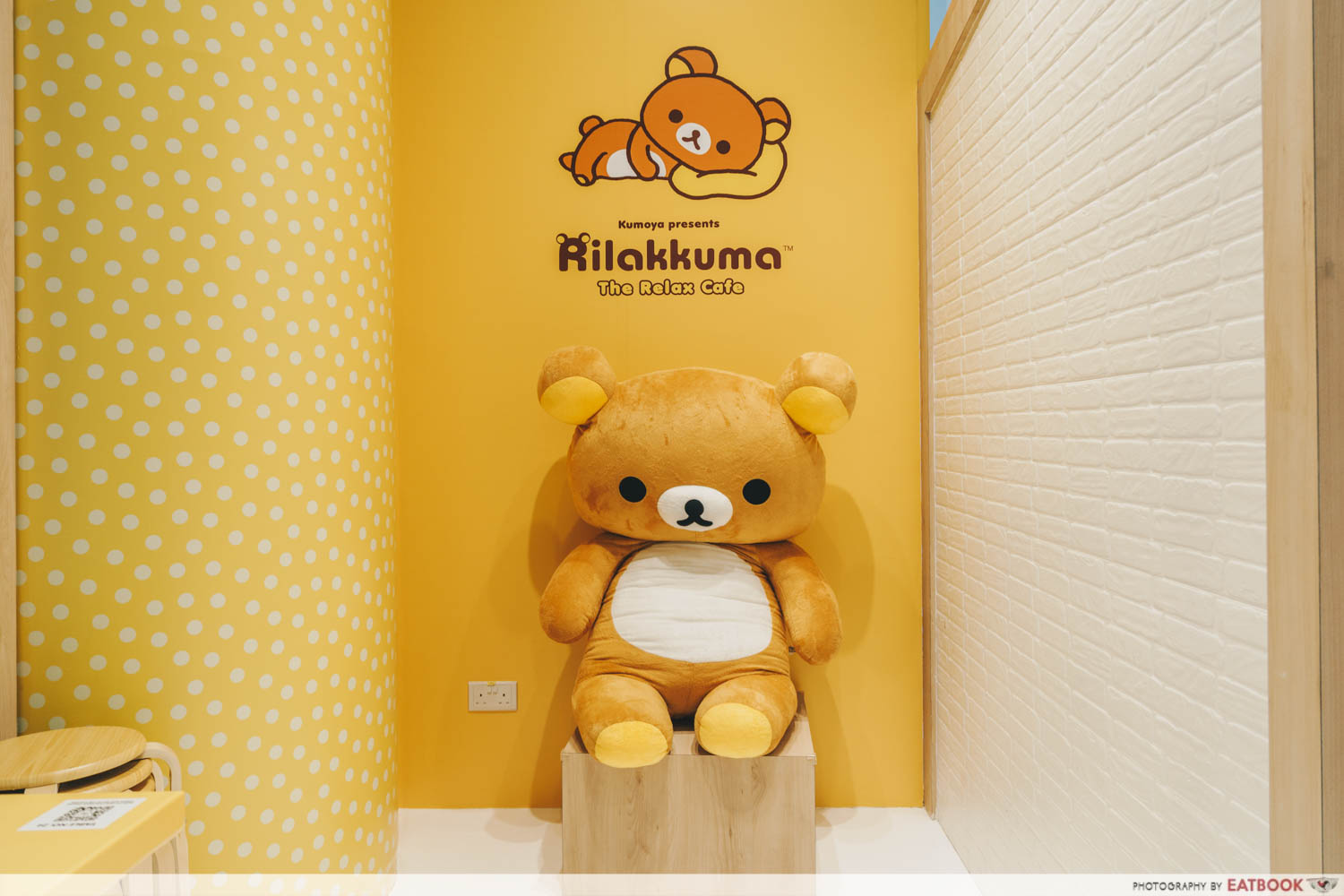 The oversized mascot near the entrance will definitely make an attractive and adorable feature on your Instagram feed.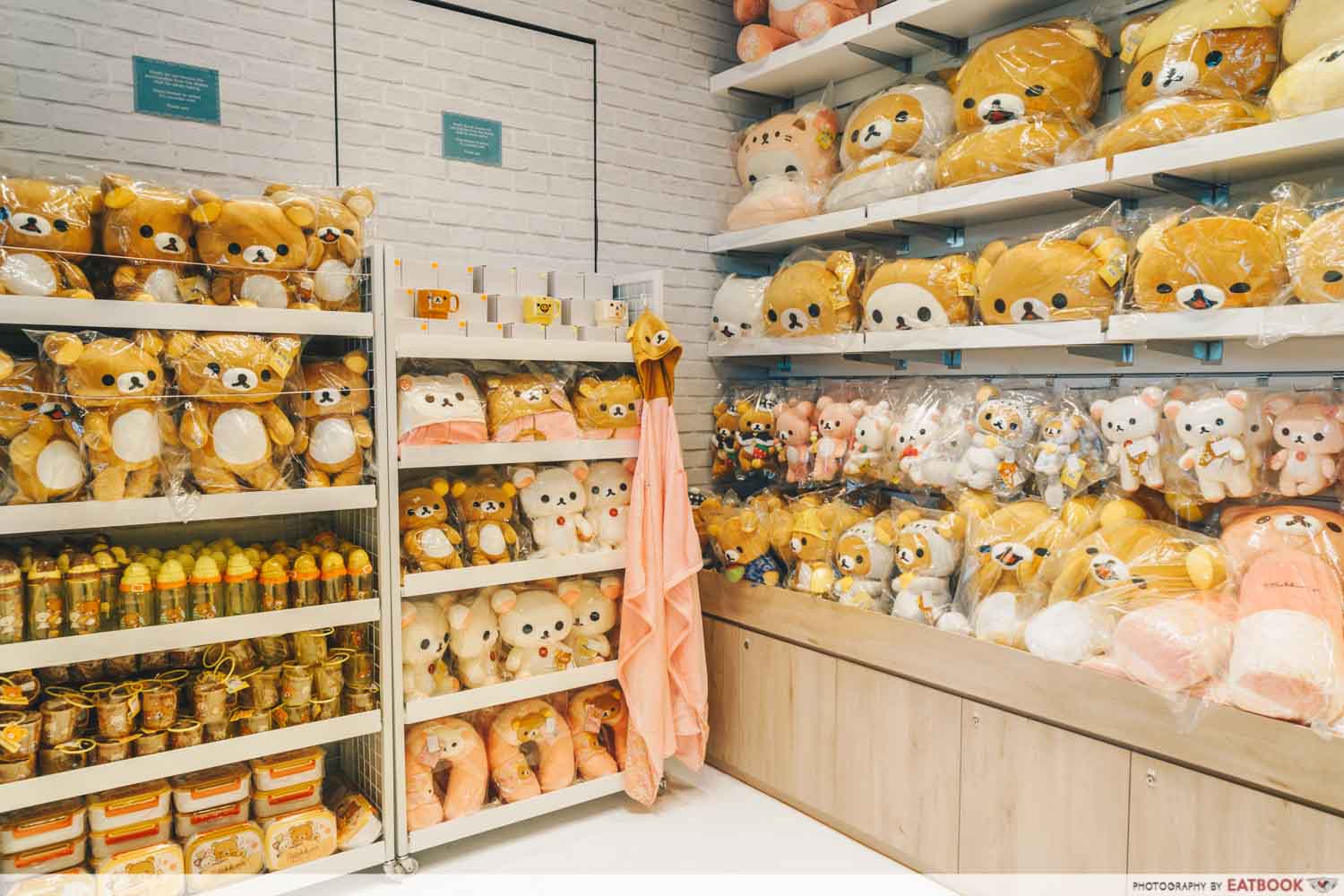 If you can't bear to leave the cafe without grabbing one of their adorable merchandise, you can browse through their mugs and plushies of various sizes near the front of the store.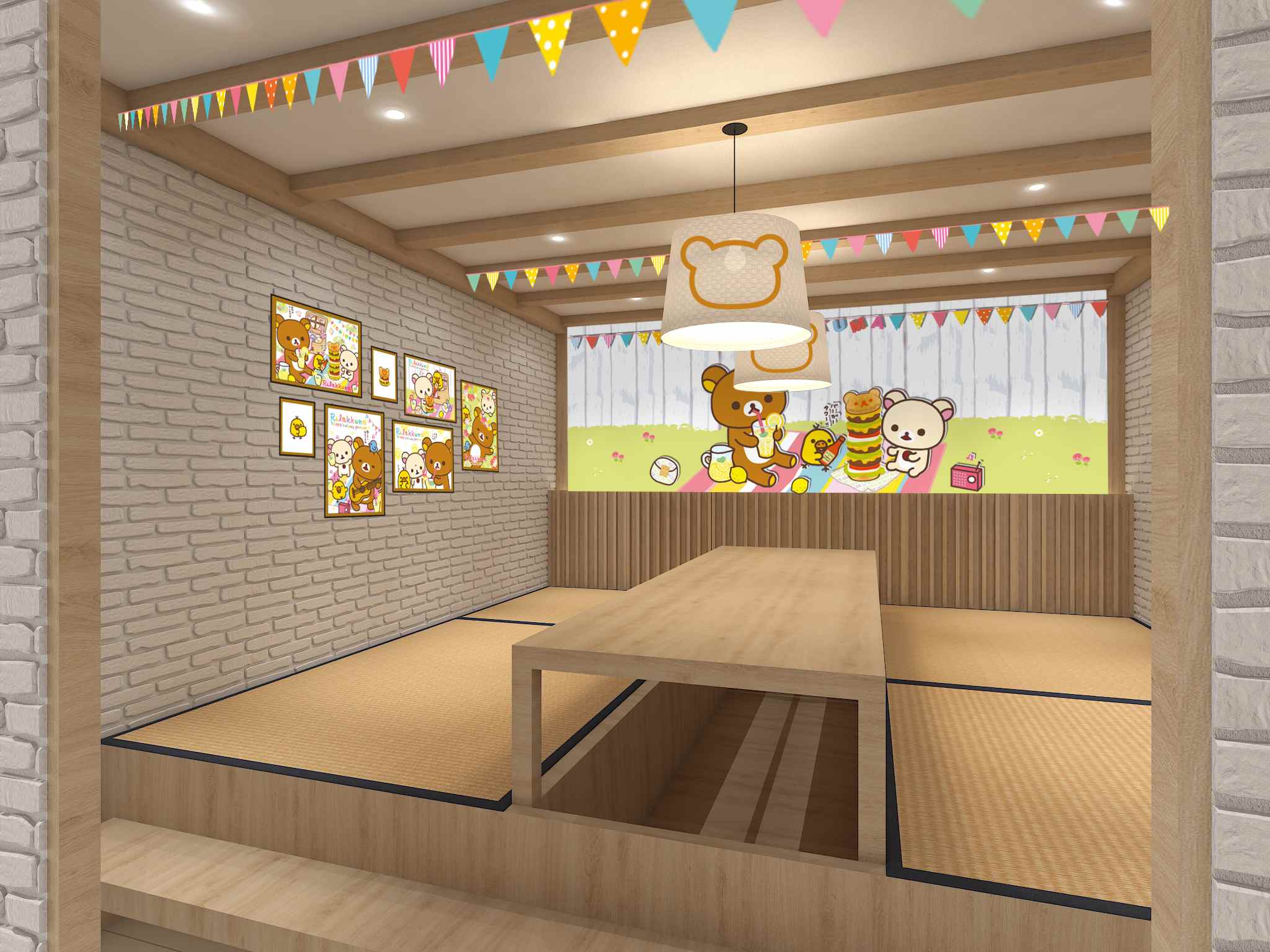 Image credit: Kumoya
Unlike their Bugis outlet, this branch offers a spacious private dining room for special occasions. I thought it was apt that the table arrangement was the classic Japanese horigotatsu, complete with tatami mats for an authentic dining affair.
The verdict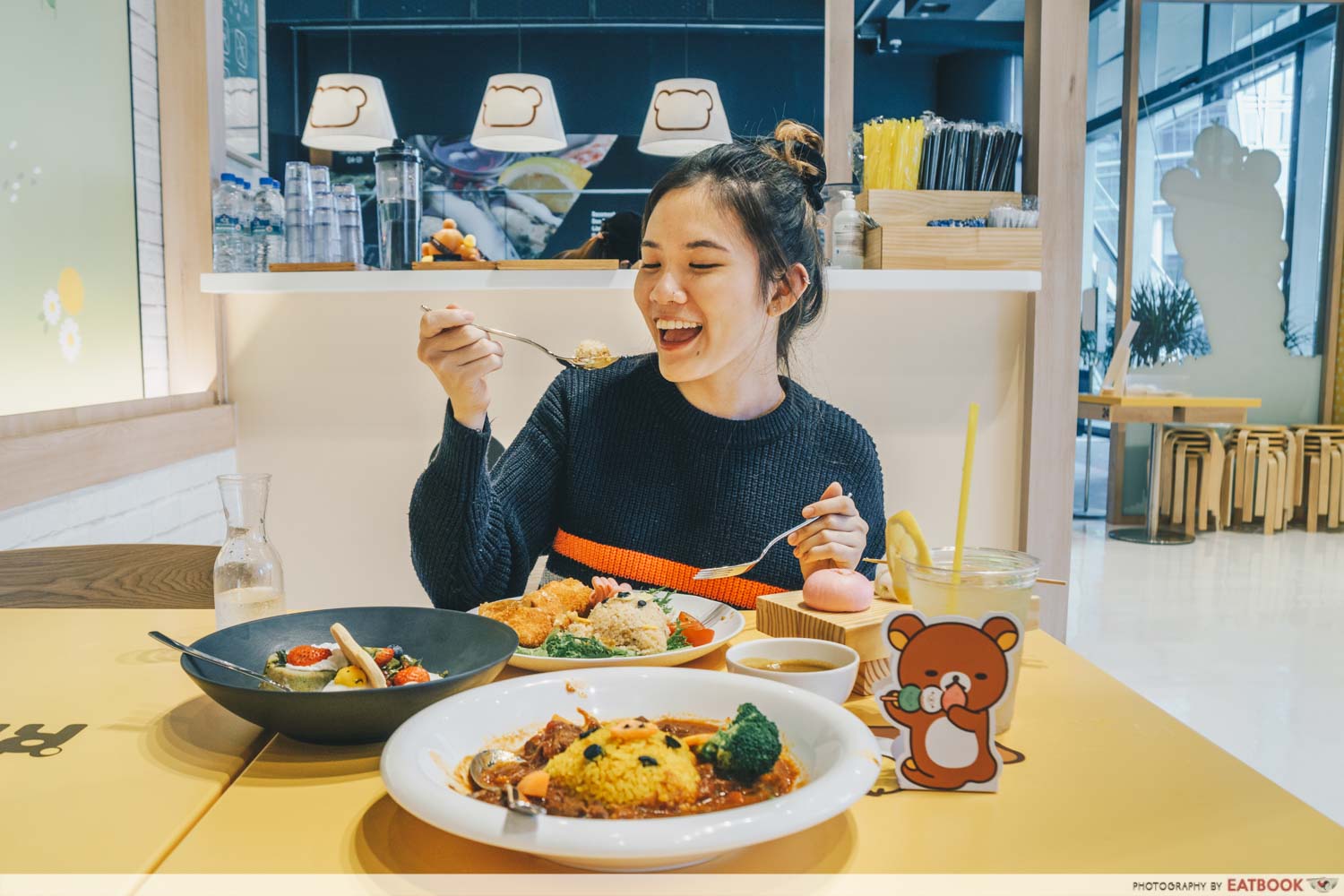 With the menu thoughtfully curated by award-winning bento food artist Shirley Wong and the Kumoya kitchen crew, it is no wonder that the presentation of the dishes reflected immense creativity and attention to detail. 
I have to confess, though, that I have a stigma against themed cafes.  It typically seems like the food is only pleasing for the eyes, not for the palate. However, Kumoya's Rilakkuma cafe managed to surpass my expectations, especially their mains and desserts. The highlight of the experience for me would still be the visual appeal of both the dishes and space. 
For more tasty eateries within the mall, check out our list of food places in Orchard Central. 
20 Orchard Central Food Places Including Korean Buffets And A Japanese Food Hall
Address: 181 Orchard Road, #04-08, Orchard Central, Singapore 238896
Opening hours: Daily 11am to 9:30pm
Website
Rilakkuma x Kumoya Cafe is not a halal-certified eatery.
Photos taken by Hay Thi.
This was a media tasting at Rilakkuma x Kumoya Cafe.
Summary
Pros
– Creative and detailed food design
– Lively and colourful interior
– Faired well on their sauces and meat dishes
Cons
– Drinks were a disappointment
– Pricey 
Recommended Dishes: Chirpy Kiiroitori Beef Stew Rice ($23.90), Chill Chill Matcha Lava Cake ($20.90)
Opening hours: Daily 11am to 9:30pm
Address: 181 Orchard Road, #04-08, Orchard Central, Singapore 238896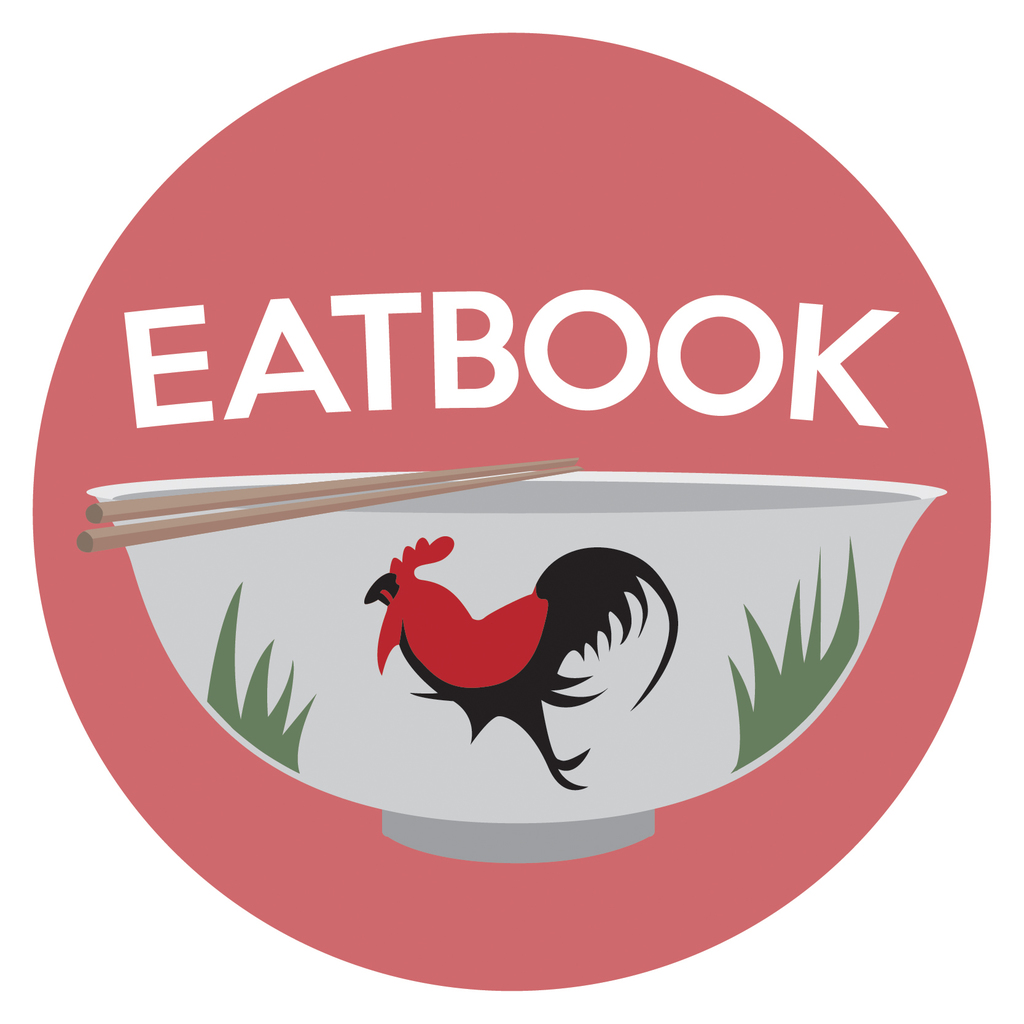 Drop us your email so you won't miss the latest news.