Satisfy your inner carnivore at Katsudon Hanakatsu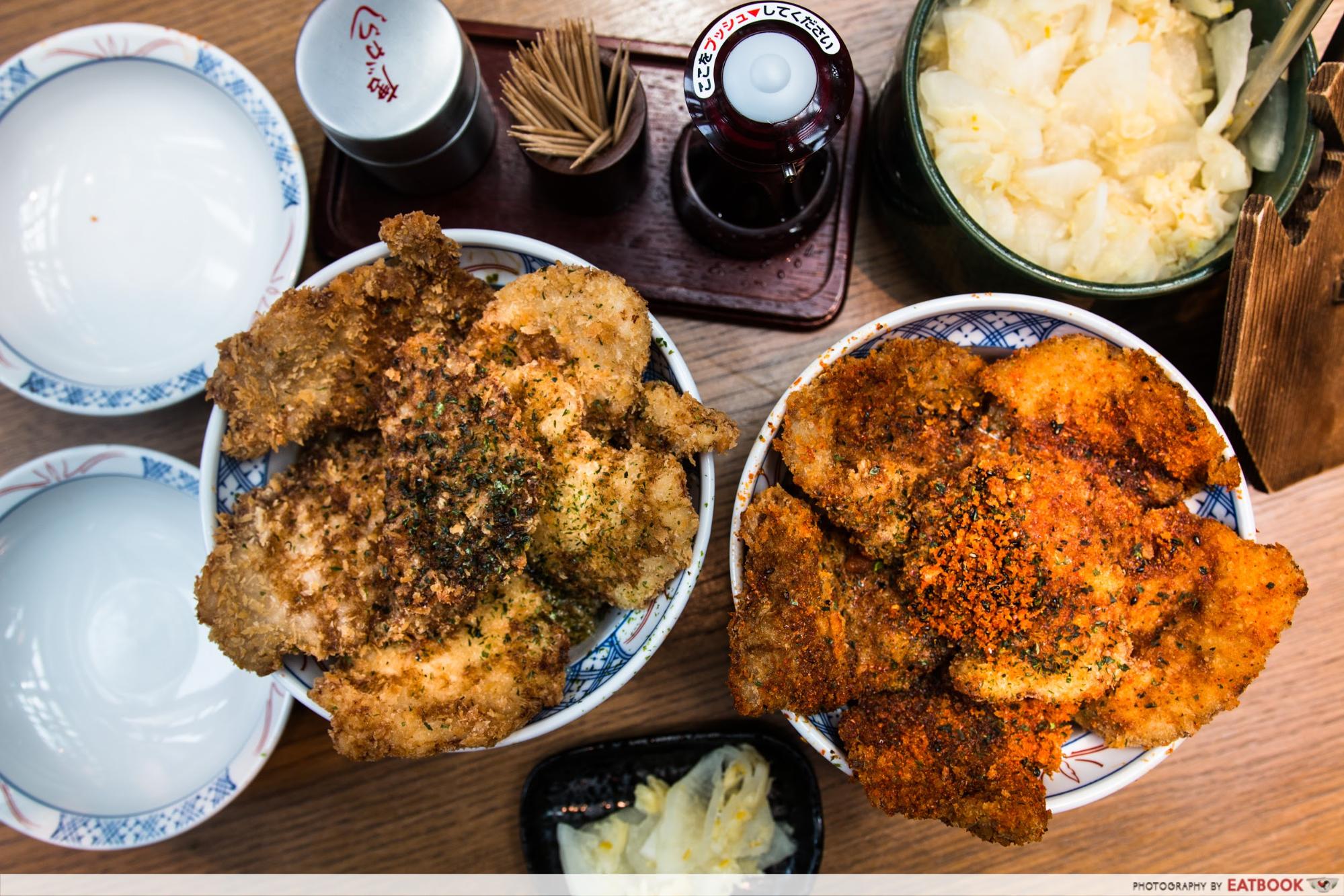 Growing up, my life mostly revolved around strict parents, homework, and home-cooked food. My family has an interesting system where dinner will always start at 7pm, and if any of us were late, we'd have to pay an expensive fine of $20 to a "jar of shame", and the money will be used to contribute to our weekly fancy dinner on Sundays.
But it's not as if family dinners are a chore. In fact, they made me realise I can't live without my mum's meals, which are usually so good that I eat more than a bowl of rice each time. I'm now more of a rice than ramen kind of girl, so when I heard about Katsudon Hanakatsu's generous bowl of chicken and pork katsudon, I knew I had to try it.
Food at Katsudon Hanakatsu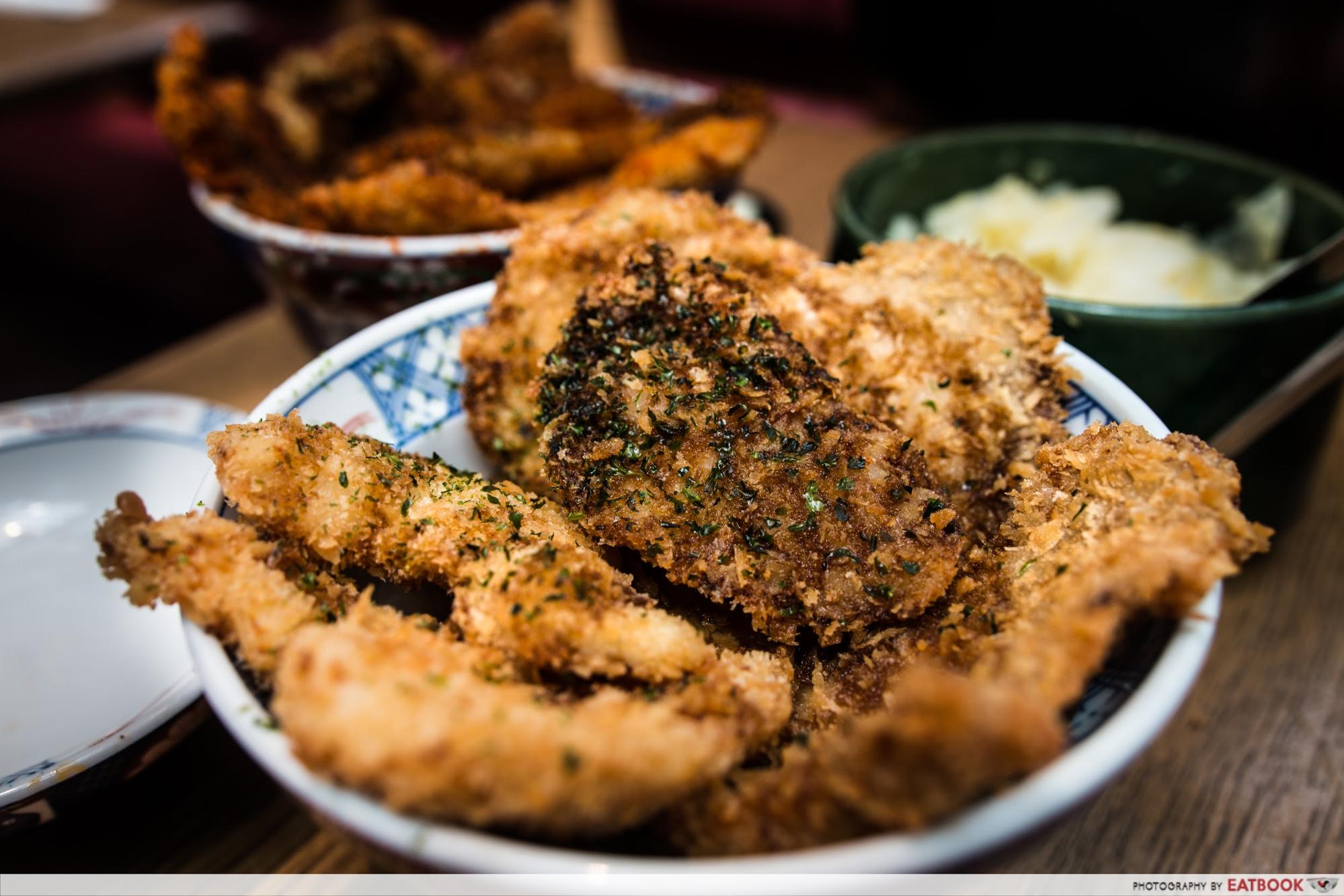 This restaurant only has two types of katsudon: original and spicy. After a short wait, the original Ha-na Katsudon ($13.50++) arrived first. It carried a strong aroma of Japanese seaweed, and was served in a classic Japanese rice bowl. There were six katsu pieces in total, three of each being chicken and pork. Considering its price, this dish was at a sizable portion.
The katsu pieces were arranged in the shape of a flower, and were seated atop fluffy Japanese rice. Finished with a drizzle of their house-made sauce, I couldn't wait to devour this bowl of goodness.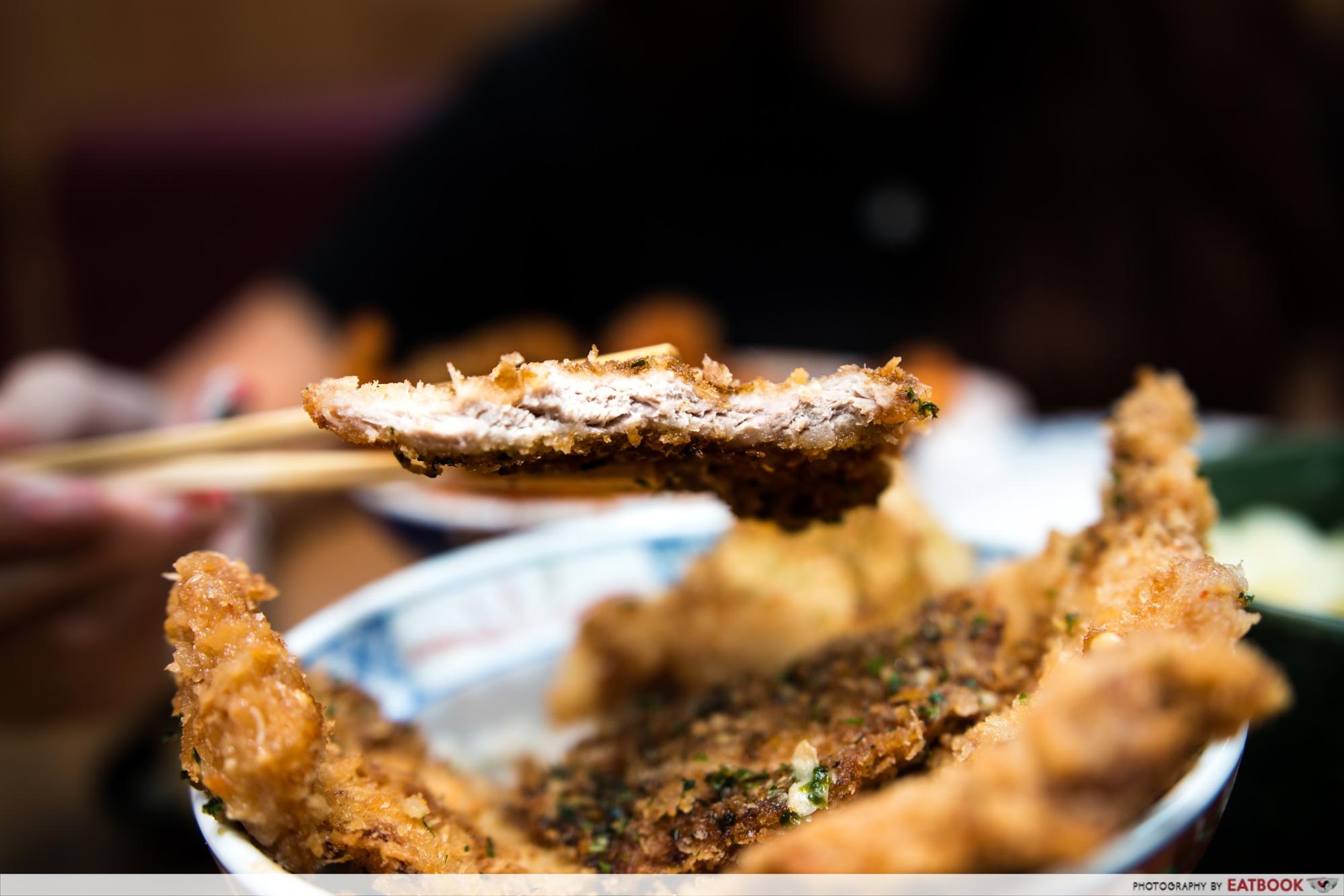 Unlike several katsu cutlets that I have seen, the pork and chicken katsu here were all sliced rather thinly. I was told the chef marinates the meat in their house-made sauce for four hours before coating it with seasoned flour and Japanese baking powder. All orders are made a la minute, so you can expect piping hot cutlets each time.
What's different about this restaurant is their special house-made sauces, which they layer with lightly cooked scrambled egg. The egg adds a silky layer to the Japanese pearl rice, and goes well with the crispy katsu.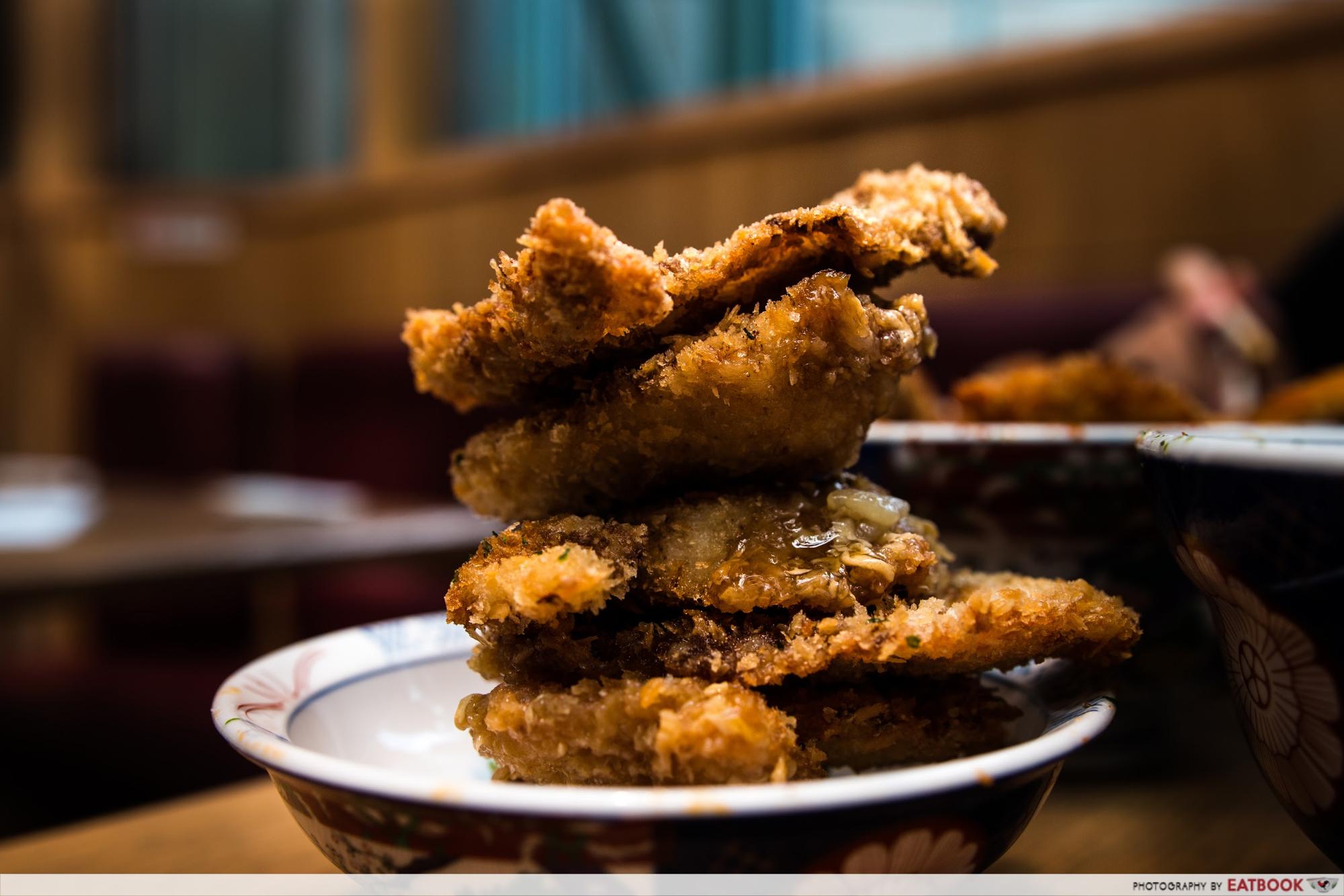 The chicken and pork katsu tasted similar. They were both crispy, and the breading was light and not greasy. The meat was packed with flavour because of the marinade, and was incredibly tender and succulent in the centre. Despite being deep-fried, the cutlets still managed to retain their juiciness. The sauce added a tinge of sweetness that complemented the rice, bringing the whole dish together.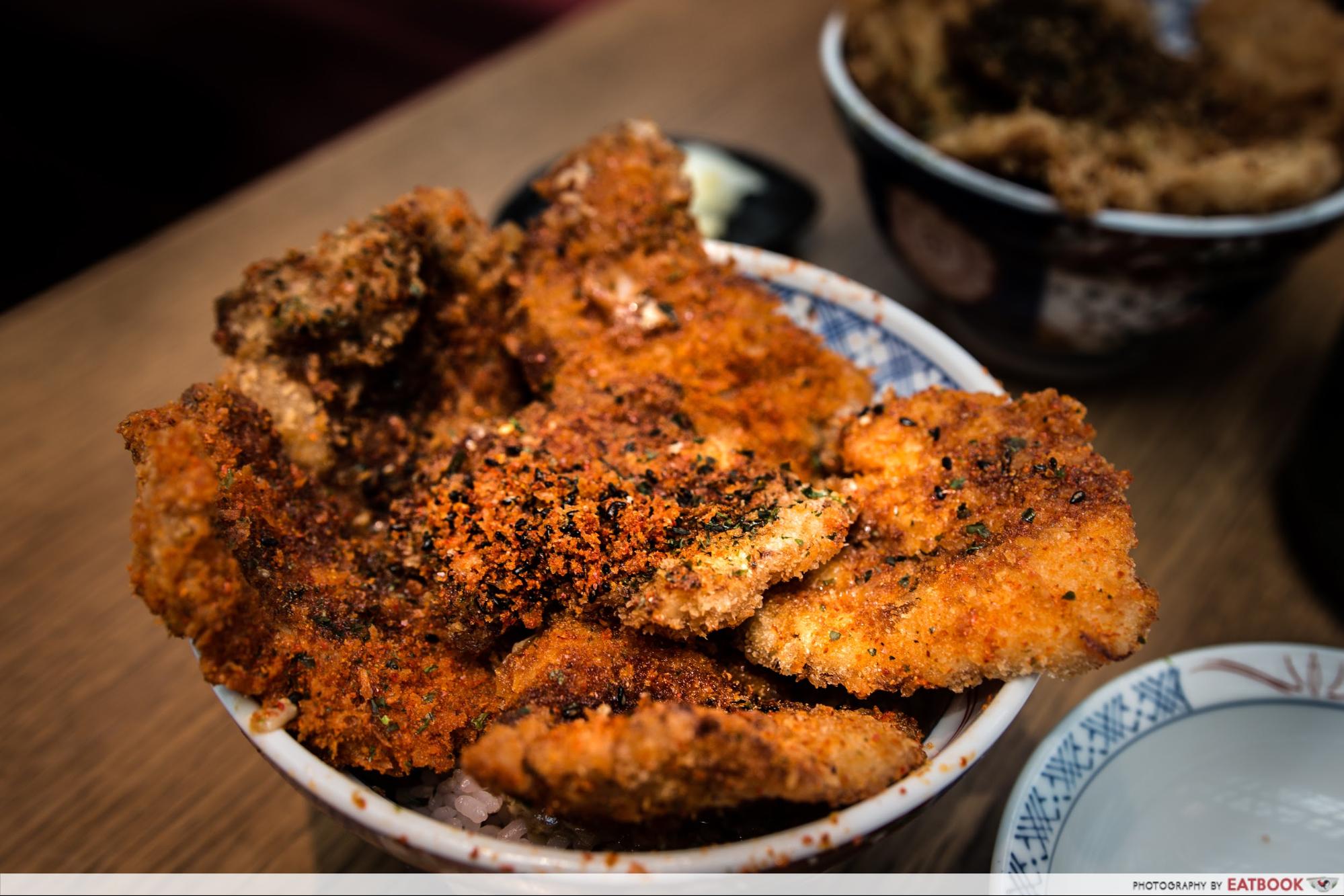 We also had Ha-na Katsudon Spicy Flavour ($13.50++), which is the spicy version of the original katsudon we had earlier. The chef marinates the pork and chicken katsu pieces the same way, but he uses different seasonings in the flour for this dish. After deep-frying the cutlets, he coats them in a seasoning powder that consists of seven different chilli flakes imported from Japan.
This menacing-looking dish is just as spicy as it looks. My first bite was enough for me to be reaching out for my drink. Loaded with chilli flakes and a good slather of their house-made spicy sauce, this dish is for those who appreciate a good kick.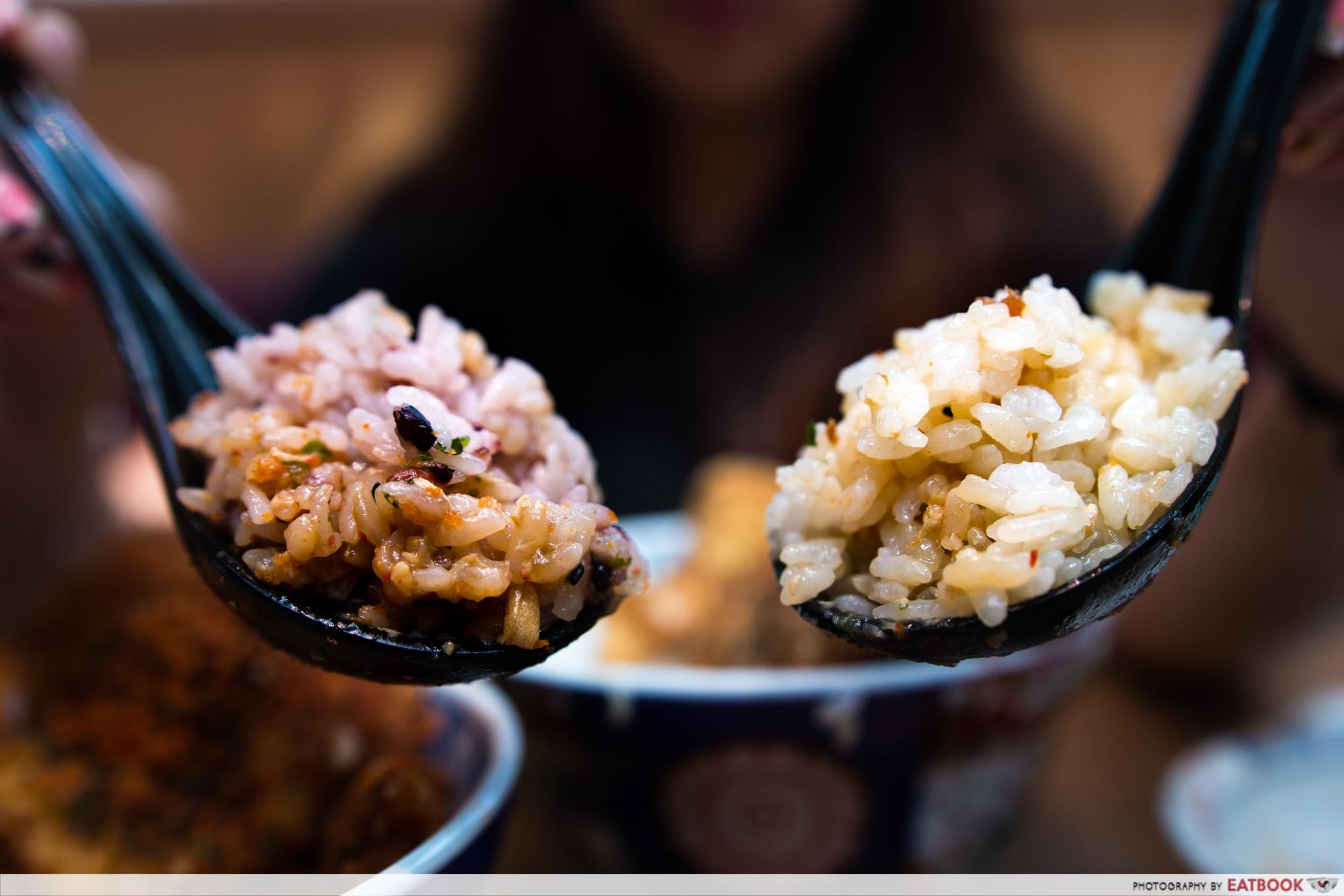 The unique thing about this restaurant is not only their katsu, but their rice as well. At no extra charge, you get to choose between two types of rice: Hokkaido rice, which is pictured on the right, or 16 multi grains rice.
If you are looking for a healthier option, opt for the latter. If not, Hokkaido rice would be my pick. Compared to the 16 multi grains rice, the Hokkaido rice was softer and the grains were more distinct.    
Ambience at Katsudon Hanakatsu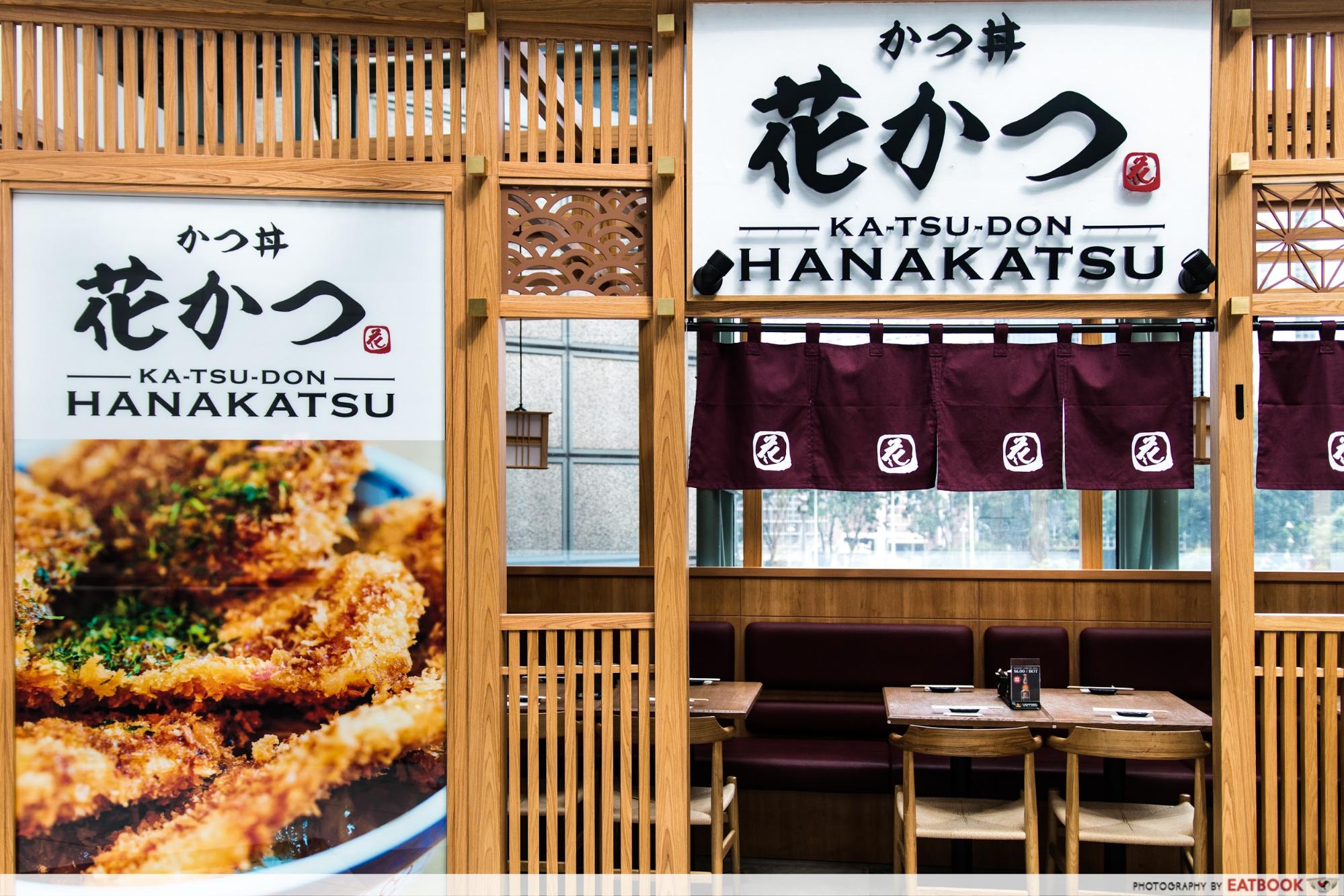 Katsudon Hanakatsu is located on the third level of Suntec City, within Eat At Seven. The nearest MRT Stations are Esplanade and Promenade. Alternatively, it is also a 15-minute walk from City Hall MRT Station via CityLink Mall.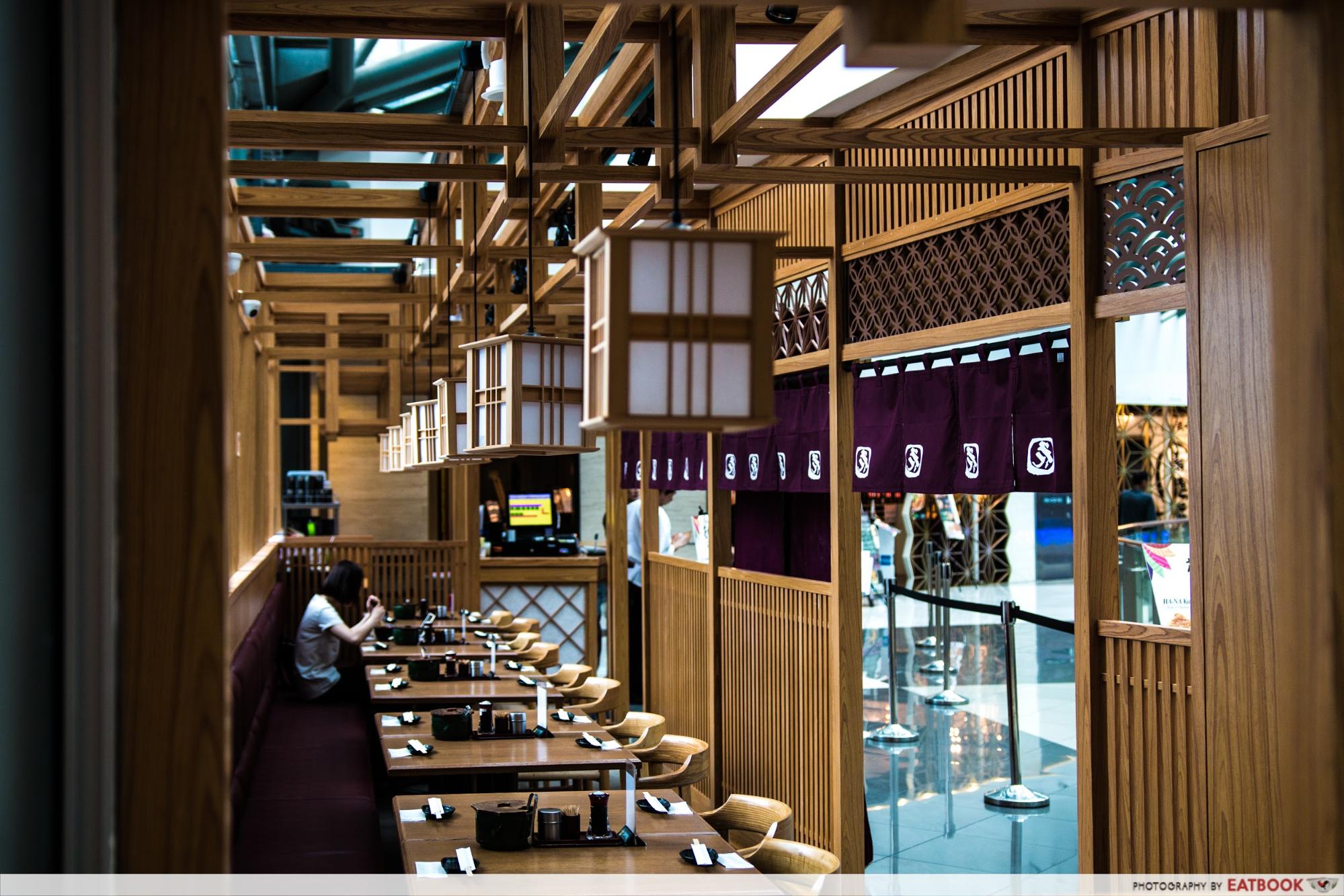 It is a small 20-seater restaurant, with a cosy atmosphere, and is decorated with wooden furniture and short purple curtains. We were able to get seats easily at 1pm on a weekday, but it might get crowded during peak hours.
The verdict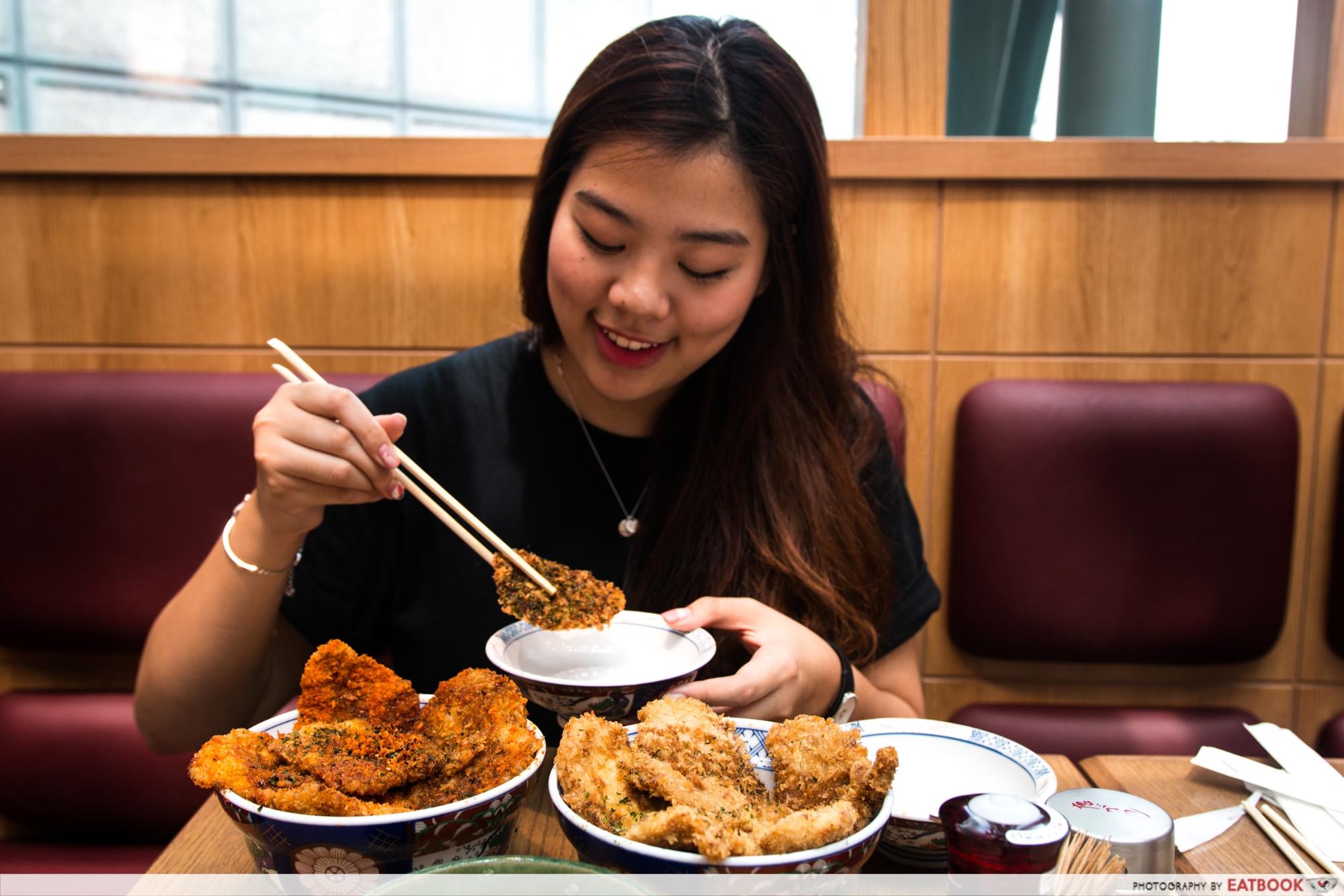 Overall, I was quite satisfied with the quality of the food here. Considering the prices, the amount given was generous. Plus, after having plenty of katsudon in my life, I realised most of them struggle to achieve juicy centres. But after trying Katsudon Hanakatsu, I was really impressed they managed to do it. I hope Katsudon Hanakatsu maintains its standards, and I'll come back whenever I want a good katsudon fix. For more food at Suntec City, check out Maguro Donya or Dookki! 
Address: 3 Temasek Boulevard, #03-331, Eat At Seven, Suntec City Mall, Singapore 038983
Opening hours: Daily 11:30am to 3:30pm, 5pm to 9:30pm
Tel: 6333 4386
Website
Katsudon Hanakatsu is not a halal restaurant.
This is an independent review by Eatbook.sg.
Summary
Pros
– Generous portions
– Efficient staff
– Comfortable ambience
– Delicious food
Cons
– Limited seats
– Only two mains on the menu
Recommended Dishes: Ha-na Katsudon ($13.50++), Ha-na Katsudon Spicy Flavour ($13.50++)
Operating Hours:
Daily 11:30am to 3:30pm, 5pm to 9:30pm
Tel:
6333 4386
Address: 3 Temasek Boulevard, Suntec City Mall Eat At Seven, #03-331, Singapore 038983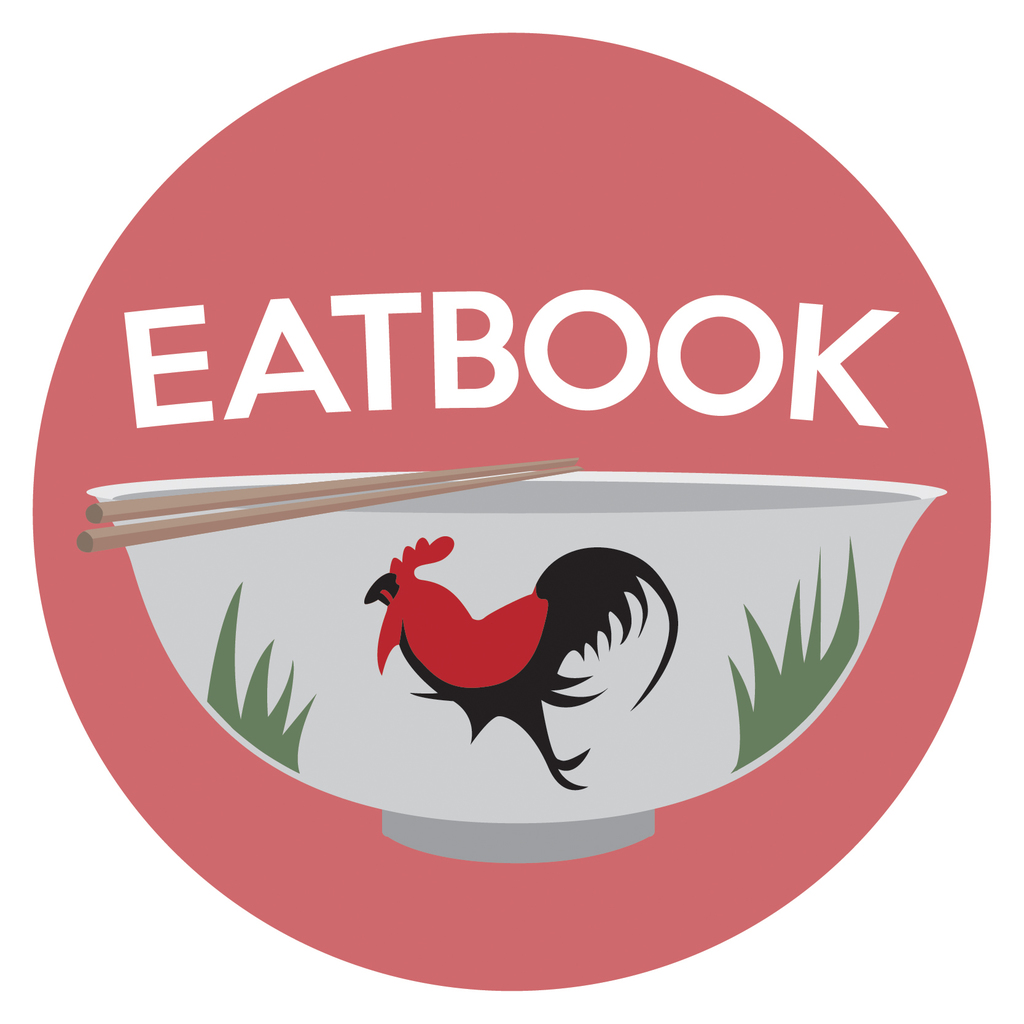 Drop us your email so you won't miss the latest news.