Chicken 'N Waffles at KFC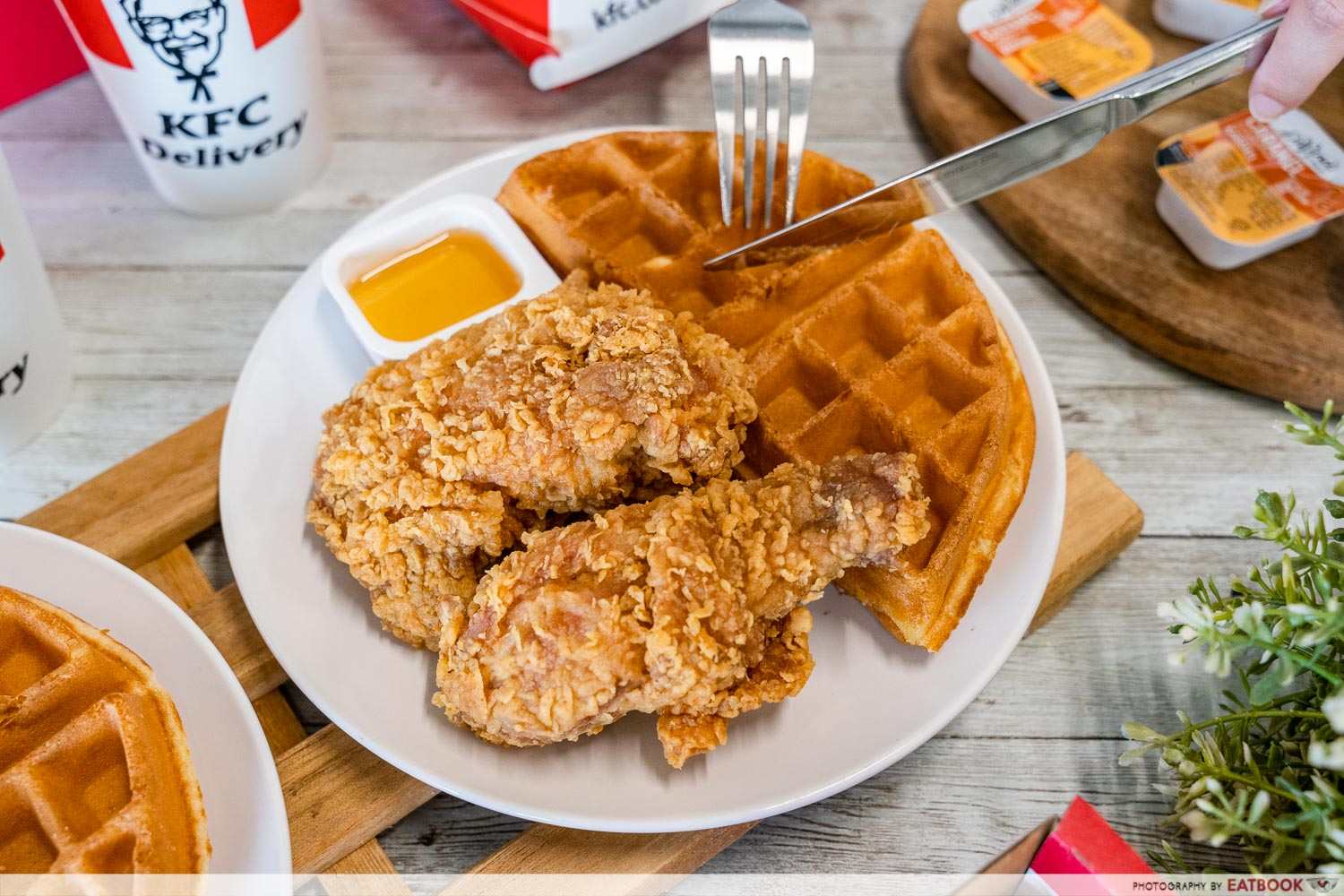 Whoever conceived of the idea of putting fried chicken and waffles together deserves an award, because this all-American combination is something else altogether. It's what I gravitate towards when I spy it on a brunch menu, although it typically sets me back a good couple of ten dollars. KFC's latest launch, their all-new Chicken 'N Waffles, is a wallet-friendly, yet no less tasty, alternative that's now available at 49 KFC outlets.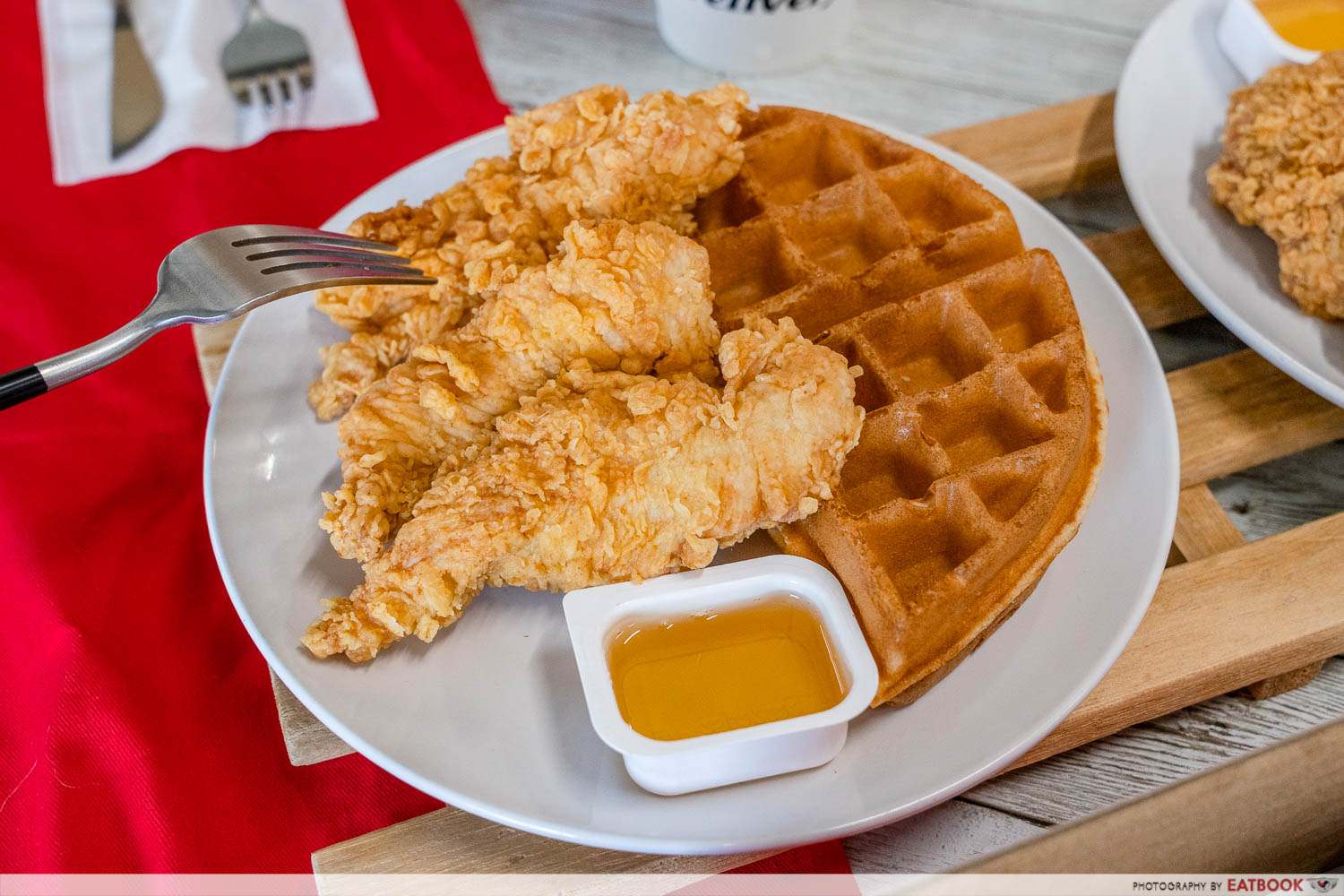 There are two ways you can have your fried chicken on waffles at KFC━with two pieces of the fast food chain's signature Original Recipe or Hot & Crispy chicken, or with three Hot & Crispy Tenders.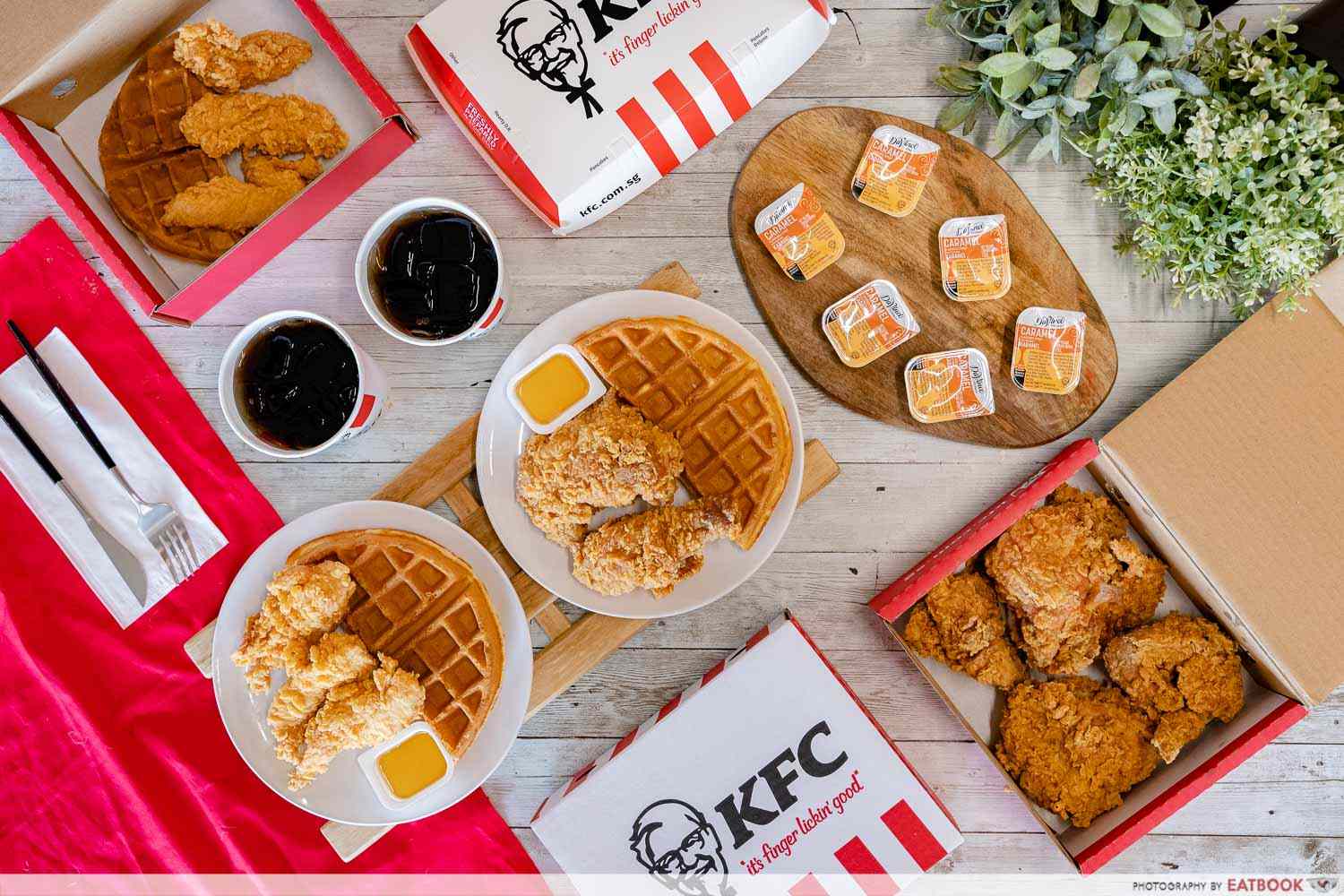 A Chicken 'N Waffles Meal ($8.95) comes with regular Pepsi Black. There's also a Tenders 'N Waffles Meal, priced at $7.95 with the drink. These only come in Hot & Crispy, so while they're boneless, there is only one level of spiciness. Each order of waffles also gets you a tub of golden syrup, which you can pour over, or simply dip your Chicken 'n Waffles into.
The best part is this: these Chicken 'N Waffles are on the menu all day after 11am! It's perfect news for late risers who have never previously made it to KFC before 11am, in time for the Breakfast Waffles.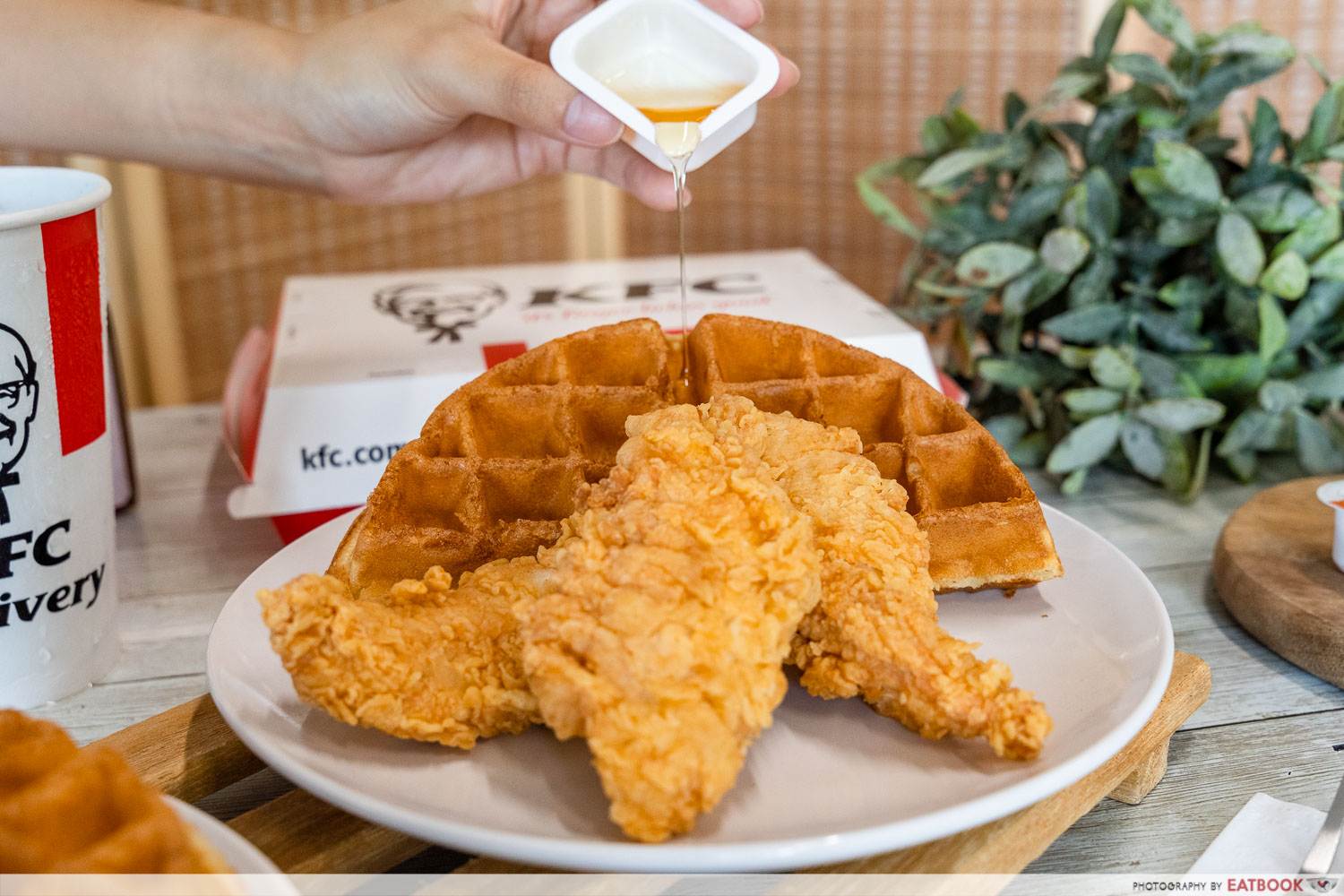 If you didn't know, chicken and waffles first appeared in colonial America, back in the 1600's, although this initial rendition saw stewed chicken on waffles. It was only later, in 1938 New York, that the world was introduced to the fried chicken and waffles we mostly see today, AKA the soul food version, served with syrup, and the works.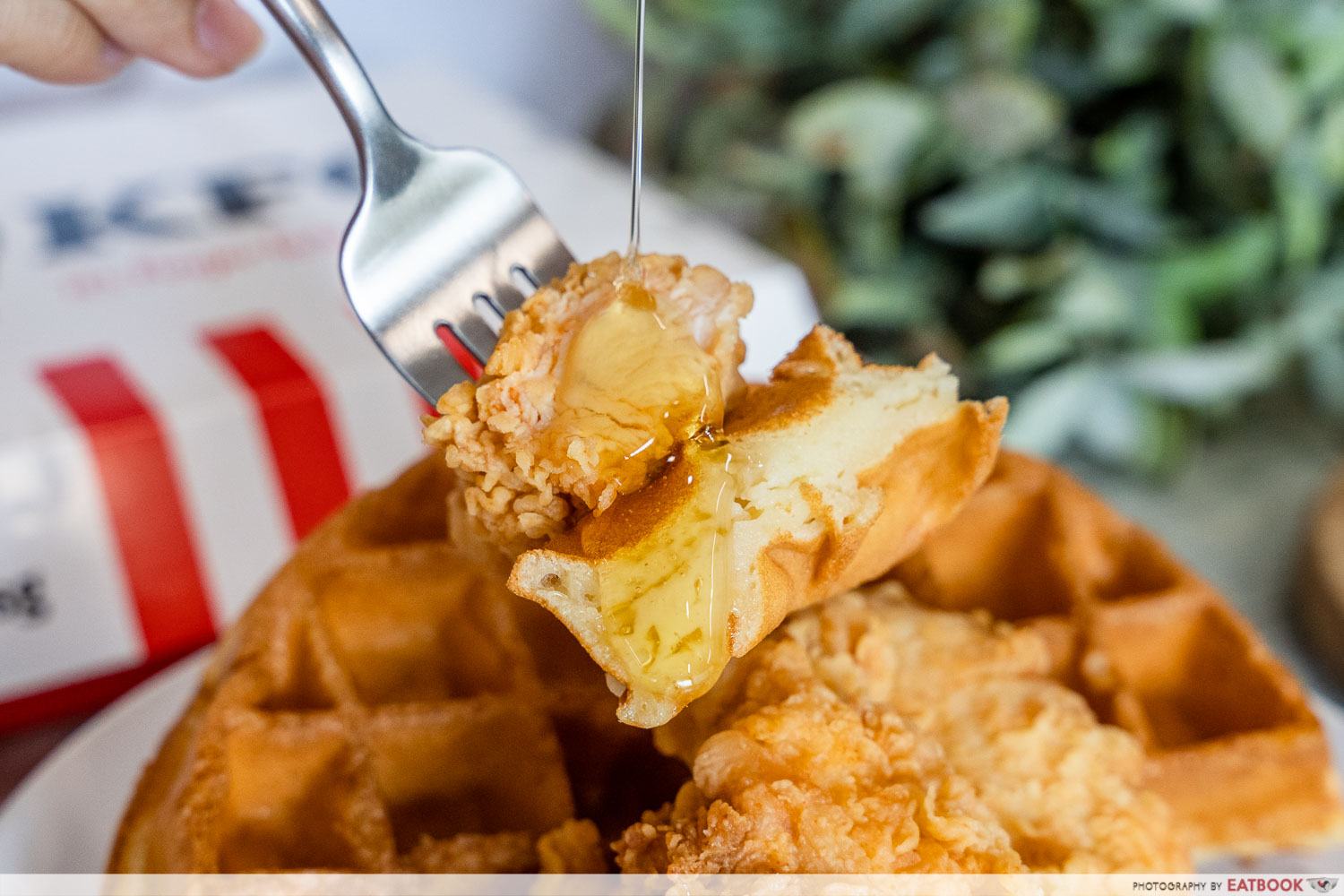 Dousing your Chicken 'N Waffles in golden syrup certainly works for the 'gram, and the sweet, sticky situation is worth any mess! 
Of course, this way means you'll get your pick of chicken part to go with the fluffy, thicc waffles━these are freshly made to order too! If you're ordering in bulk for a chicken and waffles party at home, get the Chicken 'N Waffles Buddy Meal ($19.95), which comprises the whole works━two waffles, two pieces of fried chicken in Hot & Crispy or Original Recipe, three Hot & Crispy tenders, one Cheese Fries, and two regular Pepsi Black! 
If you want to have even more waffles, there's an a la carte option that gets you two waffles for $6.95.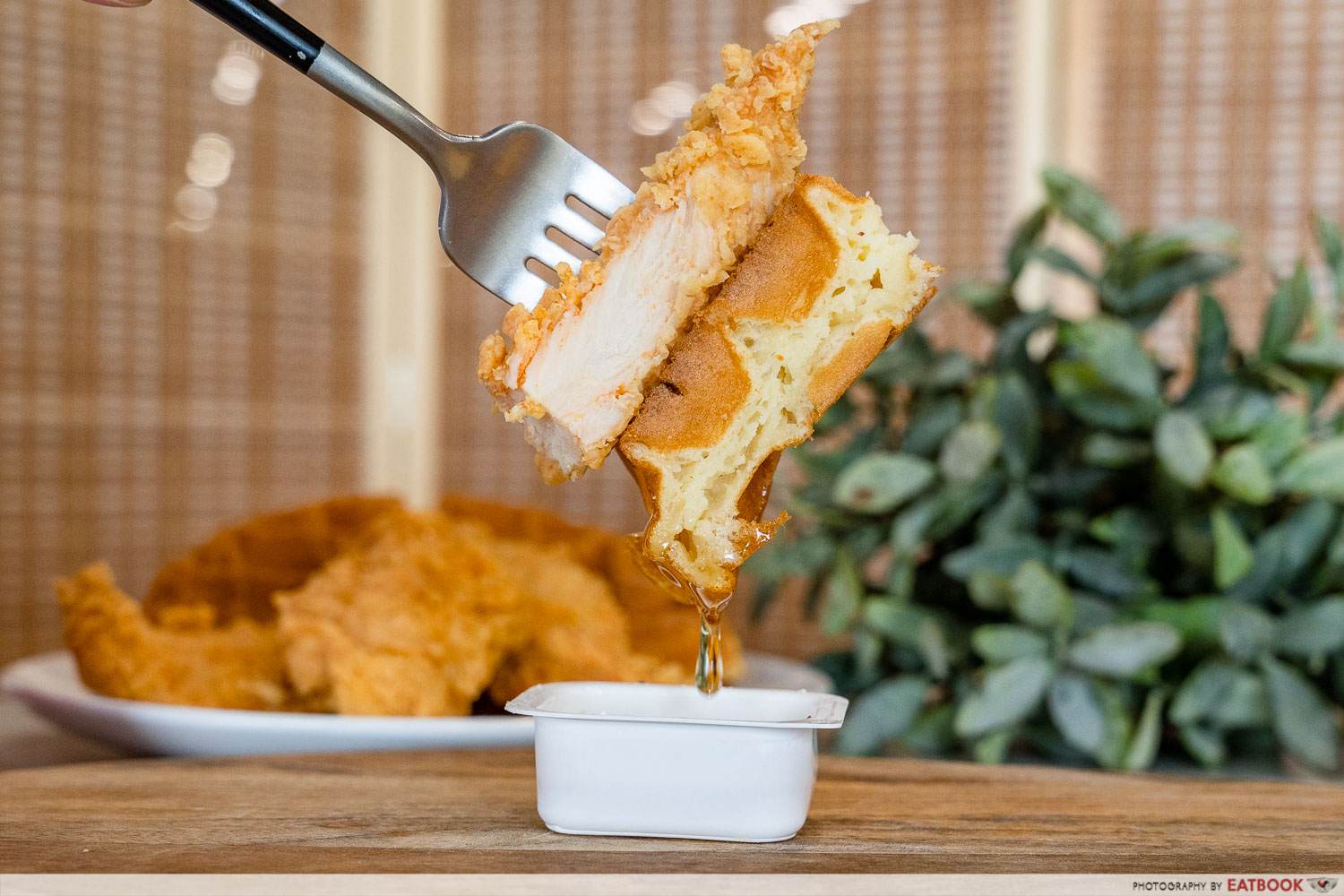 I prefer dipping my cut-up stacks of fried chicken and waffles into the syrup, because this way, the rest of my dish doesn't get soggy━there is some merit in waffles soaked in syrup, though. 
For those of you who haven't had the chance to try fried chicken and waffles, here's your chance to experience getting a mouthful of sweet, savoury, fluffy, sticky, and crispy with every bite.
Head down to a KFC outlet near you to get yourself some Chicken 'N Waffles today! KFC's Chicken 'N Waffles are available at 49 locations islandwide for dine-in and takeaway, so you can have it for brunch and dinner. Otherwise, you can also get them delivered through the KFC delivery website.
Photos taken by Melvin Mak.
This post was brought to you by KFC.