King's Laksa Steamboat offers laksa soup and har cheong gai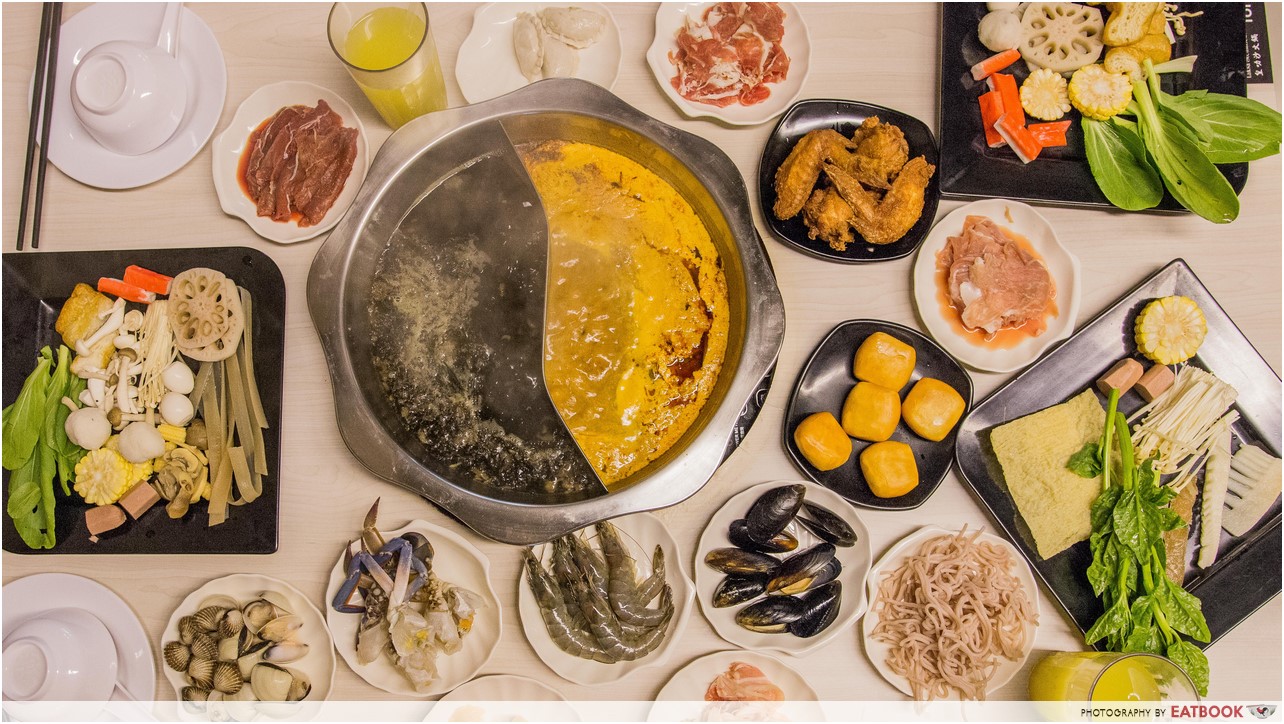 Whenever my family visits a zi char restaurant, I always know what I want to order even before looking at the menu: har cheong gai. These prawn paste chicken wings can beat any other types of fried chicken in my book. At King's Laksa Steamboat, you get to enjoy their fragrant laksa soup base along with a satisfying steamboat buffet spread that includes free-flow har cheong gai.
This steamboat buffet is priced at $21.80++ during lunch (11am to 2:59pm) on weekdays. Dinner (5pm to 11pm) and weekend lunch prices are raised to $26.80++. Children from six to 12 years-old can enjoy this buffet at a standard price of $16.80++. This is a slightly more affordable alternative to Guo Fu Steamboat, especially if you prefer chicken wings over xiao long bao.

Food at King's Laksa Steamboat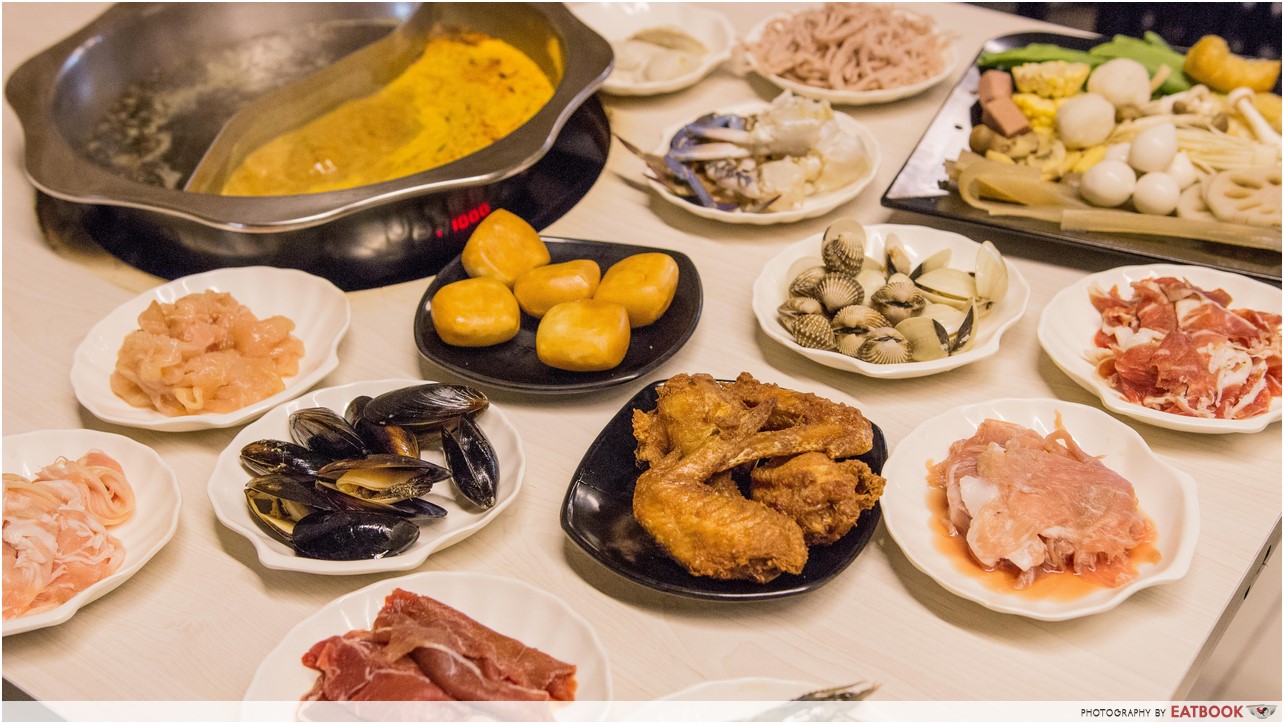 First things first, you have to choose two soup bases. Their signature Laksa Soup Base is a must-order, and we decided to get their Seafood Soup as well. If you need a spicy kick, they also offer Mala Soup. More familiar options include Chicken Soup and Herbal Soup.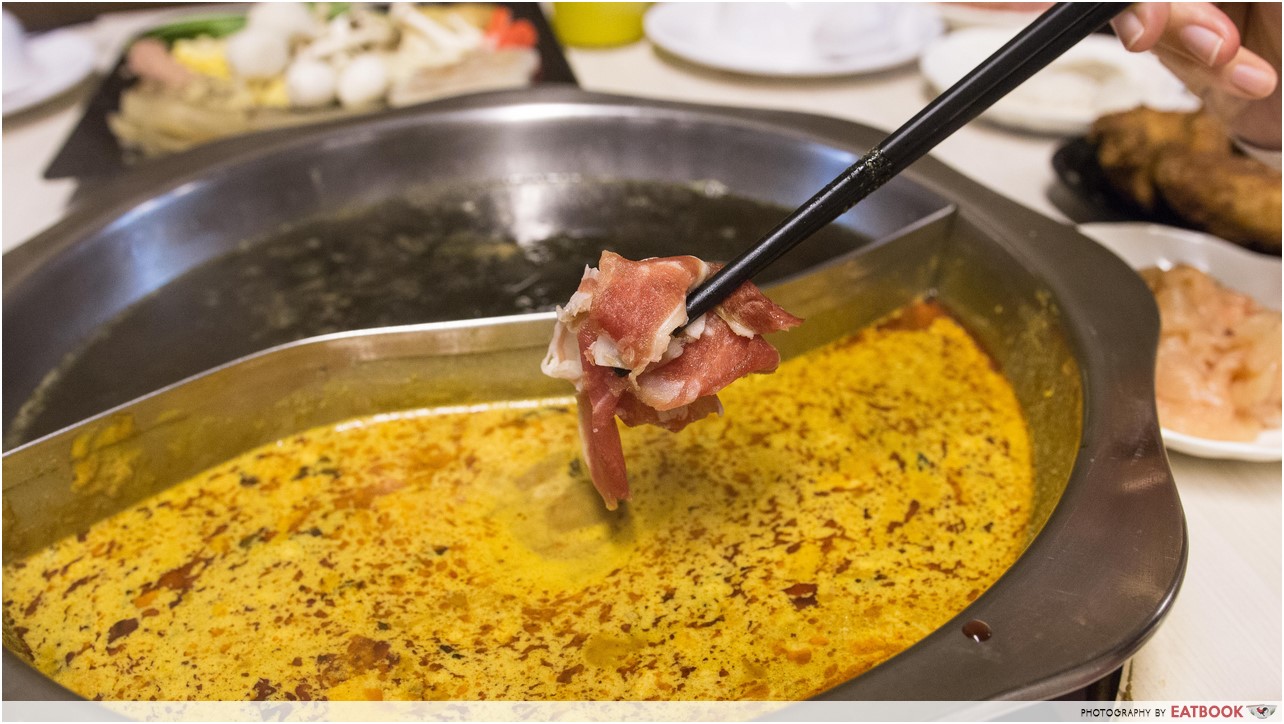 The laksa soup was fragrant and tasty. It was thick enough to coat the noodles and meats we cooked without being too jelak. Since we drank a lot of soup throughout the course of our meal, it was important that it didn't overwhelm our taste buds. As a spice lightweight, I loved how it was flavourful without being overly spicy. The savouriness from the shrimp paste used to make the broth was balanced out well by the creamy coconut milk.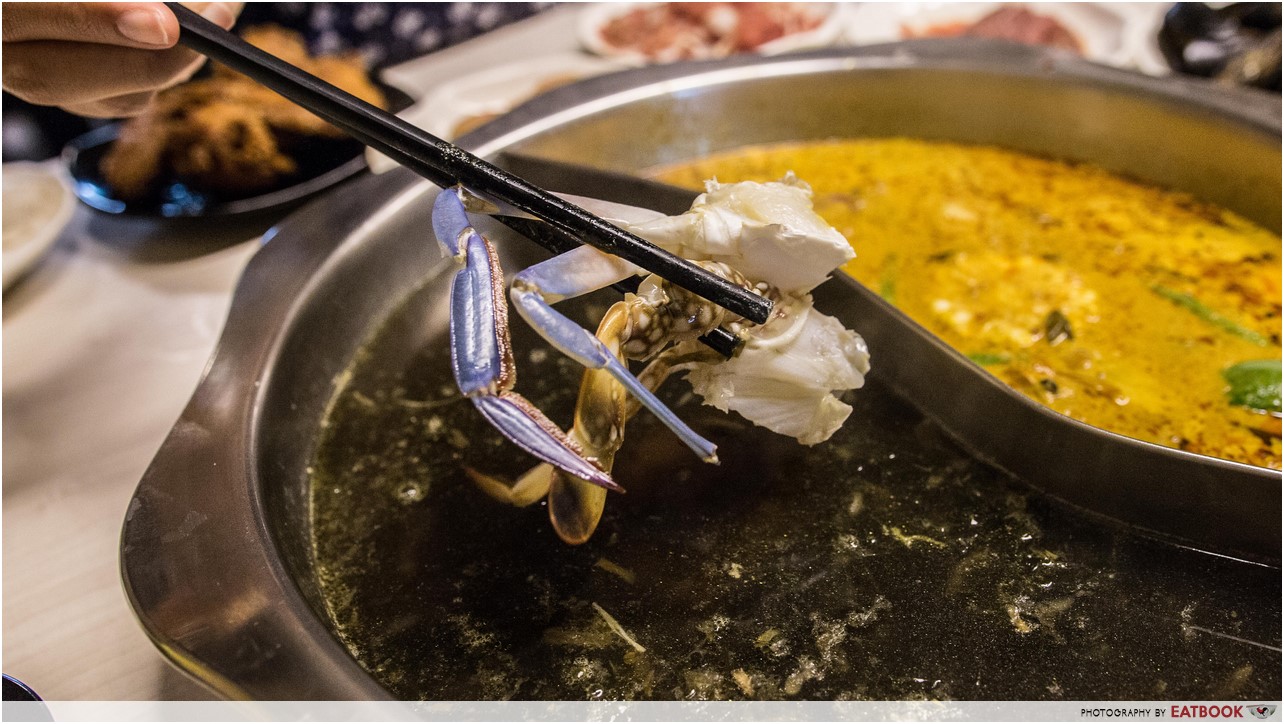 The seafood soup was on the plainer side, especially next to the laksa base. Despite its name, this soup base didn't come with seafood but had a generous amount of seaweed. This gave the soup a savoury, slightly briny taste, which went well with the crab and prawns we cooked. The slightly chewy texture of the seaweed also added a nice texture to the soup.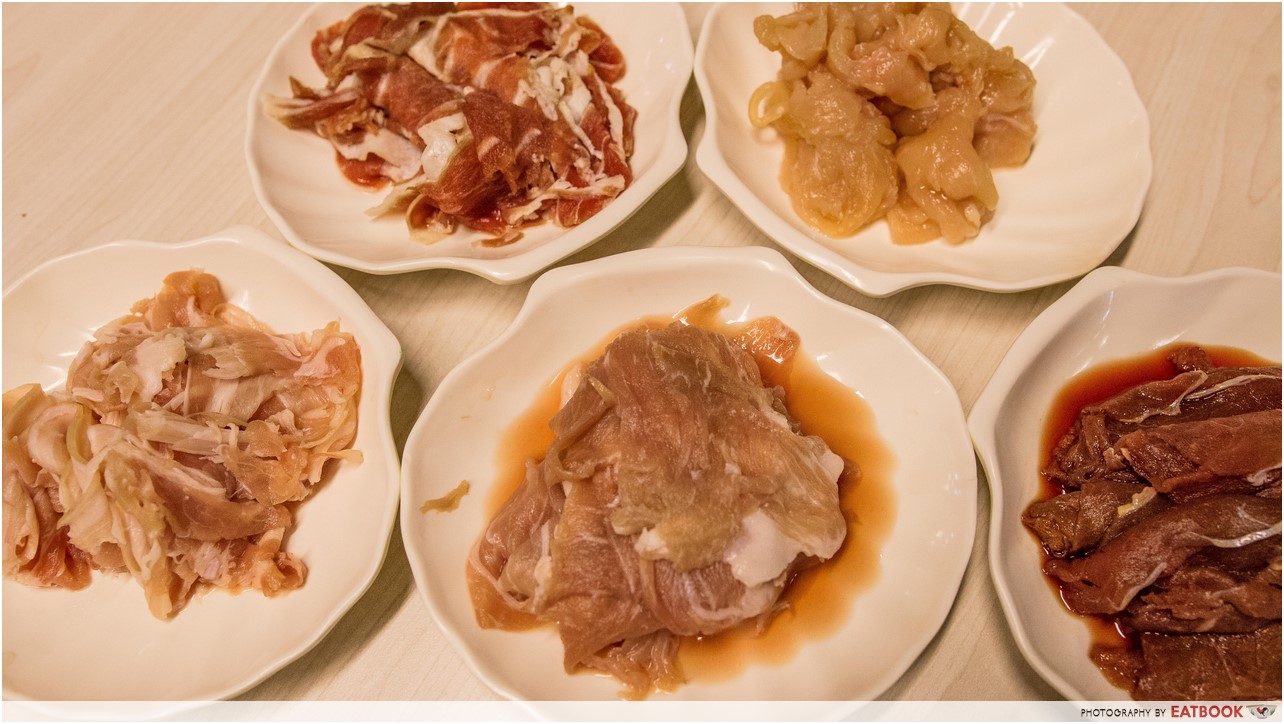 They offer various cuts of beef, pork, chicken and lamb. Though there was nothing particularly special about the meats served, they all added a more robust flavour to the soups over time.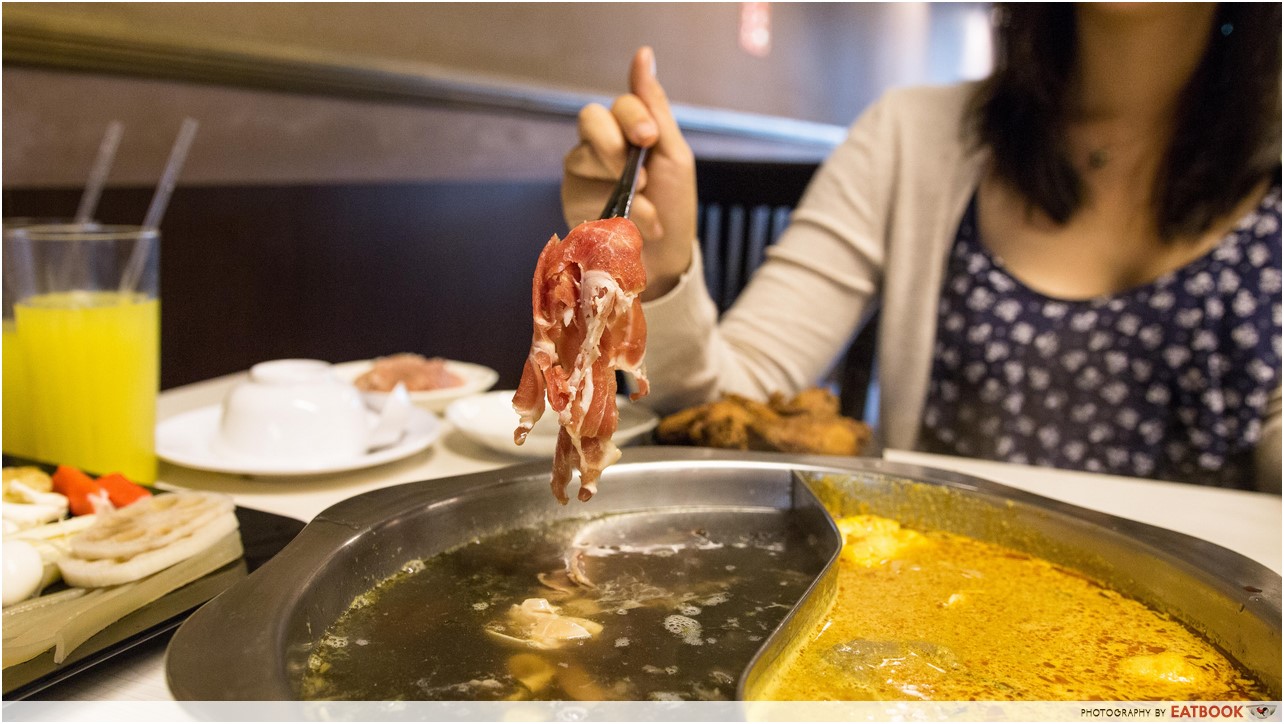 If you enjoy more indulgent cuts, order Sliced Pork Belly; ours came with substantial ribbons of fat running through. For those who prefer leaner meat, opt for more servings of Sliced Beef, Sliced Lamb and Sliced Chicken.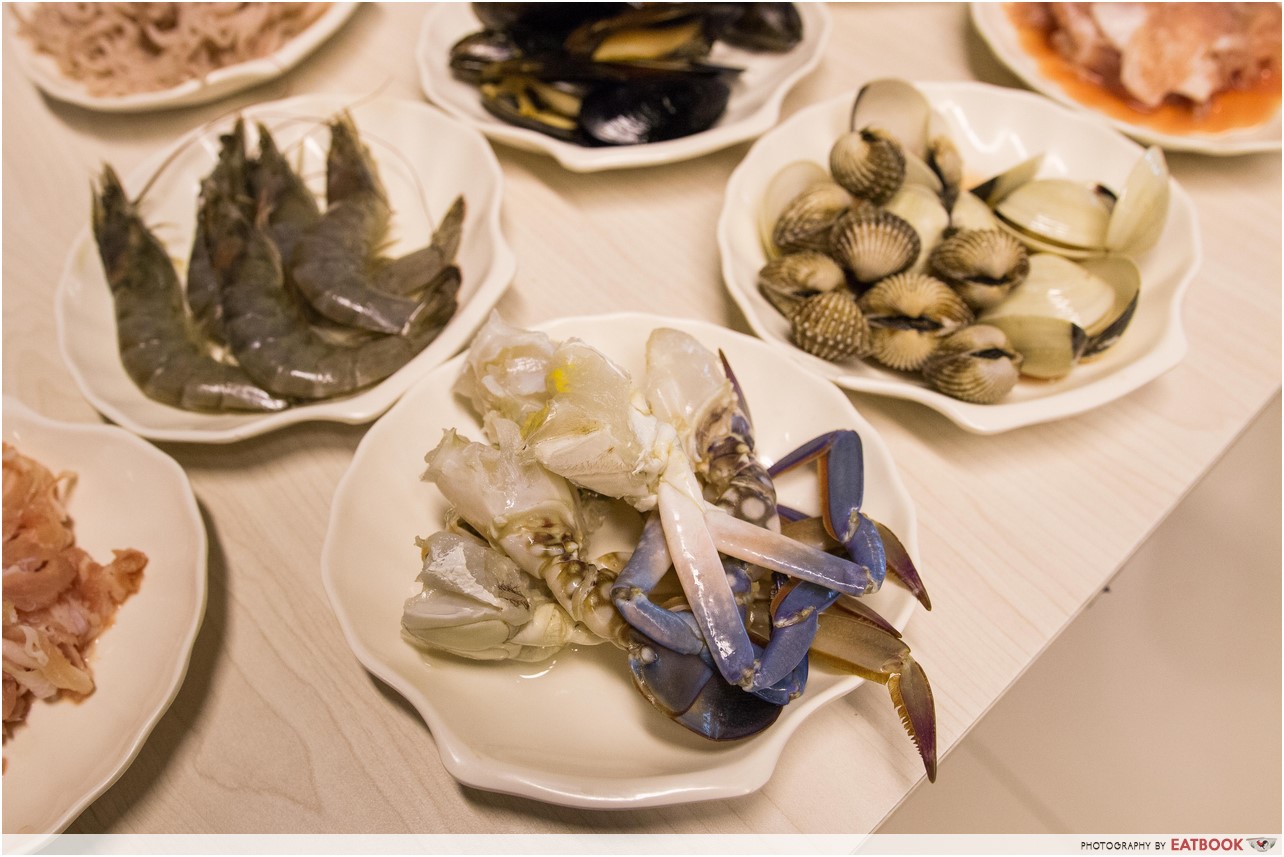 Their seafood spread was more impressive with options such as Mussels, Cockles, La La Clams, Fresh Prawns and even Flower Crab. The prawns and pieces of crab were quite fresh and retained their natural sweetness. If you're like me and just can't get enough of cockles in your laksa, order more servings of their blood cockles to throw into your steamboat pot.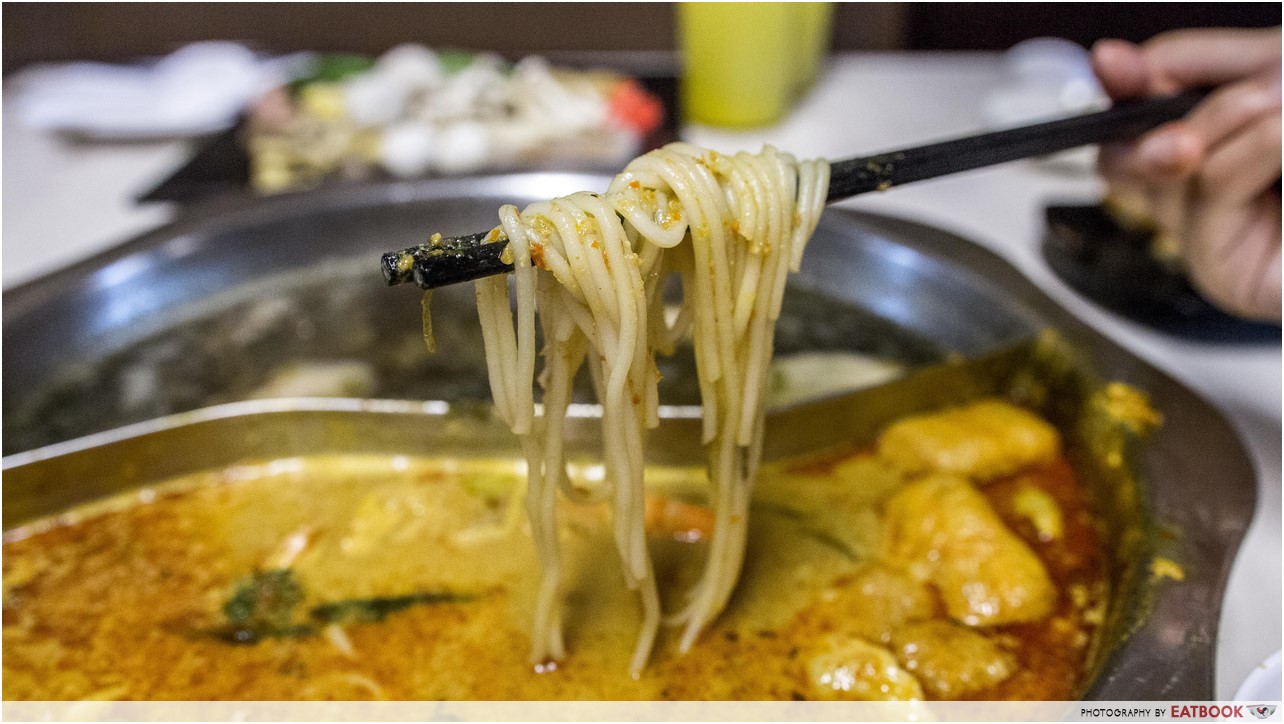 Though meat and seafood may be enough to satisfy some, carb lovers would appreciate the options here. An obvious choice was their Laksa Noodles, AKA thick bee hoon. Brown Rice Laksa Noodles and Wholemeal Yellow Noodles were offered as healthier alternatives. White Rice, La Mian, Instant Noodles and Vermicelli were also available.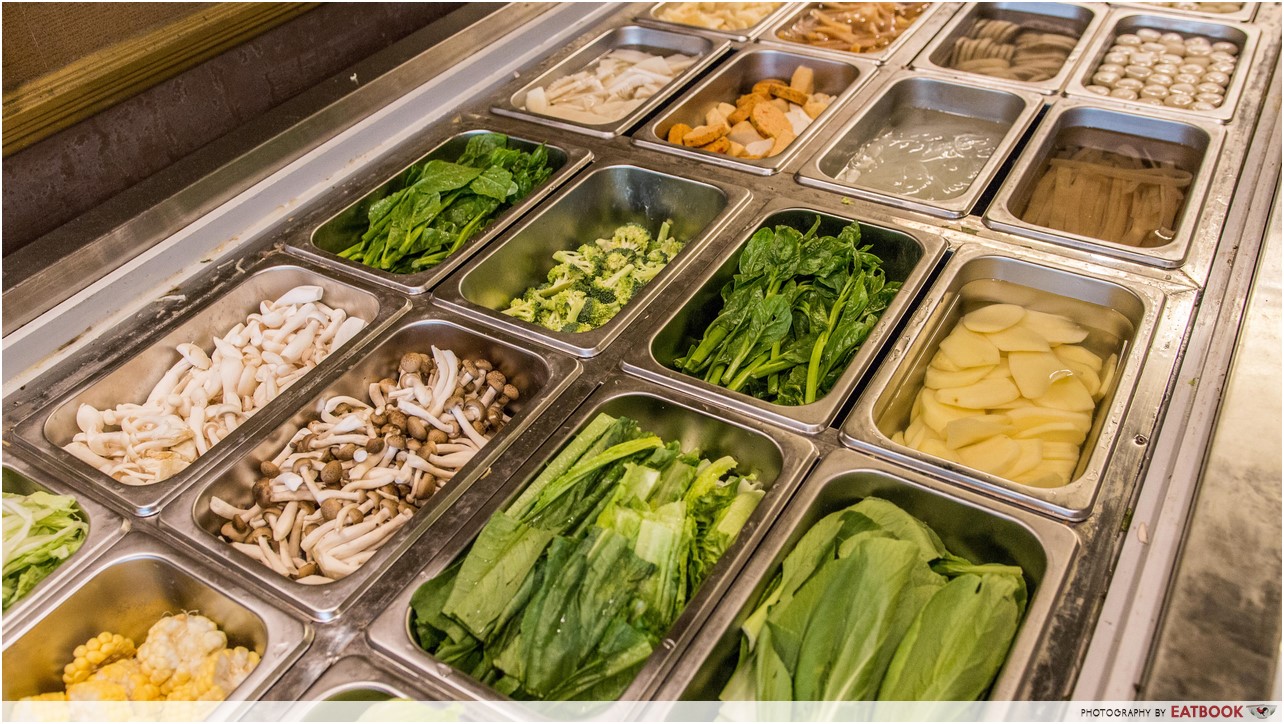 Unlike the other food categories, the vegetables and processed ingredients such as lobster balls and crabsticks were laid out on a counter. We subconsciously ended up picking typical laksa ingredients such as tau pok and hard-boiled quail eggs to add to the steamboat.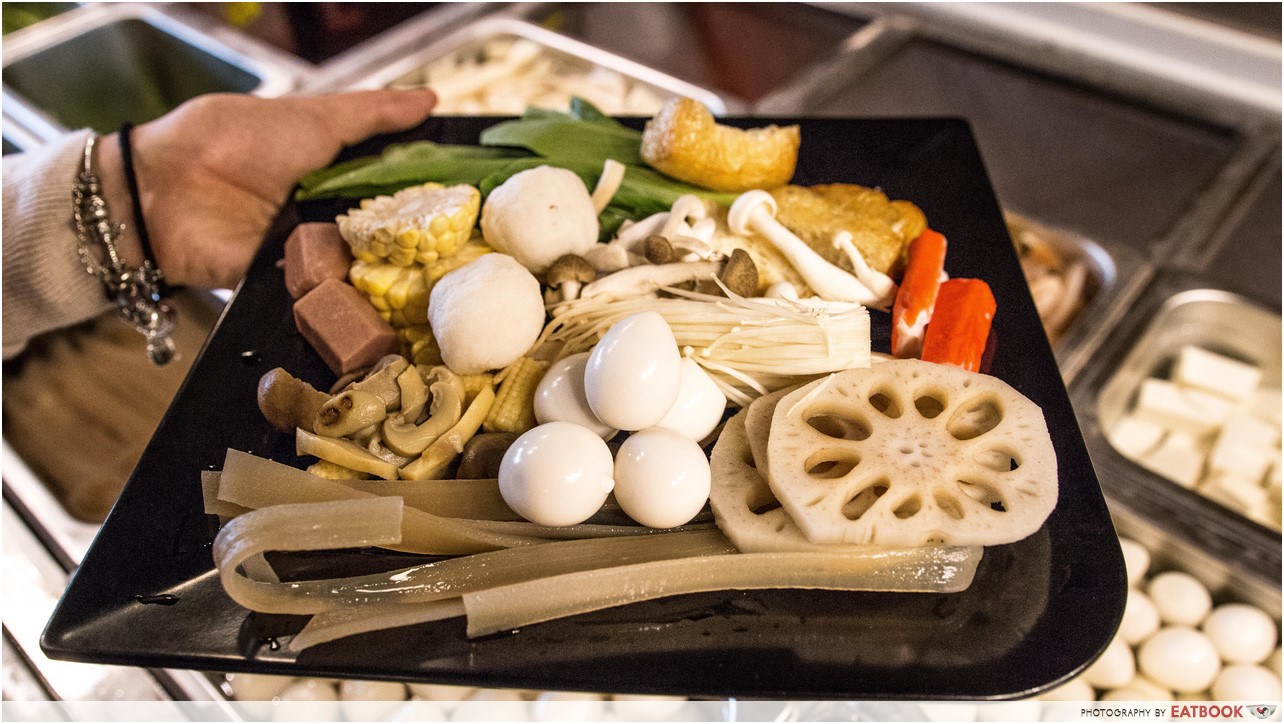 The variety of vegetables that were available included broccoli, enoki mushrooms, Chinese cabbage and shimeiji mushrooms. For some extra crunch, go for pieces of sliced lotus root and corn.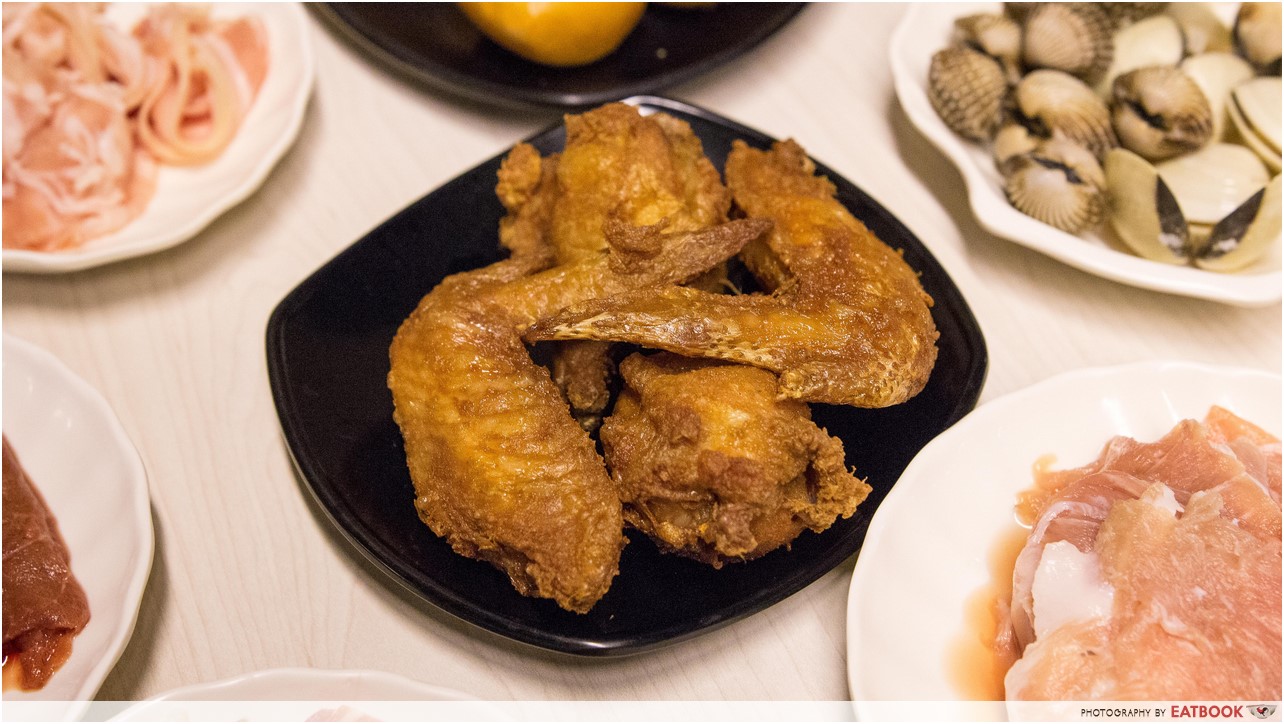 And now, for the pièce de résistance of this buffet –  Prawn Paste Chicken! These were deep fried a la minute, so we were able to get them toasty and warm at any point of our meal. The savoury prawn paste batter formed a crunchy outer layer around the tender chicken meat. Crispy on the outside, warm and juicy on the inside, the wings here were comparable to those from my go-to zi char place.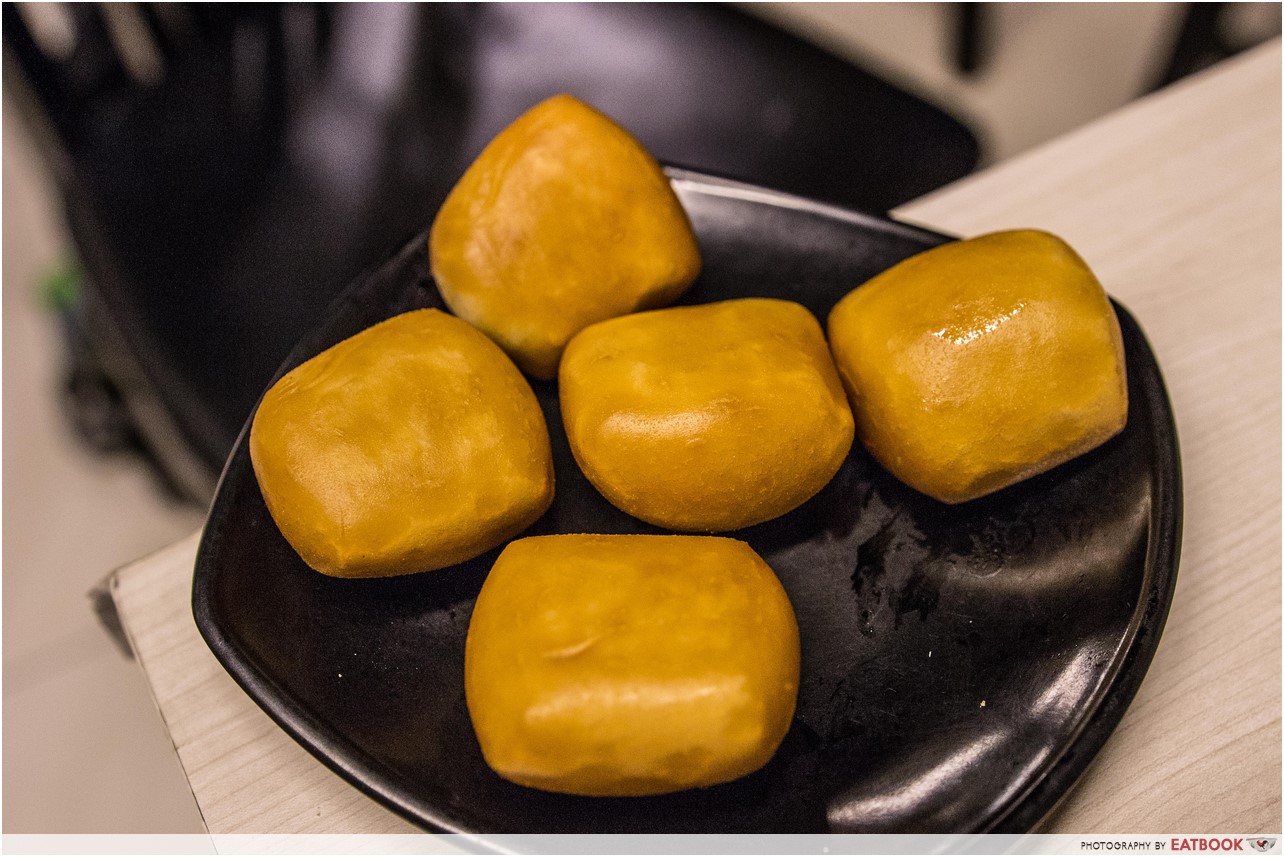 Another highlight of the finger food category was this plate of Golden Mantou. Just like their chicken wings, these pillowy buns were fried only after our order was placed.
These were the perfect sides to go with our laksa broth as they soaked up all the soupy goodness easily. Other types of finger food offered include luncheon meat, chicken nuggets and deep fried beancurd with Thai sauce.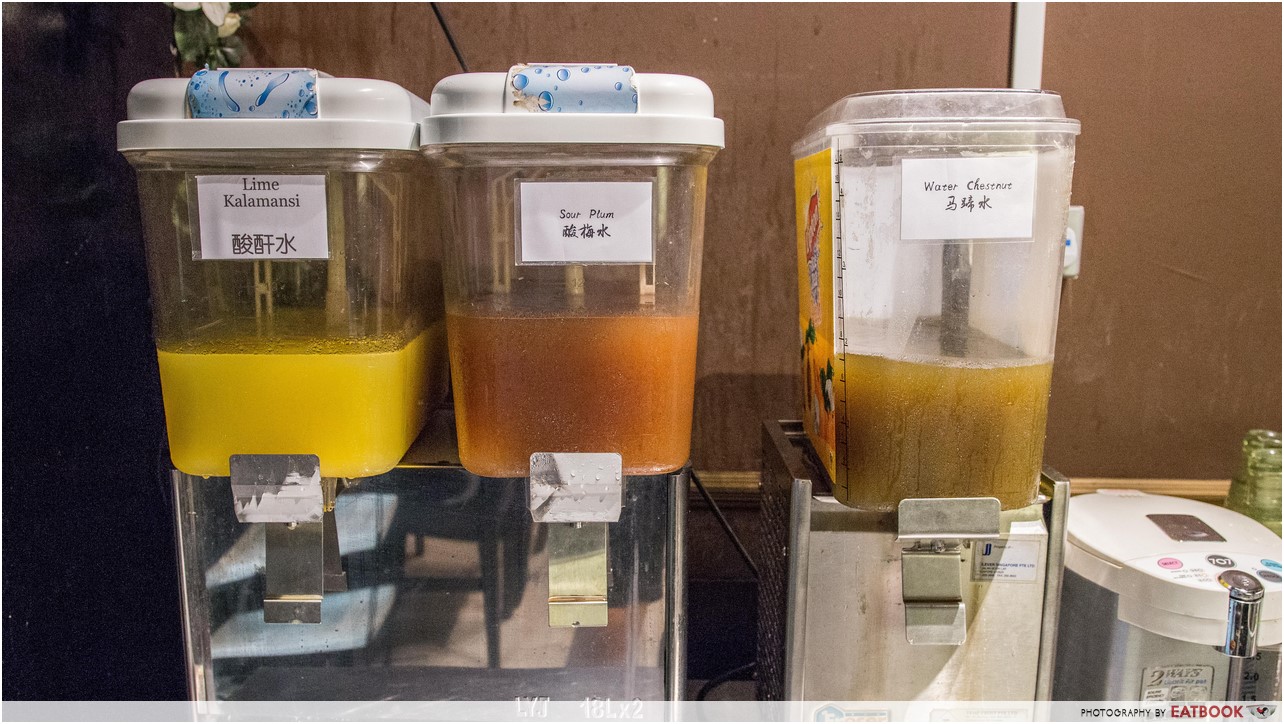 Free-flow drinks are also included in the buffet deal. Customers can get free-flow sour plum drink, calamansi lime juice and water chestnut drink.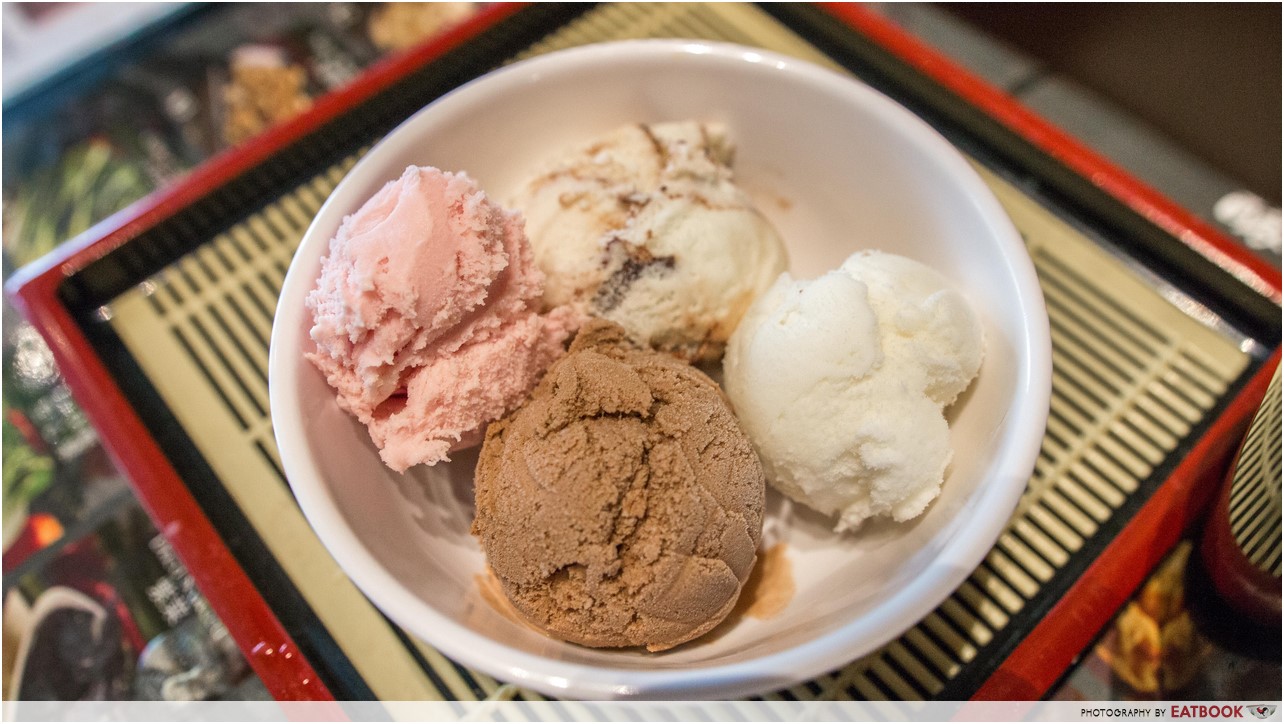 If you have a separate dessert stomach like I do, there'll always be just enough room for a sweet treat no matter how heavy your meal was. There were a few classic ice-cream flavours, such as chocolate and vanilla, that we helped ourselves to afterwards. My favourite was the vanilla ice-cream with streaks of chocolate fudge running through.
Ambience at King's Laksa Steamboat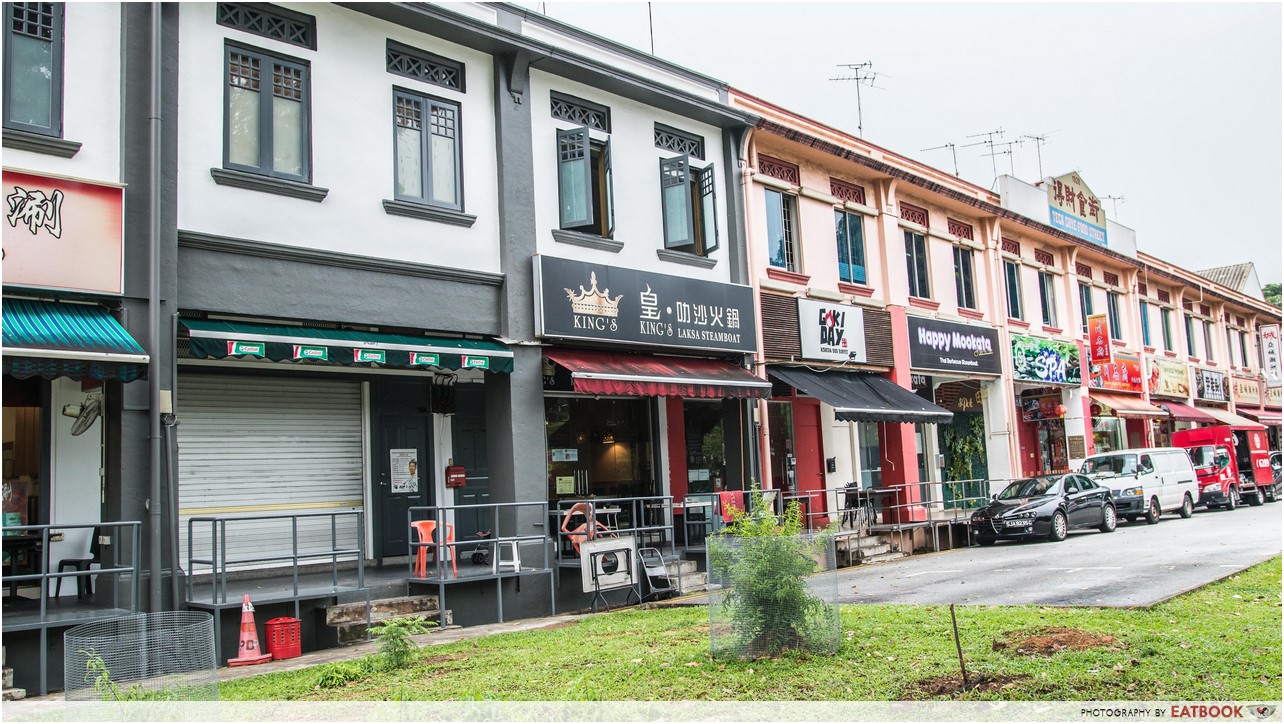 King's Laksa Steamboat is located in a shophouse around 10 minutes away from NEX and Serangoon MRT Station by foot.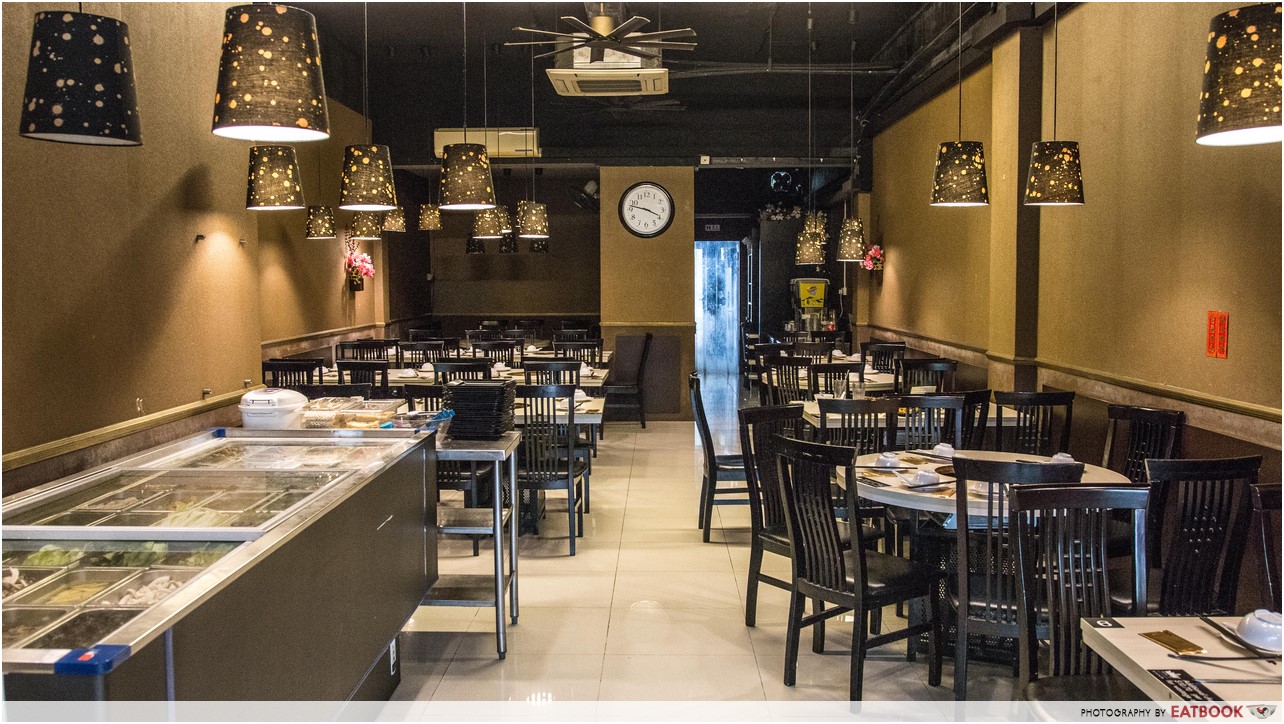 The restaurant has ceiling fans and was well air-conditioned so don't worry about breaking a sweat during your steamboat buffet. My only complaint is that they were very shorthanded. When we visited, service was slow as there was only one staff member switching between being a waiter and chef. In order to avoid this, especially if you're with a large group, come here after 12pm or make a reservation the day before.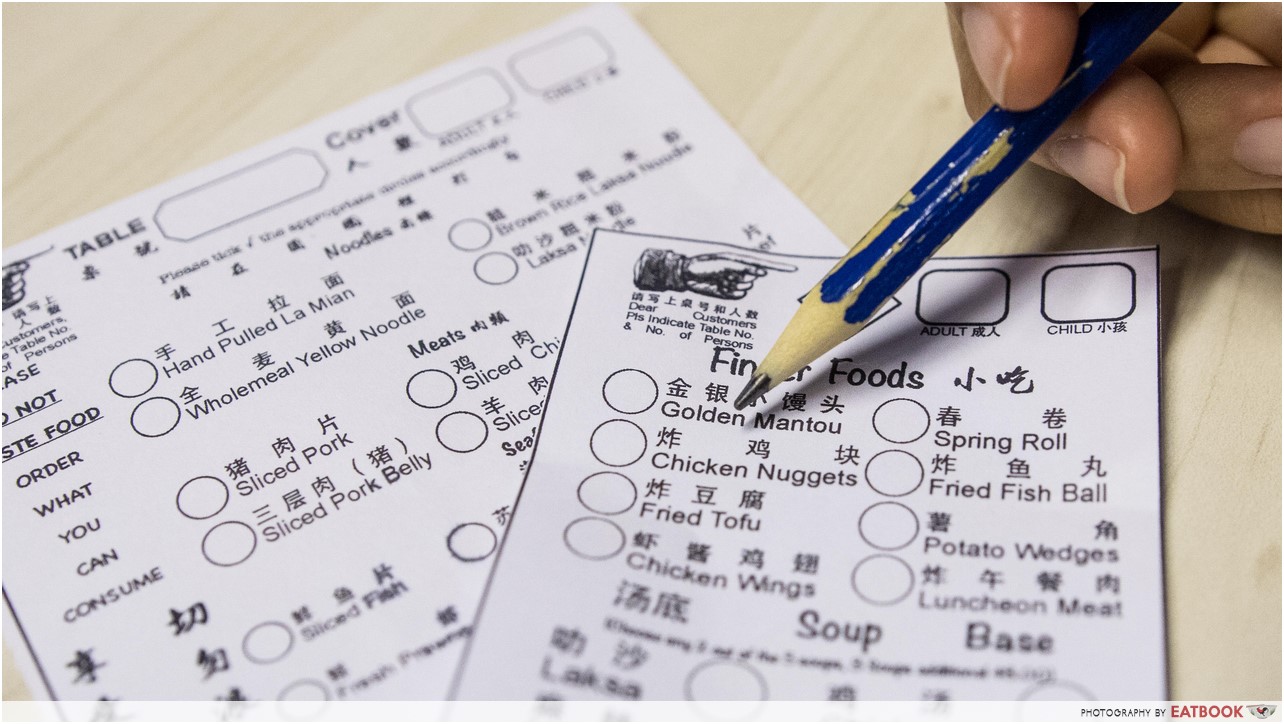 At King's Laksa Steamboat, you have to place your order for the different meats, noodles, soup bases, and finger food you want by filling out the small forms provided.
The verdict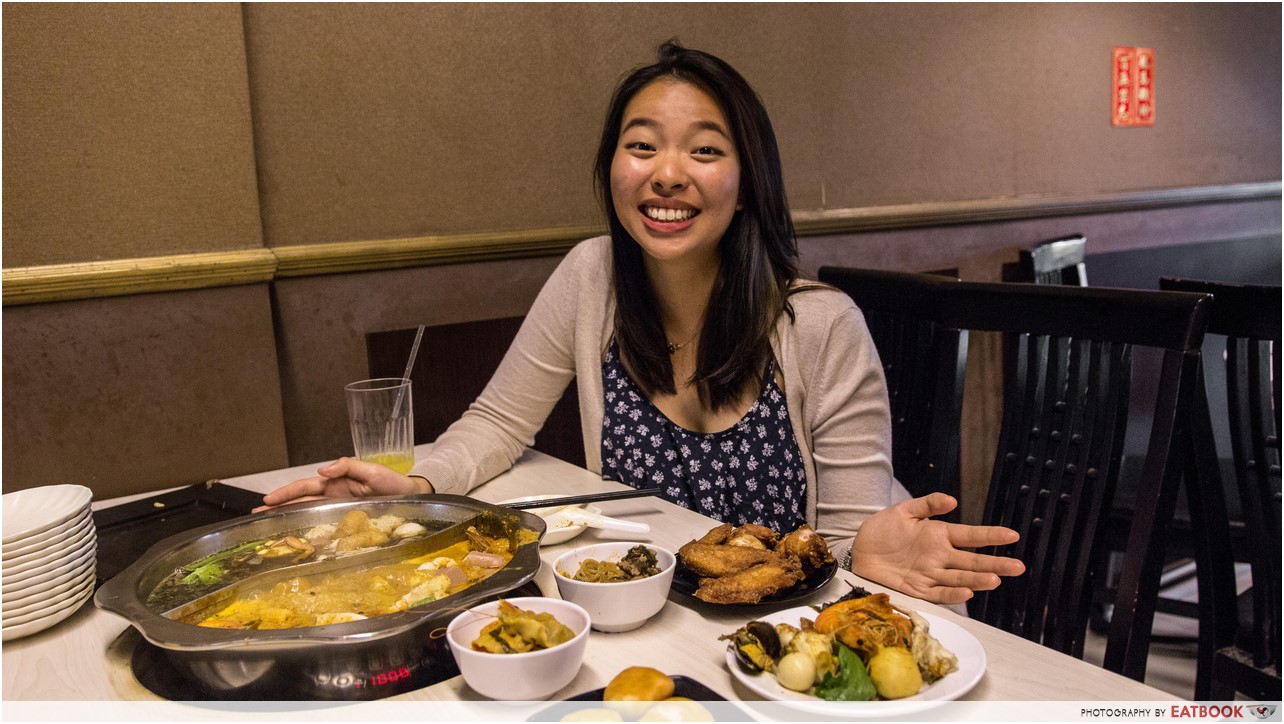 Though King's Laksa Steamboat may not have the most extensive selection or highest quality of ingredients, this is one steamboat buffet that is worth the money. If you can eat your weight's worth in fried chicken, their free-flow har cheong gai is reason enough to come back.
Address: 17 Teck Chye Terrace, Singapore 545724
Opening hours: Daily 11am to 11pm
Tel: 6287 8010
Website

This is an independent review by Eatbook.sg.
Summary
Pros
– Cooked dishes available
– Comfortable ambience
– Unique soup base options
Cons
– Slow service
– Vegetable and processed ingredients counter was not refilled regularly
Recommended Dishes: Prawn Paste Chicken, Golden Mantou, Laksa Soup Base
Operating Hours:
Daily 11am to 11pm
Tel:
6287 8010
Address: 17 Teck Chye Terrace, Singapore 545724