Kissajin has affordable omakase from $68++ in Orchard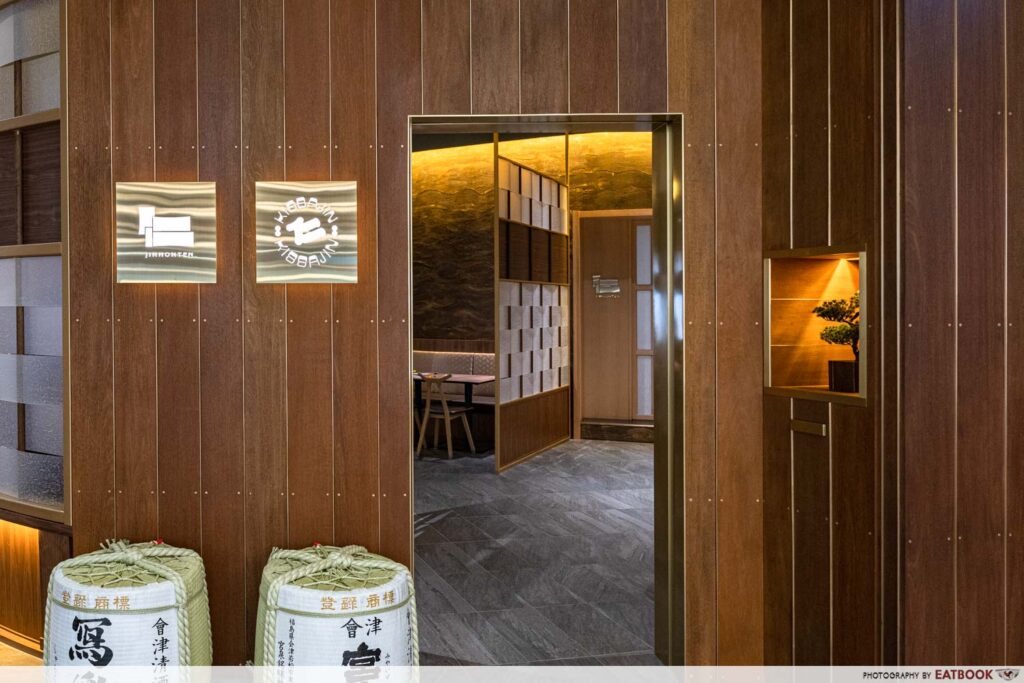 An omakase is often associated with an expensive dining experience solely reserved for special occasions. Throw in a central location of Orchard in the mix, and you can expect prices to skyrocket. Enter Kissajin, a new kid on the Shaw Centre block that appears to prove otherwise.
Run by the Les Amis group, which boasts over 30 restaurants in Singapore under their belt, the chic Japanese restaurant only offers two omakase menus: lunch ($68++ per person) and dinner ($98++ per person). It's right next to sister restaurant Jinhonten, which has more premium omakase experiences for splurge-worthy occasions.
30 Omakase Restaurants In Singapore For Special Occasions, Including Those By Michelin-Starred Chefs
Food at Kissajin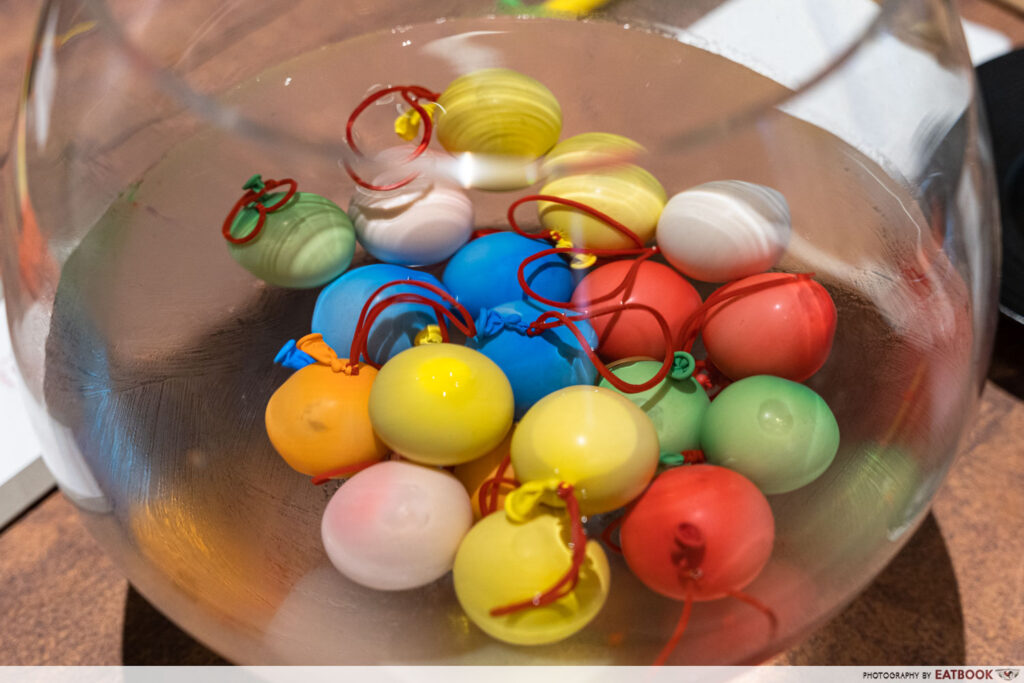 We visited for weekday lunch, which kickstarted with a fun game where diners had to each fish out an orb from a fishbowl of colourful balloons.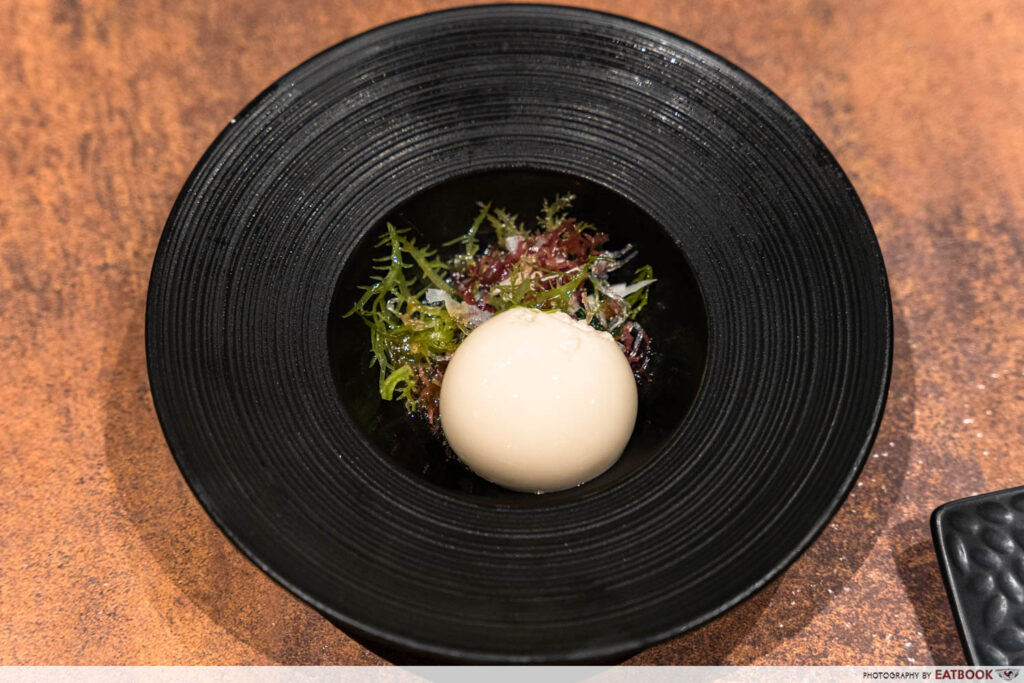 Upon popping your balloon, you get a smooth and creamy round made of sesame and tofu, served on a bed of yuzu and wakame salad. I thought the interactive element was a creative way to break the ice around the table, but felt that the tofu ball was a tad too rich for my liking.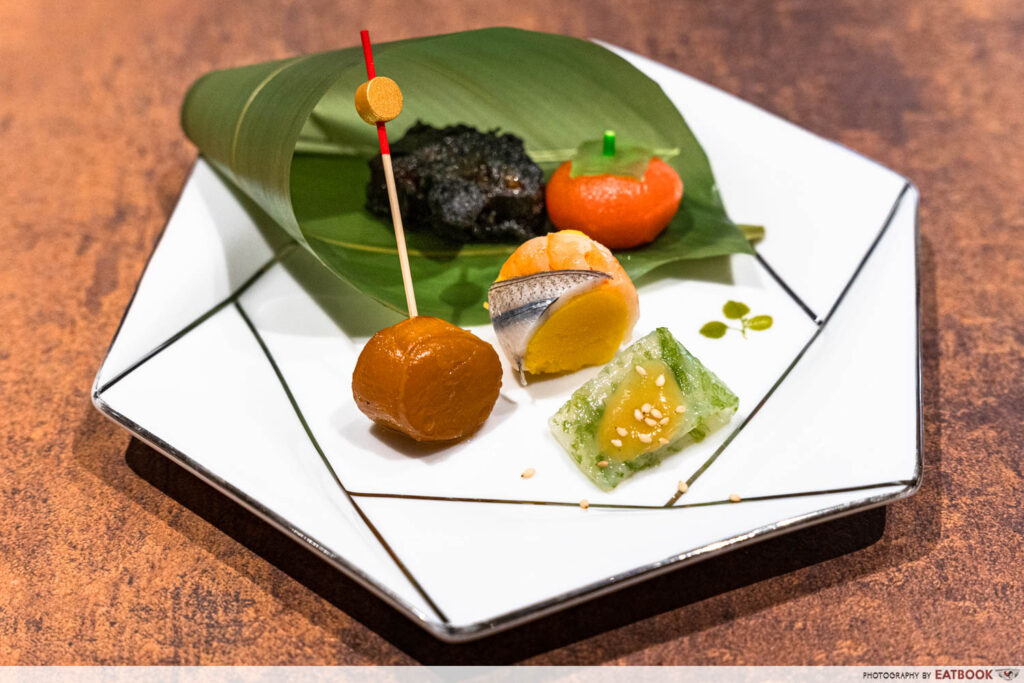 Then you're served a cute platter of bite-sized appetisers to be eaten according to flavour: from the lightest to the strongest. The seaweed Konjac was light and refreshing, with a firm bite and pleasant chew. There's also a mini Tazuna Sushi, made of finely pounded tamago roll topped with a small slab of seasonal fish.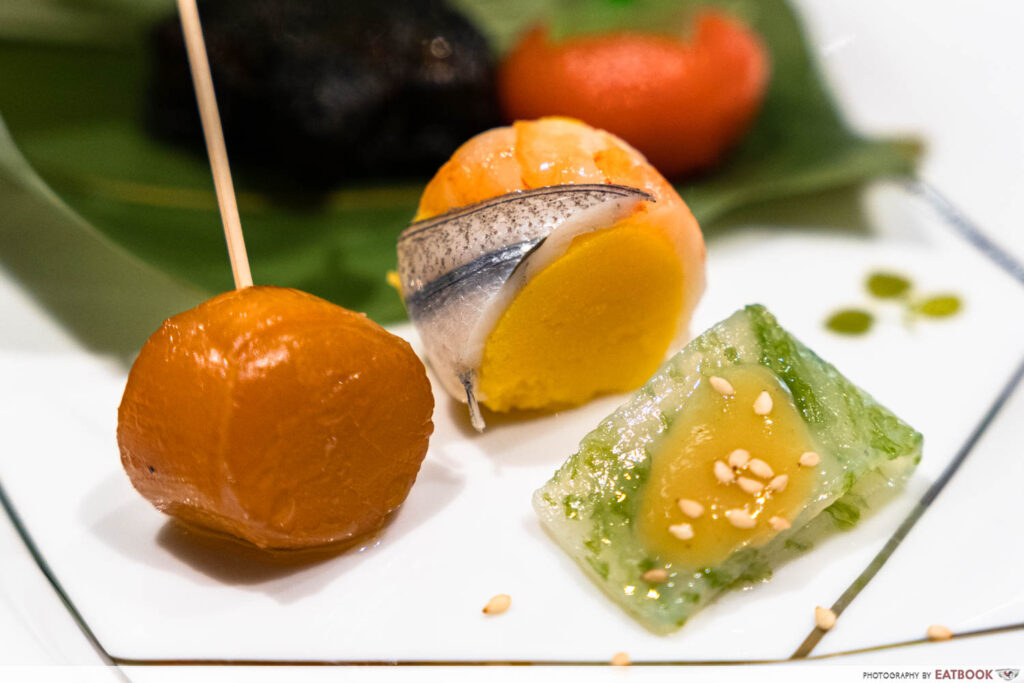 There's also a tiny charcoal-battered Karaage, plus an intricate, persimmon-shaped Mochi filled with sweet red bean to finish. Unfortunately, the latter was a tad hard so I left it half-eaten. My favourite of the lot was the Smoked Scallop, which was sweet and umami with a discernible smokiness.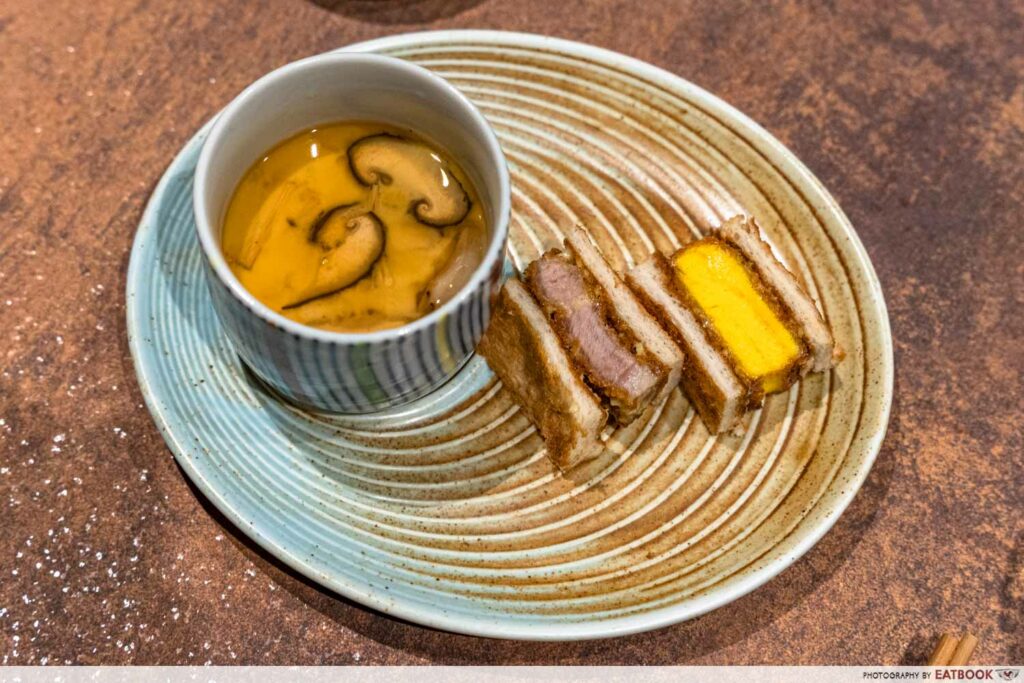 The Chawanmushi and Katsu Sando came next, served side by side on a plate. I wolfed down the mushroom-infused chawanmushi, which was smooth and flavourful, topped with a slightly sweet dashi glaze for extra flavour.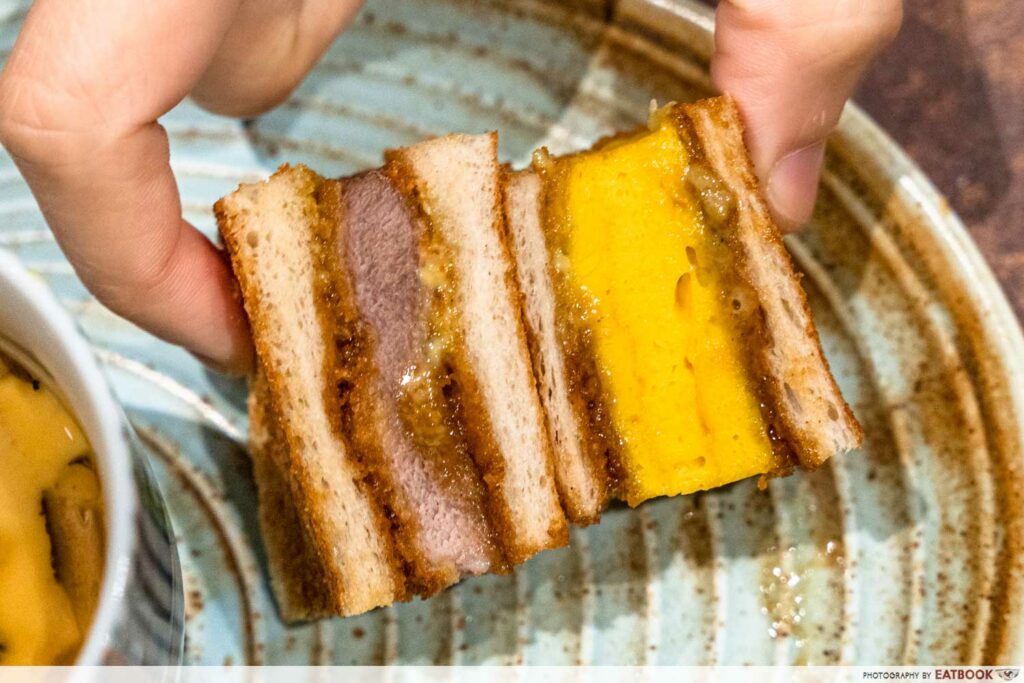 You get two types of finger-sized sando: Pork and Egg. Both came with a heavy-handed smear of wasabi that took me by surprise, so you'll want to take note if you're not used to the heat. Nonetheless, both the pork chop and tamago pieces were delicious and not too greasy, though I wished for them to be slightly bigger.
Up next was the Salmon Yakimono, which had a beautifully caramelised char on top. You get a nice chunk of sweet, smoky, and savoury salmon paired with a sprig of ginger flower to counteract the fishiness. I quite enjoyed the flaky and well-seasoned fish, but felt that the ginger flower was too thick a piece to enjoy alongside it.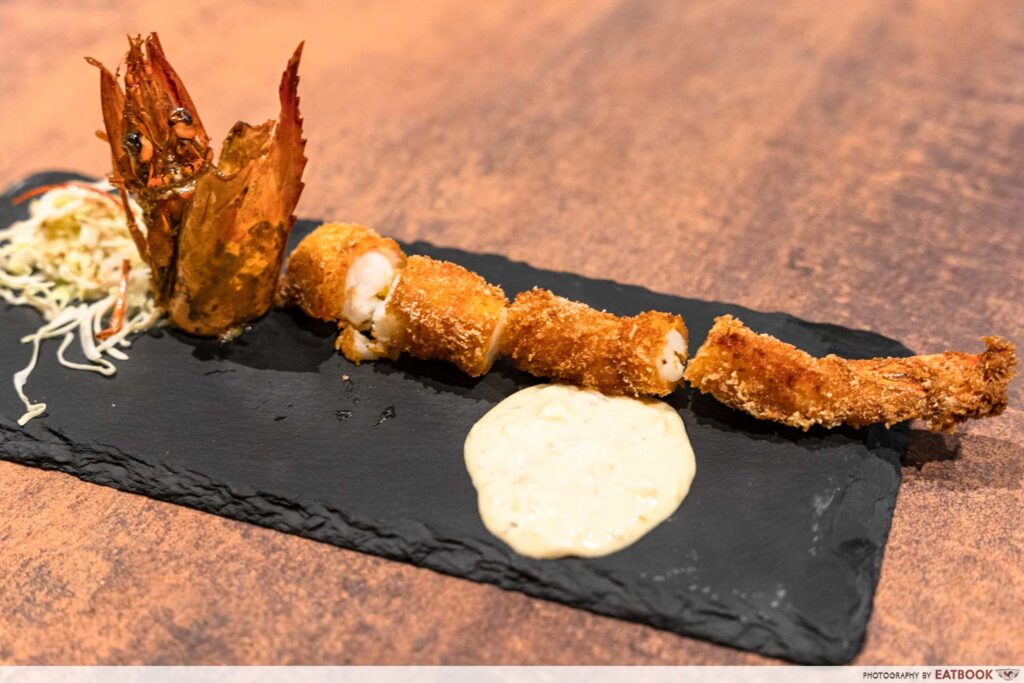 This was followed by a thick prawn Agemono, elegantly presented on a black rectangular platter, with tartar sauce on the side. I liked how the sauce added some creaminess to the prawn, which was unfortunately over-fried and a little tough on the inside.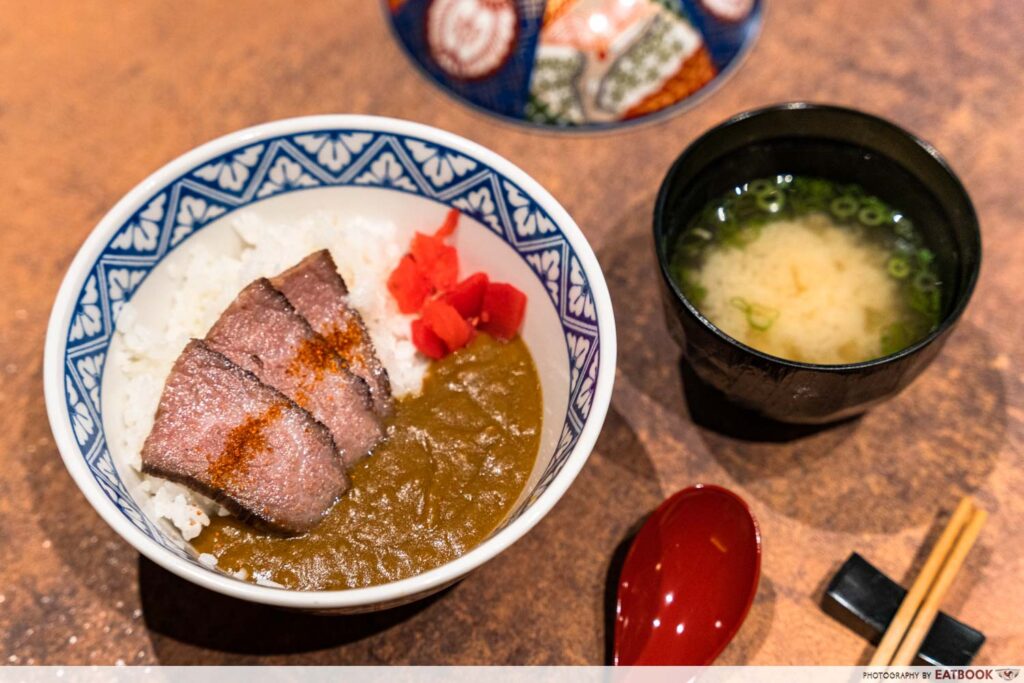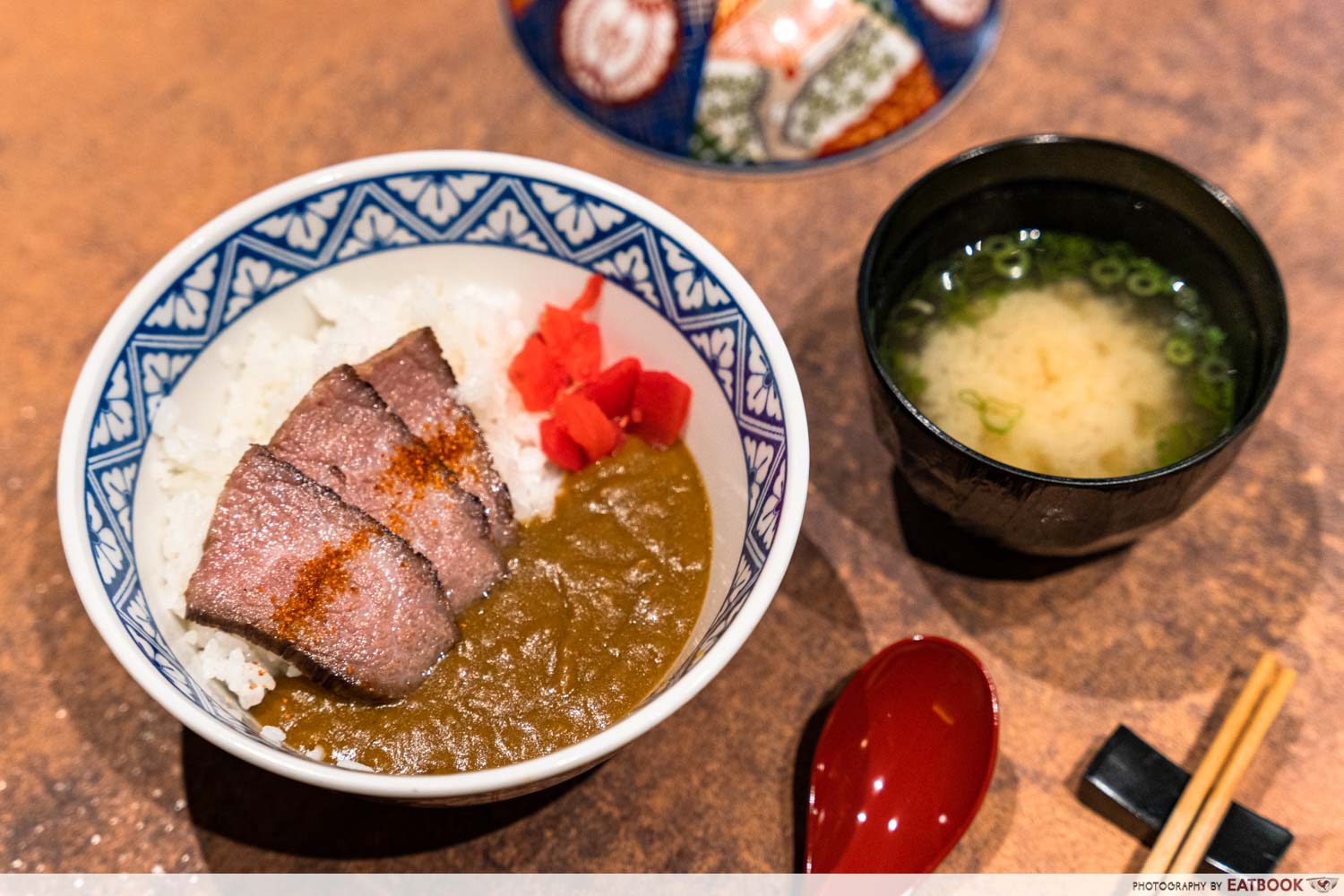 Rounding up the savoury feast was a hearty bowl of Wagyu Curry paired with miso soup on the side.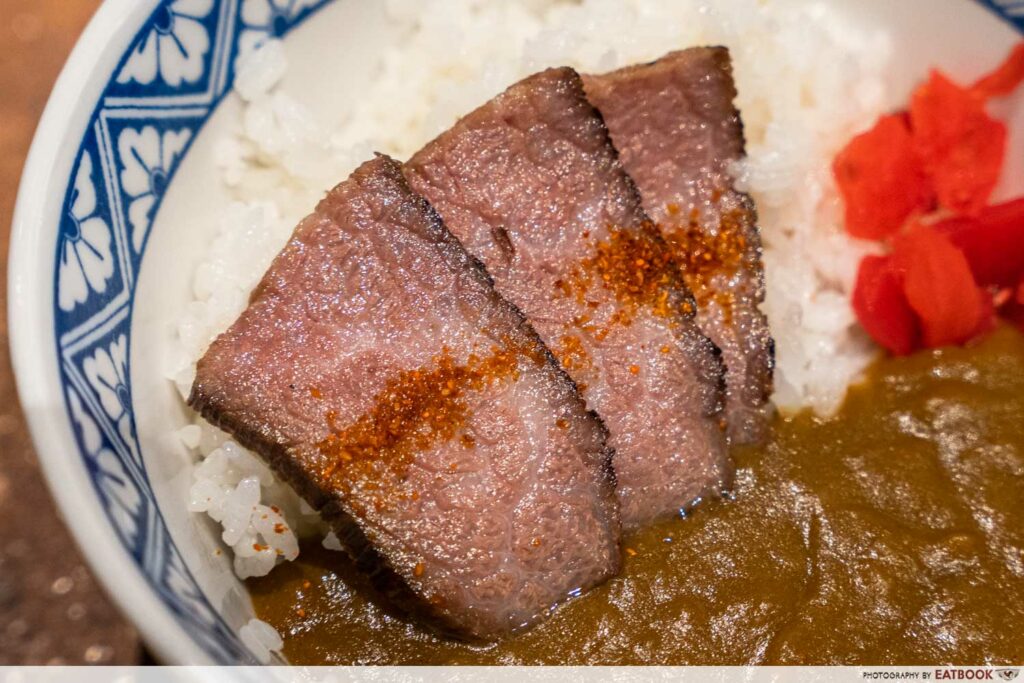 The beef slices were meltingly tender with generous marbling, complementing the soft and chewy short-grain rice. While flavourful, the curry gravy fell short on texture; it was slightly clumpy and not as creamy as I'd expected.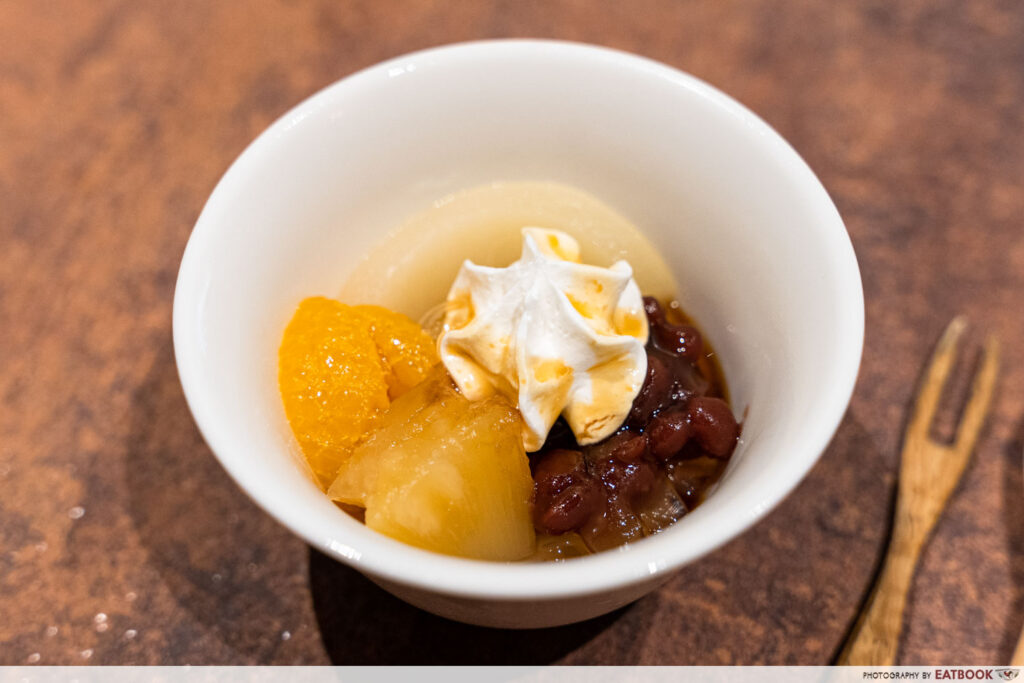 Topping it all off was a small serving of Cream Anmitsu, a traditional Japanese jelly served cold with assorted toppings: azuki red bean, fruits, and a dollop of brown sugar-infused cream. It was a pleasant end to the meal—I just wished there was more!
Ambience at Kissajin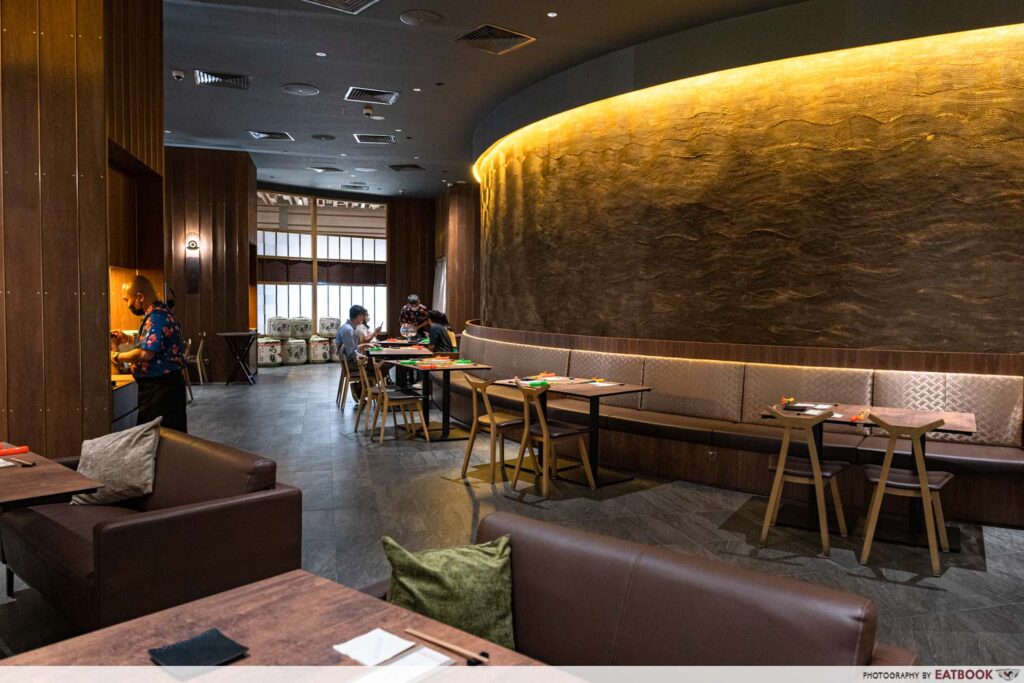 Kissajin impresses with their interiors: think dark wood furnishings with grey marble-esque floors, accented by warm lighting for a welcoming feel. Traditional wall panels with slightly translucent rice paper-acrylic frames allow some light to stream through without comprising the privacy of the diners. The tall ceiling, in addition to a curved feature wall on one side of the restaurant, adds grandeur.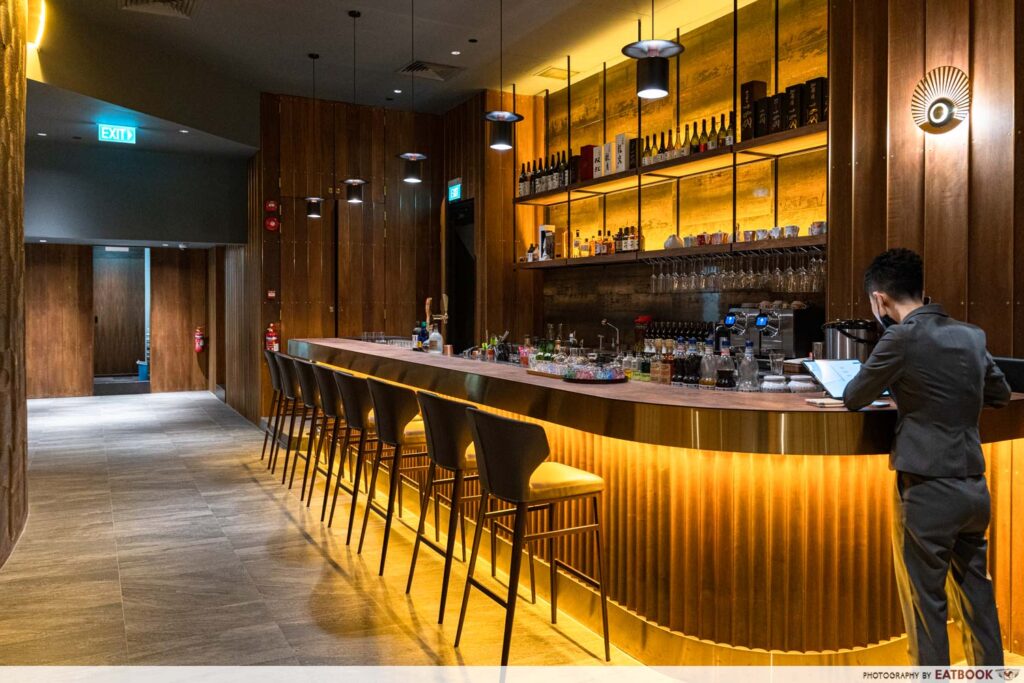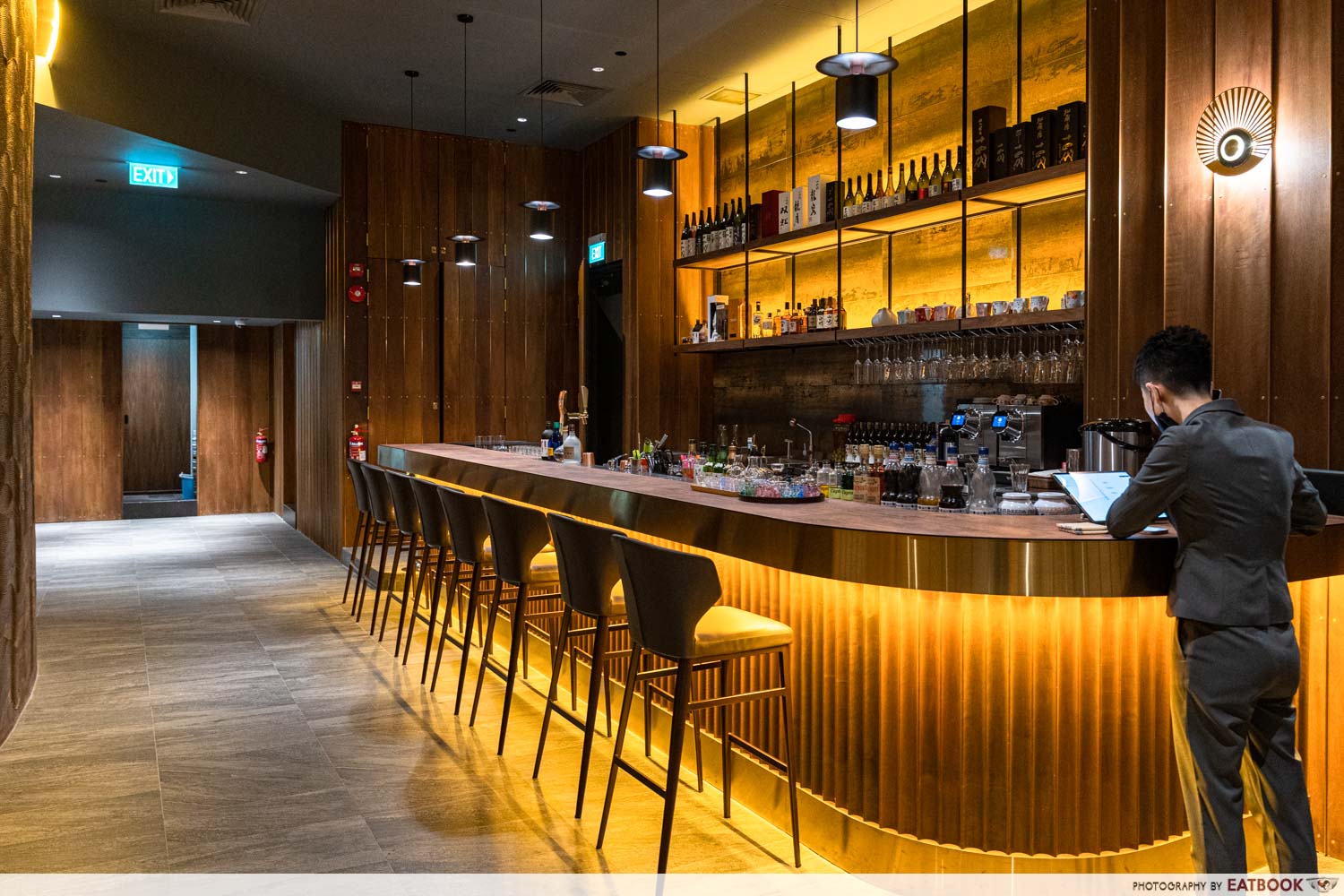 There's plenty of space for you to roam about and explore at this 50-seater, which also houses a bar next to the main entrance.
The verdict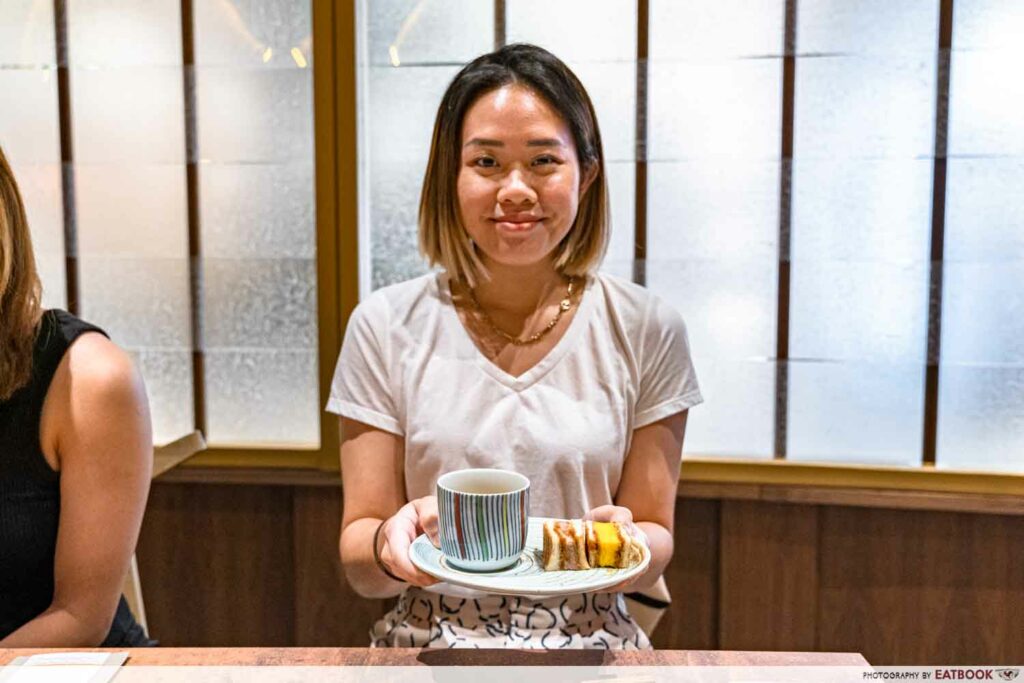 What really stood out from my time at Kissajin was the vibes of the restaurant. I appreciated the tastefully decorated interiors, moody lighting, and uber-high ceilings, which set the mood for a fancy yet relaxed dining experience. While there was no single dish that was exceptionally memorable, the prices here are undeniably affordable for an omakase meal in town. Perhaps the $98++ dinner option would be a better choice if you want something more premium!
For more delicious eats in town, check out our guide to the best food in Orchard, which includes Taiwan-famous bubble tea and affordable sushi. Another spot you can consider heading to is Vin Geek in Pacific Plaza, which has wines by the glass from $2.50!
Address: 1 Scotts Road, #01-11, Shaw Centre, Singapore 228208
Opening hours: Daily 12pm to 3pm, 6pm to 10:30pm
Tel: 9635 0963
Website
Kissajin is not a halal-certified eatery.
22 Orchard Food Gems To Visit For Crispy Thai Pork Belly, Personal Hotpot And More
Photos taken by Tan Zi Hui and edited by Hui Hui Lau.
This was a media tasting at Kissajin.
Kissajin Review: $68++ Omakase Lunch With Wagyu Curry And More In Orchard
Kissajin Review: $68++ Omakase Lunch With Wagyu Curry And More In Orchard -

7/10
Summary
Pros
– Affordable for omakase 
– Beautiful interiors
– Convenient location
Cons
– Only one omakase set is served during lunch or dinner 
– Nothing really stood out from the set
Recommended dishes: Omakase Lunch ($68++ per person)
Opening hours: Daily 12pm to 3pm, 6pm to 10:30pm 
Address: 1 Scotts Road, #01-11, Shaw Centre, Singapore 228208