---
About Kite
---
Update (4th April 2019): Kite has permanently closed.
You've probably never heard of Kite, a brand new restaurant on Craig Road that has been flying under the radar since they opened recently. The kitchen is run by Dannel Krishnan, formerly of Bacchanalia. The menu is made up of small sharing plates akin to dim sum portions.
The cuisine is described as "modern comfort food", familiar flavours presented in new and unconventional ways. For the most part, the food delivers on this promise, and there are some delightfully surprising plates. Here's the breakdown:
---
Sweetbread ($12)
---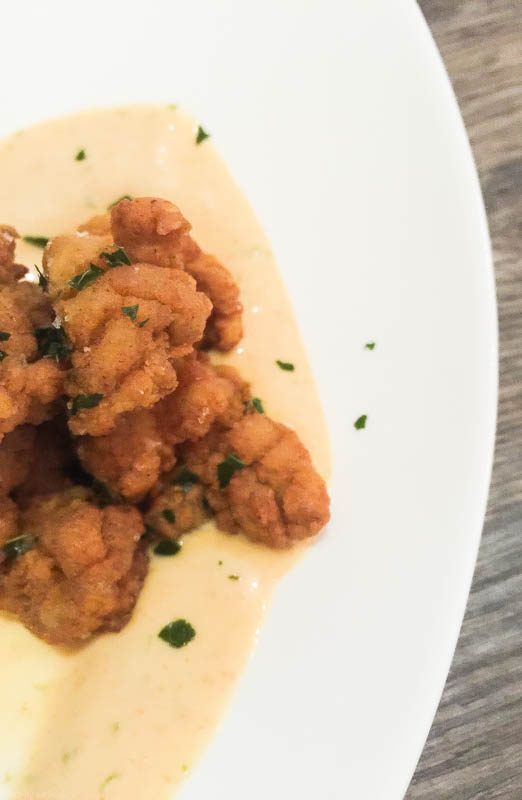 While sweetbreads can be a turnoff for some, I find it hard to imagine this being the case for anyone. These fried little balls of savoury, meaty tasting goodness were impressive with its crusty exterior and soft texture on the inside. The curry mayo on the side is nothing short of awesome, providing just the right amount of spice to complement the sweetbreads.
Sweetbreads – Meat from the thymus gland (located in between lungs) and Pancreas. Usually from lamb or veal, but it can be sourced from pork or beef too.
---
Corn & Mushrooms ($12)
---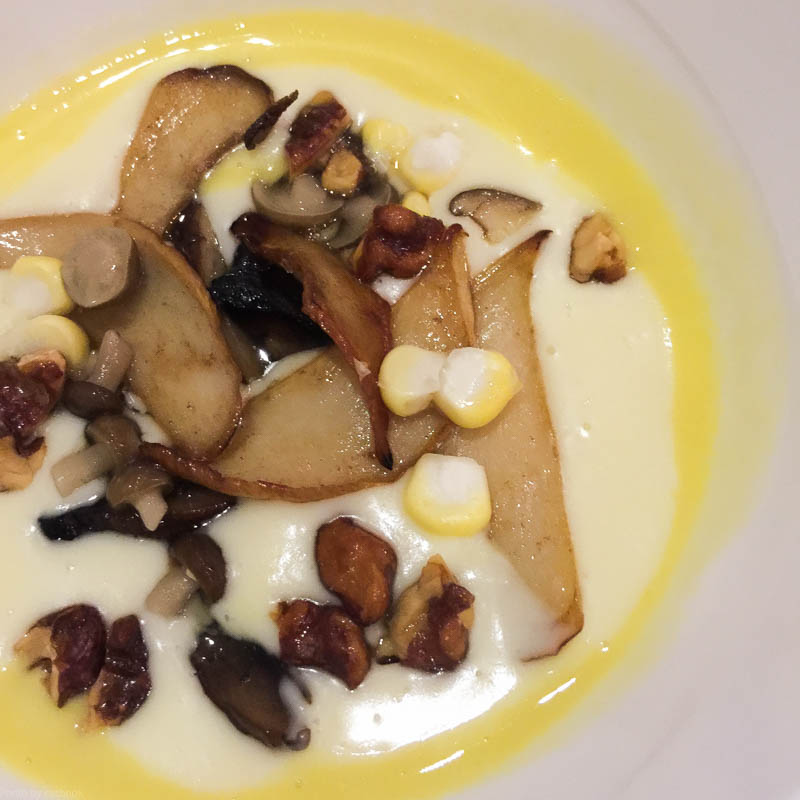 Sweet, earthy and creamy is how I'd describe this amazing dish that's earned its spot as my favourite dish of the night. It's one of the best polentas I've ever had, the intense creaminess is brought down to earth by the mushrooms achieving a pleasant balance in the dish. The walnuts and corn bits mix things up with crispy textures resulting in a fun and delicious concoction.
Polenta – A dish of Italian origin made with cornmeal (ground corn) that's cooked to a porridge like state and usually topped with cheese. It can be made into 2 forms, a more liquid type like in this dish or it can take on a more solid form to be fried afterwards.
---
Somen ($12)
---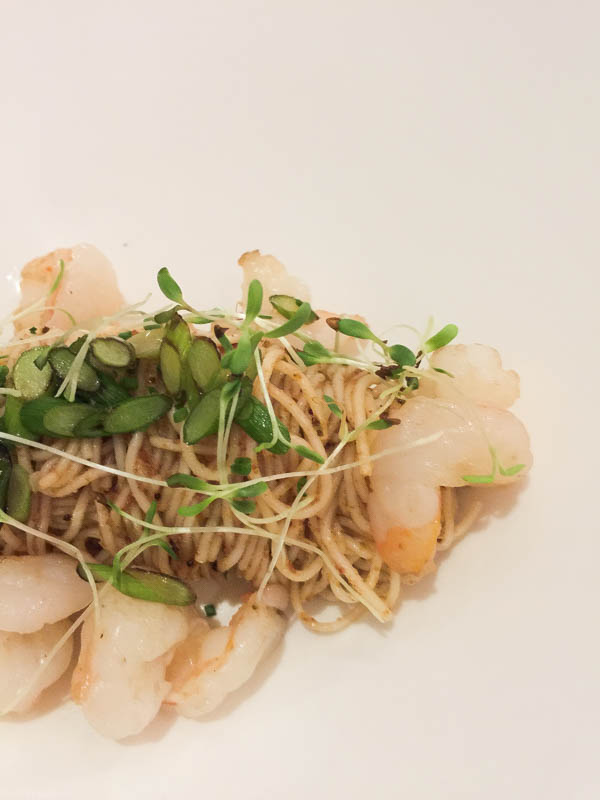 It looks deceptively like a pasta dish, but the flavours are grounded in Asian culture. These perfectly cooked noodles are coated in a pungent lup cheong flavoured oil. It's a strong flavour that would have been overpowering if not for the smart use of garnish which provided some lighter, fresh flavours.
---
Tomatoes & Soy ($10)
---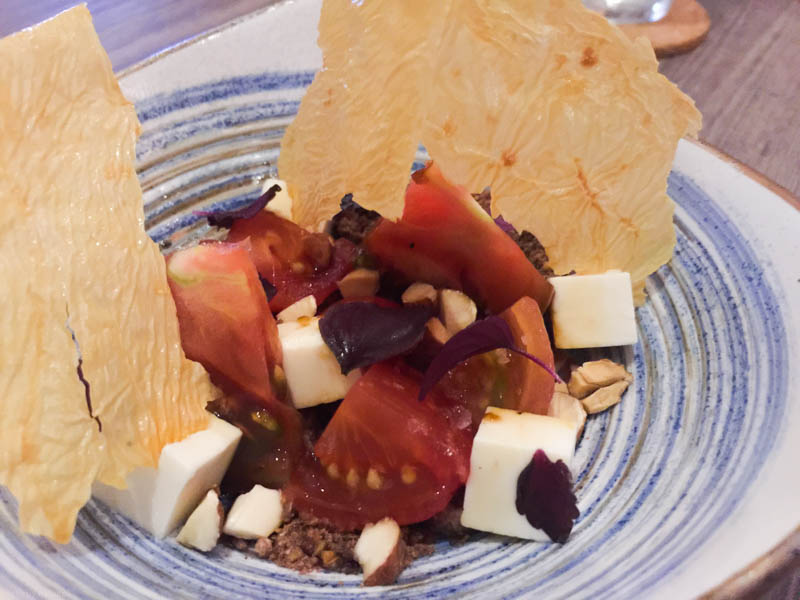 A playground of textures and balance, the dish manages to play around with soy in a chip, powder, and tofu forms. The tomatoes were sweet and balanced well with the soy powder while the chip, tofu and almonds added fun textural variety to the dish. My one complaint would be that the soy never really stood out in terms of flavour, and I feel like more could have been done to enhance that part of the dish.
---
Black Spanish Pig ($18)
---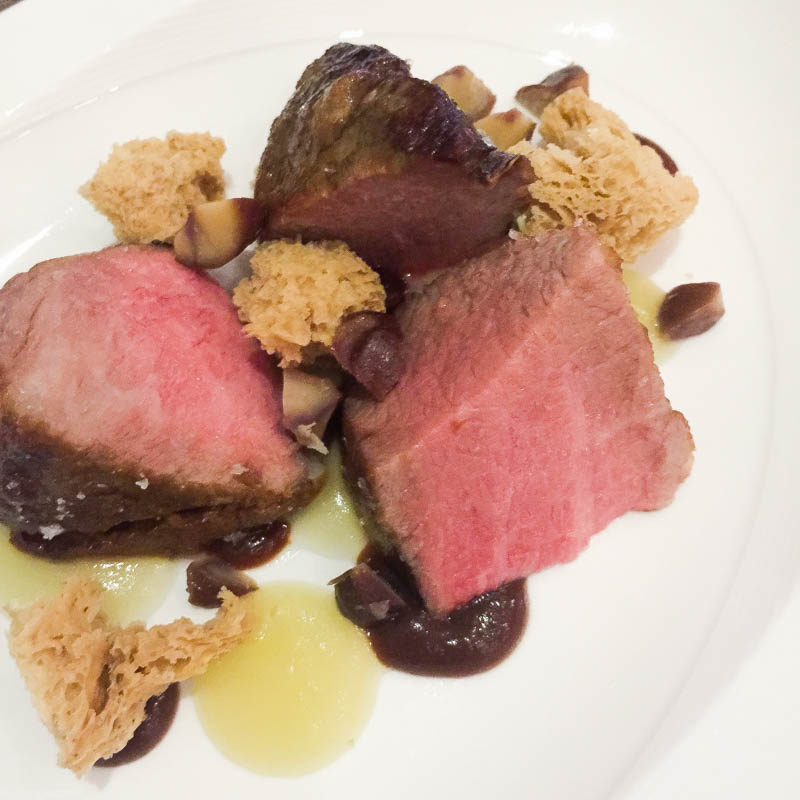 This tender and juicy cut is a speciality cut called presa which is located at the back end of the neck. It's soft and fatty which means you'll get all the porky goodness and it'll feel good on your tongue too. The produce is really the star here, pan seared and smoked with Japanese charcoal. The pork itself was tender and had a mustiness to it that wasn't too overbearing.
---
Salmon 42deg ($14)
---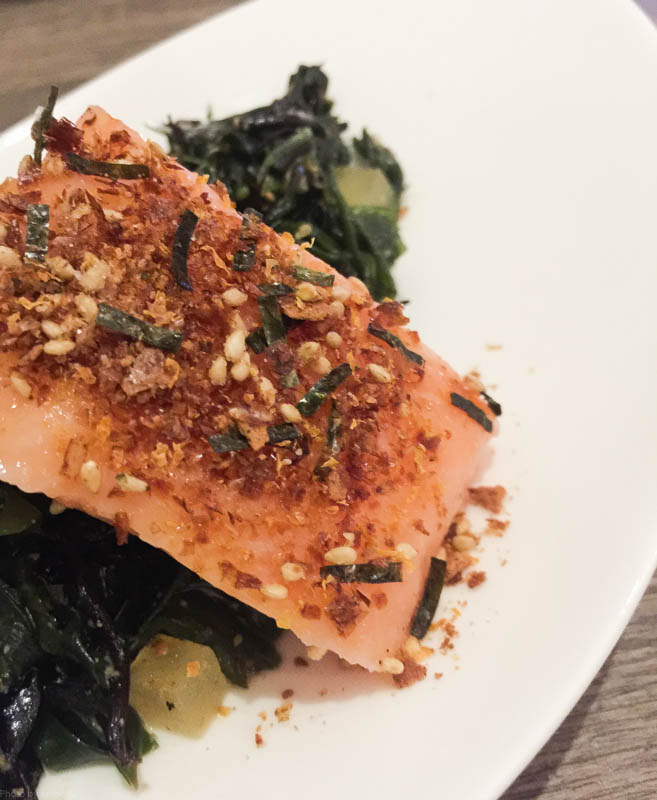 This gently sous-vied salmon was tender to the fork and managed to retain much of it's moisture to my delight. The low cooking temperature ensured that the salmon is a little pink on the inside, just the way I like it!  The seaweed salad under it was a blend of salty umami that proved quite a hit especially with the little apple bits that refresh the palate just as things get too heavy.
Sous-vide – A modern cooking technique, the ingredient is often vaccum sealed with a marinade or seasoning and submerged in water at a low cooking temperature in a temperature-controlled vat.
Umami – The "fifth taste", generally refers to savoury deliciousness. It was discovered by a Japanese chemist Kikunae Ikeda in 1908 before it was recognised in the scientific community in 1985.
---
Golden Snapper ($12)
---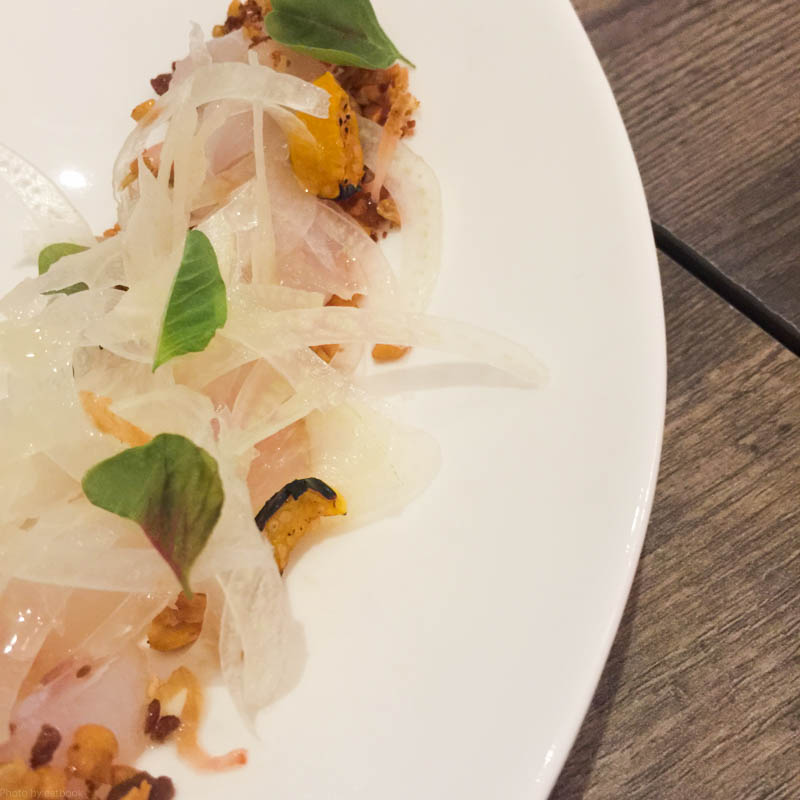 If you're a doubter of local produce, this dish will change your opinion. It's sourced from the best fish farm in Singapore and is so fresh it's served as sashimi here. The slices have a little charcoal infused oil brushed on lending it a light smoky flavour, a genuine surprise if you didn't pay attention to the menu. It gives the dish an added character making it one of my favourite dishes of the night.
---
Ubin Sea Bass ($14)
---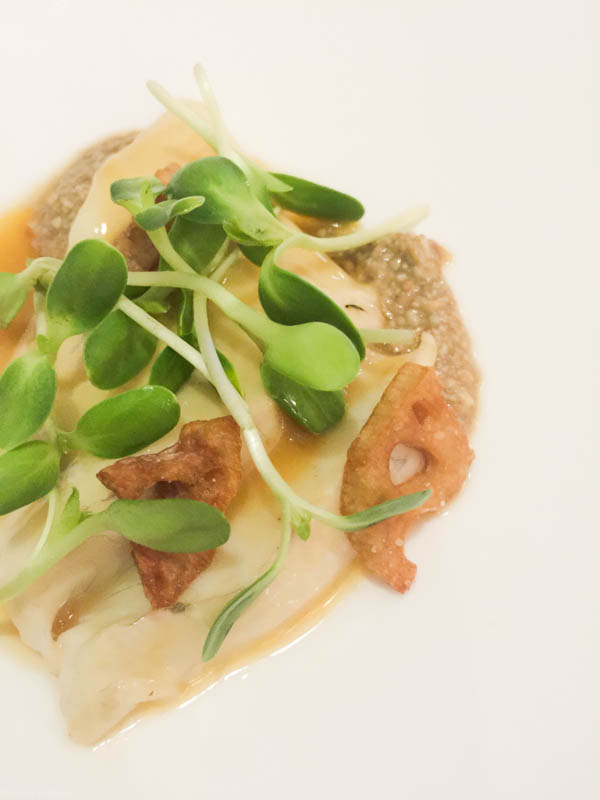 The sea bass is sous-vided and cooked in a butter and dashi emulsion lending the otherwise light tasting fish some added character. But it's the sunflower seed sauce that really served as the counterpoint and brought the dish together blending sweet and salty.
Sous-vide – A modern cooking technique, the ingredient is often vacuum sealed with a marinade or seasoning and submerged in water at a low cooking temperature in a temperature controlled vat.
---
The Kite experience
---
As you've probably figured out, I had a great time at Kite, the dishes were interesting, and I enjoyed a lot of the flavour combinations. It's a very new restaurant though, and I expect menu changes and formats to evolve over time. Big eaters might want to take note that this is a place that does small sharing plates, so you'll probably need to order more than usual.
Summary
Pros
-Interesting flavour combinations
-Value for money
-Fun and original looking dishes
Cons
-Some underwhelming dish elements
-Portion size may leave heavy eaters wanting
Opening Hours: Tues-Fri: 12pm-230pm, 6pm-12am / Sat & Sun: 6pm-12am
Contact: 9729 7988
Address: 53 Craig Road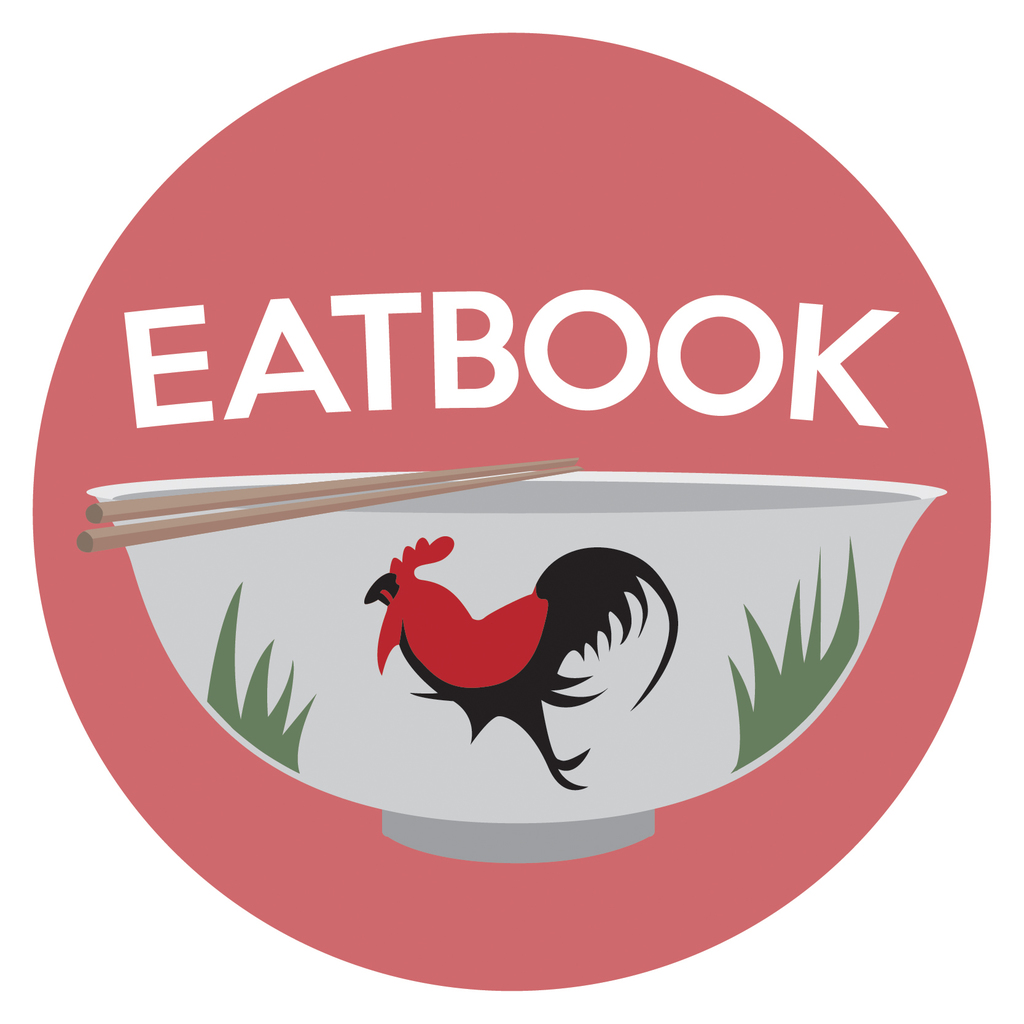 Drop us your email so you won't miss the latest news.