Update: These seasonal dishes are no longer available.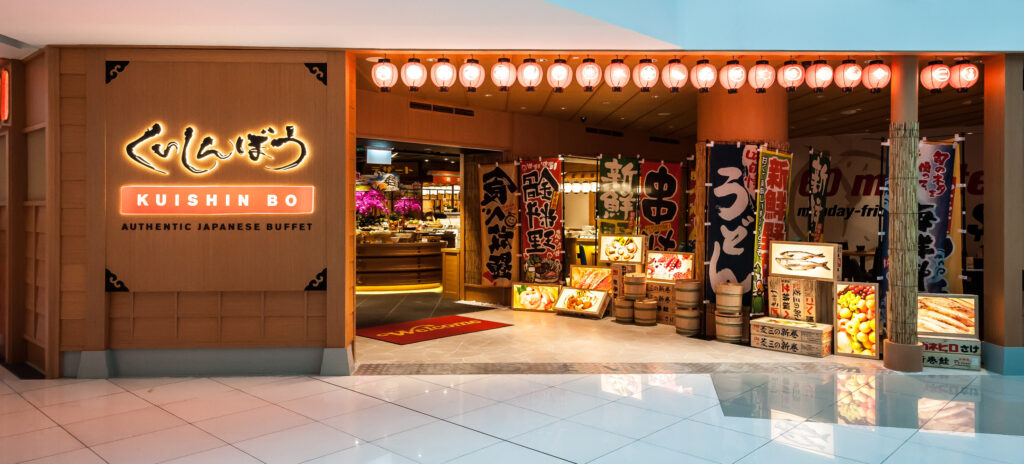 The newly renovated Suntec City sees the return of Kuishin Bo, a buffet restaurant that promises a complete Japanese epicurean experience.
While Kuishin Bo might have been around for 15 years, its buffet spread is far from repetitive. Their newly introduced quarterly thematic food fairs will feature authentic culinary creations from different regions of Japan. This season, be treated to creations from the Kyushu and Okinawa province.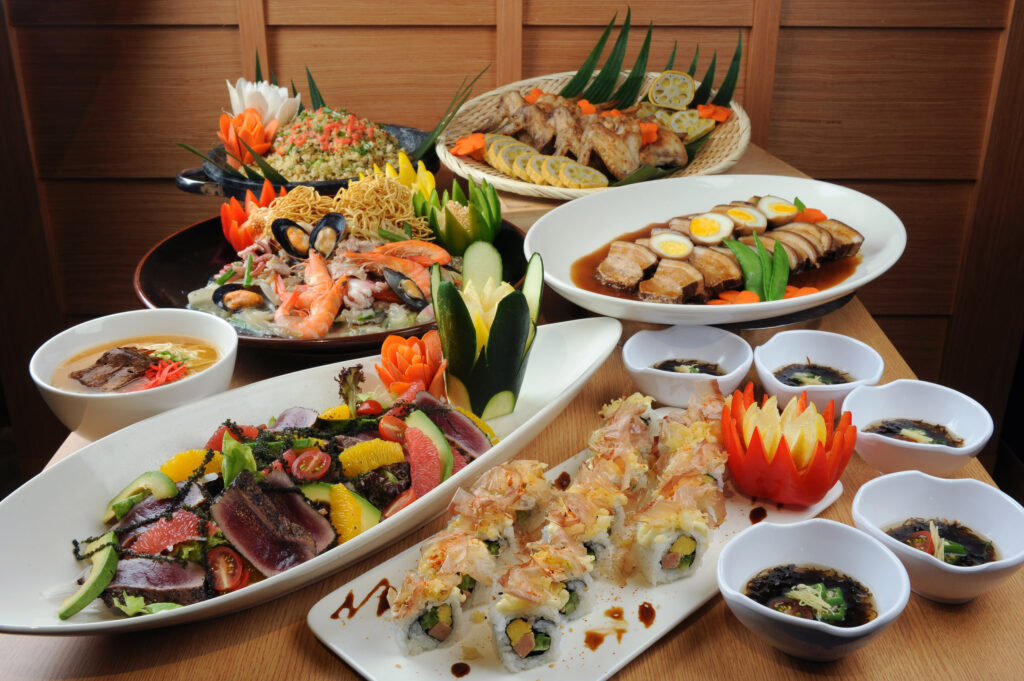 Step into Kuishin Bo and you would immediately be taken aback by the sheer amount of choices. From salads, a variety of fried items, teppanyaki, soups and seafood, it might seem physically impossible to sample every single dish. We pick the highlights of Kuishin Bo's spread.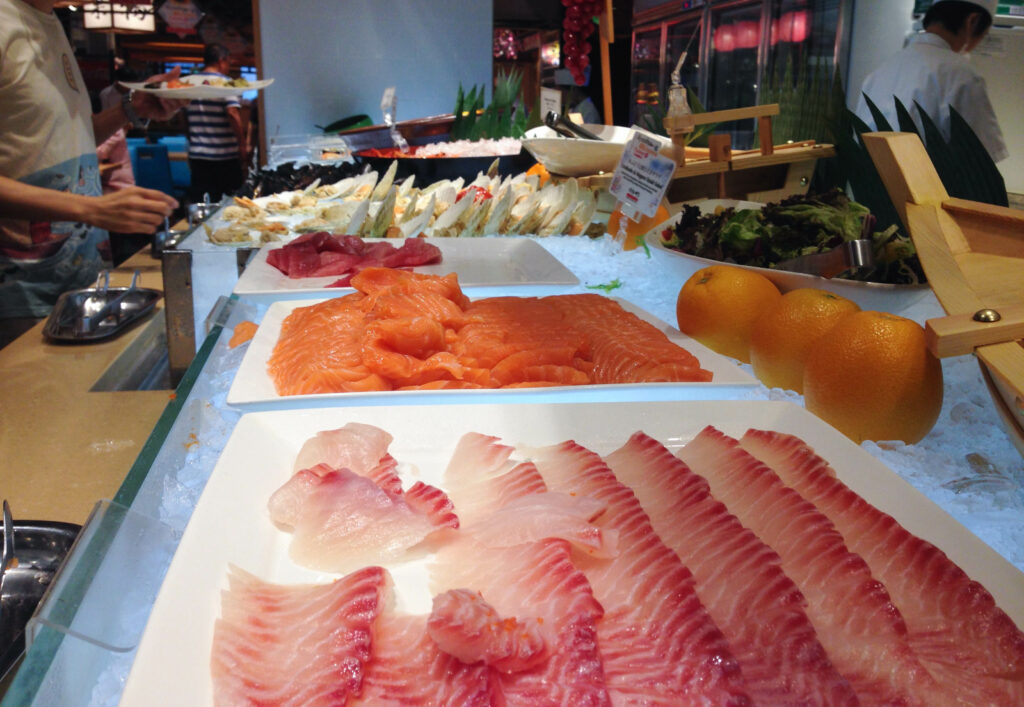 You cannot have a Japanese meal without some sliced sashimi. From raw salmon to tuna, we found these slivers of raw fishes to be immensely fresh. Other cold appetisers include raw ika (squid), assorted sushi and hand roll and even onsen egg.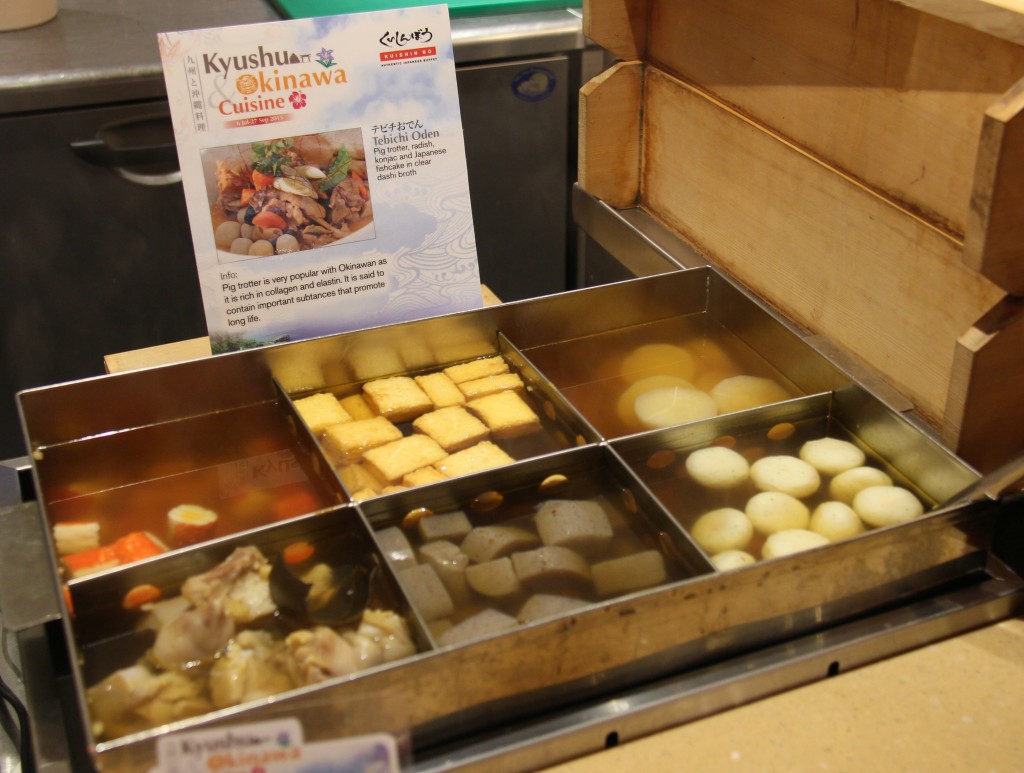 Move on to the hot food counter for some savoury food. We particularly enjoyed the Oden. This sweet and light broth is the perfect comfort food and goes well with the different ingredients like konjac jelly and daikon. The Ginseng Porridge was excellent as well. With a mild herbal fragrance and loads of scallops, it was unanimous that the humble bowl of porridge was both comforting and value-for-money.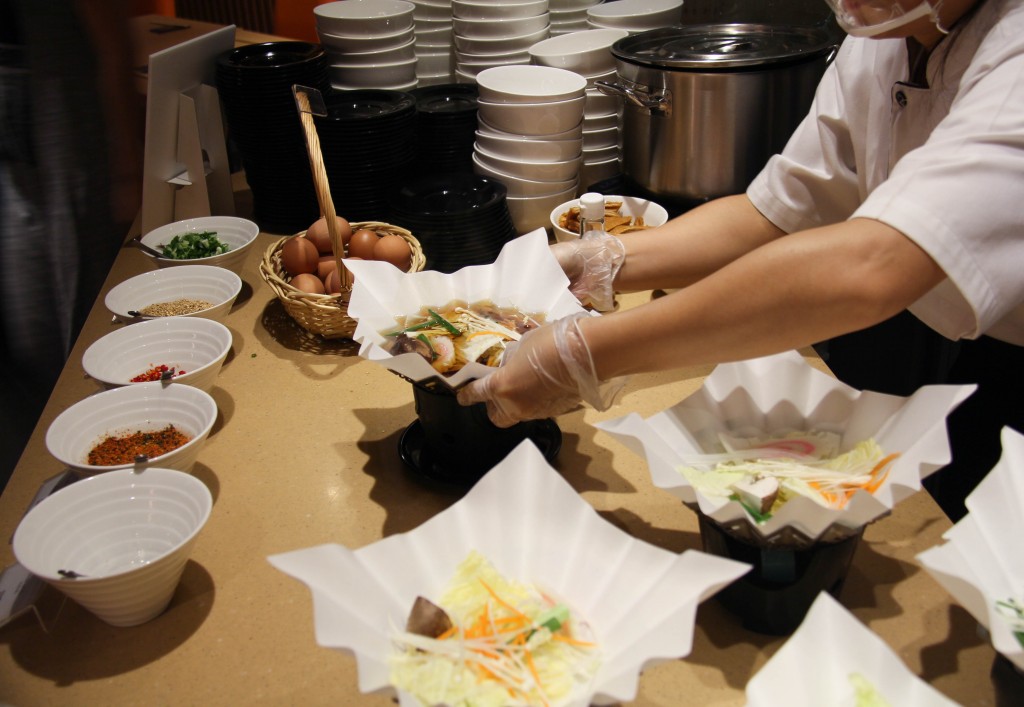 There was also a wide range of made-to-order items. The paper hot pot came with 4 different choice of ingredients – chicken, beef, seafood and vegetables. Filled with loads of vegetables, we found the soup to be slightly sweet. We recommend sharing this with a friend and allow the raw vegetables to cook down a little before digging in.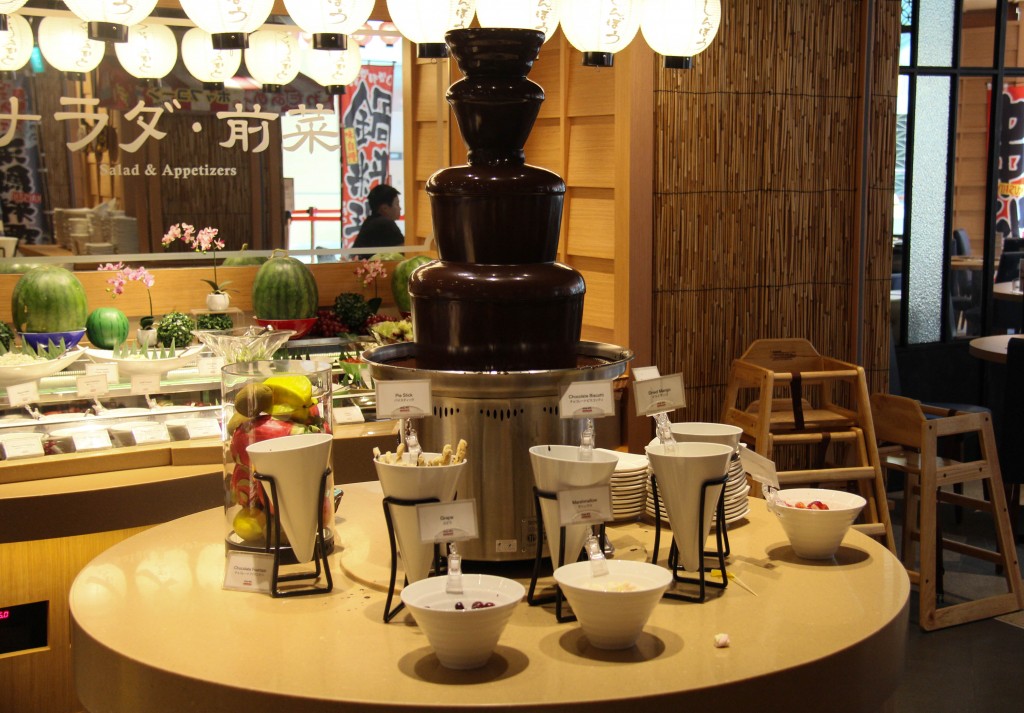 What really stood out for us was the extensive dessert spread which you should definitely save some space for. Anchoring the dessert line was a massive and decadent chocolate fondue with accompaniments like strawberries, marshmallow and chocolate biscotti.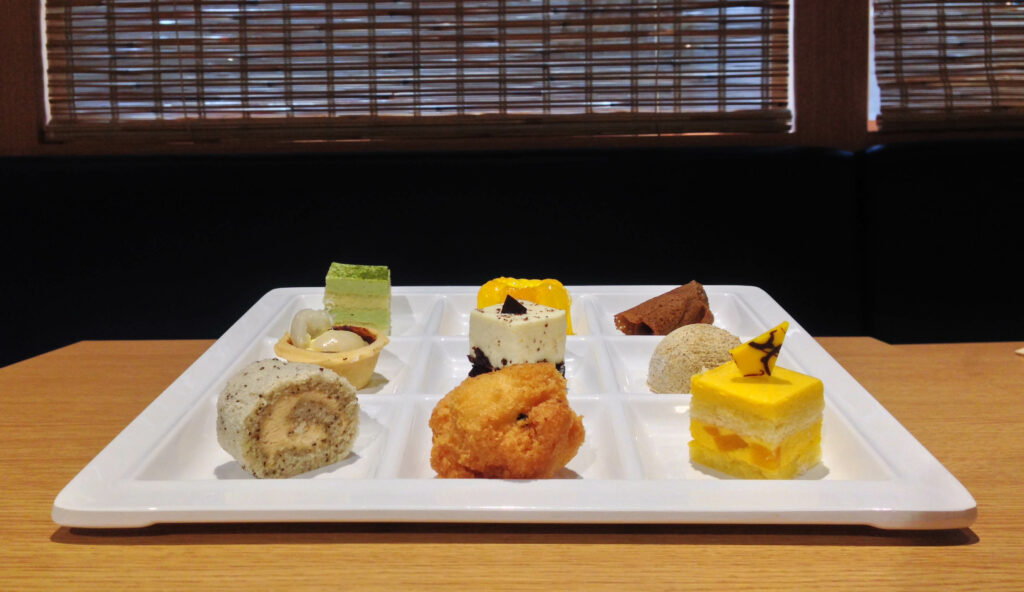 When browsing through the dessert line, look out for their unique serving plate! These compartmentalised plates don't just look great on pictures, but also really helpful in separating those bite sized treats.
Do try their humble looking swiss rolls. We loved these unassuming little delights that come packed with their exotic eponymous flavours – earl grey, lavender and rose. Cheese lovers can look forward to green tea, brownie and mango cheesecakes.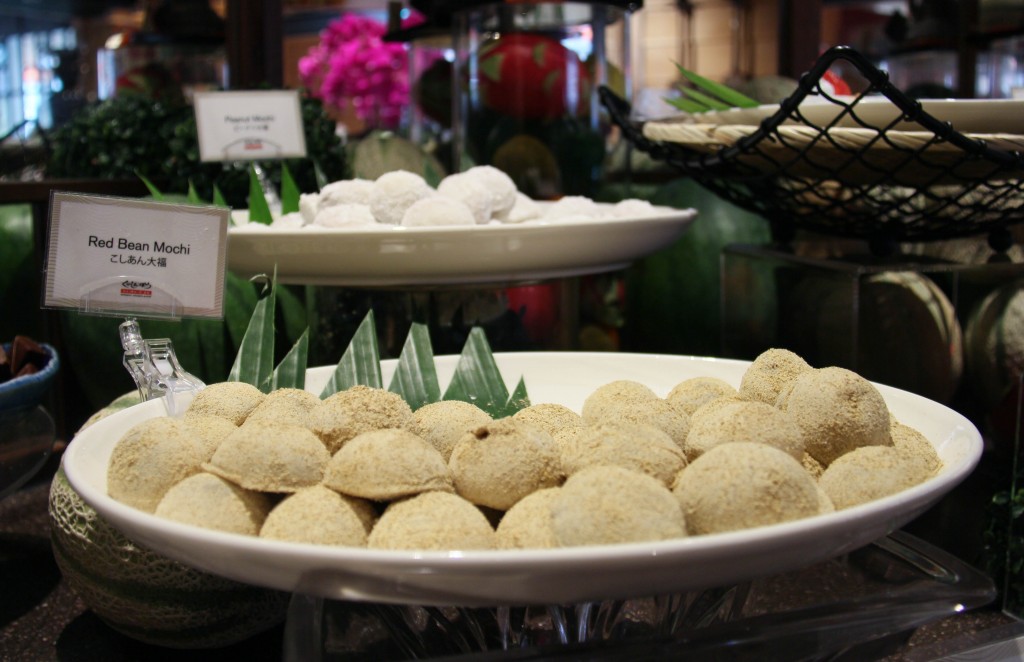 But the highlight of Kuishin Bo's dessert lineup has got to be their mochi. These glutinous rice balls were delightfully soft, fluffy and not overly sweet. It's easy to lose track over how many you eat.
Prices (for the Suntec City outlet)
Lunch: 11:30am – 3pm
Monday – Friday $36.90 ++ per adult / $18.90 ++ per child
Saturday, Sunday and Public Holidays $38.90 ++ per adult / $18.90 ++ per child
Dinner: 5:30pm – 10pm
Monday – Thursday $54.90 ++ per adult / $18.90 ++ per child
Friday, Saturday, Sunday and Public Holidays $58.90 ++ per adult / $18.90 ++ per child
Family Affair: 11:30am – 3pm (2 Adults & 1 Child)
Saturday and Sunday $84 ++ (2nd Child @ $12 ++)
Afternoon Delight: 3:30pm – 5pm
Saturday, Sunday and Public Holiday $18.90 ++ per adult / $9.90 ++ per child
This article is brought to you by Kuishinbo
Summary
Pros
-Extensive variety
-Consistent quality of food
Cons
-Complicated price tiers
Address
Available at all Kuishin Bo outlets